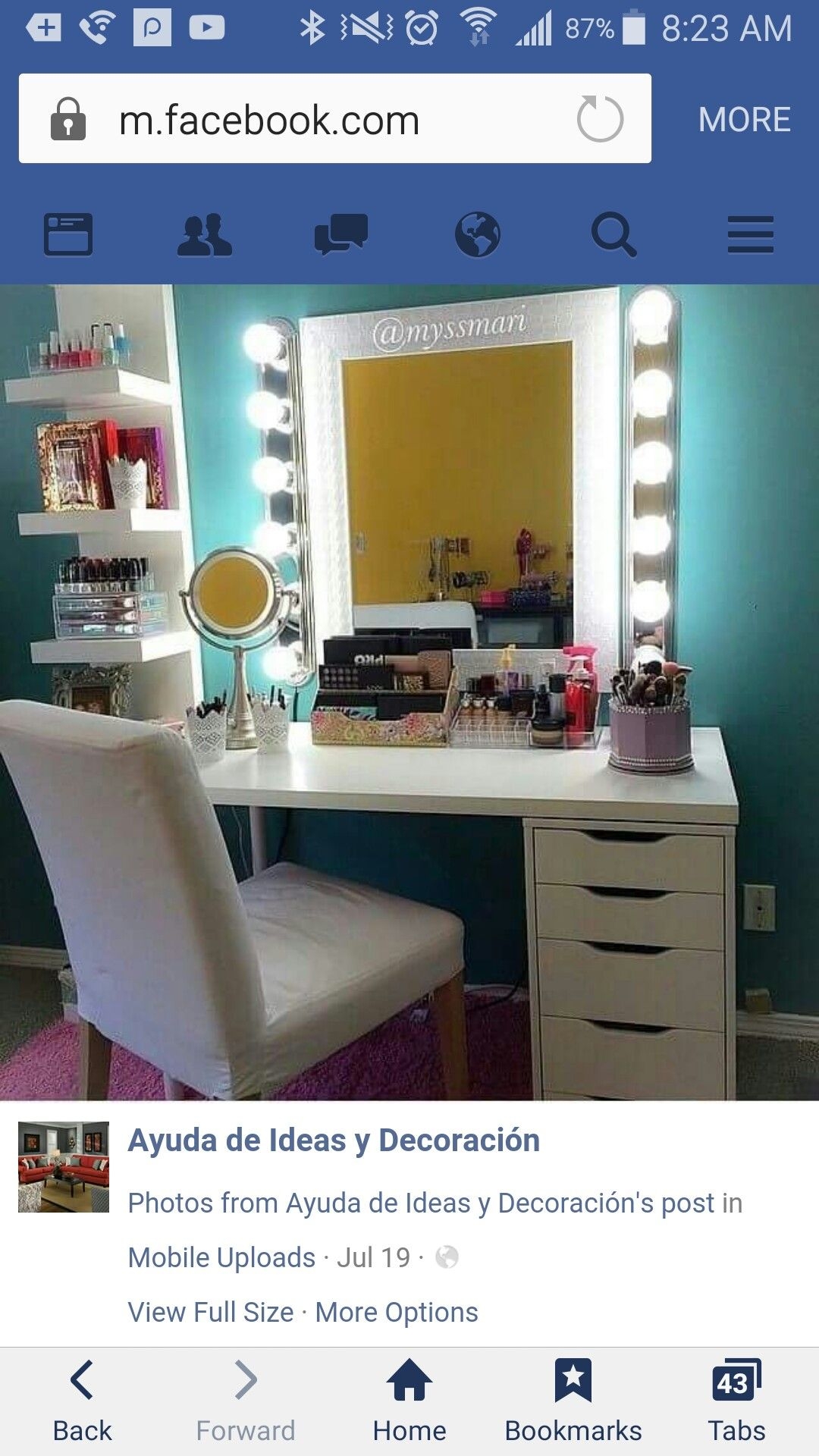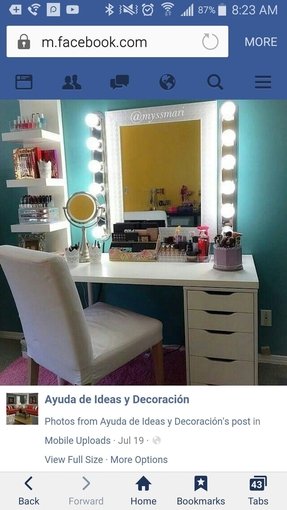 Vanity table with lighted mirror. It is made of wood and fitted with drawers for storing personal items. Top has large usable surface. Great addition to any bedroom.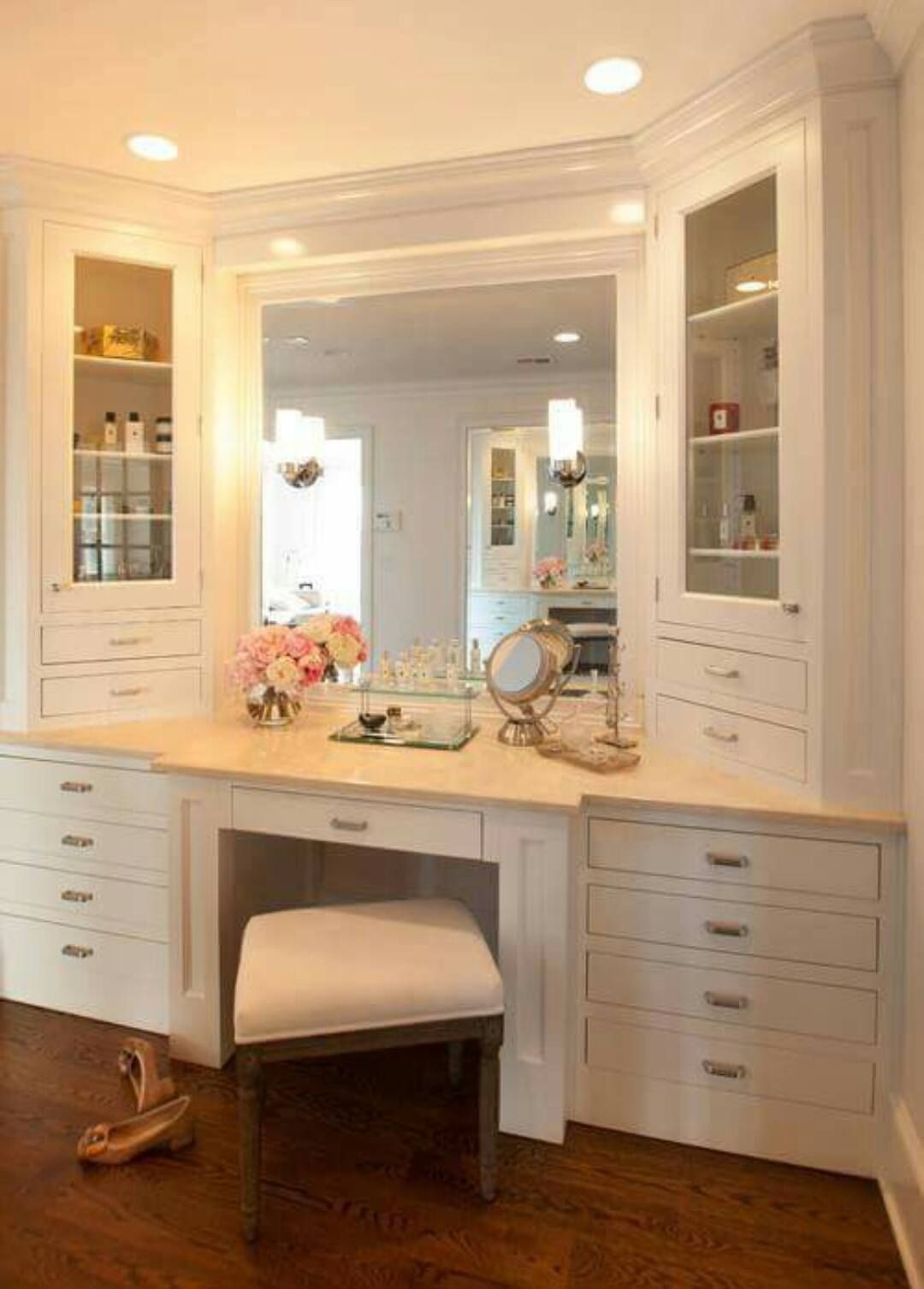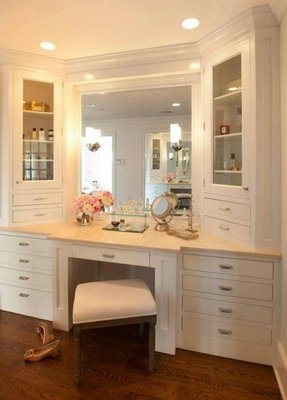 Stunning contemporary vanity set with a pink finish but a creamy tabletop. A lower part comprises of lots of drawers. Upper cabinets with drawers, shelves and glass doors are aslope against a large square mirror (with 2 sconces) in the middle.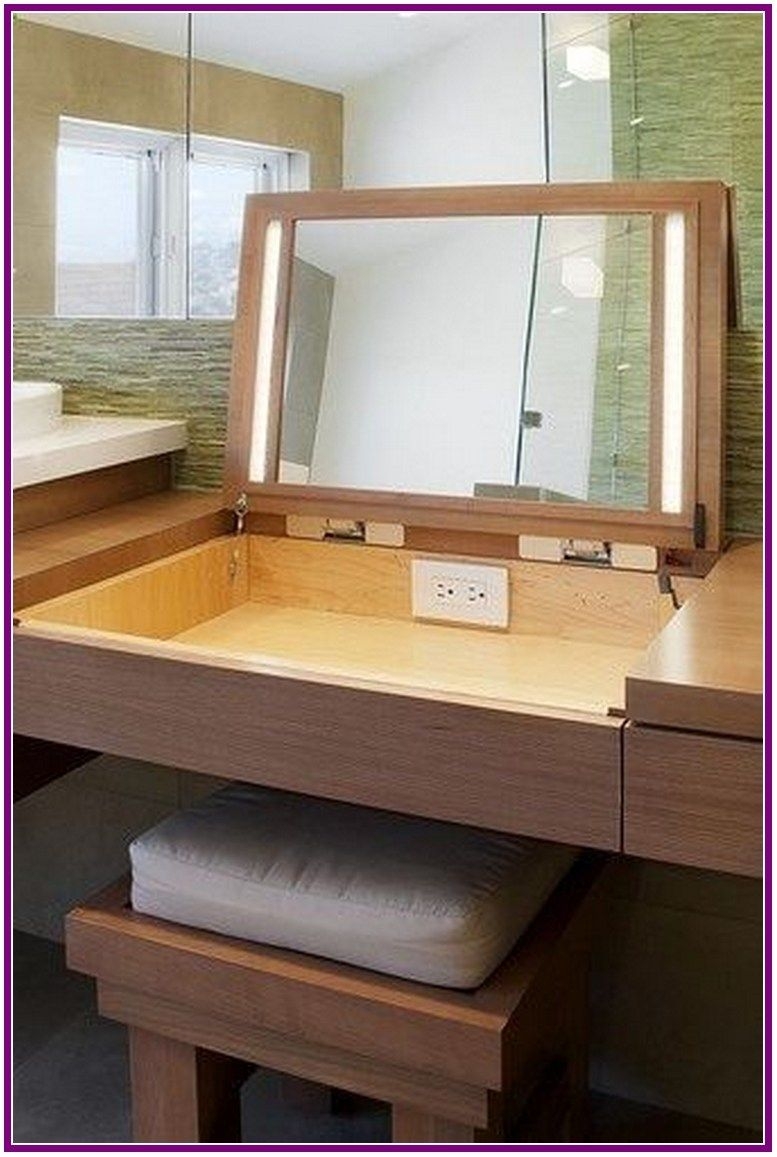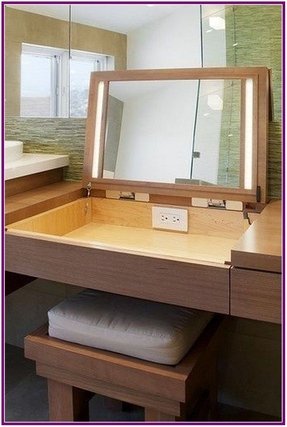 An incredibly genius creative solution for your makeup vanity table for your bedroom. It is a simple wooden table that can be transformed in a second into a vanity table with a lot of space, a mirror and even a socket.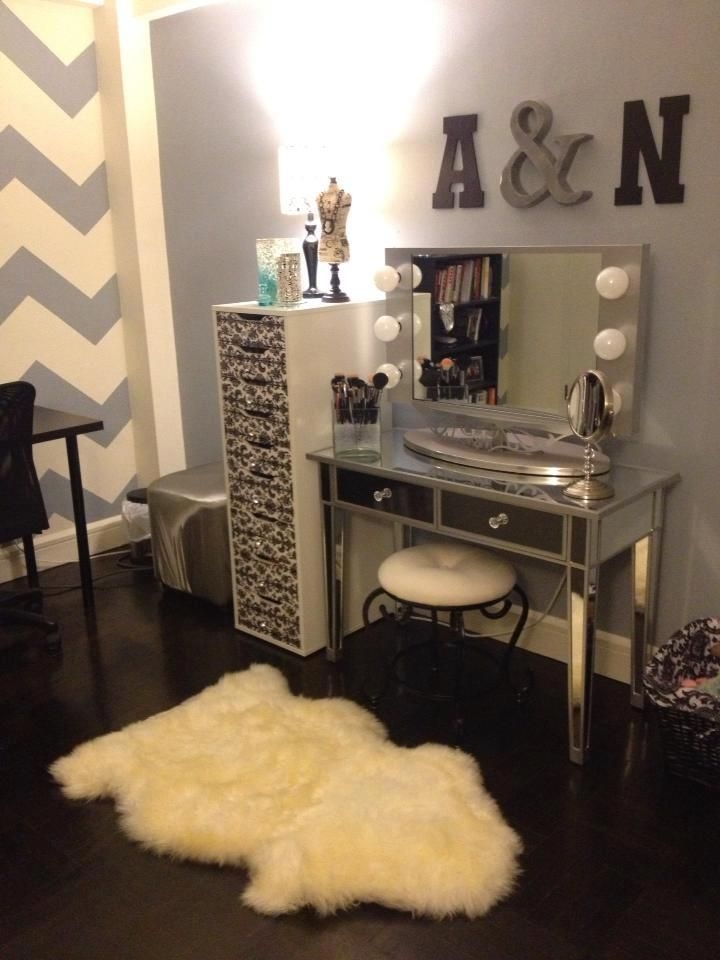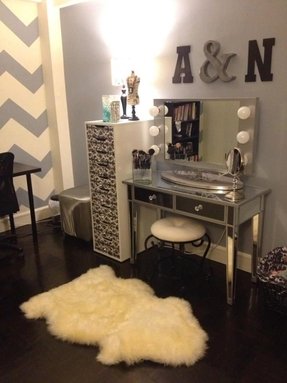 A classy traditional vanity table with a rectilinear frame featuring mirrored all panels. It has a rectangular moulding top, 2 spacious drawers with round clear glass knobs and quite tall angular tapered legs.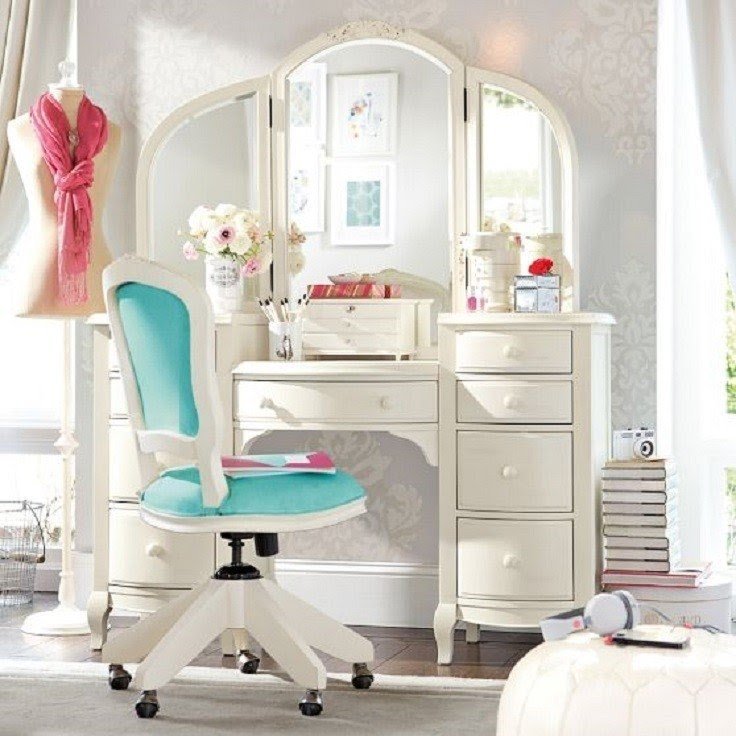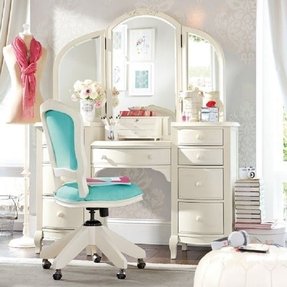 We owe Brummel, as they say, the popularisation of an unusual, flattering vanity makeup bedroom table, which is a dressing table with a mirror. In this case, many drawers, the modern whole finished in white and a triple mirror - fine-tune each ego.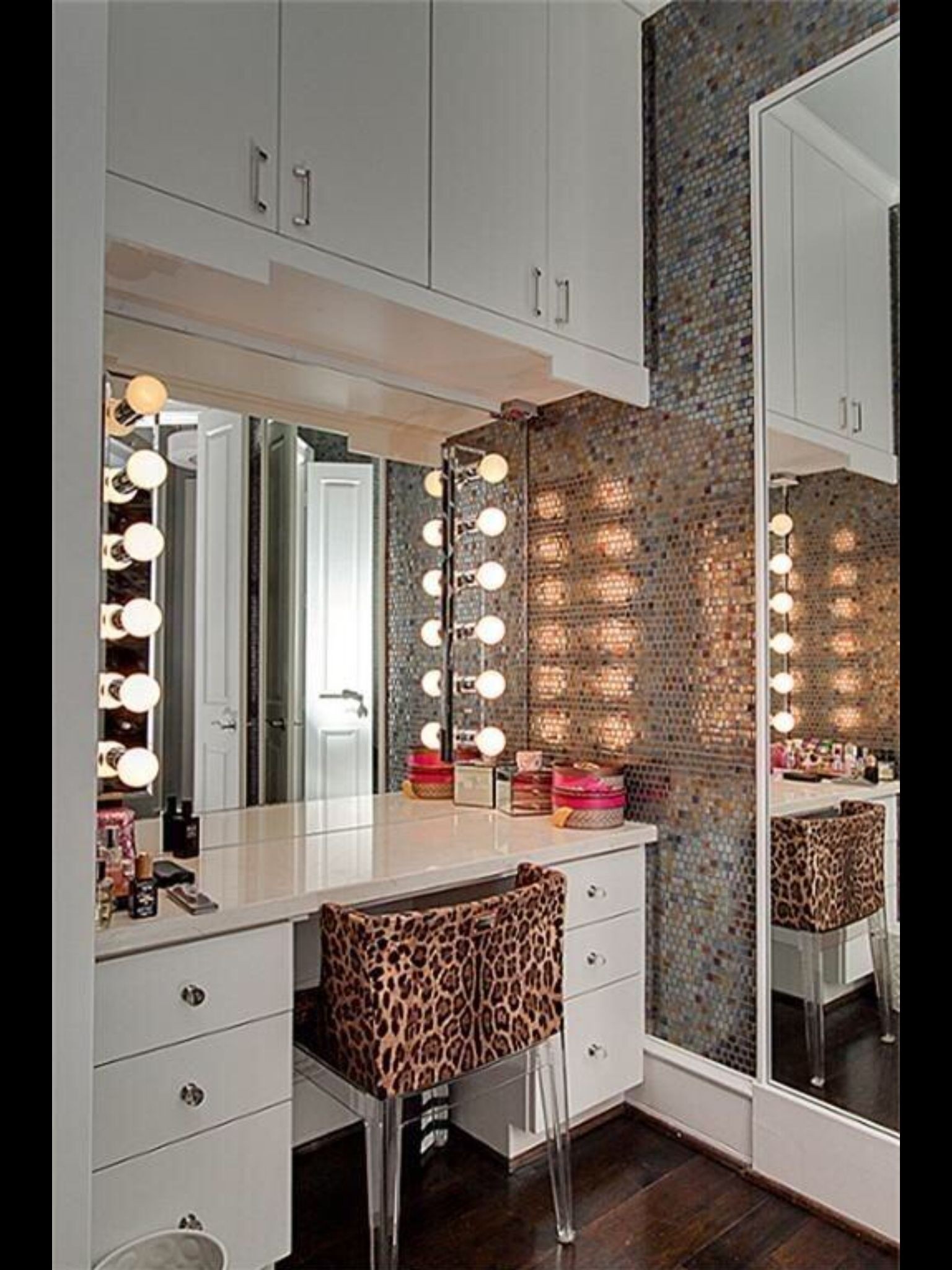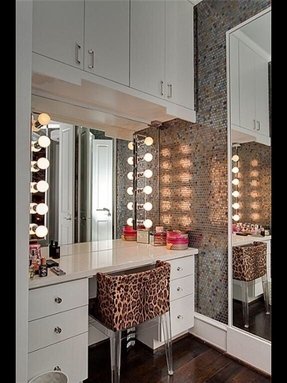 Are you trying to create the beauty nook? This makeup station is in the closet space, so it's save some space in bedroom or changing room. The mirrored sliding door and mirror behind desk make this room bigger.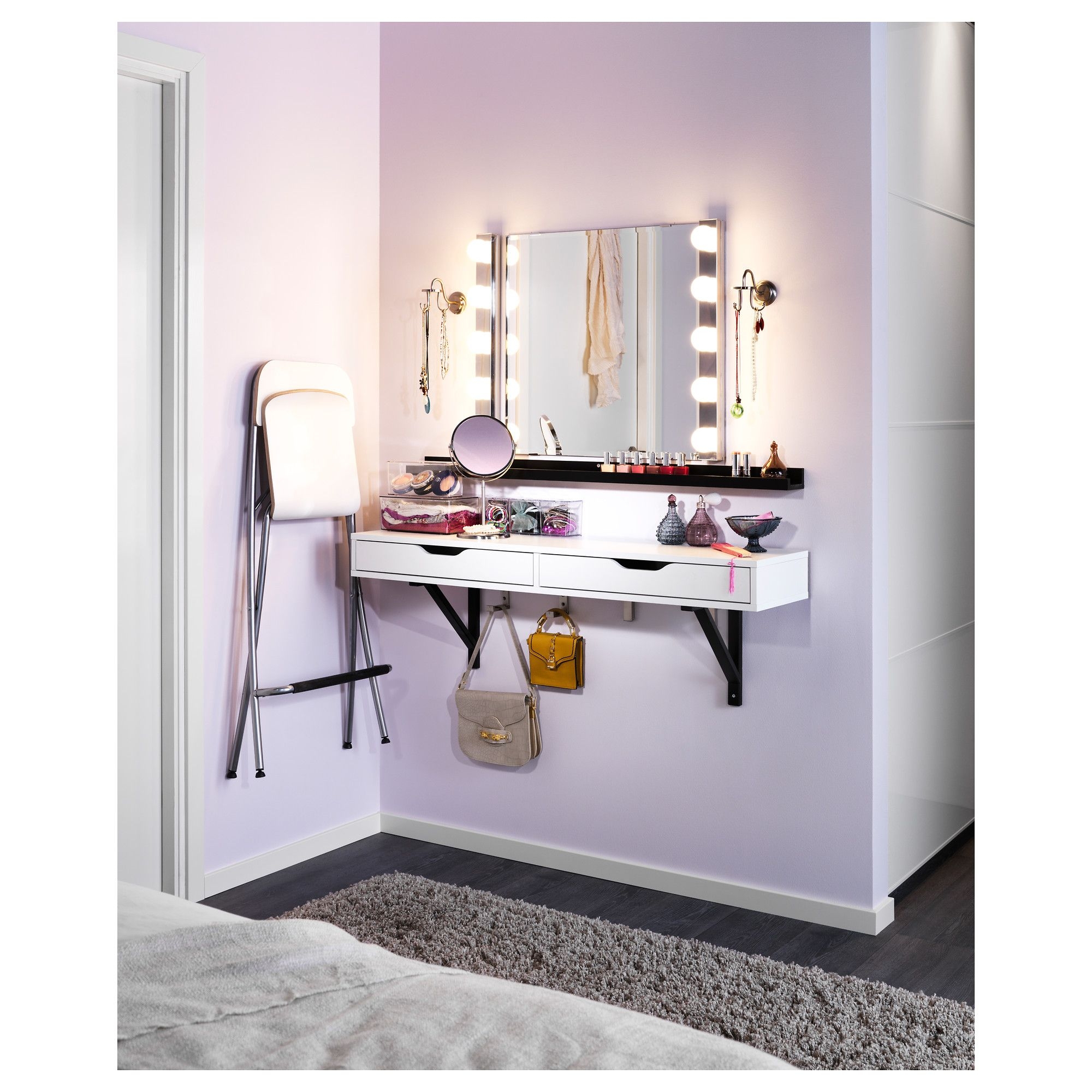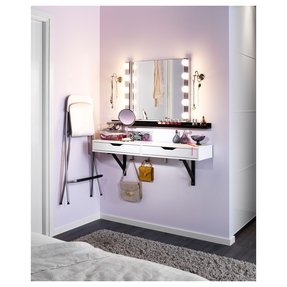 With this amazing wall shelf you'll be able to create a dressing table without taking up too much of your floor space and you still get the extra possibilities for organizing your belongings neatly.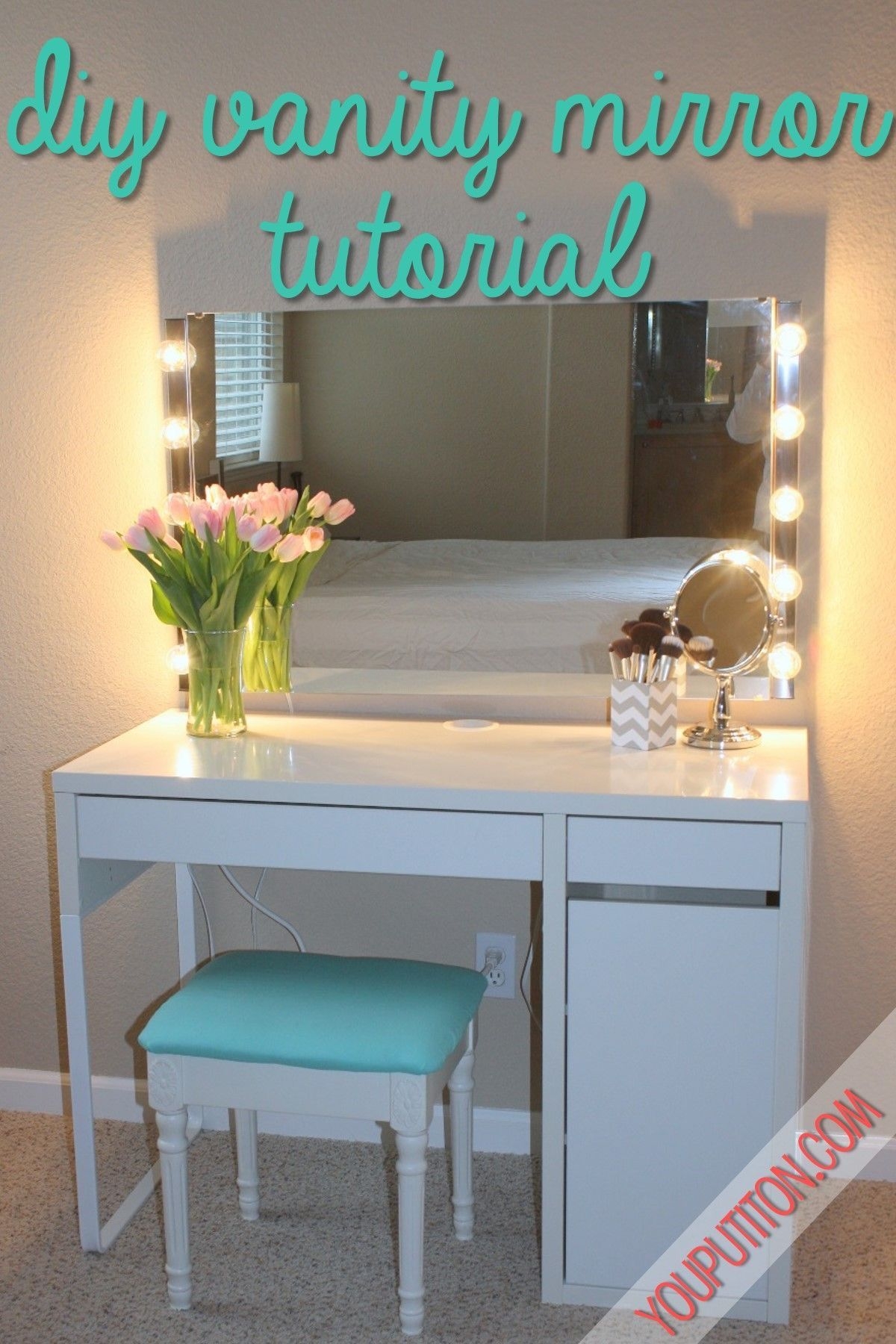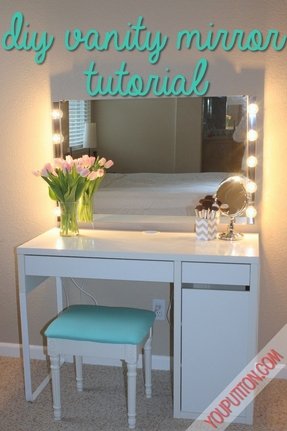 Have a simple desk? Then you can have a contemporary vanity set too. Just use this DIY instruction. White desk comes with mirror that is lighted with round bulbs to bring glamorous Hollywood style to mind.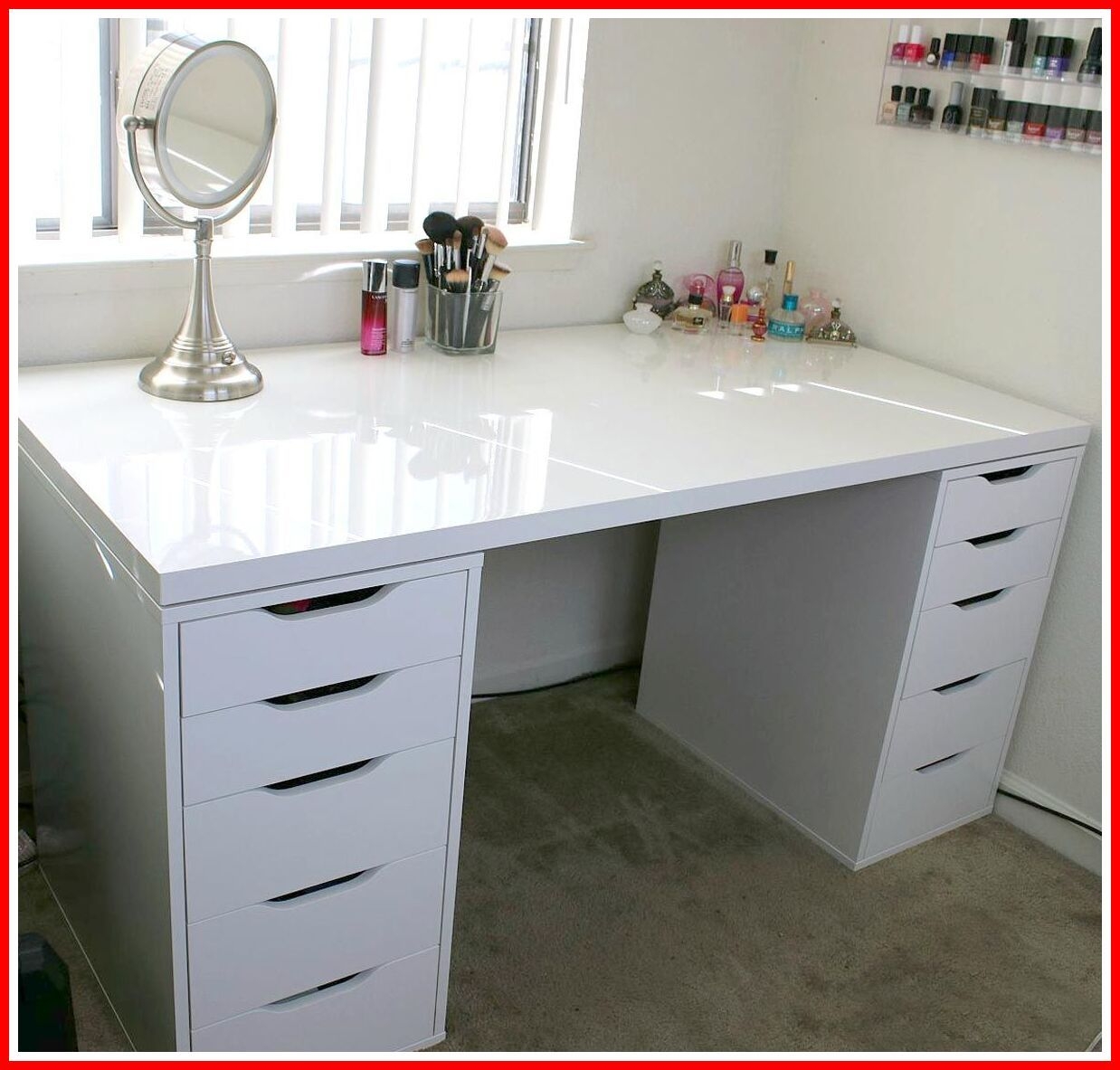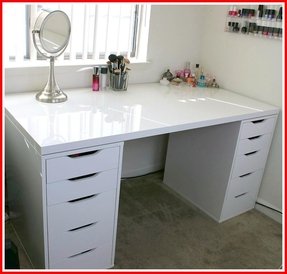 An elegant vanity desk for contemporary bedrooms and girls' rooms, with wood construction and a white finish. The desk features 10 drawers with stylish cutouts, and 1 rectangle top - nicely polished for even snazzier looks.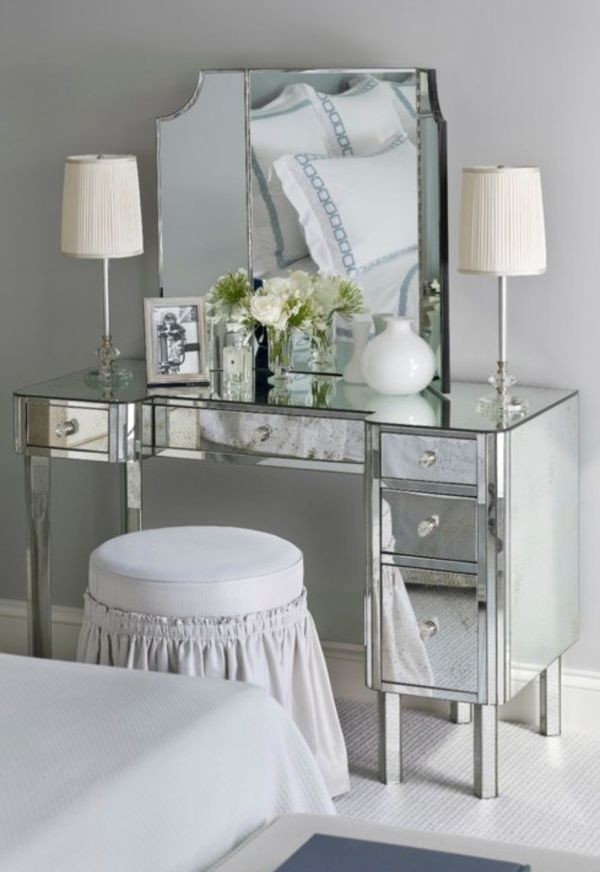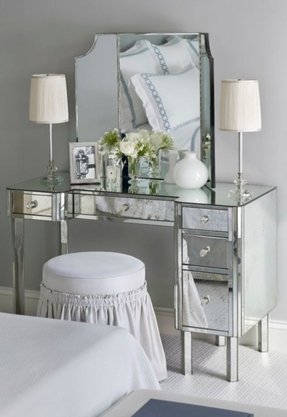 A very attractive and solid vanity desk with mirrored construction of drawers and walls. Its spacious top also includes a mirror, so the whole set is suitable for bedroom use. It allows for preparing an attractive makeup.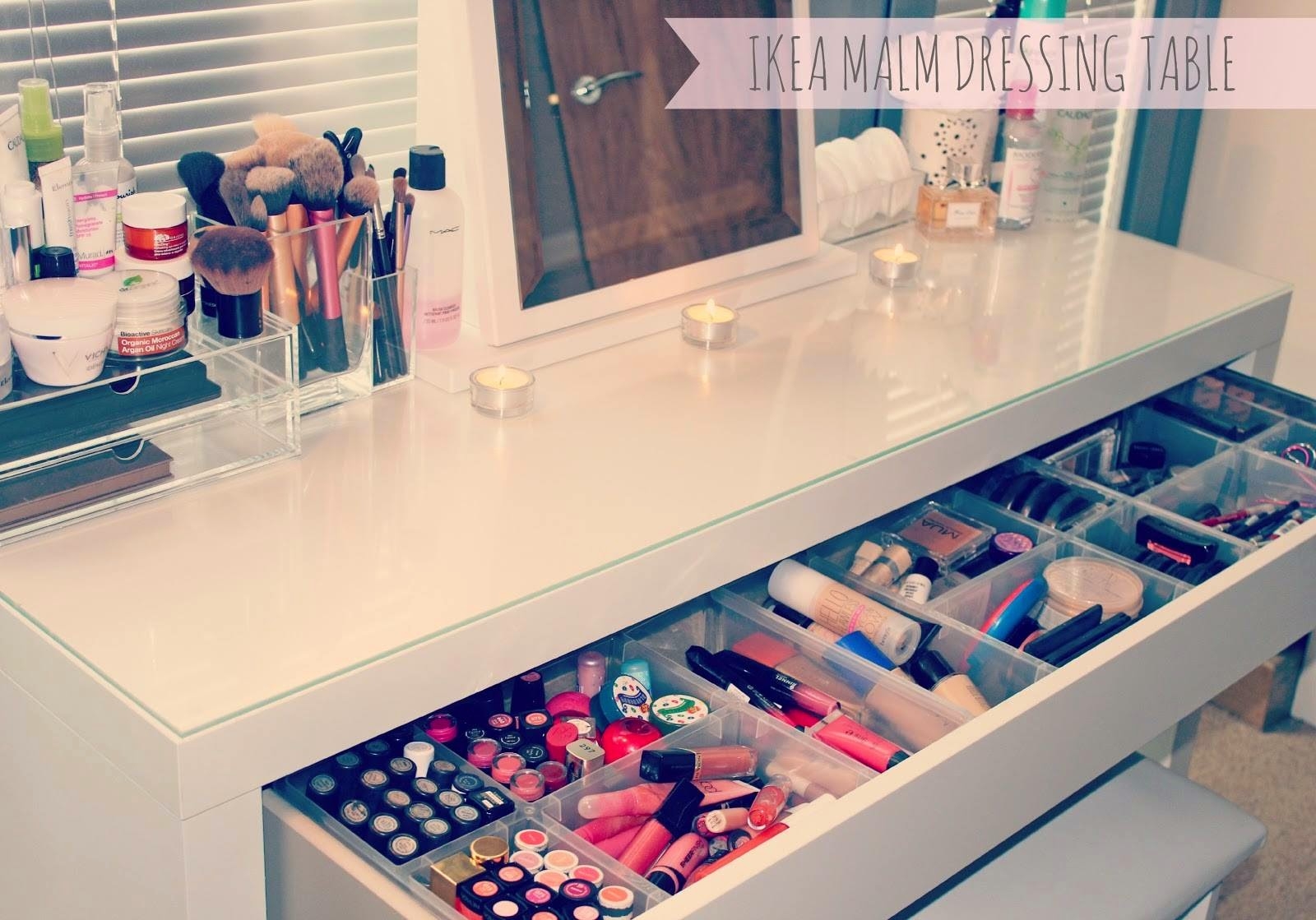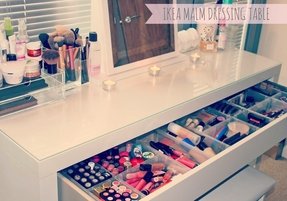 A makeup vanity is an excellent piece of décor or dressing room. Large drawers, shelves, and cabinets allow you to store all the trinkets, and the interestingly integrated mirror adds charm to the whole.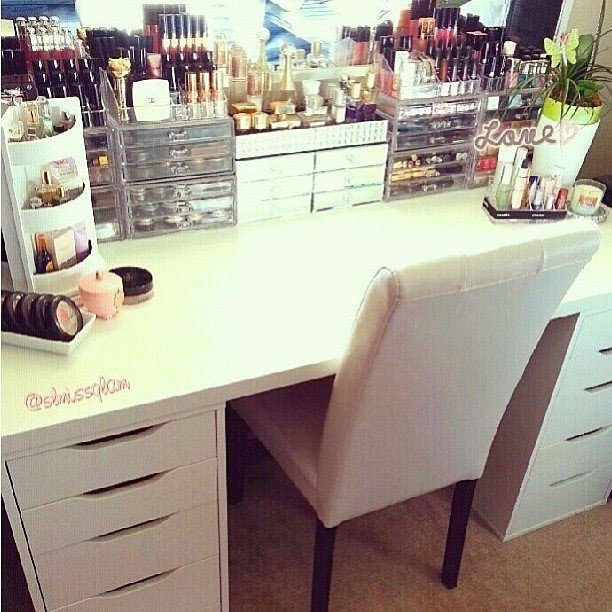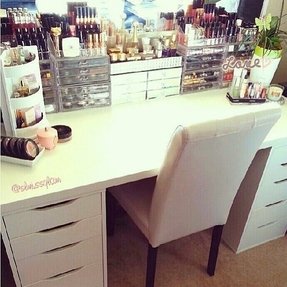 An amazing makeup table that will finally allow you to have your morning routine not only mastered to perfection but much more comfortable. It sports the clean look and white finish that make it fitting for a modern decor.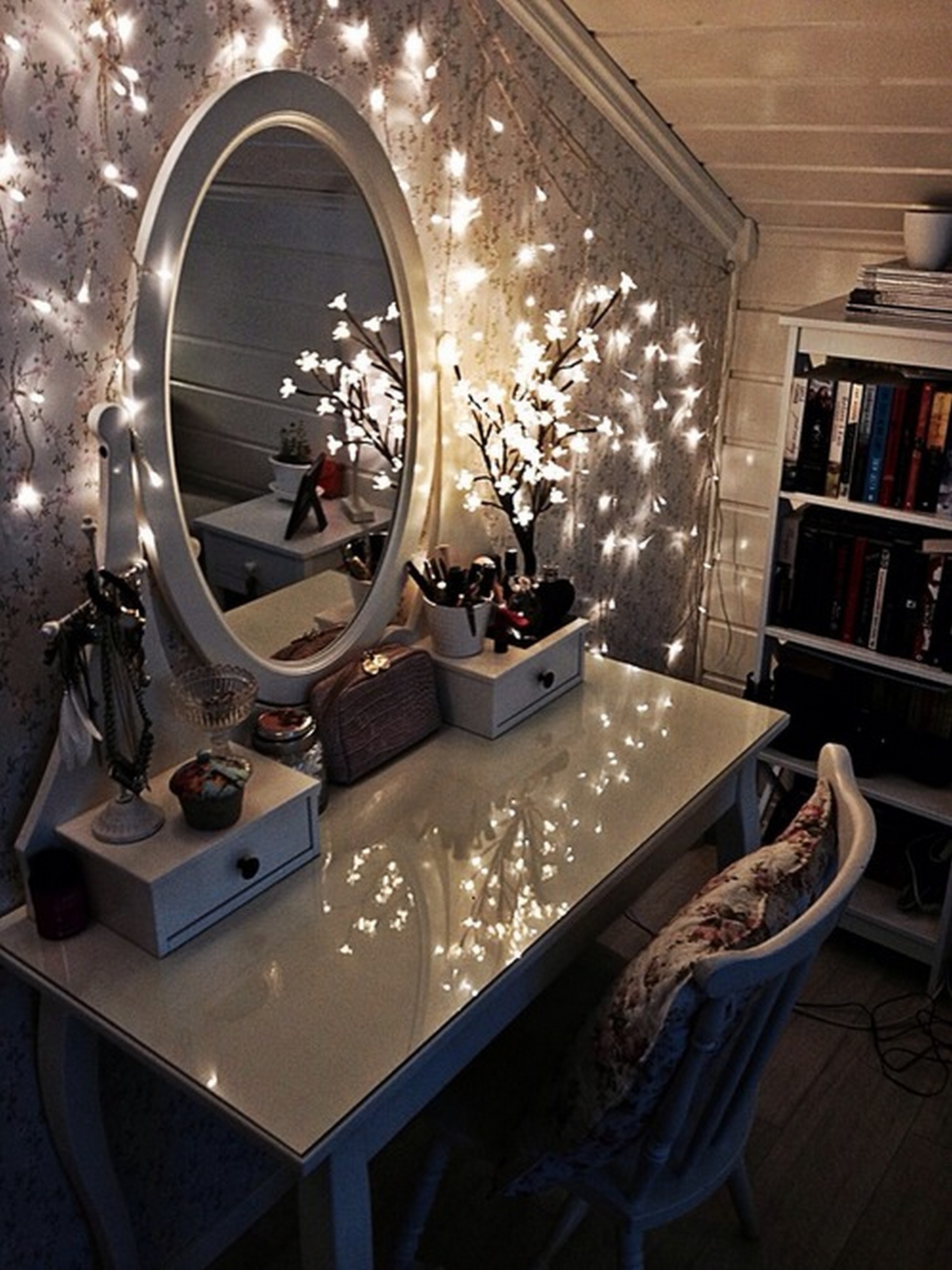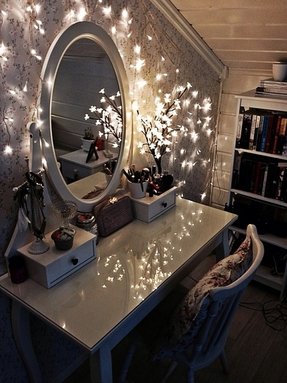 A beautiful bedroom makeup vanity, which shows that when it comes to room decor, every little detail counts. Lights wrapped around the vanity massively change the whole atmosphere of the room.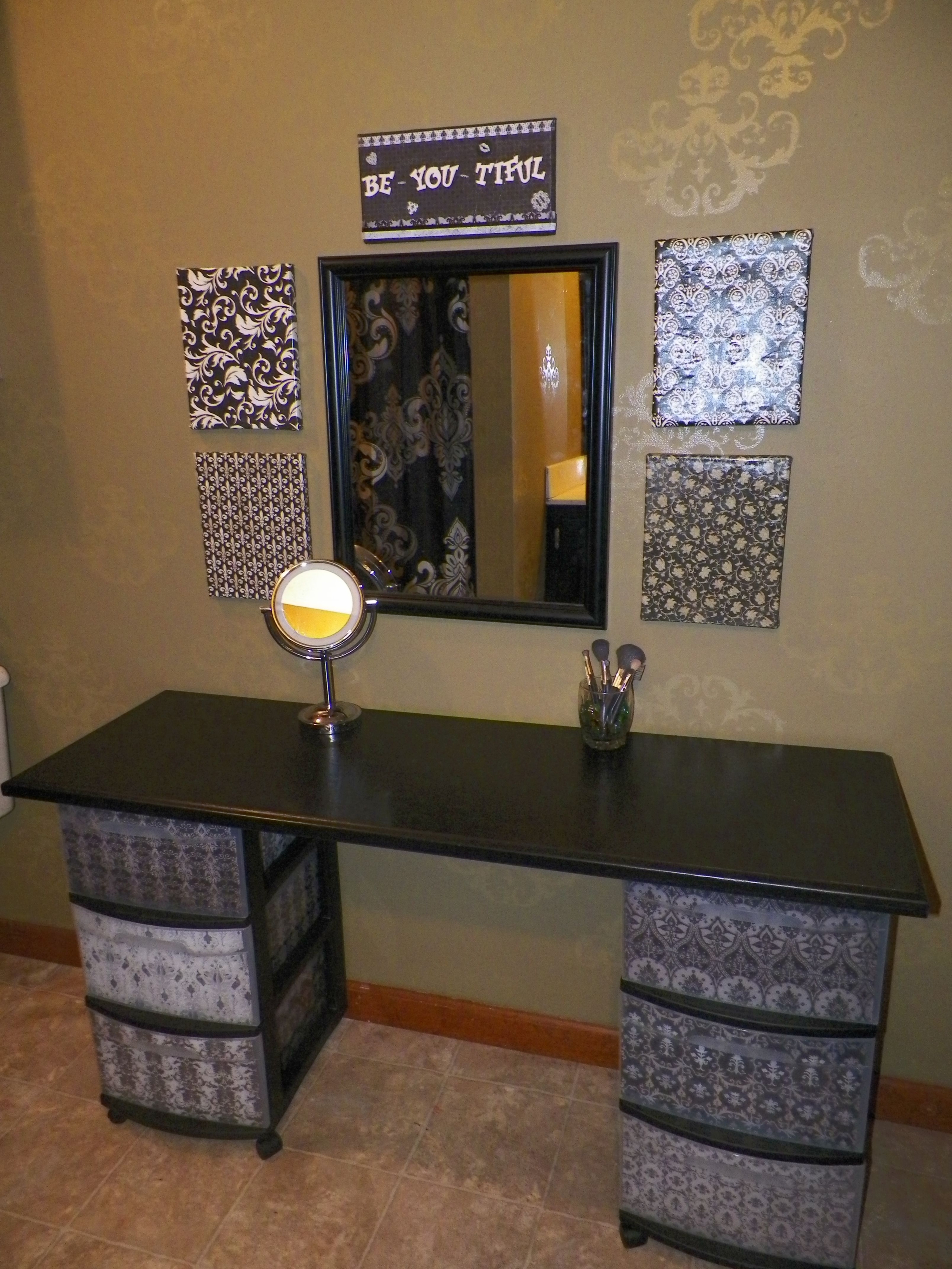 Try this extraordinary and unique vanity, and add it into your bedroom. The table top is very long, so has enough space for your cosmetics. The black and white patterns on drawers, create the interesting look.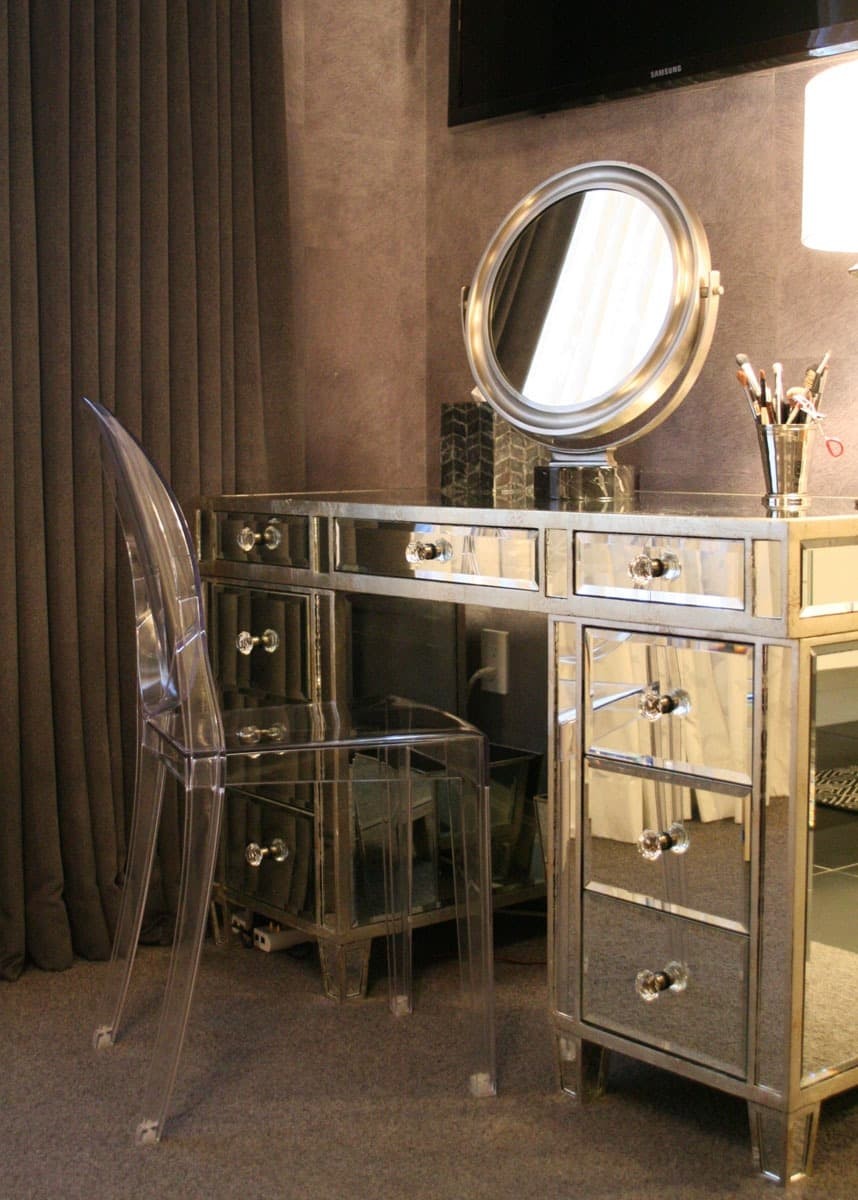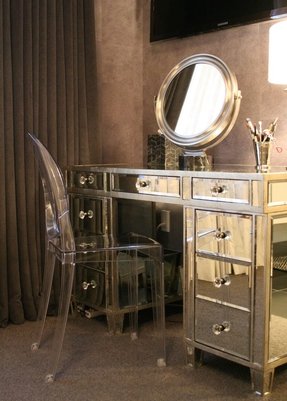 My wife needed a vanity for everyday make-up. Why not? I found this beautiful mirrored dresser with shiny glass finish and many drawers for her cosmetics. With the lucite chair it looks stunning and glamour.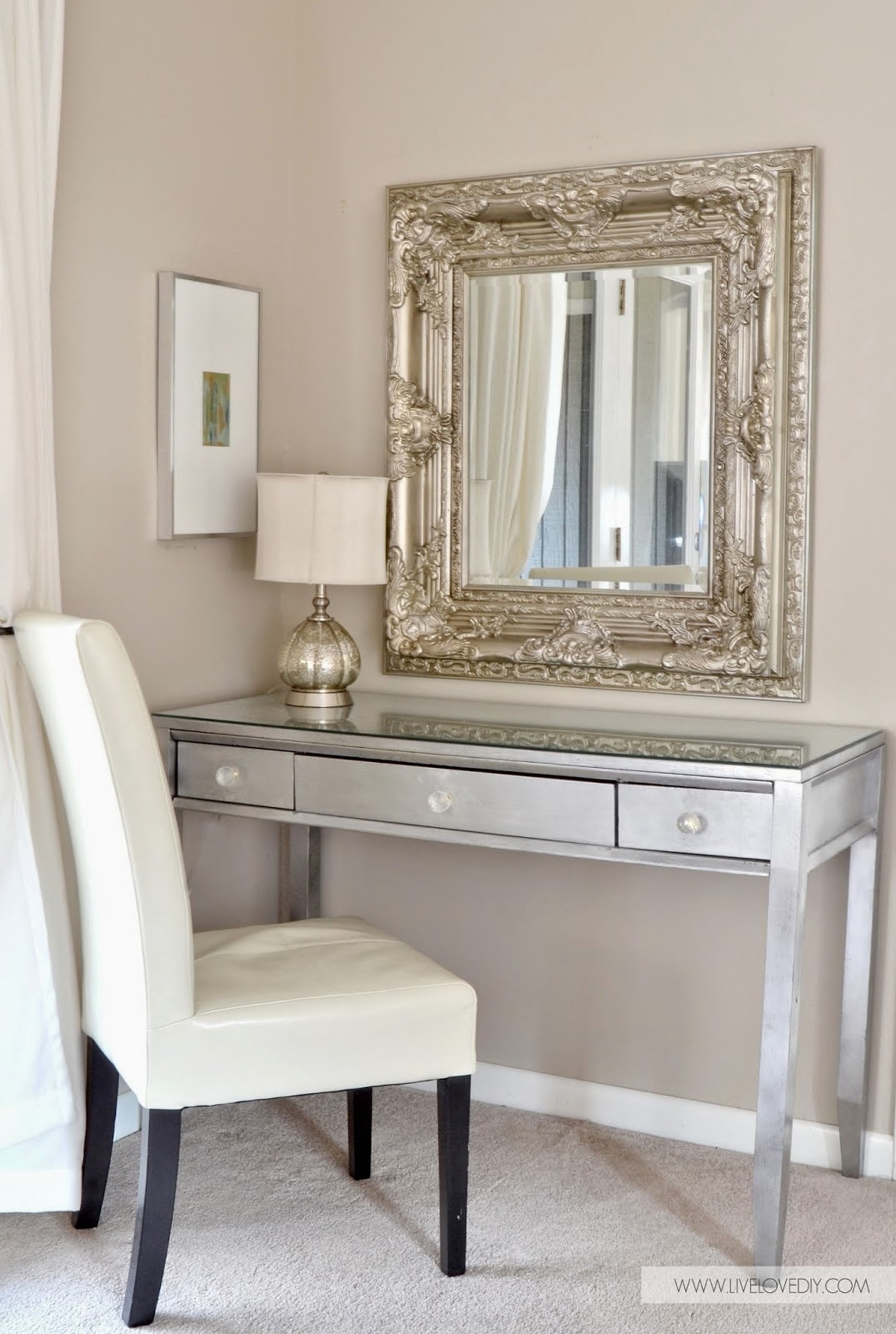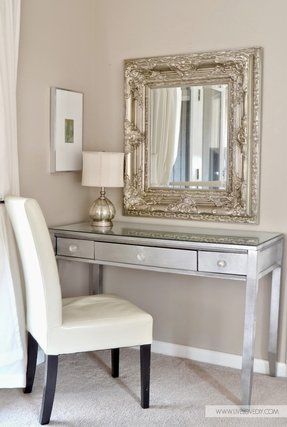 DIY Decorating Ideas for Your Bedroom. So many great ideas in this post! Love this!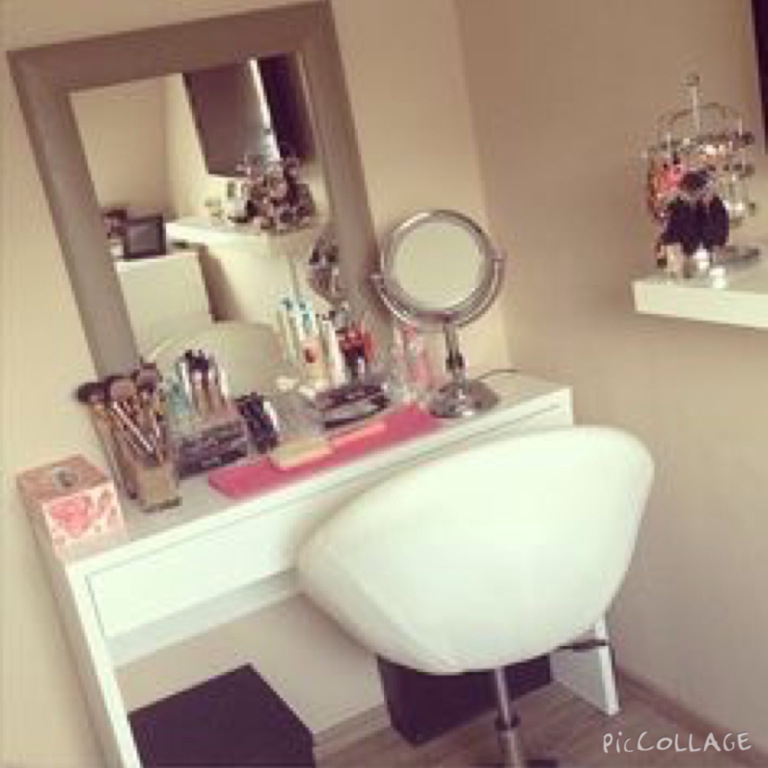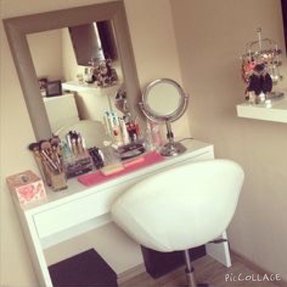 makeup vanity. Get inspired & see more amazing Beauty Room Designs at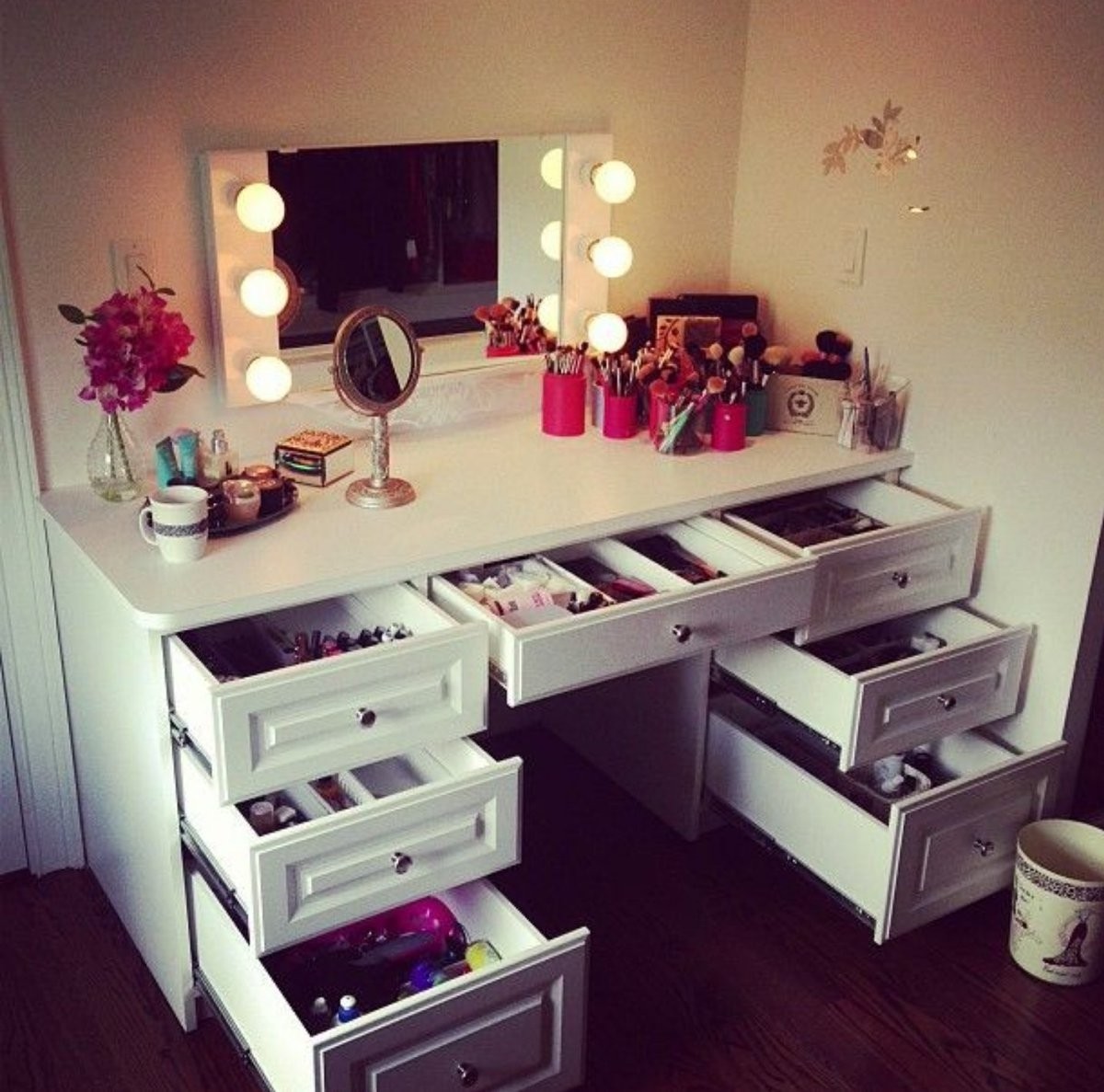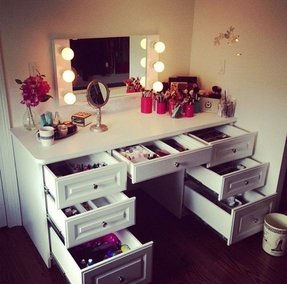 An aesthetic traditional bathroom dressing unit made of wooden materials finished in white. It has a rectangularish top with rounded corners and 7 size-varied drawers with simple rectangular milling cuts on fronts and small metal mushroom pulls.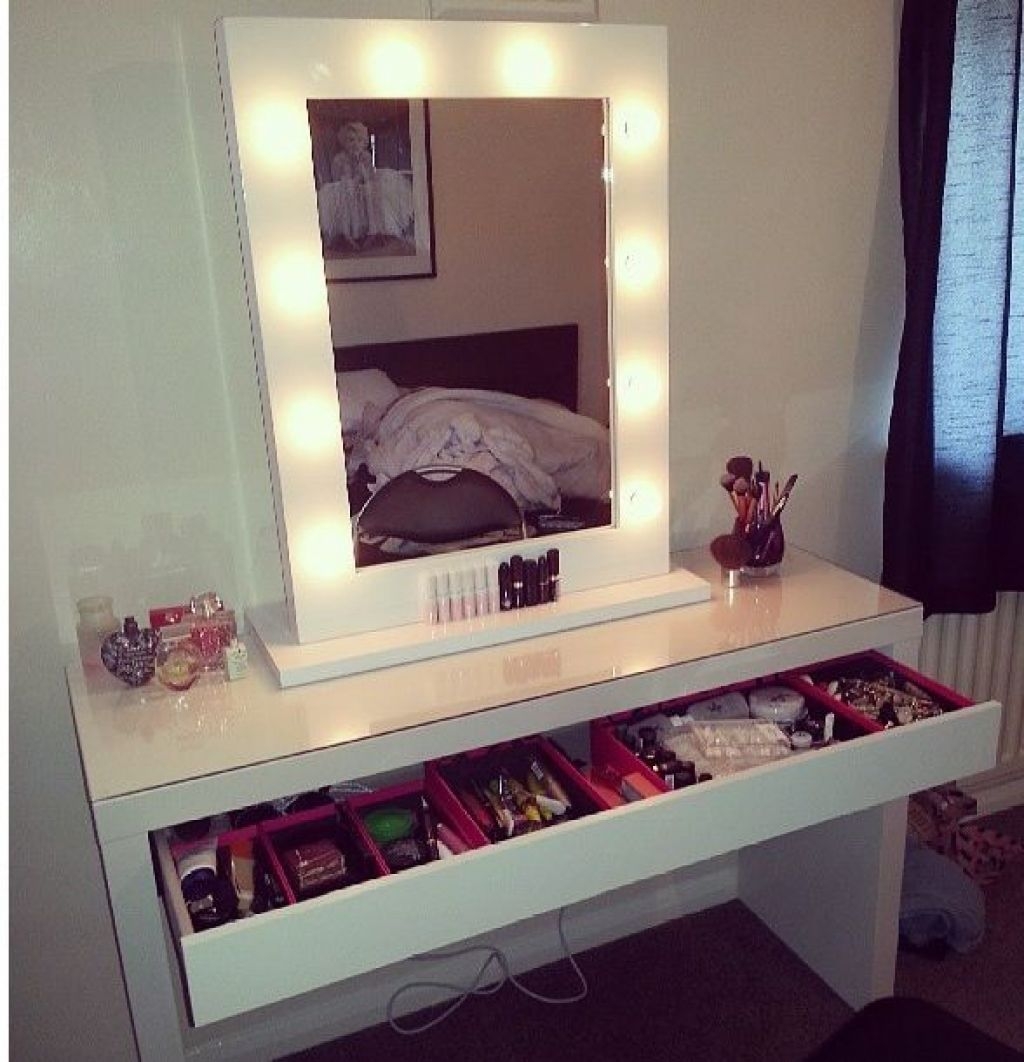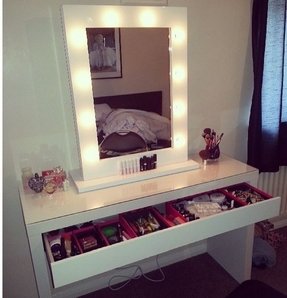 This vanity table shall fit well into contemporary interiors. Sleek, white surface adds chic and conceals a well-organized storage space for all makeup accessories, helping you to start the day with class.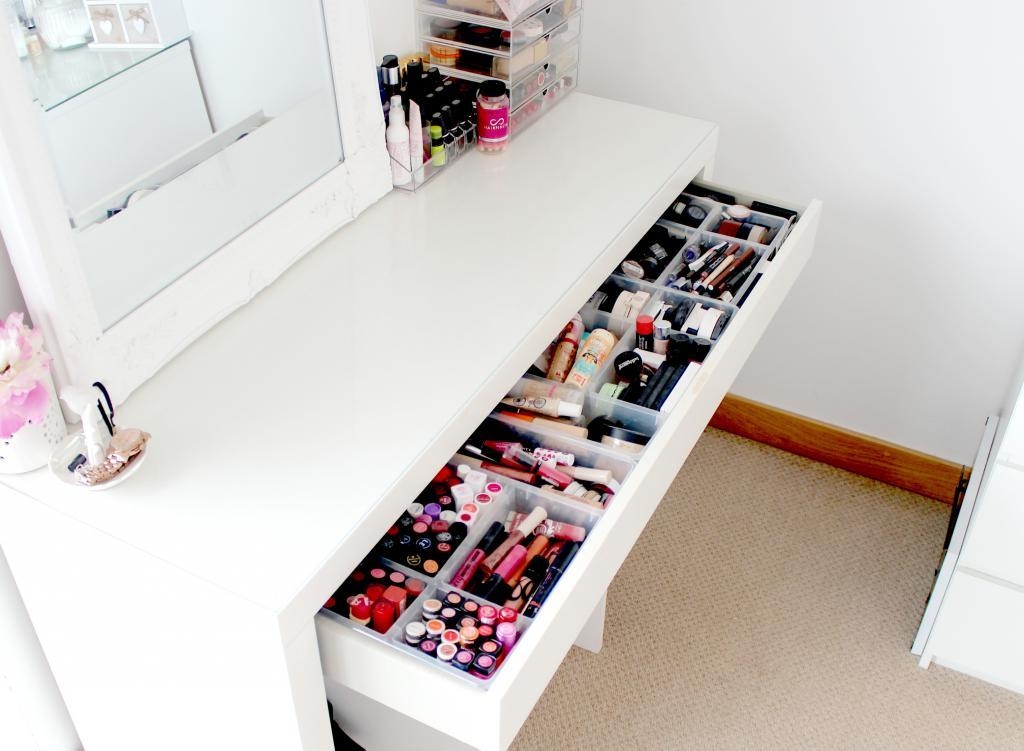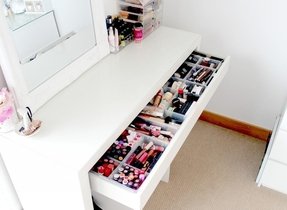 Vanity table fitted with wide drawer for storing cosmetics and others personal items. Construction is made of wood and fitted with glass top. Great addition to any bedroom.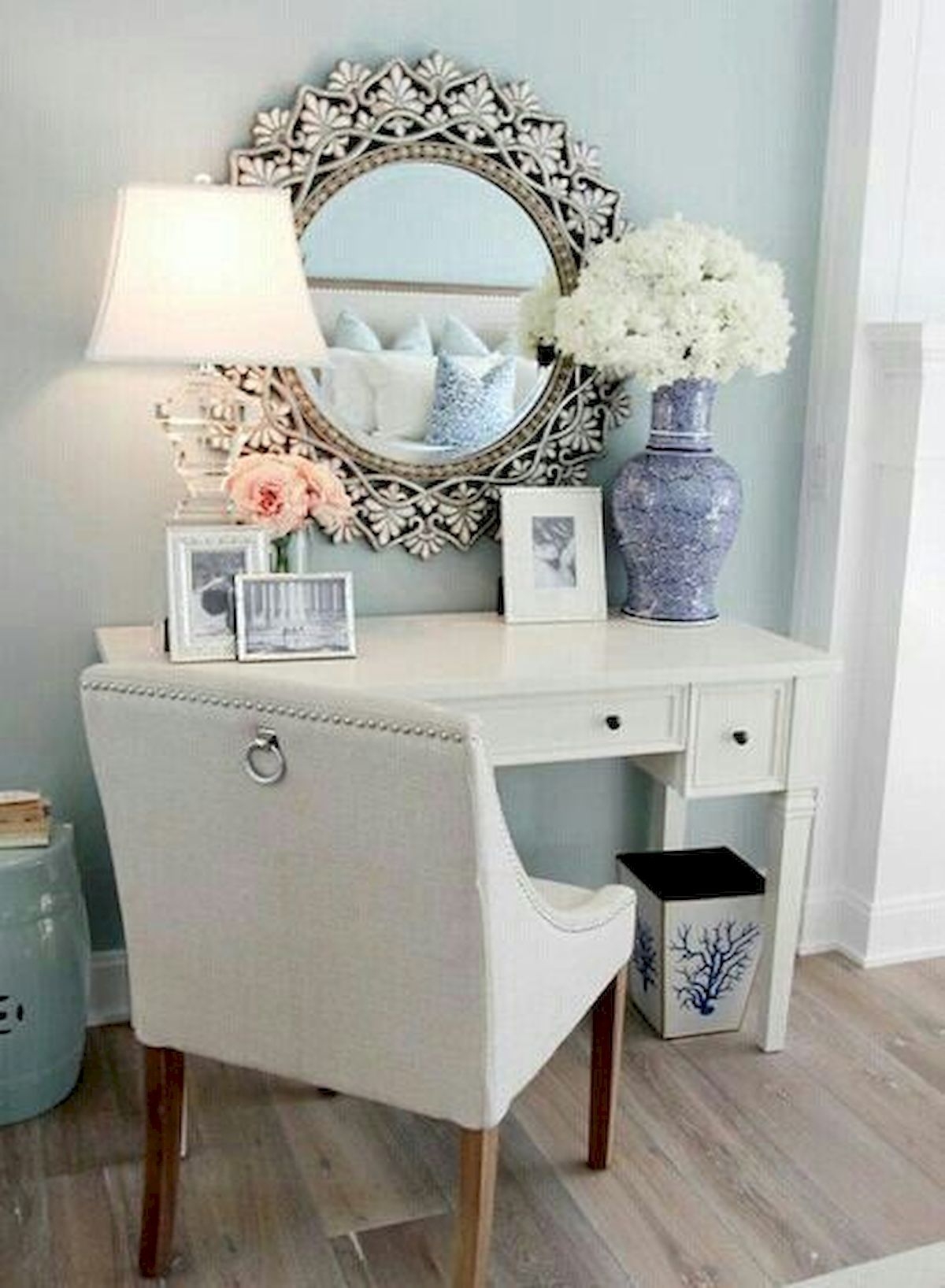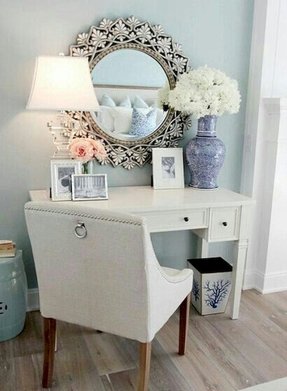 Create the adorable beauty nook with this makeup vanity set, which includes the simple, white vanity desk and armchair with nail heads and white upholstery. It brings the clean, fresh look to your bedroom.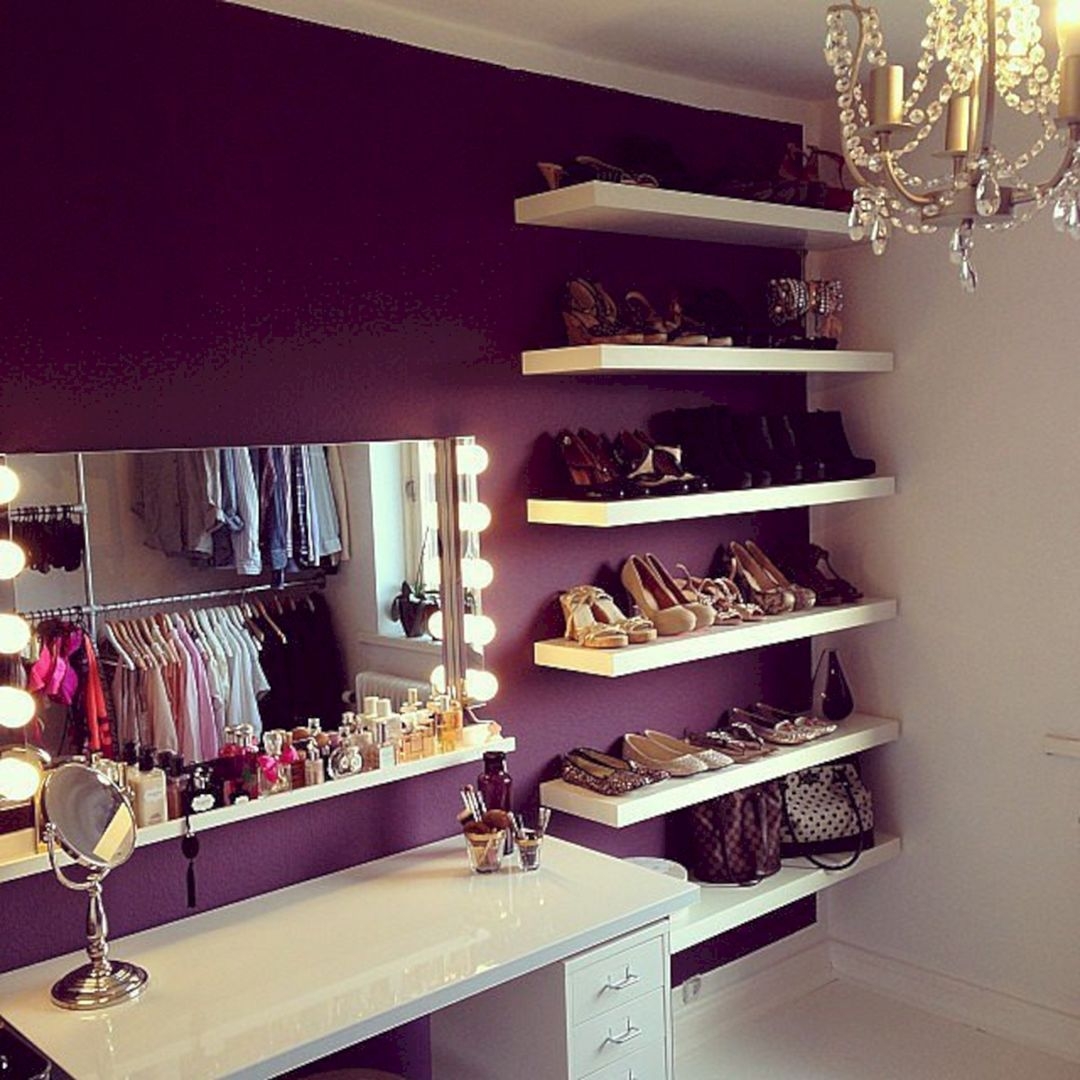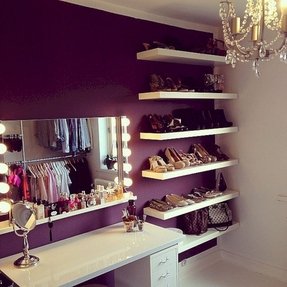 This charming vanity table, surrounded by shoe and accessories shelves, and with a beautiful old-fashioned Hollywood-style mirror, is an excellent way to dress up in the original and very functional wardrobe.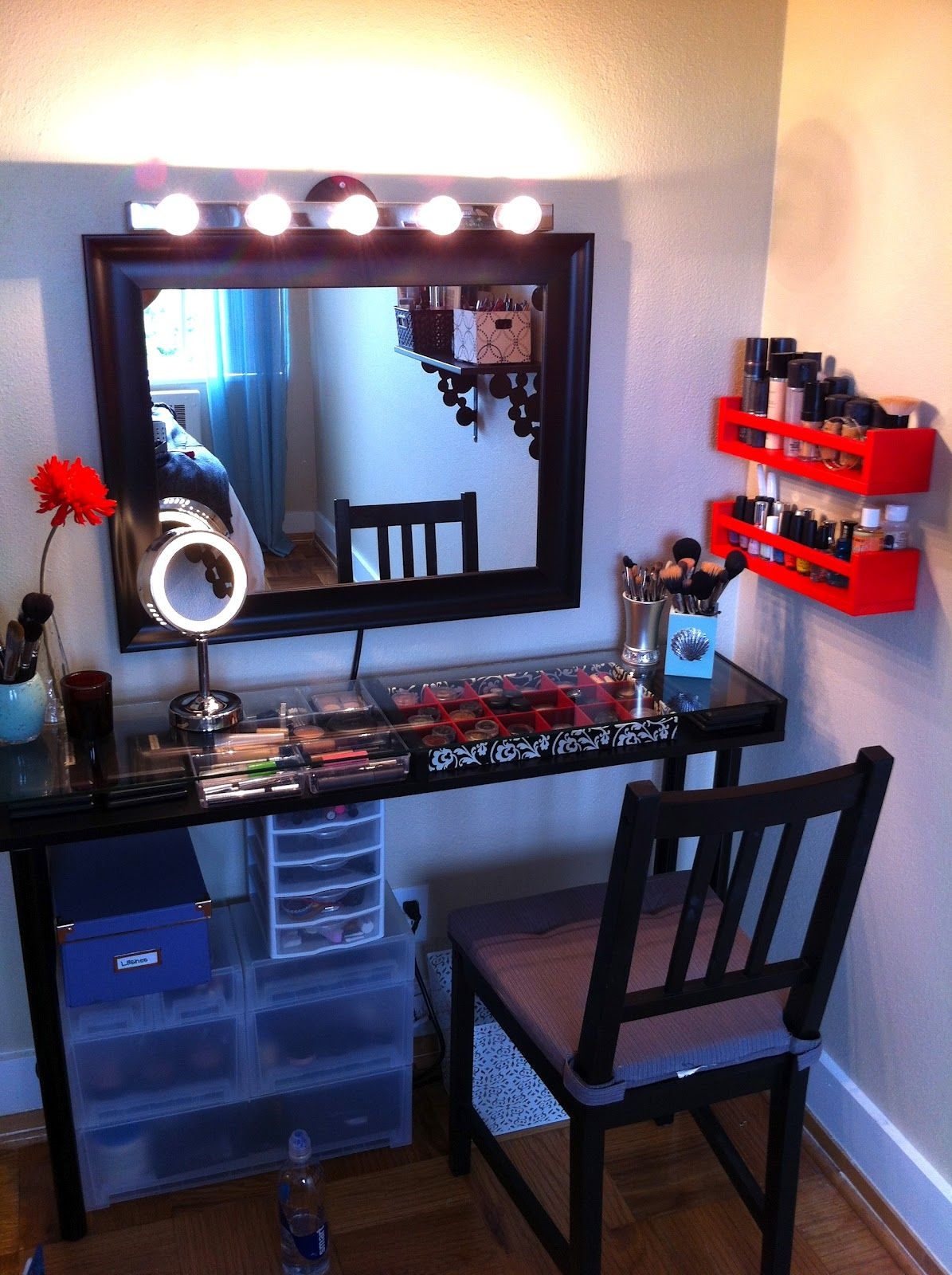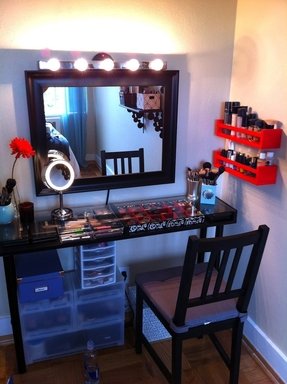 Perfect for girls' rooms, this vanity bedroom set consists of 1 console table and 1 rectangle mirror. Constructed of wood and covered in a well-polished black finish, the table stands on tapered legs and has a glass top with a narrow open shelf, while the mirror is equipped with a 5-bulb lighting system.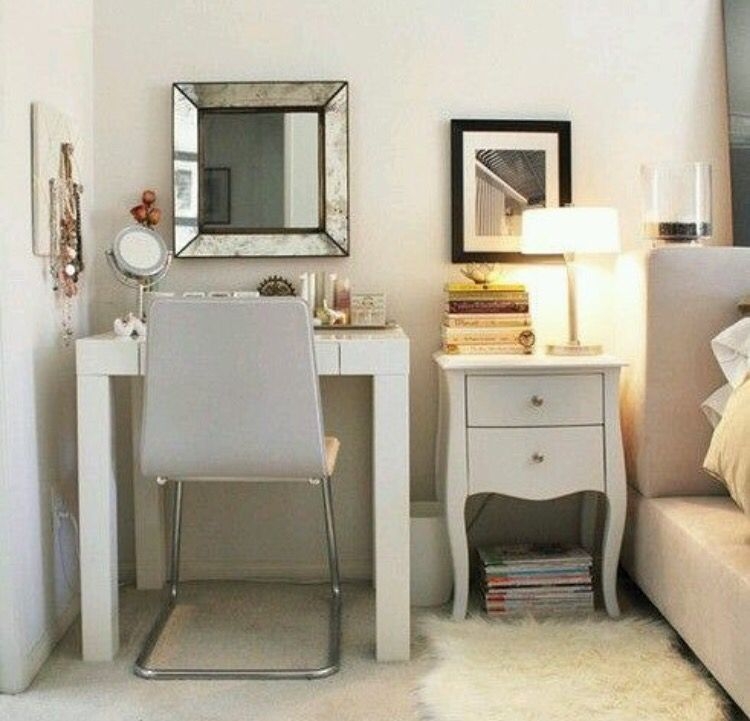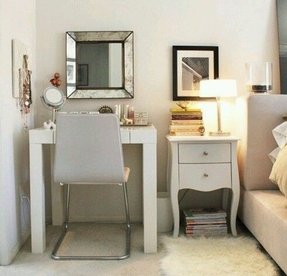 Why not park your vanity station right next to your bedside table to make the best use out of the space in your bedroom. It sports the modern look with its simple structure and distressed, silver mirror to complete the ensemble.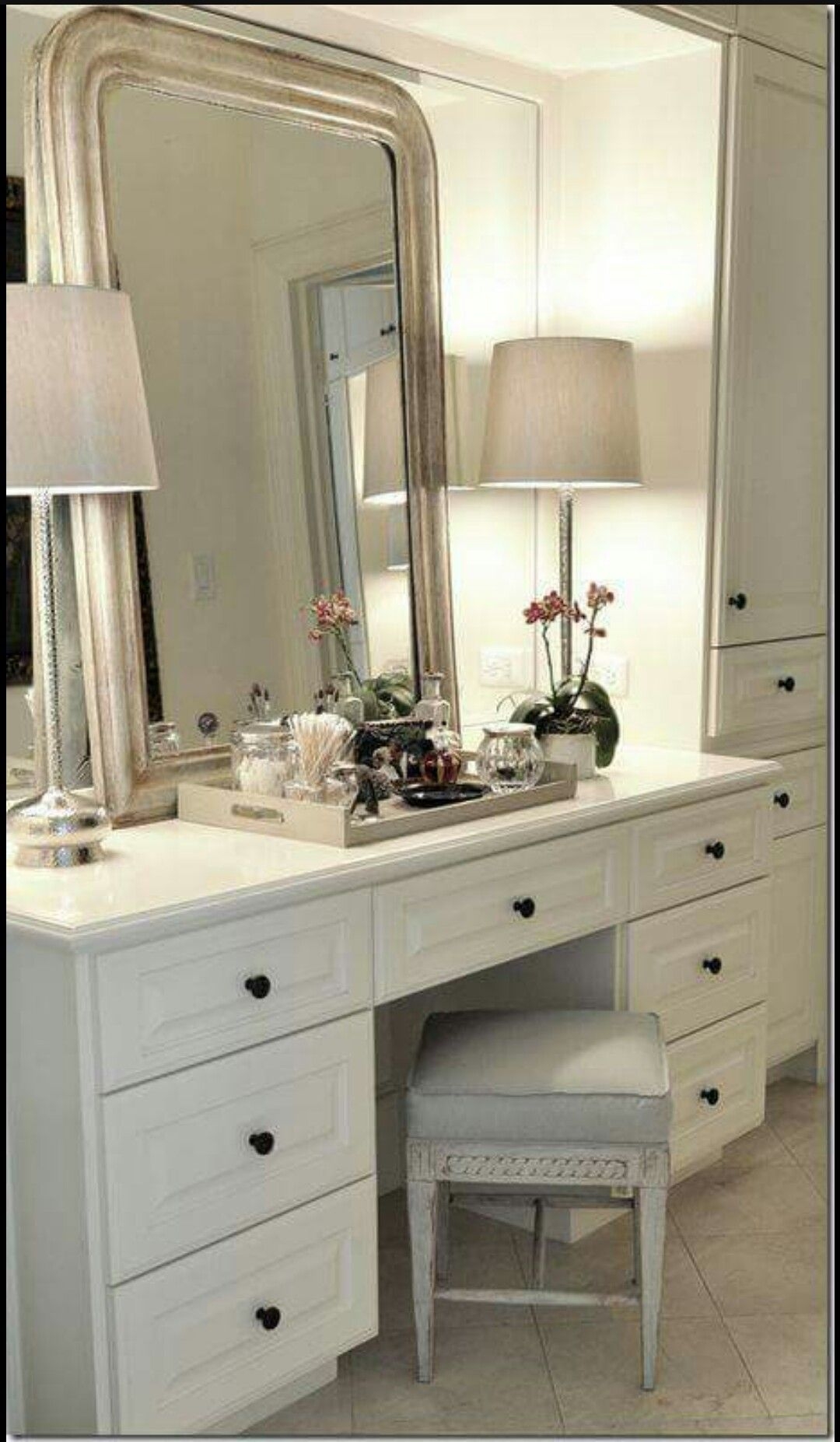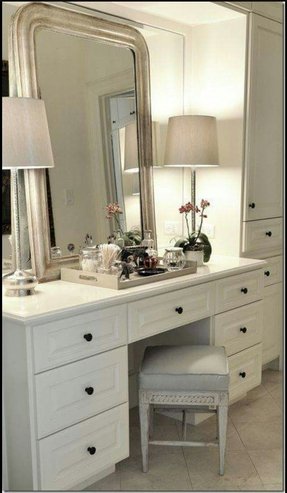 she added a leaning Louis Philippe mirror against the mirror, along with contemporary lamps and an antique bench. Again – another great idea to take home – you don't have to pull out a mirror – just layer an antique one against it.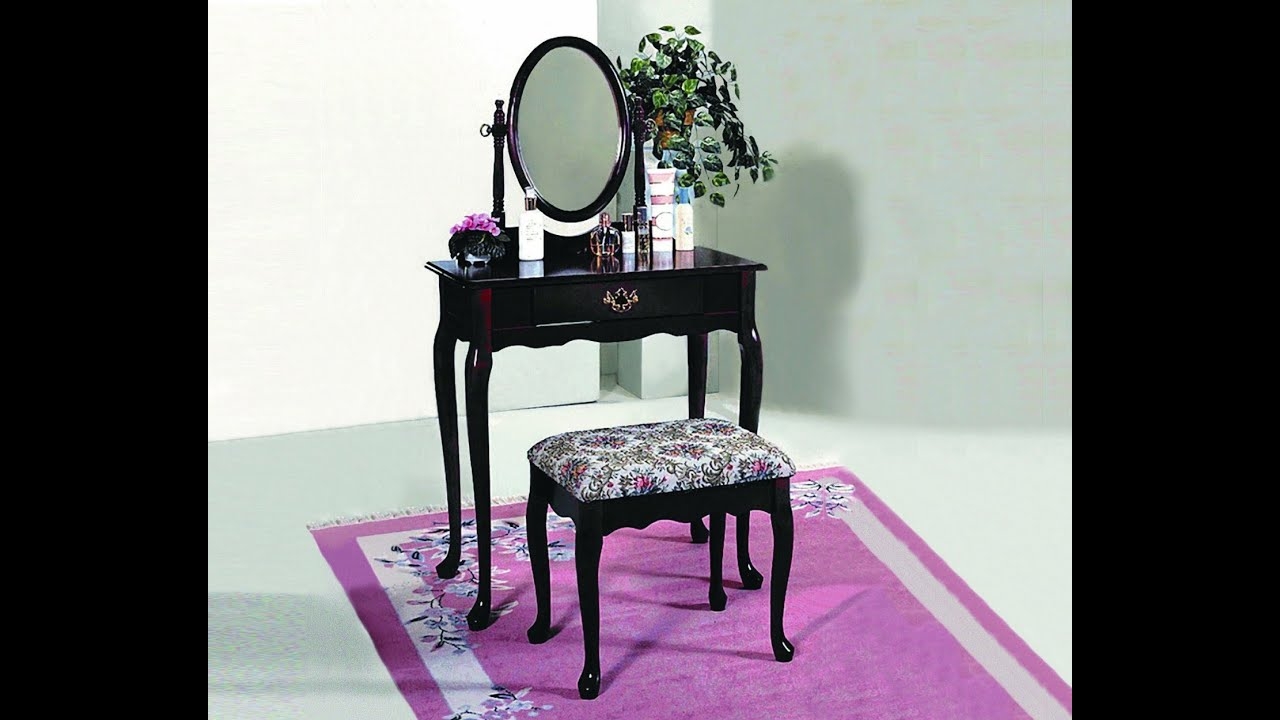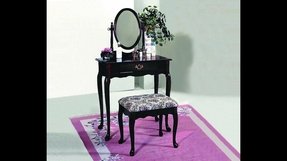 Are you looking for some stylish and intriguing solutions for your elegant bedroom? Then, check out this unique vanity set. It's gonna bring you not only a charming design, but also an unusual comfort.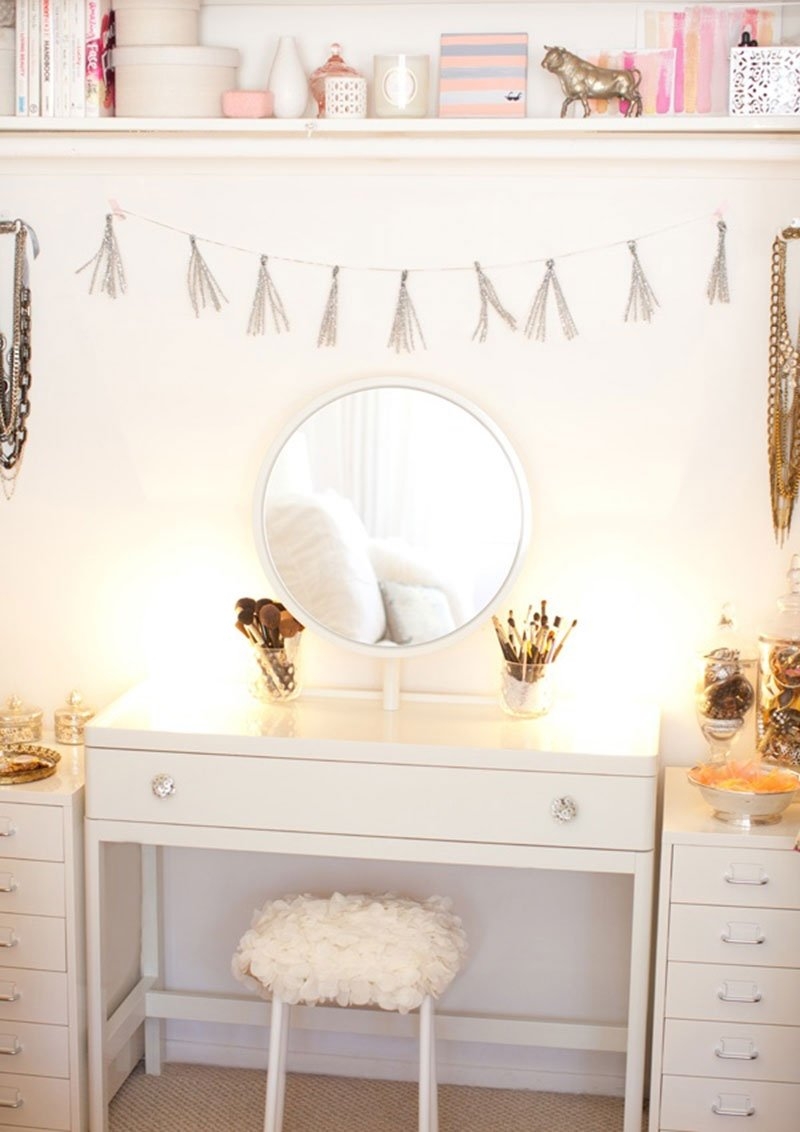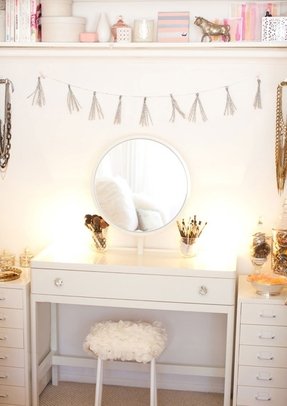 This makeup vanity table combines all the functionalities with a simplistic, yet cosy and modern appeal. It features a quite capacious storage drawer, adorned with two crystal knobs. The whole set is finished in sleek white.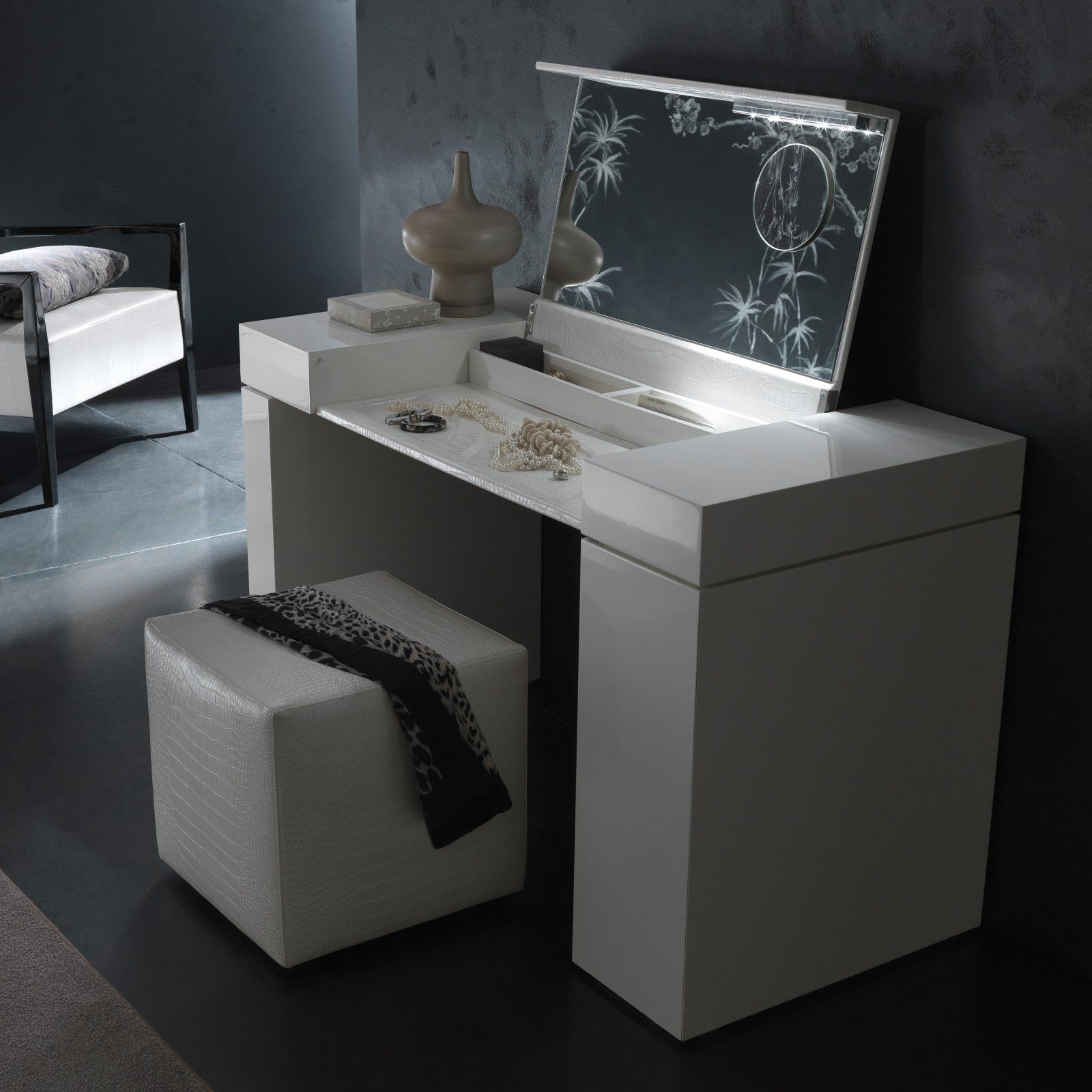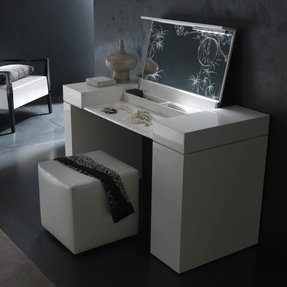 Nightfly Vanity with Mirror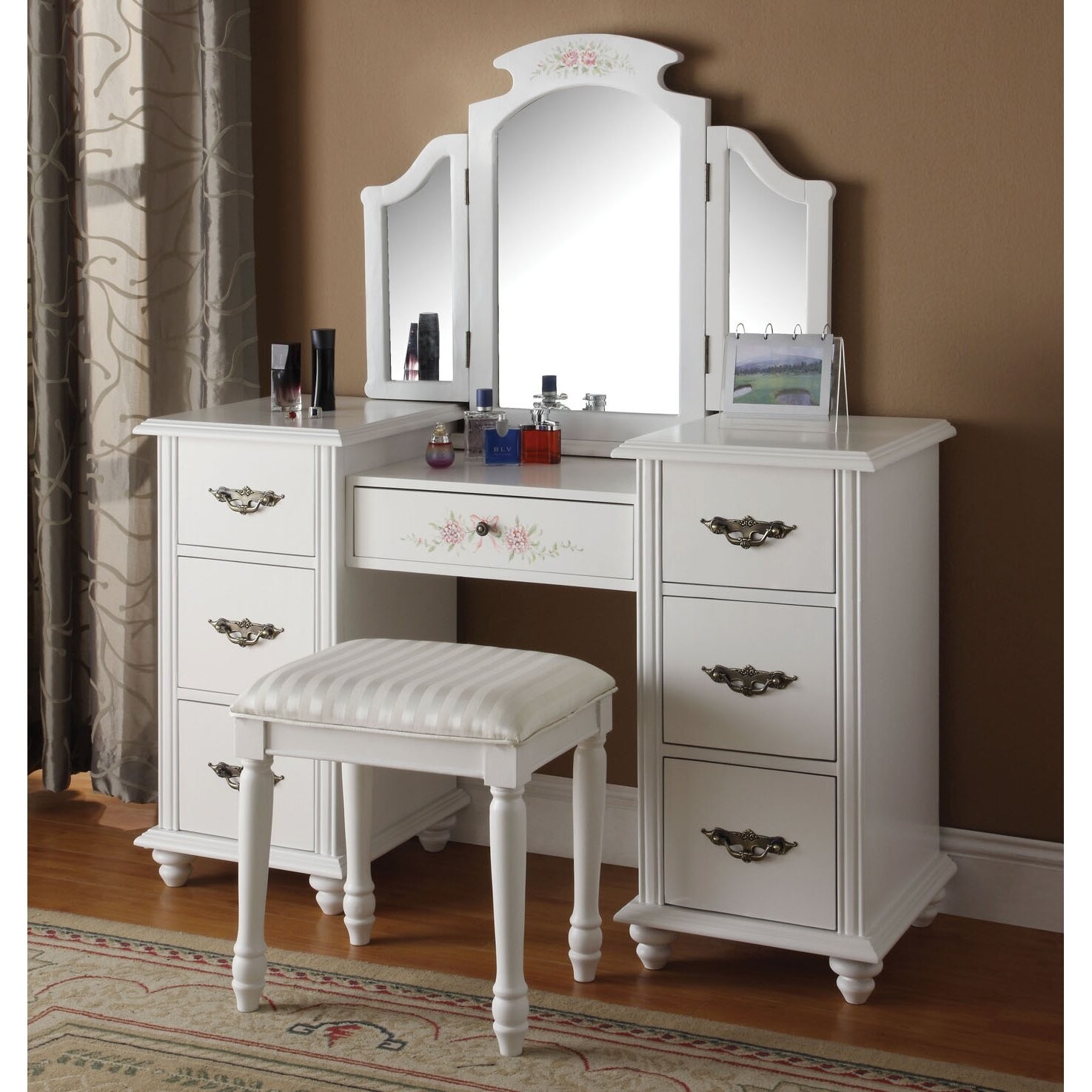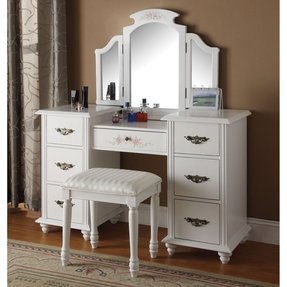 All Products / Bedroom / Bedroom & Makeup Vanities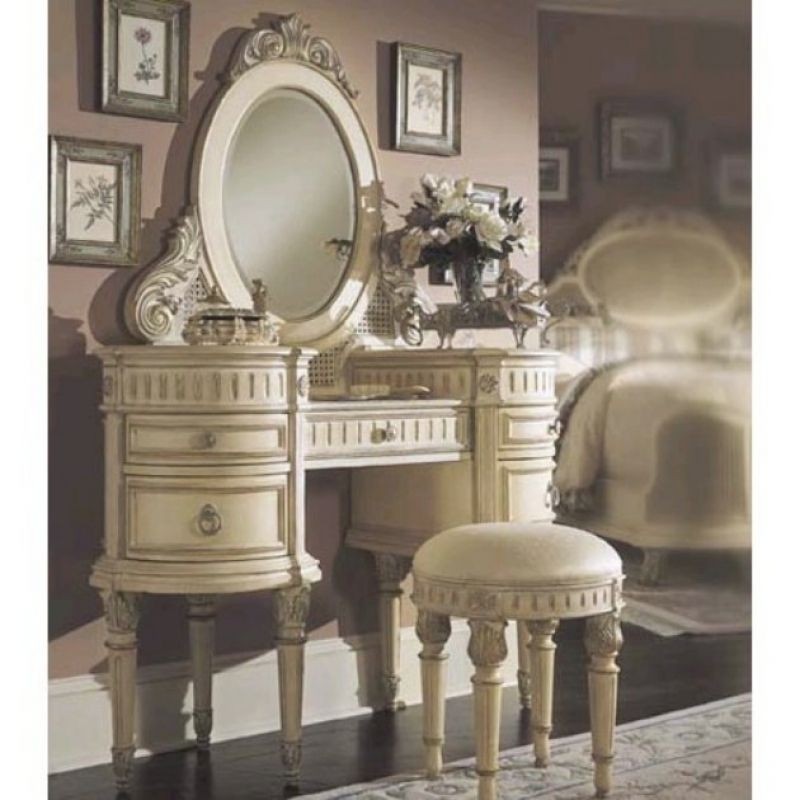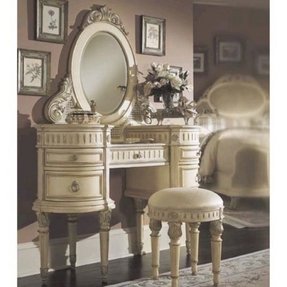 A chic antique set of creamy-finished wood with golden accents. A dressing table with curved panel drawers on raised sides and a round padded stool feature carved spindle legs and top edges with geometric patterns. A round mirror has ornate carvings.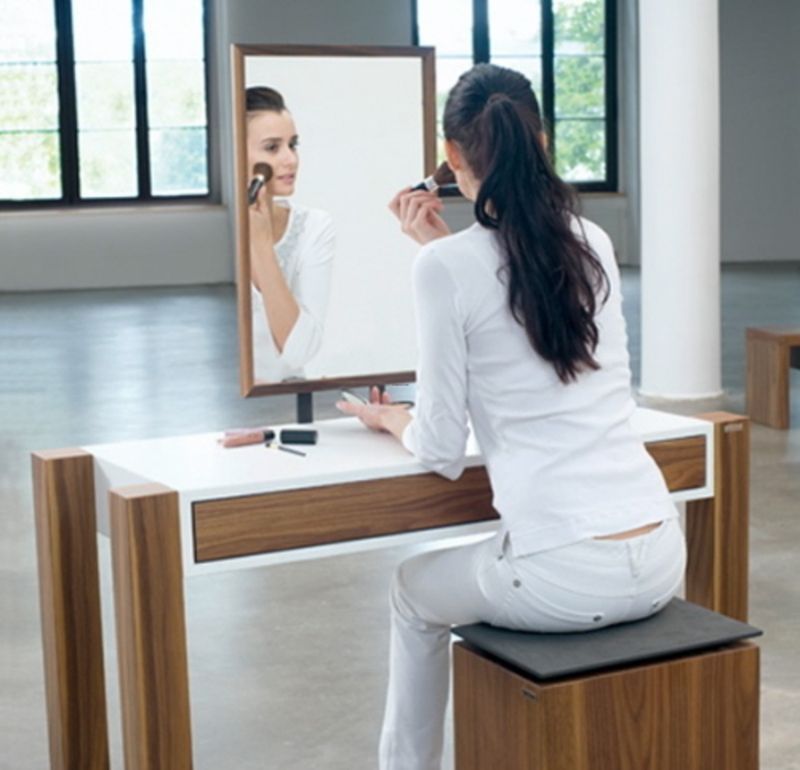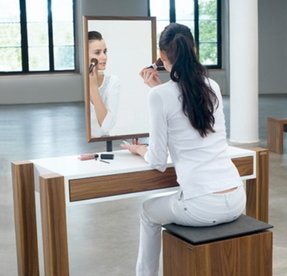 Men think that it's one of the women's duties-but really doing makeup is a pleasure for us.It requires a proper support - a beautiful rectangular mirror in a wooden frame, which is combined with a vanity table set also in a warm shade of various types of wood.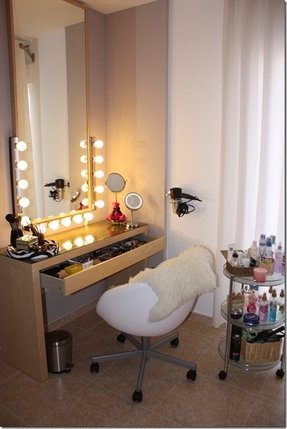 I Am Elizabeth Martz | Beauty Fashion & Lifestyle Blog: DIY YOUR OWN LIGHTED MAKEUP VANITY | UPDATED LINKS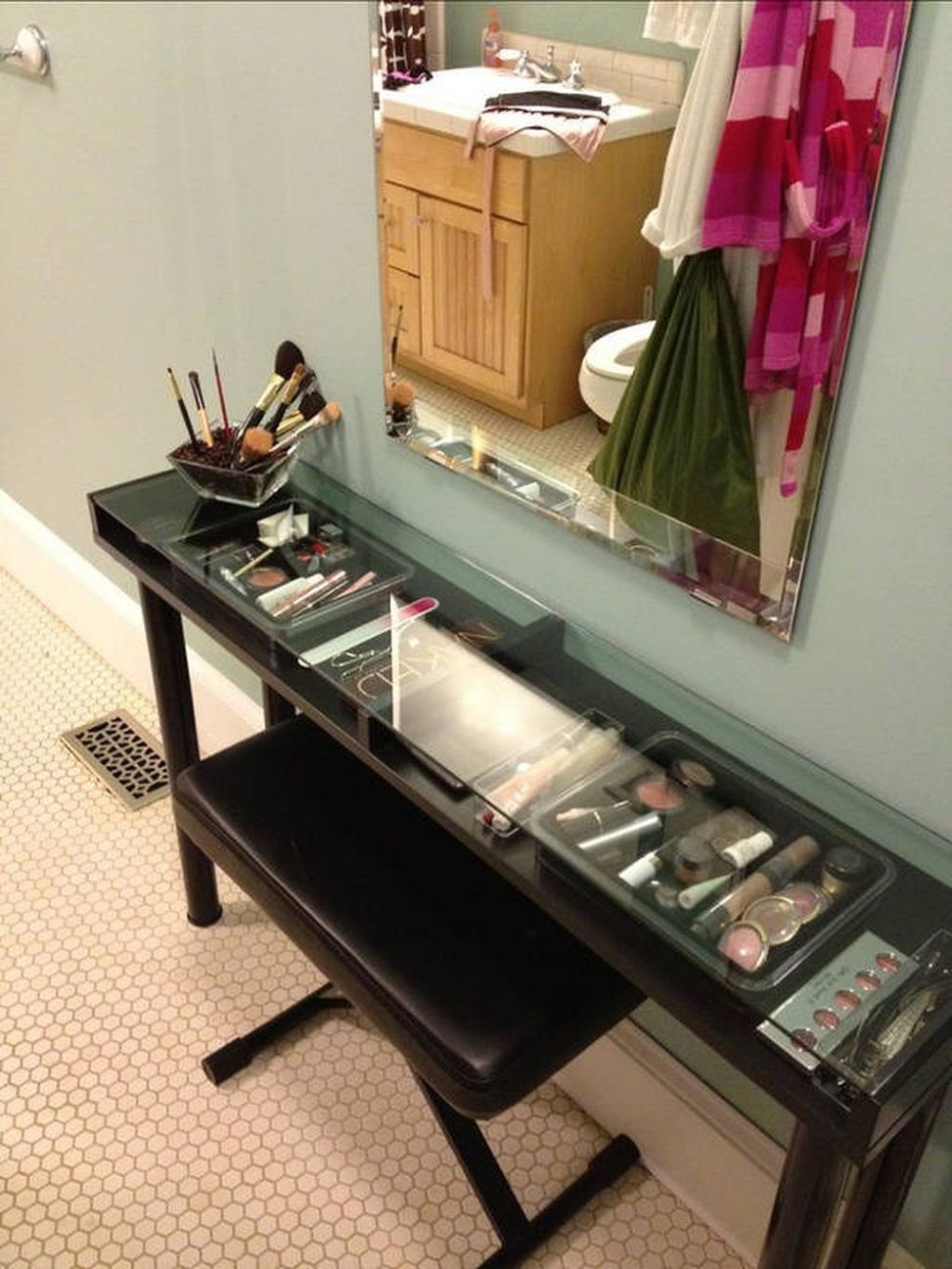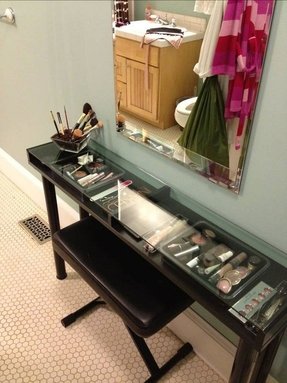 Organized beauty - brilliant idea! EKBY GRUVAN Ikea with ADILS legs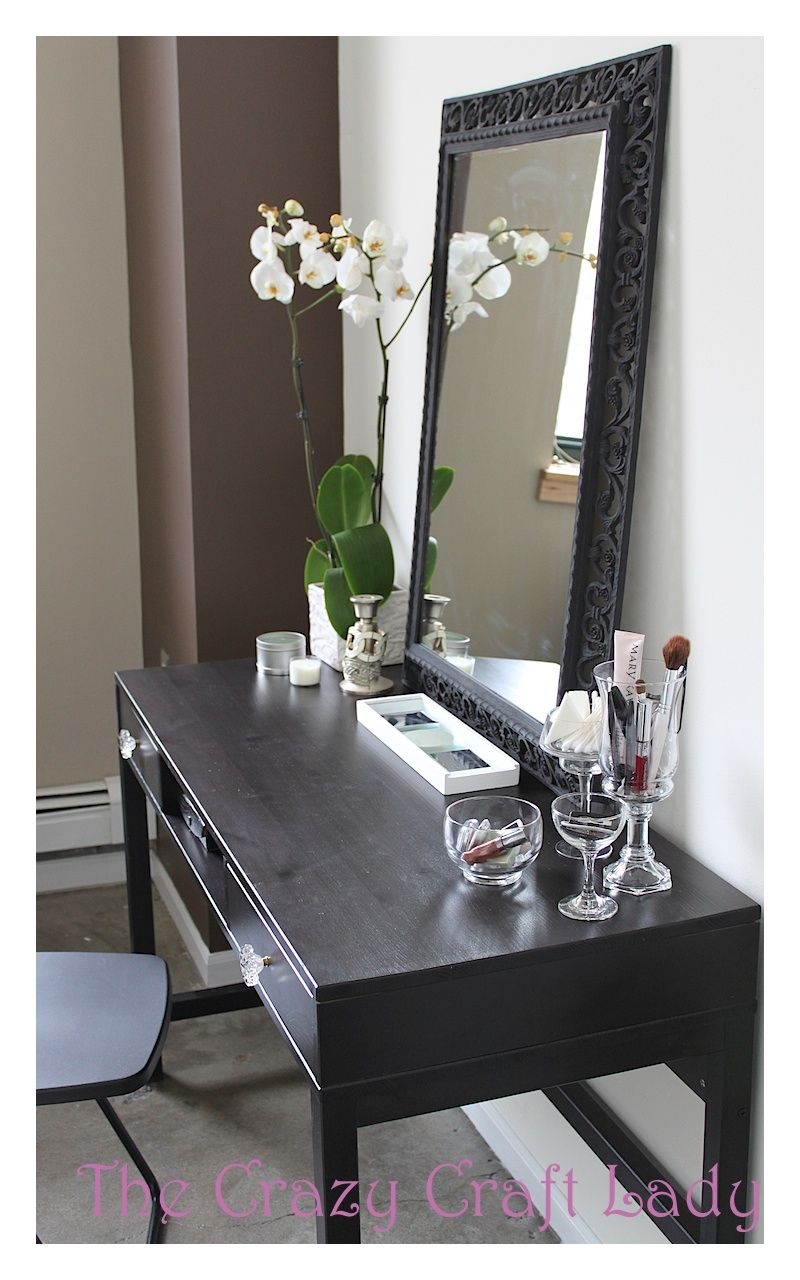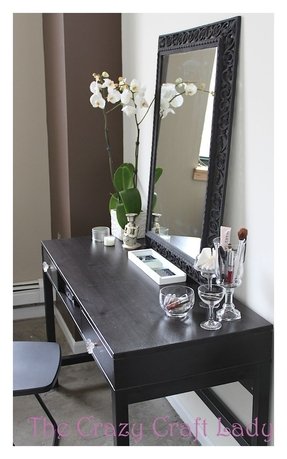 Bathroom vanity idea - Ikea desk ...way cheaper than the one I was going to buy!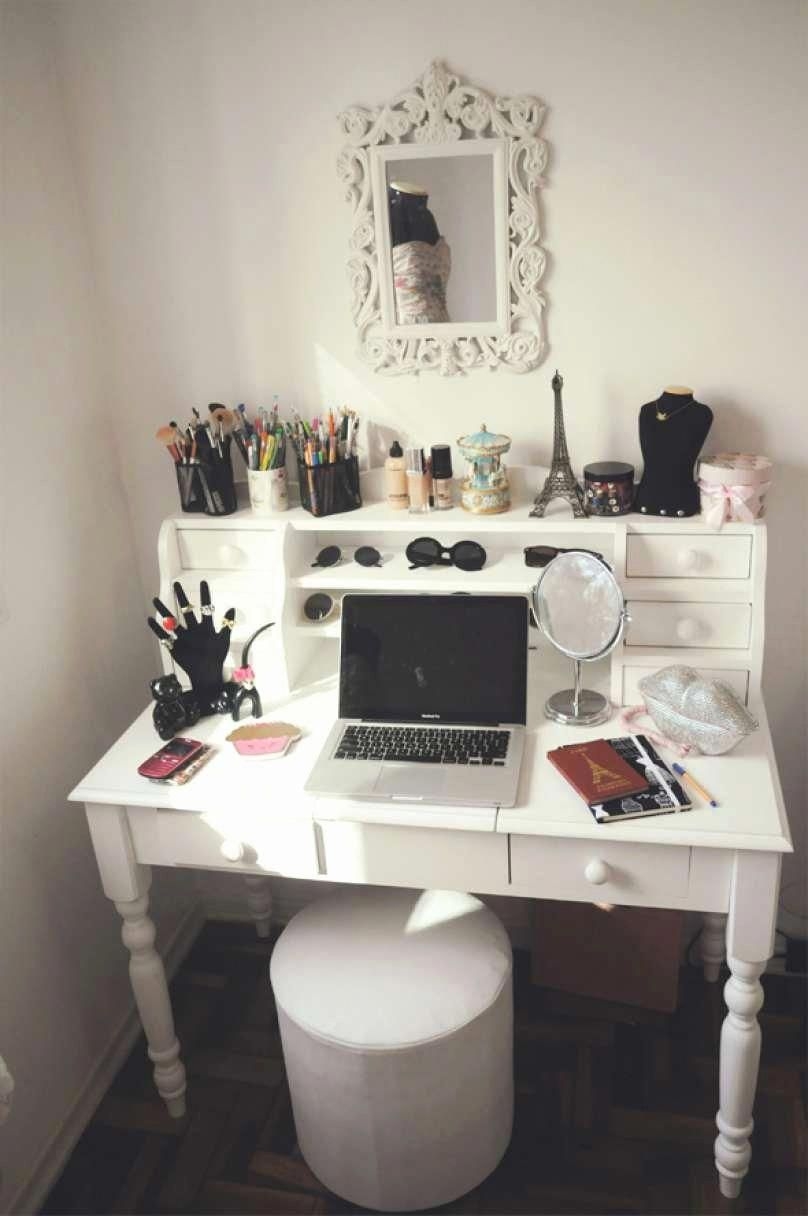 The little cute makeup vanity for your bedroom. White, so it fits to any type of interior. Equipped with many drawers to hide your cosmetics, jewelery or any other small things you don't have to throw off. Could be used as a desk also.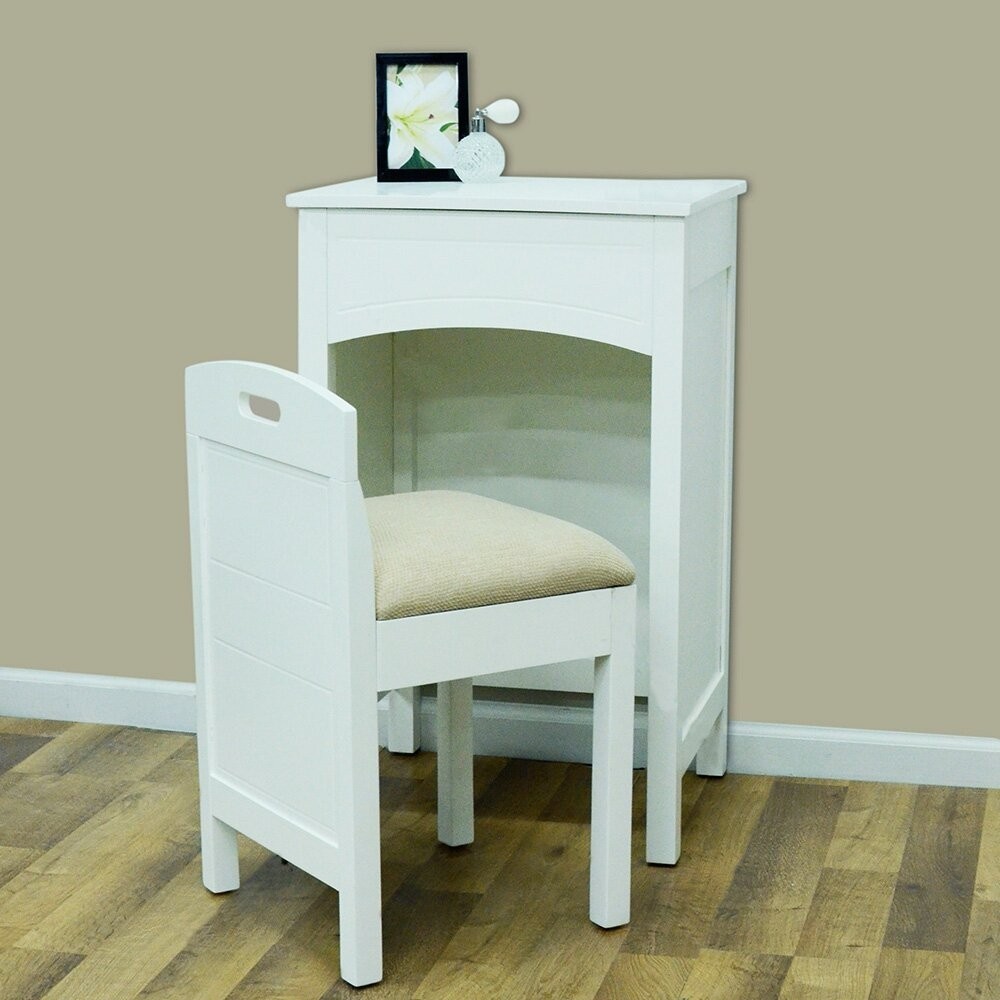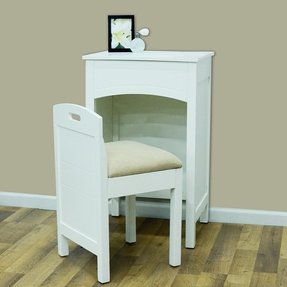 Simple and cute vanity set in white; perfect for limited interior spaces - the cushioned stool tucks neatly under the table, and the whole set transforms into a side table. Besides, the table has a flip up mirror on hinges.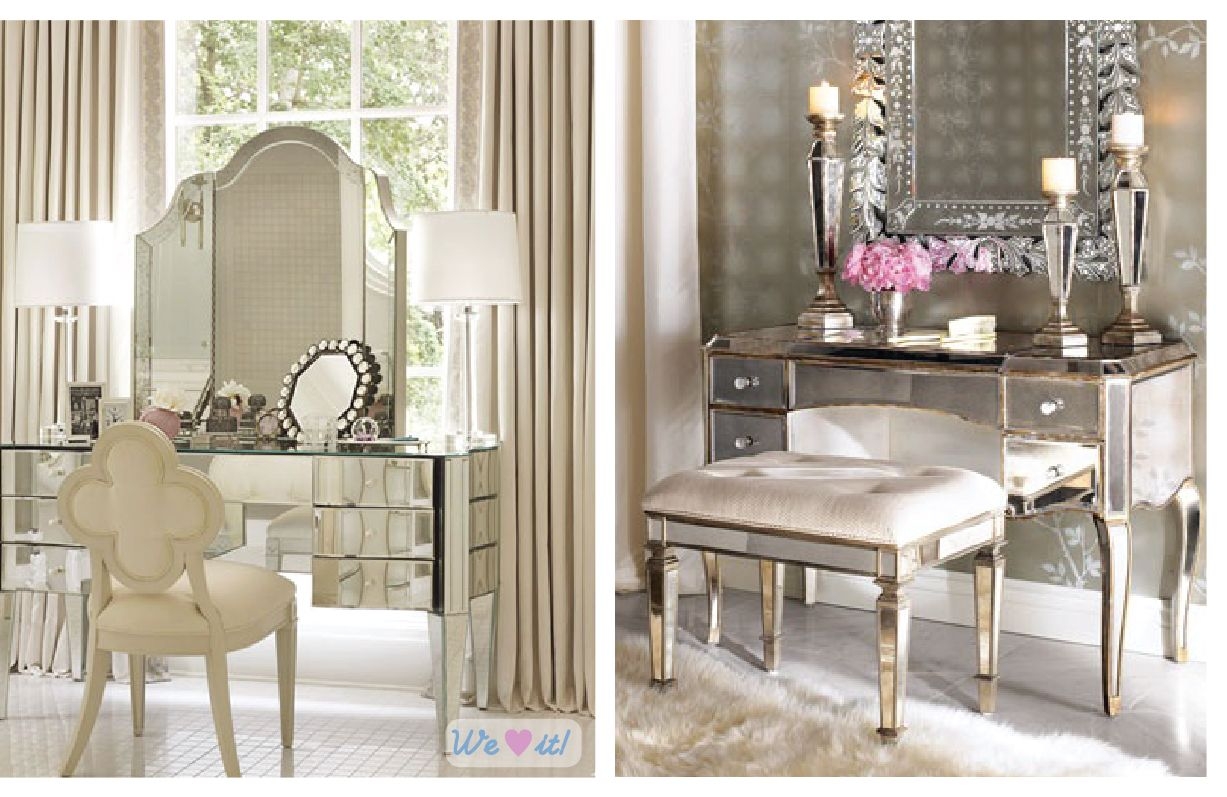 A glamorous classic makeup table featuring mirrored all panels (but white bottom surfaces). It has a rectangular top with bevelled edges, quite tall curved angular tapered legs, wavy aprons. It's equipped with drawers having small glass knobs.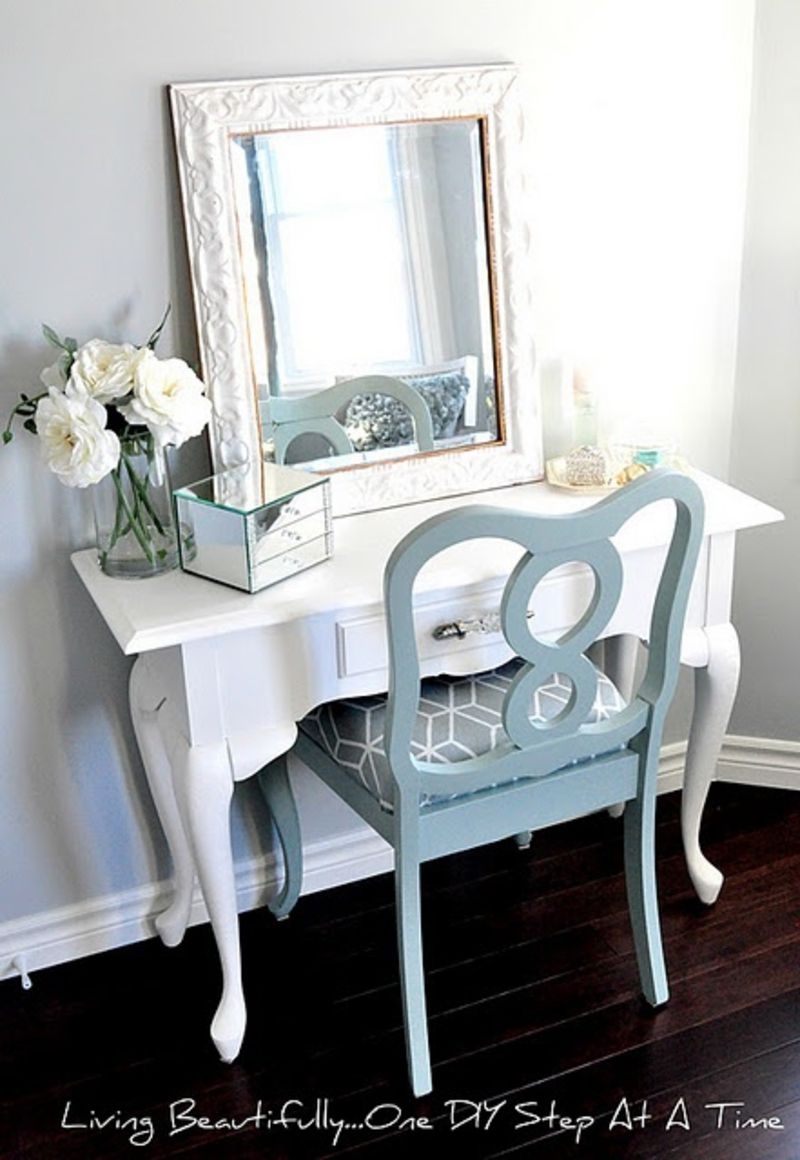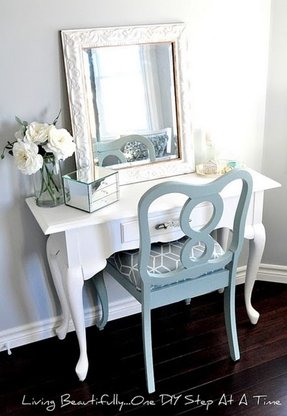 Thanks to this vanity table with drawer and mirror, your bedroom is going to look just lovely. With gorgeous curvature and striking white finish, the table itself looks very impressive. But when combined with the beautifully framed mirror, it makes a truly spectacular addition.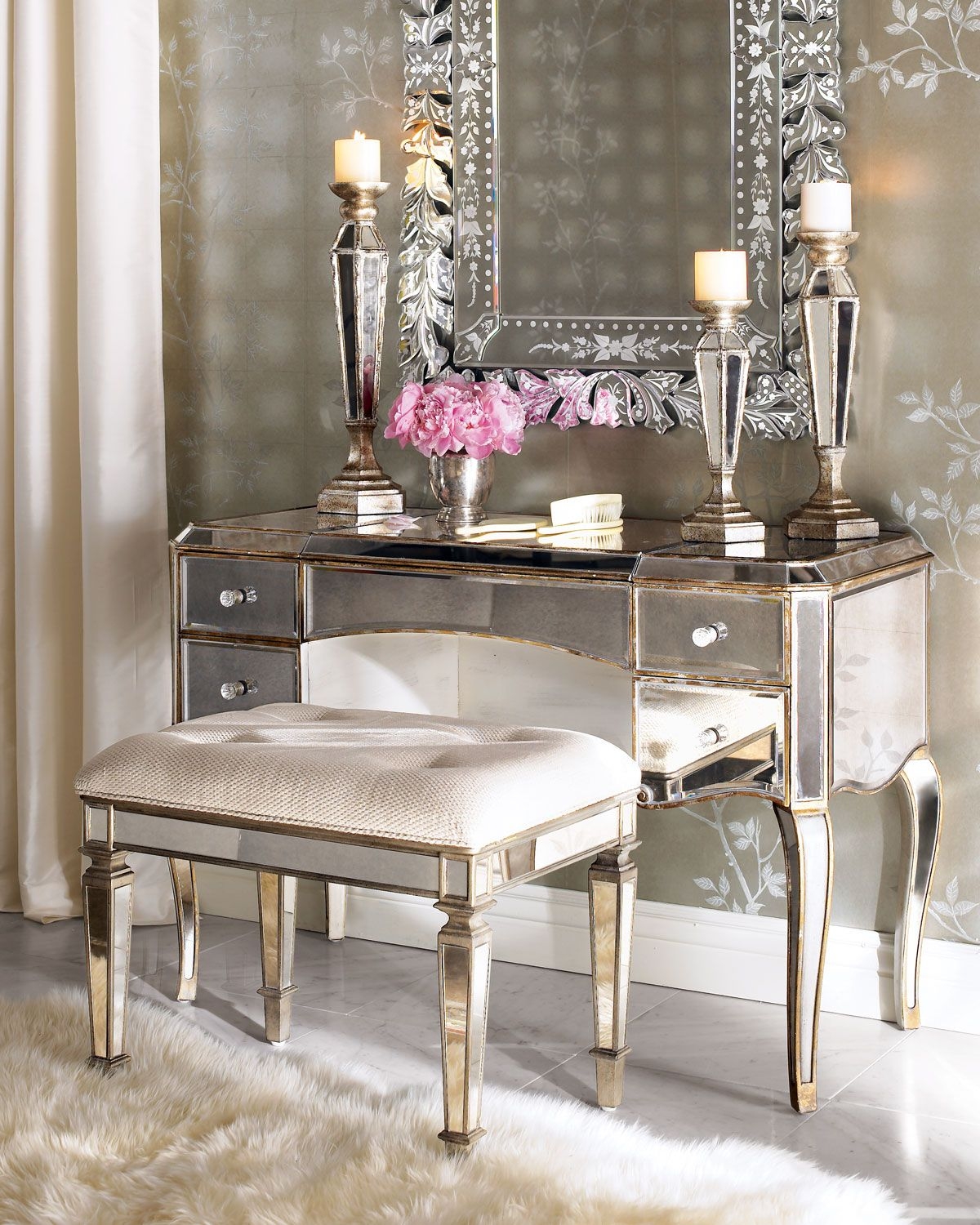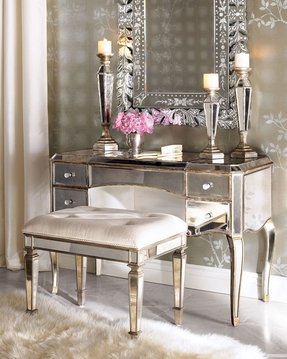 This vanity dressing table is in my master bedroom, and my husband and I couldn't be happier with the look and feel of it. It features the mirror with crystal sophisticated frame, mirrored side drawers and pillar candle holders.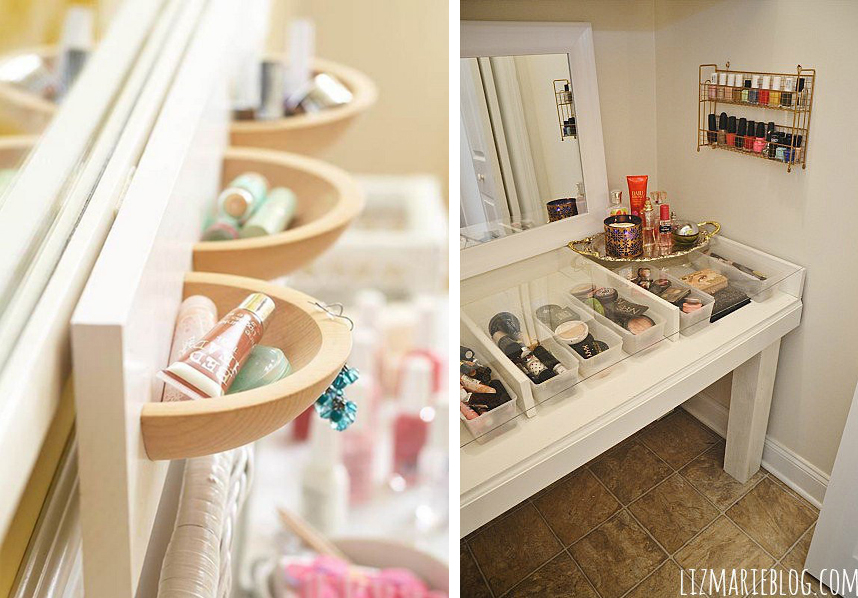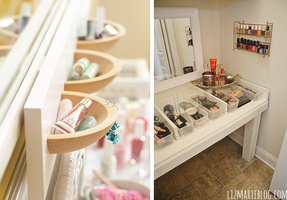 Suitable for girls' rooms, this vanity table with mirror features attractive wood, construction bathed in a white finish. It has thick legs for stability, a large top, and a rectangle mirror embedded in a matching frame.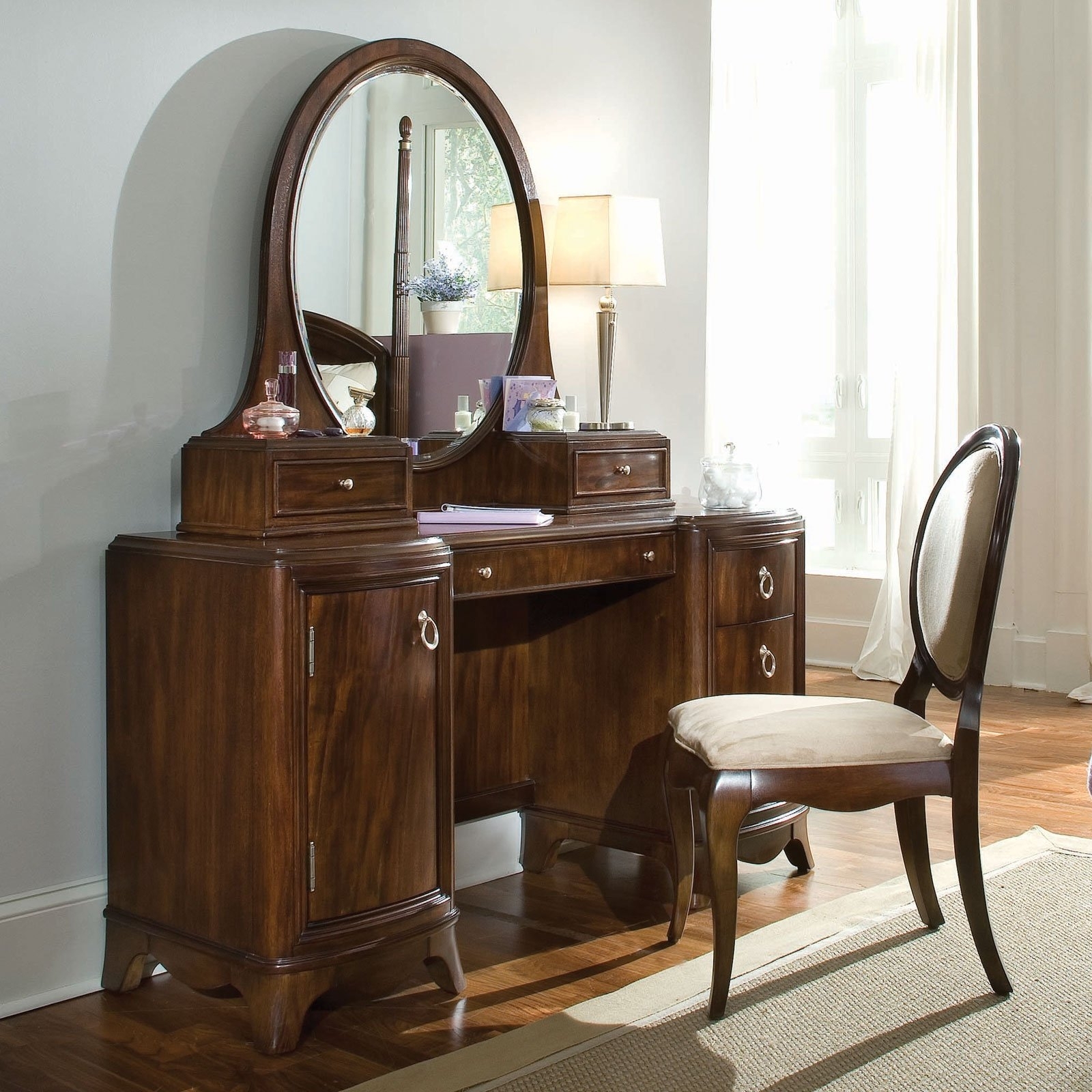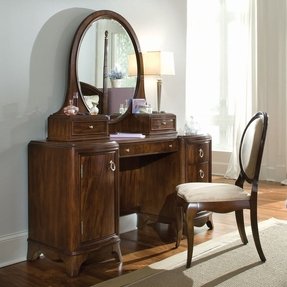 Vanities Bedroom by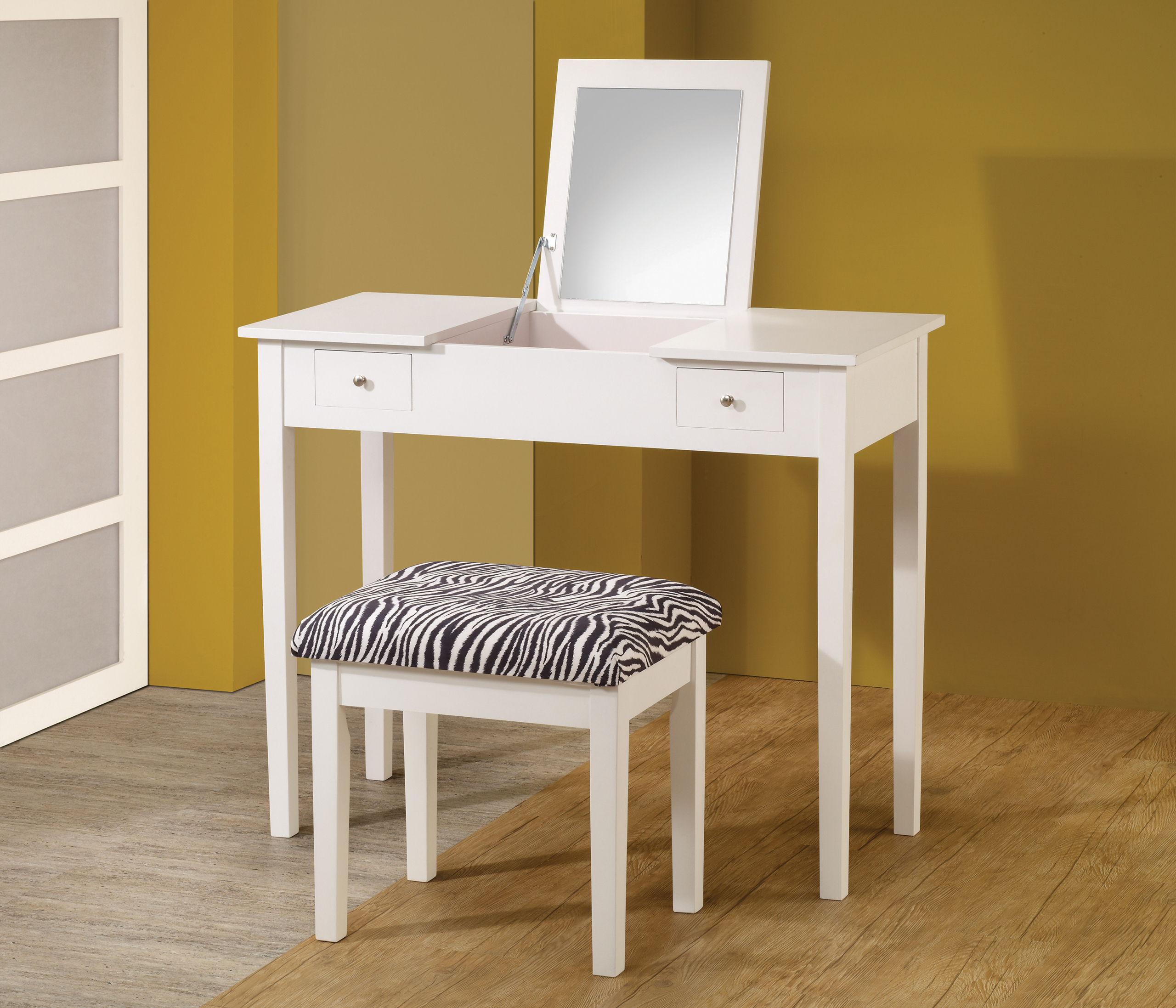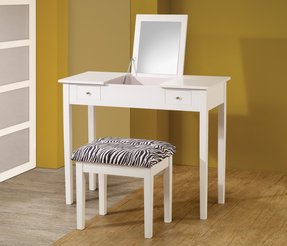 This elegant and stylish Casual Vanity with white coloring has quite simple design. Nonetheless, it also is very practical. Center panel can be lifted up revealing capacious space for storage. Moreover, two small front drawers can be used as a place to hide your makeup.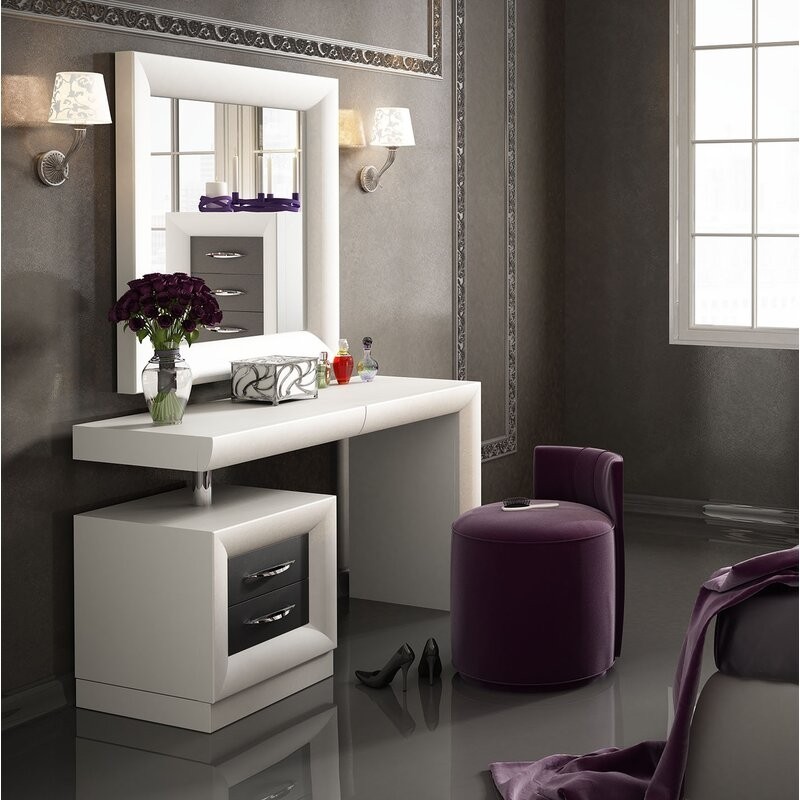 Everly Quinn Kirkwood Bedroom Makeup Vanity Set with ...