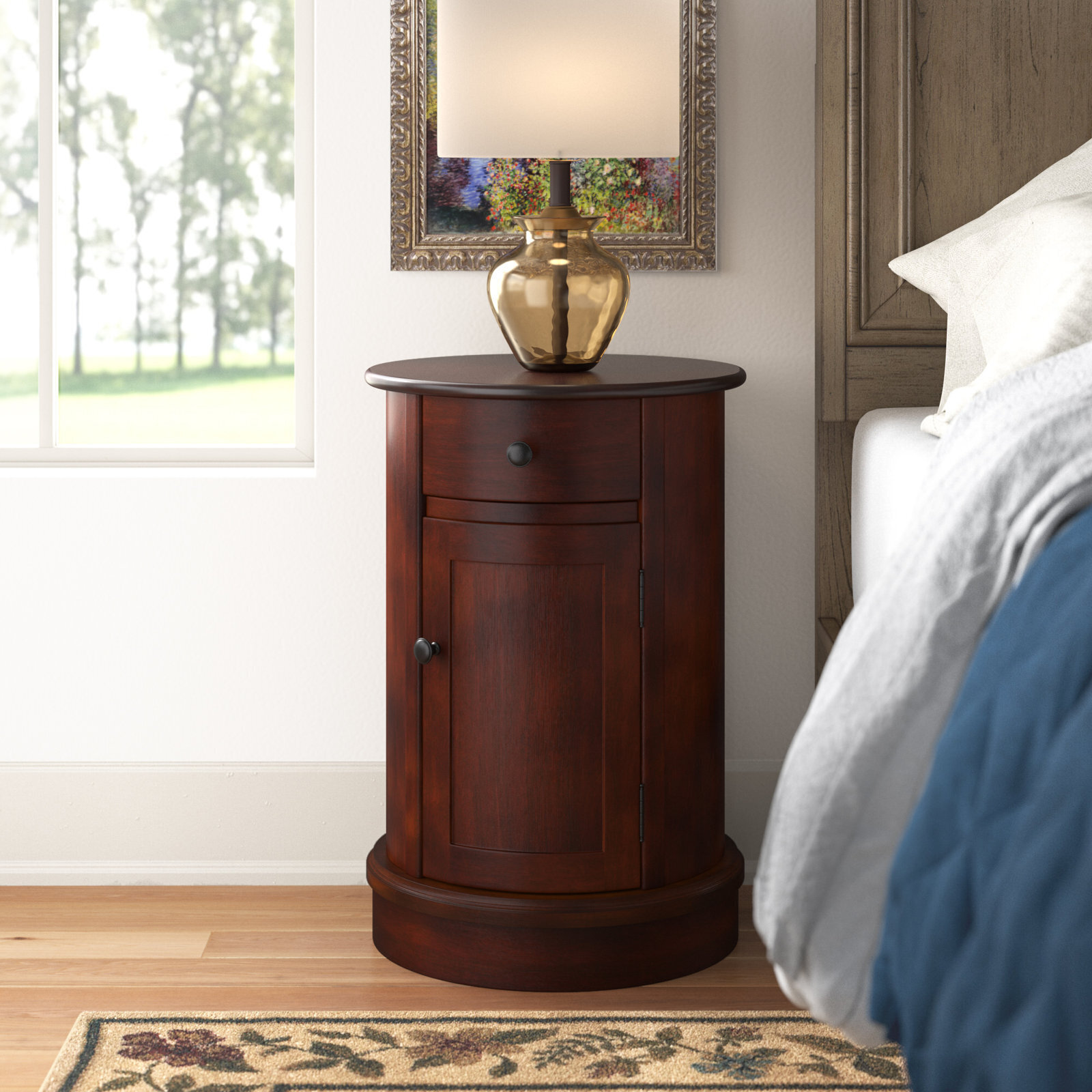 Podium Style Round Nightstand
Lark Manor™
With one slide-out drawer and one lower-hinged door for larger storage space, this rounded nightstand can fit into elegant and contemporary decors very well. It can even make a unique and bold addition to a modern home, with straight edges and sharp corners elsewhere.
$501 $539.99
Designer Advice:
Made from high-quality solid wood, this 26-inch tall nightstand can hold a table lamp, small clock, or glass of water to keep it in convenient reach. The drawer glides smoothly and silently so you can easily reach inside without bothering anyone else sleeping in the room.
Merchant links are sponsored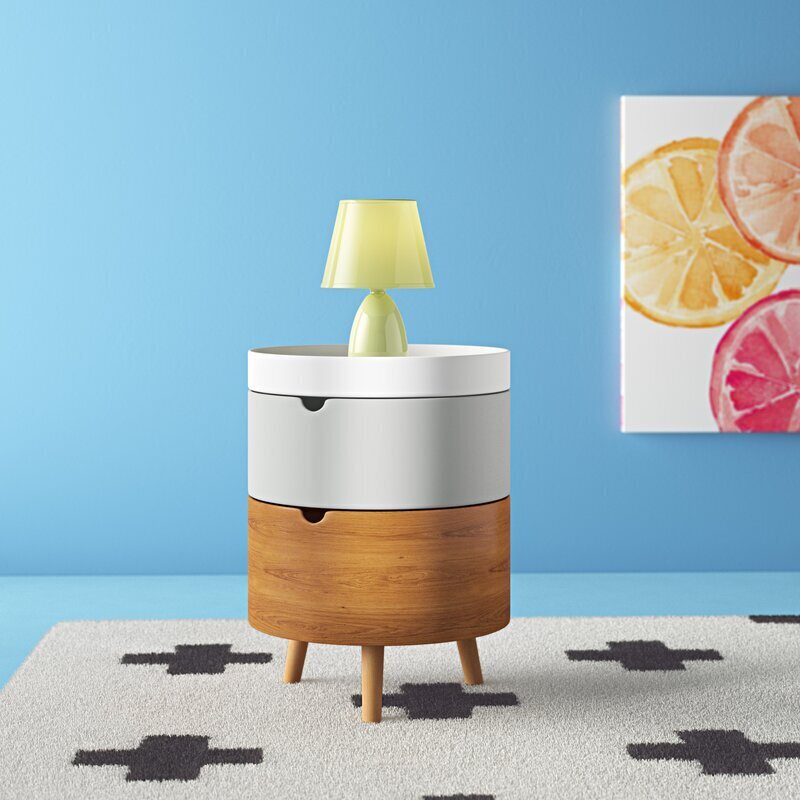 Modern Retro Round Nightstand with Drawer 
George Oliver
Adding a touch of retro style to your bedroom, this 21-inch tall nightstand offers three uniquely colored wooden tiers. The top tier is a white 15-inch diameter lid which also serves as the top for lamps or clocks. The middle and bottom drawers are small hat-container styles in white and gray set atop three angled legs.
Merchant links are sponsored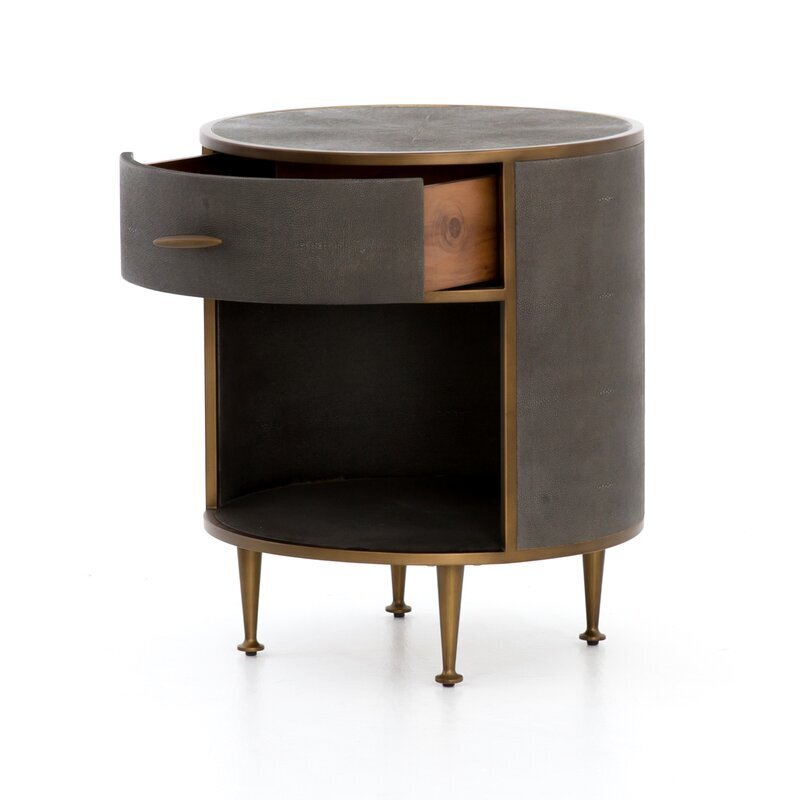 Mid Century Round Night Stand 
Brayden Studio®
Complete with stainless steel design accents and hardware, this 26-inch bedside table offers gently curved edges and a spacious storage drawer for keepsakes and necessities. The lower open-air shelf is perfect for larger items such as shoes, stacks of books, or CPAP machines.
$999
Designer Advice:
The 22-inch diameter is the perfect spot for small table lamps, timepieces, books, or beverages. With a coating made from faux shagreen, you'll not only get a nice-looking round night stand but also one that has a unique texture and surface feel.
Merchant links are sponsored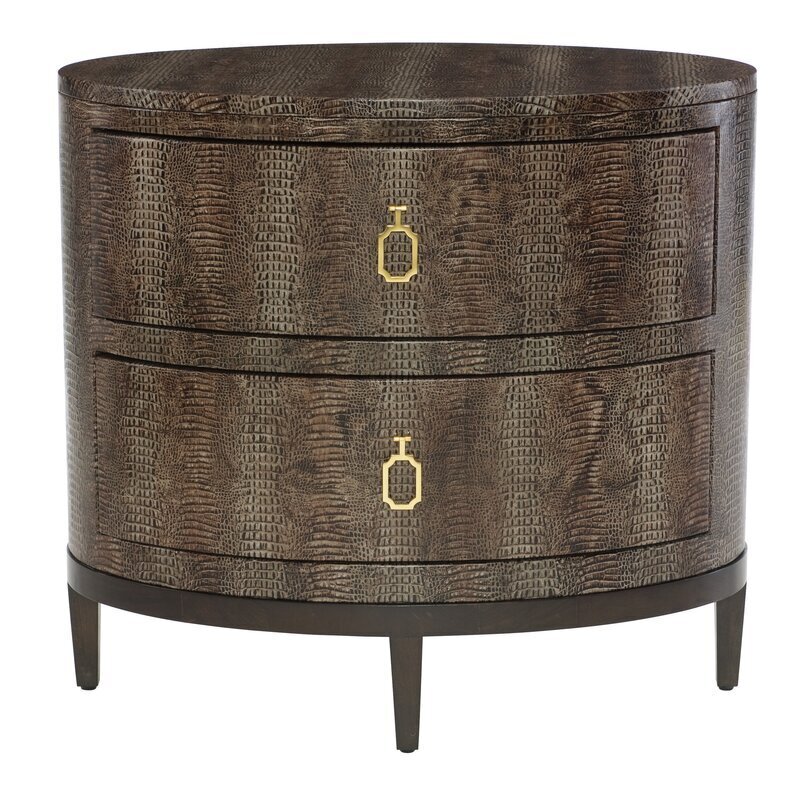 Crocodile Textured Round Nightstand
Bernhardt
Bringing a highly unique and luxurious look to your bedroom, this 29-inch tall crocodile-embossed leather nightstand can turn an average space into an eye-catching area of any room. The faux leather has been embossed to mimic real crocodile hide without bringing the same high price as the genuine product.
Merchant links are sponsored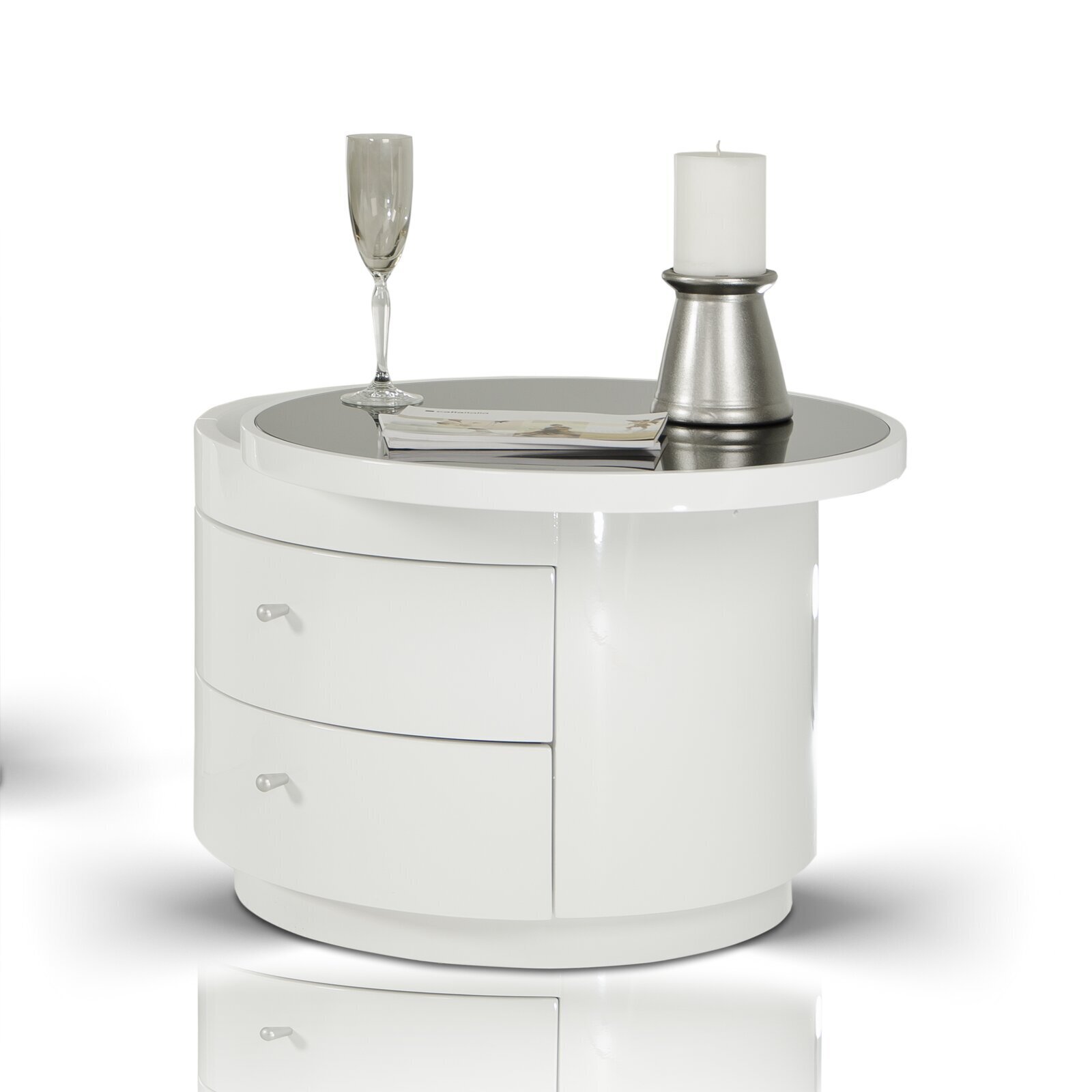 Glass Topped Circular Nightstand 
Wade Logan®
Well suited for any modern decor, the white gloss finish on this 17-inch tall nightstand can help brighten up any space in your bedroom. The two sliding drawers provide convenience, while the glass 21-inch diameter top helps draw your eye while providing a stable and versatile surface for lighting, keepsakes, and decor.
Merchant links are sponsored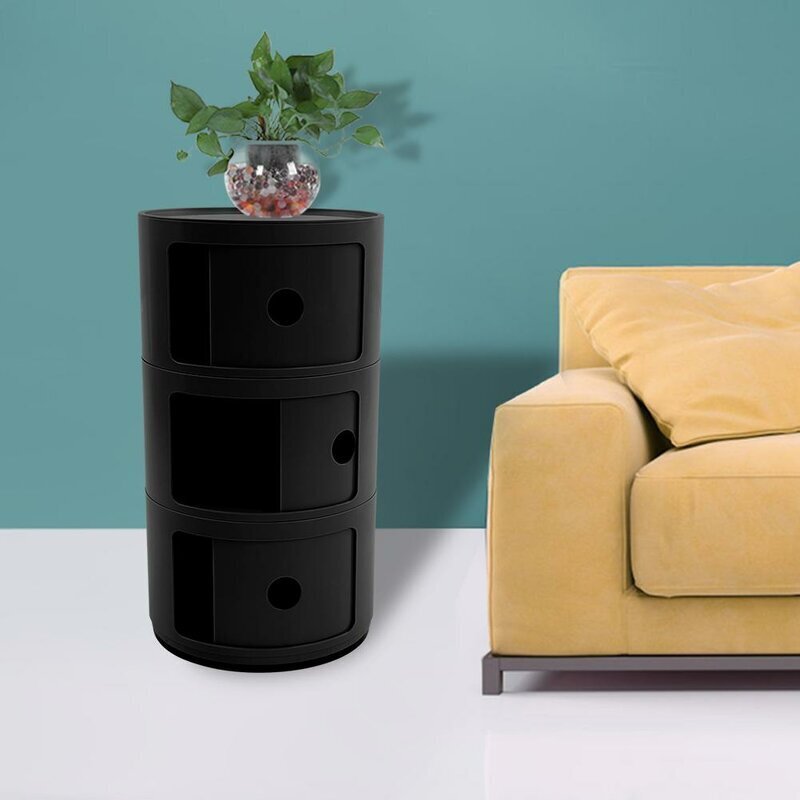 ABS Plastic Circular Nightstand 
Ebern Designs
Made to be extremely durable as well as easy to clean, this funky circular nightstand brings the DIY vibes into your bedroom or crafting space. The three sliding doors move horizontally around the side of the nightstand to provide full access to anything inside.
Designer Advice:
This nightstand is just under 23 inches tall and is perfect for holding a lamp or alarm clock. It can be used as a three-tier stand, or remove a tier and use two if you have a smaller space. The construction is fully ABS plastic which resists warping, staining, and scruff damage.
Merchant links are sponsored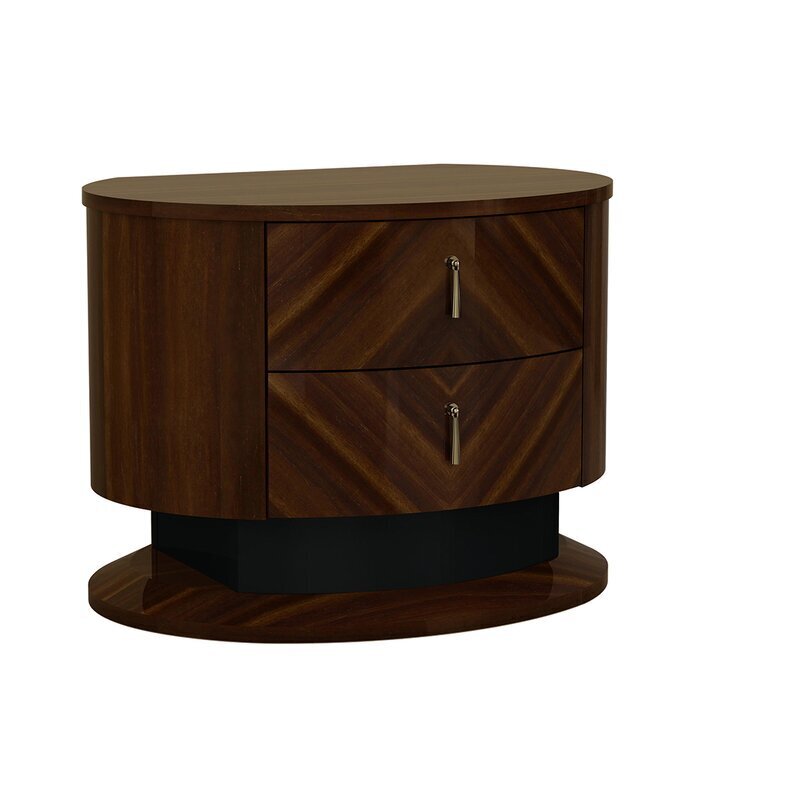 Beautifully Stylish Round Nightstand with Drawer 
Brayden Studio®
The contemporary shape of this elegant 20-inch nightstand can bring style and practicality to your bedroom. The lower height is perfect for a bedside lamp and makes it a suitable table near daybeds or floor mats. Covered in a rich lacquer, the natural design of the wood will shine through nicely.
$579.99 $759.99
Designer Advice:
Done in a well rounded shape with a flat back for placing against a wall, this MDF bedside table has a surface measurement of 27 by 19 inches giving you plenty of space for lamps, clocks, books, phone charging stands, and more.
Merchant links are sponsored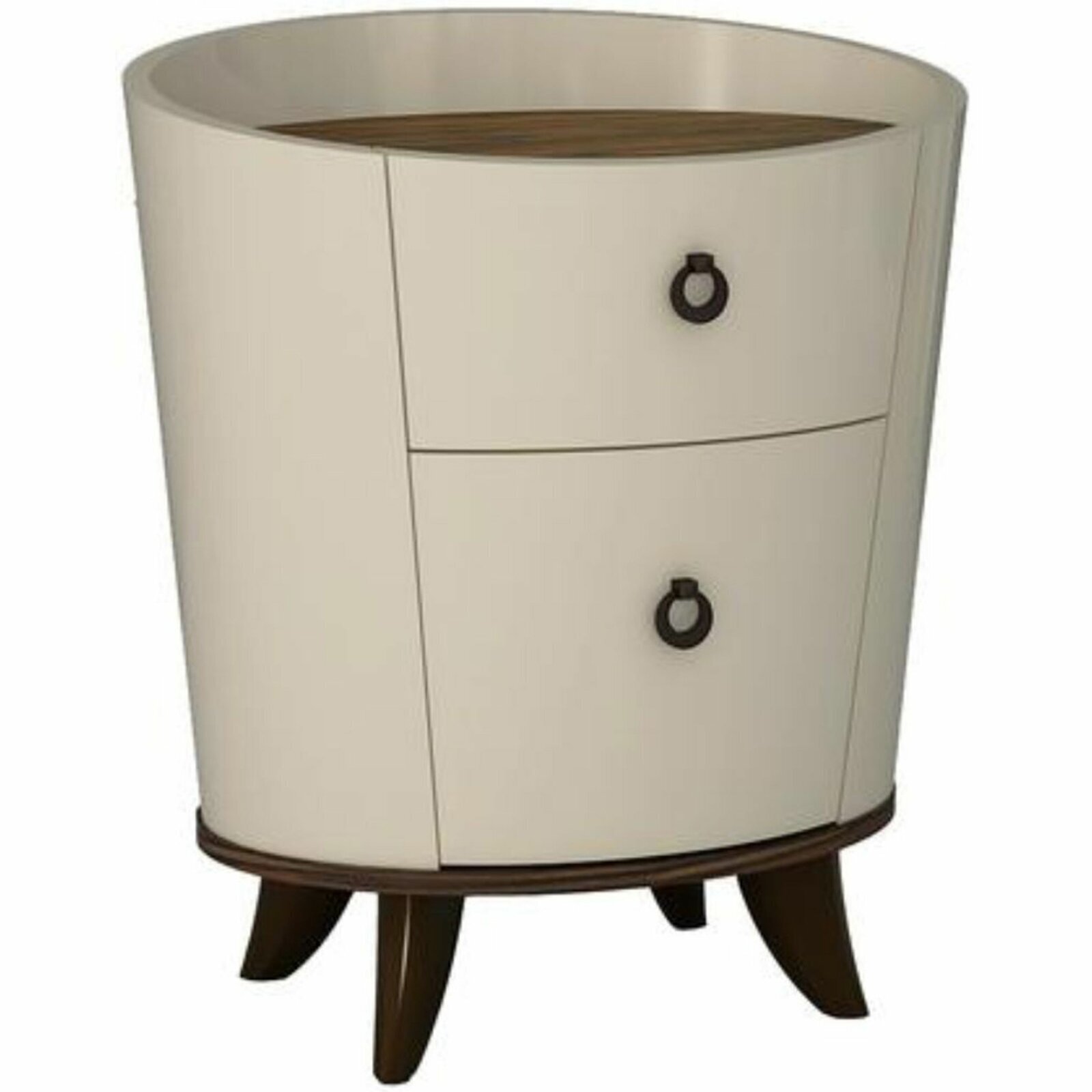 Unique Flare Topped Round Nightstand
Latitude Run®
Made in a cylindrical shape with a slightly larger flared top, this MDF and solid rosewood nightstand is sturdy and stylish. Two drawers provide plenty of storage space for anything you need to keep close by, while the flared feet provide support and long-term durability.
Merchant links are sponsored