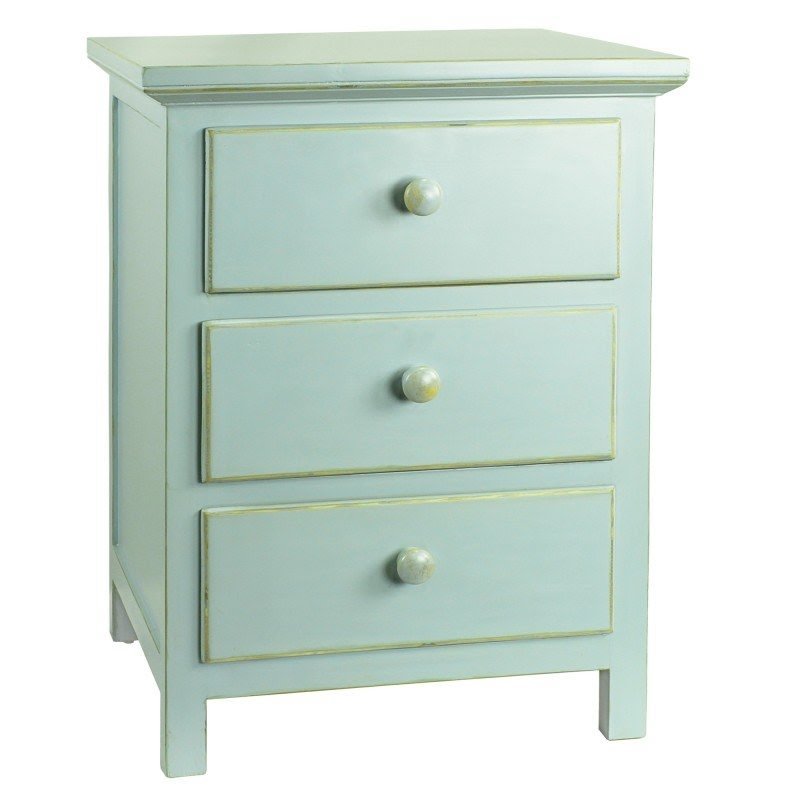 Evelynn 3 Drawer Nightstand
Beautiful wooden (constructed of elm wood) nightstand in antiqued light blue. Three drawers with round knobs, traditional design, distressed cottage-like finish. Plenty of room for a reading lamp and tissue box or books on top.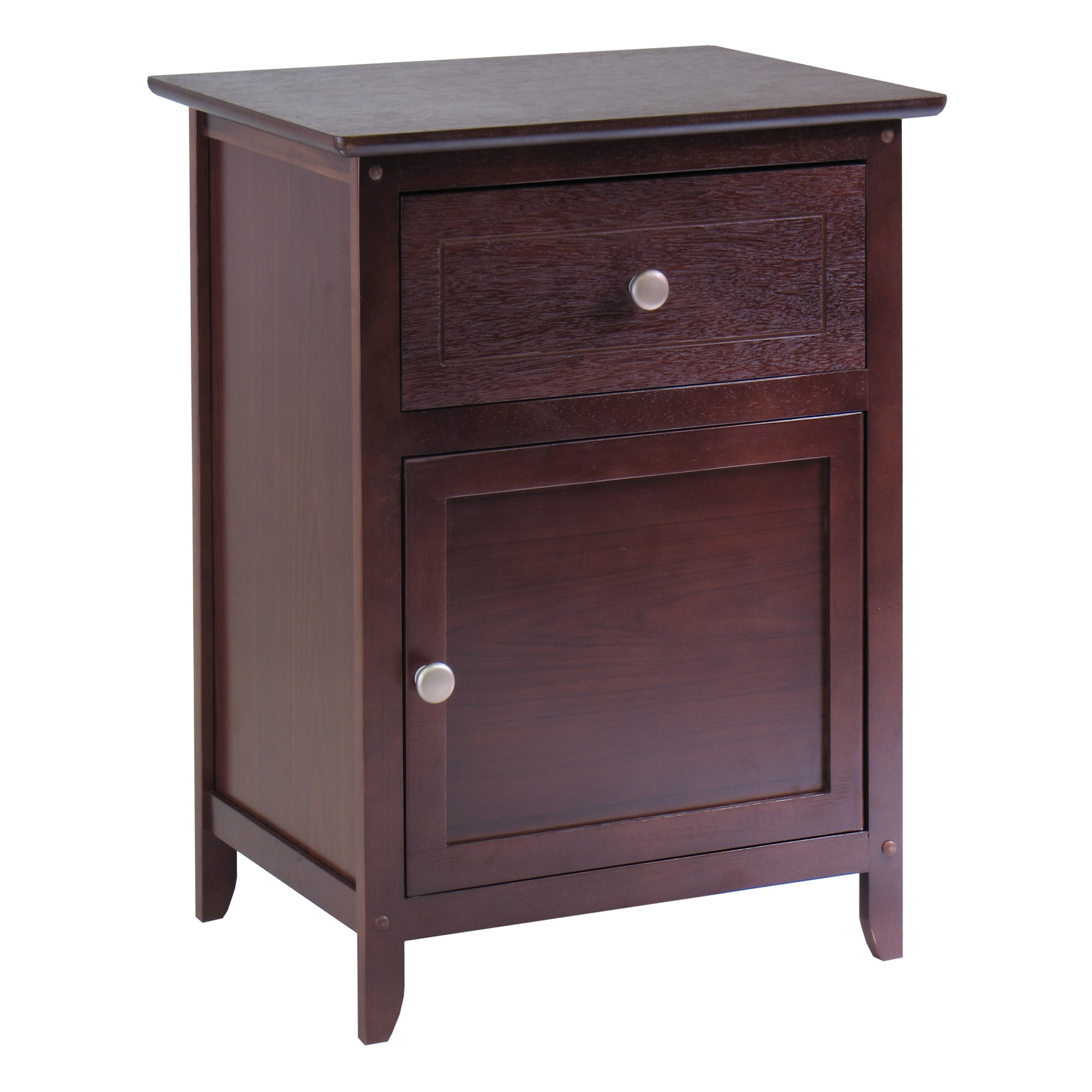 Klein 1 Drawer Nightstand
This space-saving and elegant 1-Drawer Nightstand brings functionality and chicness to any bedroom. The nightstand offers 1 small top drawer, 1 storage compartment concealed behind door, stylish pull-knobs and saber legs.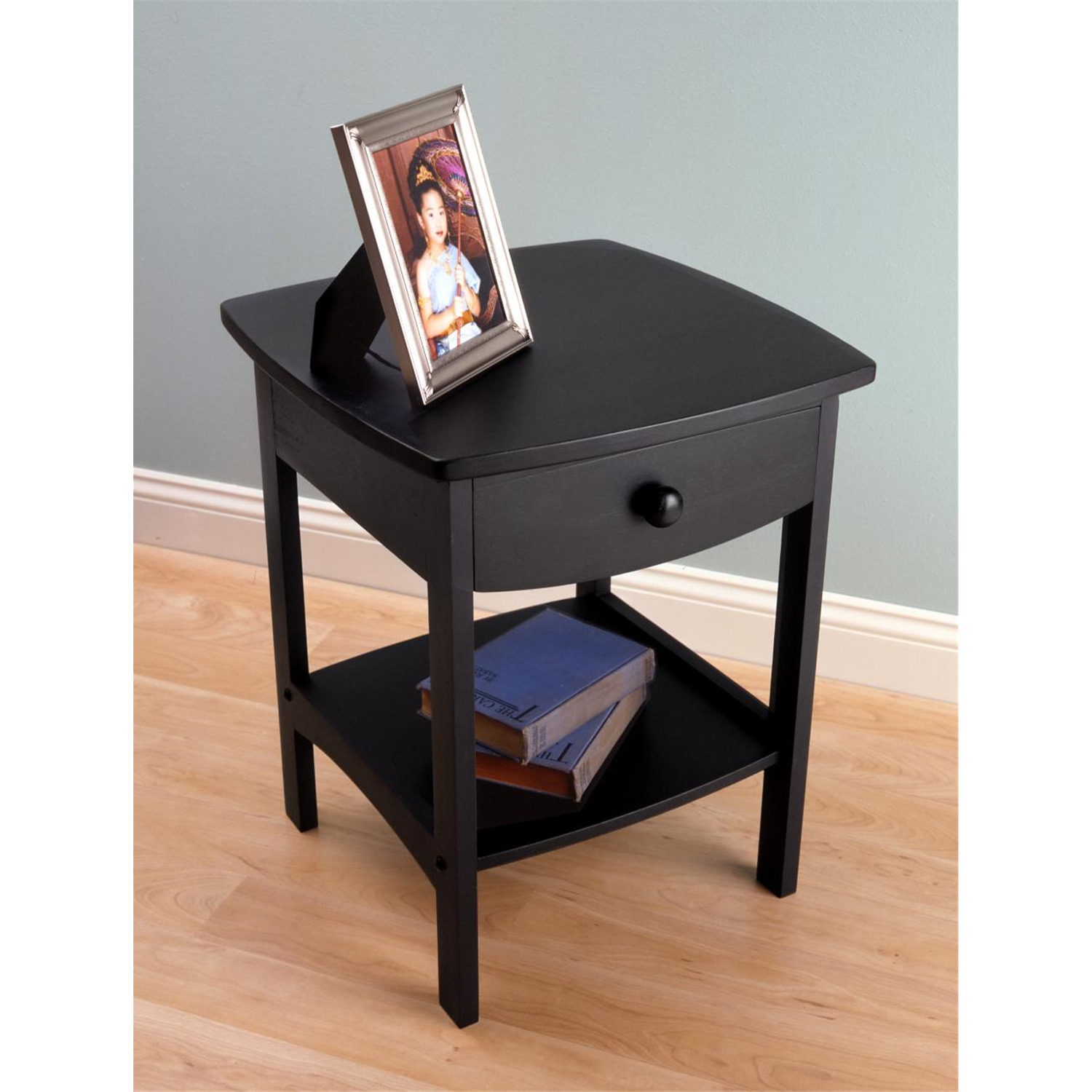 Basics 1 Drawer Nightstand
Very simple and minimalist nightstand. It consists of a shelf, countertop, and a small tray with a handle. Ideal as a cabinet beside the bed. It is a practical and handy. At the same time, due to the fact that it is so minimalist fit into many different design of a different nature.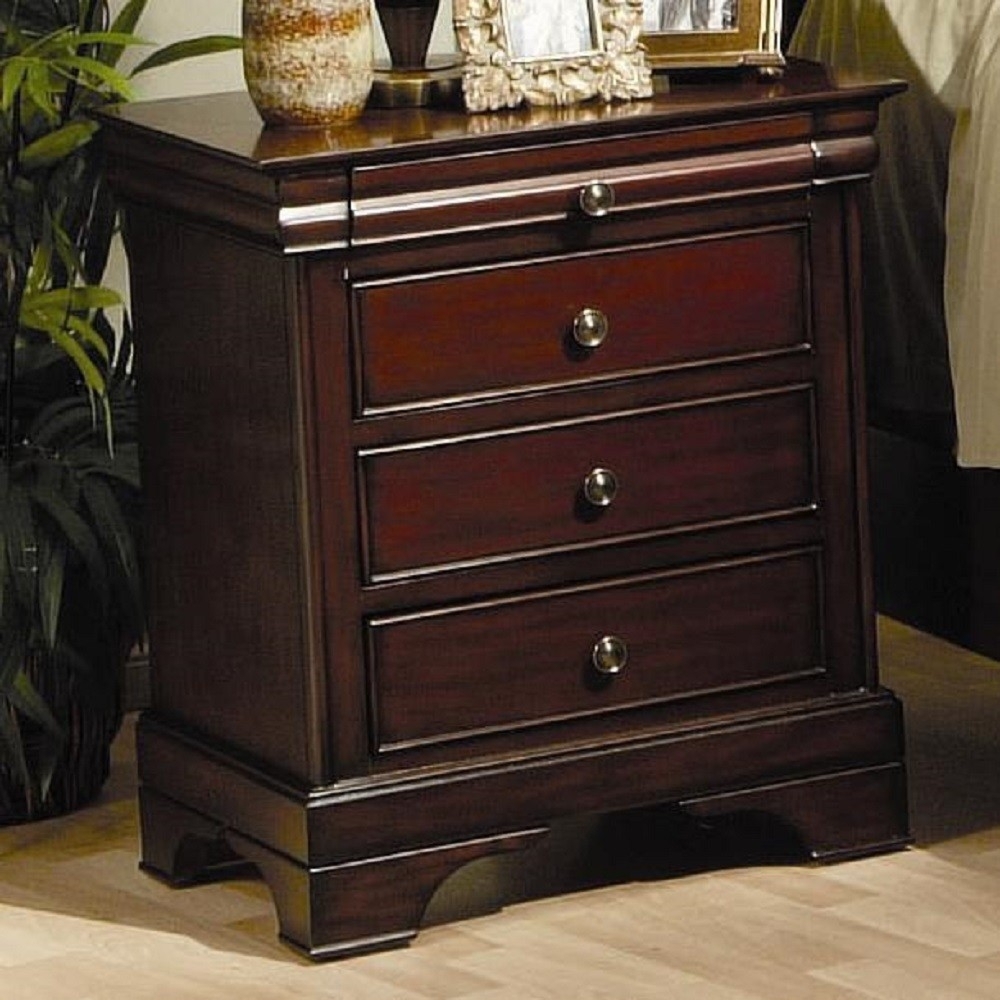 Kearny 3 Drawer Nightstand
A nightstand that features three drawers and that also has a clever space saving pull-out tray which is perfect to keep a novel or cup of tea on when required. It is crafted from wood and is burnished with a mahogany finish.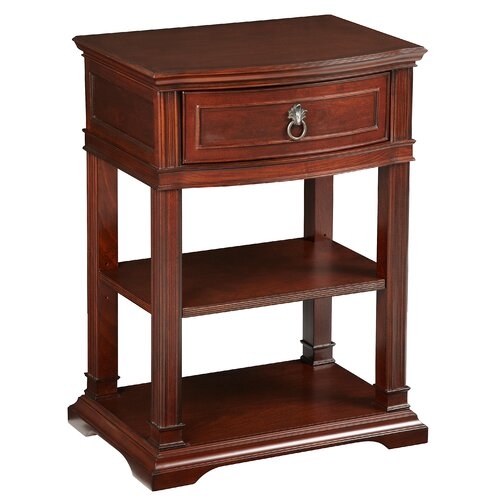 The bedroom is where we spend most of our time at home. Night lamp can rest on this mahogany traditional nightstand table, with one small drawer and elegant hanging silver handle. The burgundy shade of this wood is associated with elegance.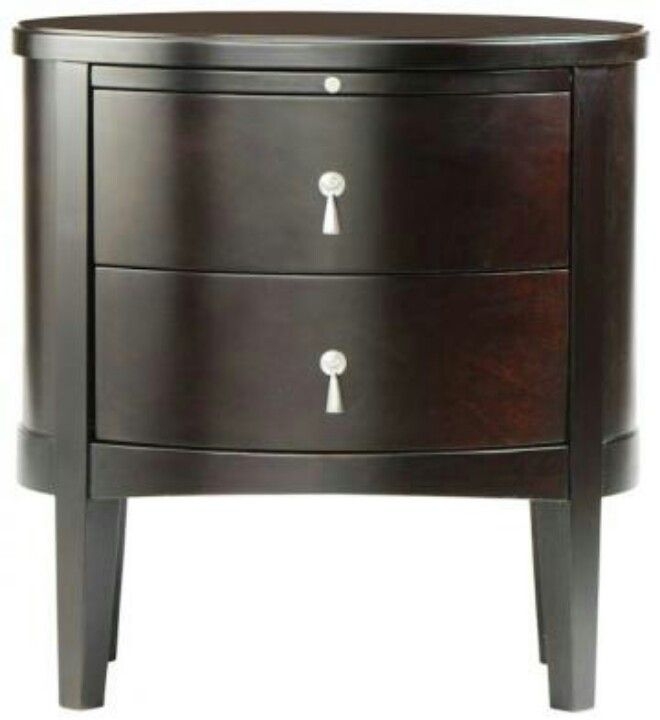 A very interesting and original construction in a bedroom. This type of nightstand has got an oval shape and a durable construction with a rose brown finish. The product has got two storage drawers and its size is 28"H x 26"W x 19"D.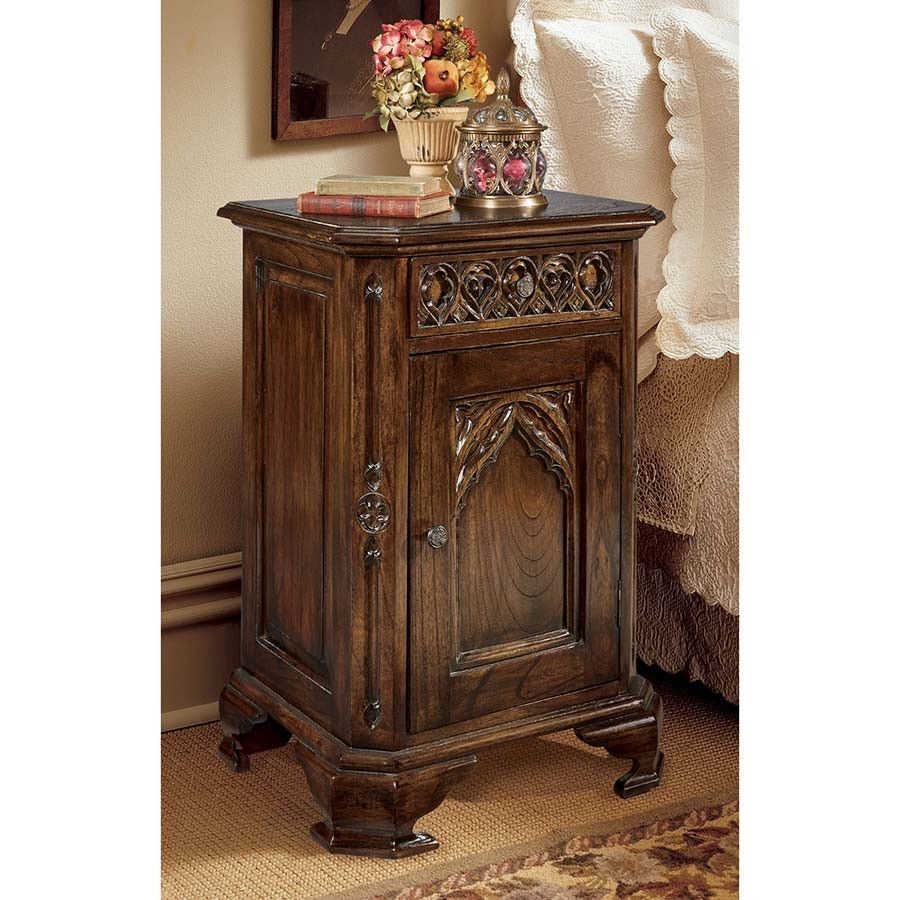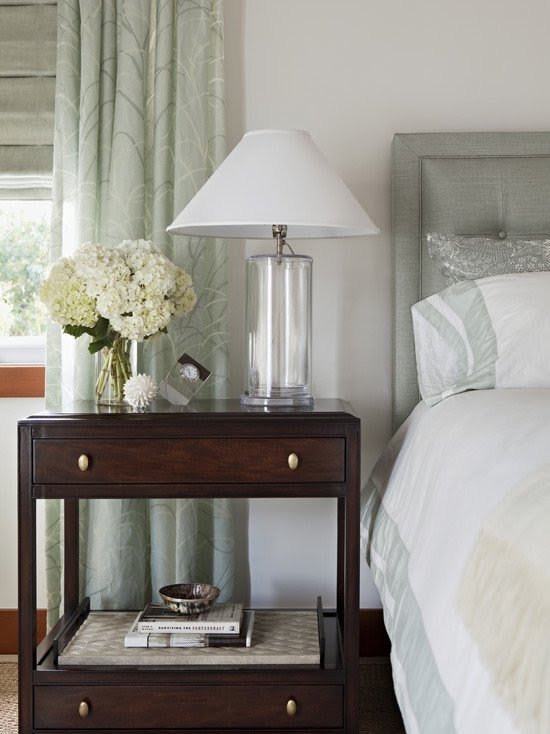 Elegant approach to a contemporary bedroom with a stylish, tufted headboard behind the bed, upholstered in a smooth cotton material. The dark, wooden nightstand next to the bed provides a complementing detail.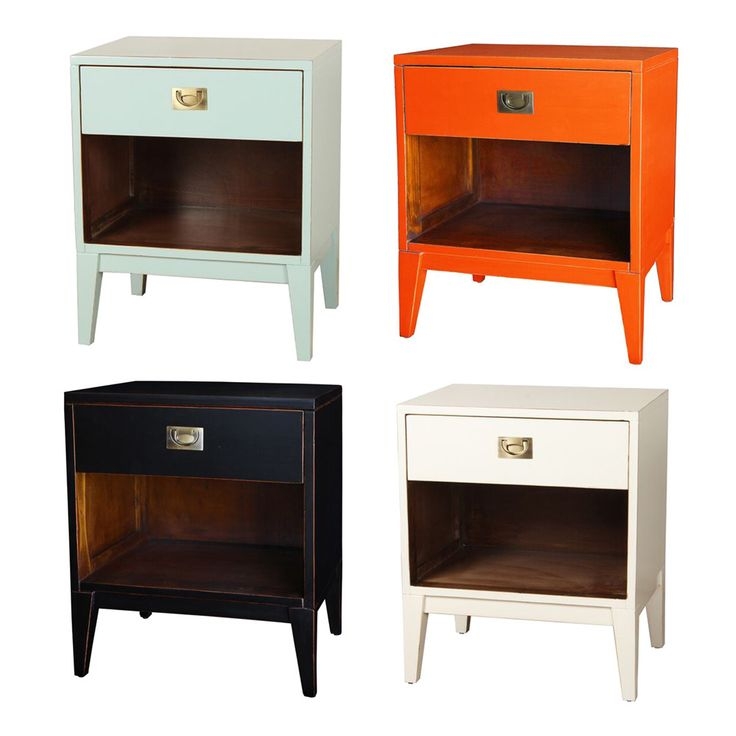 Pretty rustic style nightstand made of wood with beamish orange finish. It has a simple rectangular top and angular tapered legs. A drawer has a large metal handle. There's also a spacious open niche.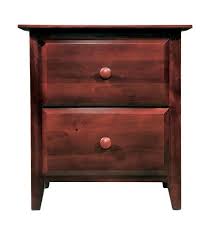 This type of element is a very solid and decorative element that has also got a functional character. It is a nightstand made of tropical solid mahogany wood, so it is resistant to wear and damage. This product has got two drawers.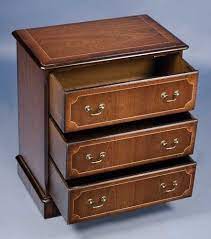 Keep your bedtime essentials within arm's reach with this fairly sturdy mahogany chest with satinwood inlays. Lovely swan neck pulls completing its 3 drawers enhance its style with a drop of classical charm.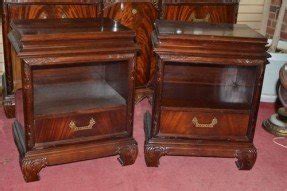 2 Vintage Chinese Chippendale Flaming Mahogany Nightstands Circa 1950'S | eBay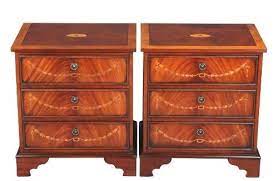 Set of beautiful nightstands in the antique English style. They're made of mahogany wood. Each of them features 3 drawers with lighter wood inlays and round antiqued brass knobs. A stand has a rectangular moulding top and decorative cut-out legs.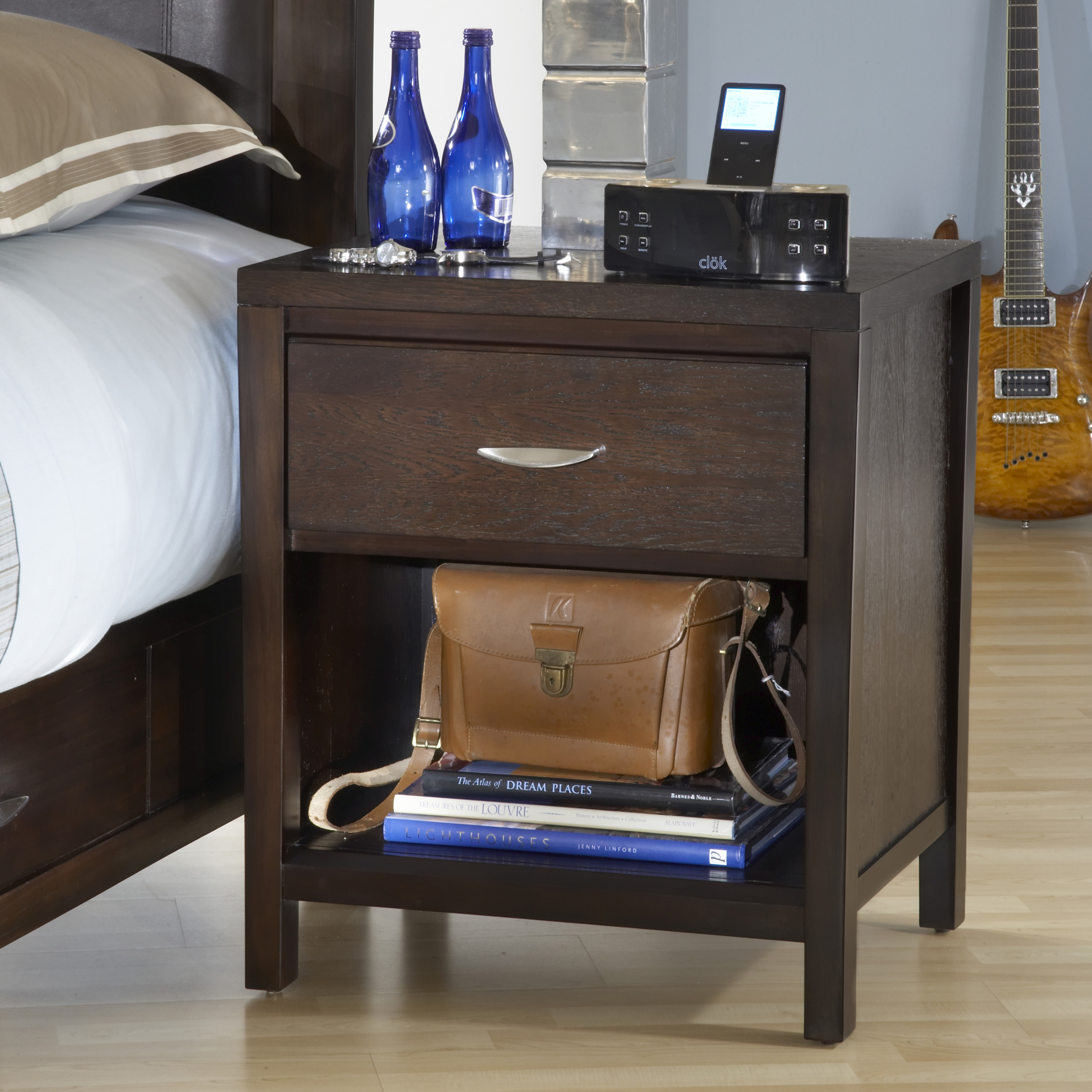 This elegant nightstand will work great into modern and contemporary designed interiors. Its solid wooden construction features a drawer and has a ash wooden veneer finish. Bottom shelf is a perfect place for books.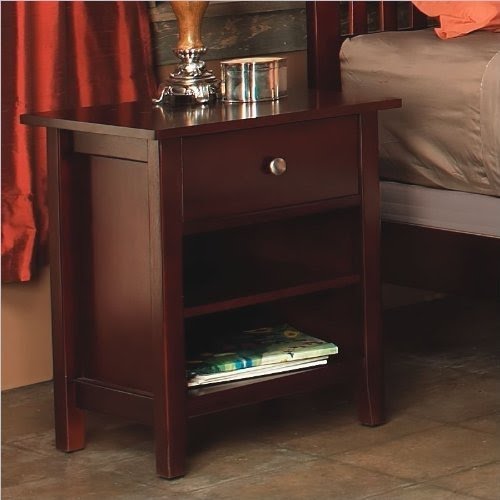 This night stand has got an elegant and casual design, cordovan finish, drawer and two shelves. If you looking for solid night stand, you need to choose this one. It is a fantastic choice.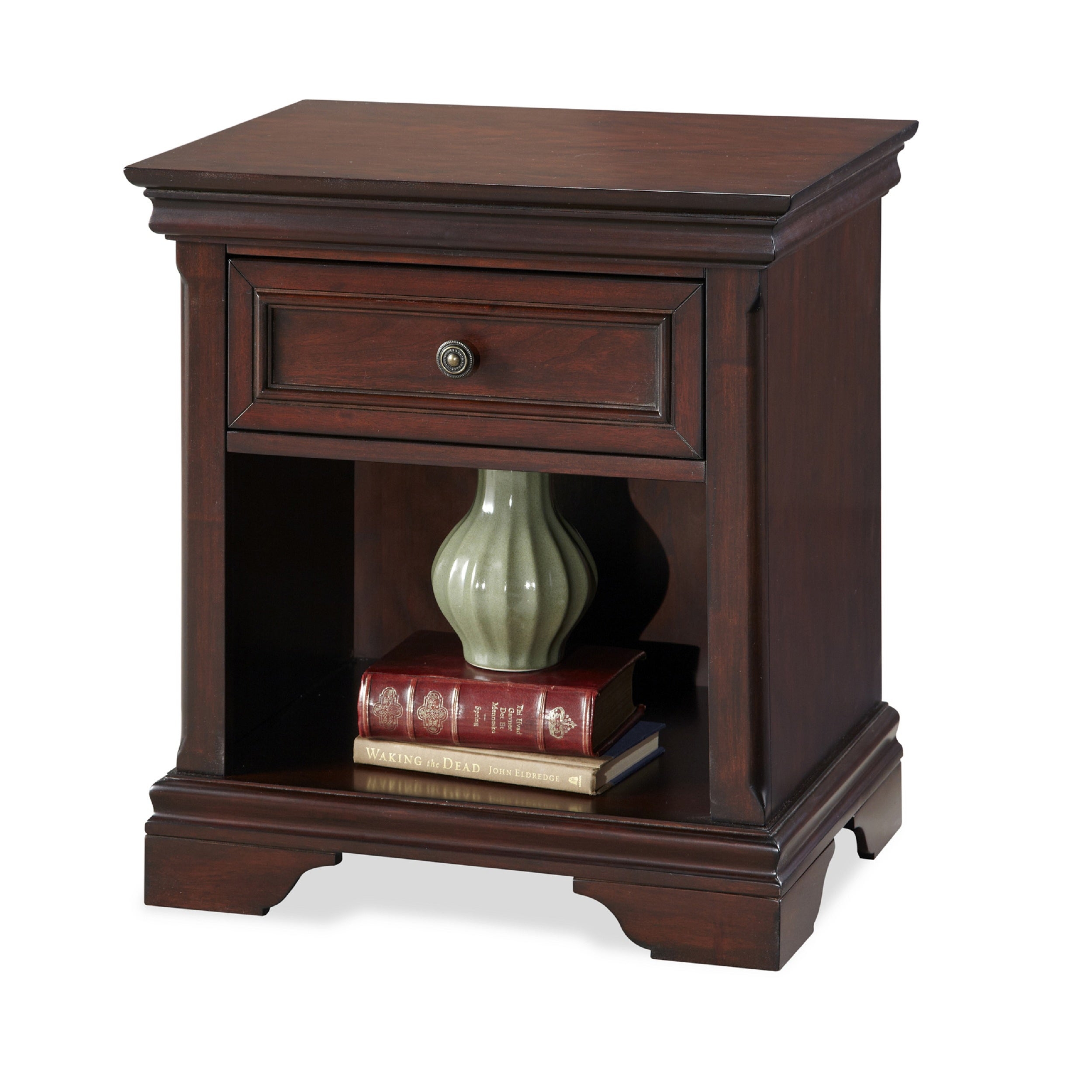 Beautiful traditional nightstand with a brown mahogany wood frame. It features rich moulding both a rectangular top and a base with large bracket feet. A roomy drawer has a brass knob. There's also a spacious open niche at the bottom.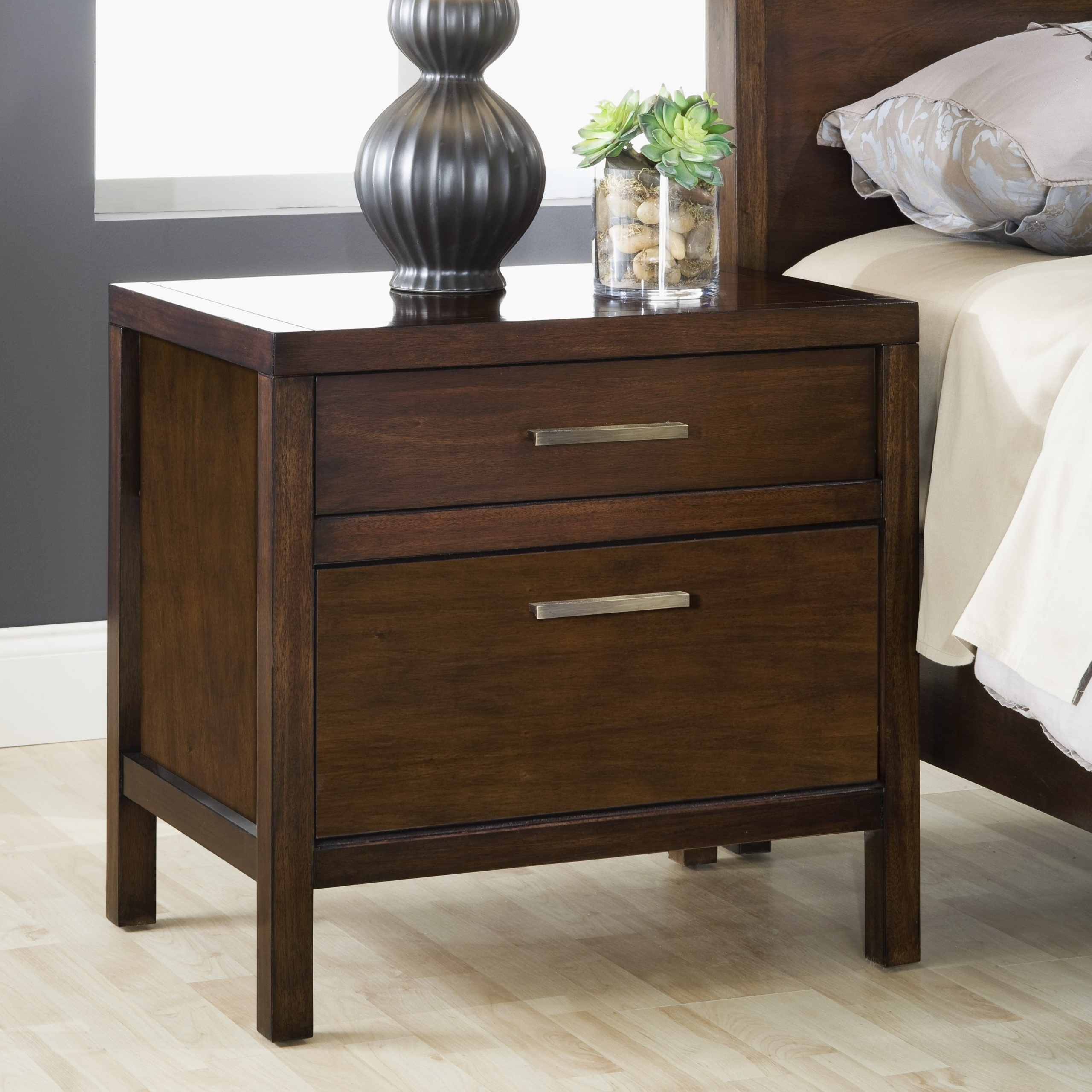 Simple nightstand of mahogany wood. It has a basic rectangular top, recessed both a front and sides, square straight legs. Both a smaller upper drawer and a bigger one have 1 metal bar-pull each. A stand is equipped with a 3-outlet power strip.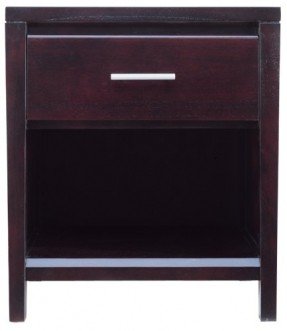 It is a classic one drawer nightstand that has got an espresso finish, tropical mahogany solid wood construction and brushed chrome bar pulls. You will be impressed how beautiful this nightstand is.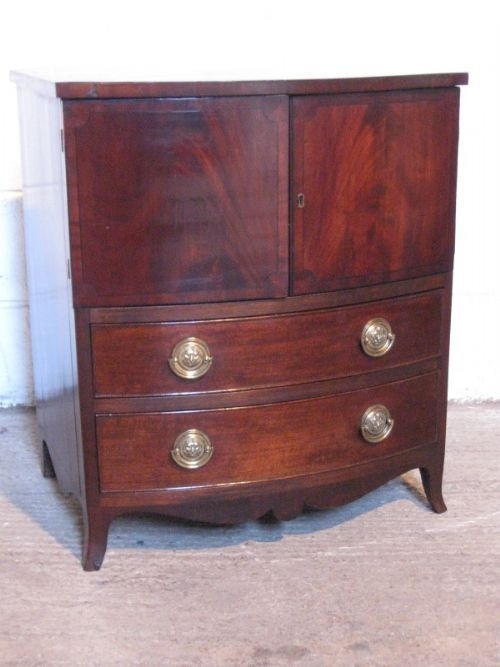 Georgia is a picturesque, unspoiled land that can offer furniture antique pearls. One of these is the mahogany nightstand, dating from 1780. Additionally, it was bow fronted with banded edge and ebony stringing.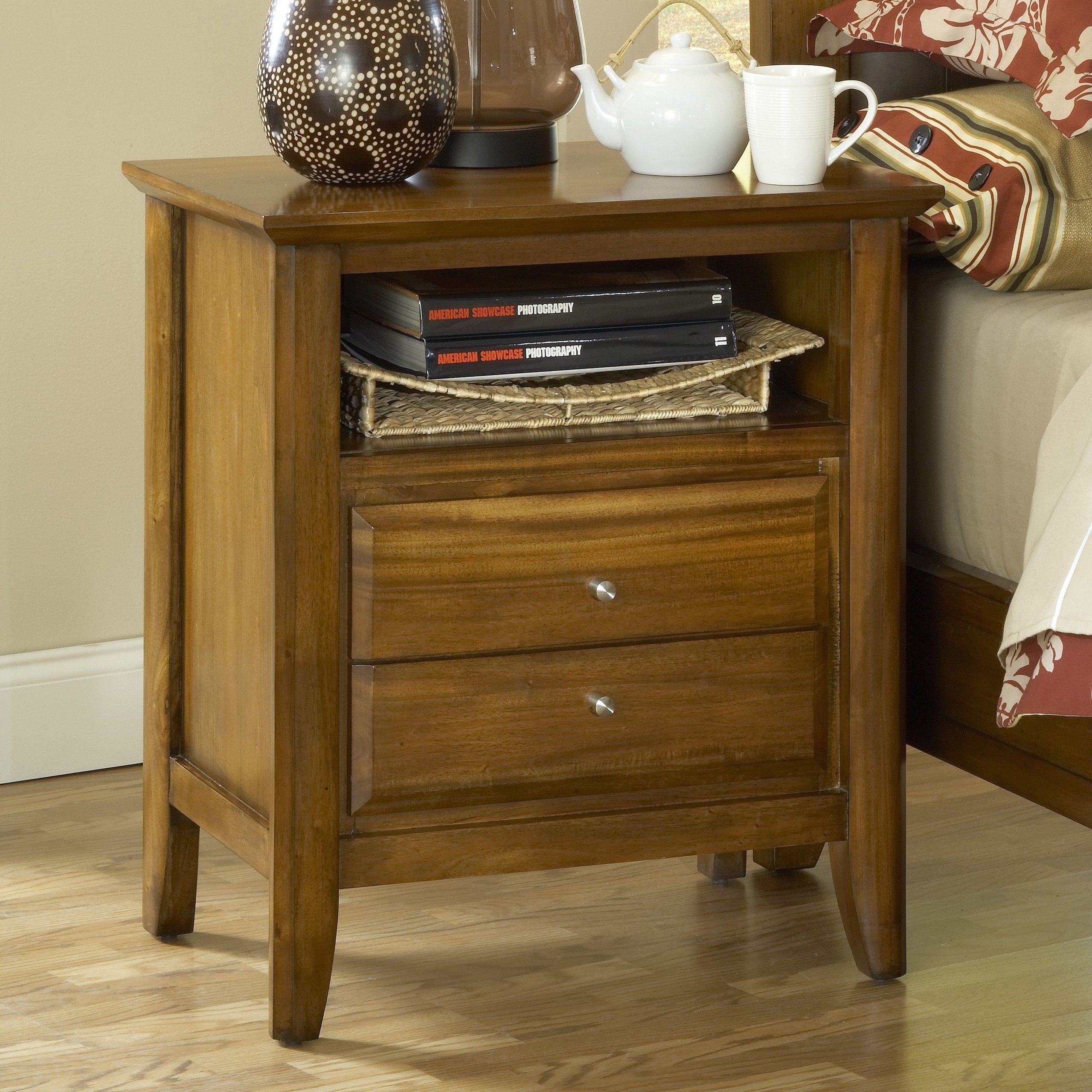 It is a simple and classic nightstand that has got two drawers for storing your favorite items. It has got a coco finish, mahogany solid wood construction and satin nickel drawer pulls. This nightstand fits to any style and décor.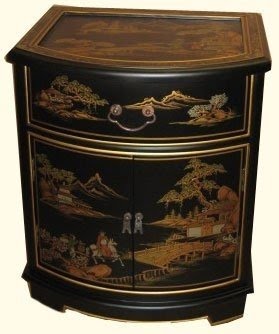 This astonishing piece of furniture can be use as an end table or nightstand. It features a drawer and small cabinet. It sturdy wooden construction has a glossy black finish and decorative, orient theme paintings.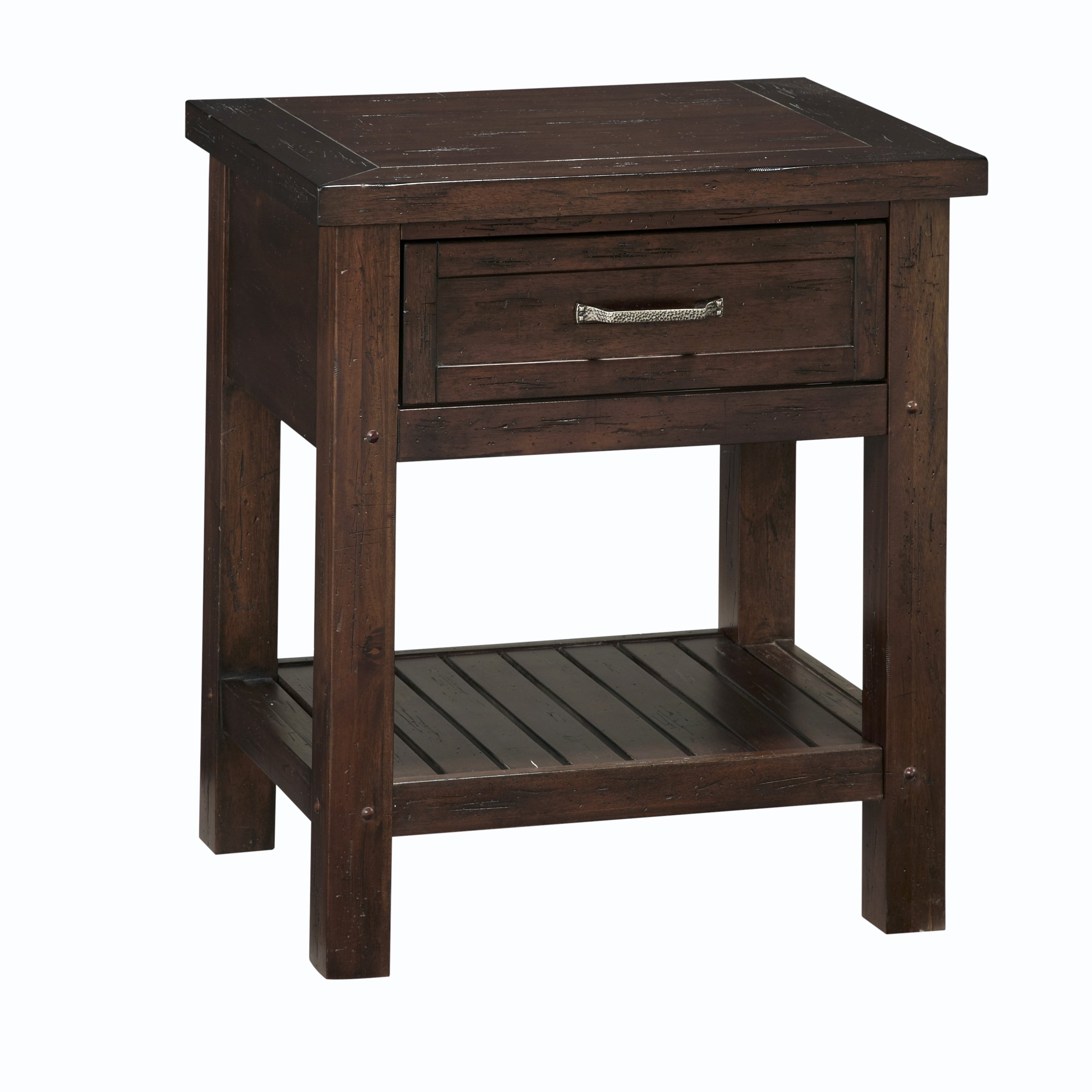 Night stand made of high quality wood and featuring multi-step chestnut finish. Additionally, it has small storage drawer and bottom slatted shelf, which provide ample storage space. It's a great addition to any bedroom.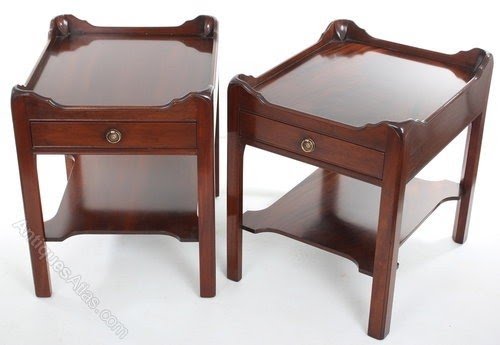 Attractive Georgian style in the bedroom. These night stands feature durable mahogany constructions. Each nightstand offers a square top with small walls and decorative corners. These elements also include storage drawers and lower shelves.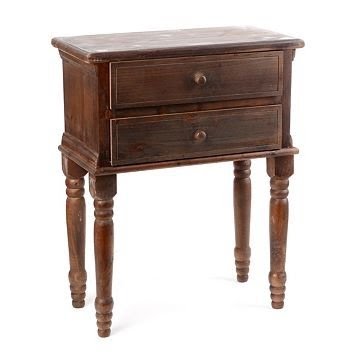 A lovely nightstand in a traditional design and old-fashioned character. It's made of top quality, solid mahogany wood, which will serve you long years. It features tall legs and two small drawers for necessities.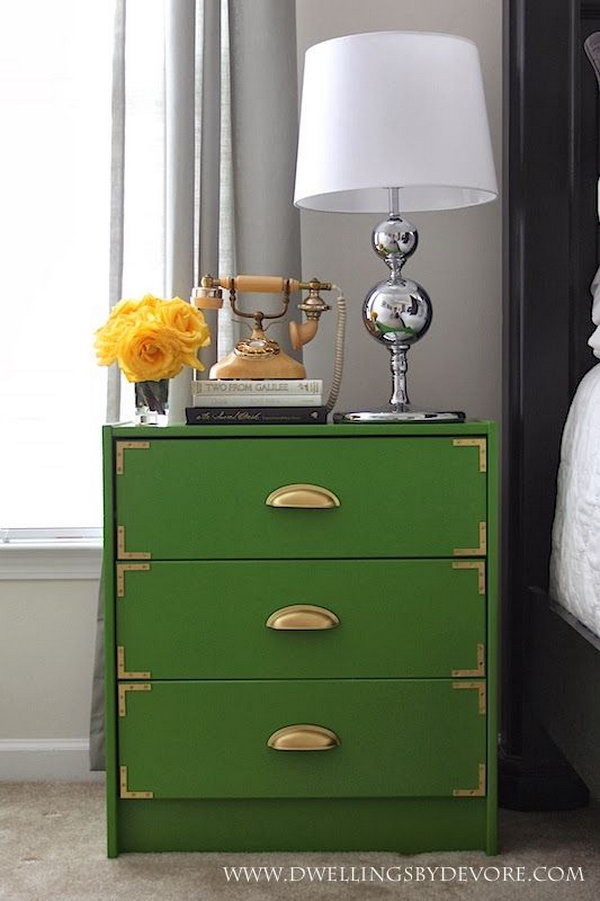 Why not choose some color for your bedroom with this lovely green nightstand? It sports a retro look with its delicate gold accents on the drawer handles and sides of the drawers fronts blending smoothly with the deep green finish.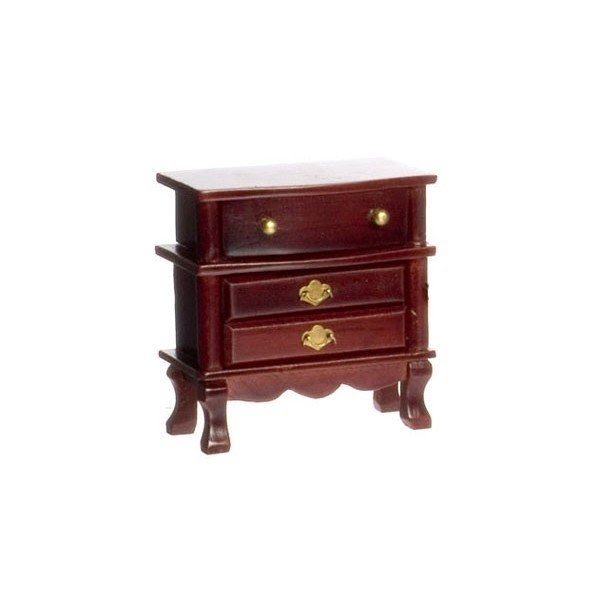 NIGHT STAND, MAHOGANY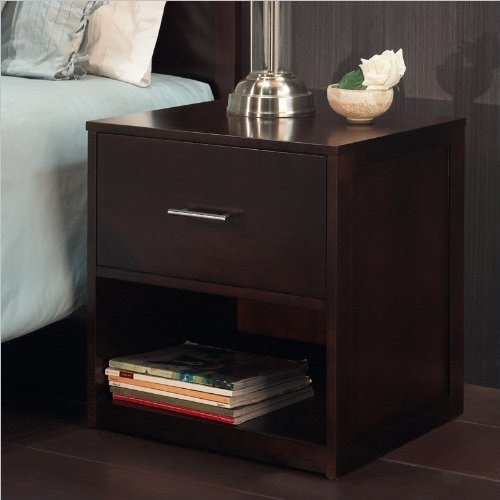 It is a two-drawer nightstand that has got a chocolate brown finish, tropical mahogany solid wood construction and large open shelf area. This product is high quality and fits to any style and décor.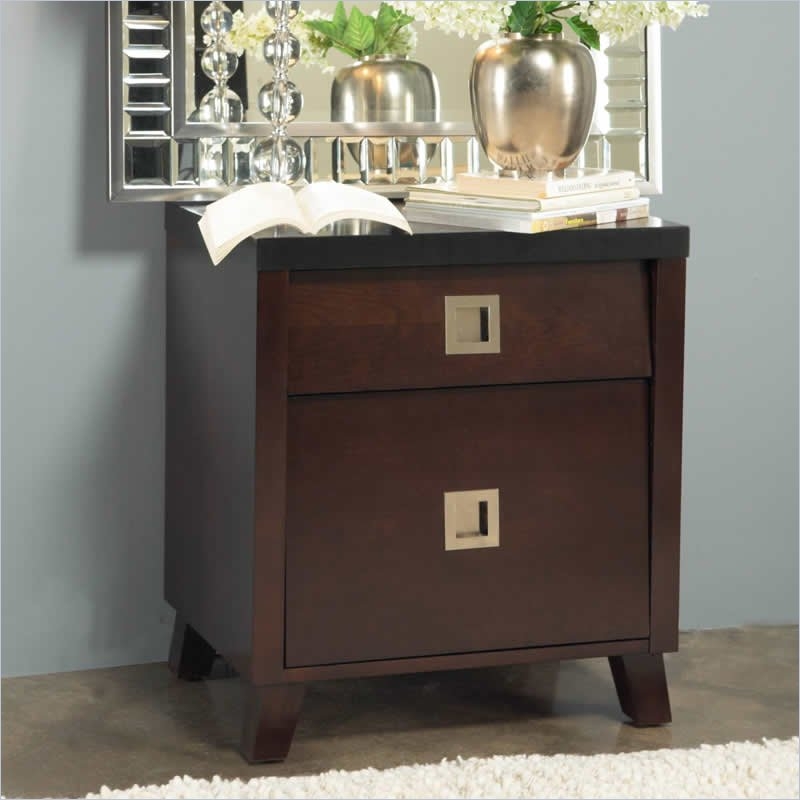 This nightstand has got an elegant design that fits perfectly to any style and decor. It has got a chocolate brown finish with black accents. You will be impressed how high quality, solid and nicely finished this product is.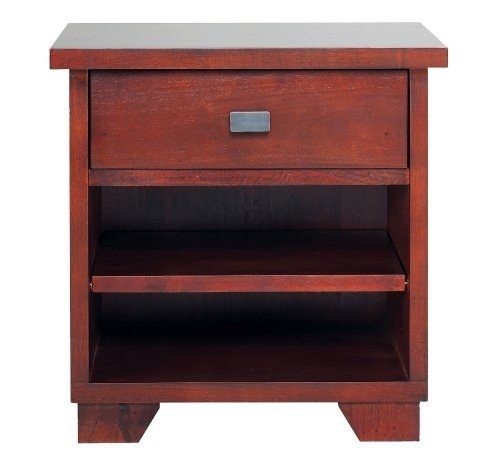 This kind of product is a high quality, solid and functional nightstand. It features a storage drawer and two shelves for the storage of small items. It measures 17 x 24 x 24 inches, so it is a space saving design.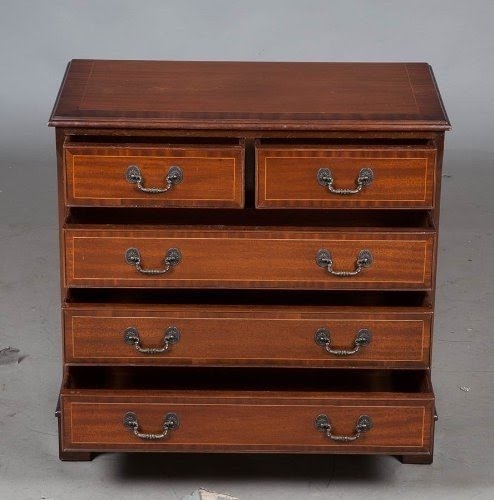 Attractive antique English style nightstand made of mahogany wood with lighter string inlays on drawers' fronts. It has 2 smaller over 3 larger drawers with decorative brass bail-pulls. A top is rectangular and moulding. Legs have cut-out edges.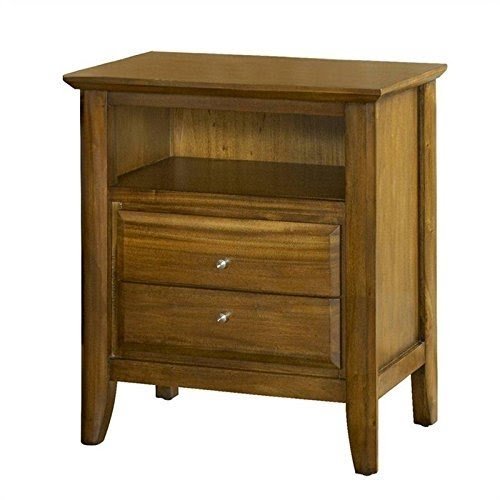 This solid wood etagere would be a fantastic bedroom nightstand. Its warm pecan stain showcases rich wood grain with a wide variety of tones. Features 2 drawers and 1 shelf. Solid mahogany construction guarantees proven sustainability.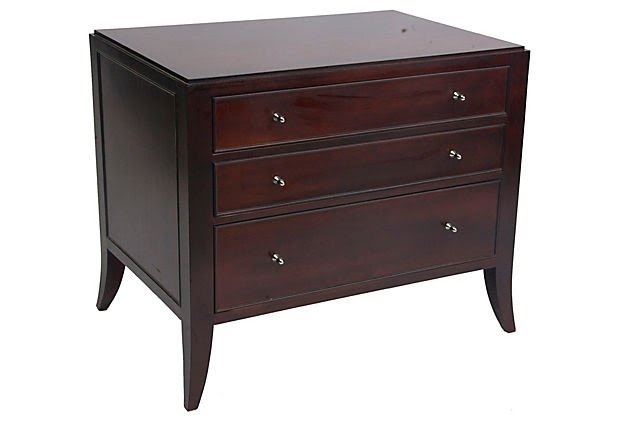 Baker Mahogany Nightstand on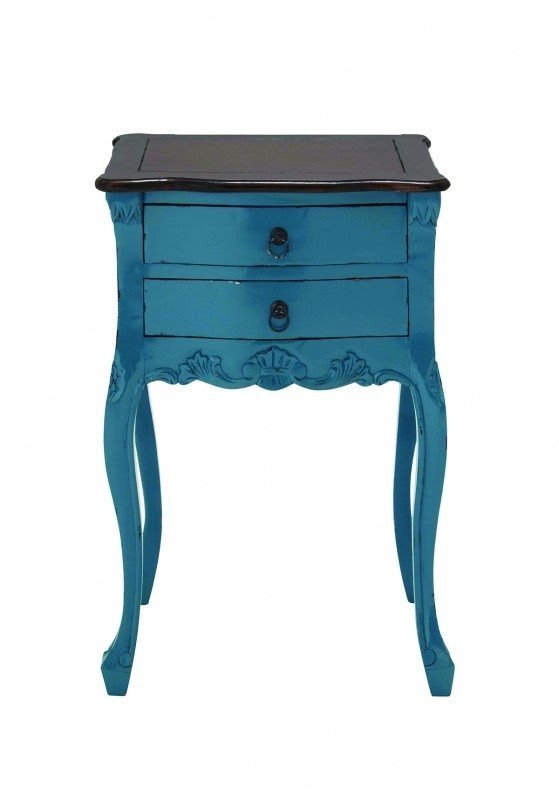 This marvelous cabinet / bedside table is the perfect solution for your bedroom. Made of solid mahogany wood perfectly fits the atmosphere of stylish interior. It has beautiful carvings and two handy drawers.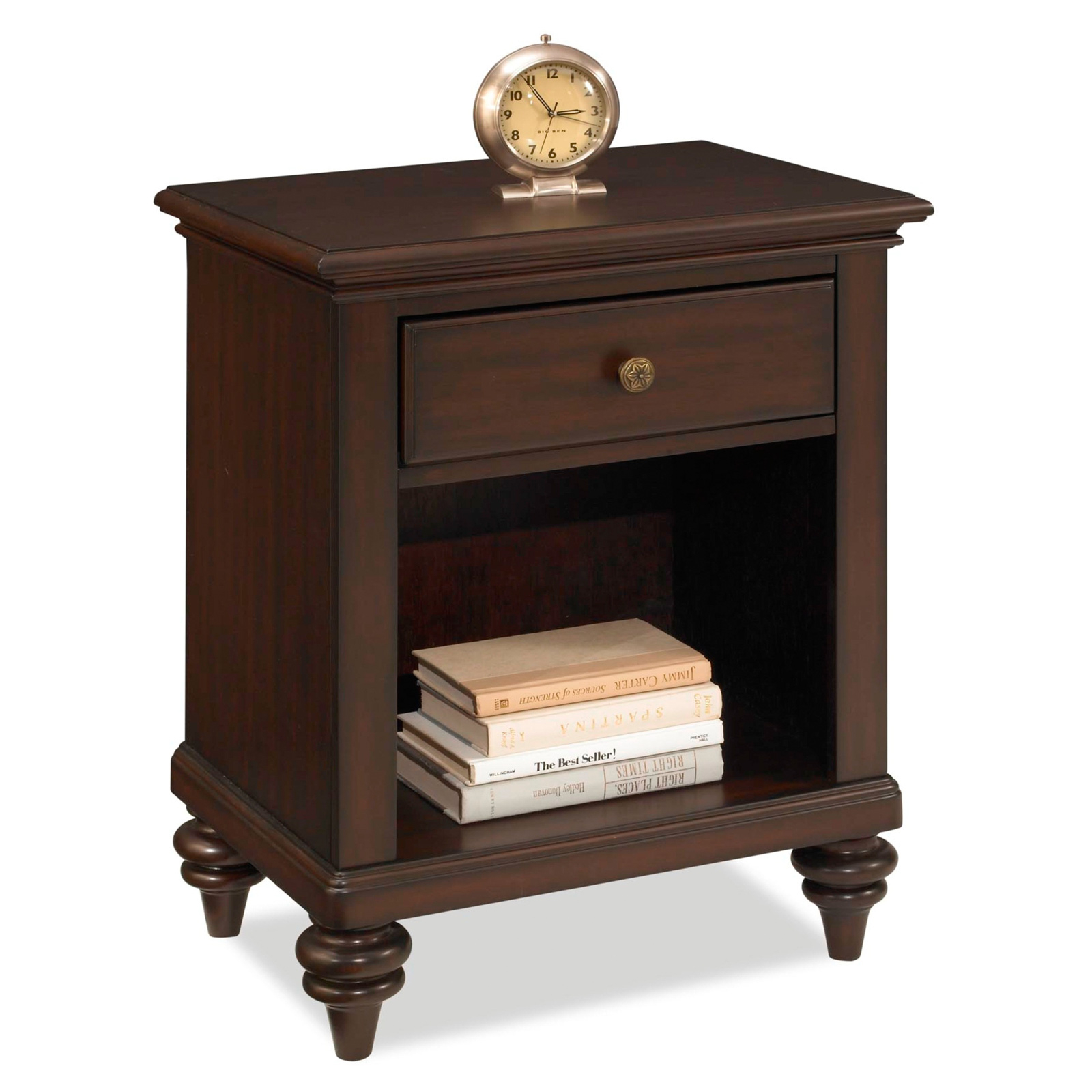 This contemporary nightstand in an espresso finish is crafted from sturdy wood for good durability. The unit offers 1 storage drawer with a decorative pull, 1 open storage compartment, and lovely bun feet.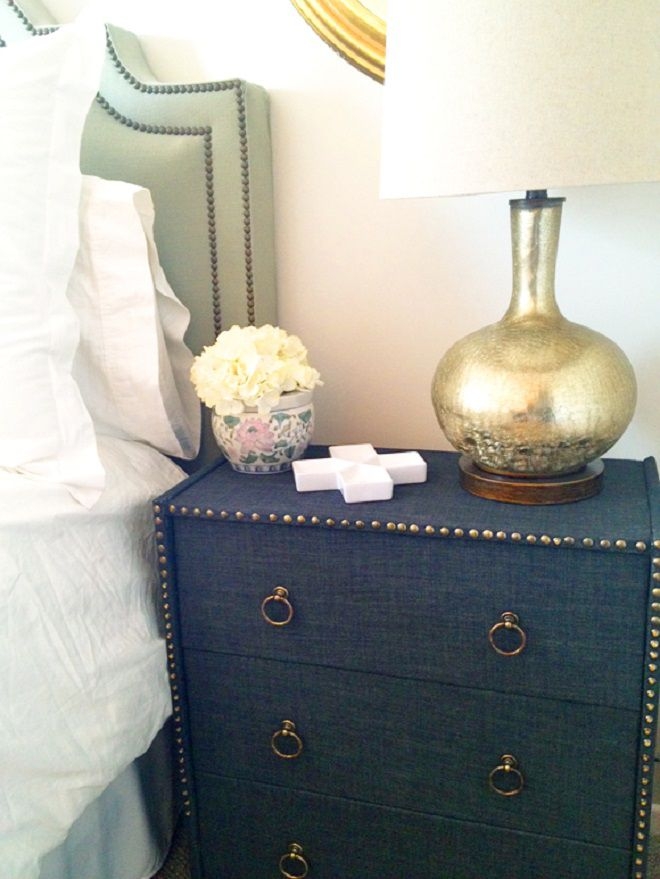 Original nightstand covered with linen and finished with decorative nail heads. Frame is made of wood. It consists of 3 drawers for storing personal items. Stylish addition to any bedroom.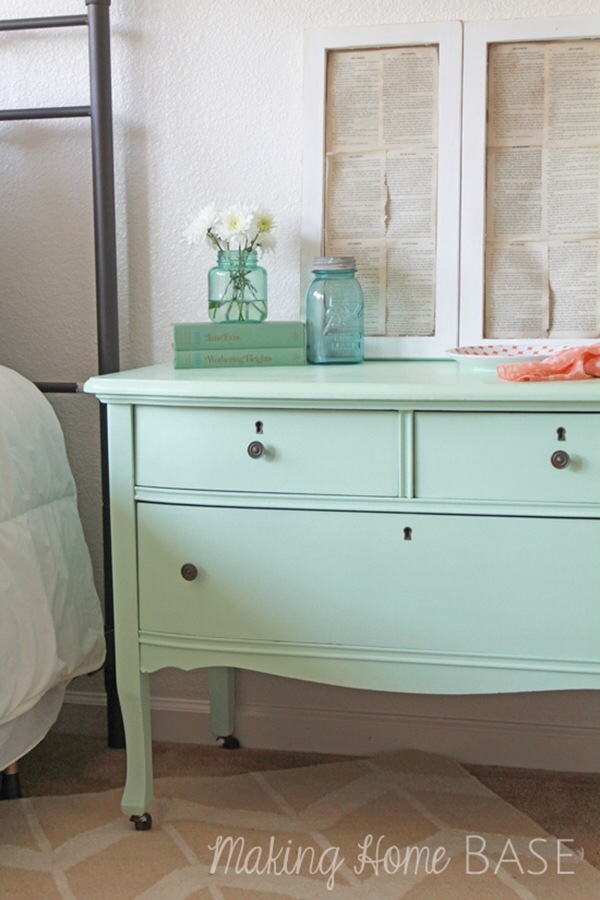 Chest in vintage style. It is made of wood and finished with pastel colors. Includes wheels for easy movement. Suitable for storing clothes and others needed stuff. Application in all kinds of interiors as needed.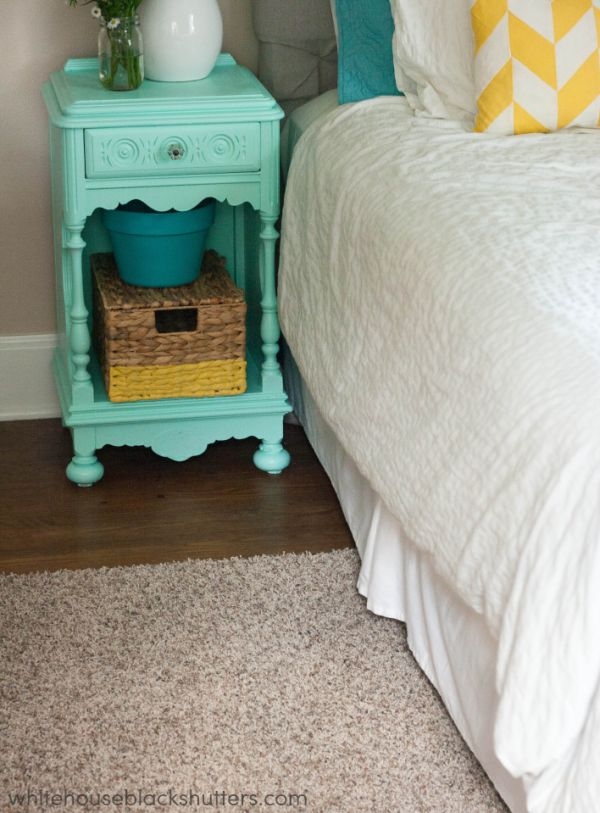 Cottage and shabby chic style is usually conflated with white finish, but a pop of colour can only boost the general style. A carved nightstand alludes to traditional findings, while the aqua blue finish takes the style to an innovative level.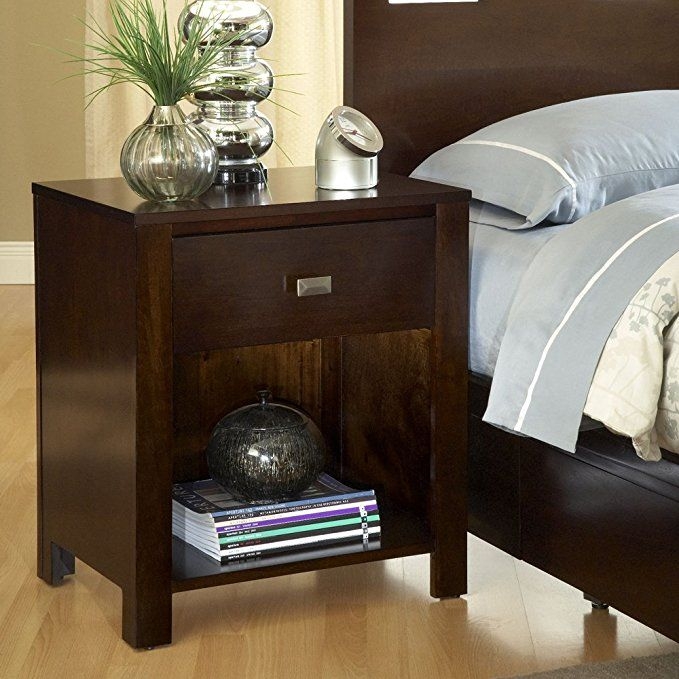 This contemporary nightstand includes 1 storage drawer with ball bearing drawer glides, and a pyramid pull in a satin nickel finish. Also includes 1 open compartment for placing books and magazines, and sanded and stained solid hardwood construction.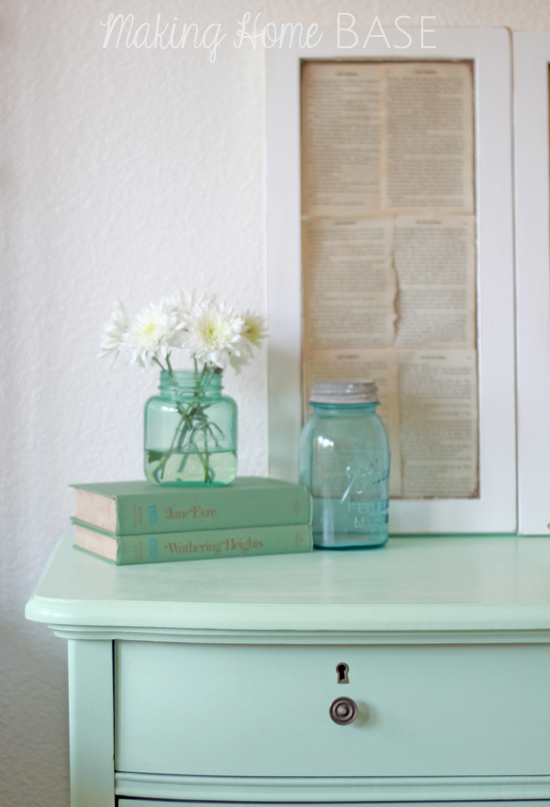 A pretty traditional vintage nightstand of solid wood repainted in pale green. It has a rectangularish moulding top, gently curved angular legs with small casters, a wavy apron. An ample and 2 smaller drawers with metal mushroom pulls are lockable.
Elegant, modern design of this nightstand exudes mod appeal to match contemporary decor. To maintain the affordability of the piece, it was constructed of painted wooden MDF. The legs are straight, made of matte finish steel.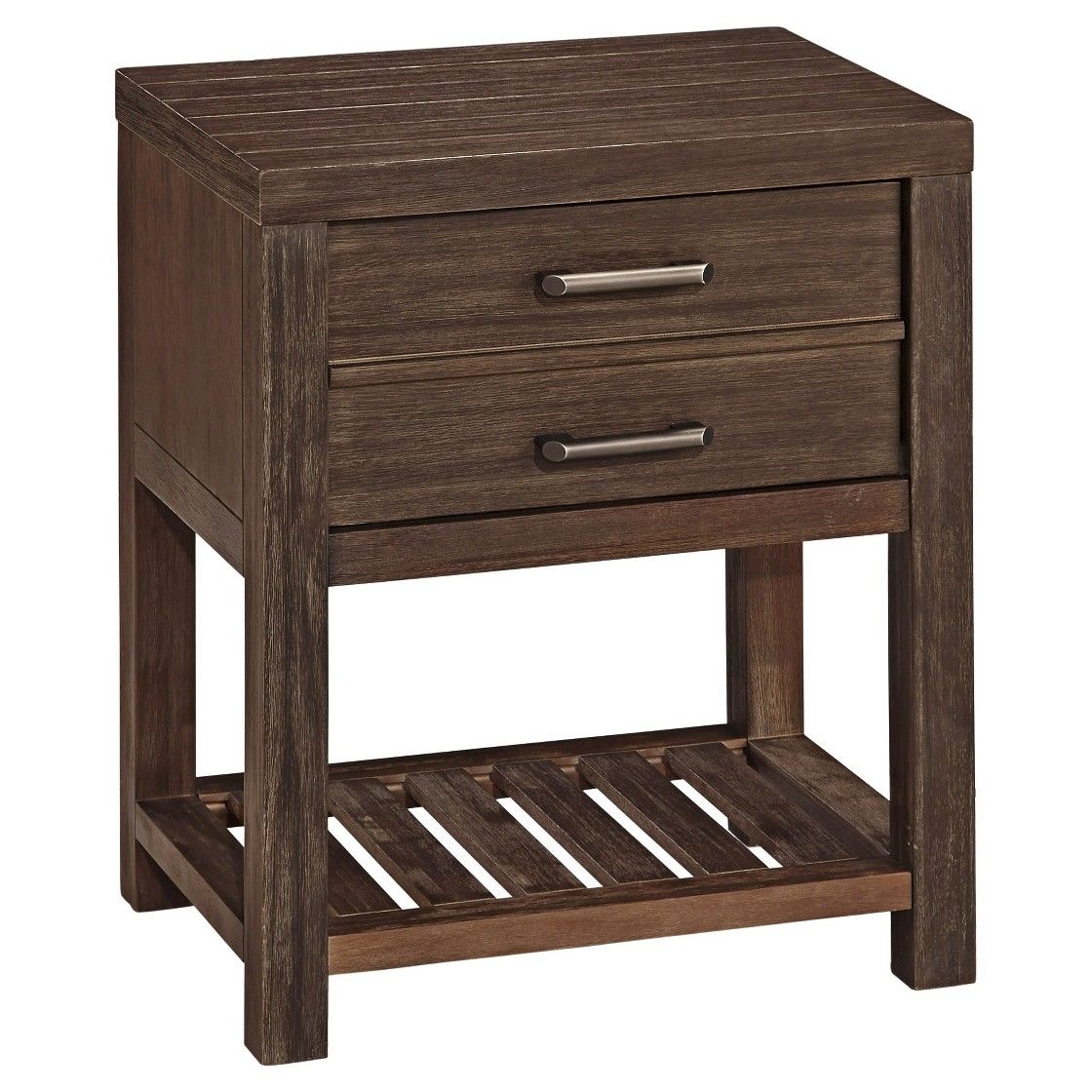 It is a contemporary night stand that has got two drawers and shelf for your favorite items. It has got a rough hued wire brush finish. It fits to any style and décor and is perfect for bedroom and living room.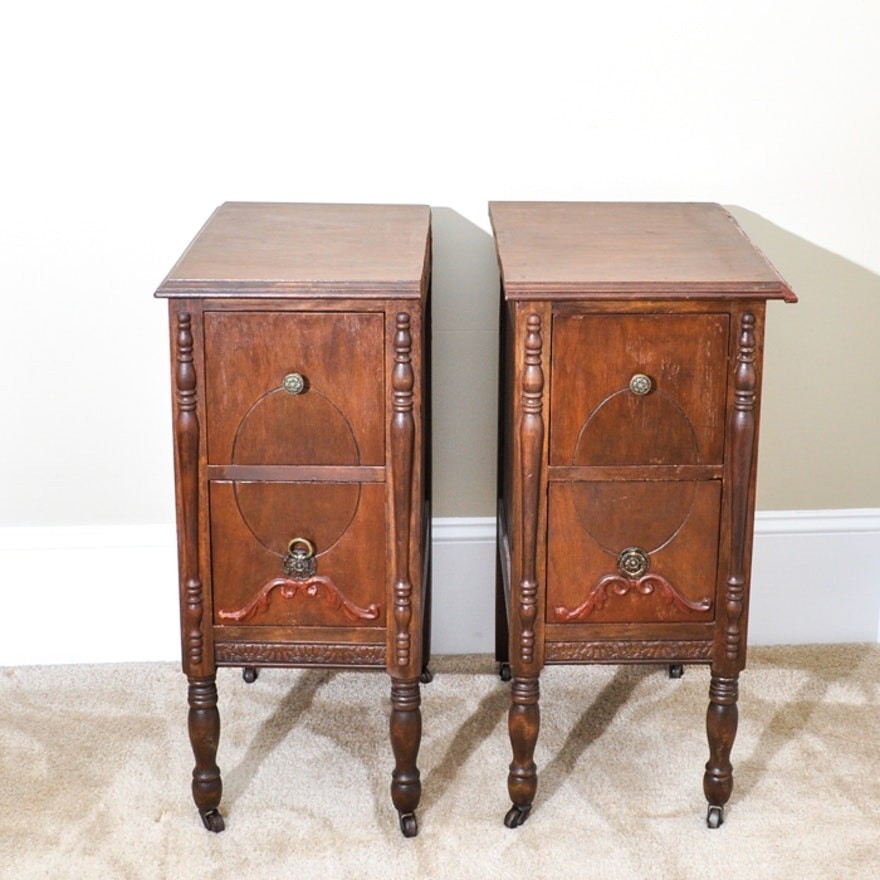 Pair of Mahogany Nightstands | EBTH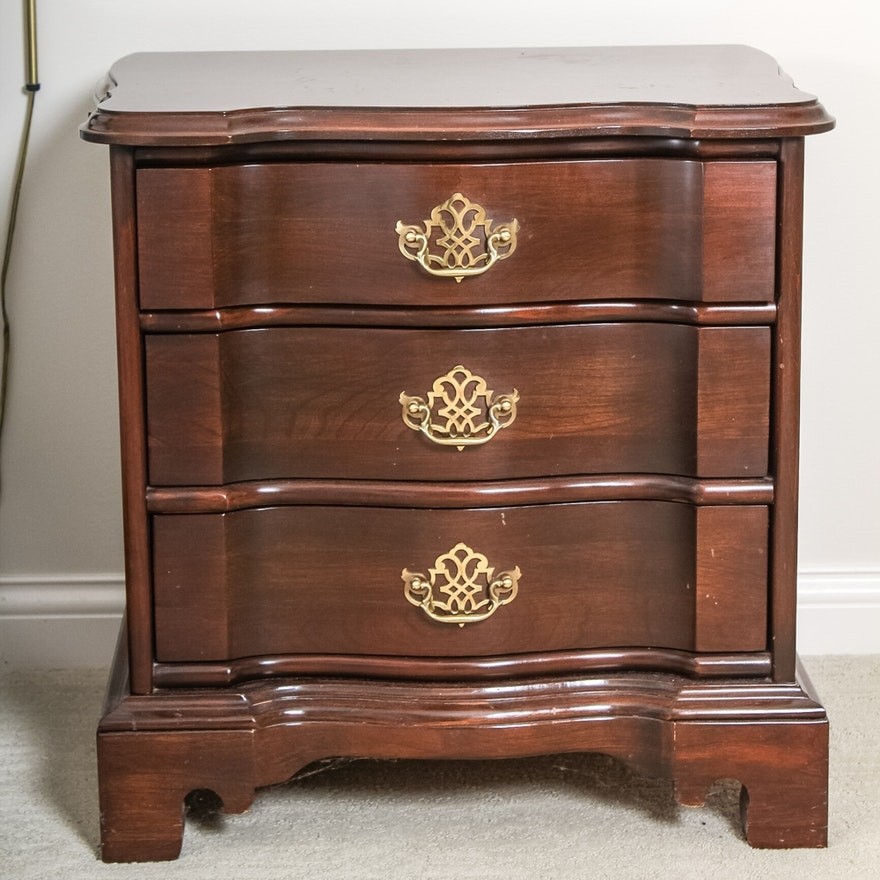 Chippendale Style Mahogany Nightstands by Harden | EBTH