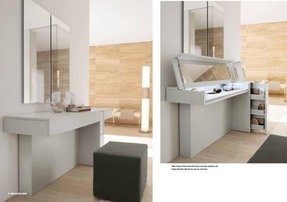 Diva dressing table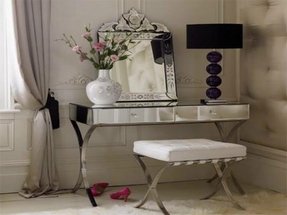 A beautiful makeup vanity table that spruces interiors with its mirrored charm and impeccable elegance. The table rests on X-shaped metal legs, holding a mirrored top and 2 drawers with crystal pull-knobs. It comes with a matching stool.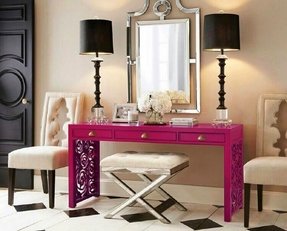 Hot Pink Bedroom Ideas
Contemporary design for a modern bedroom vanity table in a hot pink color that nicely contrasts the elegant surroundings with dominant beige. The decorative, rectangular mirror with a chromed frame gives the setup a nice detail.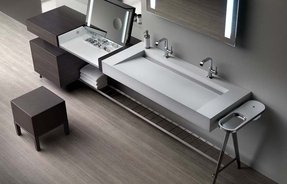 Delighting with its cool and clean, contemporary design, this stylish makeup vanity table is a proposition directed to all expressive, pronounced interiors. Having a double sink stand, it constitutes a self-contained piece of furniture.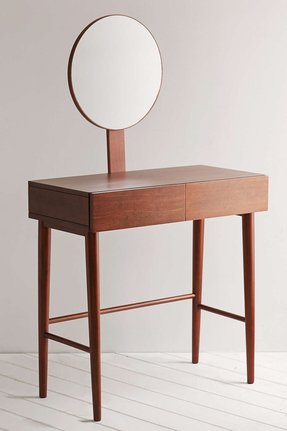 Clean lines and modern aesthetic of this midcentury vanity table will greatly add to your home decor. Wood-crafted and covered in a lovely finish, the table comes with a 2-drawer top, a fixed round mirror, and 4 tapered legs with stretchers.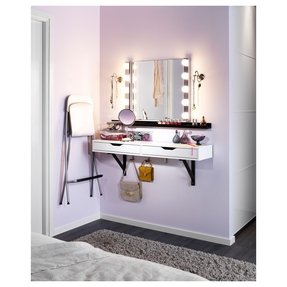 Now you can easily both save up your precious space and still get the perfect vanity makeup set in your bedroom with this design. It will let you store the stool when you're not using it and offers two drawers to hide your make up.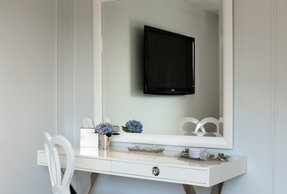 Vanity Table
Contemporary execution of this stylish vanity makeup table is an excellent way to develop a cozy corner at home. Beautiful bright finishes with details, functionality, and beauty combine with a large mirror in a white frame.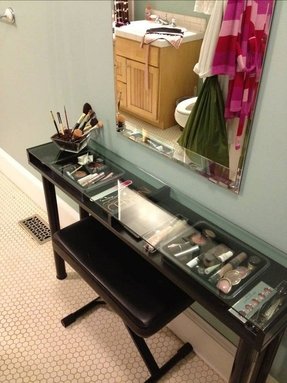 This IKEA makeup vanity represents the basic principles of its design. Simple, yet and at the same time elegant and solid, this cool and clean black construction will facilitate your daily makeup habits.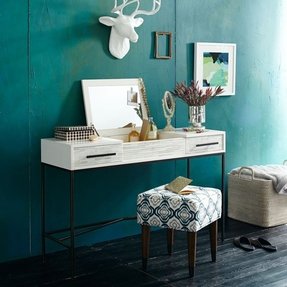 Minted For West Elm Nishna I
What a cool vanity set - I spot an interesting mix of styles here, this room is simultaneously rustic, Scandinavian and modern. White makeup table on metal frame pops on a teal wall with matching abstract wall art. White plaster deer head provides updated rustic factor.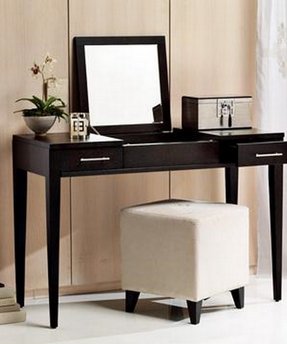 Make your contemporary bedroom more appealing, thanks to this makeup vanity table with sleek lines and modern design. The desk is wood-crafted and covered in an espresso finish, including 1 flip-up mirror that reveals a storage compartment, 2 small drawers, and tapered legs.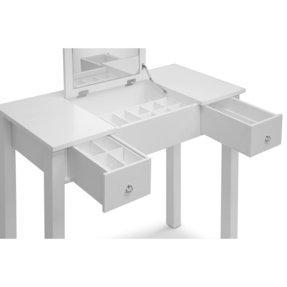 White Wessex Vanity Table contemporary-bedroom-and-makeup-vanities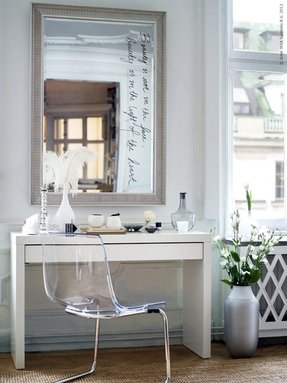 Makeup vanity table in a very simple shape based on rectangular top and supports. This simple table looks great in modern indoors. White finish perfectly suits different rooms regardless of their stylization.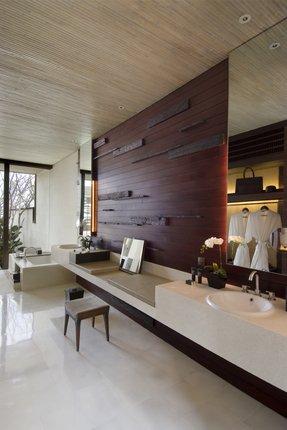 Modernist wall panelling creates a marvellous backdrop for the contemporary vanity table that is built into a bathroom wall panel. Flip up top has a mirror backing. Add a backless stool and the style is complete.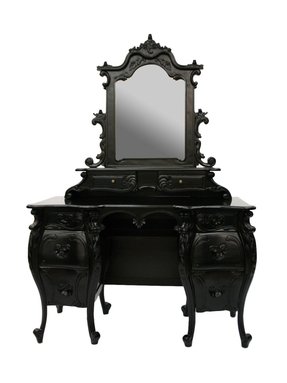 Vanity makeup table sets often are not practical, but first of all - stylish. This one combines both features. Designed in gothic convention, painted black with lots of hairpins and hooked edges, create a unique, eye-catching item.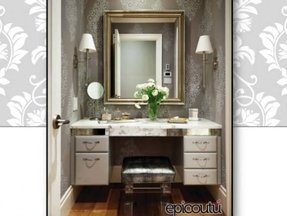 Bathroom Vanity Lighting Design Ideas, Pictures, Remodel, and Decor - page 38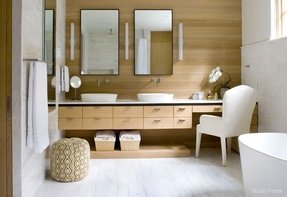 White and wood mix // Contemporary bathroom by Studio Frank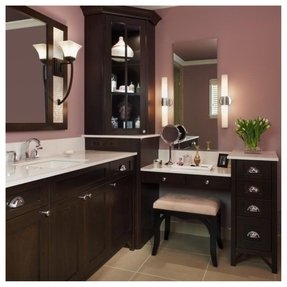 Corner, angled built in 22 Inch Bathroom Cabinets Design Ideas, Pictures, Remodel, and Decor - page 18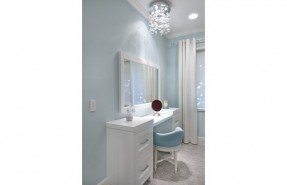 Teen Bedroom Bath Remodel Contemporary Kids Sacramento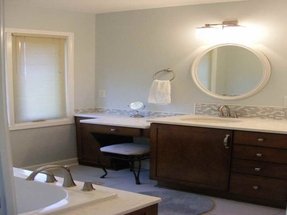 Contemporary Bathroom Vanity with Makeup Table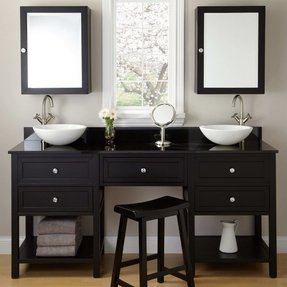 72 Taren Black Double Vanity for Vessel Sinks with Makeup Area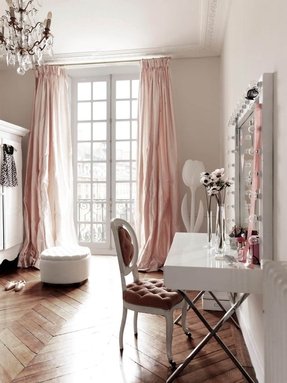 The lightweight design and subtle lines will be a great feature of a well-kept bedroom of a woman who likes to enjoy the make-up. This white makeup vanity table with a thick, glossy top gives a glamorous appearance, leaning on thin metal legs.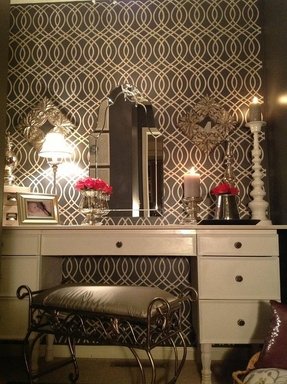 A DIY closet makeover into glam dressing room with a beautiful makeup/vanity stand. The traditional, white desk with a plethora of drawers gives a lot of storage place, and the iron stool brings an antique detail.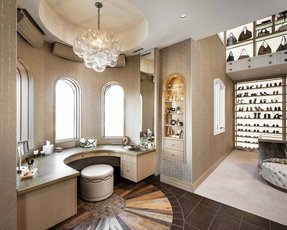 Rustic Contemporary Ranch by Red Rock Contractors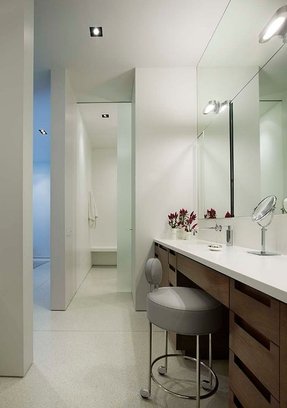 White Vanity Makeup Tables With Lots Of Storage Design Ideas, Pictures, Remodel and Decor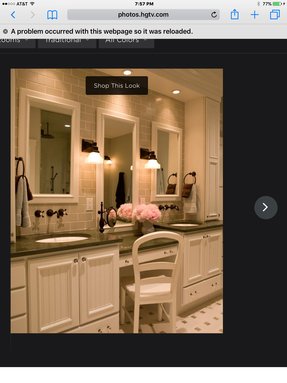 Makeup Vanity - Dressing Table | Bathroom Ideas & Design with Vanities, Tile, Cabinets, Sinks | HGTV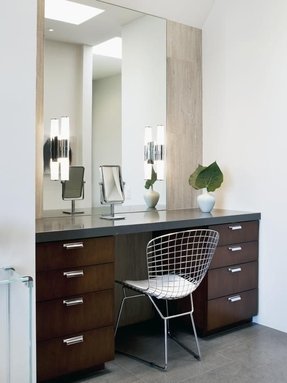 Double Vanity With Mosaic Tile Backsplash : I want!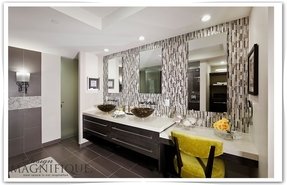 A modern bathroom vanity table of grey-finished wooden materials. Its 4 drawers feature front-length round horizontal bar pulls and an open base with storage niches. It has a rectangular white top with 2 top-mounted round brown glass sinks.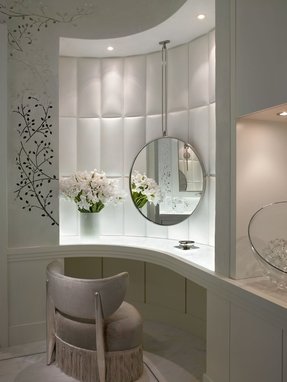 Ocean Penthouse Miami Beach - alene workman interior design, inc. This make up area of a white on white powder room is dramatized by the custom mirror branch mosaic set in white sand and concrete. The ceiling hung mirror is set against a background of w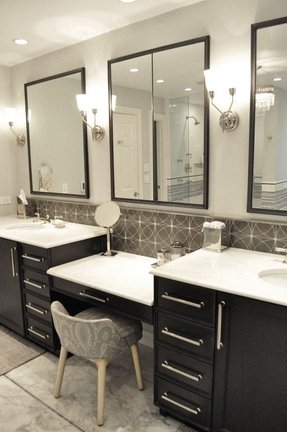 Kimballwood « KitchenLab Design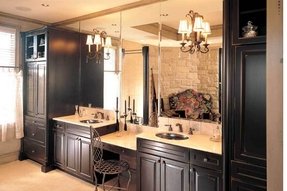 Traditional
Vanity table designed for the bathroom. Base is made of wood and fitted with 2 drawers for storing personal items. Rectangular top has large usable surface. Functional design for each home.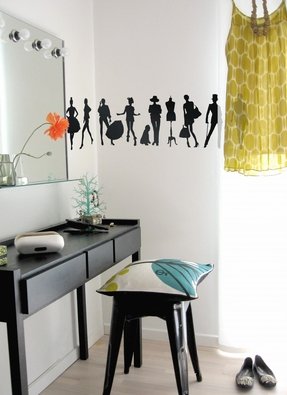 Great styling from founder and creative manager of Ferm Living, Trine Andersen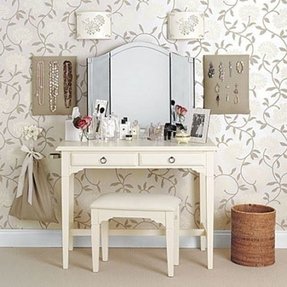 An aesthetic contemporary vanity table crafted of white-finished wood. It has straight tapered angular legs and simple stretchers, a rectangular top with bevelled edges and 2 drawers with metal ring pulls. A 3-panel arched mirror has mirrored edges.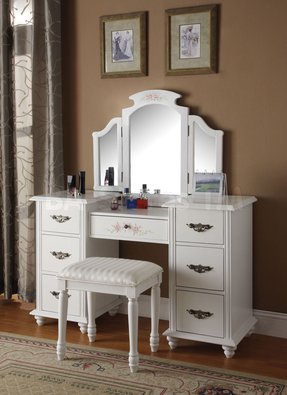 vanity dressing table with drawers. I'm prob going to paint it, so the color doesn't matter. @Heather Jamison
Ribbon Wood Makeup Vanity Set with Mirror
The stylish dresser / vanity is a revolutionary piece of furniture to the women's room / bedroom. Beautifully made is very stylish and at the same makeup or other cosmetic tasks become even more enjoyable.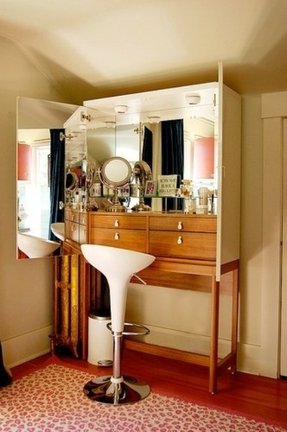 This dream vanity set up will allow you to prepare in the mornings and put on make-up with ease and comfort, making for the must-have choice for any interior. It comes with the closed cabinet look to help you avoid clutter.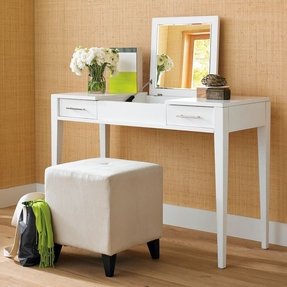 This is a clean, modern approach to a vanity. It is also great for a ...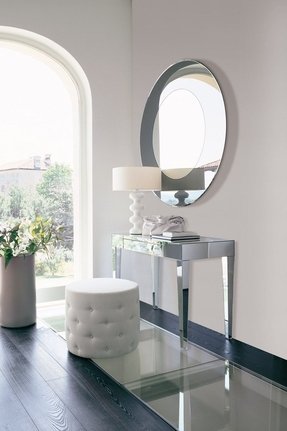 Now you can embellish your contemporary bedroom or living room, by using this fantabulous makeup vanity table. Its mirrored design makes it really captivating, offering 1 drawer for makeup tools, and 4 tapered legs for stability. Includes 1 matching round mirror.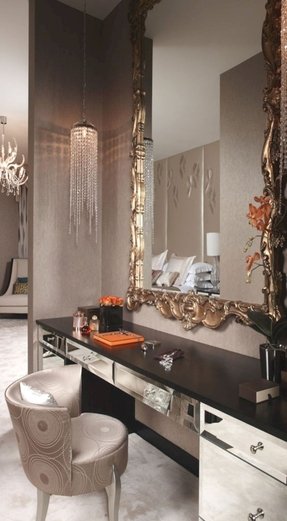 Round chair + mirrored vanity = A pretty and contemporary take on Art Deco! This room looks like my daughter Brittany's bridal/bridal party room. Such beautiful memories.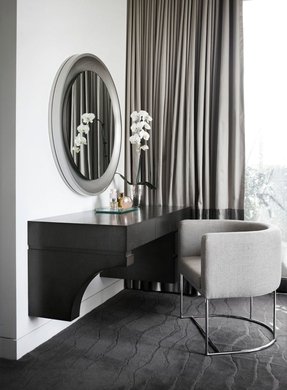 Houzz - Home Design, Decorating and Remodeling Ideas and Inspiration, Kitchen and Bathroom Design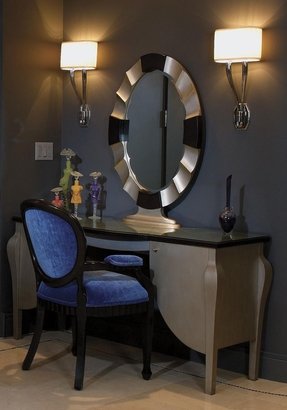 Art Deco Mirrored Dressing Table | Contemporary dressing table with mirror, created for bathroom make-up ...