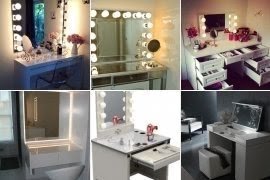 This simple vanity dressing table could in fact double as a desk. The only detail that leaves no doubts in matters of its intended use is the large mirror flanked by bulbs - a Hollywood style and perfect lighting for makeup.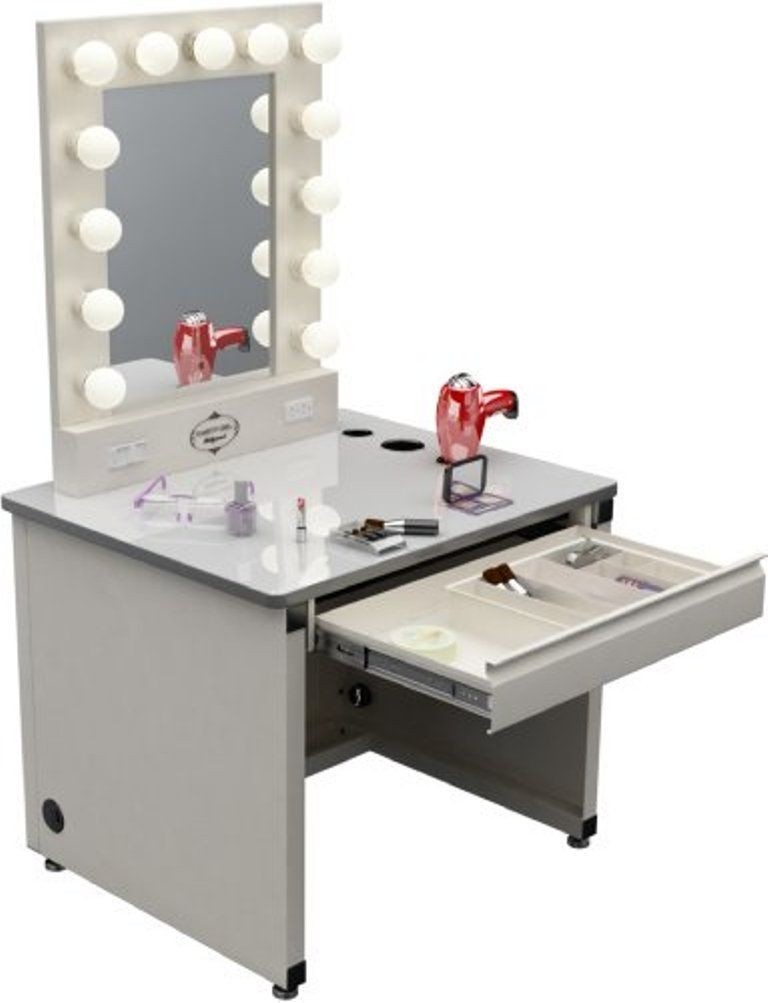 A great addition for girls' rooms and feminine bedrooms, this vanity dressing table is as lovely as functional. Includes a nicely-polished top, 1 small drawer, and 1 rectangle mirror equipped with 13 brightly shining bulbs.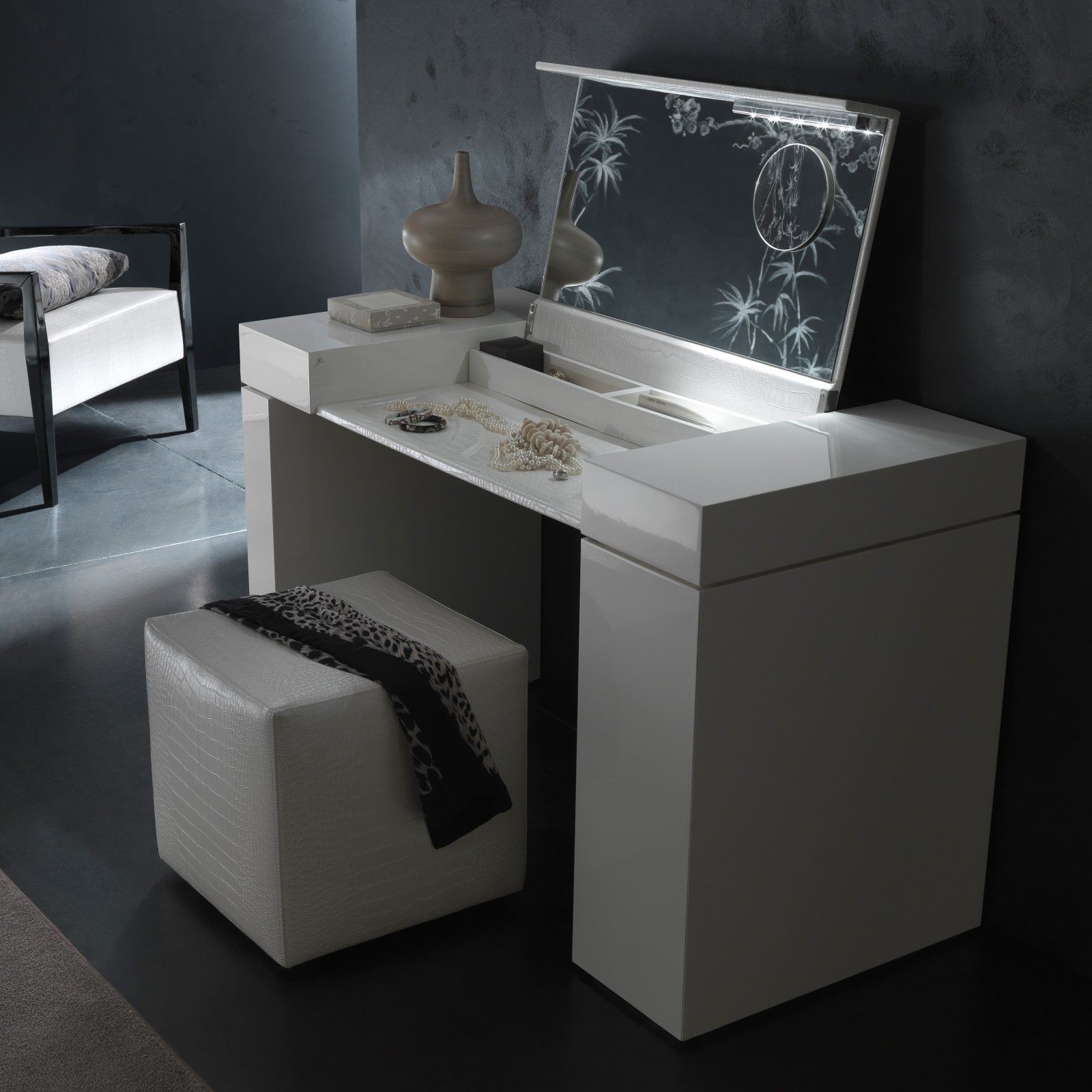 A stylish dressing table for modern interiors, with a flip-up mirror and a lighting system. Its Italian design and a high gloss white lacquer finish make the whole case very appealing, along with the dresser's top and interior both accented with crocodile ecoleather.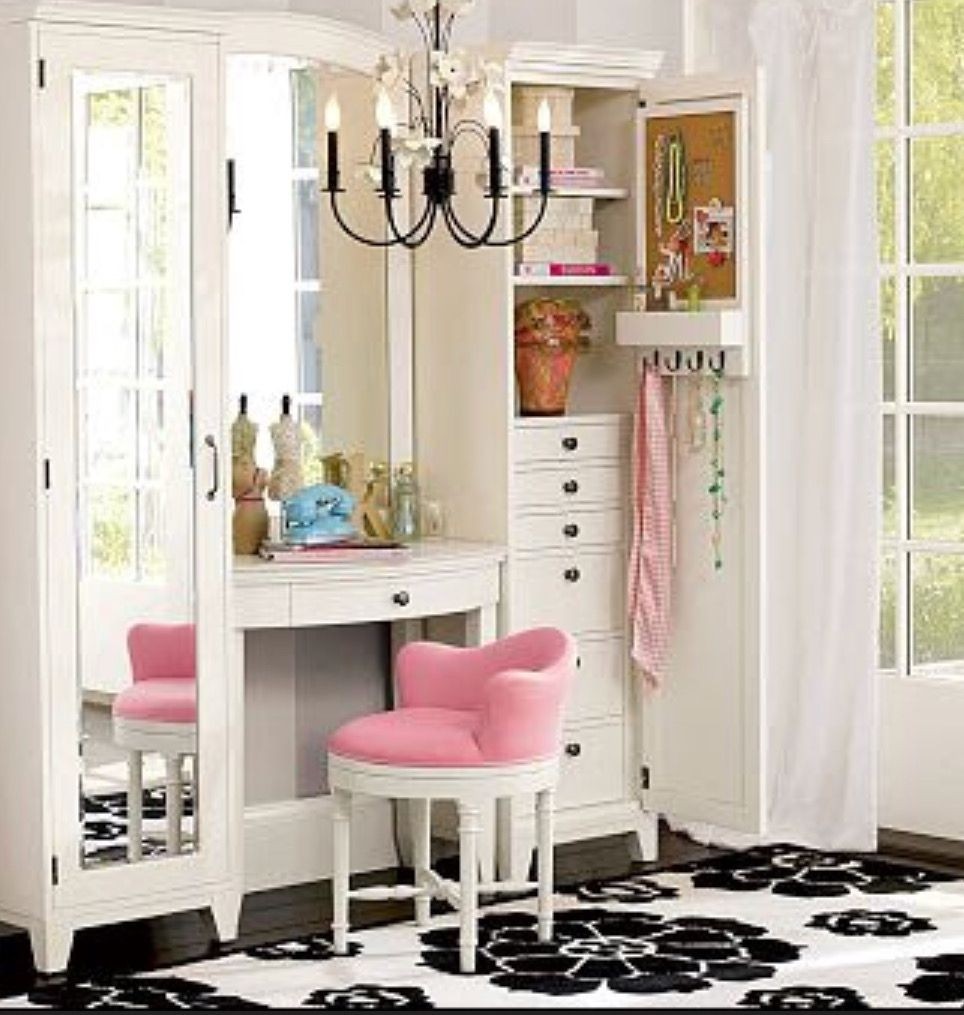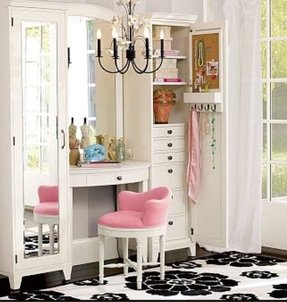 This set of furniture is must-have in cloakroom - it is composed of clothes, wardrobe, cabinet to storage jewelry and cosmetics, vanity table with mirror and cute chair with pink seat. Every elements are made of blanched wood.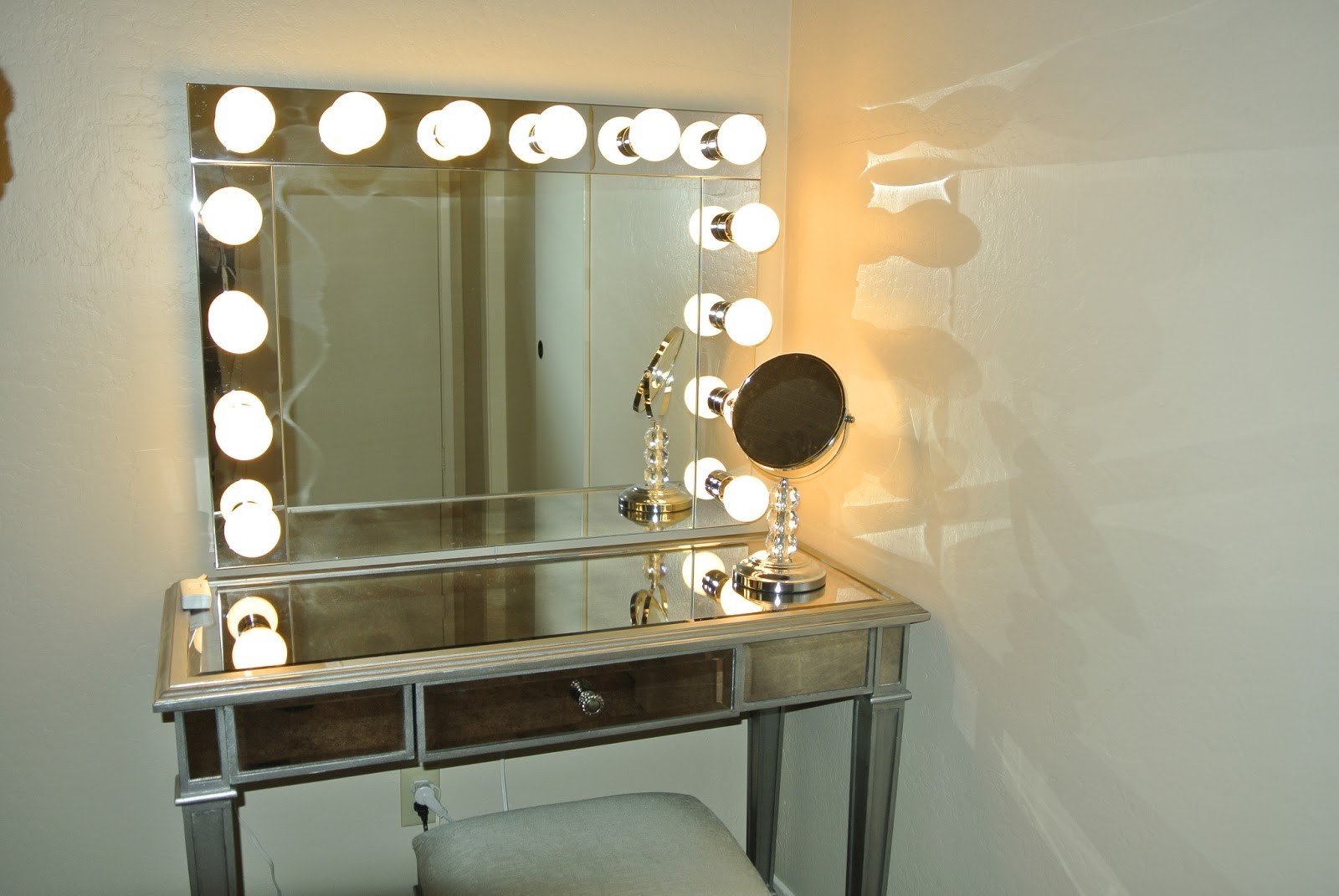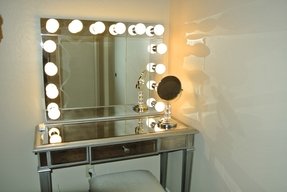 This IKEA vanity makeup table comes with lights and drawers, creating a very stylish and practical makeup companion. Its smooth, contemporary silhouette and sleek finish shall appeal to all, who look modernly designed bedrooms.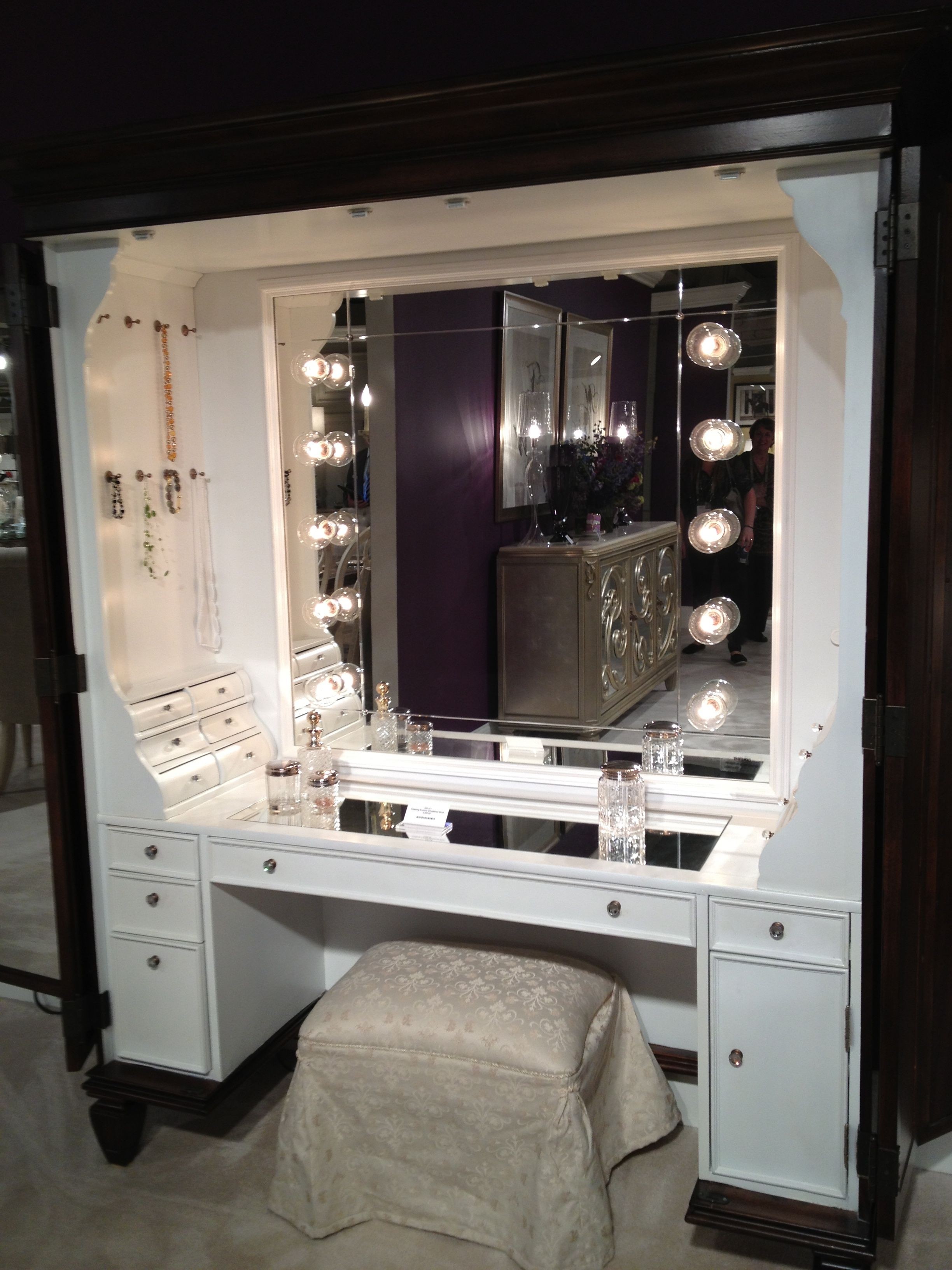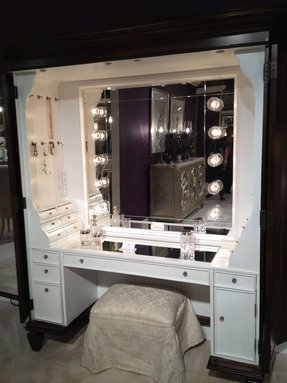 makeup vanity table with light black makeup table with lighted mirror ...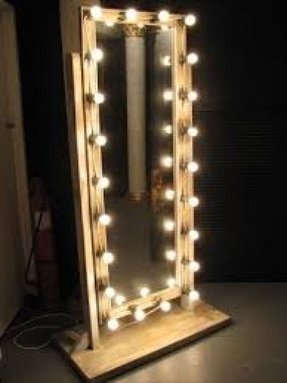 Beautifully lit floor standing makeup mirror is a superb piece of vanity, bathroom or wardrobe decoration. Phenomenon bulbs around the frame bring the climate like Hollywood. The whole is phenomenal.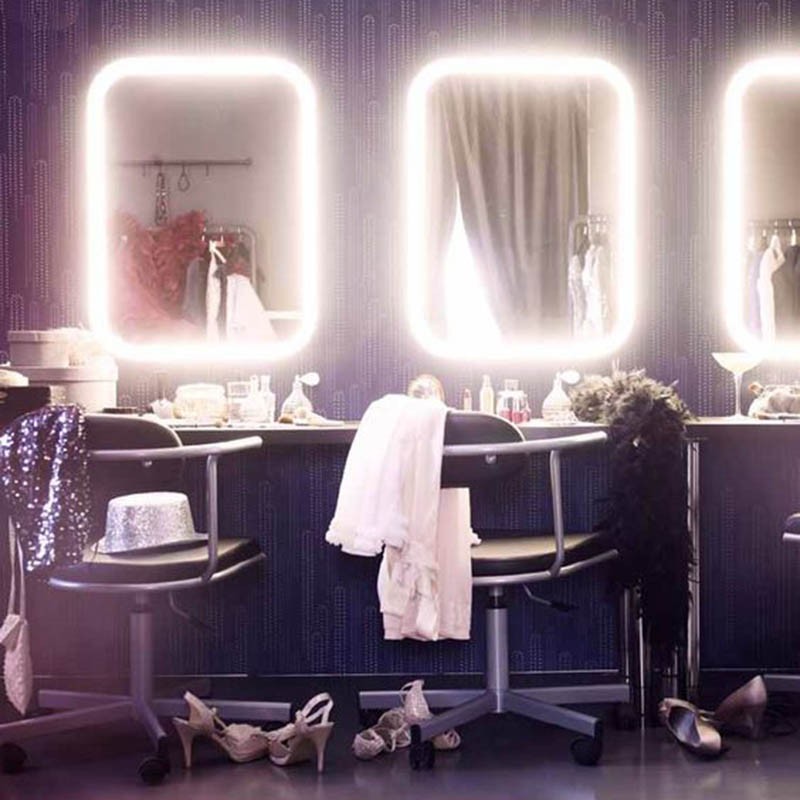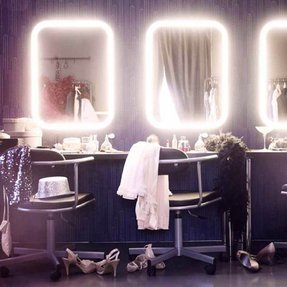 Feel like a movie star during your everyday routine. Big mirror for better seeing yourself and light bulbs providing great light for doing make up. Fantastic thing in theater as also in private room.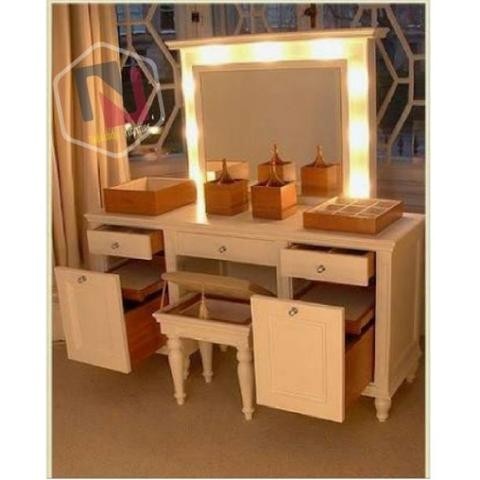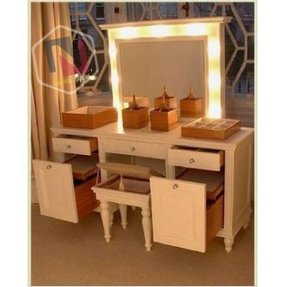 Dressing table with lift-up mirror and lights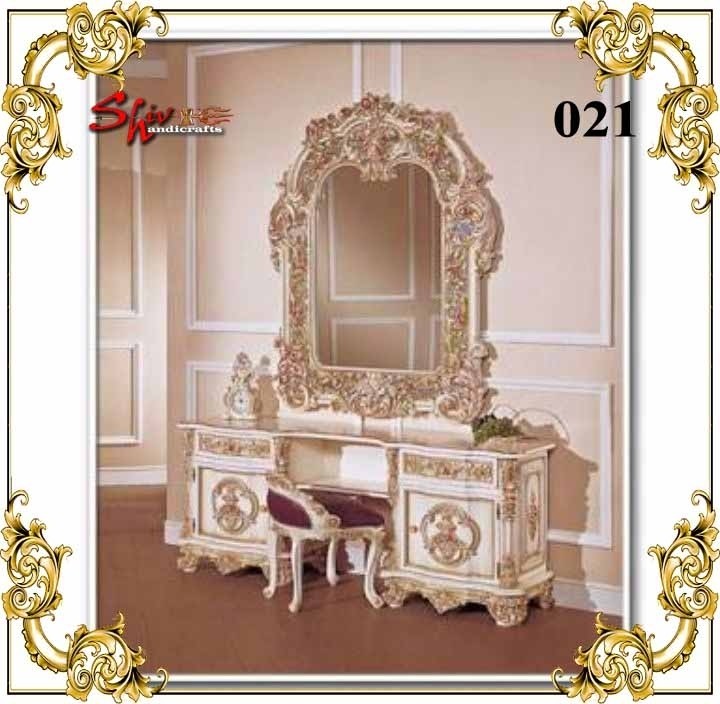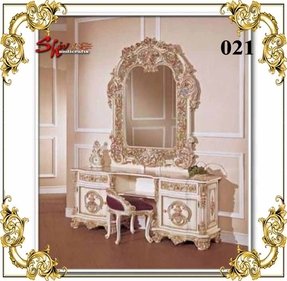 Enchanting dressing room beaming with baroque opulence. Ornate dressing table with extra large mirror pleases eyes with carved details and elaborate gilting. A vanity assembly, decent for a genuine palace...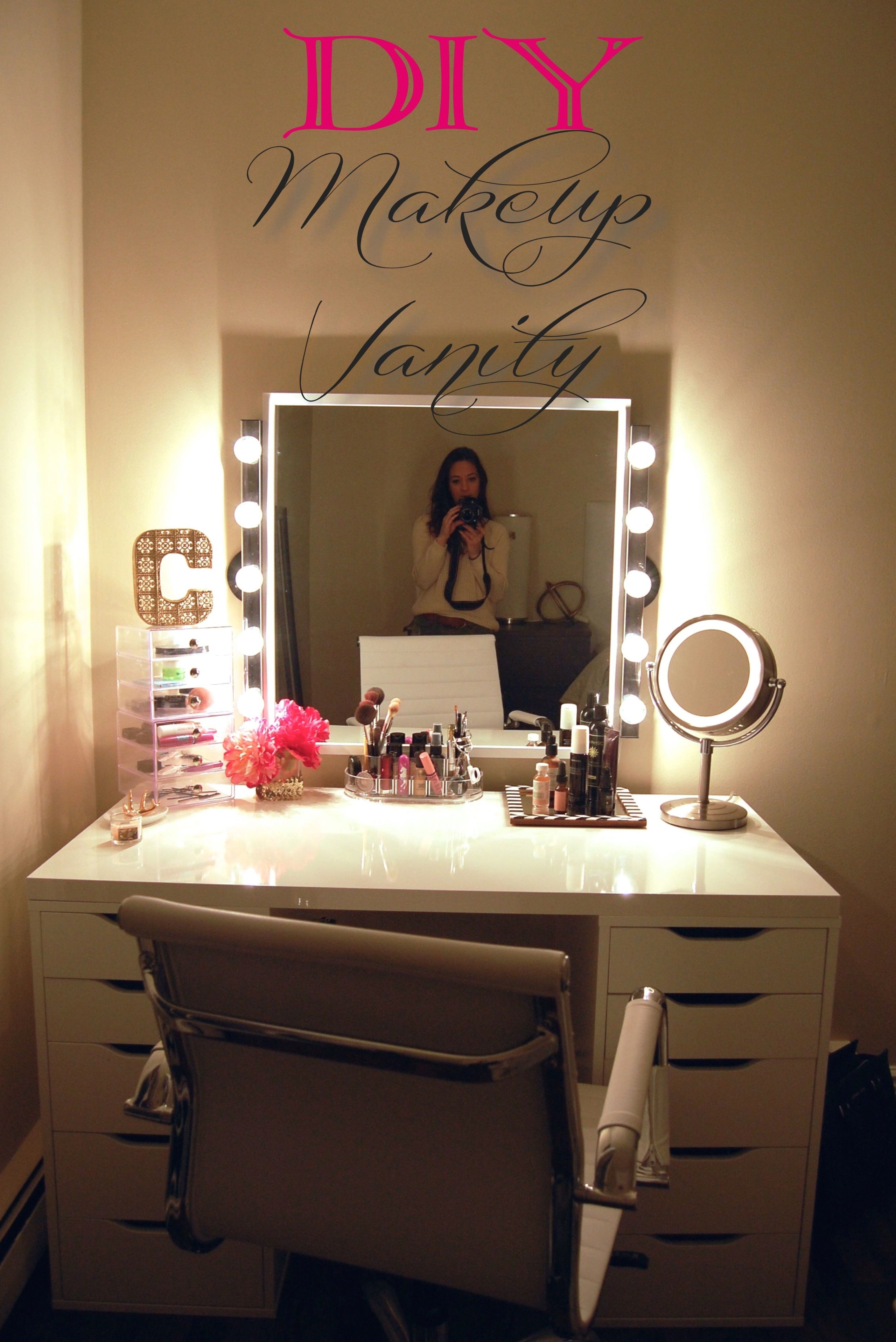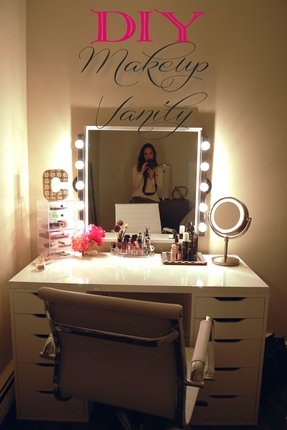 If you would like to feel like a star in your own bedroom, try to do such makeup vanity desk on your own! It is really easy to prepare it - just a few bulbs, square mirror - a voila! It could be prepared in many colors - it is your choice!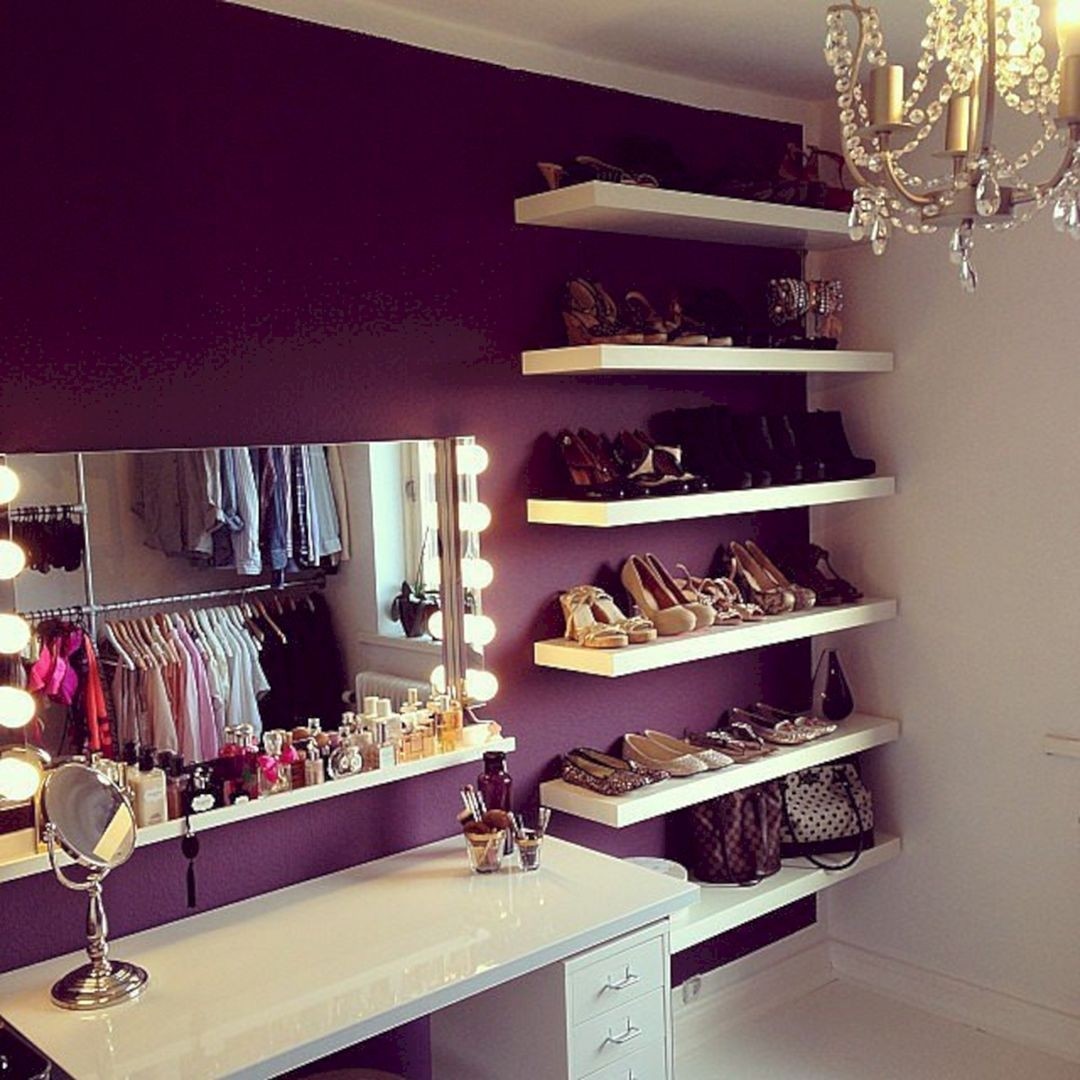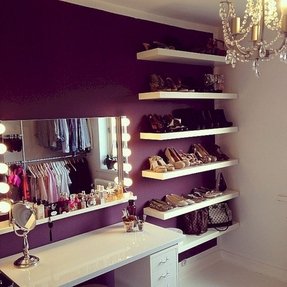 An elegant contemporary vanity unit crafted of wooden materials with a white finish. It has a few drawers with horizontal C-handles and a rectangular top with glossy creamy shine. A rectangular frameless mirror is equipped with a narrow shelf and 5-bulb vertical sconces on sides.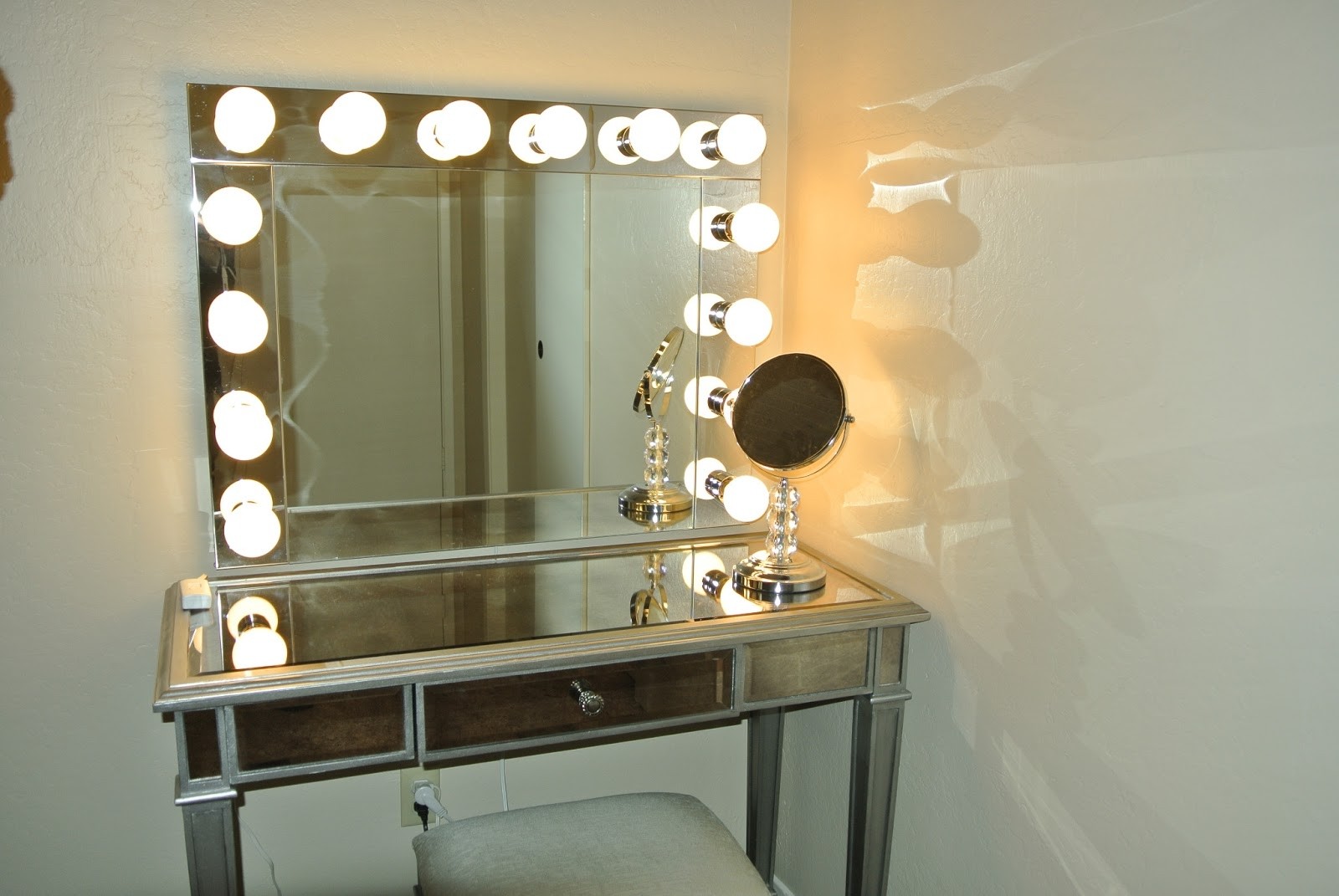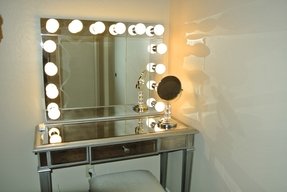 The beautiful vanity mirror with glittering lighting like the Hollywood wardrobe, combined with a beautiful vanity table captivates and will create a unique corner in the bedroom or dressing room.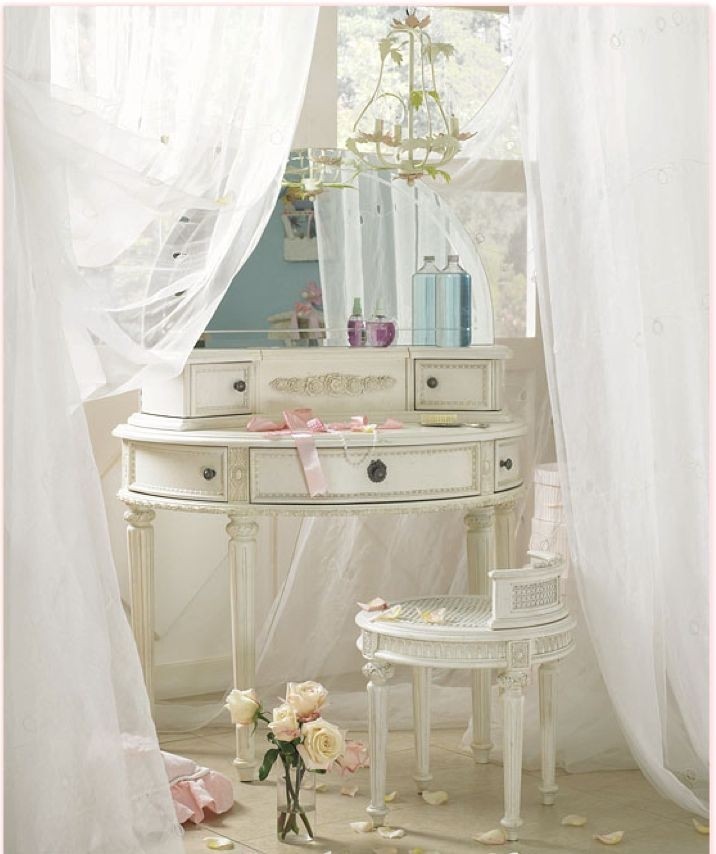 Although the times of aristocratic balls and boisterous games are rather done,the vanity dressing table with mirror and lights will also be perfect in a modern apartment. Decorated in white, handy with drawers and beautifully illuminated around a round mirror.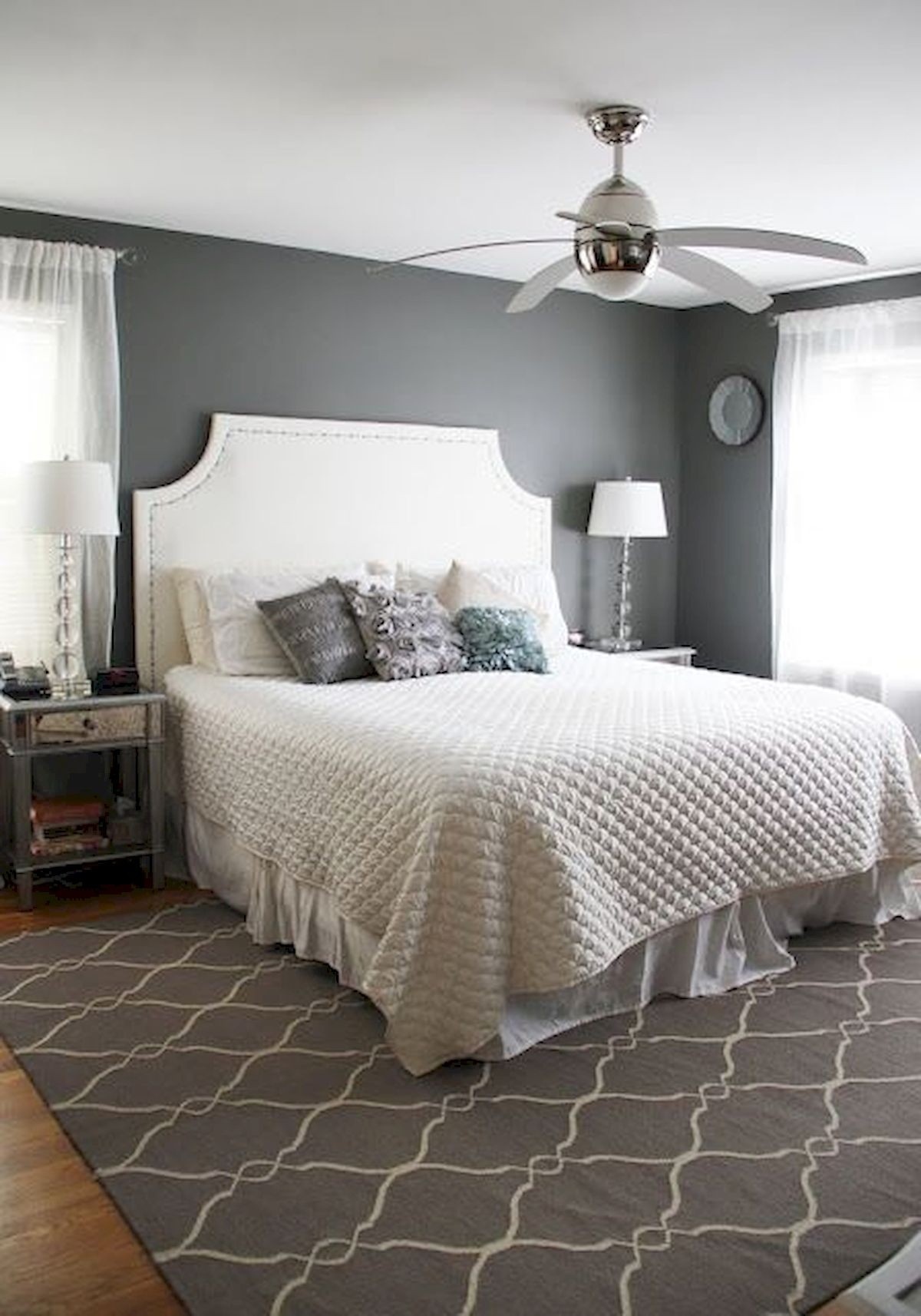 After: Master Bedroom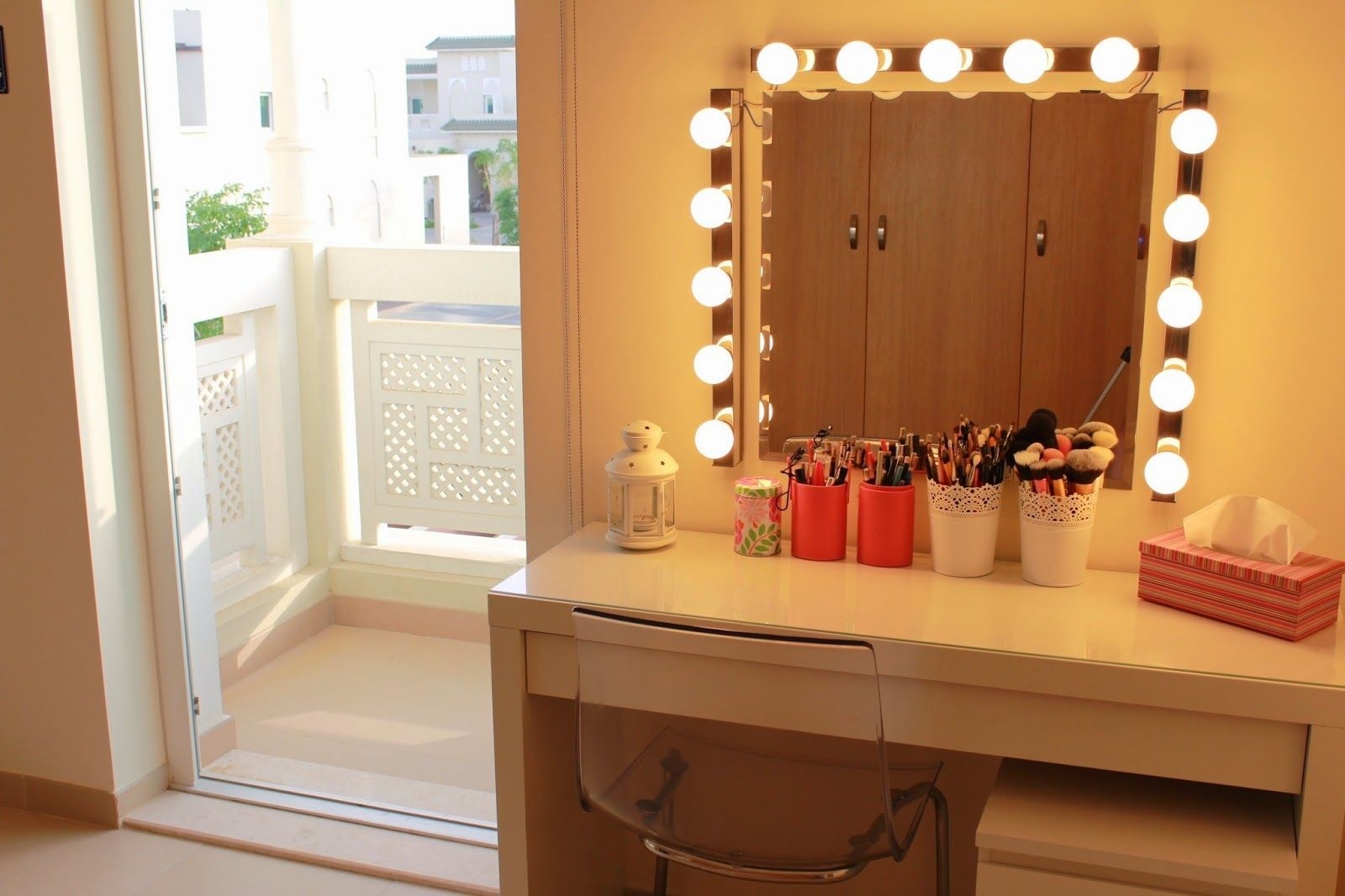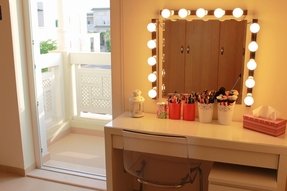 A girly decoration for bedrooms, dorm rooms, and teenagers' rooms. The vanity dressing table is made of white-finished wood and topped with clear glass, and it comes with a square mirror surrounded by 3 rails - each equipped with 5 light bulbs.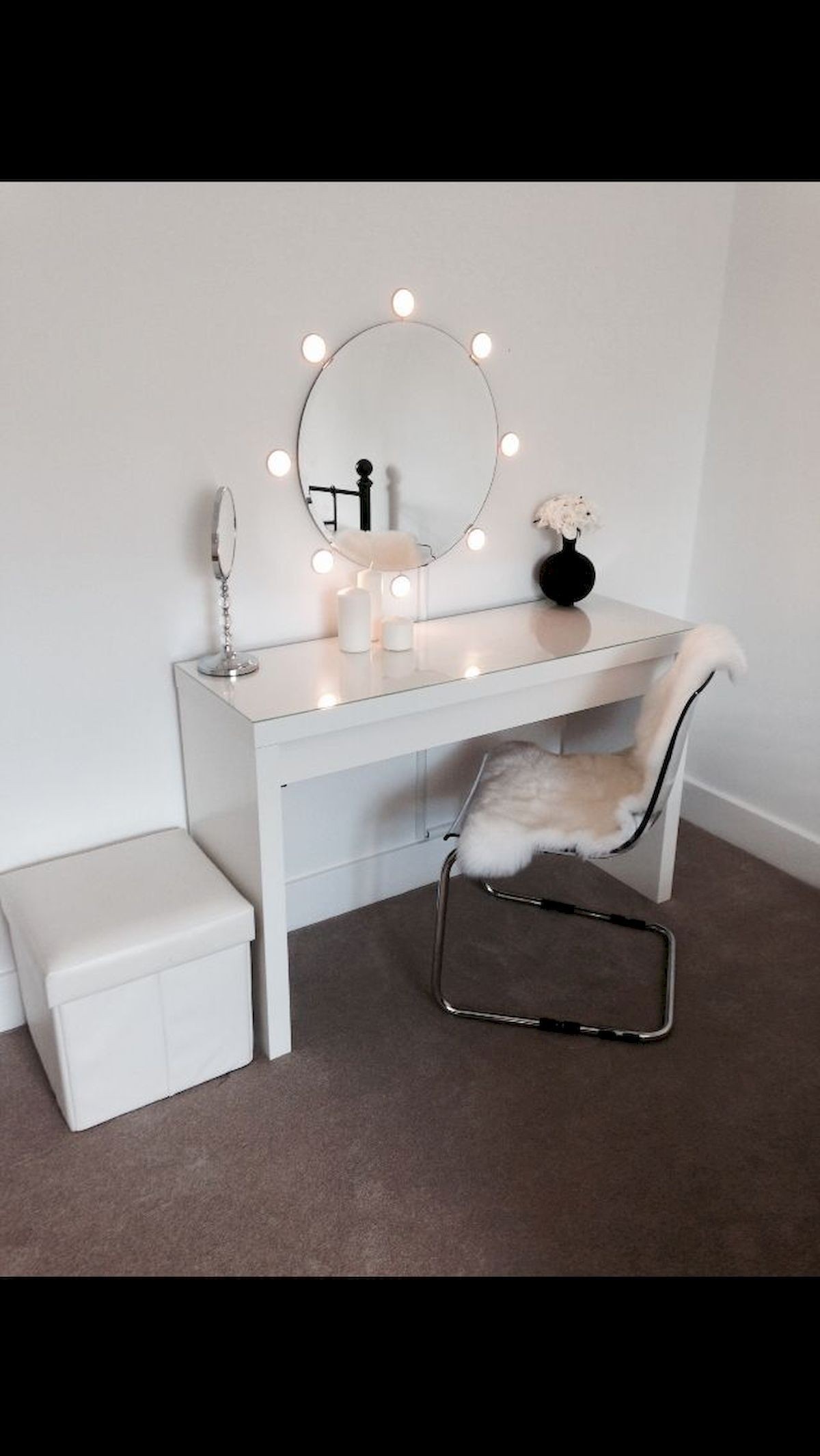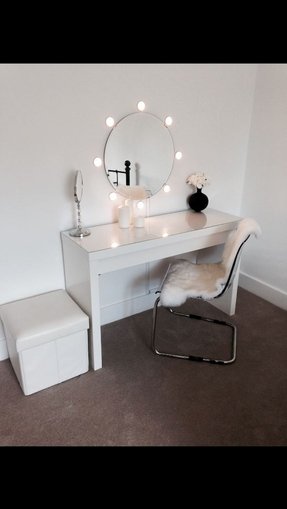 Who said that you cannot prepare a perfect dressing table on your own? Great ideal for a beginner actress, who has not enough money to order a dressing table made by the professional designer. The simplicity develop the imagination.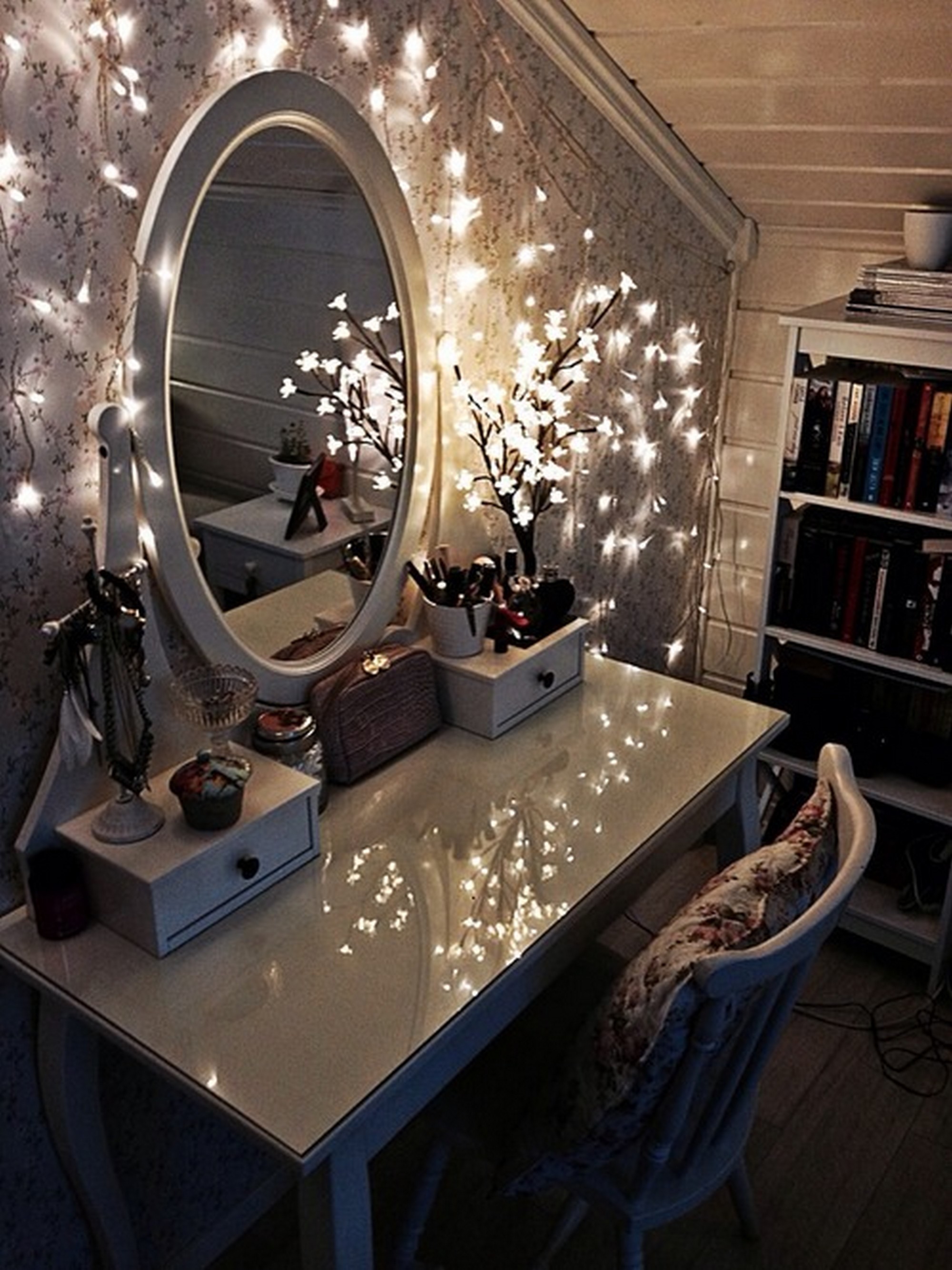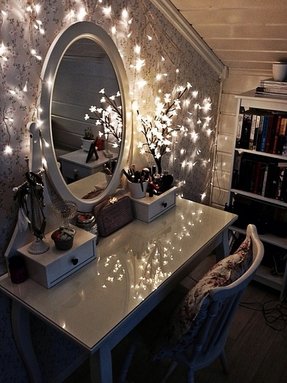 Tocador de maquillaje decorado con luces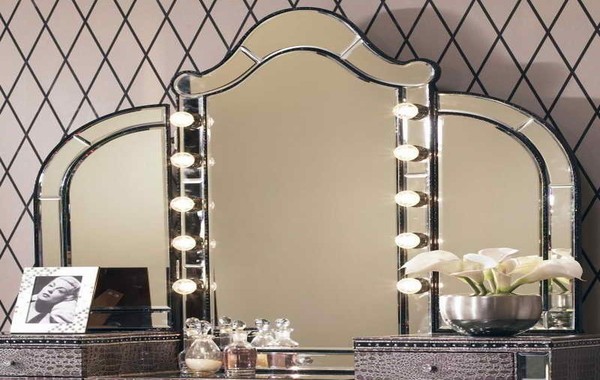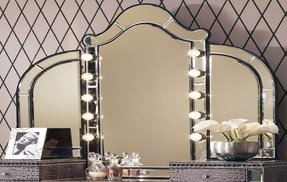 18 Photos of the Vanity Table with Mirror and Lights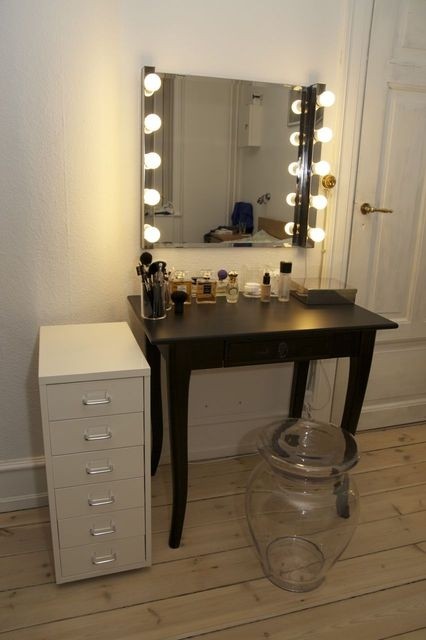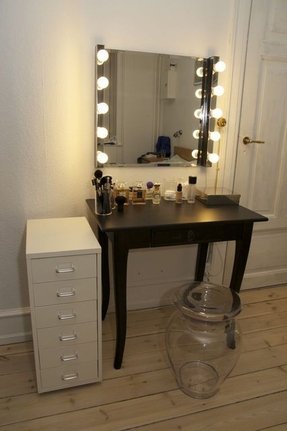 A fabulous vanity table with all the pieces needed for perfect makeup. Its best part is a large mirror with cool lighting fixture that will make you feel like a real film star. Such a table will be a great element of the bedroom.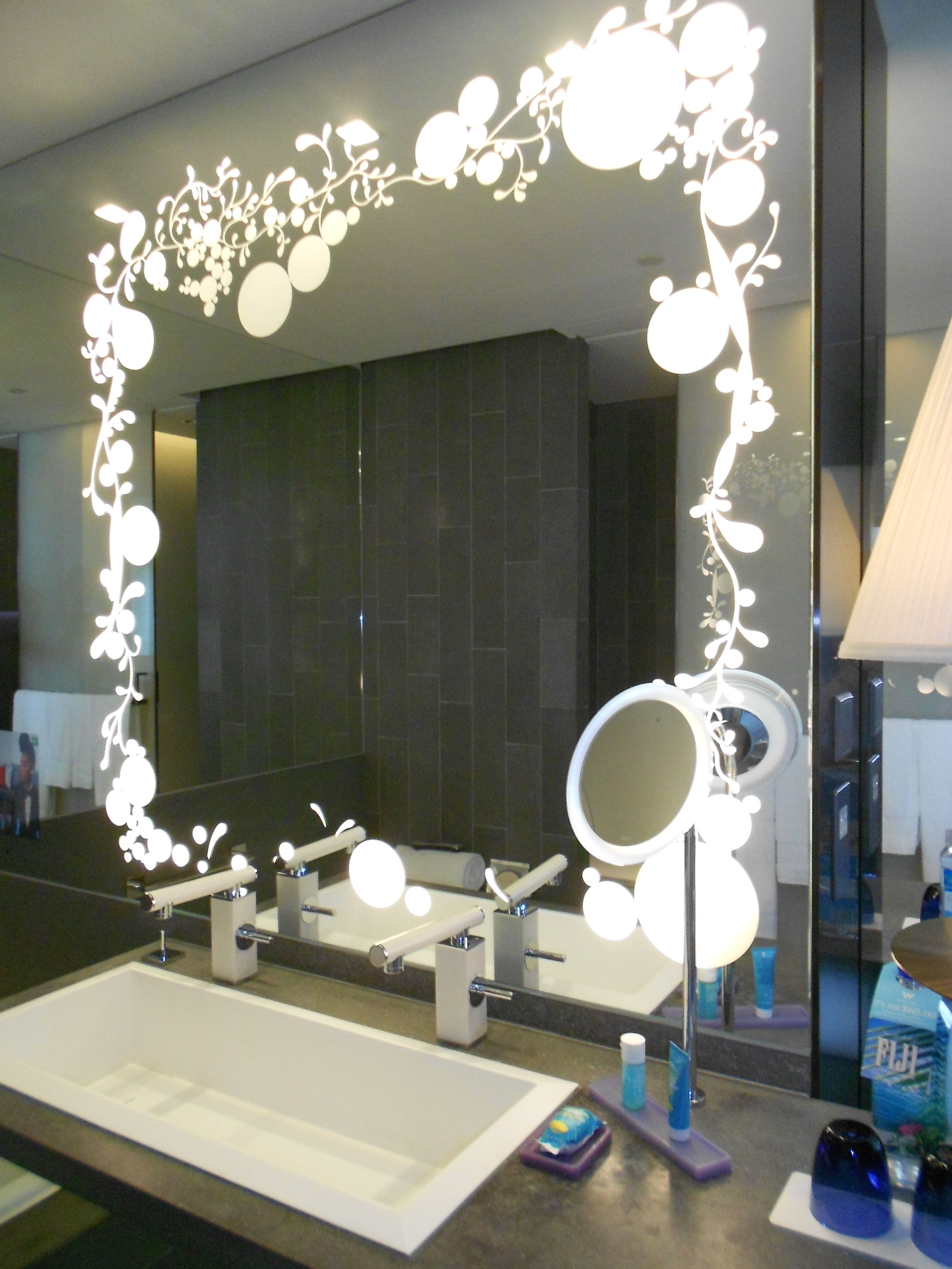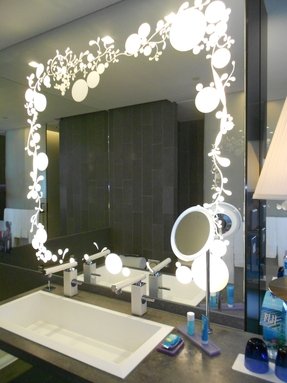 makeup mirror with lights, etched mirror with LED backlights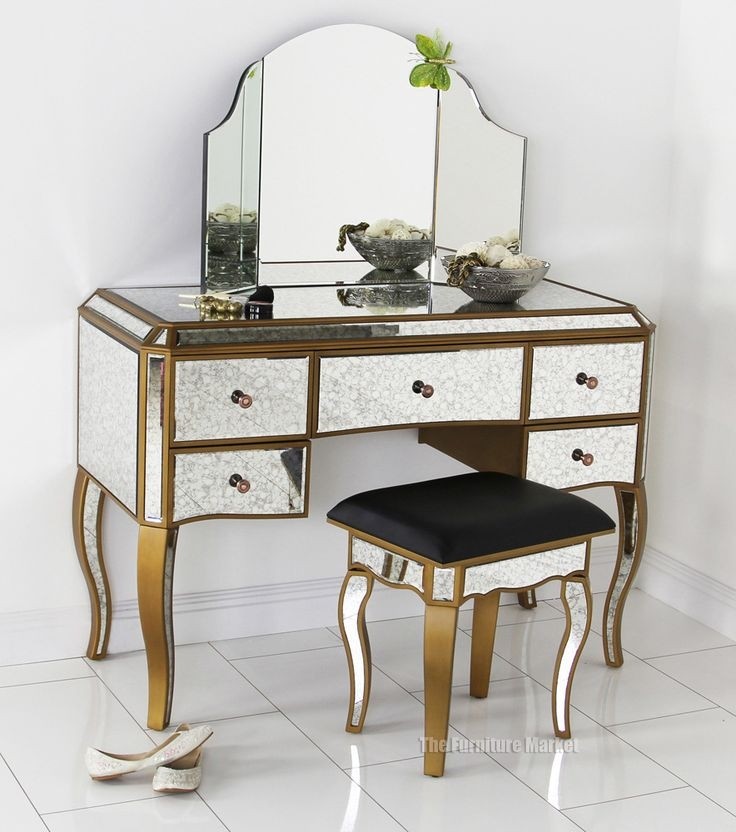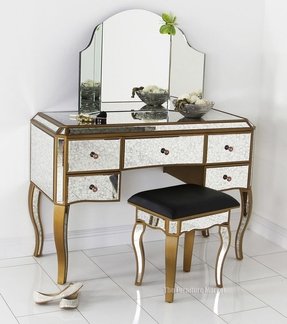 #Antique #Venetian #Mirrored Dressing table Set with Curved Mirror not sure if the gold legs are too much?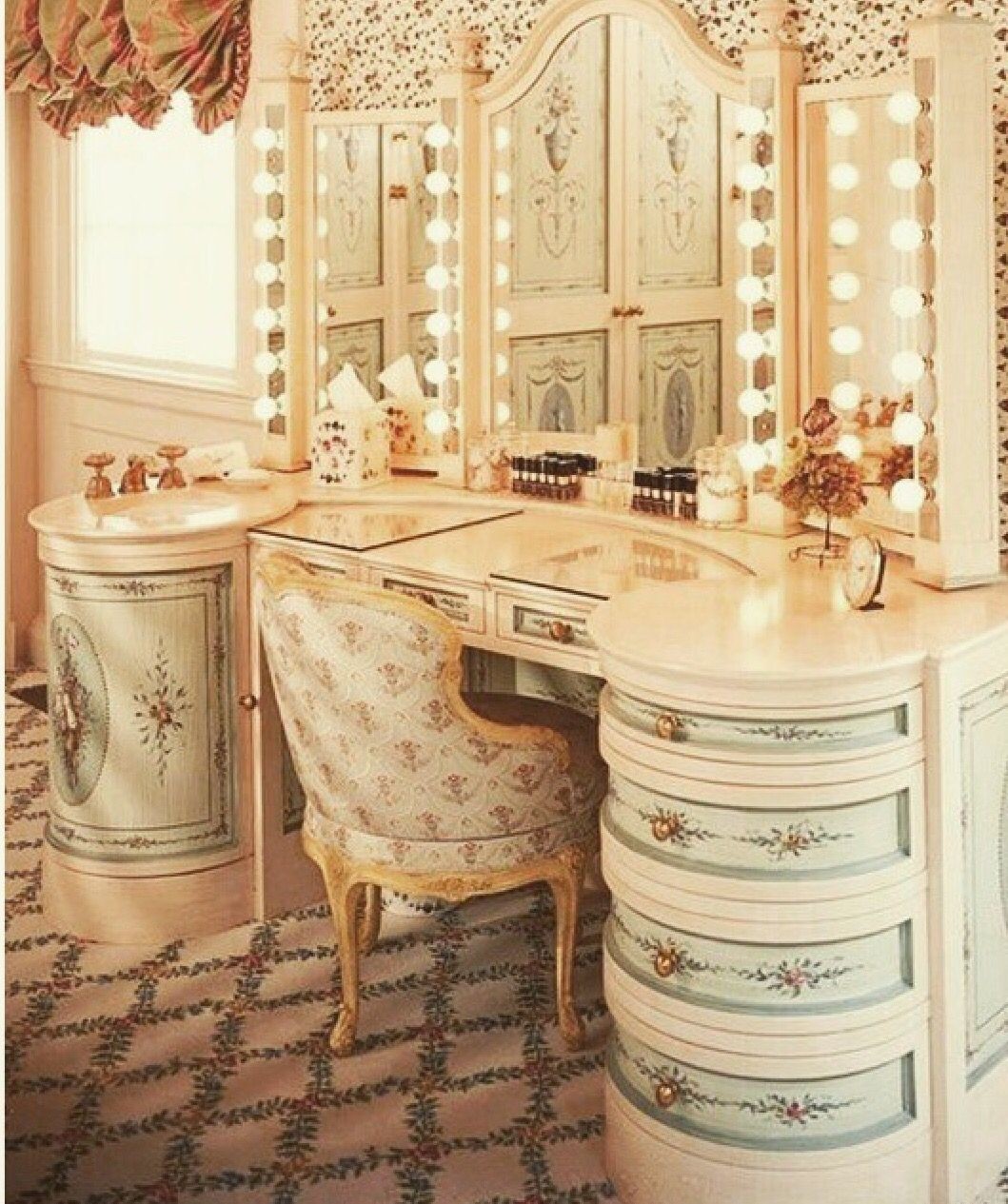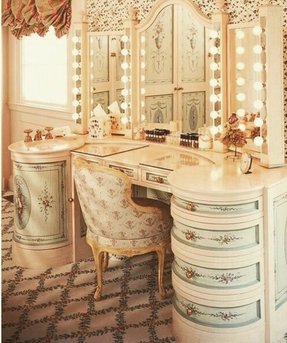 Richly decorated vanity table for bedrooms and others interiors according to taste. Construction is made of wood and finished with floral theme. It is fitted with lighted mirror and a lot of drawers for storing personal items.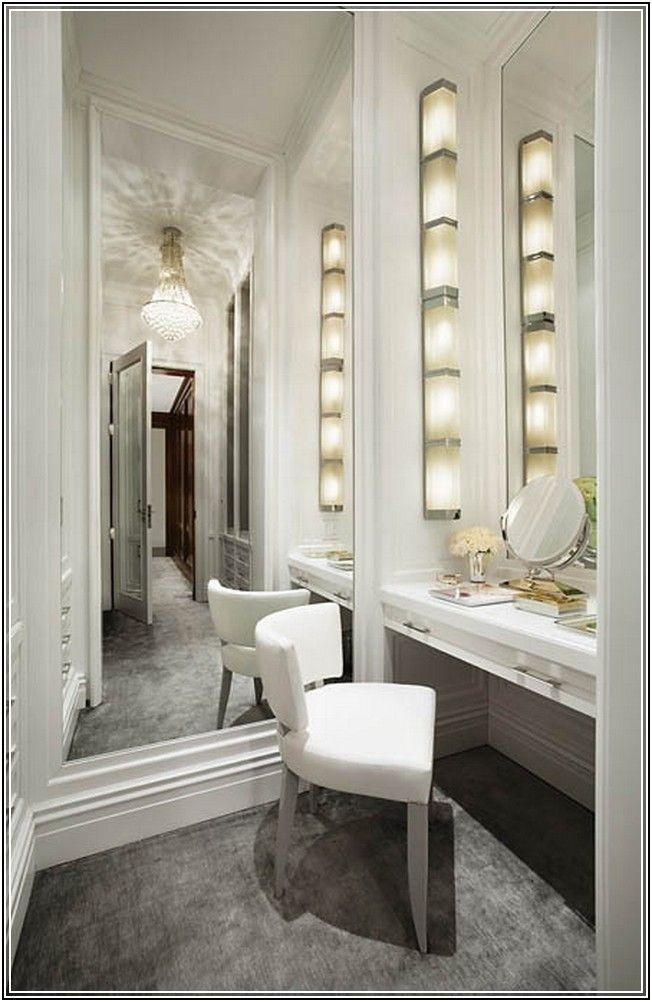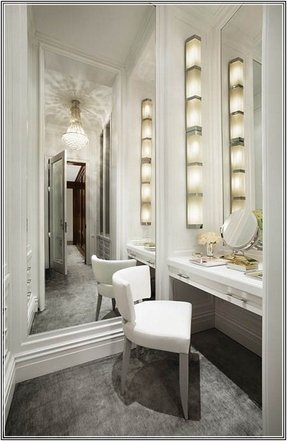 Dressing Table Mirrors With Lights Uk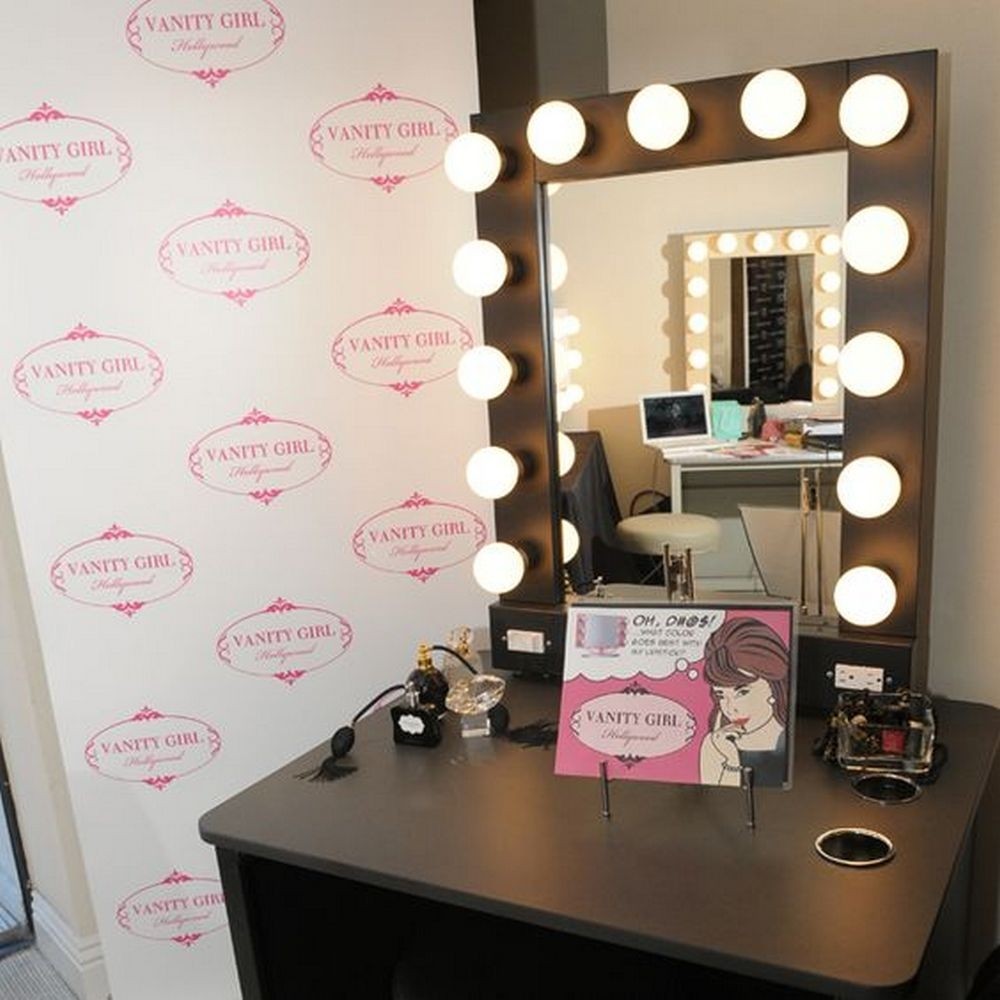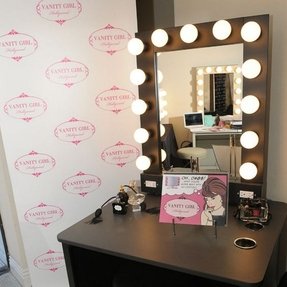 Put on your makeup like a true movie star by using this vanity dressing table with mirror. Wood craftsmanship includes a beveled edge top, and a rectangle mirror that is surrounded by 13 brightly shining bulbs.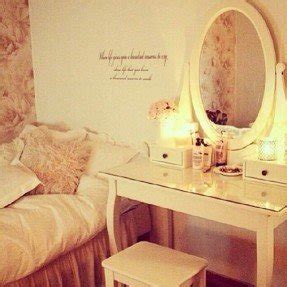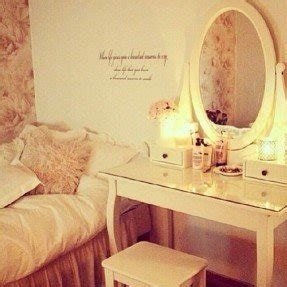 This sleek white dressing table comes from the IKEA HEMNES collection. Beautifully enlightened by tealight candles creates a magical charming corner, which will help you start your every day with class.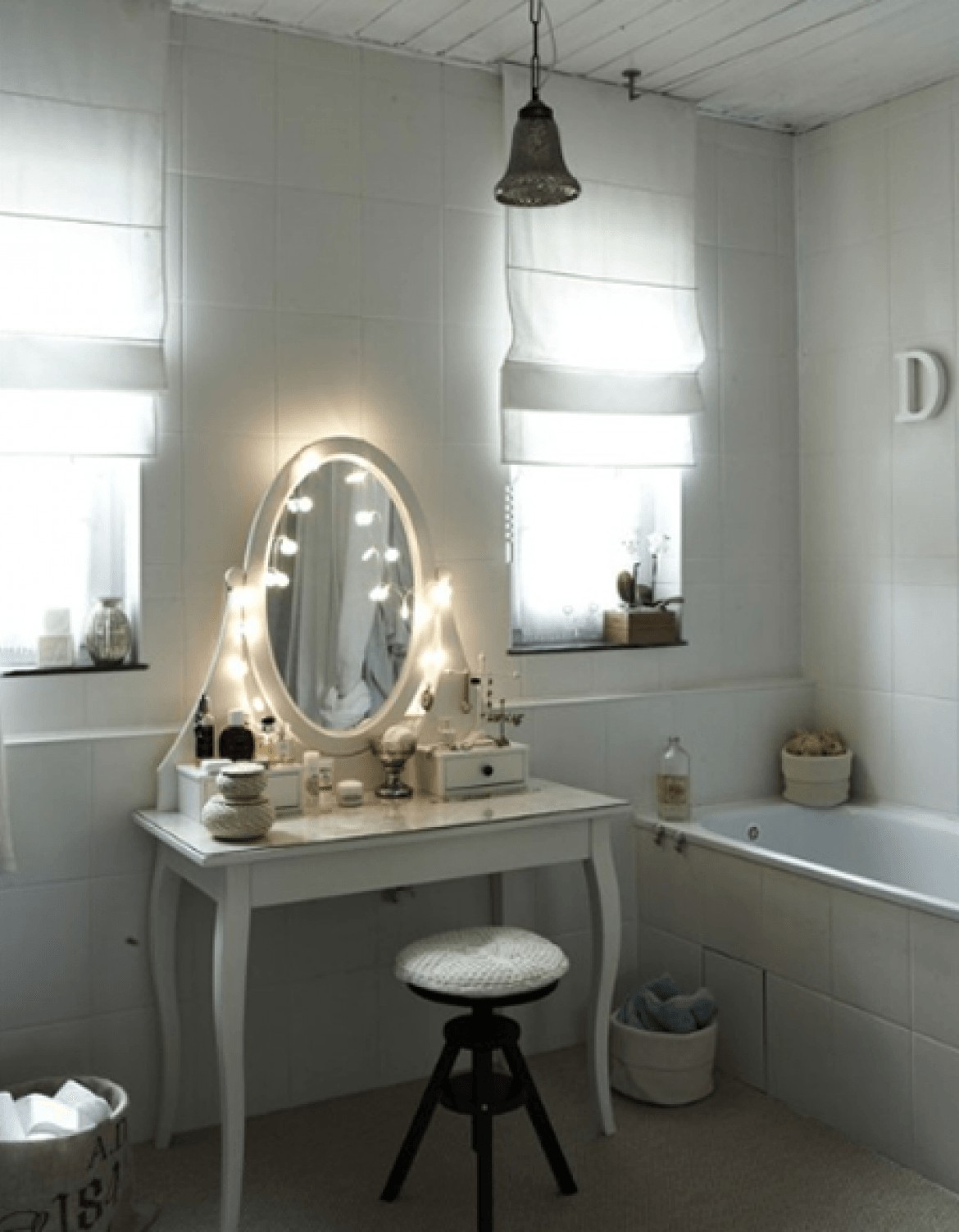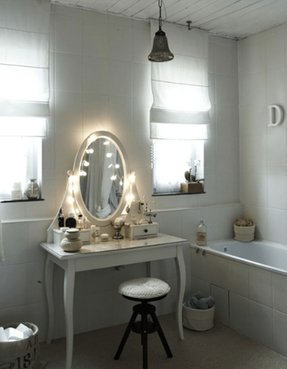 Vanity Table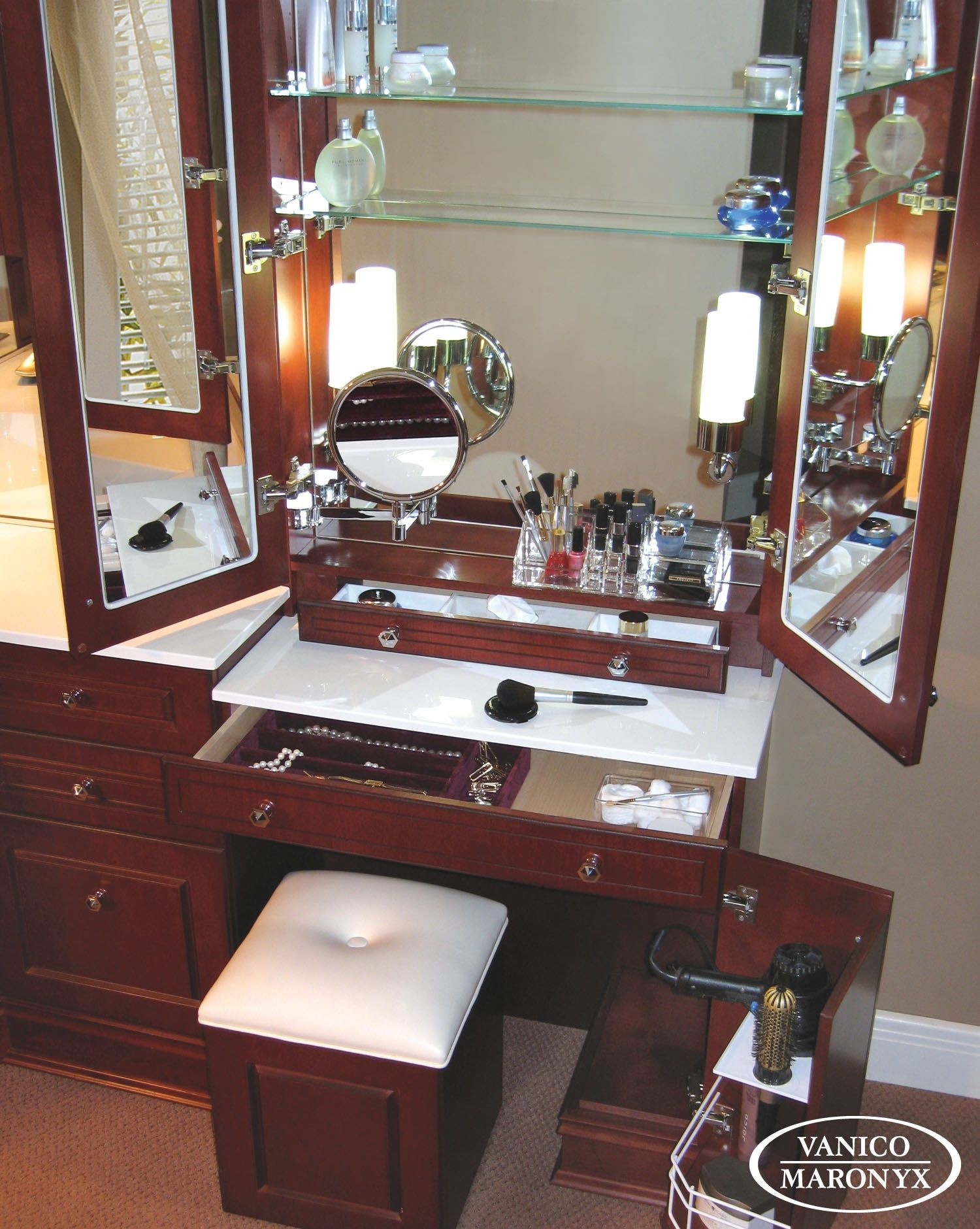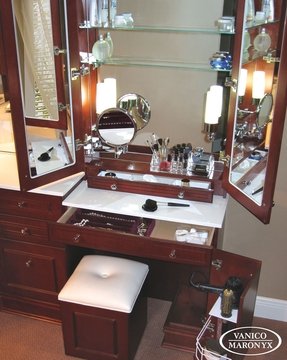 Rustic Dressing Table by Vanico, with optional cosmetic mirror and diffused front lighting.  Perfect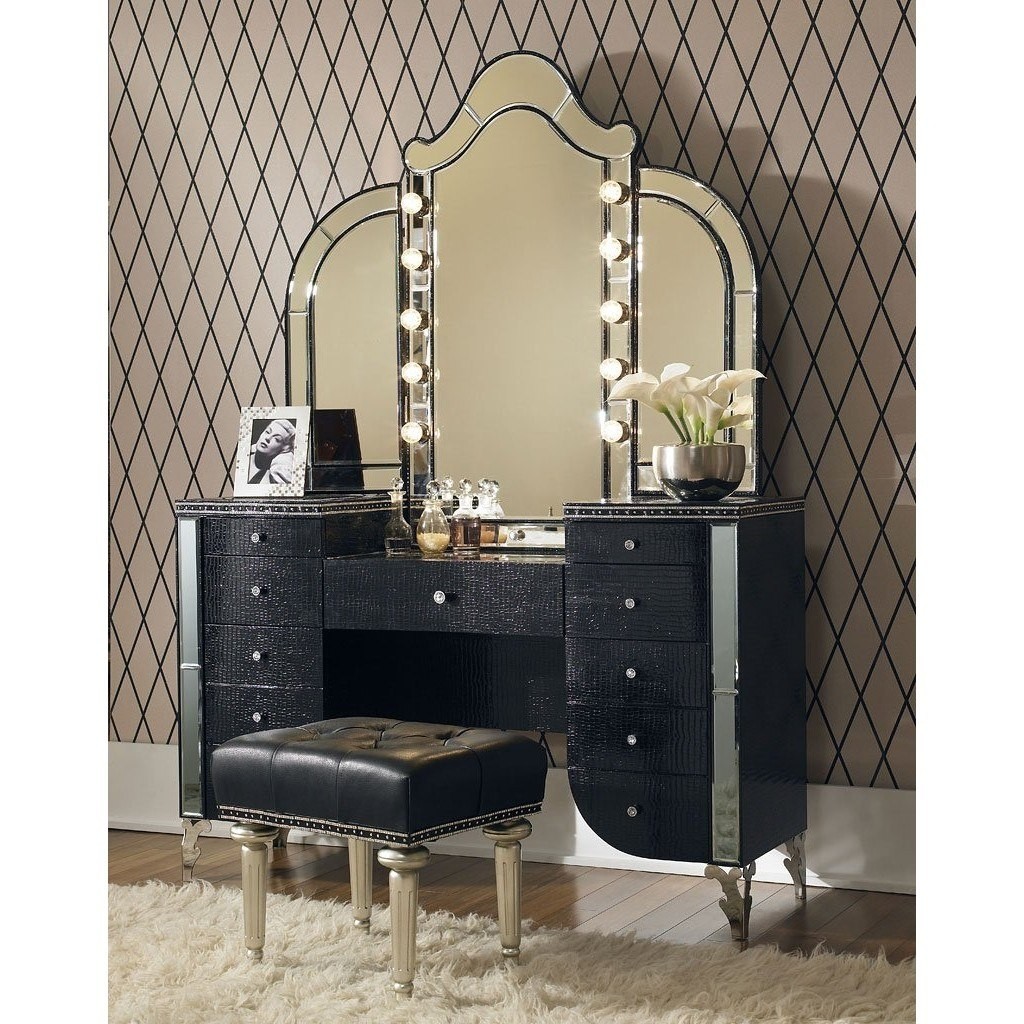 Dressing Room Vanity Table with Light Up Mirror, Perfume and Cosmetics ...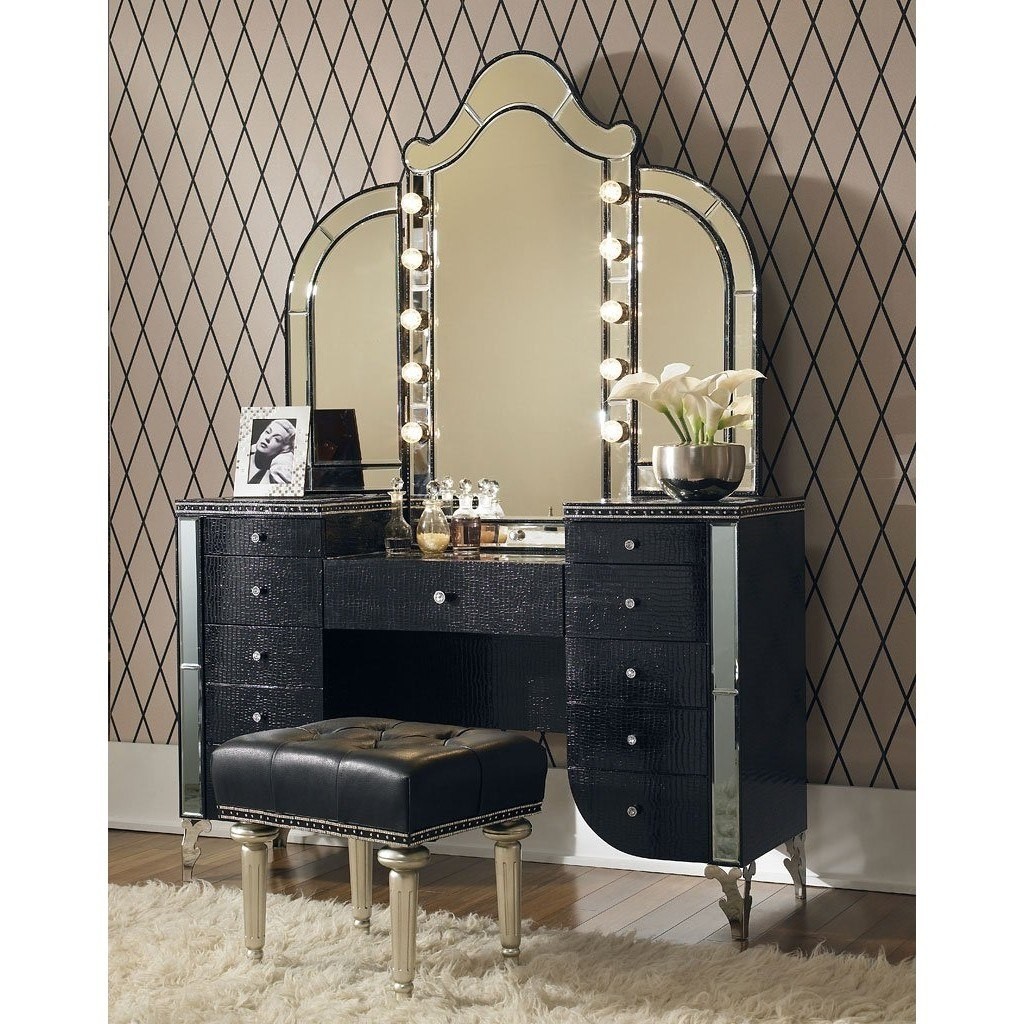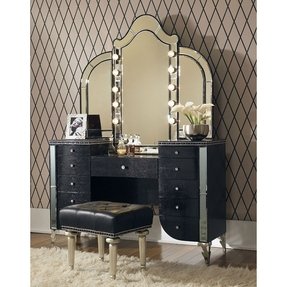 I want to have this tri-fold mirror with light in my bedroom! I've got the vanity dressing table and I looking for the perfect mirror. The large size and ten bulbs make the grand impression.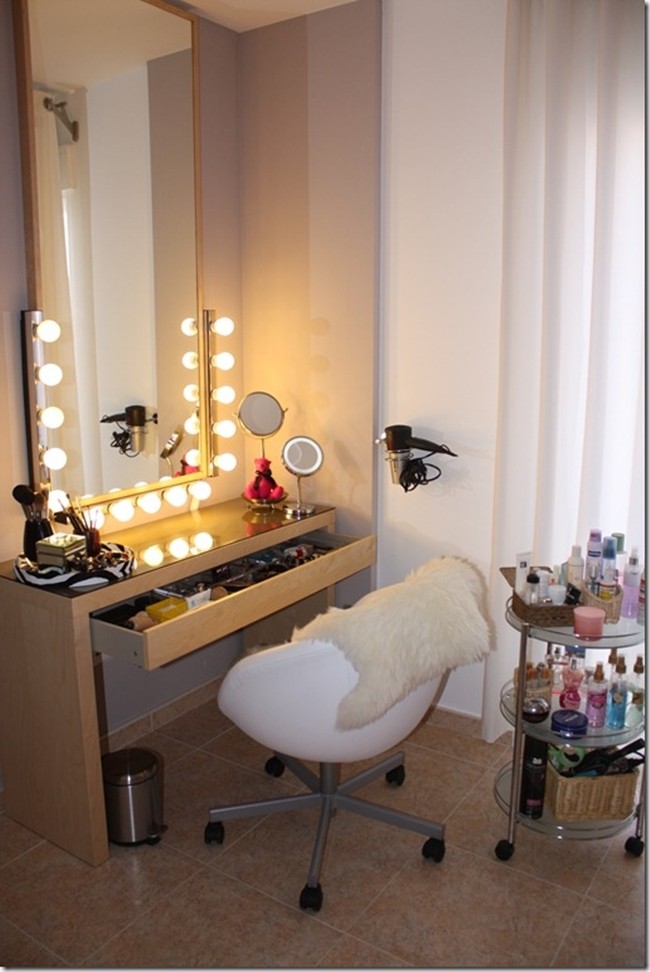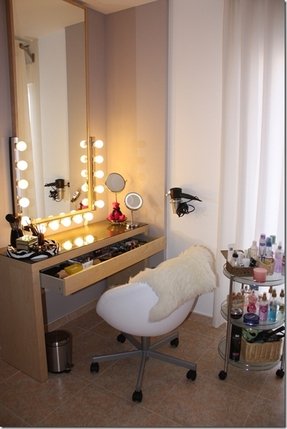 Old Hollywood revival vanity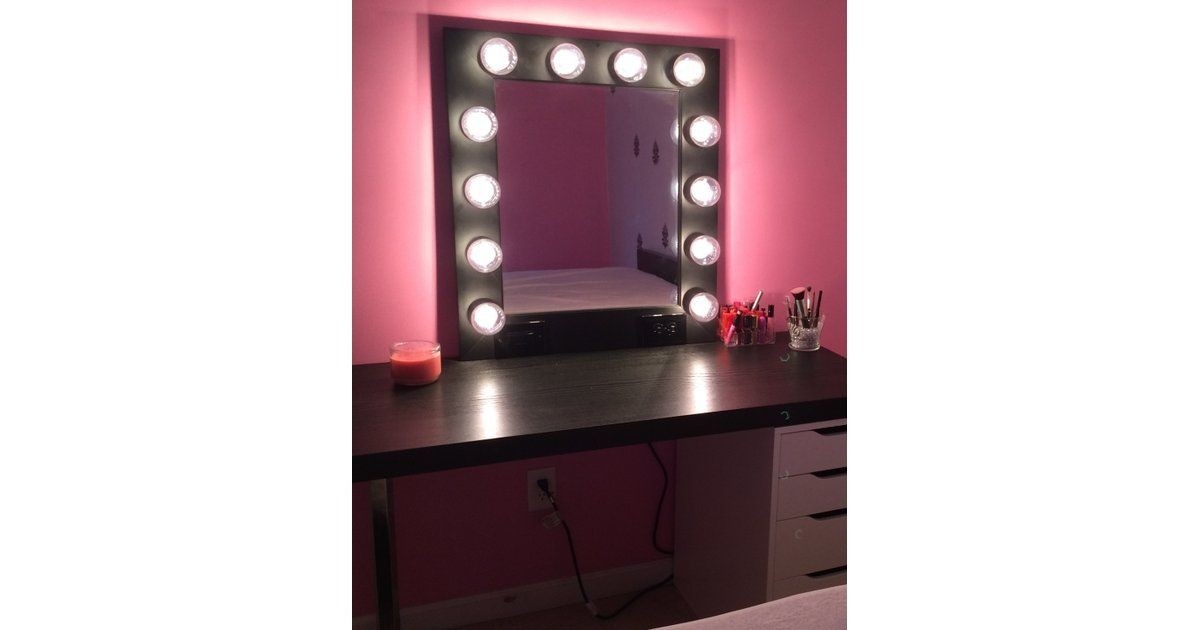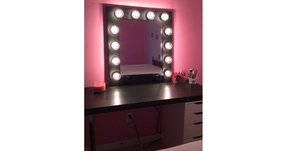 Vanity table mounted on crossed legs made of metal. Wooden top has large usable surface. Classic form and modern design for each home.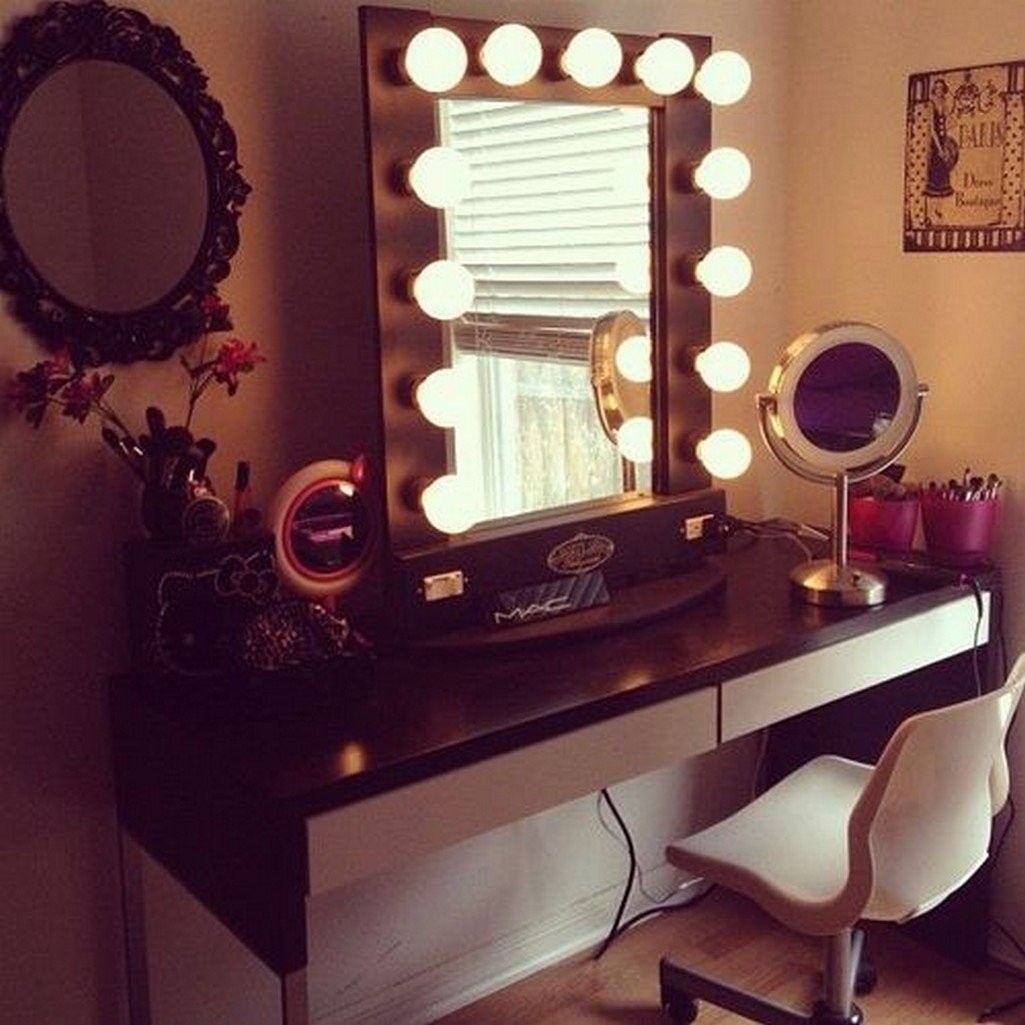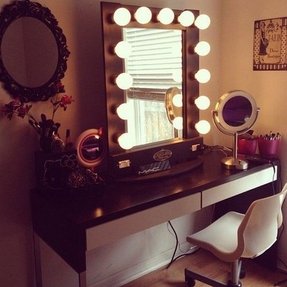 Vanity Table With Light, Mirror Dressing Table Designs, Makeup Table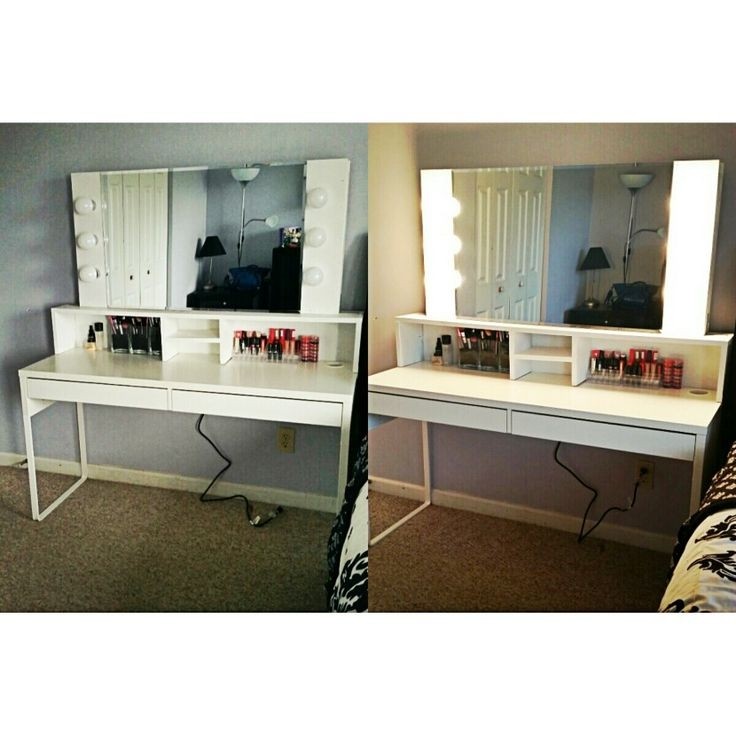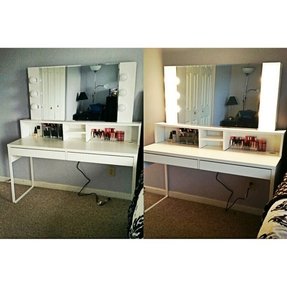 Looking at this project, it is hard to believe that is actually a DIY one. Self-mounted mirror with a side lighting panel add the vanity table not only functionality, but also a gorgeous appeal.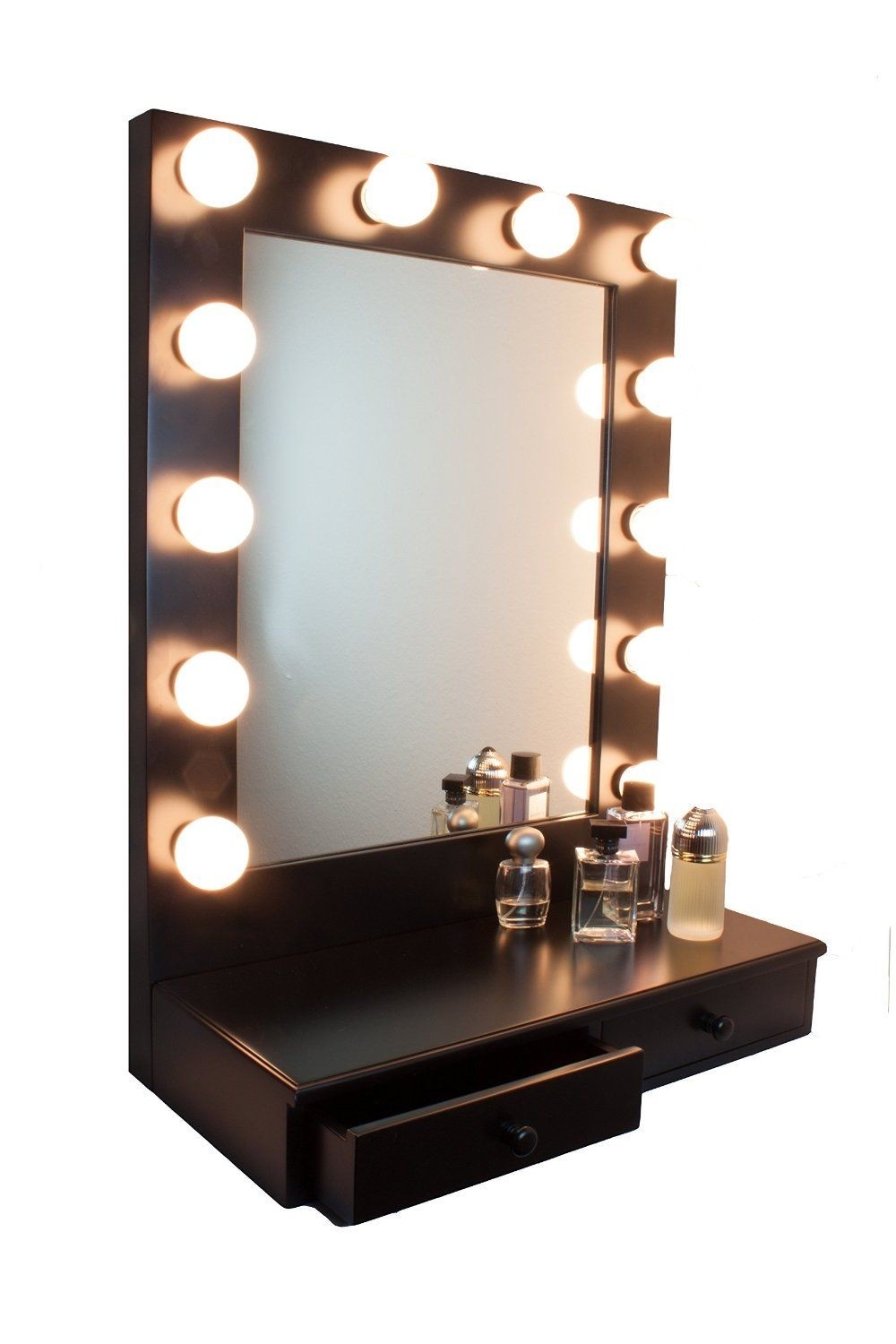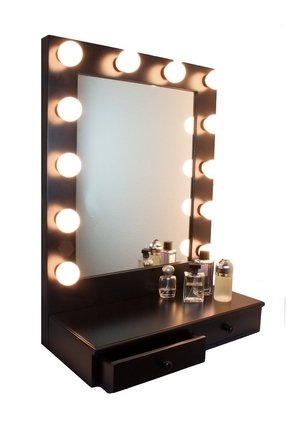 This vanity table is an necessary piece of furniture - not only in professional makeup artists. The structure includes two drawers and additional storage space.It is made of luxurious wood, in dark brown. Contains specially adapted lighting and mirror.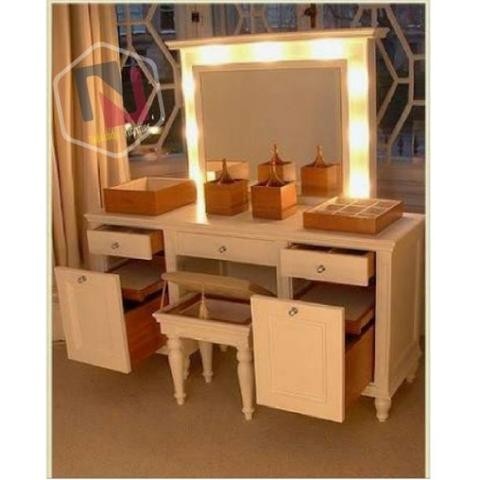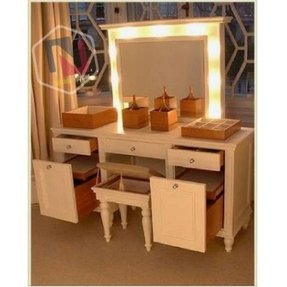 This stunning vanity mirror offers the amazing structure that will ensure more than enough functionality and is perfectly lit to let you put on your make up with utmost perfection. It will also invite a great doze of style for your decor.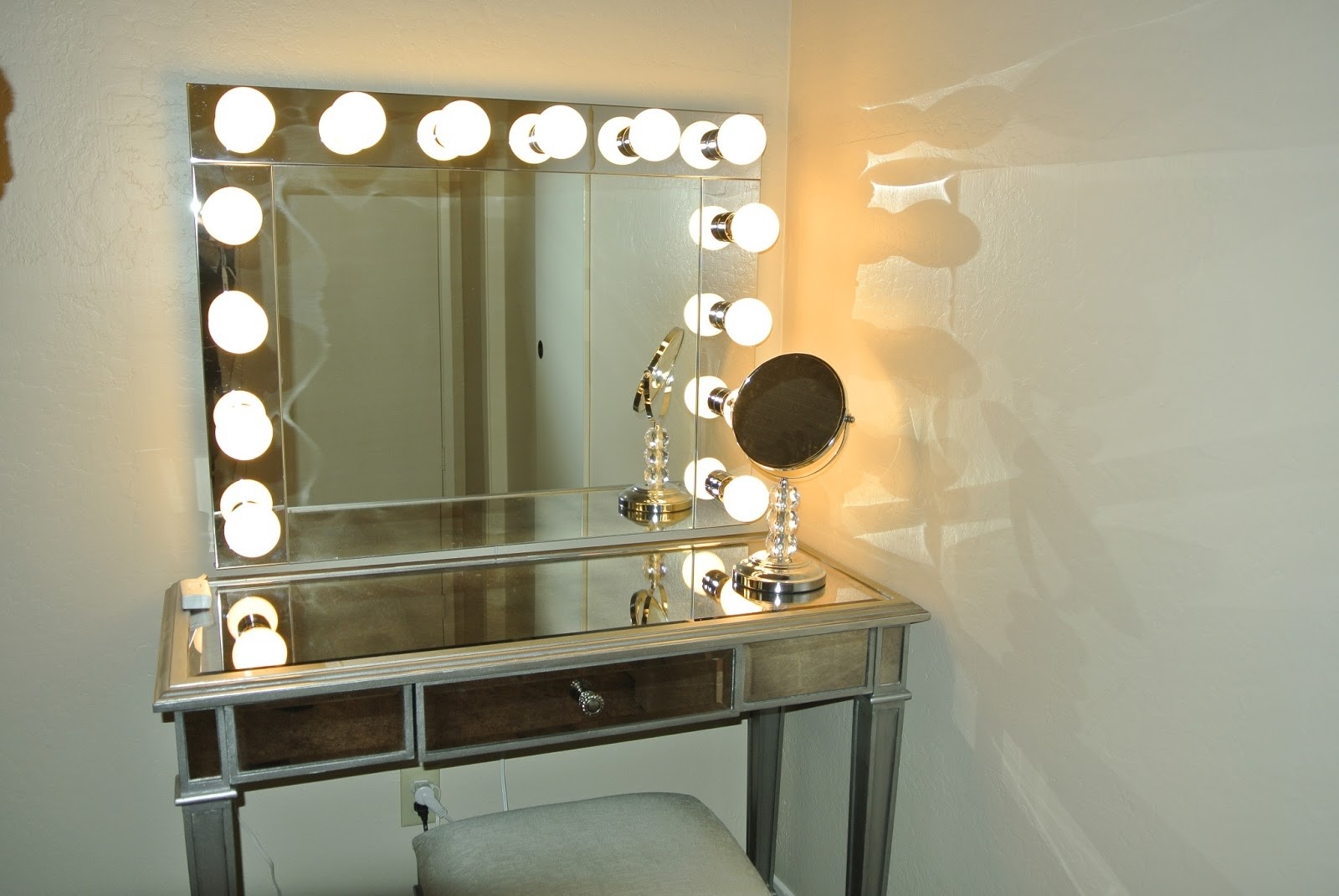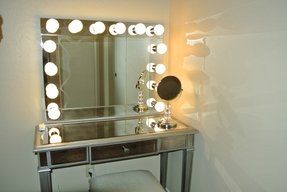 Pink Shabby Chic Dresser with Tiara Mirror


The mirror is probably the most important part of their dressing-table ...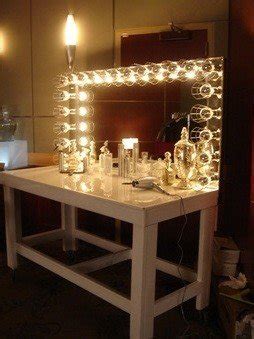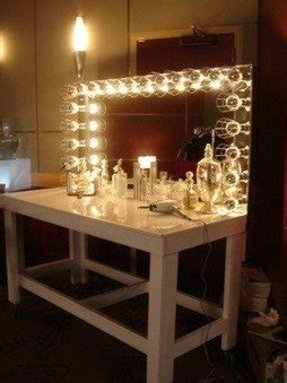 Vanity table with lights and cool mirror, hollywood style. I would love to have this beauty in my wardrobe, where I could change my clothes and do my make up. I love this nice white wooden table that stands right underneath the mirror.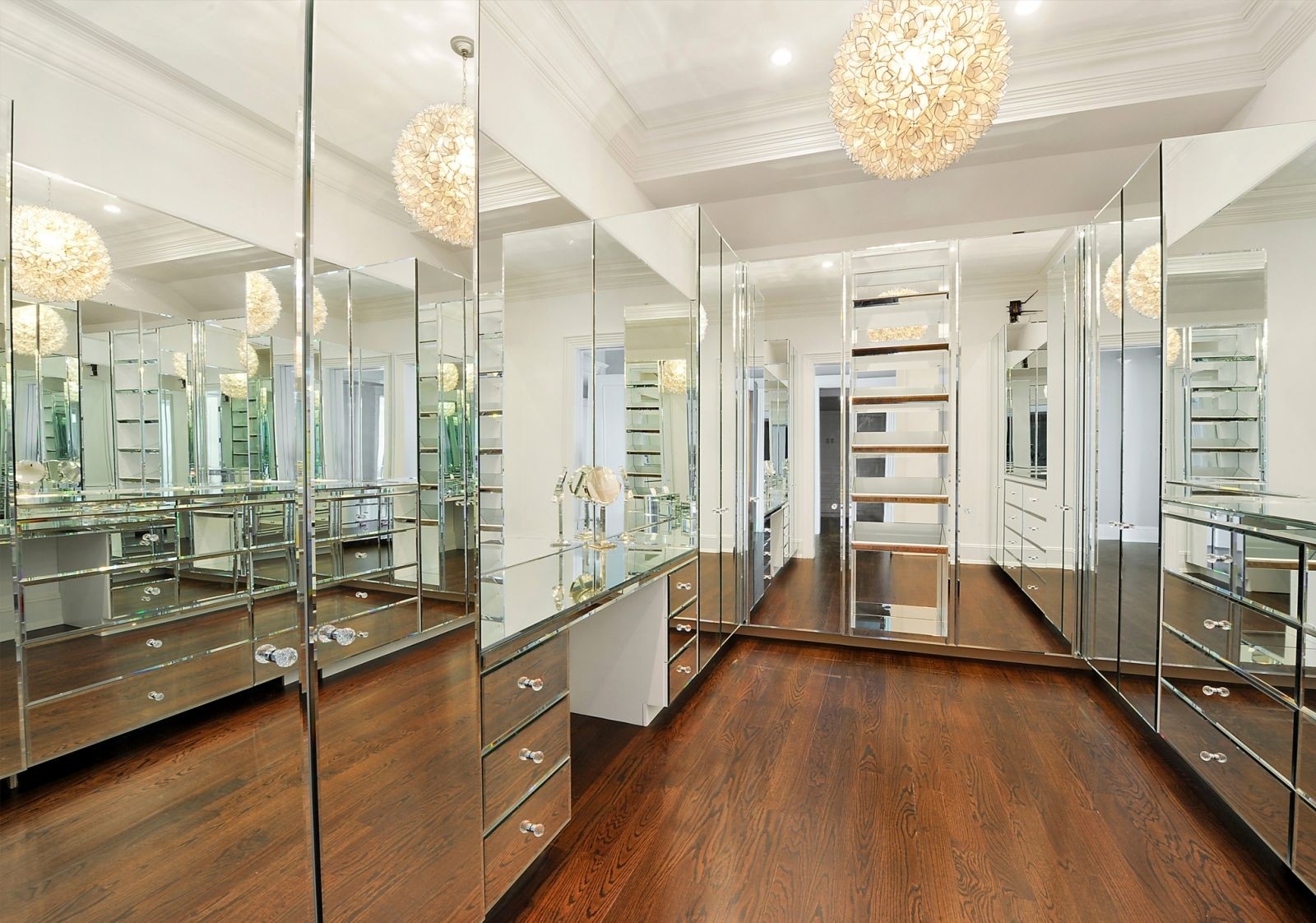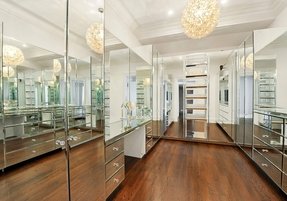 custom closets with vanity desk | fronted closet cabinets, mirrored vanity, mirrored dressing table ...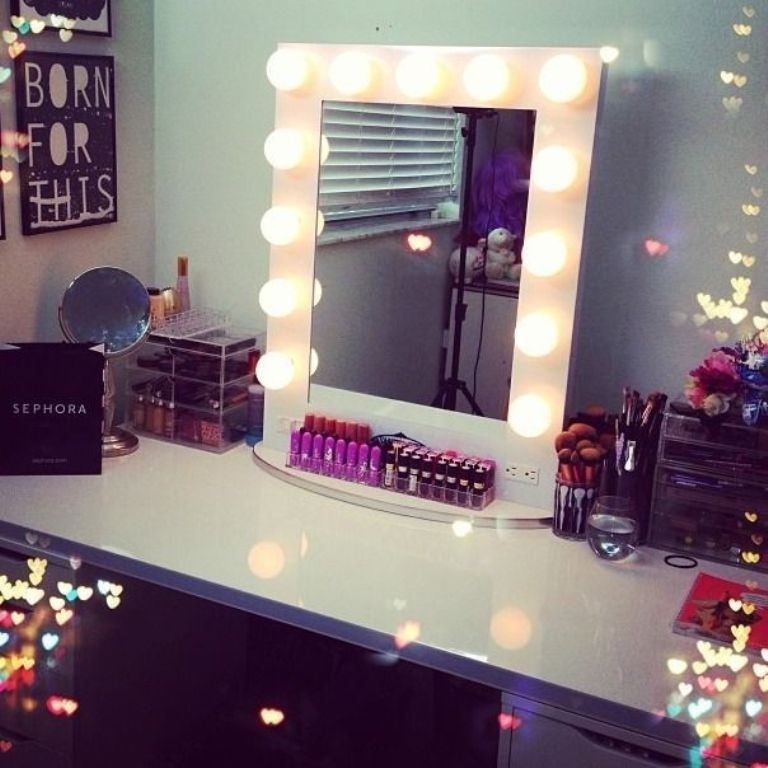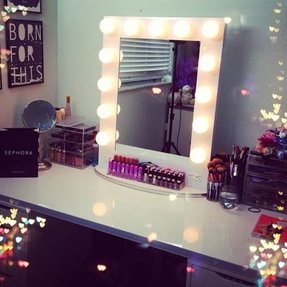 This lovely makeup mirror enchants with its illumination, creating a marvelous glittering experience. Along with the modern-looking vanity table it creates a perfect spot for your daily makeup routines.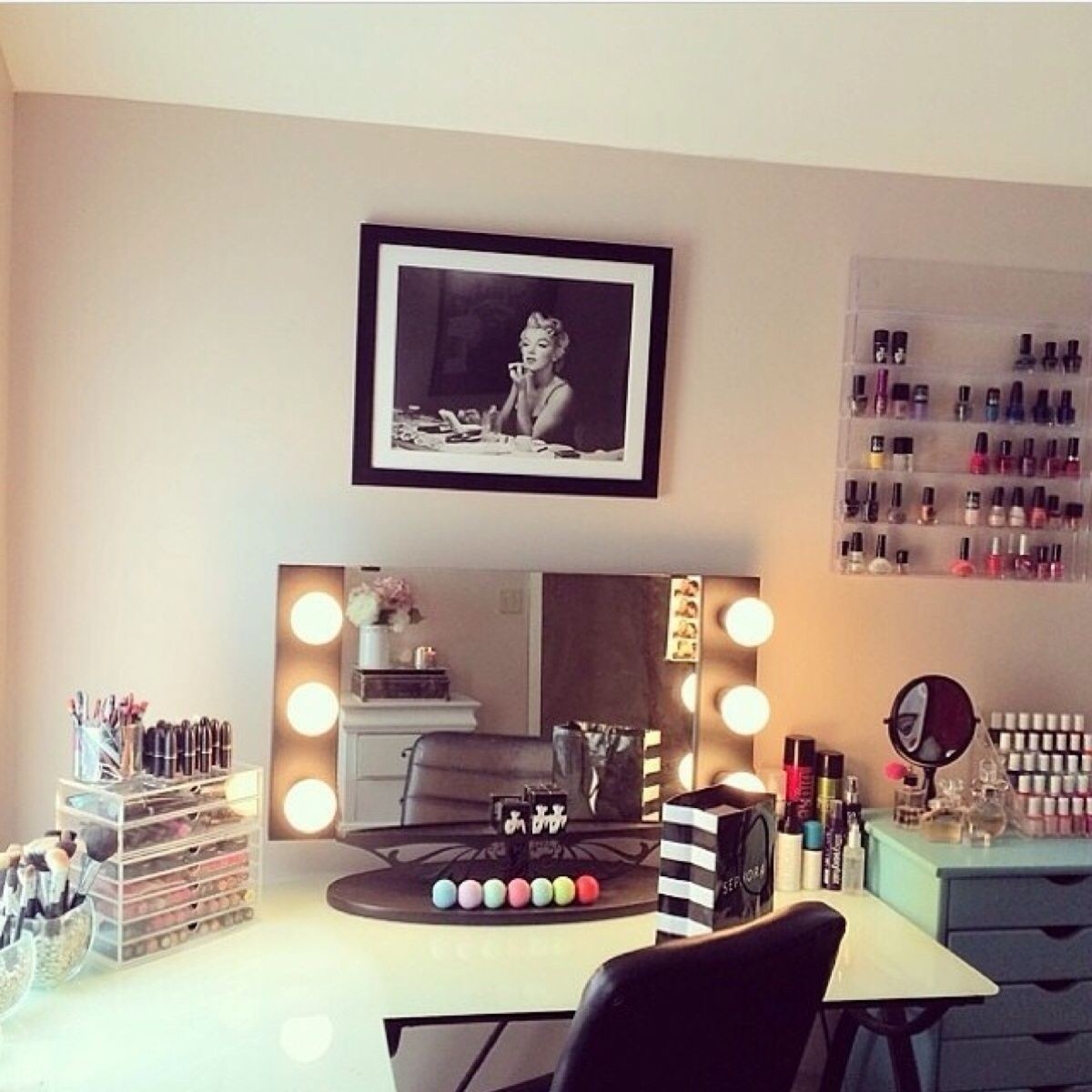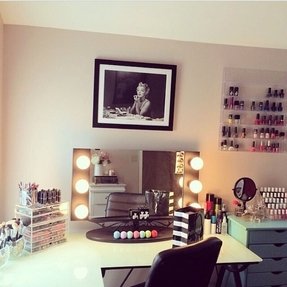 A fabulous makeup space that has everything a woman needs. It features a large desk with a mirror with a fixed lighting that will make you feel like a film star. There is an extra wall shelf for nail polish.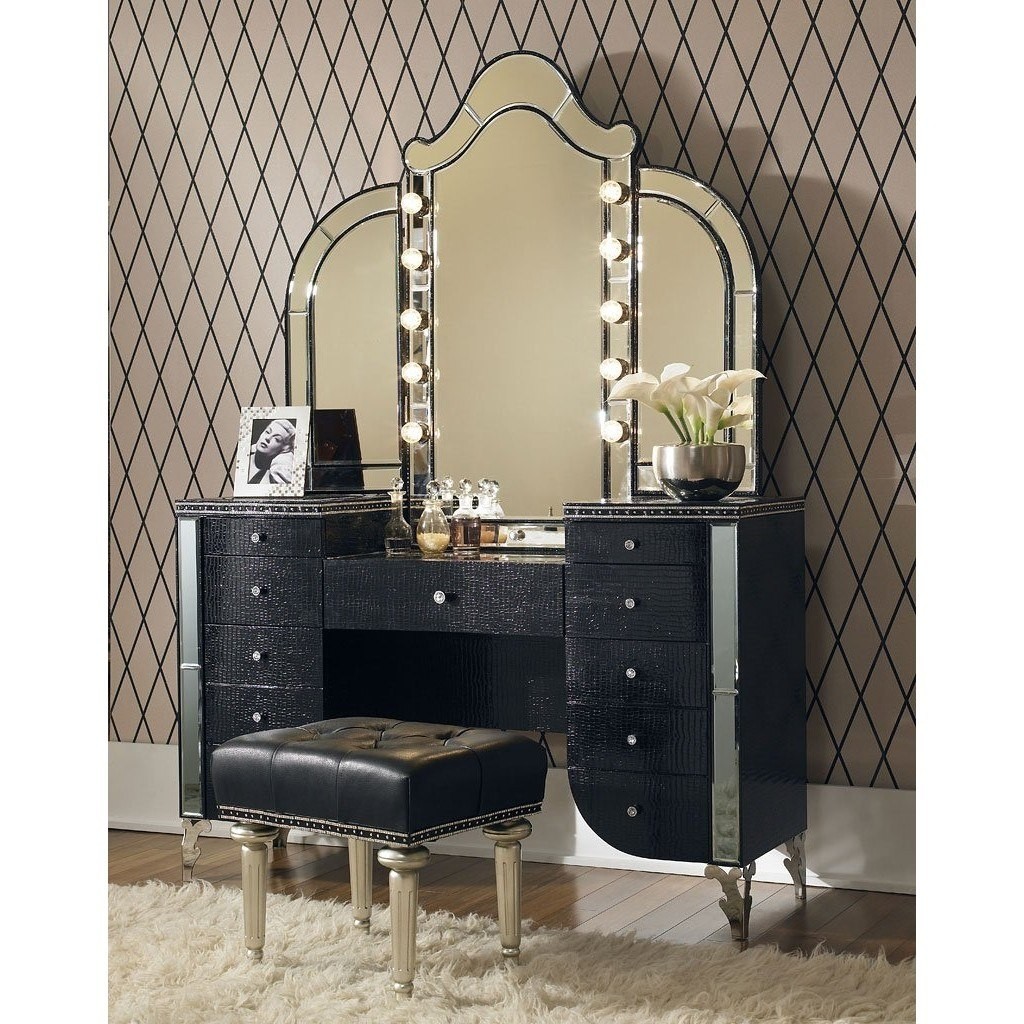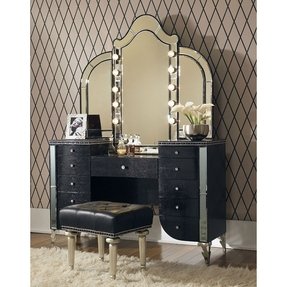 A simple vanity table in a classy design with two drawers and top organisers for cosmetics and makeup accessories. What makes it look really chic is a large mirror with wonderful lighting fixture that will make you feel like a star.