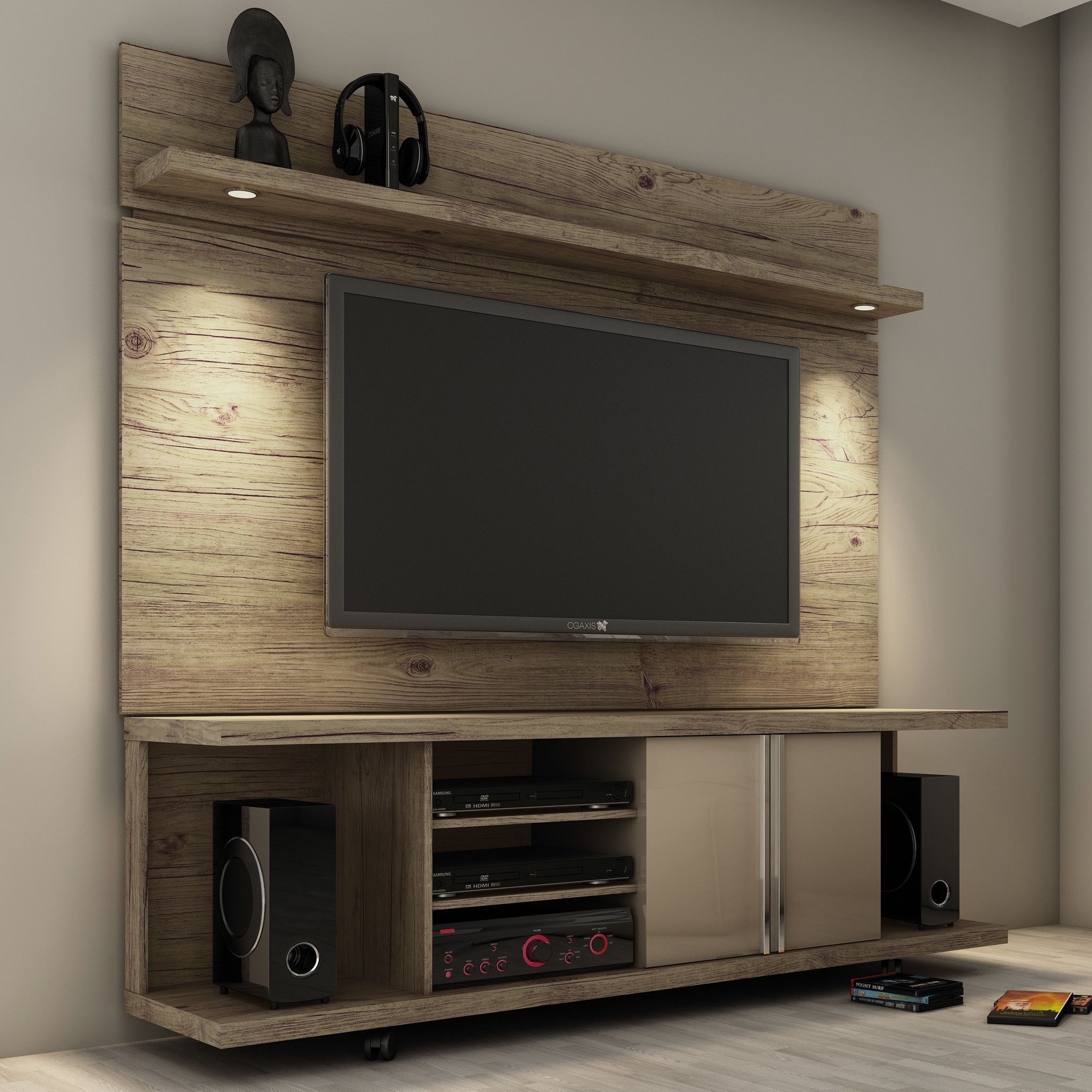 A contemporary TV stand integrated with large back panel for mounting your flat screen TV. Made of natural-finished reclaimed wood, the unit features open compartments for speakers, shelves for AV devices, and a top shelf with a built-in lighting system.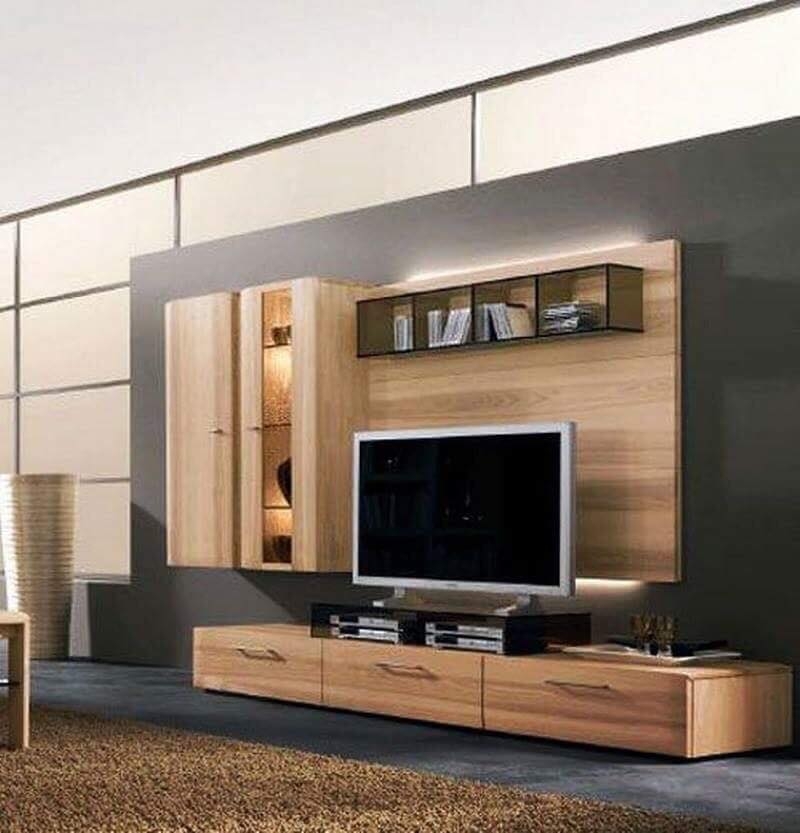 The contemporary design of the wall tv furniture is a beautiful combination of dark wood construction and functionality. A Beautiful modern form of furniture captivates, bringing a considerable amount of storage space and exciting style to the interior.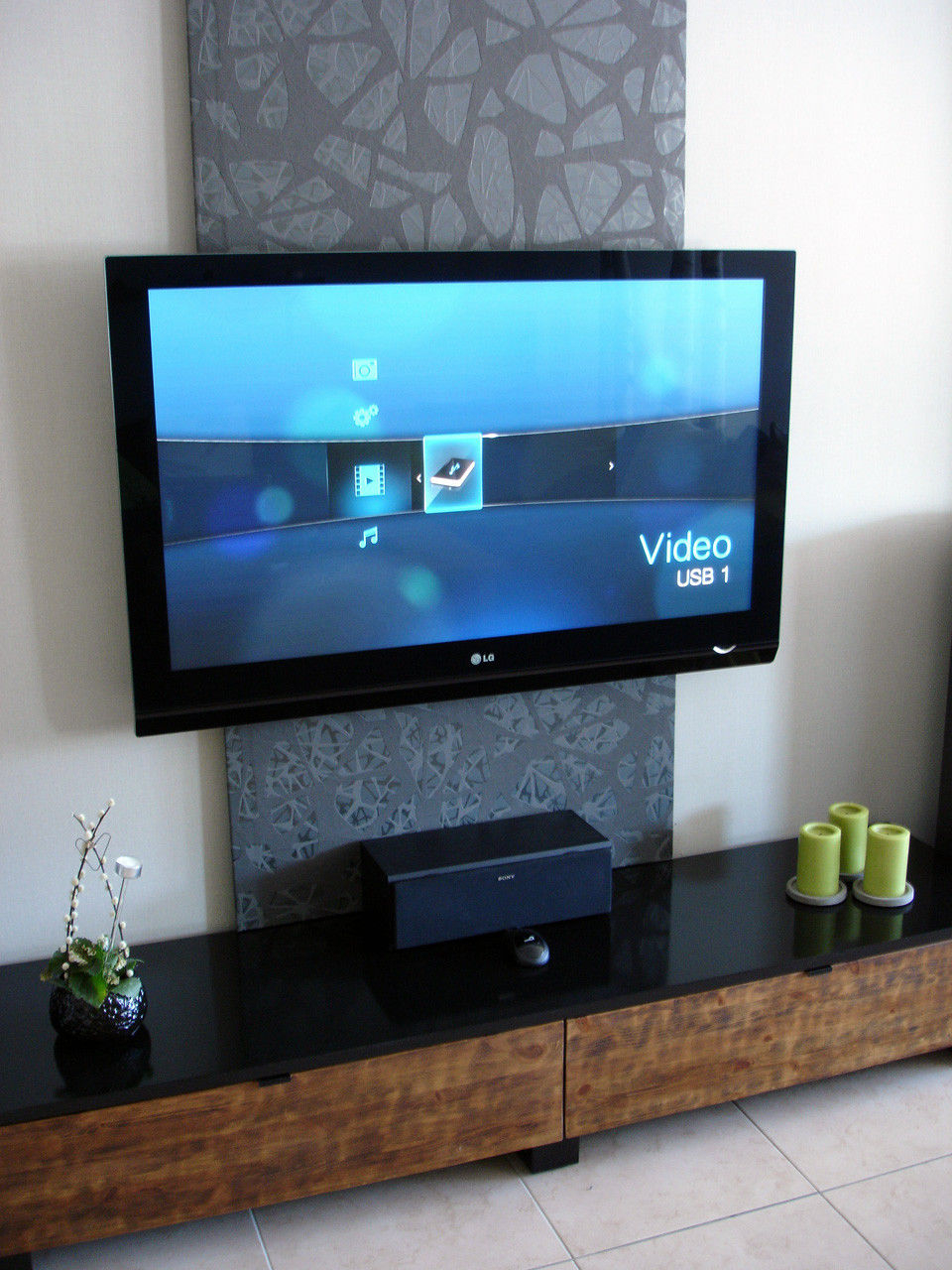 panel inspiration for tv wall mount...i'll build a wood frame, stretch canvas over it to hide the mounting unit and cables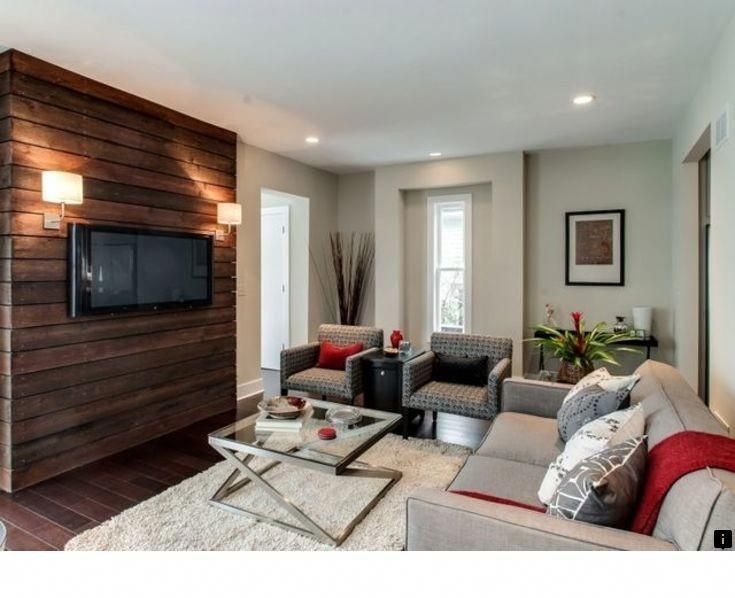 Modern, elegant TV stand. It's wooden, which creates a nice contrast between it and the rest of this room. Natural wood is elegant, stylish and provides a warm, cosy feeling, even to otherwise rather cold interiors, like the one in the picture.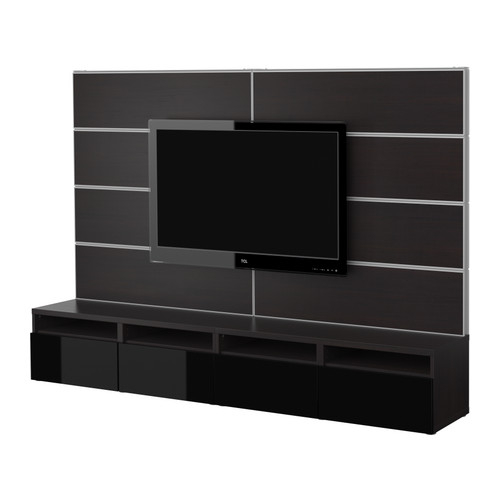 An excellent choice for modern living rooms that lack a proper TV stand. This one comes with a large back made of glass panels, on which you can hang your flat screen TV. Also includes open shelving, and 4 storage drawers - each with a black glass panel front.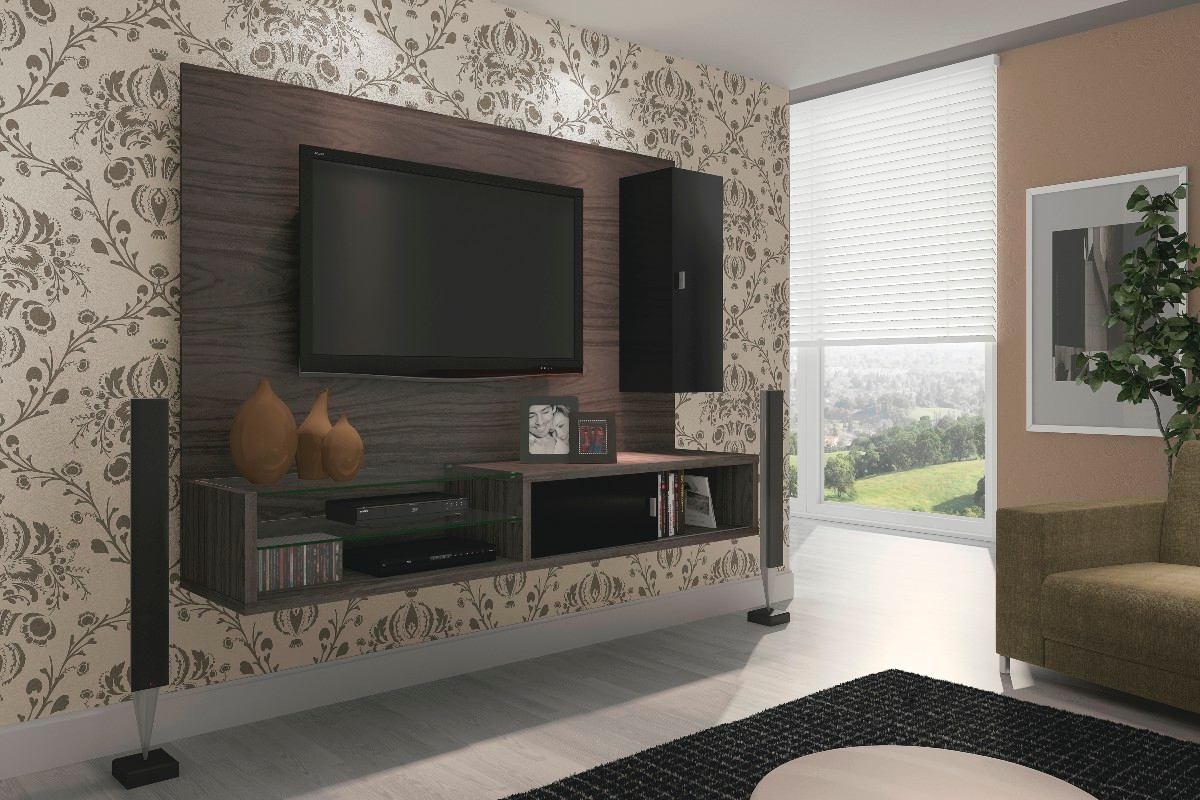 TV stand made of wood. Designed for mounting on the wall. Includes cabinet with sliding doors and 4 open shelves in various sizes. Suitable for storing TV components or display decorations. Modern design for each living room.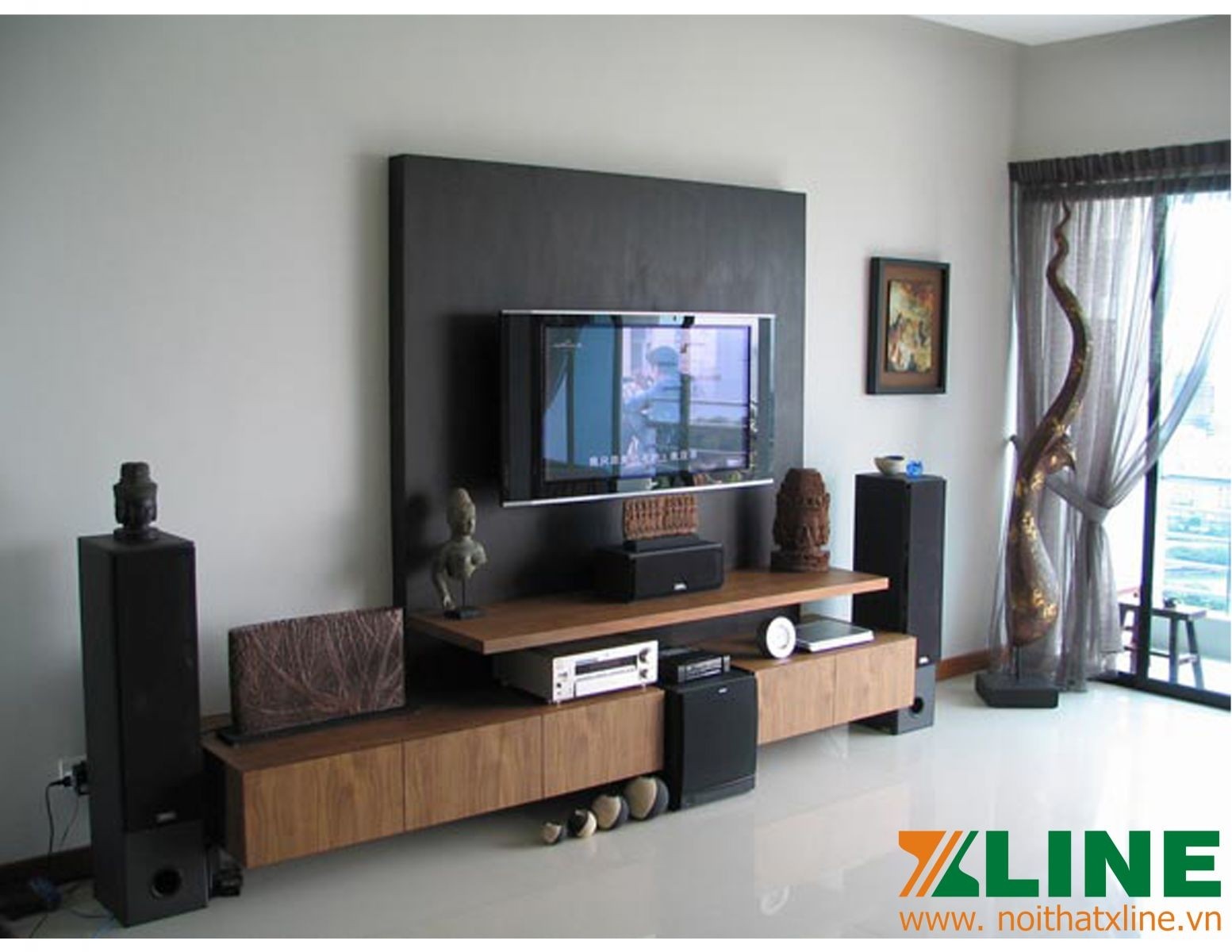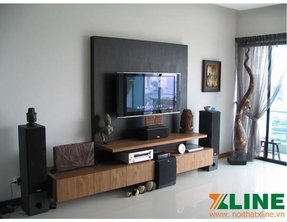 From now on your modern room is going to sparkle with aesthetic and sophistication. This floor stand for flat screen TVs boasts of neat wood construction with 3 floating shelves bathed in an oak finish.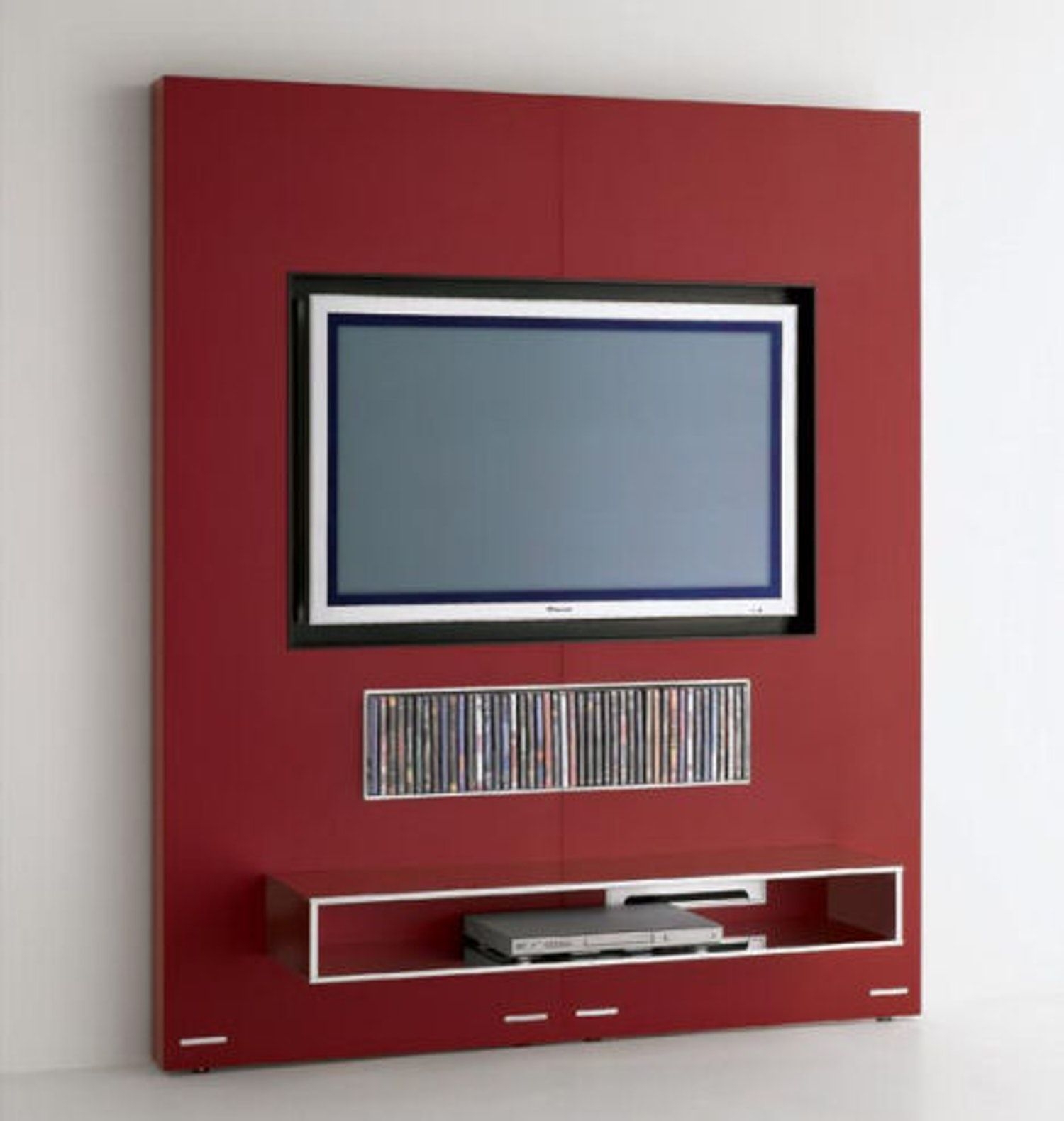 lcd tv panel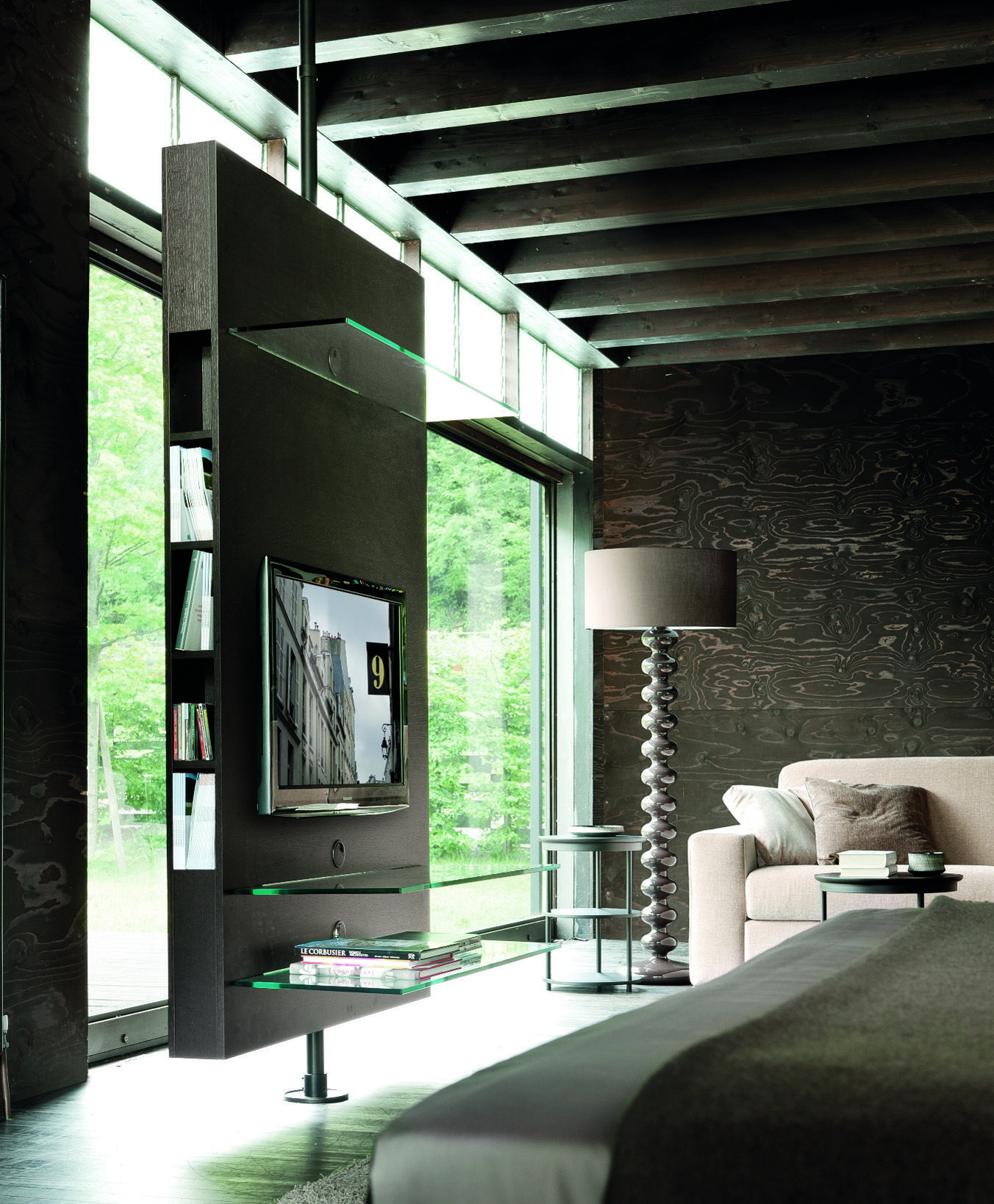 With this large TV stand, you are getting a durable, functional and well-balanced addition for modern interiors. The ceiling-to-floor stand allows you to easily hang your flat screen, while offering 2 clear glass shelves, and several side compartments for books and DVDs.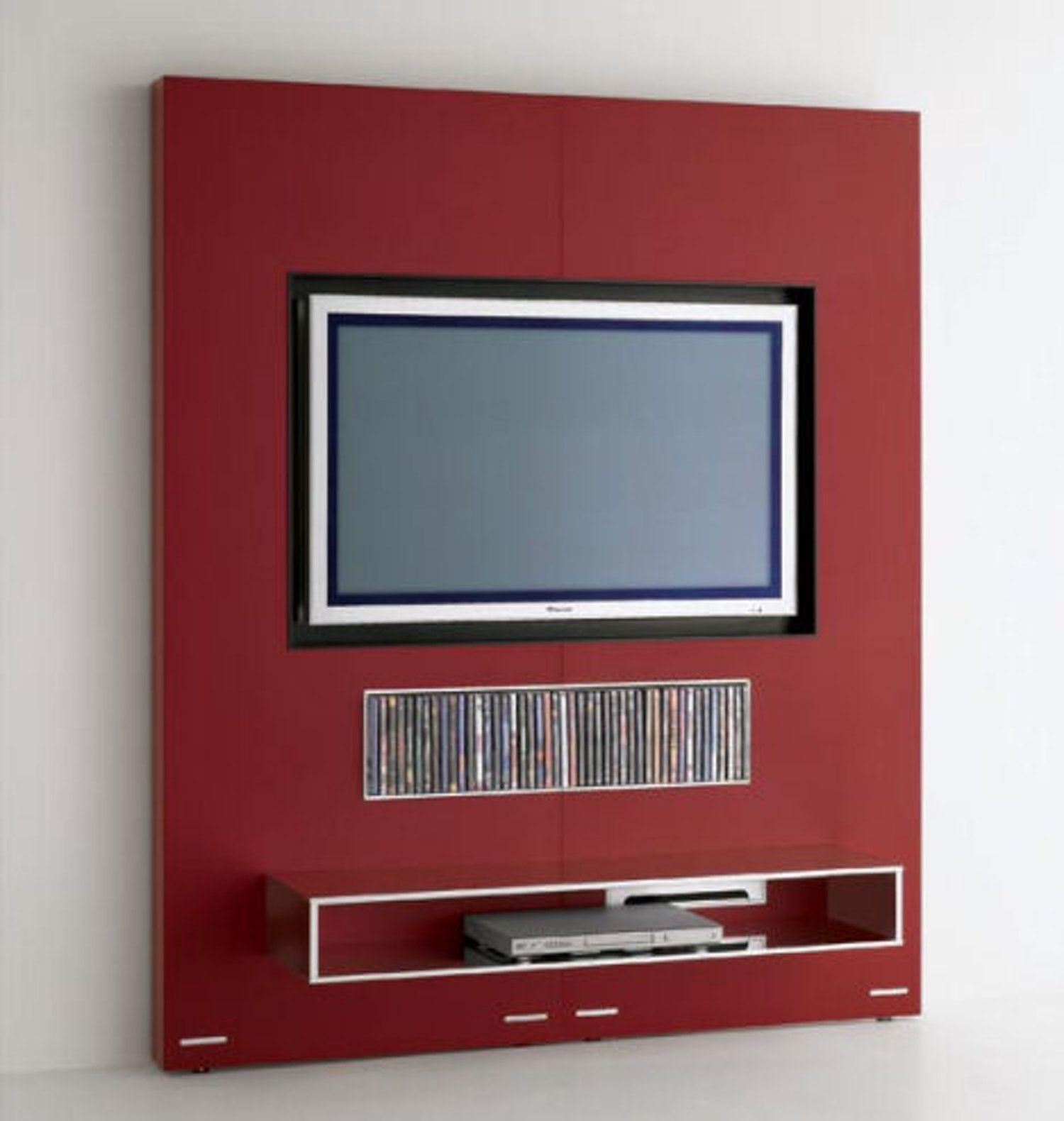 Funky flat TV panel made from MDF and finished dark red. Wall mounted unit sports contemporary design with slots dedicated for CDs storage and organizing media compontents. Practical and good looking.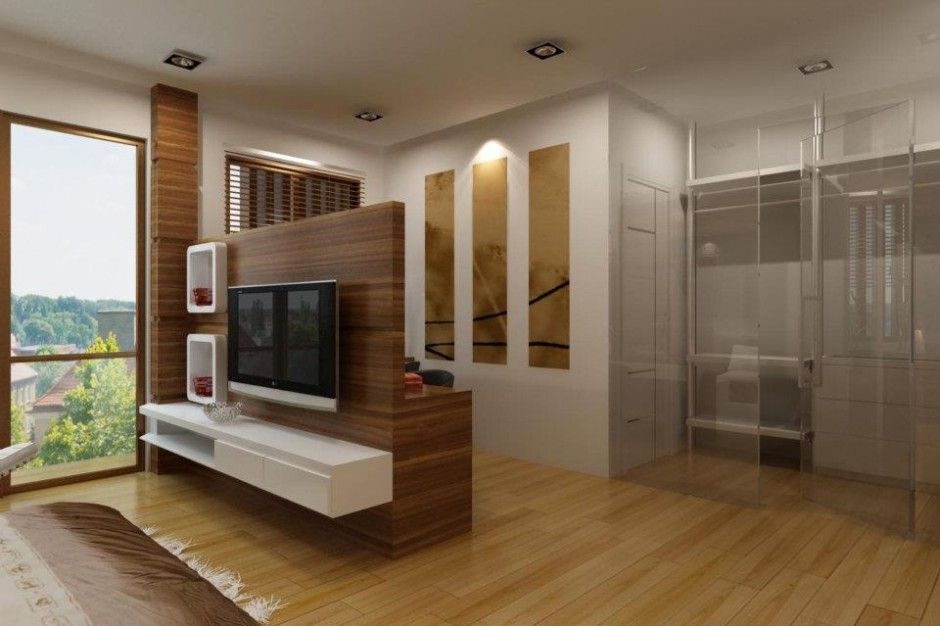 LED TV Panels designs for living room and bedrooms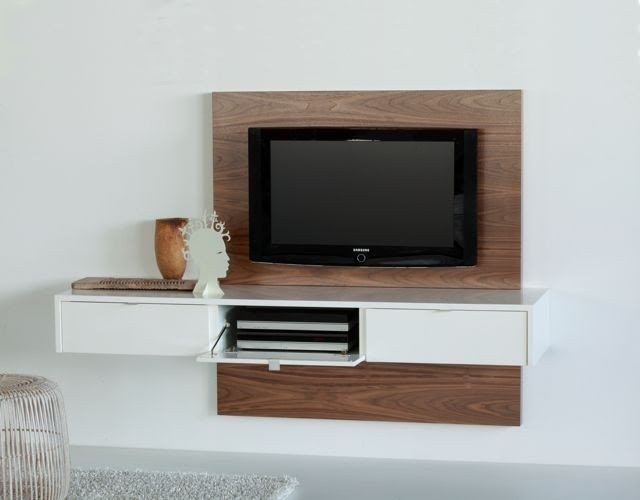 The modern design of this phenomenal panel tv stand makes the interior a new dimension. Beautiful combination of wood construction and attractive shades is impressive and stylish. Practical cabinets made in white delight.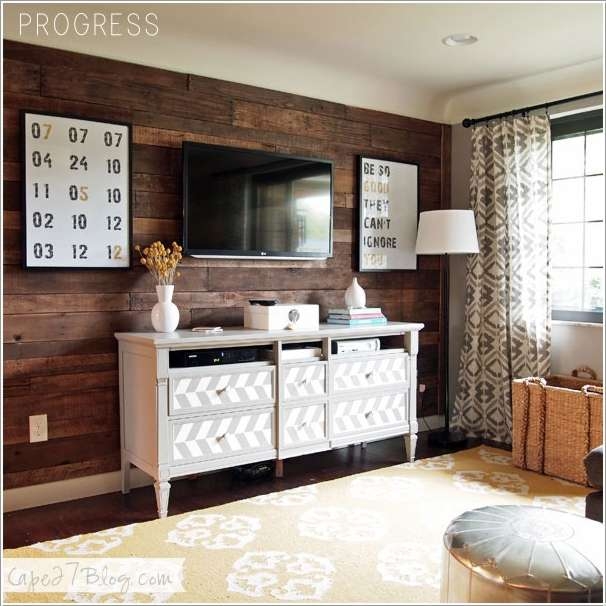 Living Room via Cape 27 Blog. love the wood pallet wall.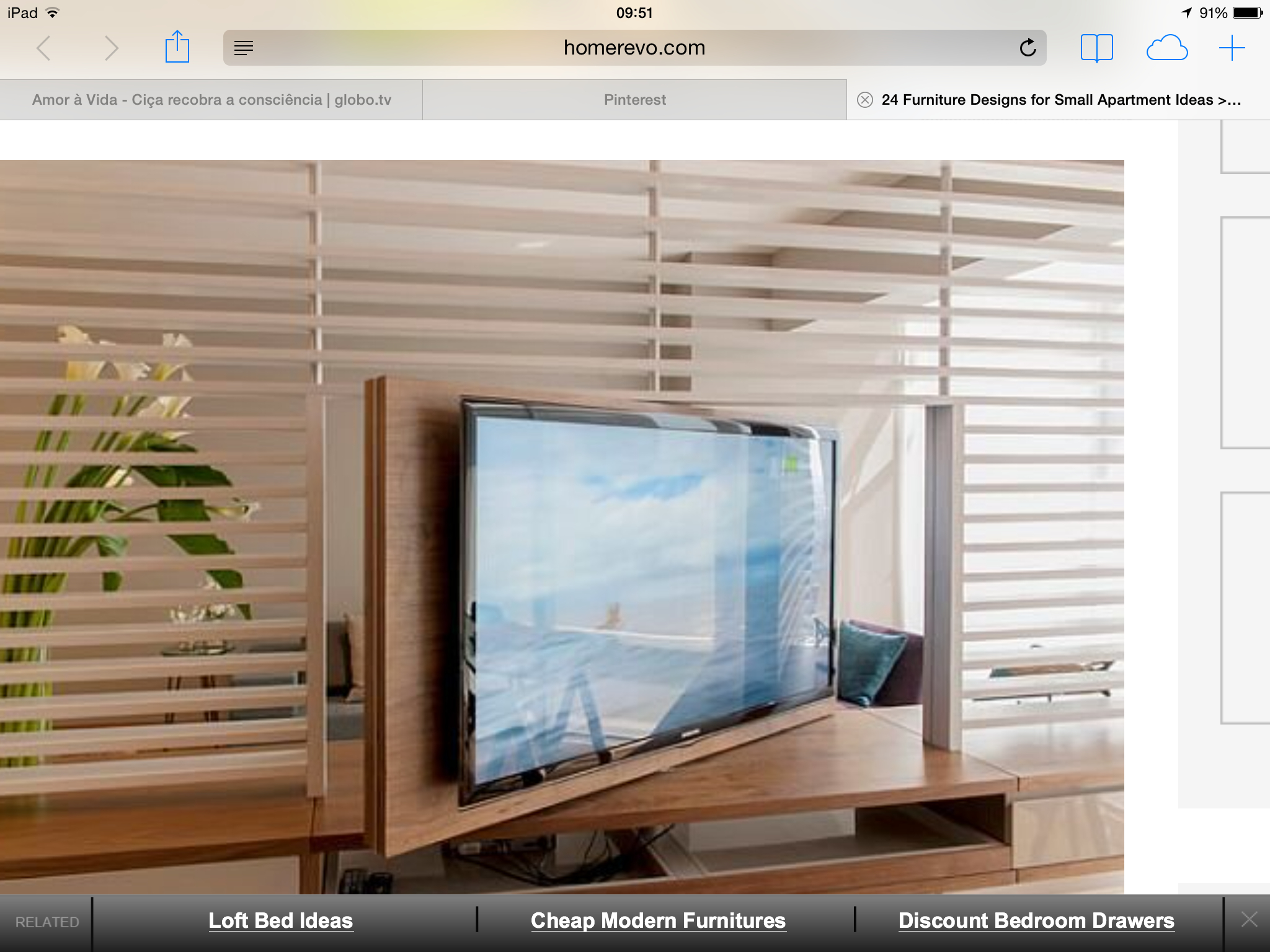 Ideabooks
A functional solution to have one flat screen TV in two rooms. The TV stand is mounted in a room divider, and it rotates for convenient usage. The TV is firmly attached to the panel, so you can freely turn the whole thing according to your needs.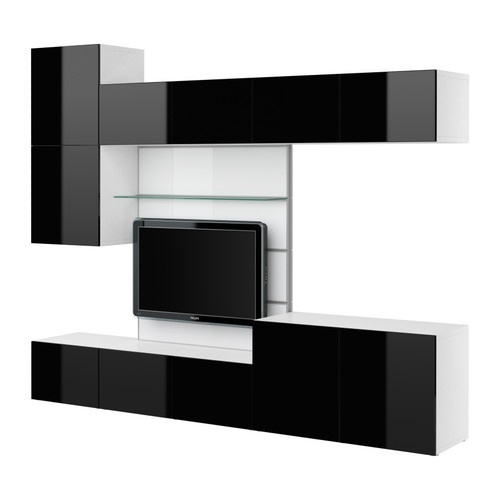 BESTÅ Panel TV con almacenaje audio/vídeo - blanco/alto brillo negro - IKEA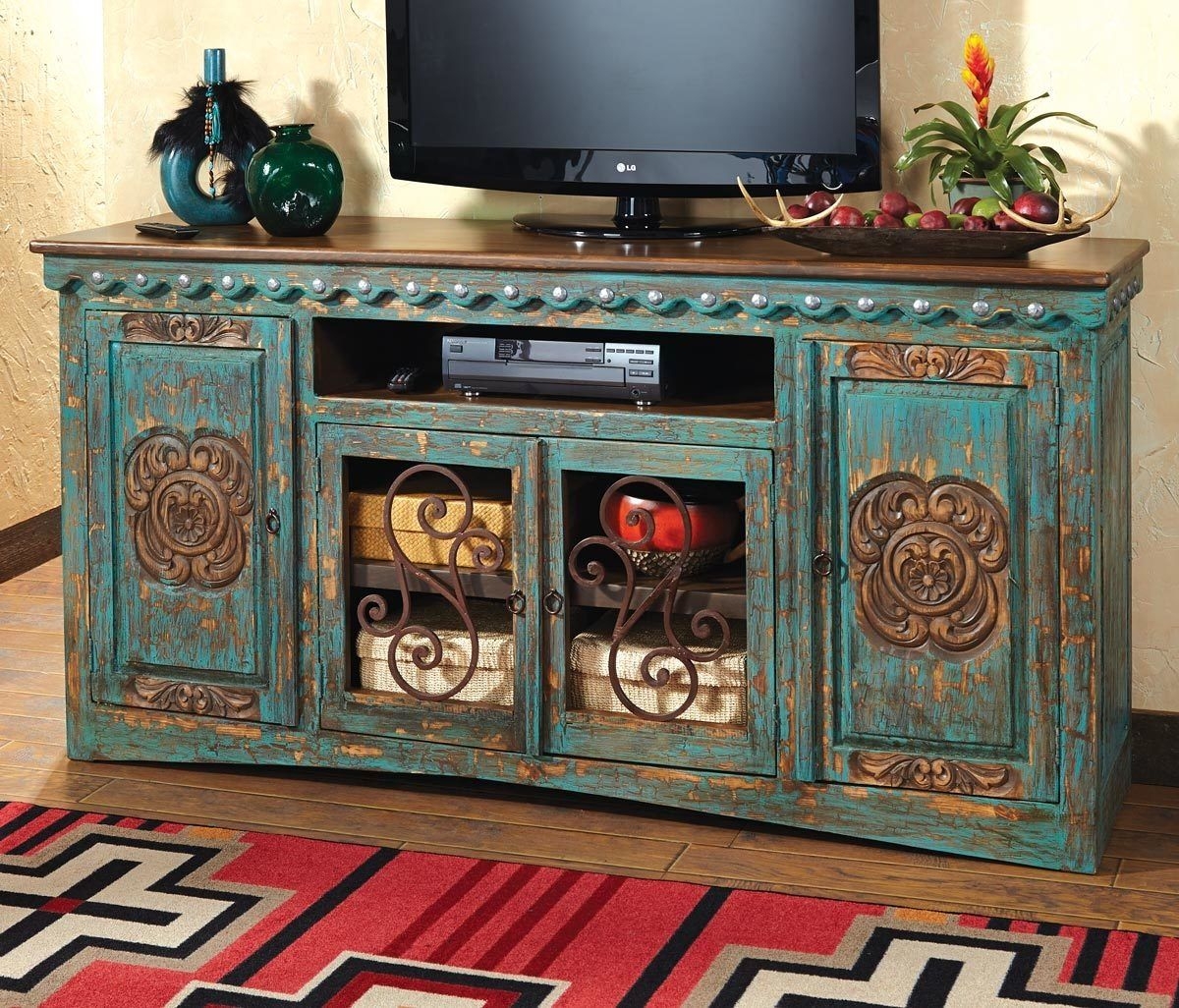 Cottage style entertainment centre – if you like unique and one of a kind furniture, then this entertainment centre is just what you need. The rich finish and highly detailed carvings make it as beautiful as no other.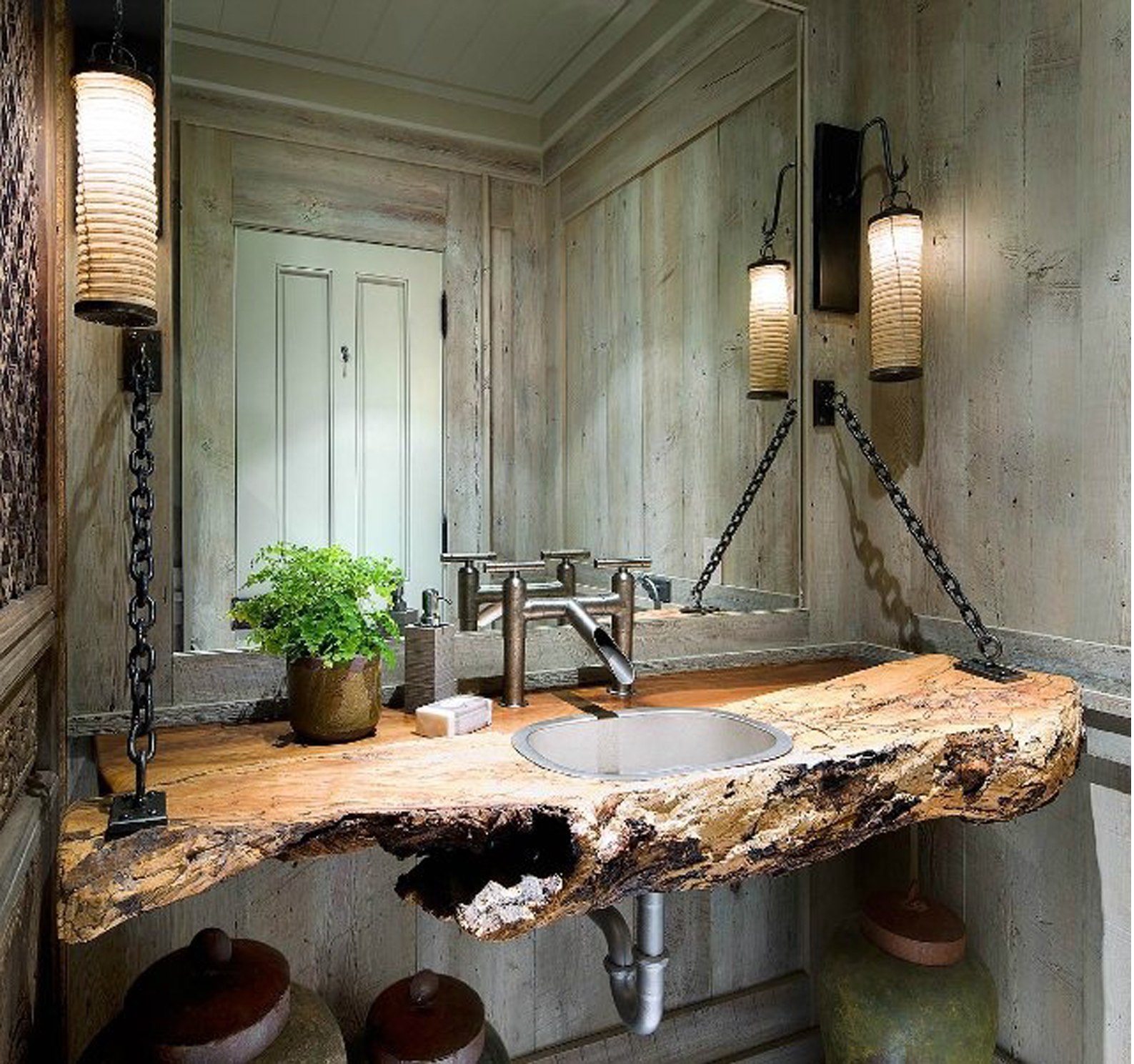 Contemporary fireplace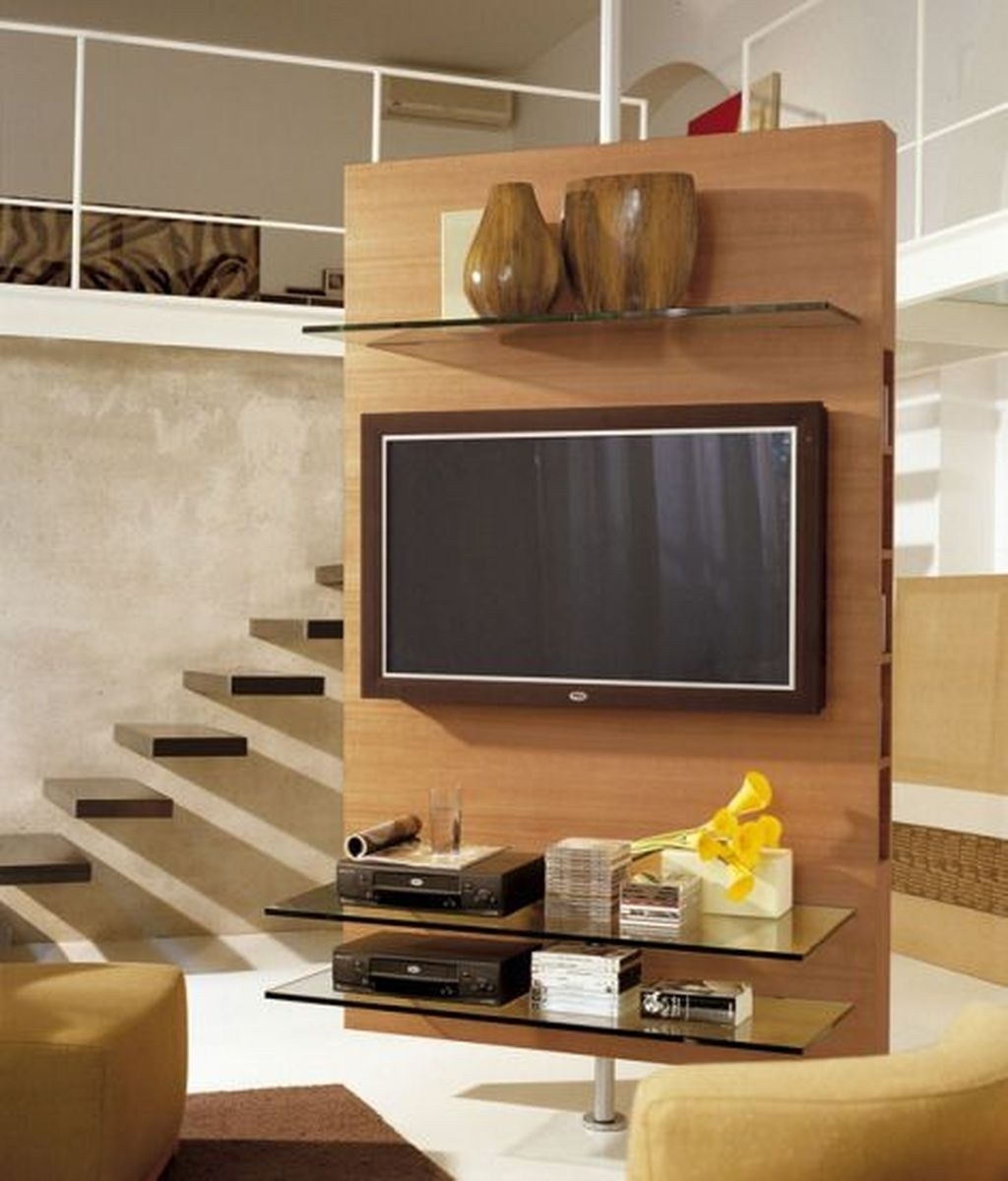 In Classic Style senior editor Justin Bog reveals his top 3 television shows along with some cinema busts.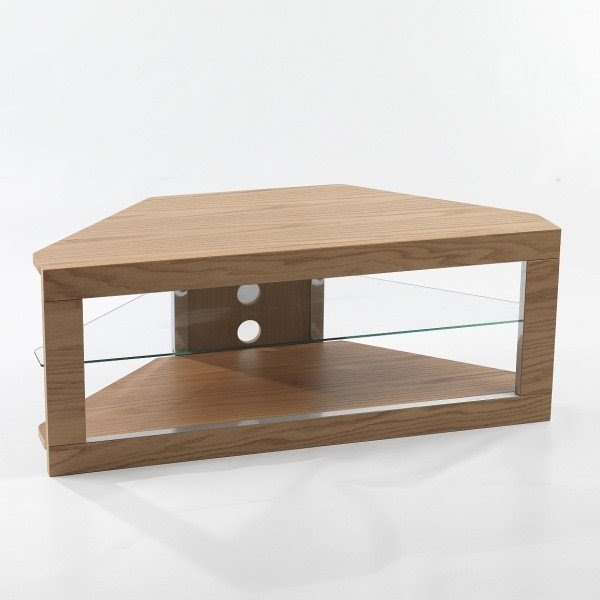 Large Screen TV Corner TV Stand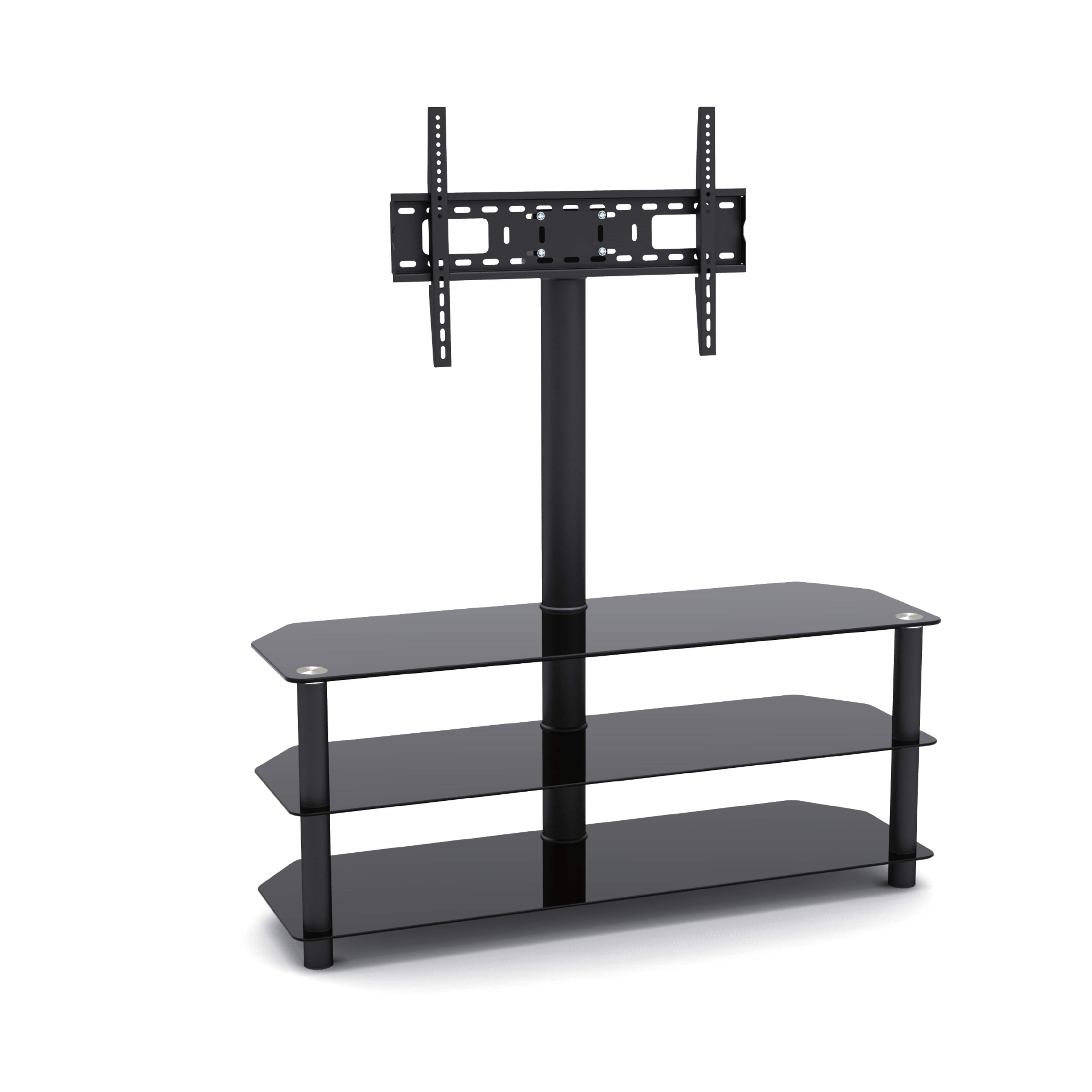 Modern TV stand that needs some easy assemblage. It provides loads of space to accomodate all game systems and electronic components. It is designed for a flat TV up to 55-inch, which is mounted on a durable, integral center column.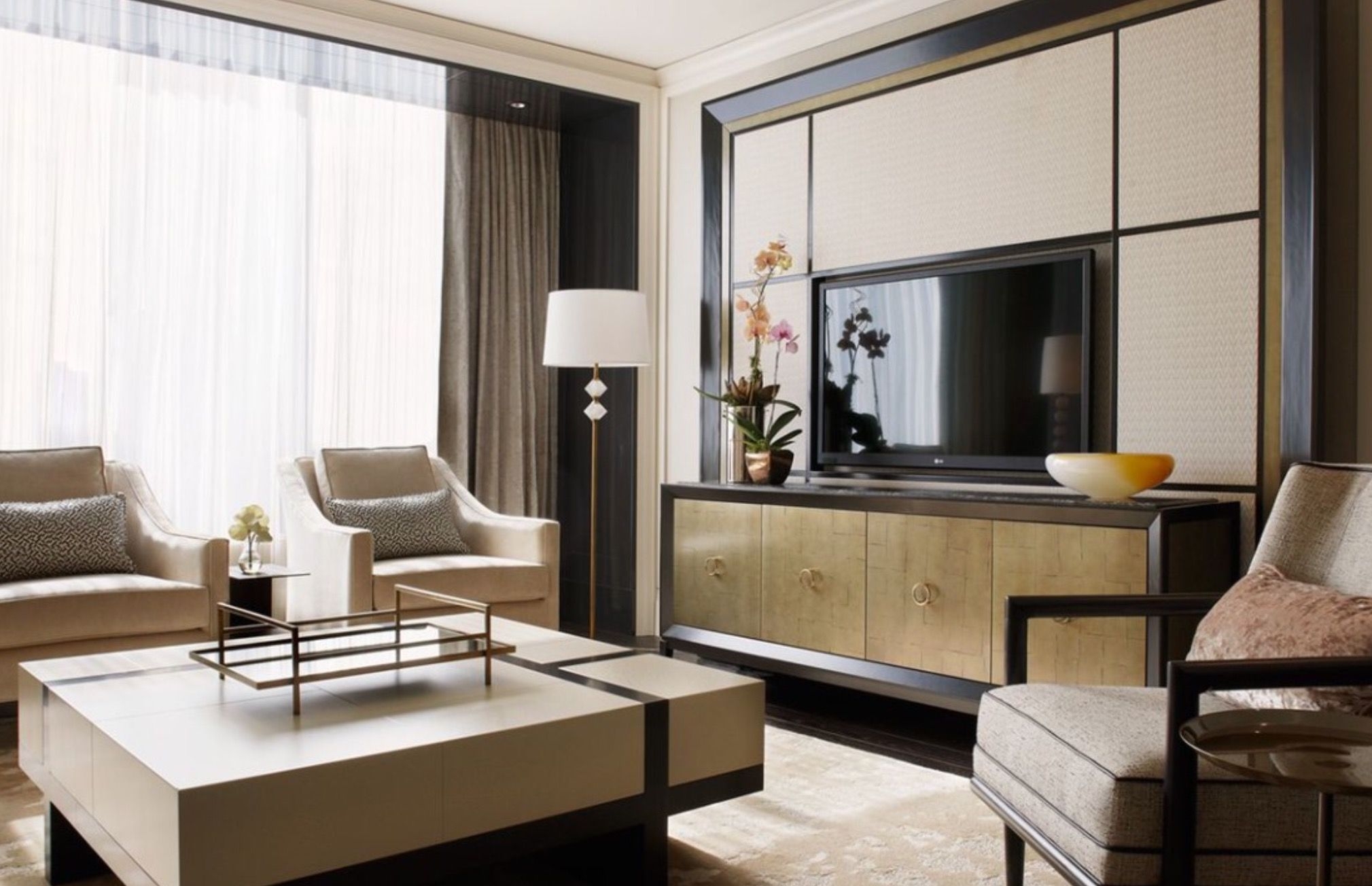 Suites At The Ritz Carlton | Munge Leung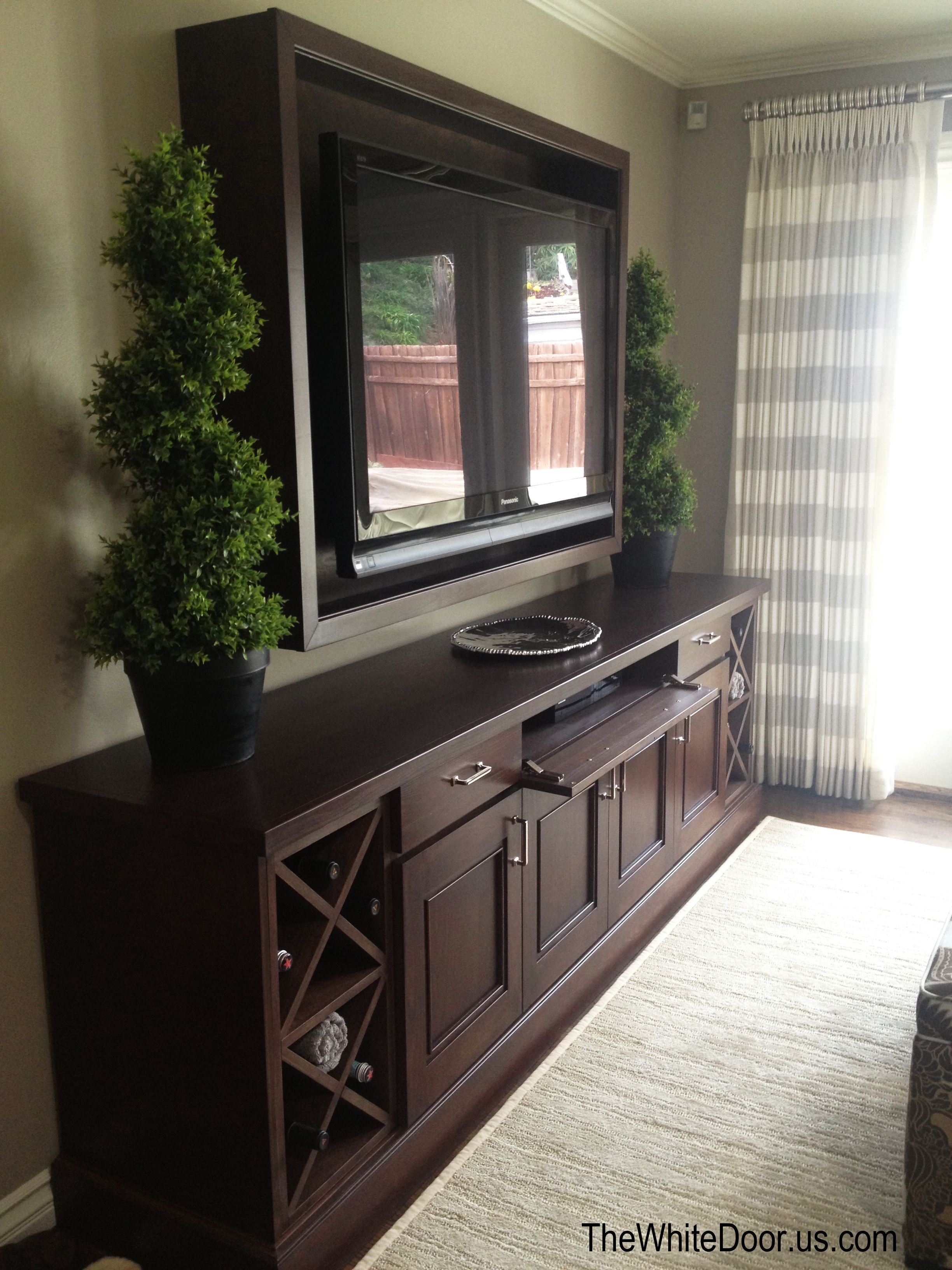 Custom entertainment center and framed tv backdrop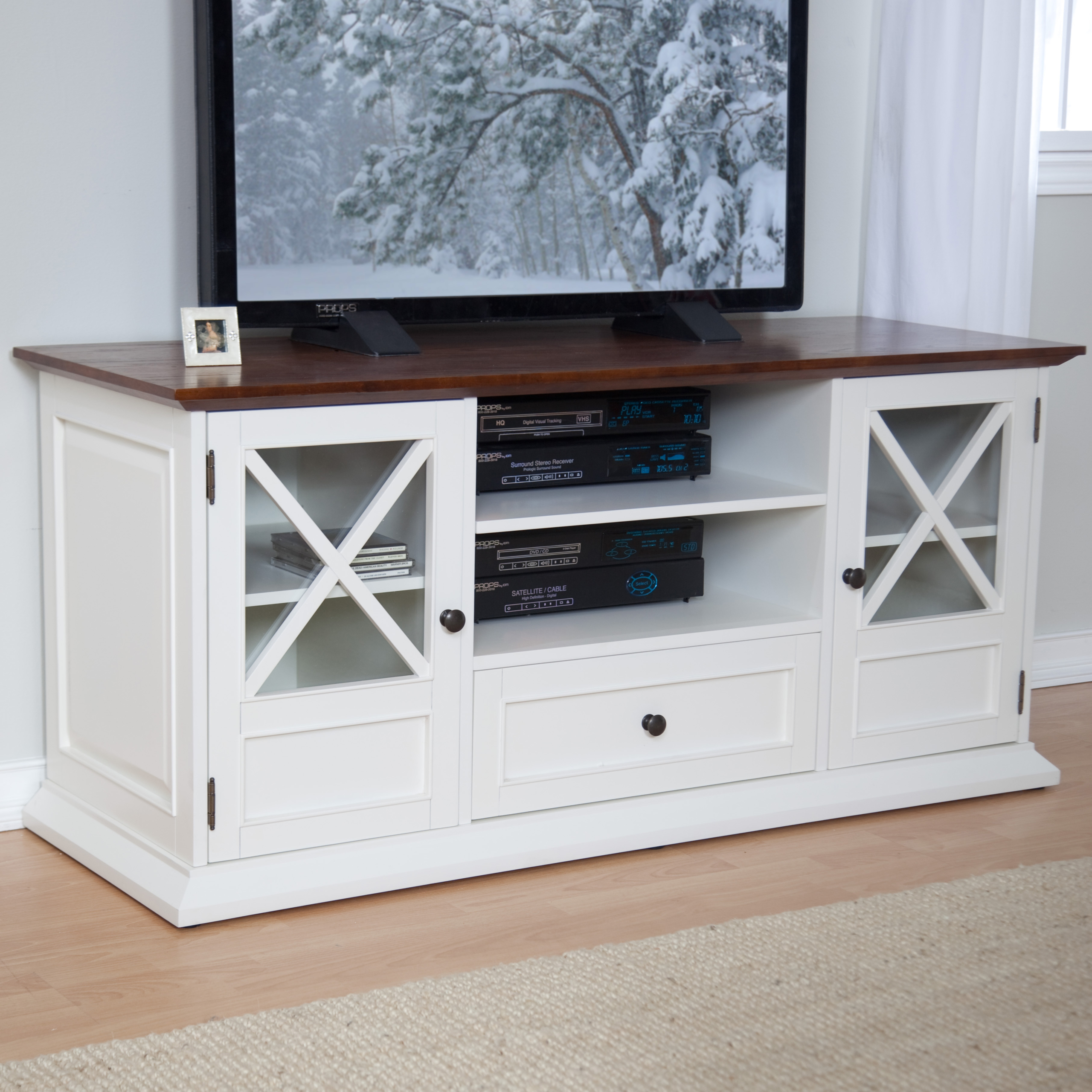 Boasting of elegance and functionality, this beautiful TV stand is practical, capacious, and stylish. Crafted of hardwood and bathed in a two-toned white and cherry finish, the stand comes with a large top for flat screens, 2 open shelves, 1 drawer, and 2 one-door cabinets with X-shaped design and 1 wood shelf.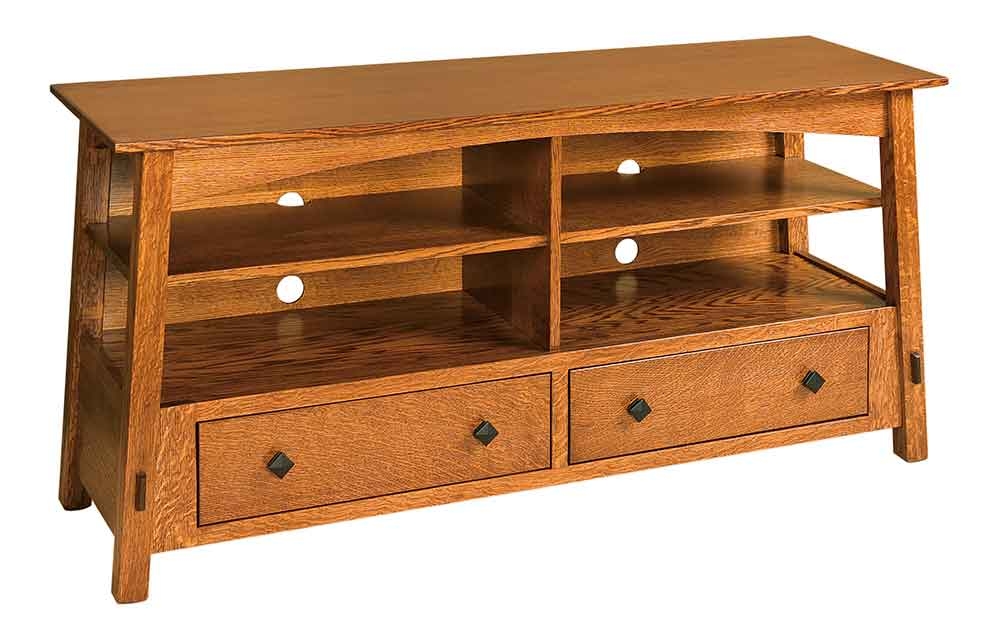 Amish Mission Open Flat Screen TV Stand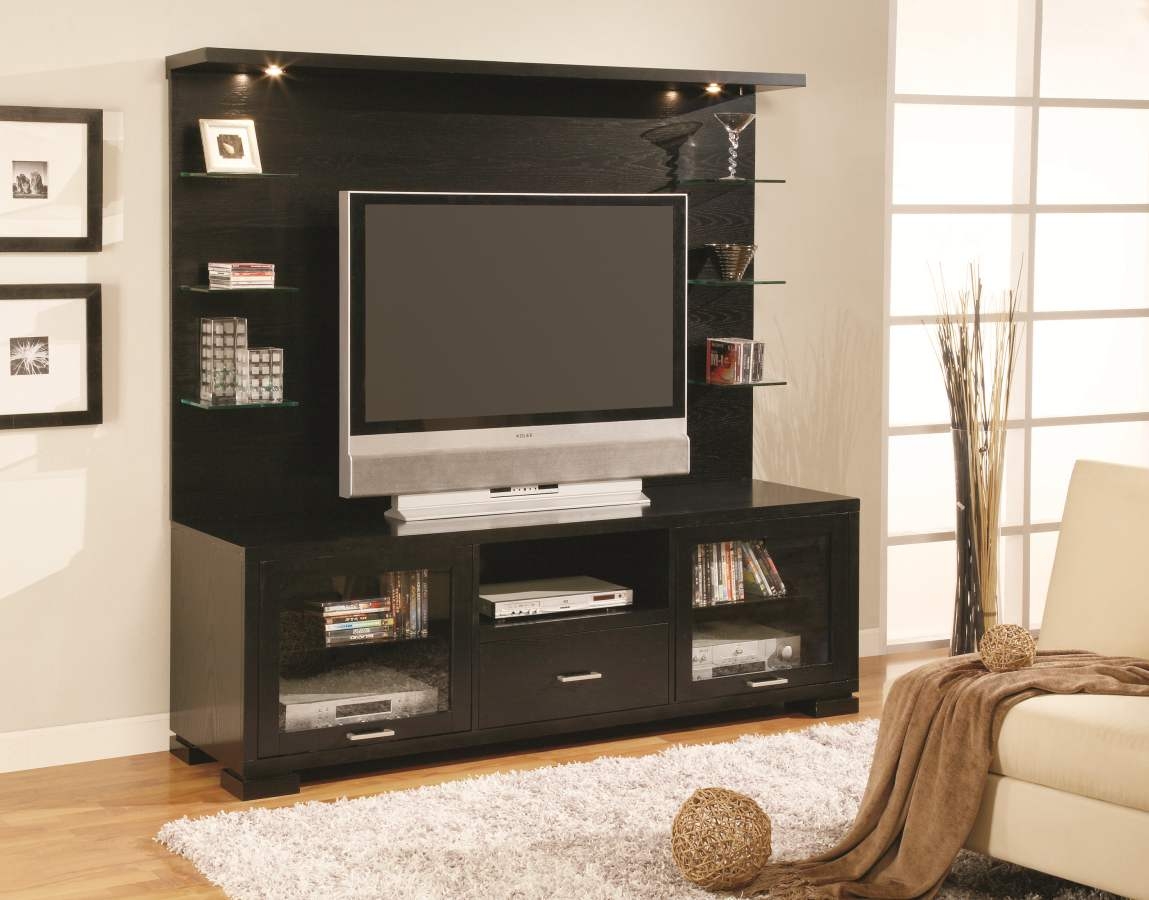 Weiser TV Stand with Back Panel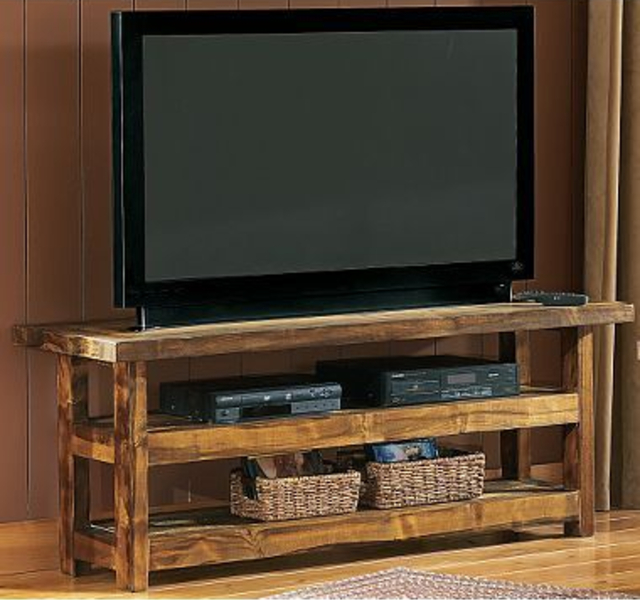 TV stand made of wood and reinforced with solid supports. Includes 2 open shelves for storing TV components and others needed stuff. Neutral and functional design for each room.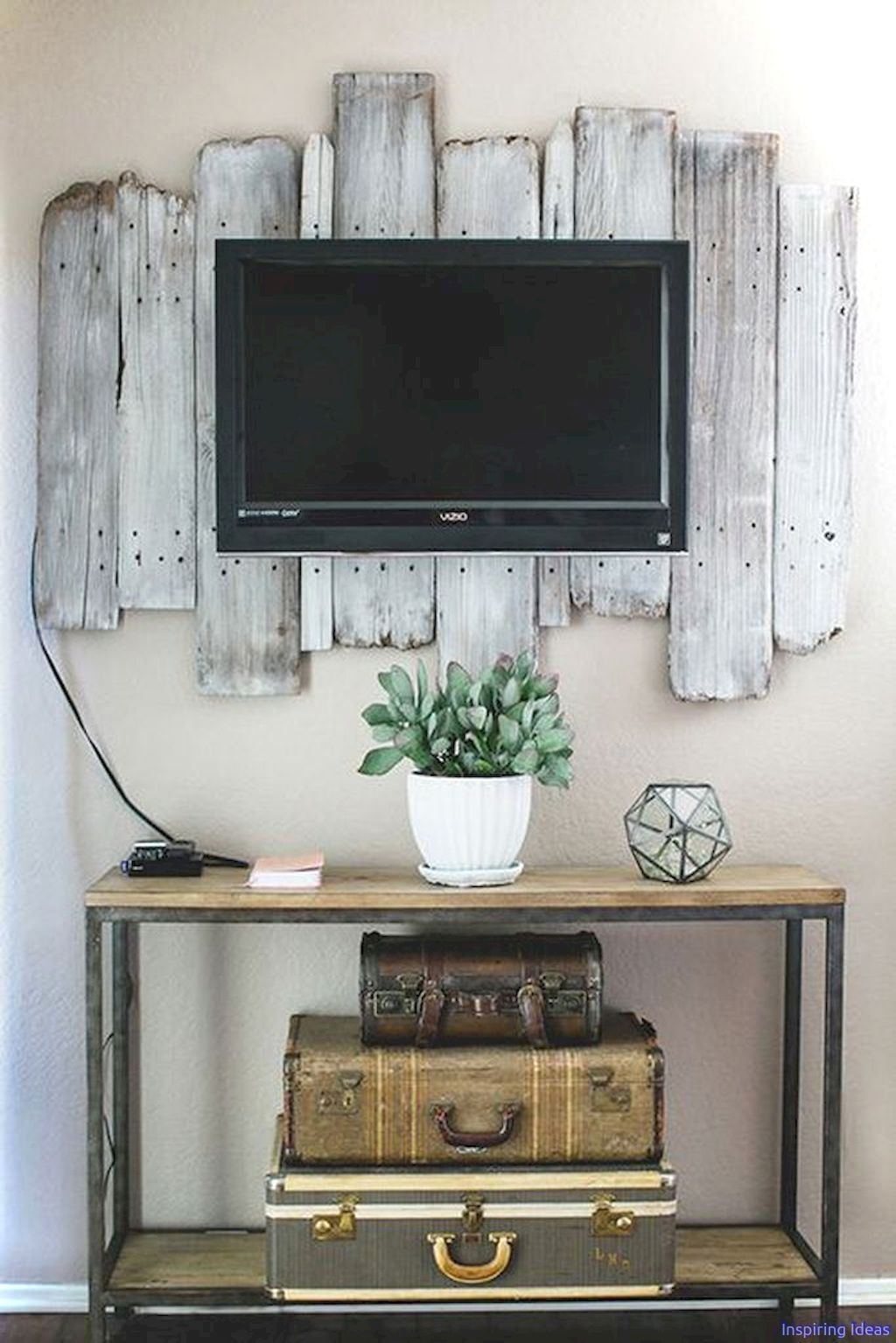 Amazing Uses For Old Pallets – 50 Pics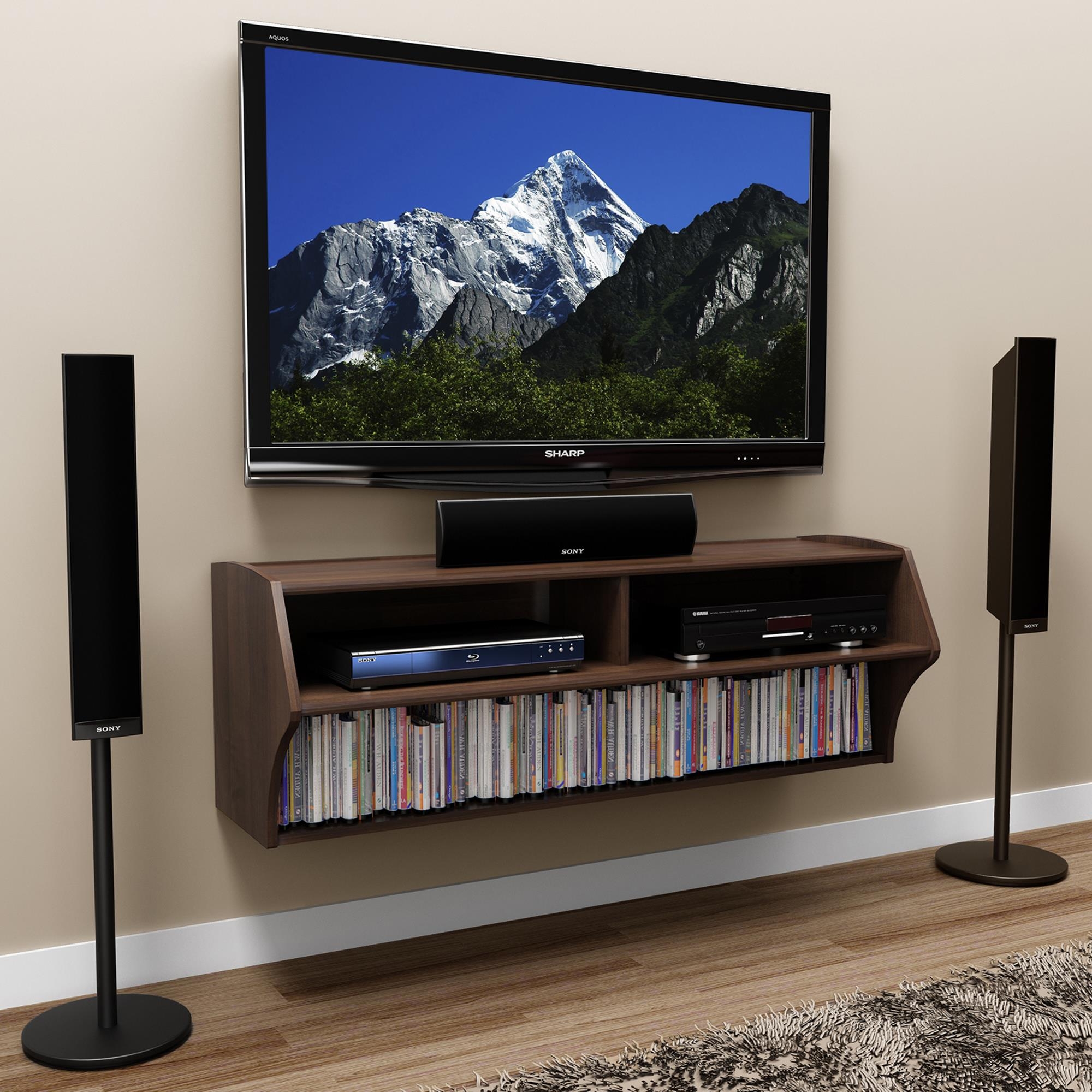 Espresso Wall Mounted A V Console Console
A professional and high quality piece of furniture that was designed for use in the living room or play room. It is made of MDF and composite wood so its solidity allows for supporting large TVs. The console has got two storage shelves.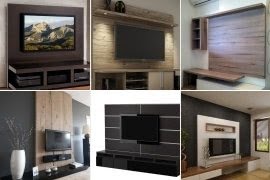 Place your television on this wooden TV stand. This stand features a ventilated rear panel, a tempered glass front, and a low-profile exterior. Crafted from infrared black glass and MDF wood, this durable stand will adorn your living room for years.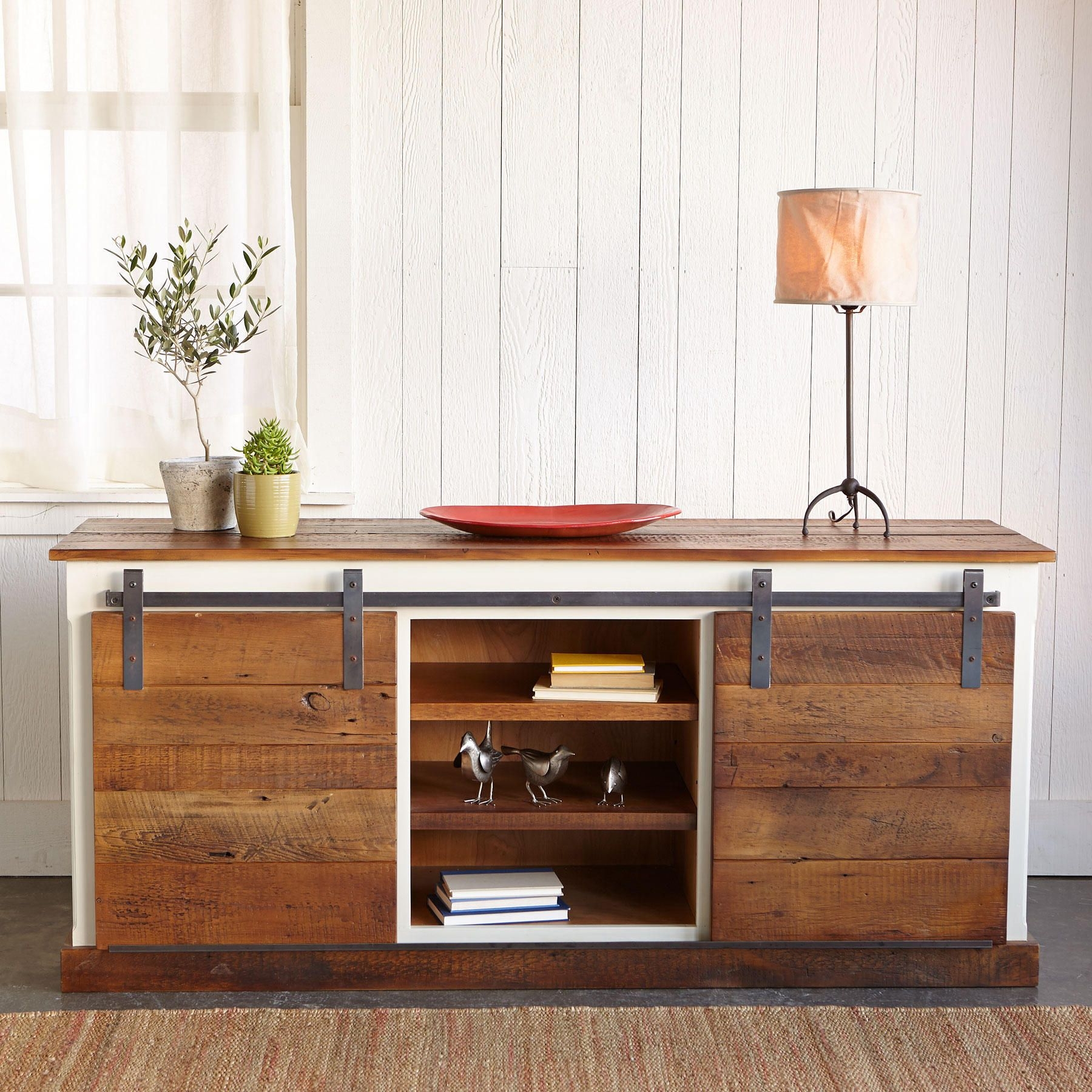 Are you trying to find the nicely finished and stylish console table? We have got something for you! This console table has got the sliding doors, wooden construction, long top and shelves for books and accent pieces.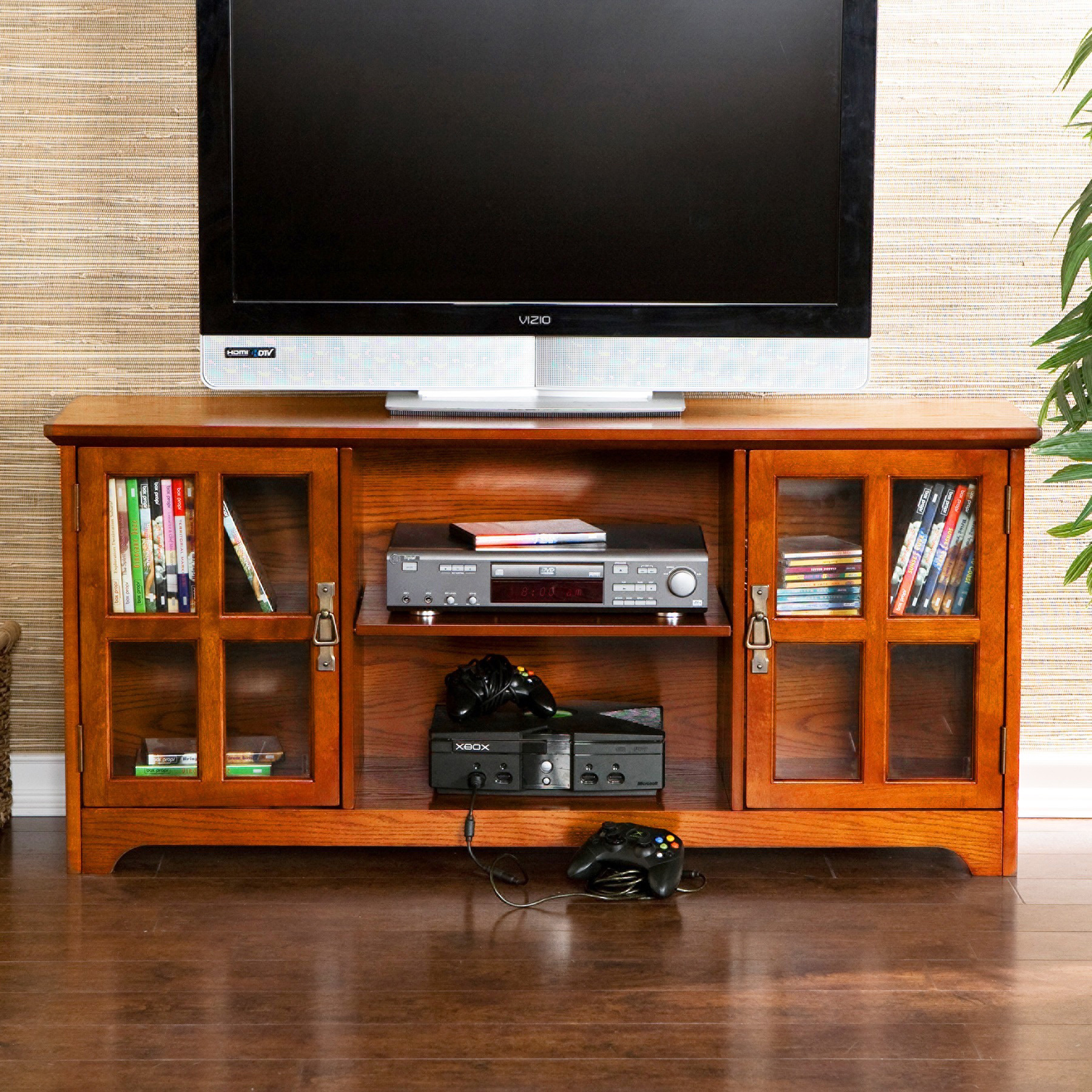 Zander TV Stand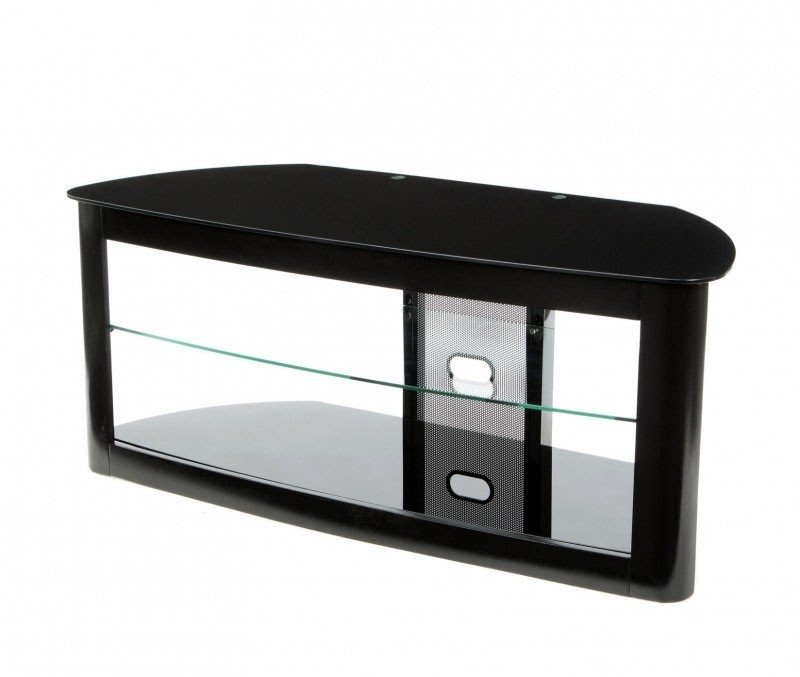 Flat Panel TV Stand
Not only will this TV stand easily accommodate a TV up to 60", it will hold up to three or four media components on the spacious shelves, while the construction ensures durability and sturdiness, making it a piece to last in your home for years to come.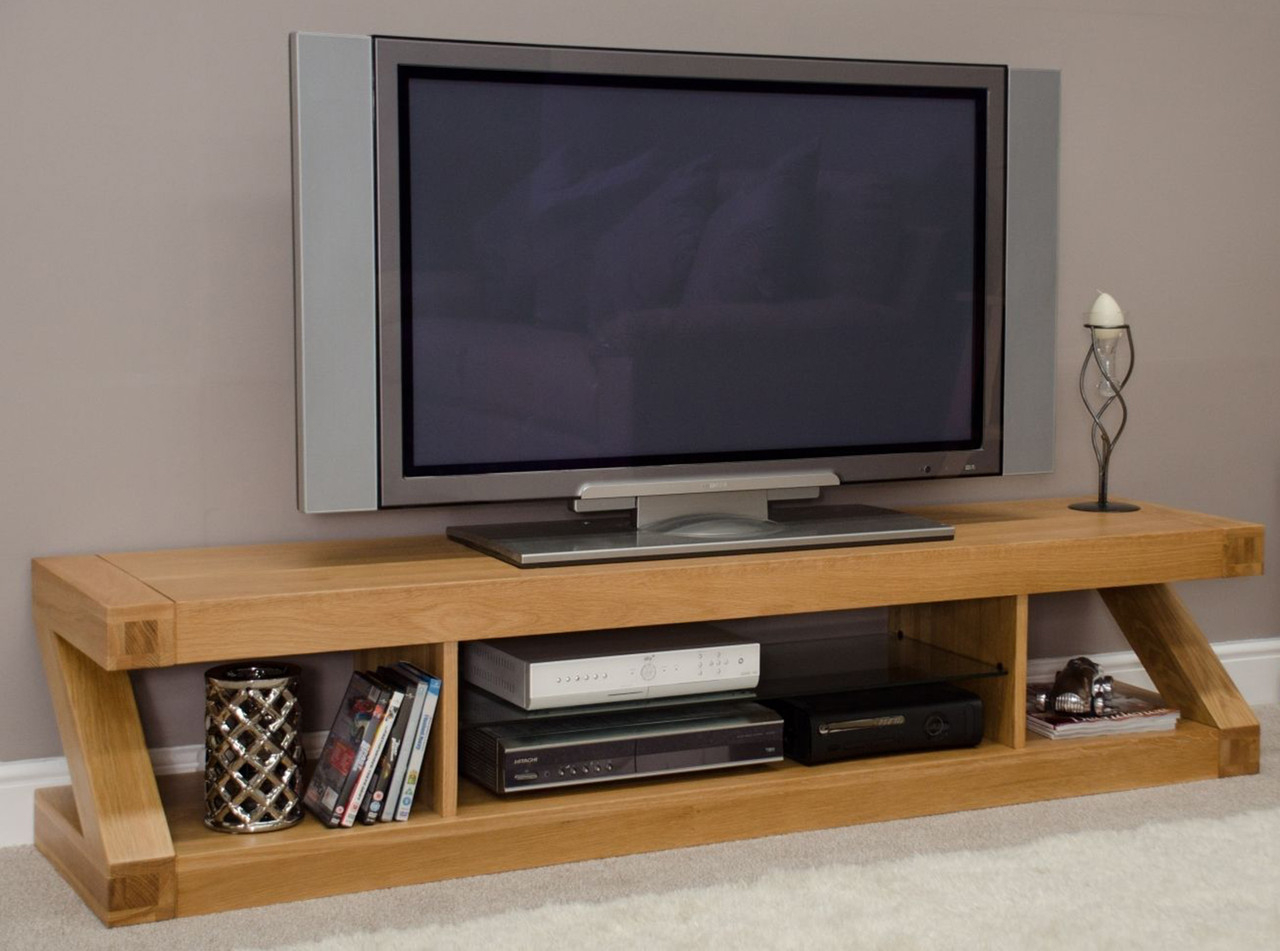 ... > Living Room Furniture > Z Solid Oak Large Flat Screen TV Stand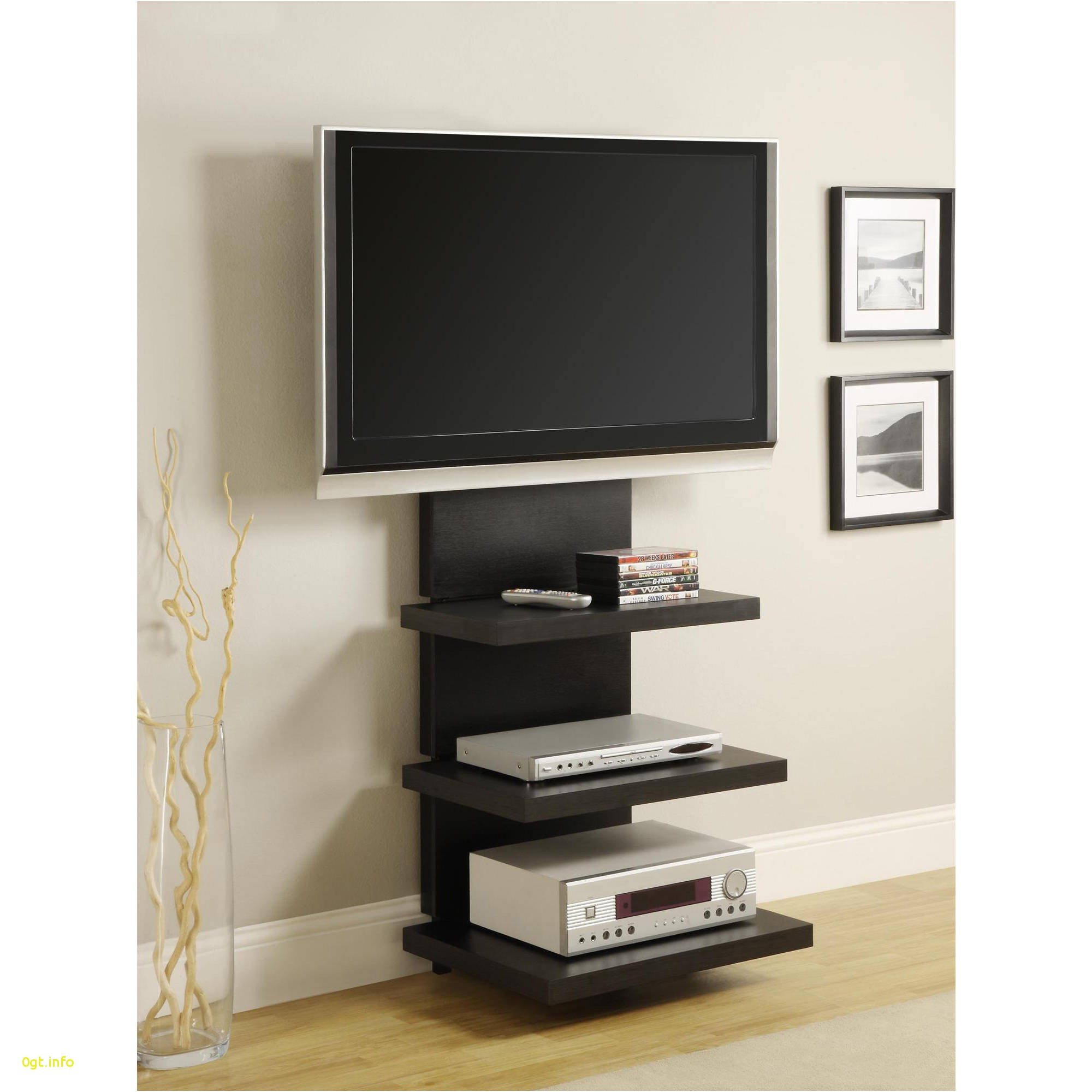 ... Furniture AltraMount Hollow Core TV Stand with TV Mount, Black Finish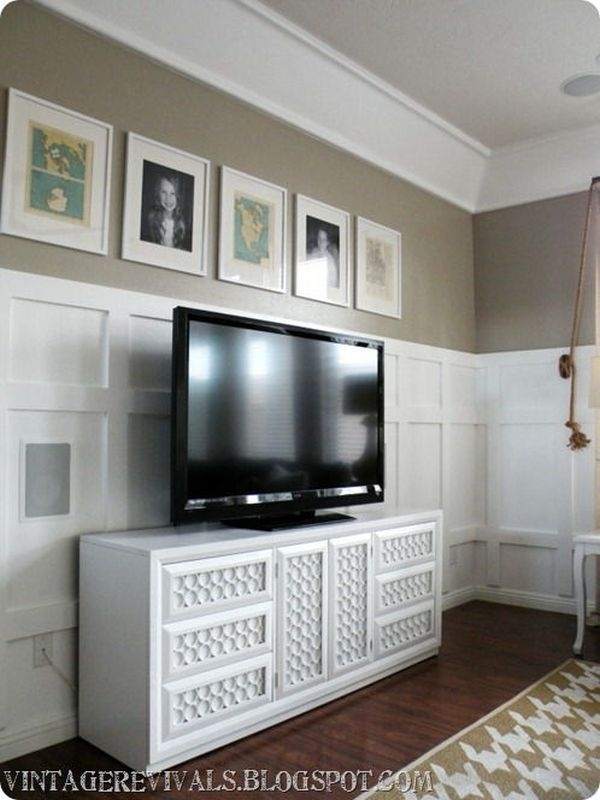 PVC Pipe Dresser Overhaul... how creative can this girl be? >> I really like the back wall with frames.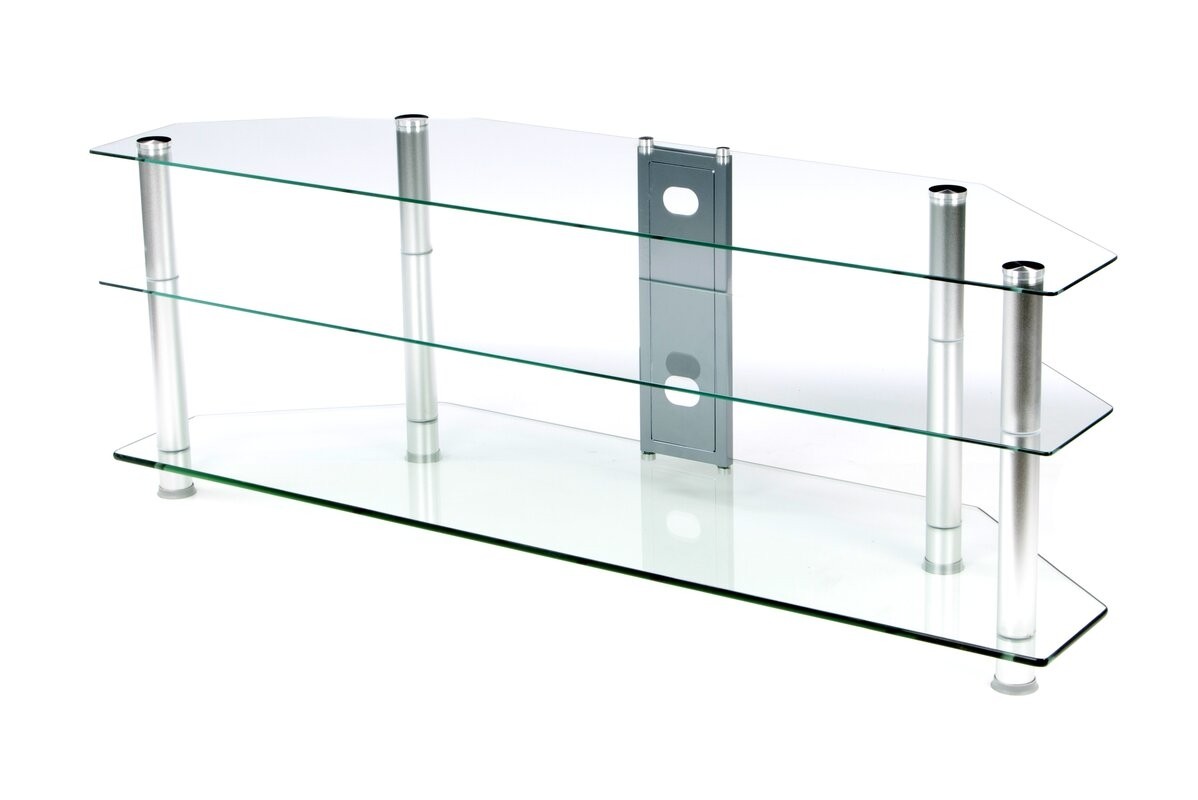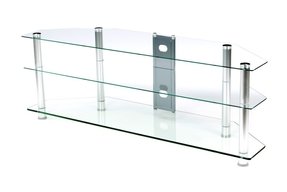 Flat Panel TV Stand
With this TV stand you may add a touch of modern elegance to a decor with no cost to robustness or functionality. The piece offers three wide shelves made of tempered glass. The shelves are supported by metal tubing frame.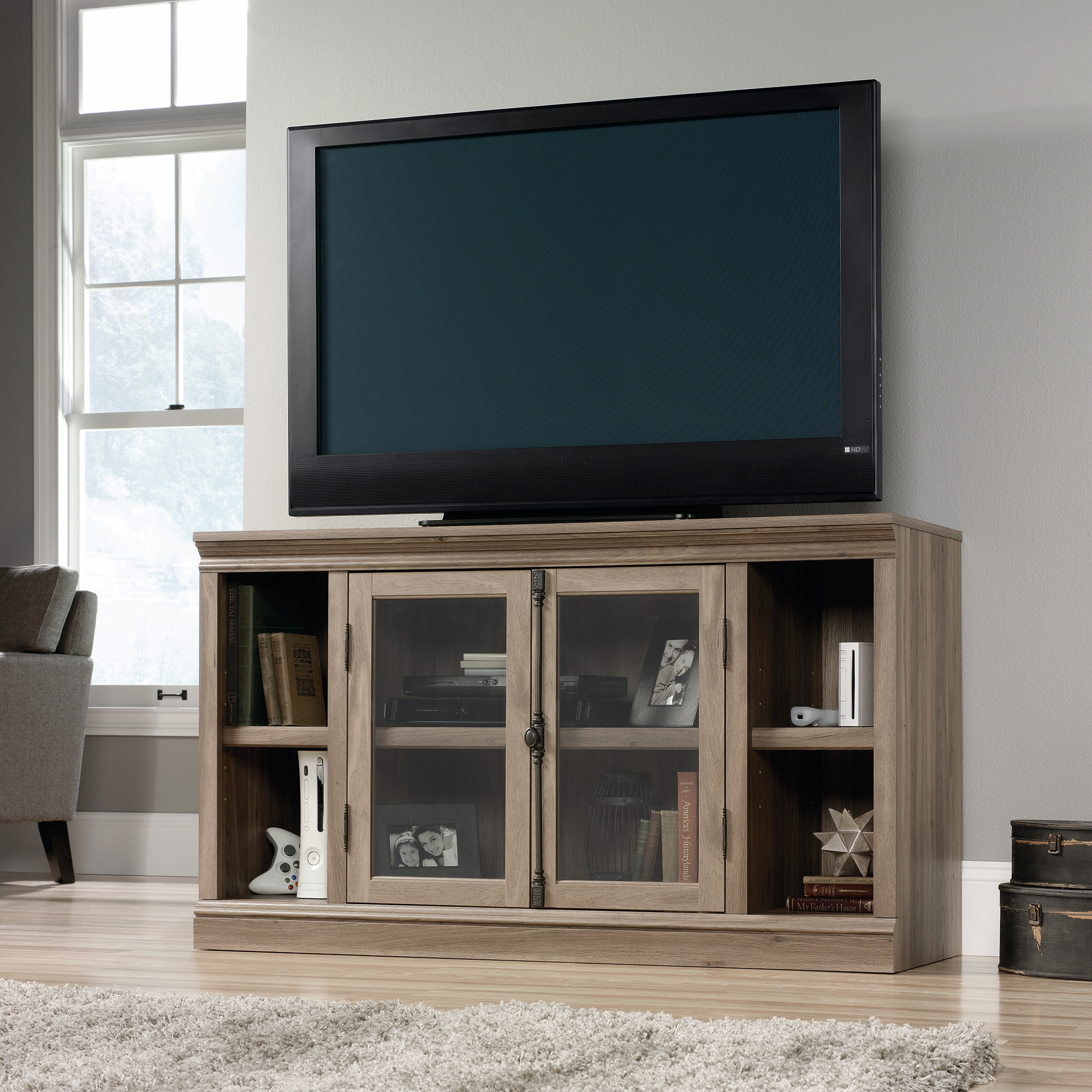 TV Stand
Contemporary media stand made of fibreboard with an oak-brown finish. Its rectangular top is intended for up to 60" TV-sets. There are 2 side open shelvings and a central cabinet with glass doors and decorative hardware. Each shelf is adjustable.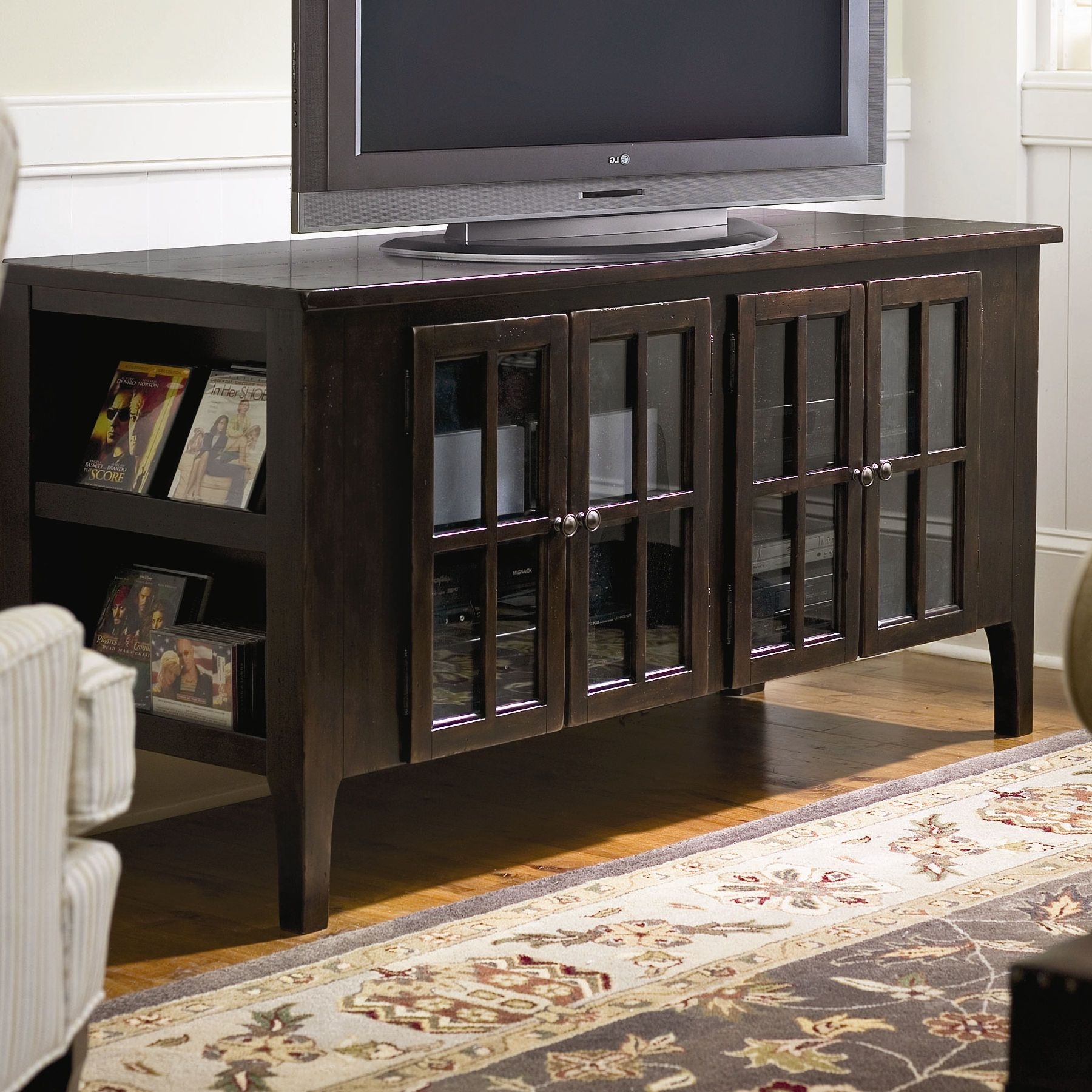 The Bag Lady's 62" Flat Panel TV Stand
A tremendous and elegant yet very functional TV stand which is flat. It features four wood-framed glass doors, adjustable shelves and also a distressed finish which accentuates a country design. It was manufactured in China.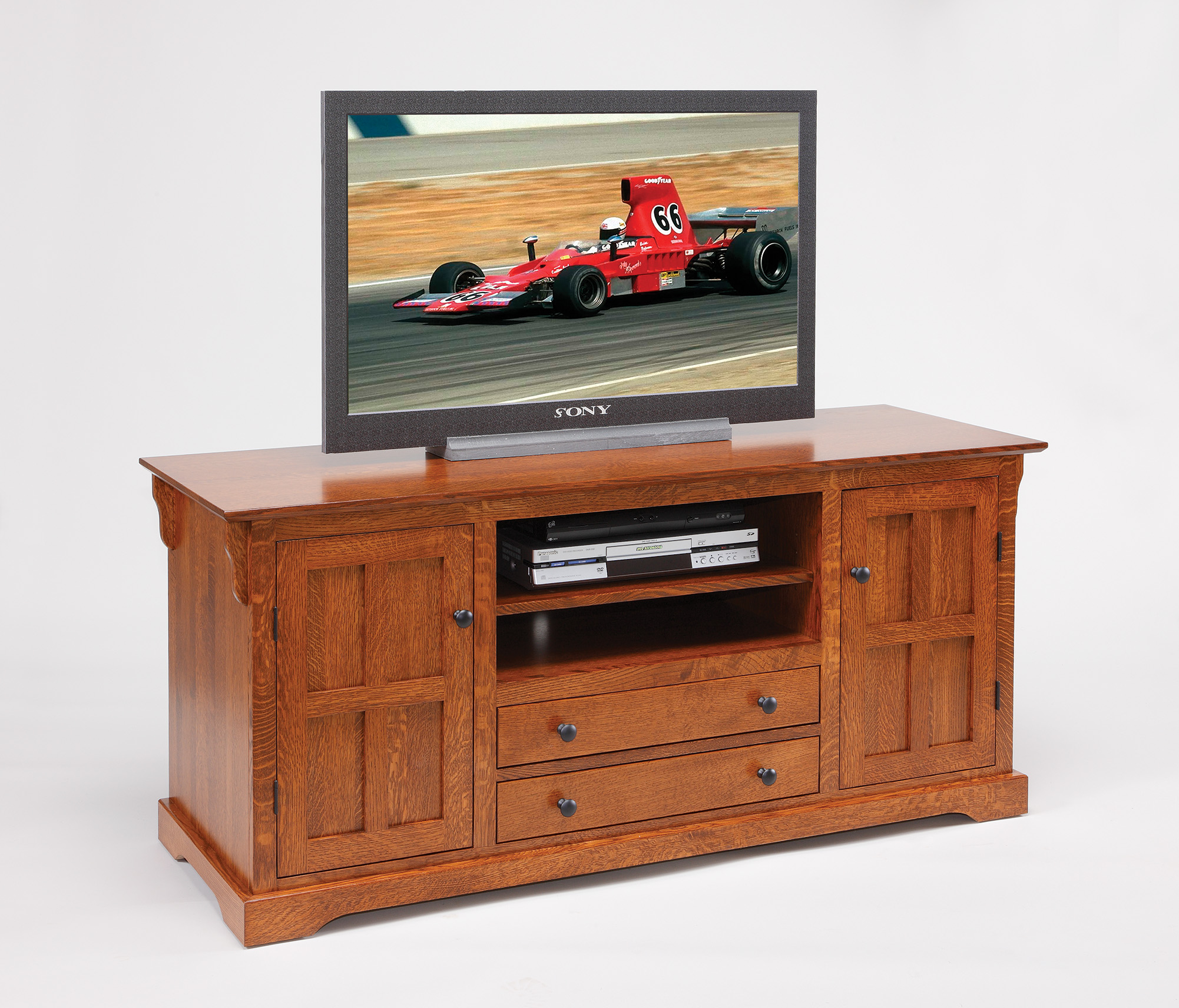 Flat Screen Tv Stands #954 flat screen tv stand