10 Great Home Projects and What They Cost - Forbes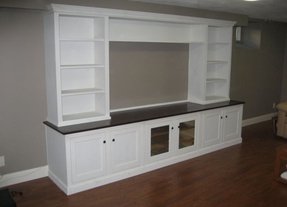 Constituting a classic proposition for elegant interiors, this white wall unit with centrally located entertainment center delights with its two-toned finish. Combining white with dark espresso finish corresponds well to the surrounding decor.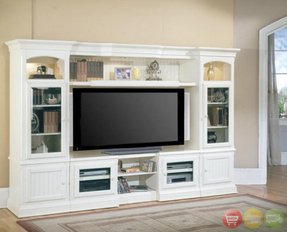 ... Hartford 4 Piece Traditional White Wall Unit TV Entertainment Center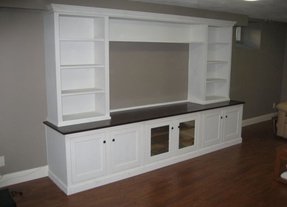 This fabulous built-in tv set is an outstanding way to develop a game room or living room. The whole, in white, presents itself stylishly and modernly and does not overwhelm the decor. Attractive decorations complement the whole.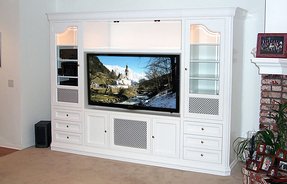 Stunning white home theater furniture system. Shown in the Isabella ...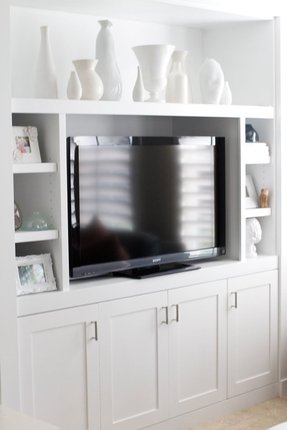 Being a perfect proposition for all shabby chic lovers, this white panelled entertainment center creates a charming space for your TV and media devices. Features a considerable storage space, divided between 4 bottom doors and surrounding shelves.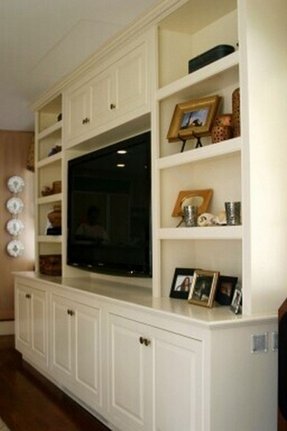 Custom made entertainment center for a large flat screen TV, with three bottom cabinets, two closable top cabinets and numerous flanking shelves. The setting is white, with dark (yet unobtrusive) metal hardware.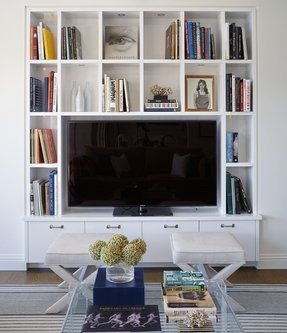 The white wall units of the entertainment center make the entire design gain in lightness, space, and functionality. Numerous cabinets, shelves, and drawers contain many trinkets, and in combination with a comfortable sofa and ottoman will create an exceptionally beautiful angle at home.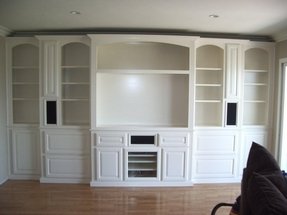 Entertainment Centers and Wall Units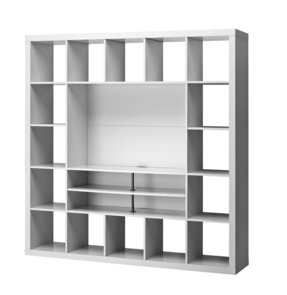 Are you searching for a modern and simple entertainment center to your home? We suggest you to choose this product, which has got the white finish, solid construction and shiny effect. A lot of shelves are excellent for CDs and DVDs collection or books.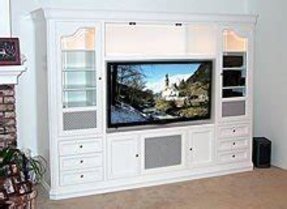 Visalia - Made-to-order Wall Systems and Entertainment Centers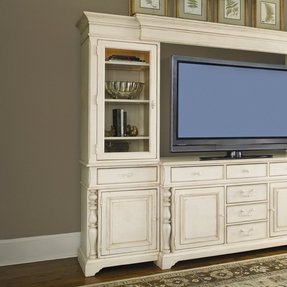 Entertainment center for the living room and others interiors according to taste and need. Construction is made of wood with antique finish. Includes a lot of drawers and cabinets in various sizes for storing TV components and others needed stuff.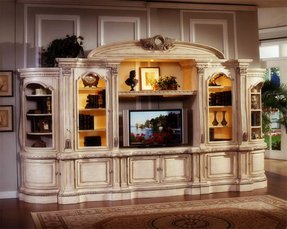 Traditional White Large TV Wall Unit Entertainment Center w/Storage ...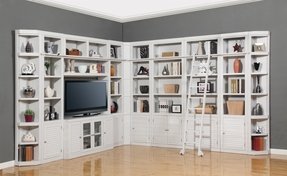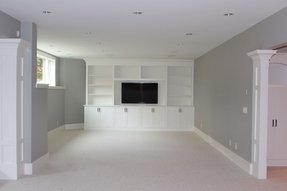 Built in entertainment storage unit painted in Cloud White. Houses a 60" TV. Walls are Pavillion Grey by Farrow and Ball
Why not actually choose the wall unit that will work in your interior perfectly and is simply cut out to fit it like a dream? This piece offers the black painted background that beautifully contrasts with the white shade of the overall unit.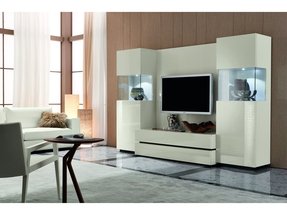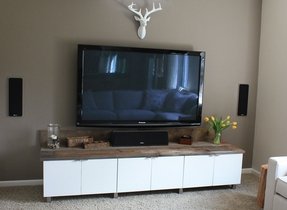 Entertainment center in modern style. Designed for mounting on the wall. It consists of 3 drawers for storing TV components and other necessities. Contemporary design for each living room.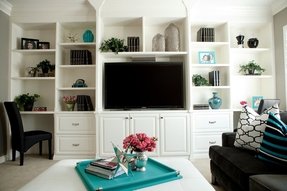 I want walls full of shelves. apparently I love storage. (Plus I like the style touches here)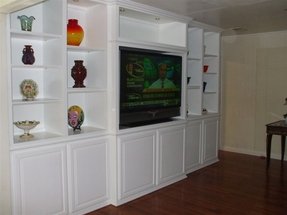 Entertainment Centers and Wall Units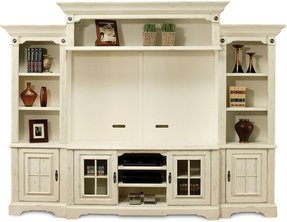 The wall unit fot the living room painted in the delicate cream color. This kind of entertainment centre provides enough space for the TV with the additional devices, but also bric-à-brac and some books.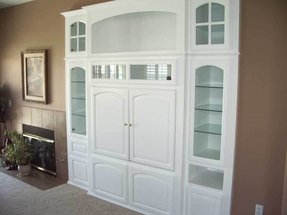 Entertainment Centers and Wall Units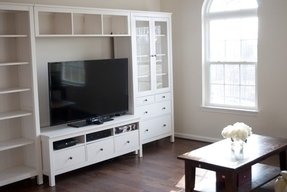 An aesthetic media centre of wooden materials in white. A low TV stand with 3 drawers and open niches, an open front shelving unit and a tower with a glazed door cabinet and drawers have low angular legs. A wall shelf has 3 cubbies under a top.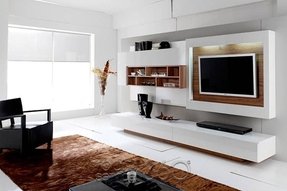 Creating a very modern-looking, smooth living room set, this entertainment centre distinguishes itself with the floating rows of drawers, being mounted very close to the floor and being a great spot for DVD's. And a magnificent, wooden, lighted framing for the TV.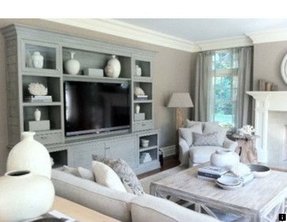 Westport Family Home Contemporary Family Room New York
If you have a large country room, then this entertainment center will be the perfect cherry on top. Crafted of wood and covered in a blue-gray finish, the unit includes 1 two-door cabinet with shelves, 9 open compartments, 2 compartments with a glass panel door, and enough place to accommodate you flat screen TV.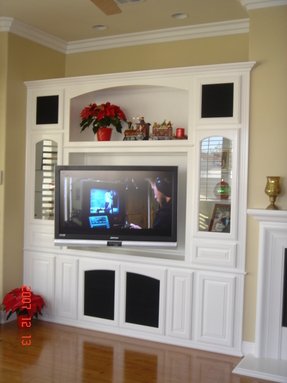 Entertainment Centers and Wall Units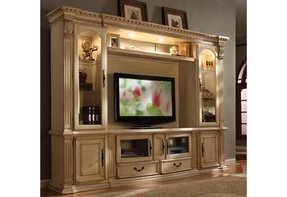 Monte Classic Wall Unit Entertainment Center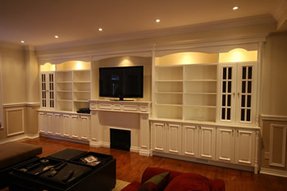 Wall Units, Fireplace Mantels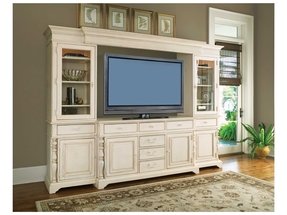 Large entertainment center in off-white. Carved elements, such as spindle posts, allude to traditional design, with a hint of farmhouse style. The central panel can house a large flat tv. Plenty of storage is provided by numerous drawers and cabinets.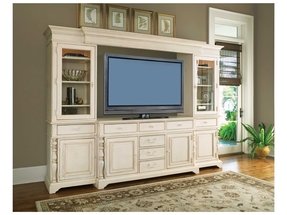 Paula Deen Home Savannah Lighted Entertainment Center
If you want to create a cosy, yet elegant, traditional appeal in your living room, consider this off-white wooden entertainment cabinet. Its central space is reserved for a TV set, while the surrounding cabinets and chest of drawers offer wide storage possibilities.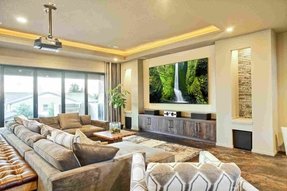 nice idea with a projector having a darker wall behind it and a white canvas as art/screen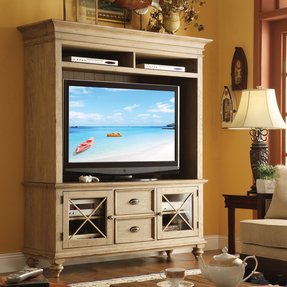 Coventry 58" TV Entertainment Center
Long tv unit with shelves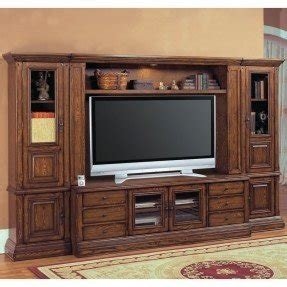 Sedona 65" Entertainment Center Wall Unit w/ Integrated Ipod Dock 6 ...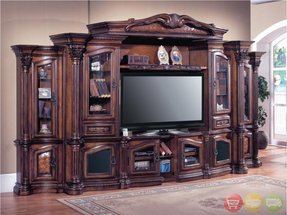 ... tv entertainment c home garden furniture entertainment units tv stands

It is a modern and amazing entertainment center with LED lights for your home theater. It is available in three color options to choose: black, nut brown and white gloss.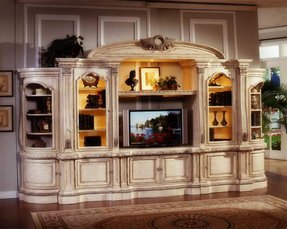 Distressed Antique White Traditional Entertainment Wall Unit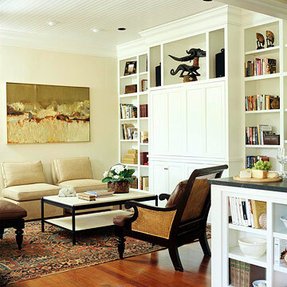 Cover Up - I think it would be so nice to have an armoire like this to house and hide a television and all of my video games and accessories. This room looks like a peaceful living room for reading or visiting, but it has fun secrets too!