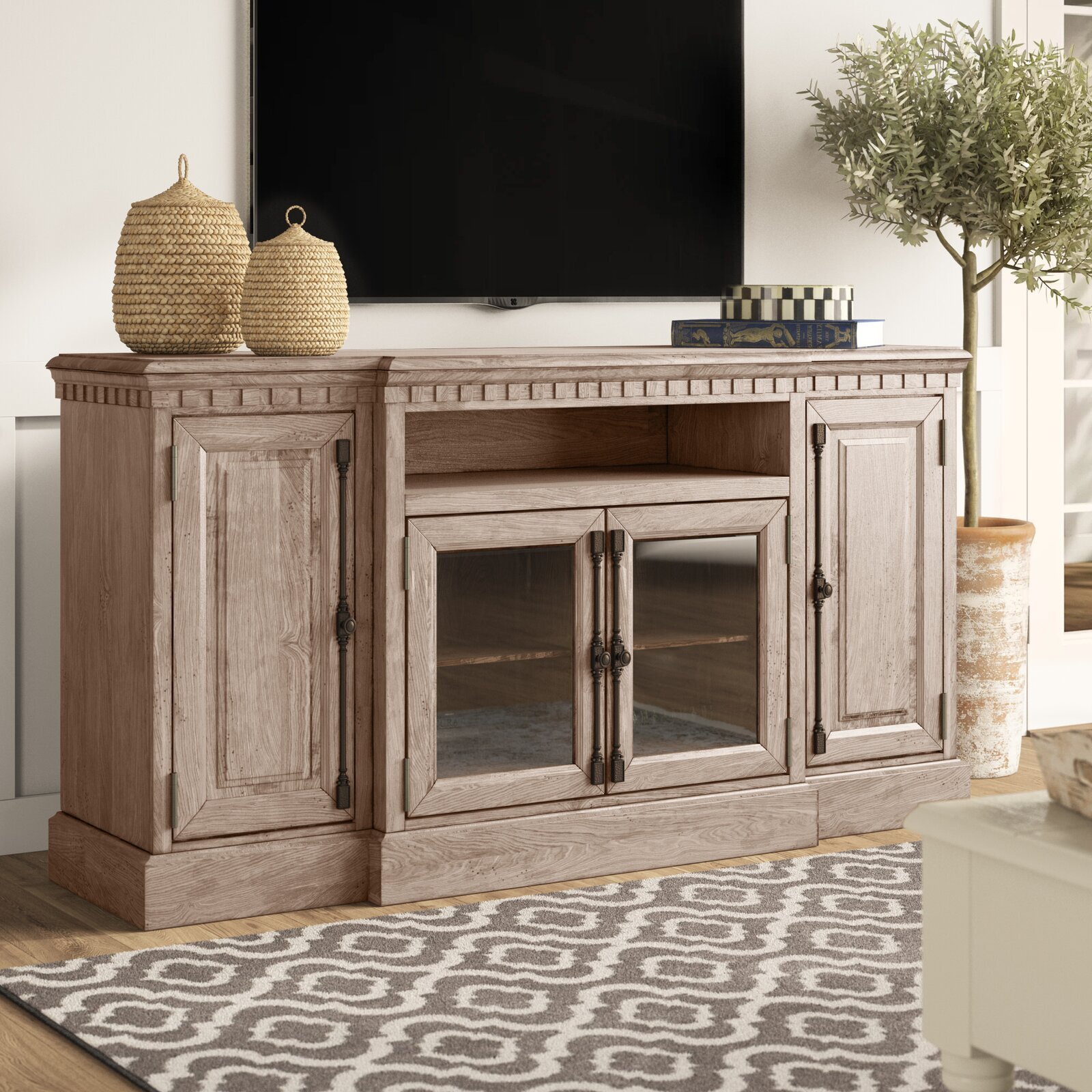 Lodge 68" TV Stand

What we like: Ample storage for a variety of items
What we don't like: The high price tag
This TV stand features solid pine and manufactured wood construction and an antique mist finish. The result is an antique aesthetic that should appeal to anyone fond of a rustic or farmhouse décor.
With a total of four internal shelves, divided among three cabinets, this TV stand provides ample storage space. Two of the cabinets have solid wooden doors, and the third cabinet has two doors with glass windows for decoration and visibility. They also have integrated lights, allowing you to prominently display your DVD collection.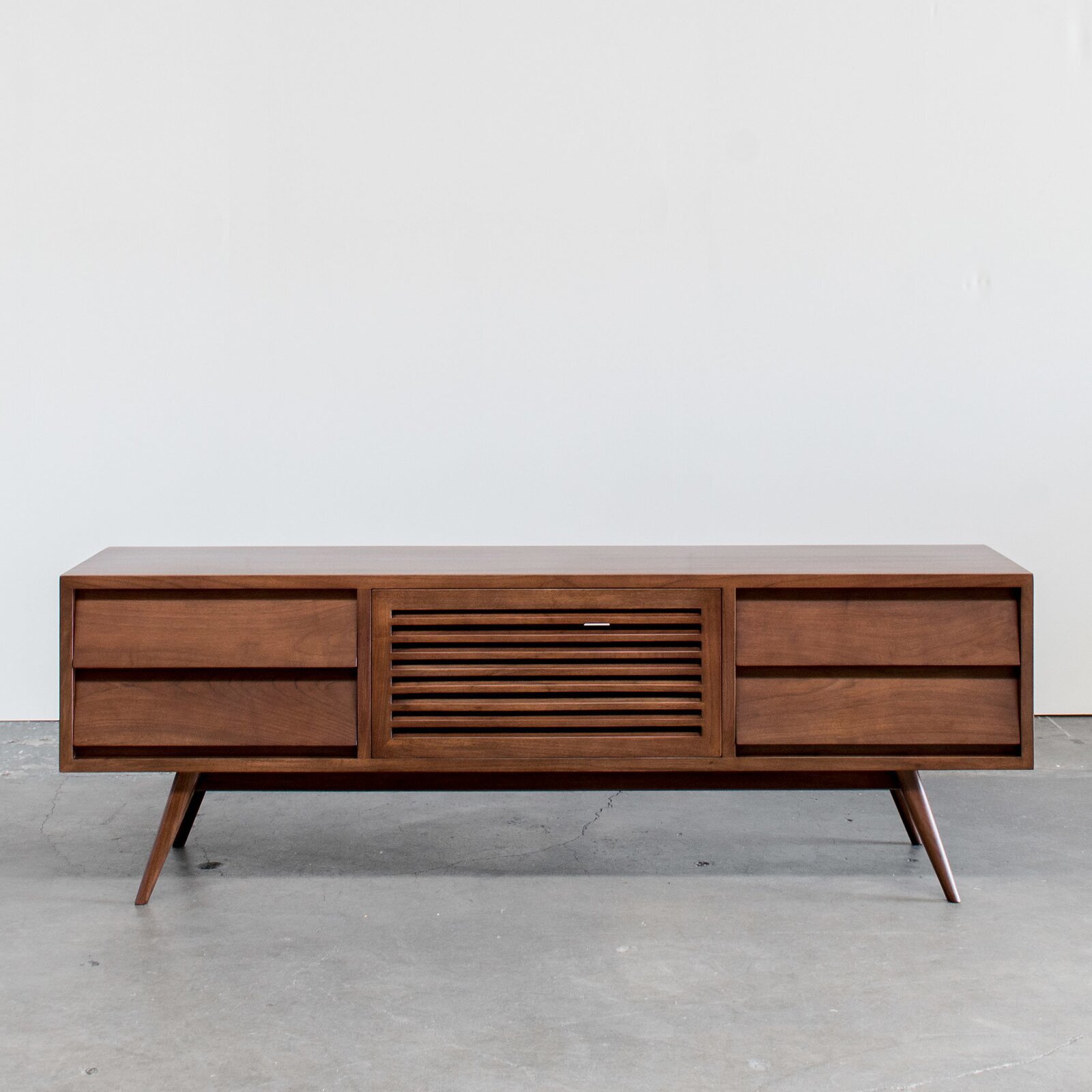 Chantrell 70" Walnut Solid Wood TV Stand

What we like: The retro-inspired mid-century modern design
What we don't like: Non-adjustable shelves can't fit taller items
This solid walnut TV stand and cabinet features a beautiful, organic grain to complement your living room or master bedroom.
The tapered legs and sleek lines are reminiscent of classic mid-century Danish furniture design, making the piece a stunning addition to a retro-inspired minimal home. The design is as practical as it is stylish; the slatted cabinet door won't interfere with remote control signals to your digital players, so you can hide consoles to keep a streamlined aesthetic.
The central cabinet, accessible via a drop-down louvered door front, has a shelf. This acts as a divider and allows you to assign space for storing different items.
With four drawers and two interior shelves, this solid walnut TV stand provides ample media storage space.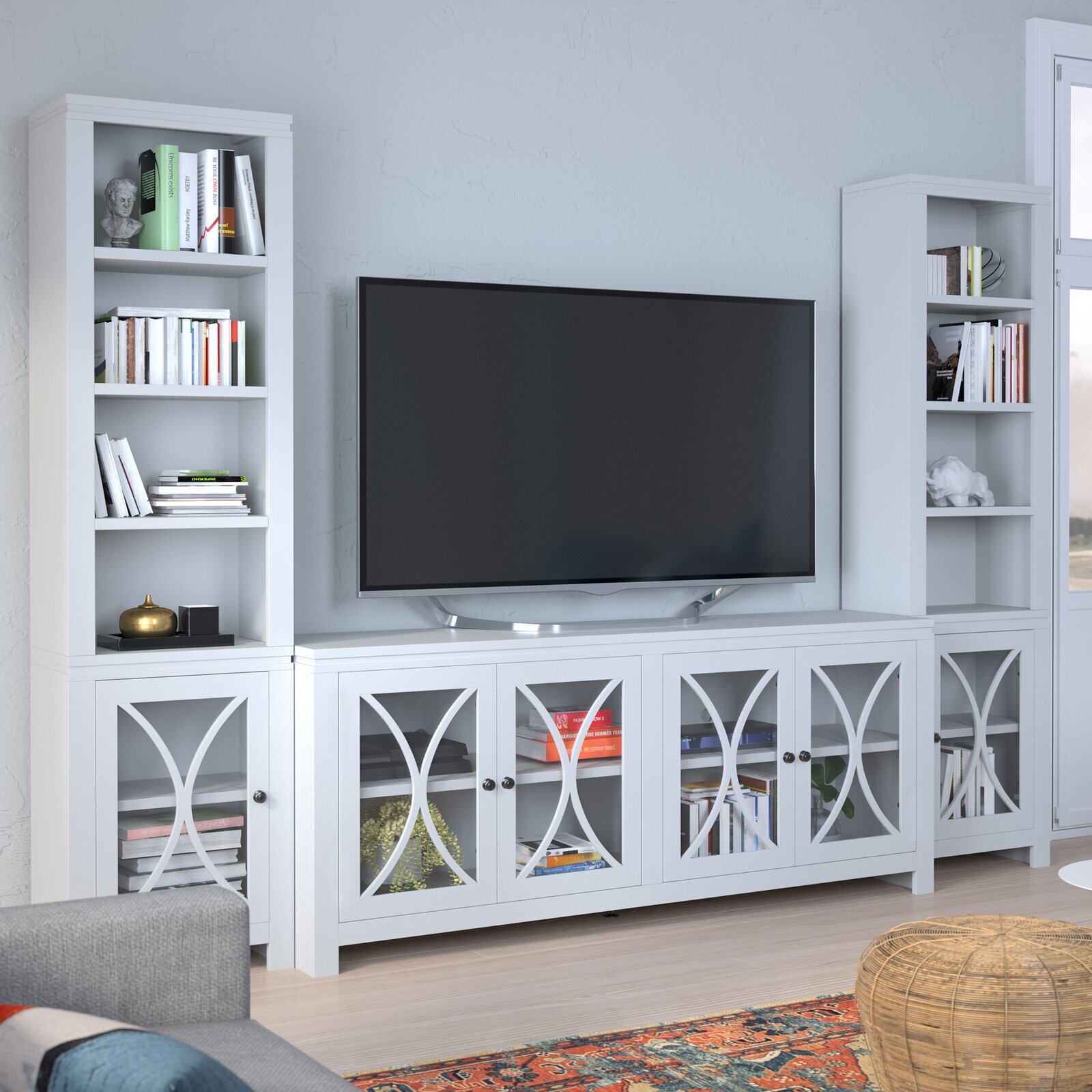 Winterton 112" Entertainment Center

What we like: An attractive white entertainment center for the media enthusiast
What we don't like: Occasional finish inconsistencies
This beautiful entertainment system provides eight interior shelves and four cabinets accessible via curved inlay euro-hinge doors. Combined with tempered safety glass windows, this system provides enough space for the most die-hard video game or film enthusiasts to keep their collection on full display.
Thanks to the cutout top moldings and clean-lined structure, the design is versatile and fits well with shabby chic, French country, or even minimalist décor. It leaves the factory fully assembled, so you won't need any tools, making installation quick and easy.
A solid wood TV stand with glass doors, this entertainment system should last for years and is compatible with a wide variety of screen sizes up to 75".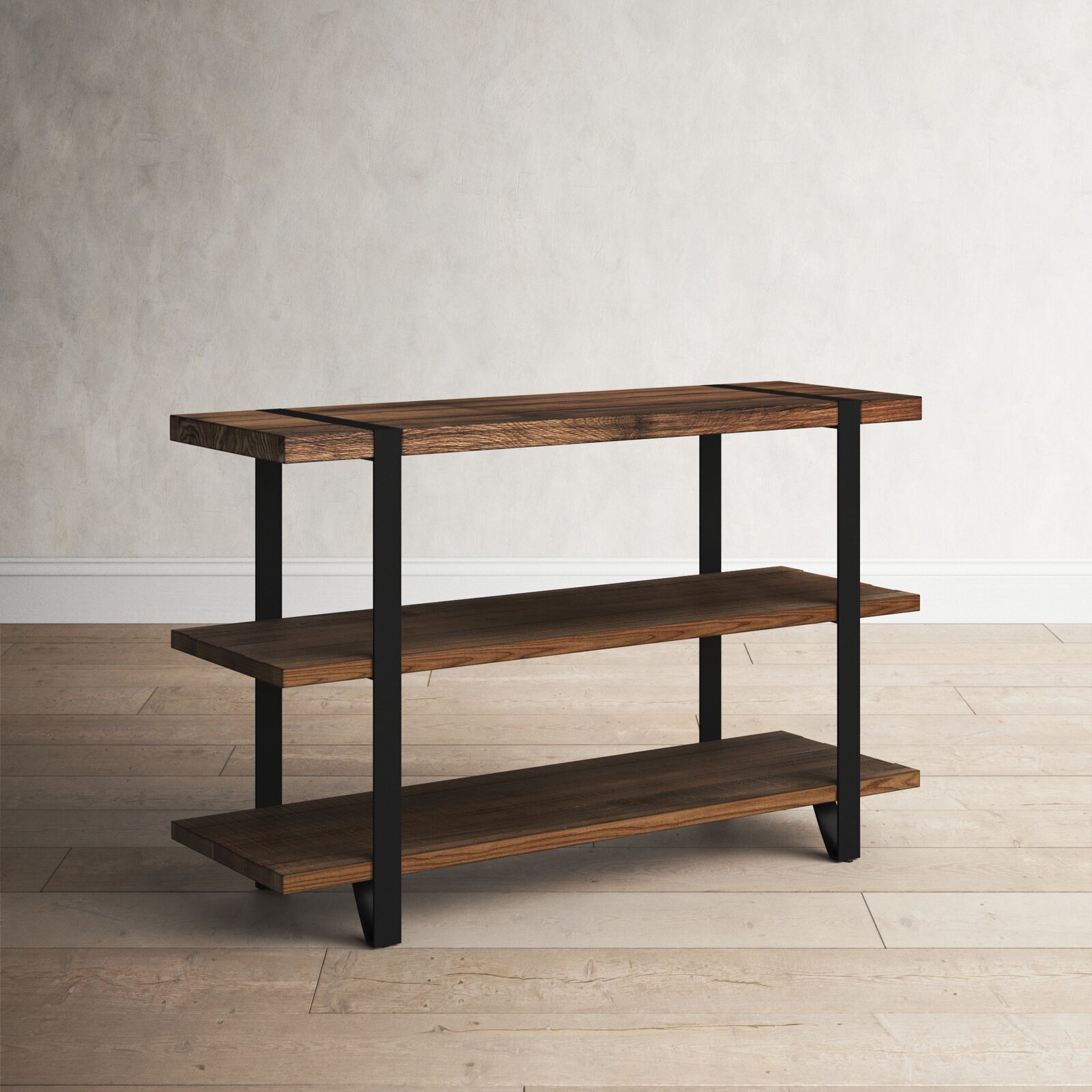 Epley TV Stand for TVs up to 55"

What we like: The affordable price tag
What we don't like: The open design does not protect media or accessories from dust
This TV stand is stylish yet functional for the homeowner who prefers a minimal or a more industrial aesthetic, providing three solid birch shelves complemented by a black metal frame and legs for added strength.
As the wood is reclaimed, no two stands are alike, and every stand is defined by minor imperfections that add character and texture to the piece.
The three beautifully crafted wooden tops measure 48" wide and 16" deep, accommodating a variety of modern flat screen TV sizes. You can improve the stand's organization by adding black wire mesh baskets to hold gaming and movie discs, remote controls, and other items.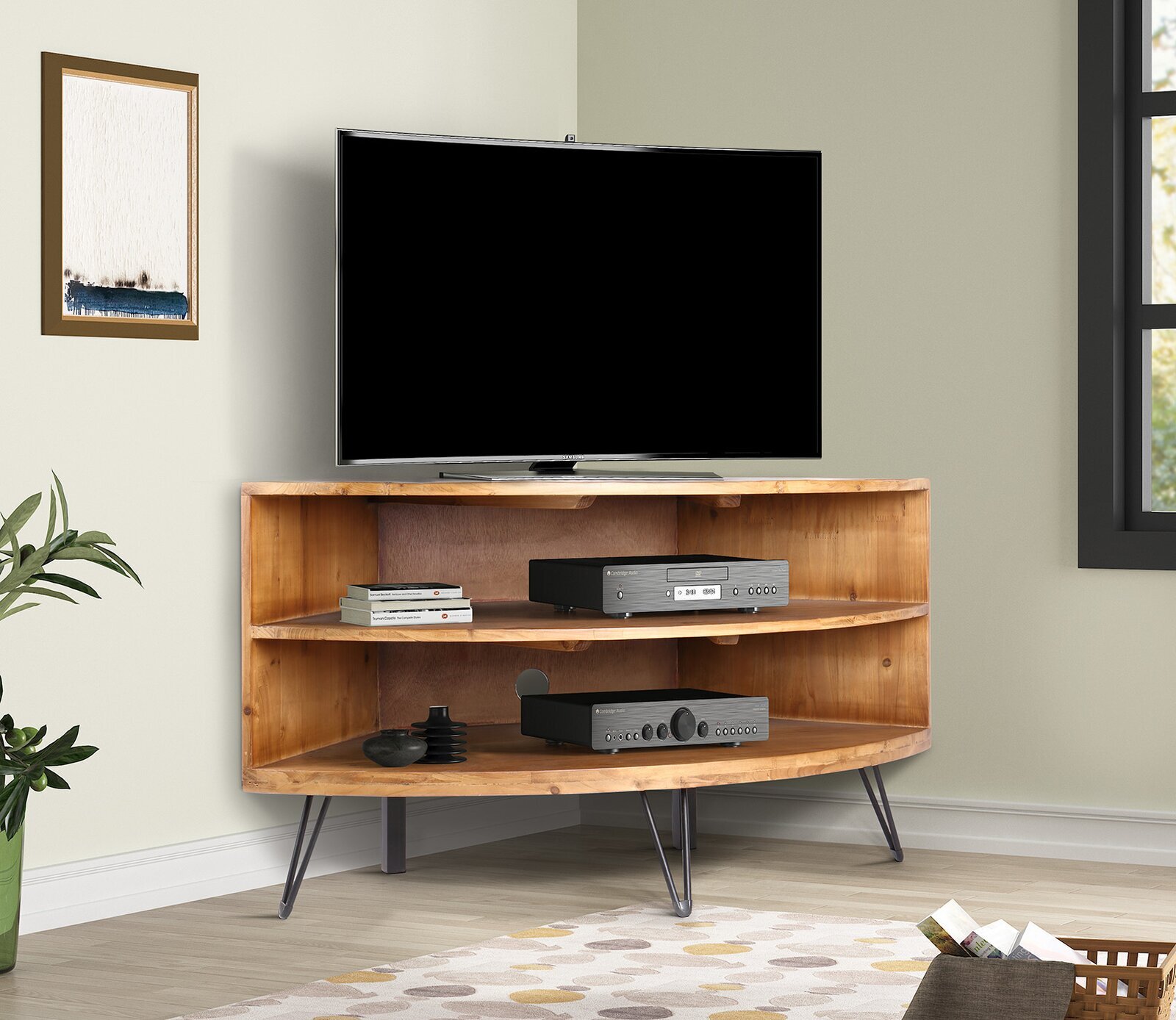 Lockheart Solid Wood Corner TV Stand for TVs up to 43"

What we like: Compact, unobtrusive design is decorative and functional
What we don't like: Only suitable for TV sizes up to 43".
This corner TV stand has two large open shelves suitable for media storage and is compatible with a TV up to 43" in size. The lower shelf has a hole for managing and connecting power and HDMI cables.
Made from reclaimed solid fir wood and featuring a natural finish, this stand can accommodate various aesthetic tastes, from the rustic to the modern and industrial.
Support for the stand is provided by three hairpin metal legs in the front and two posts in the rear. While the piece is lightweight at 30 lb., it has a weight capacity of 175 lb., suitable for most average-sized TVs.
$434.99 $599.99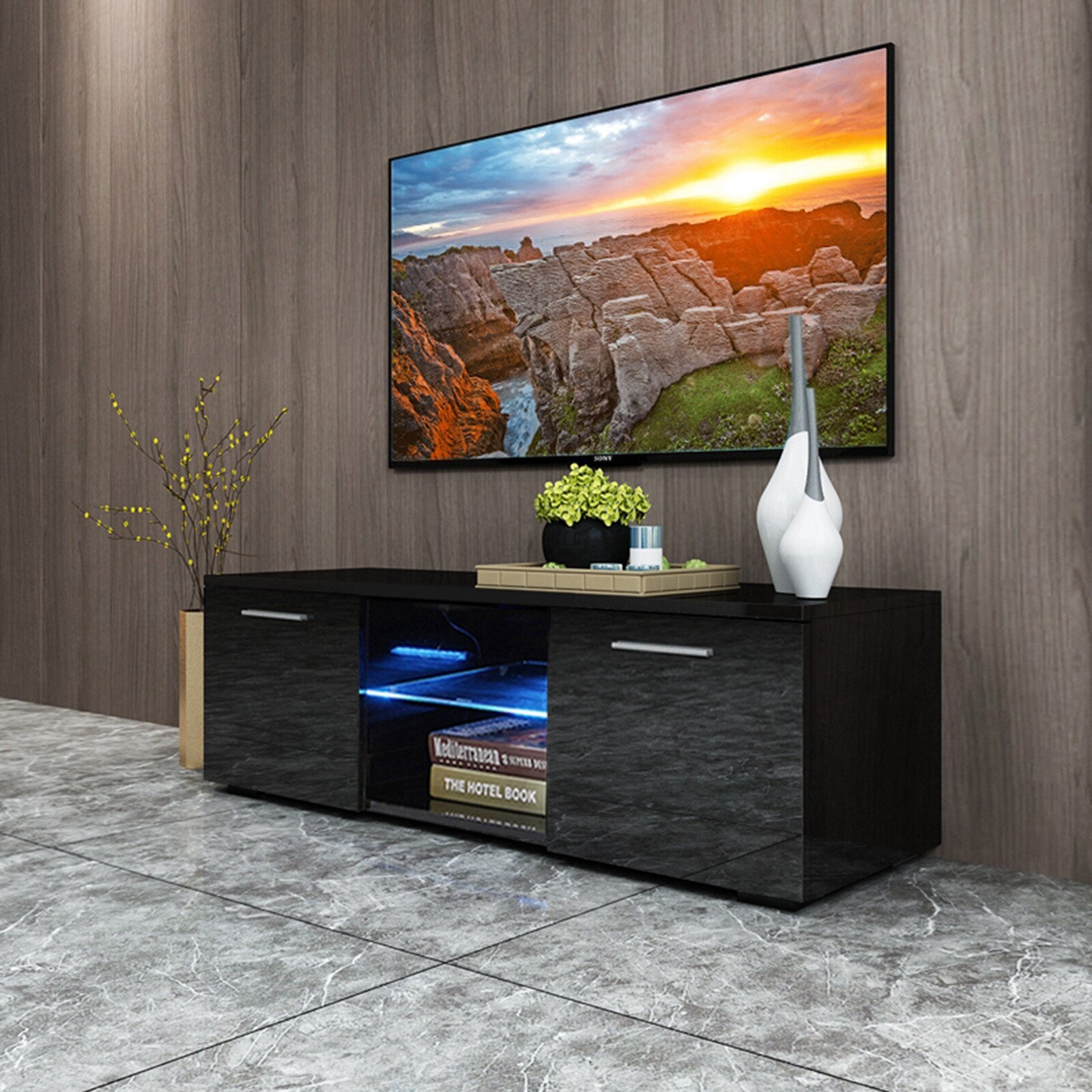 Katerra Solid Wood TV Stand for TVs up to 91"

What we like: Minimalist design complements a wide variety of home furnishings
What we don't like: Particle board construction is not as luxurious as some other solid wood TV stands
Affordably priced and stylish, this modern minimalist TV stand is suitable for large TV sizes, up to 91". Using high-density E1 standard solid wood particle board, the stand's construction is cost-effective and environmentally friendly. Despite weighing only 66.1 lbs., this stand has a weight capacity of 300 lb., allowing you to store and support a variety of home media products.
The shelves are illuminated using LED lights, providing an attractive multi-colored visual display and increased visibility of stored articles. Featuring clean black lines and a minimalist exterior design, this TV stand reduces clutter and can transform any room in your home into a modern entertainment area.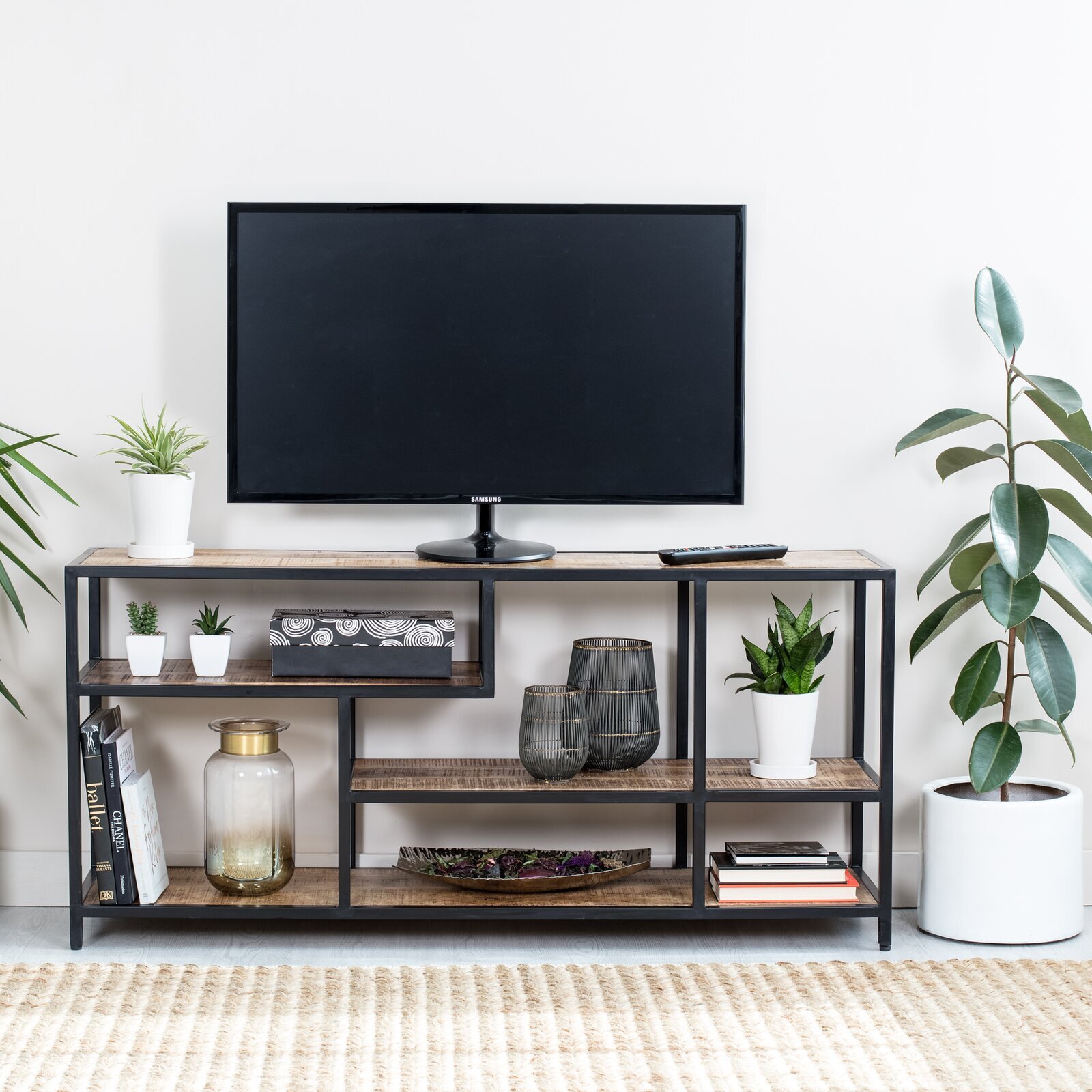 Aalysia Solid Wood TV Stand for TVs up to 65"

What we like: The solid mango wood shelves and durable iron frame
What we don't like: May not appeal to traditionalists
This TV stand combines solid natural mango wood planks with a hand-crafted iron frame for a stylish, durable design that will last for years. The open shelves allow increased visibility and air circulation, keeping your electronics cool and free from dust. The decorative asymmetric design combines with a wire-brushed surface texture for a unique feel.
This real wood TV console can accommodate TV sizes up to 65". With six shelves in addition to the top surface, this TV stand provides plenty of space and can support up to 198 lbs. It's also versatile enough to serve as a bookcase or elevated coffee table.
$349.99 $499.99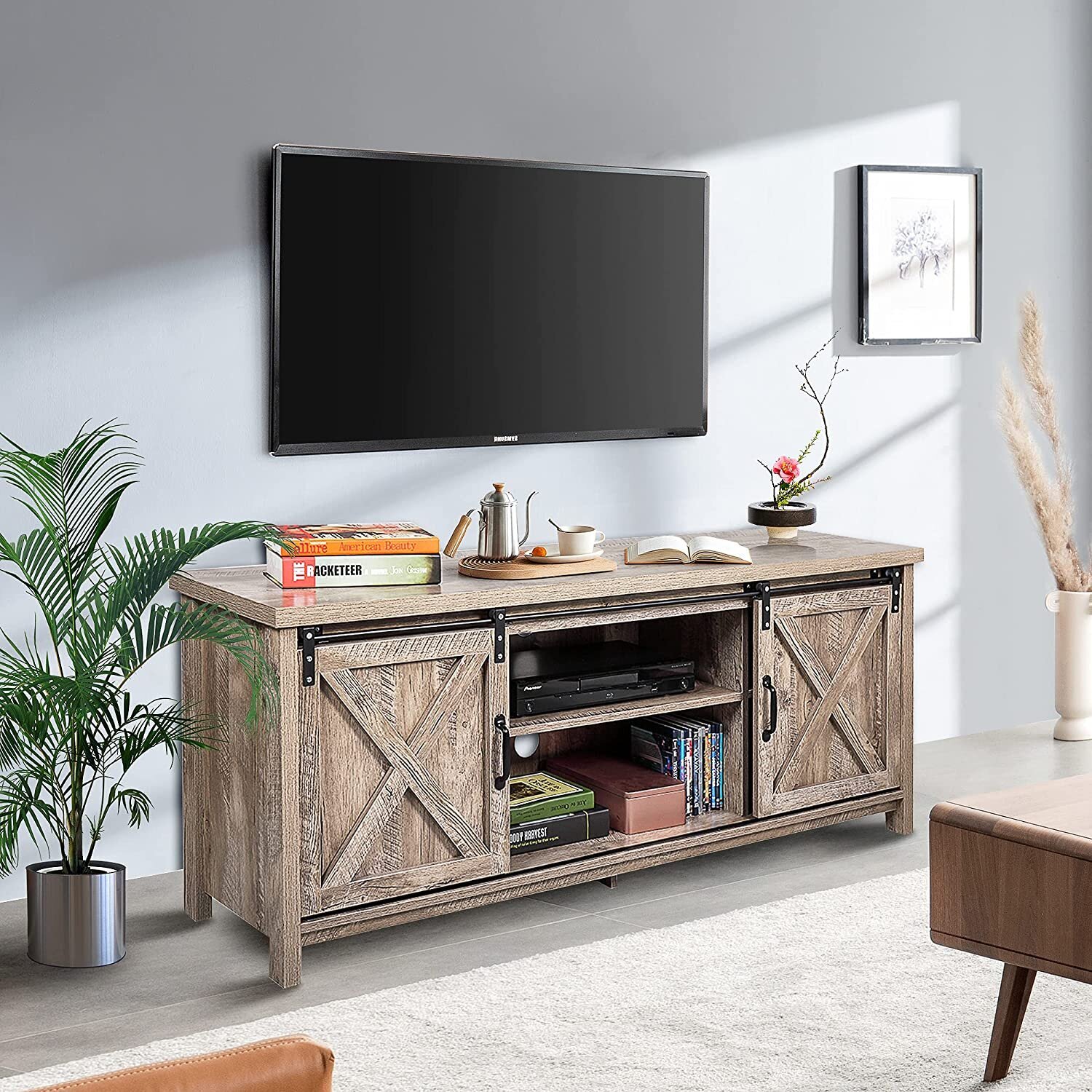 Ariston Solid Wood TV Stand for TVs up to 65"

What we like: Beautiful white oak finish
What we don't like: Those interested in more modern décor may want to look elsewhere
This TV stand has a beautiful white oak finish and a rustic appearance for the homeowner interested in a more farmhouse aesthetic. This all-wood TV stand features a 58" tabletop and can accommodate TVs up to 65" in size.
Two center compartments with holes for cables accompany two cabinets with shelves that are ideal for storing your DVD collection, video games, books, and more. You can also adjust these shelves to five different positions to accommodate items of varying heights.
$369.99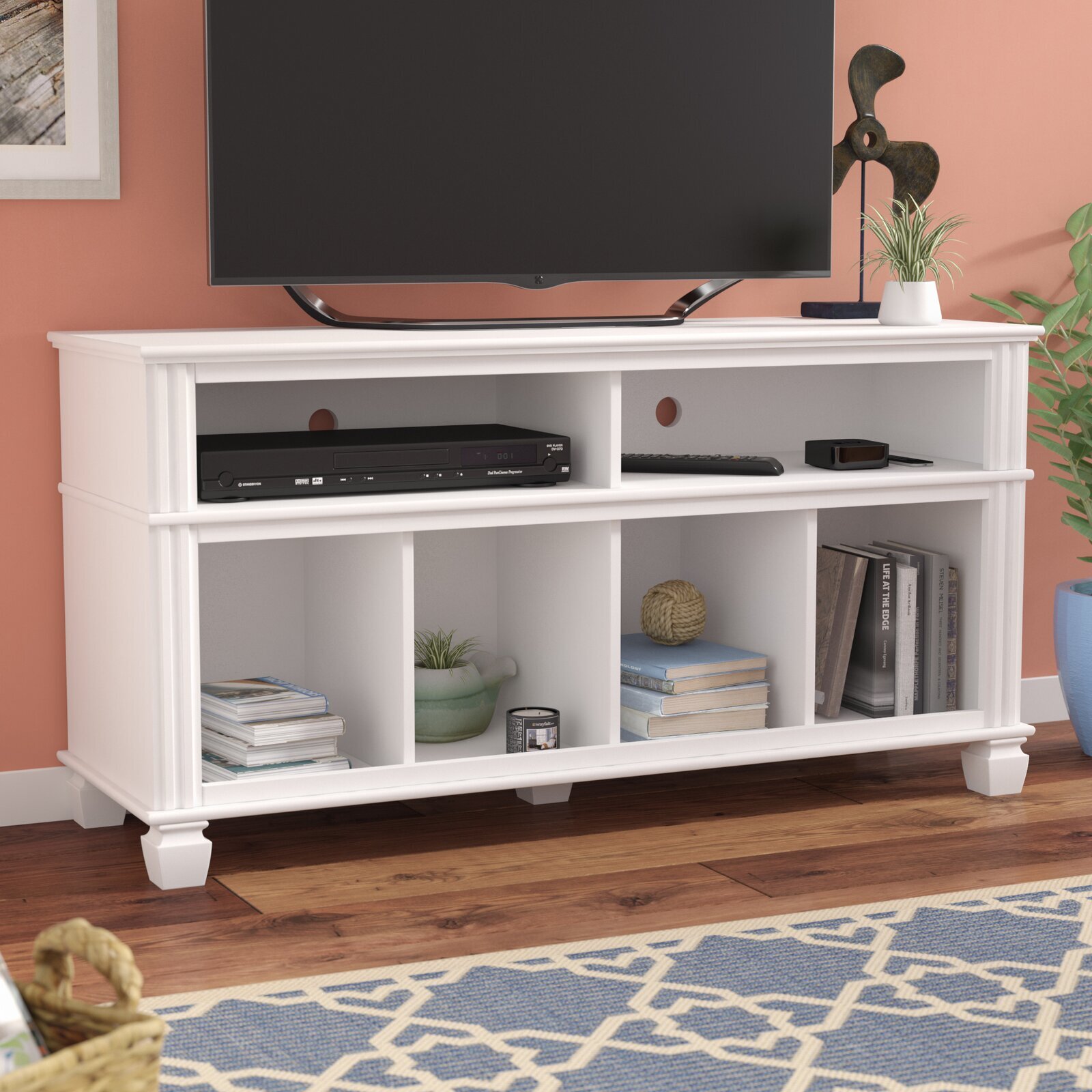 Samson for TVs up to 54"

What we like: Four open lower cubby holes for DVDs, books, etc.
What we don't like: Only supports 65 lb. — this may limit your choice of TV
This solid-wood TV stands luxury finishes at an affordable price, with carved bun feet and tasteful crown molding. Lightweight and inexpensive, this TV stand is made from engineered wood and can fit TV sizes up to 54".
Although its weight capacity is limited, this stand is ideal for the homeowner who needs something sleek and functional. Four open cubbies in the lower level are ideal for accessorizing with baskets or boxes to hold small items. The two narrow upper cubbies are perfect for placing digital media players and feature cable management grommets in the rear to keep your living area uncluttered.
$175.99 $273