Our Choice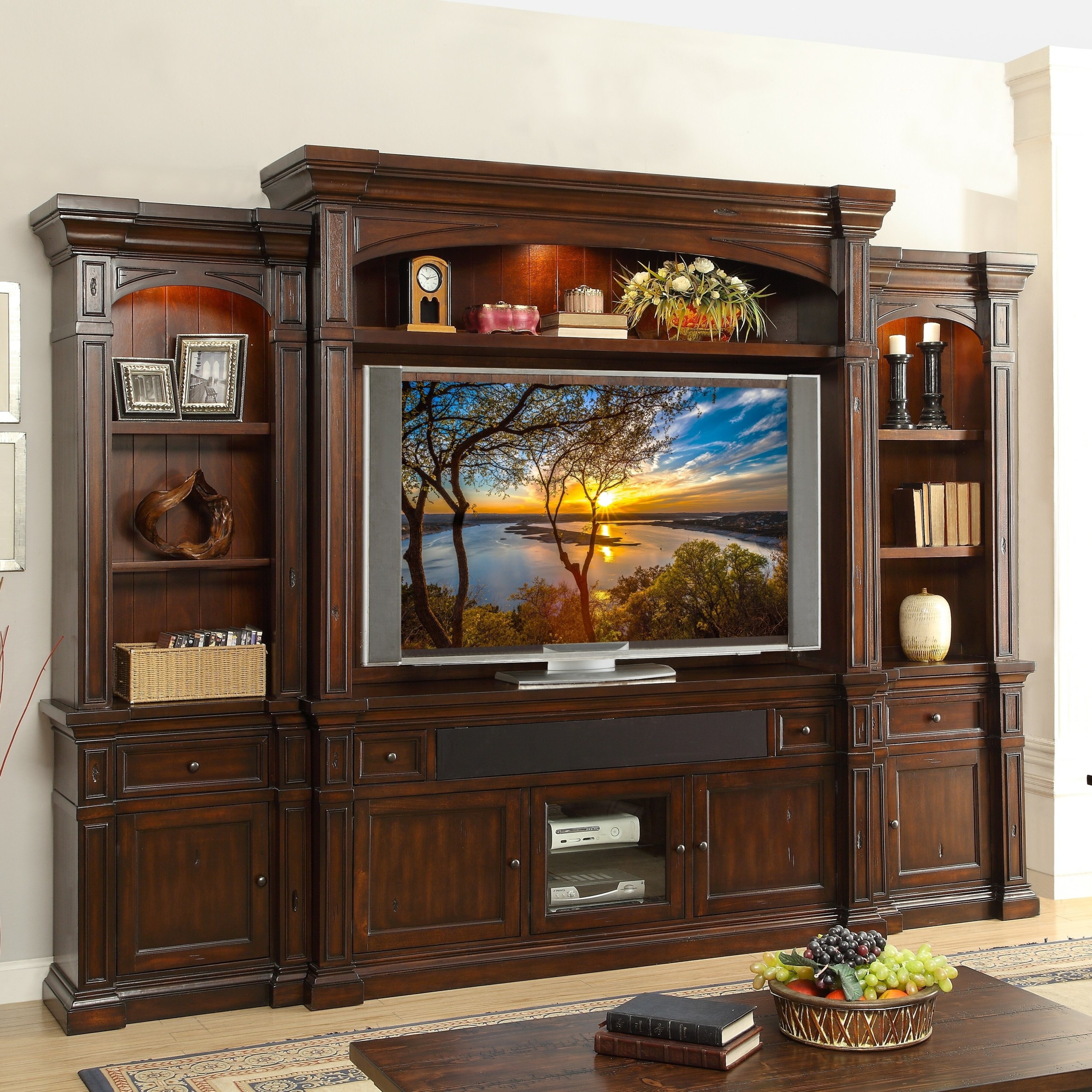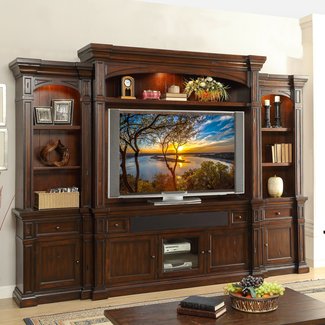 Denissa Entertainment Center for TVs up to 70 inches
A whole new entertaining experience awaits you with this extravagant center. Built with quality lights and sound, the solid wood and MFD cabinet measures a whopping 129 inches in length. Its beauty compares to distinguished libraries of the 19th century. Finished in Old World Umber, there is nothing that this unit does not have. 4 cabinets and 3 drawers are included with antique iron hardware, stately pillars and ornate trimmings. Hidden lights bring attraction to the bookcases and a sound bar offers the latest in sound technology. Rear cord management and an opening to accommodate a 70" screen will make this your favorite place to relax and enjoy your shows.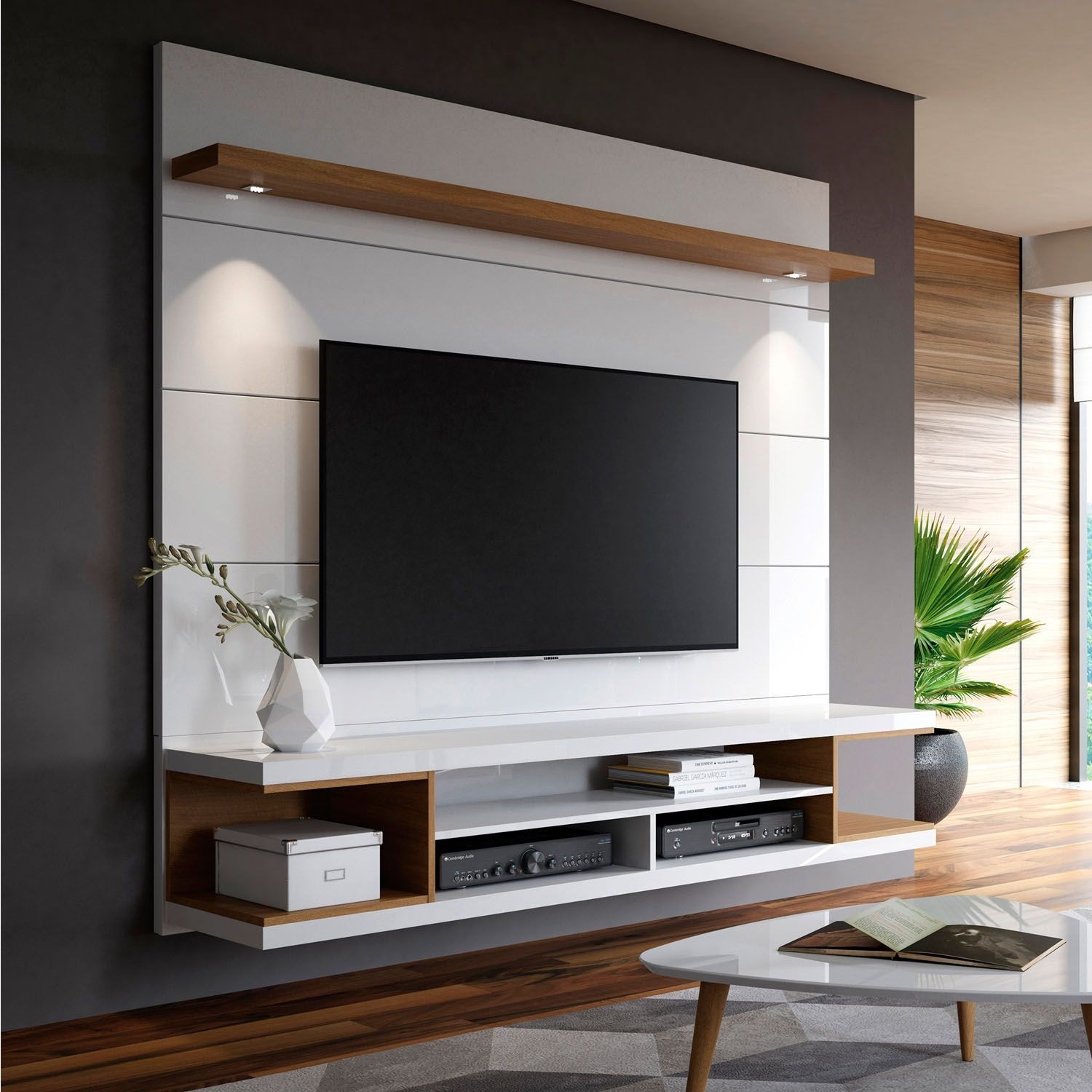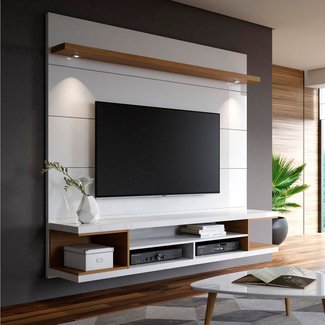 Lemington Floating Entertainment Center for TVs up to 60 inches
Floating entertainment centers are becoming popular because of the levitating beauty that they create. When the right form and texture are used in a setting, the results can be breathtaking. This modern rendition of a floating entertainment center uses crisp clean lines of stone and wood to add a symphony of nature and majesty. The overall presentation of equipment cubbies, shelves and tv mount for a 60 inch TV is 70.47''Wx 67.24''Hx 15.47''D. Made for large areas, there is also lights and a plug-in for your installation. A built-in feeling will be the result of this modern dream without the mess and design of replacing walls.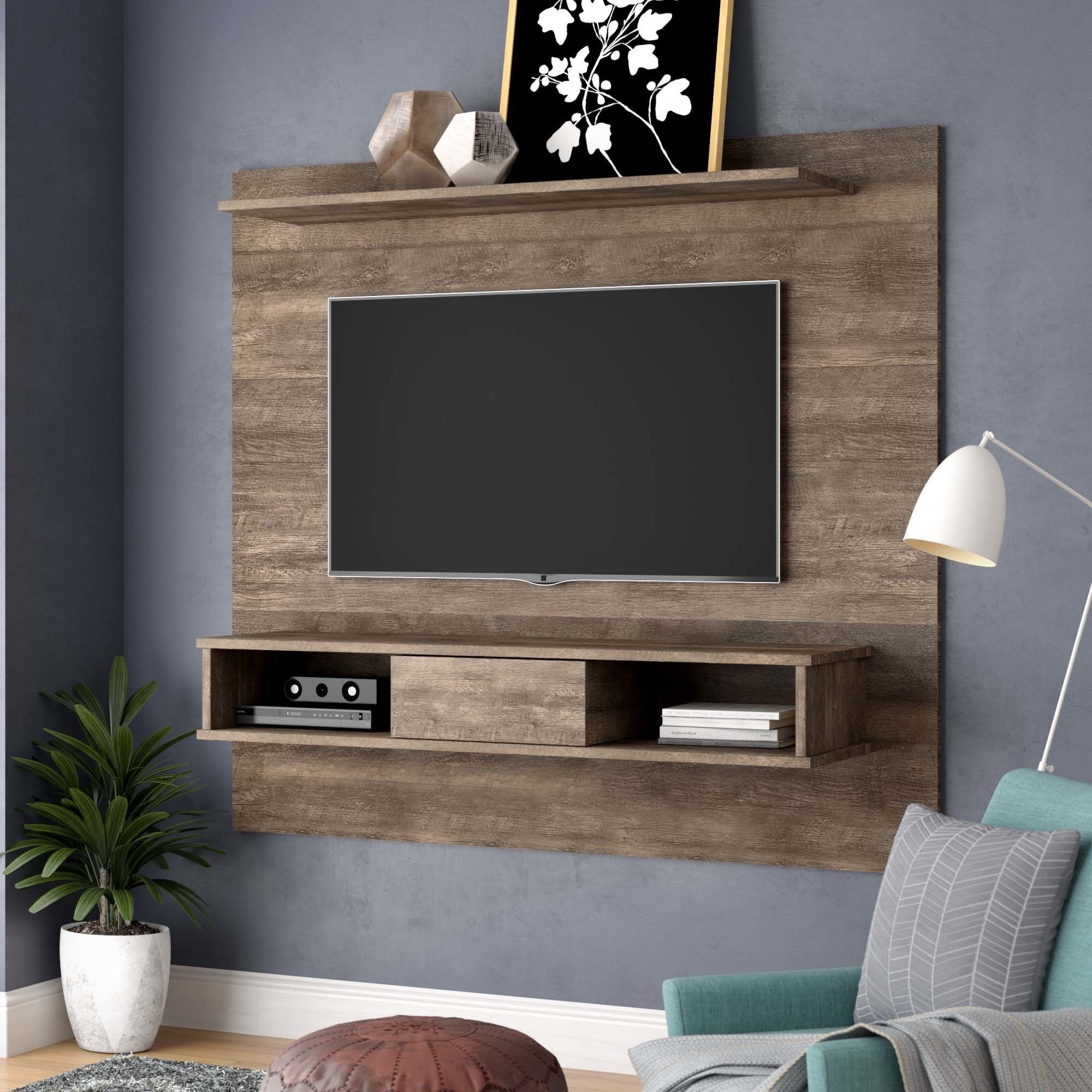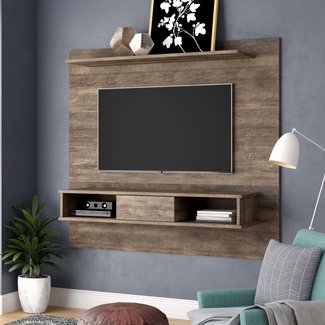 Norloti Floating Entertainment Center for TVs up to 70 inches
Create a custom look to your entertainment center with this backdrop of natural flair. Your choice of reclaimed wood, brown panel, white or sand slate will bring your room to attention. High-quality MDF of neutral colors will match any decor that you may have. There is a top shelf that fits above the 70" TV that you will mount and equipment shelves below. They are of the same color and symmetrically balanced for any wall space. The panel is one piece and measures 71"H x 64"W. Whether this contemporary piece is placed in the middle of the room or in a corner, the positioning will be perfect.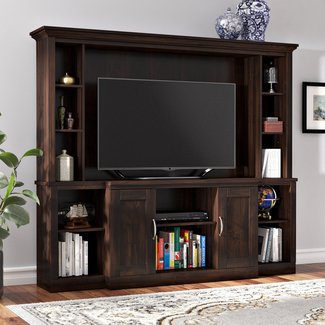 Hoyne Entertainment Center for TVs up to 46"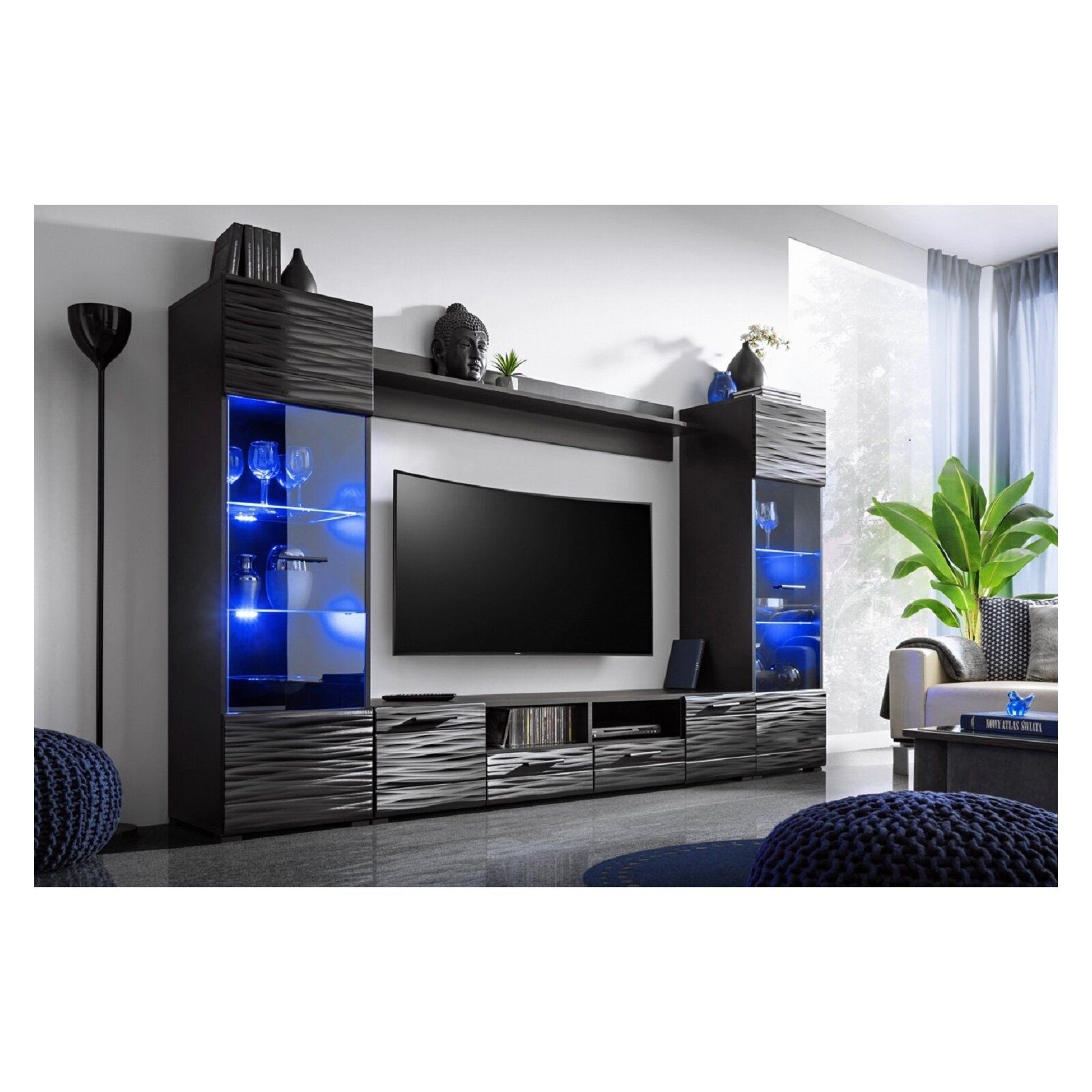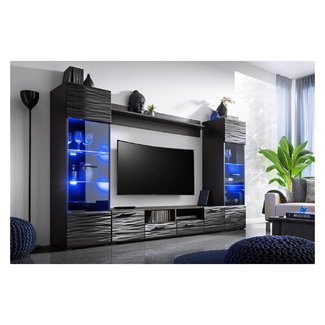 Priebe Entertainment Center for TVs up to 75 inches
Show off your incredible curved TV in eclectic fashion with black textured waves and scenic multicolored display cabinets. The crowd will love being invited to your place for movie night or for that famous football game. Laminated MDF board, PVC Veneer, and HDF are used to bring a wow factor to every part of this center. 102" wide x 60" high, it can be placed around a 75" TV and with a rare display of colored lights that remind you of night lights and city skyscrapers. This unit is perfect for a high-rise apartment, a city loft or a house with eclectic characteristics.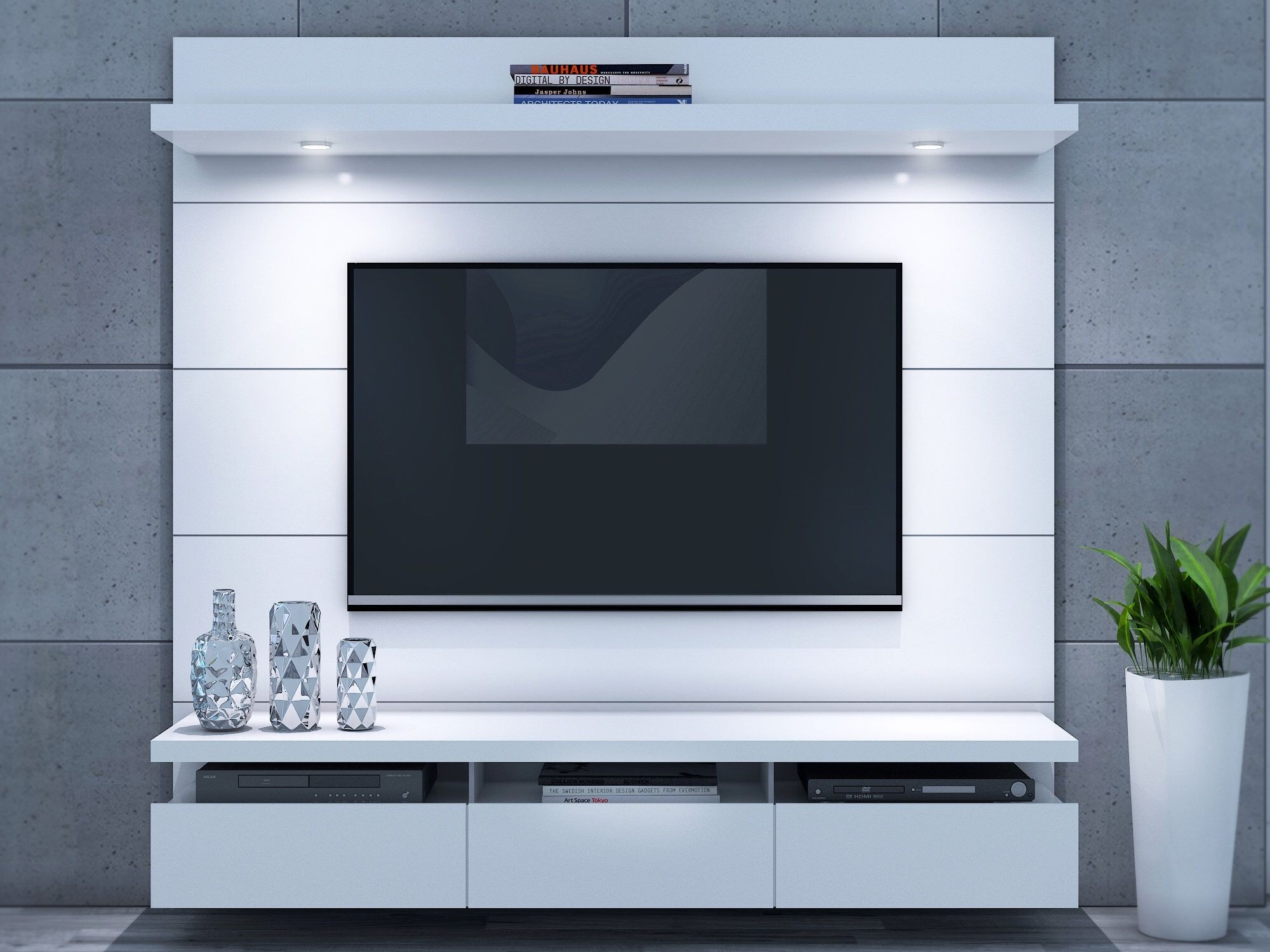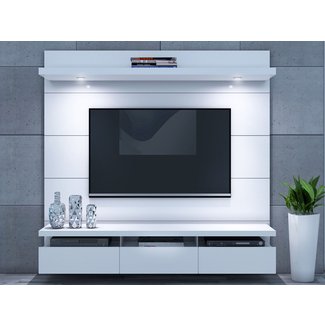 Julius Floating Entertainment Center for TVs up to 60 inches
This simple straight floating entertainment center holds a bit of romance with built-in overhead LED lighting. Mimicking Brazilian granite, the design has an extra feature of telescopic drawers below the bottom shelf that gives a dreamy impression. An overhead shelf holds the defining lighting system that is adjustable. A 60" TV is recommended for this backdrop and would work well in a bedroom or small living area. Styles, such as modern, contemporary, Asian, minimalist, or eclectic would benefit greatly with this natural and romantic entertainment center.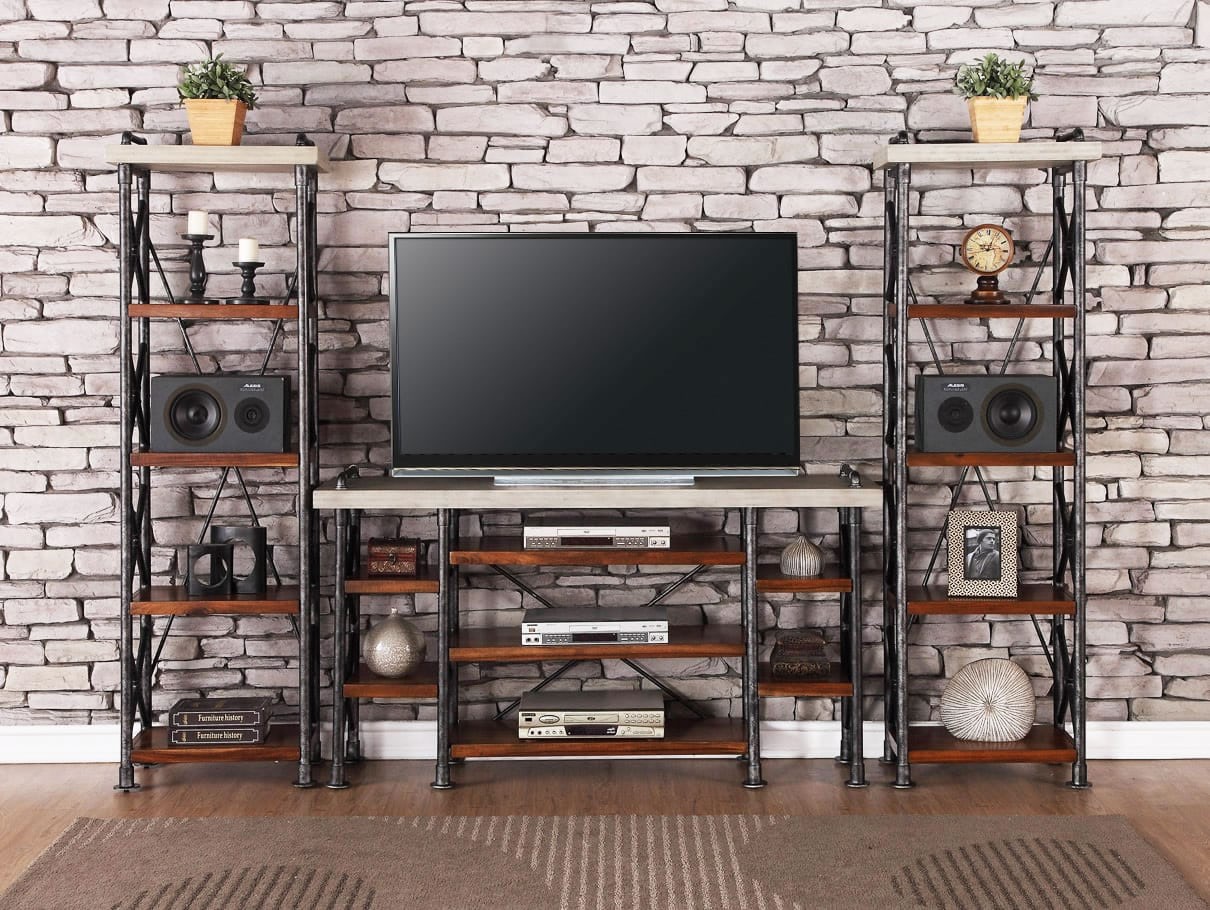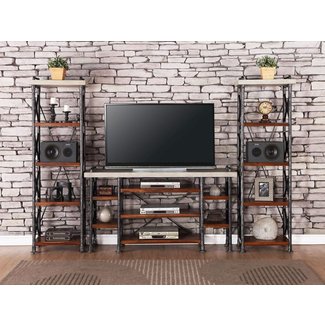 Perei Entertainment Center for TVs up to 65 inches
Sophisticated and modern, this entertainment center calls for an industrial or urban decor. Glossy metal and chestnut wood come in 3 separate pieces. A TV up to 65 inches fits with ease on a 34" H x 61.38" W stand and has 3 lower shelves for holding electronic equipment. 2 side bookshelves are twice as tall at 74.13" H x 24" W and make a nice industrial statement. However, these pieces could be used in another part of the room or wherever you feel they would be needed. Urban country is another option for decors with the natural open setting of these 3 pieces.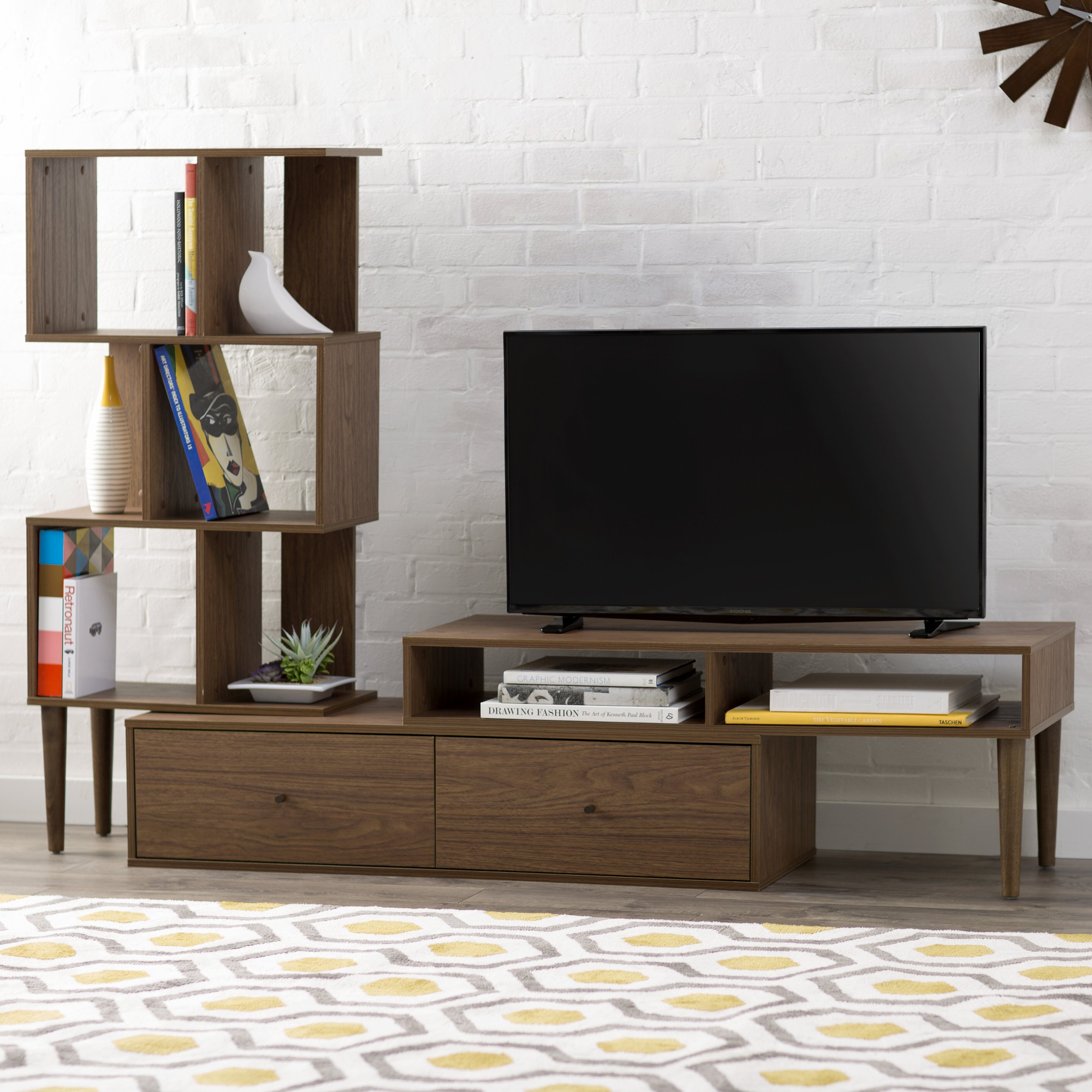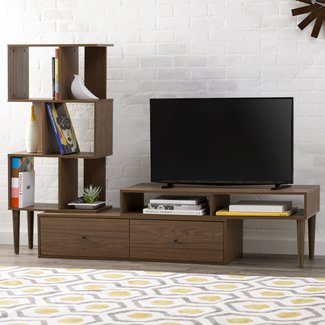 Oryana Entertainment Center for TVs up to 40 inches
A minimalist dream, this simple and very organized entertainment center blends well with the technology of today. Open cubes offset the TV stand in medium brown. Everything flows as one in the asymmetrical design of this contemporary piece. 2 drawers hug the floor on one side in a further move to bring the entire center together. Legs are smoothly tapered with protective feet for wood floors. Due to the box-like charisma, this unit could fit into almost any type of decor.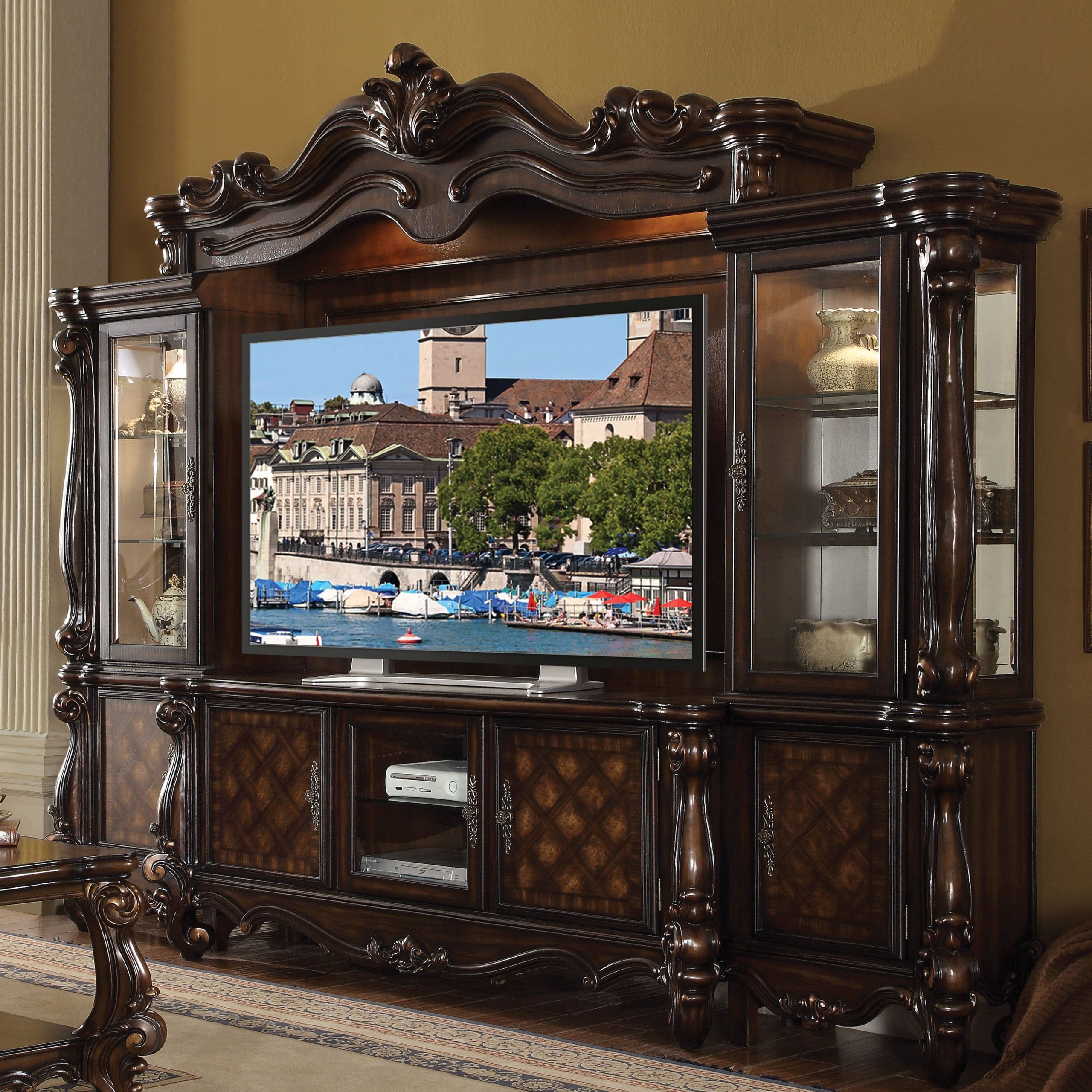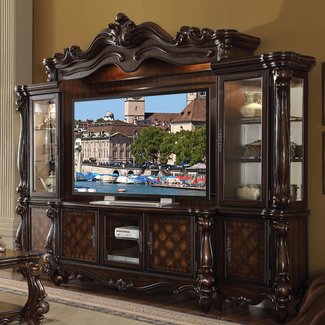 Welton Solid Wood Entertainment Center for TVs up to 75 inches
In the world of period furniture, there are very few rules that apply. To say that technology was not allowed would be preposterous. Here is the perfect solution to Old World Age and the modern age. Solid wood with a flashy finish and ornate details and hand-carved edges, is a European Astoria delight. Add a huge 75" TV in the center of the fantasy. This entertainment center proves that it can be done, in very good taste. The standing cabinet is 118" in length and 126" in height. This would be stunning in a Queen Victorian home.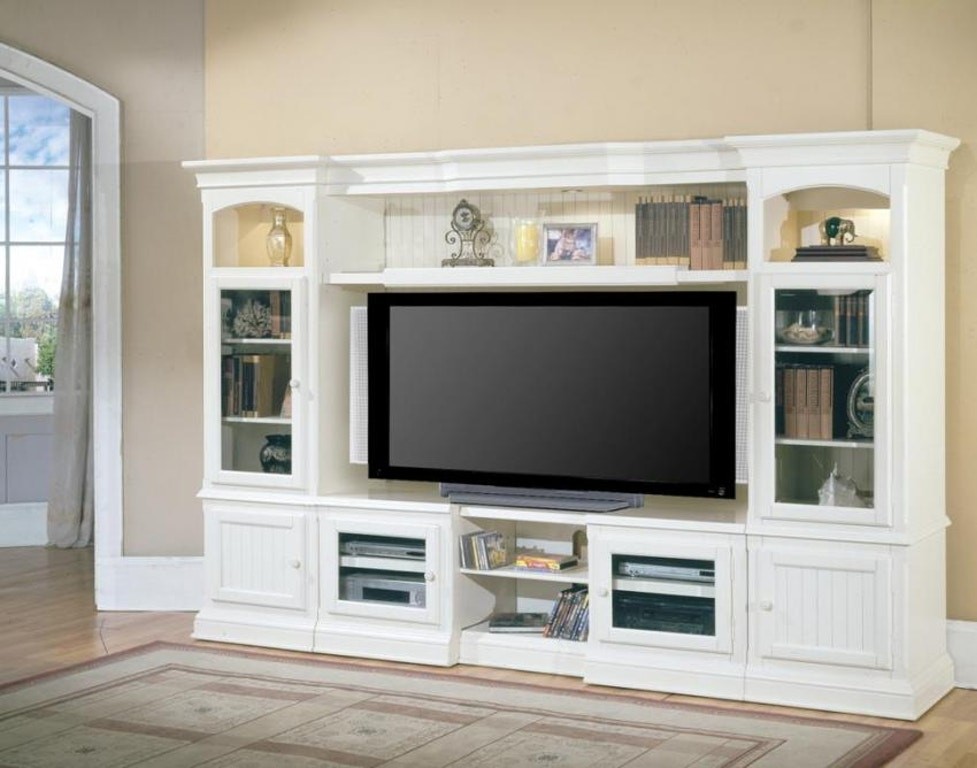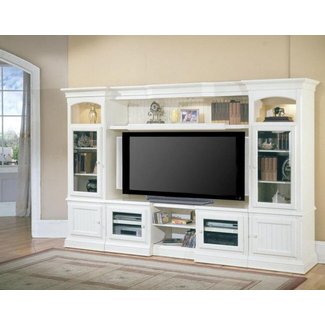 Gallo Solid Wood Entertainment Center for TVs up to 70 inches
This solid wood contemporary entertainment center has many transient signs for blending in with country, urban chic, or traditional decors. A modern bookcase with fluted trim surrounds the 70" TV. Serene lighting pours down each top corner. Bookshelves are enclosed behind glass doors so your treasures remain transparent and dust free.  6 compartments run along the bottom, 2 enclosed, 2 behind glass doors and 2 open. There is a lot of decorative space in this beautiful white customized piece. A large piece that requires high ceilings, this is an heirloom for sure.