TV Stands
If you have a TV, and don't wish to mount it to a wall, then you need a good, high-quality and super stylish TV stands, And do we have the most all-encompassing TV stand collection you have ever seen. You will be at a loss for words, but not for choices, as you feast your eyes on the multitude of TV stand possibilities. Take a look and see what we have for you.
Our choice Best TV Stands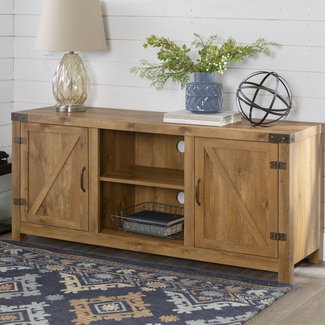 Adalberto TV Stand for TVs up to 65"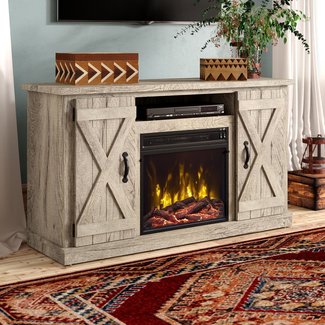 Lorraine TV Stand for TVs up to 55" with Electric Fireplace Included
Sunbury TV Stand for TVs up to 60" with Electric Fireplace Included
Orchard Hill TV Stand for TVs up to 70 inches
A streamlined silhouette combined with natural wood grain and exposed hardware give this TV stand the perfect amount of modern country charm. Able to accommodate TVs up to 70-inches, this stand is perfect in a den or man cave for watching the game in high-definition. Stylish barn door cabinets hide storage for gaming consoles and digital players. Accessorize this piece with woven shelf baskets to hold your gaming gear and an Aztec style rug for a bold splash of color to complement the neutral color scheme of the stand.
Hal TV Stand for TVs up to 60 inches
Add a touch of mid-century modern elegance to your living area with this stylish and functional TV stand. Asymmetrical storage features include two shelves and a cabinet for storing multimedia essentials, while trendy splayed legs offer added stability to support a 60-inch TV. The low-profile design uses natural wood grain combined with subtle style details such as line indentation on the cabinets and open-ring handles to create an understated yet fashionable piece to elevate your home décor.
Colleen TV Stand for TVs up to 55 inches
Bringing both practicality and style, this TV stand can neatly fit into a small space, while still providing all the storage you'll need. Easily accessible from both sides, there will be no more struggling to connect wires into the back of your devices. The three levels of shelving can hold a television, entertainment console, games, and accessories. With a sleek modern look, it is well-suited to a contemporary living area.
Berene TV Stand for TVs up to 58 inches
With a rustic style, this media cabinet combines old-fashioned charm with modern functionality. Four shelves are open to the room, while two cabinets can be closed using the barn-inspired front doors. This stand can offer enough room to store all your media items, and still accommodate a TV with a 58" screen. Perfect for those looking to display plants, candles, and more, alongside their consoles and devices.
Tucci TV Stand for TVs up to 50" with Electric Fireplace Included
Whittier TV Stand for TVs up to 60" with Electric Fireplace Included
Garrity TV Stand for TVs up to 75 inches
Sleek and contemporary, this TV stand can double as a storage cabinet, fitting neatly into a living area, bedroom or study. Constructed of high-grade MDF, the unit also boasts a glass shelf in an open-plan middle compartment. It has a natural wood grain variation, so no two cabinets are the same. Metal tapered legs beautifully offset the neutral color and metal door handles to give a modern aesthetic.