Bean Bag Chairs
We all love the comfort and simplicity of these wonderful chairs. They have been around for a while and come in many sizes and many fabrics, but one thing stands true today as it did the day they were released and that is how darn comfy they are. Whether you have one for sitting or one for sleeping, every home need one. See collection for all our bean bag chairs.
Our choice Best Bean Bag Chairs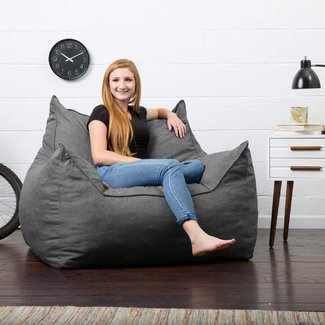 Big Joe Lux Large Bean Bag Lounger
Enjoy relaxing comfort in a deluxe bean bag lounger. This is perfect for those who remember the squishy delights of simple bean bag chairs, but are no longer comfortable sitting on the floor. This foam-filled soft chair is shaped so it behaves more like a regular armchair while providing the simple comfort of a bean bag. It has a zipper closure that will allow extra beans to be added to the chair. Its weight capacity is 700 pounds.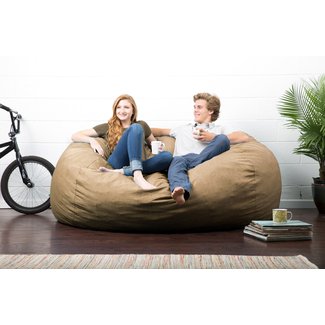 Big Joe Lux Extra Large Bean Bag Sofa
Plenty of room for two in this denim-covered, extra-large bean bag lounger. Its natural, pecan brown cover will blend with almost any setting. It is stuffed with foam for snuggly comfort. It is spot clean only, although the cover is removable. The closure is childproof. It is 36 inches high, by 72 wide by 48 inches deep for your snuggling pleasure. You can enjoy bean bag comfort without bean bag shapelessness.
Extra Large Bean Bag Cover
If you have a bean bag that you love, but has seen better days, this cover will refresh your old bean bag making it look like new. By the same token, if you have just gotten a bean bag and you want to preserve it, then this extra-large bean bag cover is perfect for protecting your investment. It has childproof zip closures to help keep everything together and to make it easy to remove and put into the wash.
Microsuede Extra large Bean Bag Chair
For classic comfort, you just can't beat an oversized bean bag, especially if it is purple. Imagine a chair that looks like a jelly-filled donut with purple icing. When you curl up in the center of it, it cradles you like a kitty curled around a favorite catnip mouse. The cover has a zipper cover that makes it easy to take it off and machine wash it. Child safety catches keep the kiddies from opening it up.
Big Joe Extra large Bean Bag Sofa
If jelly donut-shaped bean bags aren't your thing, then how about a cushiony long john? Stuffed with the very best foam, an extra-large bean bag sofa is the perfect place to be a couch potato. The long, fluffy couch needs to be fluffed up occasionally, and it has handles on the sides to make fluffing it easier. At 72 inches long, this is the perfect place to stretch out and get comfortable.
Hamblen Bean Bag Chair
Talk about decadence! Combine a soft, comfortable bean-bag style chair with the luxury for faux fur. Share story-time with a child or cuddle up with your favorite pet and book. Take that afternoon power nap in front of your favorite television show or movie. The faux fur cover can be removed and hand washed. Childproof closures keep the foam stuffing safely inside the bean bag. College students, be the envy of your dorm mates.
Bean Bag Chair
Outdoor friendly beanbag for kids has removable, machine washable cover, available in an assortment of bright prints. It contains the familiar polystyrene beads that used to be the standard for all bean bags. Replacement bags of pellets are available. A suggested additional purchase is a hand-held vacuum cleaner for cleaning up pellets after a refill. The bag does have childproof closures to allow the cover to be removed for washing.
Big Joe Lux Bean Bag Chair
This round-backed beanbag chair has a weight capacity of 250 pounds. The cover is spot clean only, and is not removable from the bean bag. The low weight capacity (when compared to other bean bags) and the lack of ability to clean it makes this bean bag chair a good selection for an upper elementary or middle school child. Available in Pacific, Gray or Pecan colors, it is a good choice for your budding exec.

Fuf Large Bean Bag Chair
Luxuriate in the comfort of a suede bean-bag chair. Sized for one adult, the chair does not have a liner that will allow the cover to be removed. Since suede is not machine washable, this is a spot-clean only seat. It is ideal for a college-age teen for that first home away from home, or for a dorm room. It does have a childproof opening to enable refilling with shredded foam.

3 Piece Foam Modular Seating Bean Bag Set
Your tween, teen or young adult can feel extremely posh with this three-piece modular beanbag couch. The units can be placed together to form a couch, or they can be spread around a room to provide individual seating. Foam stuffed, it is spot-clean only. It does have childproof closures that will allow refilling with crushed foam bits. The units do not have liners to permit removal of the cover, and each piece has a 150-pound weight limit.