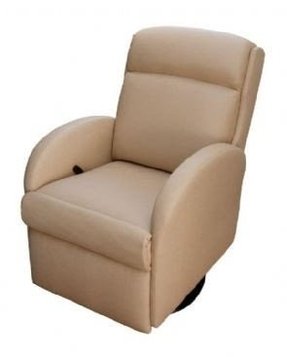 This lazy lounger small recliner is the perfect option for your interior for when you simply can't live without that little boost of comfort. It will ensure utmost durabilty and thanks to the soft upholstery it is even more relaxing.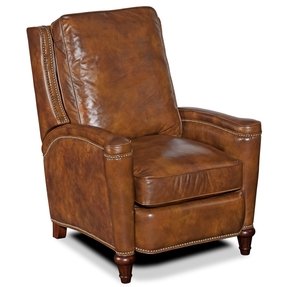 Recliner
Chic classic reclining armchair with a wooden frame and warm brown turned front legs. It has gently convex arms with rolled-out fronts and cushioned both a seat and a tall wingback. Upholstery is of real leather in brown tones with nailhead trims.
Traditional recliner for watching TV, reading books and more. Frame is made of wood and metal. It is upholstered with leather and reinforced with solid stitching. Ideal as additional seating or place for relaxation.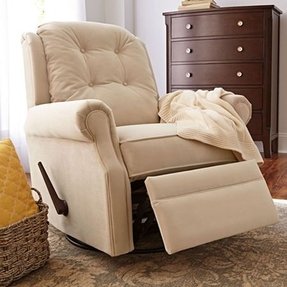 If you don't have much free space indoors, you can still enjoy the assets of having a reclining armchair - it just needs to be small in size, like this compact one. Still it provides high level of comfort. Padded sand beige.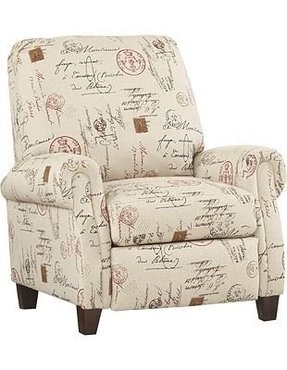 Space saving and very comfortable chair with cushioned sitting space and convenient, reliable reclining mechanism. Its attractive leather cover is finished in black color, so this recliner matches any indoors.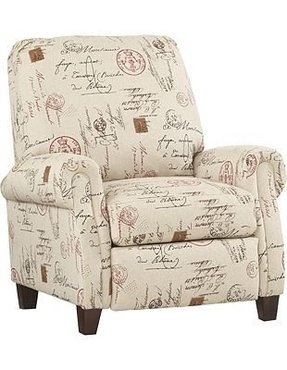 A living room element with both functional and decorative roles. Its seat cushion provides softness and comfort. Solid frame of this recliner chair assures stability. A comfortable cushioned backrest is another advantage of this chair.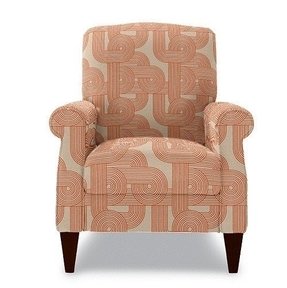 A functional and original solution for users who prefer modern technologies. This wall bed featues a folding design and it saves a lot of space while folded. Its sitting and sleeping space is soft and finished in orange color.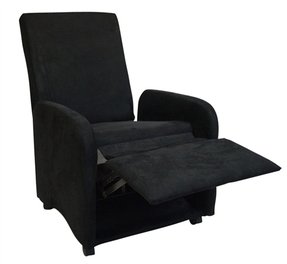 Compact recliner chair with good support of the most comfortable postures. Its cushioned and soft sitting space is covered with fabric finished in neutral black color. This recliner includes wheels for easy movement.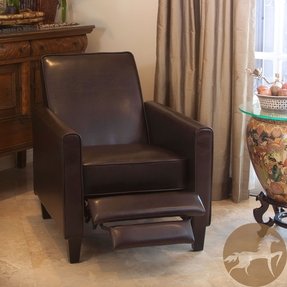 Christopher Knight Home Leather Recliner Club Chair
This recliner chair is a perfect solution for people who are looking for high level of comfort after a difficult day at school or work. A solid frame, foot extensions and reclining back are the most important elements of this piece of furniture.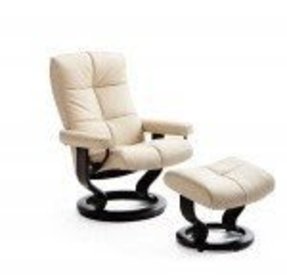 Add this stunning recliner to your household even if you don't have too much space in it, since ity will fit even those limited floor spaces beautifully. It comes with a matching ottoman, both upholstered in white leather-like material.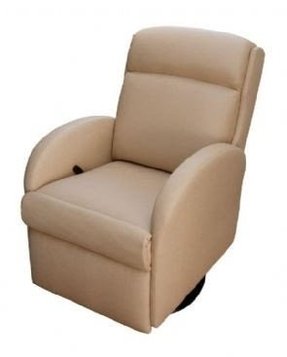 Classic arm chair mounted on wooden frame. It is upholstered with soft fabric. Carefully profiled back is finished with solid seams. Elegant design for living room, bedroom and more.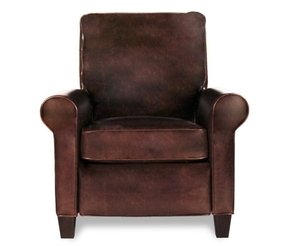 Not every recliner chair is very massive and takes up a lot of space. This compact recliner is packed with style and comfort in a beautiful brown leather upholstery, which makes it subtle but elegant. Smaller gauges will save space - without losing comfort.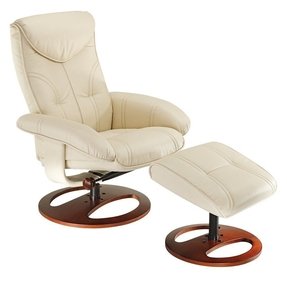 Space-saving, but very comfortable recliner chair with comfortable and soft sitting area finished in neutral white color. It comes in pair with an ottoman that serves as a footrest. Both elements are equipped with stable round wooden bases.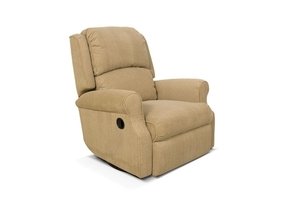 Living Room Furniture Small Recliner Chairs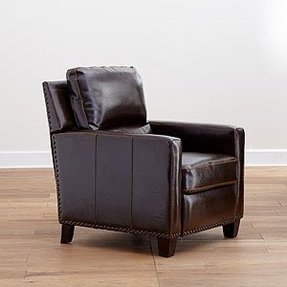 A comfortable recliner that works as a charm, while radiating with impeccable elegance. Upholstered in a genuine leather, the chair comes with an oversized back, a soft seat, espresso-finished wood tapered legs, stylish button-tufting and nail head trim.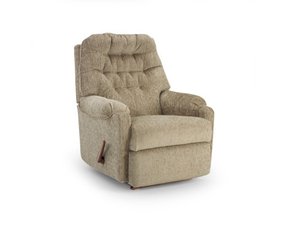 An aesthetic comfortable traditional recliner for women. It has a wooden frame and a lever-operated mechanism. It has low full panel rolled out arms, a thick seat, a quite tall contoured back with tufting. Upholstery is of nice plain beige fabric.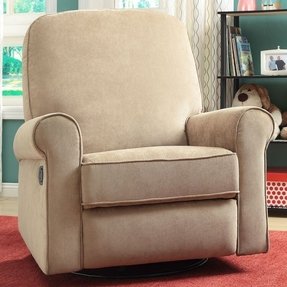 Wildon Home %c2%ae Ashewick Swivel Glider Recliner
This is a recliner chair that has also got a swivel mechanism. It features a soft and comfortable seat cushion. Its soft backrest and arms are elements that assure additional comfort and support for any user.
Baxton Studio Aberfeld Modern Arm Recliner
Enhance comfort of your home with this impressive arm recliner in black finish. The recliner offers a metal frame, foam padding, faux leather upholstery, flared arms, and 250 lbs of weight capacity. Especially suitable for smaller interiors.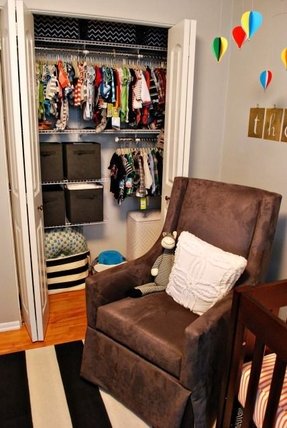 Small but very cozy and stylish recliner to the bedroom is an excellent choice for any interior. The beautiful upholstery of soft pods on a solid base looks phenomenal. The warm shade of brown brings coziness to the decor.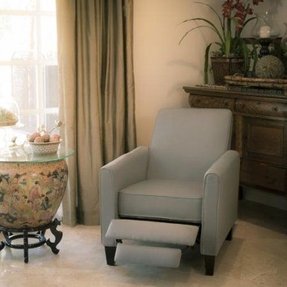 This simple and elegant recliner would be the perfect solution for every stylish living room, no matter if you prefer modernity or tradition. Check it out and fall in love with its amazing design and comfort!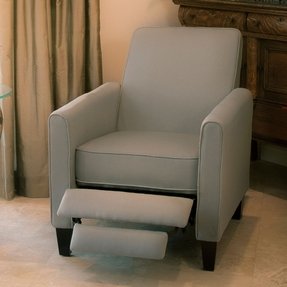 Simple in style, this recliner will provide a comfy seating in your living room without overwhelming the overall decor. It is padded with light beige fabric and it stands on tapered espresso brown feet.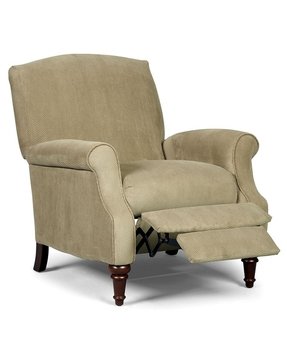 Traditional recliner as additional seating or place for relaxation in any interior as needed. Frame is made of wood and metal. It is upholstered with nice touch fabric and finished with solid stitching.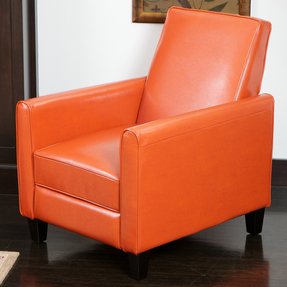 Rodgers Leather Recliner Club Chair
This recliner chair is a high quality piece of furniture that has god solid legs that provide stability and support. Its seat includes a very soft cushion and a durable backrest. The chair also includes solid, supportive arms.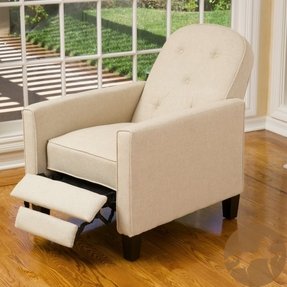 This product provides a good style and relaxation. It is a recliner chair with a reclining back rest and foot extension. Thanks to these features it allows for regulation according to the specific requirements of users.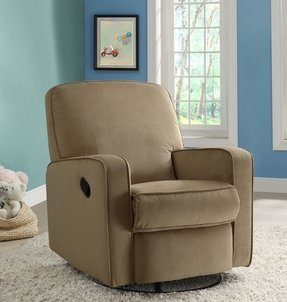 This small recliner sports the stylish glider and push-button design and is the best choice for your household for when you need both plenty of comfort and elegance. It offers the hardwood fraem and metal swivel base.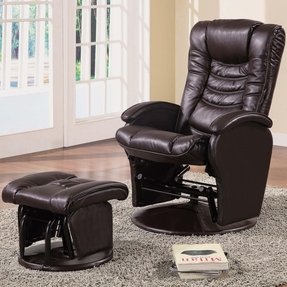 Wildon Home %c2%ae Vanceboro Faux Leather Recliner And Ottoman
A space-saving recliner chair created for use in small rooms. This product represents contemporary stylization so it looks very attractive in any type of decor. Its mechanism is reliable and the product is available with an ottoman.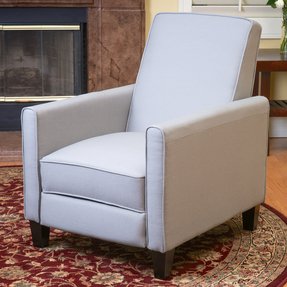 I heard many times that my recliner club chair is the most comfy ever. And I think that this is true! It assures the stability, comfort, relaxation and extra support.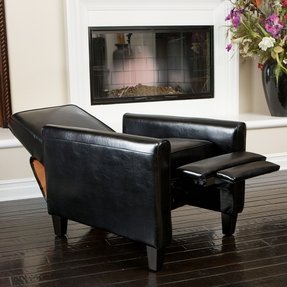 Create a comfortable relax area with this elegant recliner arm chair, upholstered with durable, black leather. It has adjustable backrest and folding footrest. Durable wooden frame makes it solid and long lasting.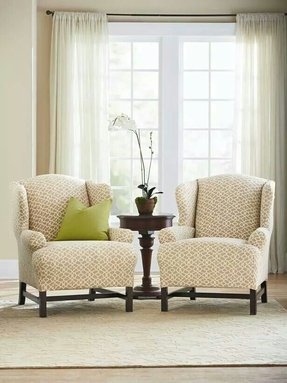 Freebie Friday: Freshen Up Your Home With Free Slipcovers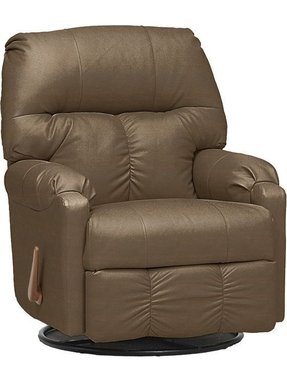 High-quality electric small space recliner chair and TV - designed to help you relax after a hard day. The soft filling will guarantee optimal comfort - a subtle quilting characteristic of such a leather recliner with a brown dark upholstery.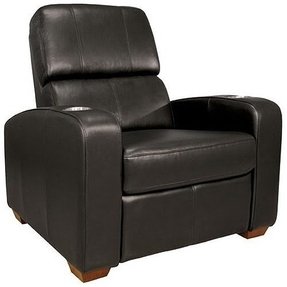 Double Arm Recliner in Black provides unique flat panel A/V system for adjusting the chair to your interior décor. Plus, stainless steel cup holders for handy drinks placing, and CMS Cable Management System to hide interconnect cables.
Thanks to its smoothly-operating reclining mechanism, this comfortable recliner works as a charm. Overstuffed, and upholstered in sage microfiber, the chair also includes generously padded arms, an easy to reach external handle, and stylish tufting.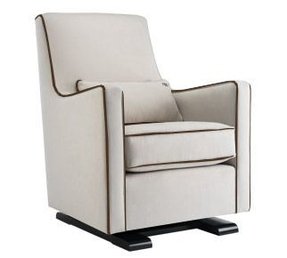 Best glider for a small space - luca glider chair - modern nursery ...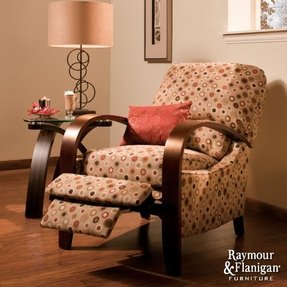 With the fun upholstery with circles and hoops this recliner will not only provide comfort but also true style, looking like a really well-thought piece and adding more than enough charm to your household.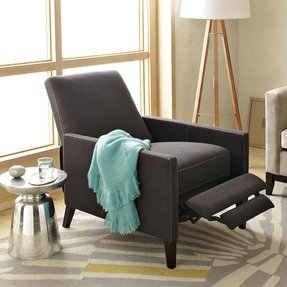 So, not ALL recliners are made equal... some are created in a non ...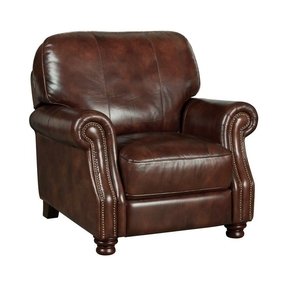 Bradford Chair Recliner
It is a swivel glider recliner that is a comfortable addition to your living room and family room area. You will be impressed hoe beautiful and comfortable this recliner is. It is a nicely finished and high quality product.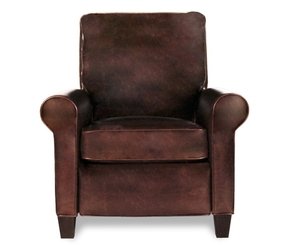 Decoration ideas for apartments - bedrooms - home: Small Living Room Decorating Ideas - 2013 - 2014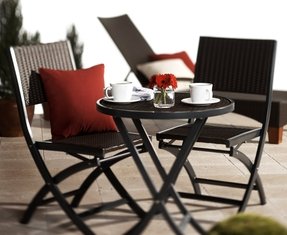 Keep up with the current lifestyle trends and bedeck your patio with this all-weather dark gray wicker set. Round table and two foldable chairs encourage conversation over a meal outdoors when the weather is fine.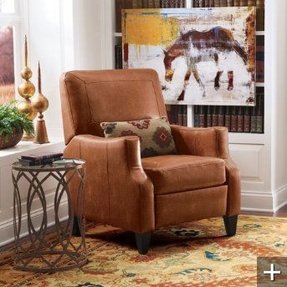 Stylish small leather recliner, made of leather, in a warm brown tint. Foamed backrest and exceptionally large seat - will provide the most demanding comfort.It offers interesting armrests, which took the form as if someone bit them, on one side.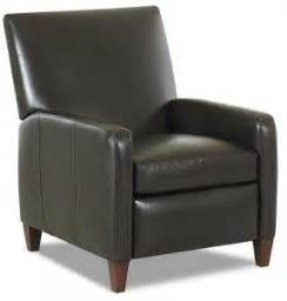 I'd put one of the reclining parts out more...but I love this!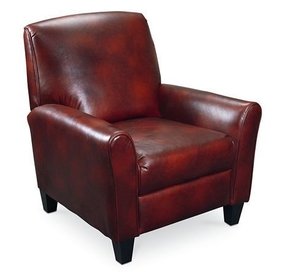 Den Ideas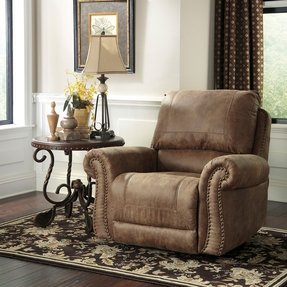 Bessemer Rocker Recliner
Rocker recliner featuring classic rolled arms, beautiful nailhead trimming, polyester blend upholstery, high quality foam, which provides comfortable seating experience, and reclining mechanism made of galvanized steel.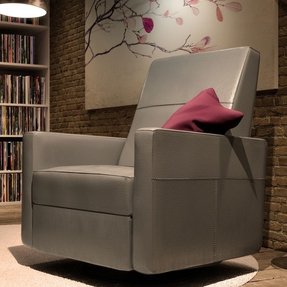 Ultramotion Minho Upholstered Glider Recliner
Contemporary design reclaining armchair with complete swivel motion and built-in, pull-out footrest and adjustable backrest for maximum relaxation. Durable manufactured wood frame upholstered with cotton and polyester blend.