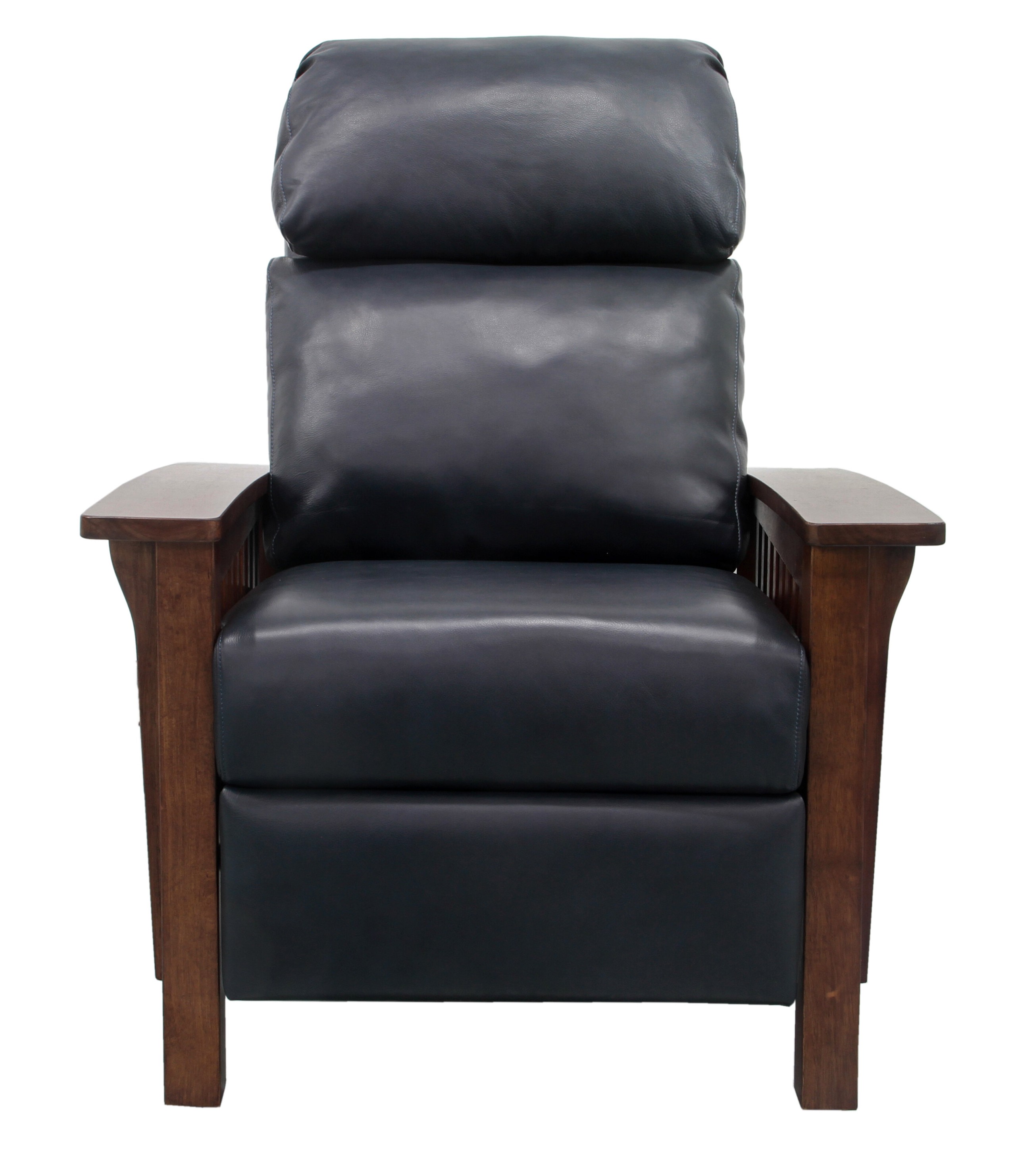 Jazmine Genuine Leather Manual Recliner
A perfect marriage of comfort and style, this elegant manual recliner will soon become your favorite chair. Designed with a hint of the arts-and-craft style and made from 100% genuine leather, this recliner has a timeless feel. The pocket coil springs and foam and down seat filling offer maximum comfort.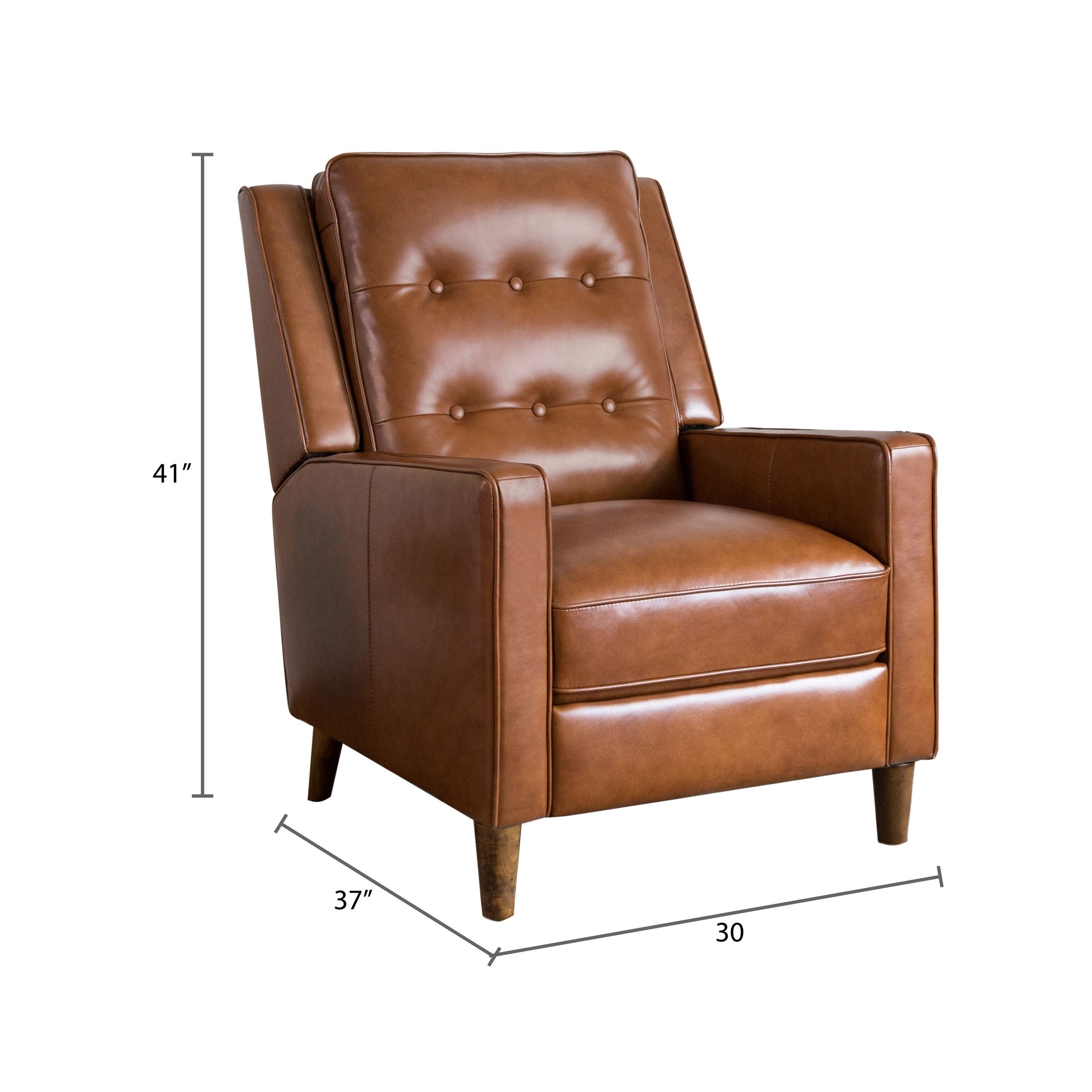 Hendren Genuine Leather Manual Recliner
Made from 100% genuine leather and solid wood frame, this stylish recliner is as durable as it is attractive. This comfortable armchair, with its manual push back reclining function, is perfect for a study or reading nook. The tapered oak legs give the recliner a light, mid-century modern feel. With three attractive colors to choose from, the recliner can easily blend with your decor.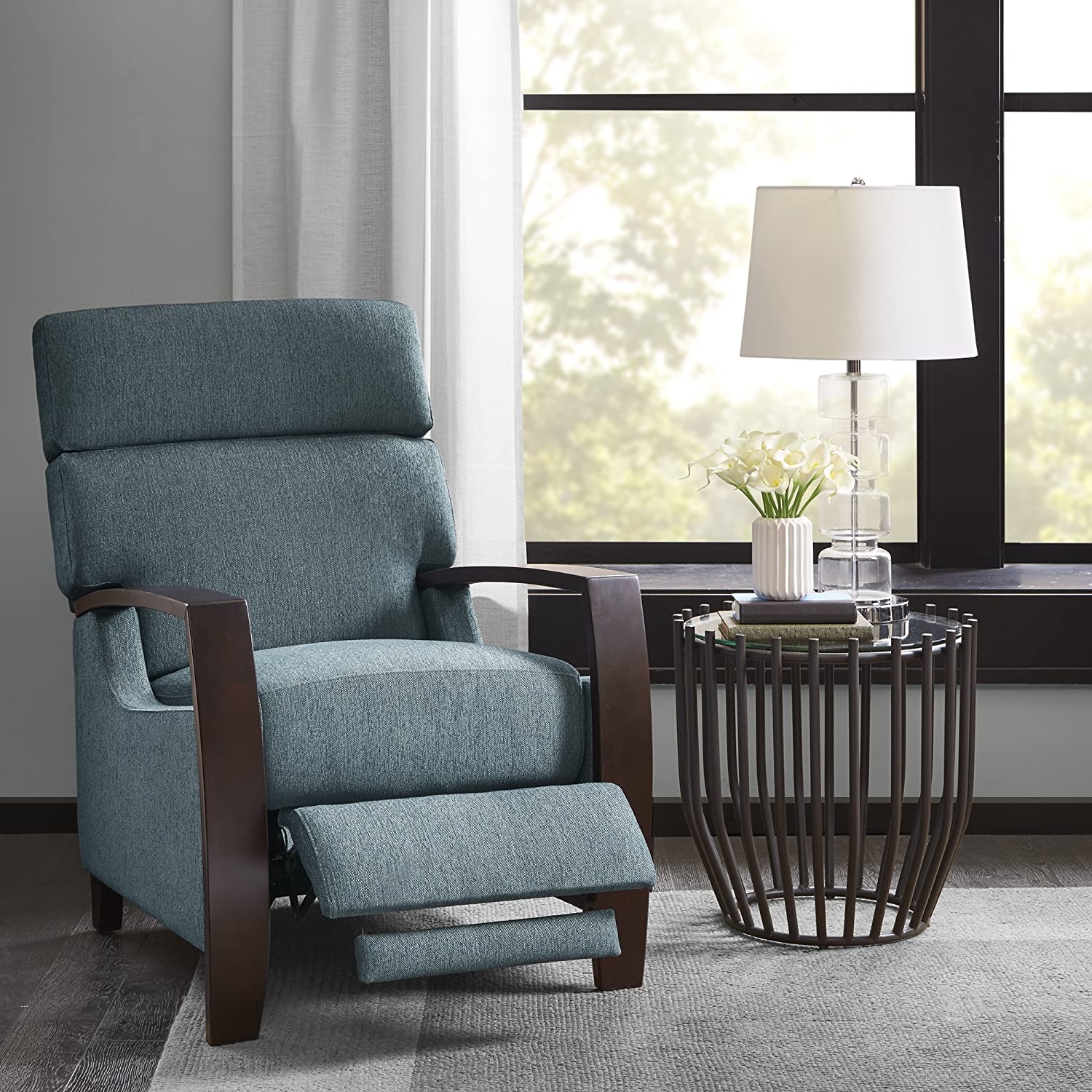 Madison Park Katniss Push Back Recliner Blue See Below (MP103-0249)
If you're looking for a unique yet stylish recliner, this chair features unusual curved arms, which are a chic twist on the traditional recliner and, when paired with the muted blue upholstery, creates a piece with understated elegance. Thanks to the high-density foam filling and solid wood legs, this recliner is comfortable and durable for a long-lasting style addition to your living space.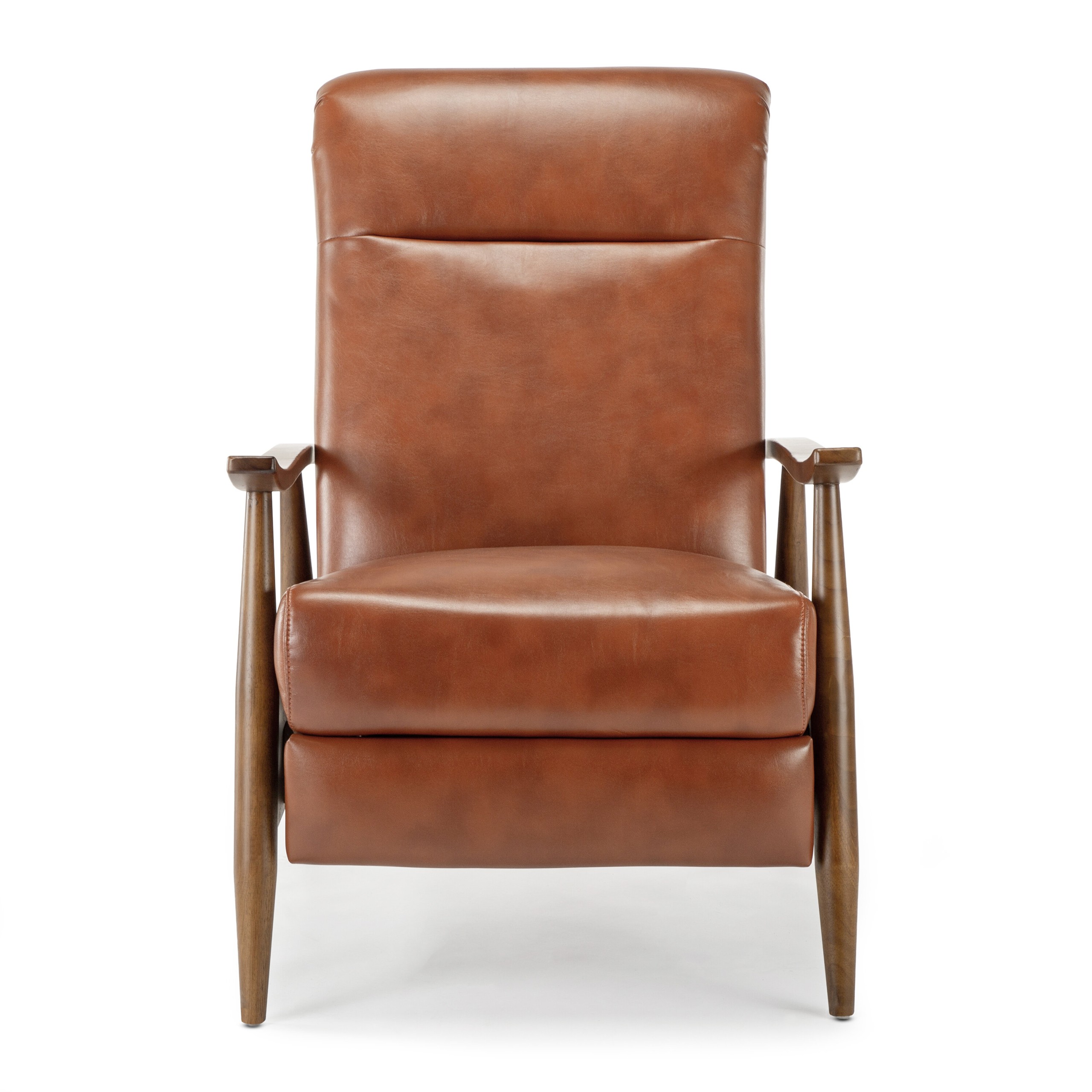 Faux Leather Manual Recliner
By looking at it you'd never know that this sleek chair, with its elegant tapered legs and chestnut brown wooden frame, concealed a manual push-back reclining system. Available in caramel, black, and midnight blue, this recliner would look right at home in a contemporary or mid-century modern room. This piece doesn't sacrifice style for comfort; the sinuous springs and foam filling ensure total relaxation.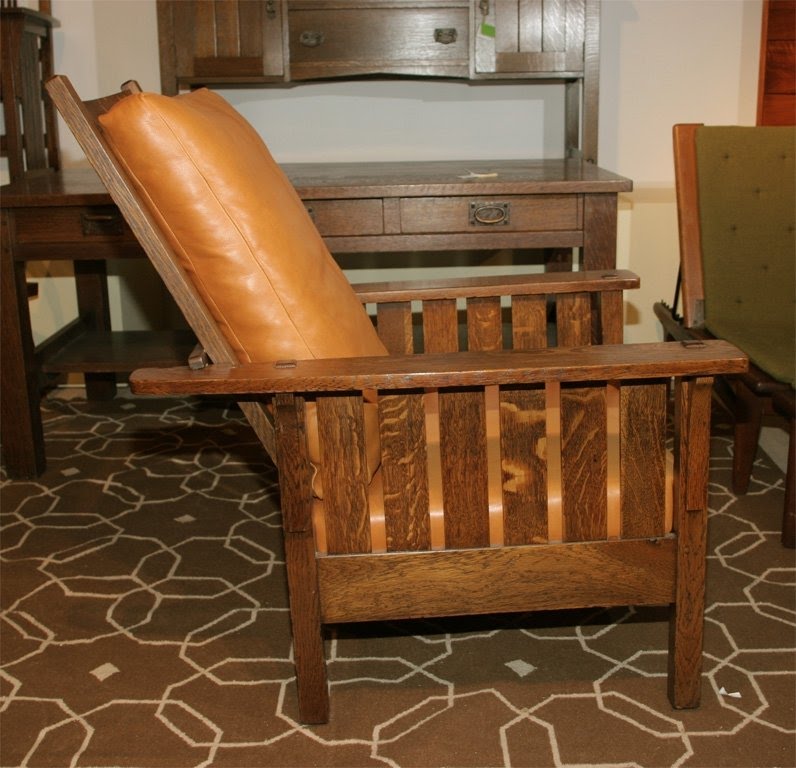 Ljg Stickley Mission Reclining Morris Chair
The L&JG Stickley Mission Reclining Morris Chair is an attractive and interesting seating for living zone. Try it with the small round dining table maybe.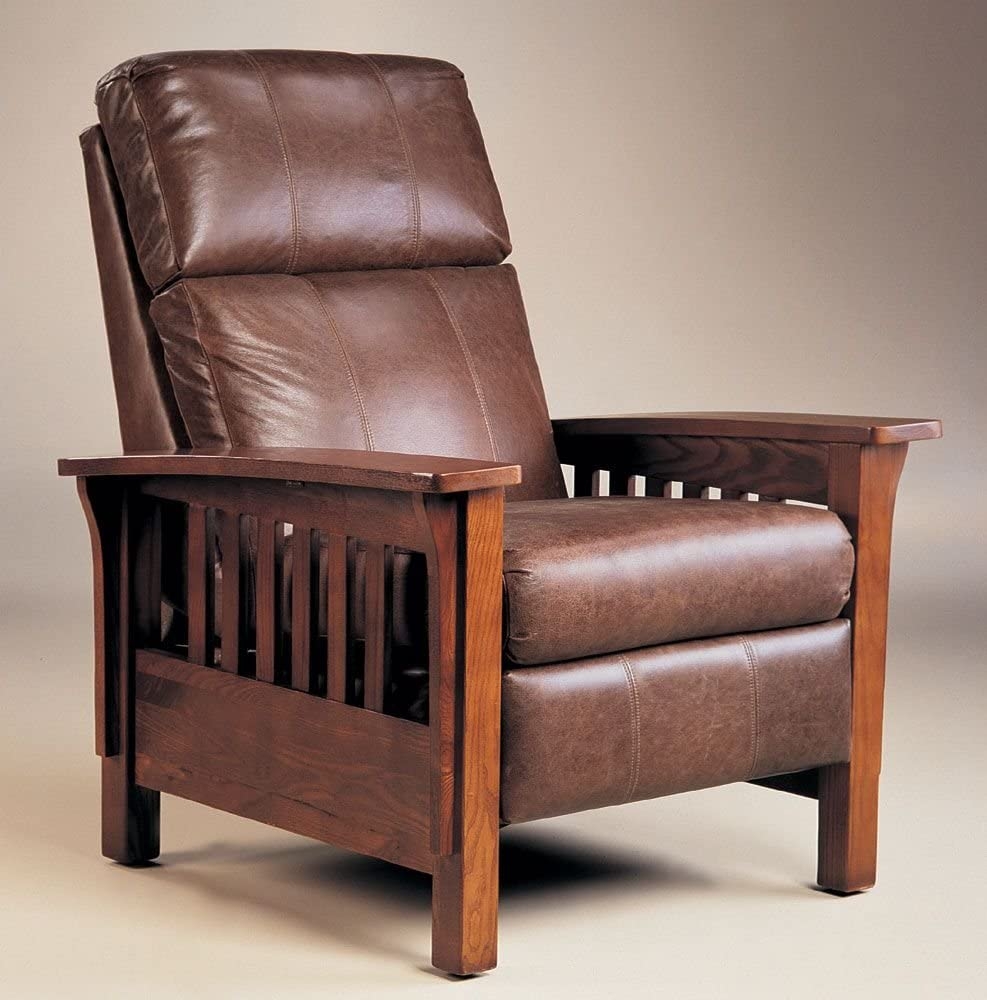 Designed with a dash of mission style, sporting clean wood frame in warm oak finish and brown leather upholstery, this reclining arm chair is a centerpiece in a living room. Its straightforward design is just adorable.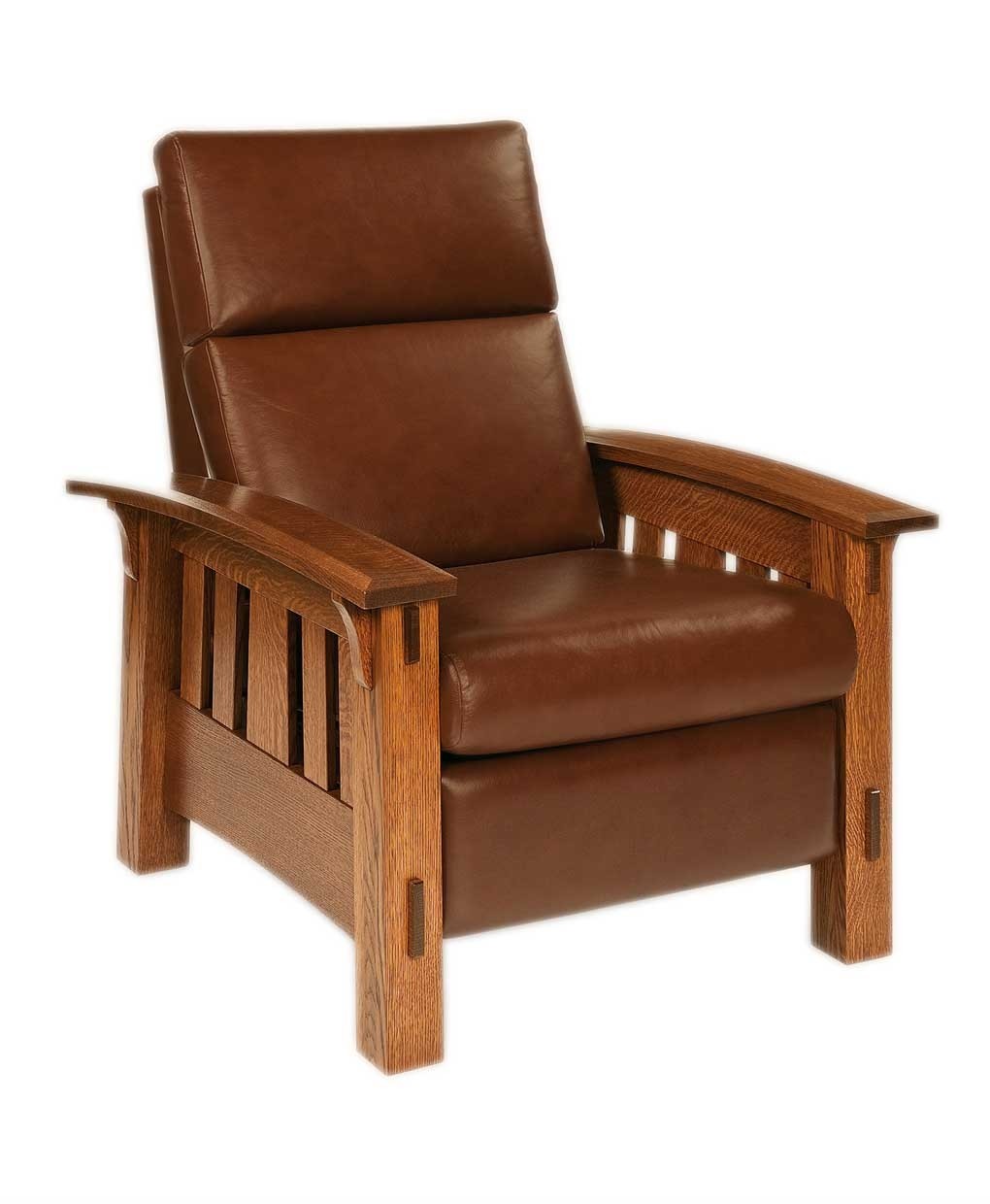 This small recliner is all you need for comfortable rest. Leather upholstery is durable and resistant to almost everything, and the wooden legs will provide sufficient stability. Perfect for people who don't have all that much free space in their houses.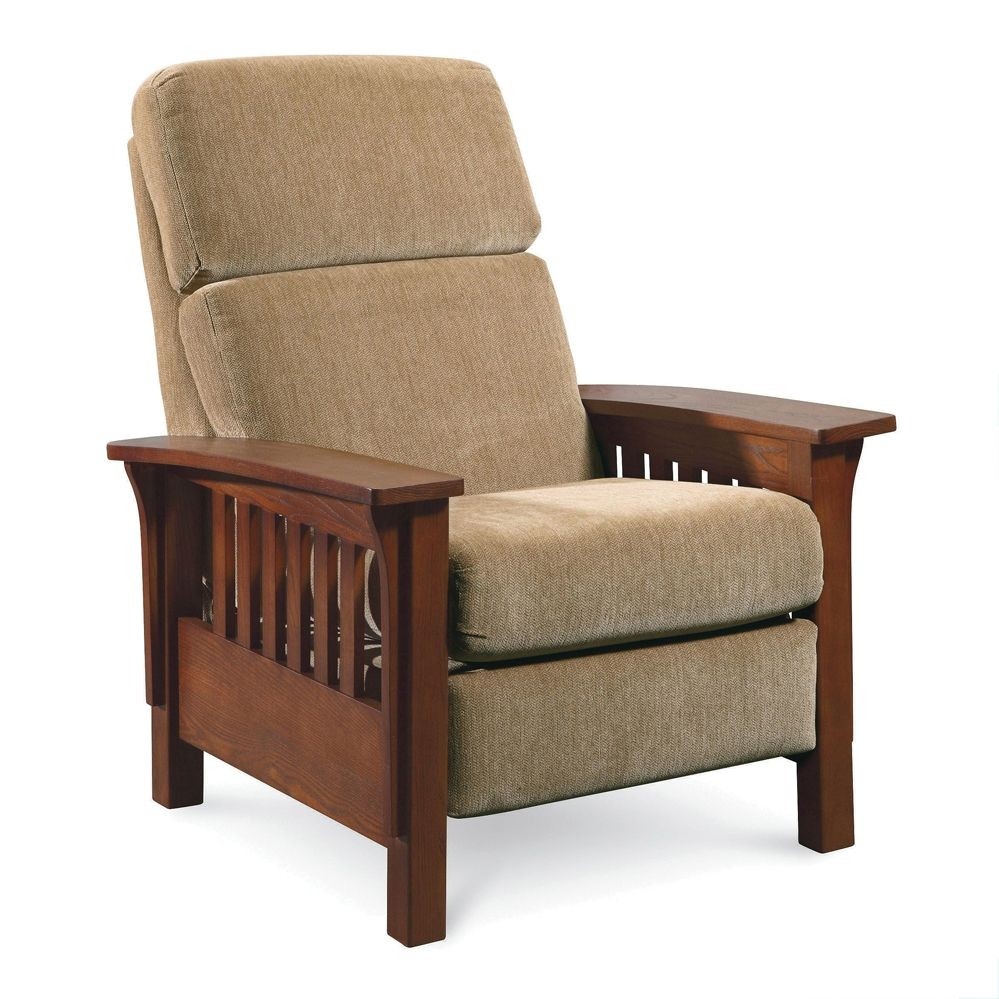 Stylish and functional, this high leg recliner is characterized by a durable frame designed of sturdy wood, including slightly raised arms, slatted sides, and straight legs. The recliner is overstuffed, tufted, and upholstered in a tan fabric.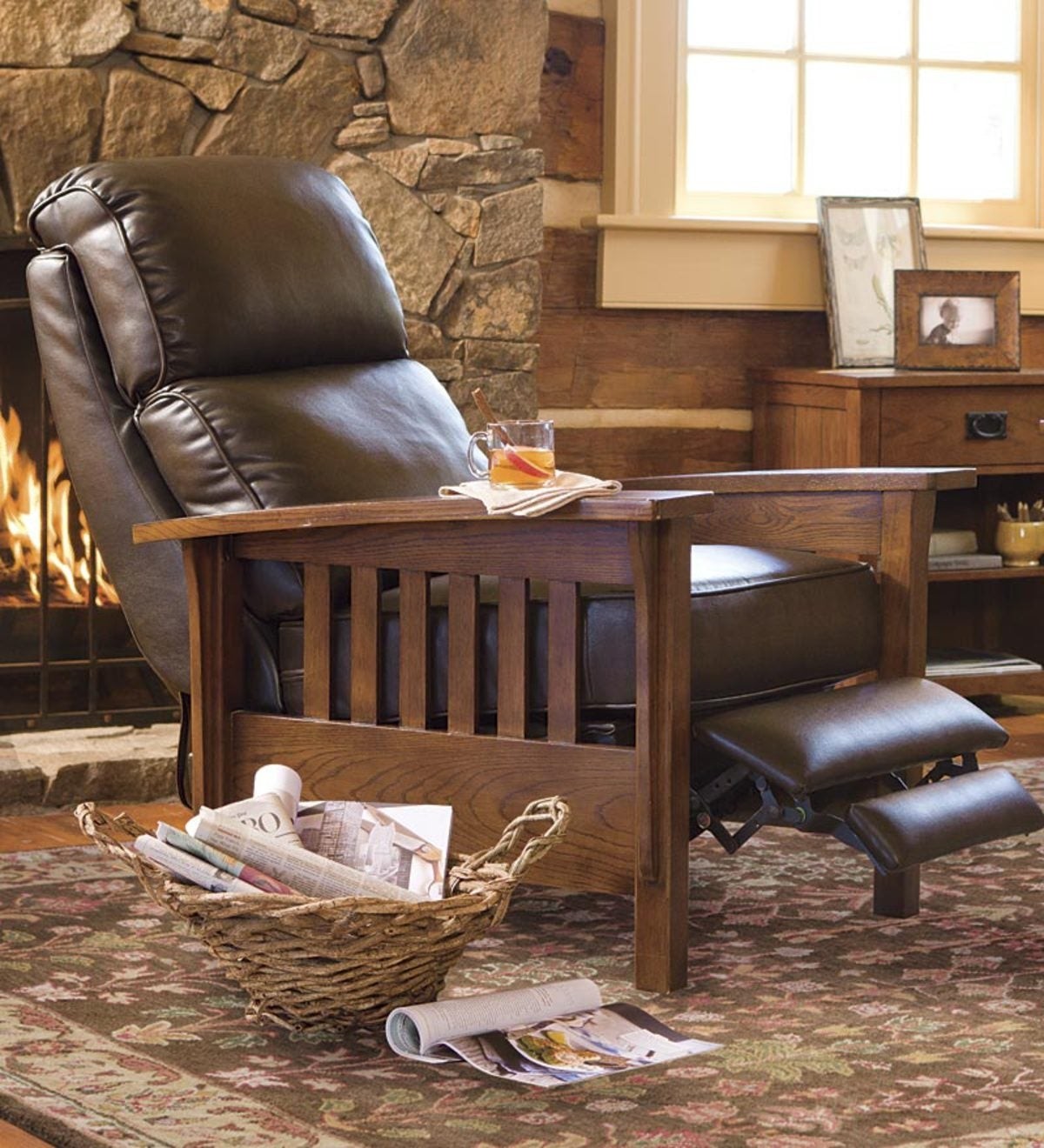 If you seek for a recliner that will last for years to come, you may stop here. Solid wood frame, premium bonded leather padding and tough construction make this mission style recliner a worthy piece.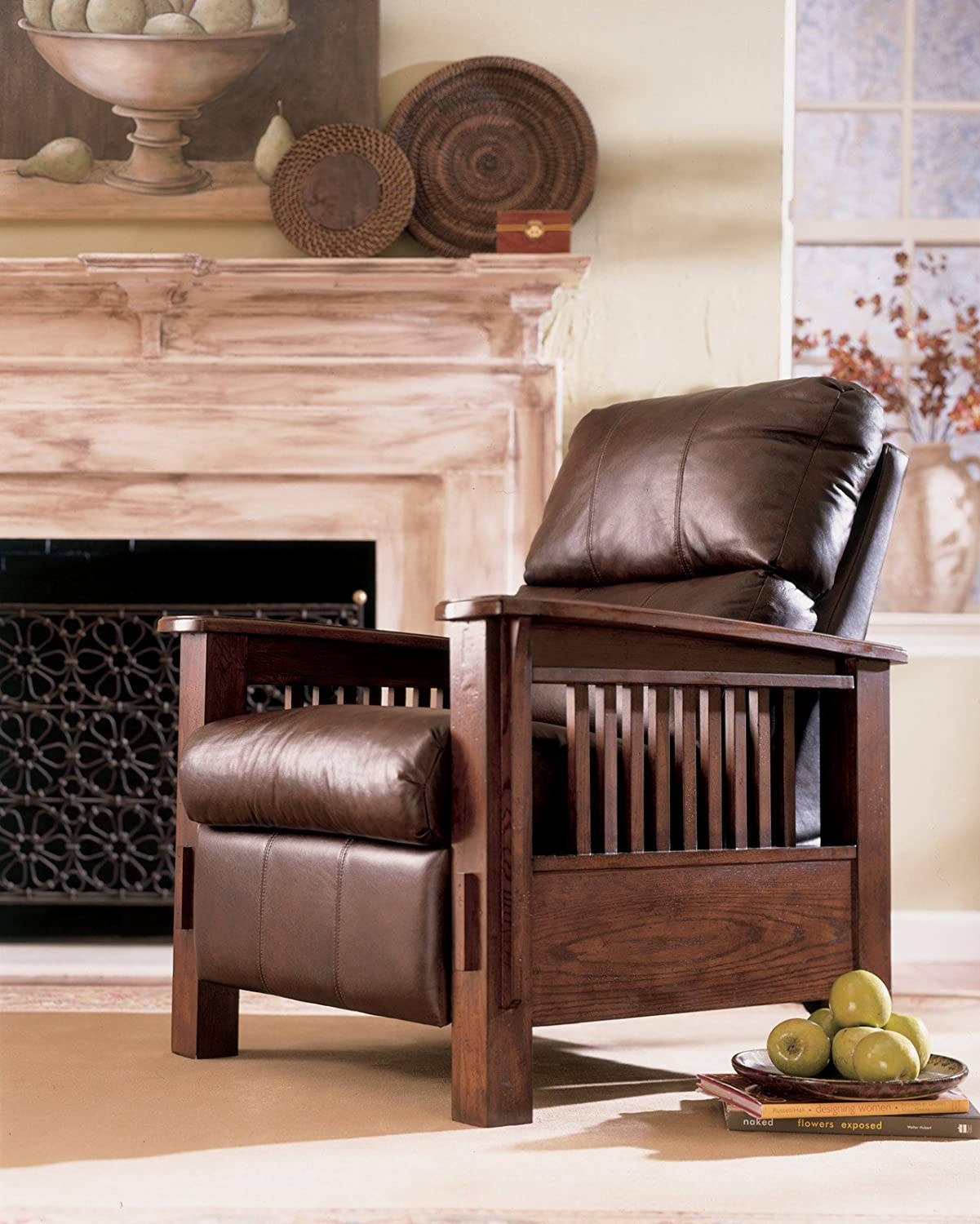 It is a high leg recliner that has got an elegant design and fits to any style and décor. It has got a solid wood construction and comfortable seat. You will be impressed how great this recliner is.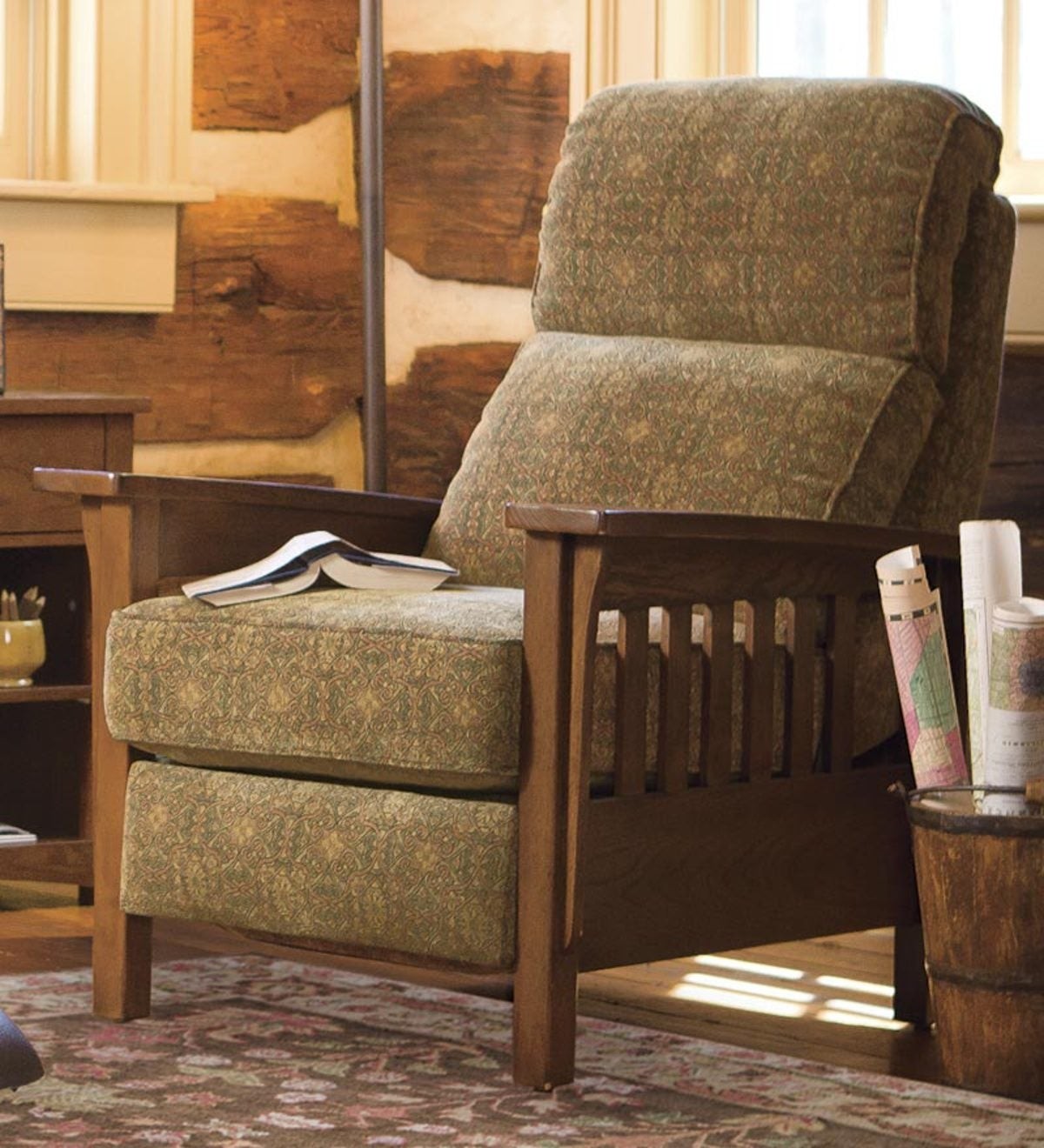 This recliner perfectly combines contemporary accents with mission style appearance. The frame is made of sturdy wood, while the upholstery is designed of a fashionable fabric, including an overstuffed, plush seat and back.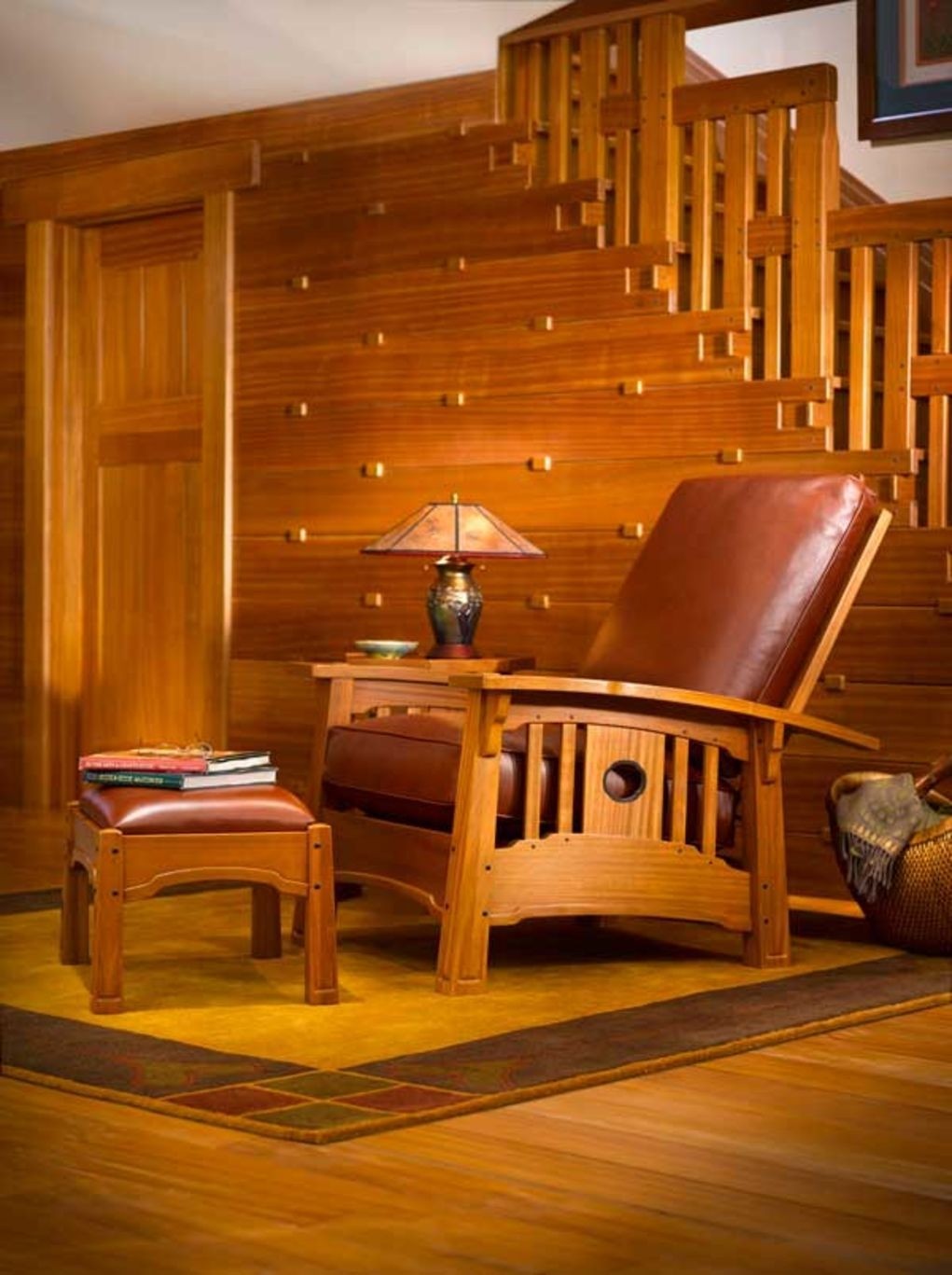 the arm chair and ottoman which is excellent for home library, drawing room or cozy, restful nook. They;ve got the wooden frame, leather upholstery and padded seats. this set is suitable with simple and rich finished interior.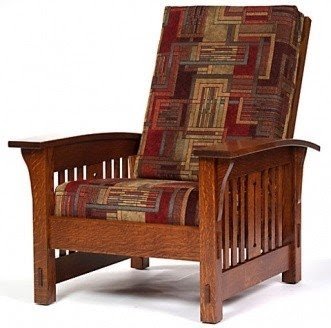 Slat style shown in quartersawn white oak with Boston stain.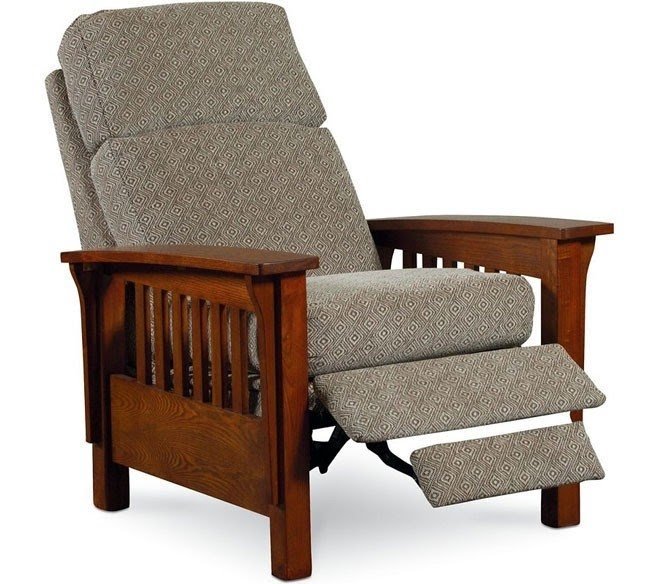 Lane Mission 2769 HiLeg Recliner cheap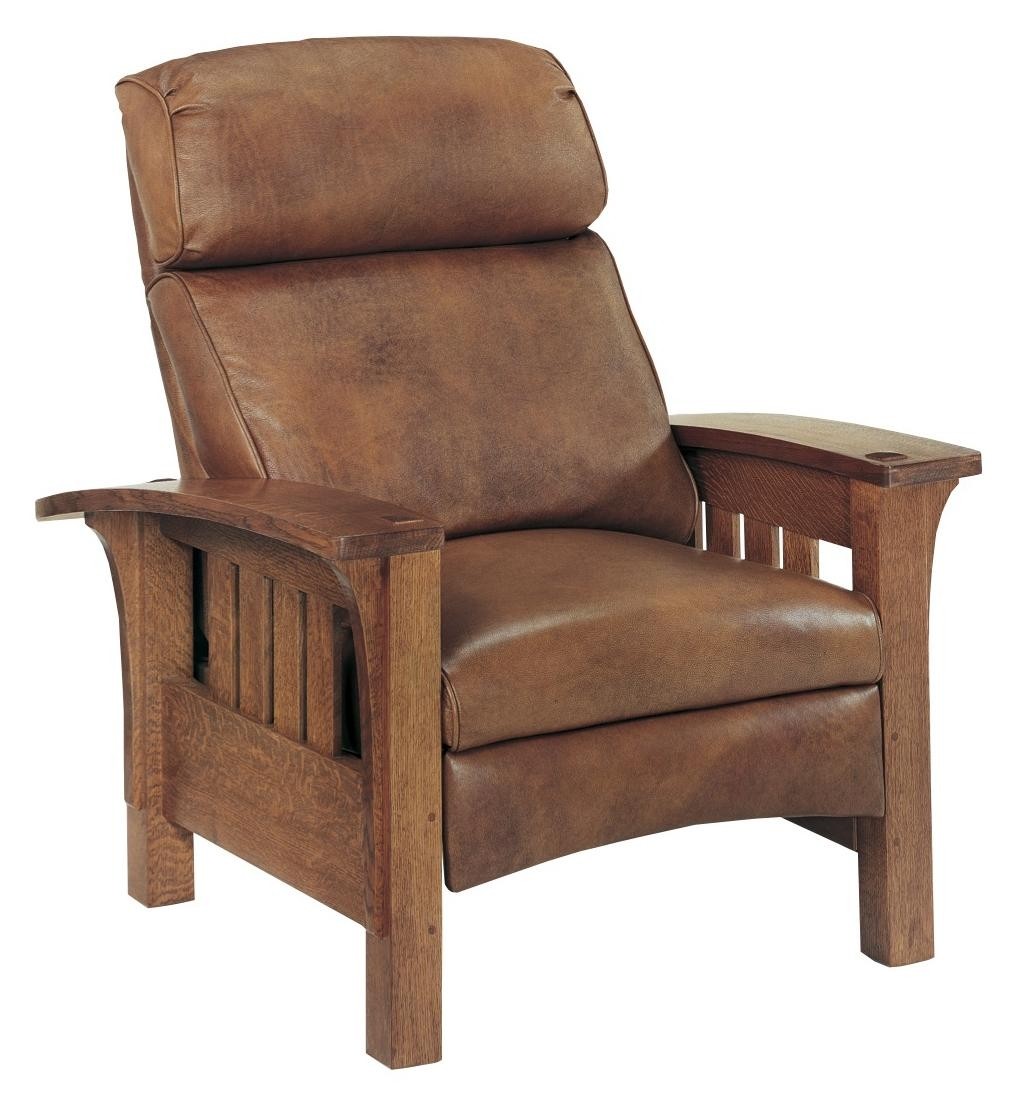 Comfortable recliner upholstered with leather and reinforced with solid seams. Frame is made of wood. Great as additional seating in any room according to taste and need.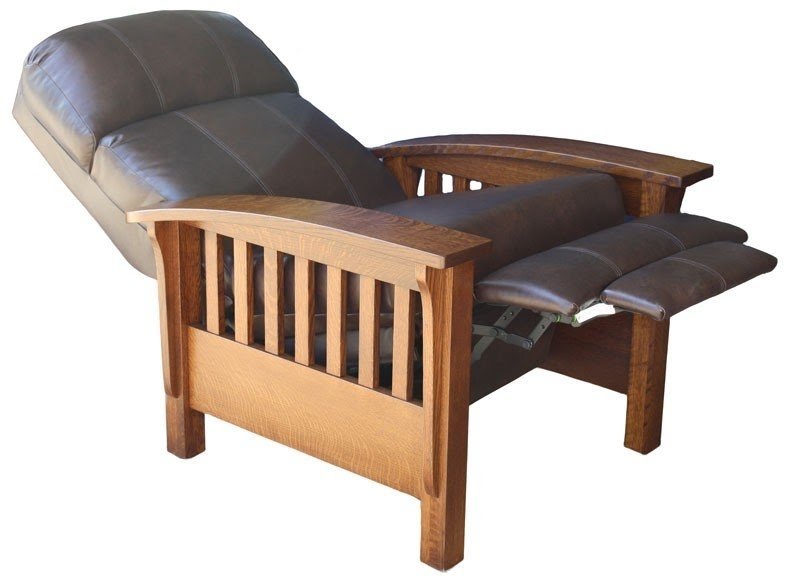 The style that this recliner chair can offer - this mission style is definitely connected with today's times. This combination is visible in the dark leather upholstery of the seat and wooden classic style of the missive base with the motif of the ladder.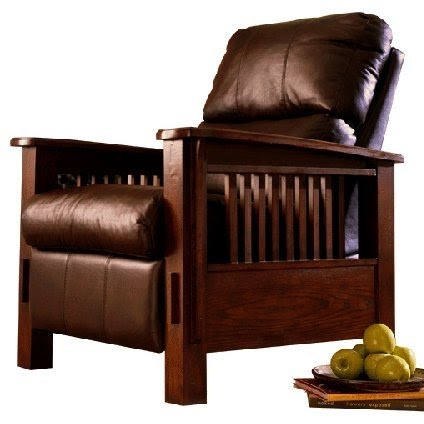 If you fish for a solidly constructed mission style recliner, there's this brown leather-covered one, coming with footrest, thick cushioning and head level and wide wooden armrests. Solid brown finish of the frame matches the upholstery.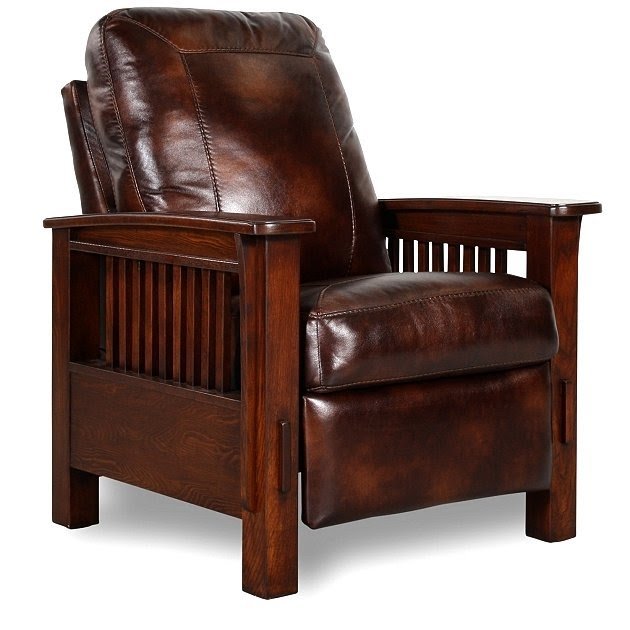 This mission style leather chair connect luxurious with a little bit of a kitsch. It has caved frame made of mahogany, oriental wood. Seat, back and take-down footstool are covered with glitter, brown leather.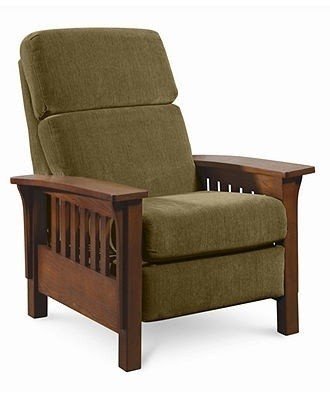 Mission style recliner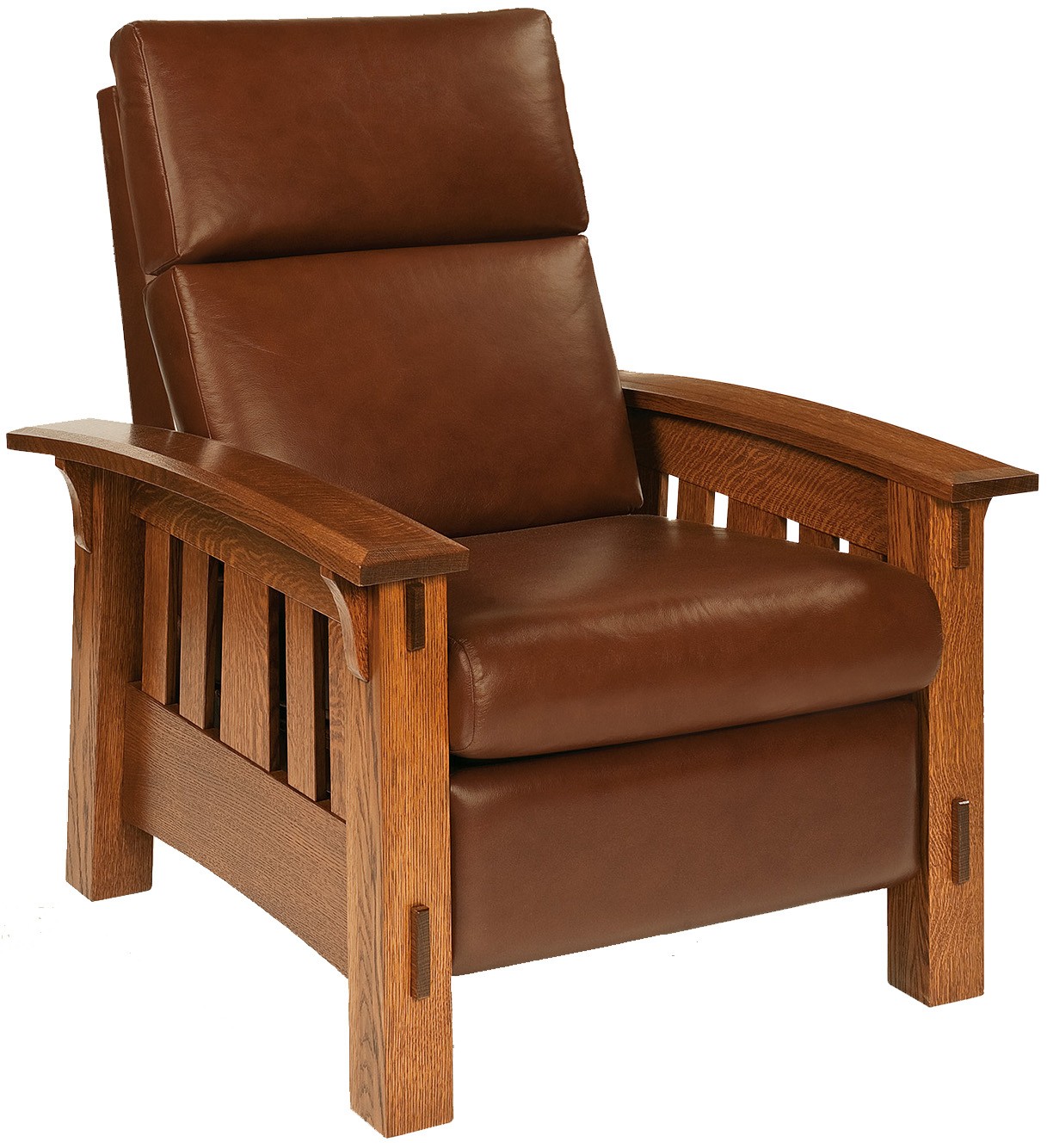 Vintage design for a retro, mission-styled American recliner armchair made in Amish fashion. The frame of the armchair is made out of polished oak wood with real leather upholstery in a dark brown color, giving it a classy look.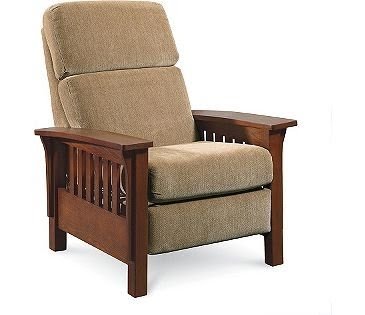 Lane Mission Hi-Leg Recliner - You Choose the Simple Solutions Fabric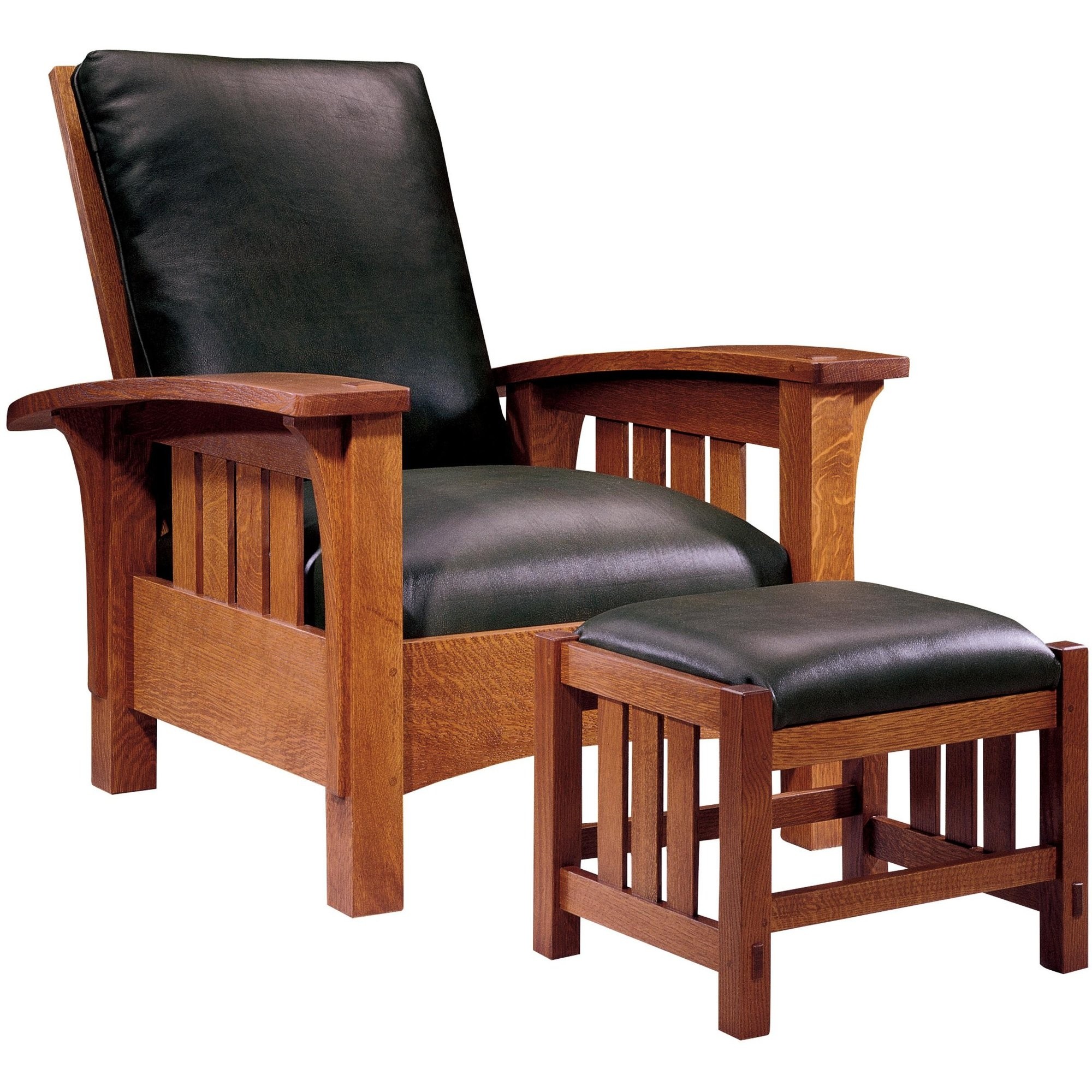 Very durable reclining chair with an ottoman. These pieces of furniture feature solid wooden frames and comfortable sitting or footrest spaces that are padded and covered with universal black leather.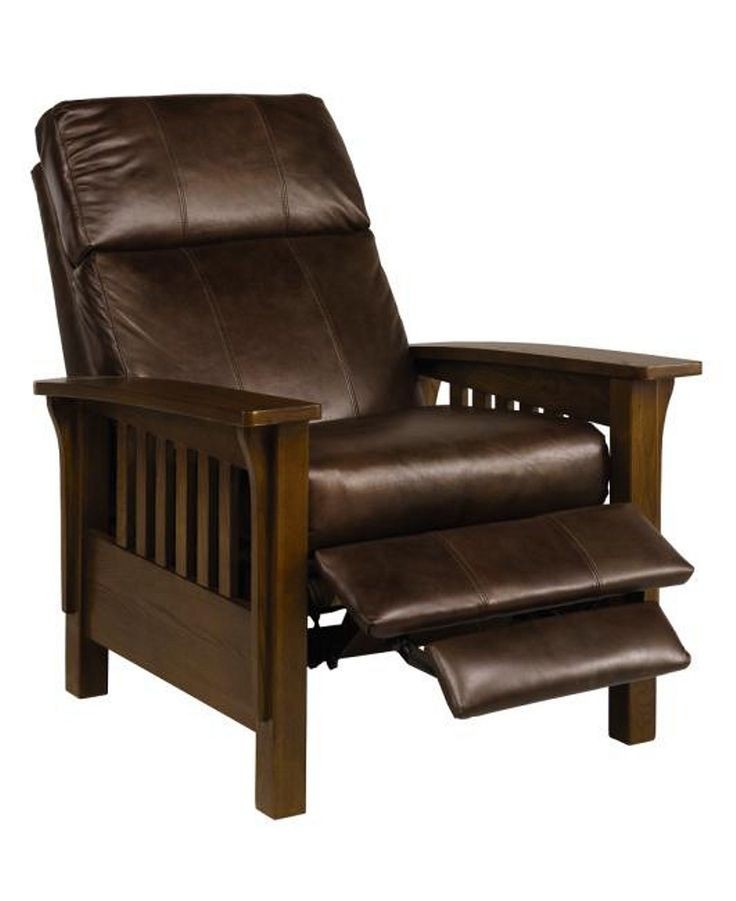 With this recliner you don't have to look for a comfy chair for your home, anymore. With its sturdy wood frame with ladder sides, a smoothly reclining mechanism, and a leather-upholstered seat and back, the chair is perfect for dens, living rooms, bedrooms, and game rooms.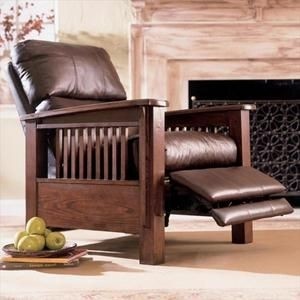 The highest quality American leather mission recliner, unfolded - maintenad in mission style. Combination of dark leather with wooden frame of wenge wood - creates a unique aesthetic impression. Made by traditional craftsmanship methods.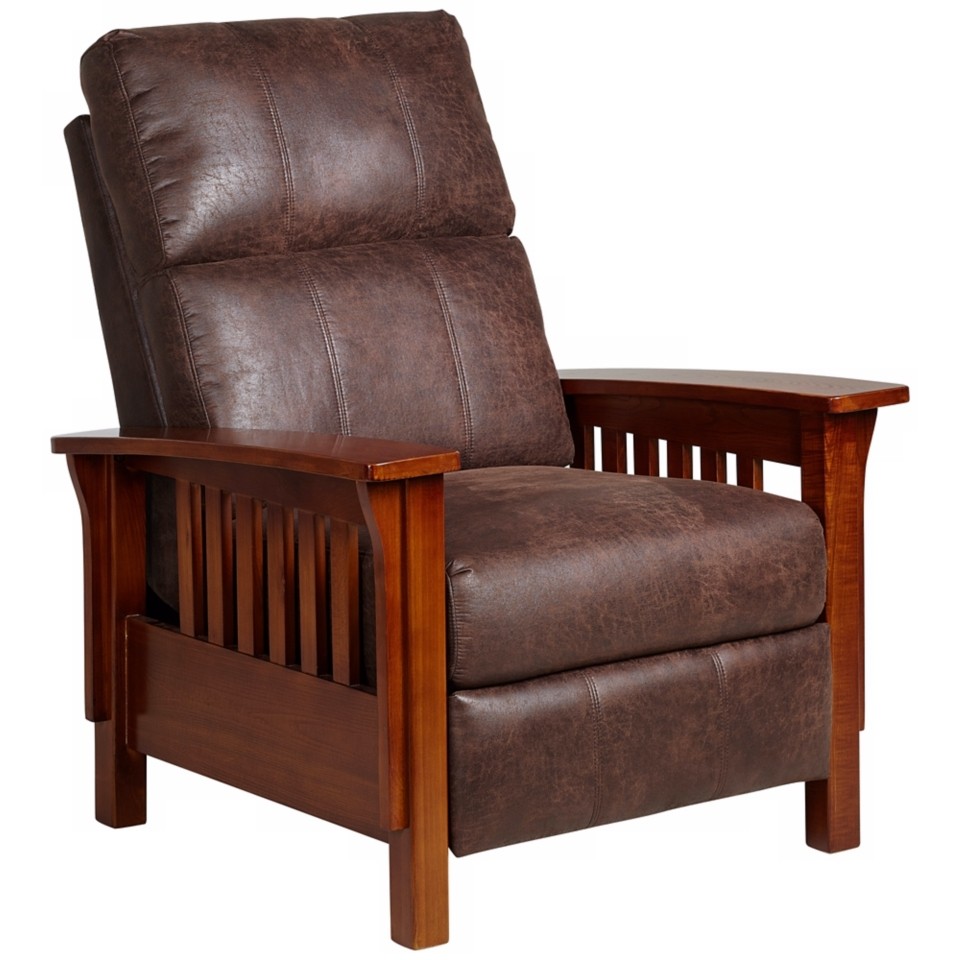 This is a must find for Jeff - a MAN chair I'll actually allow - Mission Style Recliner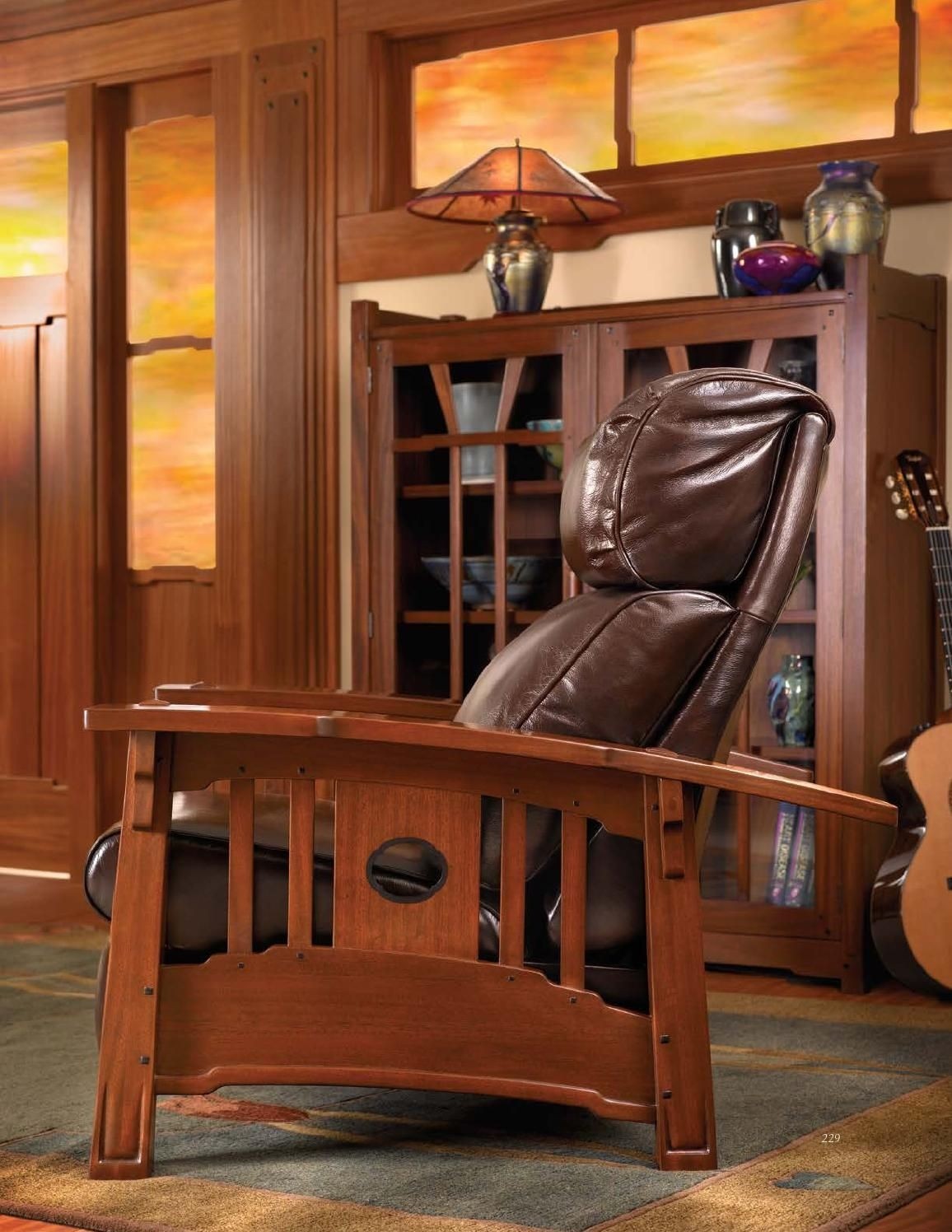 This bustle back recliner sports an elegant design and will work like a charm in your modern-styled interior. It sports the durable frame and comes with leather cushions with ample padding for more comfort.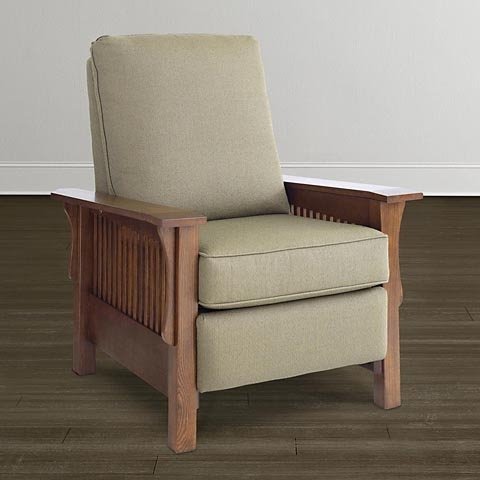 Recliner Bassett Furniture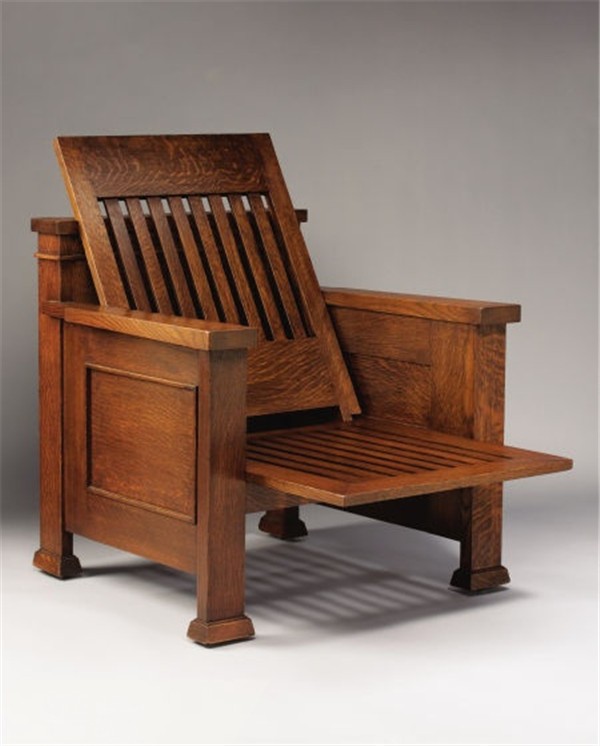 Mission style for an antique reclining armchair made entirely out of light oak wood with a high polish, shiny finish. The reclining armchair has a wooden back and seat, which gives it a unique but not really comfortable finish.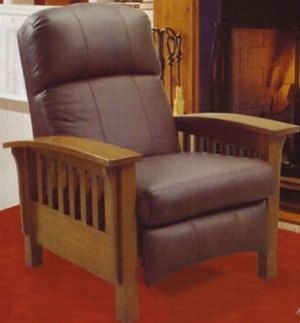 This solid mission style recliner is a combination of oak wood and brown leather. Hand crafted, represent typical Amish furntiture. The lattice sidebars bring in a fresh, light impression.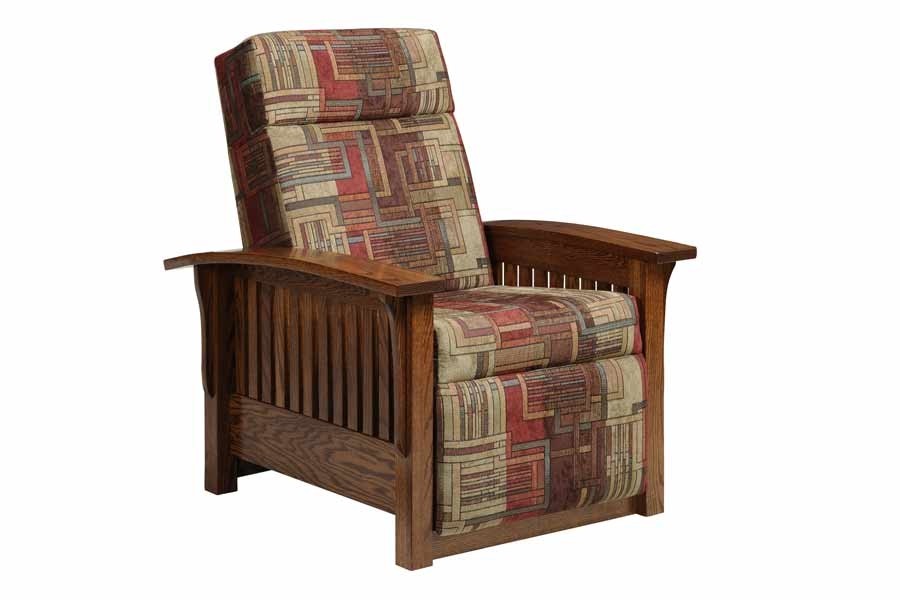 Classic recliner upholstered with soft fabric and finished with interesting pattern. It is mounted on wooden frame. Perfect as extra seating or place for relaxation in any interior as needed.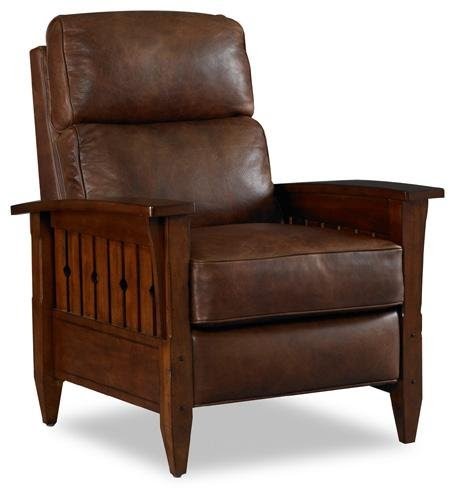 The dark leather recliner with the cherry sides and frame. This massive piece of furniture is dedicated for the spacious interior. The dark colors of this construction suggests that it should be broken with the fair shades.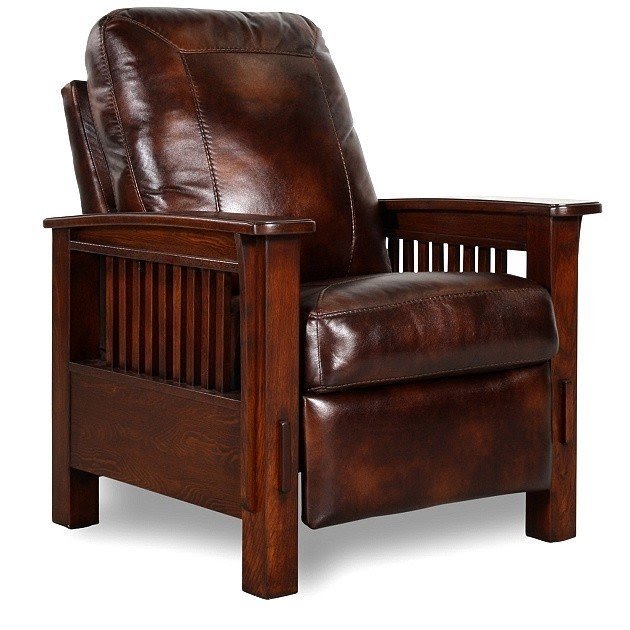 Nicolas Mission Style Leather Recliner http://www.horizon-custom-homes ...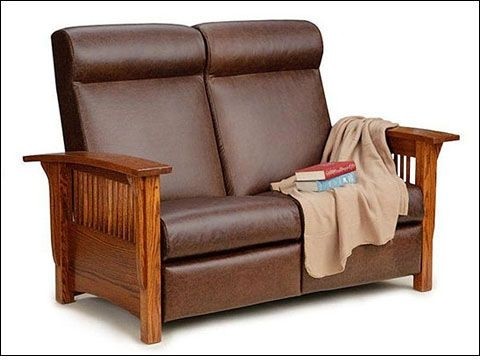 An elegant vintage loveseat recliner for 2 persons. It has a wooden frame in warm browns, straight square posts, wide convex arms with vertically slatted panels. Comfortable seats and tall fullbacks with headrests are upholstered in brown leather.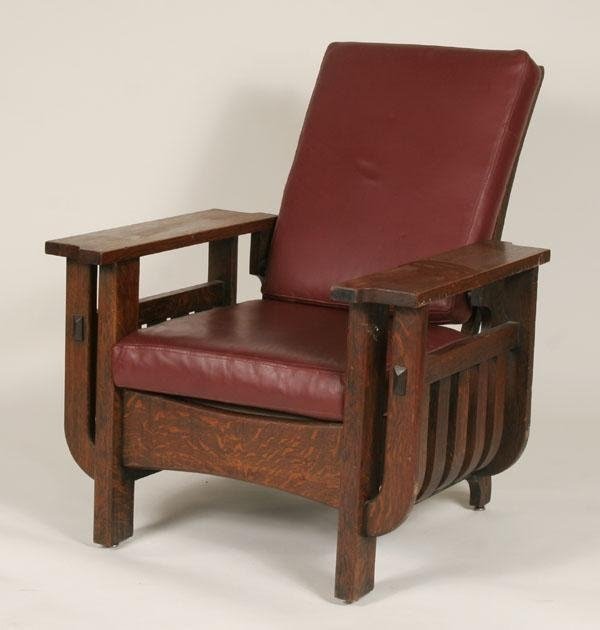 A phenomenal reclining chair that you can set in four different positions. Very unusual, but practical gadgets are racks for storing magazines, which are hidden under the wide arms. The unit features leather upholstery in a deep red color.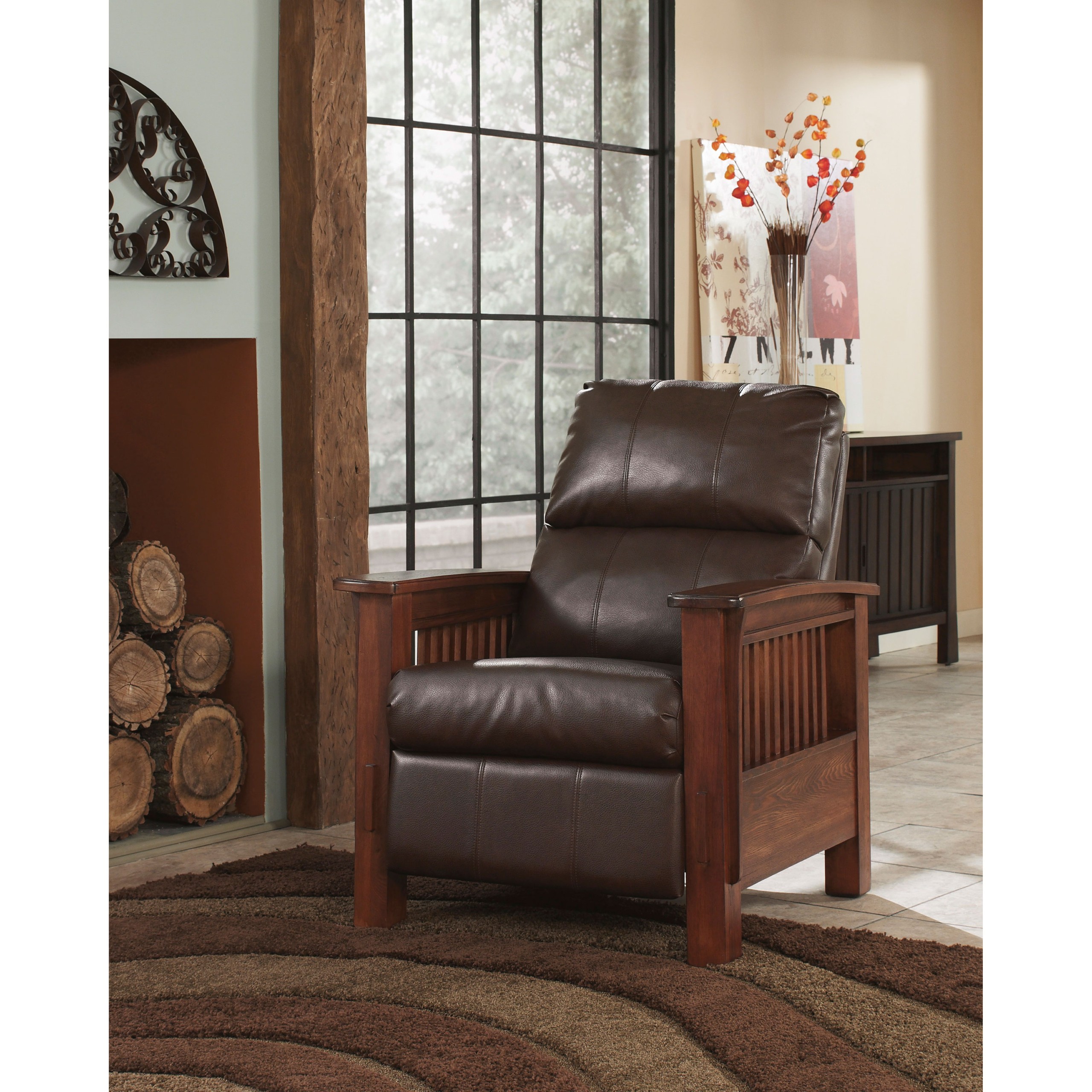 Santa Fe Bark Mission Style Recliner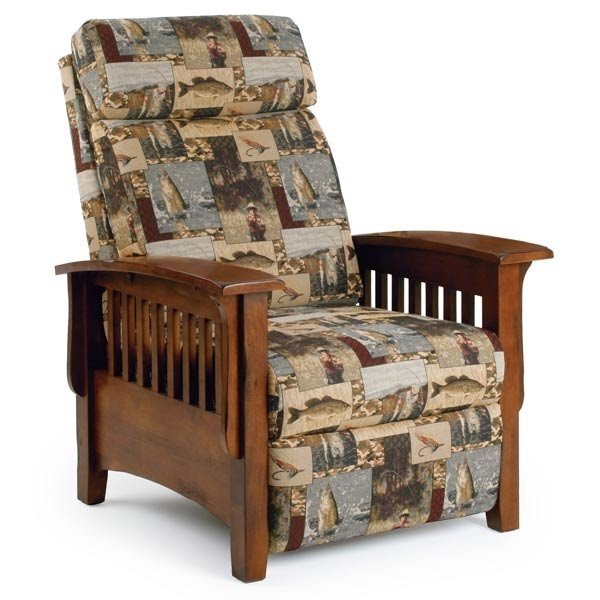 This original, patchwork Tuscan, mission styled high leg recliner enchants with the combination of traditional form, represented by i.e. slat armrests and more modern elements, like the photo collage upholstery.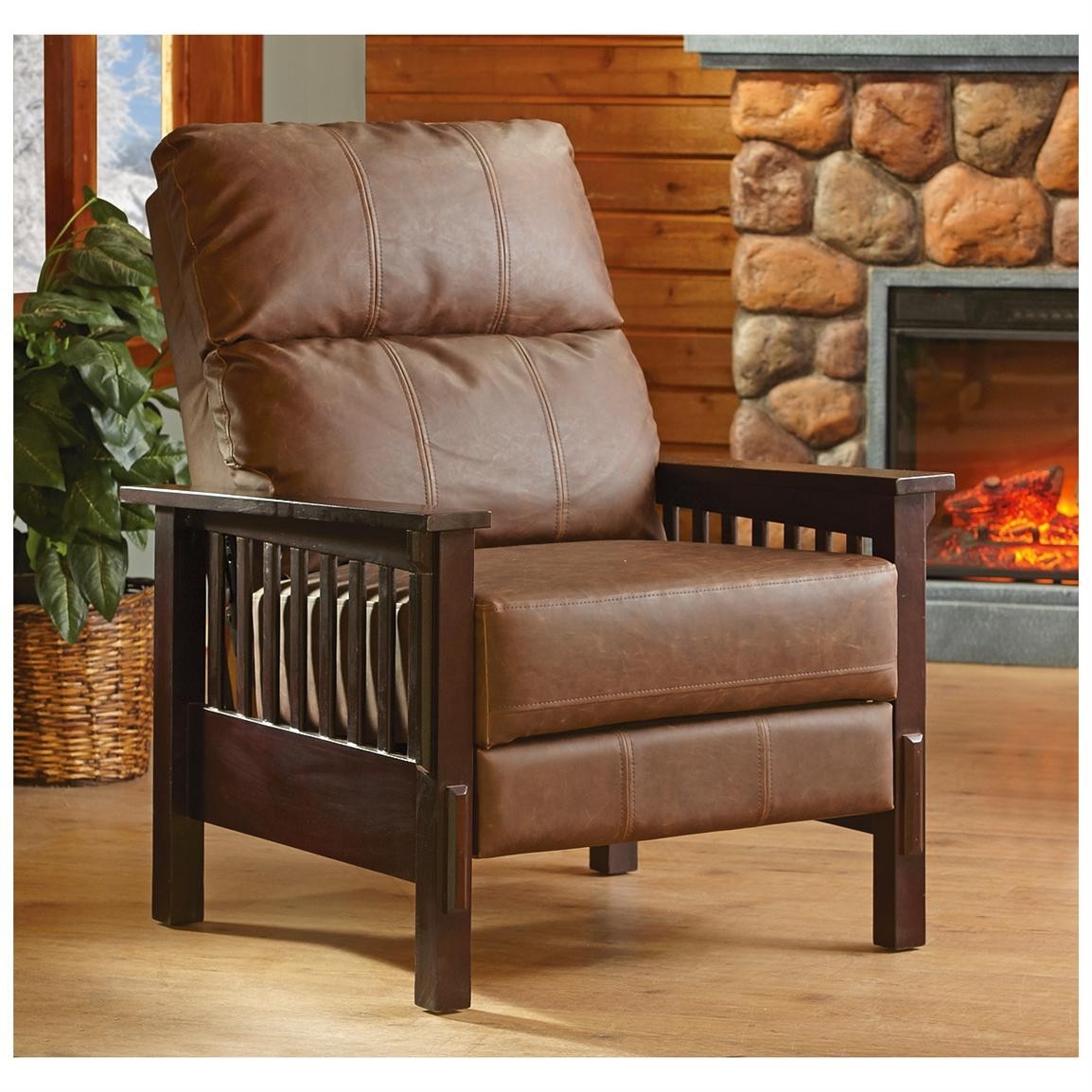 Honestly sturdy mission style recliner with classic slats motif on side panels and extra big backrest cushioning. Though quite rough in form, the chair occurs to be very comfy. It is padded with brown, double-stitched leather.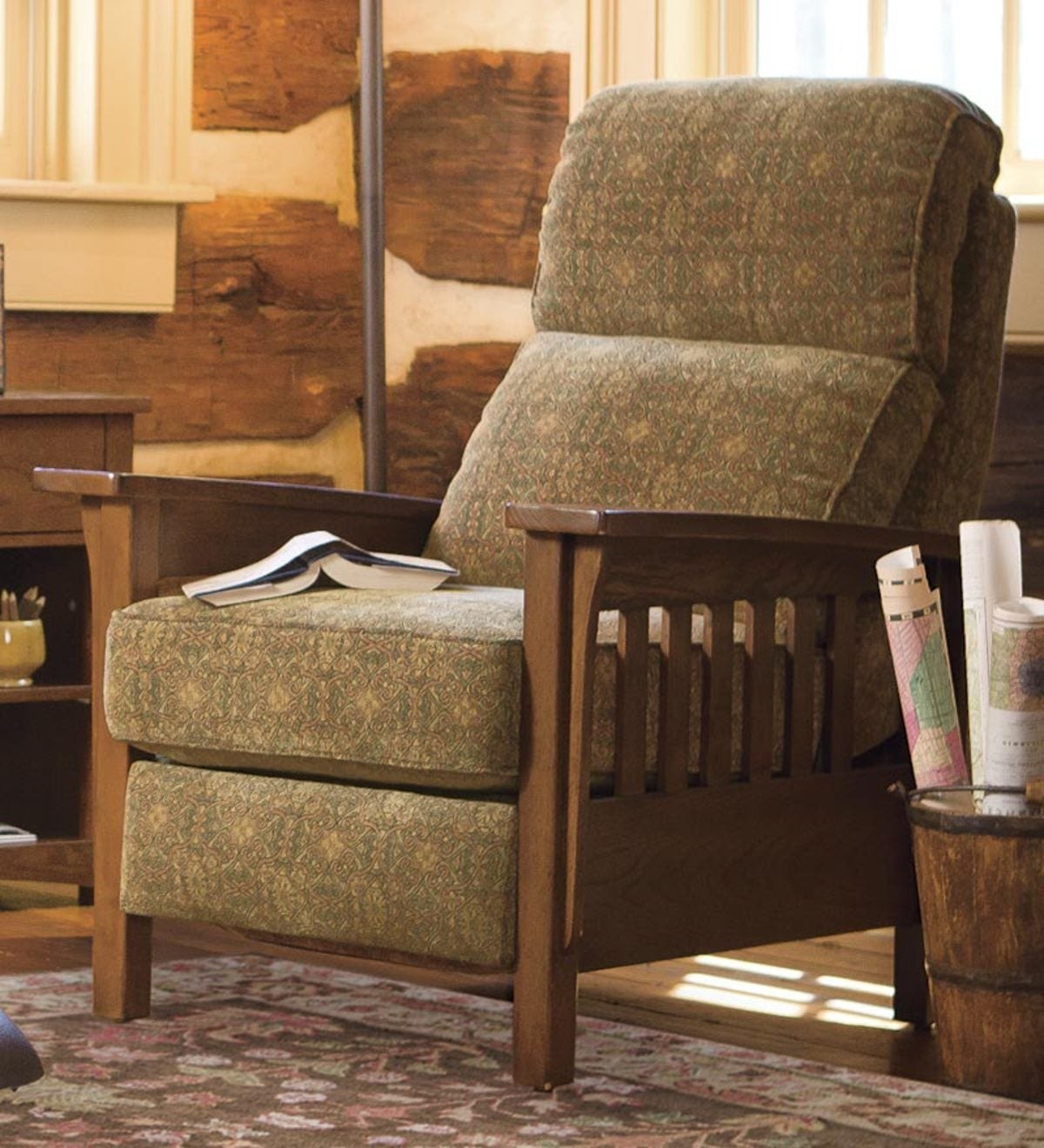 Mission Style Recliners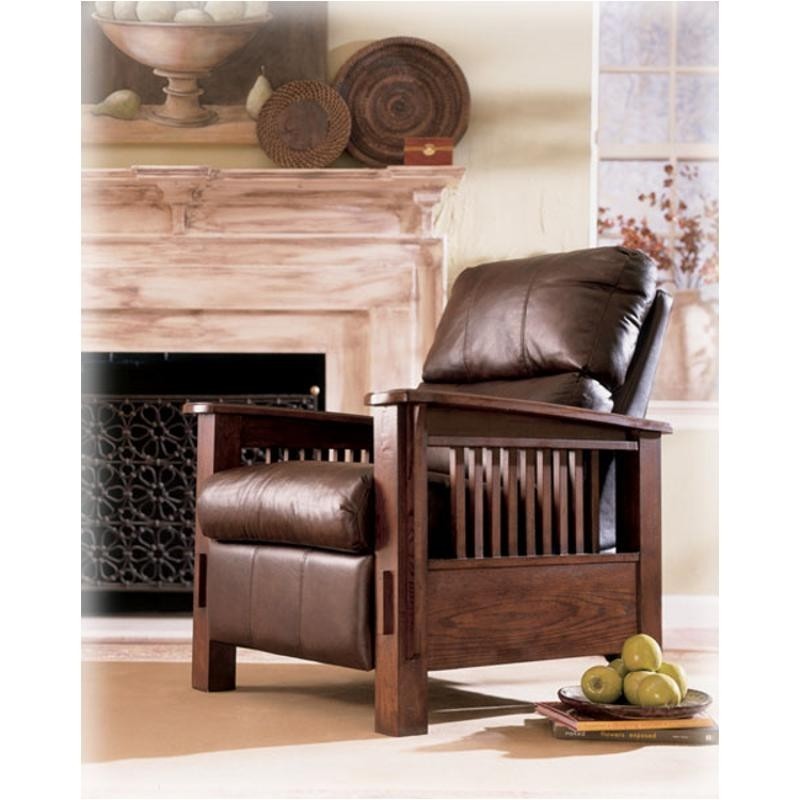 Stylish and functional, this high leg recliner is characterized by a durable frame designed of sturdy wood, including slightly raised arms, slatted sides, and straight legs. The recliner is overstuffed, tufted, and upholstered in brown leather.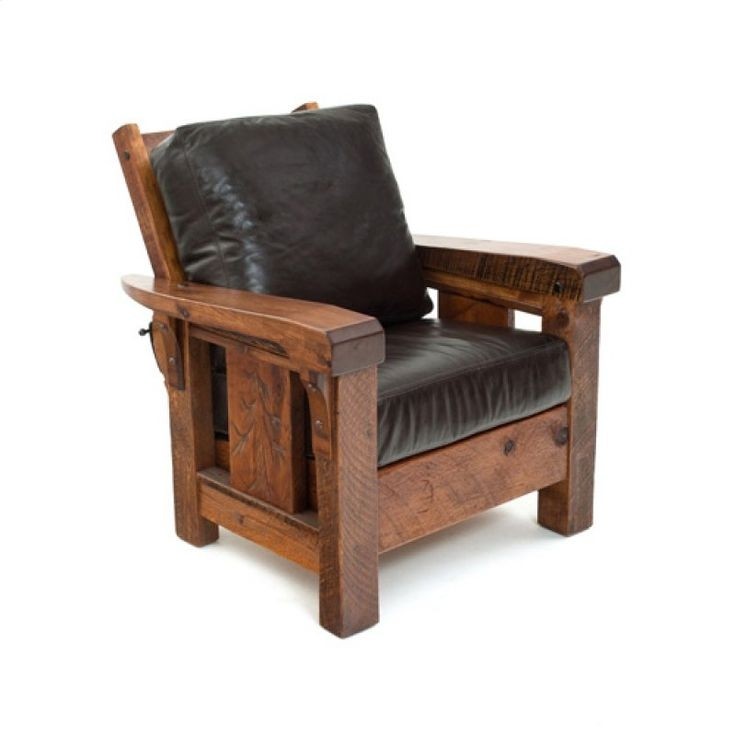 Cabin Recliner, Rustic Chair, Lodge Club Chair, Lounge Chair | Woodland Creek Furniture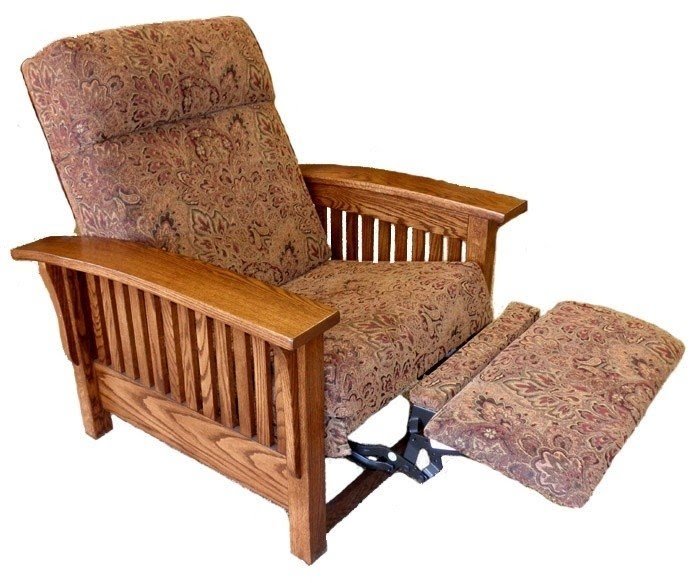 Mission style recliners in a variety of stain and fabric options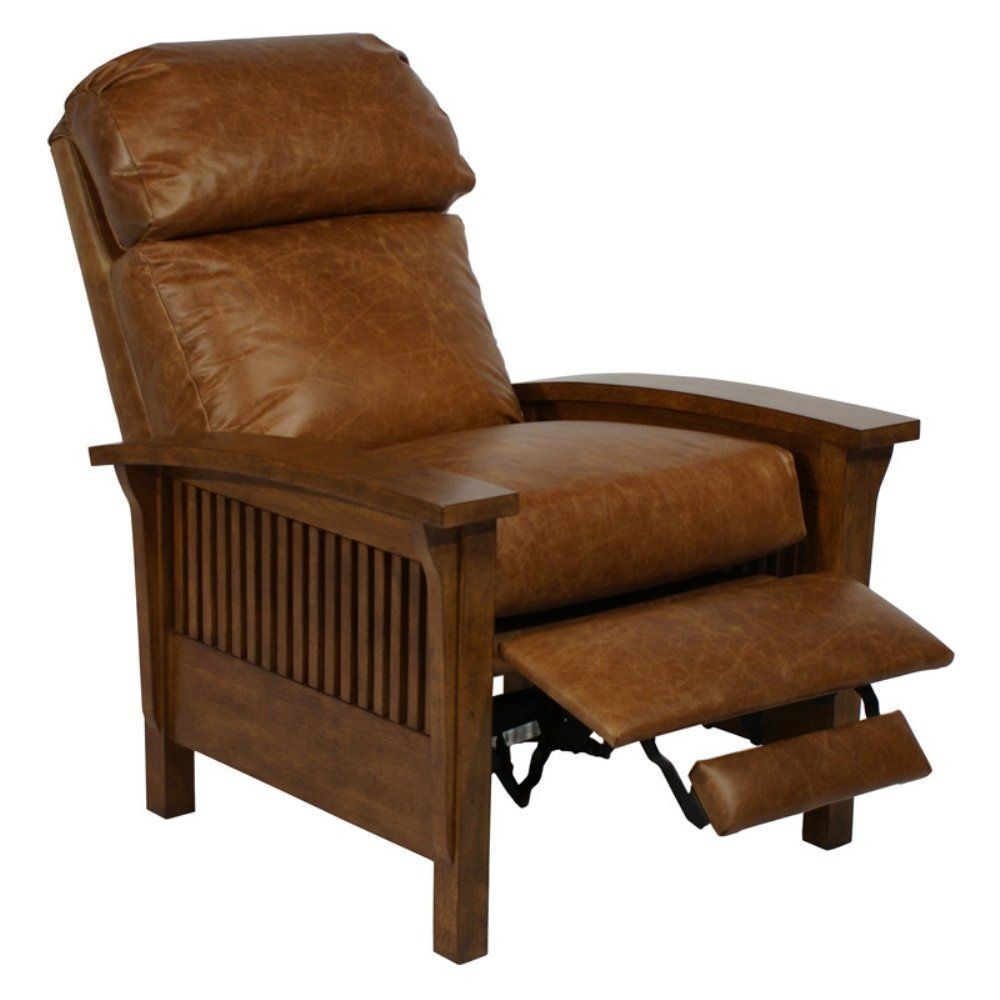 Barcalounger 74411540116 Woodland Reserve Craftsman II Recliner Alternative View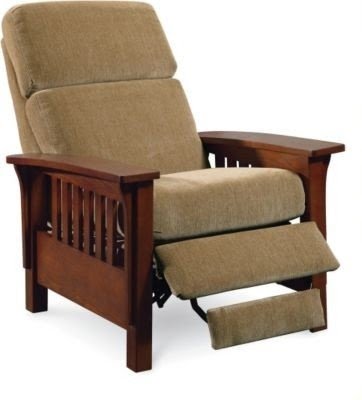 Home - Recliners & Chairs - Lane Mission Hi-Leg Recliner - You Choose ...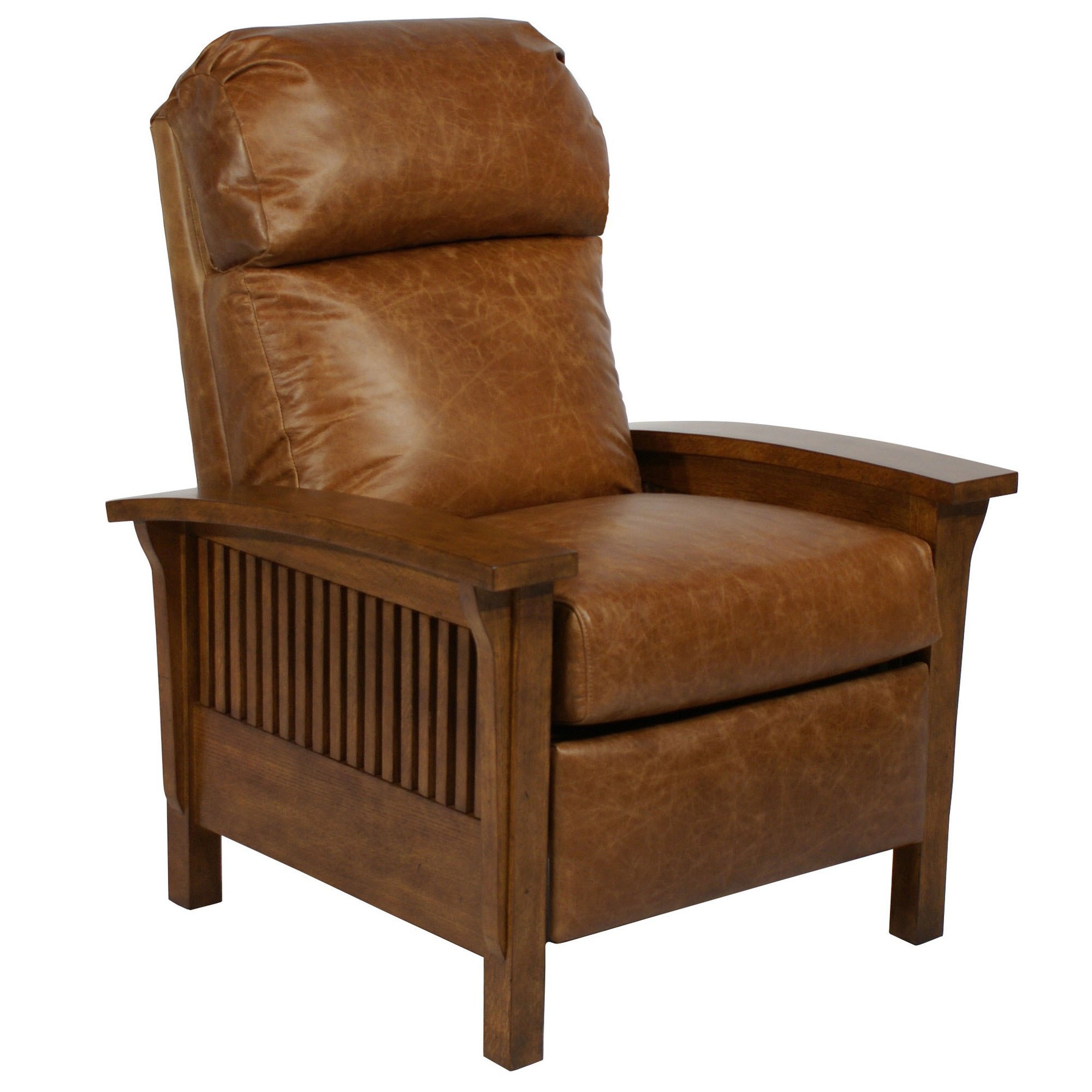 This beautiful chair is characterized by a hardwood plywood frame with mortise and tenon construction, and foam padding with blended down feathers. Includes slatted sides with track arms, and an overstuffed seat, back and headrest.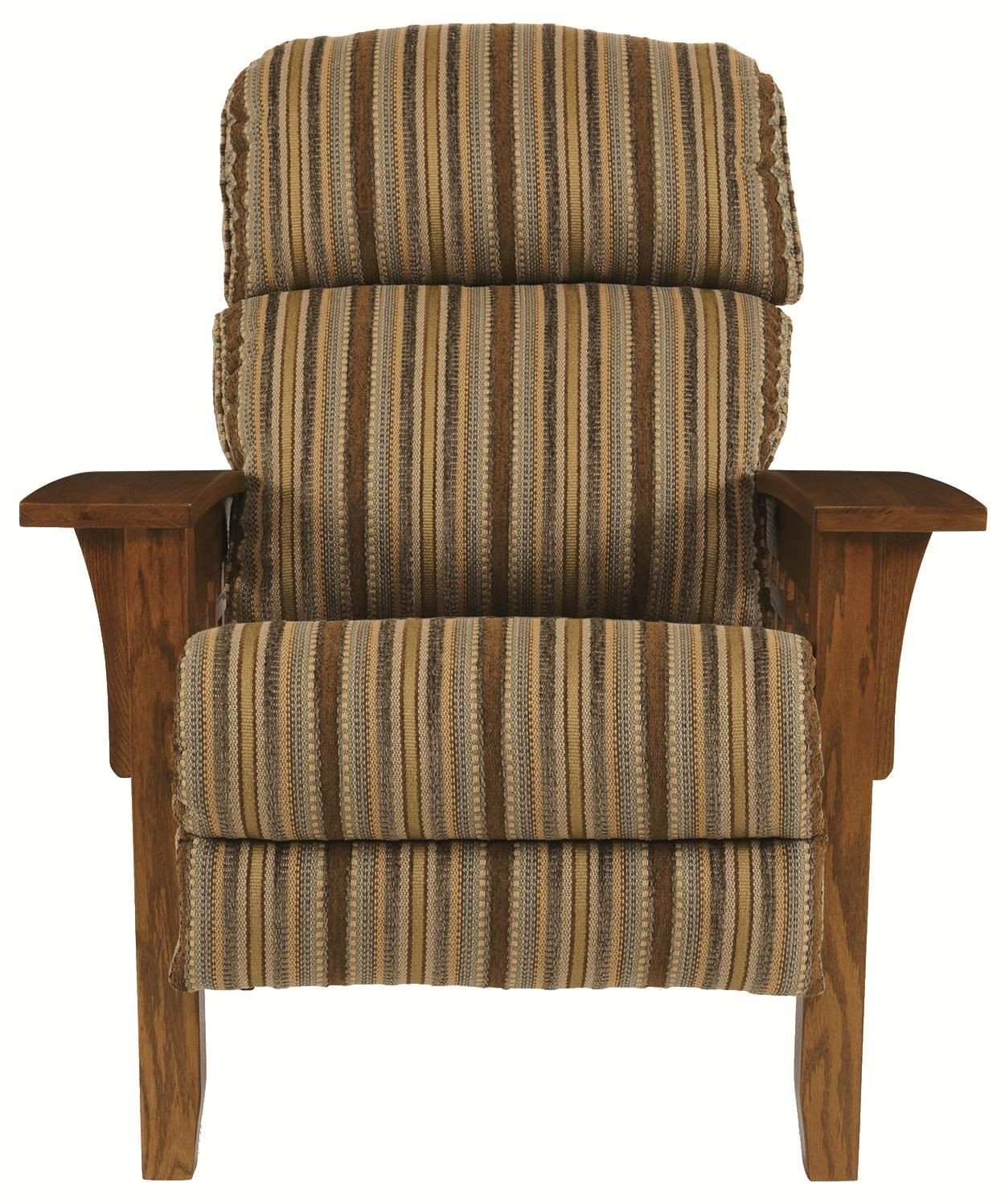 Arm chair in rustic style. It is mounted on wooden frame. Seat and back are upholstered with thick fabric and decorated with striped pattern. Traditional form and neutral design for any interior.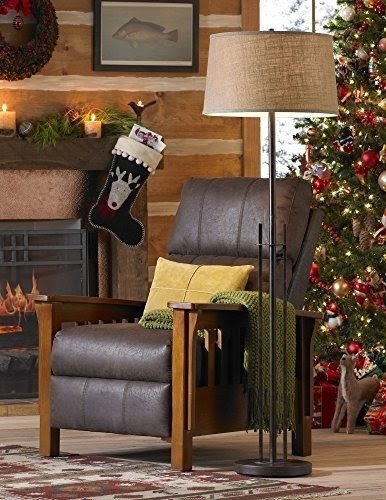 It is a 3-way recliner chair that has got a dark bonded leather upholstery, traditional design and padded seat, which provides an excellent seating comfort. It is a great addition for any room.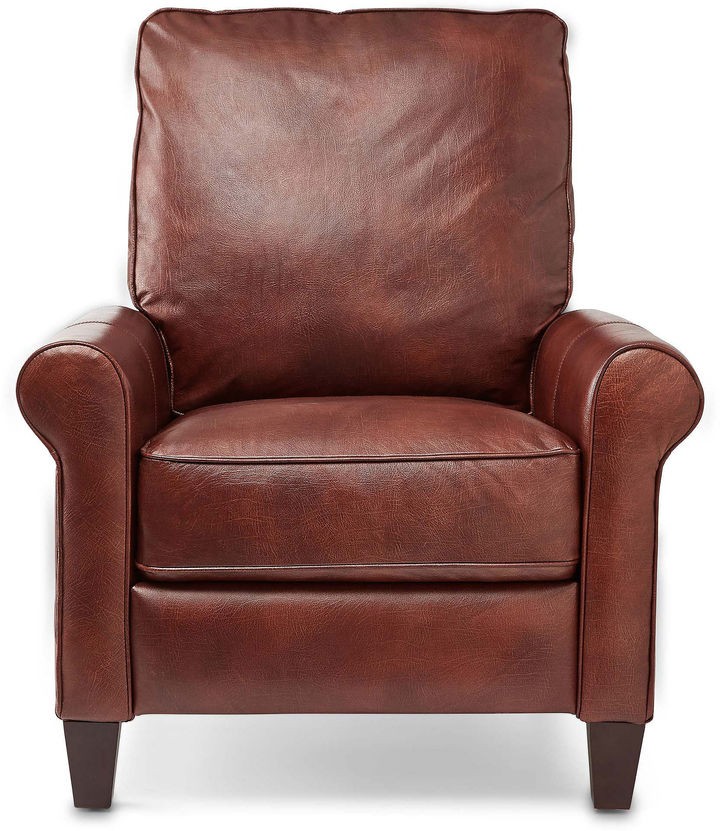 This small but no less impressive leather recliner is a great piece of furniture that will give you elegance and style for any occasion. Beautiful upholstery and solid wood base create a coherent whole.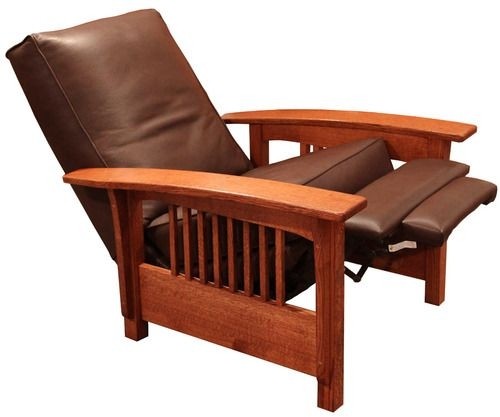 e-Gallery Furniture - Arts & Crafts Mission Style Morris Chair Recliner. Actual reclining Morris Chair that has the classic styling of the Morris Chair, but the comfort of a recliner.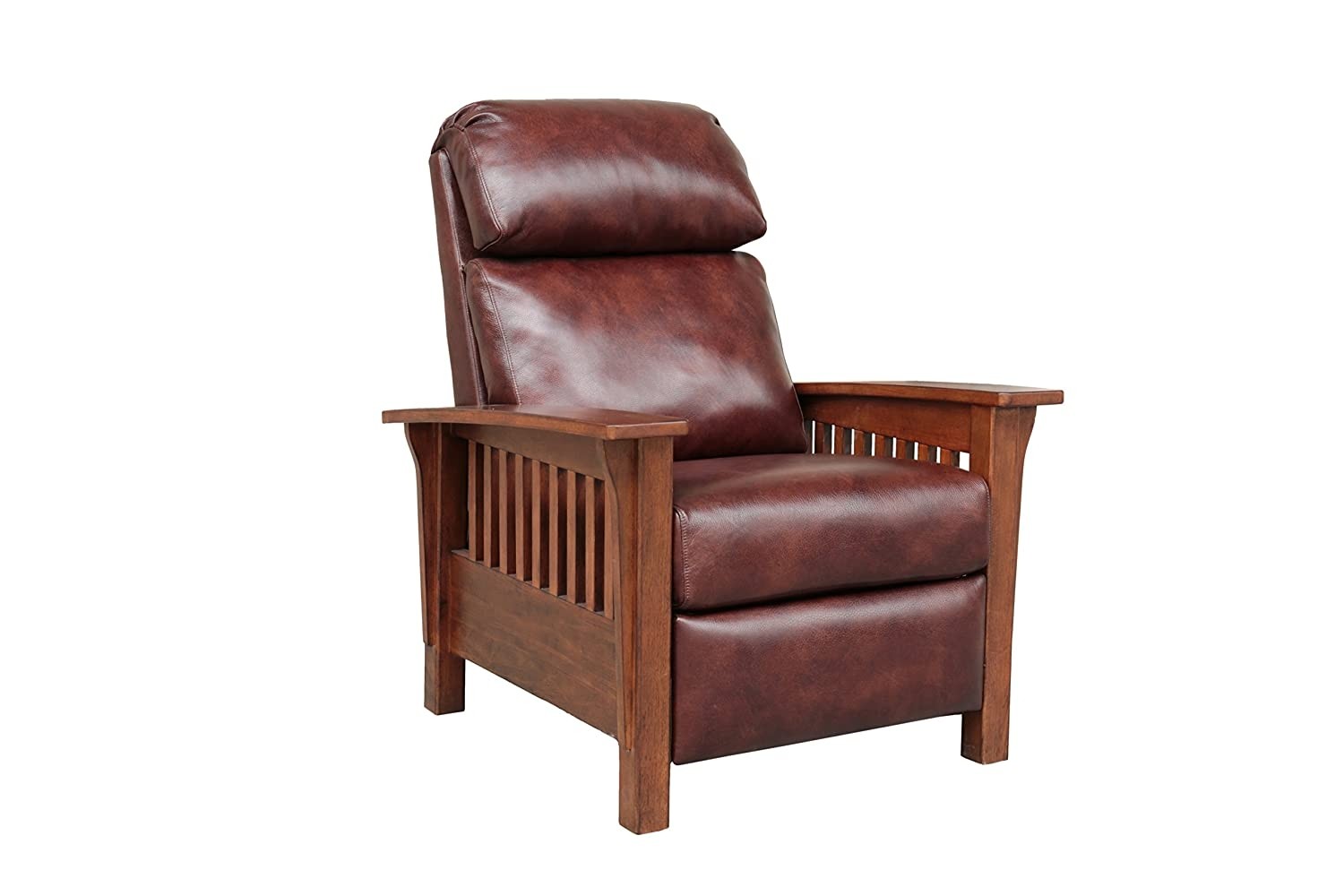 Mission Style Recliner - Best for the Money & Top-Rated in ...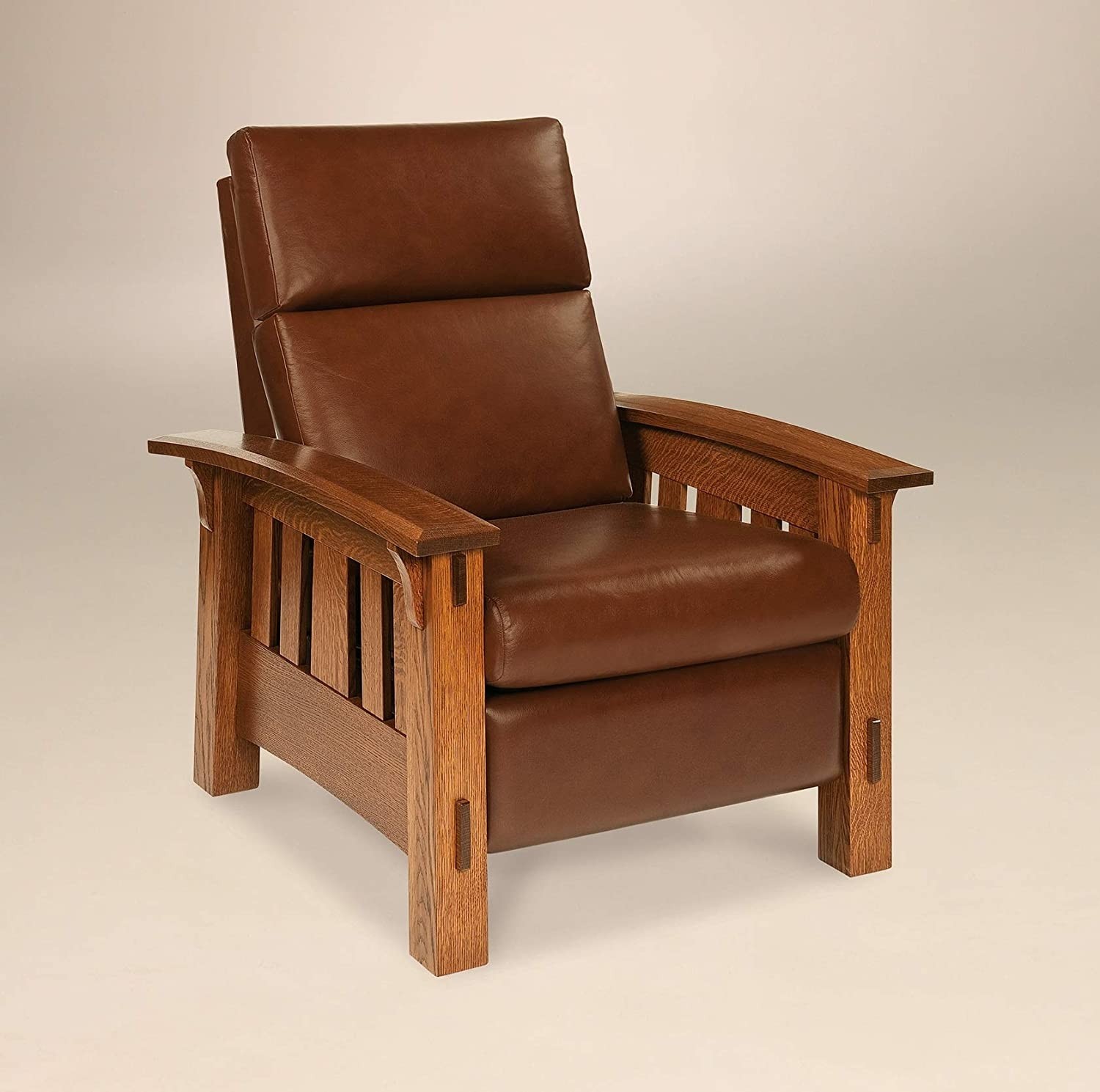 Mission Style Recliner - Best for the Money & Top-Rated in ...