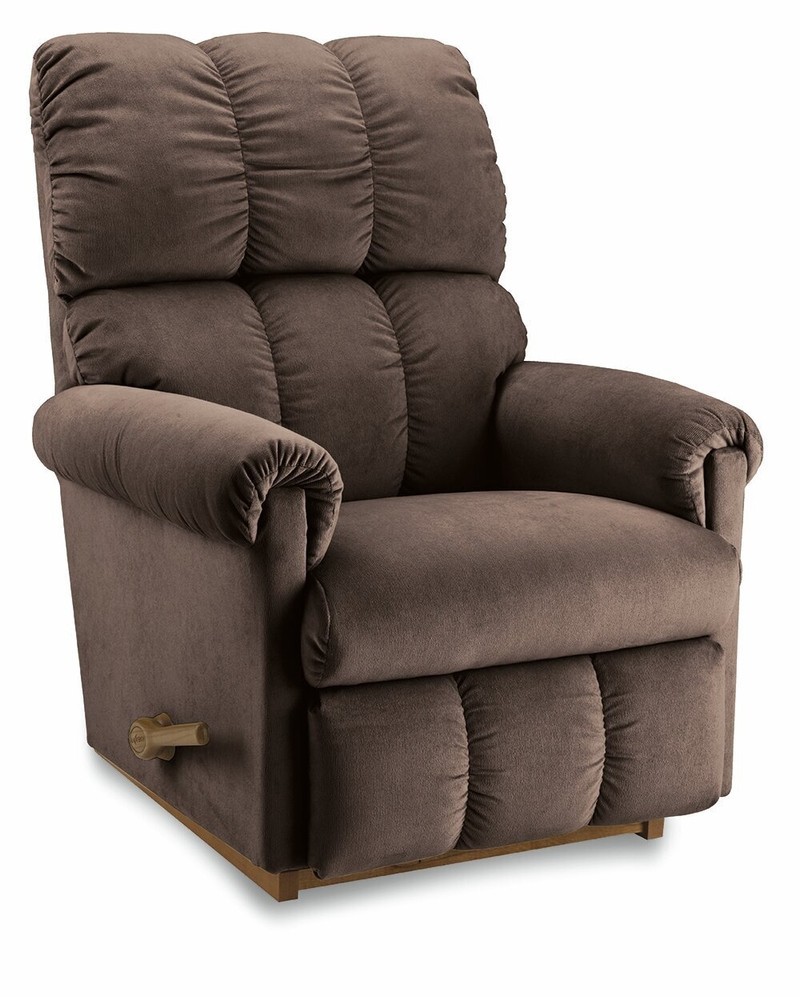 Vail 32'' Wide Manual Standard Recliner

What we like: Two motion types available (rocker, wall hugger)
What we don't like: Top of the price range
The Vail is a petite chair that provides excellent comfort thanks to its well-padded arms and back. It has a manual reclining system on the right-hand side of the chair.
The material of the upholstery is 100% polyester, and the inside is made from polyurethane foam. The frame is solid mahogany wood, and you can choose between mocha, indigo, or burgundy upholstery.
The chair's dimensions are 40.5" in height, 36" on the side, and 32" on the front. Although it weighs 62 lbs., it has a weight capacity of up to 300 lbs. Overall, the Vail is a recliner with a beautiful design that provides excellent comfort.
$599.99 $639.99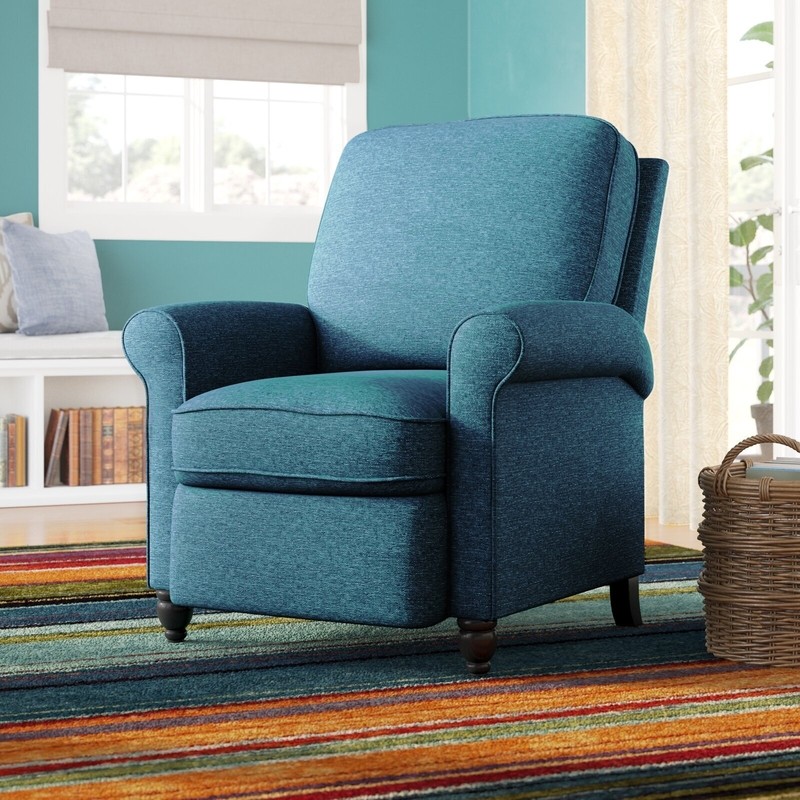 Leni 33 5'' Wide Manual Standard Recliner

What we like: Great color selection, beautiful design
What we don't like: Cushions are initially quite firm
The Leni 33.5" Wide Manual Standard is a push-back recliner that moves effortlessly and provides excellent comfort. Simply sit back in the chair without using levers or buttons and let the chair do the work for you.
The frame materials are pine wood, poplar plywood, and cast iron. The chair features solid wood legs for style and support. The cushion filling is made from polyester fiber and foam, and the chair also has several springs for added comfort.
A fantastic feature of this model is the ability to choose from a wide range of colors and fabrics. Most of them are a blend of cotton and polyester. The Leni recliner comes with a 60-day warranty against defects or damage. The Leni has received acclaim from thousands of satisfied customers.
$276.99 $359.99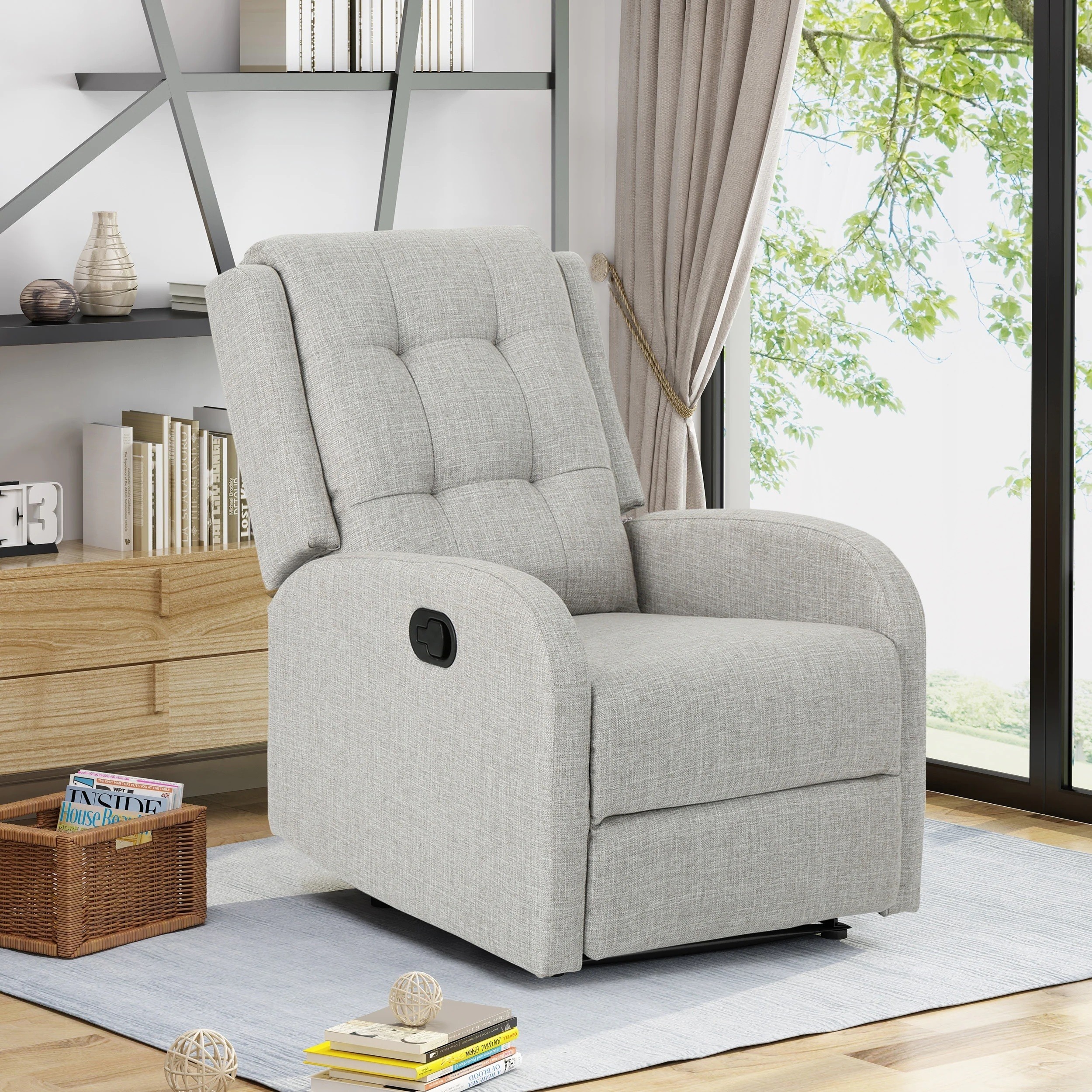 O'Leary Traditional Upholstered Recliner

What we like: Affordable price
What we don't like: Plastic legs that aren't as durable as solid wood
The O'Leary is a small recliner designed by Christopher Knight Home. Its compact size is ideal for an apartment, cottage, or even a tiny home.
The chair's fabric is 100% polyester with three different color options, including beige, charcoal tweed, and navy blue tweed. The legs are made of plastic, which may pose a durability concern to some buyers. However, the legs are finished in a sleek matte black that creates a beautiful, ultra-modern contrast when paired with a light upholstery color. The button-tufted detailing is also a huge selling point for this model, creating texture to make the chair a focal point in your small living space.
This chair has a manual recline system with a button on the right side to activate the function. It comes with a 90-day warranty.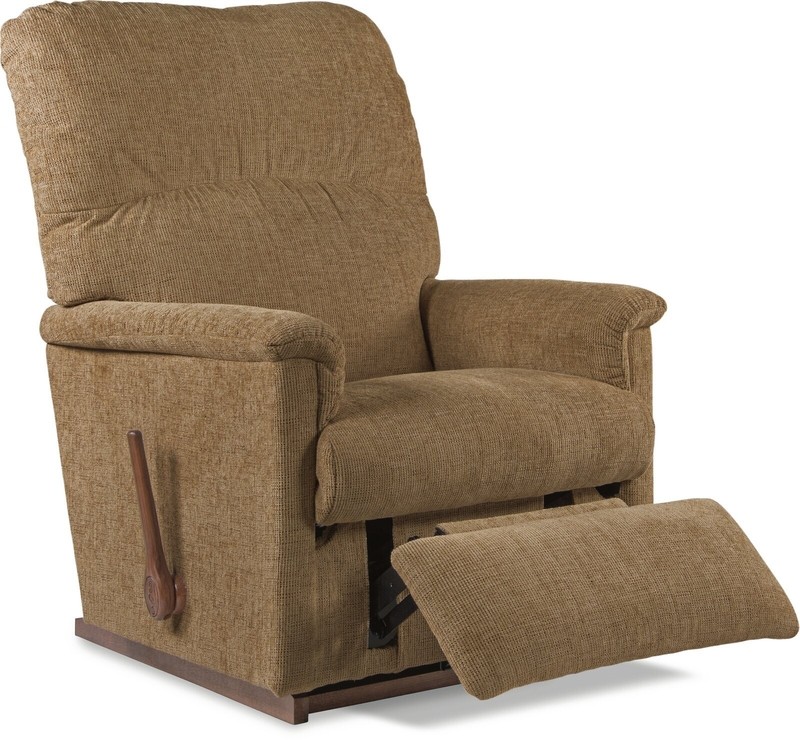 Collage 29 5'' Wide Manual Rocker

What we like: Quality materials, very comfortable
What we don't like: Partial assembly required
The Collage 29.5" is a manual recliner that's comfortable and easy to use. The chair has a large lever made of wood on the right side that you can simply reach and pull when you're ready to lay back. If you're seeking a basic seat for lounging and hanging out, this La-Z-Boy is a great choice.
The fabric is 100% polyester, and the chair's frame is a combination of solid and manufactured wood materials. The base of the chair is brown mahogany that appears elegant and provides good stability. The seat fill material is polyester, and the backfill is synthetic fiber.
$589.99 $629.99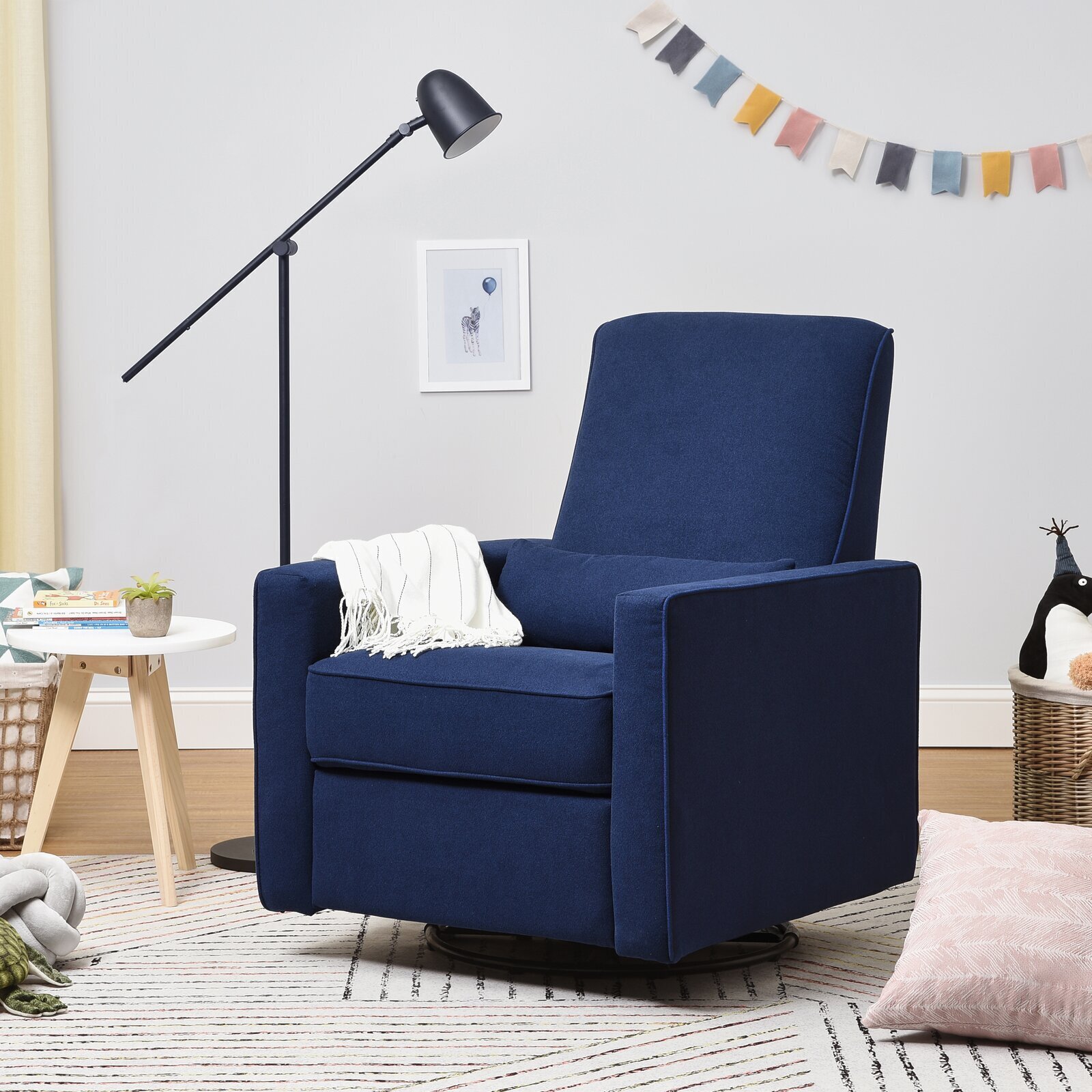 Piper Swivel Reclining Glider

What we like: Greenguard Certified for a sustainable choice
What we don't like: Not as aesthetically pleasing as other, more expensive options
The Piper Swivel Reclining Glider is a chair crafted with new parents and nursing mothers in mind, providing the comfort and relaxation you need without compromising too much floor space. This recliner features a 360º swivel motion, a forward and backward gliding motion, and a pop-up leg rest to provide additional support as needed.
The Piper is made with soft and durable heathered polyester fabric. The reclining mechanism is hidden for a more stylish look, but it remains easy to access and use. There's also a bonus lumbar pillow included for extra back support.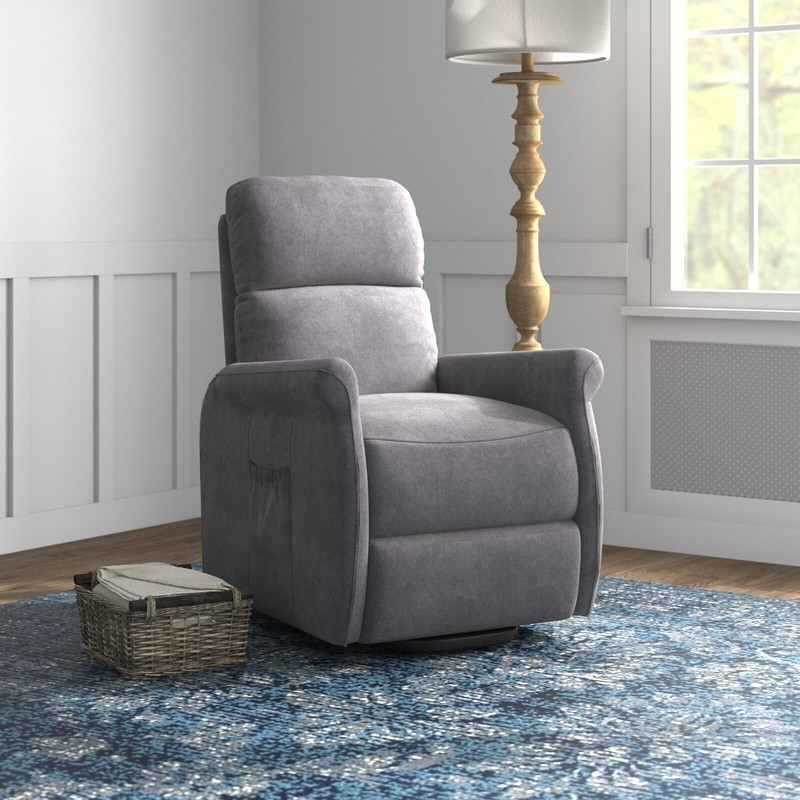 Julia 29 92'' Wide Power Lift Assist

What we like: Remote control recline function
What we don't like: Larger footprint than some other models
The Julia is a very comfortable compact chair that won't occupy much space in your home. It has a foam-filled interior to provide extra comfort and support that hugs your body when you watch a movie or read a book.
The chair comes with a remote to control movement for three different reclining positions. It also comes with a lift assist feature, making it easier to stand up after use. The lift assist feature makes the recliner an excellent choice for older adults or those recovering from an injury. The frame can support up to 300 lbs.
The seat and chair back are also generously cushioned with high-density foam, providing extra comfort. Overall, a high-quality petite recliner with a beautiful design with reversible cushions and a magazine and remote holder on the side.
$619.99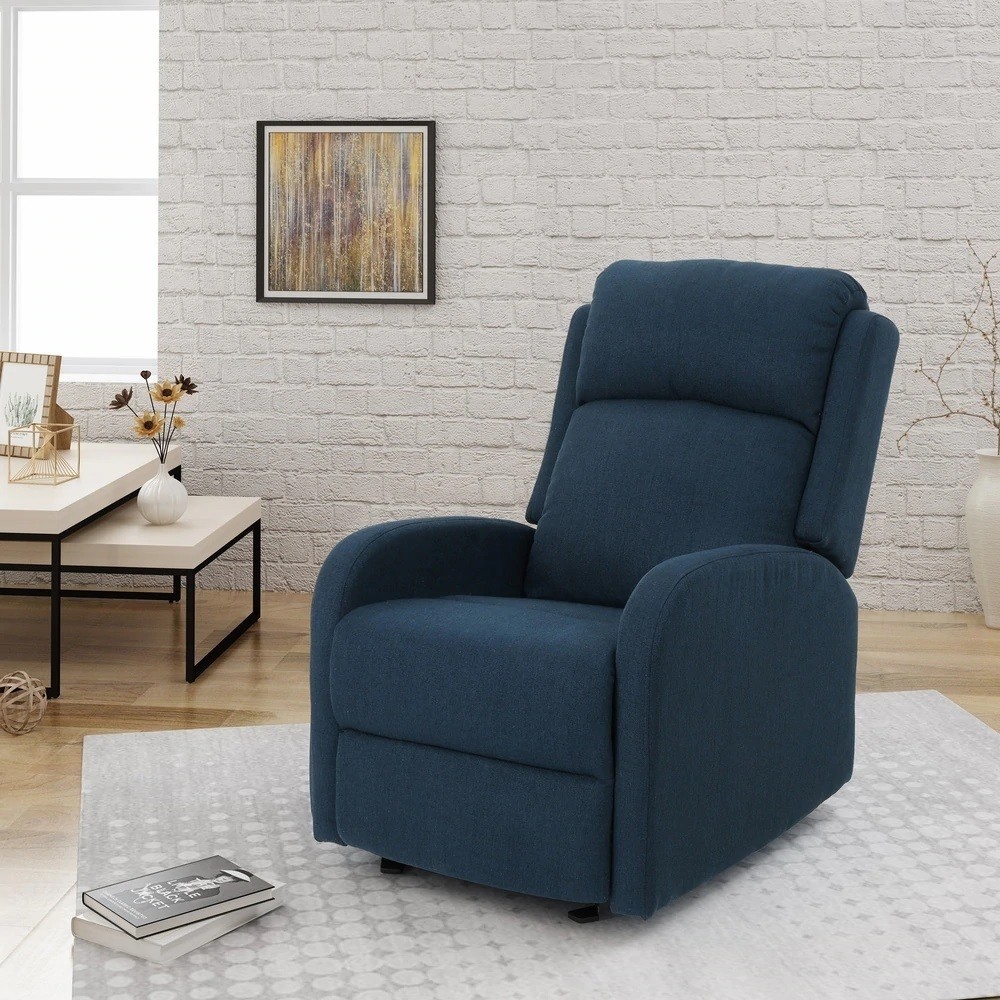 Alouette Rocking Recliner

What we like: Rocking and reclining functions
What we don't like: Chair doesn't lock in a reclining position
The Alouette is a stylish and comfortable chair that comes at a reasonable price. It has both rocking and reclining functions. While you're in the reclining position, the rocking function is unavailable.
The chair's fabric is soft and made from polyester, while the frame is a combination of wood and metal. The seat comes with extra plush cushions and a lightly tufted backing for a visually pleasing aesthetic that also makes it enjoyable to sit for hours.
You must assemble the chair yourself, but it takes only about 15 minutes. The Alouette comes with a 90-day warranty. You can purchase this chair in dark grey or navy blue, which are sophisticated and versatile colors.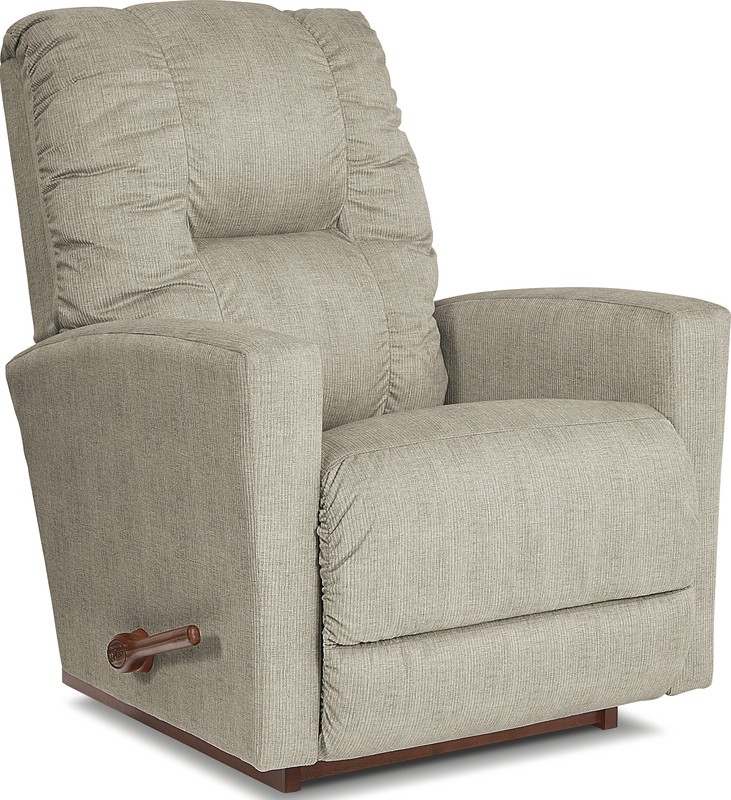 33'' Wide Manual Rocker

What we like: Lifetime warranty on mechanism and springs, three reclining positions
What we don't like: Colors and design aren't modern
This is a comfortable chair by La-Z-Boy with three reclining positions and an easy-to-use lever system. The chair holds a maximum weight capacity of 300 lbs. and doesn't occupy much space. The overall weight of the chair is 70 lbs. It's a compact recliner, perfect for small living rooms or offices.
This chair has a contemporary design, with easy-to-maintain 100% polyester upholstery and a frame combining solid and manufactured wood. The fabric is stain-resistant, making this a suitable option for homes with children or pets.
The chair has a limited lifetime warranty on the mechanism, frame, springs and a 1-year warranty on the fabric and cushions.
$699.99 $749.99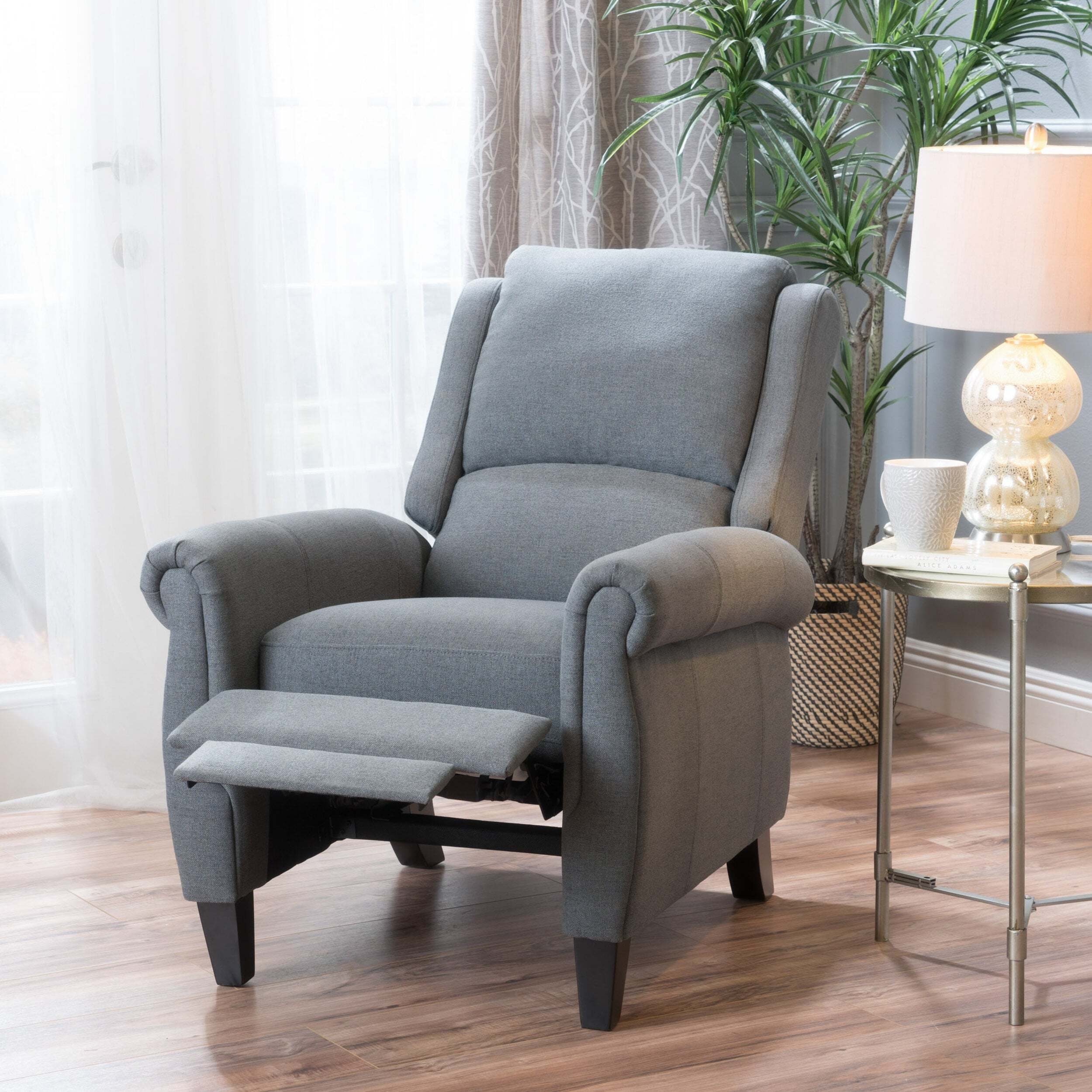 Haddan Fabric Recliner Club Chair

What we like: Unique, contemporary design
What we don't like: Requires assembly
The Haddan is a push-back reclining chair with a contemporary design. The chair's dimensions are 39.5" high, 28" wide, and 35.5" inches deep. Some customers in the review section found the chair too small, but it's an ideal choice for a tight space.
All the materials used in this chair's build are high-quality and meant to last. The frame is solid birch wood, and the beautiful charcoal upholstery is made of polyester. Users can benefit from the support of a semi-firm seat and elegant rolled arms that are comfortable and aesthetically pleasing.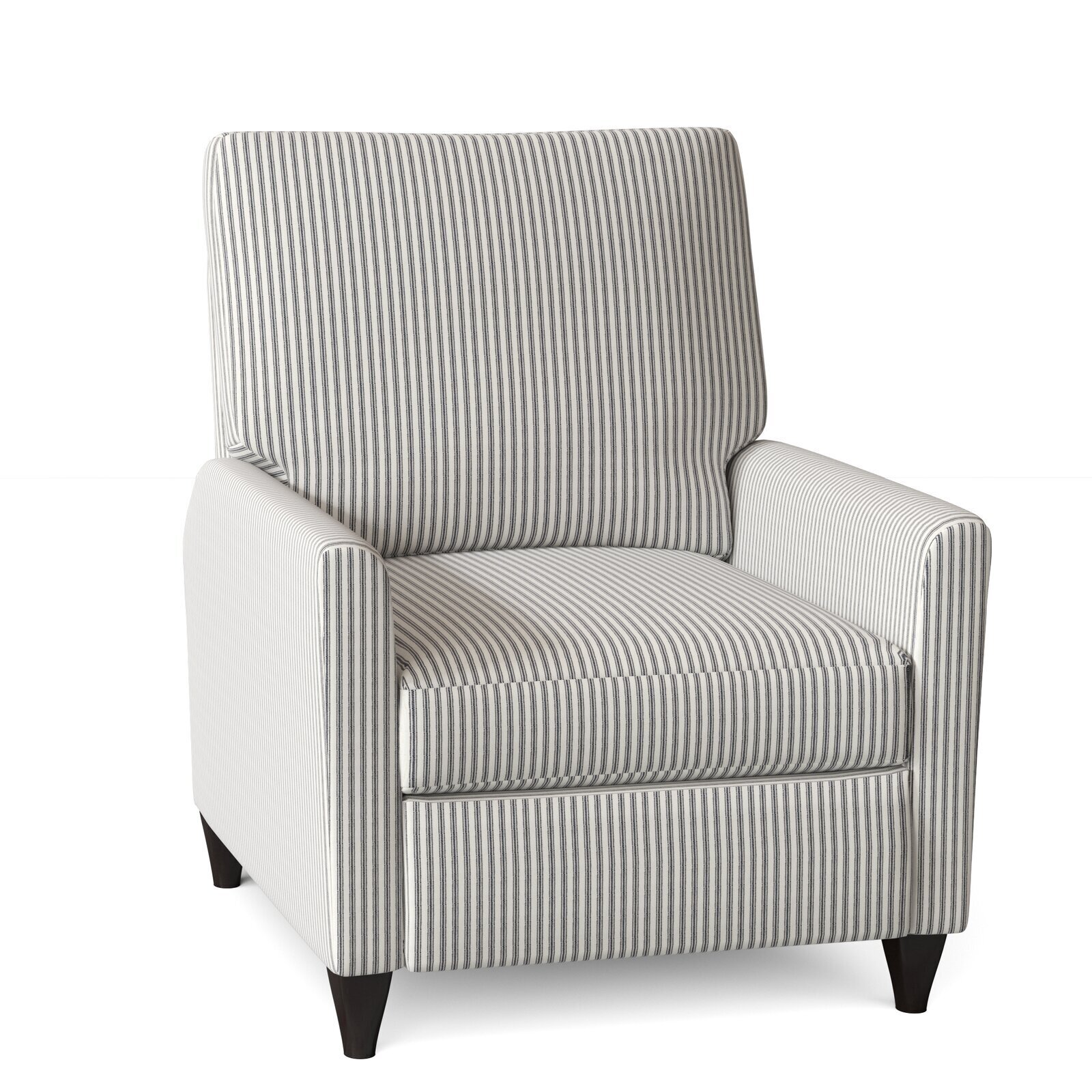 Harrison 31" Wide Sunbrella

What we like: 100+ upholstery color choices
What we don't like: Recline angle of just 105º
This is a compact chair that is comfortable and durable. It's a push-back reclining chair that lays back to a 105º angle. The recliner has a maximum weight capacity of 300 lbs.
With a modern and stylish design and tapered legs, this simple and squared silhouette fits in any style of home, whether modern, French Country, or coastal themed. The seat and back are filled with foam, and the frame is sturdy. You also have two options for leg color, with either a rich dark wood or a sophisticated lighter gray.
The Harrison is a quality petite recliner that is budget-friendly. This chair is made in the USA.