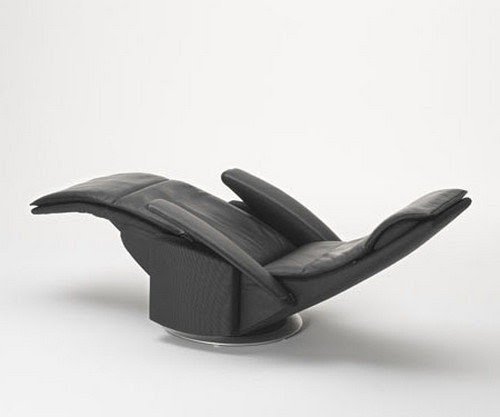 Modern, contemporary recliner chair covered with black leather. Its mechanism provides many comfortable postures for enhanced relaxation. Its padded seat and backrest are very soft and supported by padded arms.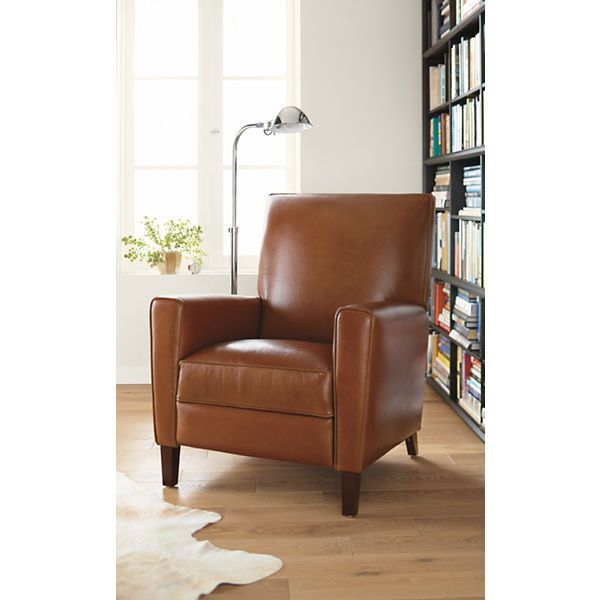 A comfy classic recliner with a wooden frame and quite high black angular tapered legs. It has a deep thick-padded seat, a tall backrest, straight flat flared arms. It's upholstered in elegant warm brown leather. It can be push or button-operated.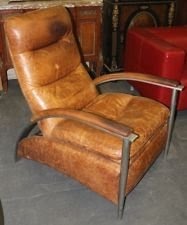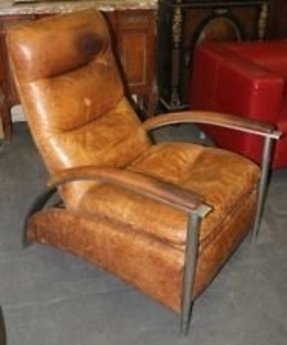 Beautiful Mid Century Modern Leather Recliner Club Chair NO Reserve! NR!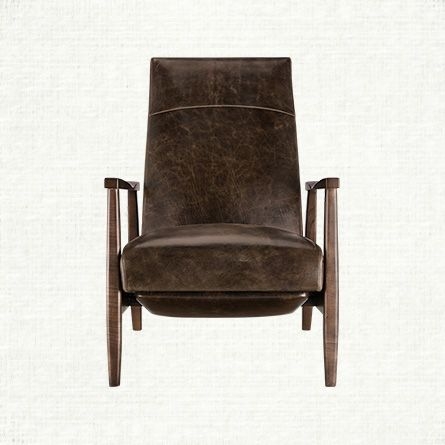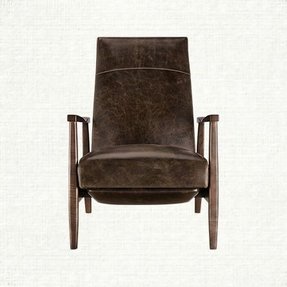 This stylish and very elegant recliner is a solid lacquered wood construction and beautiful leather upholstery. Comfortable seat with a high backrest, armrests, and strong legs make a beautiful whole.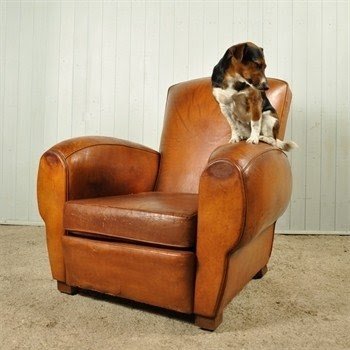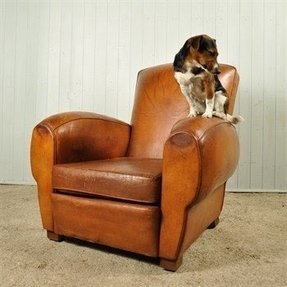 Improve your den with vintage accents using this comfy club chair with oversized armrests. Its bold silhouette is upholstered in a quality leather, featuring a slightly tilted back, a soft seat cushion, ergonomic lines and wooden feet.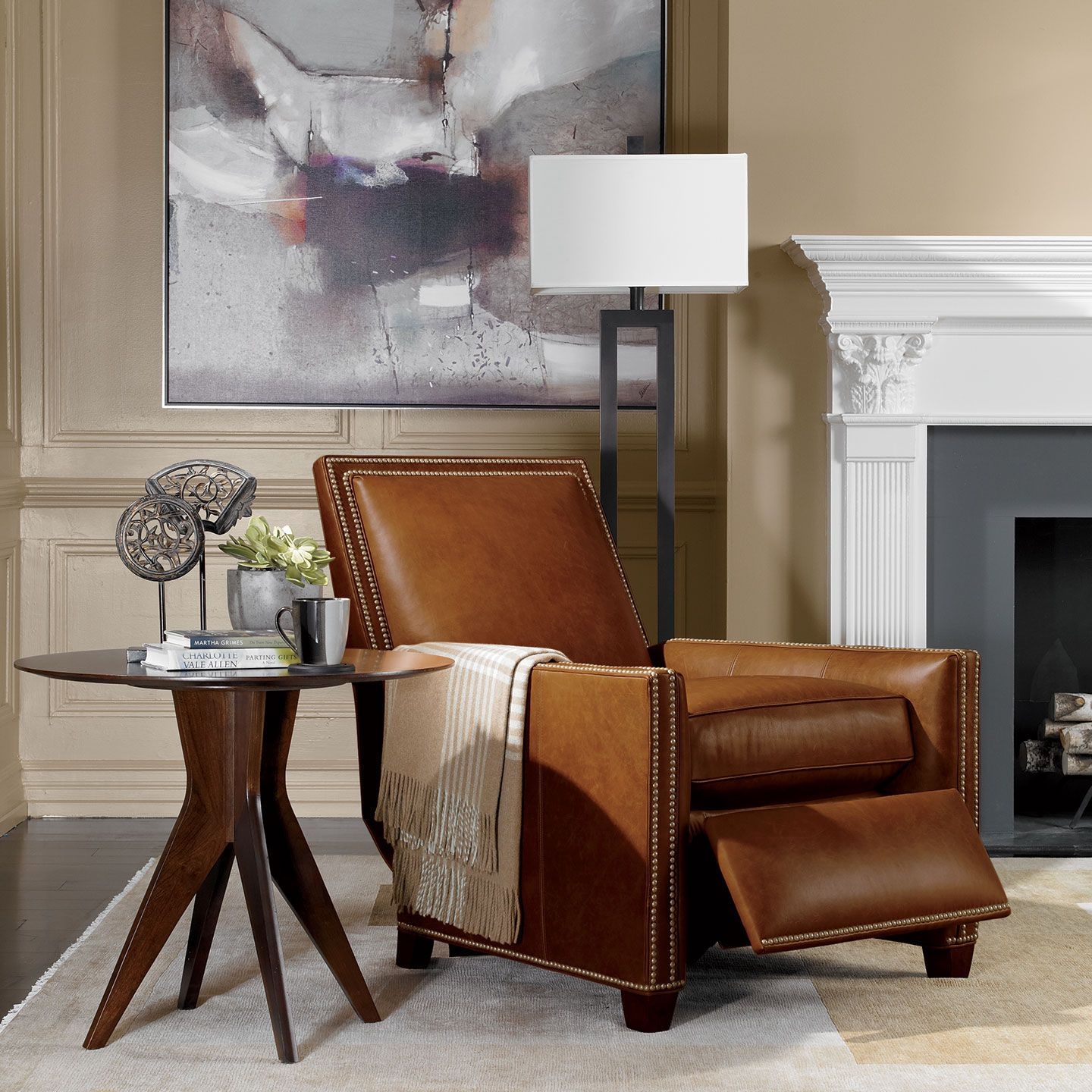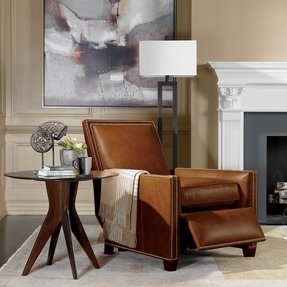 Randall Leather Recliner, Old English/Saddle - Ethan Allen US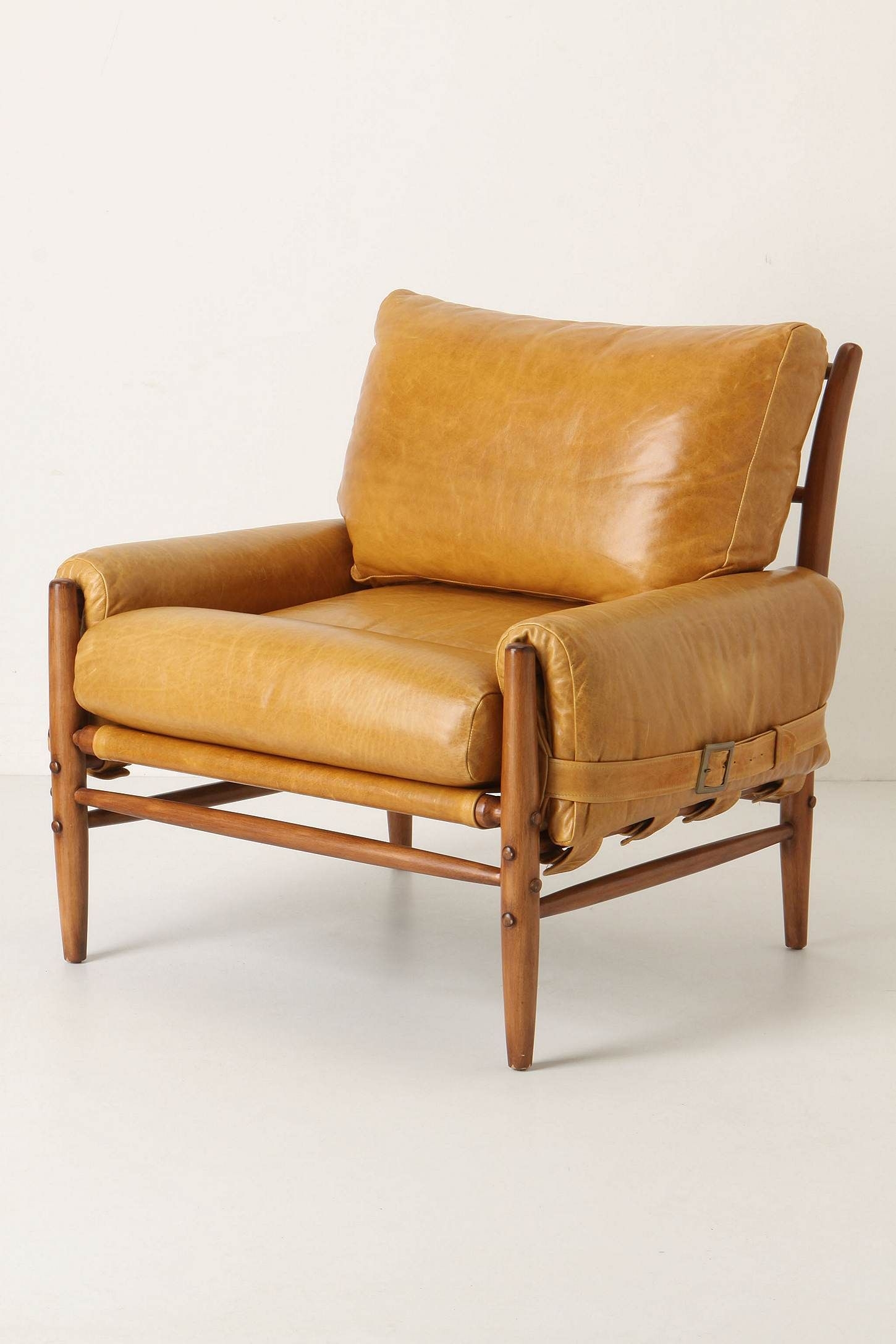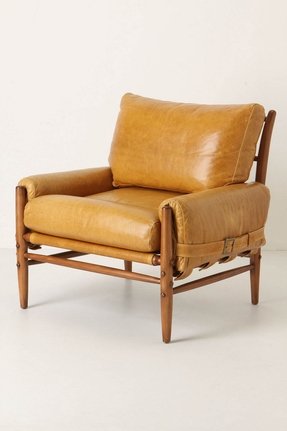 Milo Baughman // Mid-Century Designer one - Pony Hair chair // two - scoop chair // three - leather club chair // four - Recliner manufactured by James Inc // five - recliner // six - armchair //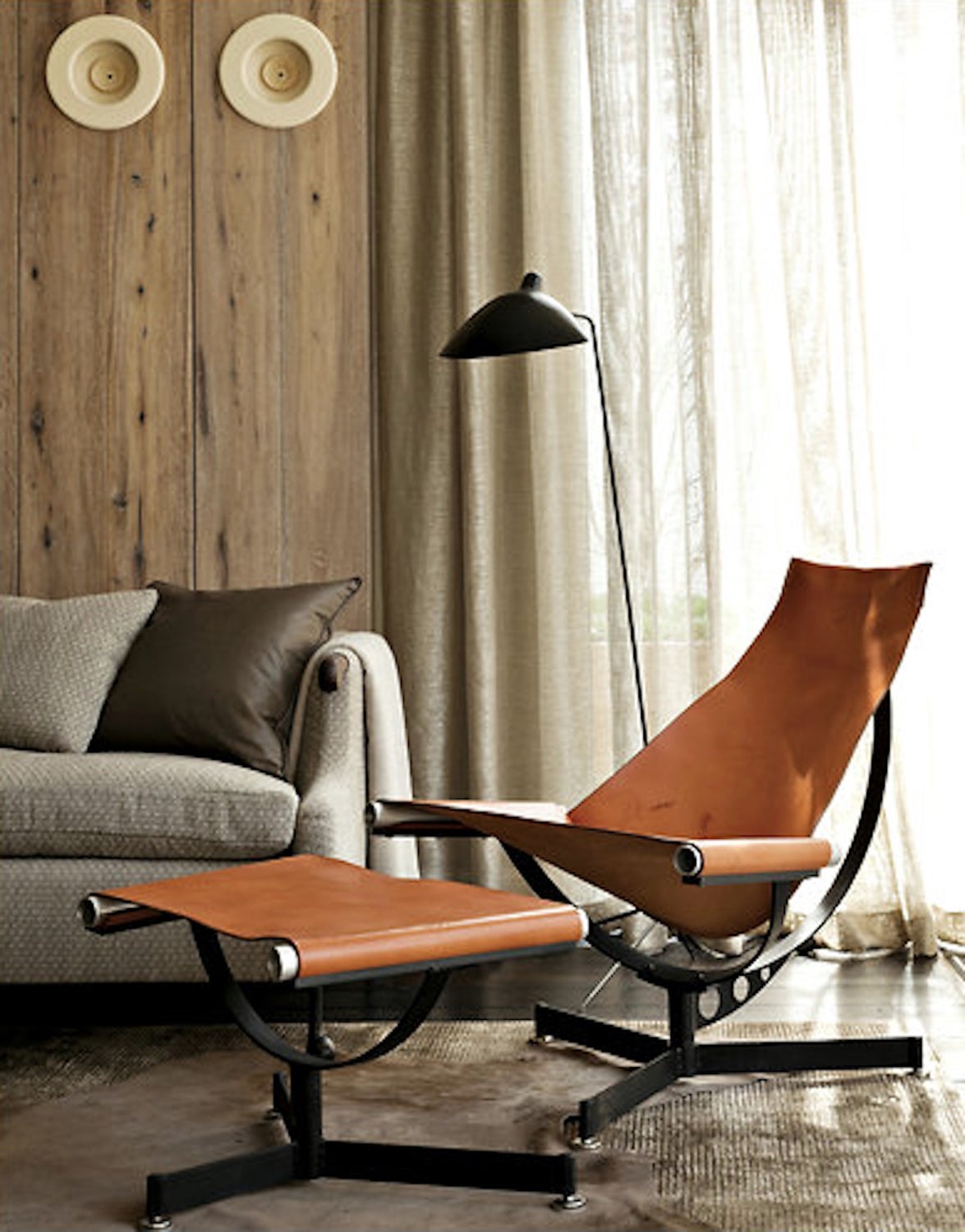 A leather sling recliner with footstool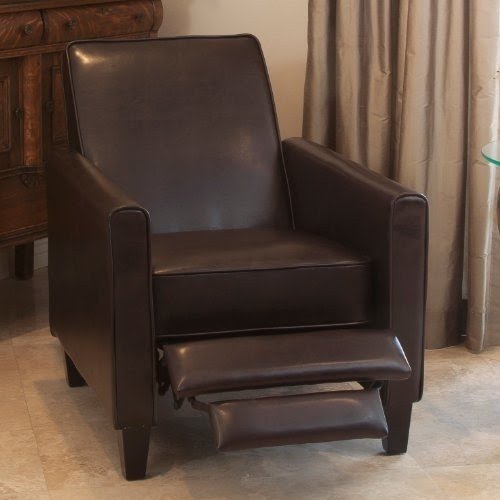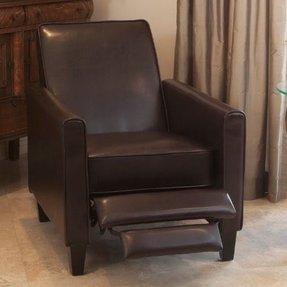 Highly versatile, contemporary multi-position recliner club chair. Features a turdy hardwood construction with fine bonded leather upholstery and has Well padded seat, backrest, and armrests.Makes a comfortable choice for adaptable, timeless living.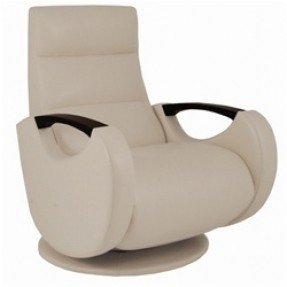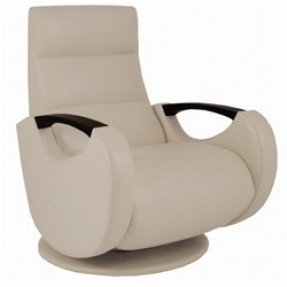 MELENA MODERN LEATHER RECLINER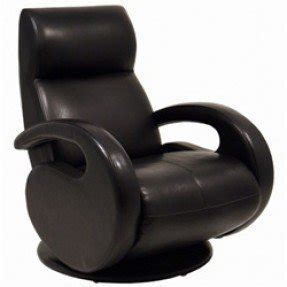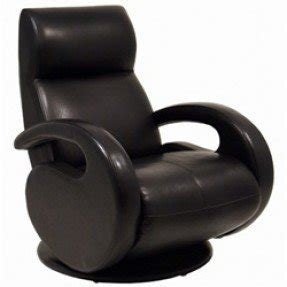 ODYSSEY MODERN LEATHER RECLINER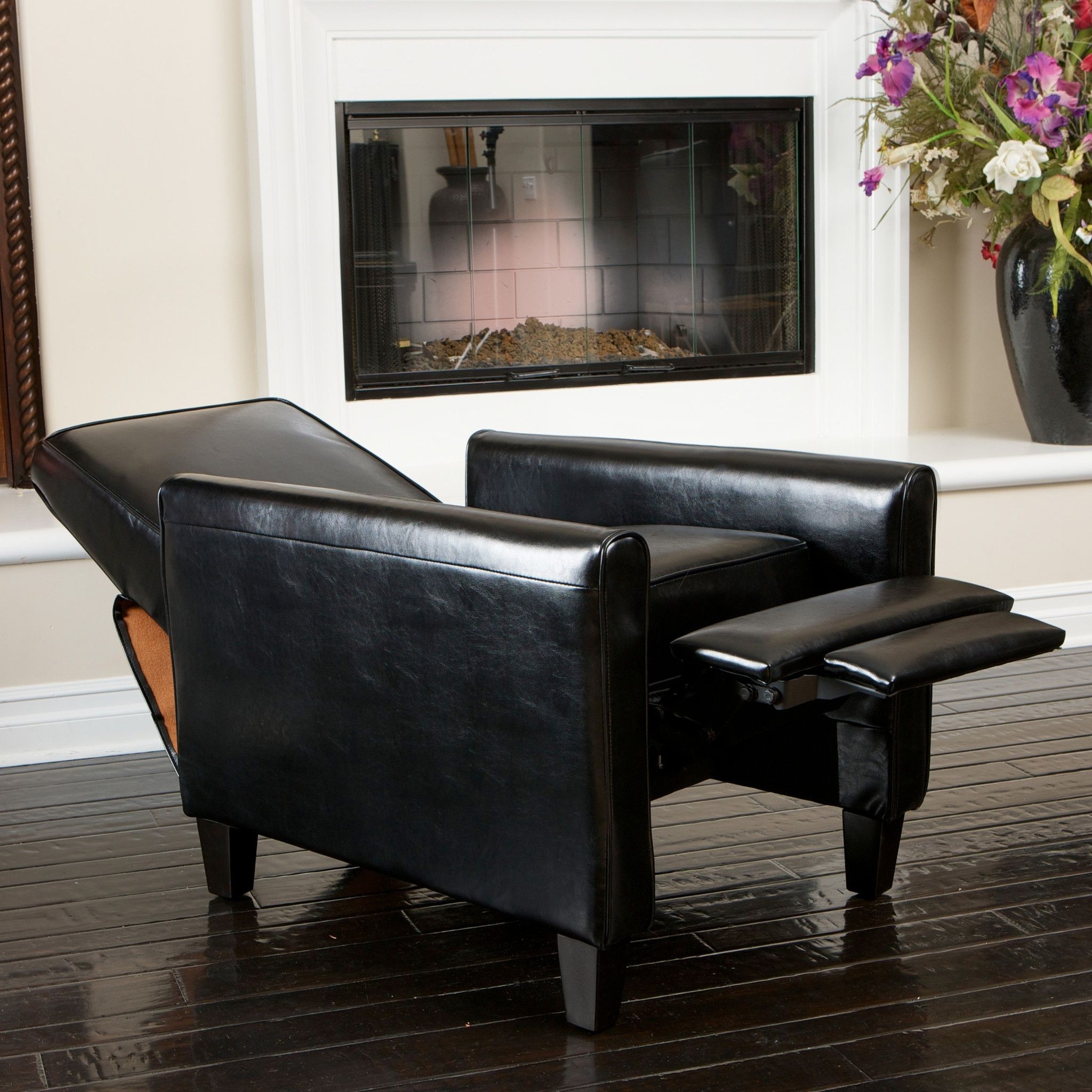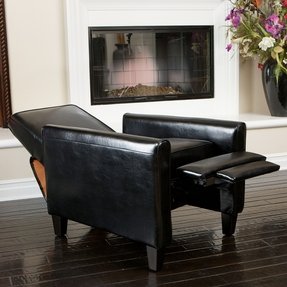 This multi-position recliner features a sturdy hardwood frame and fine bonded leather upholstery. The club chair is well-balanced, reclines smoothly, and stands four tapered legs. The seat, back and arms are padded.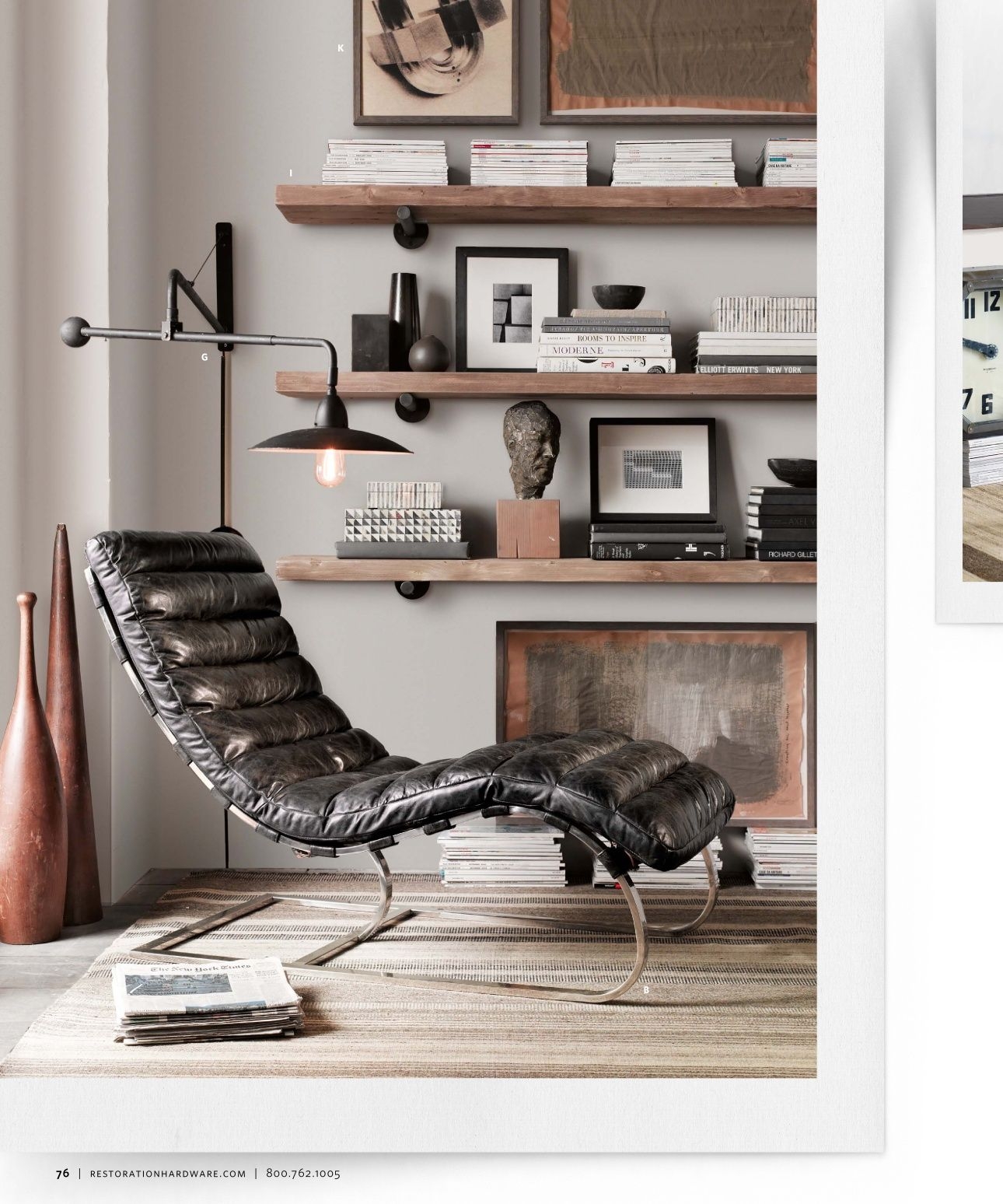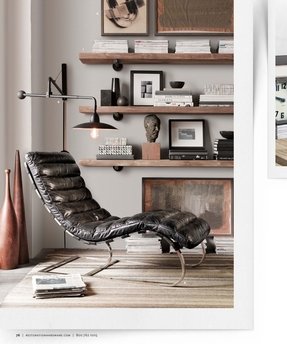 Relax on this retro and vintage leather recliner, which has the modern shape and black color. The cover is soft, comfy and easy to care for. It adds style and elegance to any interior.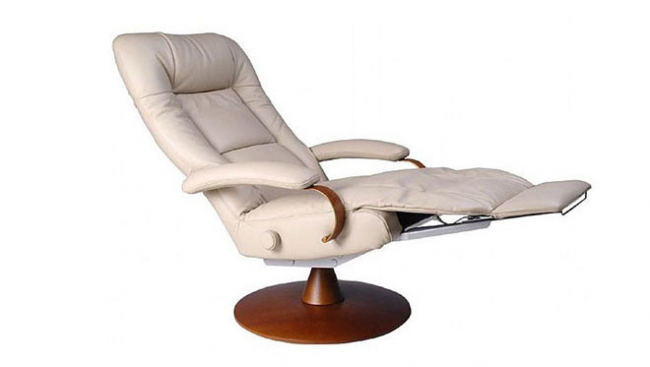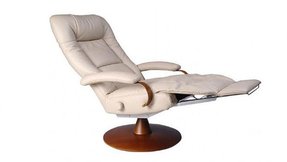 Being a perfect example of a contemporary recliner, this white leather model enchants with its ergonomy and smooth, modern design. Standing on a round, brown, wooden base, it will be a stable and solid construction.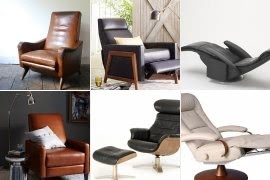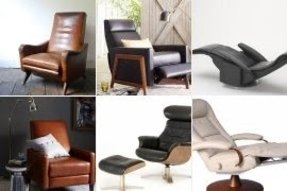 Add this beautiful, modern-styled recliner chair to your interior and enjoy the swivel function as well as the glossy tone of the leather upholstery that offers plenty to your household decor and its looks.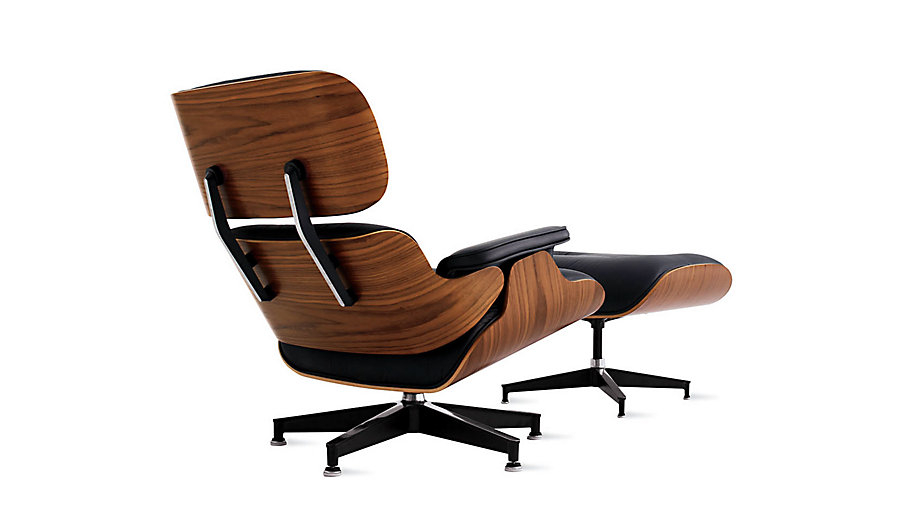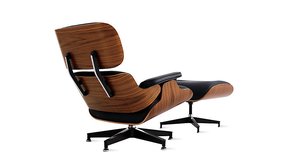 Mid century inspirations are still one of the hottest trends. Add premium leather, black metal base and a plywood shell and you get a lounge armchair (with ottoman) of your finest modern design-inspired dreams.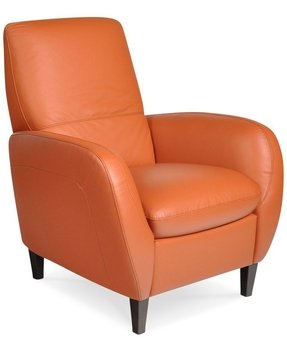 Aubrey Leather Recliner Chair in "Terracotta"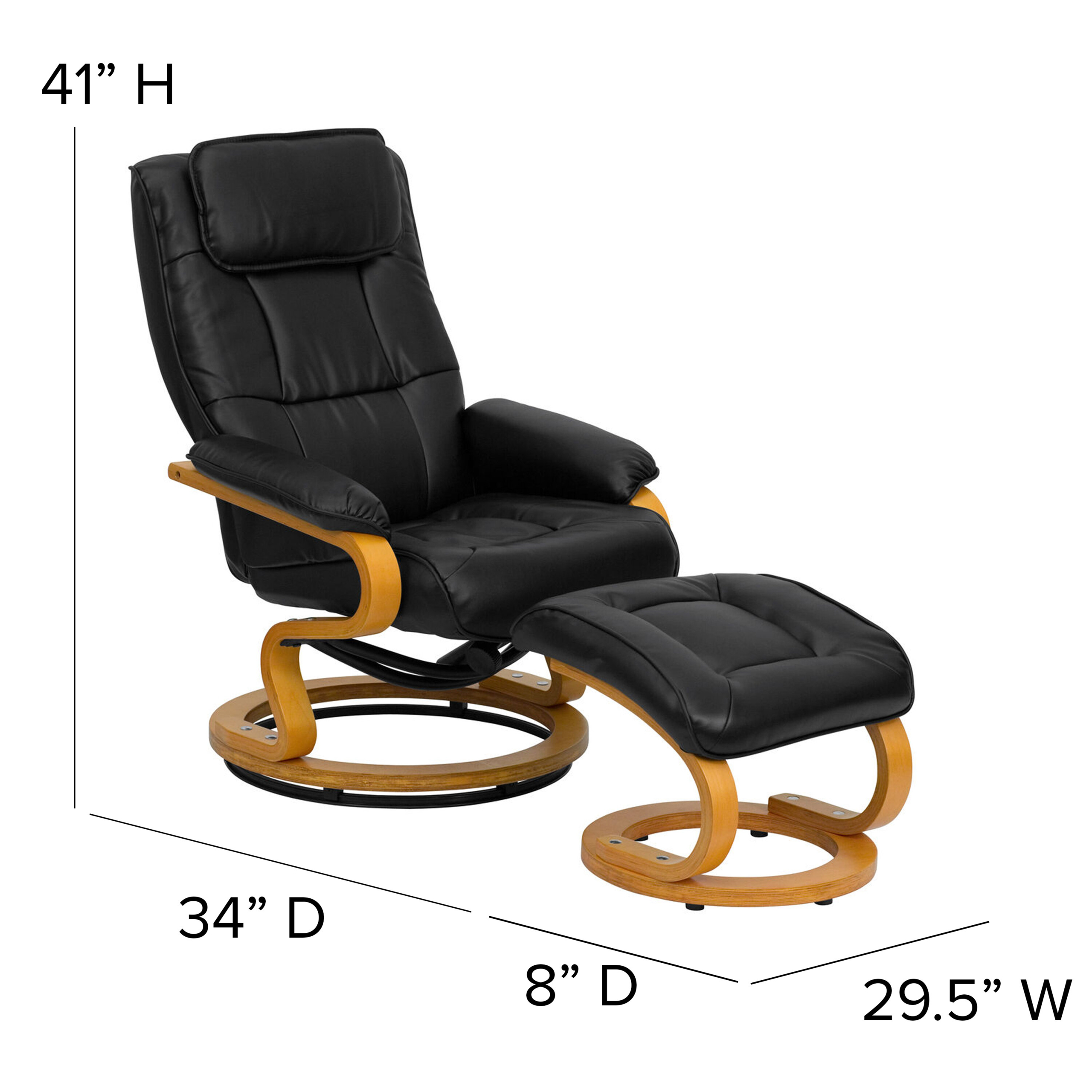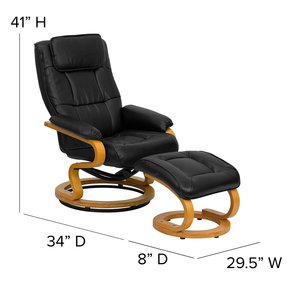 Are you dreaming of an extraordinary comfort and an intriguing design in your house? Then, check out this incredible and stylish recliner with ottoman and enjoy an amazing convenience at your own place!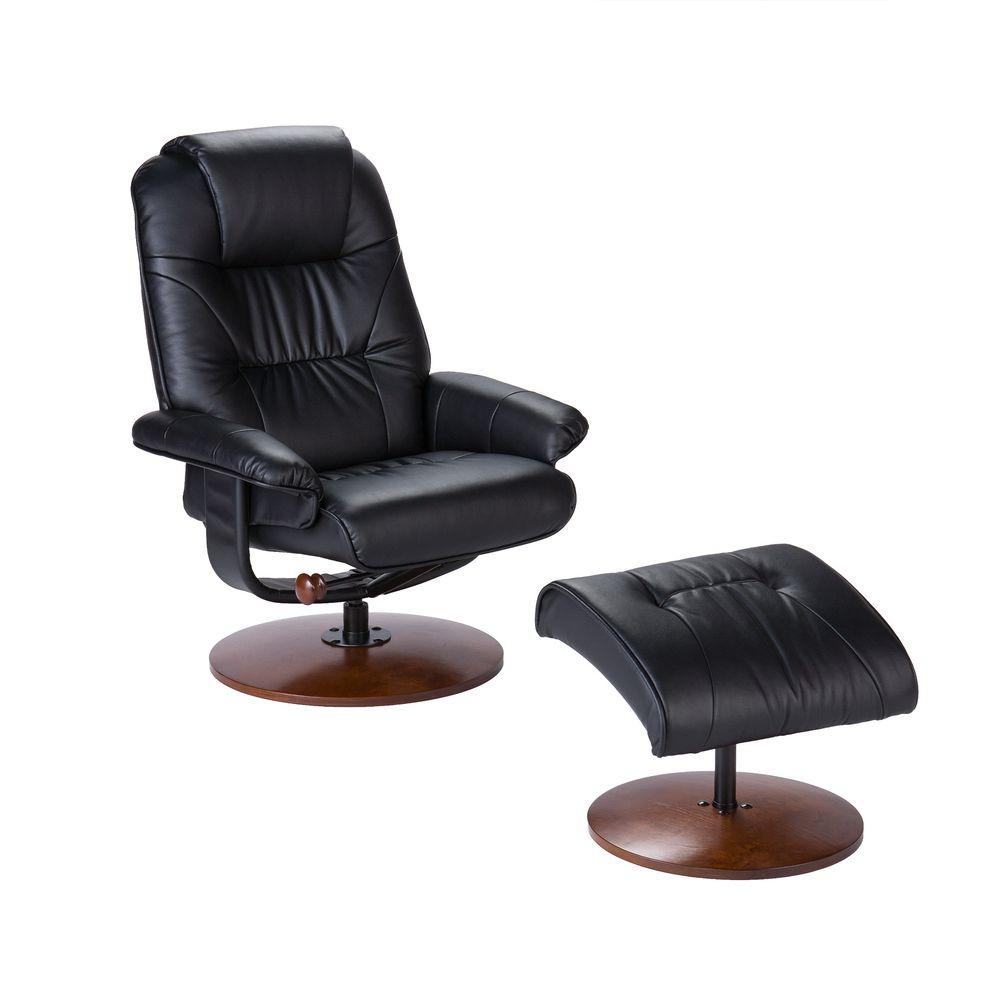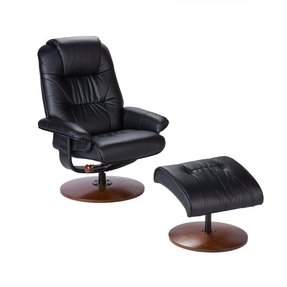 Slim, modern and made of well-chosen raw materials, the modern leather recliner has the ideal size for an average flat. In addition, you can rest your legs on an additional footstool - both on the brown round bases, made from the same black leather.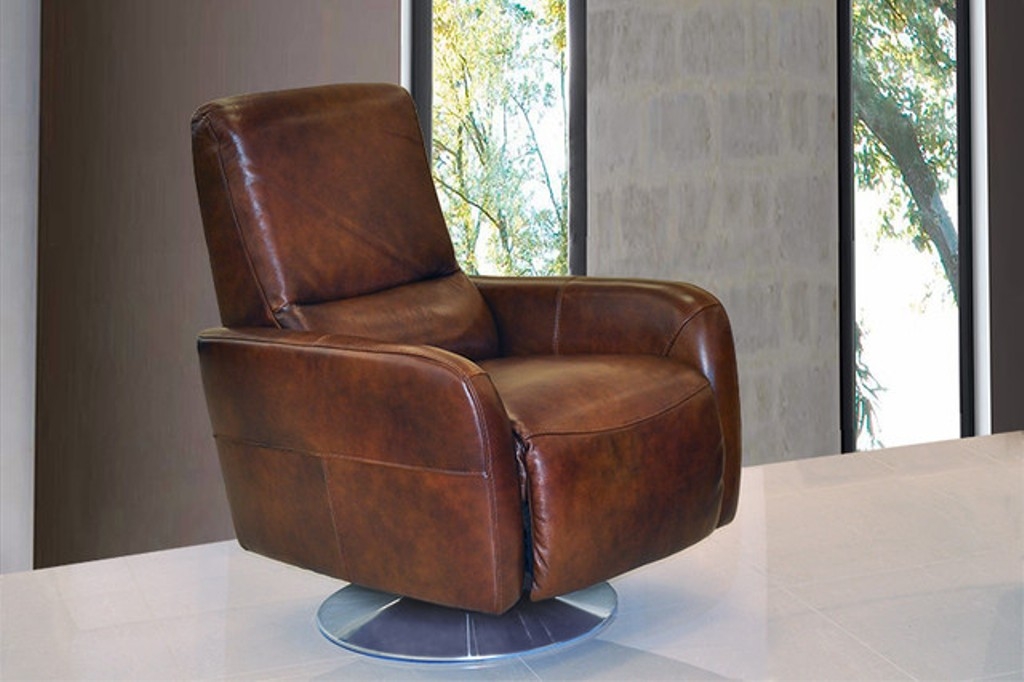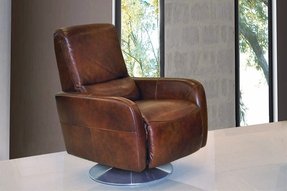 Celestino Modern Leather Recliner Chair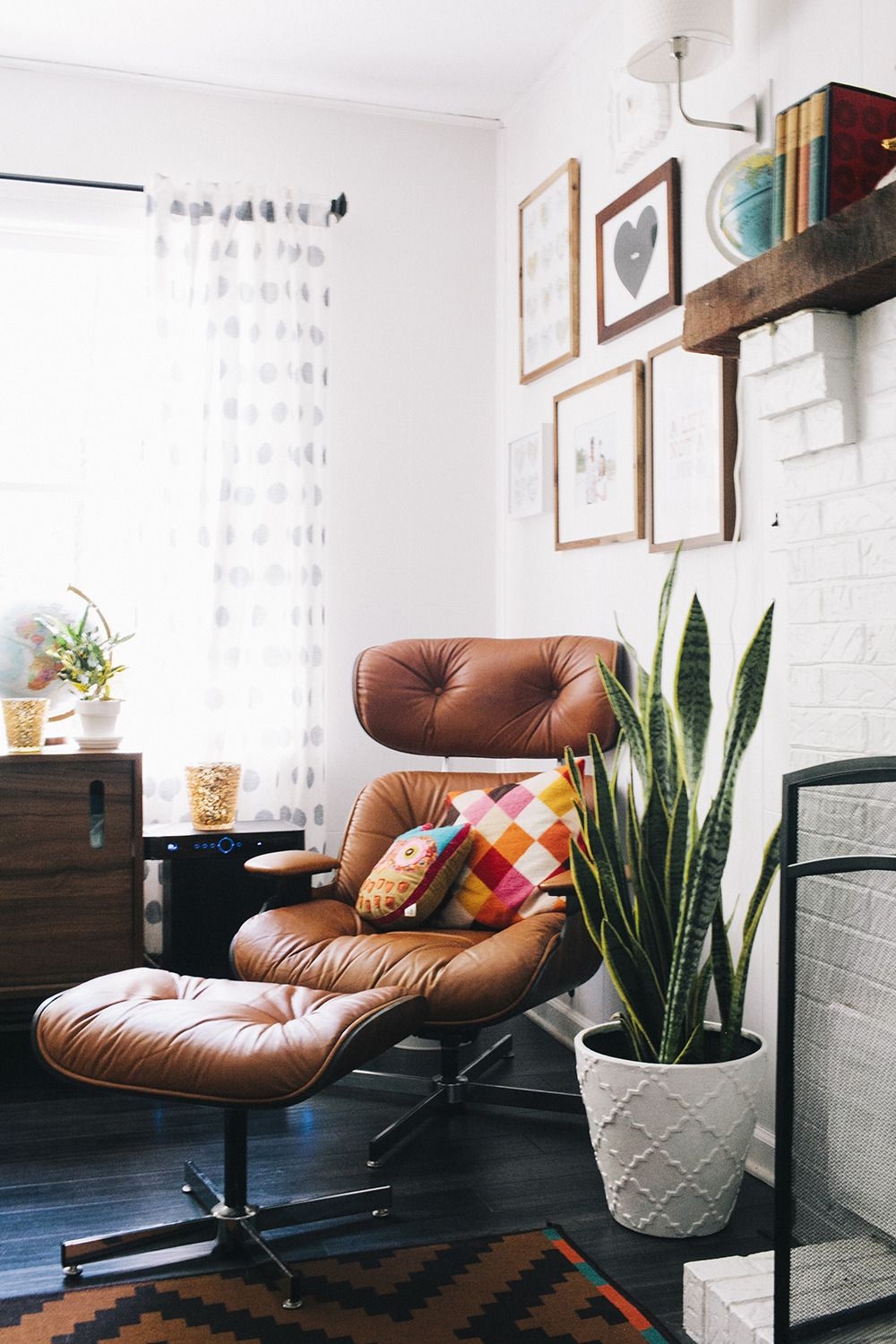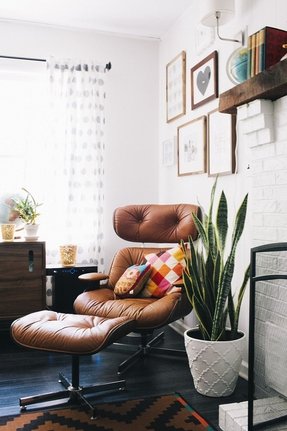 Brown Leather Sofa Recliner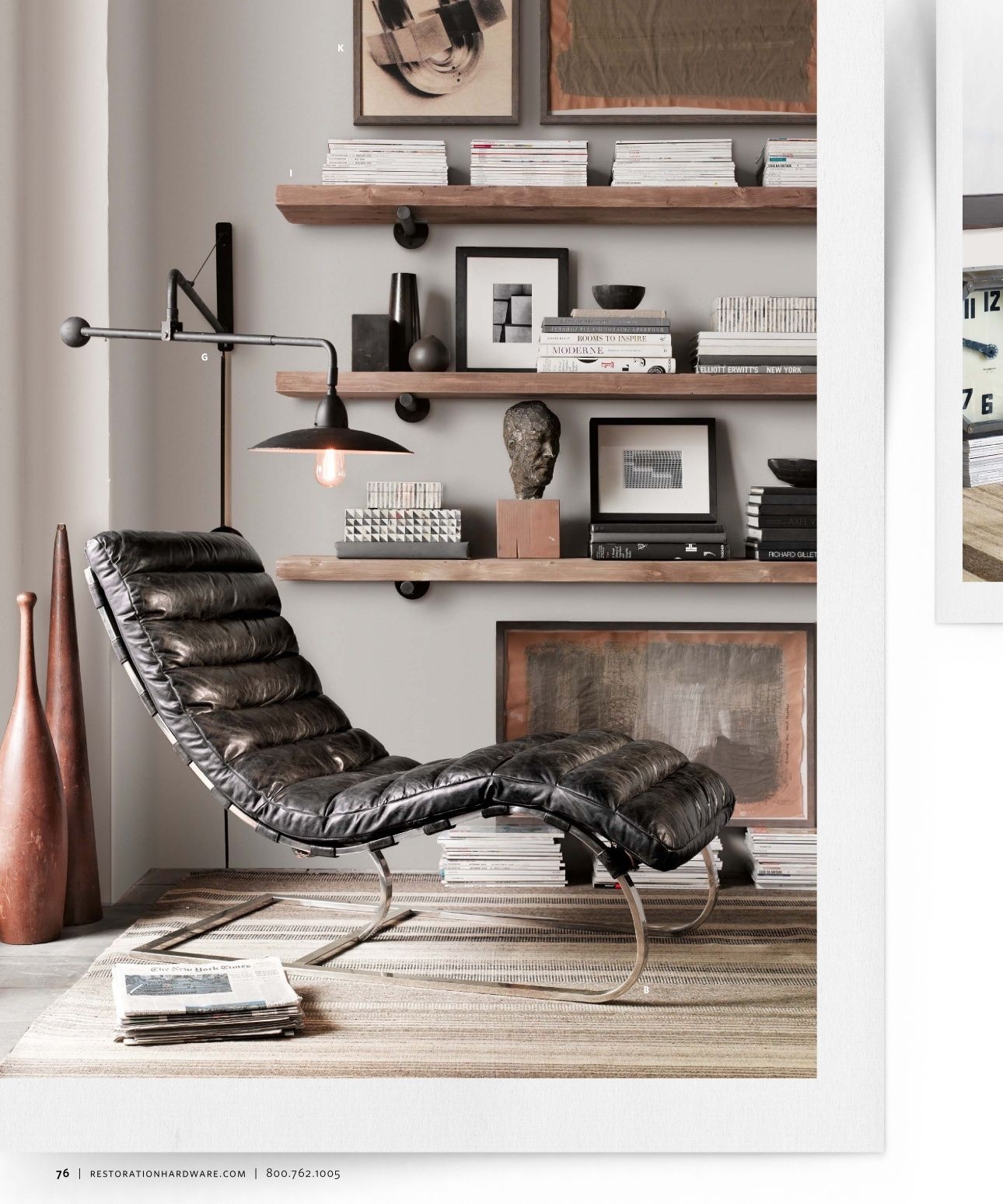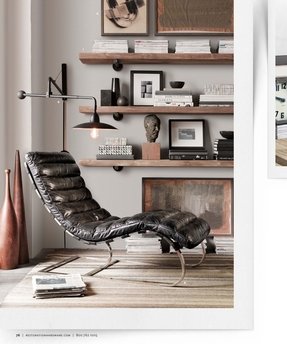 Modern leather recliner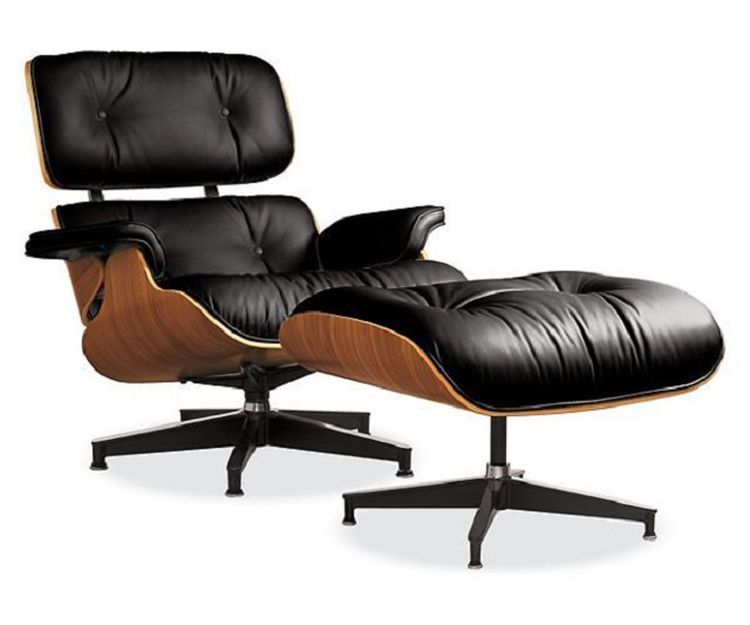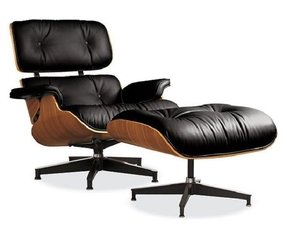 A successful relax guaranteed with this fabulous swivel chair that comes together with a swivel ottoman. Both pieces feature an elegant design with a wooden base and leather upholstery in a black color. Roundup: Modern Recliner Chairs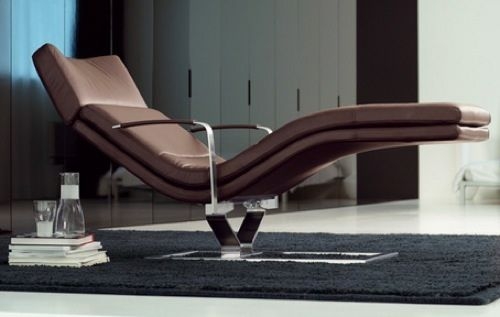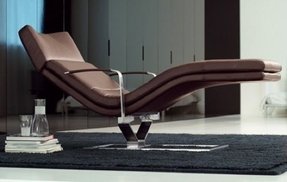 Enjoy a taste of royalty. This modern style recliner embodies well the elegant contemporary design, adding refinement to one's office, bedroom or living room space. Made from brown leather, with nice silver polish finish.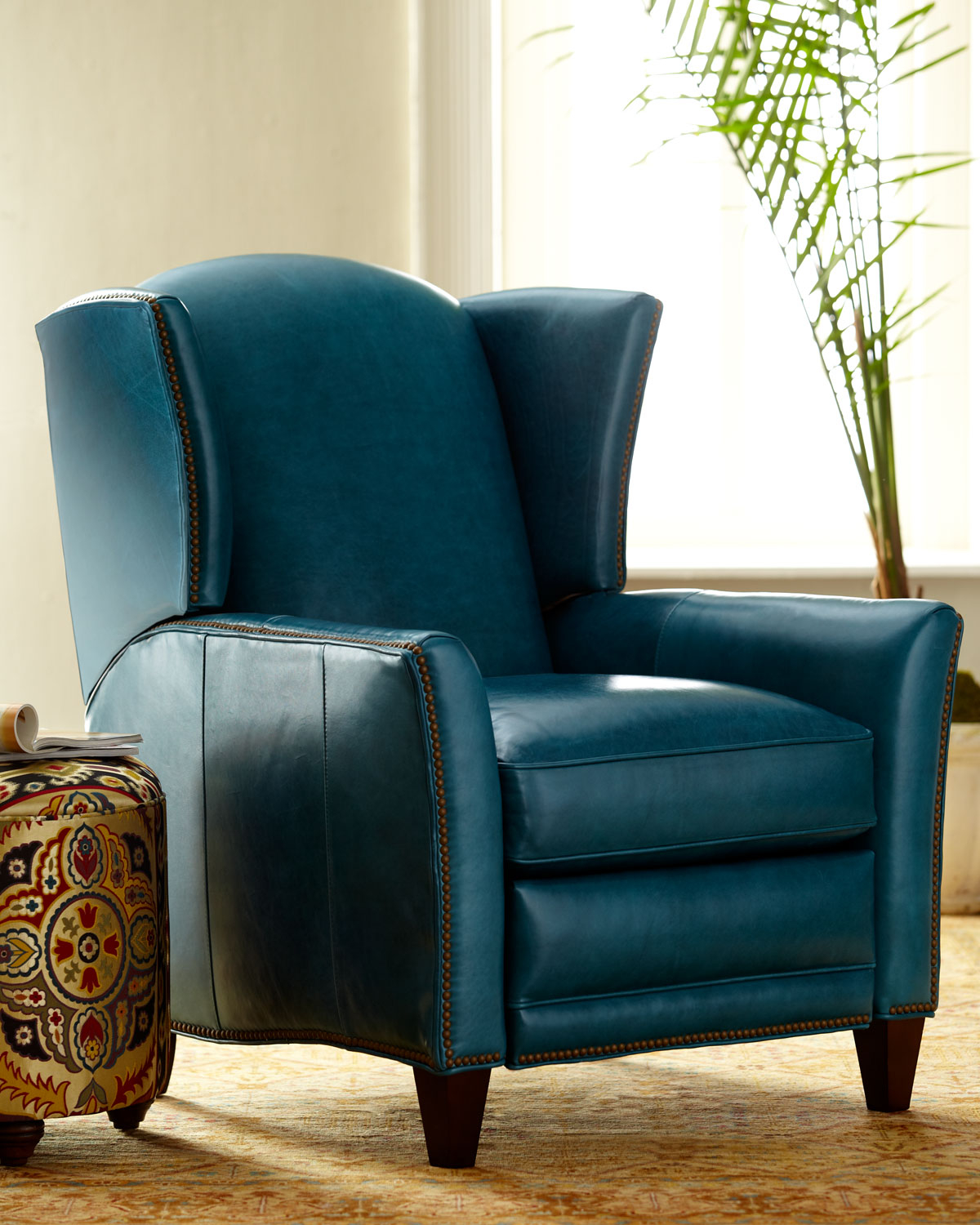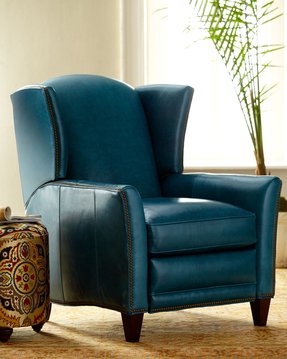 i mean, it's at the absurd price of $2399, but it really is my type of recliner.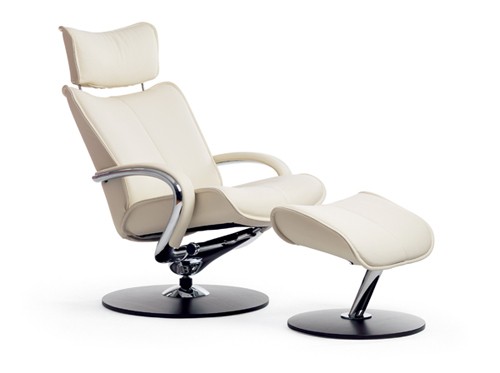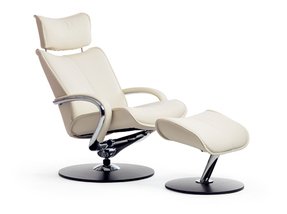 Do you work at your desk for a long time? No wonder you want to give your back a top quality rest in the form of a leather white small modern recliner, on a rotating metal frame. In addition, it connects to the footrest, also upholstered in white.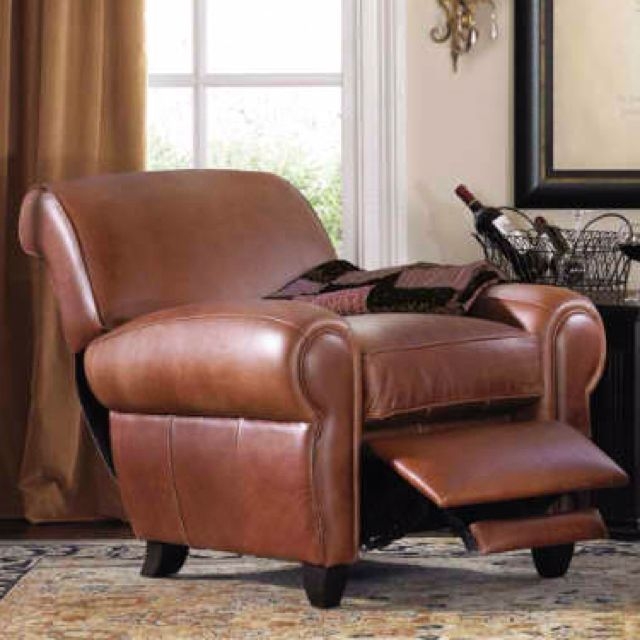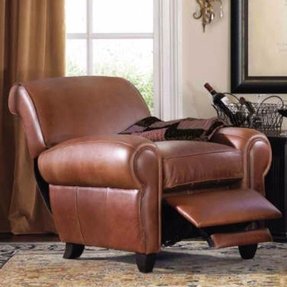 may have to replace our recliners before long and this would make the short list - good reviews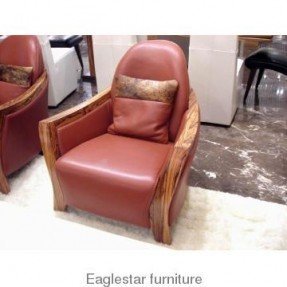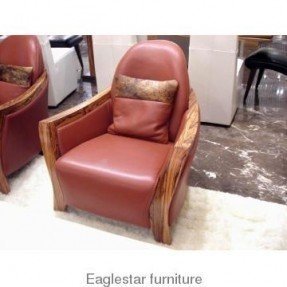 This modern recliner enchants with its exquisitely, solid, thick wooden framing, encompassing the chair's slender silhouette. Finished in stylish red leather, it will add refinement to your living room.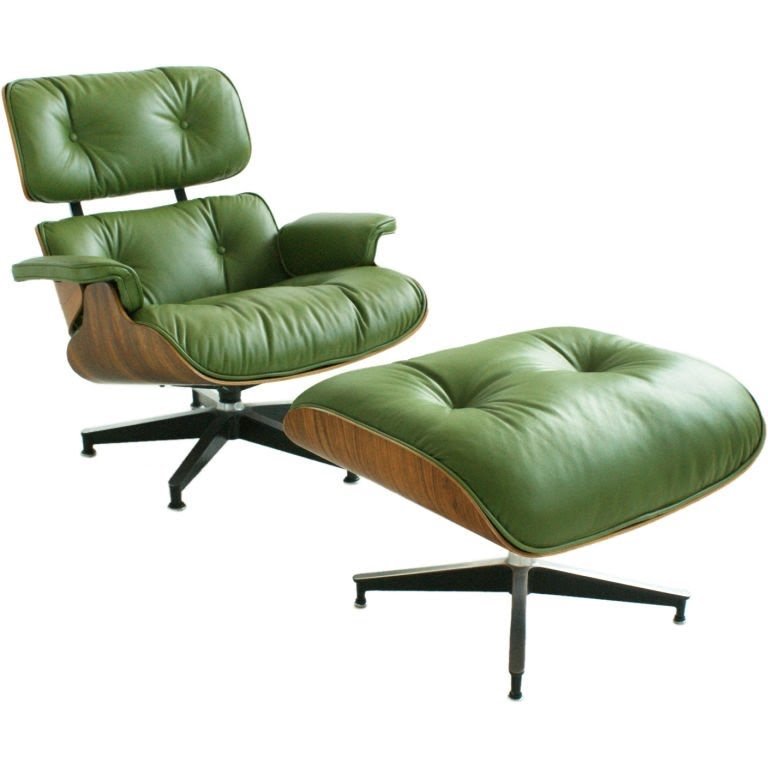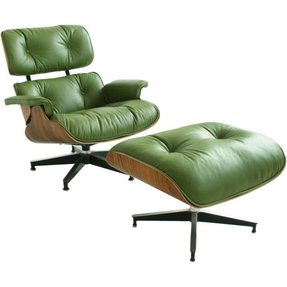 Add this sublime set of a lounge chair and ottoman to your interior and enjoy the stunning upholstery in a vibrant, green finish as well as the ample comfort coming from its thickly padded seat and back.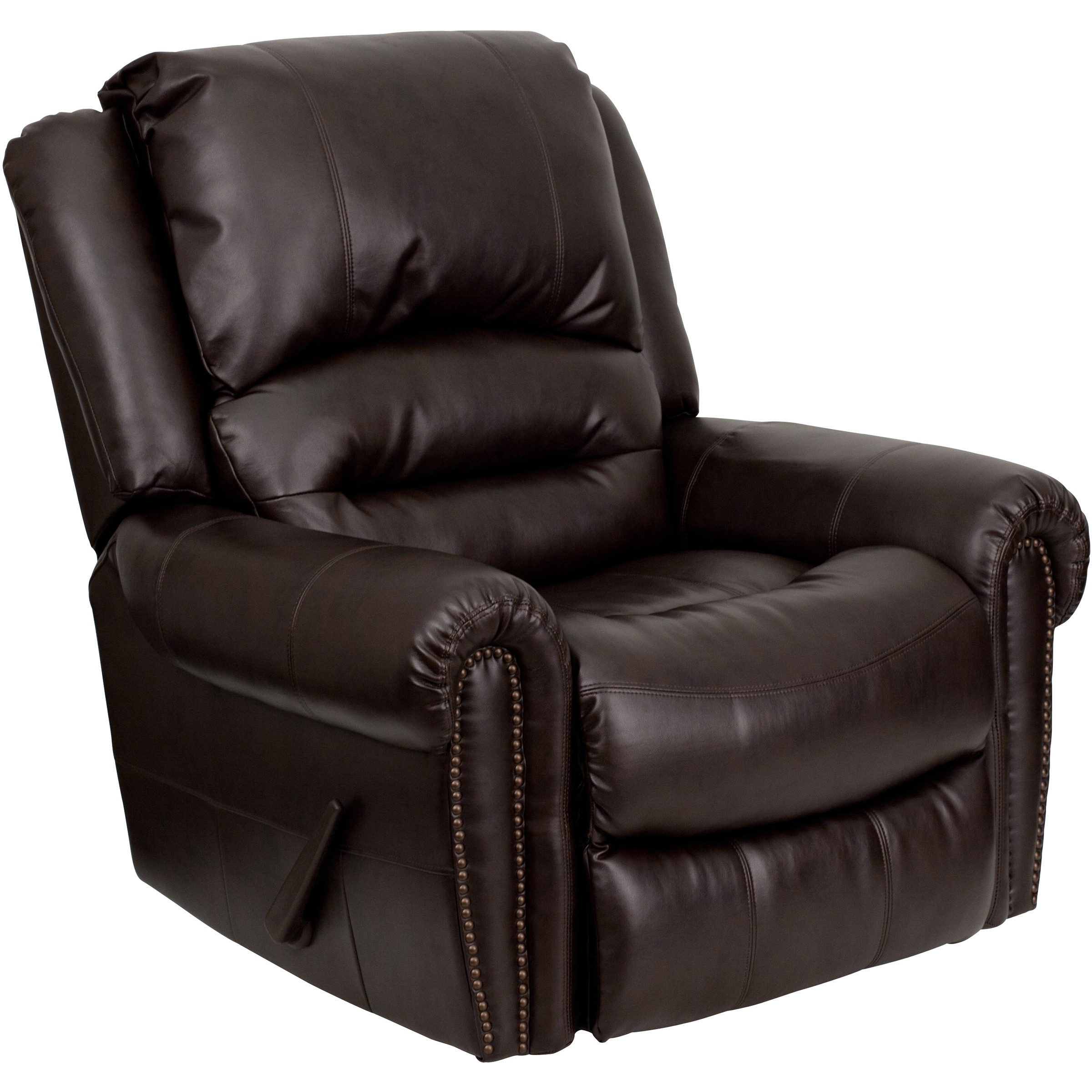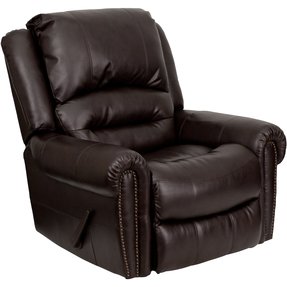 This elegant recliner will help create a comfortable relax area in any interior. In has a folding footrest and adjustable backrest. Thick padded cushions are upholstered with deep brown colored leather.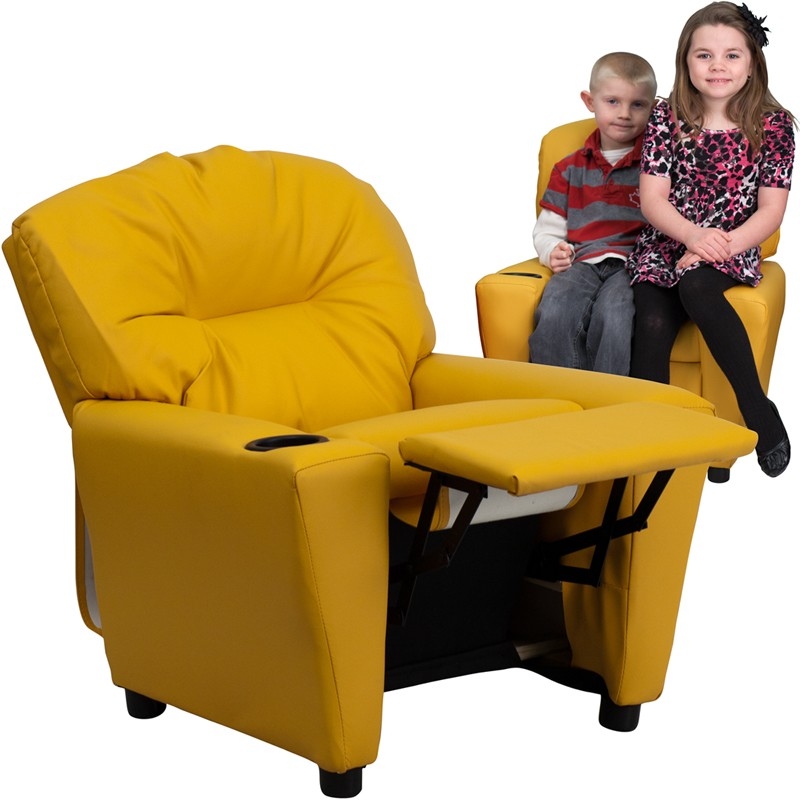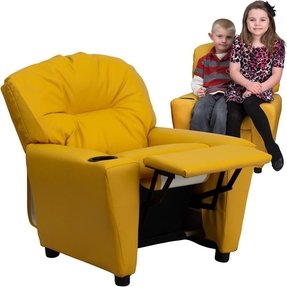 This cozy-looking recliner invites your kid to sit and relax. It features overstuffed padding for maximum comfort, easy to clean, durable vinyl upholstery and strong wood frame. The armrest includes a practical cup holder.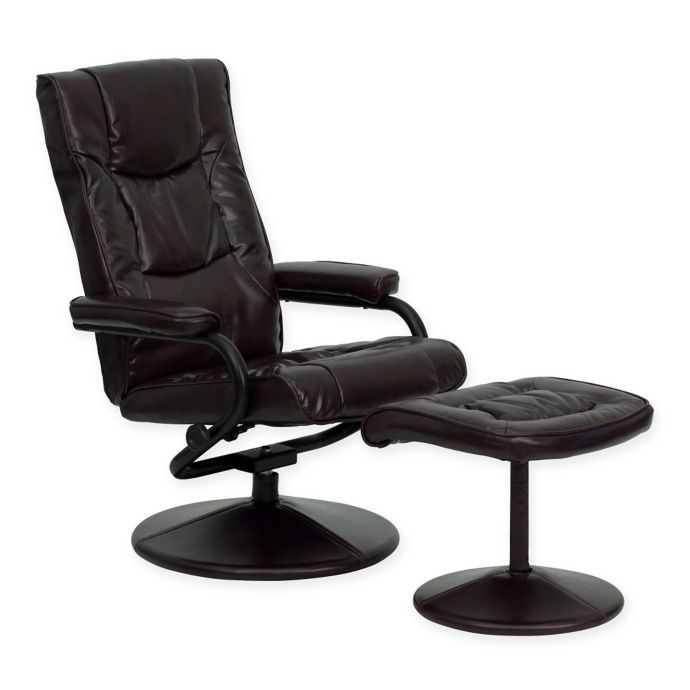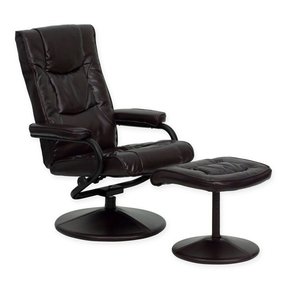 Contemporary Brown Leather Recliner and Ottoman with Leather Wrapped ...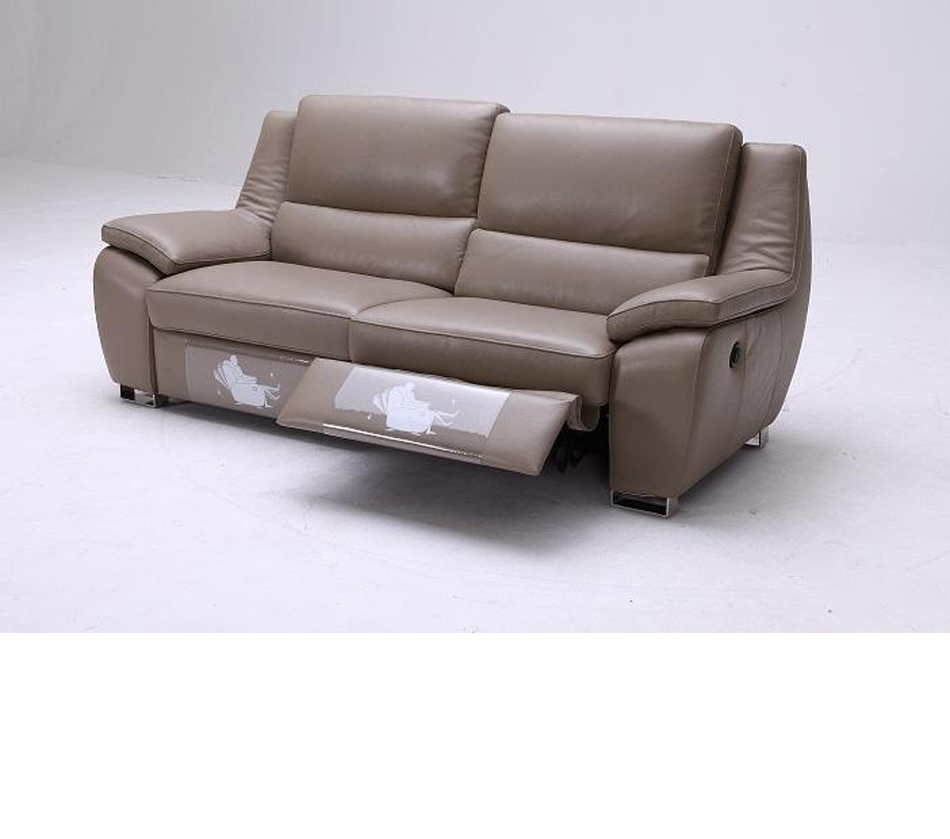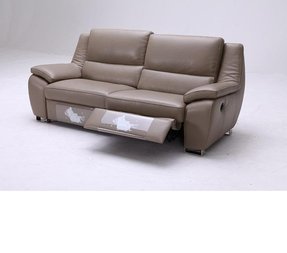 Home / K-1339 Modern Leather Sofa Set with Recliners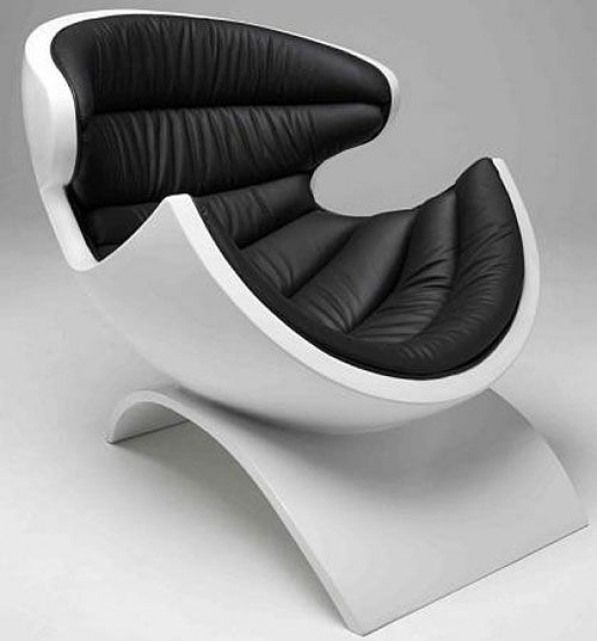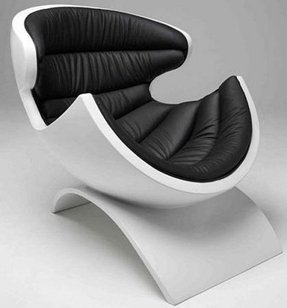 Futuristic chair, perfect for modern houses. This shell-shaped chair is interesting, comfortable and one-of-a-kind. Amaze your guests not only with its shape but also comfortable, precisely formed upholstery, that's very healthy for your back.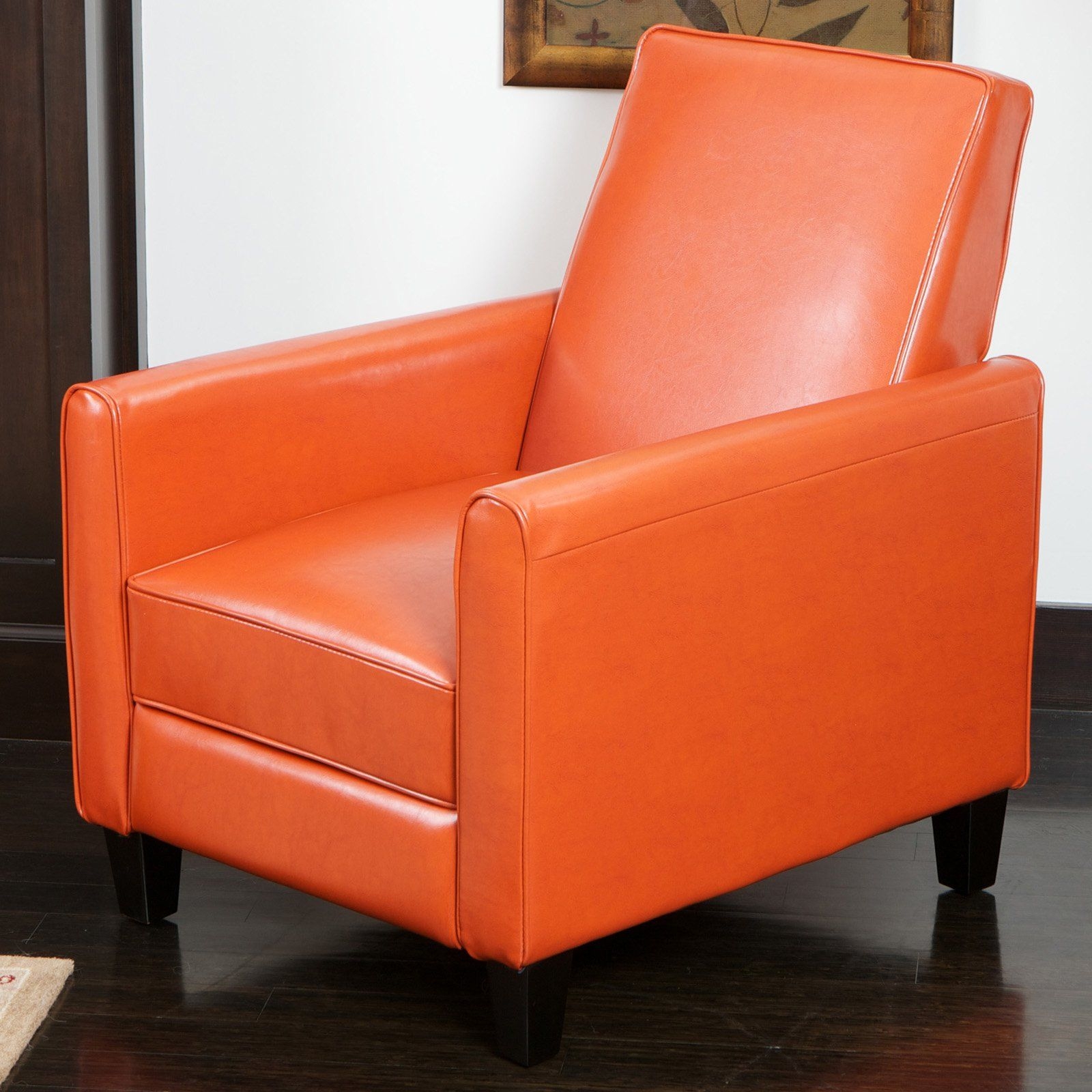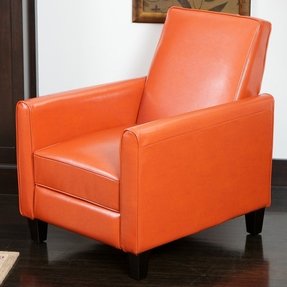 Tasteful recliner upholstered with high quality leather. It is mounted on wooden legs. Ideal as additional place to sit or place for relaxation in all kinds of interior according to taste. It is very well appreciated by the customers.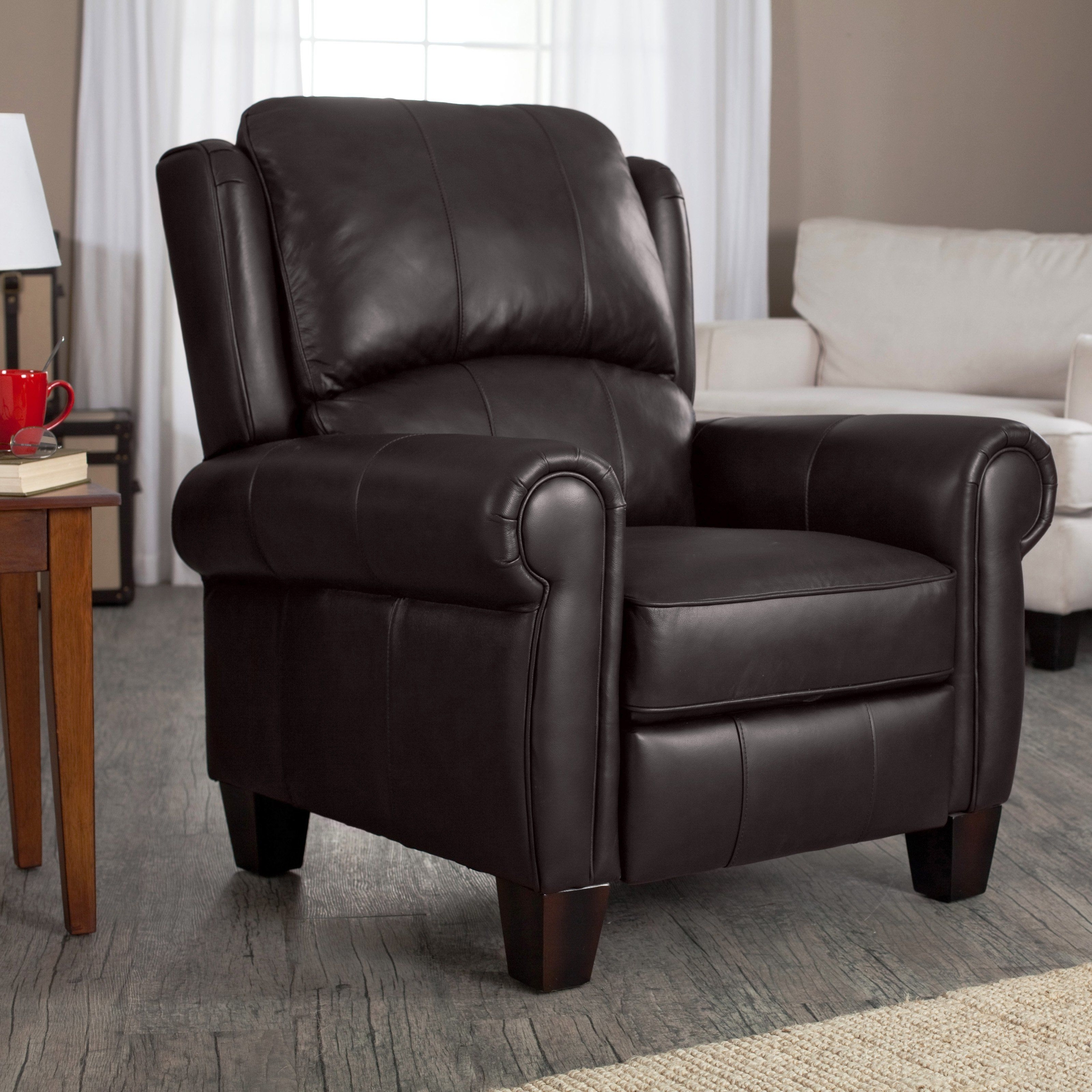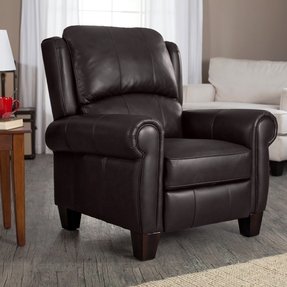 This kind of product is a high quality recliner chair that has got a frame made of sturdy pine and plywood. It has got a very soft seat cushion and a comfortable backrest with arms. The whole product is covered with a leather in a chocolate finish.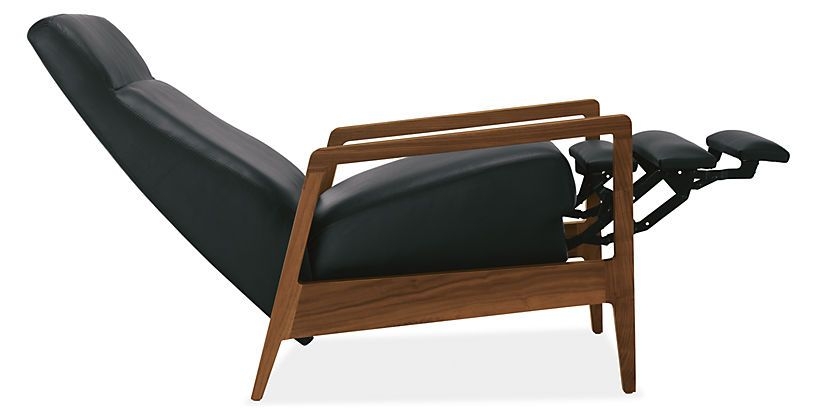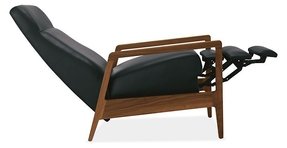 Westport Leather Recliner - Recliners & Lounge Chairs - Living - Room & Board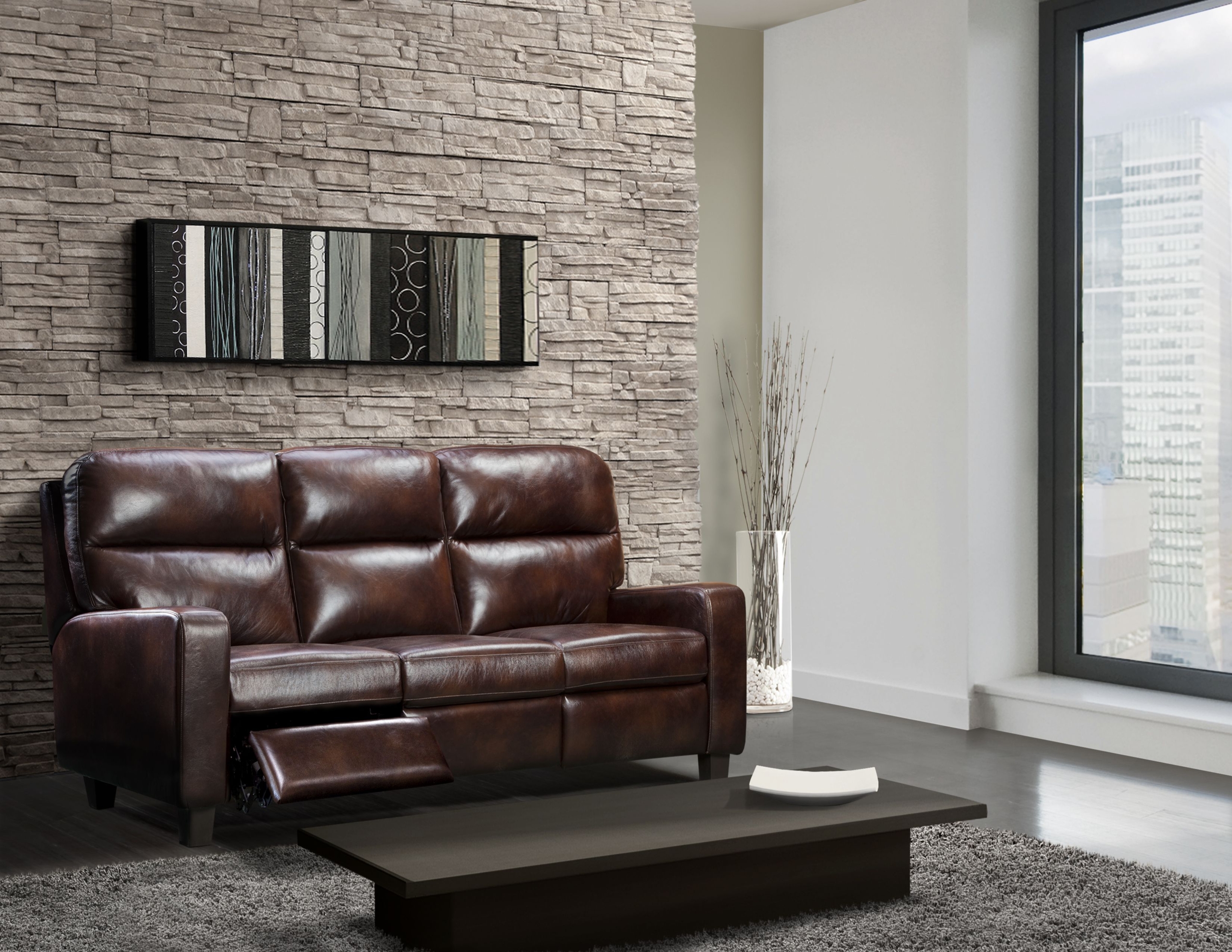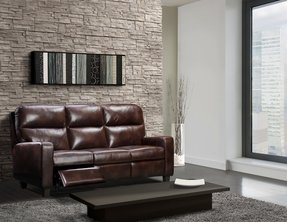 modern leather reclining sofa. LOVE the stone accent wall <3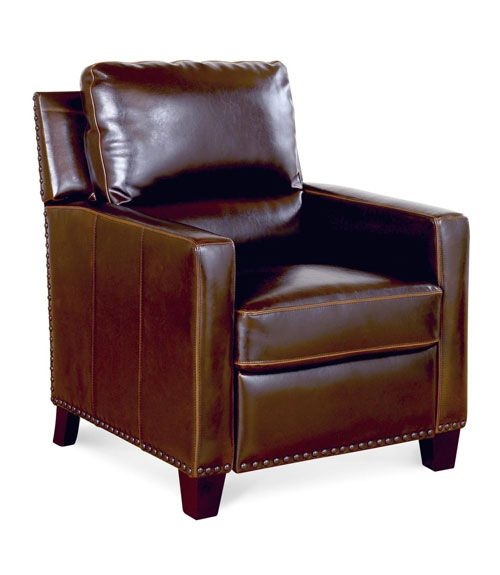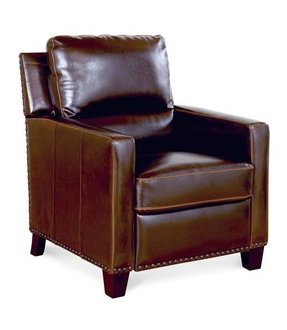 A stylish recliner in a modern design. It will add a touch of elegance to every space as it's fully upholstered with classy, brown leather. It also features graceful legs and a visible nailhead bottom edge.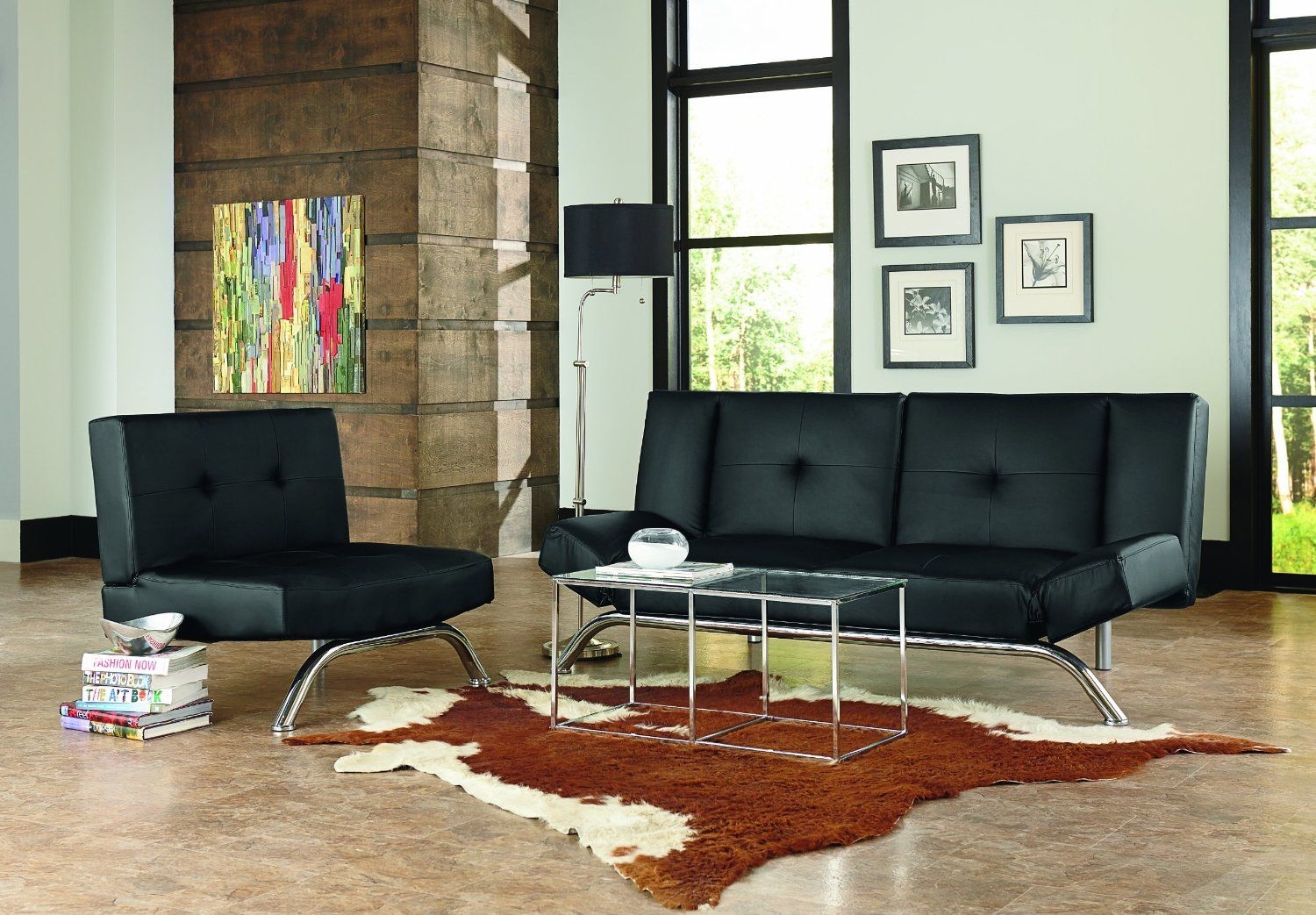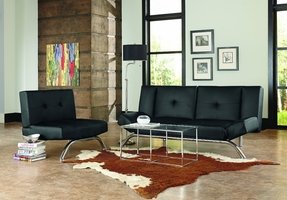 Contemporary chair characterized by an elegant combination of updated finishes: polished chrome and black vinyl. The chair features armless design with button tufting, and it has square body sitting atop arched base.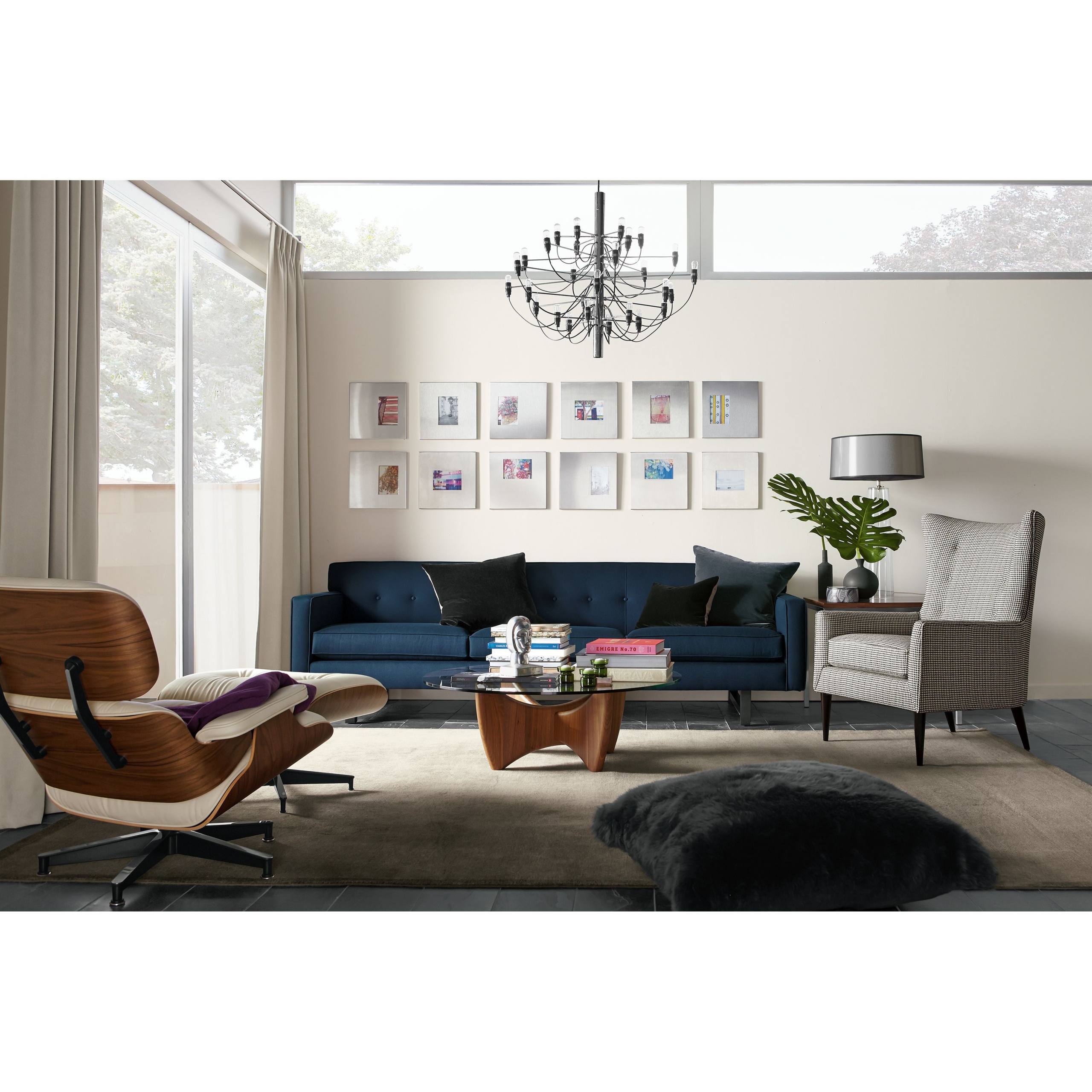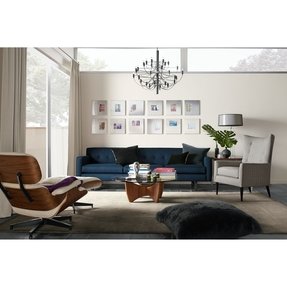 Steel Frames in Stainless Steel - Stainless Steel Frame Wall - 10 Ways to Decorate Your Walls - Room & Board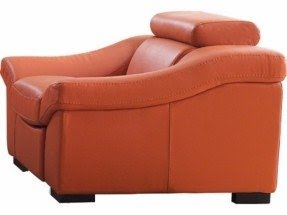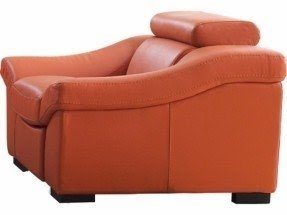 Modern Orange Leather Sofa Set with Recliners