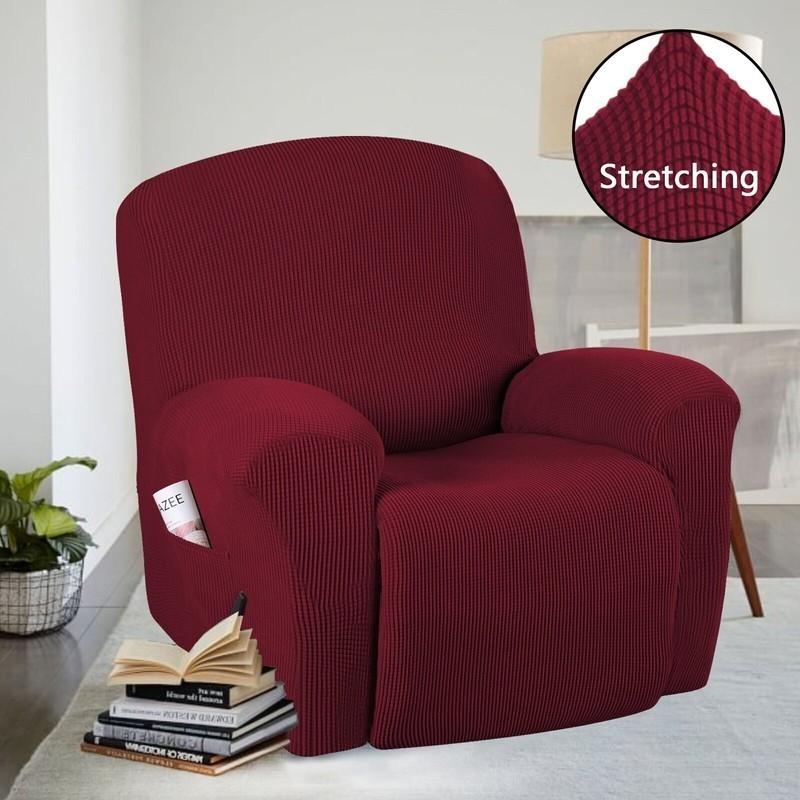 Spandex Box Cushion Recliner Slipcover

What we like: Wrinkle-free for a sleek, polished look
What we don't like: Microfiber/suede material can appear dated
A spandex slipcover can breathe new life into a worn recliner or act as a protective cover from stains and spills. It is made from durable yet soft textured fabrics that are comfortable to touch and add visual interest to your space.
This recliner chair cover is available in a range of colors, from red wine to taupe, so you are sure to find a match for most living room designs.
The spandex cover is easy to install, fitting over the footrest with two elastic loops that help you wrap the cover under the chair for a secure and tight fit. The wrinkle-free, easy maintenance fabric is ideal if you have indoor pets that enjoy snuggling up on your recliner.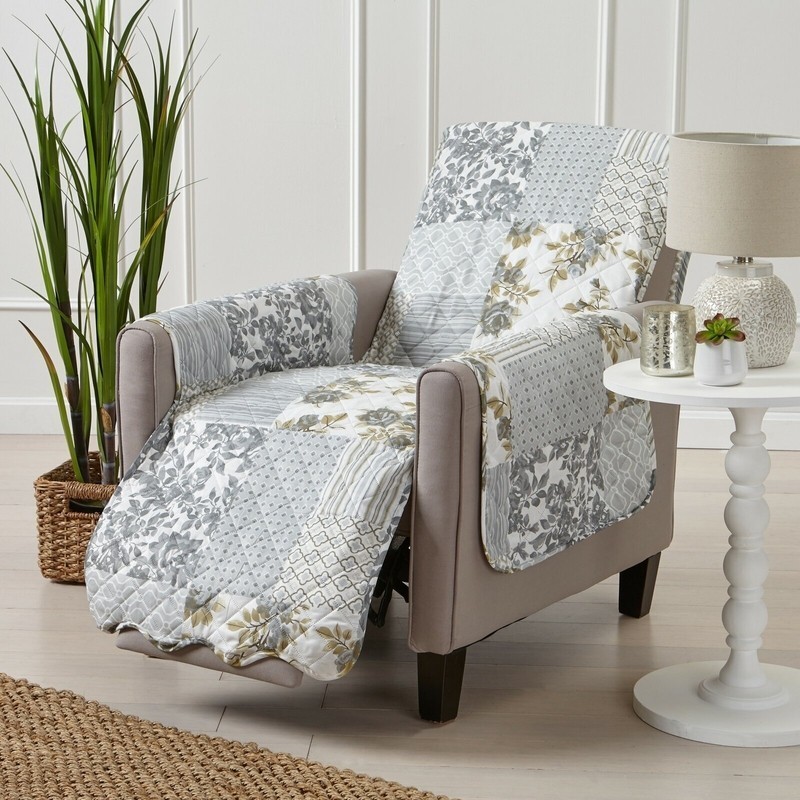 Patchwork Box Cushion Recliner Slipcover

What we like: Charming patchwork design adds character to your chair
What we don't like: Does not protect the entire surface area of the chair
This patchwork cushion slipcover is a comfortable and charming accessory for a recliner. It is manufactured from 100% microfiber polyester and features a soft gray floral patchwork pattern perfect for country homes. The suede-like finish and multiple color options ensure the cover is versatile for different interior designs, from modern chic to old-fashioned classic styles.
This cover is easy to secure in place, with elastic straps and cloth hooks. It is pet-friendly and helps keep your chair protected from fur and stains. While the cover doesn't provide a very tight fit or cover the whole recliner, it is an excellent low-cost option.
$24.99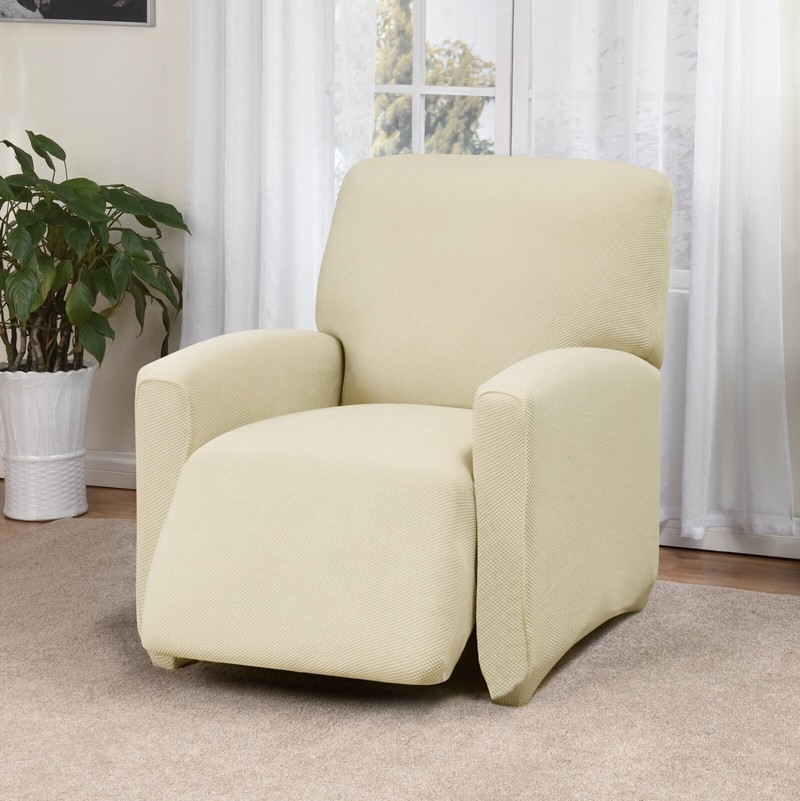 Day Break Box Cushion Recliner Slipcovers

What we like: Variety of colors to choose from to suit all design schemes
What we don't like: You must measure carefully to ensure it fits your recliner
Chair protectors for recliners should be durable and versatile, and the Day Break slipcover is a one-size-fits-all piece made from 95% polyester and 5% spandex. This means it fits tightly onto your chair and can be easily adjusted. However, if you have an oversize recliner, you might notice that the elastic slips from the back in the fully reclined position.
While the design isn't flashy, it has a subtle pique texture that works perfectly in formal sitting areas and family rooms. With twelve different fabric shades to choose from, you can find a cover that coordinates seamlessly with your other furniture.
$61.99
Sofa Stretch Recliner Slipcover

What we like: Material is soft and comfortable for lounging and relaxation
What we don't like: Quality of the fit will vary for each recliner
If you're in the market for upscale recliner chair protective covers for your living room, this stretch cover may not be the most suitable option. However, as an elasticated, spandex, and textured cover, it is easy to install and offers sufficient protection against stains and minor spills.
Despite the basic design, this cover is available in various colors, making it easy to select a match for your decor. While this piece is pet-friendly, it's not water-resistant. However, this is still a great option if you need a protective layer to reduce stains and scuffs from children playing.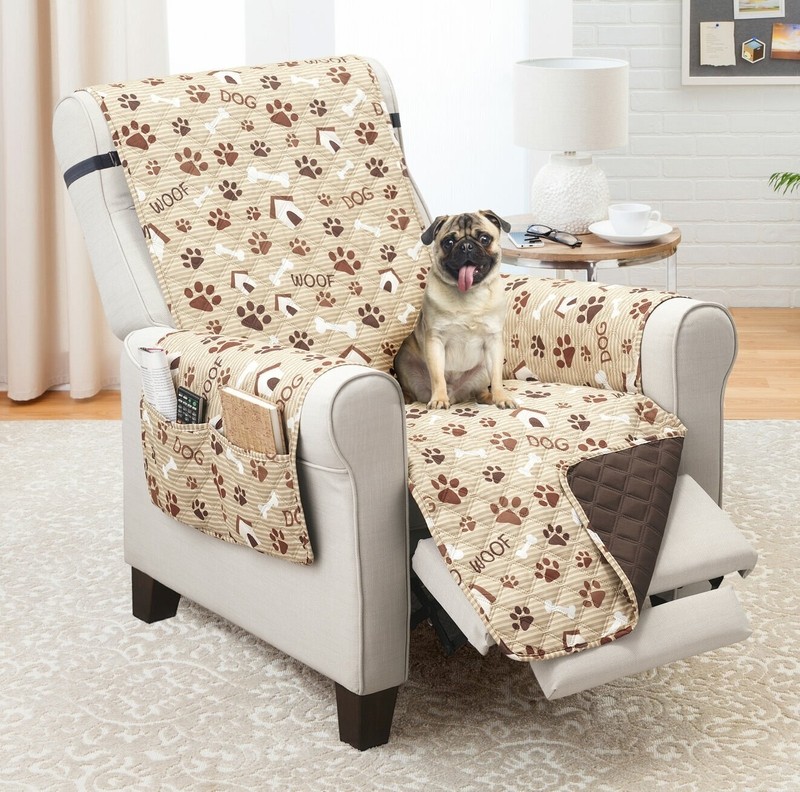 Print T Cushion Dog Print Recliner Slipcover

What we like: Reversible for two patterns in one cover
What we don't like: Only attached to the recliner by elastic edges
If your evenings are spent relaxing on your recliner with your four-legged friend on your lap, this might be the cover for you. Besides featuring a cute dog paw-print pattern, this is one of a few recliner chair covers with pockets. The pockets are convenient for storing your remote controls, books, tablets, or magazines.
This cover is reversible, so if you don't want to display the dog print pattern when hosting guests, you can turn it over to display a plain tan side instead. A perfect choice for homes with kids or pets, the dog print recliner slipcover is machine washable for your convenience.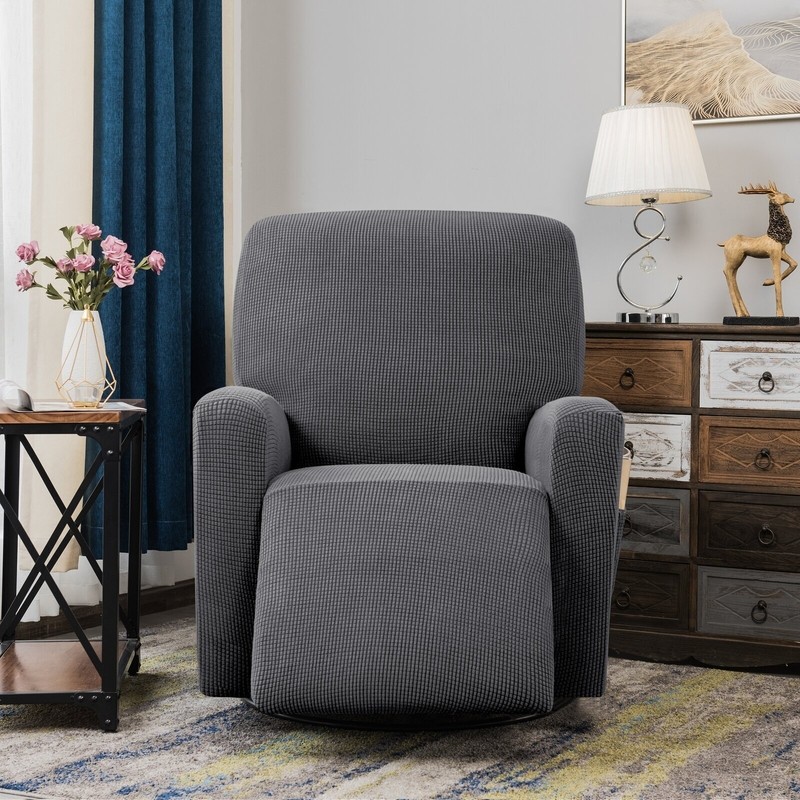 Arainy Chivas Textured Grid Box Cushion Recliner

What we like: Fits all recliner types
What we don't like: Users report the material colors being different than advertised
The Arainy textured box cushion recliner is a luxurious recliner chair protector cover and an excellent option to add a little glamor to your existing recliner. The Arainy is a universally designed piece, meaning it is suitable for all recliner types. It can be wrapped tightly to the chair, including the footrest, using the elasticized corners.
The recliner chair cover pockets offer a simple way to store the TV guide, magazines, or remote controls. The pockets blend seamlessly with the rest of the cover when not in use. This cover is affordable and comes in more than 20 colors, so you can buy multiple pieces and rotate them for cleaning.
$23.72 $86.65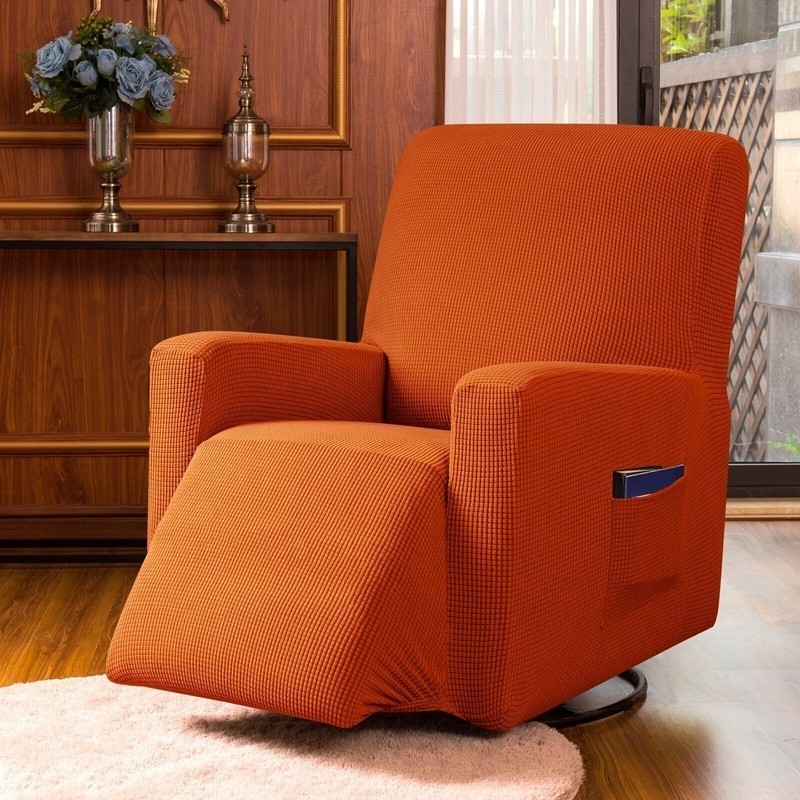 Super Soft Stretch Textured Slipcover

What we like: Storage pocket for easy access to your remote control or TV guide
What we don't like: The cover may move around if not tucked in snugly
The textured grid slipcover is crafted from a soft-touch polyester blend. In addition to being a comfortable and cozy recliner cover, this slipcover has a stylish textured grid pattern. The geometric design gives depth to a recliner's appearance and can drastically improve the look of worn furniture.
This material also features a recliner footrest cover. The stretch fabric ensures the cover can fit a wide range of chairs; however, it looks best when used on a standard box cushion model. On the right side of the cover, you'll find a functional pocket for storing a remote control or smart device.
$55.99 $75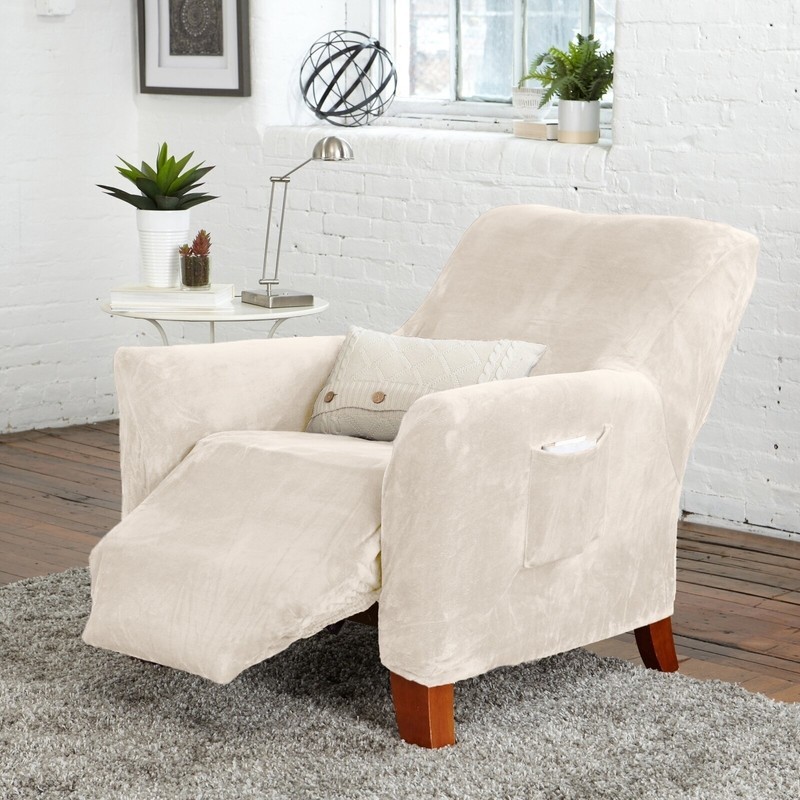 Form Fit Velvet Fit Stretch Box Cushion Recliner Slipcover

What we like: Stunning contemporary look
What we don't like: Fabric does not adjust to the shape of your recliner
Many recliner chair covers are one-size-fits-all fabrics that don't necessarily fit the exact shape of the seat. This form-fit velvet cover not only protects your recliner from stains and tears but is designed to fit the precise dimensions of your chair, creating a more refined aesthetic when compared to looser options.
This is one of the best leather recliner covers because it is UV resistant, offering the ultimate protection for leather upholstery. In sunny climates, UV rays can cause significant damage and fading to leather, drawing out moisture and natural oils, contributing to cracks and tears.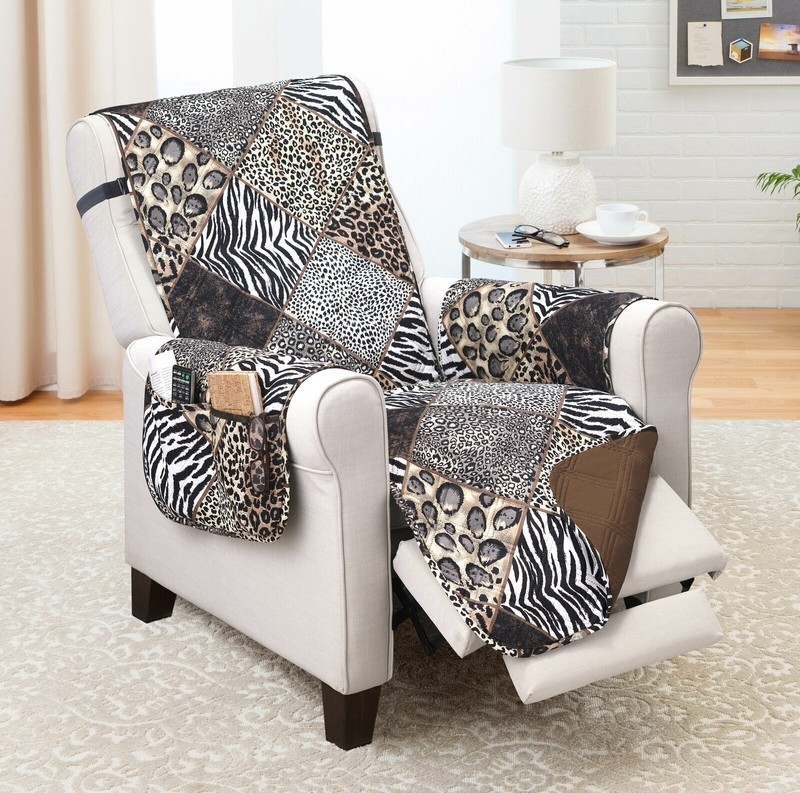 T Cushion Recliner Slipcover

What we like: Pet-friendly and easy to clean
What we don't like: Bold design that may not suit some design schemes
The T-cushion cover is sure to add flair to your room. It features a combination of bold animal print designs on a microfiber and microsuede material. These fabrics are highly resistant to spills and stains, giving your chair excellent protection. The elastic edges make installation easy, but while the cover effectively prevents stains, it doesn't cover the entire surface of the chair.
This slipcover is both pet-friendly and machine washable, making animal clean-ups easier. The sidearm features a small storage pocket for your remote control.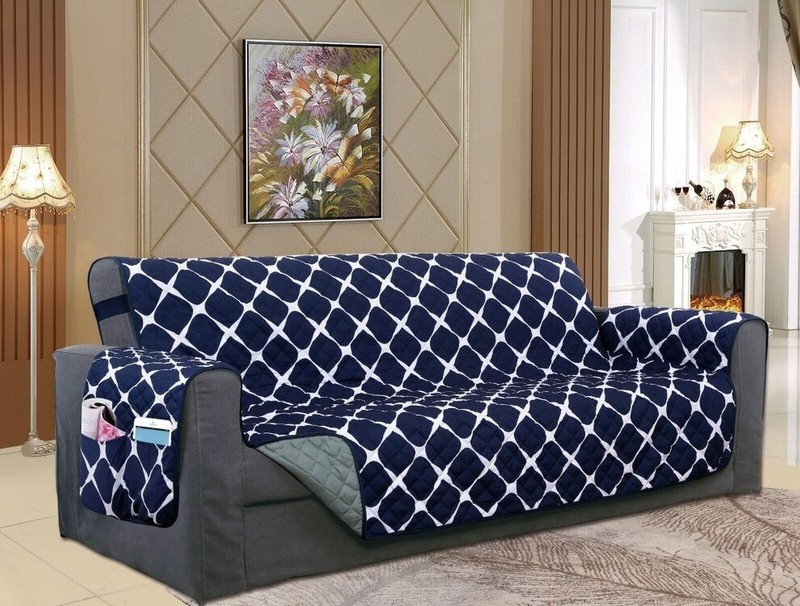 Reversible Recliner Sofa Slipcover

What we like: Big enough to protect a reclining sofa
What we don't like: Basic design with few color choices
This reversible slipcover is an excellent solution for protecting your recliner sofa from pet accidents, childrens' spills, or messy adults. The neat pattern design is available in multiple colors and is ideal for modern living rooms or a basement game room. The cover is reversible, with a neutral design available on the flip side.
The elastic ties and edges ensure a snug fit for a 2-seater couch. Whether you want to add a fresh look to your sofa or you need added protection from muddy paws, this is an excellent option. It can be easily accessorized with colorful cushions or a throw blanket.
$35
OUR ADVICE Questions & Answers
What are the different types of slipcovers for recliners?
There are adjustable slipcovers, also known as furniture throws, which are great for irregular shape sofas and recliners, as well as ready-made slipcovers that fit the standard sizes of furniture. Then there are semi-custom slipcovers and custom slipcovers, for those who need something specific.
How to measure my recliner to be able to choose a proper cover?
Start by measuring the length of your furniture, from one outermost point to the other. Then, measure the height, starting from the spring to the tip of the back. Next, measure the seat area, accounting for cushions if any. Depth is then measured by measuring the side of the furniture. Finally, measure from the floor to the top, without cushions.
How to choose the color for my recliner cover?
The color is very important, as it has to work well with your recliner. Do not use too many contradictory colors, as this could overwhelm the room and create a chaotic effect. Stick to three colors in the room – the color of your covers can be the accent color. Alternatively, especially for elder people, it's good if covers are of gentle colors like beige and brown, to allow for good rest and peaceful sleep.
How to choose the pattern of my recliner cover?
While patterns are there mainly for the aesthetic value, they are not without a meaning to the general space management of your interiors. As they can create visual illusions, it's good to use them to their full potential. Vertical stripes make the furniture appear higher, while horizontal stripes increase the design weight – making your recliner more substantial and noticeable.
What about the materials from which slipcovers can be crafted?
Recliner covers can be made from wool, cotton, polyester, linen and spandex. Actually, any fabric or blend will do, but choose wisely – their characteristics vary. For example, if you need something durable, heavy cotton may be a good idea. However, if it is the aesthetics you care about, then thin slipcover made from cotton-spandex blend may be better.