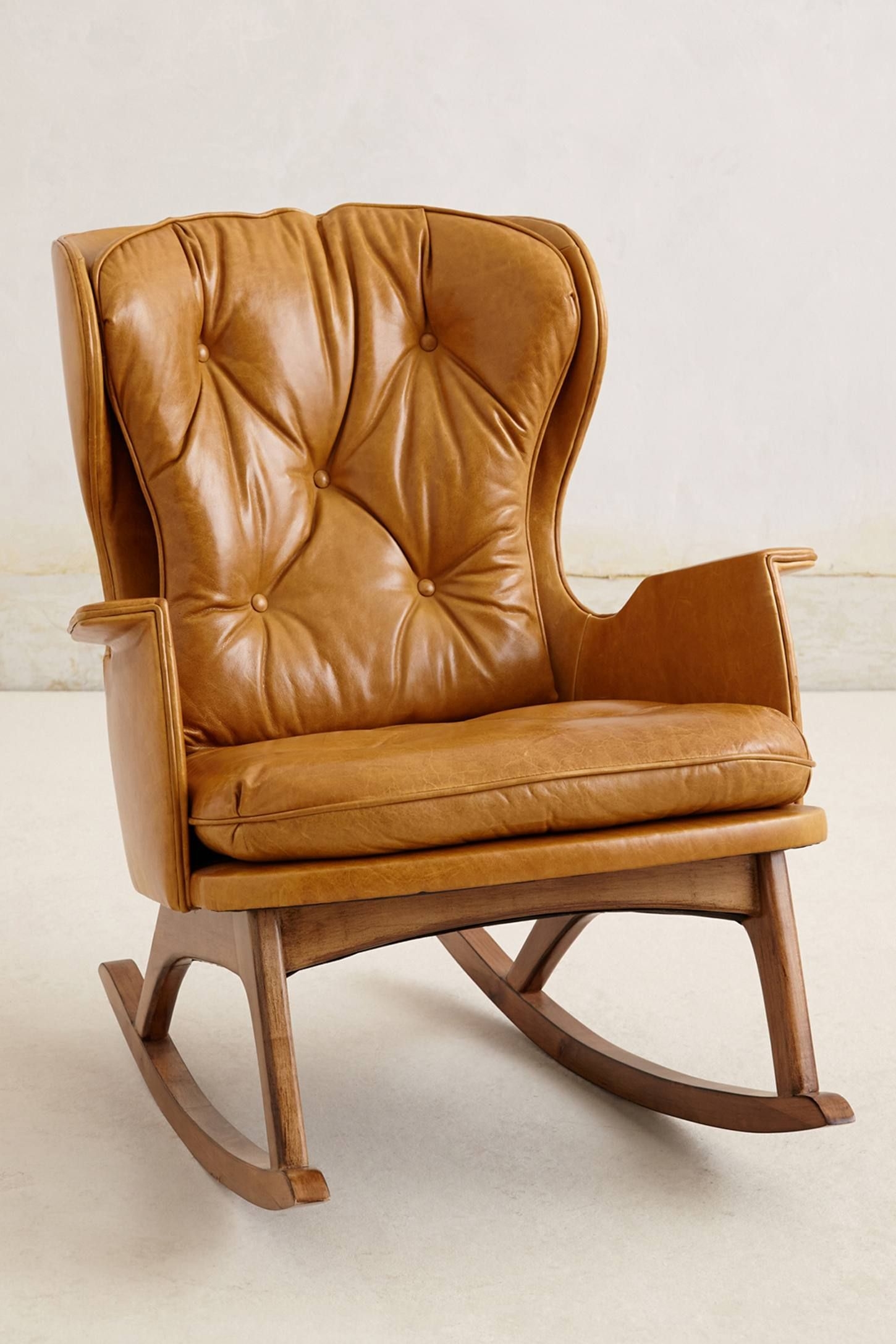 Wingback leather upholstered rocking chair, perfect for sitting by the fireside on a winter's evening. Add a storage footstool for your comfy afghan and throw pillows, and you're all set. The traditional wooden rockers have a promise of lasting for years.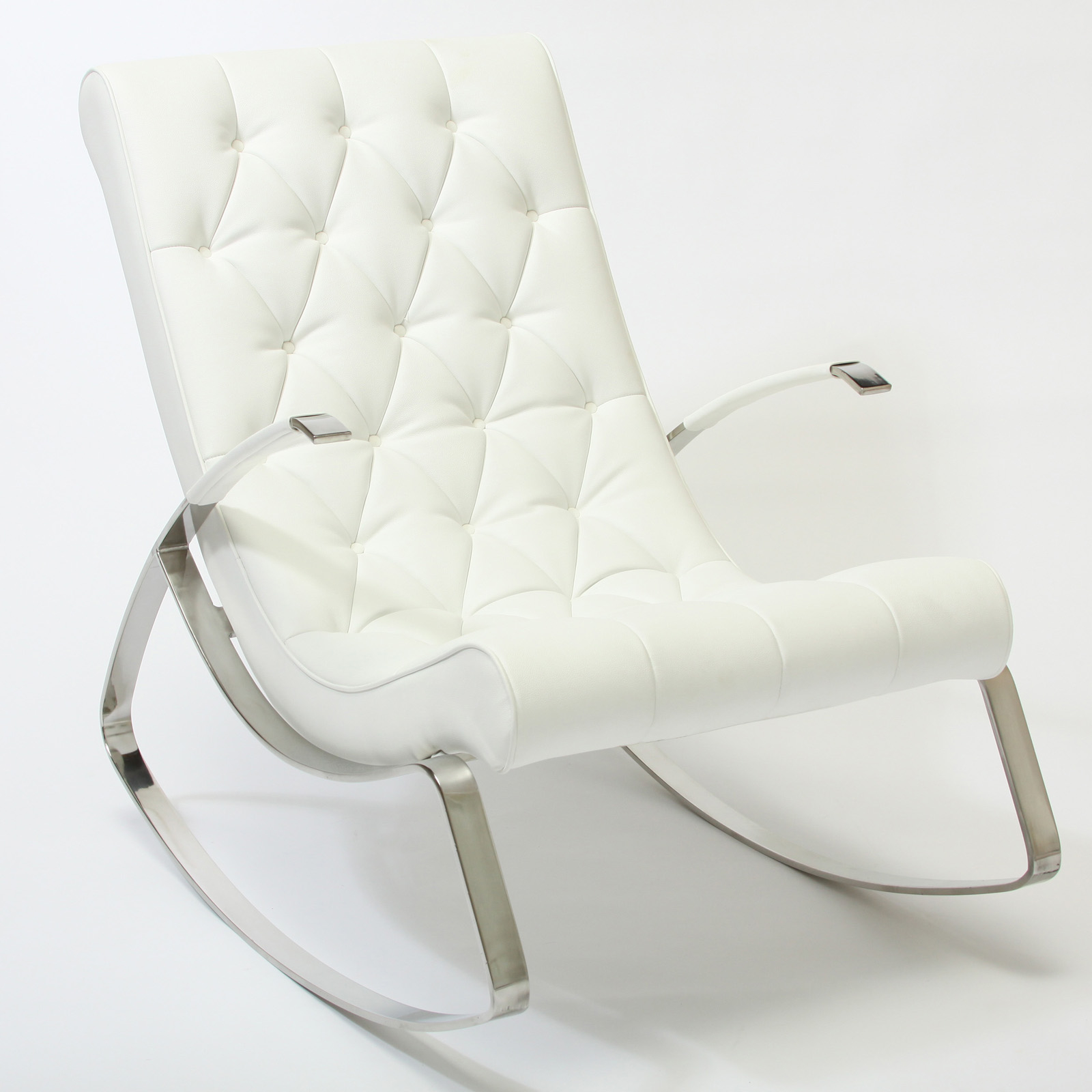 A rocking chair that is the ultimate choice of relaxation - this piece not only sports a beautiful design with its white upholstery that blends well with the metal frame but also with the button tufted back.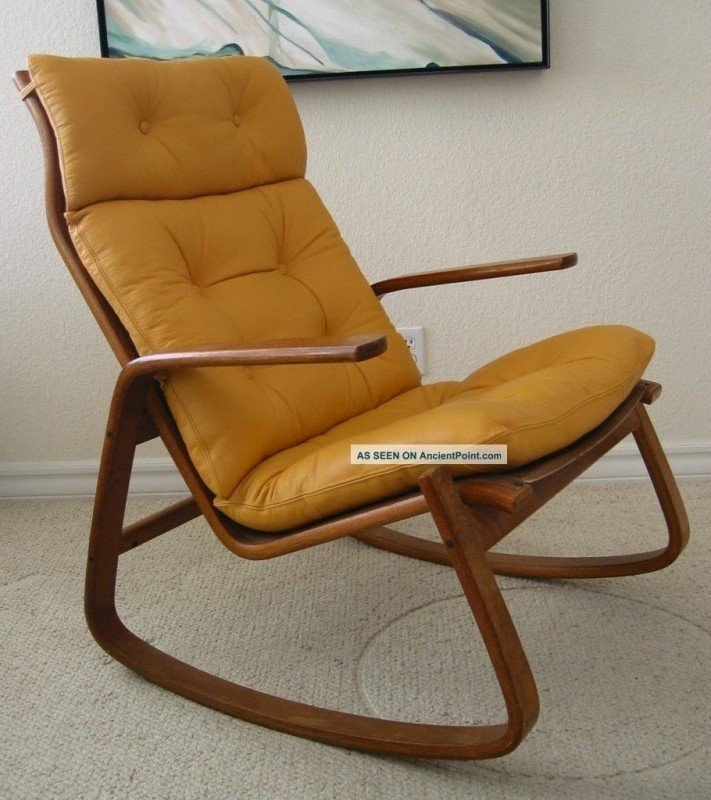 High-end rocking chair constructed from a slender but very sturdy wooden frame. The chair offers a high back design too and is upholstered in vibrant yellow upholstery with outstanding tuft button accents for class. You also get plum cushioning for comfort.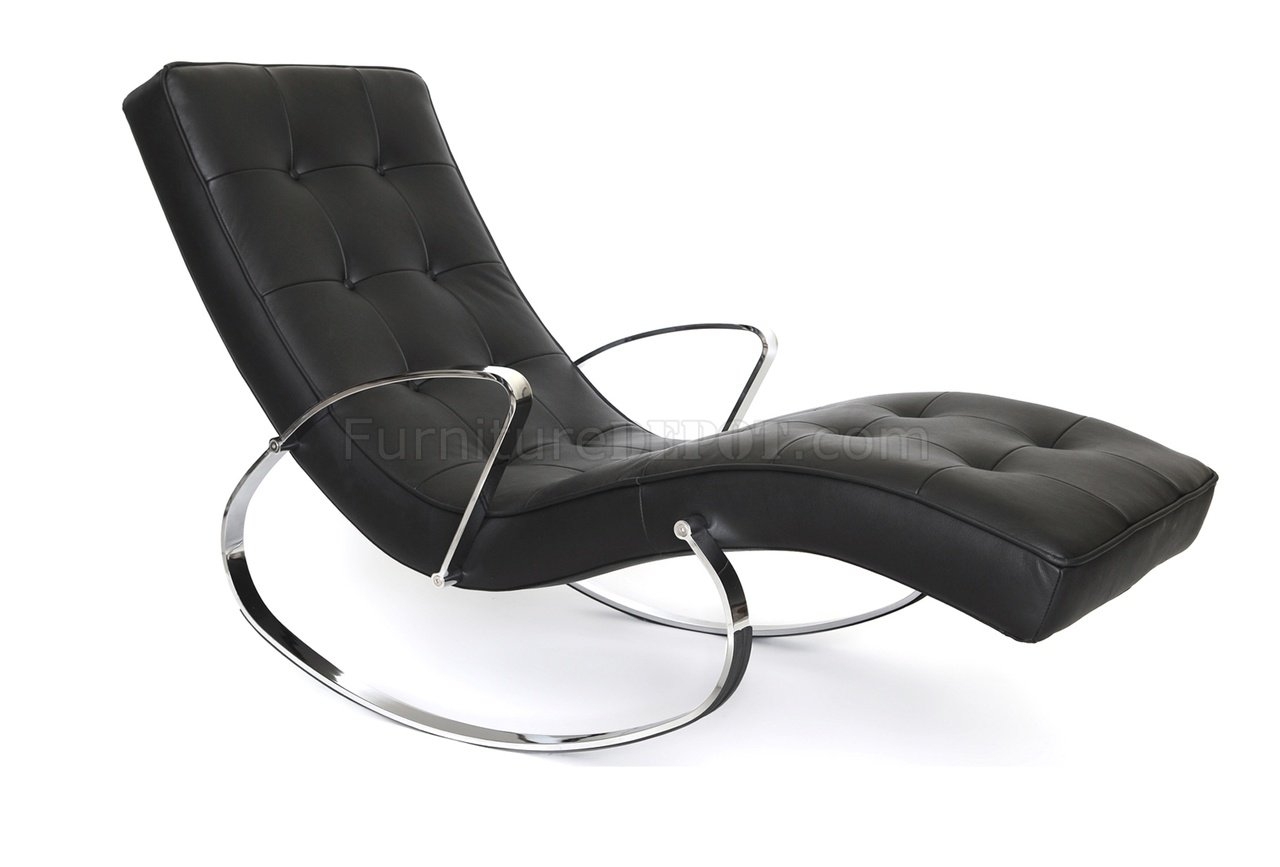 Oh, I've seen it couple of times before and I really fell in love with this kind of chairs. I love this modern style rocking chair made from black fashionable leather and shiny metal finish. I'd die to have one at home.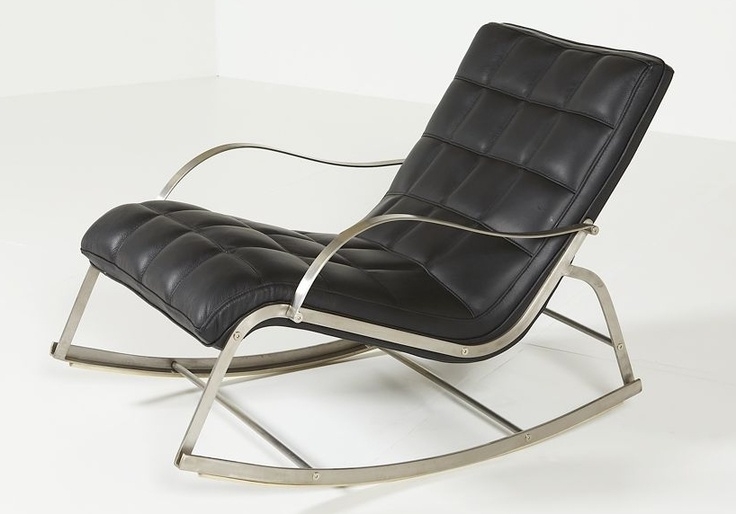 ... , cool ... Imaginative Modern Black Stainless Steel Rocking Chair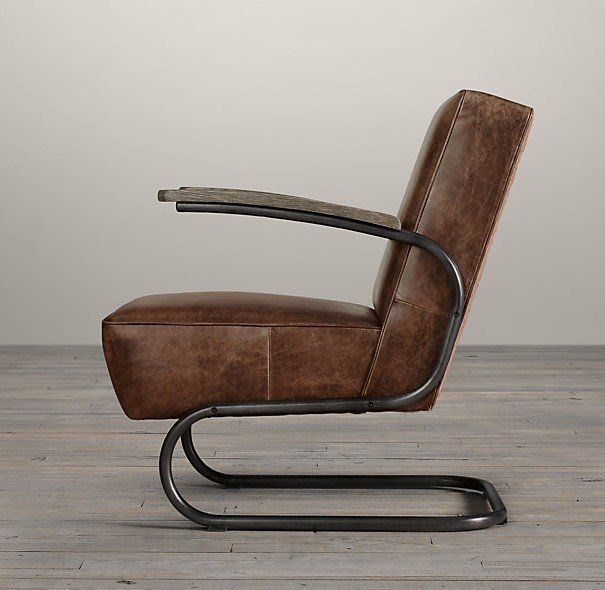 Extremely modern rocking chair with neatly curved and highly strong metal frame. The chair also comes with a high back design, excellent heavy-duty foam padding, and stunning vintage style leather upholstery for impeccable stylish elegance. It should be great for your front porch.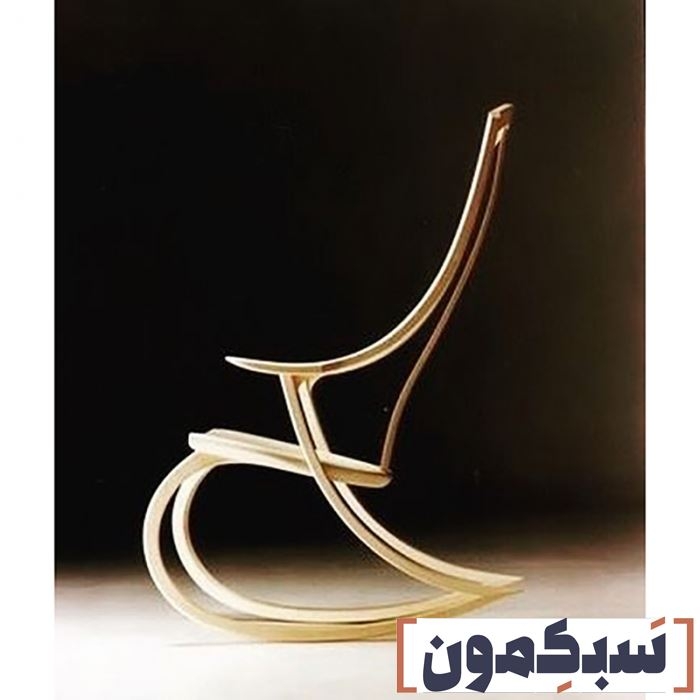 Wooden rocking chair with a beautiful frame suitable for modern indoors. It includes a durable seat with back support. Simple colors of this chair look very nice in many interior stylizations. The chair is comfortable and safe in use.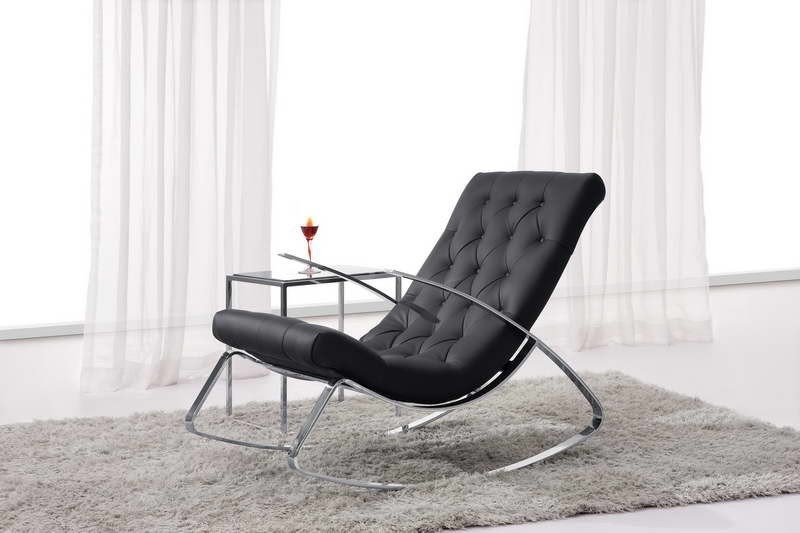 Modern rocking chair for watching TV, reading books and more. Frame is made of metal. It is upholstered with high quality leather and finished with decorative quilting. Ideal as additional seating or place for relaxation.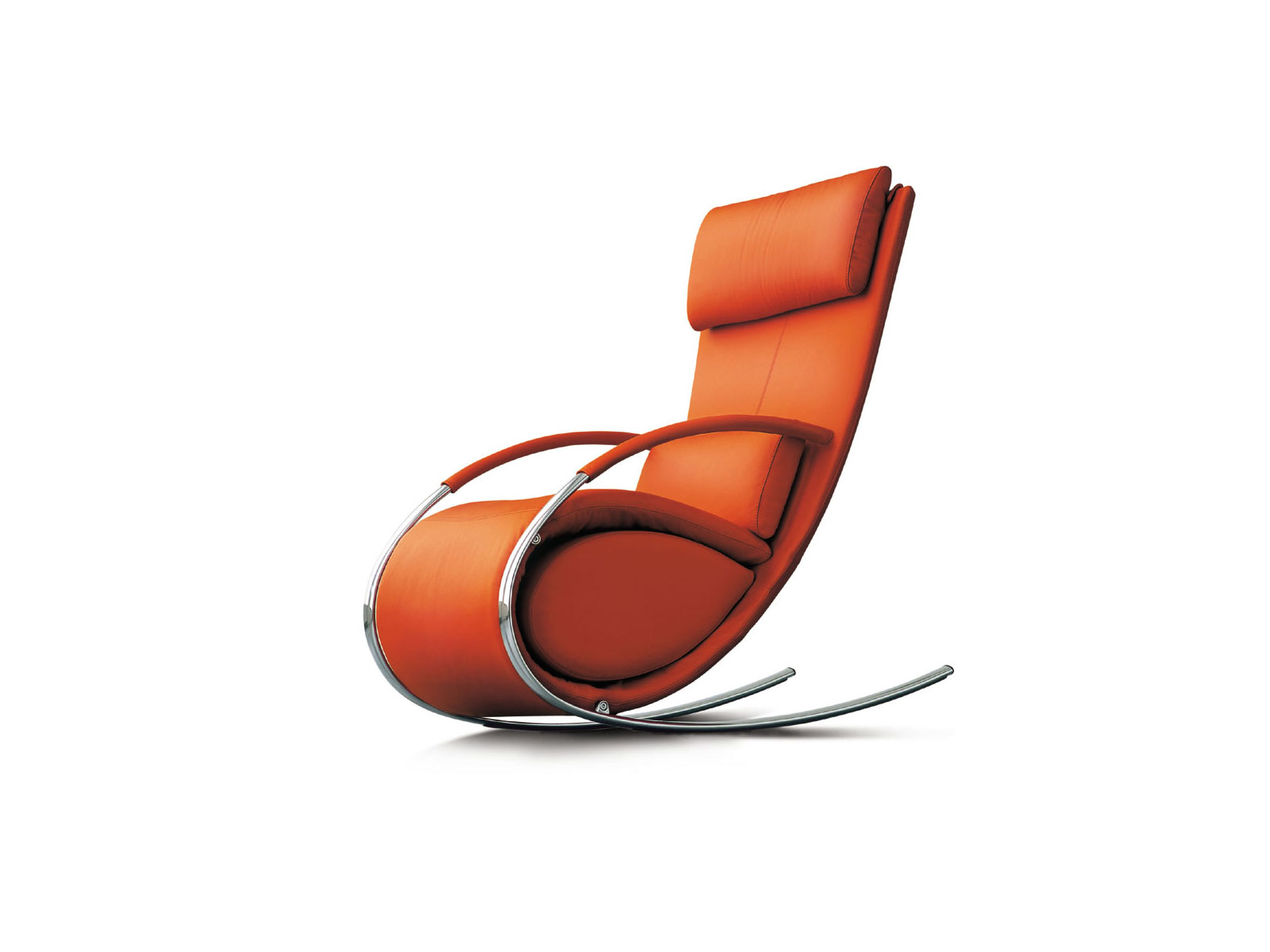 Wow, what a design! Made from orange leather & chrome elements, cool oval armchair. It trully rocks! Imagine reading your favourite book on this thing. I really love its soft, oval curves! You can chill out whole day.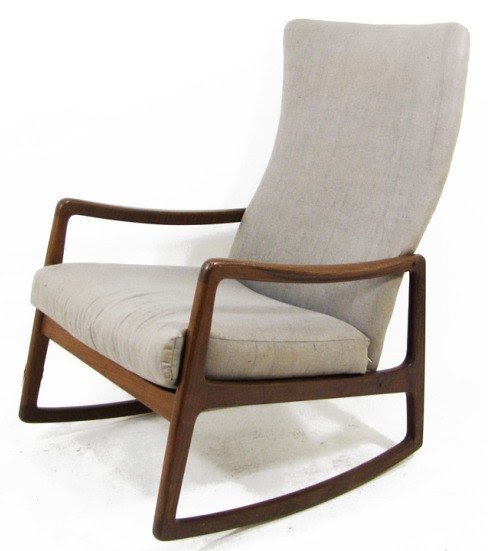 Danish Modern Rocking Chair uploaded by Famous Chairs Design on ...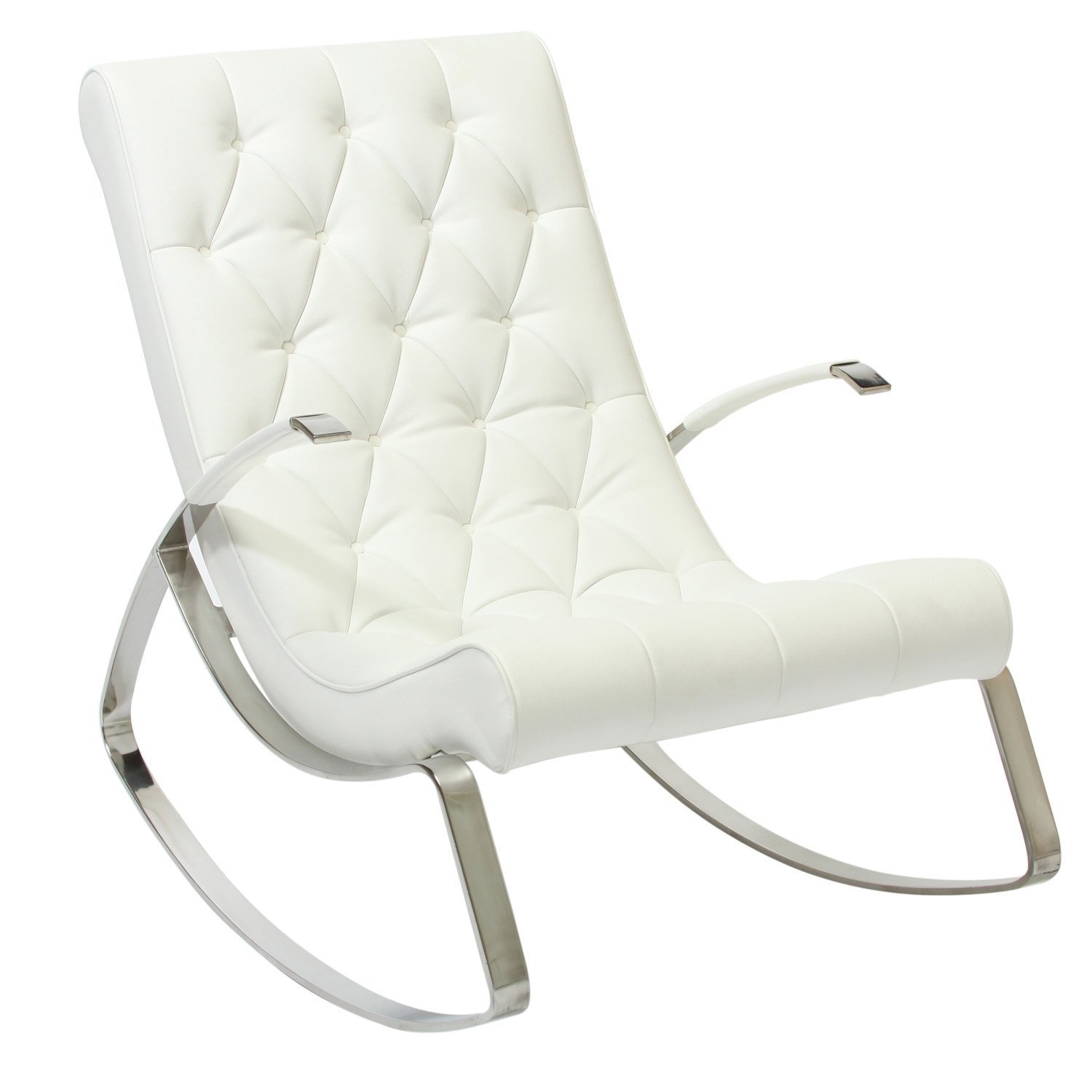 Cupola Tufted White Leather Rocking Chair -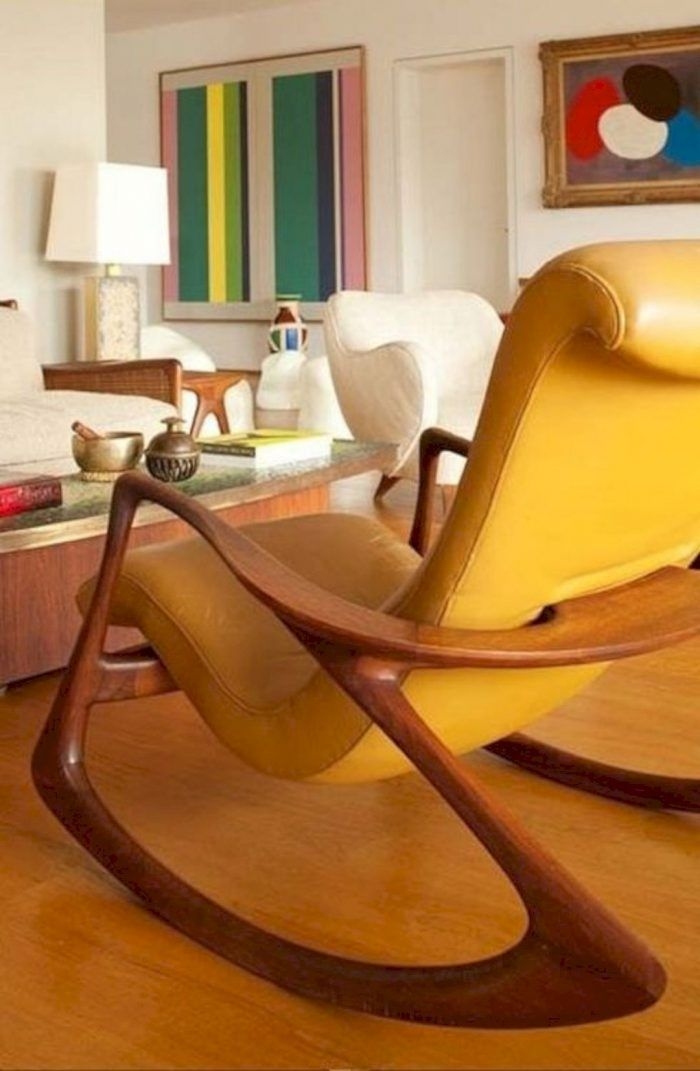 Furnitures projected by Kagan are sculptural and is free standing-as this modern leather rocking chair.Very characteristic-sculptural frame that supported the slings comes together with great light yellow leather.Those living room chair is very iconic Kagan.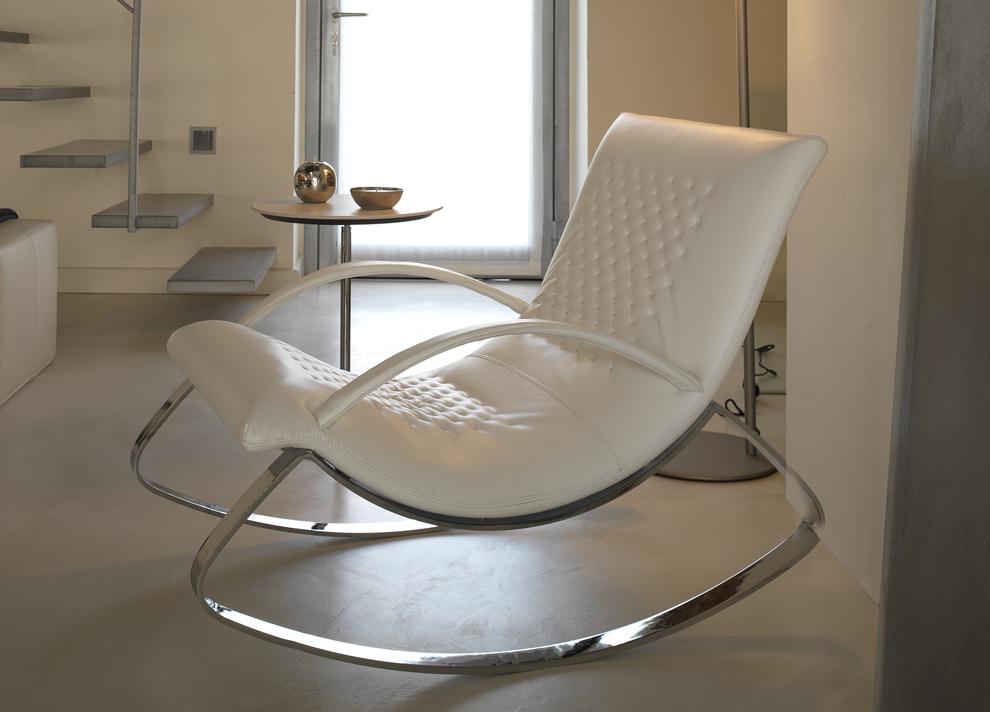 Cierre Chandelier Leather Rocking Chair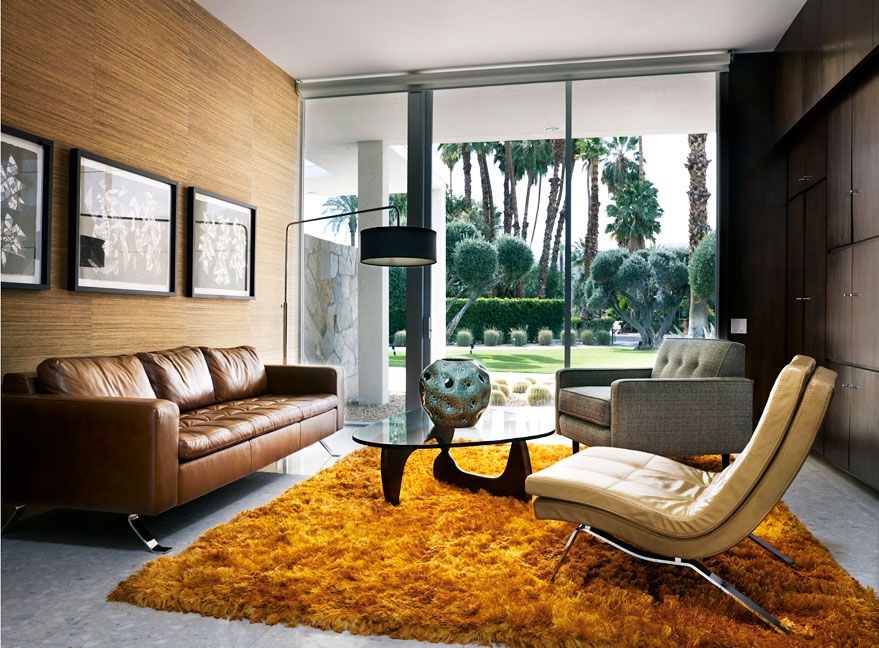 This one image makes me want to see the whole house - photo by Jason Madara. (from desire to inspire)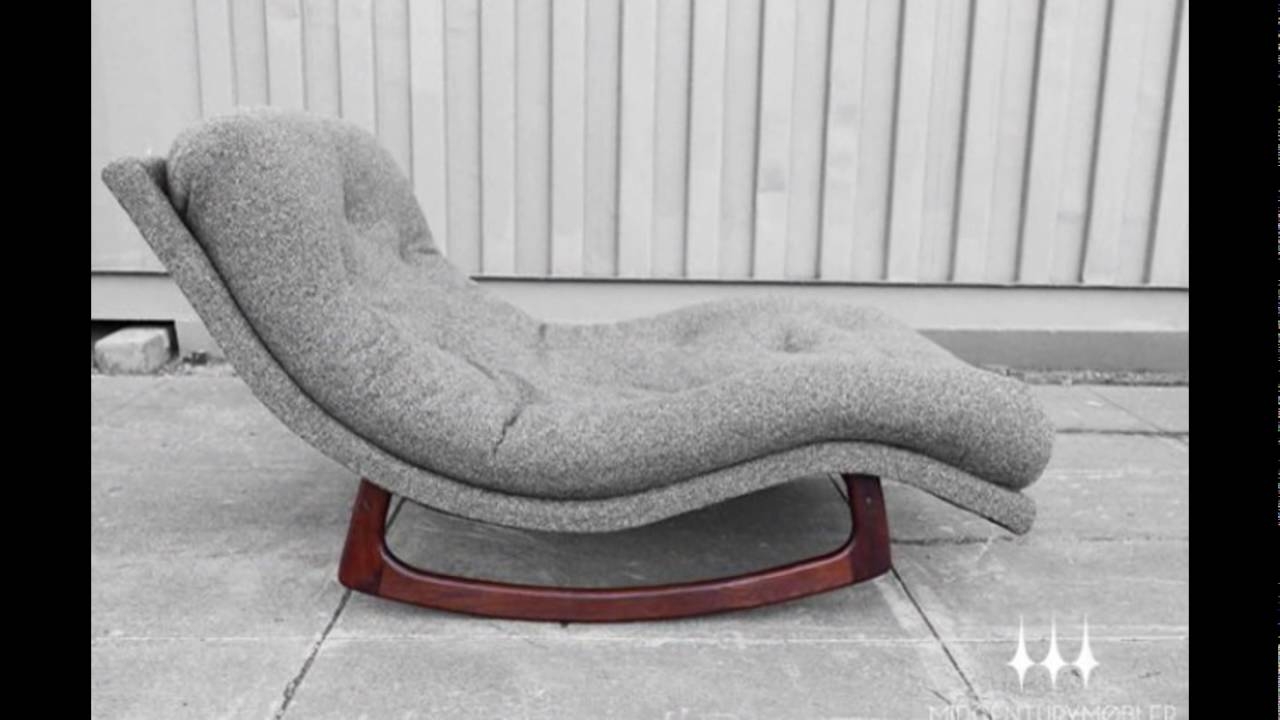 Contemporary style for a modern rocking chaise lounge chair with a slightly slanted base to make it comfortable and perfect to relax in. The chair is fitted with a cotton, gray upholstery with a tufted pattern on the seat.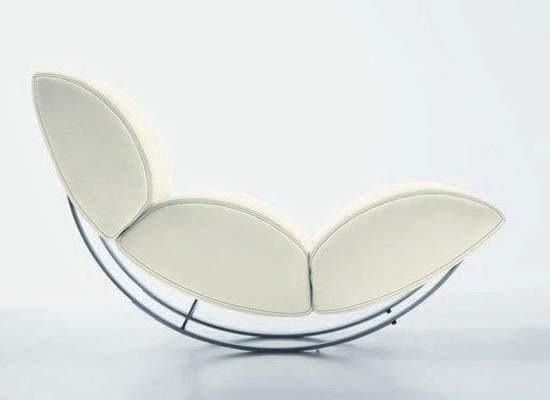 The big rocking chair leather for the modern home by Koinor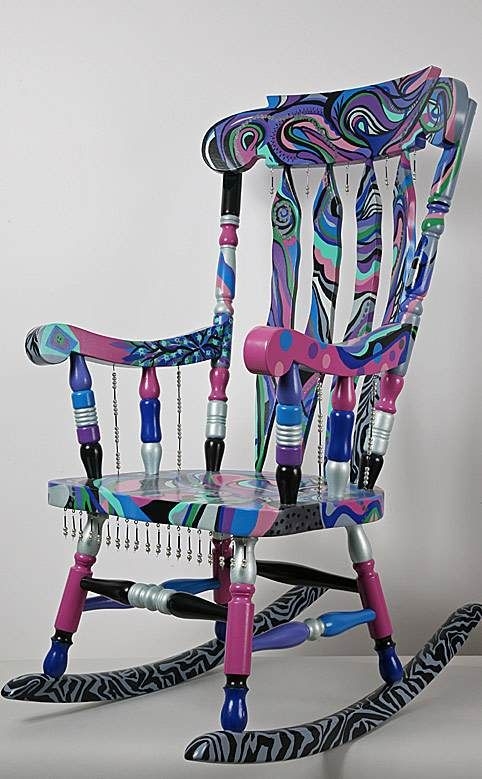 A fabulous modern rocker of solid wood with various designs in prevalent purples, pinks, greys. It has turned legs, stretchers, arm and back posts. A tall back features a wide top and vertical slats. A frame is adorned with thin ornate metal rods.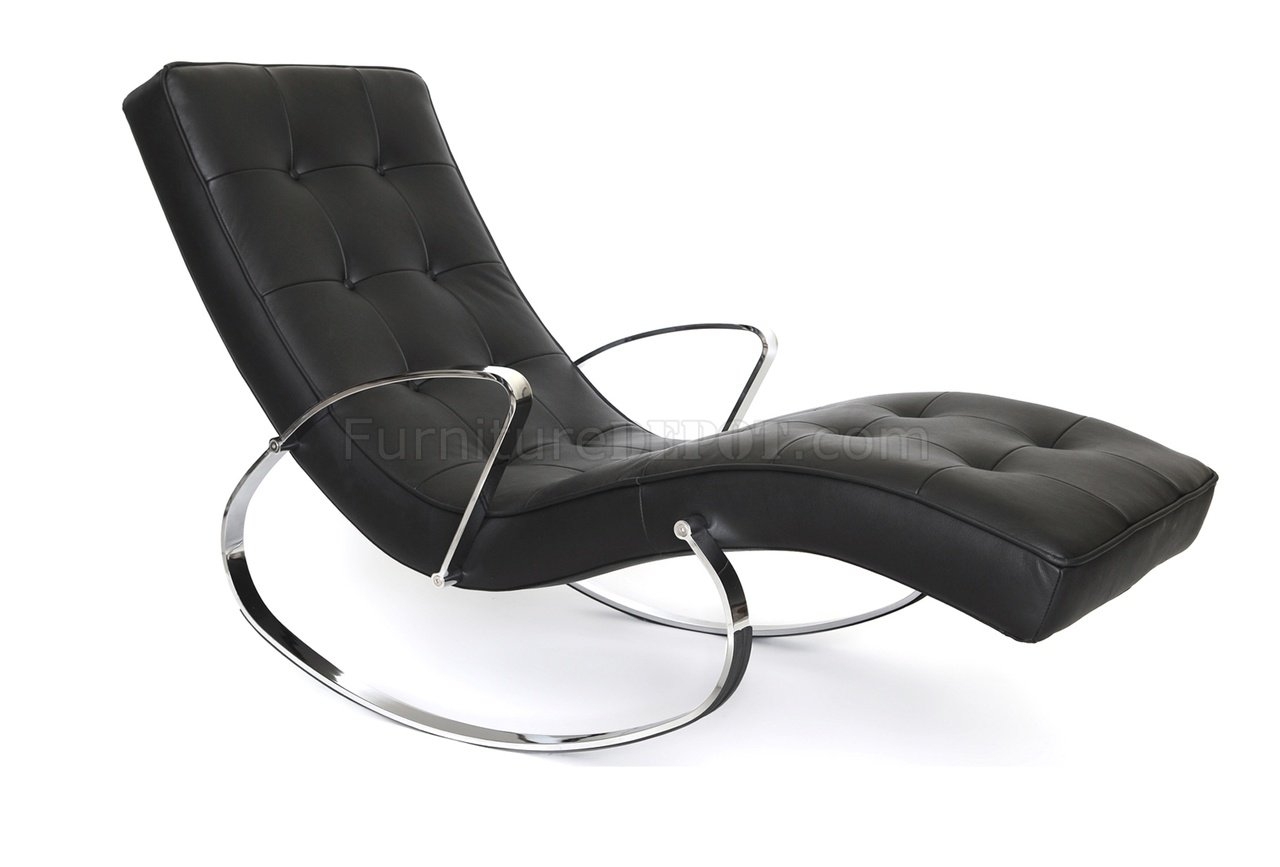 Modern Leather Rocking Chair Not exactly my style, but bet it makes a good nap place!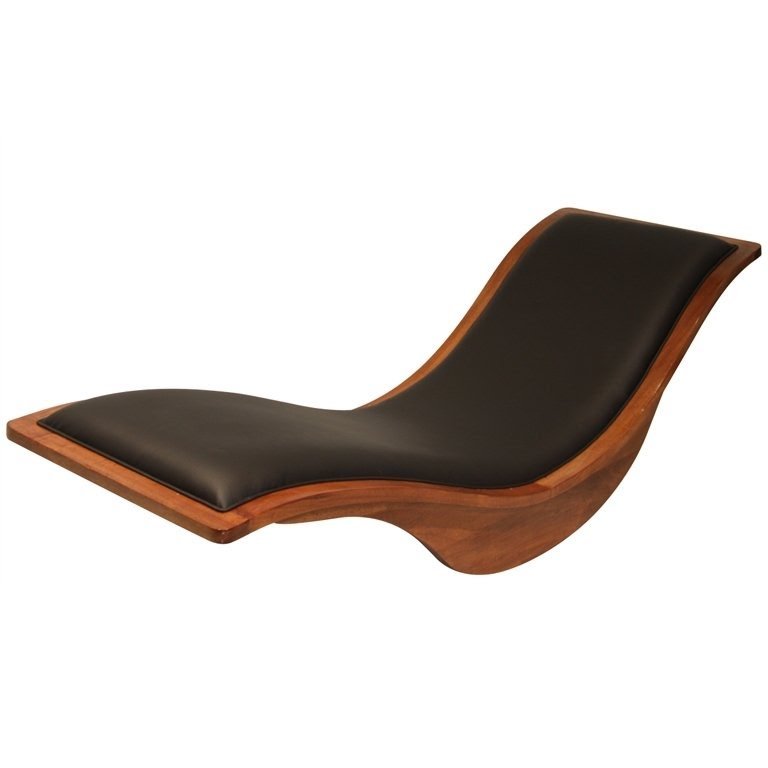 Rocking wood and leather chaise longue by Igor Rodrigues Brazil 1960's This Brazilian designer has designed a swooping rocking chaise lounge composed of exotic hardwood with a black leather seat. The design is sleek and incredibly comfortable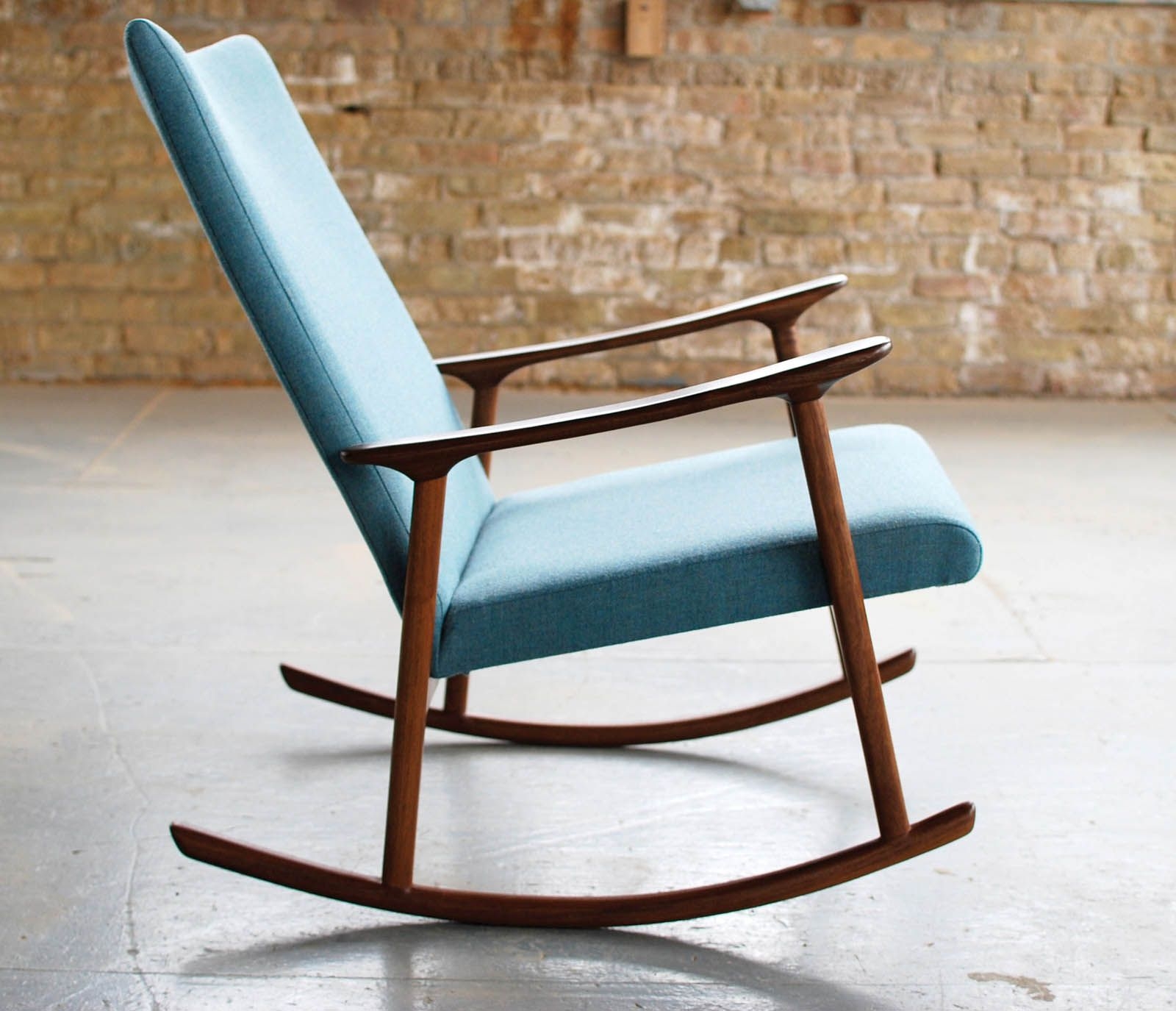 Jason Lewis Furniture RC01 Upholstered Rocker modern-rocking-chairs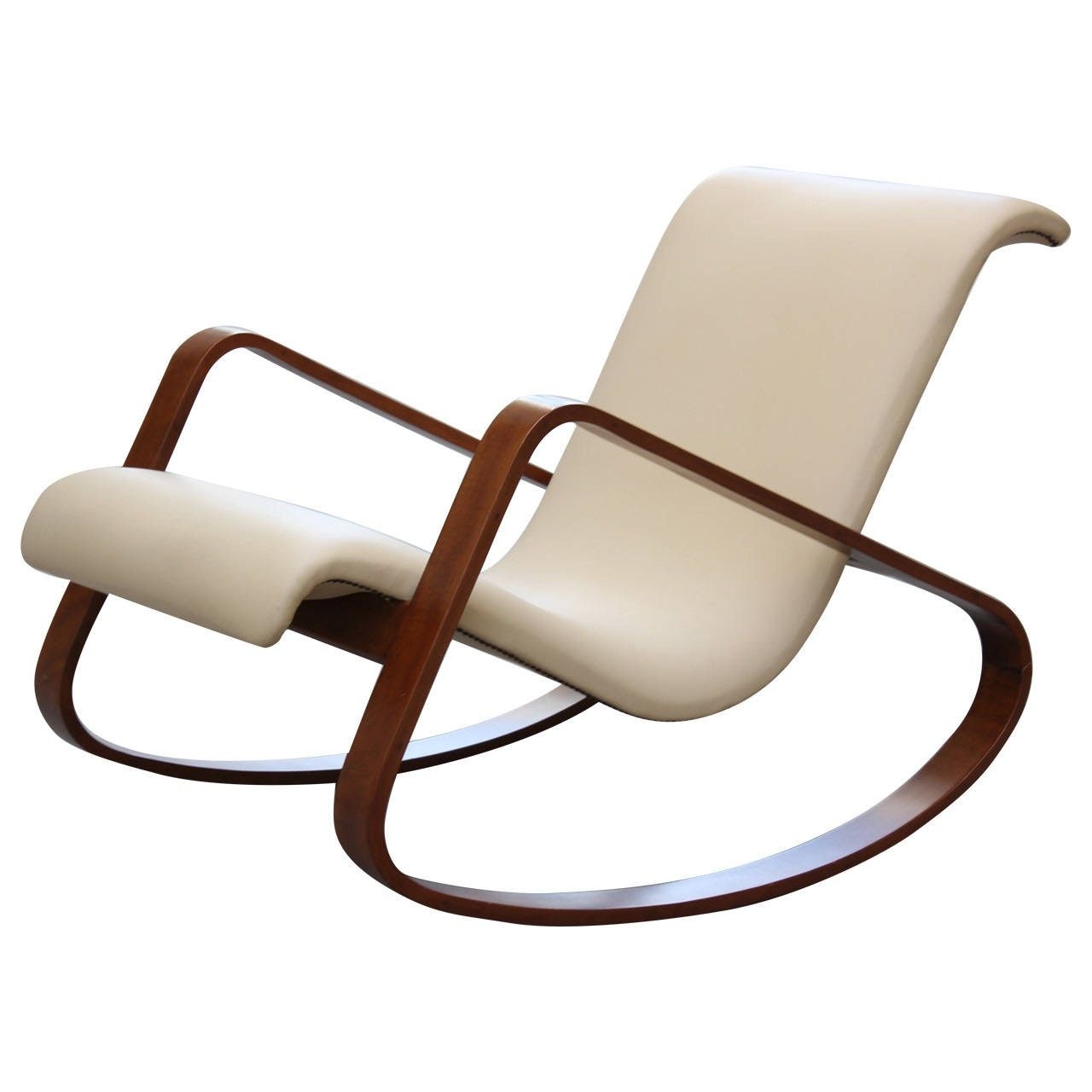 Giuseppe Pagano Bentwood Leather Rocker ca.1930's Italy | From a unique collection of antique and modern rocking chairs at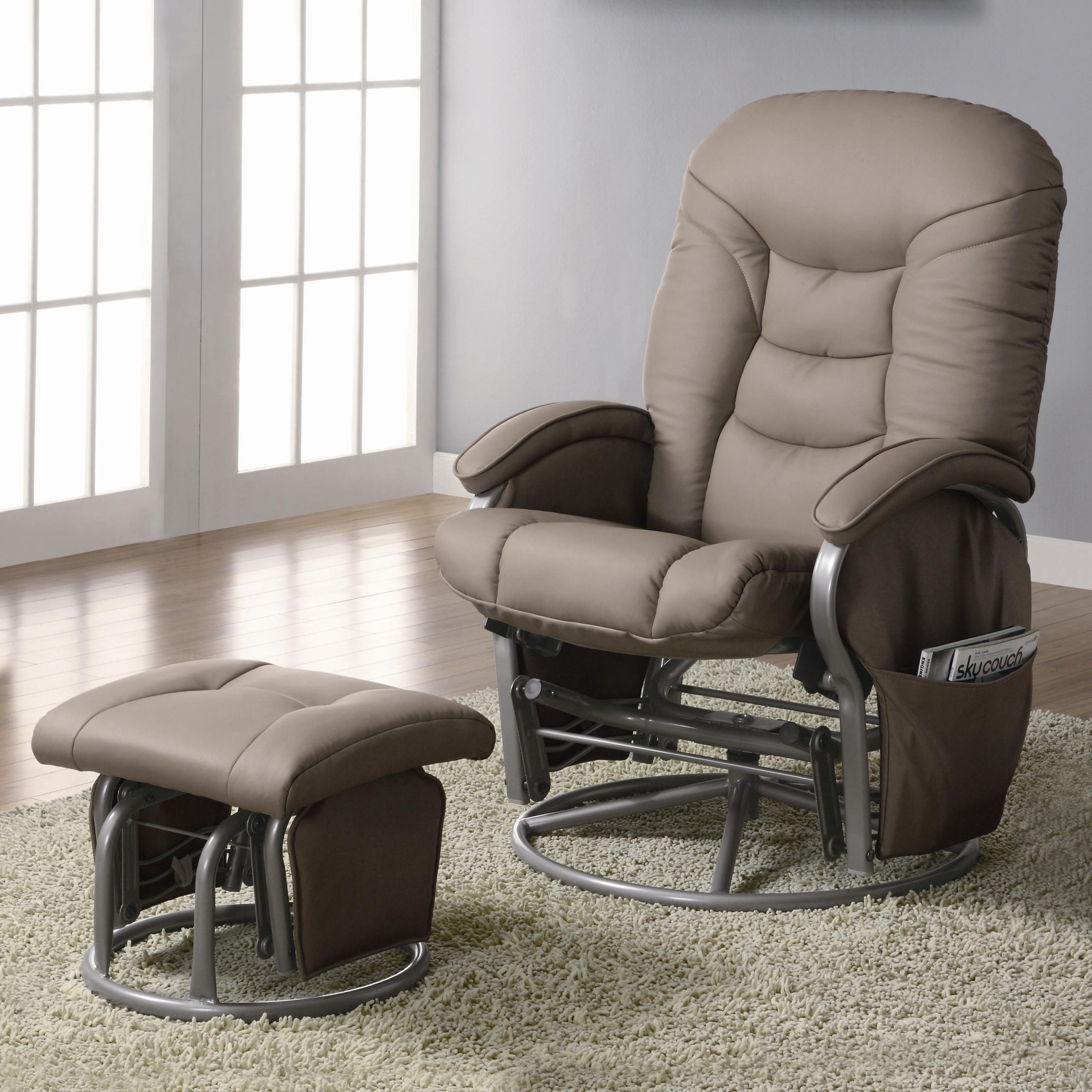 This sofa set, which consists of an armchair and ottoman is a combination of elegance, class, style and a huge convenience. The seat has a sober gray color. High backrest allows you to rest your back and ottoman to relax the legs.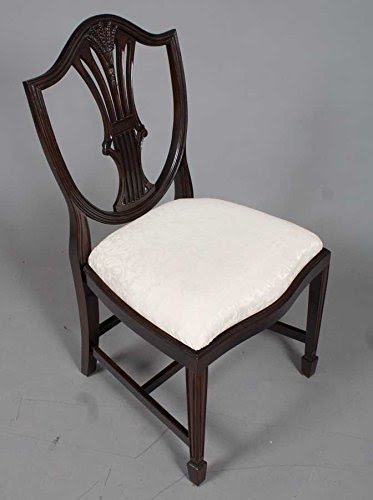 This elegant Set of 6 Shield Back Dining Chairs in Mahogany Finish is as aesthetic as it is durable. Each chair includes a beautifully designed frame reinforced at the bottom with wooden bars. The seat is upholstered in quality fabric and can be removed for easy cleaning.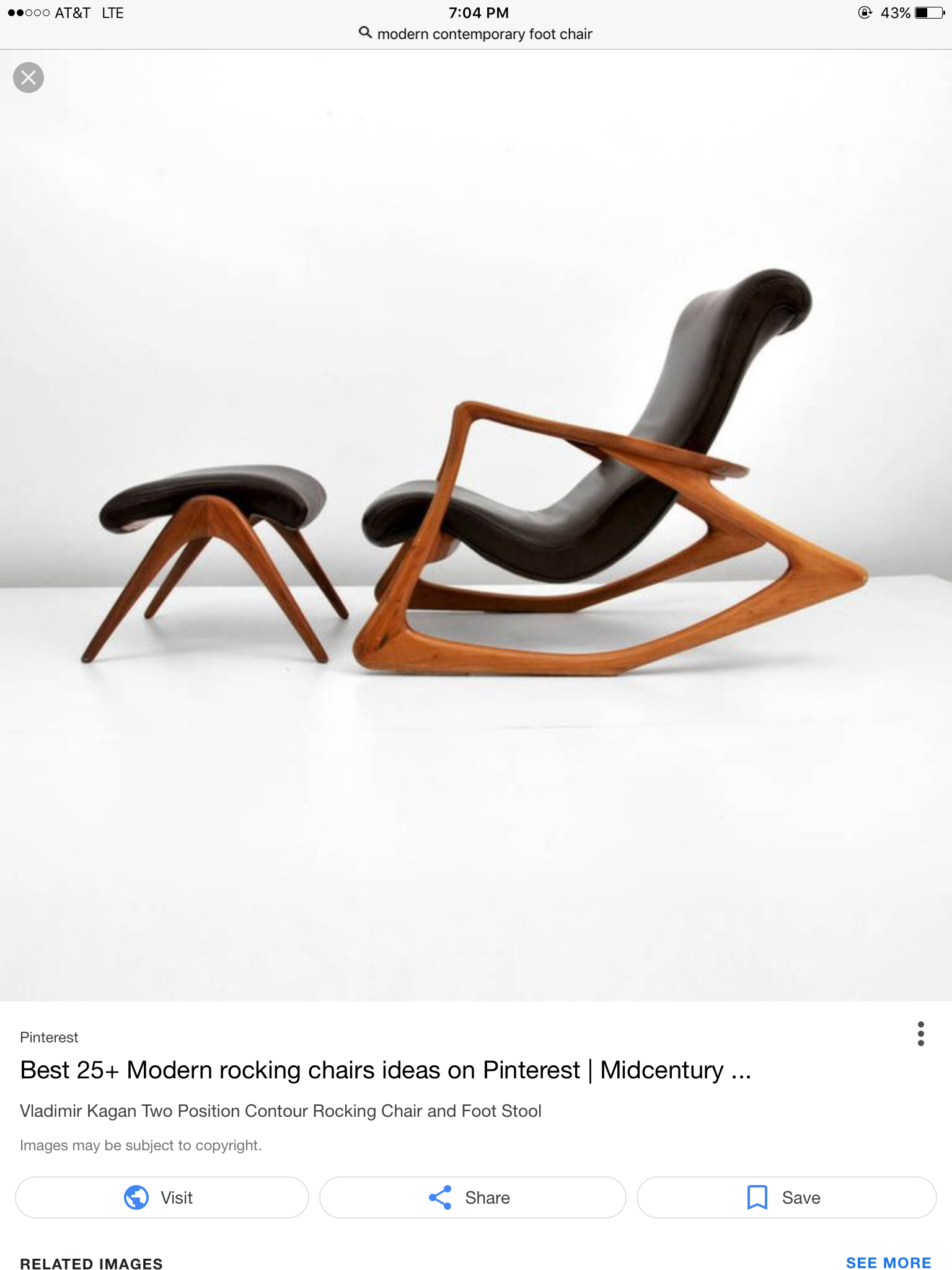 With its vintage looks this amazing leather lounge chair with a matching ottoman will make for a perfect option for any interior suffering from not enough seating options, while its two-tone finish of honey oak and black add a certain amount of class to any space.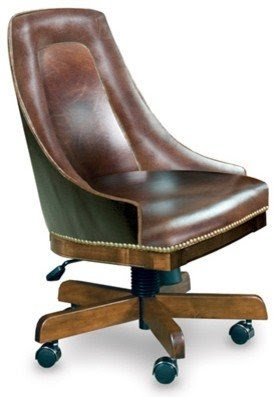 lindgren swivel game chair (leather) contemporary-rocking-chairs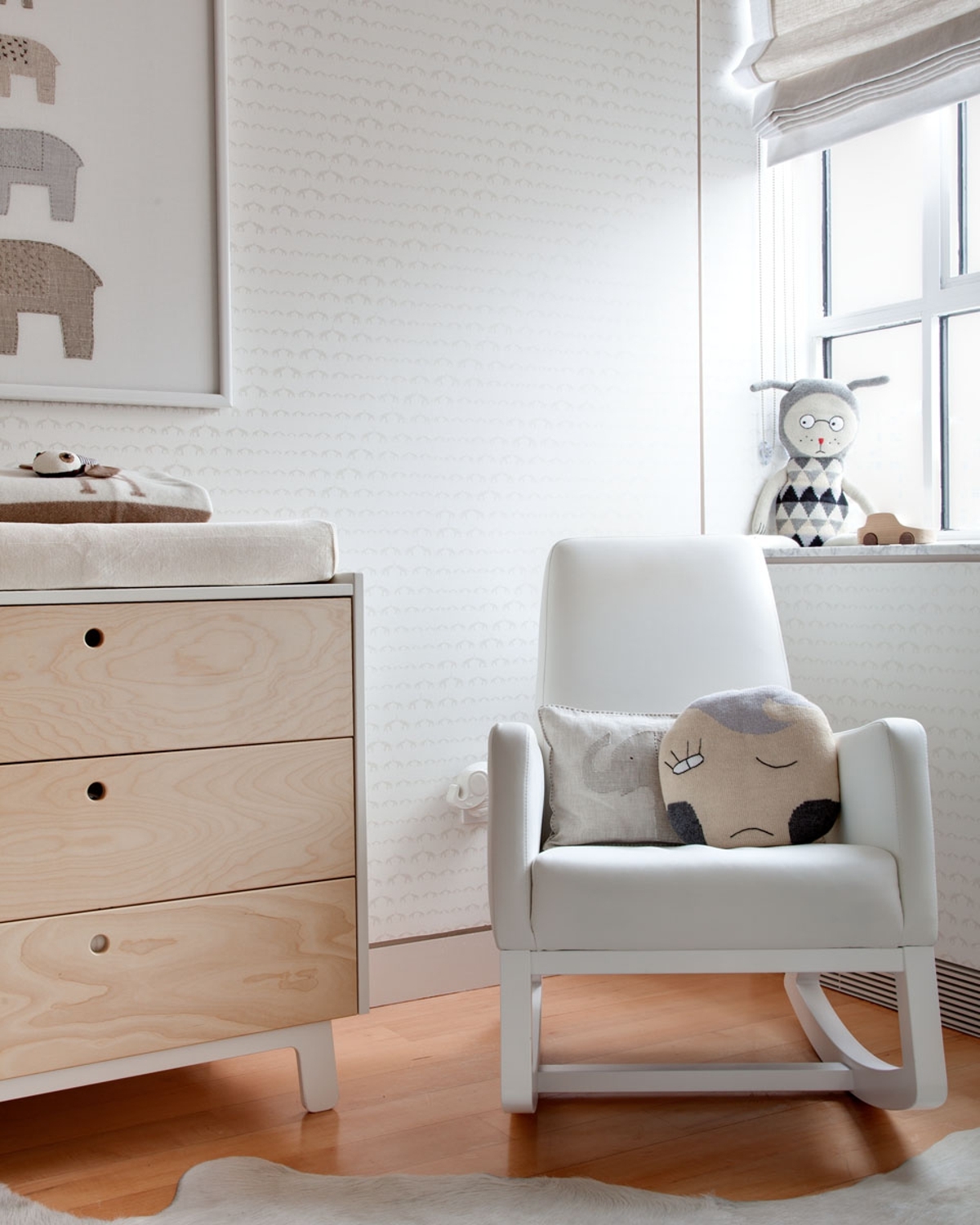 A stunning arrangement of a nursery. It features an elegant and comfortable rocking chair, where you will quickly lull your baby to sleep. It's accompanied by a chest of drawers in a modern design equipped in a changing station.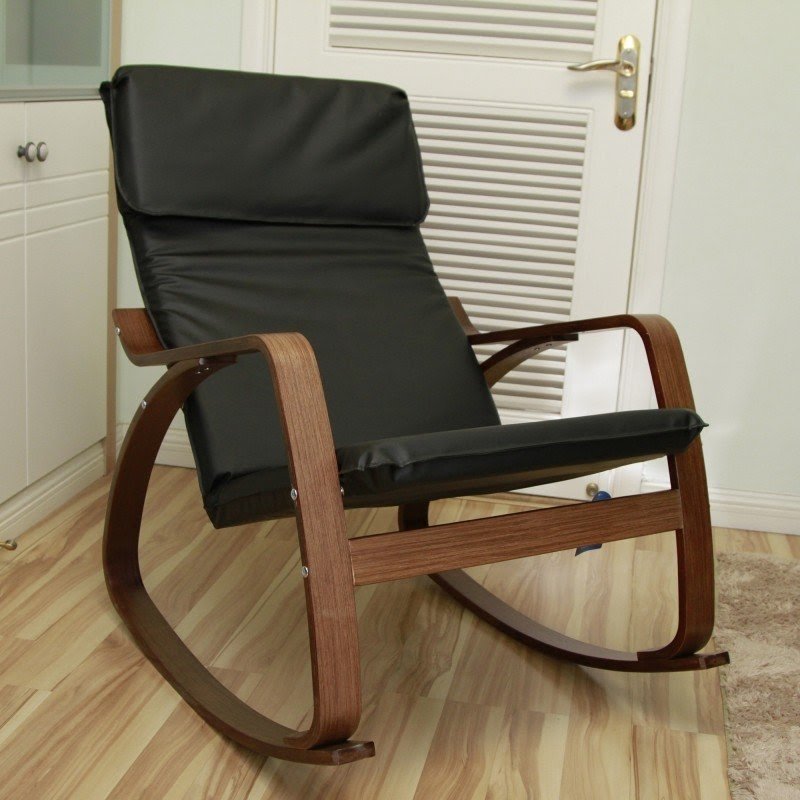 Stockholm Rocking Chair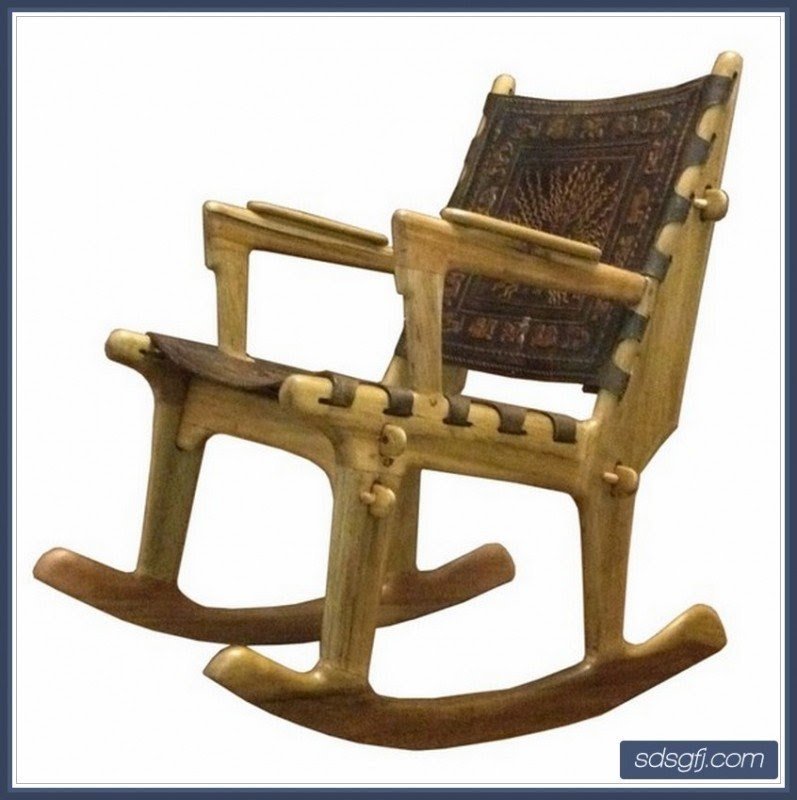 Modern Interior Mexican Leather Rocking Chairs Furniture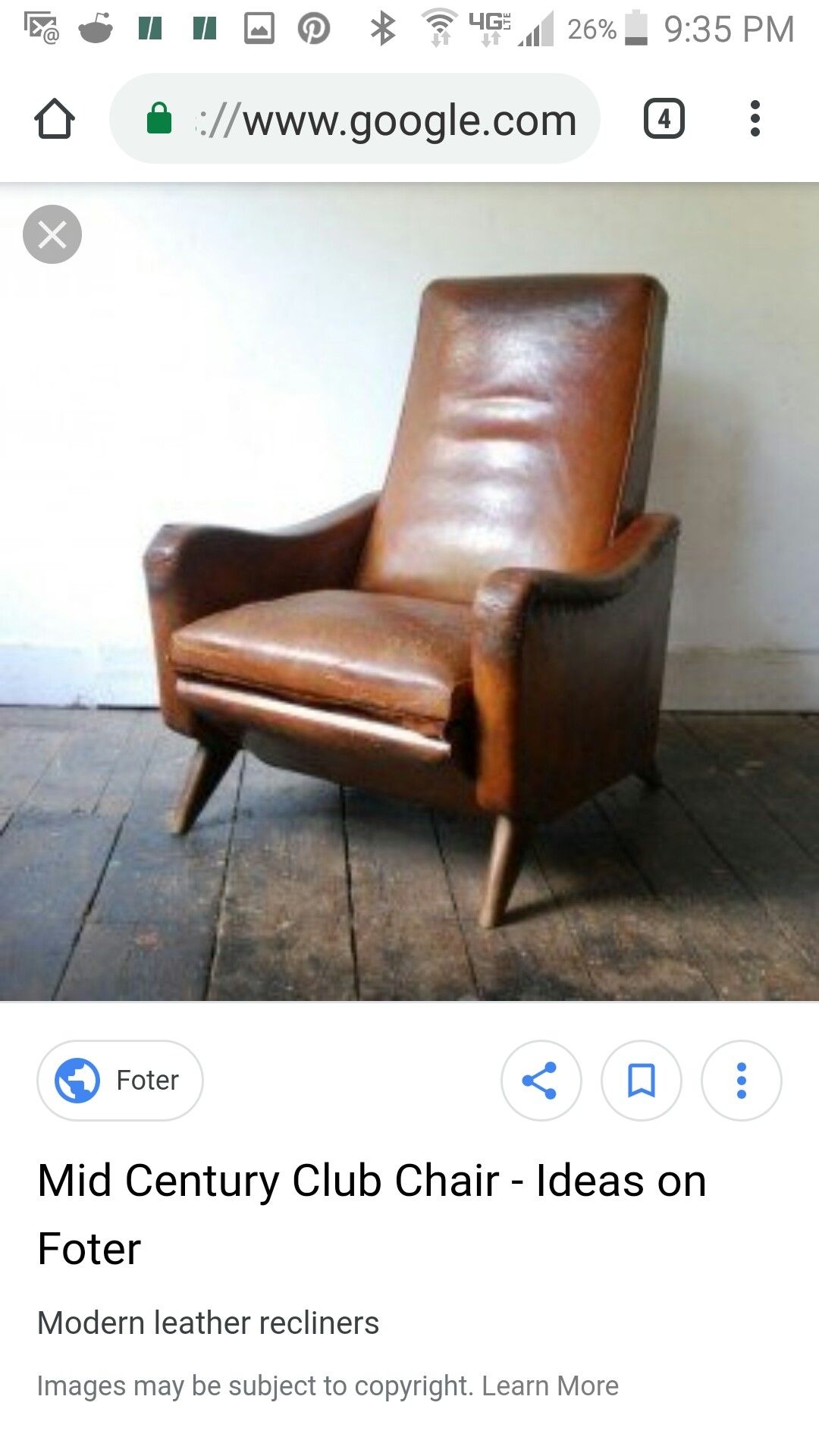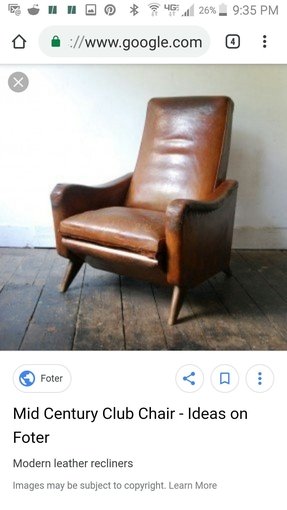 This beautifully made mid-century reclining chair is a beautiful piece of furniture for a stylish interior. Beautiful leather upholstery and comfortable seating create a functional piece of furniture and very comfortable.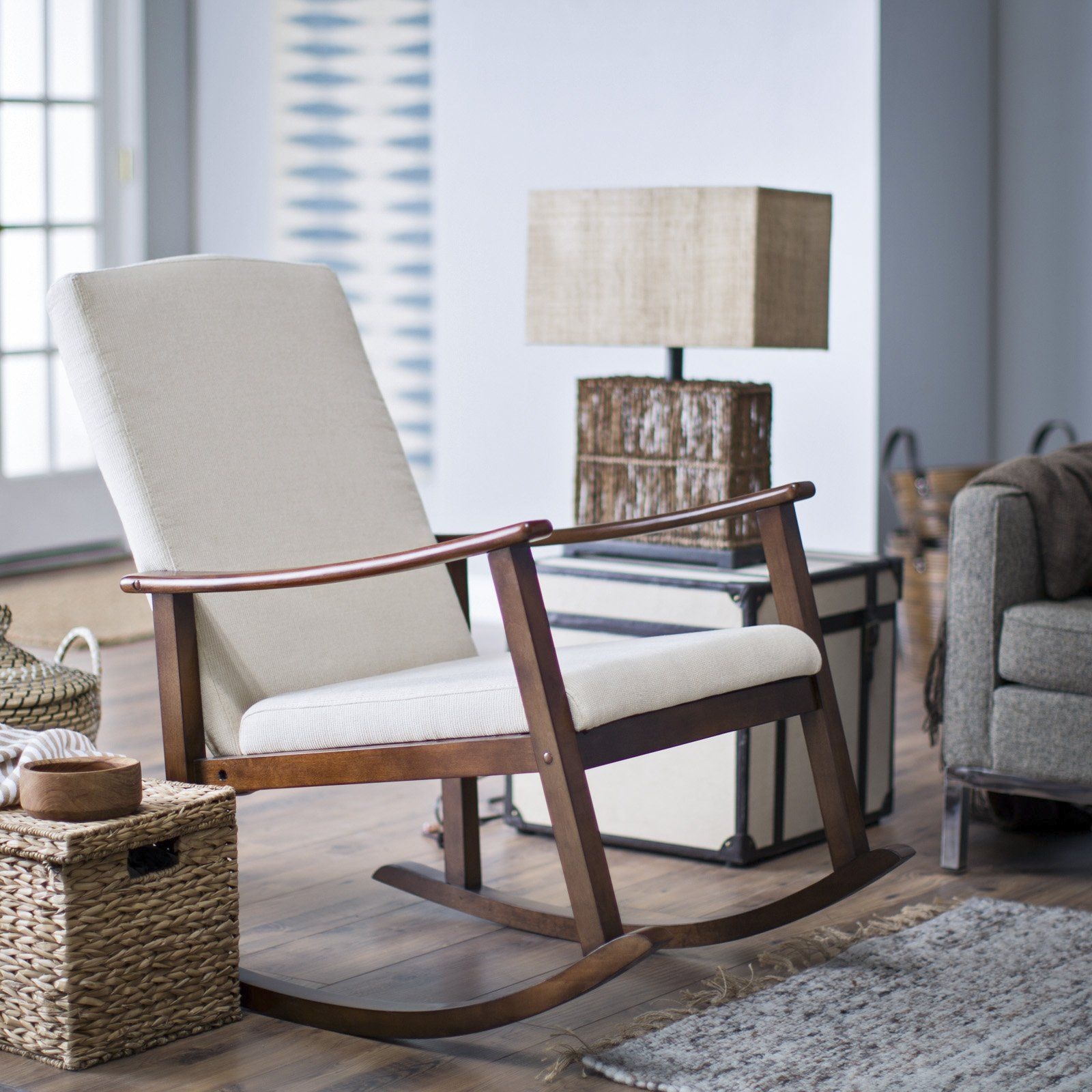 This rocking chair features a modern design that comprises an interesting alternative for traditional rocking chairs. It is constructed of solid birch wood, padded with supportive foam and covered with white polyester blend.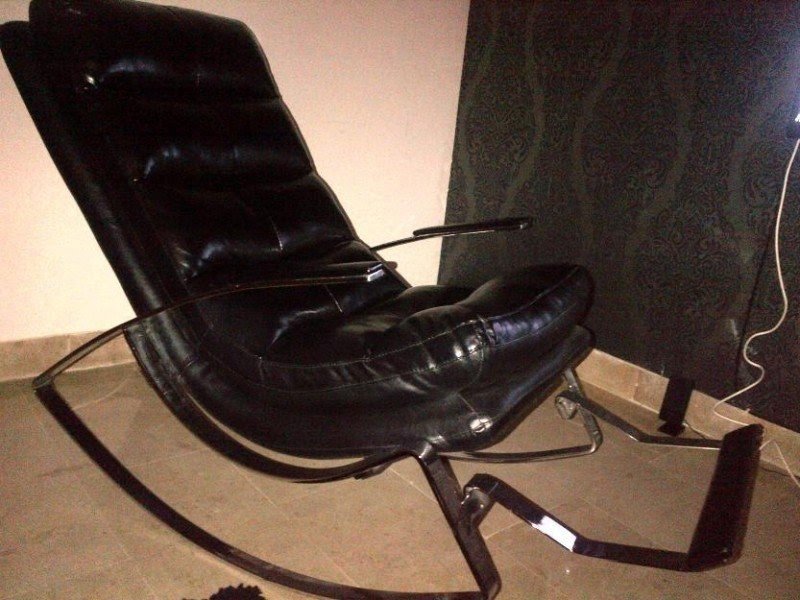 leather modern rocking chair very comfortable leather rocking chair ...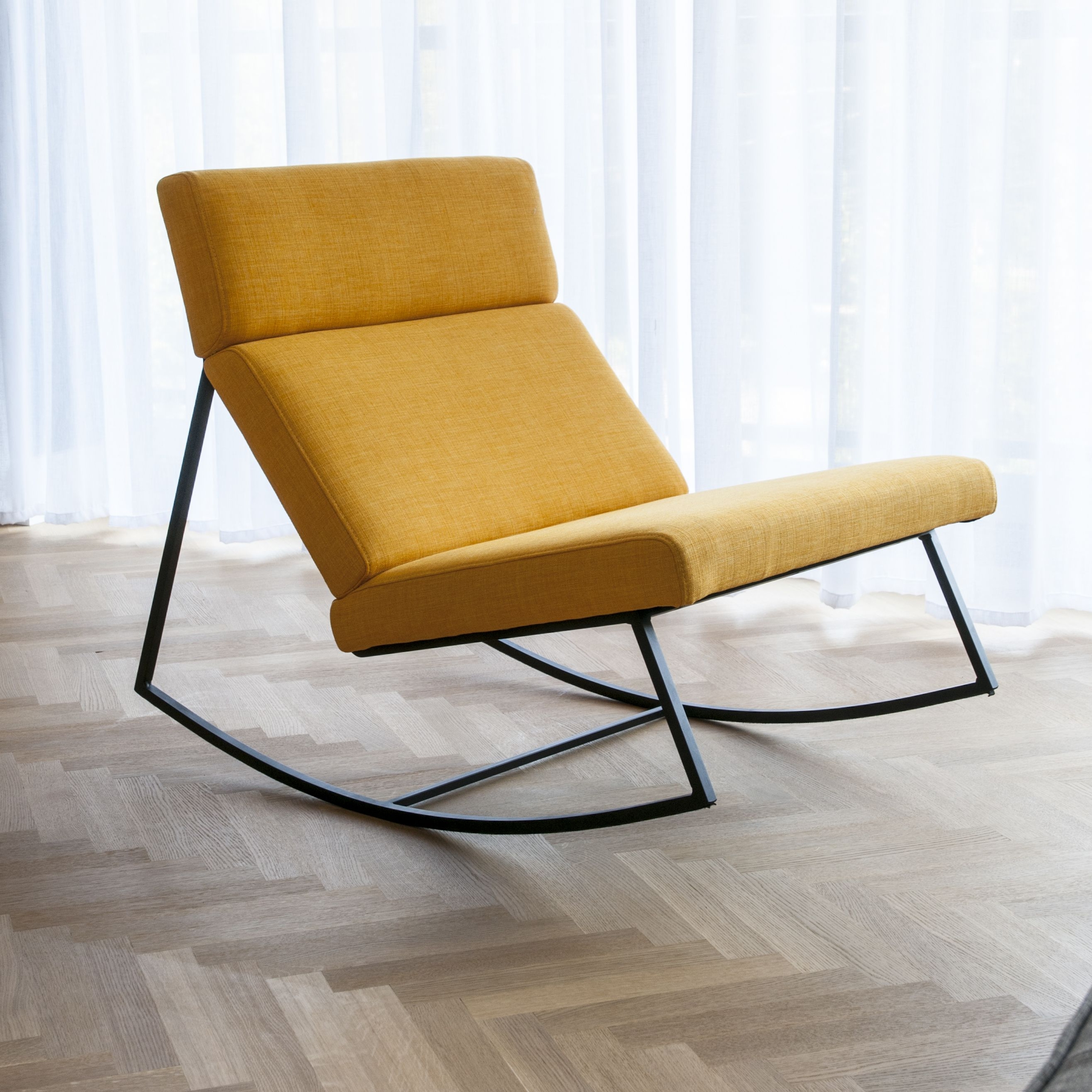 A simple modern rocking chair having a frame of thin black coated square section metal rods. It consists of 2 bowed rockers, splayed supports and a straight stretcher. A 3-segment padded seat cushion is covered in plain dark yellow fabric.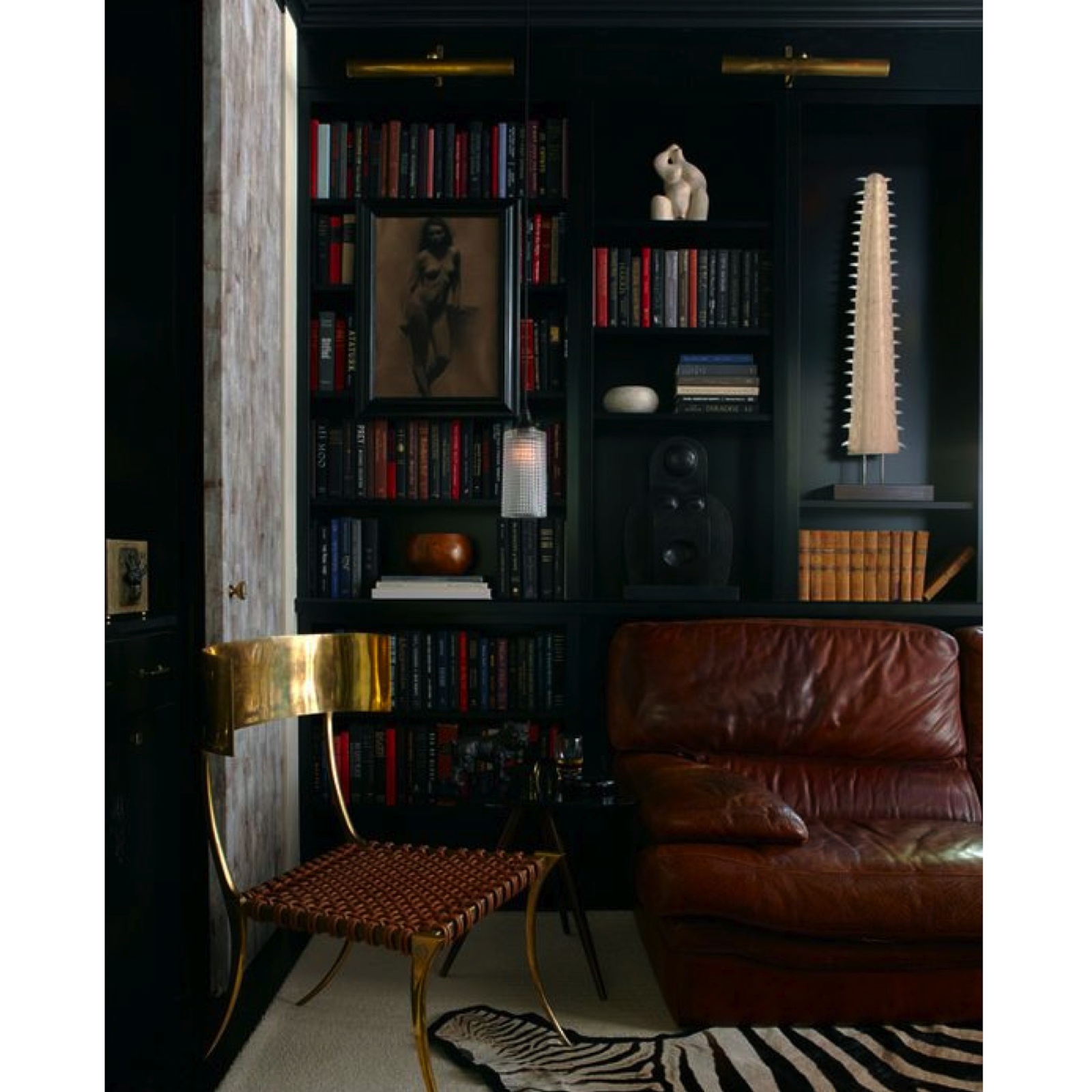 Want. I usually hate overstuffed leather, but it looks like a good snuggle up and read spot.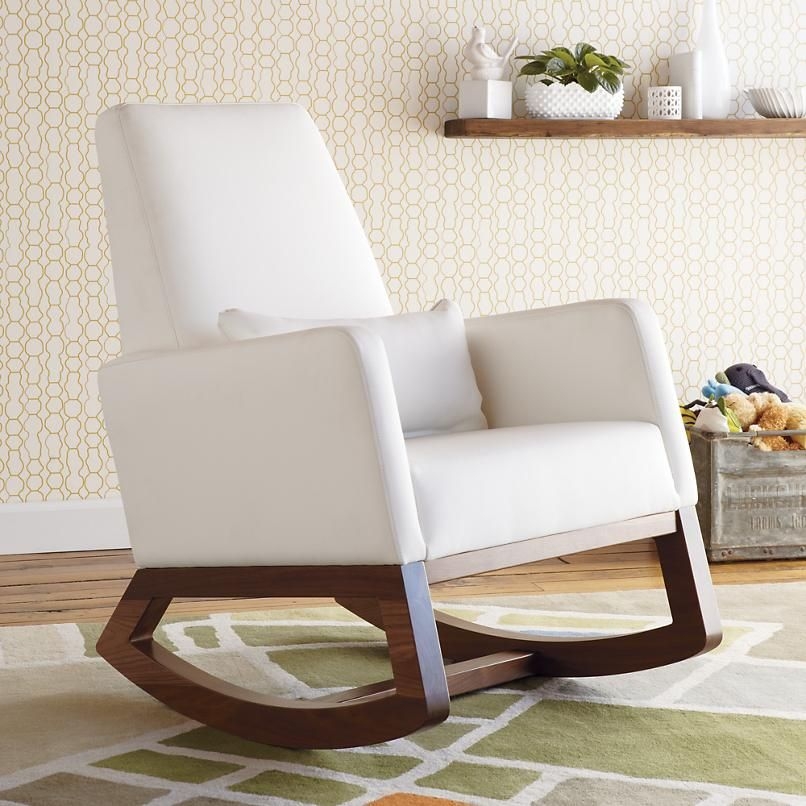 White Leather Joya Rocker in Rockers & Gliders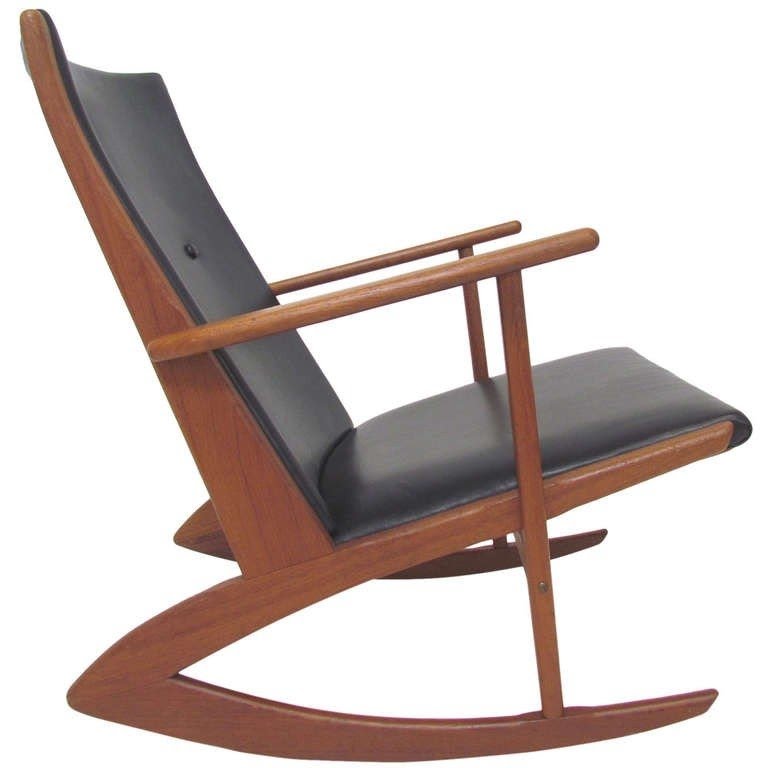 Danish Teak and Leather Rocker by Soren Georg Jensen ca. 1960s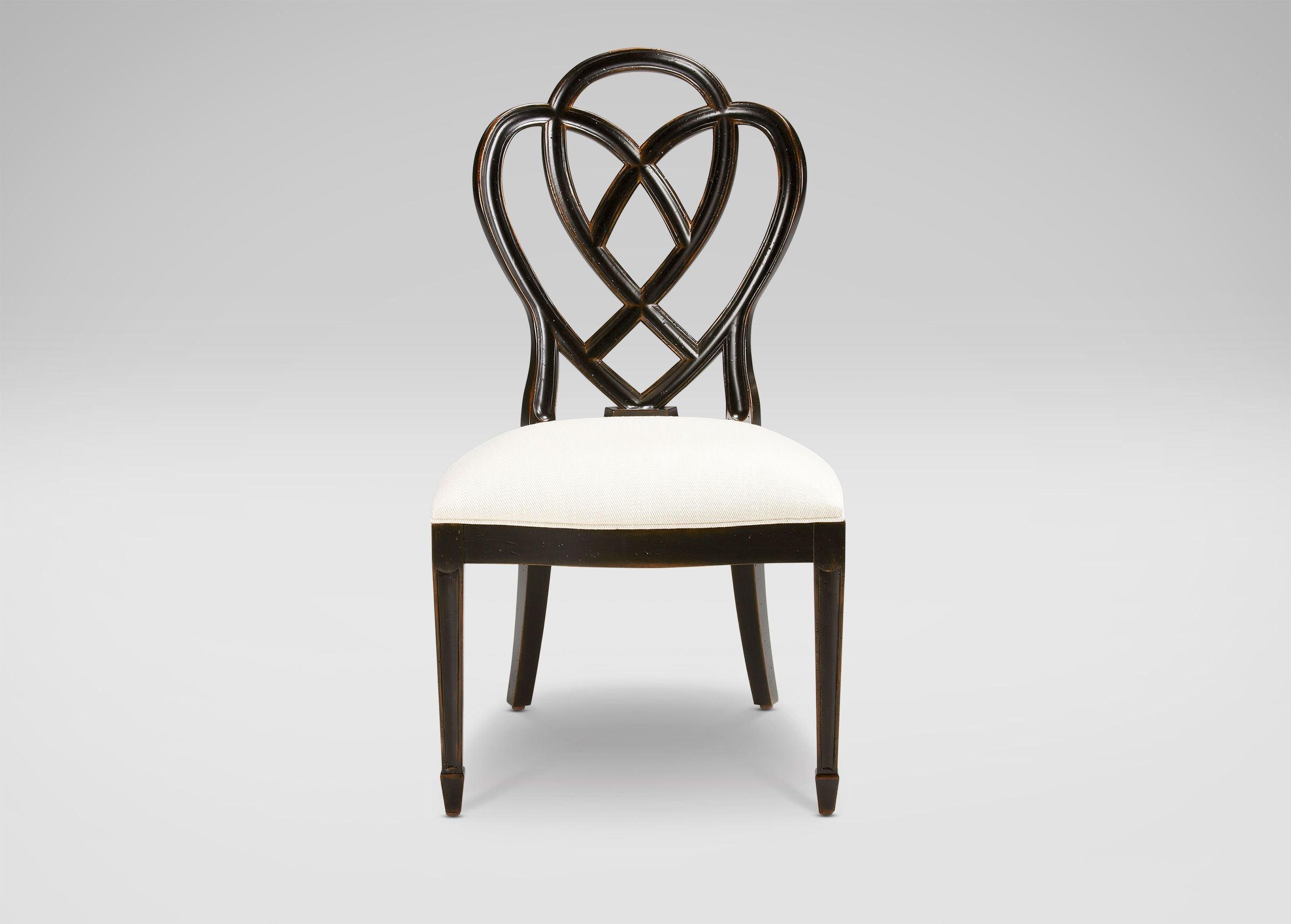 Chair mounted on wooden base and finished with openwork pattern on the back. Seat is upholstered with soft fabric. Perfect as dining chair or extra seating in all kinds of interiors.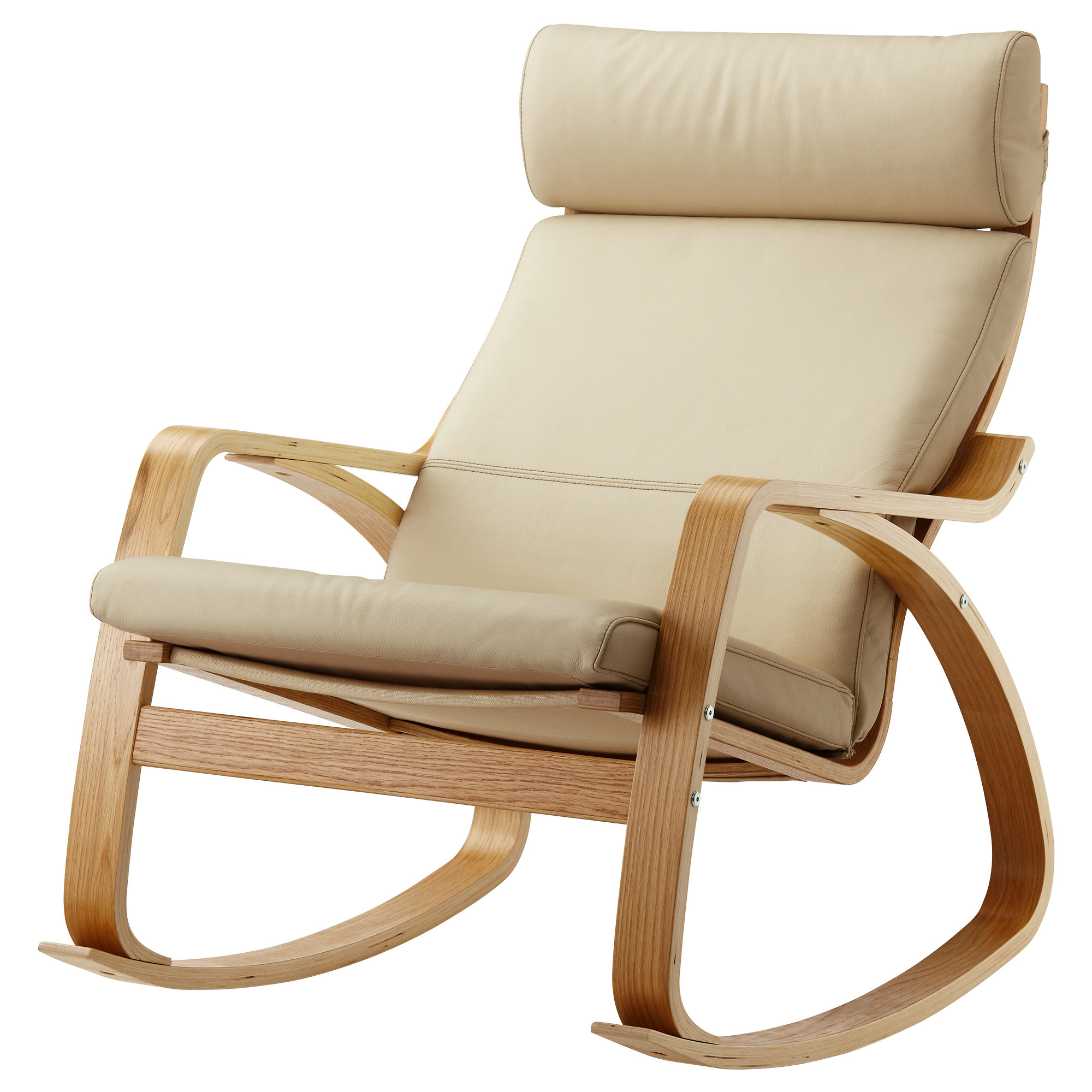 Modern Leather Rocking Chair With Color Beige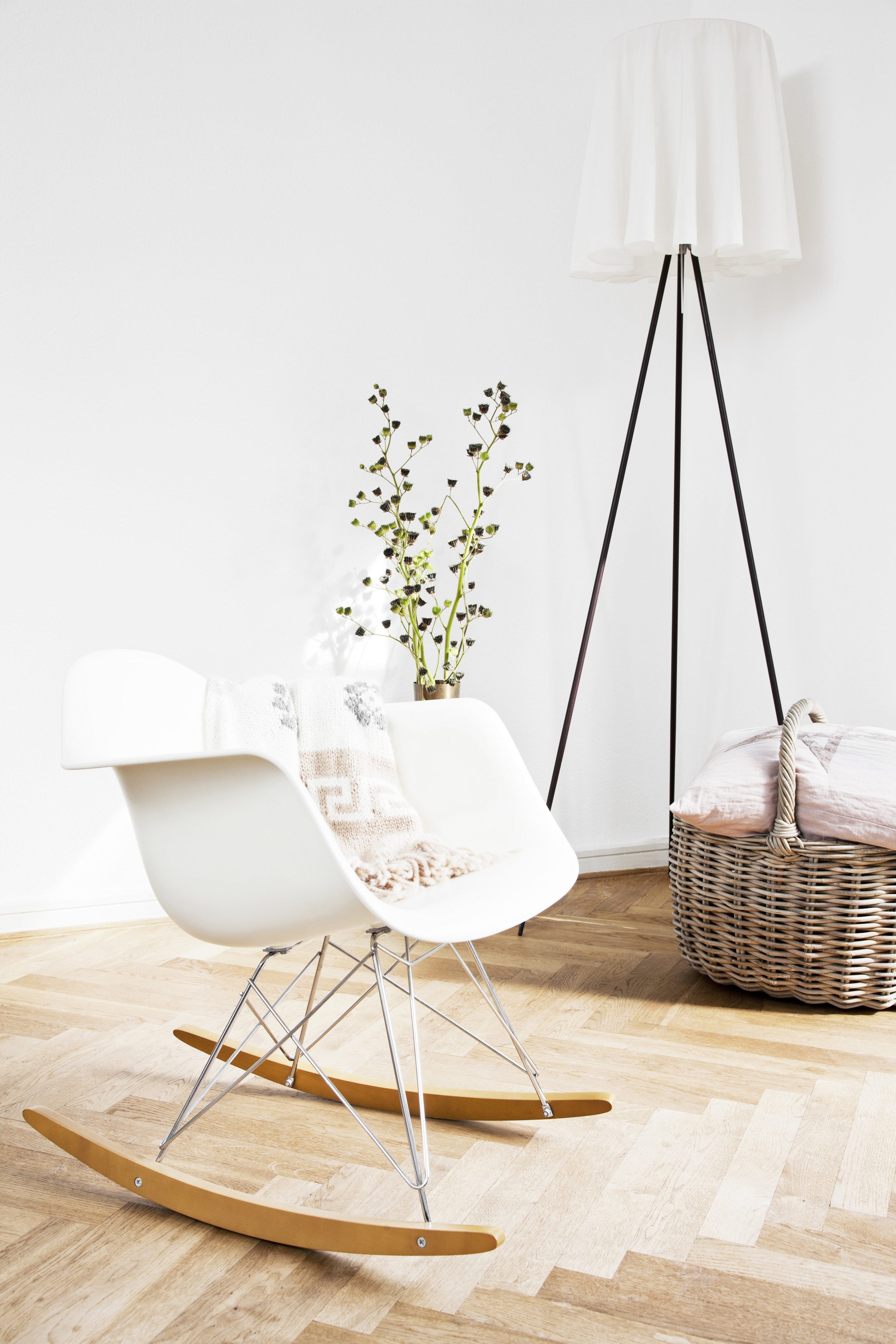 A simple and comfortable rocking chair that provides relaxation to anyone. It featues a well-profiled sitting space with curved seat and backrest in a white color. Its wooden base is supported by metal elements.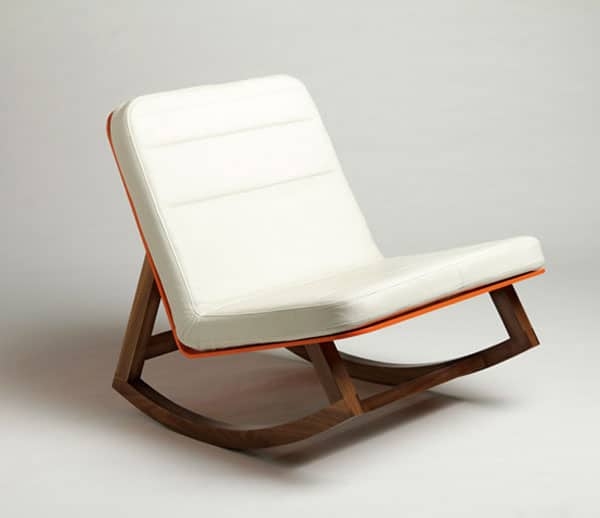 Lagomorph Design : Safety Orange power-coated aluminum chair frame with solid walnut rocker and leather cushion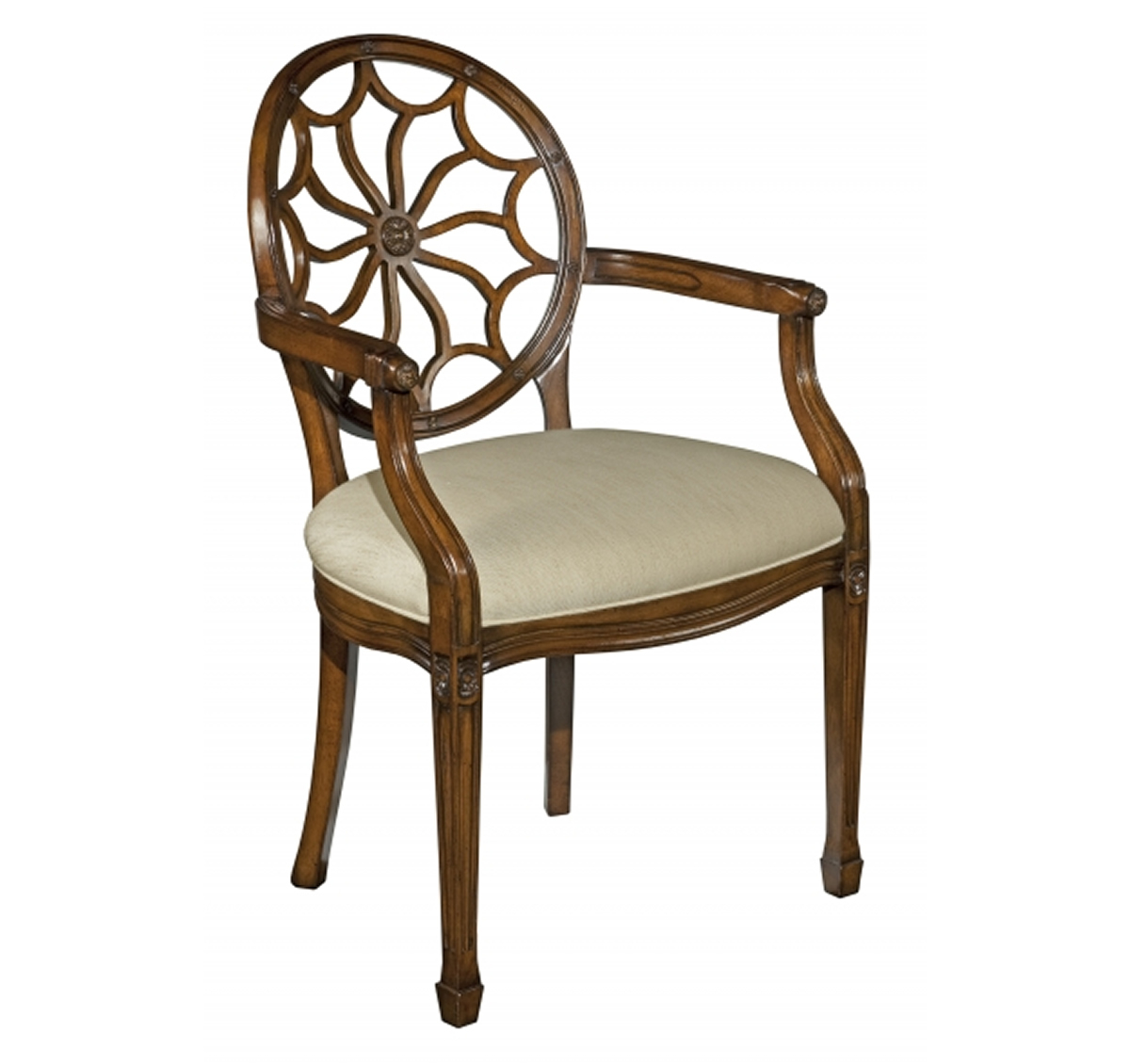 This beautifully-carved dining chair features a solid hardwood frame covered in a walnut finish, including an oval back, curved arms, flared rear legs, and tapered front legs. The seat is padded, and upholstered in a fashionable fabric.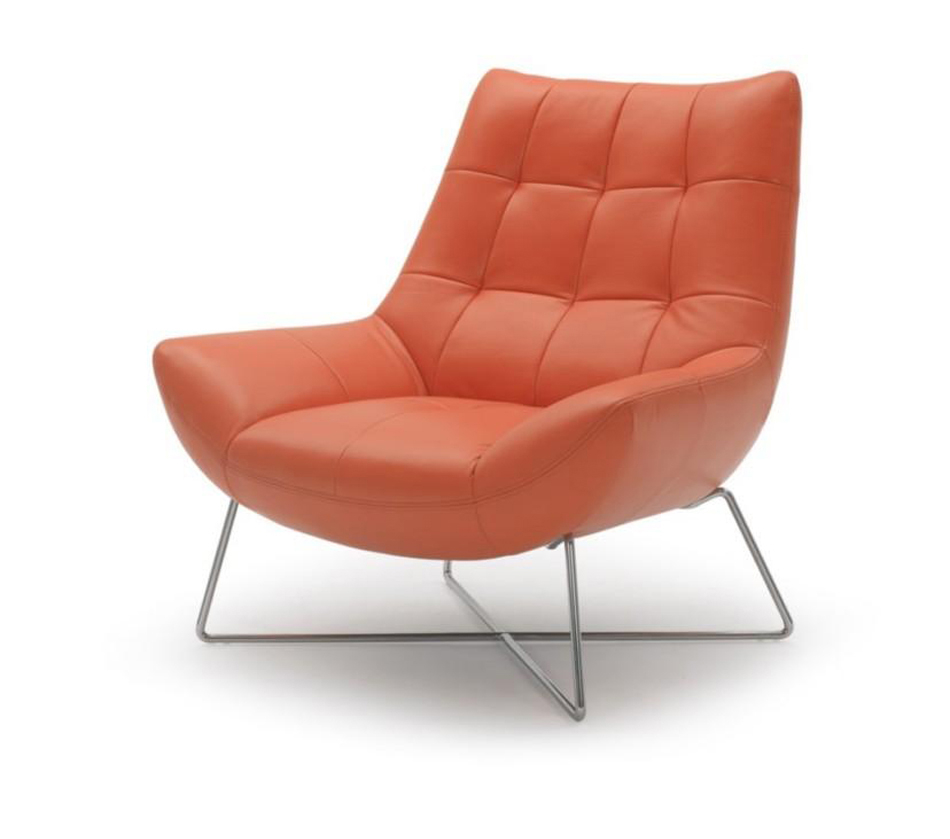 This is so comfortable. The cushy, classic tufted seat gets a modern makeover in orange leather and lithe chrome legs.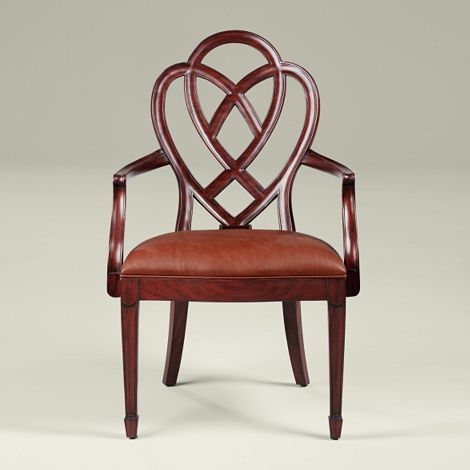 Richly decorated chair in elegant style. It is mounted on wooden frame and finished with openwork pattern on the back. Seat is covered with fabric. Perfect as dining chair or extra seating in all kinds of interiors.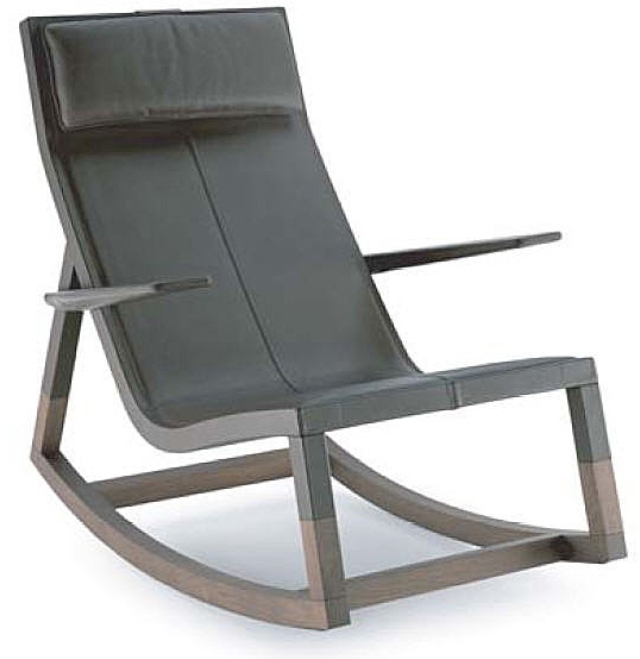 20 Modern Rocking Chairs