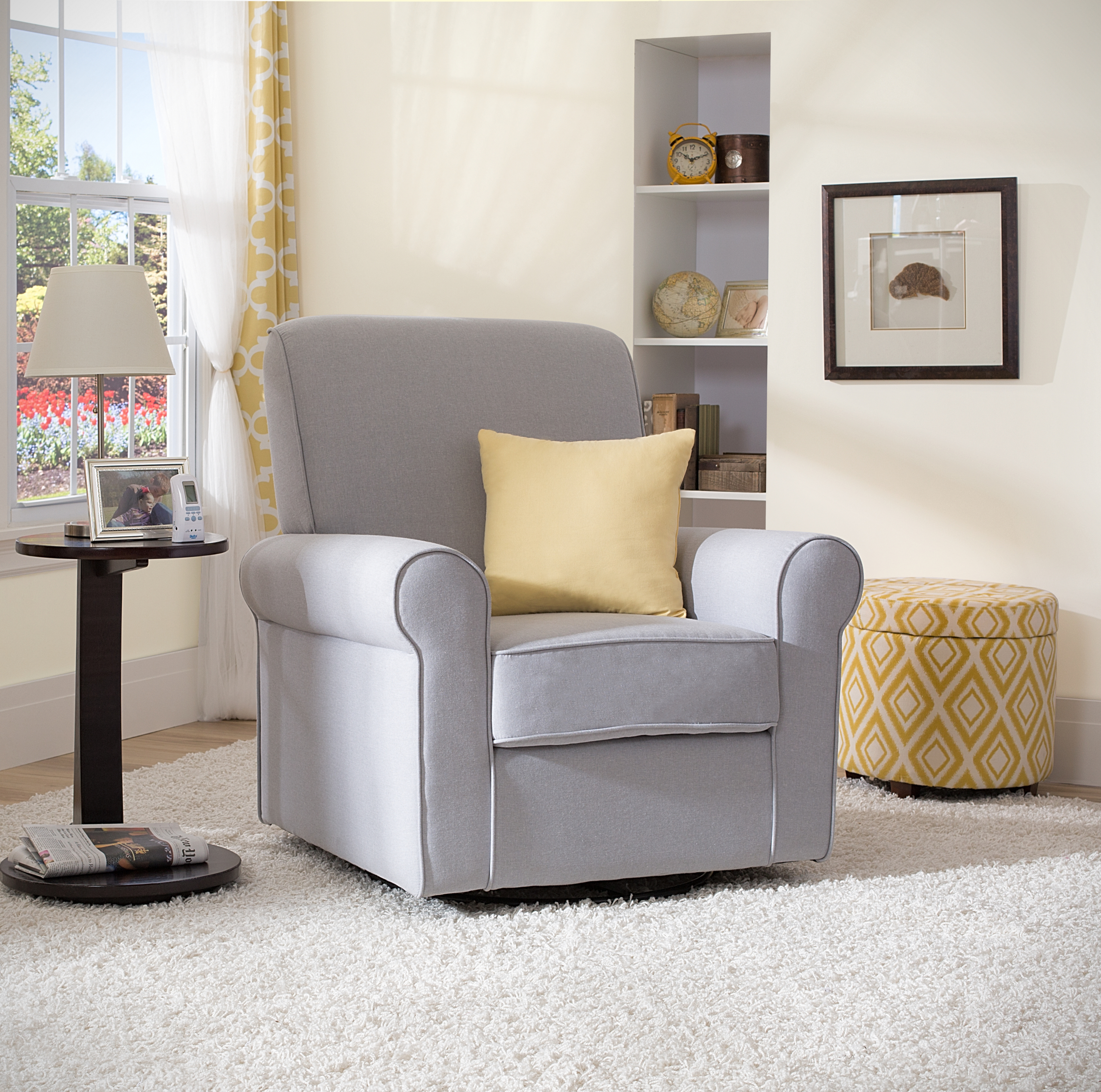 Avery Glider
This stylish and elegant swivel glider has a timeless design and durable frame, so will last long, It is fully thick padded and upholstered with sleek and soft , linen - like fabric. It features solid swivel and glider mechanism.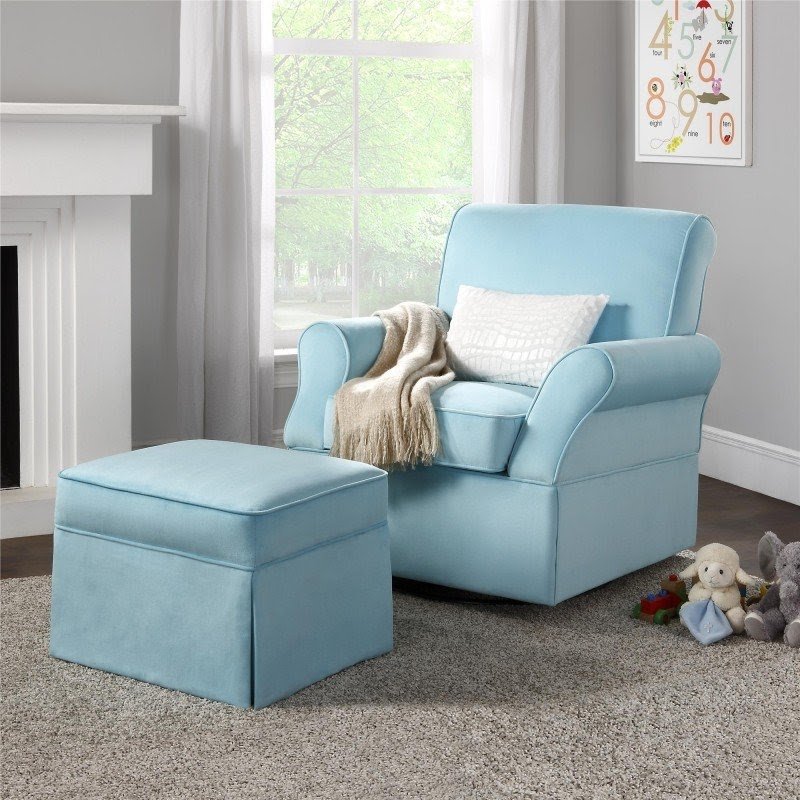 Dorel living kelcie blue swivel glider ottoman
Very comfortable armchair with a swivel mechanism. It features a thick seat cushion with supportive arms and backrest. Its blue finish looks elegant in any type of interior design. The chair is available with a rectangular ottoman.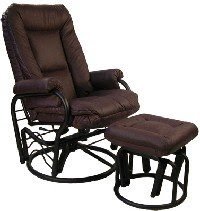 Well-built recliner glider with a swivel mechanism and a sturdy design. The chair is constructed from a metal frame, finished in glossed industrial black, and touched with heavy foam padding. It's then upholstered in dark brown leather for a classy appeal. You also get a matching footrest that can double up as a table as well.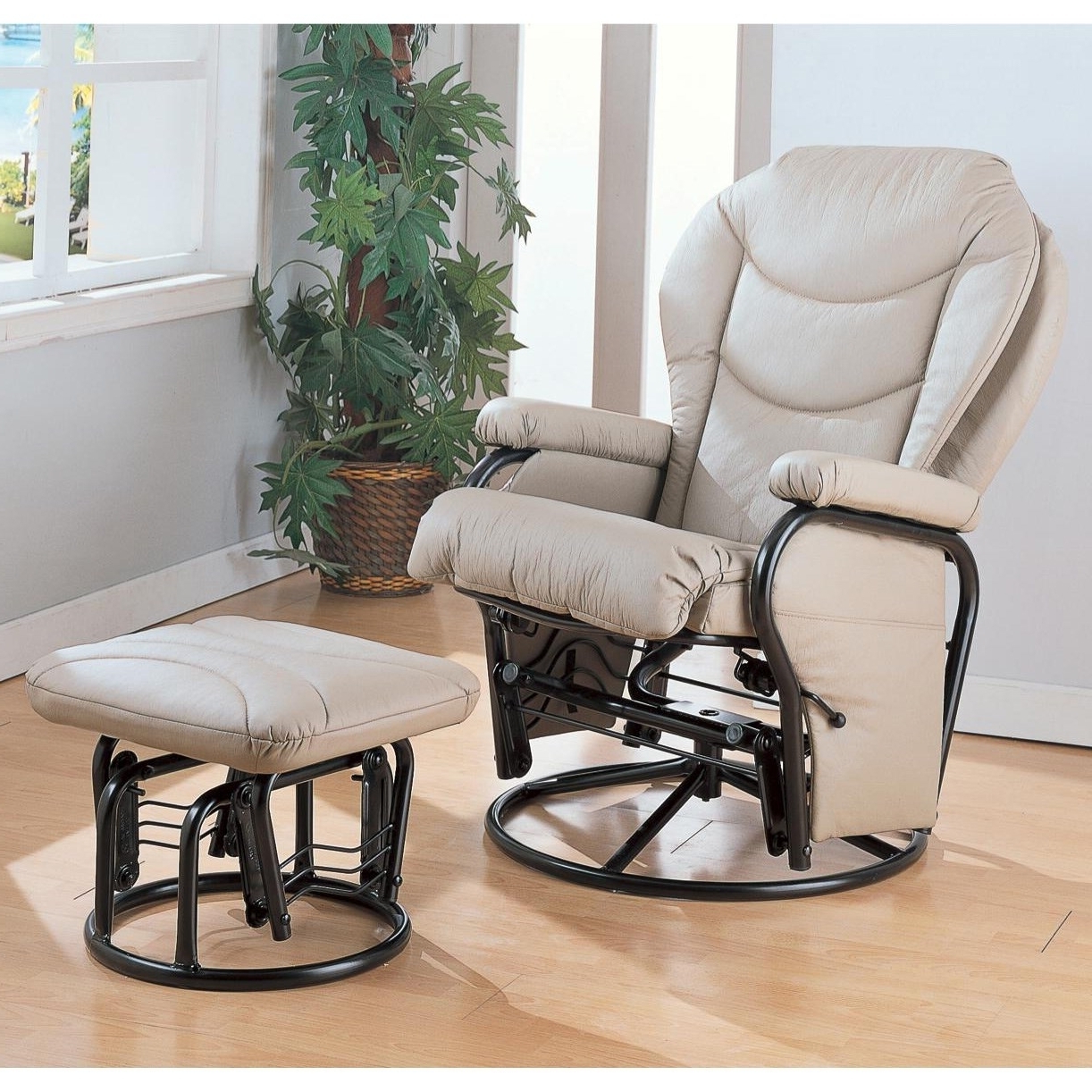 It is a glider recliner that has got an ottoman, swivel function for enhanced comfort of use and bone leather upholstery. It looks elegant and it fits to any style and décor in your living room and family room.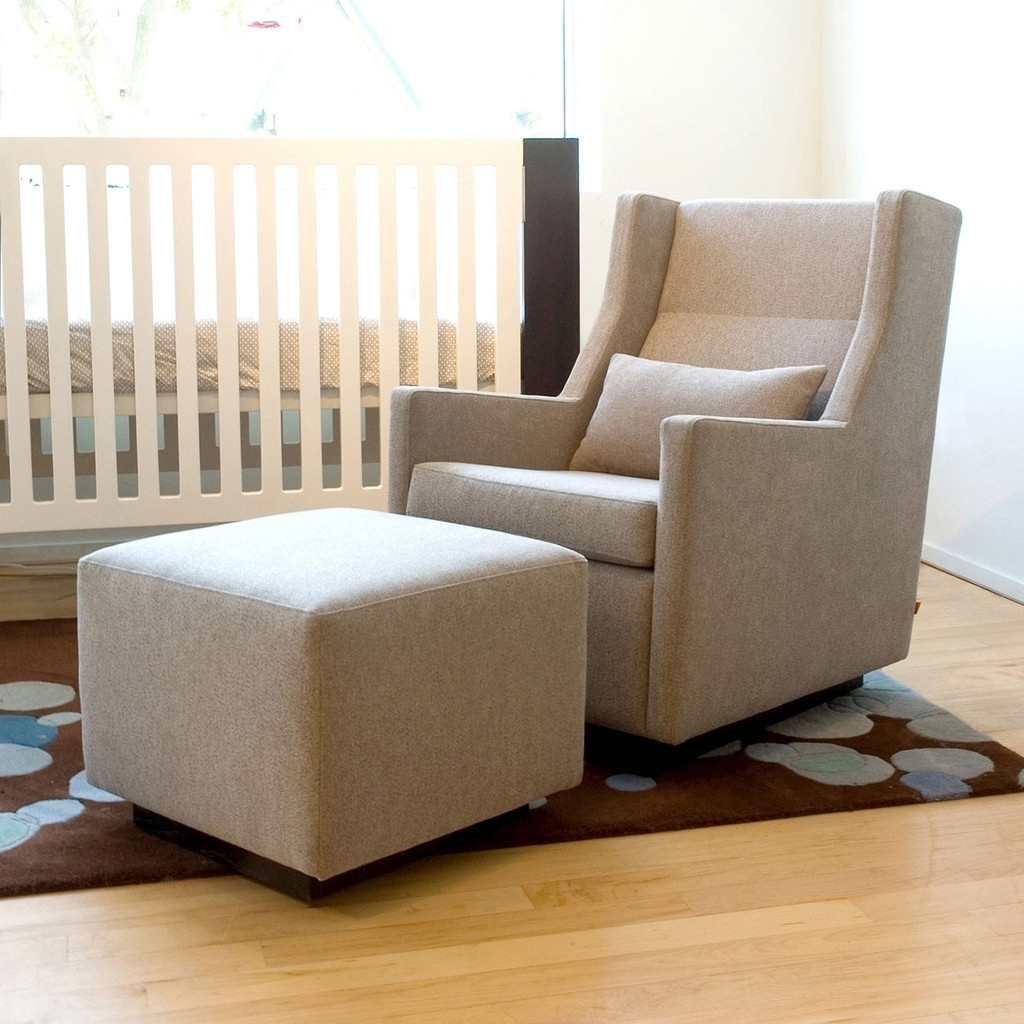 A swivel glider rocker chair with ottoman - what can be more comfortable after a tiring day? It will match perfectly your needs and preferences, providing a relaxing time with your favorite book or film.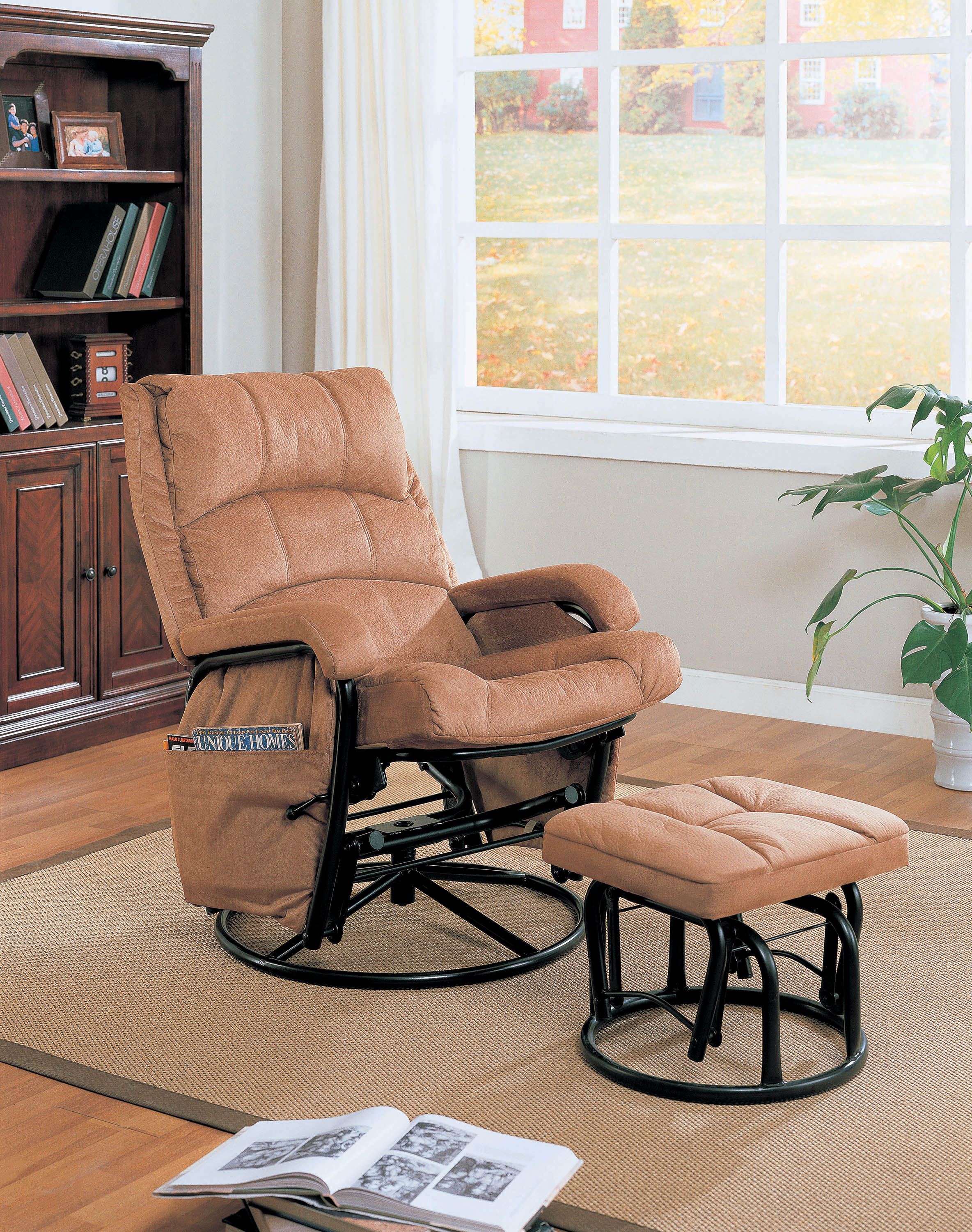 A high quality rocker chair with a glider function. The product has got a very solid metal frame with a black finish and round supportive base. The set includes a comfortable ottoman. The recliner chair features a magazine rack.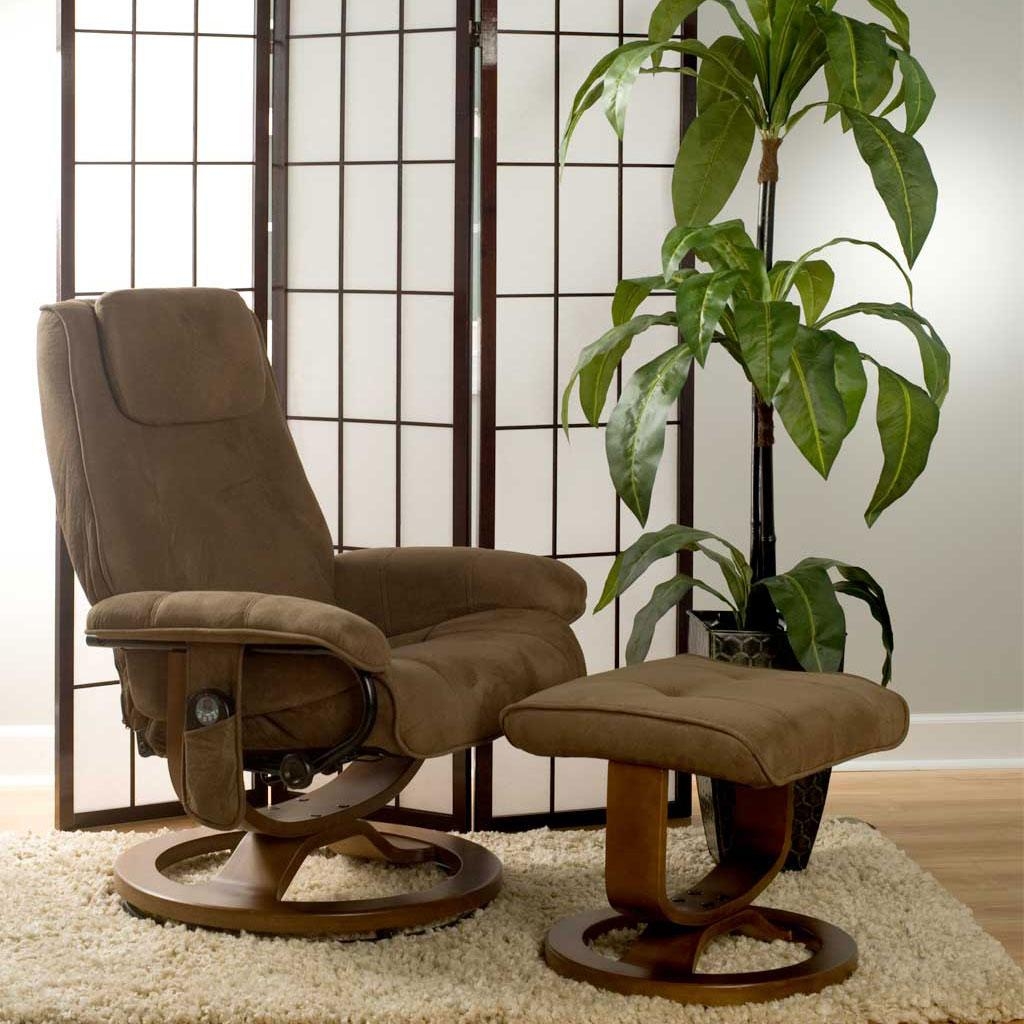 If you're a fan of extraordinary design and unusual comfort, this awesome recliner chair might be a perfect opportunity for you. Check it out now and bring a dose of convenience and style to your house!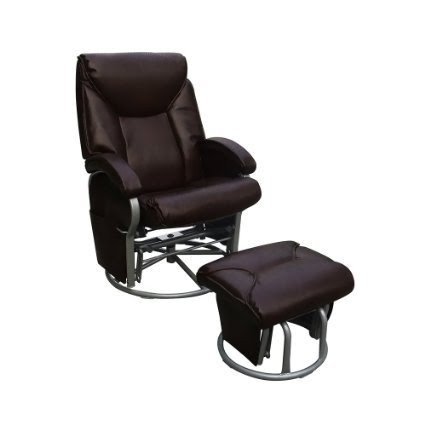 Great piece of furniture if you're looking for something comfortable to relax in after a hard day. Unwind in this gorgeous, very elegant push-back recliner with a matching footstool - looks amazing and is really comfy.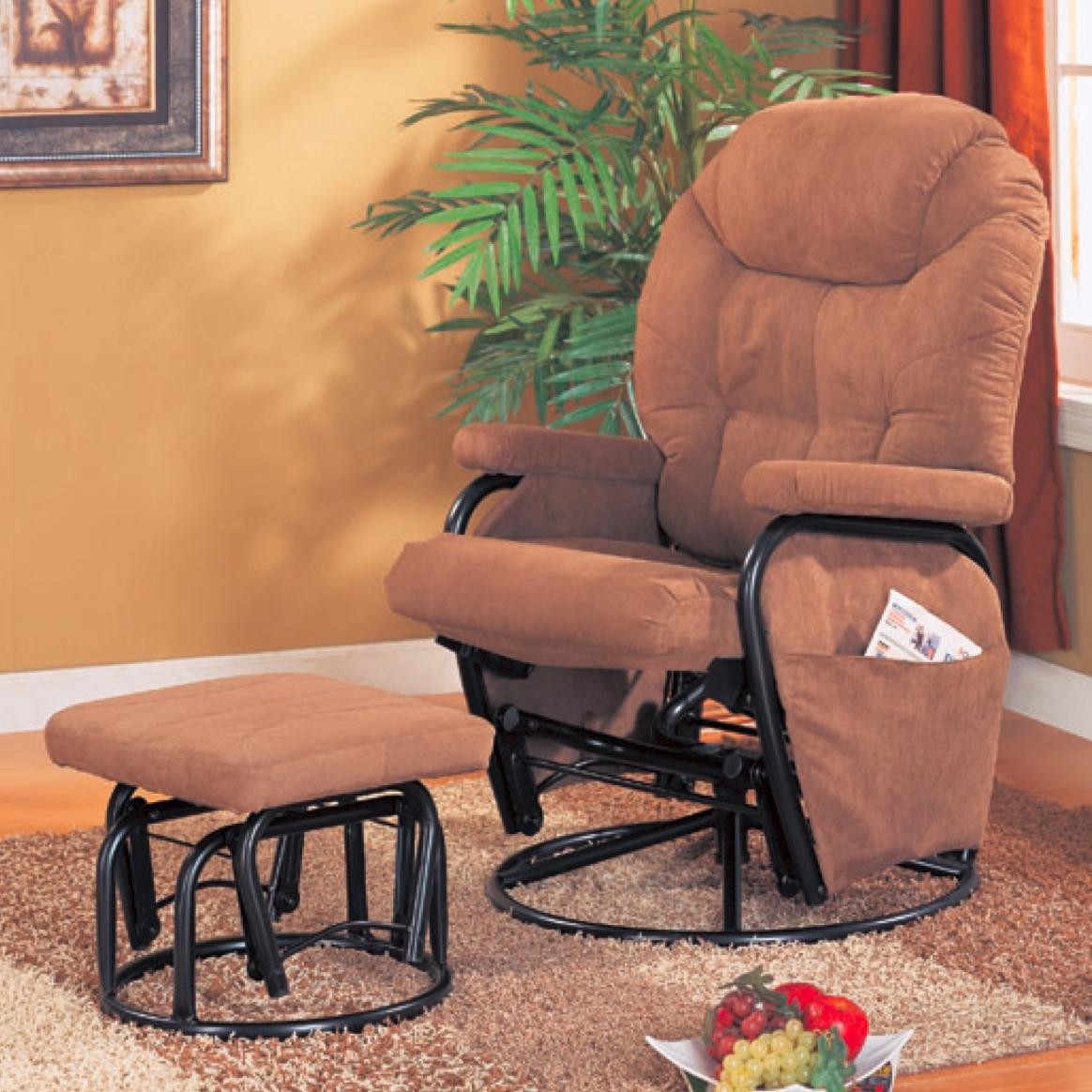 It is a very comfortable recliner that has got an ottoman, brown color and casual design. It fits to any style and décor and is perfect for your everyday relax. You will be impressed how great this product is.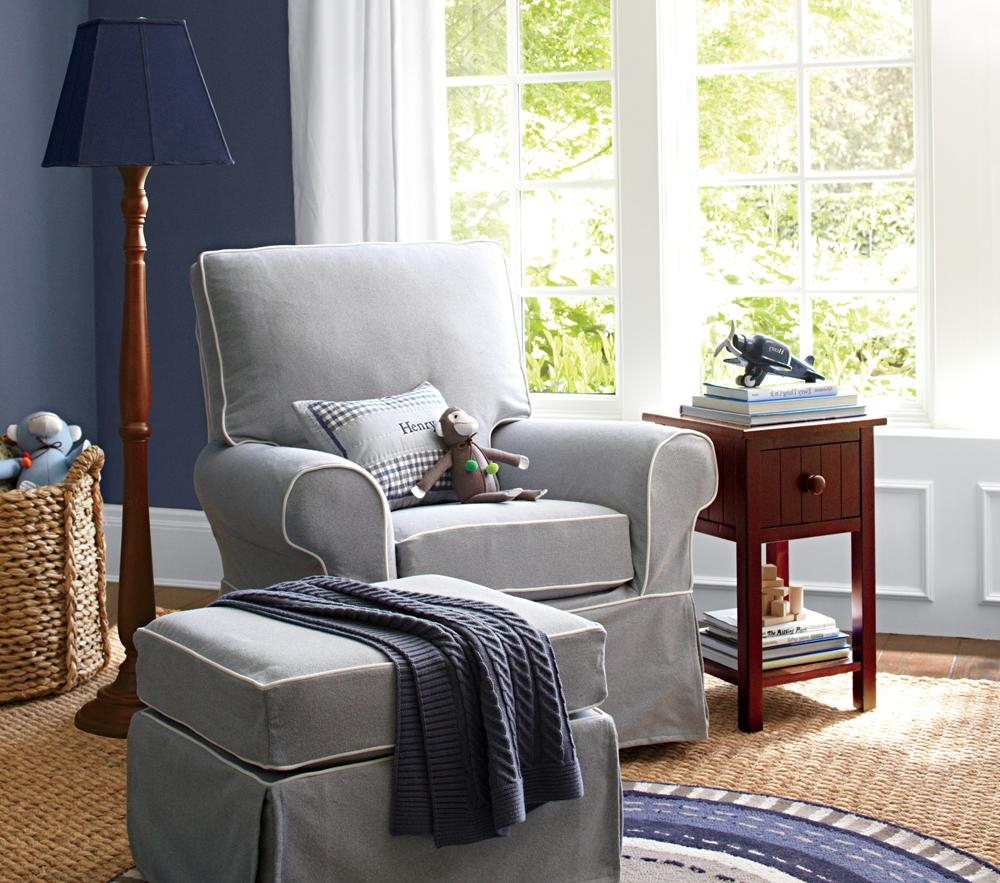 Swivel glider rocker chair with ottoman for your nursery. It gives you the ability to see them and recline into a most comfortable position. The piece is made of solid wood, foam fill, and perfectly textured polyester blend upholstery which is quite easy to clean. It has a weight capacity of 300lbs.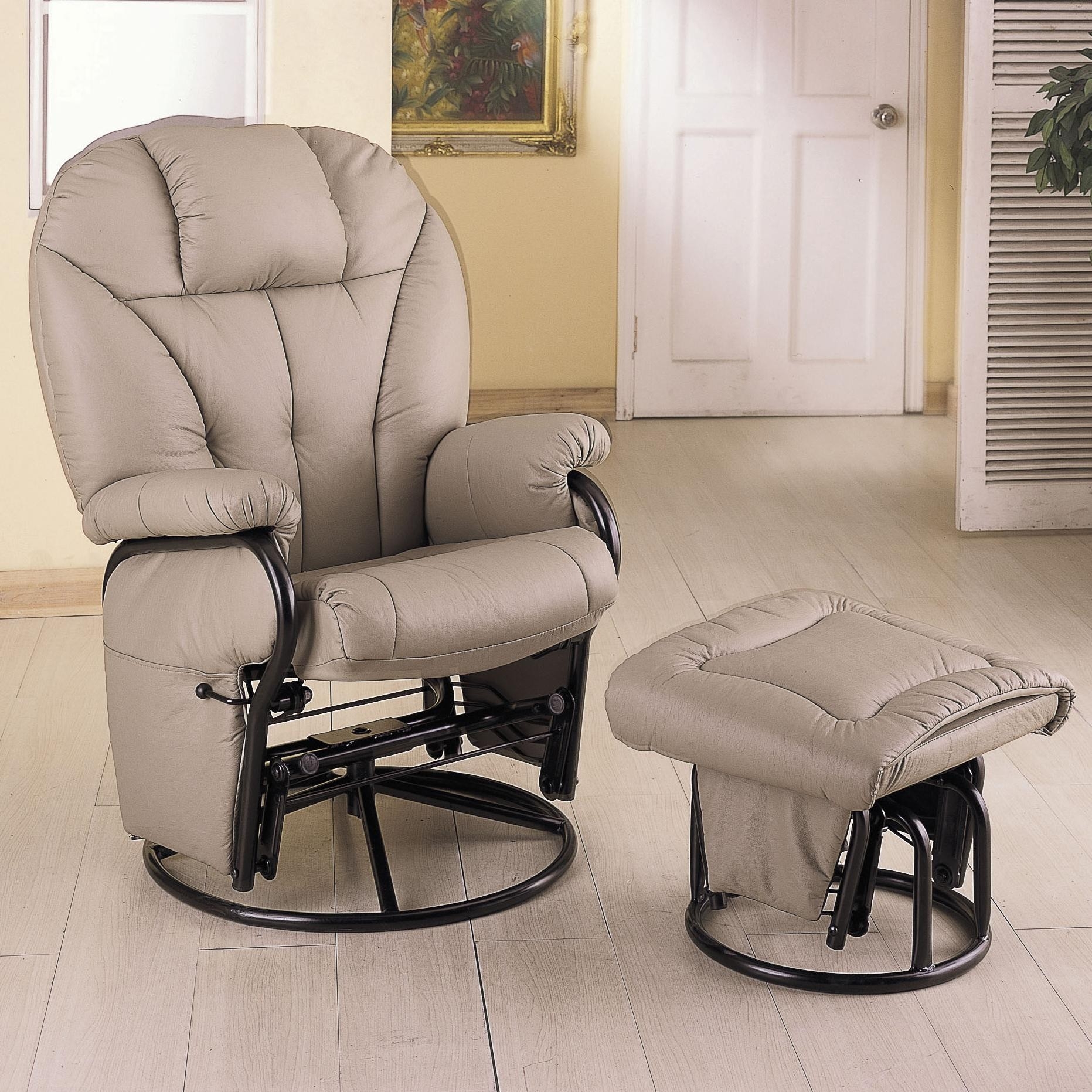 Glider rocking chair with a very functional recliner mechanism for extra comfort. This element of furniture also includes a matching ottoman that can be used as a footrest. Soft, relaxing surface is finished in gray color.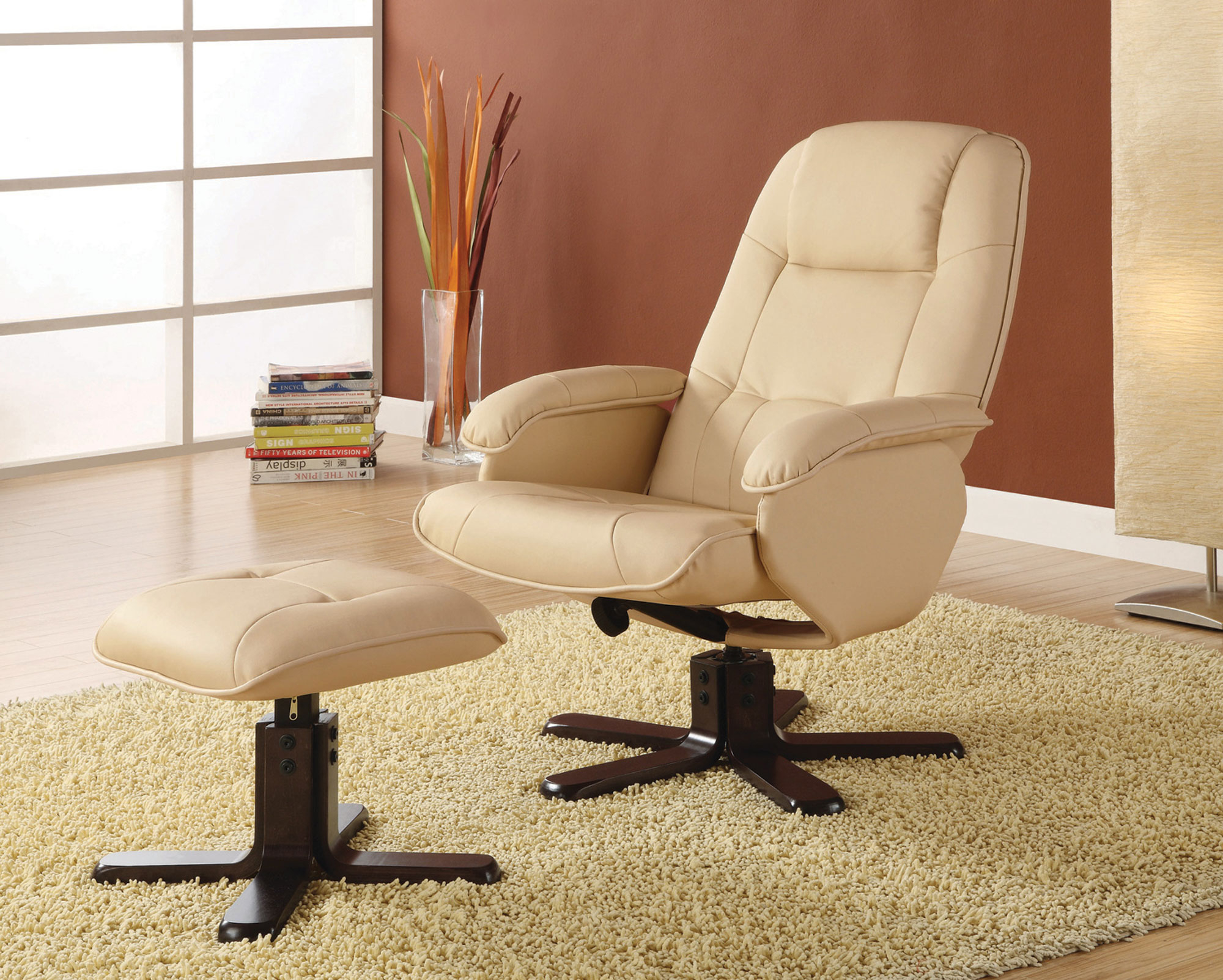 A comfy rocker chair with swivel and gliding functions. Its deep seat, convex arms, tall backrest as well as an ottoman top are covered in creamy leather. Black metal bases are built of a 5-arm and 4-arm foot, respectively, and square pillars.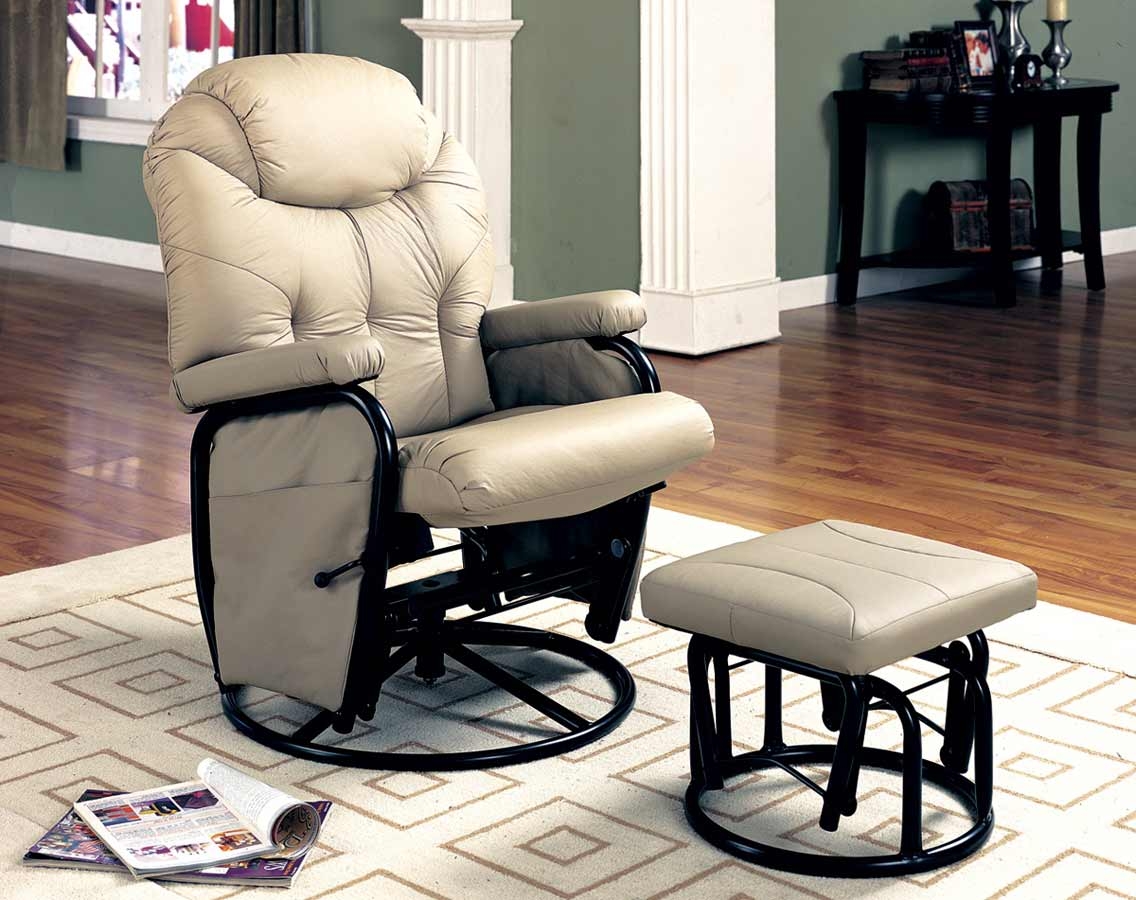 Wildon Home Gearhart Glider Rocker with Ottoman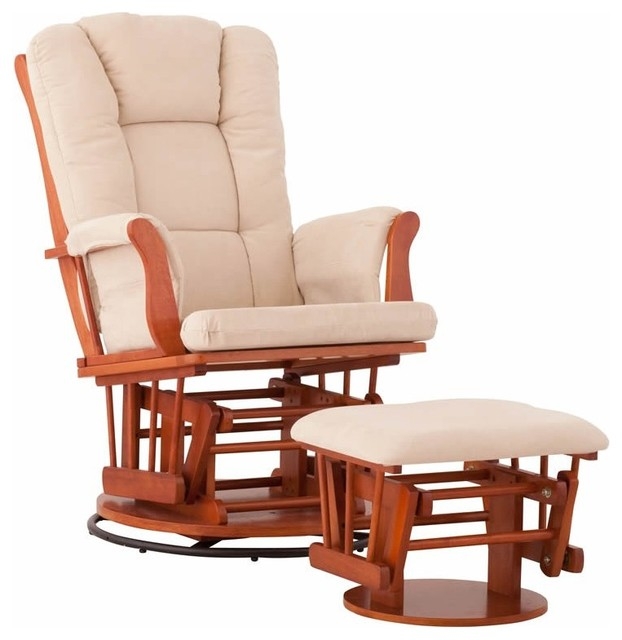 Status Milano Swivel Glider with Nursing Stool Ottoman Cognac Beige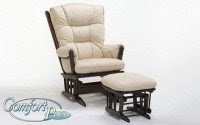 Dutailier Grand XL 2-Post Style Glider /Ottoman combo with Comfort Plus Cushions - Model 916200- New Low Sale Price!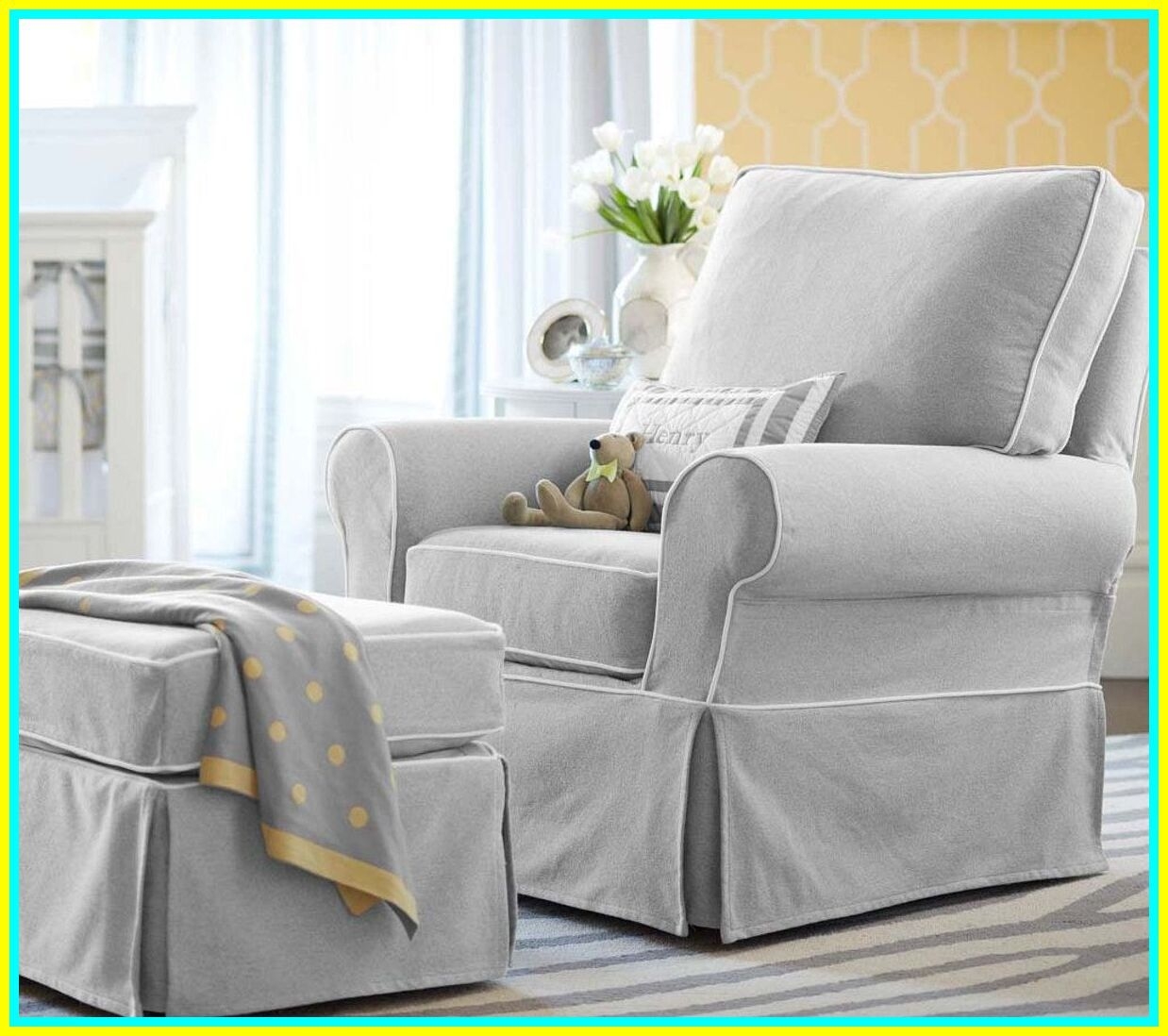 PB Kids Comfort Grand Swivel Rocker & Ottoman | Pottery Barn Kids-ORDERED! (grey with white pipping)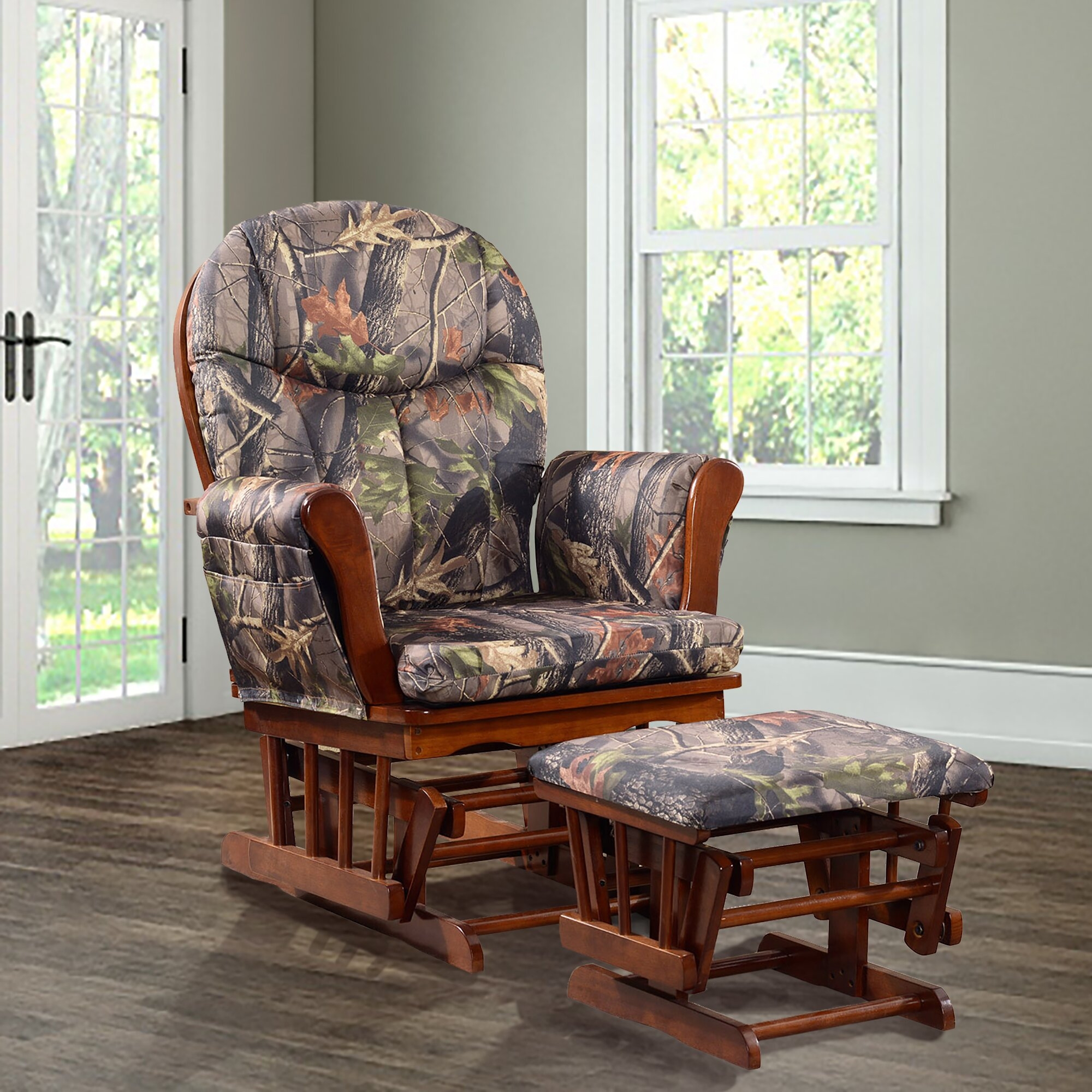 This awesome and stylish chair is gonna bring a huge dose of an incredible design to every kind of living room. Check it out now and bring some amazing elegance and an incredible comfort to your house!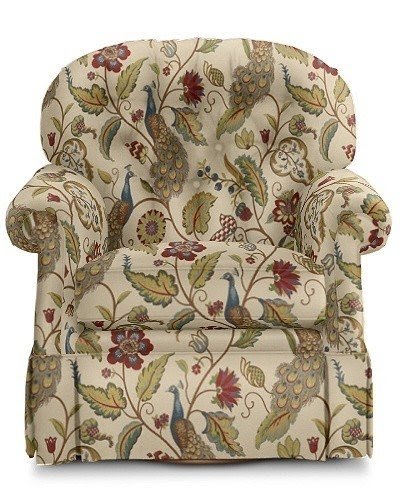 This simple armchair looks like from my great grandmother house, because it is covered of old-fashioned worn-out cloth with embroidery pattern with plants and peacocks. It isn't very stylish, but it is cozy and comfortable.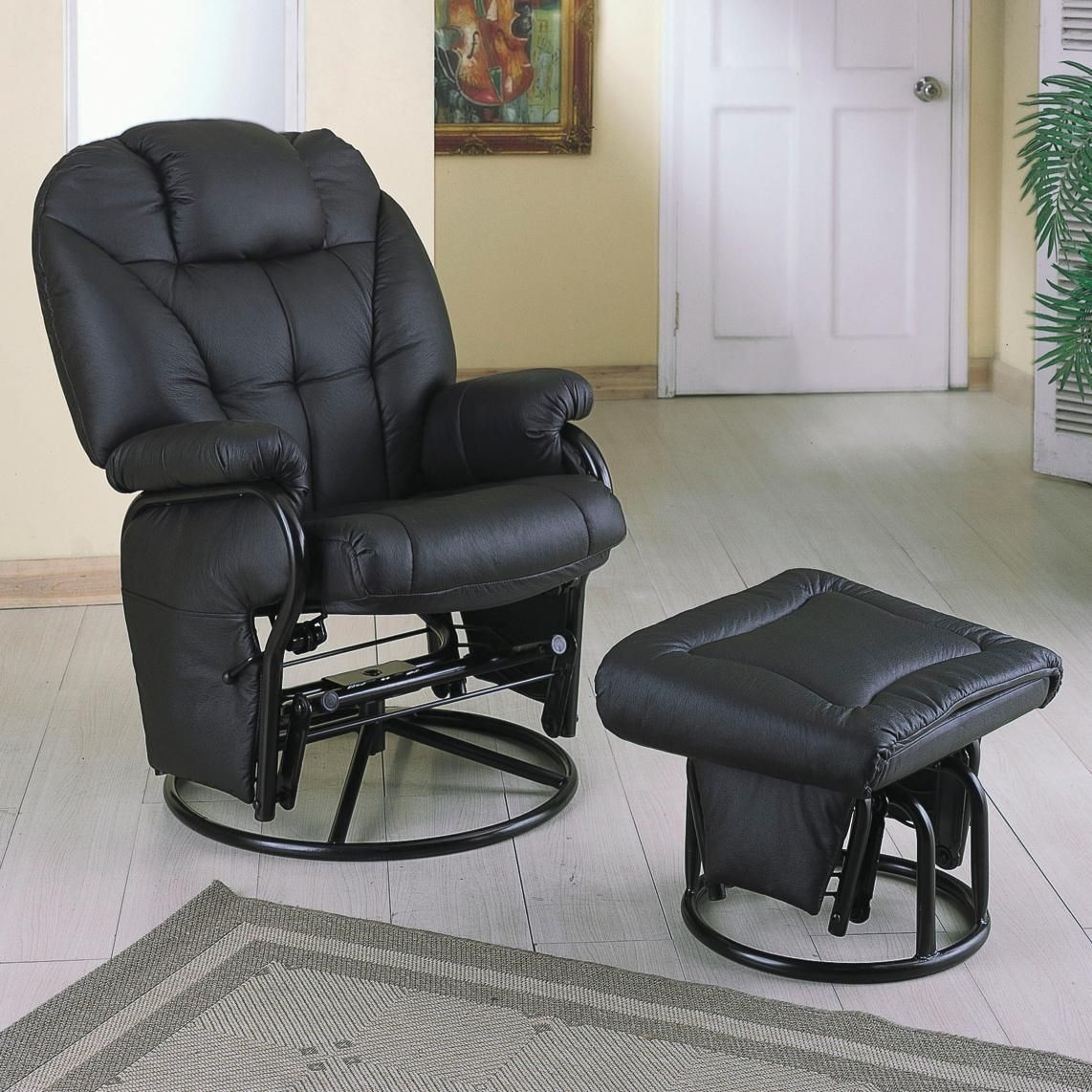 It is the seat area, which is also equipped with ottoman. This makes it very comfortable and provides relaxation not only for the spine, but also for the legs. This solution is very high class. It is soft and looks great.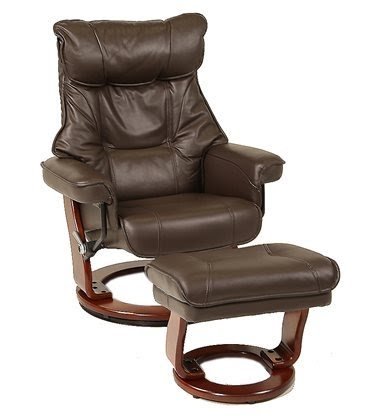 The swivel chair on the round base. The exclusive piece of furniture covered with the dark brown leather. The set includes also the additional ottoman, which will be an ideal place to put you tired legs.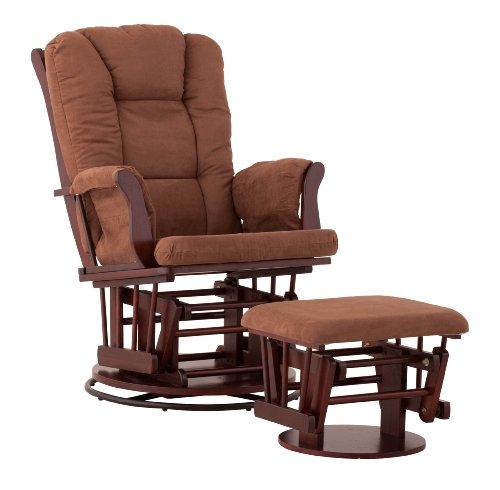 A glider chair and an ottoman are featured in this set. They are finished in cherry/chocolate. They feature a swivel, so you can adjust their positions as you please. Created with wood and wood products, these deluxe pieces will be a must in your house.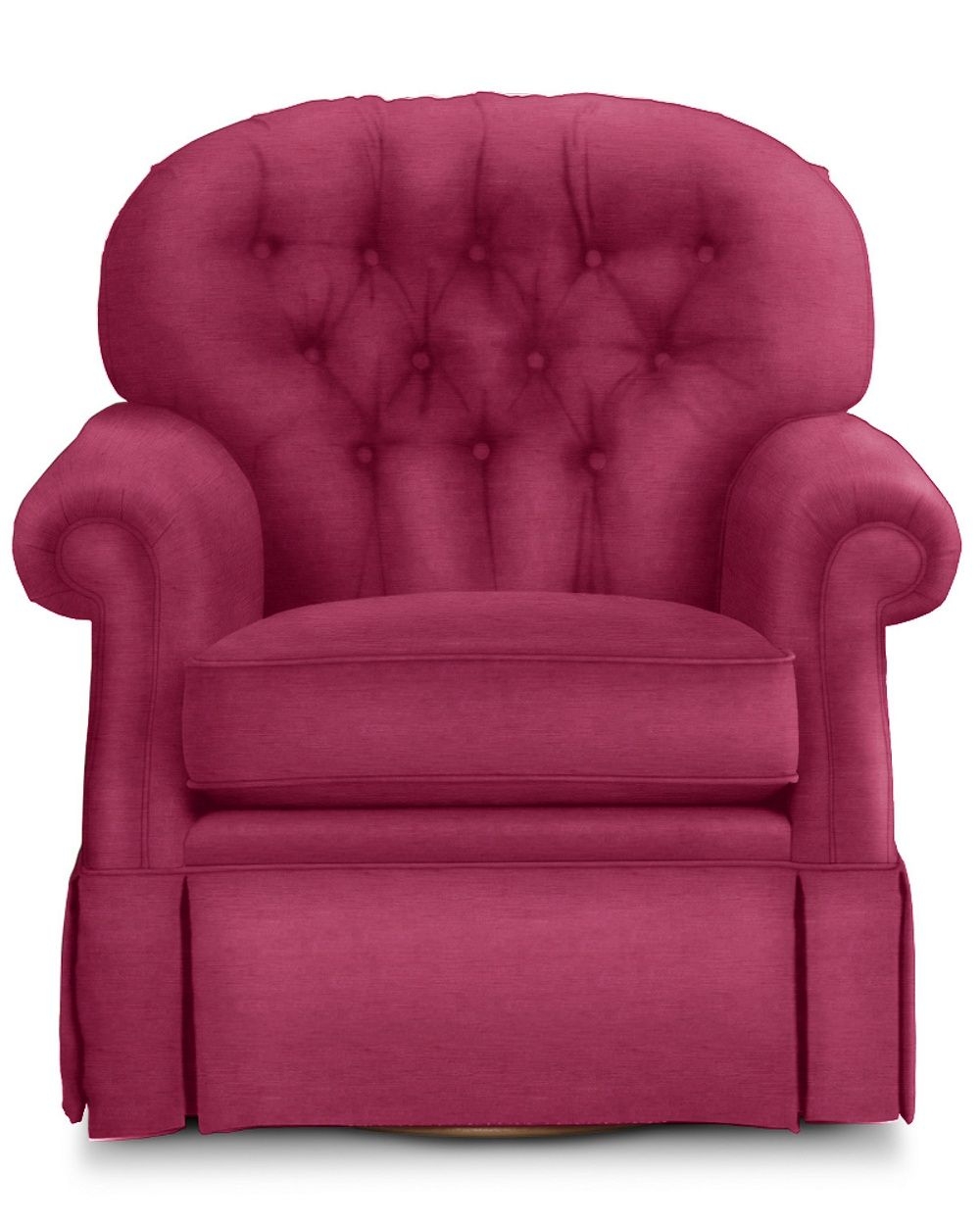 Classic swivel rocker armchair with a tufted back and neutral, gray color. The armchair is upholstered with a smooth, nice to touch cotton fabric which makes it comfortable and gives it a contemporary detail.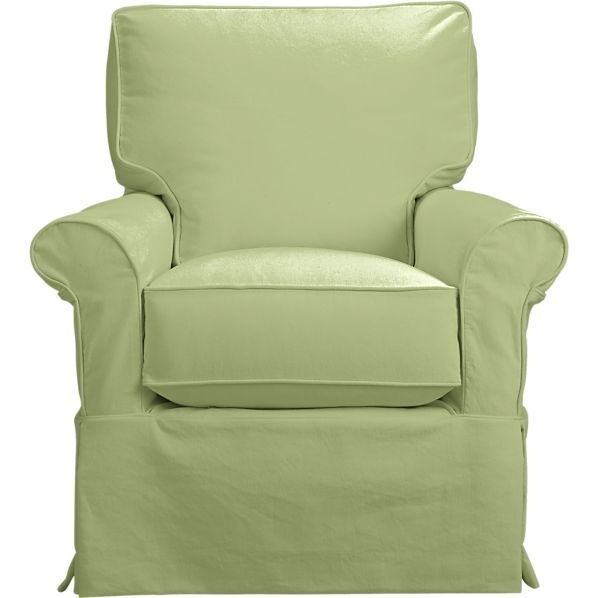 Swivel glider upholstered with nice touch fabric and reinforced with solid stitching. Ideal as extra seating or place for relaxation in any interior according to taste.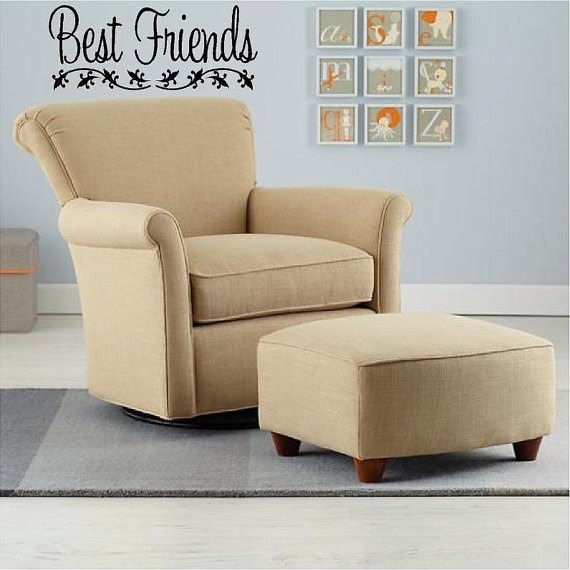 Best Friends with elegant scrollCustom by VinylDesignCreations, $15.50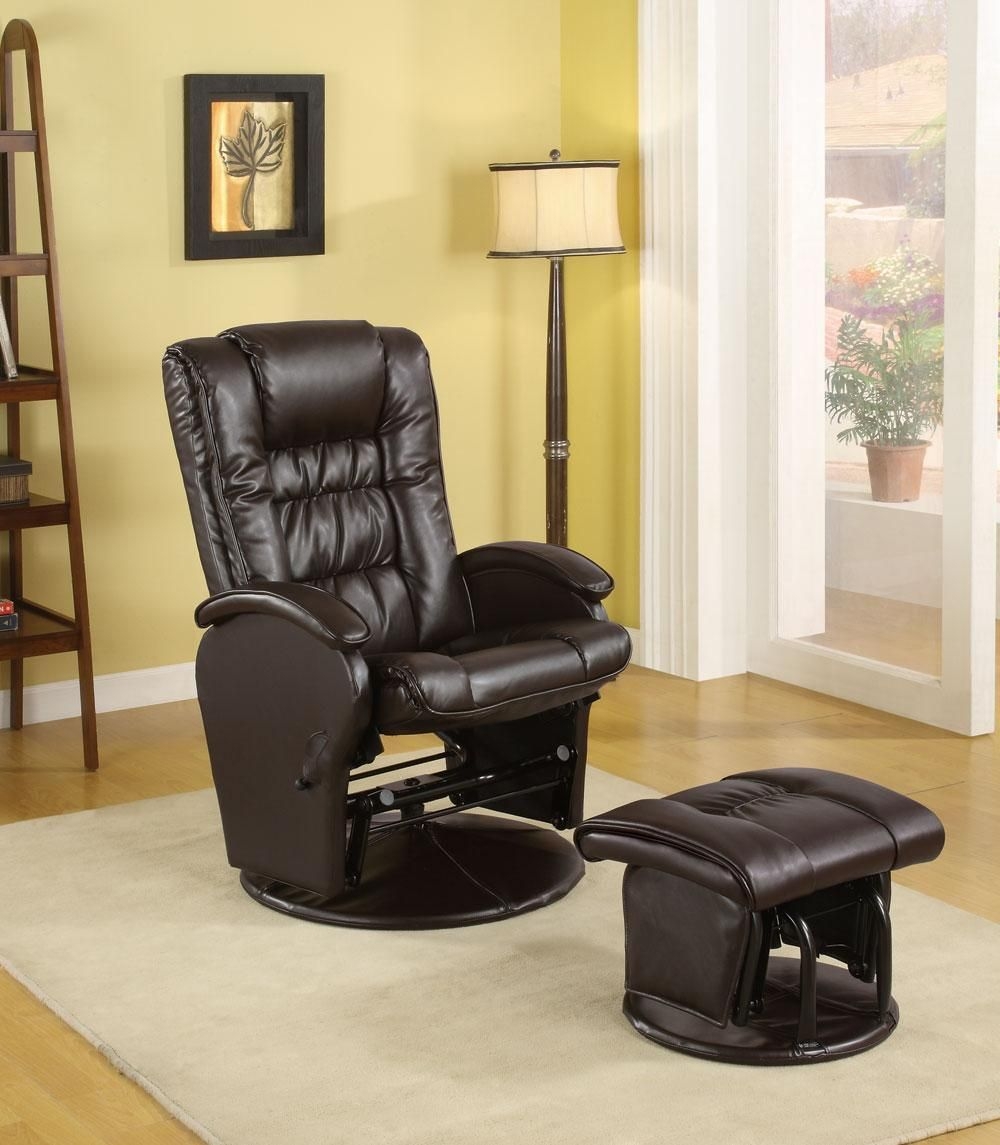 This elegant, traditional styled set consist swivel glider recliner and matching ottoman, all in warm brown finish. Upholstery is made of faux leather with paying attention to all details. Frames are wooden.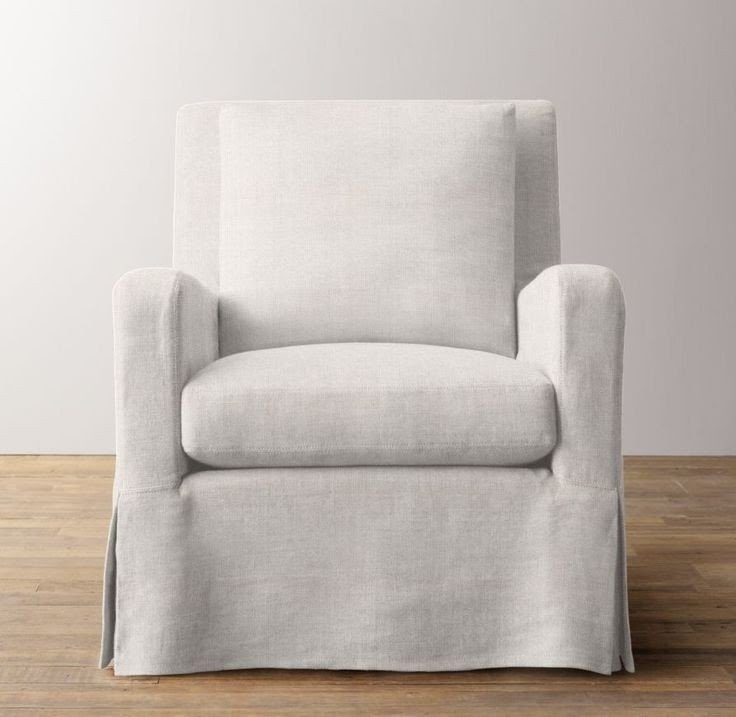 Classic armchair with slope arm design. It features very convenient swivel and glide mechanisms. It is covered with a neutral gray slipcover. Soft seat cushion provides comfort just like a cushioned backrest.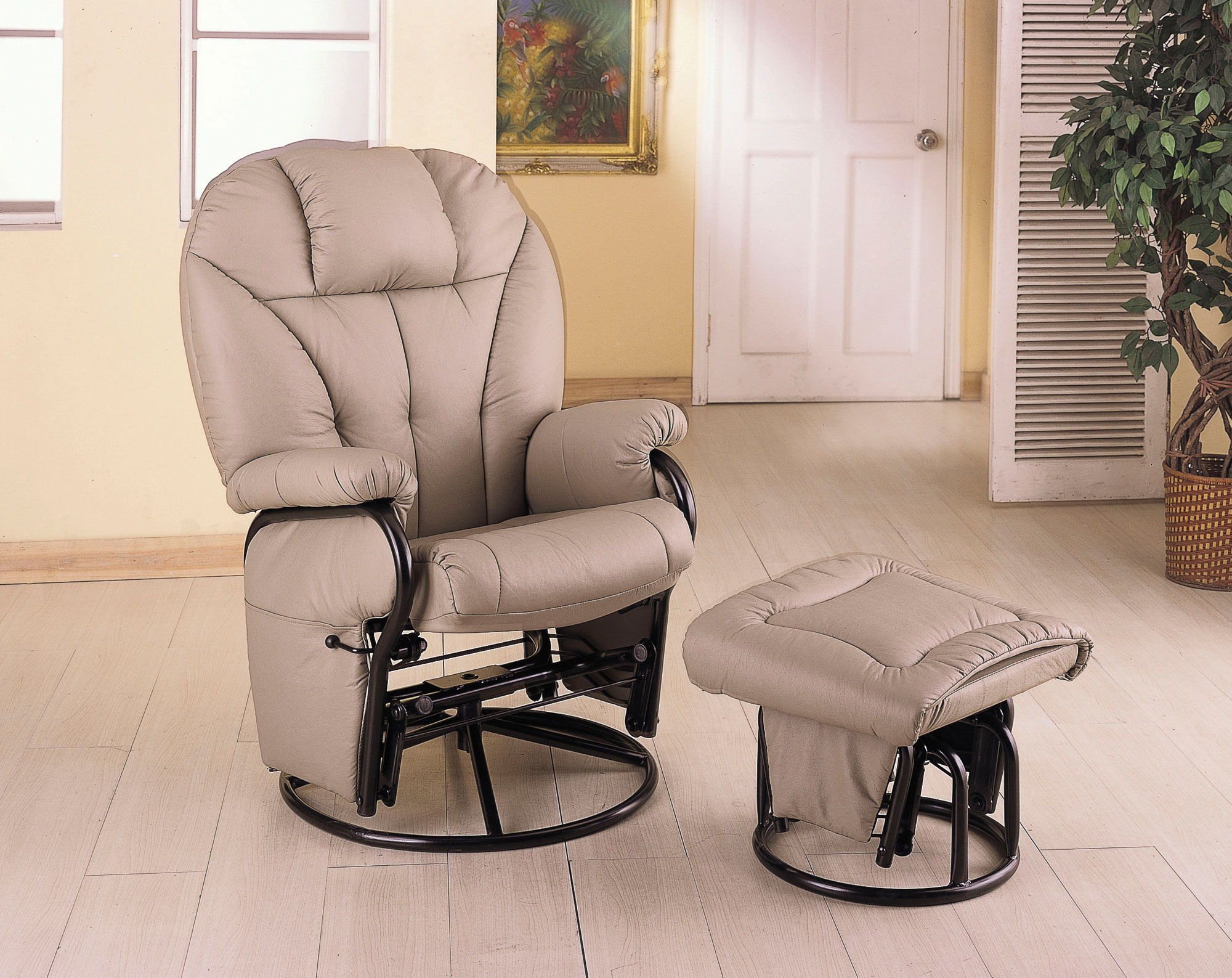 This rocker recliner & ottoman combo is upholstered in durable bone leatherette, and generously padded for perfect lounging. The glider rests on a sturdy metal frame with a circular base, and features an easy-working mechanism for adjusting your favorite positions.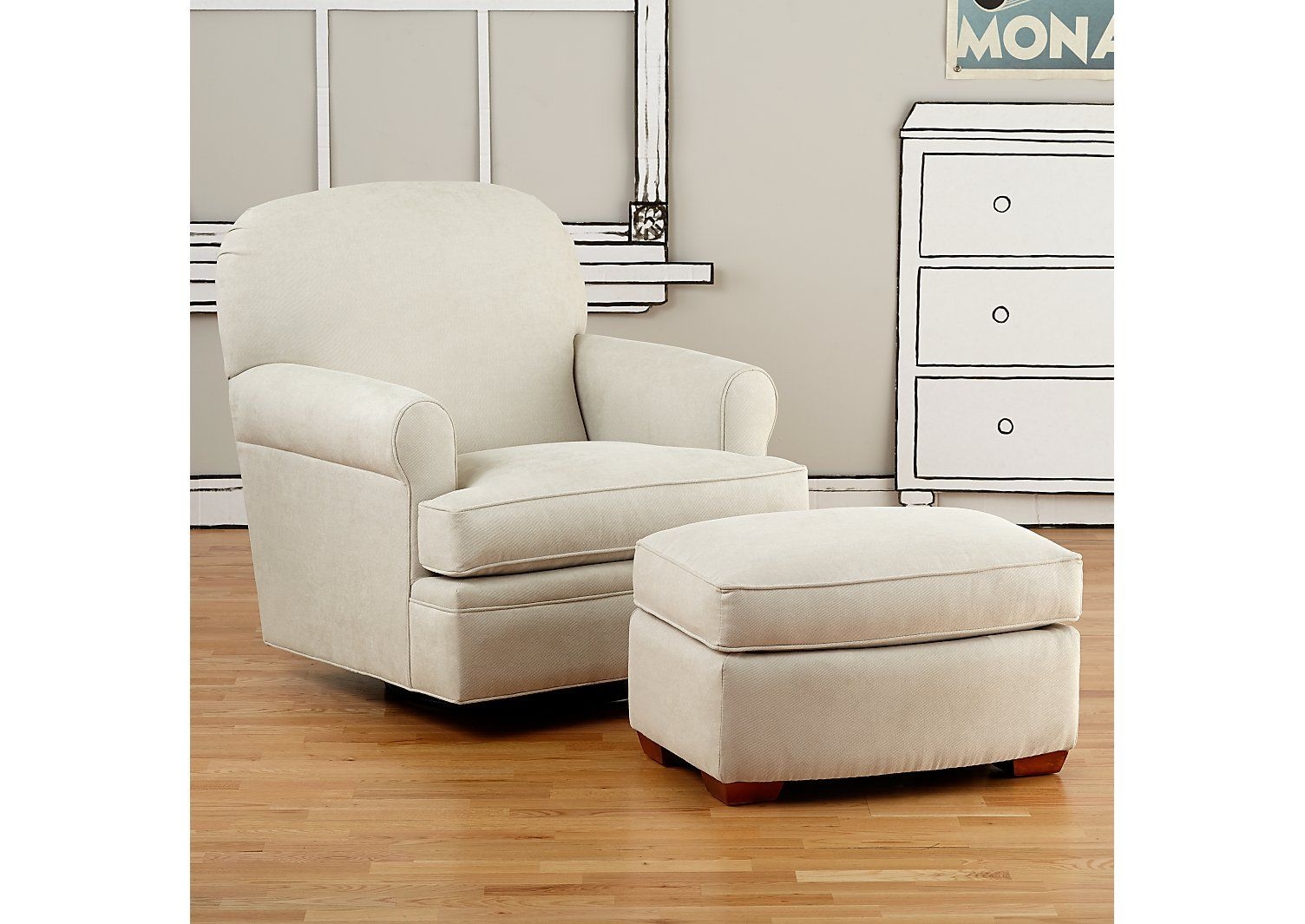 Our super comfortable Dylan Swivel Glider features a large seat and high back to accommodate both moms and dads. It's an ideal place for feeding and then rocking baby to sleep. The swivel glider allows forward, backward and side to side motion. Once ju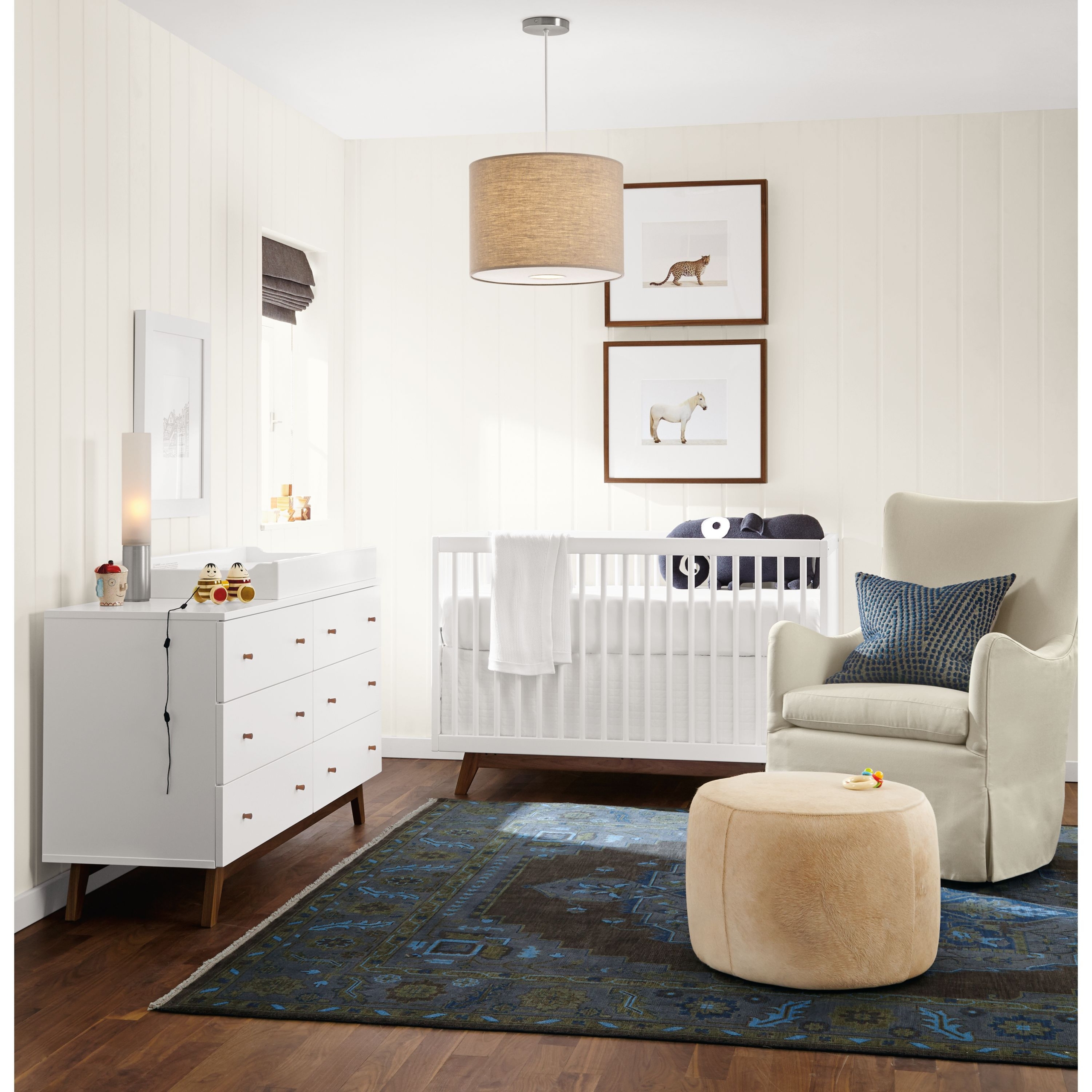 Studio Round Pendants - Flynn Collection with Walnut Trim - Kids - Room & Board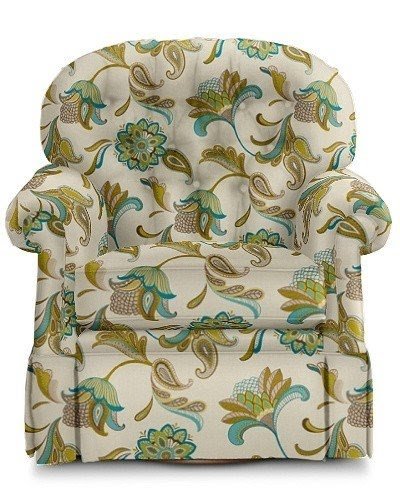 This swivel glider rocker chair enchants with its colourful floral patterning, being a lovely proposition for vintage or retro fans. Padded armrests and regulated backrest will adapt to your needs, making your rest as comfy as possible.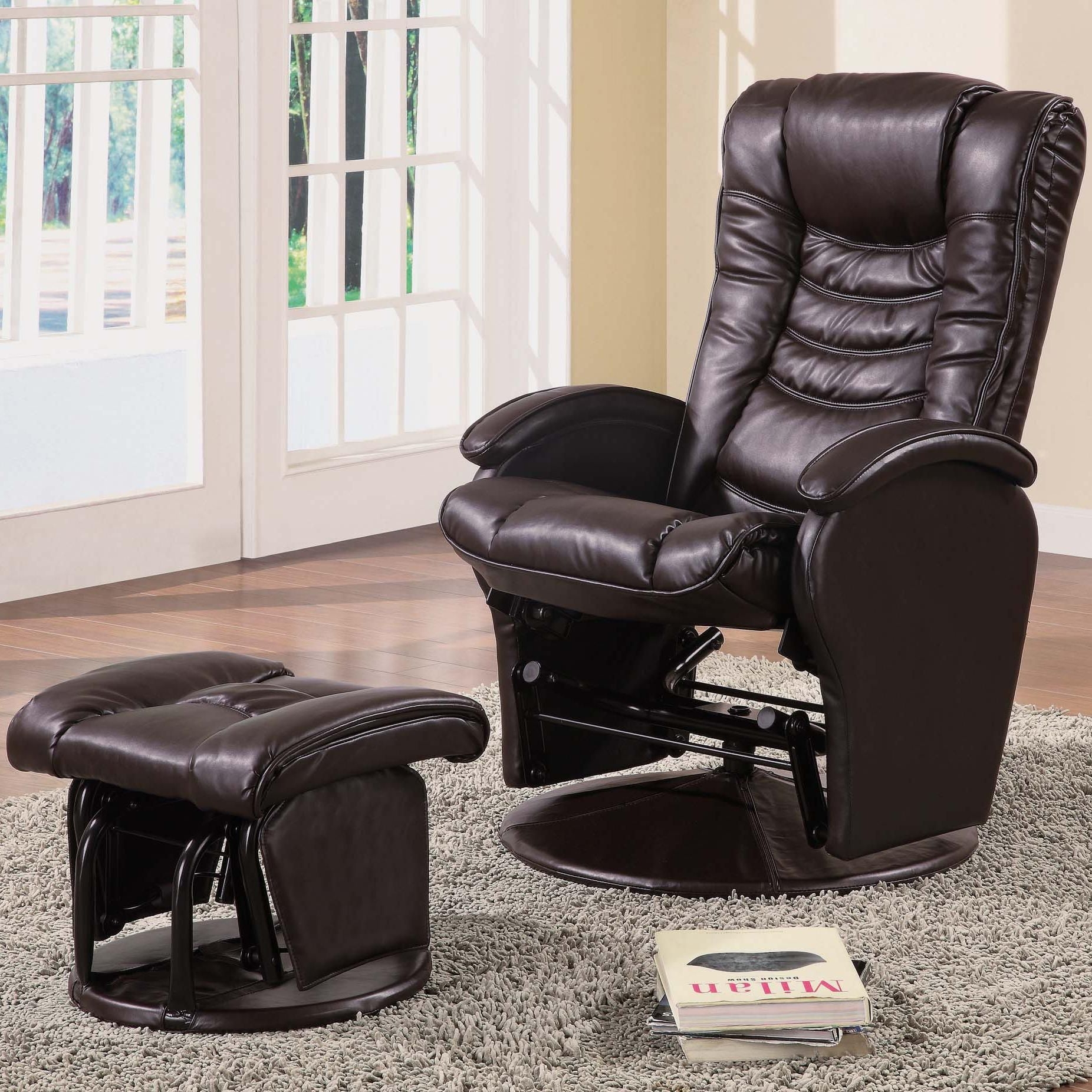 This modern set of furniture intended to luxurious living room is very useful, if you work a lot and you are often tired. It is composed of two adjustable elements covered with leather - swivel armchair and adjustable footstool.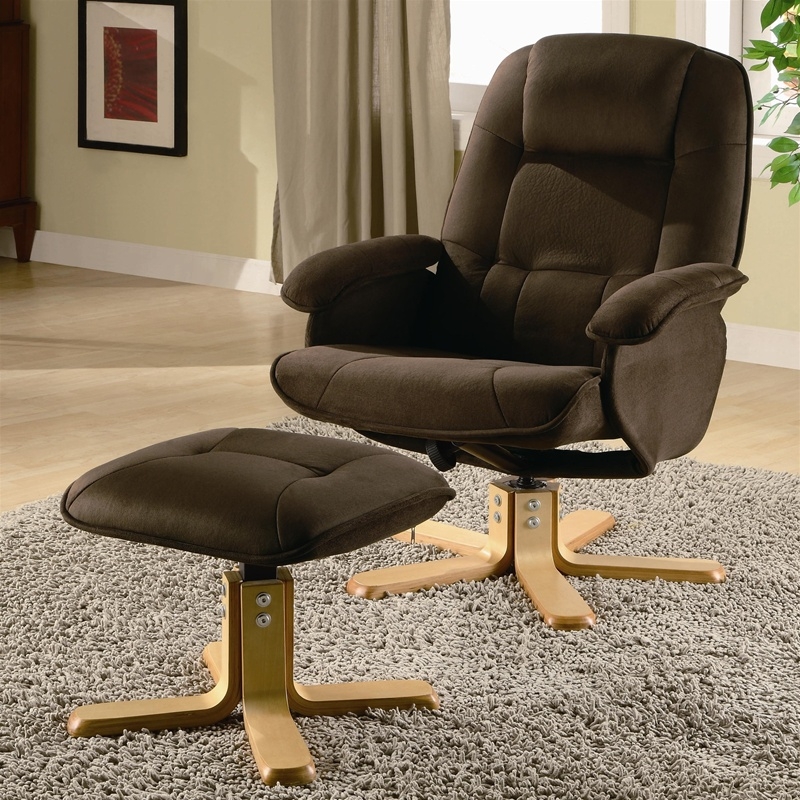 Swivel Glider Rocker Chair with Ottoman in Brown Padded Microfiber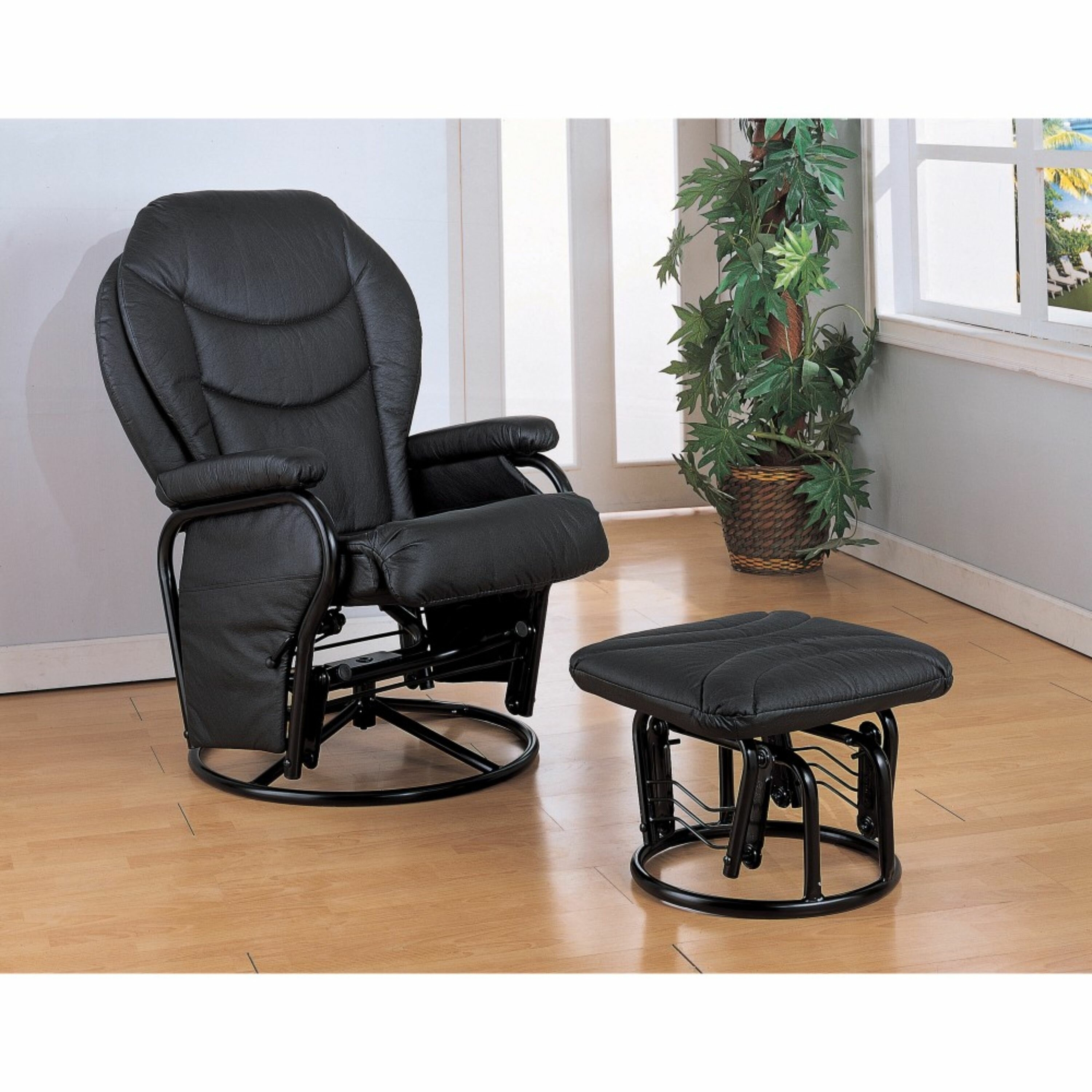 It is a glider recliner with ottoman that has got a black leather upholstery and cushioned seat, which provides a fantastic seating comfort. It adds style, elegance and relax to any living room.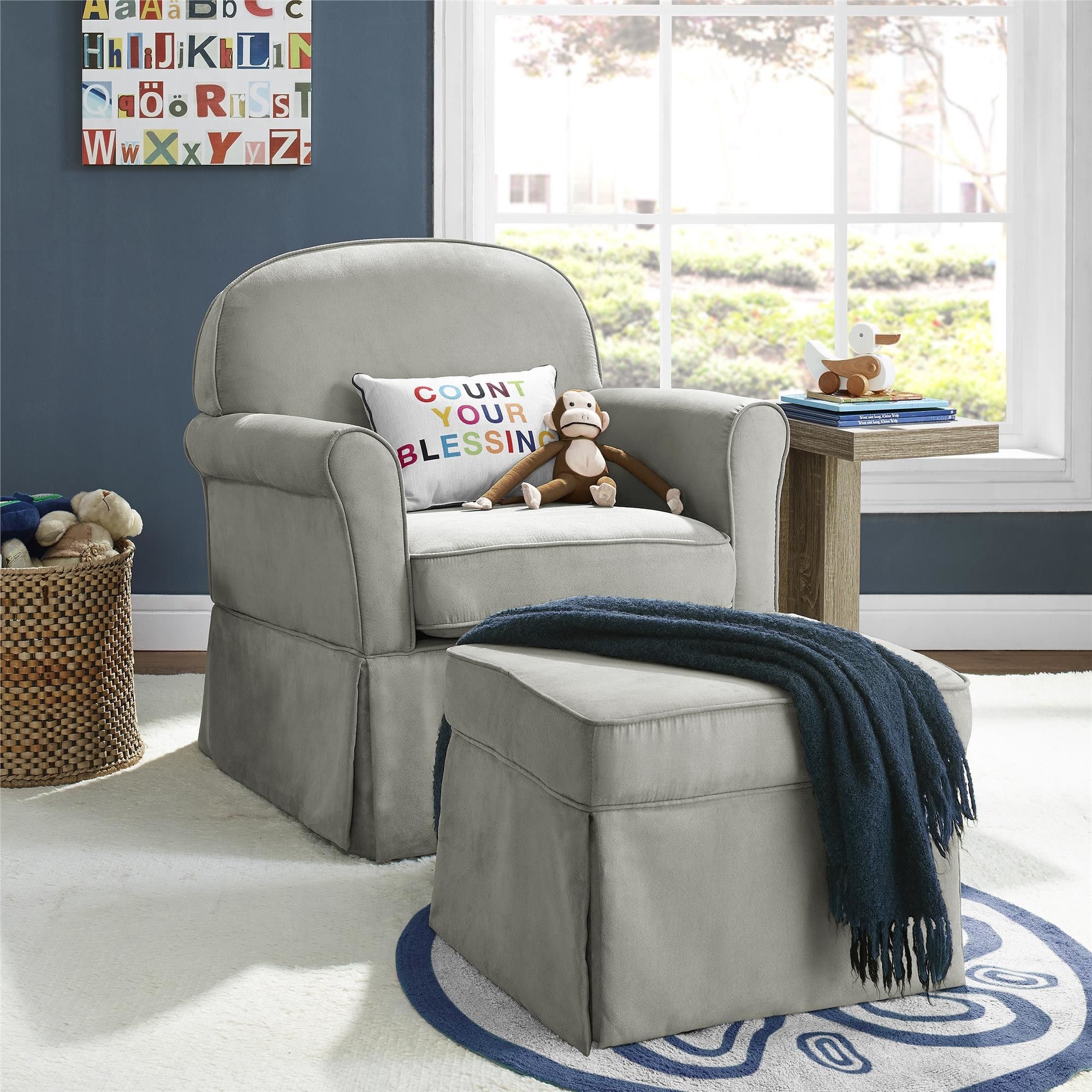 Comfy and inviting swivel glider chair coming up with matching ottoman. Very thickly padded, uphholstered with soft microfiber. Provides appropriate back and neck support and is therefore perfect for baby nursery.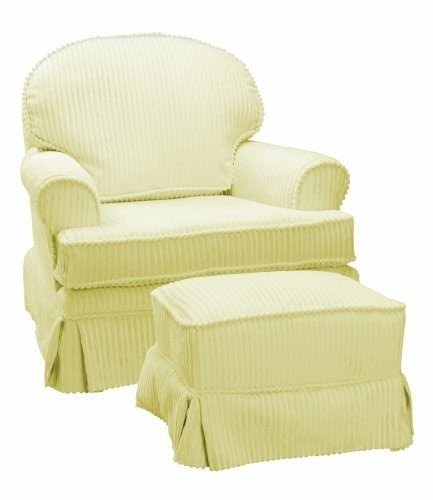 This comfortable glider features a fully padded frame, including arms and back that are padded, and a swivel motion for increased functionality. The whole piece is slip-covered to provide easy cleaning, as well as a fresher look overall.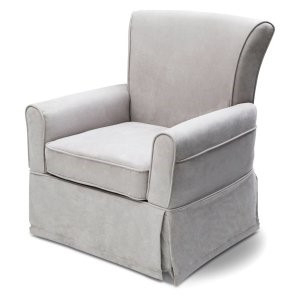 Delta Childrens Products Delta Benbridge Glider with Swivel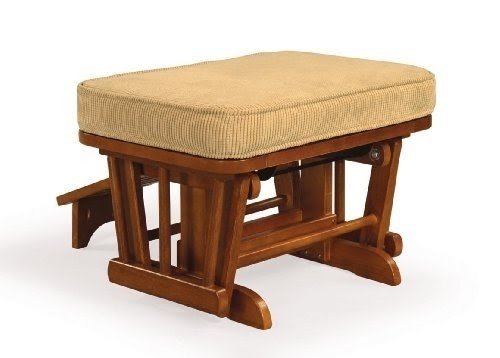 It is a nursing ottoman that has got a solid wood construction and camel micro fiber plush cushion for enhanced comfort of use. It is perfect for your living room, bedroom, family room and more. If you looking for classic ottoman you need to buy this one.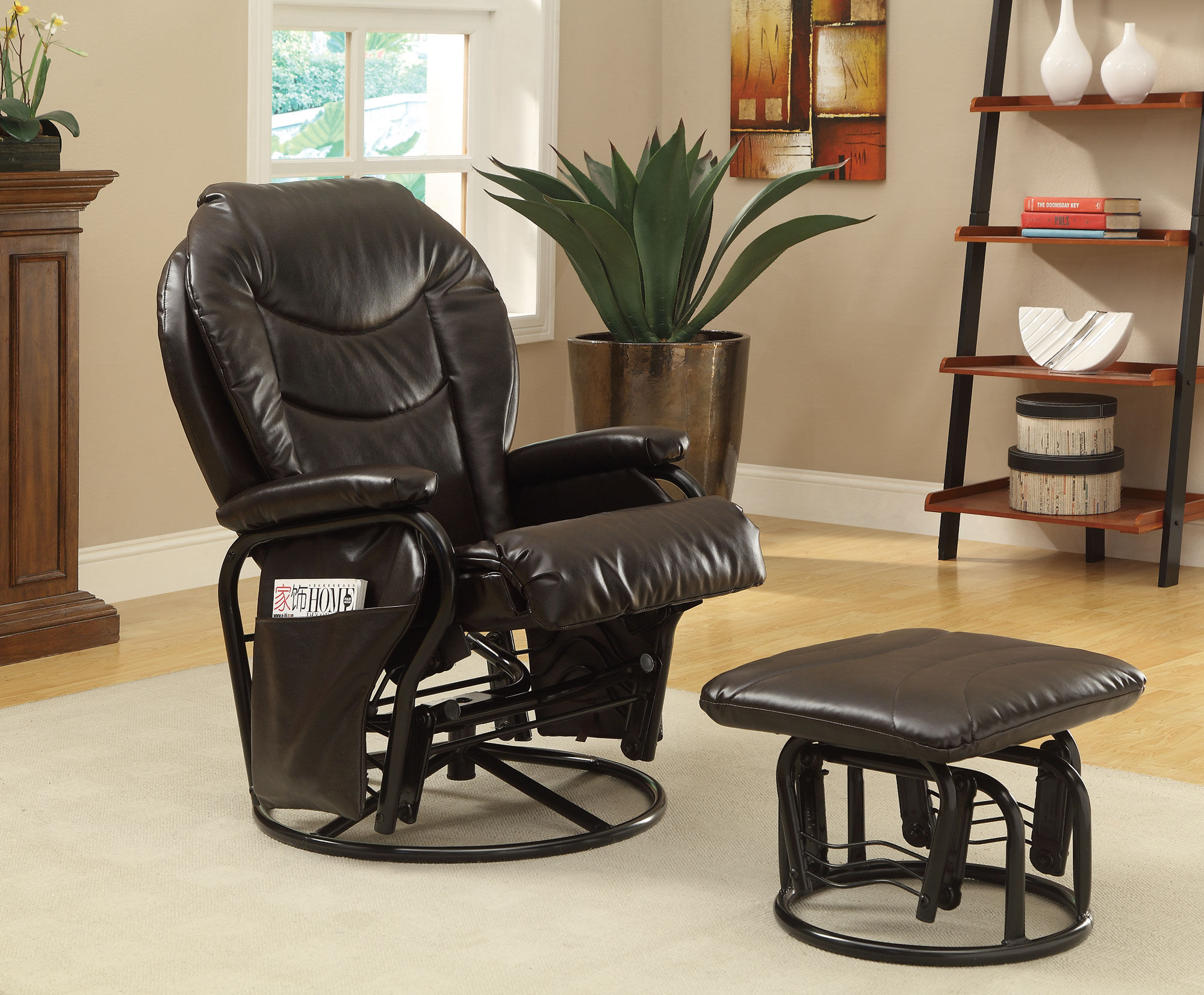 This super-comfortable recliner with footrest in the set is the perfect solution for bedroom, living room or office. Classy upholstery with leatherette fabric, solid steel construction and a beautiful finish to make it a truly practical piece of furniture.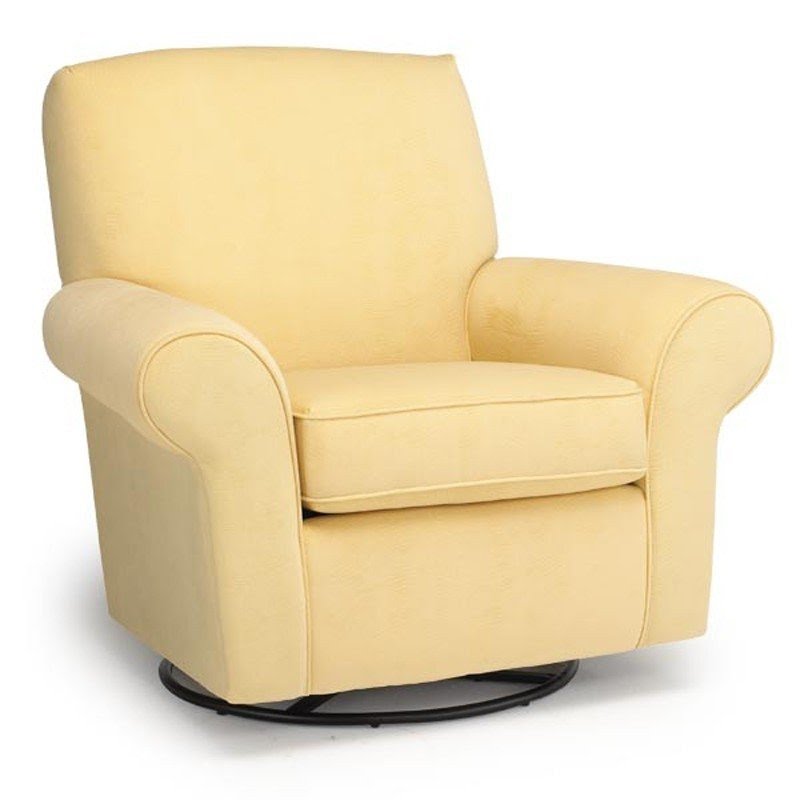 Swivel glider in traditional form. Frame is made of wood and metal. It is upholstered with fabric and reinforced with solid seams. Ideal for watching TV, reading books and more.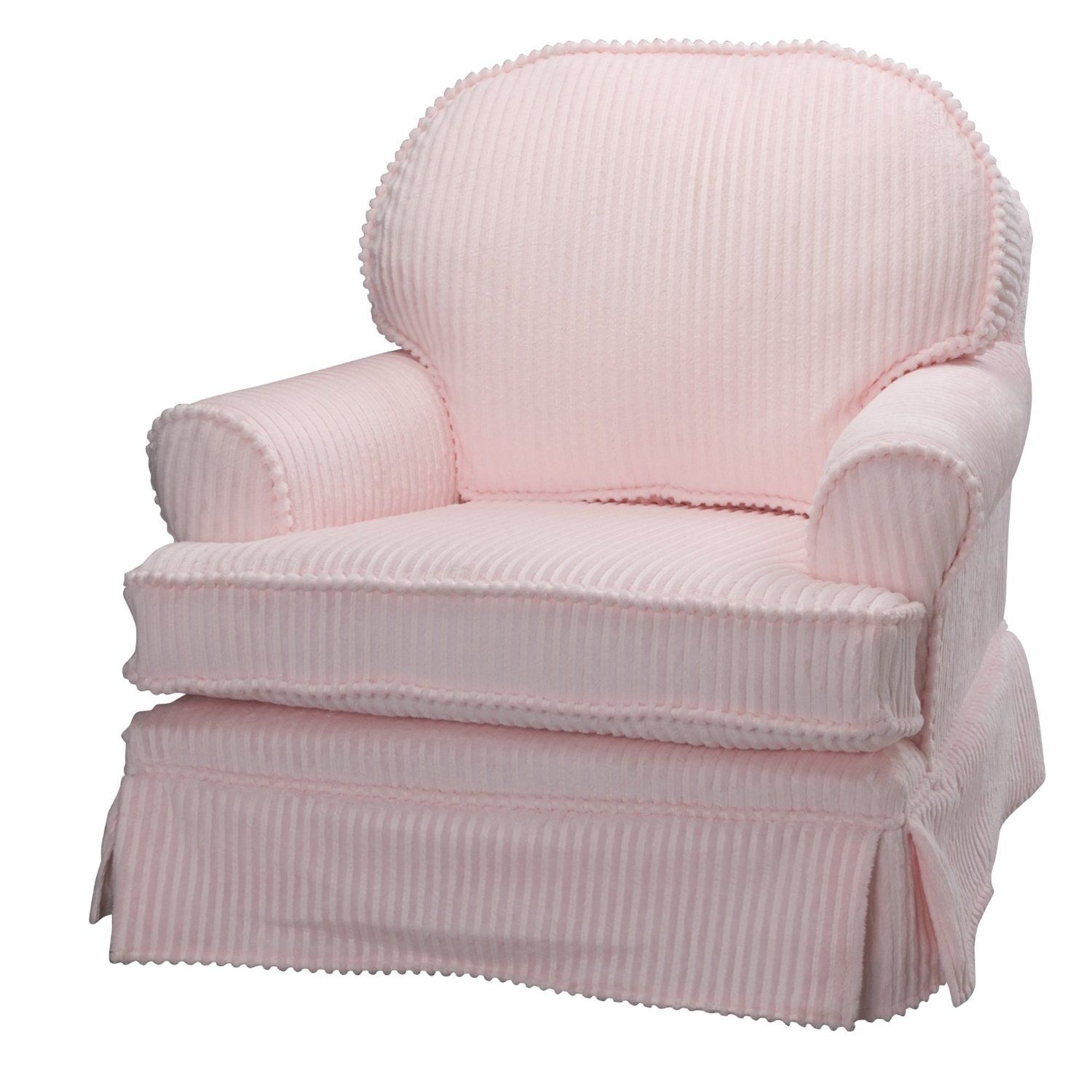 Soft chenille fabric in cute powder pink, striped to add some interest, is undoubtedly a great advantage of this glider for kids. Yet the design, with its round back and wide armrests, is above all very comfy.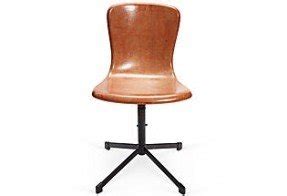 A lovely swivel chair in a vintage style. It features a traditonal, black base and a brown, wooden seat that features a smooth feel and a polished trim. The piece will be a pretty accent of your working space.