Our Choice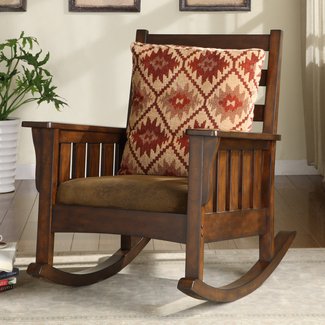 Maxie Rocking Chair
This soft comfortable rocking chair is just the perfect choice for a relaxed mood. It comes with sleek fence arms intricately handcrafted into its hardwood frame. Its wood has a vintage distressed look. The rocking chair also features chocolate microfiber upholstery which is a good option for households with children and pets. The frame material is made of solid hardwood but keep in mind that the rocking chair is not designed for porch and outdoor use.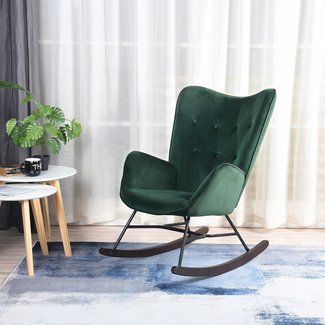 Channel Rocking Chair
If you are looking for a comfortable foam padded chair to help you relax after a hard day at work, you won't go wrong with this metal rocking chair. It features ergonomically designed arms set at the right height to keep you cozy and relaxed. It's a great rocking chair for relaxing outside your house while reading a book or enjoying your favorite beverage. It is made of high-quality green velvet fabric and features an ergonomic backrest and comfortable armrests.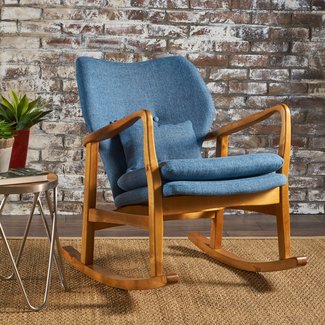 Mahnomen Rocking Chair
This is a French-inspired mid-century styled rocking chair that combines style with comfort. It features high-quality fabric wrapped around a solid birch wood frame construction. The rocking chair comes with upholstered seat cushion, upholstered back cushion, and has a weight capacity of 200 pounds. All you need to do is attach the frame, seat, cushion, and the rocking base. The rocking chair may not be porch suitable but will be one of your most treasured pieces of furniture.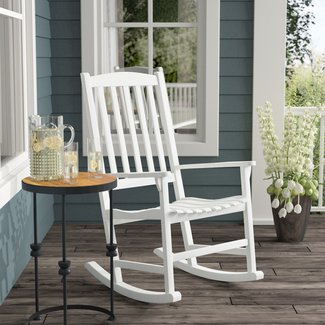 Rajesh Rocking Chair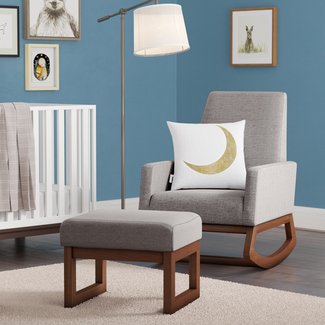 Nola Rocking Chair & Ottoman
This is a combination of a rocking chair and an ottoman, which gives you the relaxed motion of a rocking chair and a nice place to put up your feet. The two-piece set is also a perfect addition to your living room, nursery, and other interior spaces. It has a solid wood frame covered in gray fabric upholstery and foam filling for the perfect padding. It also features square arms and a tapered back that gives it a mid-century look.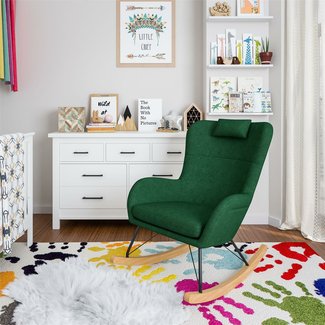 Schlesinger Rocking Chair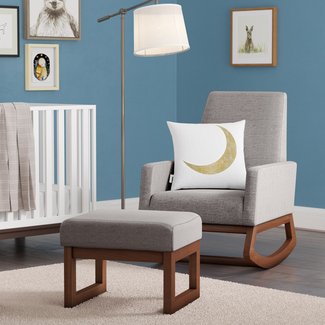 Glen Ullin Rocking Chair
If you are looking for a country-style rocking chair with all the charm and comfort of country living, this rocker is a perfect option. It is perfect for relaxing outside your cottage or porch while you enjoy your favorite beverage or simply take a rocking nap. It is made from acacia wood with a hued finish. It is a sturdy rocker with a weight capacity of 300lbs. Its water-resistant finish makes it a perfect rocking chair for outdoor use.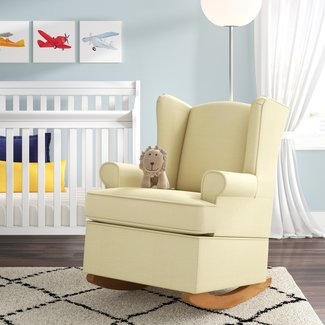 Bender Wingback Rocking Chair
This is a great rocking chair for anyone who looks for a perfect way to relax, do some work at home, or simply sit back to read a book or engage in any other relaxing activity. The rocker is made of solid wood and a rocking base for ultimate relaxation. It has solid color fabric upholstery, rolled arms, and a tall wingback design for better shoulder and elbow support. It comes with an upholstered back and seat cushions.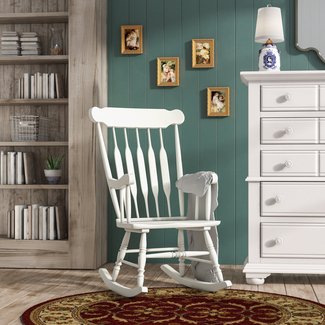 McNeel Rocking Chair
Got an unused corner in your home? Make good use of this space with this classic rocking chair made of solid rubberwood. The rocking chair has a spindle back and open airy sides. Its curved armrests give it an open spacious look. It has a traditional design with a neutral finish which makes it compatible with a wide range of decor styles. It is also spacious enough with a width of 22" and a weight capacity of 200 pounds.
Papatya Double Rocking Chair
Here is another chic modern rocking chair versatile enough to suit any living room, bedroom, nursery, and lounge room. It is a spacious rocking chair one and a half times wider than most single fabric rocking chairs. It features thick padded seat cushions and polyester fabric upholstery that gives you a soft comfortable and relaxed sitting experience. It comes with an upholstered back cushion and a well-crafted rocking base that is gentle on your carpet.