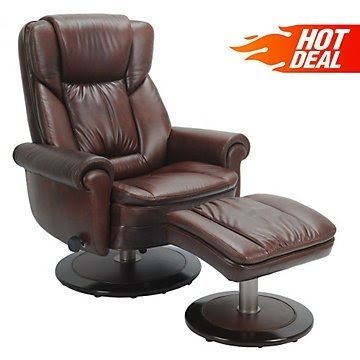 Genuine Leather Recliner with Ottoman - CH50588 at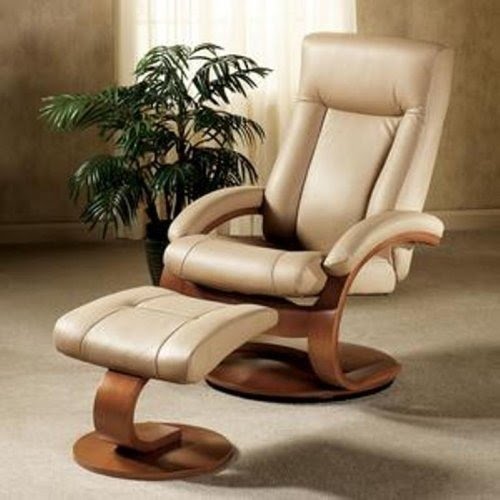 Comfy modern set with wooden frames finished in warm brown. A rectangular angled ottoman and a handle-operated swivel recliner have flat round feet and C-shaped supports. They have memory over dense foam padding and upholstery of creamy leather.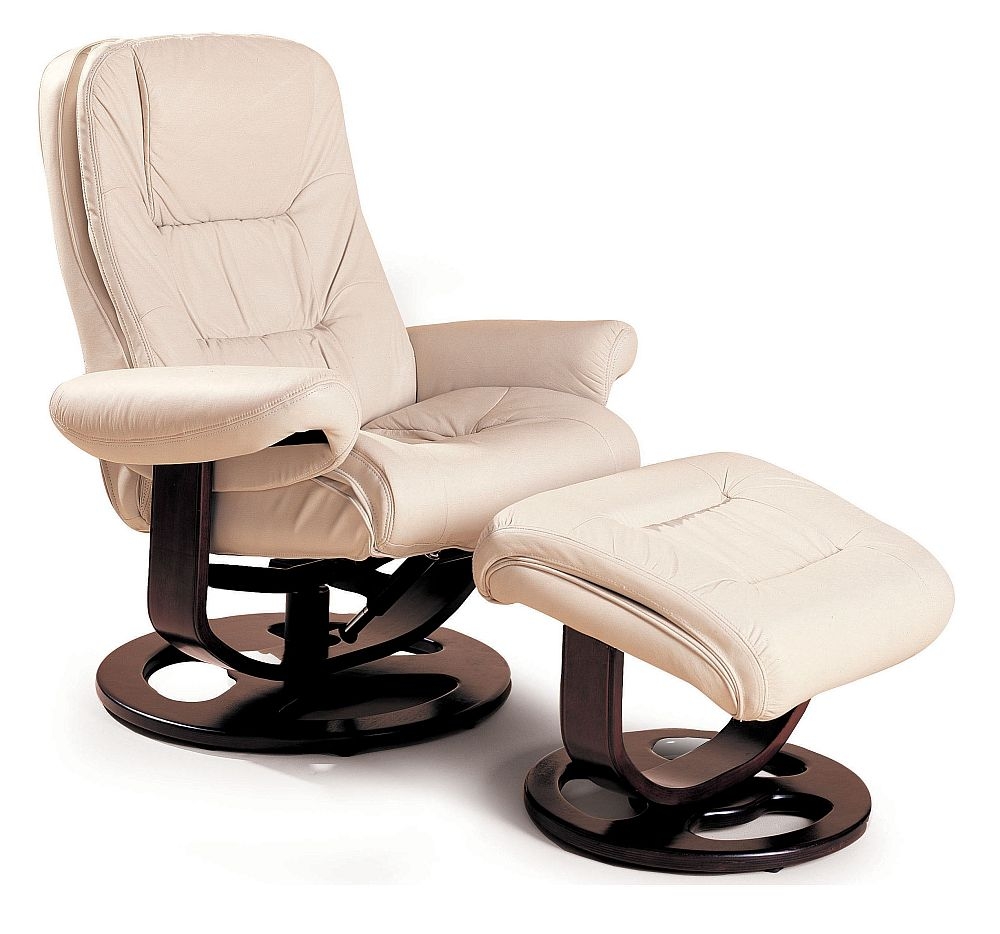 ... Chair and Ottoman from the Reclining Furniture collection by Lane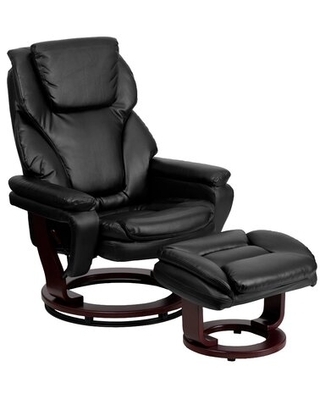 It is a contemporary and elegant recliner with ottoman. This set is a perfect addition for your living room and family room. You can choose one of three finishes: black, brown leather and brown microfiber.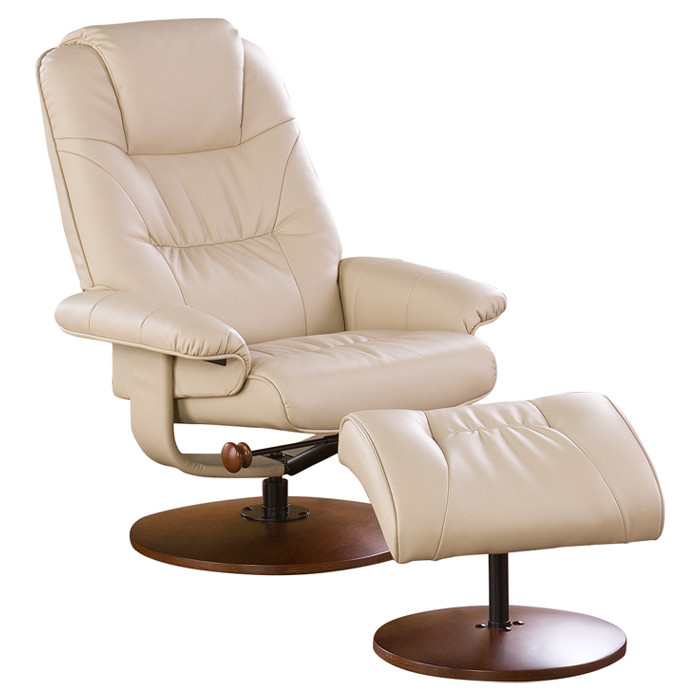 Multipurpose Furniture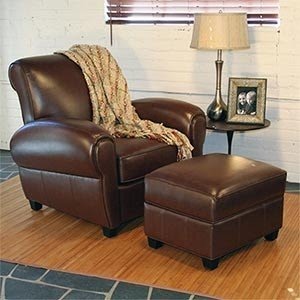 Miguel Bonded Leather Recliner Club Chair & Ottoman at Costco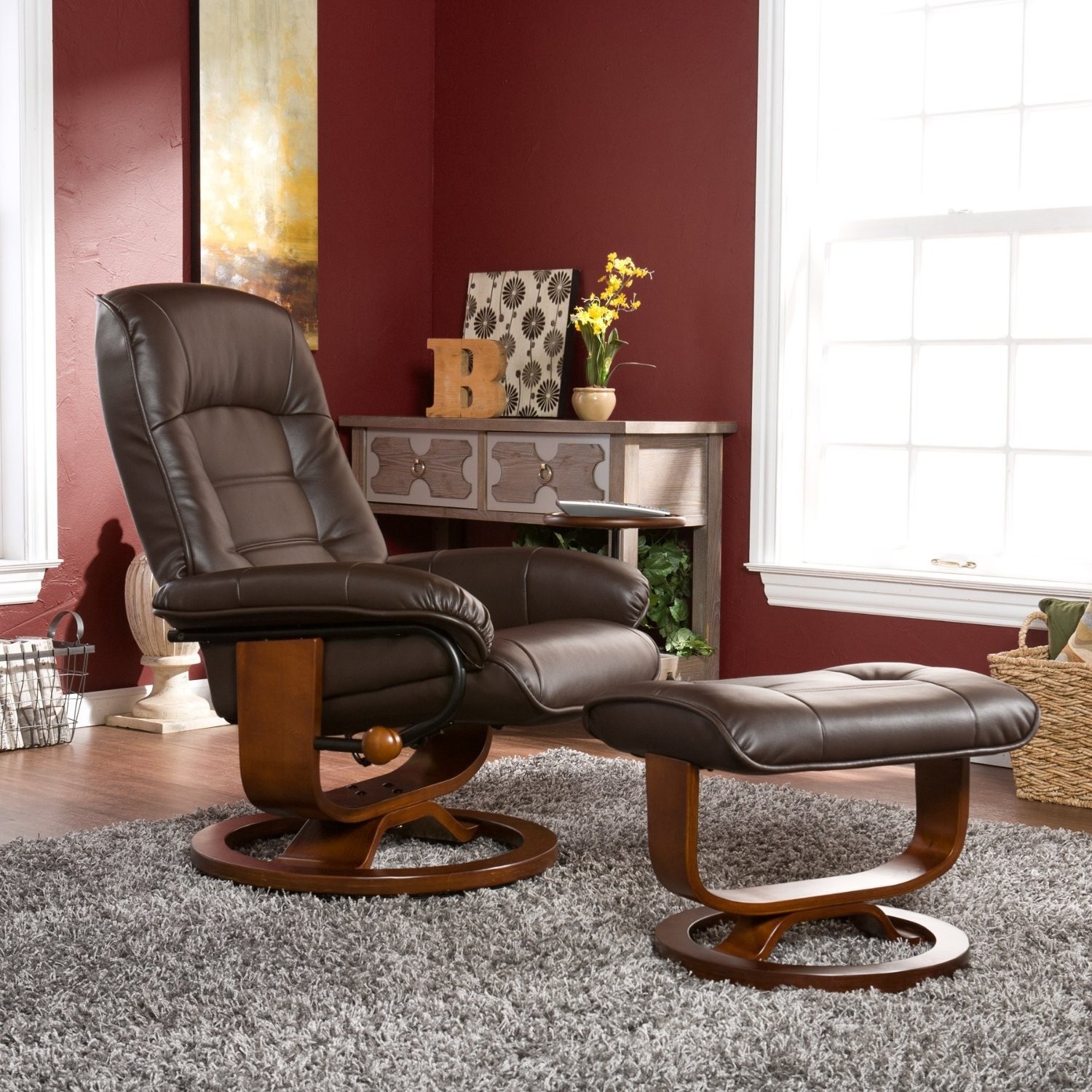 It is a recliner that has got a side table and ottoman. They are available in two color options to choose: taupe with brown and brown. They have got a solid birch wood construction and leather upholstery.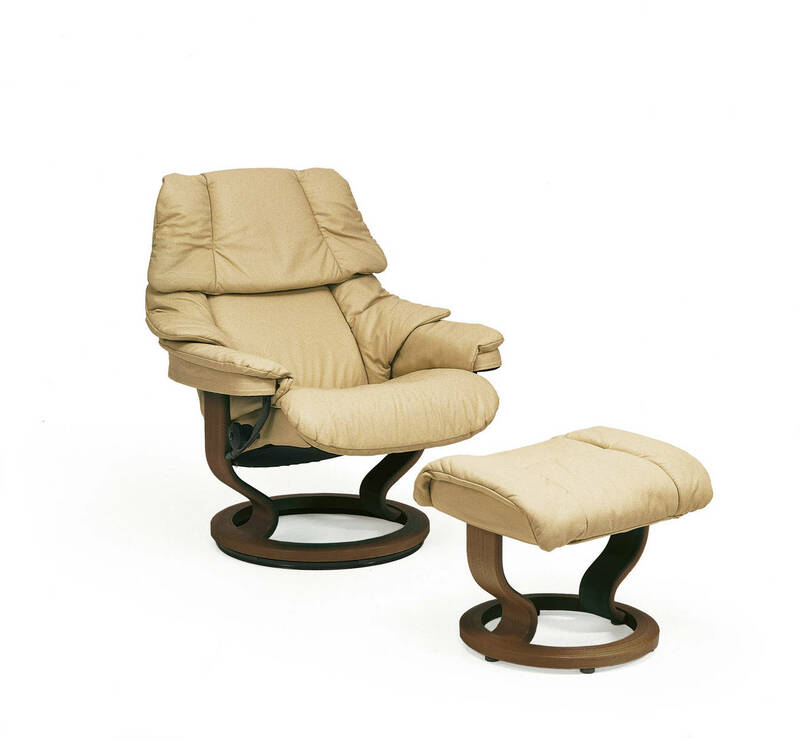 ... Ottoman > Stressless by Ekornes Stressless Recliners Vegas Recliner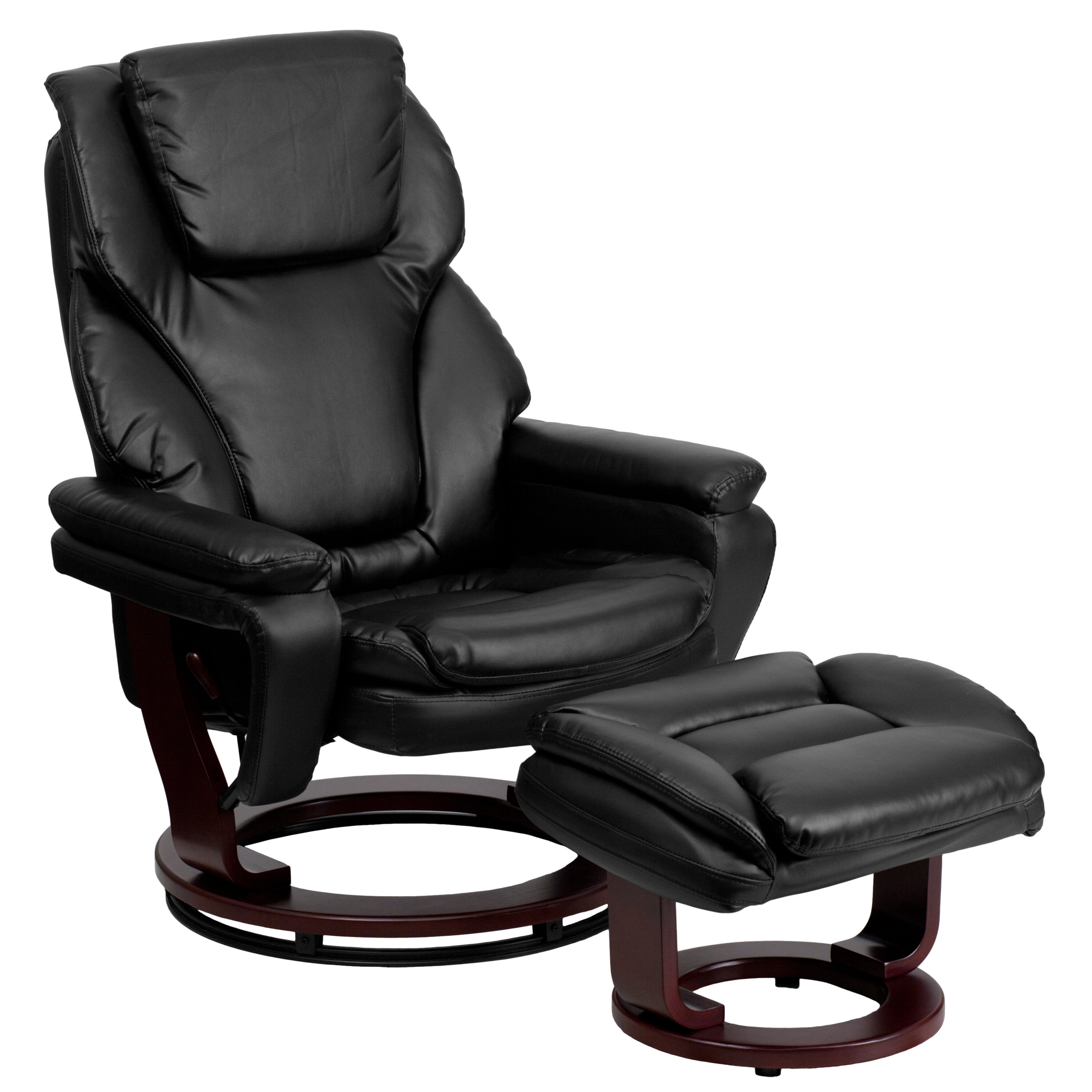 This kind of chair is created for people who love comfort in their living rooms and TV rooms. It is a recliner chair that is available with an ottoman that serves as a foot rest. These products have got solid, supportive, round wooden bases.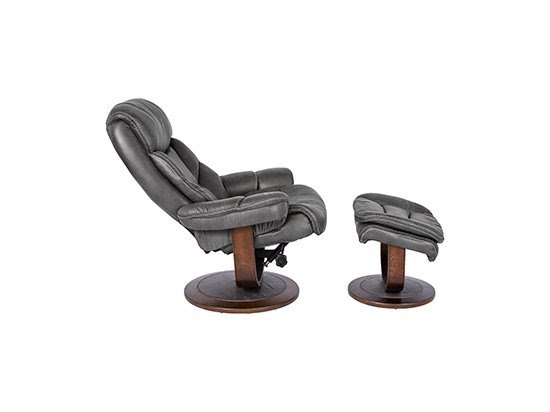 If you want to add some comfort into your apartment the Arum recliner with ottoman will be a fantastic option. The soft leather upholstery and swivel mechanism provide the excellent seating comfort.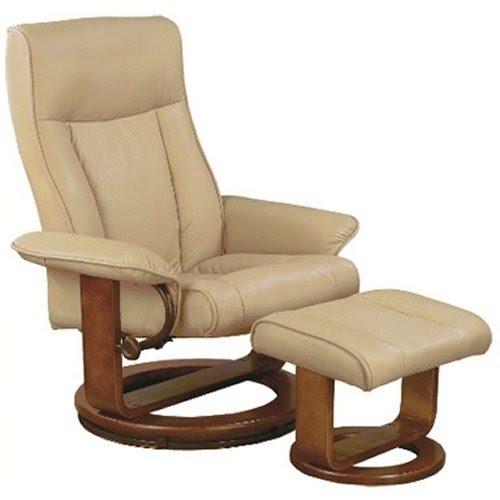 Imagine your free time on this recliner. It is in one set with ottoman for enhanced comfort of use. The leather upholstery is very soft and easy to care for.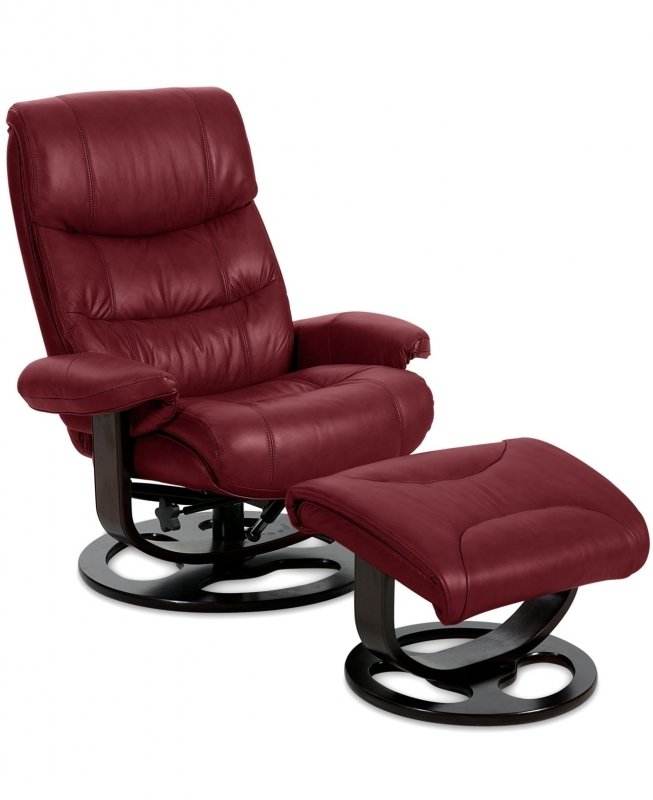 Luxury leather and top quality wood. Very modern leather reclining chair with ottoman has a burgundy leather color and black elements that allow for swiveling pleasures and functionality. Includes recliner and ottoman, both with round base.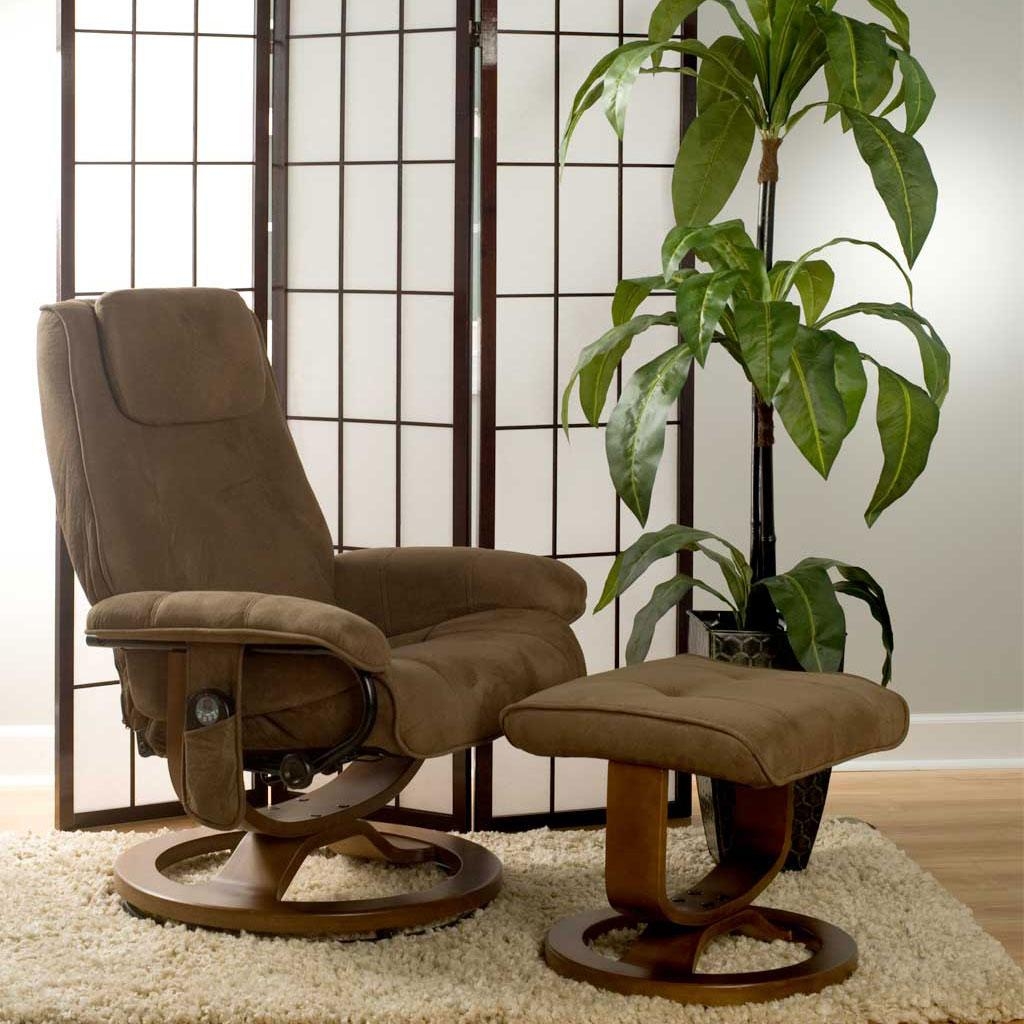 If you're a fan of extraordinary design and unusual comfort, this awesome recliner chair might be a perfect opportunity for you. Check it out now and bring a dose of convenience and style to your house!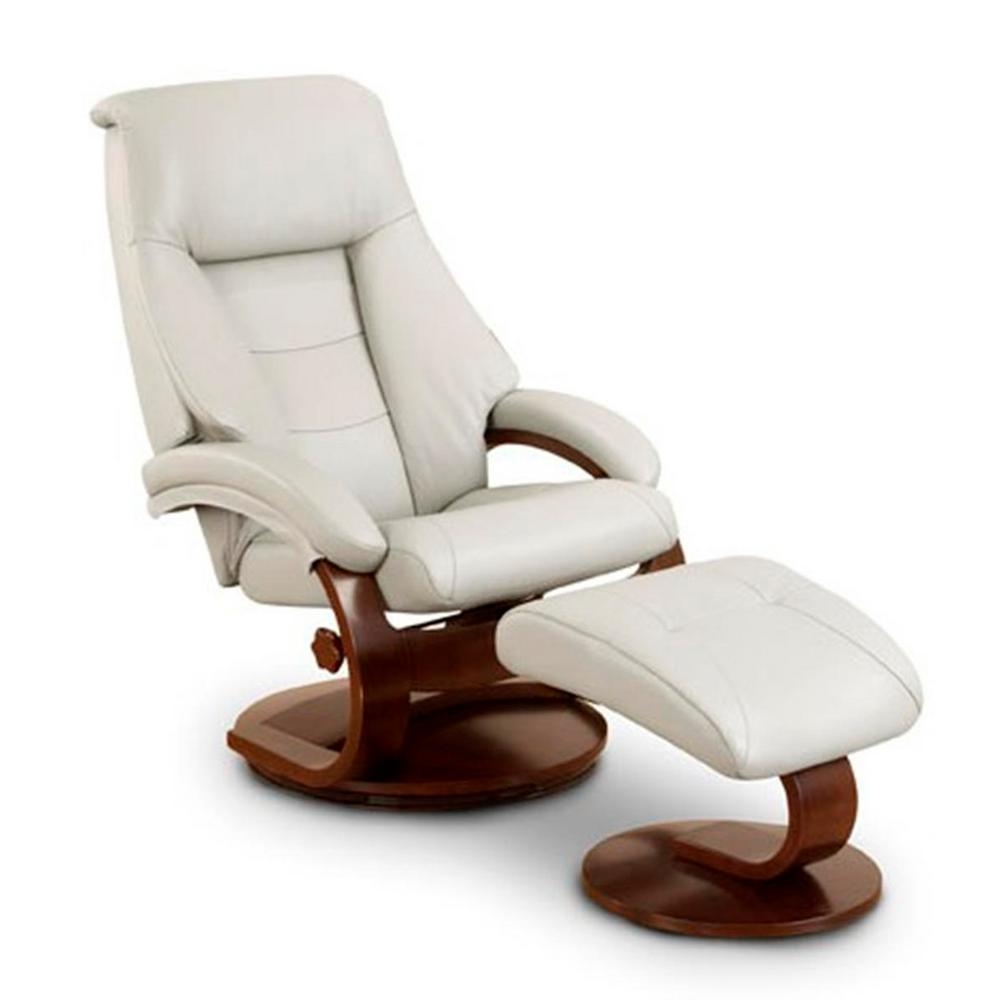 Mac Motion Chairs Top Grain Leather Swivel Recliner with Ottoman in ...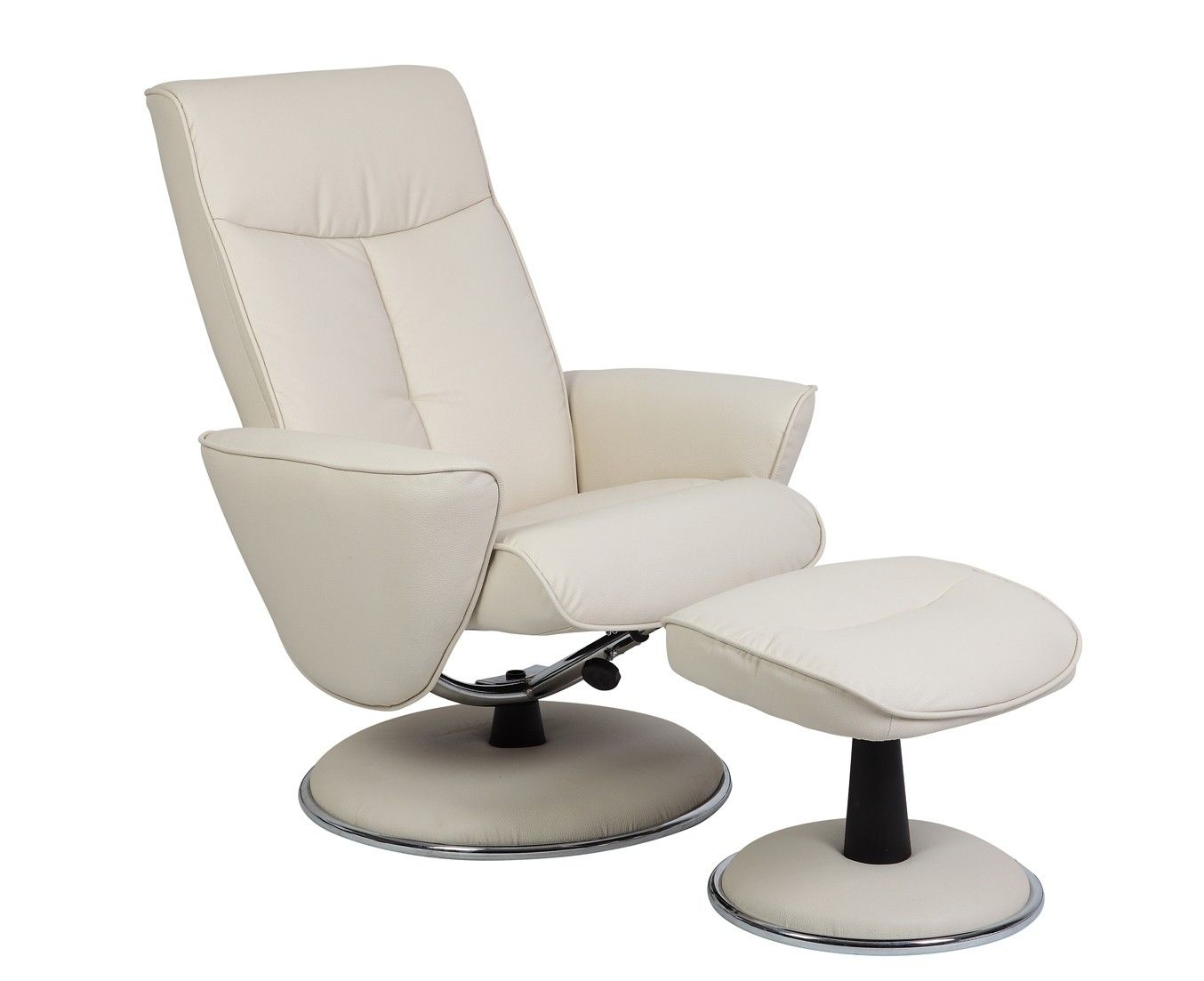 Mac Motion 830 Recliner with Ottoman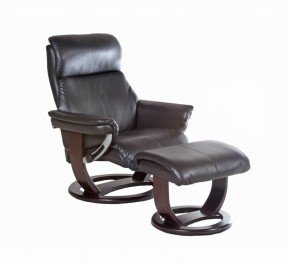 Swivel recliner and ottoman mounted on wooden base. It is upholstered with high quality leather. Carefully profiled back is finished with solid seams. Ideal as additional seating or place for relaxation.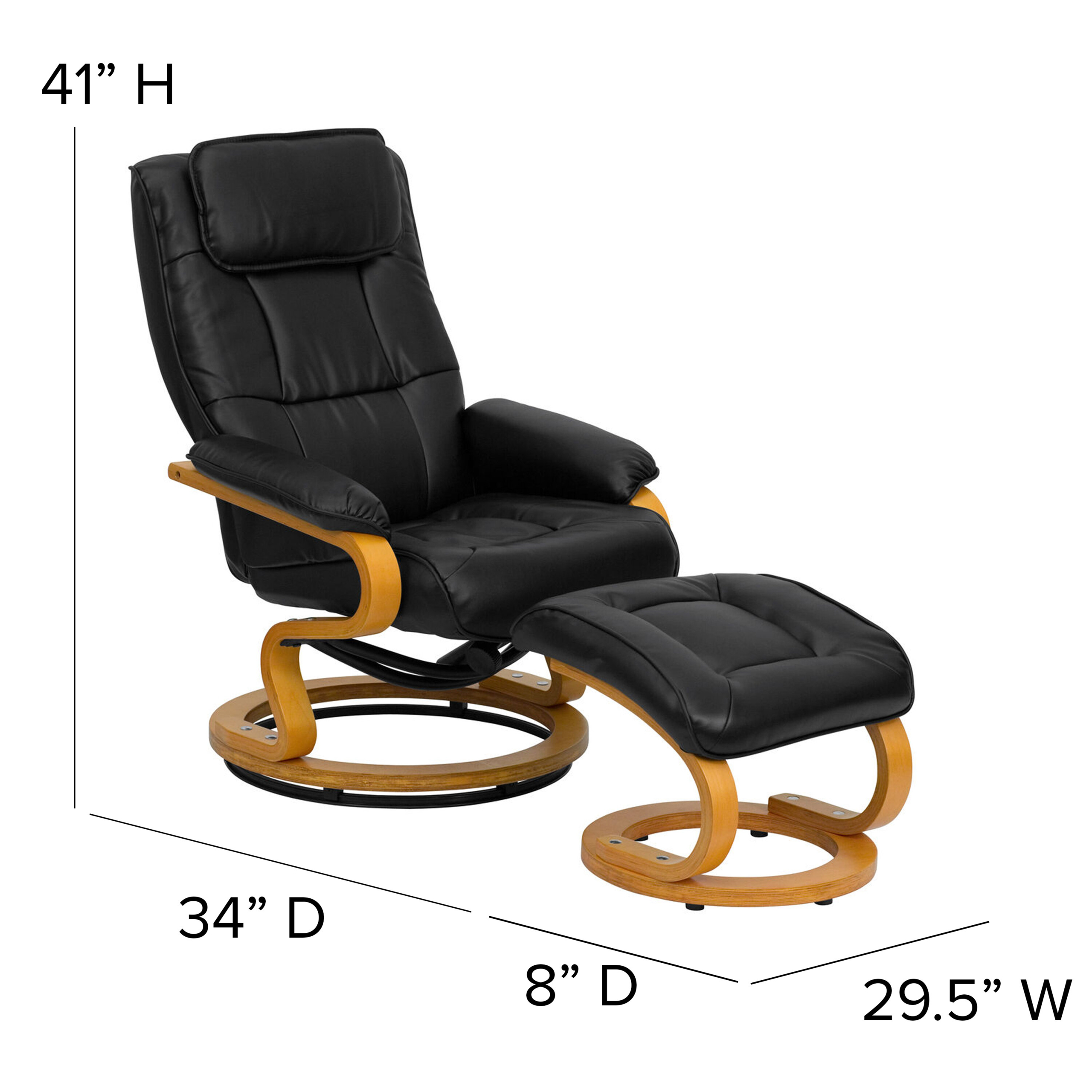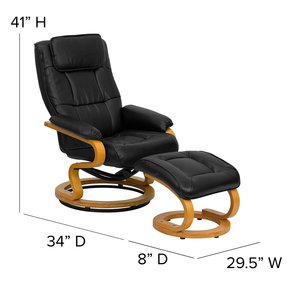 Are you dreaming of an extraordinary comfort and an intriguing design in your house? Then, check out this incredible and stylish recliner with ottoman and enjoy an amazing convenience at your own place!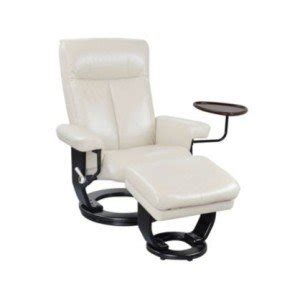 This piece of furniture is a recliner chair that has got a swivel mechanism. It is available in a set with an ottoman. These elements are soft and covered with bonded leather. The chair size is 31 x 30.5 x 41 inches.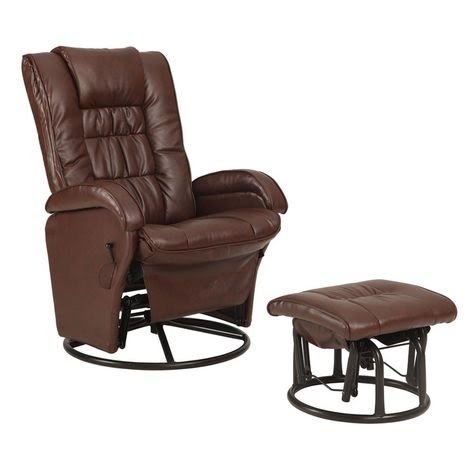 Gliding rocker recliner chair with matching ottoman. These elements of furniture include soft, cushioned surfaces covered with brown leather. They stand on solid metal frames in round shape and black finish.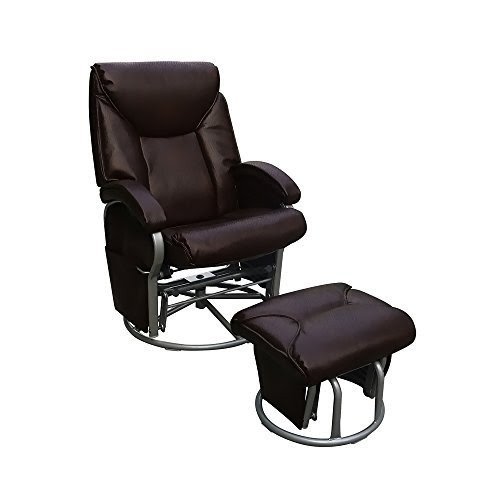 Cool present-day set with grey-coated metal frames. A push back rocking swivel recliner and a square ottoman have circular bases and upholstery of dark brown bonded leather. A chair has a tall back with a headrest, curved-up arms, handy pockets.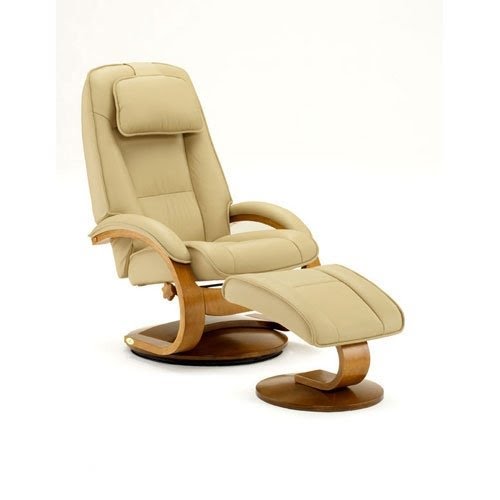 Cobblestone (Tan) Top Grain Leather Swivel, Recliner with Ottoman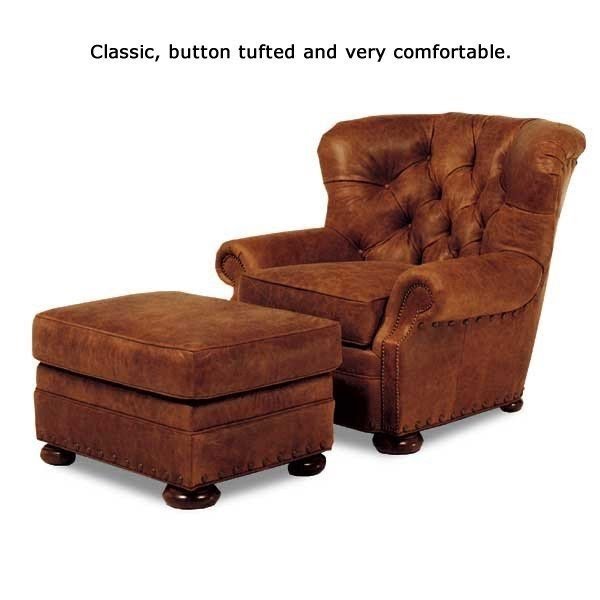 An aesthetic modern recliner and a rectangular ottoman with black metal bases. A base is built of a round foot and a U-shaped support. A chair has a deep seat, curved out arms, a tall back with a headrest. They're upholstered in dark grey leather.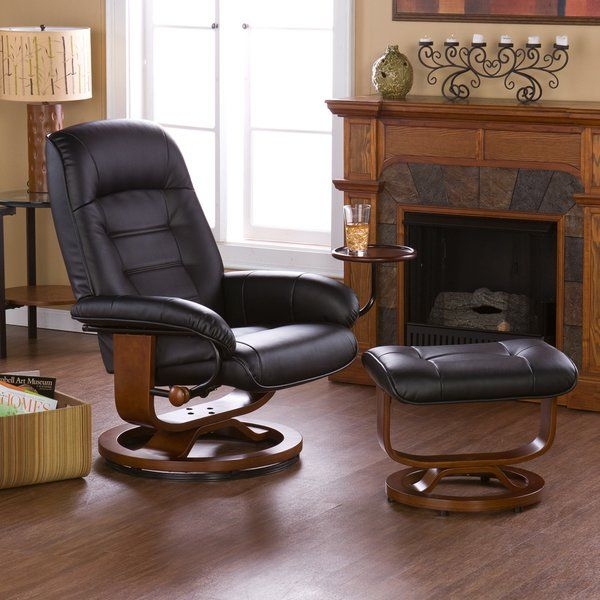 Fabric Recliner with Ottoman and Side Table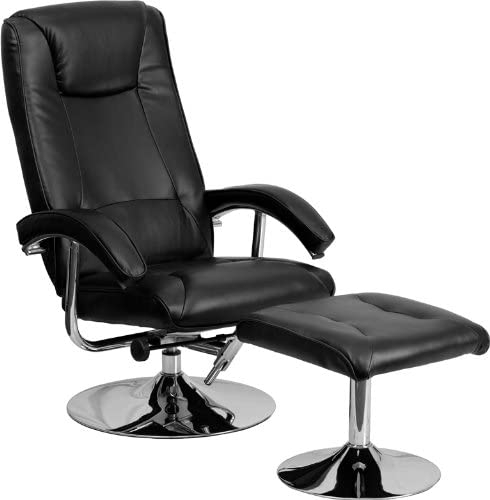 A touch of comofrt and contemporary stylization in the house. This kind of recliner chair is covered with leather and it is available with an ottoman. These elements have got solid, supportive bases made of metal with a chrome finish.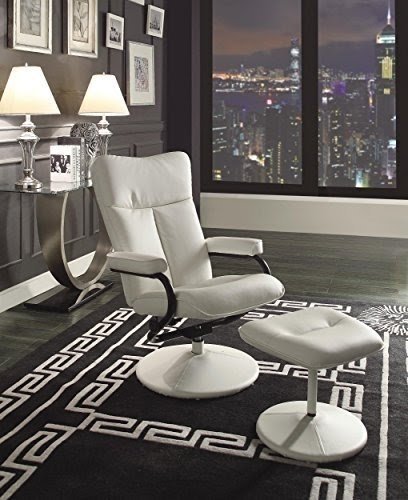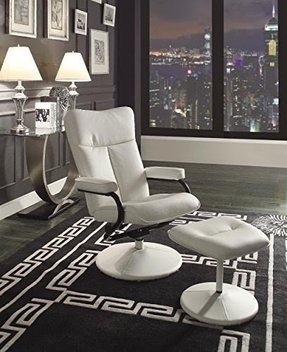 This reclining chair has got an ottoman, white bonded leather upholstery and swivel function, for enhanced comfort of use. It fits perfectly to your modern living room area.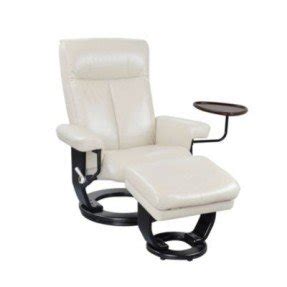 Inviting, isn't it? Something to rest on - indispendable in every house... A swivel recliner with ottoman and wide arms, wrapped up in white / ivory leather. There's even an adjustable oval built-in tray to keep snacks close!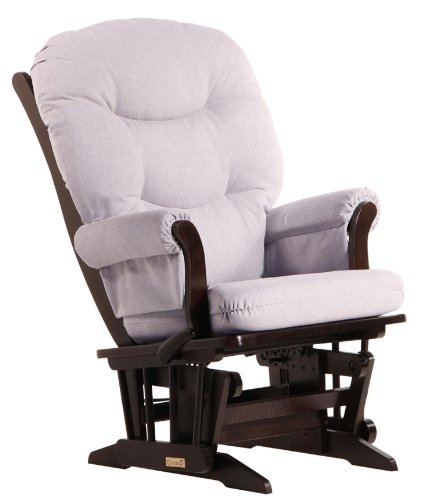 This sleigh glider and ottoman set offers pure comfort and bold styling. It features multiposition mechanism of gliding system with top quality sealed ball bearings and hardwood frame in espresso finish. Ottoman adds even more comfort.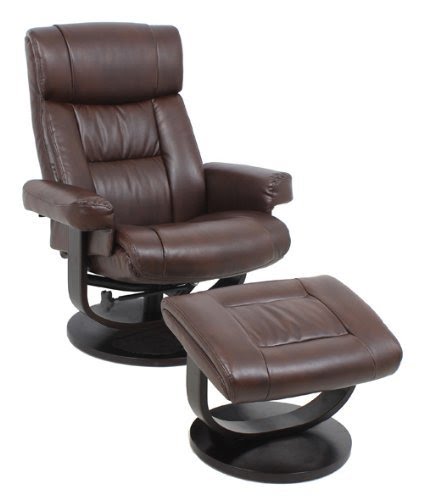 It is a high quality recliner chair that is available with a soft ottoman that serves as a footrest. All elements of this set have got durable wooden bases with an attractive espresso finish that looks very nice in any decor.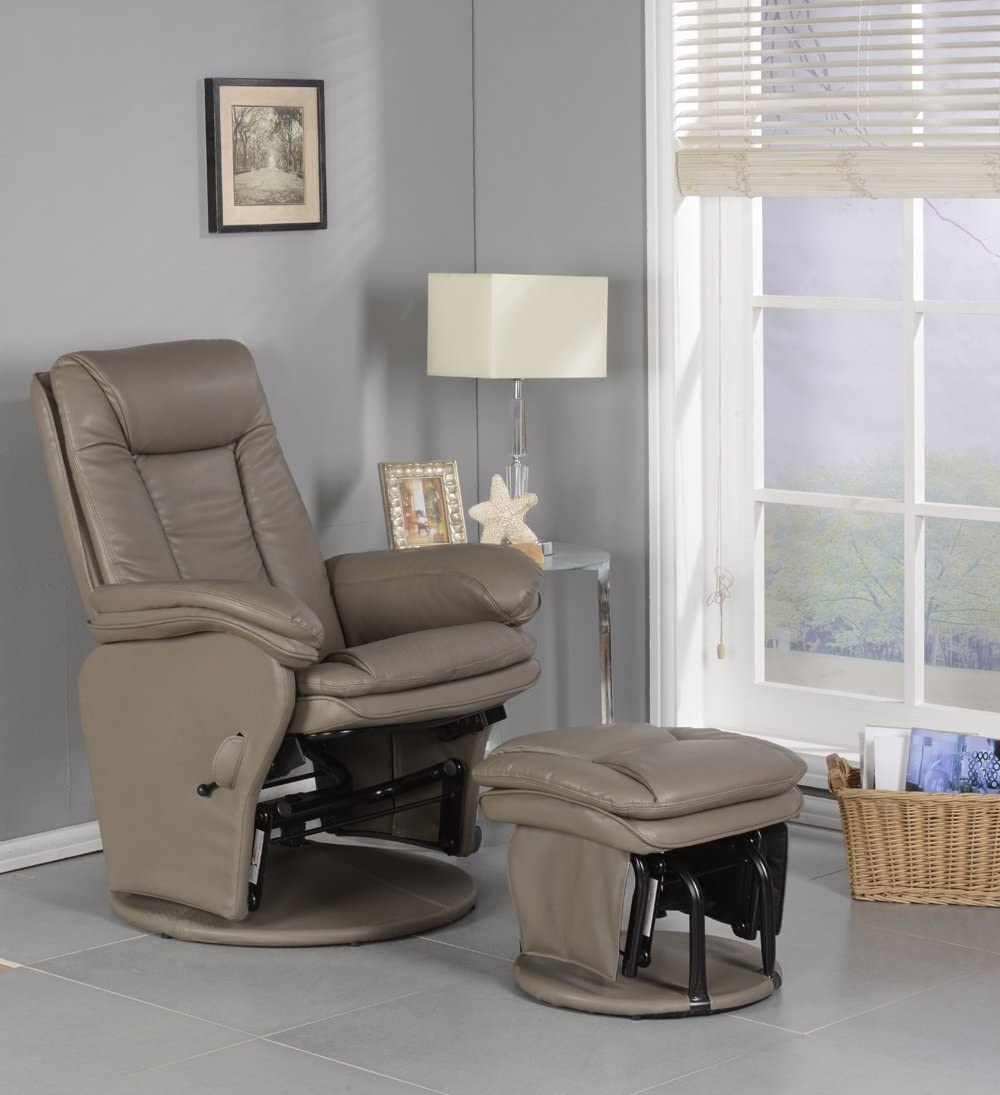 Set consisting of rocking recliner chair and ottoman. Both pieces a re upholstered with high quality fabric and feature strong as well as sturdy metal frame. The set is a perfect addition to any living room.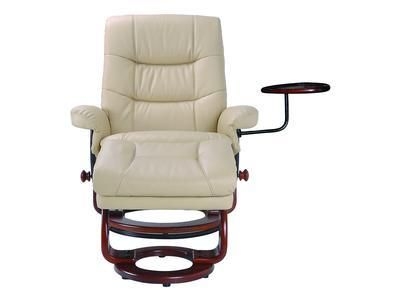 A comfortable solution for living room seating – a contemporary, modern recliner armchair with white leather upholstery and a handy tray connected to it which allows you to easily put down a drink or a snack while watching TV.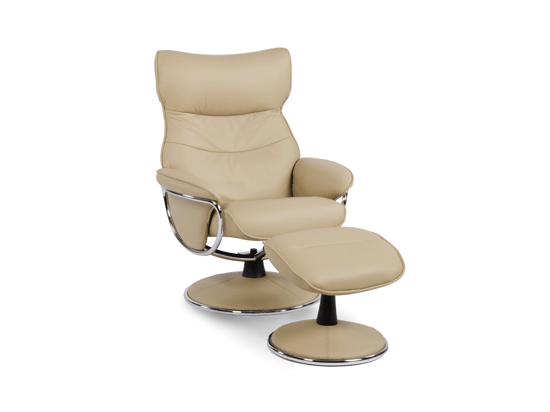 This swivel recliner with ottoman constitutes a stylish and comfortable addition. It features a tilt and swivel mechanism with an adjustable headrest. Finished in almond leather, has the following size: 32.0" W x 31" D x 42.5".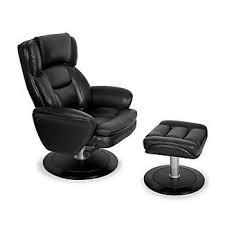 Swivel recliner and ottoman as extra seating or place for relaxing in living room and more. It is upholstered with leather and fitted with pillow on the back for added comfort. Suitable for residential and commercial premises.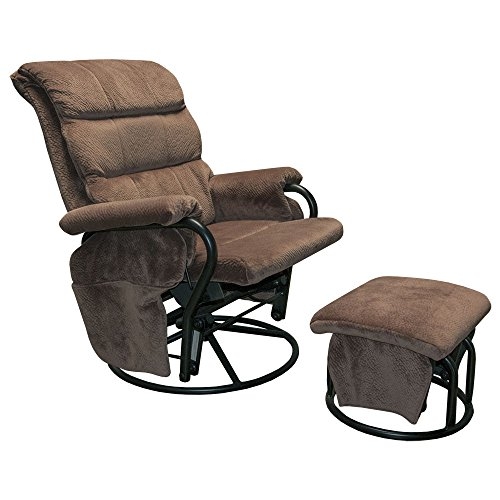 38. It is a glider recliner with ottoman that has got a champion pecan finish, swivel function and casual design. You will be impressed how comfortable this set is. You need to have it.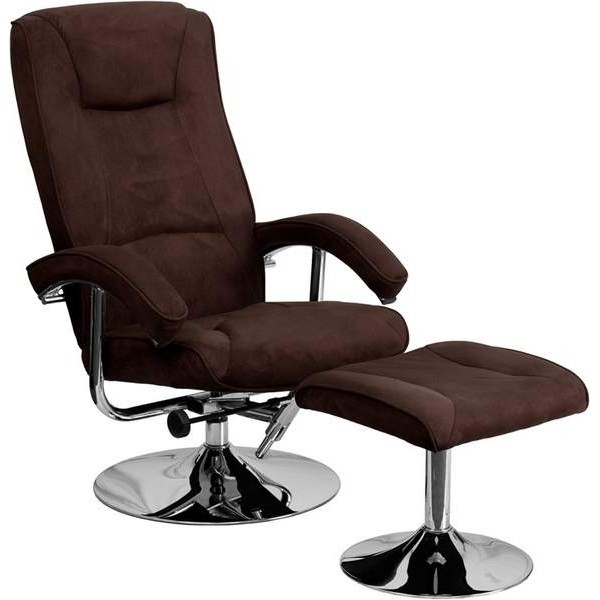 Why not have both comfort and style? I like it when recliners are designed to satisfy both needs. This one is upholstered with brown suede-like microfiber, and it stands on large disc shaped base in chrome finish. It showcases bold contemporary style.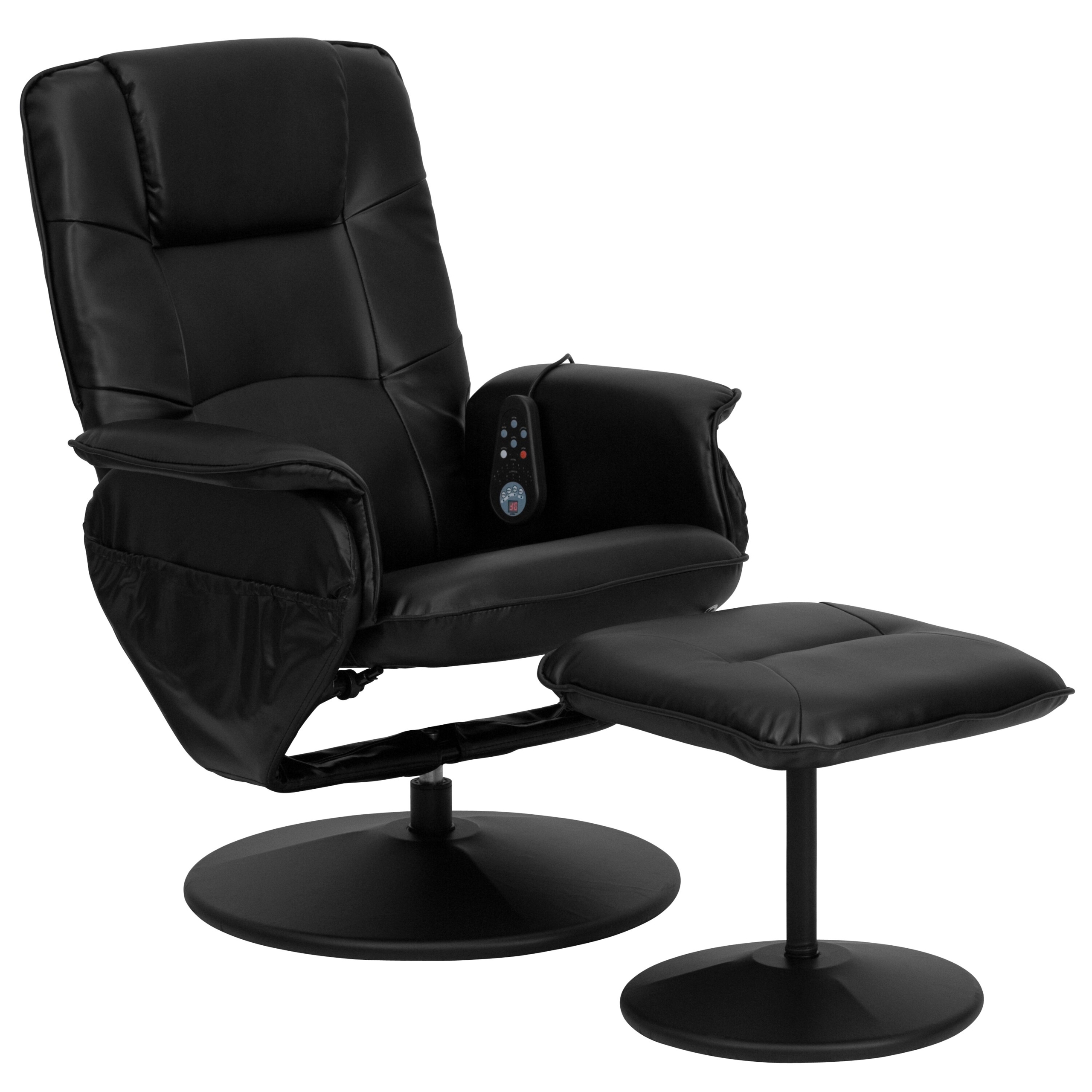 This massaging recliner offers updated comfort and functionality, together with a high end style that fits in great with modern interiors. It comes with matching ottoman; both pieces stand on disc bases.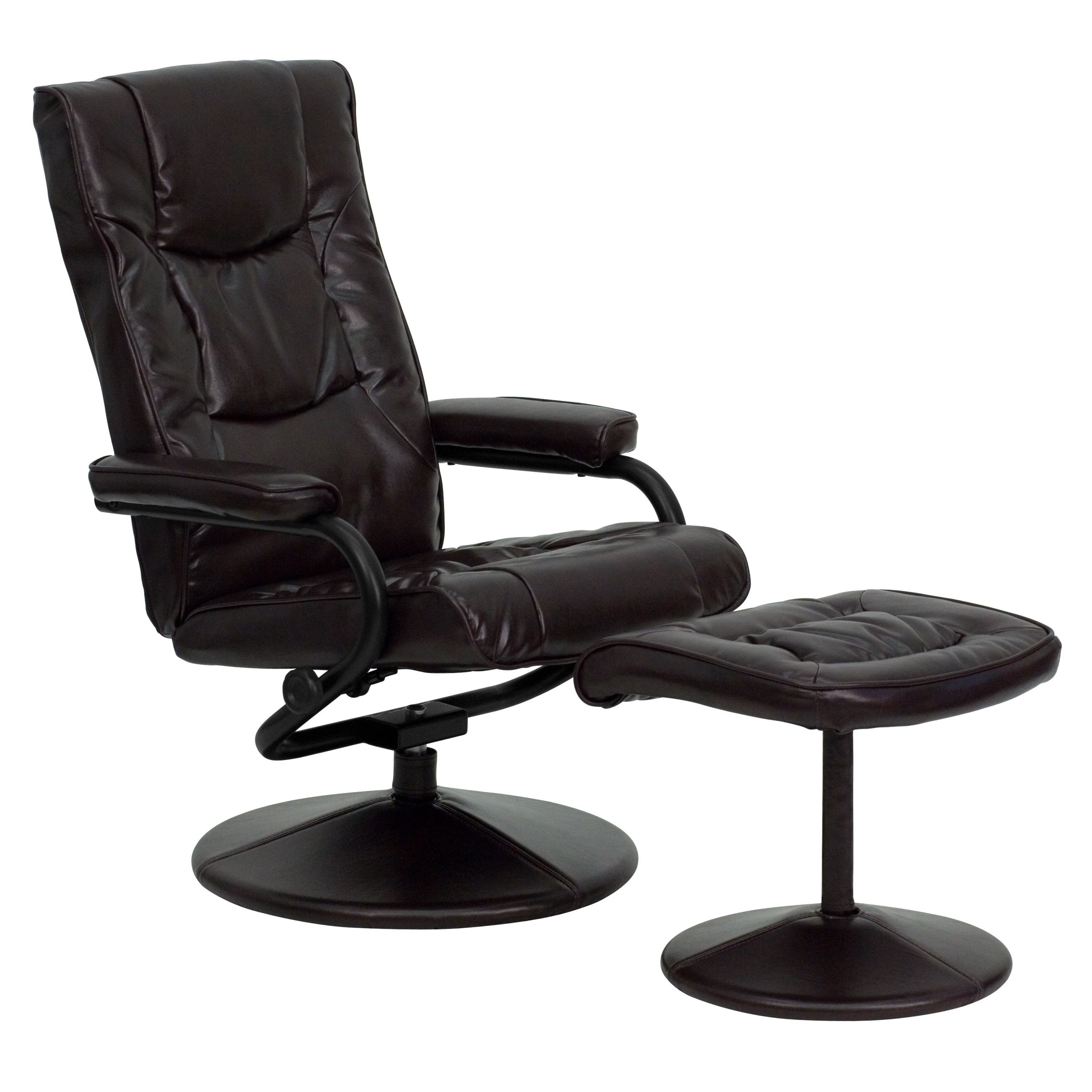 This elegant set consist a comfortable recliner and large, rectangular shaped ottoman. Both of them have a solid, metal frame and sleek, leather upholstery, all in black. Set is perfect both for home and office.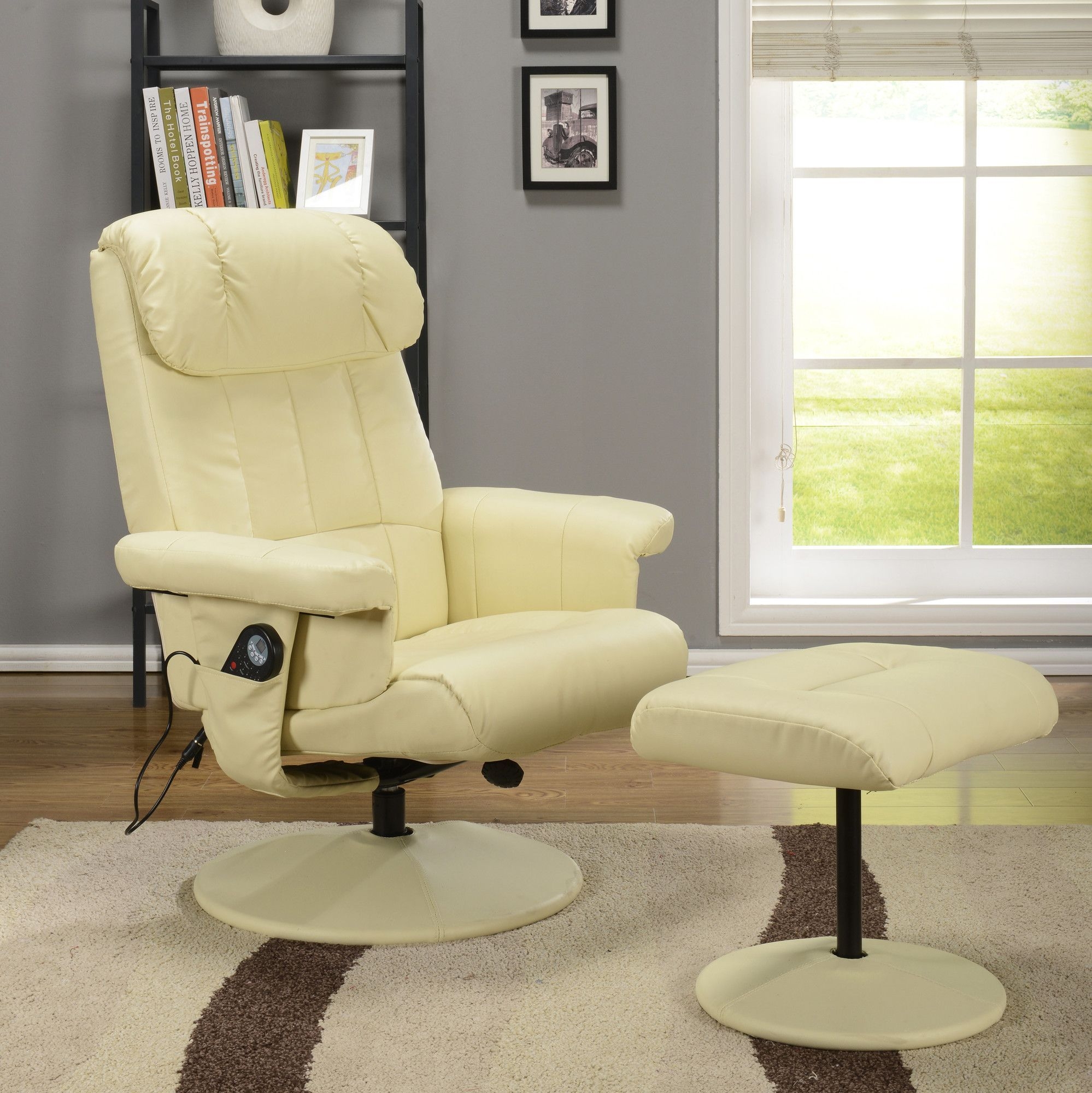 It is a massage recliner swivel chair that has got an ottoman with heat. This set has got a cream and white upholstery and elegant design. If you looking for a perfect recliner for your everyday relax, you need to choose this one.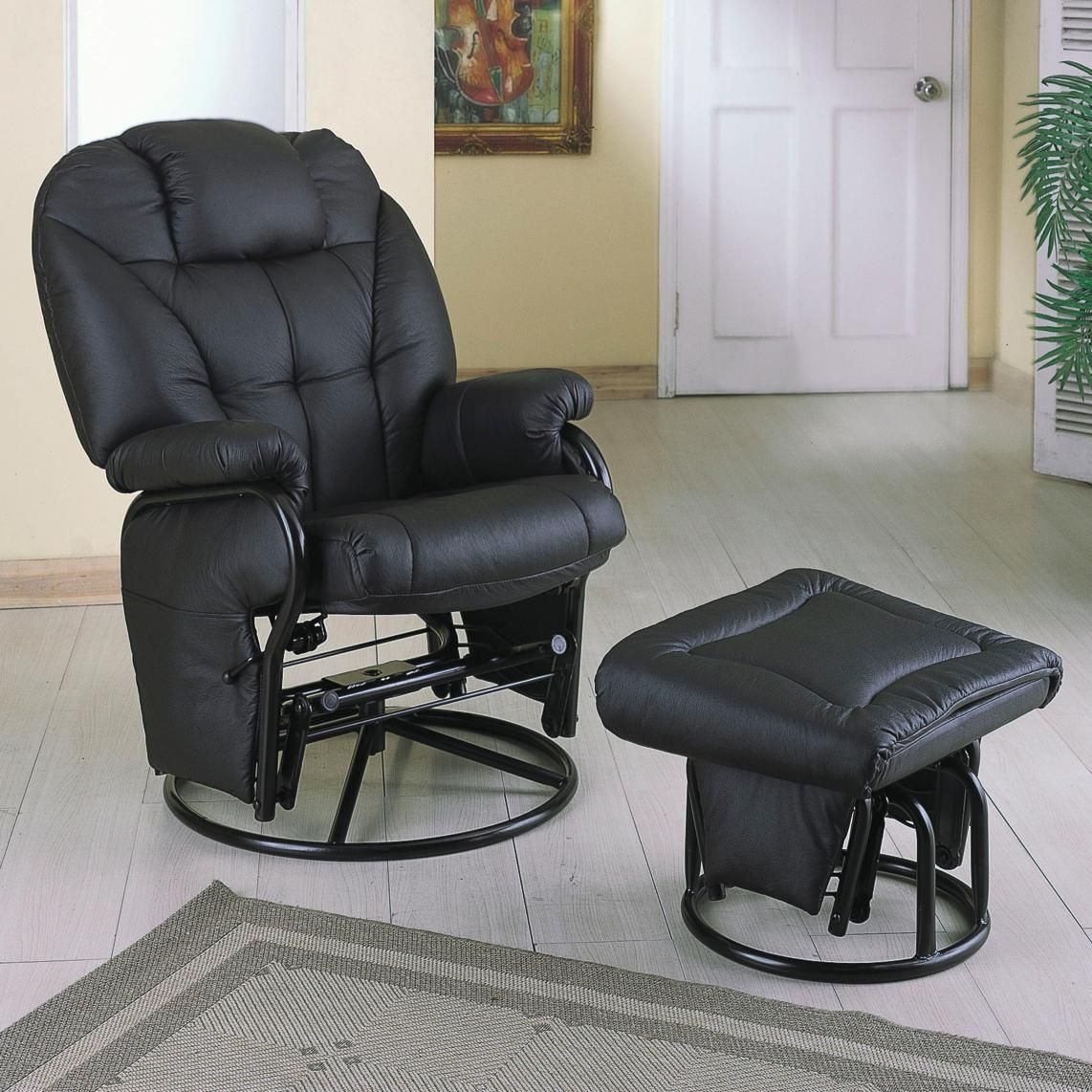 Recliners with Ottomans Recliner with Ottoman by Coaster Sale $249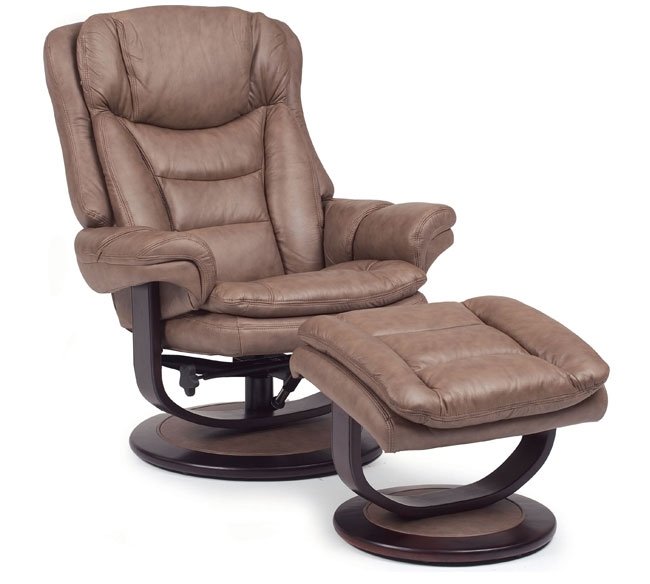 Lane Impulse 18540 Leather Swivel Recliner with Ottoman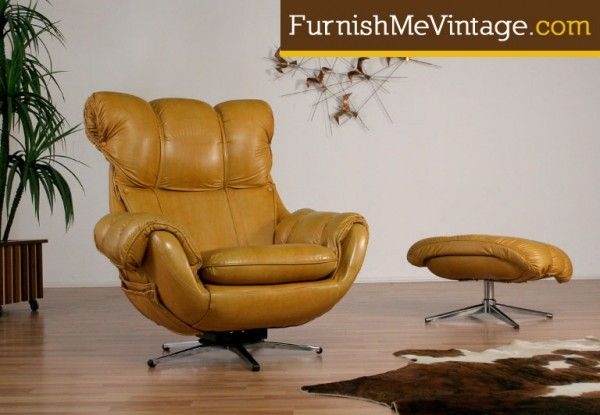 Overstuffed Mid Century Modern Recliner with Ottoman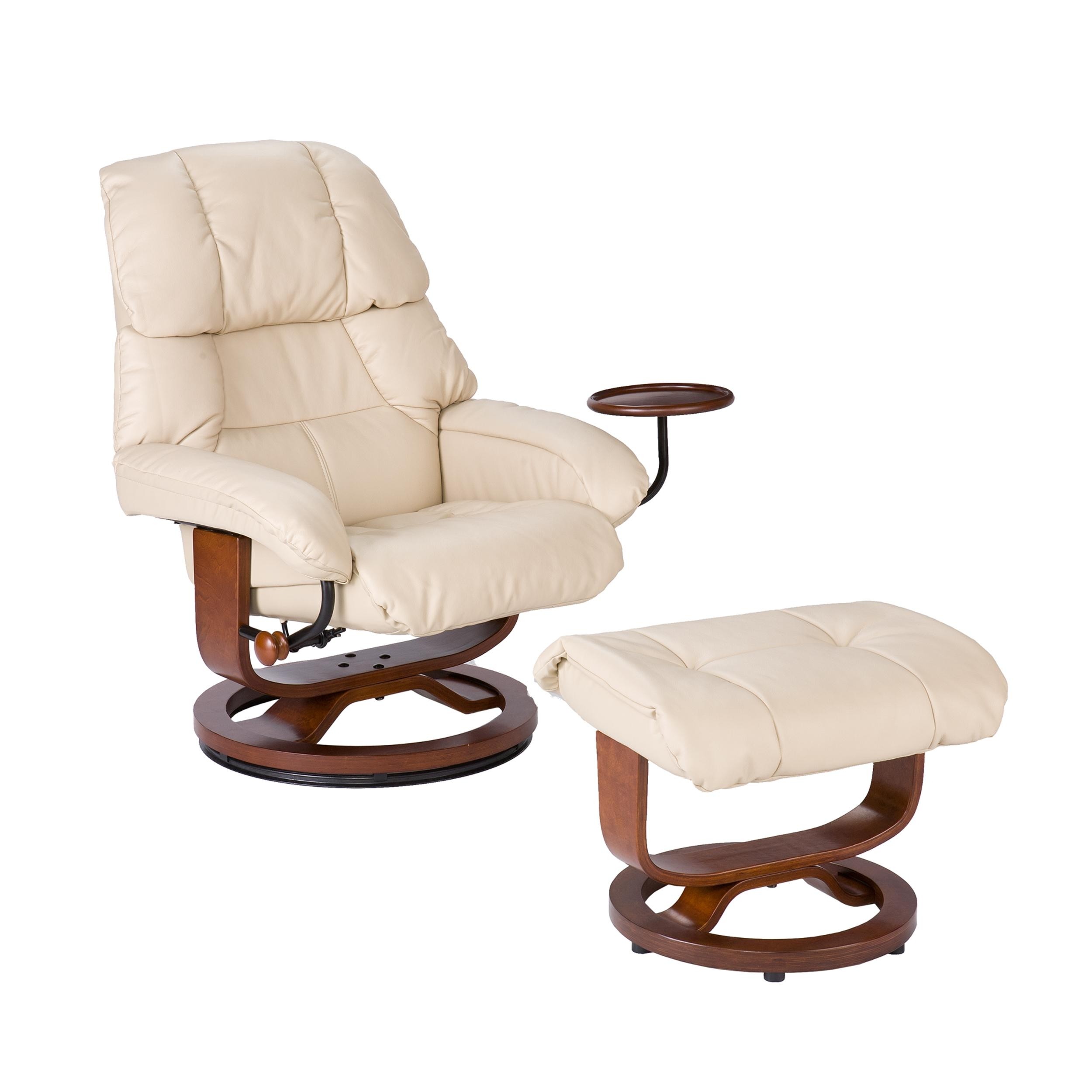 View larger