Our Choice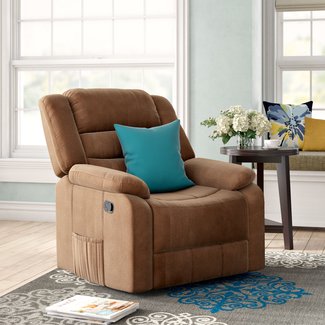 Reclining Heated Massage Chair
If there is anything better than a perfectly sized recliner at the end of your busy day, then it is a heated, massage recliner. Upholstered with microfiber fabric in a choice of brown, beige, camo or gray, you can easily fit it into your current living room or den décor. It reclines 120 degrees, has a footprint of 38 ½ inches by 36 inches, and requires 26 inches of lean-back space.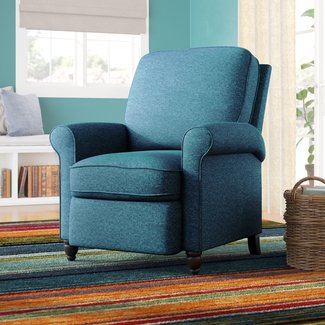 Leni 21" Manual Recliner
Your recliner doesn't have to look like the clunky, Naugahyde monster your grandfather might have purchased. You can have both comfort and style with a turquoise, linen upholstery over a framework that looks like a simple easy chair at first glance. A tug on the manual lever on the side of the chair, and you are in a comfortable recliner. Other colors, including prints, are also available. You can even have it in chenille.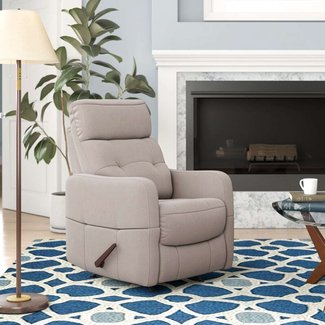 Minogue 21" Manual Rocker Recliner
What is better than a rocking chair or a recliner? A reclining rocking chair, of course. Upholstered in soft velour, dry clean only, the resilient springs are covered with layers of foam, adding an additional layer of luxury. The recline allowance needed at the back is only 14 inches, a tidy savings on the space often needed by recliners. A manual handle is used to initiate the recline, making the change from rocking chair to recliner.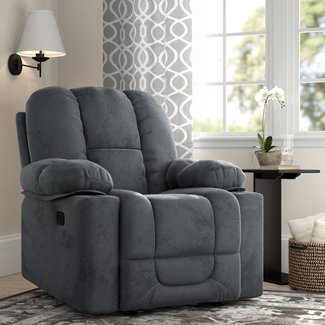 Mcfall Manual Glider Recliner

Gliders have an advantage over regular rockers when it comes to converting to a recliner. Since they are already on a platform, there is no concern about tipping the seat to take advantage of the rocking motion. Not only does this chair recline, it has two cup holders for the seated person's convenience. The recline function is initiated with a manual lever on the side of the chair. The polyester upholstery is backed by foam for extra comfort.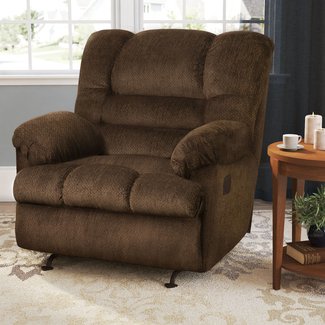 Merion 22.5" Manual Rocker Recliner
Comfortable polyester upholstery, soft foam covering state-of-the-art springs, a manual recliner lever and a choice of muted designer colors add up to a remarkably comfortable puffy rocker/recliner. Made in the USA, it is built to accommodate people's weight up to 250 pounds. The chair reclines into three different positions to accommodate different activities. All this adds up to a comfortable, classy chair. Spot clean the fabric with mild soap and water.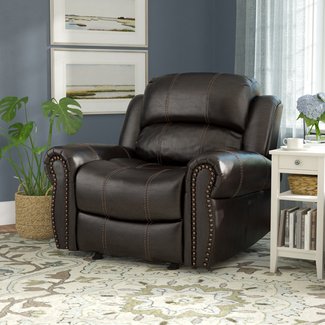 Swarey 23.25" Manual Glider Recliner
Beautiful brown faux leather, studded with decorative nails, make this manual recliner something special. Add decorative stitching and a glider platform, and you have a rocker that can scarcely be distinguished from a regular rocker until you use the lever to extrude the footstool. It is the perfect chair to be the focal point of a study or den. Some assembly is required and a second person is needed for the process.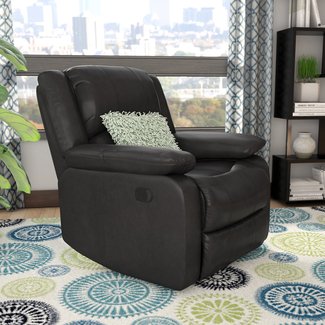 Kai Manual Recliner
Sleek, black faux leather, gathered at the seams to emphasize the puffy, pillow cushion invitation of this elegant armchair. It doesn't rock, and it has only two positions, but it makes a quiet statement that has to do with professionalism and elegance. More than that, it promises comfort for those so-needed power naps needed by every person who works with computers or paperwork. No studs or fancy stitching. Just clean, classic lines.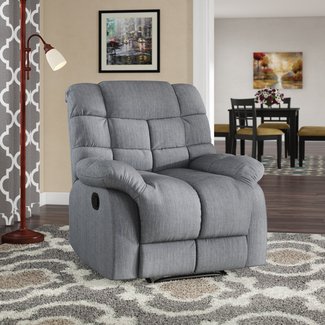 Hallenbeck Manual Recliner
Even the appearance of this pillow armed, deeply cushioned chair with modest stitching telegraphs comfort in every direction. The soft gray polyester blend fabric has a luxurious linen look that will not look out of place in any living room. The fabric is stain resistant. The chair will recline to 145 degrees, which is nearly flat. Its maximum weight is 300 pounds, made in China. No rockers, manual recliner, but it invites relaxation.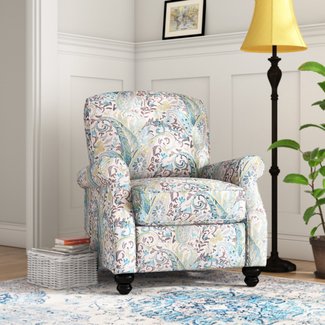 Lincolnton 20.5" Manual Recliner
This is the recliner that proves that they are not just for him. This beautiful floral paisley print chair would be perfect in a formal sitting room, a sewing room or family living room. Perfect to team with a solidly colored couch or living room suite as an occasional chair, it is a comfortable, manual recliner. Perfect for putting your feet up in the afternoon, or even to catch a quick nap.
Reclining Massage Chair
With an upper weight limit of 330 pounds, this chair, with its wide design and broad arms is welcoming for the big or tall person on your gift-giving list. It heats up, and it massages, for end of day relaxation. The headrest and footrest are both adjustable for the best comfort. It has a remote control, and there is an automatic shutoff so you don't need to worry about falling asleep under the luxurious ministration of this supremely comforting chair.