Wall Mounted Storage
Getting enough storage at home is never easy but innovative solutions like wall mounted storage are changing all this. Wall mounted storage can also be a great way to get organized. It can be used to neatly store your CDs and DVDs as well. Wall mounted storage solutions are constructed using a wide range of materials. Even though wood is very popular, you may also find metal-based designs featuring glass accents too. The storage capacity also varies from one unit to another. Multi-tier designs with three to four shelves should be enough to take care of any storage needs. But in case you need something smaller and compact, there will be something for you out there.
Our choice Best Wall Mounted Storage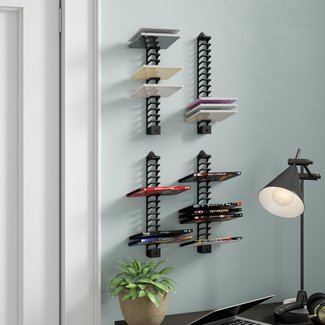 Multimedia Wall Mounted Storage Rack (Set of 4)
These steel and eucalyptus storage racks make any room clutter-free. Mount these four racks in the configuration that best suits your needs. Combined they hold 60 discs keeping your CDs, DVDs or video games away from curious children. The racks come in at just under a pound each and can fit on the back of a door at a depth of 1.5 inches and are ideal for small spaces. Organizing your music, movie, or gaming collection is effortless with these easy-to-mount storage racks.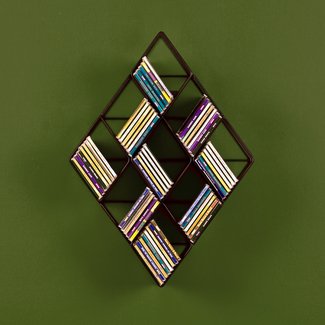 Multimedia Wall Mounted Media Storage
This modern steel rack sports a diamond motif and looks sleek and stylish while at the same time being incredibly functional. It only uses a small amount of space but holds a ton of media, which reviewers love. The sturdy wire frame may look decorative, but it can easily hold a hefty 108 CDs or DVDs on your wall. You'll love the durability of this storage unit as well as its contemporary vibe.
Cataleya Floating Wall Mounted Multimedia Storage
Save floor space and store more than 300 CDs and 140 DVDs or games in this classically designed floating wall storage unit. This stylish addition to your entertainment room is made from manufactured wood for a lightweight frame that can be easily mounted on any wall in your home. The unit comes in brown and black with adjustable shelves. Mount the unit above your multimedia system or dress up a bare wall.
Triple Media Multimedia Wall Mounted Storage Rack
Make the most of your vertical space with our classically styled wall-mounted storage rack. Available in black, cherry or espresso, the shelves are fully adjustable so you can find a configuration to display your CDs, DVDs or memorabilia. With storage for more than 200 DVDs and 500 CDs, our storage unit makes the perfect addition to your living room, den or entertainment area.
35 CD Multimedia Wire Rack
Display your prized CD collection in our easy access wall-mounted multimedia wire rack. Made from black matte steel, the rack can securely hold up to 35 CDs as both a vertical wall-mounted unit and free-standing unit. The slim profile makes it ideal for adding storage to narrow spaces such as hallways, corners and behind doors. Mount the unit alongside your multimedia system to give your home décor a sleek, minimalistic look.
Multimedia Wall Mounted Cabinet
Keep your CD and DVD collection in pristine condition with this wall-mounted multimedia storage cabinet. The easy to assemble unit is made from elegantly designed oak veneer with a sleek, understated design that blends well with any décor style. The inner shelves can be configured to fit up to 350 CDs or 144 DVDs or video games, while the sliding paneled glass doors keep your items protected and dust-free.
Multimedia Wall Mounted Cabinet
Protect your CD and DVD collection or first edition books from dust with the gorgeous wall-mounted multimedia cabinet. Crafted from MDF with a chic dark stained oak veneer, the unit features finely crafted moldings, three glass paneled sliding doors and a sleek design to complement any style of décor. It can accommodate even the largest of multimedia collections with a capacity for over 500 CDs or 200 DVDs and games. For mixed collections, the 12 shelves can be adjusted in a variety of configurations.
Lansing Space Saving Multimedia Wall Mounted Media Storage
Store your favorite books, multimedia, and knick-knacks in our versatile contemporary storage unit. The simple to follow assembly instructions are provided in illustration format. The unit comes in black and espresso finishes to blend seamlessly with any décor style and features 7 adjustable shelves. The slimline 8-tiered shelf unit can be used as wall-mounted extra storage or as a stand-alone unit secured with a tip-over restraint device.
Cataleya Quad Multimedia Storage Rack
For the perfect storage unit for booklovers, look no further than the beautifully crafted quad multimedia storage unit. Crafted from manufactured wood, this library-style unit offers a unique tiered design that features contemporary crown moldings for a sophisticated finish. The storage unit is divided into four separate sections, each with multiple adjustable shelves that allow you to store a variety of items from books to CDs to DVDs and games.
28 DVD Multimedia Wire Rack
For movie buffs with a growing collection of DVDs, this sleek and stylish wall-mounted wire rack offers added storage while still allowing easy access to your favorite classics. The geometric wire frame is made from matte black steel with an open structure to give a modern look to your living area. The unit can be easily attached to any wall in your home or used as a free-standing vertical unit next to your television.