Our Choice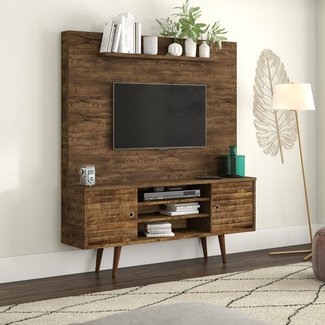 Pinette TV Stand for TVs up to 28 inches
This modern and minimal TV stand enables you to keep your TV mounted without making holes in your walls. The stand features a specially designed column with an interior channel that keeps unsightly cables hidden. Unlike many other stands on the market, it offers a swiveling mount so you can reposition your screen at any time. With two shelves for keeping multimedia units and gaming consoles, this versatile piece is designed to meet your entertainment needs.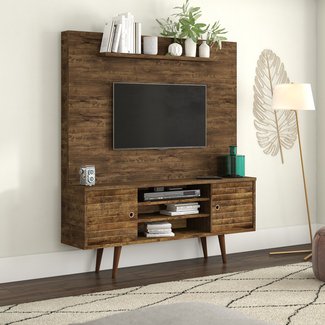 Hayward Floating Entertainment Center for TVs up to 60 inches
Combining mid-century design with rustic charm, this TV stand is the ideal piece for a transitional style entertainment area. It features open shelves for placing gaming consoles and DVD players, as well as concealed cubby spaces for storing multimedia items. The large mounting panel can hold TV screens up to 45 lbs. and features a cable management system to keep wires tucked away out of sight.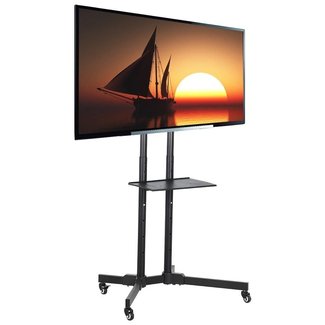 Ginny TV Stand for TVs up to 40 inches
This portable TV mount can hold screens up to 65-inches and is ideal for classrooms, tradeshows, and conference rooms. The dual column structure provides added stability and contains channels to hide cables from the TV and multimedia system. Four smooth-rolling casters attached to the base allow you to quickly and easily move your TV between rooms, no matter the floor surface.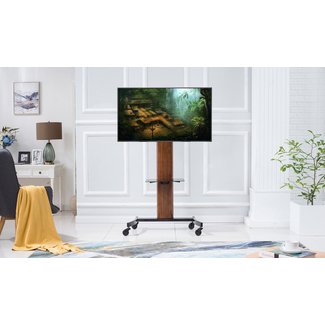 Jankowski TV Stand for TVs up to 75 inches
Elegantly designed with a hand-rubbed walnut veneer, this stand is a stylish addition to your home, as well as a lecture hall, board room, or college classroom. The stand features a universal mounting system that enables you to attach a wide variety of screens from LCD to plasma TVs up to 75-inches. The shelf offers the perfect position for speakers or soundbars, and the commercial-grade rolling casters are lockable.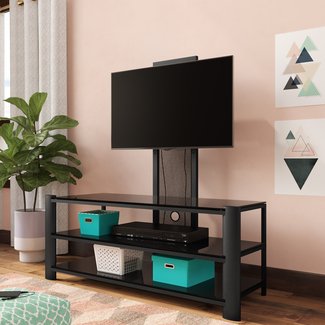 Wesner TV Stand for TVs up to 60 inches
Perfect for watching the big game or your favorite show, this TV stand features a fully integrated mount that can safely hold screens up to 42-inches. Designed with a modern aesthetic, the steel structure offers durable support, and the combination of a matte black frame with high-gloss shelves gives added interest and texture to your entertainment area. Three shelves provide ample space for storing digital players, as well as your collection of CDs, DVDs, and games.
Gwen TV Stand for TVs up to 80 inches
Create a focal point in your den or entertainment room with this stunning entertainment stand with TV mount. The stand is designed with contemporary elements such as a curved wood frame and tempered glass shelves. The integrated TV mount is constructed from heavy-gauge powder-coated steel to support 35"-80" TV screens with a cable management system and a pivoting head that allows you to easily adjust the angle of the screen for a better viewing experience.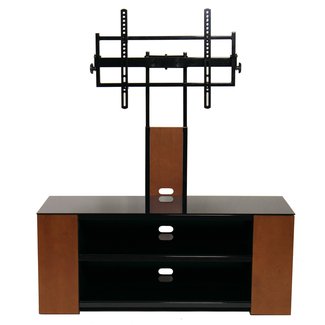 Armine Enclosed Storage TV Stand for TVs up to 88 inches
With a modern wood and metal design, this TV stand blends in seamlessly with your rec room or den. The stand can hold a range of screen sizes up to 150 lbs. and features tempered glass shelves to hold audiovisual equipment, as well as a central speaker or soundbar. On either side of the shelves are discreet cabinets that can hold up to 150 CDs or DVDs, and the cable management system keeps wires and cords out of sight for a clutter-free entertainment area.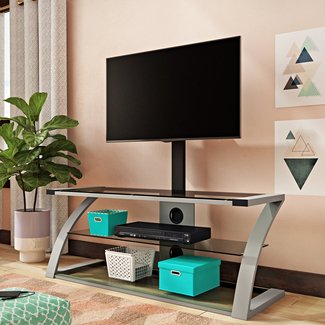 Trosper TV Stand for TVs up to 50 inches
Geometric lines with a combination of metal and glass make this TV stand an eye-catching modern addition to your home. Designed to accommodate TVs up to 55-inches, the mount features a channel to contain cables and three shelves to store digital players, speakers, and multimedia items. The stands uniquely constructed frame provides incredible stability, but it also comes with a tip-over restraint device for added safety.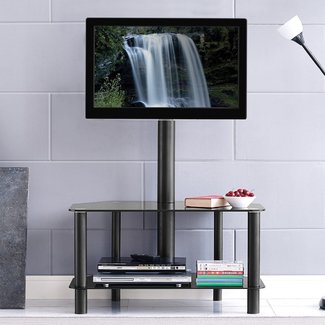 Wray TV Stand for TVs up to 32 inches
Compact and stylish, this sleek metal frame TV stand is ideally suited to homes with a modern, minimalist aesthetic. The high-gauge metal mount can support TV screens up to 150 lbs. Two high-gloss open shelves offer ample space for accommodating digital players and movie collections, and a rounded central column features an internal channel that hides cables to prevent tangling.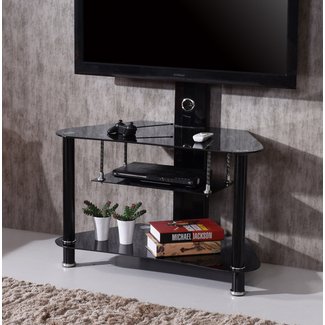 Howard TV Stand for TVs up to 40 inches
Constructed from a durable metal frame with tempered glass safety shelves, this stand has a contemporary aesthetic and is ideally suited for small spaces like a teen's bedroom or an apartment living room. It features a swiveling mount to support TVs up to 42-inches and three open shelves for storing DVD players, gaming consoles, and speakers, as well as space to accommodate your movie or CD collection.