Media Shelf Towers
Media shelf towers offer a simple and effective way to get all your DVDs and CDs fully organized. Media shelf towers are mostly designed to stand on the floor and may feature a wide variety of designs and finishes too. These amazing storage pieces are available in many different sizes. Whether you are looking for a large shelve for your large collection of video games and DVDs, or something small to accentuate your living room, you will always find a product to meet your needs. Some shelves can hold up to 1,500 DVDs and the good news is that they don't take too much floor space.
Our choice Best Media Shelf Towers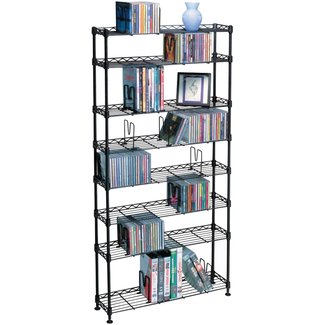 8-Tier Adjustable Multimedia Wire Rack
Get your media works under control with this 8-shelf attractive rack. Transparent from all sides, black finished steel rods hold CDs, DVDs and Blu-ray discs firmly in place. No more searching under sofa cushions or in drawers for your favorite DVD. When starting out a collection, adjustable metal plates will hold your favorites firmly in place. Even if you have been collecting for years, the tray back and side edges can hold up to 440 CDs or 228 DVDs or 264 Blu-ray discs. However, if you have other media game types or even books, the adjustable plates can still be used. There is a tip over restraint device included and it is possible to mount to a wall for further protection.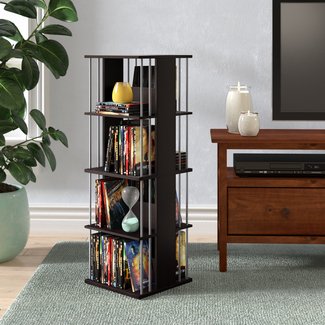 216 CD Multimedia Revolving Tower
Let your fingers do the walking with this revolving multimedia tower. Set on a ball-bearing base, you can easily glide your way to whatever form of entertainment awaits you. Nearly 3' tall, a straight wood frame with outlying thin silver poles is a modern and sophisticated way to show off your collection of multimedia. There are 2 open sides that hold 57 VHS tapes, 216 CDs and 144 DVDs. The other opposite sides draw attraction to the sleek dark wood and satin metal poles. The open spaces can also be used for storing games, small books or silhouetting special items.  There is also a one-year warranty on this product.
Pinevalley Multimedia Revolving Tower
Too many CDs does not mean you need to get rid of them. Make the room with this revolving tower that holds over 1040 CDs in just one square foot of floor space. 28 shelves on 4 open sides will make it easy to see your selection. Arrange by date, genre, or type and always know where to look. Manufactured wood in dark walnut will compliment any decor. The spinning mechanism has a 5-year warranty and the room for turning is less than 2'. This multimedia tower is perfect for a corner unless you would like to show it off.
504 CD Multimedia Storage Rack
Slim and sturdy, this storage rack is made from solid red oak. It makes a powerful statement regarding its form and dexterity in performing the job.  You will not see any metal screws or glue on this superb work of furniture. Using wood crafted dowels, you will see the precision in the workmanship of the 9 racks that have been perfectly balanced on the stand. Will look striking in a library, den or a home office. The quality is such that anywhere it is placed will quickly draw attention.  Has the capacity to hold 504 CDs comfortably. The only assembly is to attach the feet.
Nocona Snowberry Multimedia Wire Rack Media Storage
Not all wire racks are suitable for outdoor use, but this elegant piece is durable enough for indoor or outdoor use. Mainly used as a multimedia wire rack media storage unit, this delicate metal showcase can serve as both. Made of all-weather antique black finish that is both water and UV resistant, this sculptured rack serves many purposes. As an indoor beauty, multimedia can sit proudly on 6 shelves with slatted bottoms for a comfortable fit for your CDs and DVDs. The antique black finish is rust resistant and can easily be moved outdoors for a Tuscon beauty for your plants. This unit is also foldable for easy storage.
275 CD Multimedia Storage Rack
Quality and detail are two of the most distinguishing factors when it comes to furnishings. This multimedia storage rack is made from 100% red oak, one of the strongest timber that there is. It has been finished with a scratch and stain resistant protectant that further enhances and endures the beauty and longevity. 275 CD's or 180 Audio Cassettes can fit easily on the 5-tier rack that is built with dowels. A stunning piece of craftsmanship, dowel rods have been used for centuries and eliminate the need for hardware with a snug fit into a bored hole. A little over 3' tall and 2' wide, this beauty works with any type of decor. Two wooden bookends are included.
Wave Multimedia Storage Rack
This quirky media rack will dance its way into your heart and bring a smile to your face. Wood and heavy gauge steel keep the base grounded while the rack appears to be swaying. People of all ages will be entertained with this 52" tall gravity-defying tower that holds 110 CDs. Place next to your entertainment center for a quick pick of the contents. Solid cherry wood balls top the black steel rods that create the unusual look. 8 individual racks securely hold your music. Eclectic decors will appreciate this fine work of art.
100 CD Multimedia Nestable Wire Rack
A new twist on a modern concept can be found with this multimedia wire rack. A gunmetal finish on sturdy metal begins with a straight front and ends with a looped back. The space-saving design leaves room for other furnishings while packing 100 CDs in the tower. 31.75'' H x 11.13'' W x 8'' D in measurement, the empty unit only weighs 5 pounds, giving you the flexibility to transport. Modern, minimalist and urban industrial will enjoy this attractive nestable wire rack, as well as those living in limited spaces. Comes with a 1-year limited warranty.
VHS Dowel Multimedia Storage Rack
Built with genuine oak wood, this storage rack will compliment any type of decor. Straight side panels are rounded on the top edge to soften the look. Dowel rods and oak bookends keep 240 CDs secure and easy to read. There is no hardware due to the custom design of the rods and the 61.5"tall unit rests sturdy on the oak base. Scratch resistant and stain resistant, your rack will last for years. Set alone against a wall or close to your media center where titles are easily displayed for your choosing.
Multimedia Wire Tower
A simple approach to your media storage, this solid wood piece with a honey oak finish is easy to stock and is attractive in any setting. From contemporary to country, this short tower can be set on a console table or desk for easy access. Only 26.87'' H x 30.75'' W x 6.75'' D, this tower weighs an astounding 46 pounds when empty.  Quality craftsmanship and materials have been used to hold 200 to 300 of your favorite CDs. A larger version is also available and this unit is shipped fully assembled.