With age, your muscles become weaker, and your body is more easily fatigued, making it challenging to maintain good posture when sitting for long periods. So, what are the best armchairs that are elderly-friendly? To prevent your body from leaning to one side or slouching, you'll need to select an armchair with features like lateral supports, a footrest, comfortable armrests, and sufficient back and head support.
Of course, comfort isn't the only factor to consider. An armchair that becomes your TV chair or space for reading with a cup of tea needs to be a focal point of the room and should be stylish while complementing your existing decor. Get started by making a list of all the functional and aesthetic features you need your ideal armchair to possess, then check out these ten options to see which one meets your needs.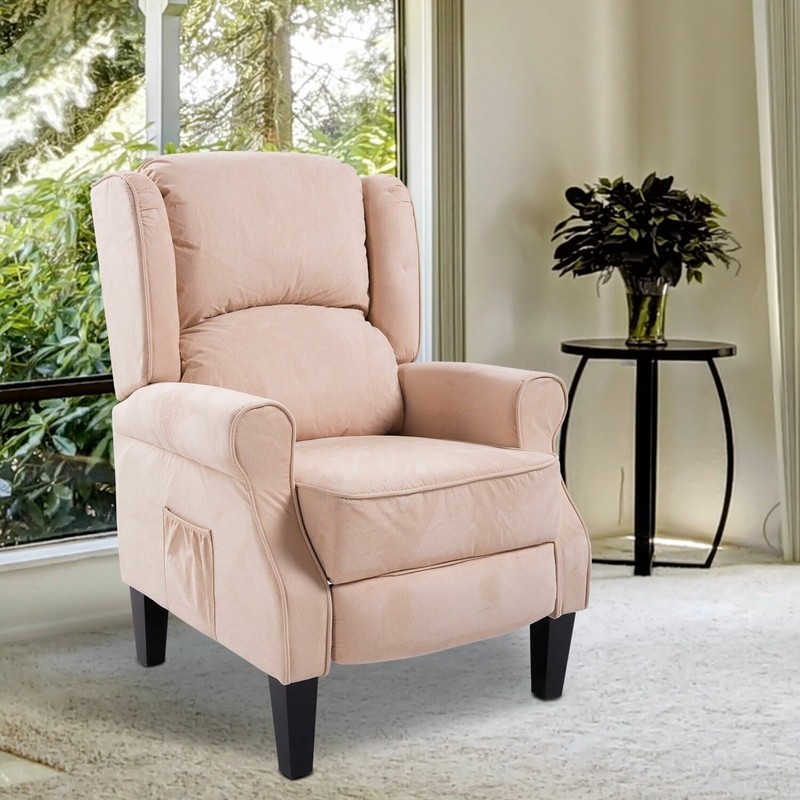 Andover Mills Reclining Massage Chair: Best Stylish Massage Chair For Seniors

What we like: The stylish design
What we don't like: The footrest is a little narrow
Oftentimes comfortable chairs for seniors are bulky and lack style, but this chic wingback armchair blends seamlessly alongside traditional couches and other armchairs.
However, style doesn't trump comfort as this recliner sports massagers in the back, waist, seat, and footrest and even has a heating function at waist height that is ideal for easing lumbar pain or taking the chill out of a winter night.
The recliner is a manual push-back style that's very simple to operate, and the handy remote control lets you operate the massage and heating functions.
Although the footrest is a little narrow, it offers a comfortable sleeping position, and the thickly padded headrest makes this the ideal armchair for napping, watching TV, or reading. It's the perfect relaxing chair for an old person. The faux leather surface is super soft and easy to wipe clean.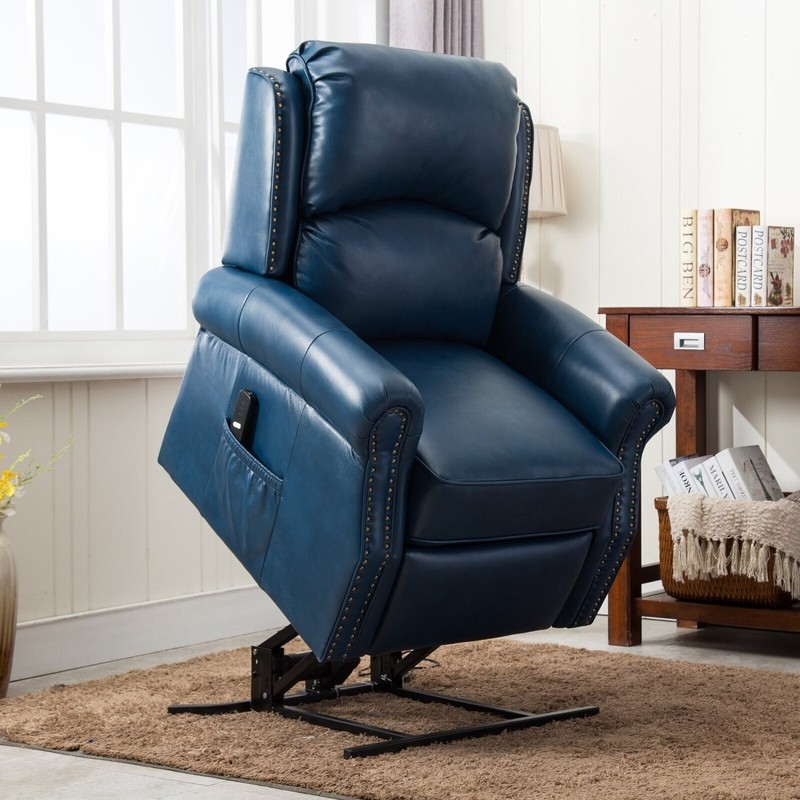 Lannie Power Lift Assist Standard Recliner: Best Armchair For Elderly People With Traditional Tastes

What we like: The incorporated USB port
What we don't like: The footrest is too short for the average person
This faux leather power lift assist standard recliner combines modernity and tradition to offer one of the best chairs for old people on the market. The classy nailhead trim and accented stitching give the recliner the look of a timeless piece of furniture that will never go out of style.
This traditional aesthetic belies cutting-edge features such as a USB port to charge devices and a gentle lift assist motor with a backup battery, which is incredibly useful in the event of a power cut.
The faux leather upholstery (available in striking blue or classic brown) is easy to clean and very durable. The whole chair is extremely sturdy, with an impressive weight capacity of 400 lbs.
$639.99 $699.99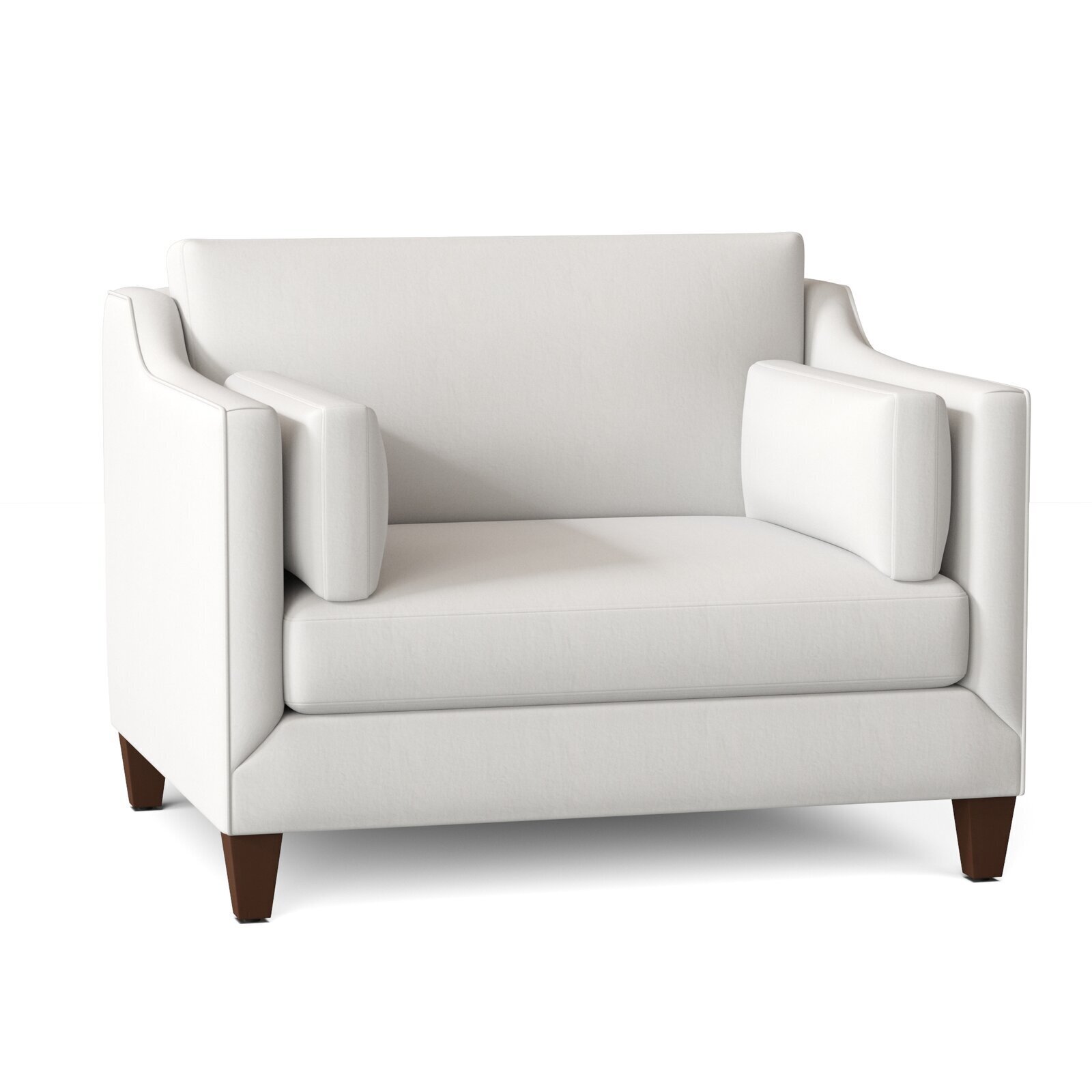 Annette 43" Wide Armchair: Best Wide Chair With Arms For Seniors

What we like: The reversible toss cushions
What we don't like: Cushion covers cannot be dry cleaned
If you're looking for something larger than the average armchair but smaller than a couch, this extra-wide model is a perfect choice. While it has not been designed specifically for the elderly in mind, it is an extremely comfortable chair for seniors thanks to the wide seat and the firm toss cushions, which can be used to increase the size of the arms or as lumbar support.
At 20" high, the seat has the recommended seat height for the elderly to make it easy to get in and out of. The classic design means it will never go out of style, and it blends well with other furniture, while the wide seat is perfect for snuggling with young grandchildren or a furry friend.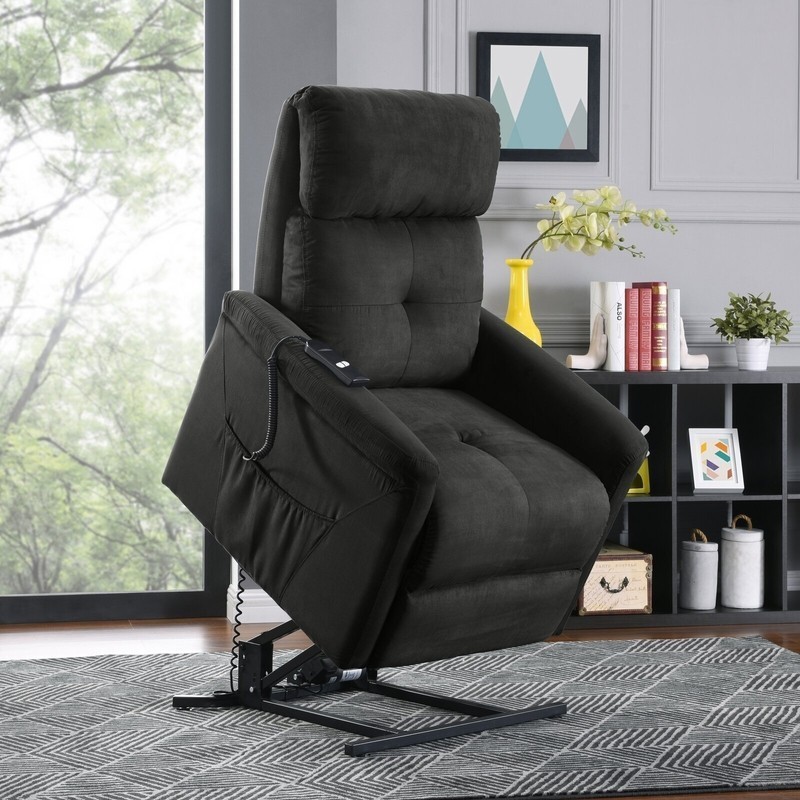 Koepke 32'' Wide Power Lift Assist Standard Recliner: Best Sleek Lift Assist Chair For the Elderly

What we like: The streamlined design
What we don't like: The seat is a narrow fit
Lift assist chairs are ideal chairs for elderly persons as getting in and out of armchairs can be a struggle in old age. This sleek recliner model gently eases you in and out of the chair thanks to its lift motor, which can be powered with a wall plug or battery pack and is controlled with a wired remote control that fits neatly in the side pocket.
The high back (42.5"), sturdy arms, and tufted cushions make the recliner super comfortable for spending long stretches of time relaxing at home. The chair has been cleverly designed to suit smaller homes as it doesn't take up too much space, unlike the average lift assist recliner. However, it may not be suitable for those looking for a wider seat as the seat comes in at just 32".
$489.99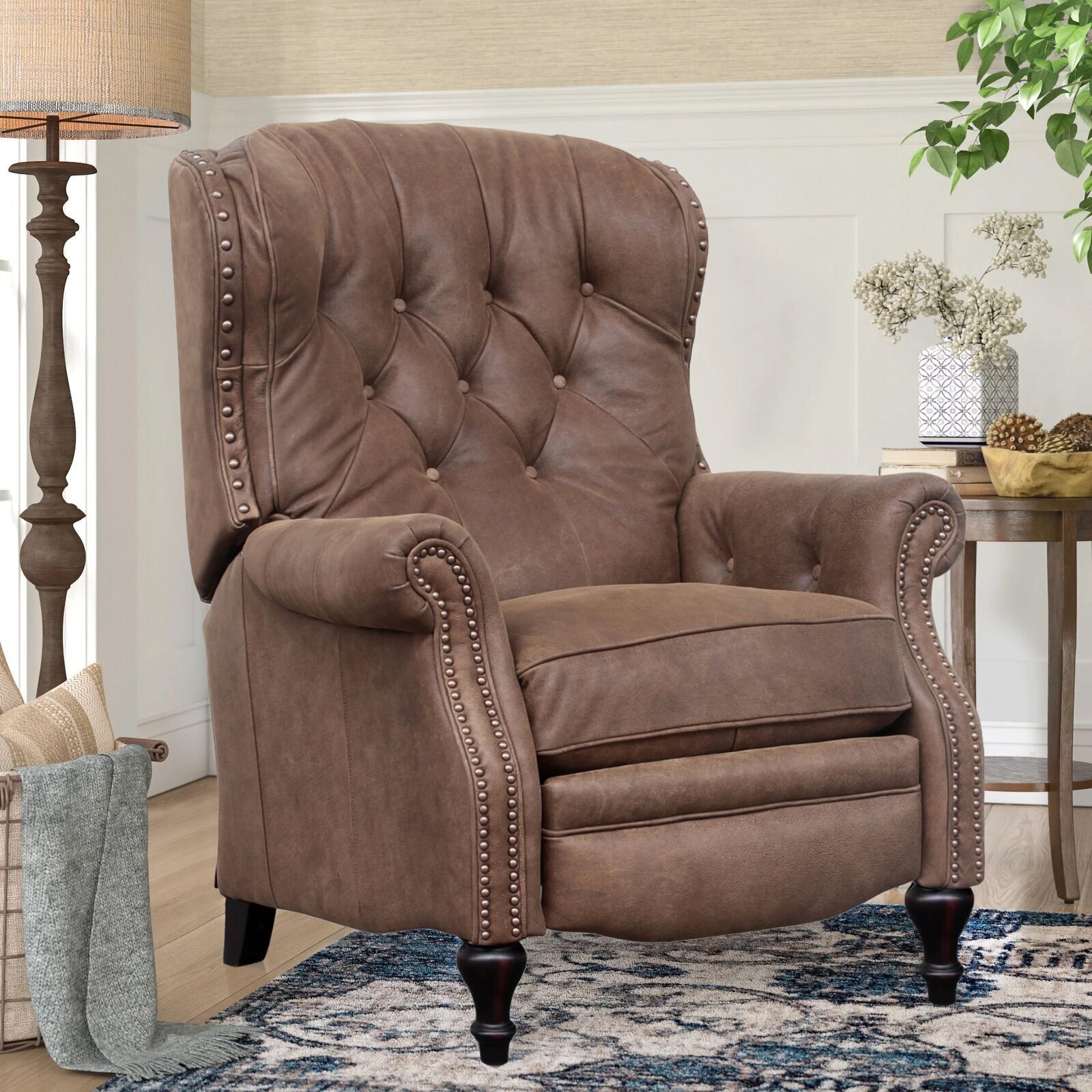 Deandra Genuine Leather Manual Recliner: Best High Seat Chairs For Seniors

What we like: The down-filled cushions
What we don't like: The higher price point
Wingback chairs are renowned for being comfortable because they provide support for the back, arms, and head whether you are reading, relaxing, or taking a nap, and this Deandra manual recliner is no different.
The down-filled cushions, supple genuine leather upholstery, and 21.5" height seat make this armchair comfortable to sit in as well as easy to get in and out of. The armchair can be used in various positions, thanks to the footrest and reclining back; however, it does not fully recline.
Available in five attractive colors and sporting brass nailhead trims, hand-carved wooden legs, and rolltop armrests, the classic aesthetic would be pleasing for anyone considering buying comfortable chairs for seniors. It is also classed as "environmentally preferable," meaning the chair was manufactured in an environmentally conscious way.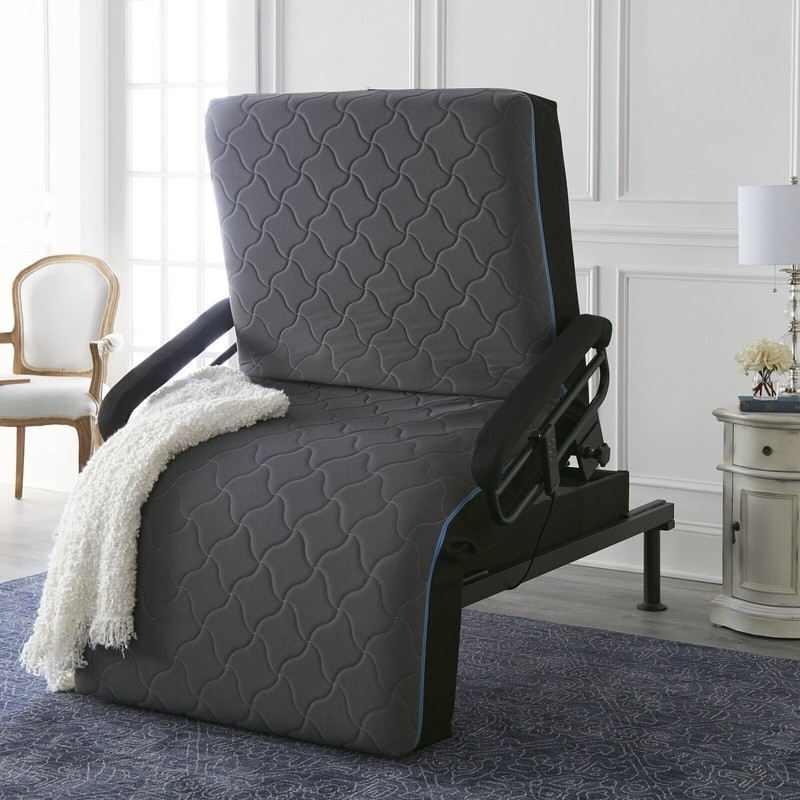 Aden Power Lift Assist Zero Gravity Recliner: Best Easy Chair For Senior Citizens

What we like: It serves as a bed and armchair
What we don't like: Assembly is challenging for a single person
This recliner is a wonderful option for anyone who has been searching for orthopedic chairs for elderly relatives. Not only is it a comfortable armchair with an in-built footrest, but it also reclines into a fully functioning bed. The power lift assist motor can gently take you from reclining to sitting upright to standing with the click of a button.
The mattress is 6" thick and is made from two layers of premium foam: 2" of cooling gel-infused memory foam that contours to the body and 4" of high-density foam that provides support. A mattress protector can be added for extra comfort and ease of cleaning.
The EZ Out Chair Bed is ideal for anyone with physical mobility issues, such as the elderly, who want to get in and out of sitting and reclining positions independently. One small trade-off for this exceptional chair bed is that it is not as stylish as some regular recliners, but for many, that is a small price to pay for the convenience it offers.
$1489.99 $1669.99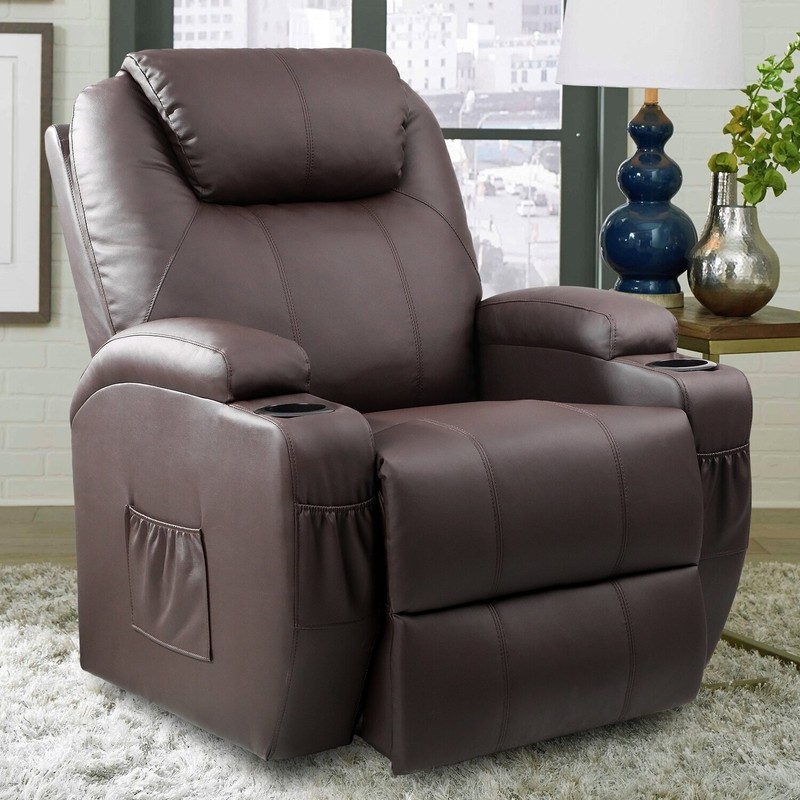 Aairah Power Lift Assist Standard Recliner with Massager: Best Massaging Chair For Old People

What we like: The customizable massage and heat functions.
What we don't like: It takes up quite a lot of space.
Massaging recliners are a fantastic option for a relaxing chair for an old person as they offer various comfortable sitting and reclining positions and can help reduce back pain and tension. However, you don't always want to have a full massage, and the Aairah power lift assist recliner allows the user to customize their experience.
With five modes, four optional parts, two strengths, local heating function, and zero gravity experience, you can use this recliner to alleviate your aches and pains. It is also fitted with handy features such as multiple pockets and two cup holders, so you can keep everything you need close by.
On the downside, as with many power lift assist recliners, it takes up quite a lot of space in a room, so it isn't ideal for smaller homes.
$433.17 $588.32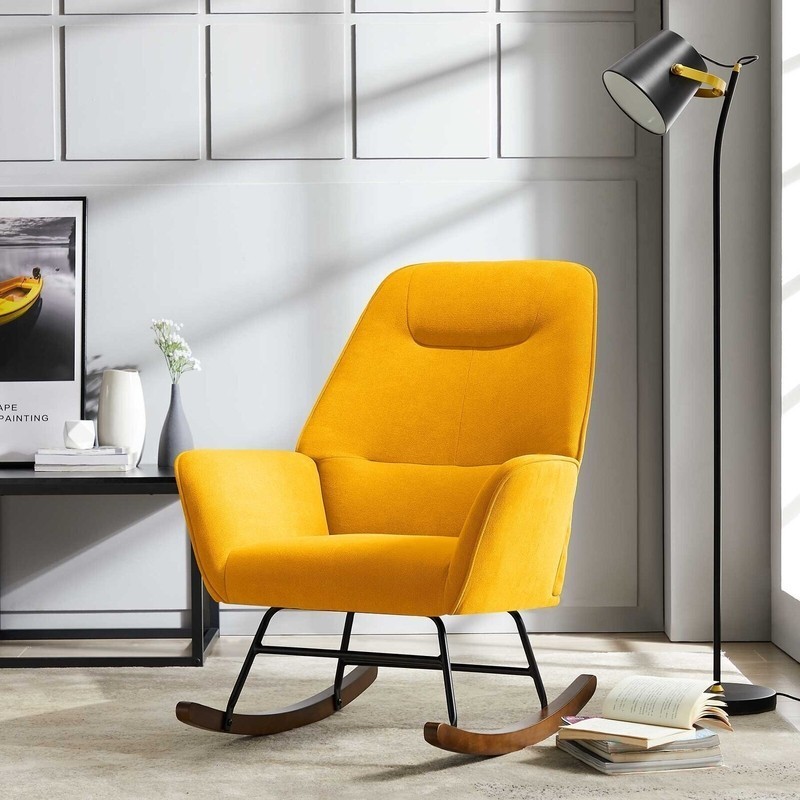 Kinlaw Reclining Rocking Chair: Best Rocking Chair For The Elderly

What we like: The ergonomically designed backrest
What we don't like: Assembly is a little complicated
Rocking chairs are a great option for a relaxing chair for an old person as the gentle motion is extremely soothing. This chic, modern design has a contemporary twist on the classic rocking chair that the style-conscious senior will love.
Padded with comfortable foam and fitted with an ergonomically designed high backrest that provides back, neck, and head support, the Kinlaw Reclining Rocking Chair offers comfort and allows you to gently rock as you doze off, read a book, or watch the world go by on your porch.
This rocking chair is available in three bold colors. The strong metal frame and stylish solid wooden rockers are durable and high quality; however, the chair only offers a relatively low weight capacity of 230lbs. compared with other rocking armchairs on the market.
$199.99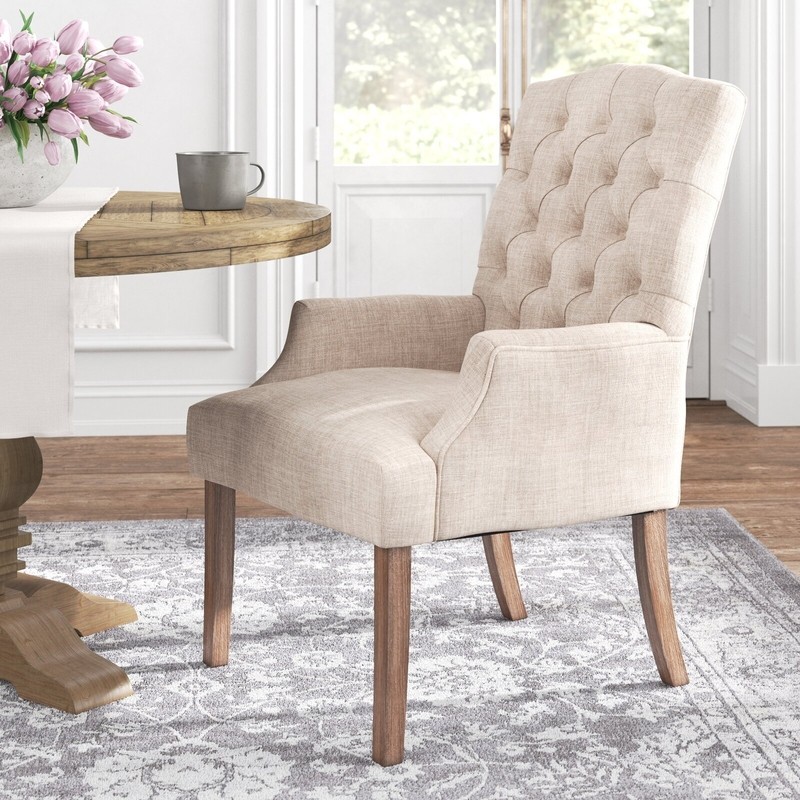 Lila Tufted Linen Arm Chair: Best Padded Dining Chair For Elderly People

What we like: The sturdiness of the chair
What we don't like: It is too large for some dining rooms
It can be difficult to find dining room chairs that are comfortable enough for seniors to enjoy sitting in during a long family meal; that's why the Lila Tufted Linen Arm Chair is one of the best chairs for elderly people: it's incredibly comfortable.
This chair is completely padded and sports a high backrest with elegant tufting and sturdy yet graceful armrests, making it both supportive and stylish. The light linen upholstery means it's cool to sit on even in the summer months, and solid wood legs make it a durable piece of furniture.
A feature that many seniors love is the chair's wide seat. However, this does make it a rather large piece that isn't suitable for every dining room despite its stylish elegance.
$349.99 $397.78
OUR ADVICE Questions & Answers
How to choose the height of an armchair for an elderly person?
While a higher seat makes it easier to get in and get out of the armchair, one that's too high puts a lot of pressure on the back of the thighs. If the feet can't touch the floor, sitting will be uncomfortable. It's very important to get an armchair appropriate for the height of the person who will be using it, therefore armchairs with adjustable height are a very good choice.

What about the depth?
The armchair has to be deep enough to offer support for the full length of the thighs. However, the person using the armchair shouldn't have to lean back. Overly deep armchair can be made shorter by adding a cushion behind the user's back.

And the armrests?
Armrests should provide support without the need of raising or dropping the shoulders.

Considering all that, is there a perfect armchair for elderly people?
It is true that armchairs for elderly people have to be chosen carefully, as a mistake could be dangerous to the well-being of the chair's user. While standard armchairs, as long as of appropriate size, are fine, completely adjustable armchairs are much more convenient. They are, however, also the most expensive ones.

Are footstools a good idea?
Elderly people with certain conditions might gain relief if they can keep their legs elevated, and that's why it's good to have footstools. However, it's crucial to remember that these footstools have to be moved away before attempting to stand, to avoid tripping.

Is there anything else I should consider?
Armchairs with head support are a good choice. Some elderly people have problems with head control, and additional support is always welcome. As poor head control can impact the ability to breathe and feed, this feature can be very helpful. Other than that, wheels are a very convenient addition, as they allow to easily move the armchair around the house, even while someone is using it!

Are armchairs with pressure management a good choice?
Elderly people tend to spend most of their time in armchairs, and therefore pressure management can be very beneficial. It reduces the risk of developing pressure ulcers (bed sores) and improves the overall comfort.

I know that armchairs for elderly people are mostly for utility, but what about design?
Don't worry! Even the medical-grade armchairs for elderly people come in various designs, most of them able to fit the most popular interior styles. However, as older people sleep in their chairs a lot, keep the colours gentle and calm, not to make falling asleep harder.

What are my fabric choices?
Armchair for elderly people should be durable, easy to clean and should be able to "breathe". Now, depending on the situation, one characteristic might be more important than the others – breathable fabric is important especially for people who rarely move out of the chair, while being easy to clean is more important for people with worse arms control.