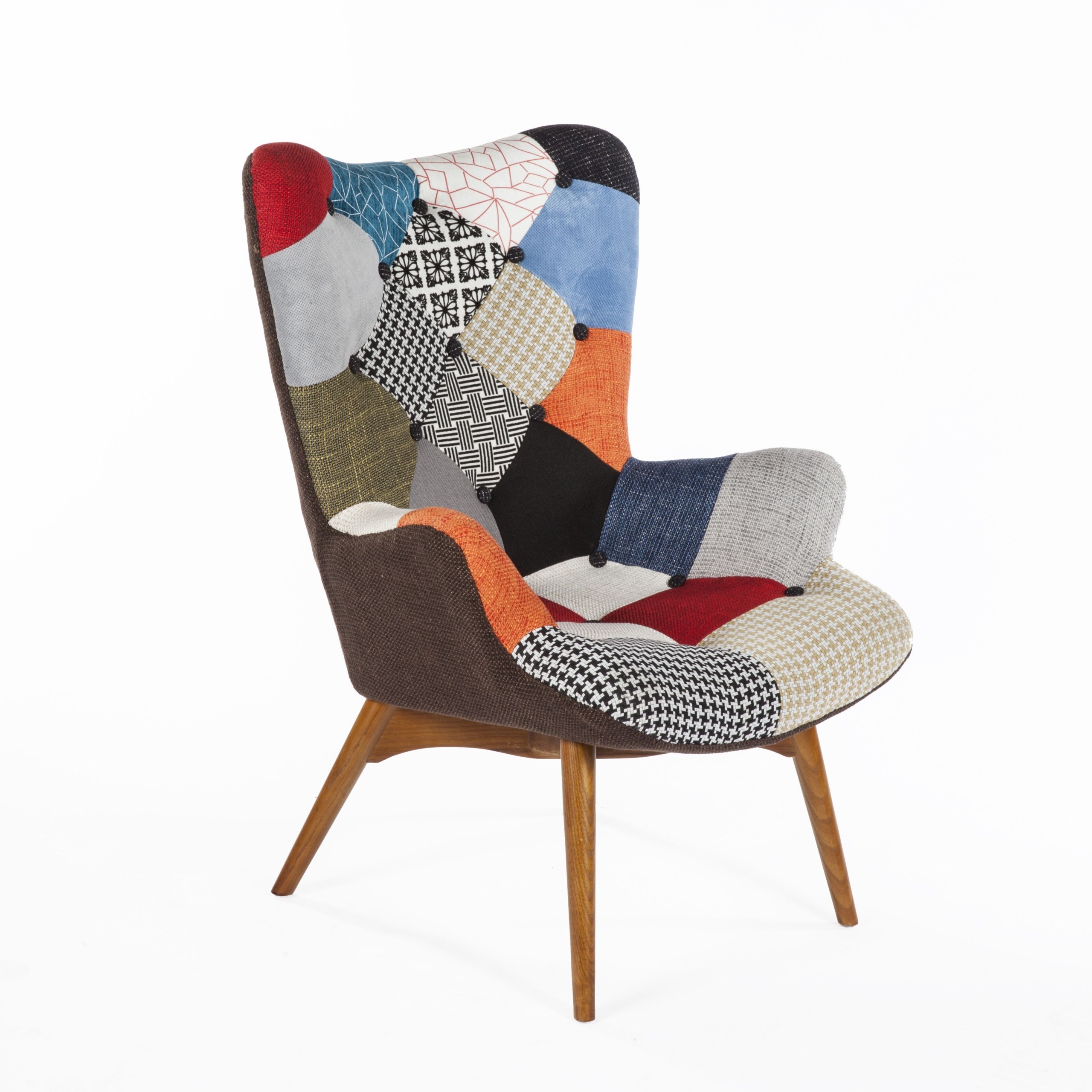 Patchwork Arm Chair
Cool retro style armchair with a wooden and metal frame. It has round splayed wooden legs with a natural finish. It features a wide tall back, low full arms and a deep seat. Upholstery is of poly-acrylic blend with a colourful patchwork pattern.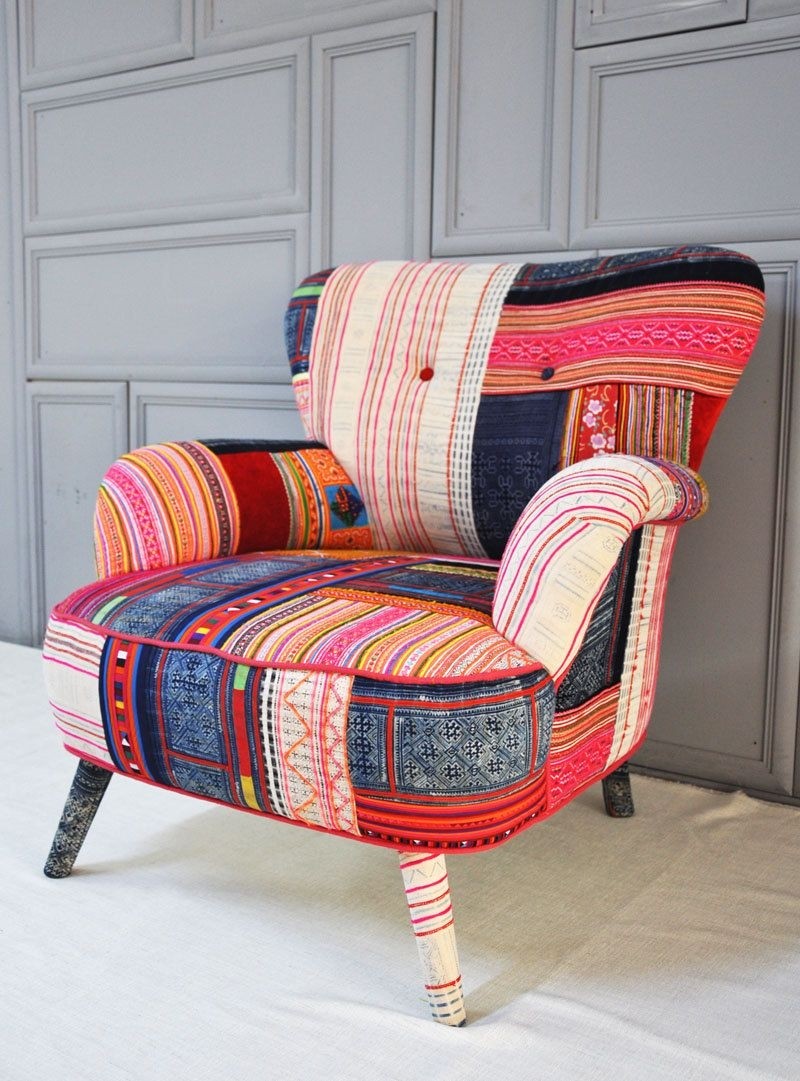 Thai Hmong Patchwork Armchair
Identify this stylish patchwork armchairs as - sympathetic, is well said. The cover is made up of many fabrics of various designs - but meticulously selected.Not only the seat, but also the backrest or even the feet on the base are covered in colored fabric.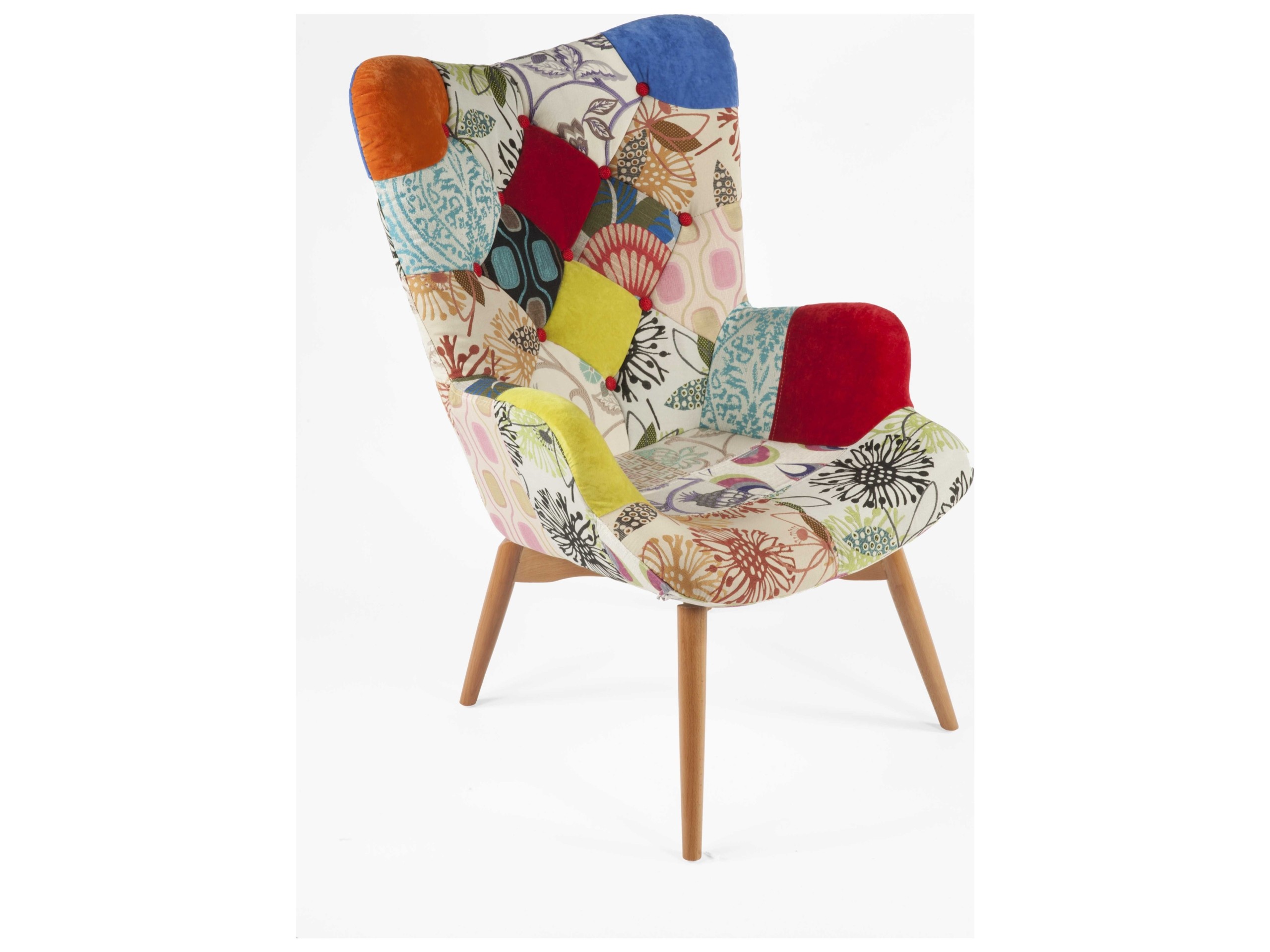 The Teddy Bear Arm Chair
Great contemporary armchair with a beech wood frame and light brown splayed spindle legs. It has a tall rounded back, low full curved arms, a deep seat. Its upholstery is of poly-linen-cotton blend with a vivid colourful patchwork design.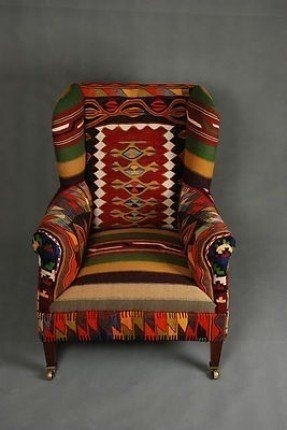 Antique Edwardian Wingback Hand Woven Wool Kilim Patchwork Armchair Chair Sofa
Inspired by the distant lands of Nepal and Peru - as well asof the sleek lava of these places - hand-woven edwardian vingback armchair - made with traditional lures. Contains many strong colors like red, green ore yellow - and traditional shape.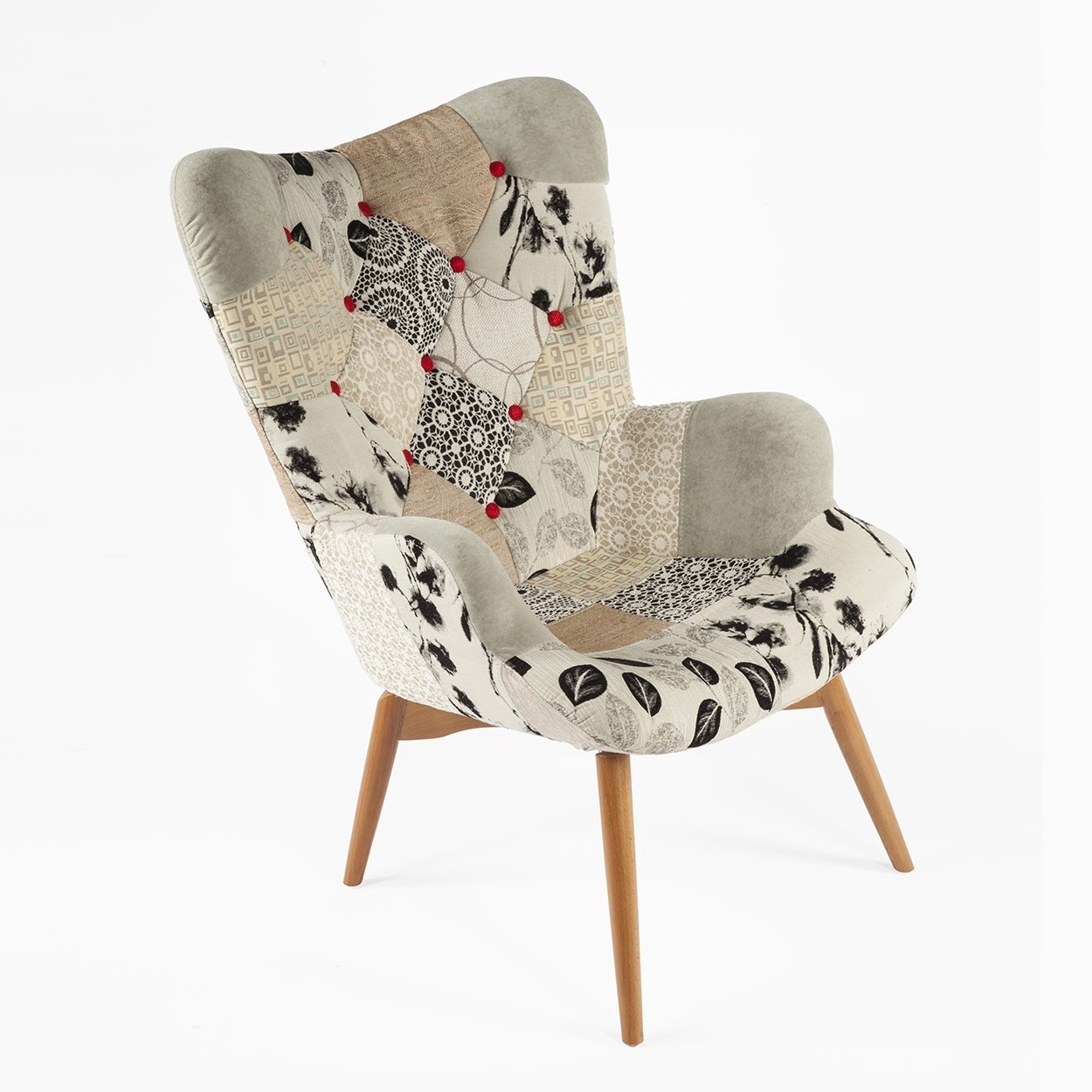 The Teddy Bear Arm Chair
Cool contemporary armchair having a beech wood frame and light brown splayed spindle legs. It has a tall curved back, low full flared arms, a dished seat. It features upholstery of poly-linen-cotton blend with a patchwork in beiges, browns and greys.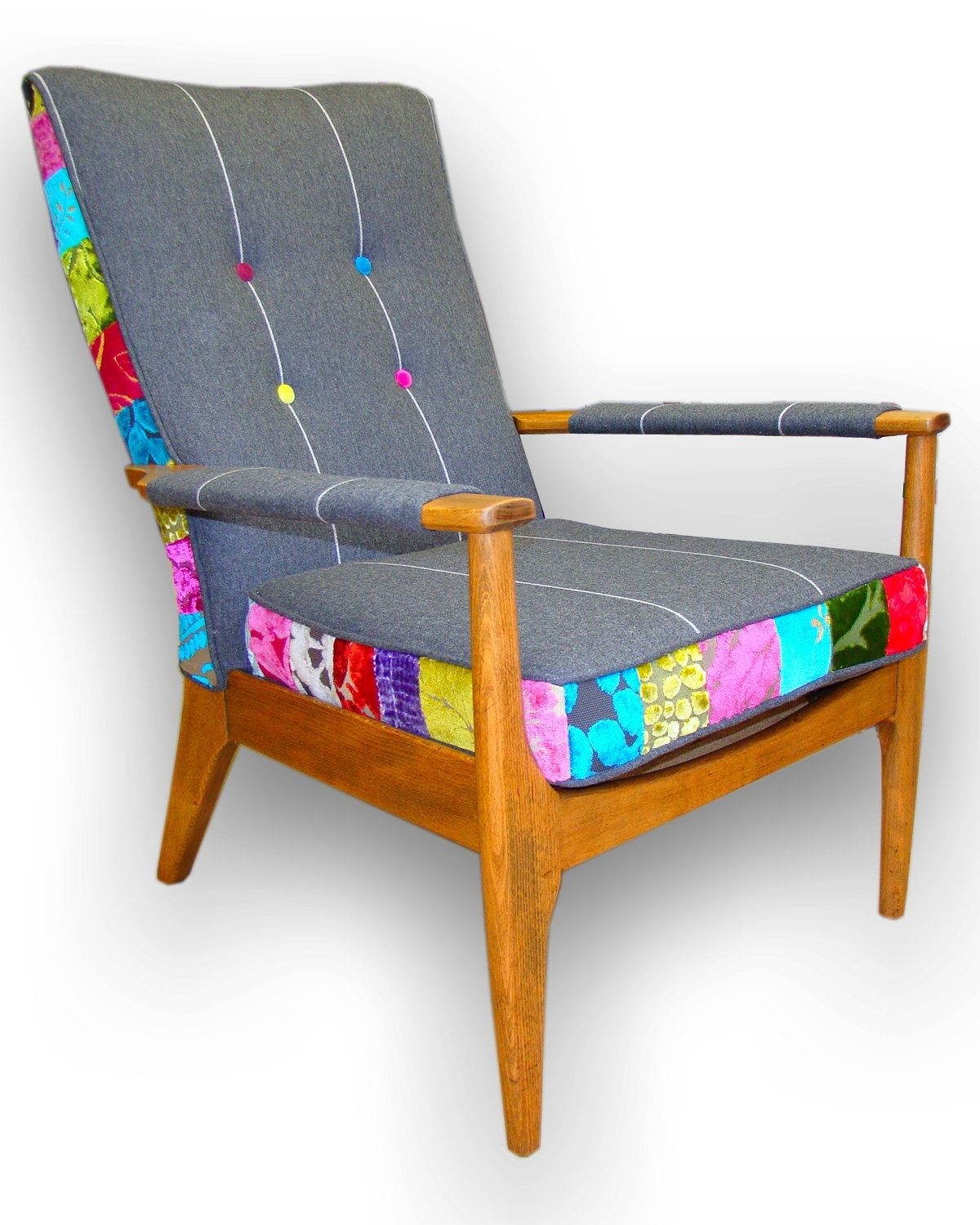 Patchwork wooden armchair in designers
A gorgeous addition for making your home decor to sparkle with rainbow colors. The chair has a wood frame in an oak finish, with shapely legs and long arms. It's beautifully upholstered in a quality fabric with striking patchwork, and features stylish button-tufting on its tilted back.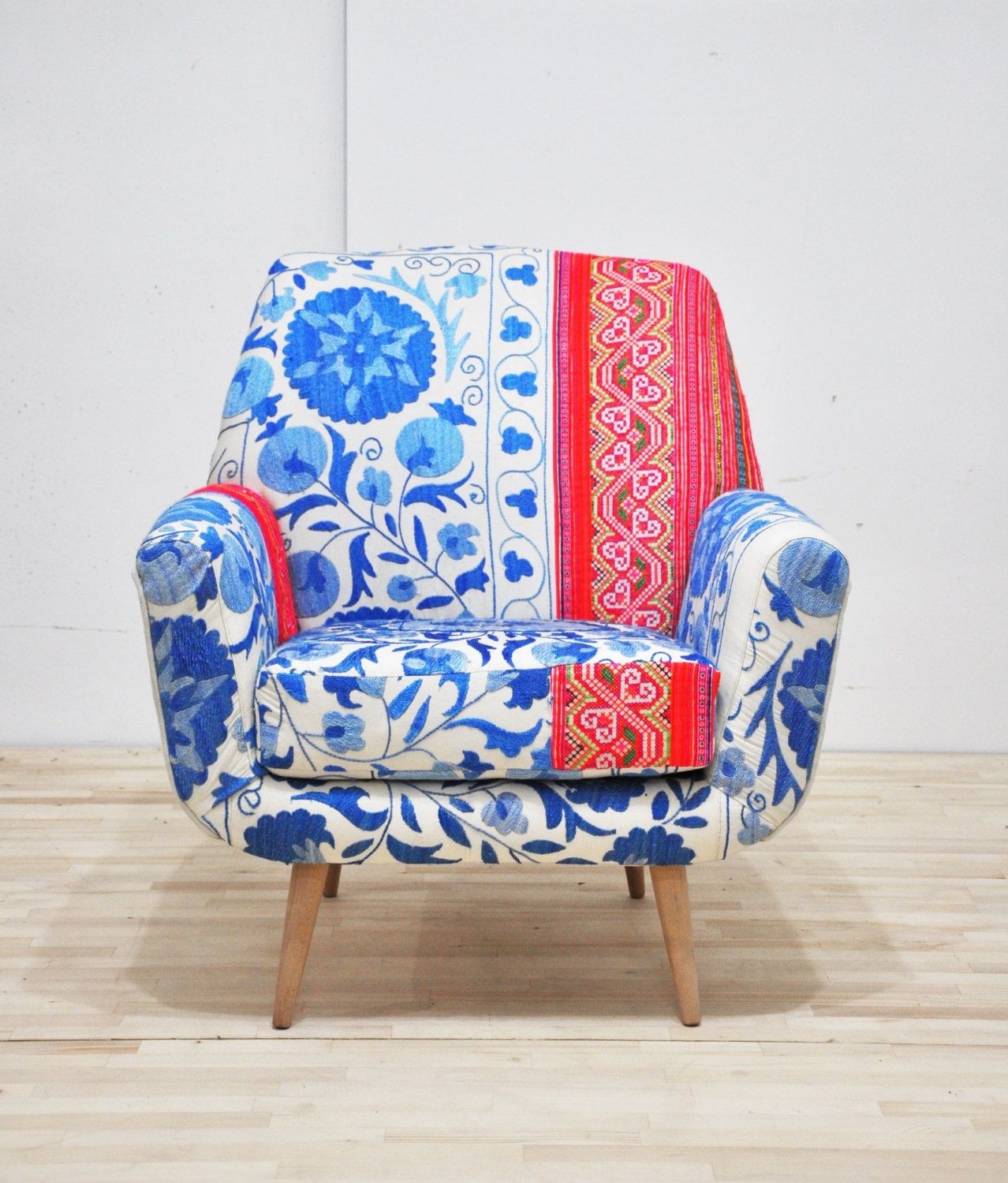 Tombik chair i
This patchwork armchair enchants not only with its beautiful upholstery, but also with the pronounced mid-century design. Its wooden, bevelled legs and massive, padded armrests will help you distinguish your space.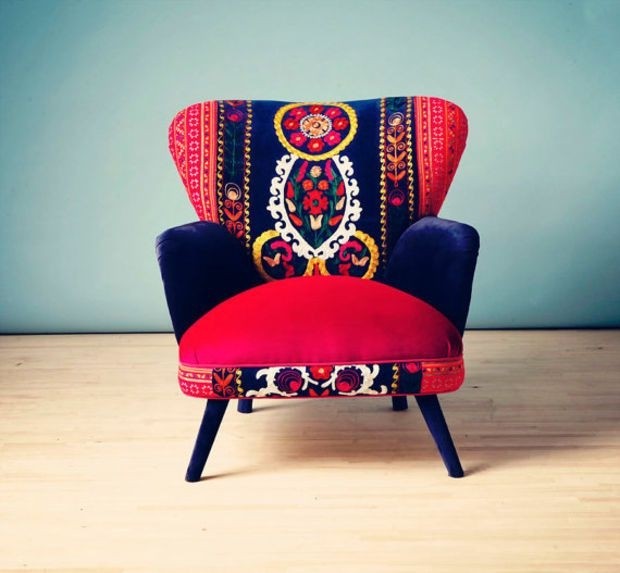 Patchwork armchair with suzani thai
Full of vivid colors and beautiful patchwork, this arm chair knows how to impress with its design. It's upholstered in a red and navy blue velvet fabric, while resting on navy blue finished, spread legs for stability.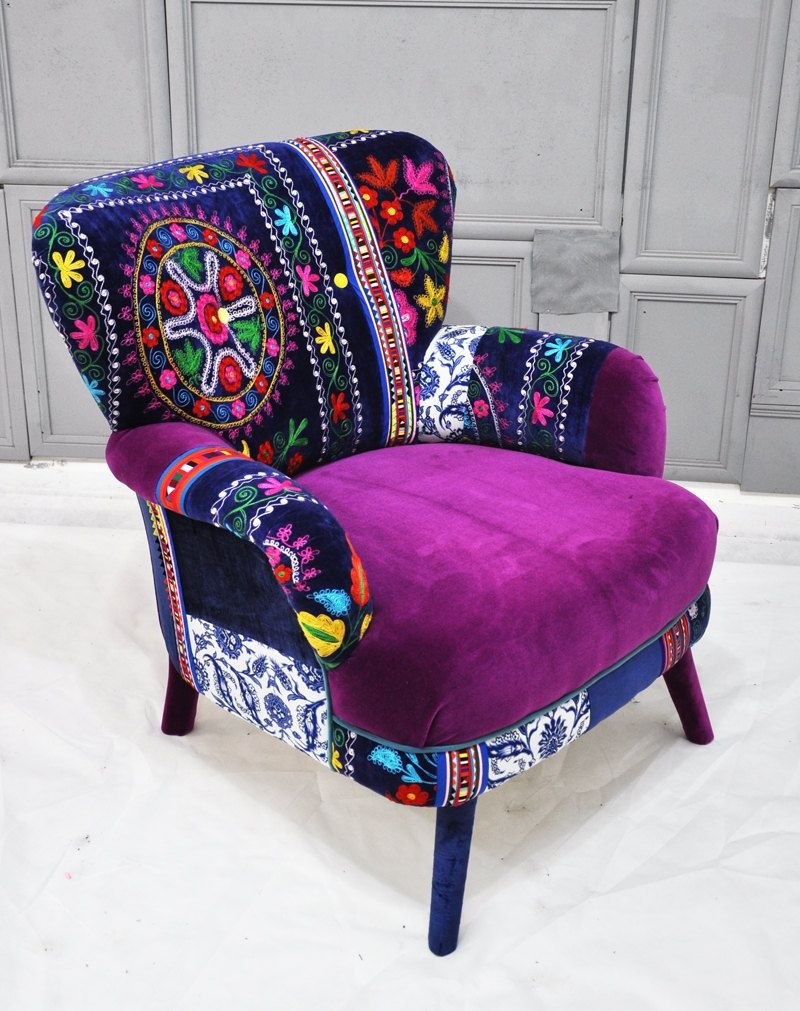 Bring all colors of the rainbow into your home, using only this motley armchair with colorful patchwork. The chair is opulently filled, decorated with creative patterns, and rests on 4 widely spread legs for maintaining the proper balance.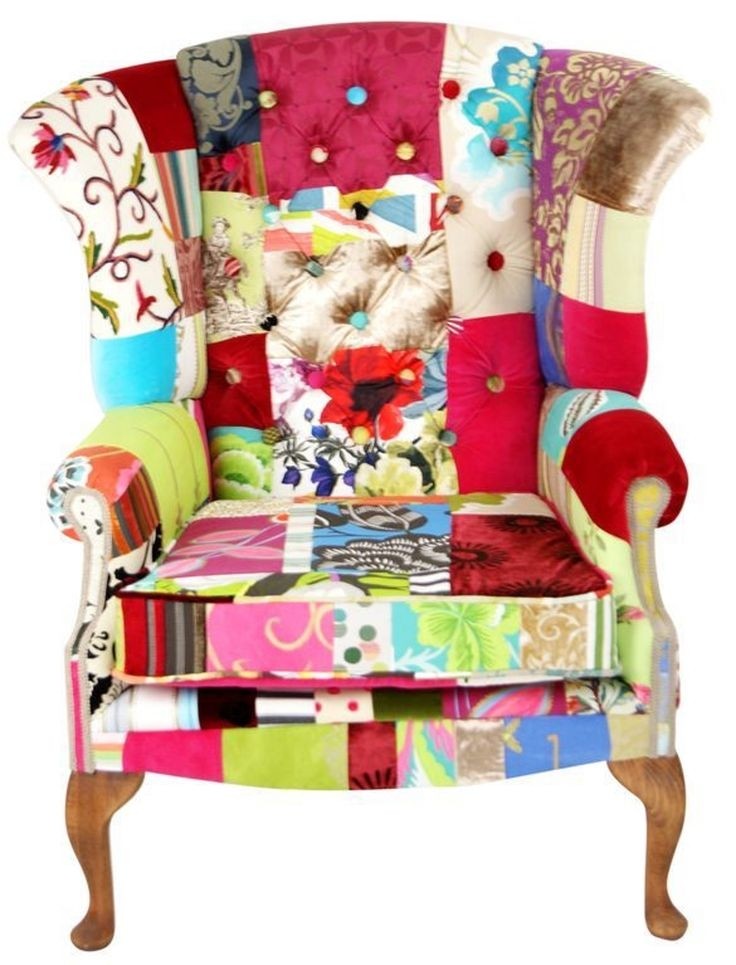 A stylish and relaxing armchair that provides good sitting comfort in any living room or home library. Its multi-color pattern looks very original in many locations. It also provides stability and support thanks to its wooden frame.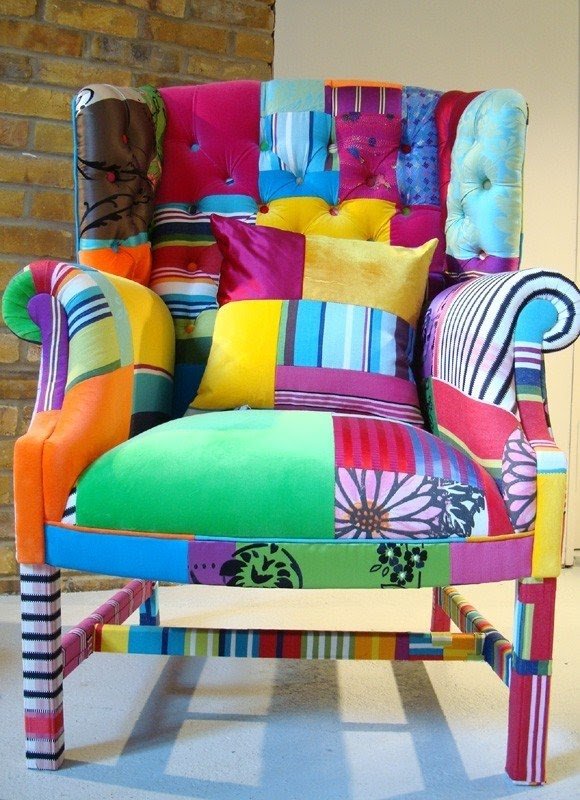 A stylish and comfortable chair for people who are fans of multi-color solutions. This armchair includes an aesthetic backrest with button tufting and a comfortable seat cushion that provides a very high level of softness.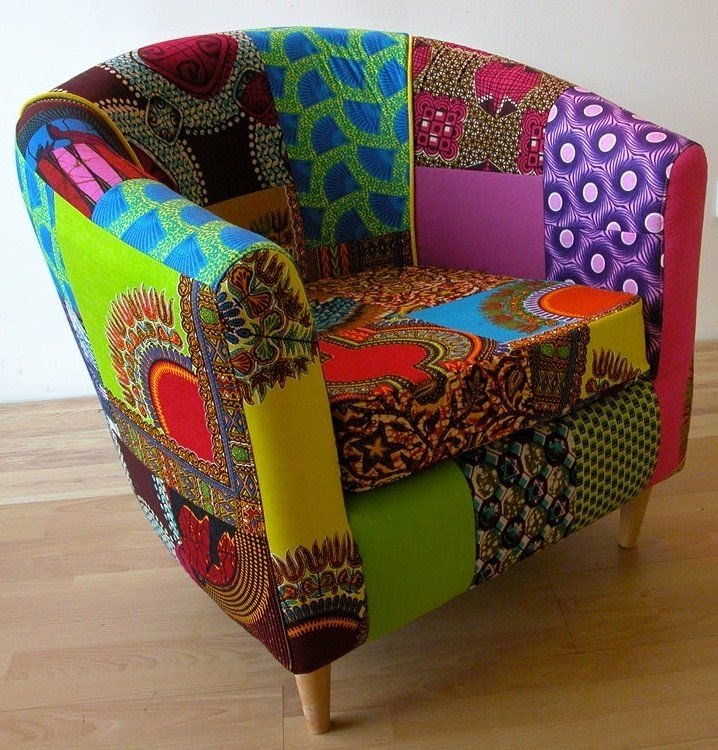 This lovely upholstered tub armchair makes a vibrant addition to your bedroom or living room. Its patchwork pattern shall enchant all rustic or boho enthusiasts. A really inimitable armchair cover, which automatically grabs everyone's attention.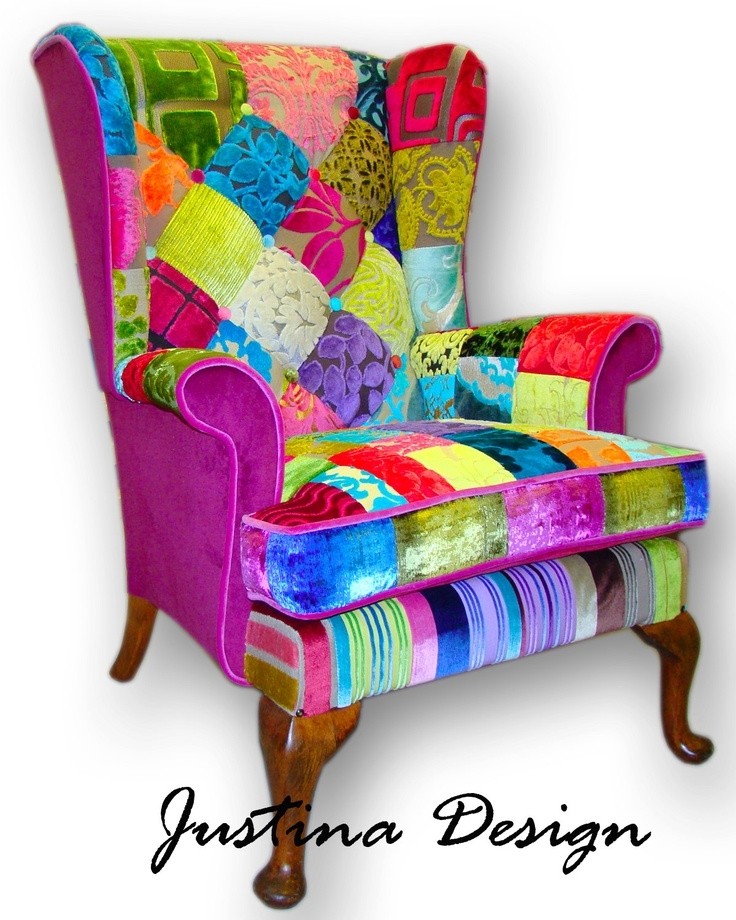 Patchwork wing back armchair in Designers Guild velvets and plain ...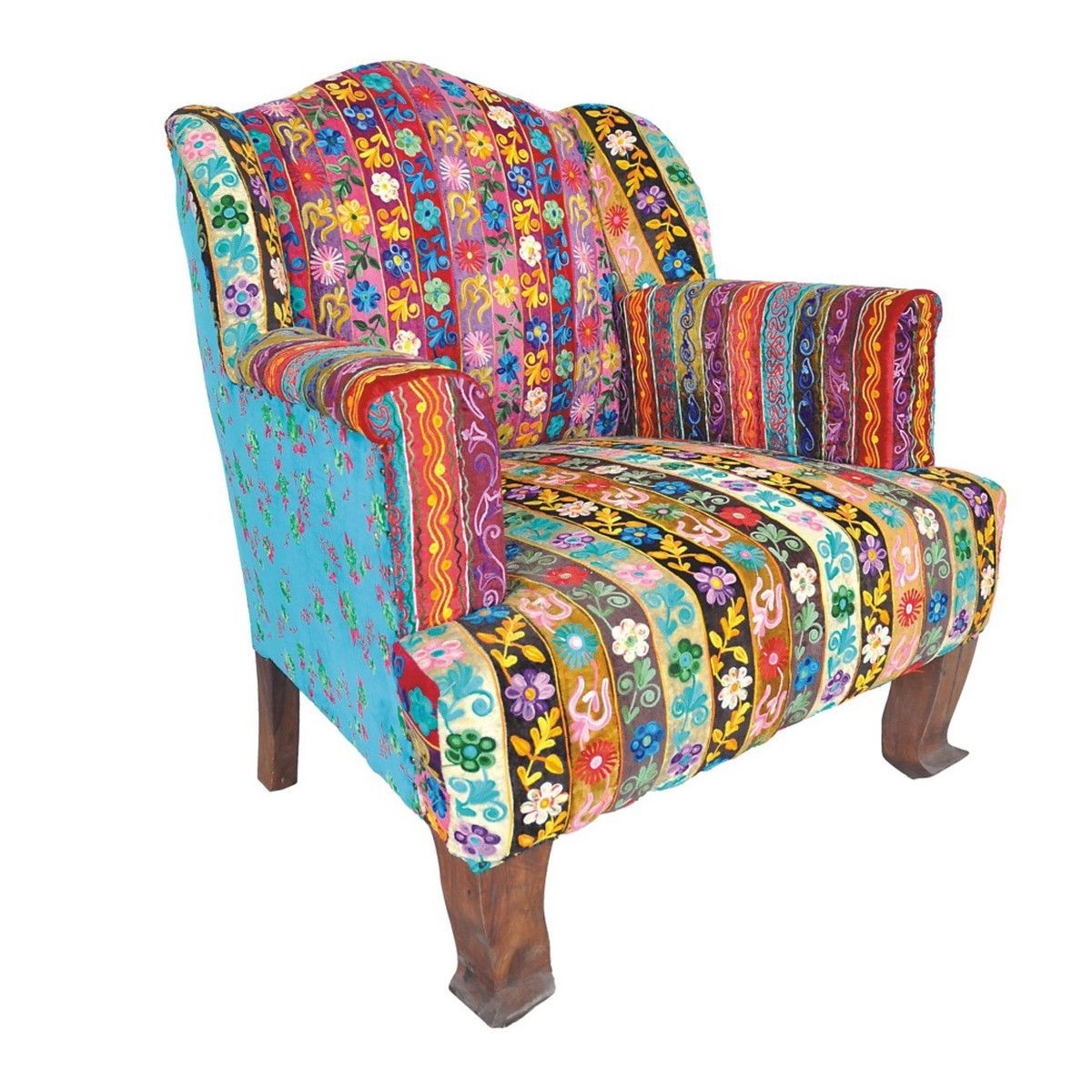 A true burst of colors - this amazing chair will be a sure hit for your interior, letting you benefit from the exquisite and original appeal that it offers to any space, while the stripey patterns with flowers works in any oriental styled setting.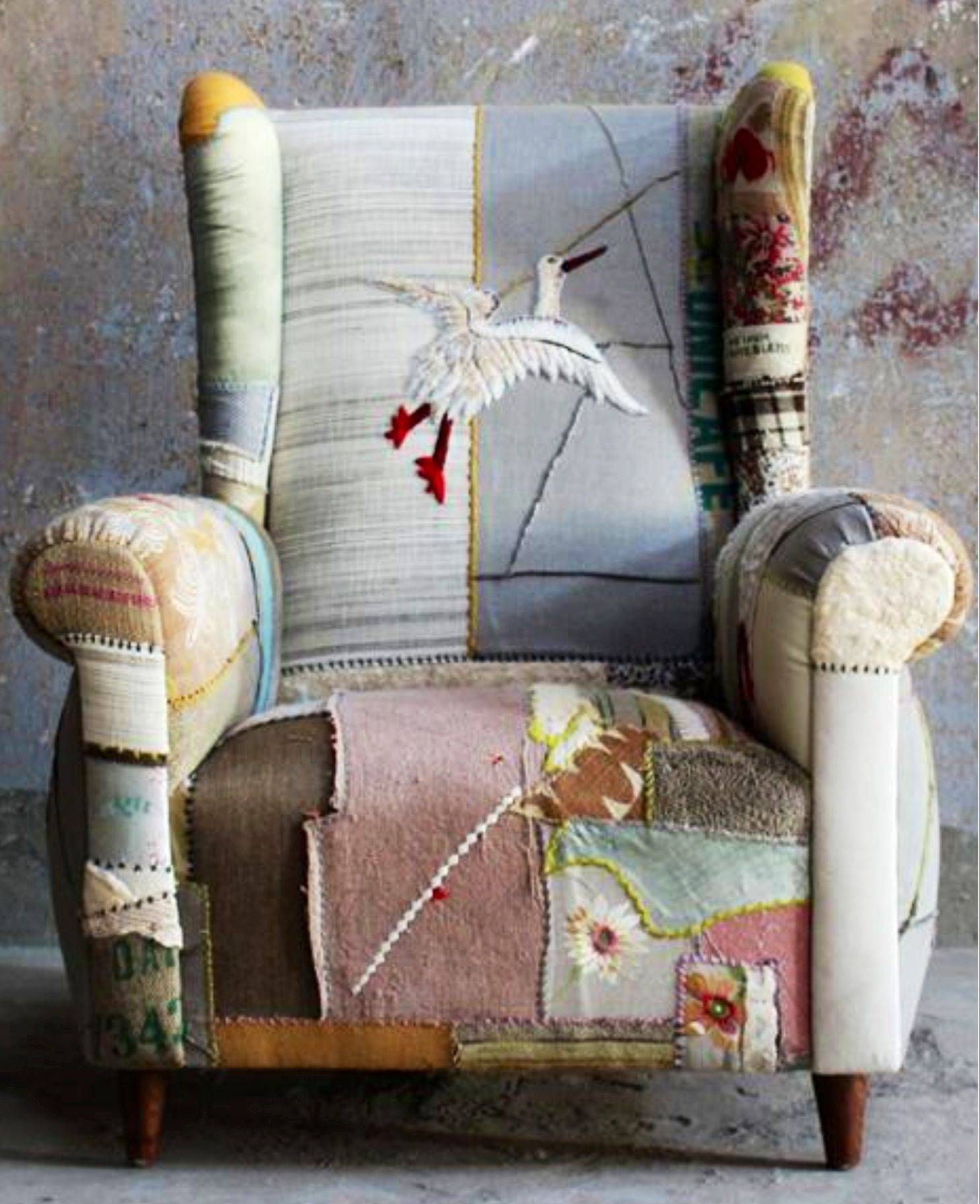 Trying to find the perfect, nicely finished and high quality chair? We found something special for you: the patchwork chair, which brings the color and style to any apartment. It has the embroidered bird which is a funny accent piece.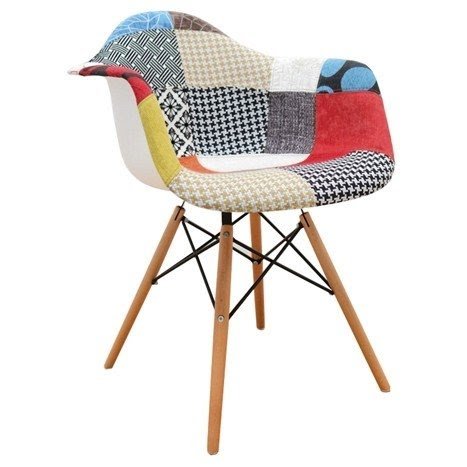 Exclusive Modhaus armchair with wood dowel base and patchwork fabric upholstery with blend of colors that decoratively creates a stunning display. Base is solid and durable, crafted of lacquered high grade steel and beech wood.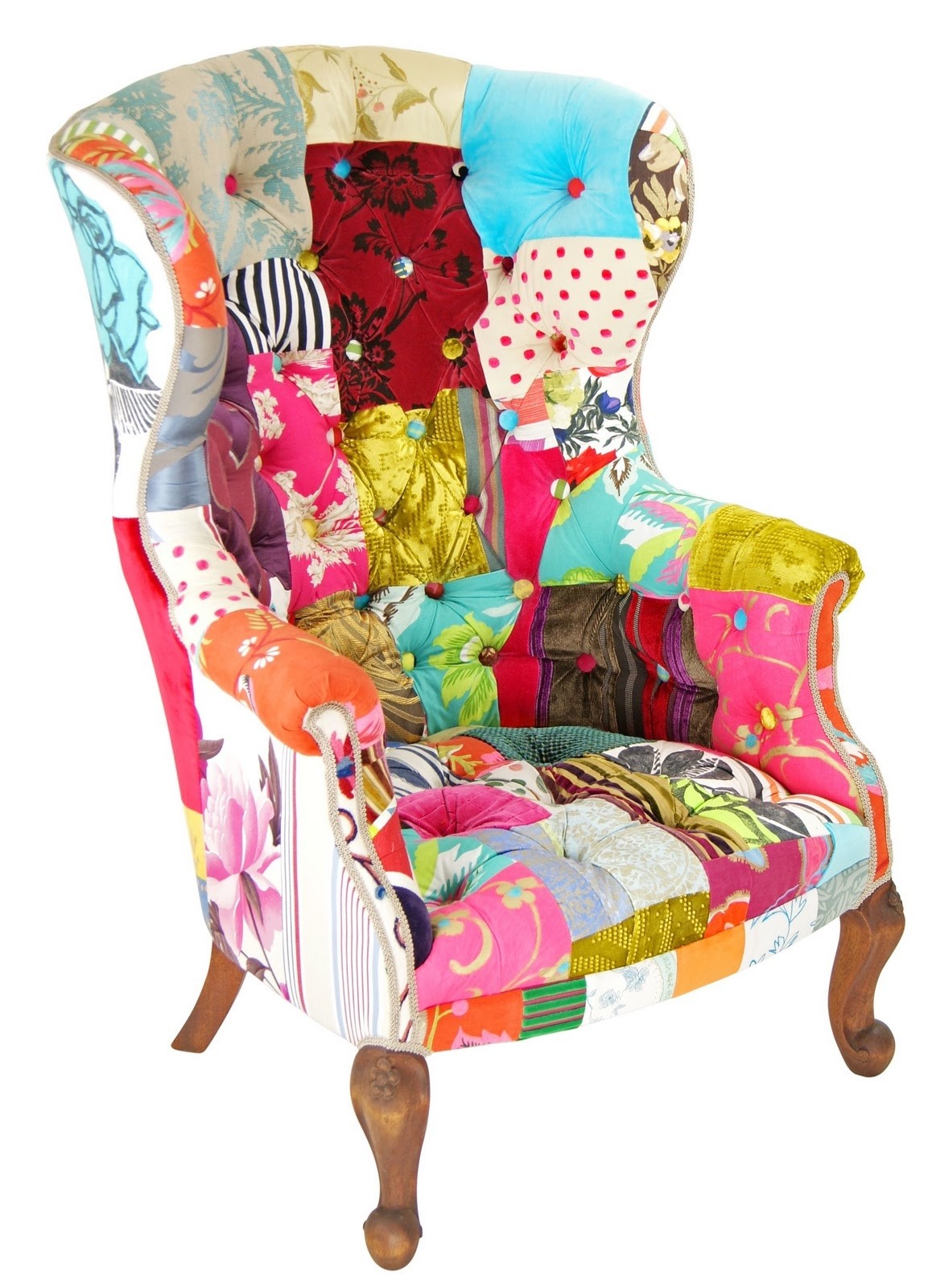 traditional-armchairs_patchwork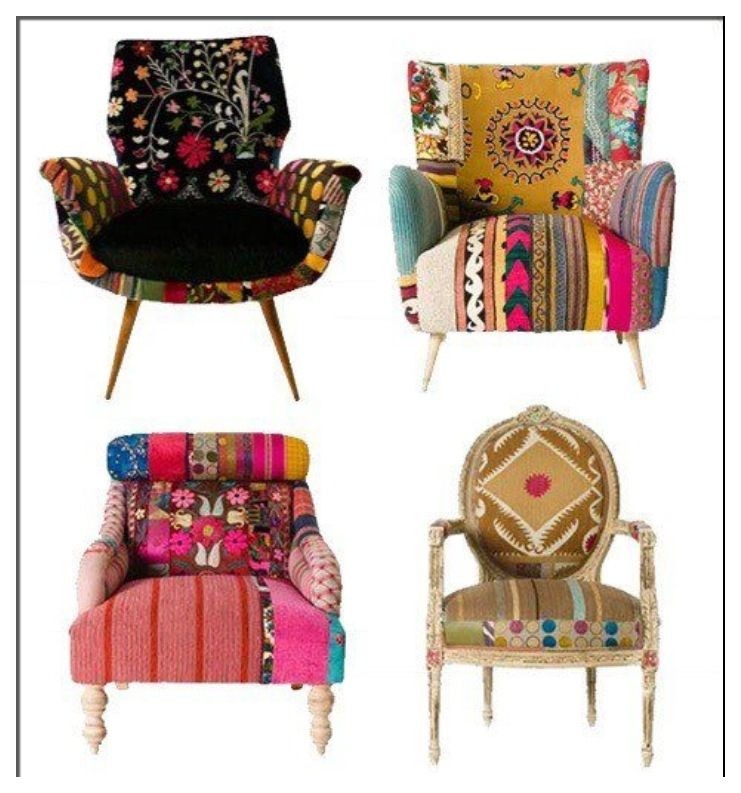 The phenomenal and unique armchair is a perfect combination of important design and functionality. The gorgeous patchwork decorating the seat covers makes the salon or other interior looks phenomenal.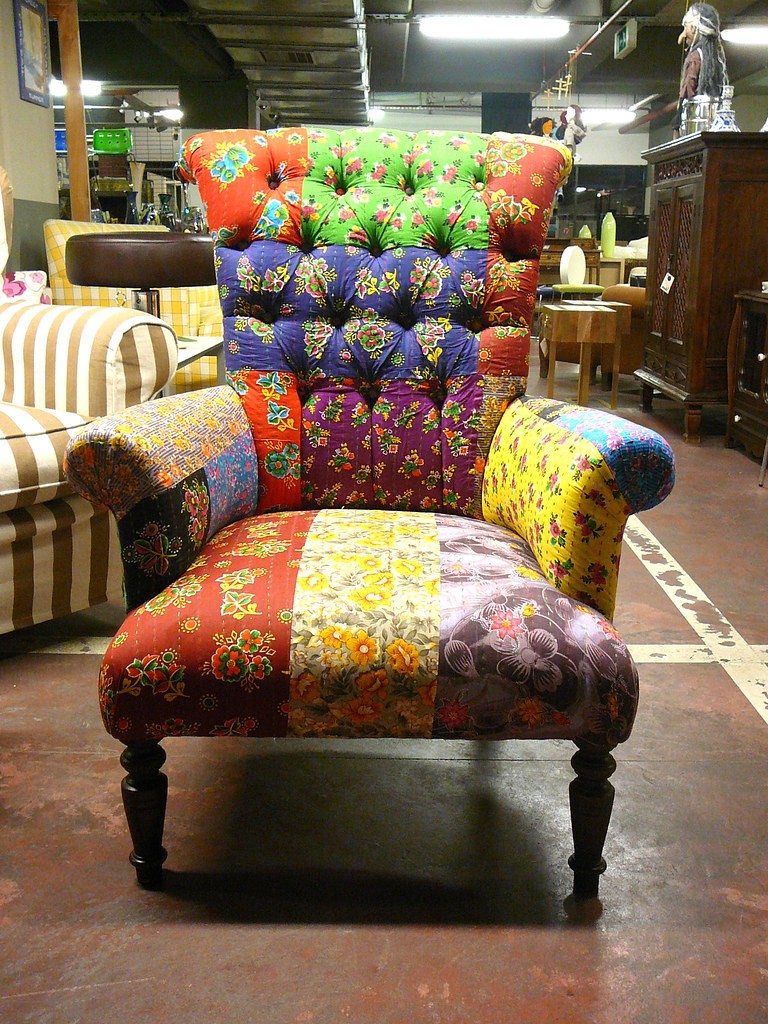 A comfortable armchair for lovers of multicolor stylizations. Its multicolor background features nice floral patterns. The seat is cushioned for more comfort and its high backrest is button-tufted for more aesthetics.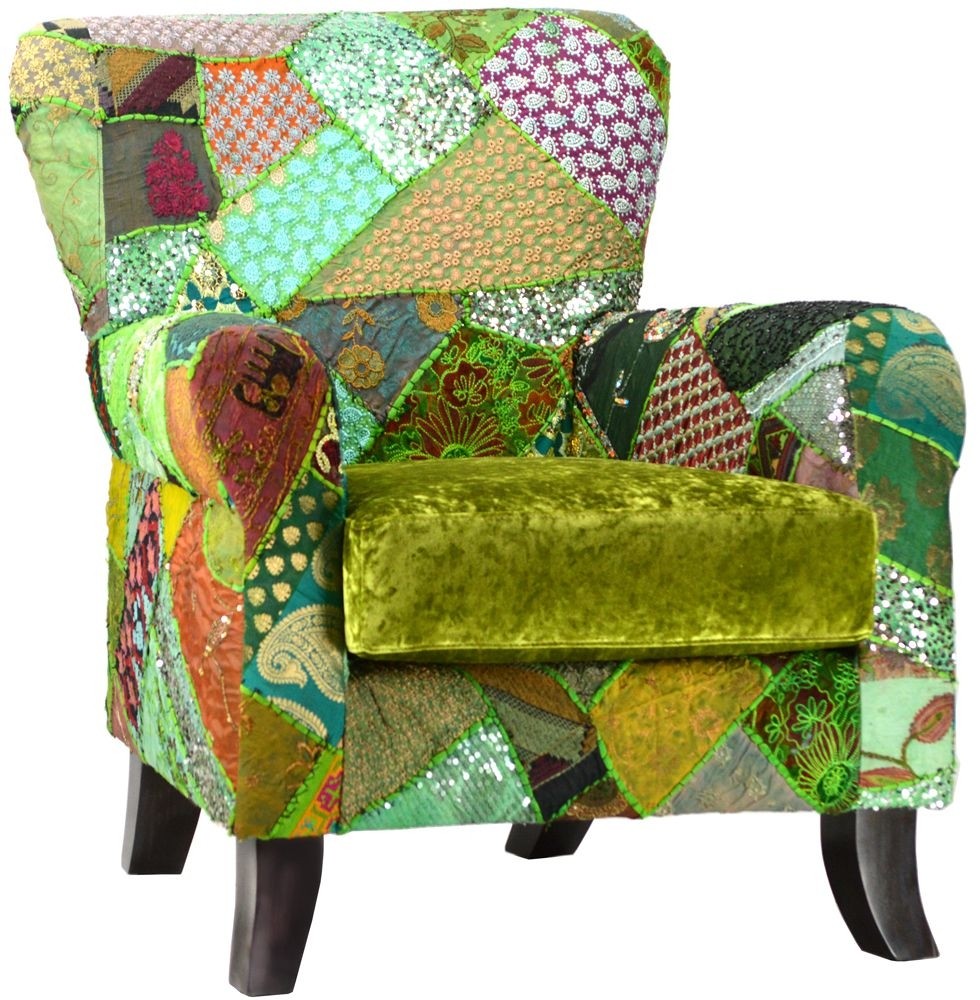 Janis Arm Chair in boho green patchwork!!!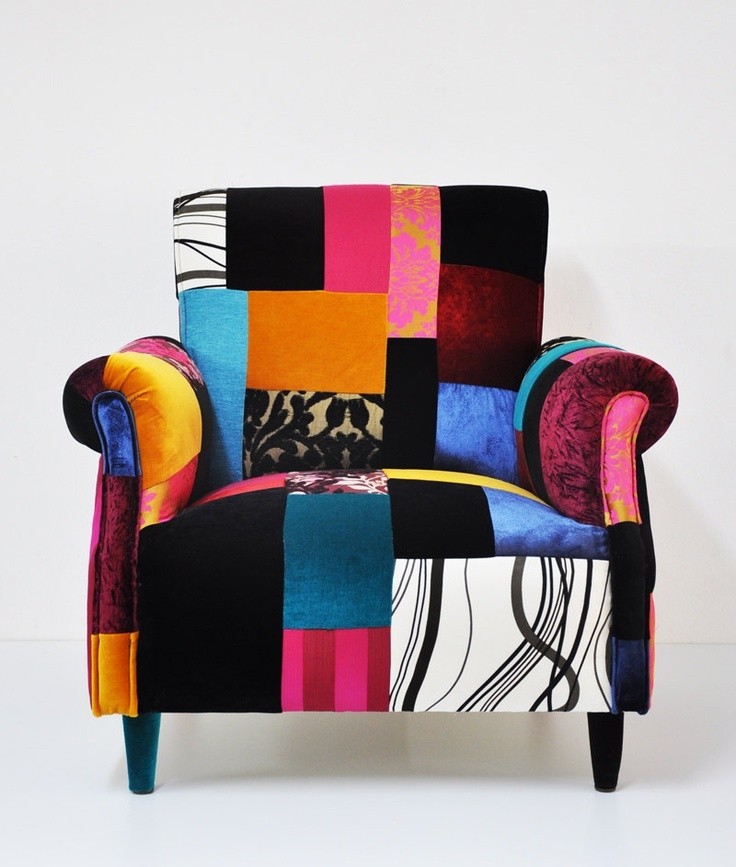 I actually think this one is my favorite colorful armchair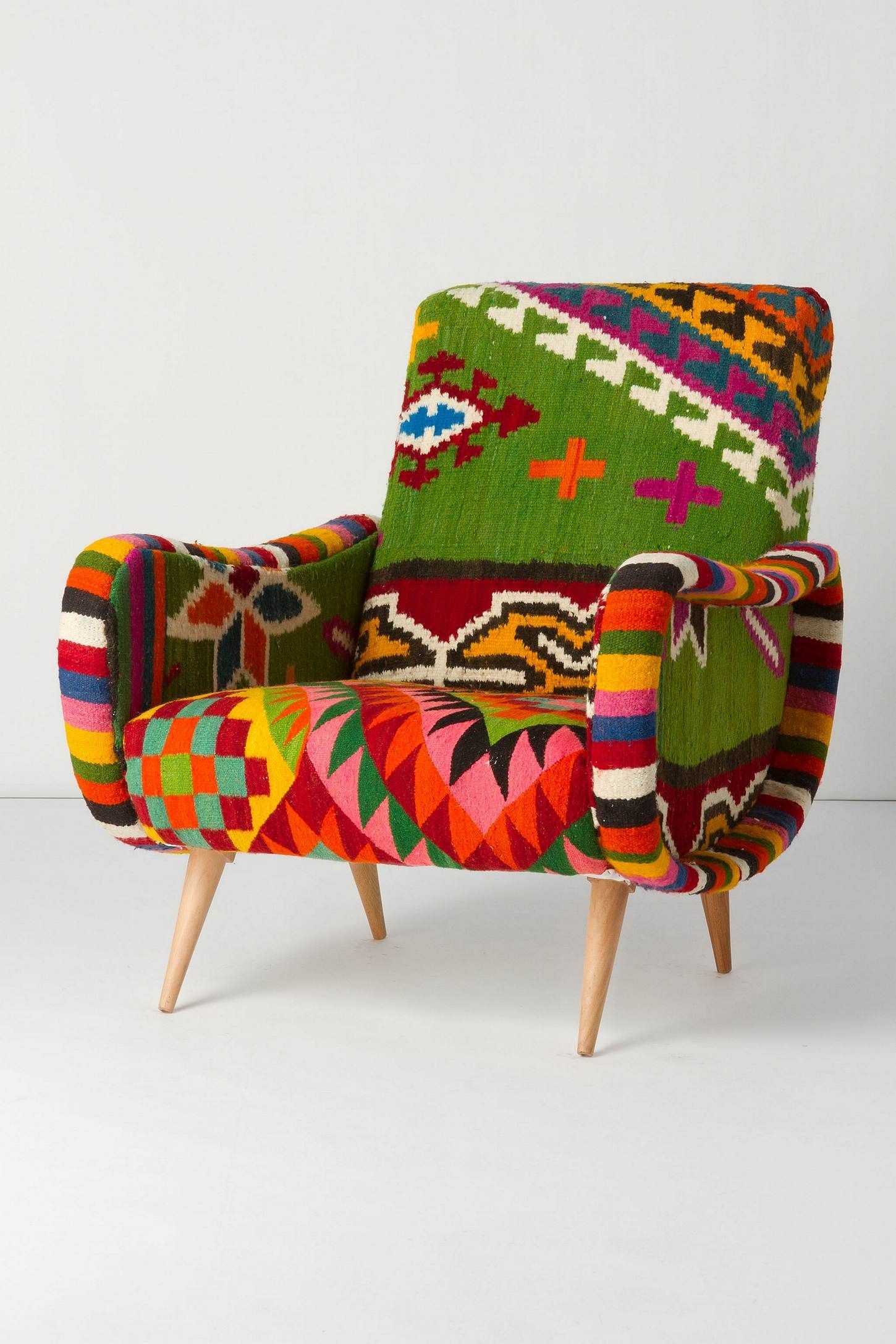 Would you just look at this gorgeous, very cosy and colourful armchair, made out of patchwork-like upholstery. Makes it look as if it was hand-woven! Perfect to put up in your living room in front of a fireplace.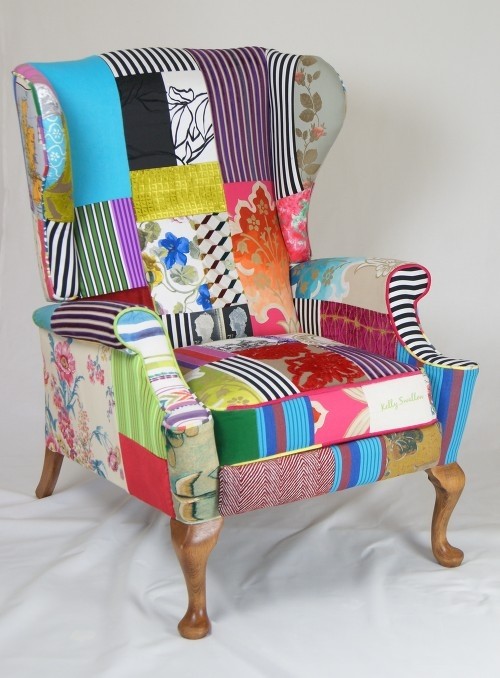 Kelly Swallow Patchwork Armchair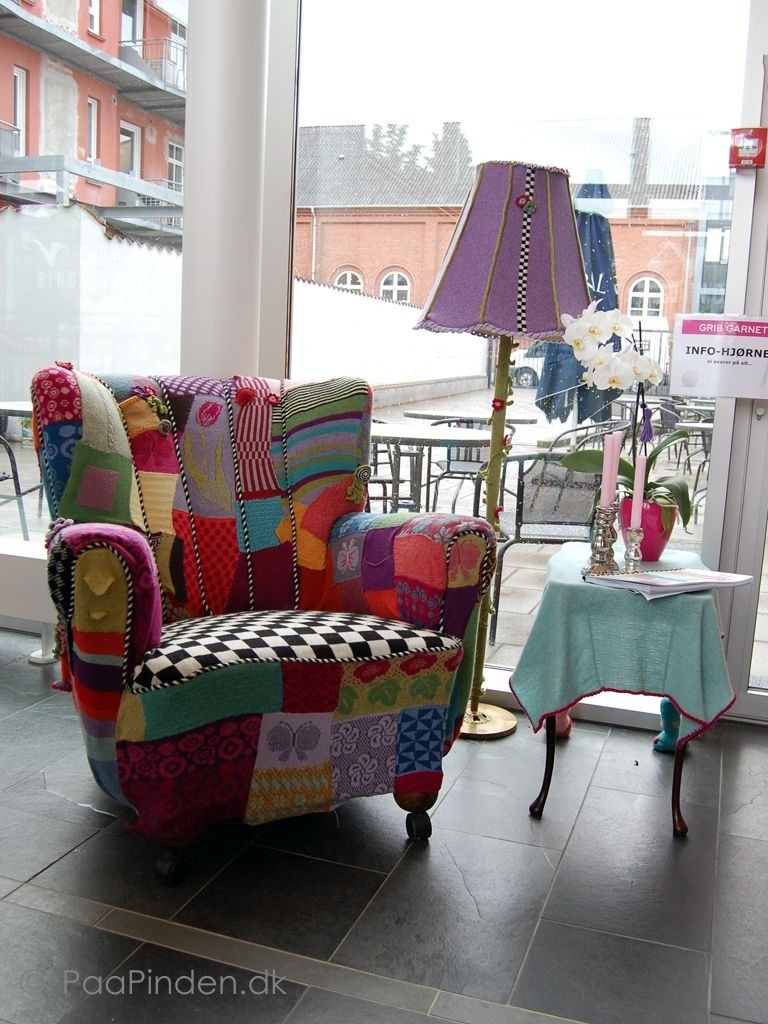 Seize Garnet - Knitted armchair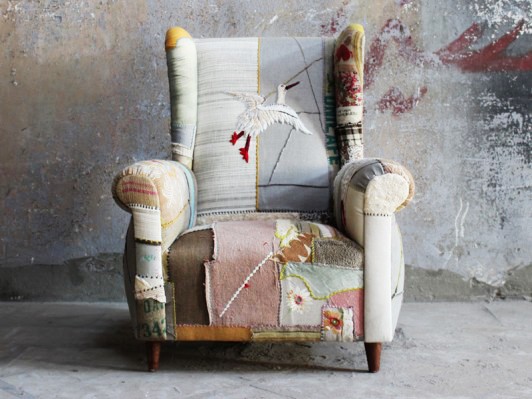 Boasting of gorgeous patchwork and colorful appearance, this lovely arm chair is very comfortable and highly-decorative, adorned with a flying white goose. Includes a supportive back, a comfy seat, roleld arms, and tapered wood legs.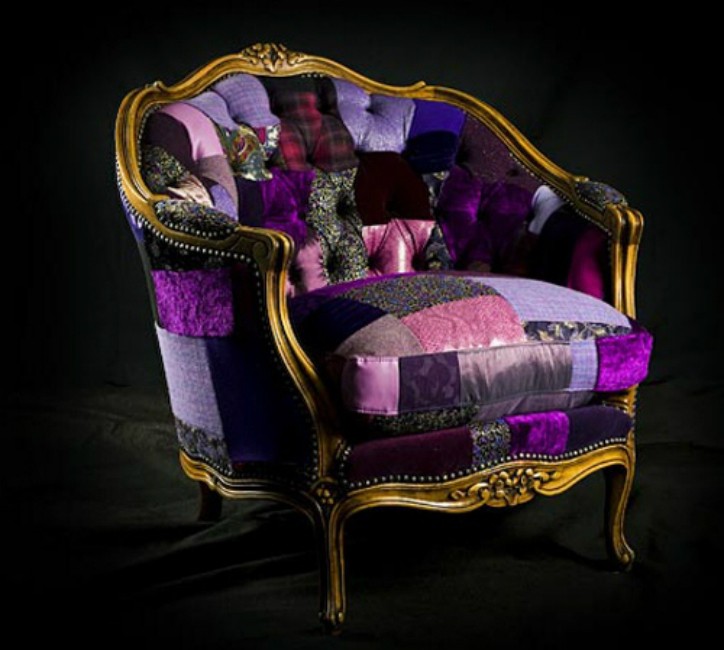 The couture furniture shouldn't be always bought in an expensive store. Sometimes it could be designed and created using the material you have at home. Patchworking looks good, even if the furniture style induce you to more formal style.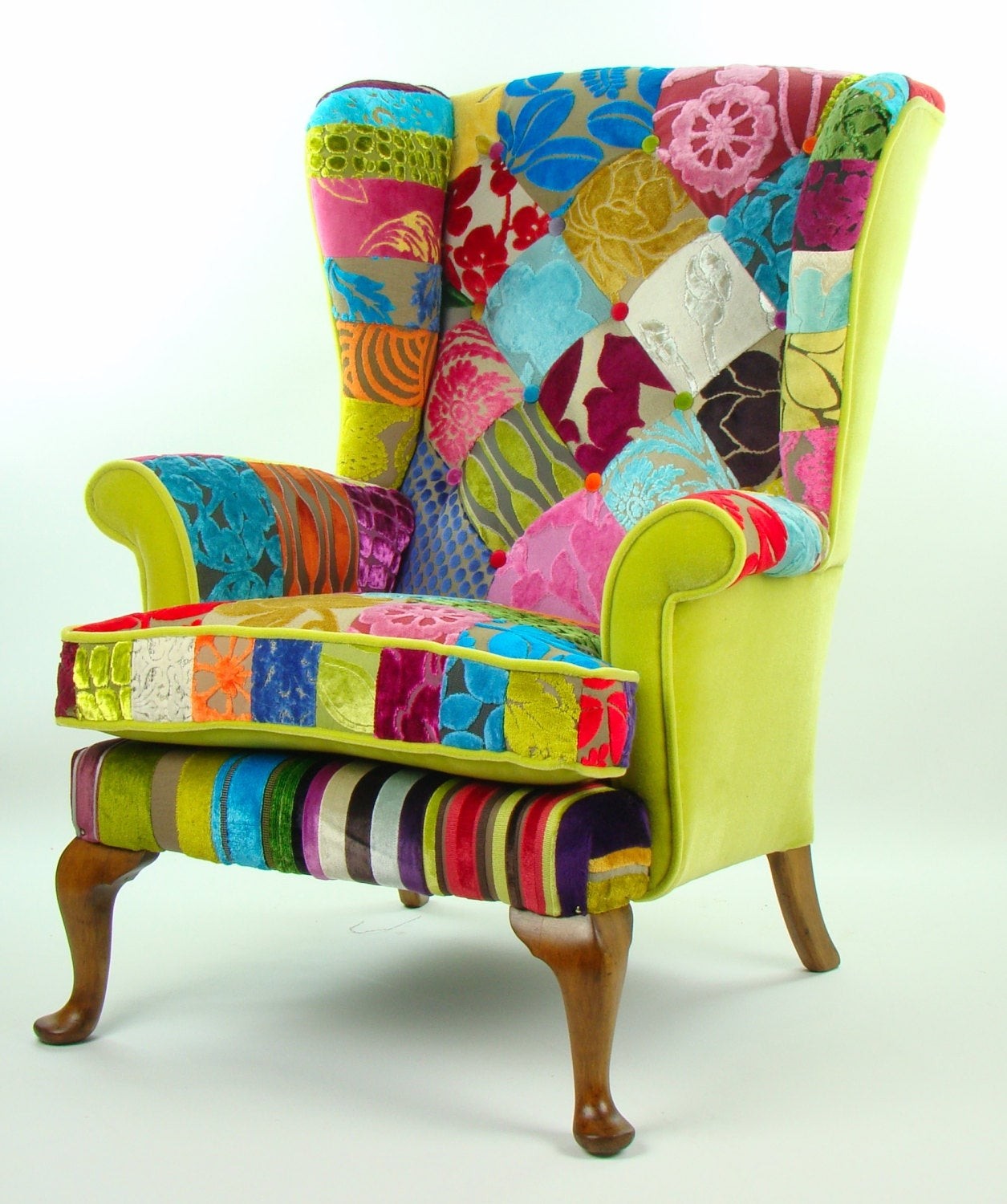 Bespoke patchwork armchair in designer velvets by JustinaDesign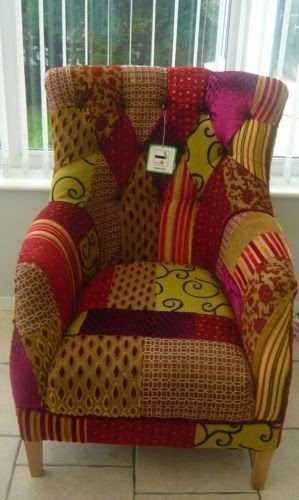 Patchwork Armchair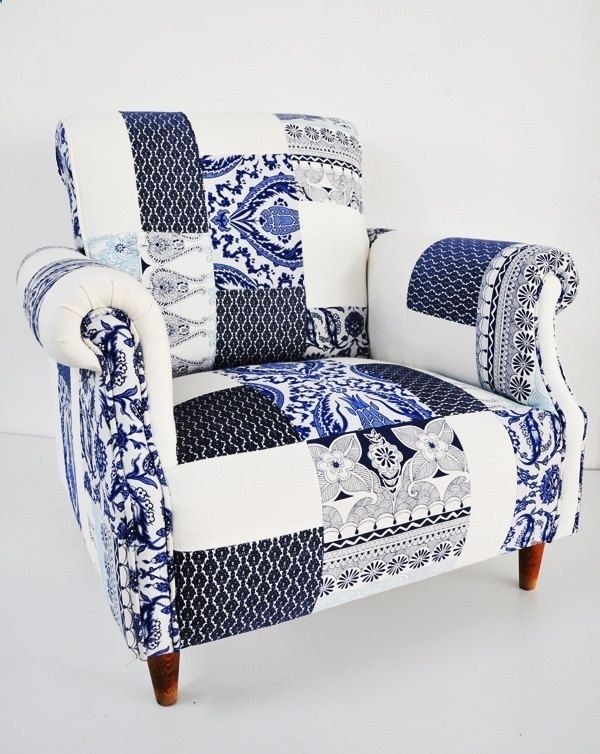 I'd worry about sitting in this chair with all the white, but it's still very pretty.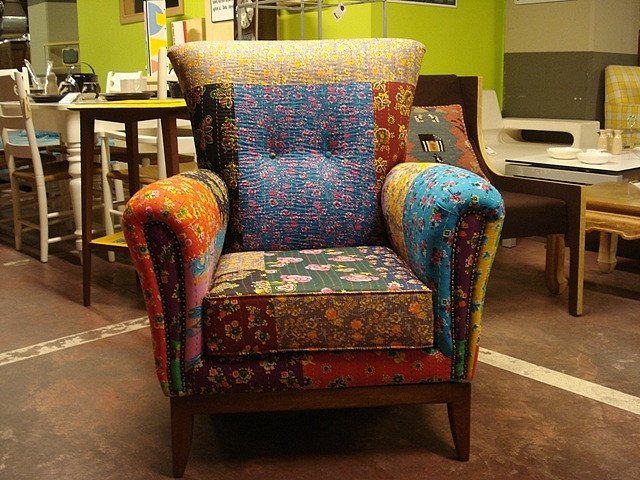 Patchwork is a tailoring technique that has developed in 19century England -associated with a difficult economic situation in Great Britain - and today it is a sign of chic visible on the example of this colorful patchwork armchair with a canopy backrest.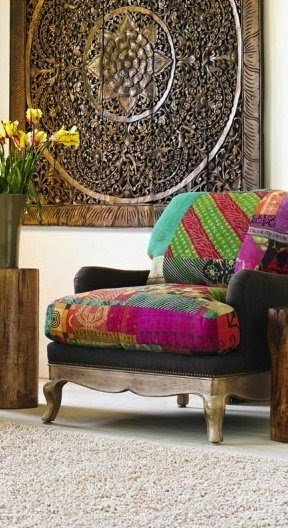 Love the wooden art piece on the wall combined with the bright colours of the chair.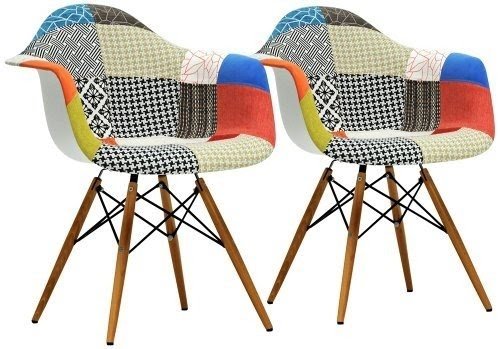 It is a set that includes two dining chairs. They have got a patchwork mid-century style upholstery, wooden frame and legs. Everyone will be impressed how amazing they look in your home.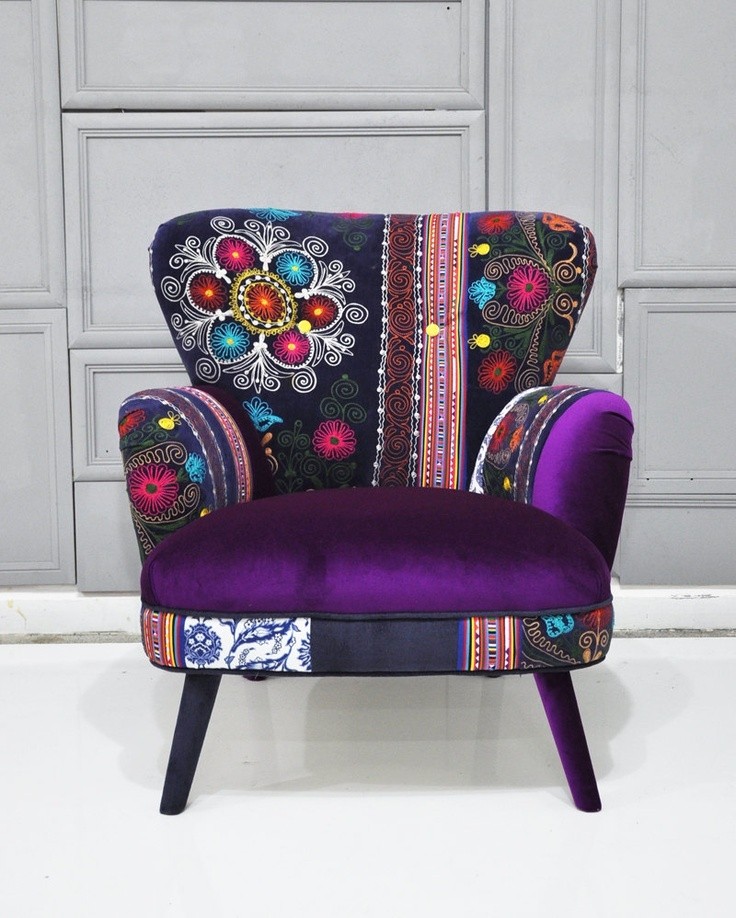 Patchwork armchair with Suzani and purple by namedesignstudio, $1600.00----Zahara's home office/mom cave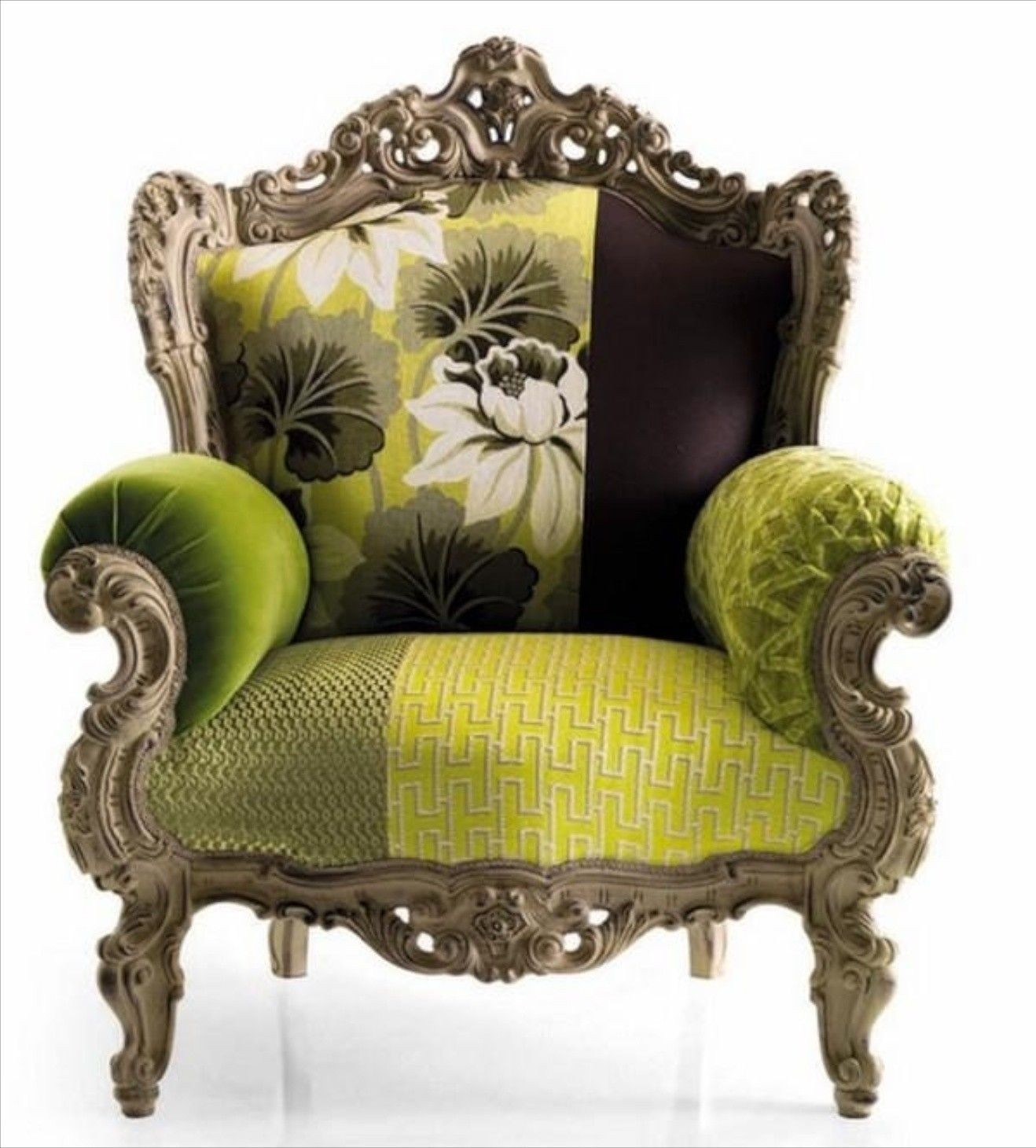 A luxurious and elegant armchair that features a solid wooden base with decorative carvings on its legs, arms and backrest. Cushioned sitting space increases the level of comfort. A multi-color floral design looks aesthetic.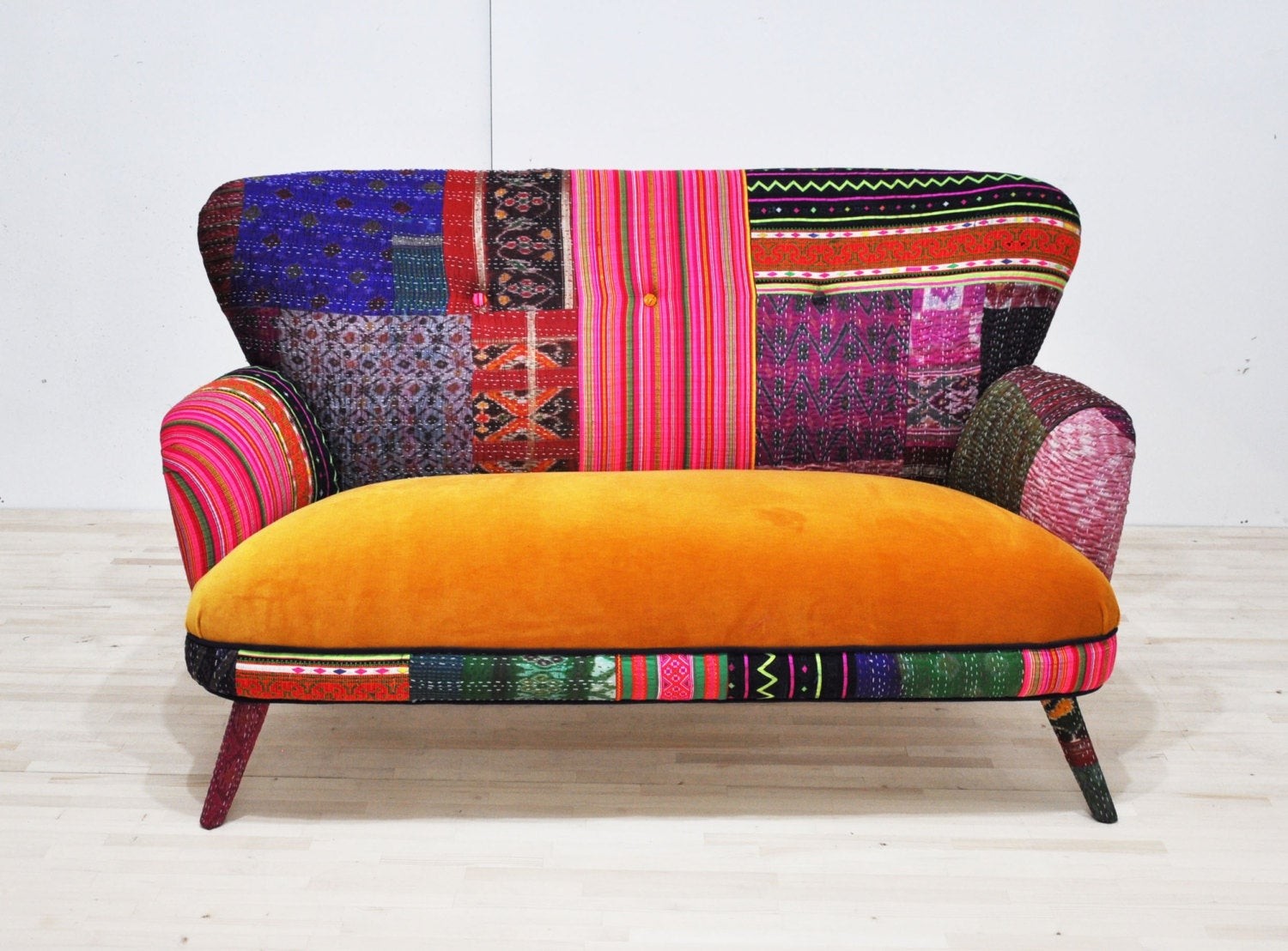 Hey, I found this really awesome Etsy listing at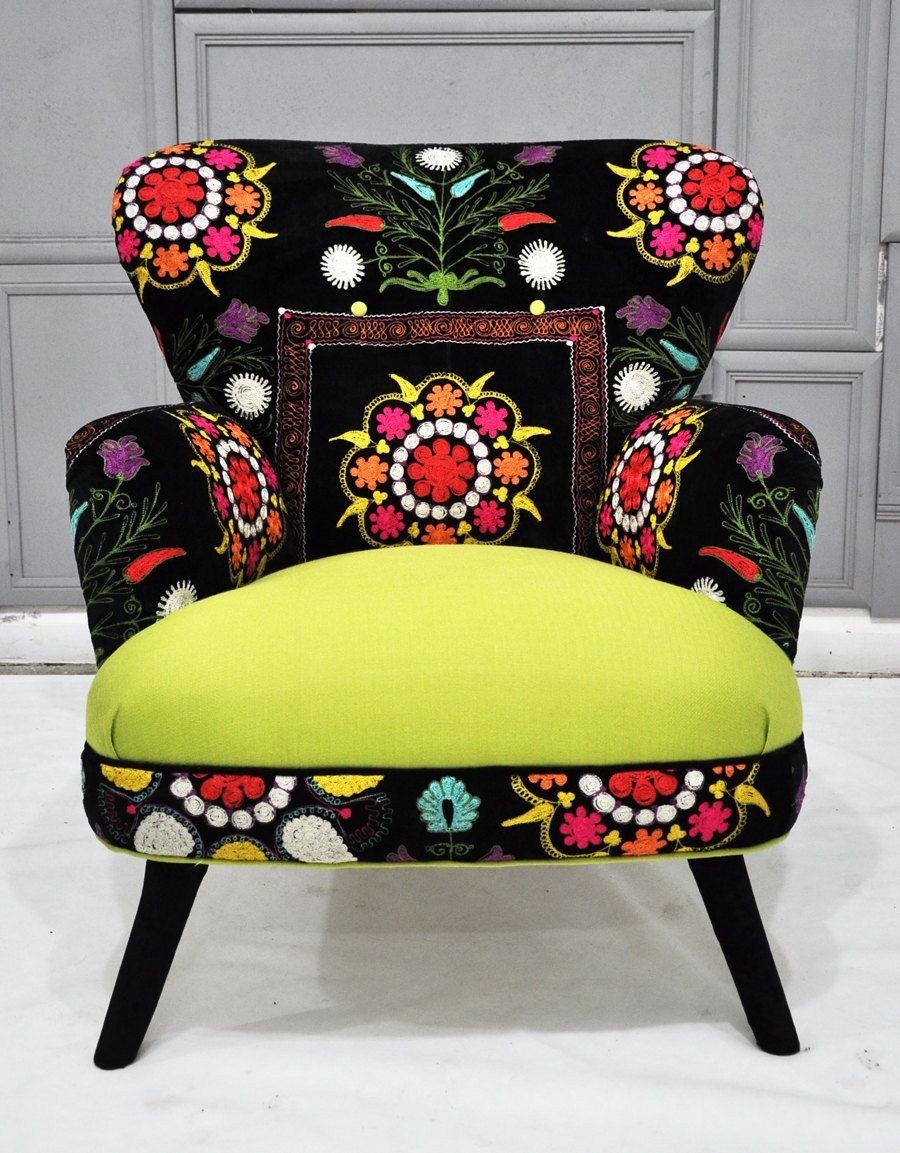 ... Names Design, Tips, Design Studios, Green Velvet, Patchwork Armchairs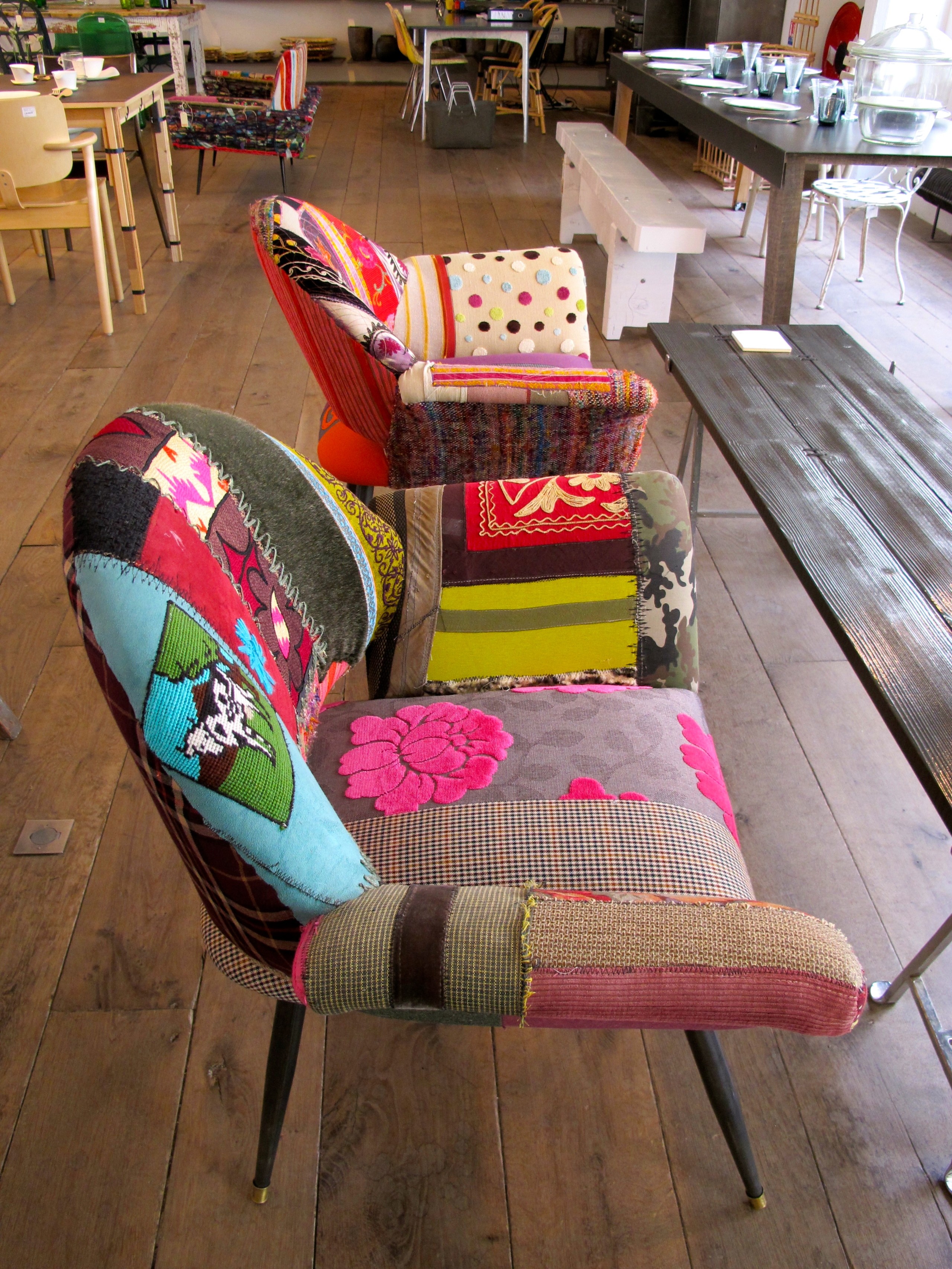 Patchwork armchairs – Merci – Paris – France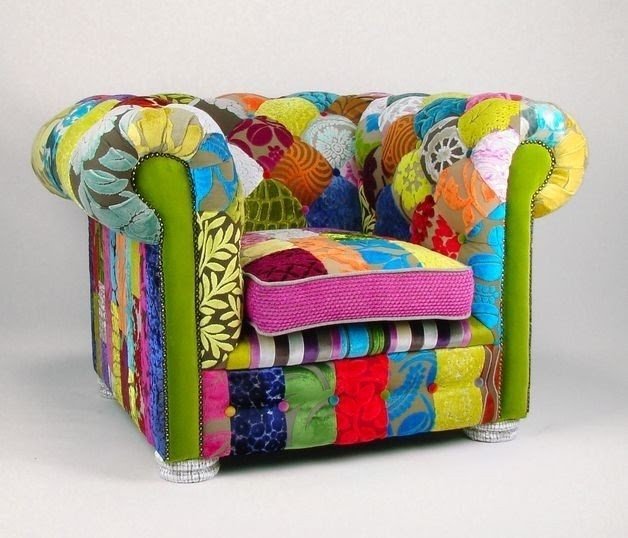 Bespoke Patchwork Chesterfield Armchair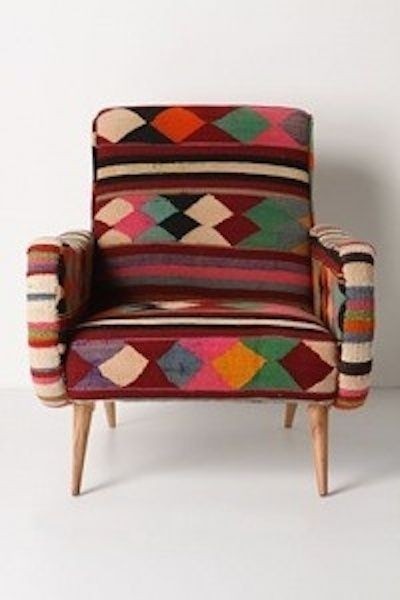 Anthropologie Patchwork Chair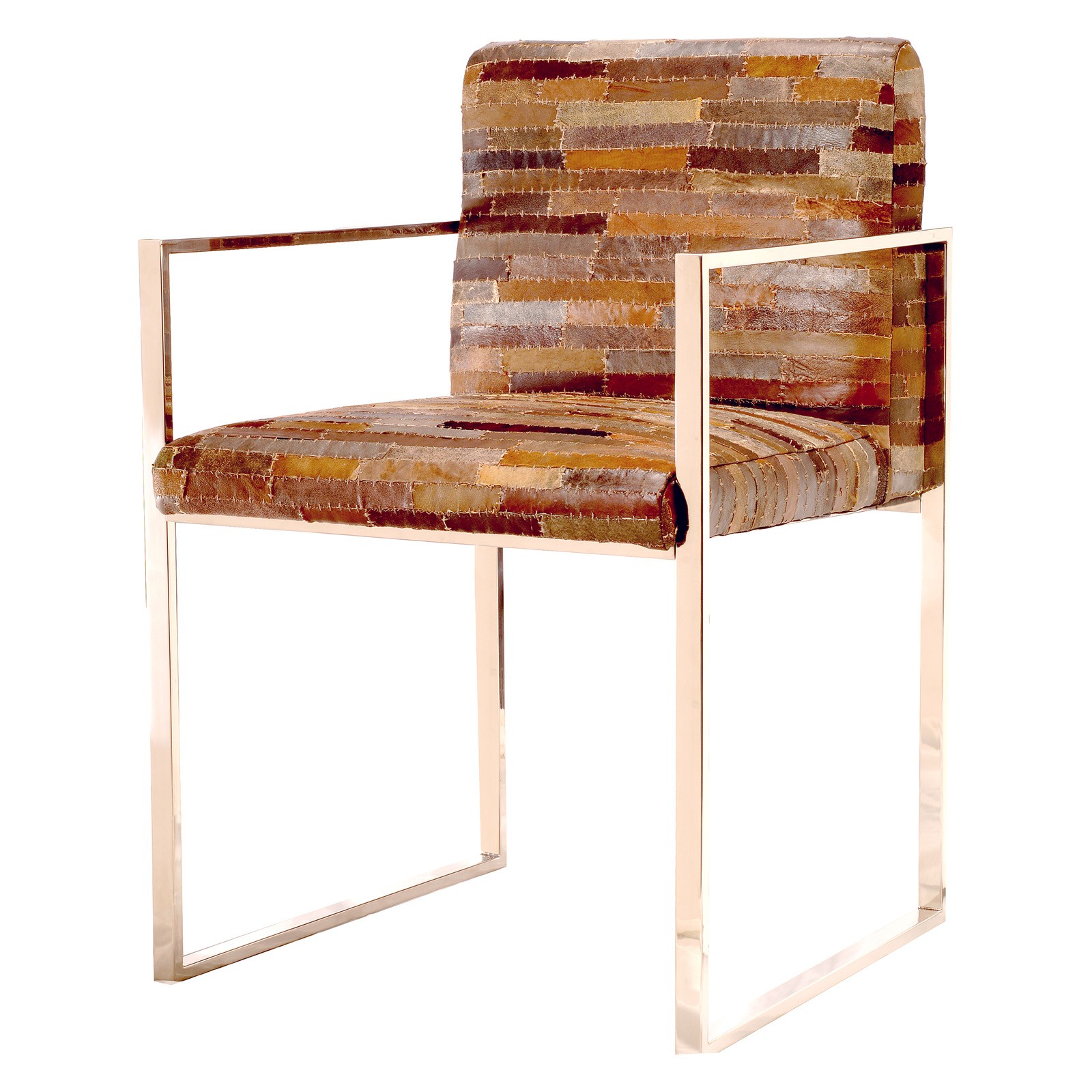 It is a chair that is made of patchwork and has got a brown leather upholstery. This chair adds style, beauty and comfort to any dining room and living room area. Everyone will be impressed how cool it looks in your home.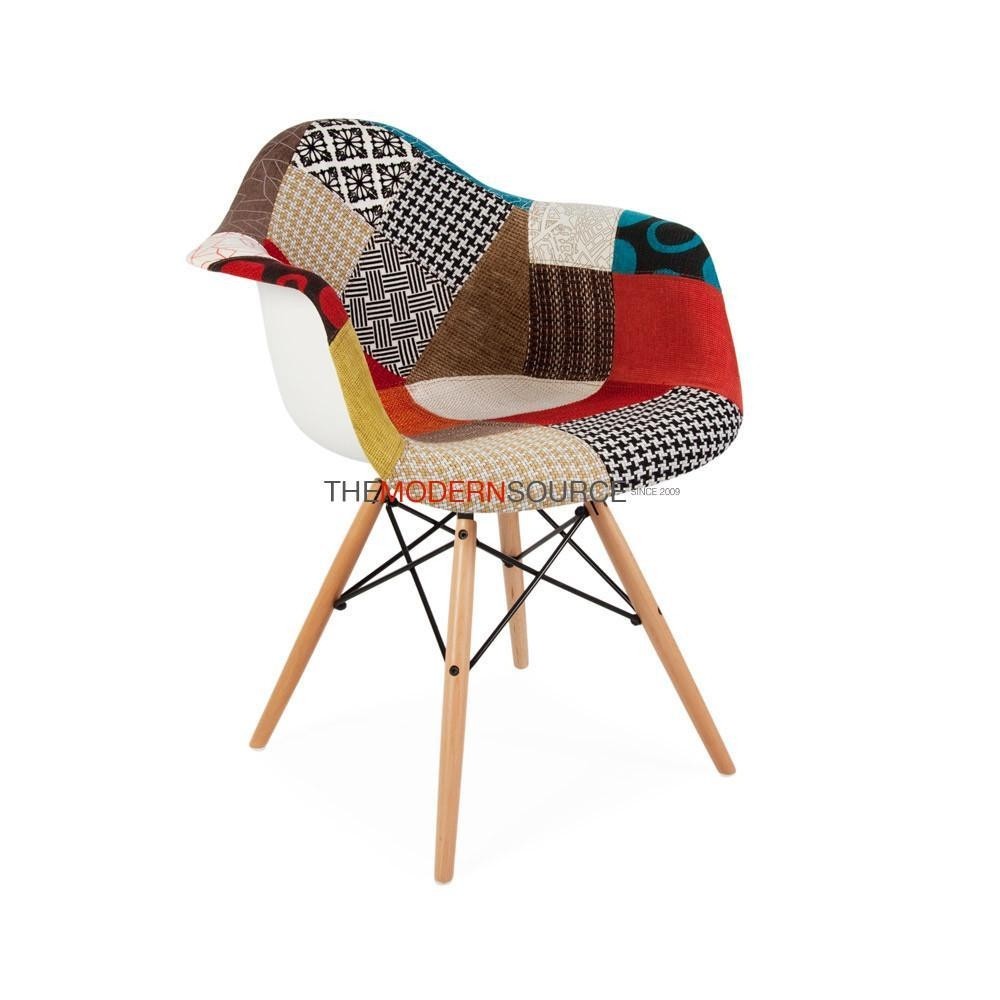 It is a fantastic chair that has got a patchwork style upholstery and solid wood construction. If you looking for an extra ordinary chair for your home, you need to choose this one.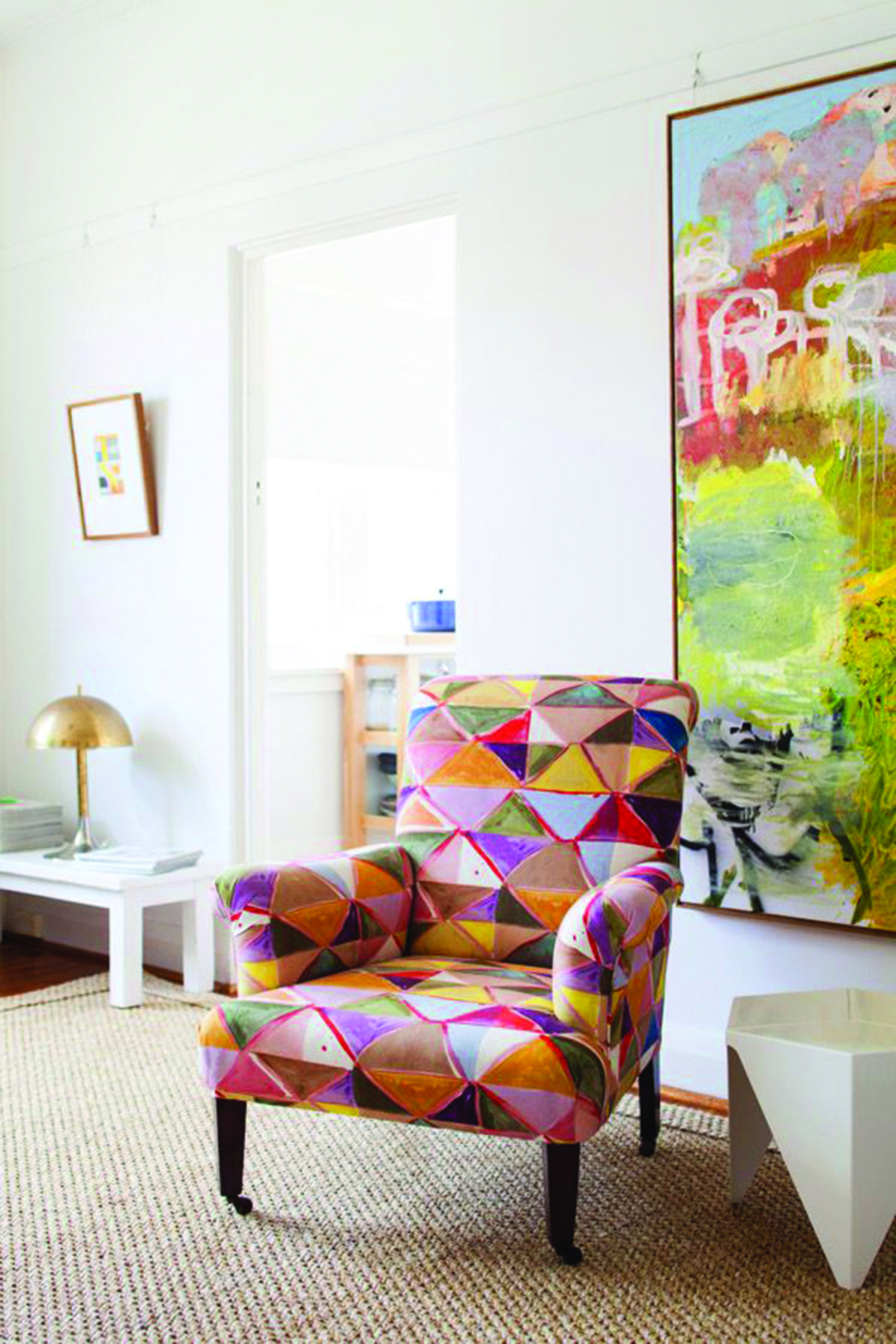 Armchair fabric by EDIT, painting by Guy Maestri. Sydney home of interior designer Juliette Arent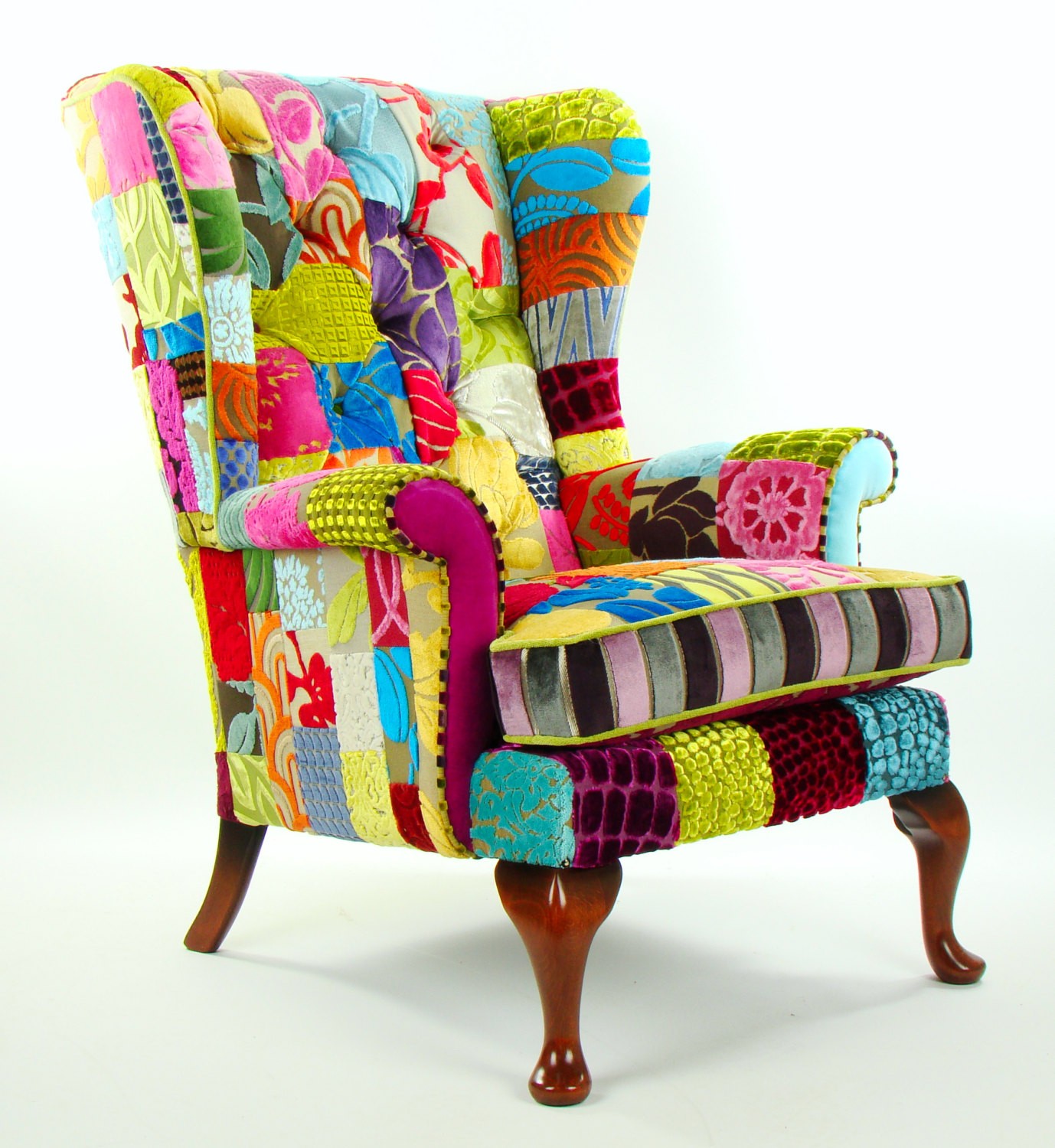 Bespoke Patchwork Parker Knoll Armchair Designers Guild Fabric