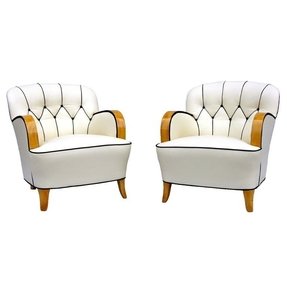 The Art Deco style is always trendy! These two fantastic armchairs are made in Sweden and they've got a flutted back with zig zag details. They will help you to create the cozy nook for conversations.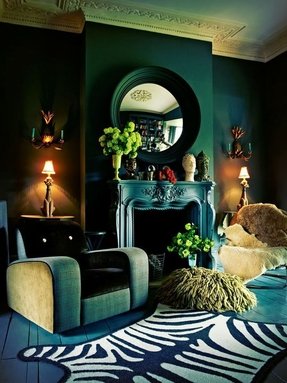 A feather headband on the forehead, a long fifth in the mouth - sitting in a comfortable stylish armchair in the Art Deco style. Interesting upholstery with an admixture of black velour combines the decorative sides of the slightly grated gray material.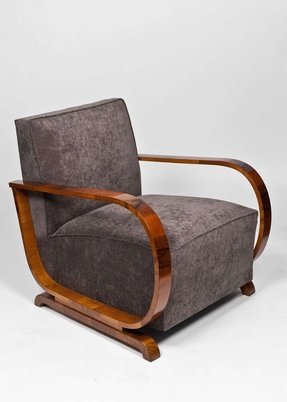 Austrian Art Deco Period Burled Walnut Armchairs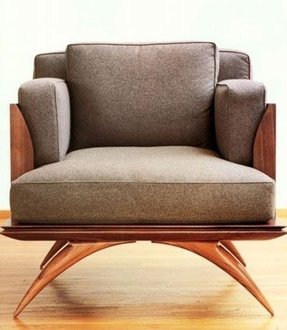 Straight from the first half of the 20th century, this extremely comfy arm chair is as elegant as it is relaxing. Its arched legs with pointy feet provide extra stability, while the wooden frame firmly holds together all the cushions upholstered in a quality gray fabric.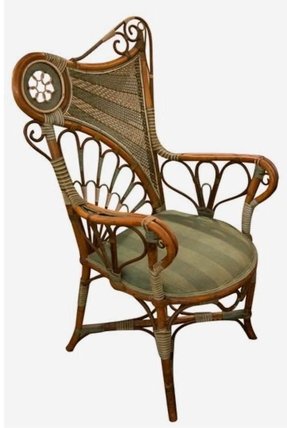 I'm a big fan of Art Nouveau style, so I decide to purchase this chair. The organic and floral motifs on it, are delighted and stunning. It's not an usual chair, it's a wonderful piece of art. It features the slender-back and walnut finish.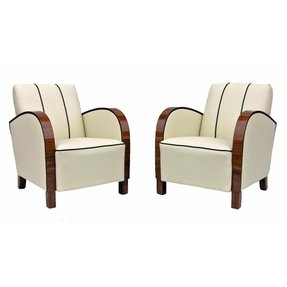 This pair of Swedish art deco chairs enchants with its beautiful combination of white upholstery and tinted wooden framing. Ideal, if you want to add your interiors some smooth, sophisticated appeal.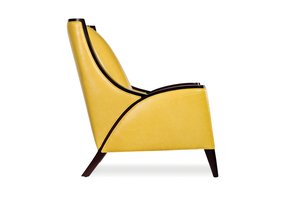 Art deco armchair - this will always be modern and beautiful to me Yes, I agree visit
An Upholstered Marquetry Art Nouveau Armchair Emile Galle, attributed to. c. 1900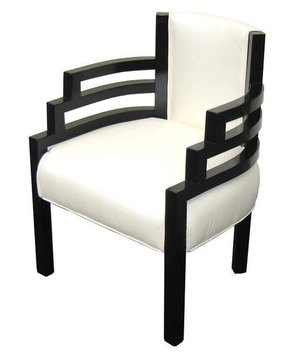 A very interesting element that decorates indoors and provides functionality. This armchair includes soft back and seat cushions finished in white color. Its solid wooden frame is finished in black color.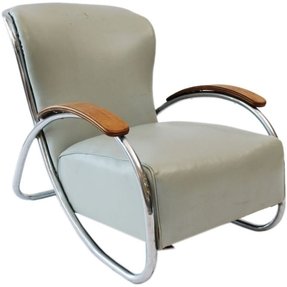 If you looking for an extra ordinary seating, try the Vintage Lounge Chair by K.E.M. Weber. Unique shape, modern style and well made finish create an interesting piece of furniture.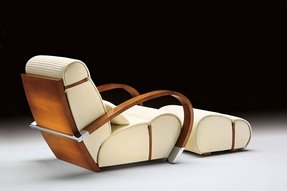 Modern Home Furniture Design Walnut Armchairs With Art Deco Style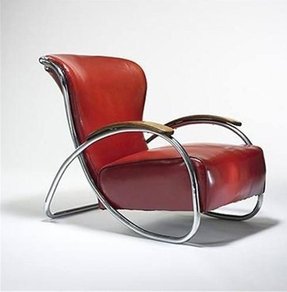 Kem Weber chair. I need to find out what period this really is...but what an absolutely beautiful chair!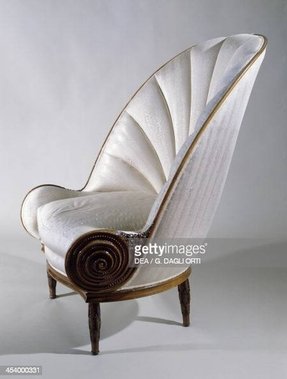 Art Deco Style Armchair, Ca 1913 Gicléedruk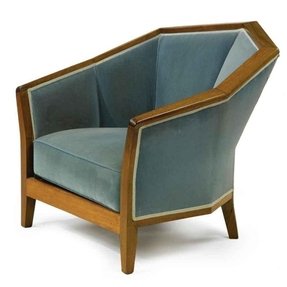 Dinosaurs and Robots: Important 20th Century Design - Auction at Sotheby's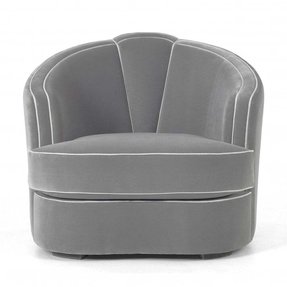 Modern arm chair as additional seating in the living room, bedroom and more. It is covered with pleasant to the touch material and finished with decorative stitching. Perfect for watching TV or reading books.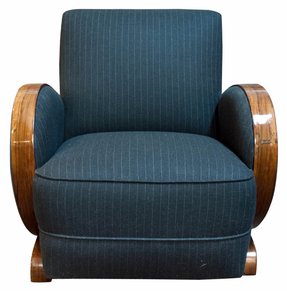 Club Chair 1930's Vintage Art Deco Chair by lavintagefurnishings, $2200.00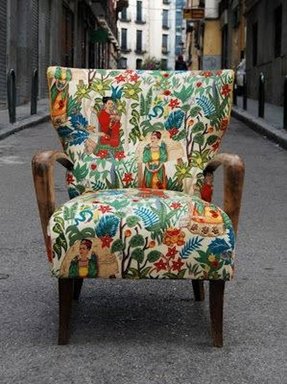 This Art Deco living room chair constitutes a simply unique piece of furniture. Crafted by La Tapicera in Spain, it enchants with its vibrant upholstery, inspired by Frida Kahlo's painting. That is why it is also called the Frida chair.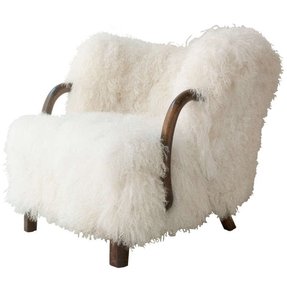 Danish Art Deco Armchair Mongolian Lamb Fur Attributed To Viggo Boesen
Arm chair in the Art Deco style. Seat and back is covered with pleasant to the touch faux fur. Frame is made of wood and reinforced with solid supports. Adds freshness and modernity to each room.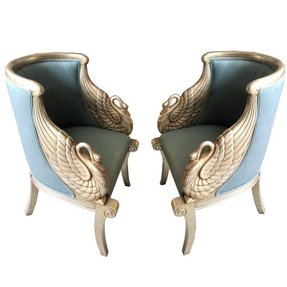 This set of two American Art Deco Neoclassical arm chairs is a true eye catcher. They characterized by silver finish and swans on the arms. They are ideally suited to a rich decorated interior.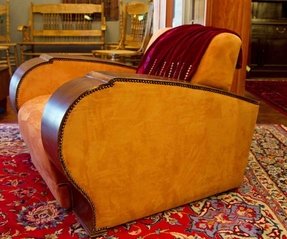 Art Deco "Møblene i art deco-stilen er inspirert både av louis-seize-stilen og empire. Det ble lagt vekt på en funksjonell og behersket stil preget av renhet, abstraksjon og stilisering. Likevel må en kunne påstå at art deco er en overdådig stil, s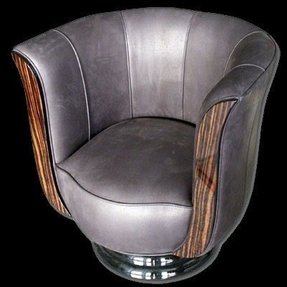 #GreatGatsby, #ArtDeco, #Interiors, Art deco club chair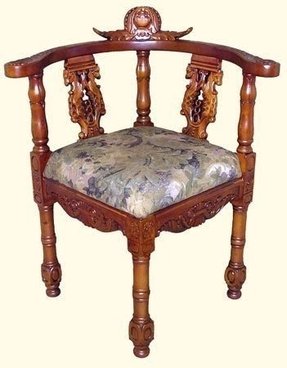 This magnificent corner chair is beautifully hand-carved from solid mahogany, including decorative arms and back, and fluted legs. The square seat cushion is removable, upholstered in a chippendale fabric, and padded for extra comfort.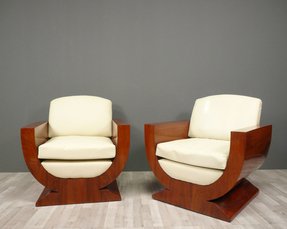 Pair of armchairs art deco - Art deco furniture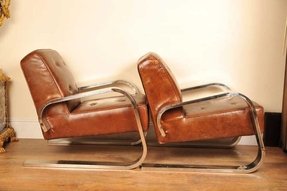 Details about Art Deco Chrome Club Chairs Arm Chairs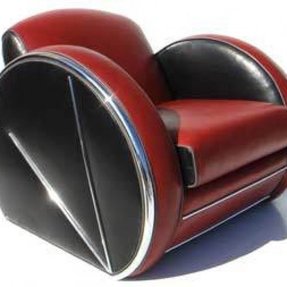 This chair is a very inique and original element of home furniture. It features a solid frame and some metal decorations on arms. Black arms are well paired with red back and seat surfaces with soft cushioning.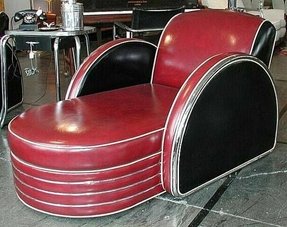 An attractive retro chaise lounge with a streamlined frame of chromed metal. It has an elongated semi-oval thick-padded seat, a quite tall wide backrest, semi-round full panel arms. Upholstery, with white piping, is of red and black leatherette.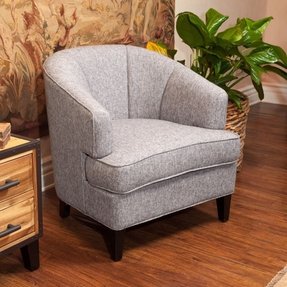 A piece of furniture that provides comfort and assures a very modern character of any type of indoors. It is a chair that features a relaxing and stylish tub design. It is upholstered with grey fabric.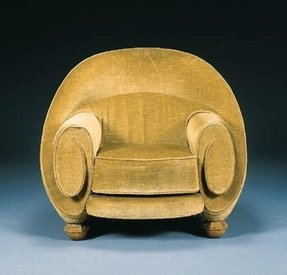 ART DECO UPHOLSTERED ARMCHAIR PIERRE CHAREAU, CIRCA 1925. @Deidra Brocké Wallace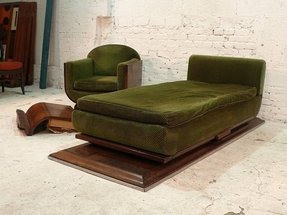 Art Deco Divan bed and Armchair (pic.10353-04)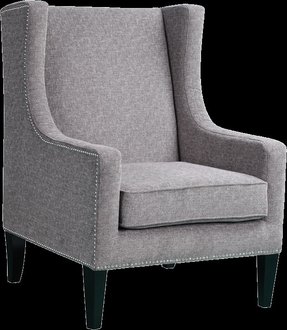 This wing back arm chair has got a gray finish, contemporary design and padded seat, for enhanced comfort of use. You will be impressed how amazing it looks in your living room.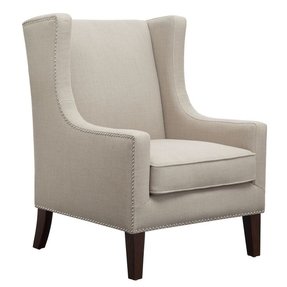 It is a classic and elegant wing back chair that has got a linen upholstery and padded seat, which provides a fantastic seating comfort. Everyone will be impressed how beautiful this chair is.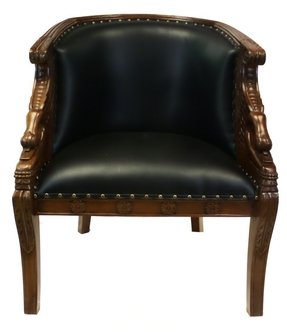 It is a French style swan tub chair that is hand carved and has got a mahogany finish, faux leather upholstery and comfortable seat. It fits to classic and traditional style and décor in living room.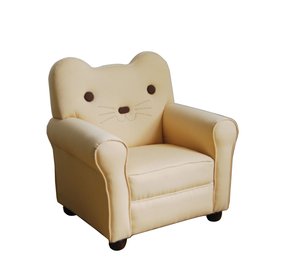 To lend a cheery and playful feel to a decor, this cute kitty arm chair is indispensable! The backrest features an adorable cat motif, and the piece is padded with yellow fabric, so it literally brightens a room up!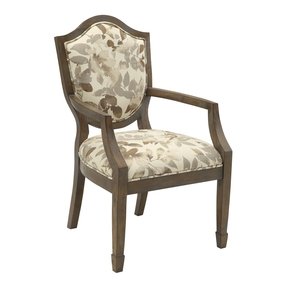 Hepplewhite Arm Chair
Wonderful contemporary wooden chair with a matte brown finish. It has spade-like front legs, sloped fronts of straight arms. Both a semi-oval seat and an arched shield-back are upholstered in white fabric with a floral pattern in beige and browns.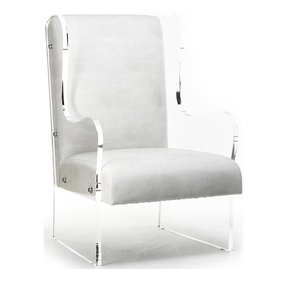 This modern wing back chair adds comfort and style to your contemporary living room area. It has got an ivory faux leather upholstery and acrylic base. If you looking for perfect chair, you need to choose this one.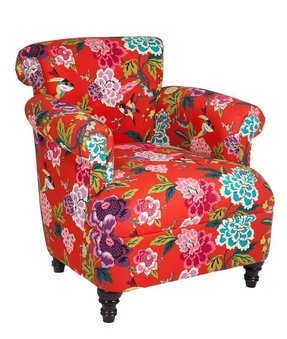 Jimmy Arm Chair
This arm chair has a very original, eye-catching design - it is upholstered with a bright red fabric with colorful, floral pattern on it. Wooden legs are decoratively carved and have a deep brown finish.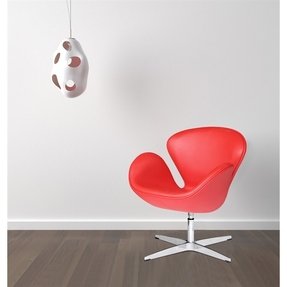 It is a modern swan chair that has got a red leather upholstery and swivel function, for enhanced comfort of use. Everyone will tell you how fantastic it looks in your living room.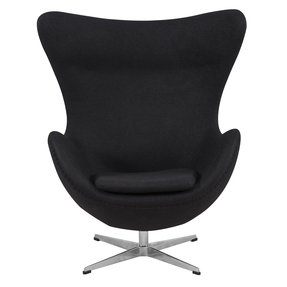 This egg chair has got a contemporary design and it fits perfectly to modern style and décor. It is available in six amazing color options to choose. It has got an aluminum base and satin finish.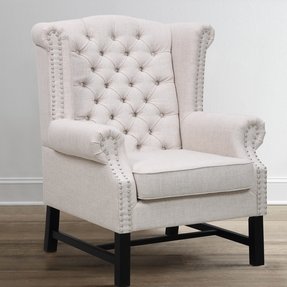 Suitable for contemporary homes, this club chair features a wingback design, embellished further by stylish nailhead trim, rolled arms, and a button-tufted back. The legs are crafted from birch wood, the seat cushion is removable, and the upholstery is beige linen.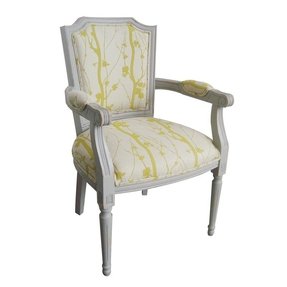 Durian Arm Chair
Beautiful antique style chair of wood hand-painted in white. It has turned front legs, curved and grooved arms supprts and arms with fabric pads. A thick seat and a tall back with a curved top are covered in white cotton with a green floral pattern.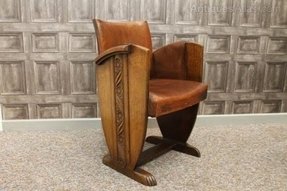 This traditional solid oak and leather art deco armchair made in the ...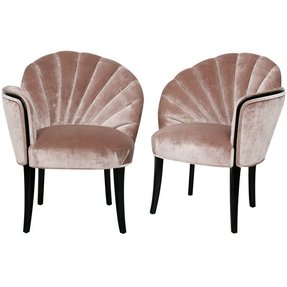 Pair of 1920's Art Deco Shell Back Boudoir Chairs | From a unique collection of antique and modern slipper chairs at