Garden Journal Canvas Art (Set of 3)
Decorative set of three garden motifs printed o canvas in sepia - the frames are espresso brown to match the style. A group of pictures creates a consistent style that blends well with a contemporary decor.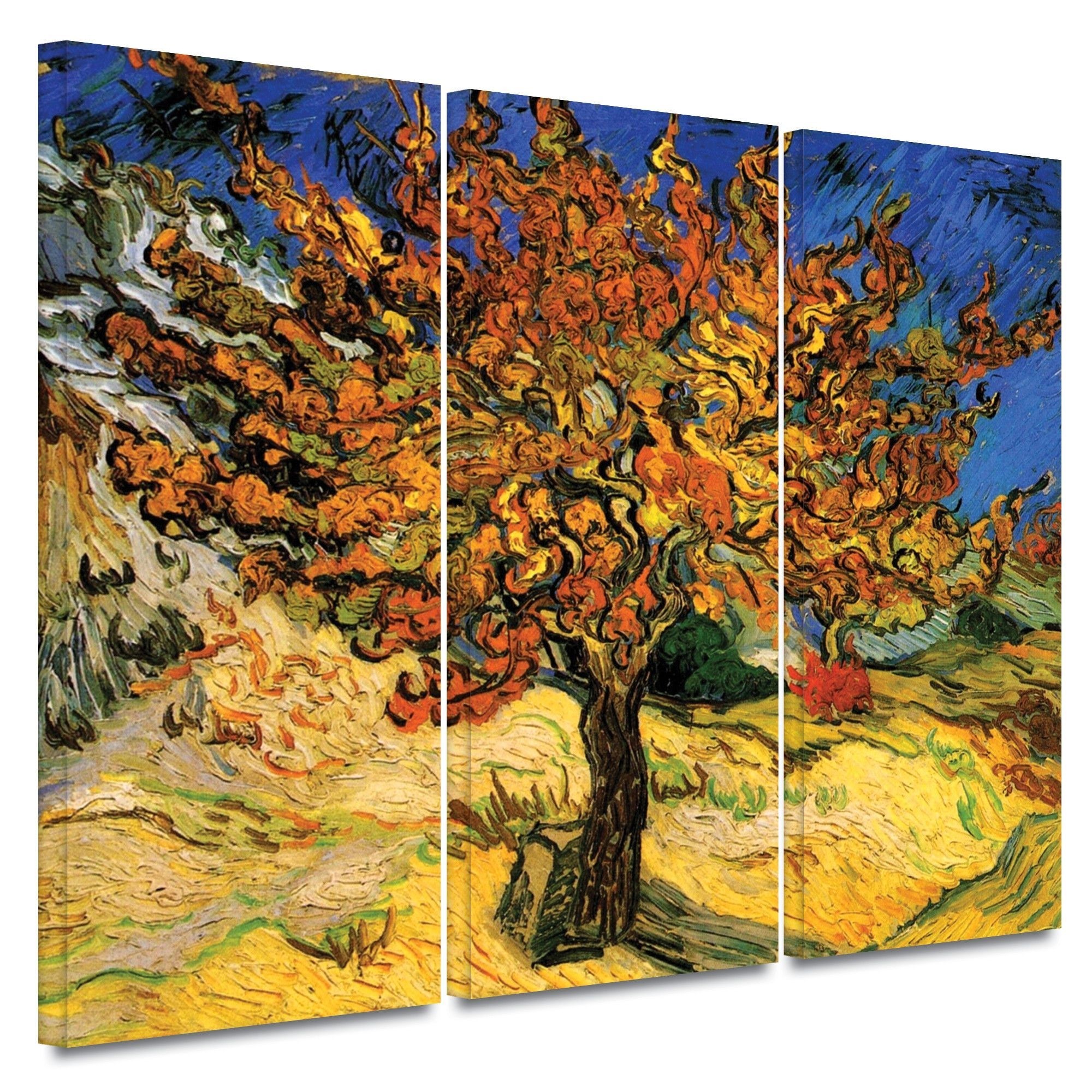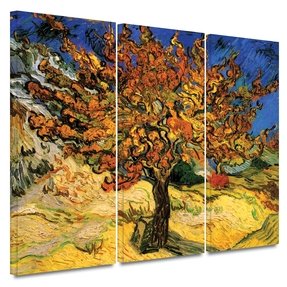 Mulberry Tree by Vincent Van Gogh 3 Piece Canvas Art Set
High quality reproduction of Vincent Van Gogh 'Mulberry Tree' art. The image is printed on canvas and it comprises of three pieces to be hanged together (the spacing is up to you). The colours are beautiful and vivid.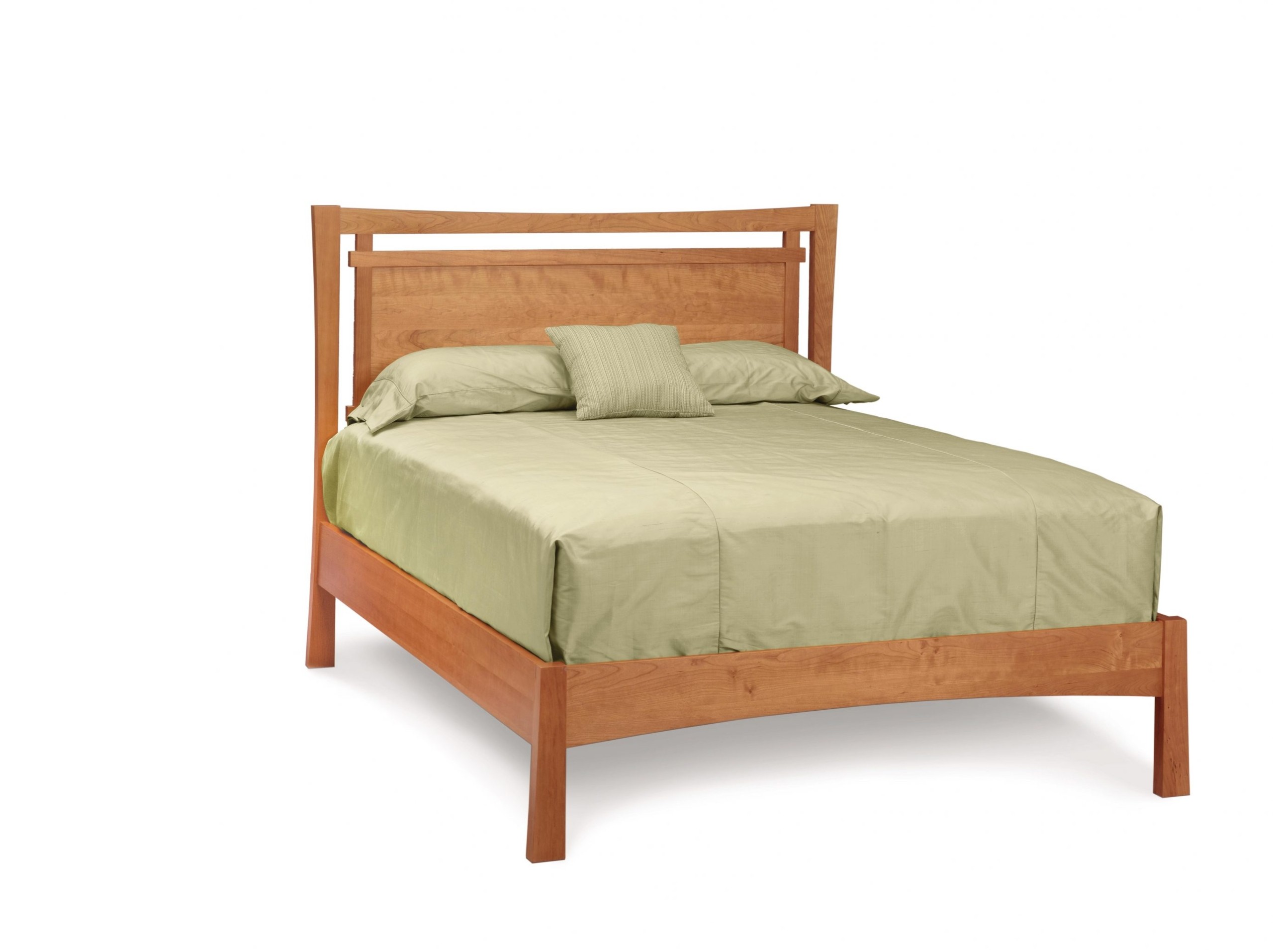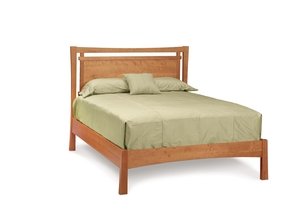 Monterey Panel Customizable Bedroom Set
It is a panel customizable bedroom set that has got an adjustable wooden glides, clear, silky and smooth finish and natural hardwoods. If you looking for a beautiful panel bedroom set, you need to choose this one.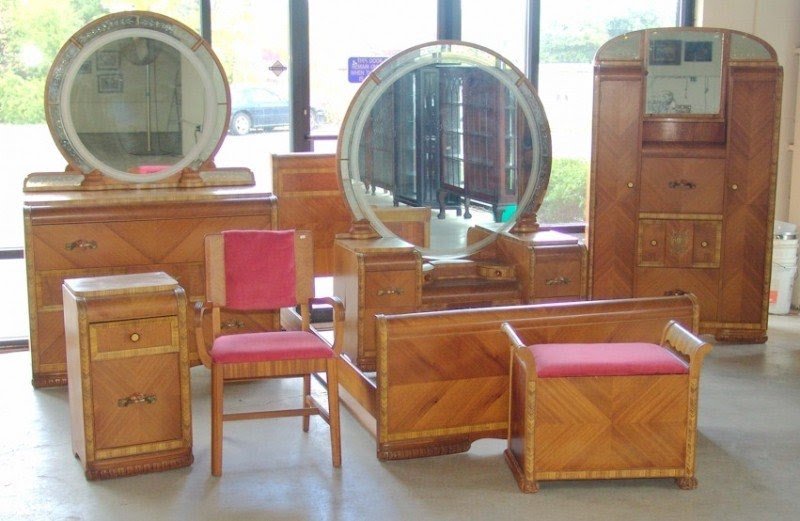 Set of retro furniture to bedroom inspired of art deco style. Every element is wooden and has finishing made of red cloth. Set is composed of chair, night table, bed frame, wardrobe, footstool, chest of drawers with mirror and dressing table.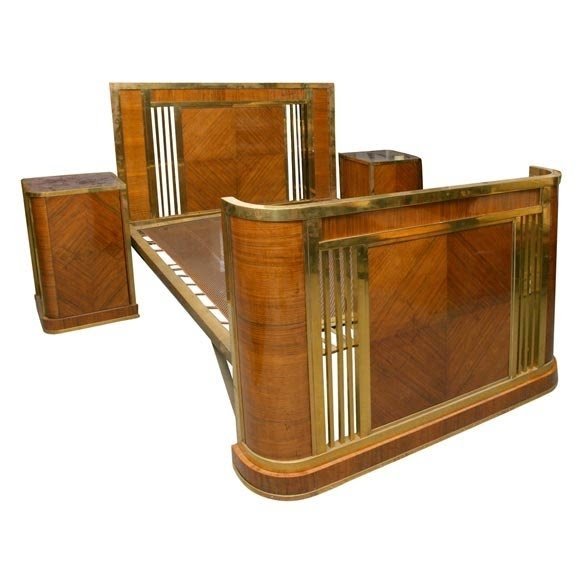 French style bed made of wood with a finish in warm browns. Its headboard and footboard are identical: they have full bases, rounded sides, central parts in the form of panelling with a rhombic pattern, brass edging and rods in vertical cutouts.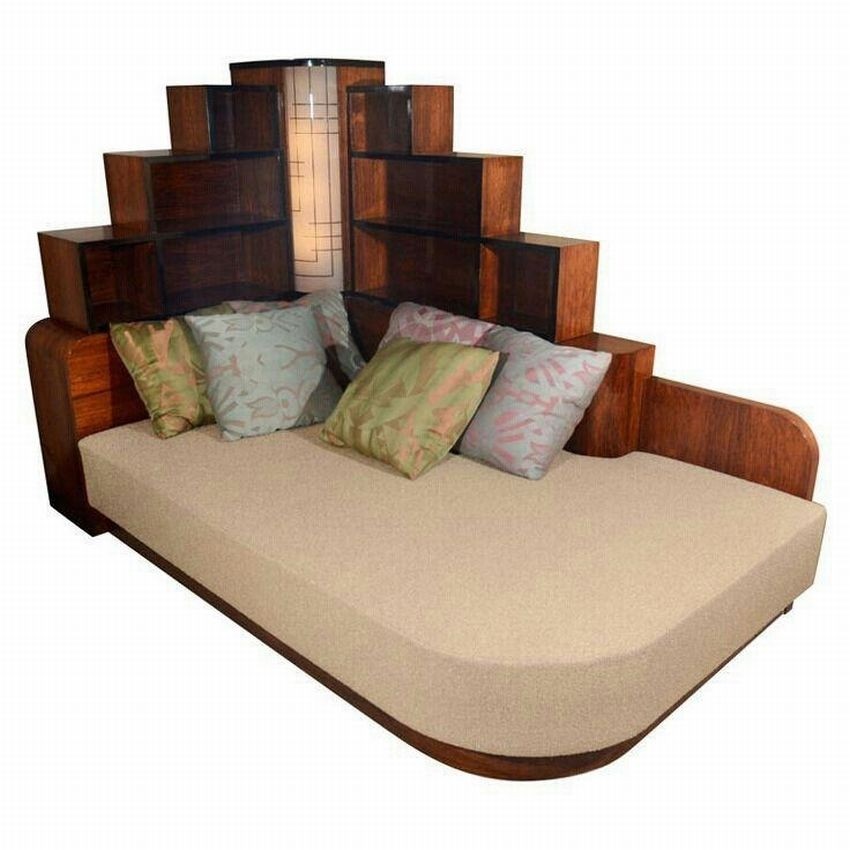 A comfortable sleeping and sitting space for users who love original solutions. This unique bed includes a very soft and comfortable mattress based on wooden frame. This frame features some shelves for books and decorations.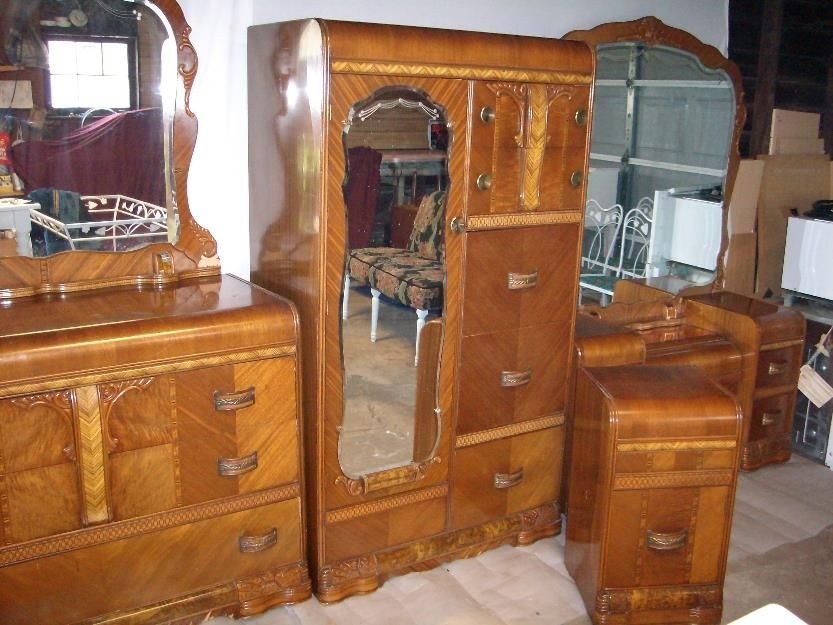 Decorative and practical elements of bedroom furniture. They bring the style of 1930s and 1940s into the house. Practical storage drawers and compartments are capacious. The main element is paired with a decorative and functional mirror.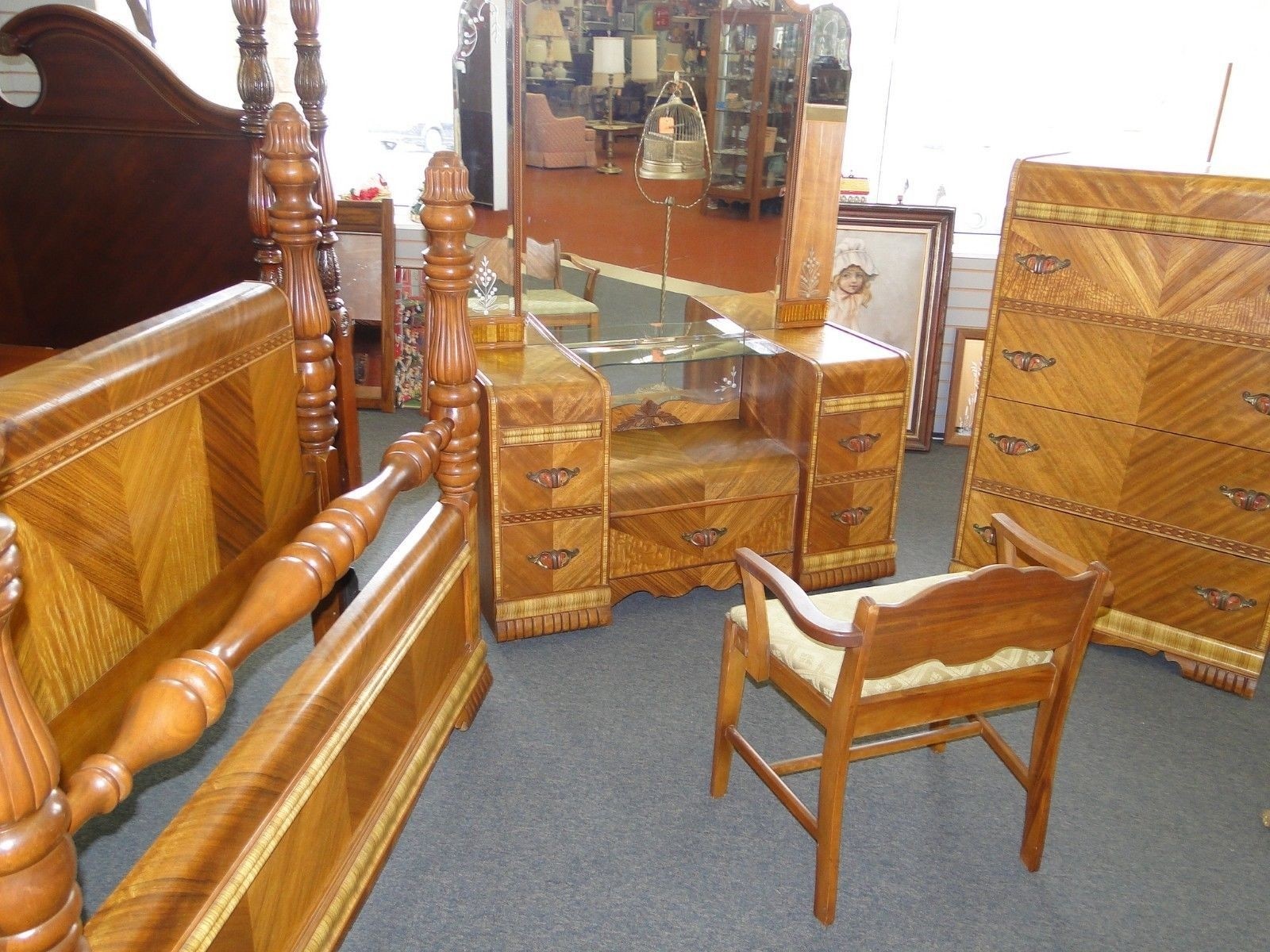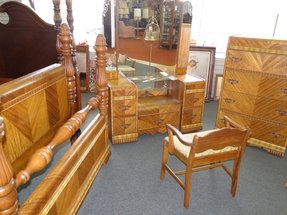 Art Deco Waterfall 4 Poster Bedroom Set - Bed, Dresser, Vanity, Chair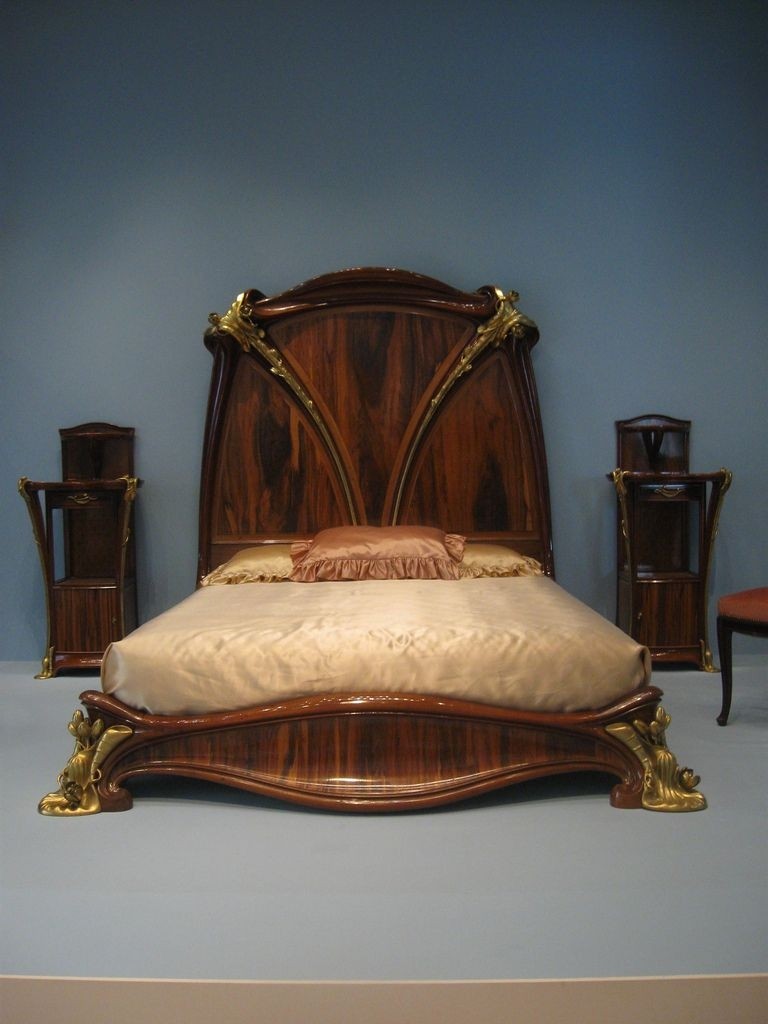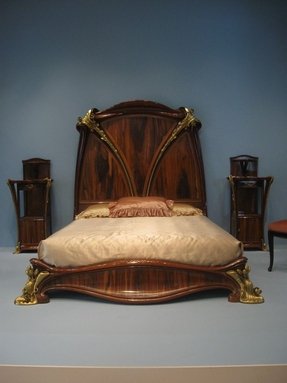 Dreamlike bed frame in the Art Deco style. Construction is made of wood and finished with carefully made carvings. Elegant design for each bedroom according to taste and need.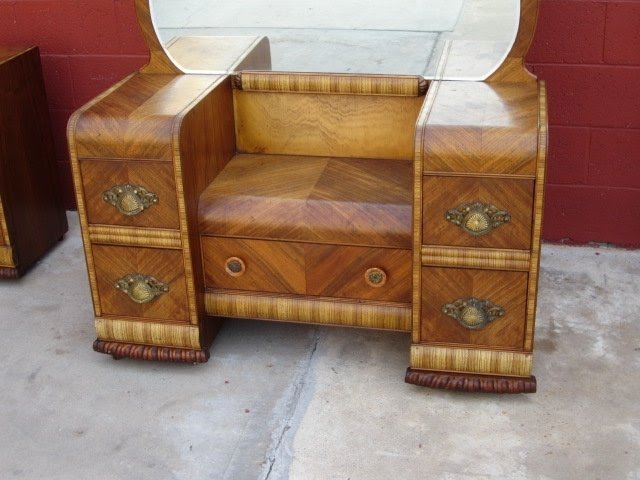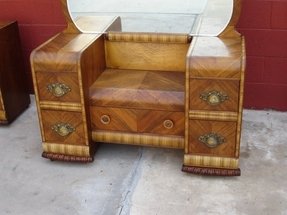 Antique approach to an art deco vanity dresser in a waterfall style, made out of smoothly polished oak wood with a light tint. The dresser has a bench on it and five drawers, which provide a lot of storage space.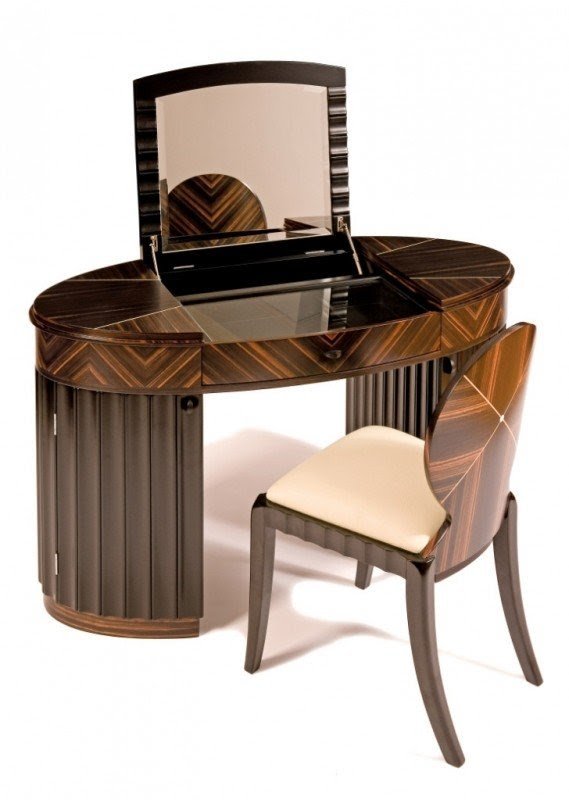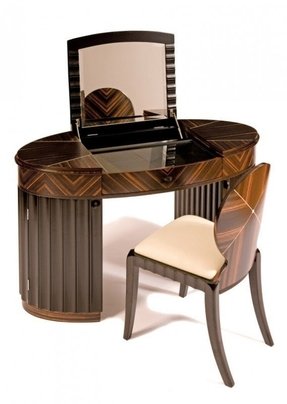 This contemporary Art Deco dressing table is as functional as it is beautiful. Crafted of wood with a walnut finish, this table features a lift-up mirror with a jewelry drawer, and 2 spacious cupboards hidden inside of the pedestal base.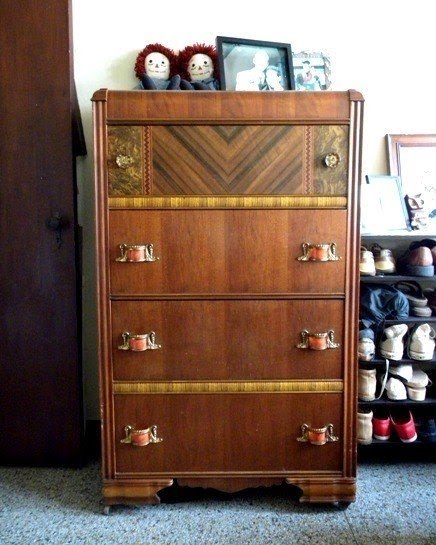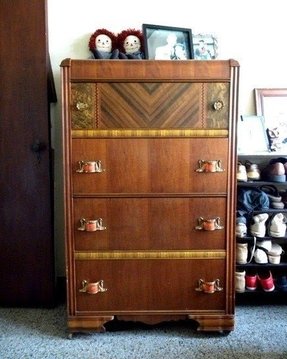 1930s Art Deco Bedroom Set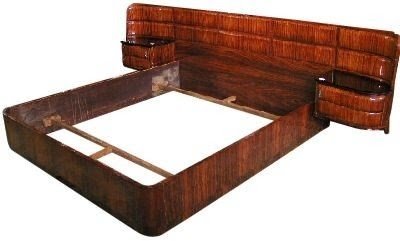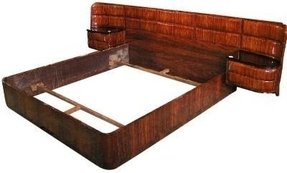 Dassi Mobili Modern Custom Art Deco Bedroom Set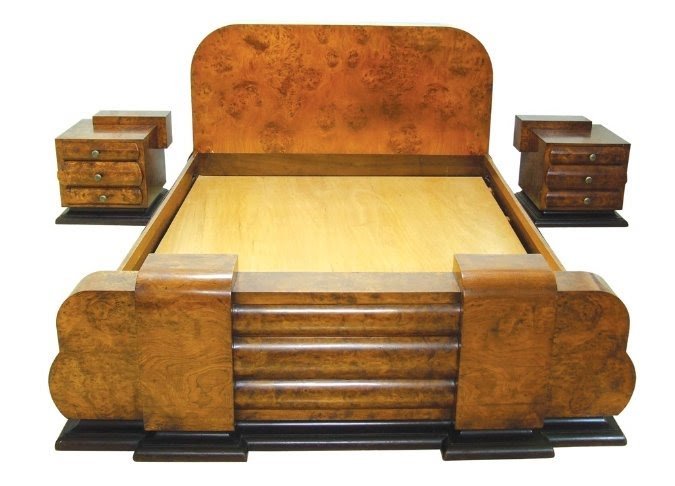 If you looking for something special for your apartment, we suggest you the bedroom set with art deco design, which includes bed and two nightstands. It brings the solidity to any bedroom.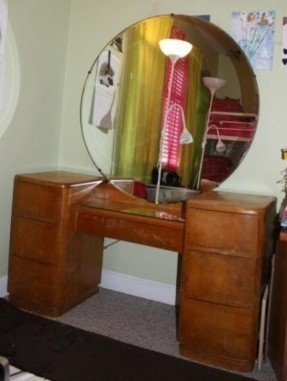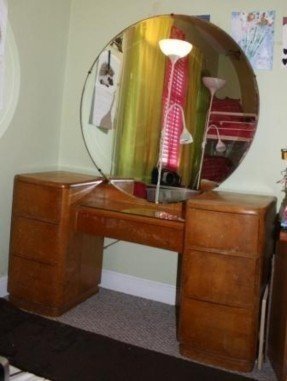 ... Wood Art Deco Style Bedroom Set of Furniture for Sale $600 for set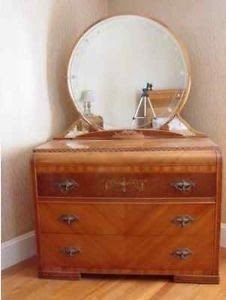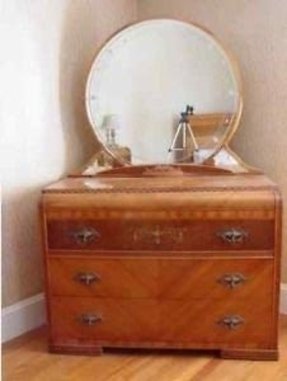 Details about Art Deco "Waterfall" Bedroom Set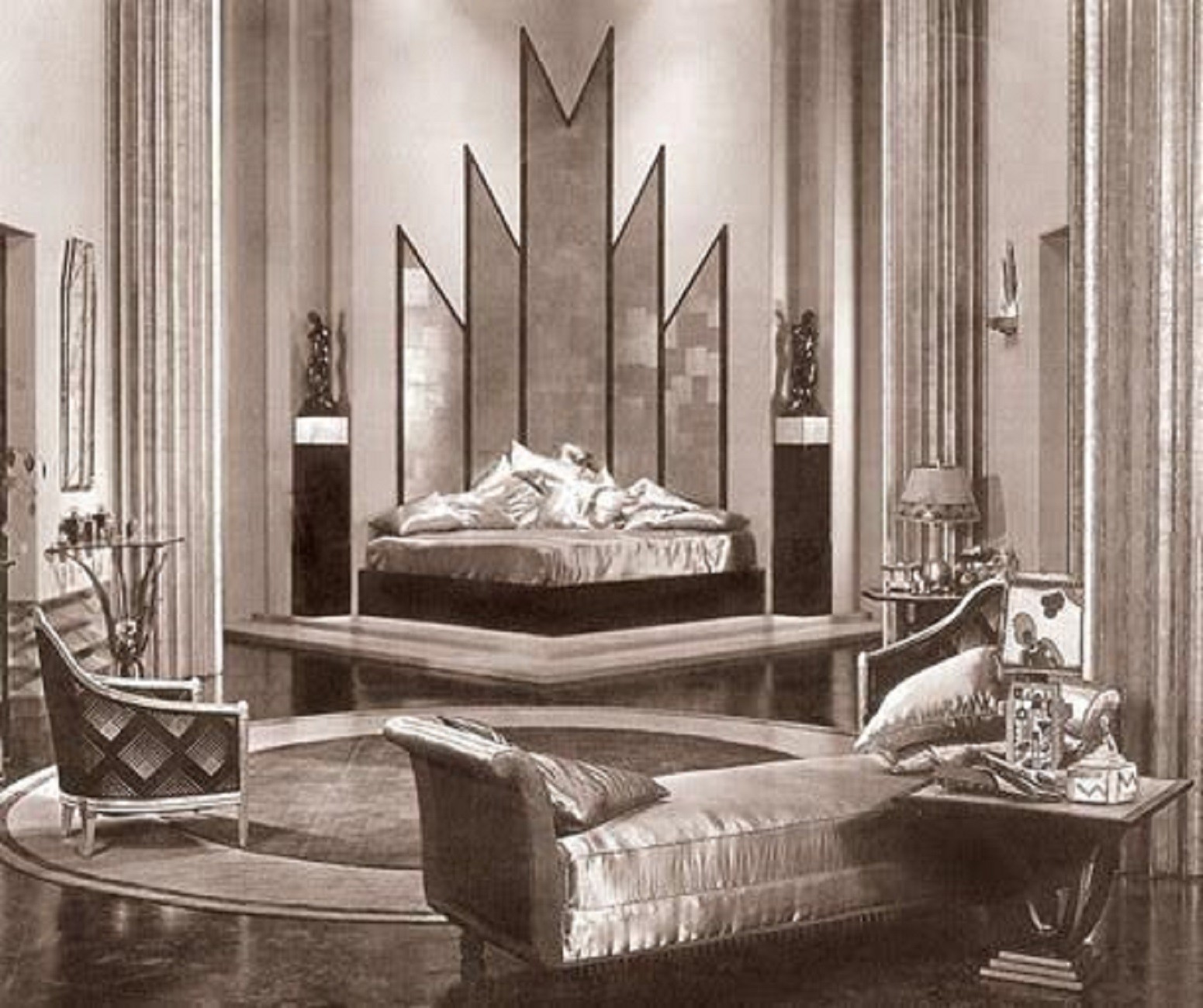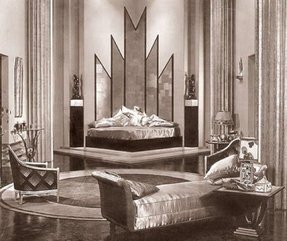 Art Deco bedroom. I love how the space still feels soft and feminine despite the hard line movement.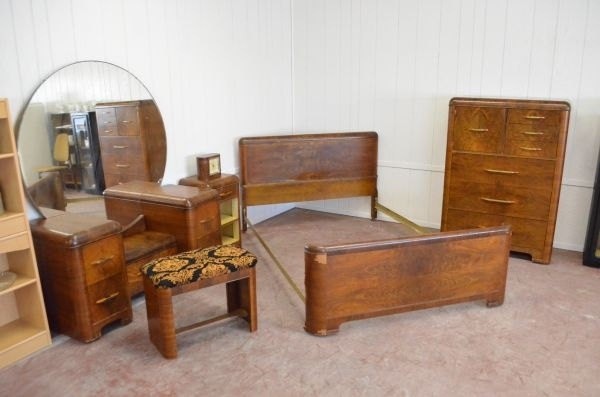 Art Deco 1930'S Waterfall Bedroom Set Vanity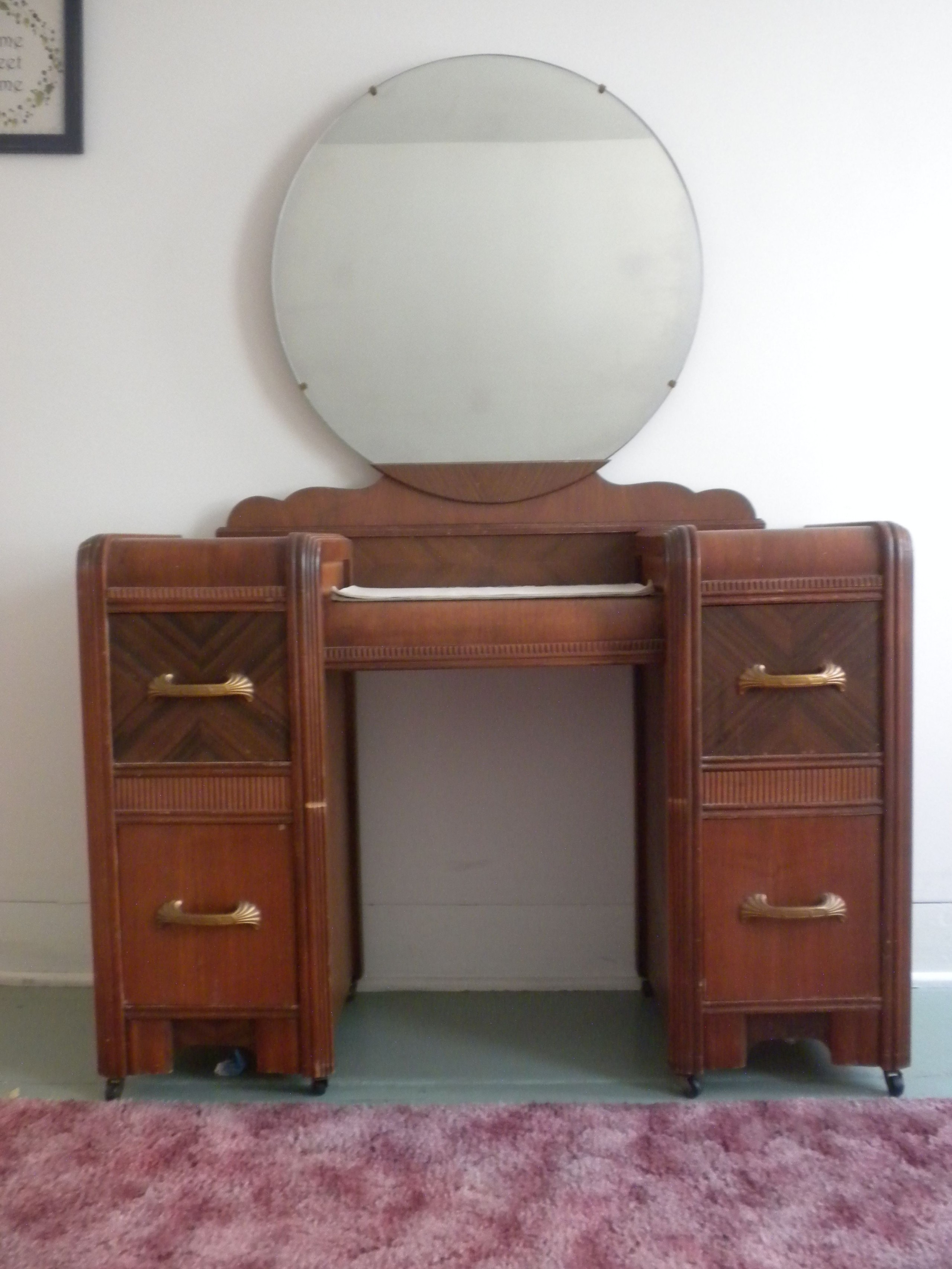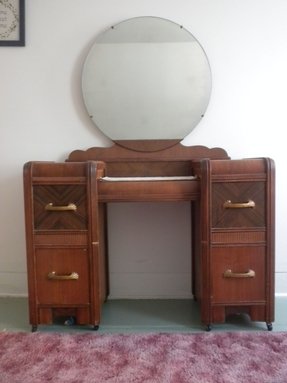 1930 Furniture Styles | have an art deco waterfall style bedroom set: vanity with ...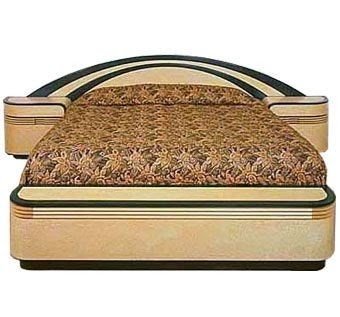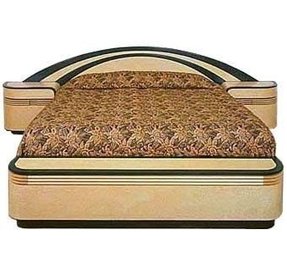 Designed in the art deco style, this king size bed offers unique curved panels that display different kinds of extraordinary wood. The mattress is very comfy, and beautifully decorated with a quality, patterned fabric.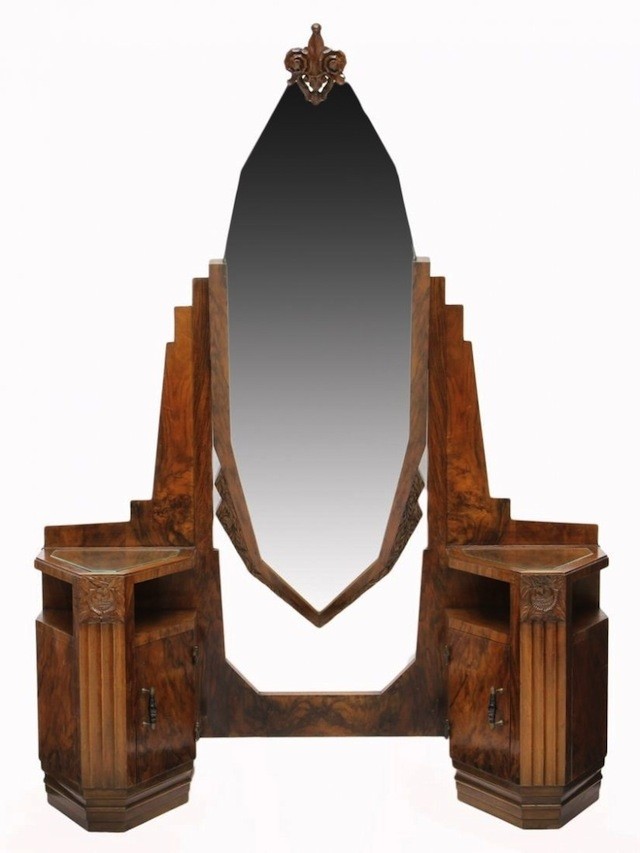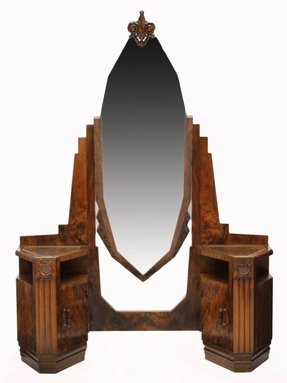 This element of furniture is very functional and suitable for a bedroom use. It includes two storage compartments with shelves and small tops. This solid wooden construction includes a functional and attractive mirror in its central part.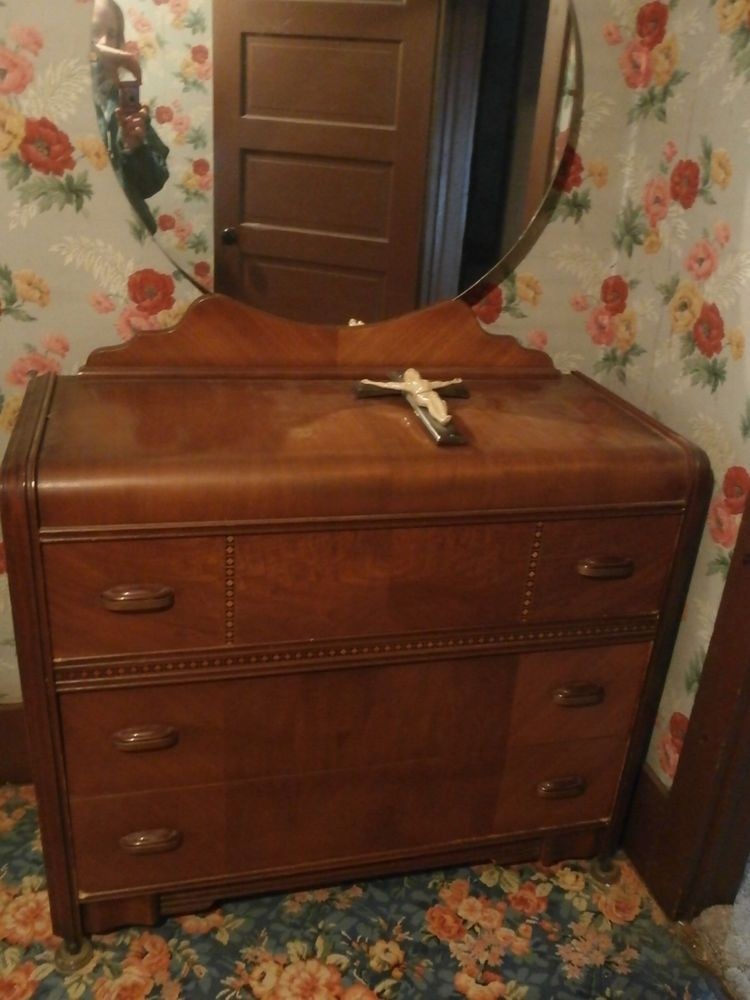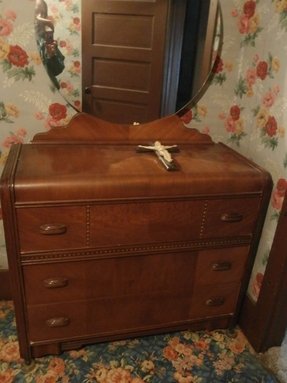 Art Deco Bedroom Sets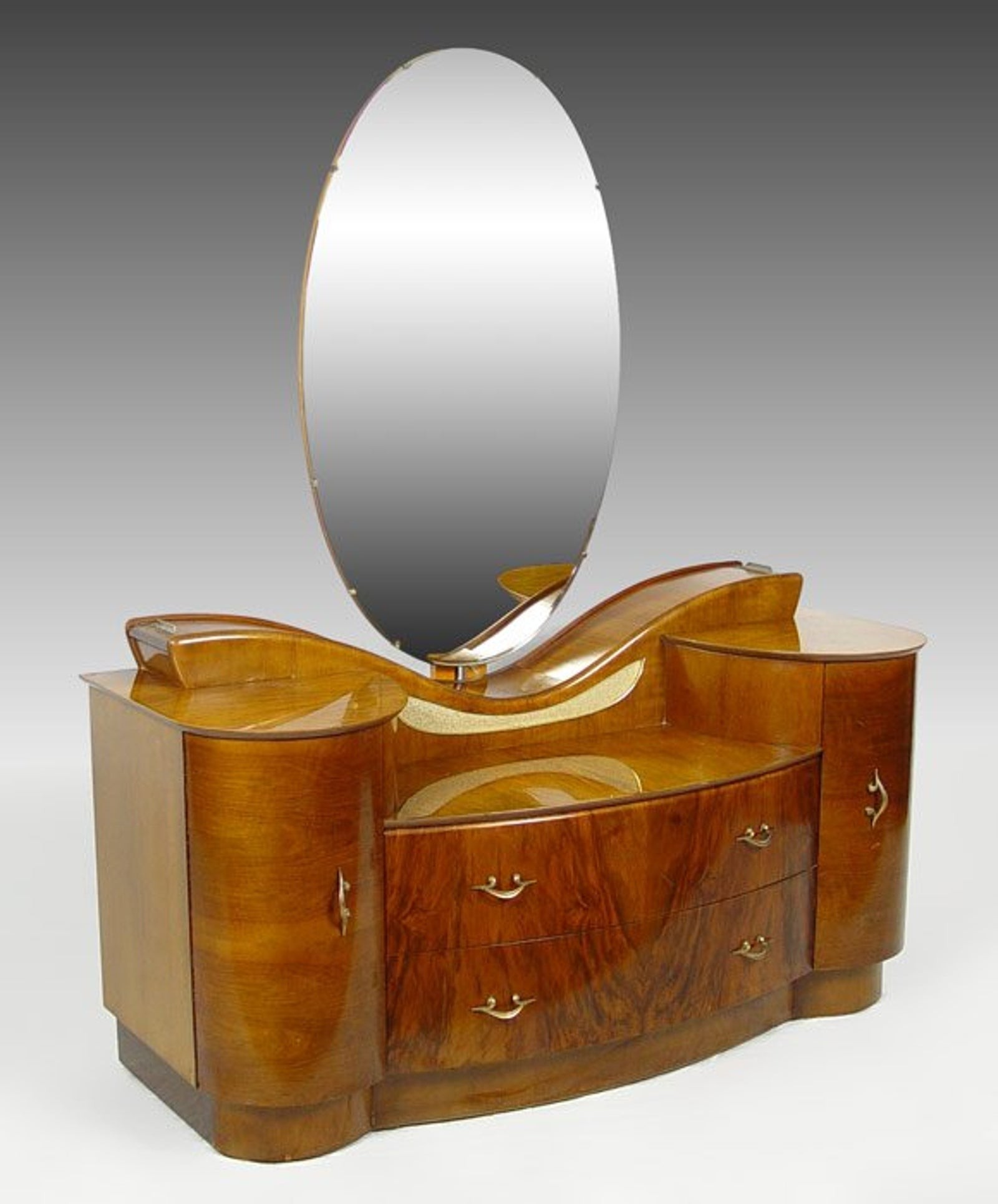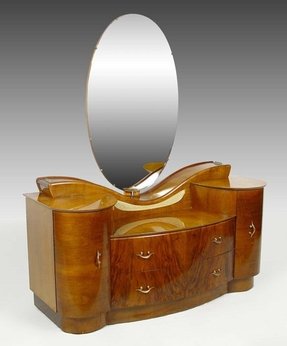 The unusual piece of furniture from art deco bedroom set- due to the quality of materials used, alder wood combined with various bronze passes and varnish. The unique wavy shape and oval swivel mirror with tambour compartments.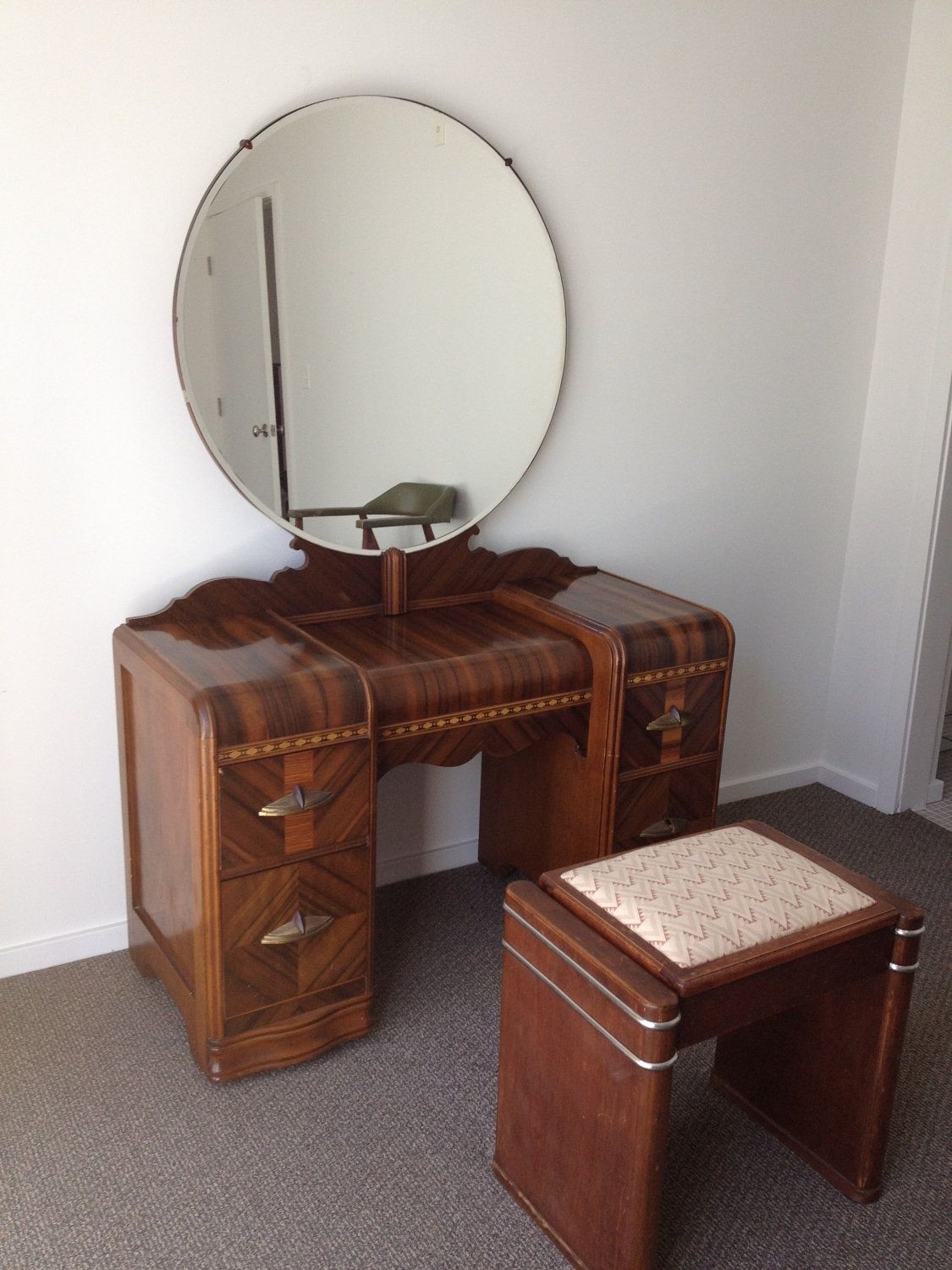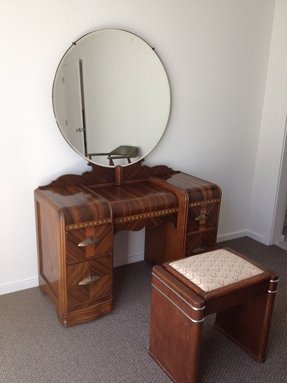 1930s-bedroom-furniture1930s-art-deco-waterfall-bedroom-furniture-6-by ...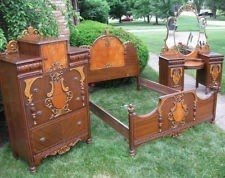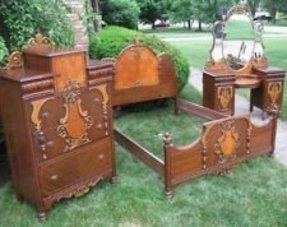 Full Size Bedroom Sets on Art Deco Nouveau Bedroom Set Vanity High Boy ...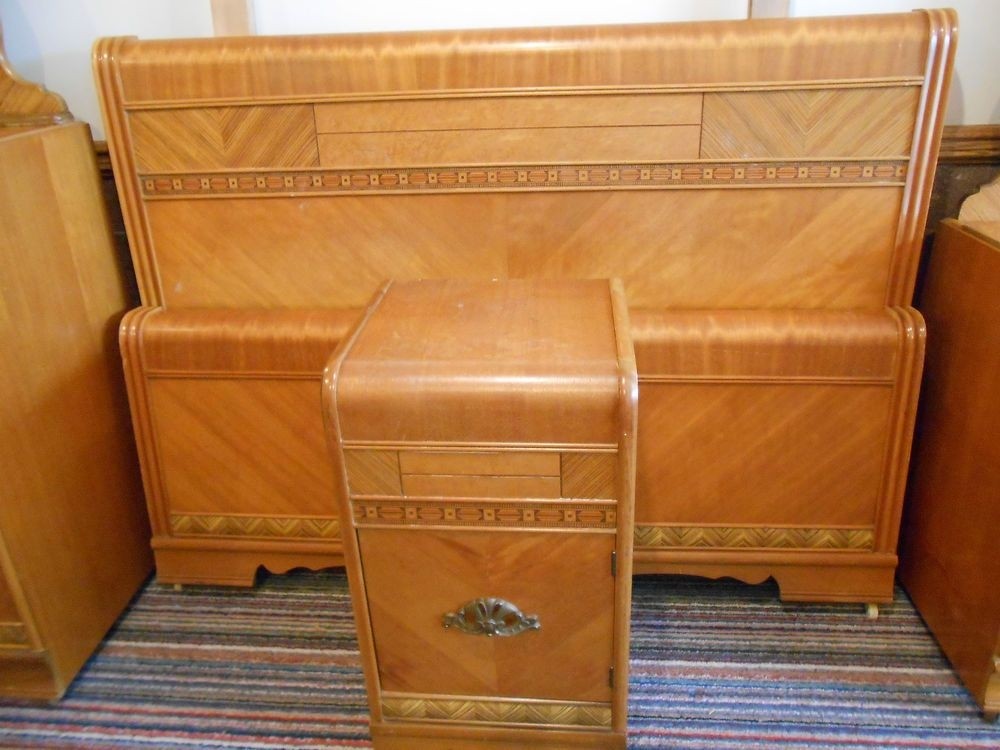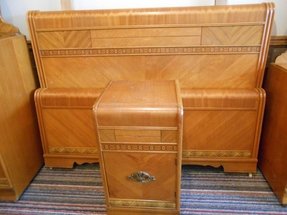 Art Deco Maple Five Piece Bedroom Set Bed Wardrobe Dressing Table ...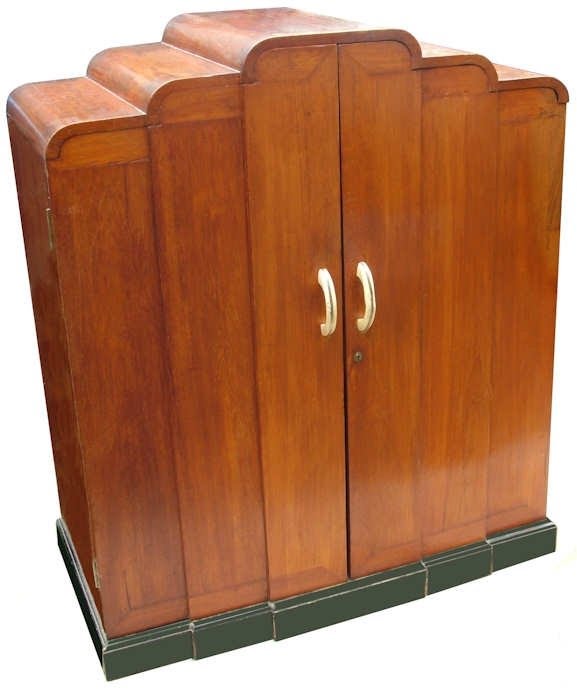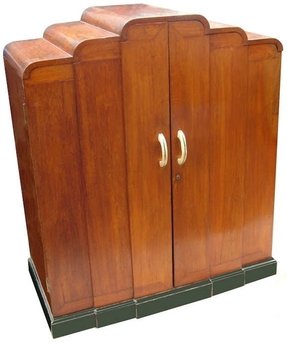 This capacious closet is crafted from solid oak wood, ensuring good longevity and comfortable usage. Inside you will find 7 drawers with cream handles, which are going to organize all your sheets, blankets, and beddings.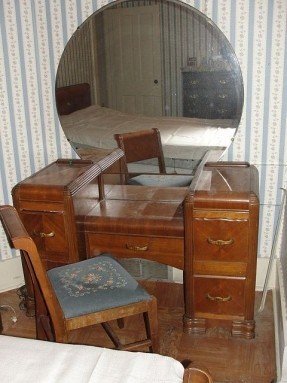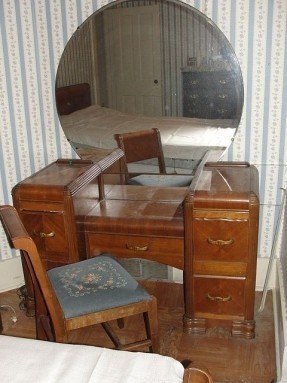 Art Deco waterfall BEDROOM SET VANITY WARDROBE Dresser CHAIR BED FRAME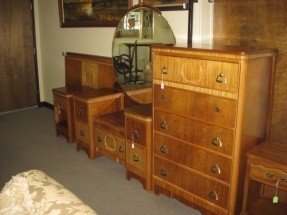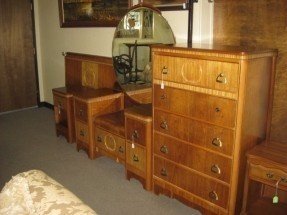 This bedroom set constitutes a good example of the Art Deco furniture. Its rich, wooden finishing enchants with the beautifully preserved natural grains. A real bargain for vintage lovers.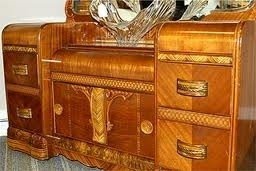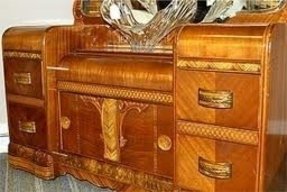 Art Deco Waterfall Bedroom Set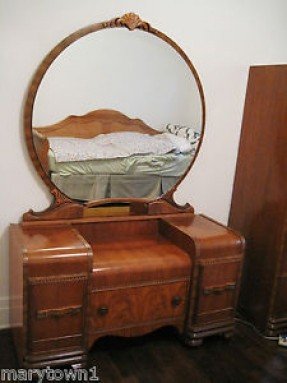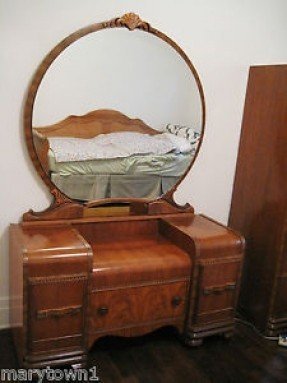 Details about Art Deco Waterfall Bedroom Set Vanity Dresser Highboy ...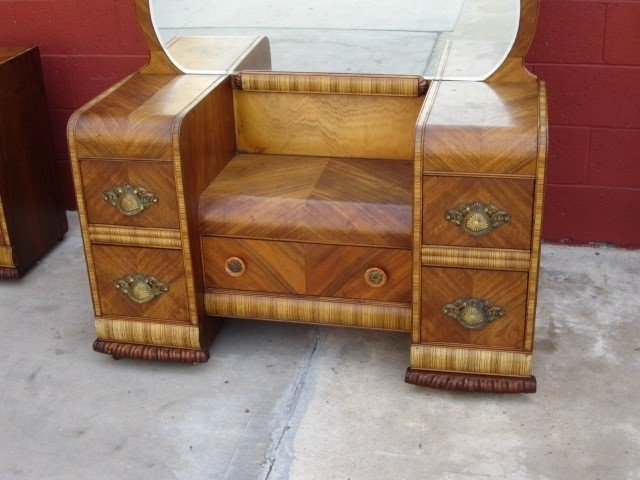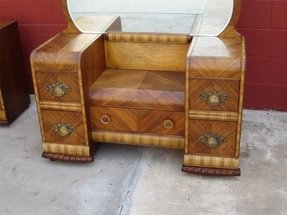 American Vanity Dresser Art Deco Waterfall Bedroom Furniture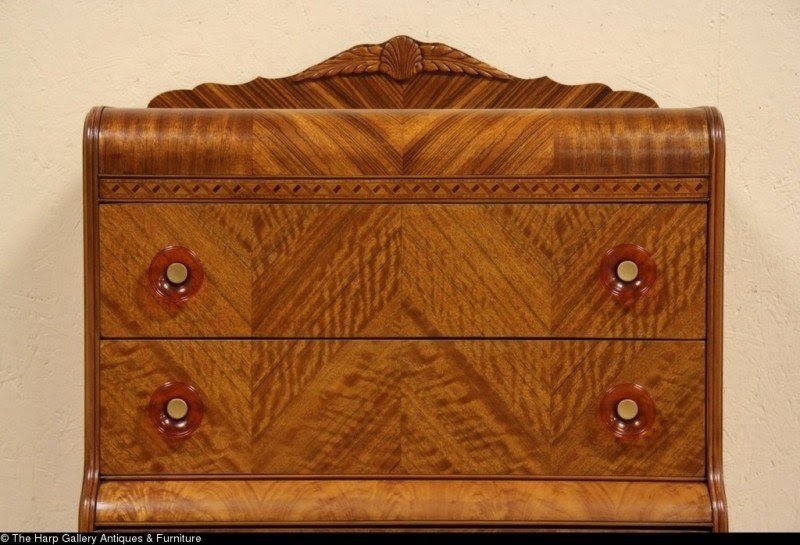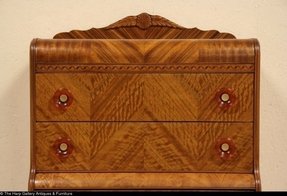 1024__1024____ab__brset4524ad7.jpg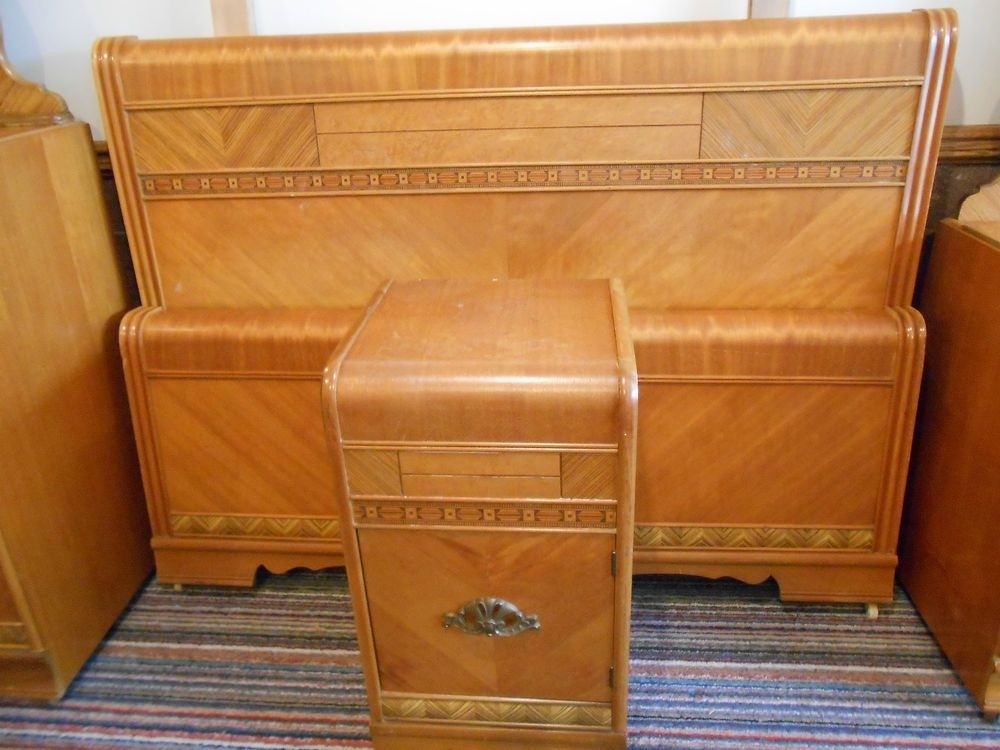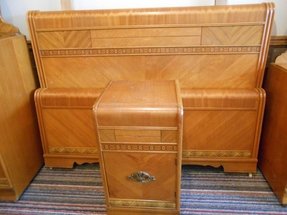 Art Deco Maple Five Piece Bedroom Set Bed Wardrobe Dressing Table ...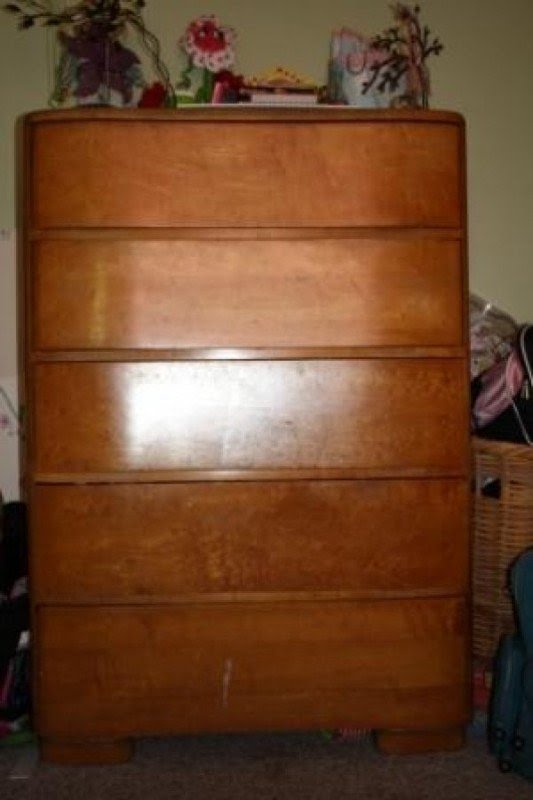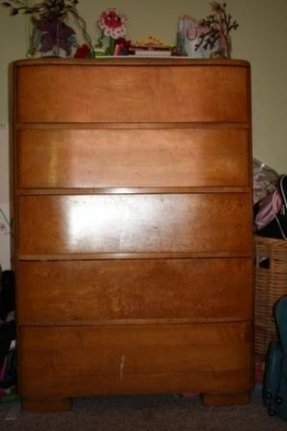 ... Wood Art Deco Style Bedroom Set of Furniture for Sale $600 for set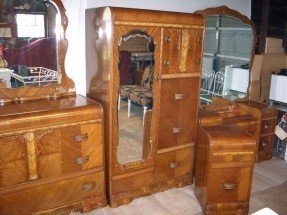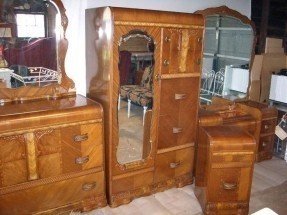 Art Deco Bedroom Set, 1930s 1940s Waterfall Furniture 1930S 1940S, Art ...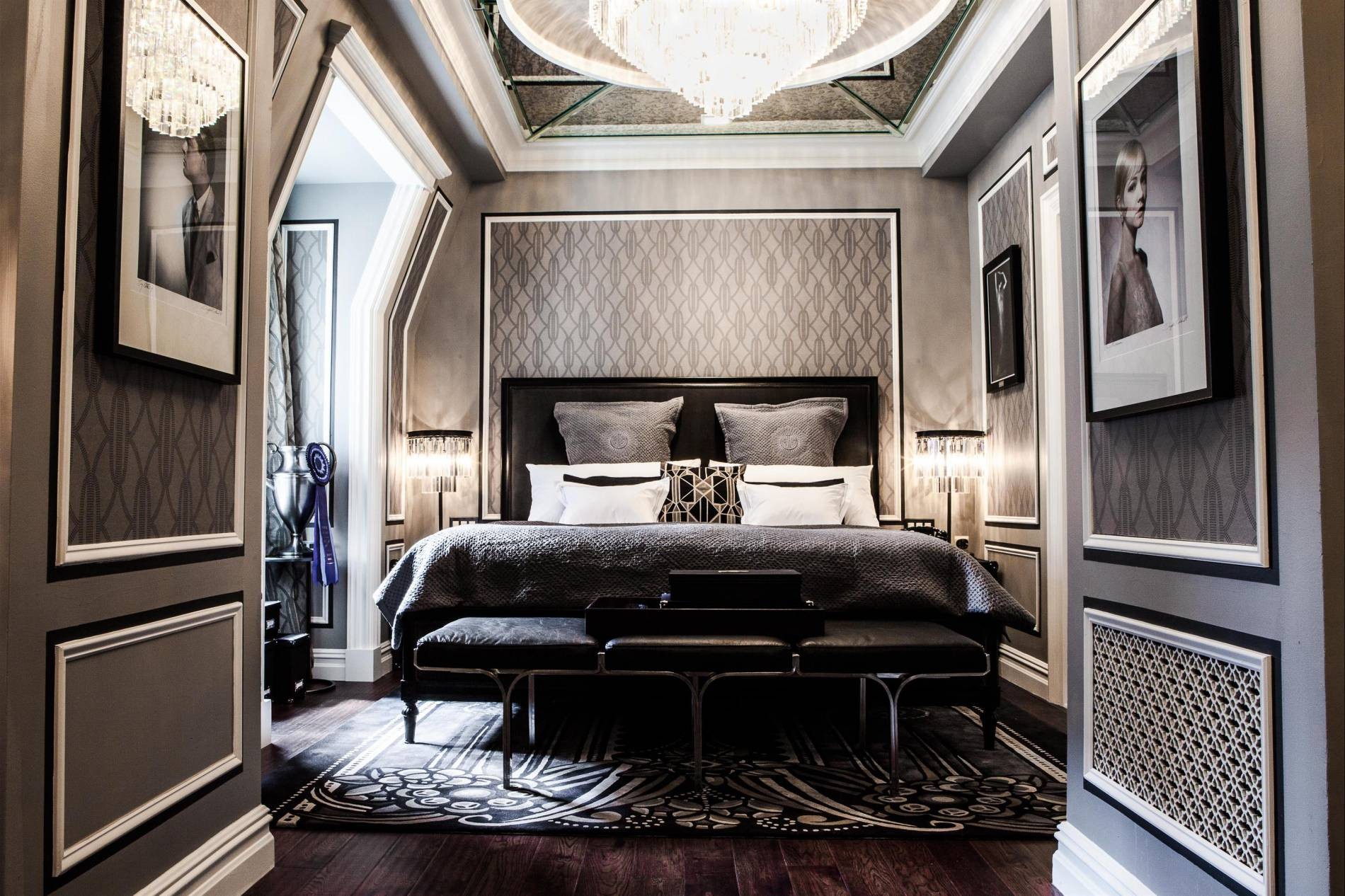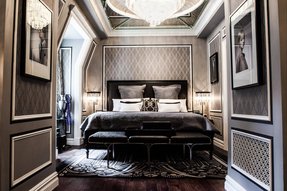 Silver, black, and white #bedroom. This one is from 2013 The Great Gatsby film set.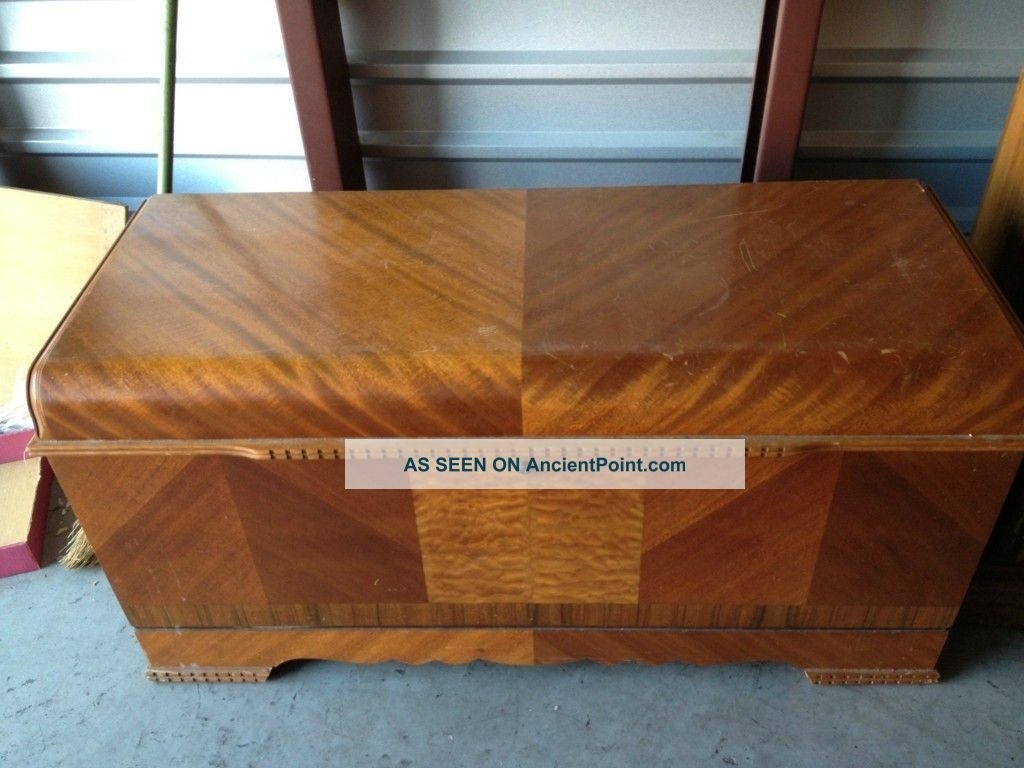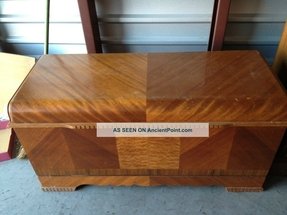 Art Deco Bedroom Furniture 7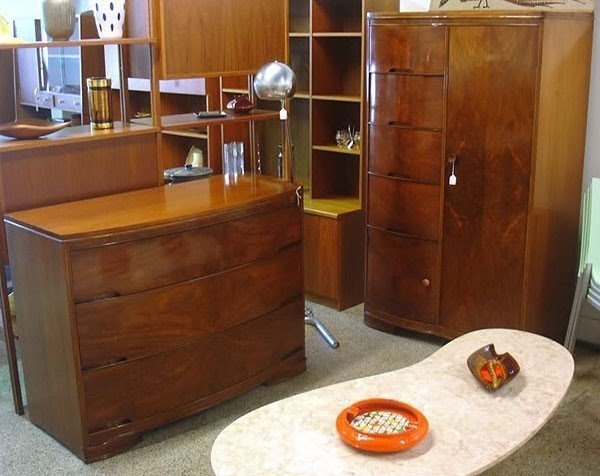 Vintage Art Deco Tiger Maple Bedroom Set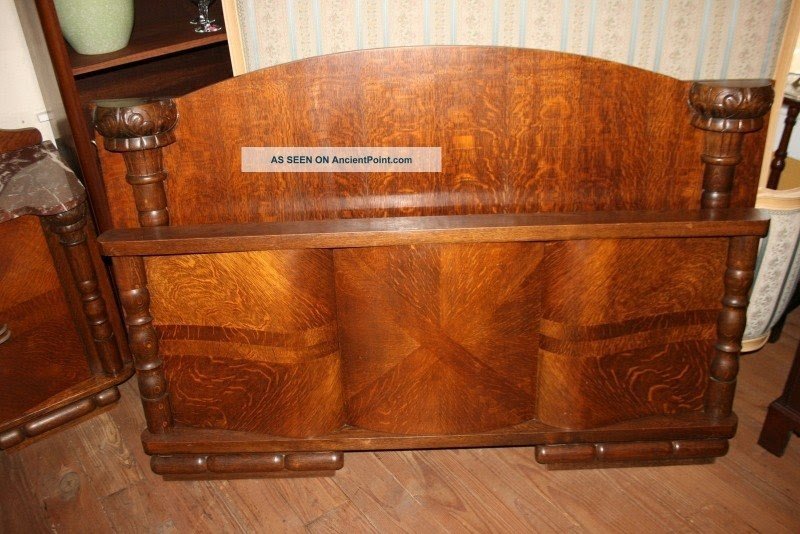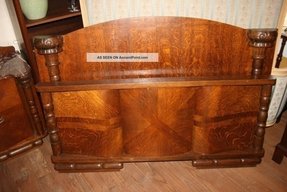 Gorgeous 4 Piece Tiger Oak Art Deco Bedroom Set 1900-1950 photo 5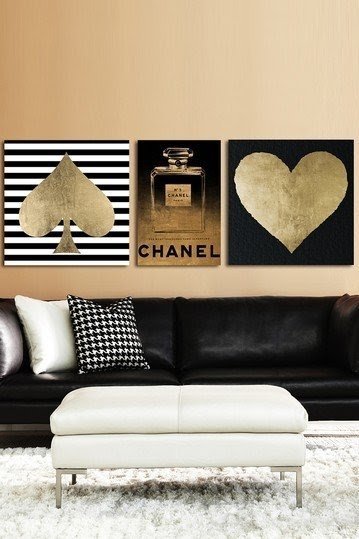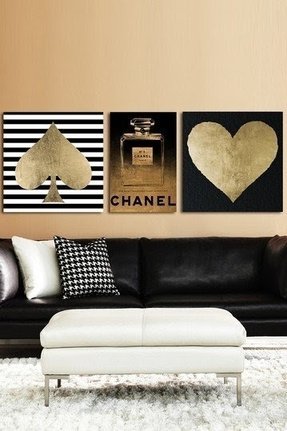 Extremely originally and very stylish set of three canvases in the arts is a great way to gain a unique interior design. Beautiful colors and motifs of perfume and card symbols delight. Perfect items for the living room.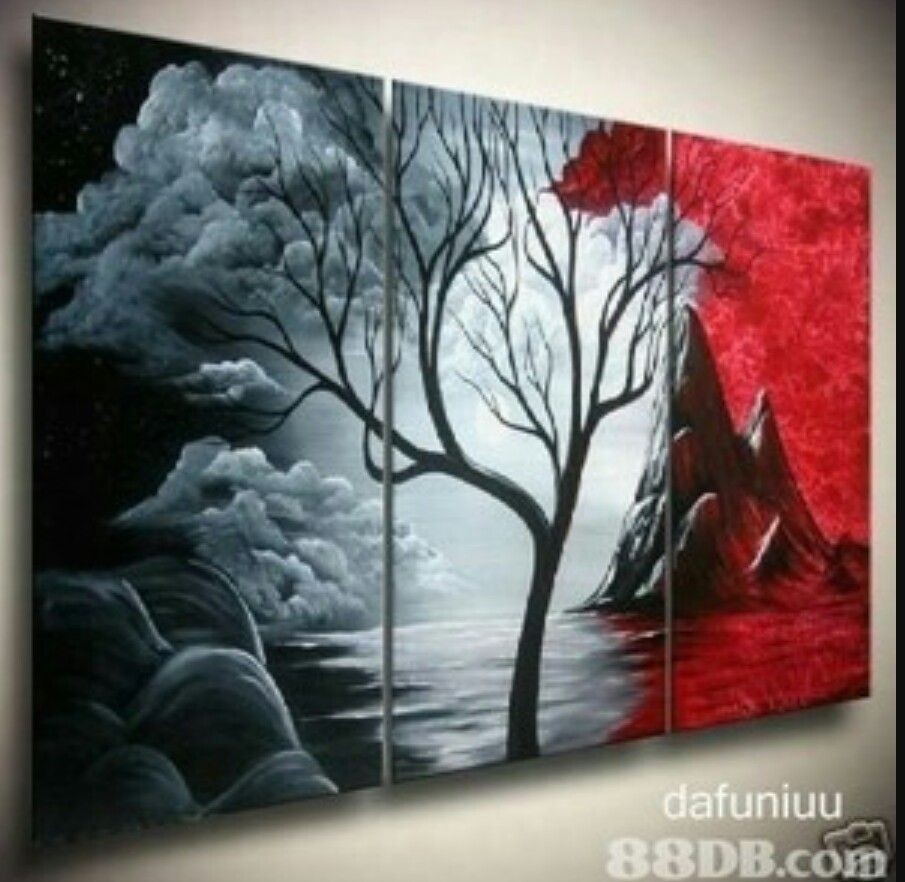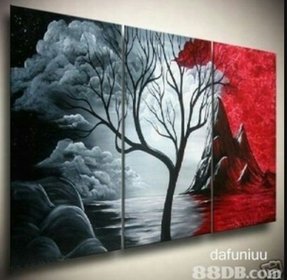 This element has got a decorative character and it is perfect for people who want to improve the level of aesthetics in their houses. This painting measures 12x16inchx3 and it has got a solid wooden frame on the back.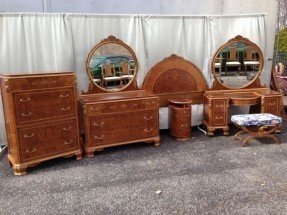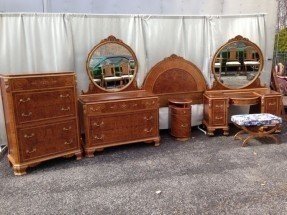 l1000.jpg