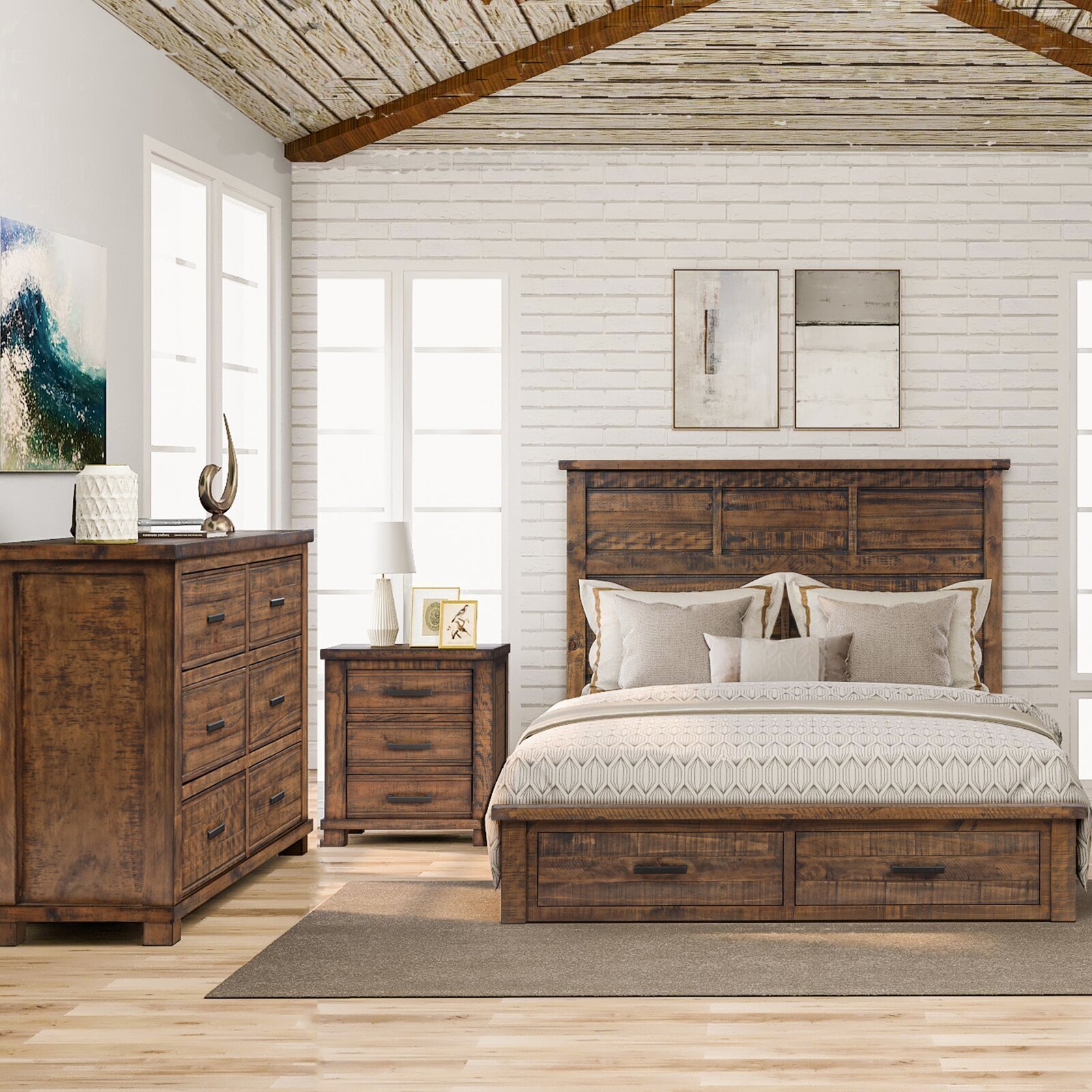 Distressed wood bedroom furniture with wrought iron accents
Loon Peak®
If you're just getting into the mixed materials trend and don't want to dive in all the way, consider starting off with a rustic wooden bedroom set that just features some beautiful wrought iron in the hardware of your pieces.
In this tiny dose, you'll get to see just how well the textures of the metal and natural wood work together, but perhaps in a way that's a little less overwhelming. We call it rustic-chic, and it's going to be all the rage.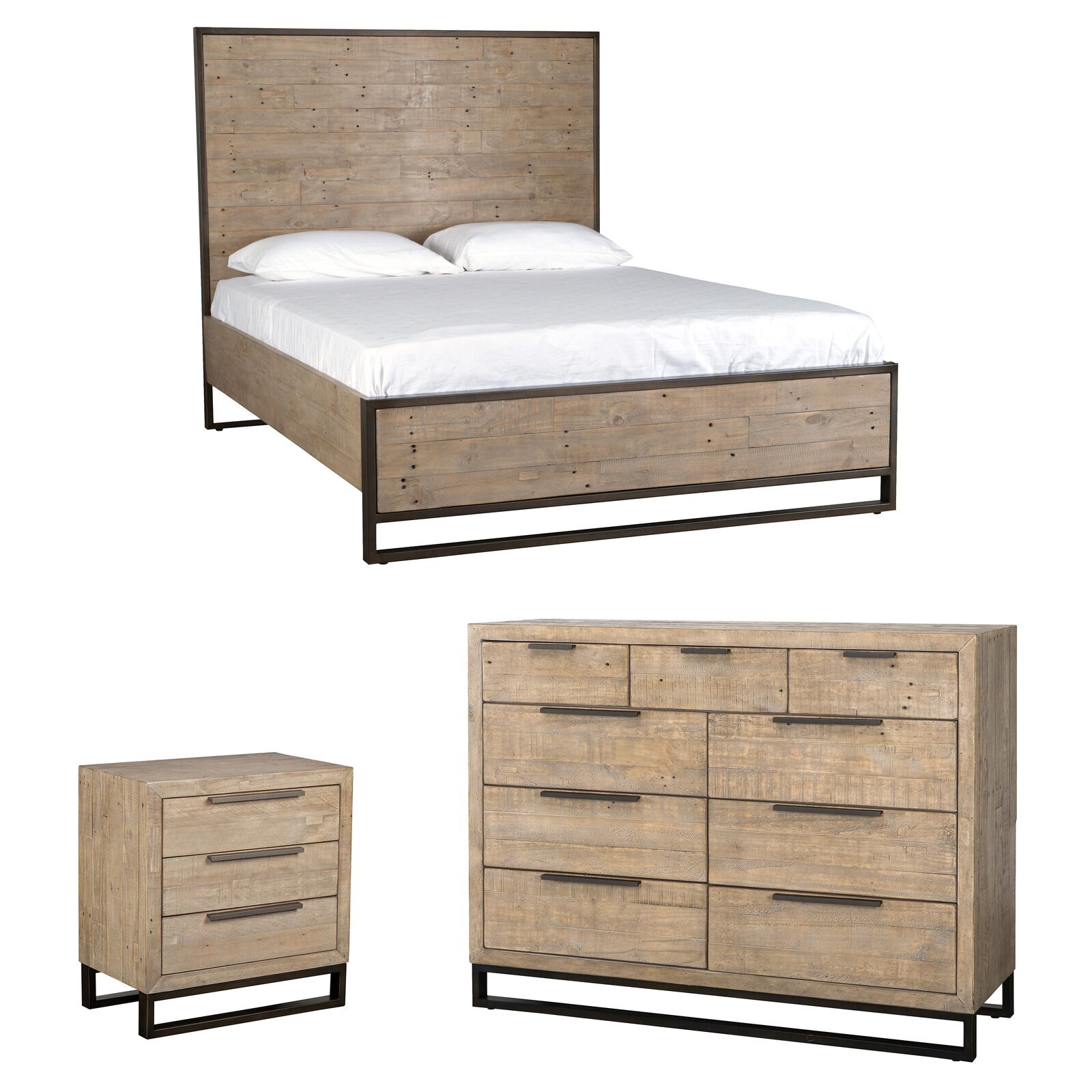 Block wrought iron bedroom furniture
Birch Lane™
While wrought iron and rustic wood could easily sound like they veer towards farmhouse and industrial aesthetics, we're here to say that this can definitely be a minimalist choice, too.
Consider simple wooden boxes, lofted high on sturdy angular wrought-iron frames. This type of look will give you a lot of visual height without a lot of effort, making your room seem airier even with a lot of heavier furniture.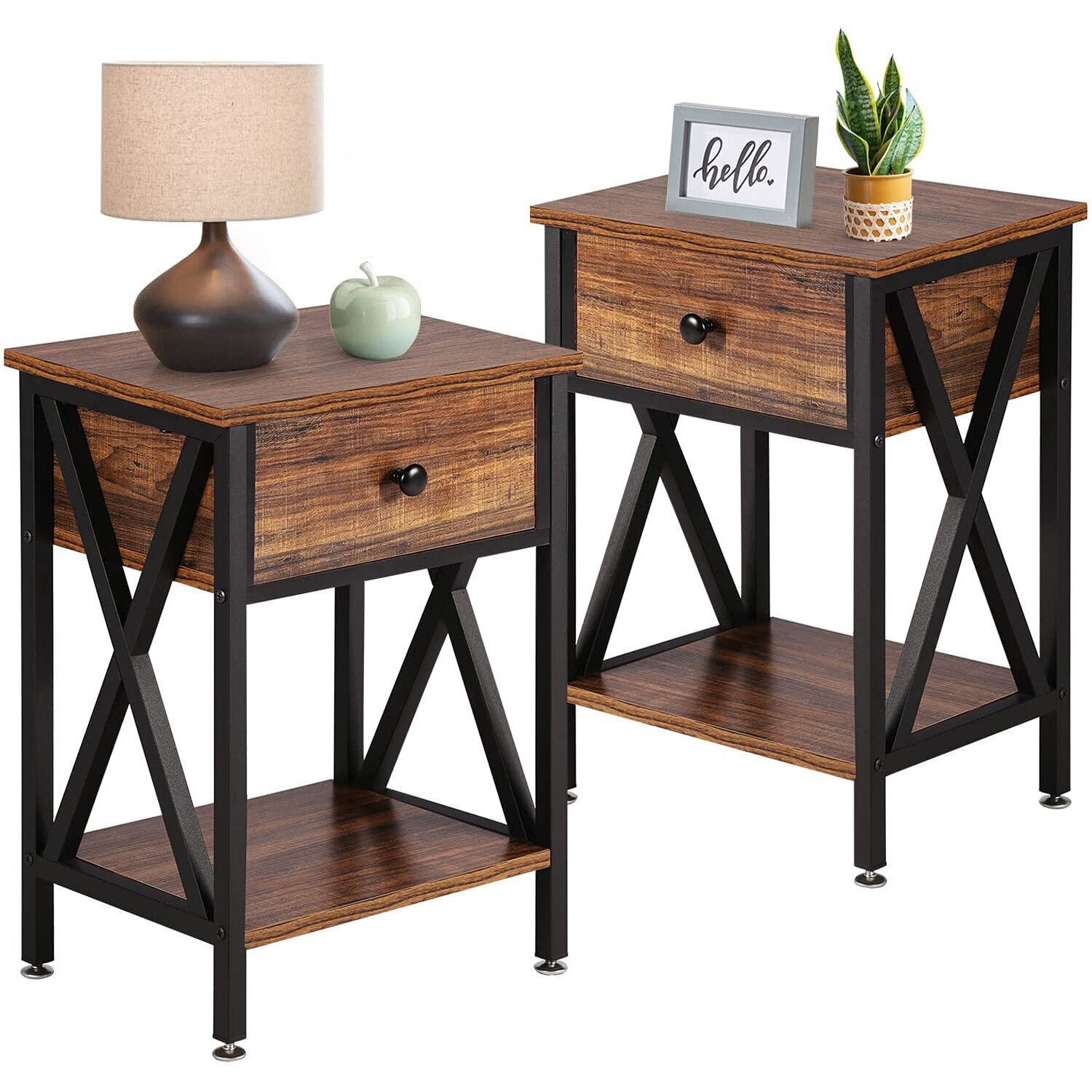 X framed farmhouse iron bedroom furniture bedside cabinets
Foundstone™
If you would like to add some farmhouse beauty to your home, you're in luck: A very popular trend in wood-and-iron furniture is the farmhouse x-frame. With bedside cabinets like these, you'll be able to embrace that rustic farmhouse-chic look you've always wanted!
We love the fact that cabinets such as these are sturdy and practical too, with the included shelf and drawer for your go-to things.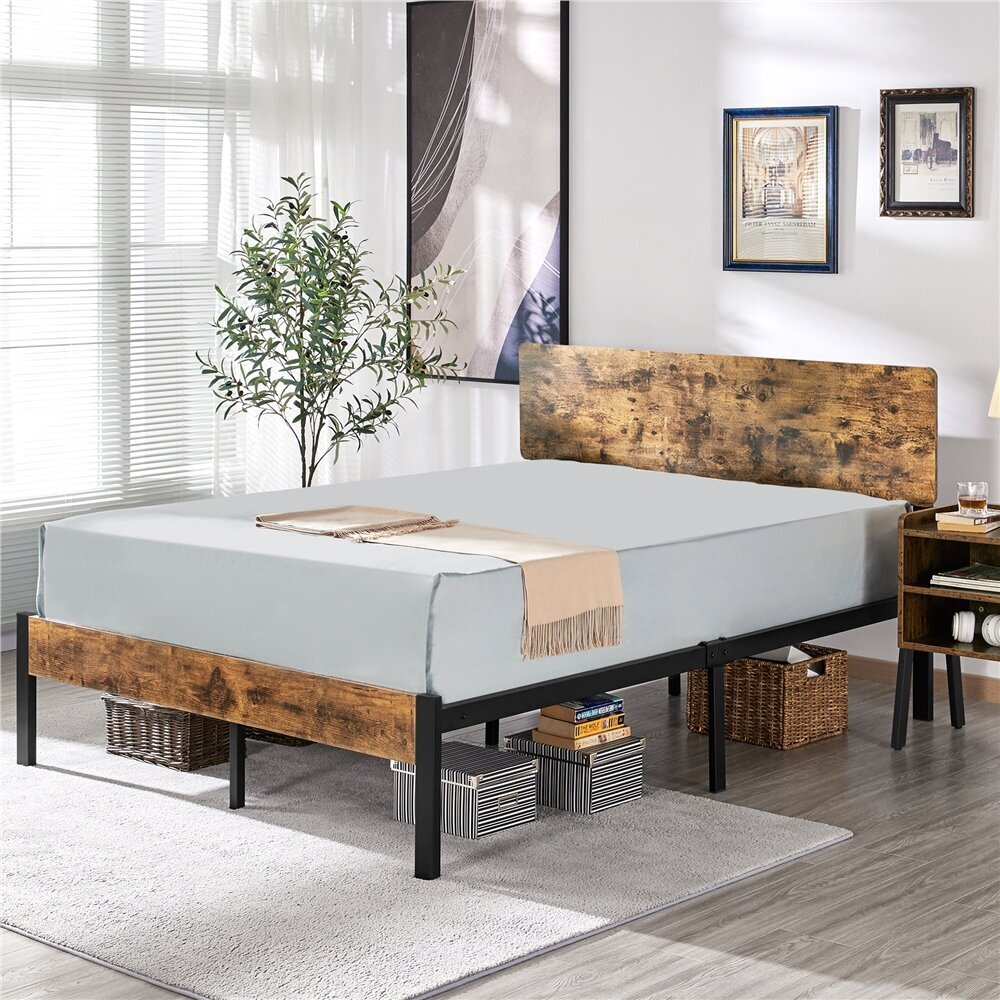 A modern wood and wrought iron bed
17 Stories
Wood and wrought iron can be gorgeously simple, too. If you're looking to mix-and-match your bedroom sets, pick up a bed frame like this—which has a wooden headboard that's a statement-making piece all by itself, as well as sturdy iron legs that look gorgeous (which means that you don't need a bedskirt—freeing up additional visual clutter immediately).
If you get this kind of headboard, however, we'd invest in lots of sturdier pillows so you have something comfortable to lean against in the evening!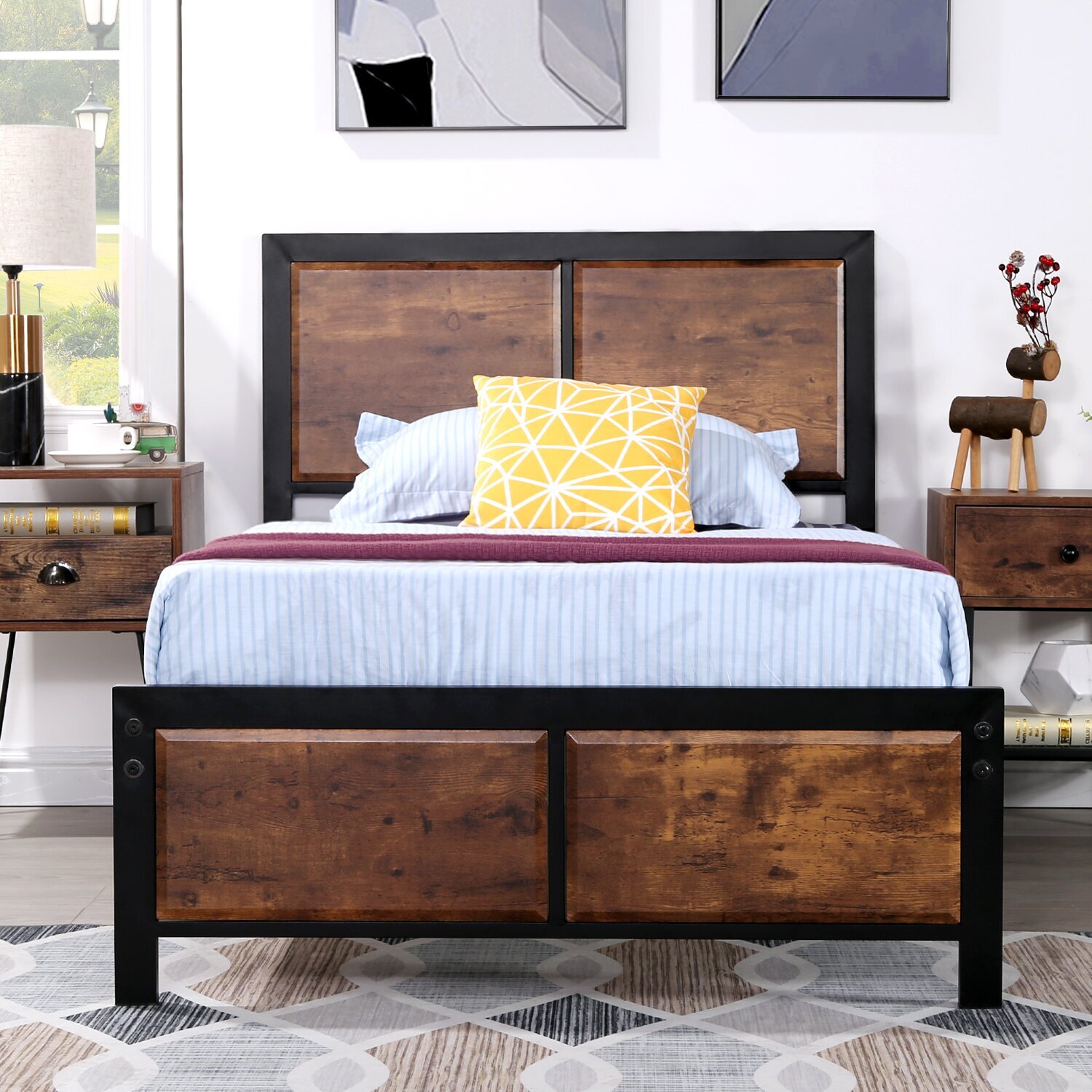 A paneled, minimalist iron and wood bed frame
Steelside™
Looking for a little more visual interest? You can get something that hits the perfect balance between the more detailed X-frame and the completely minimalist slab of wood. This iron and wood bed frame has two panels of wood decorating the headboard; just enough to keep things looking interesting, without being overwhelming at all. It's perfect!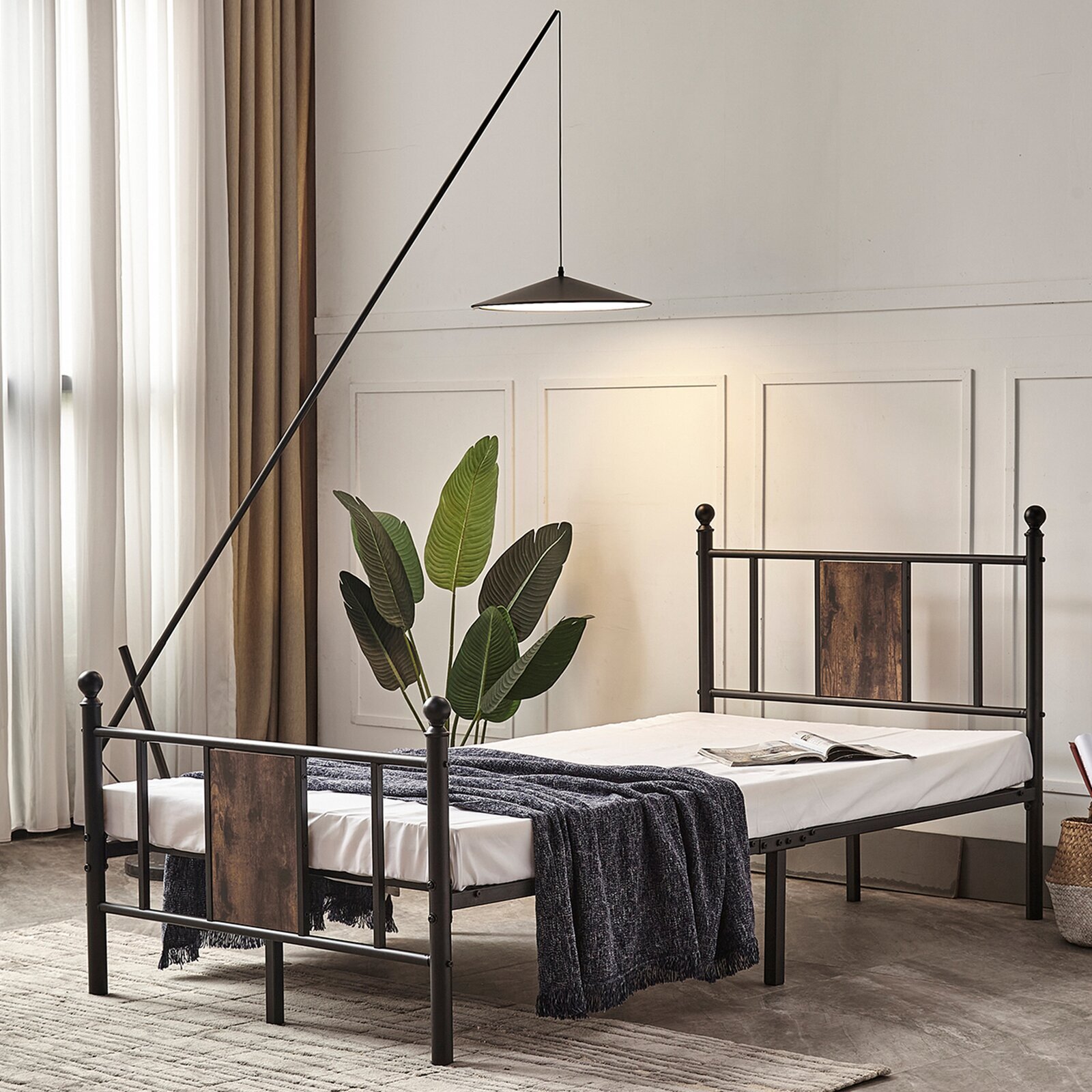 An iron bed frame with stained wooden inserts
Williston Forge
Just because you're looking for a mixed-materials bed frame doesn't mean that you're stuck with a completely opaque headboard.
If you would rather have a more traditional open headboard with delicate columns, you absolutely can. In fact, an iron bed frame like this is perfect for more vintage aesthetics; the added wooden slat just adds a little bit of variability and personality.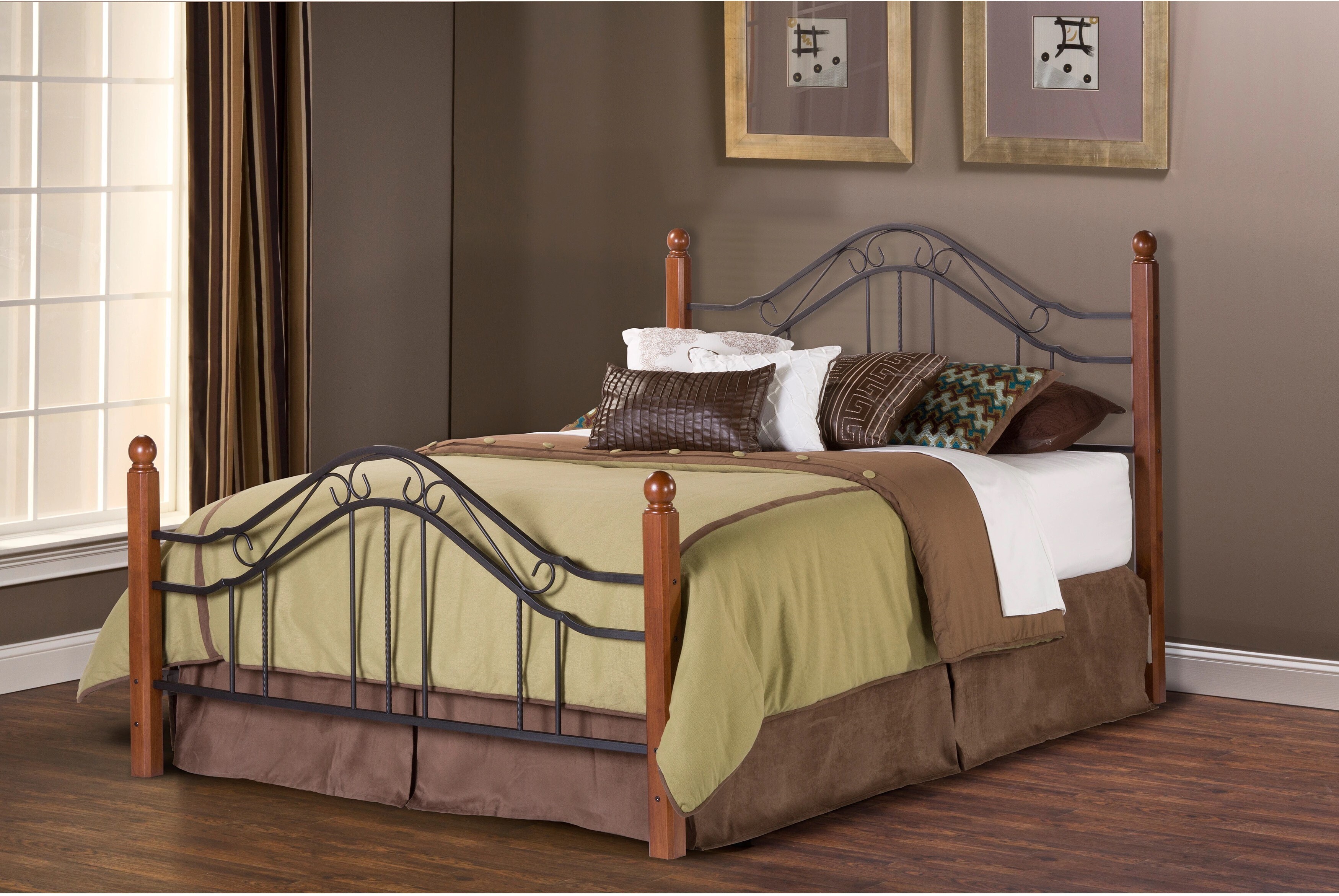 A wrought iron bed frame with sturdy wooden posts
Of course, you can go even further than vintage and go for the antique, Victorian aesthetic. In that case, it's time to go for a wrought-iron bed frame that has scrollwork, swooping curls all over its headboard, and sturdy wooden posts at the sides for visual balance.
If you're a fan of an eclectic aesthetic, definitely mix and match these pieces to create your own mixed-materials bedroom set; it'll be one of a kind!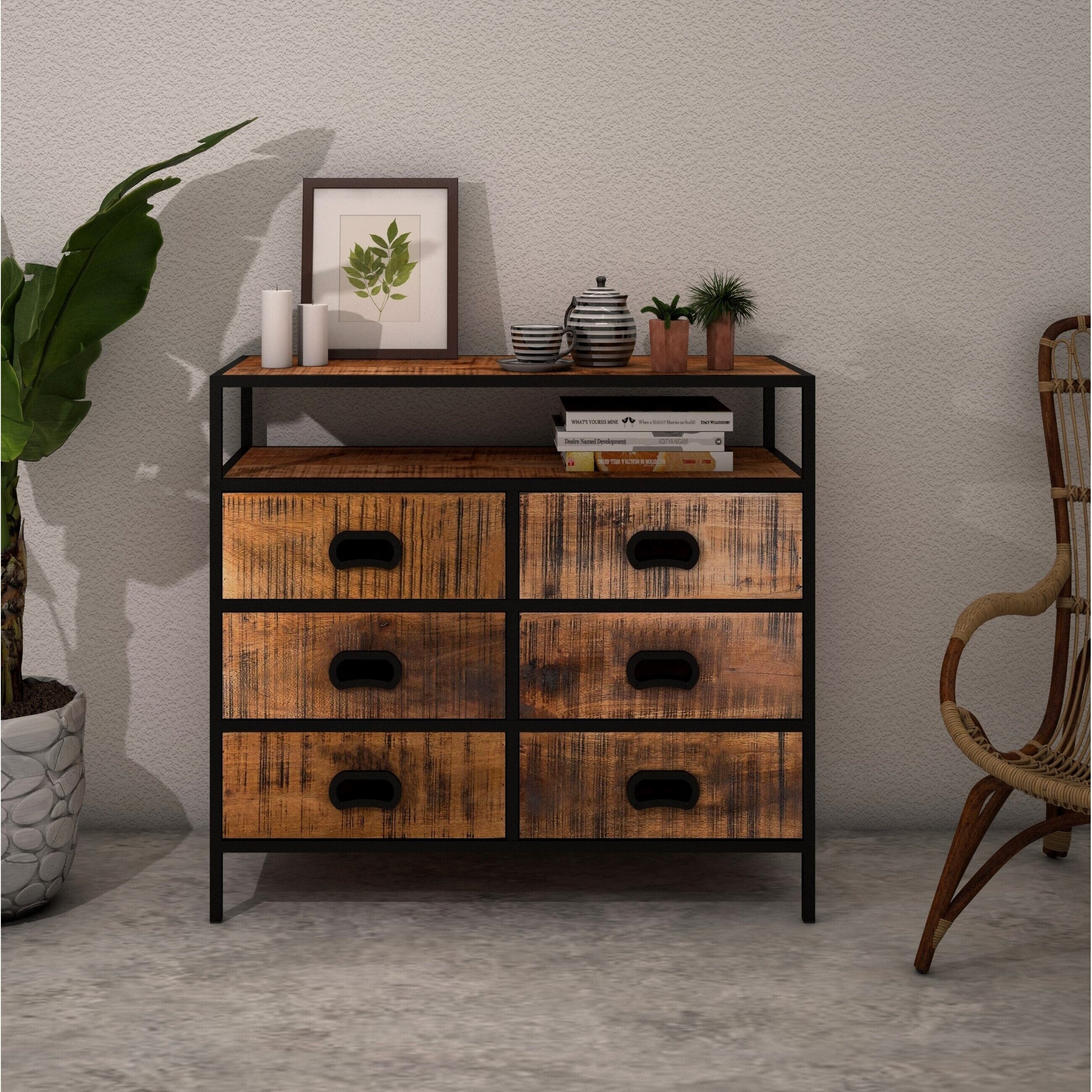 A reclaimed iron bedroom furniture piece a beautiful dresser
Looking for a dresser to balance out your bedroom set?
This iron-framed dresser with rustic wooden drawers is just the thing. While its materials may skew industrial, the silhouette and shape of the handles on the drawers feels a bit more modern. This is a perfect type of dresser to select if you're not going for a rustic or aged look; instead, you want one statement piece to make your more modern aesthetic truly shine.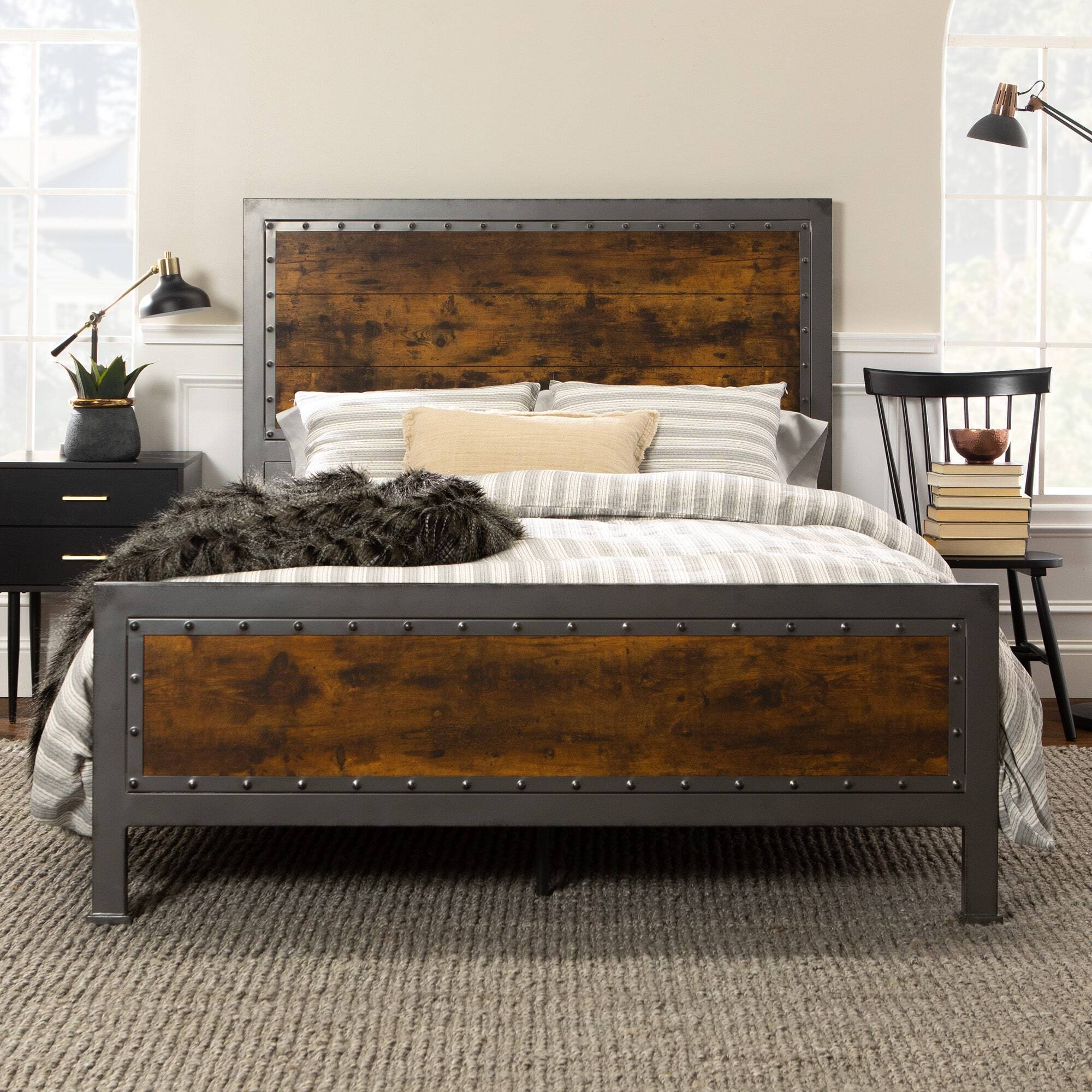 A rustic, industrial wood and iron bed
Of course, if an industrial look is your thing, it's important to know that you have options.
The finished wood of this gorgeous headboard is fully surrounded by grey iron, held in place with large rivets. It's definitely not a look you'll find in many places—and it definitely makes a statement.
Our pro tip? If you go for this look on your bed frame, invest in soft, neutral linens to balance out the overall feel of your room.
A statement found pieces iron and wood bedroom furniture a storage cabinet
Ready for something whimsical? Just because you're looking at wooden furniture doesn't mean it needs to be brown! With fun pastel colors and iron pulls on each drawer, this stacked-looking cabinet is definitely one that will stand out in your room. If you're looking for a statement piece to go with your bedroom set, look for something like this and your job will be done.