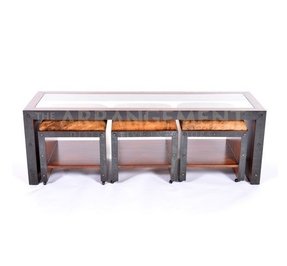 DSC_2692-640x594.jpg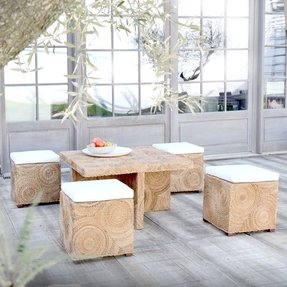 A fantastic choice for enclosed patios, sun rooms, and living rooms. This set consists of 1 coffee table and 4 matching ottomans with white fabric seat cushions - all with a sturdy wood frame wrapped in nice-to-touch carpet.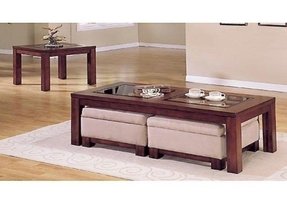 Cherry wood with its warm dark red color perfectly beautifies this simple coffee table with a functional solution - four storage ottomans underneath. We can see them easily thanks to the glass top of the rectangular table with wooden frame.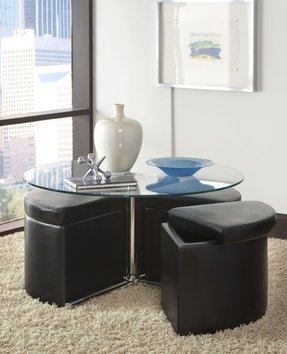 Cosmos Coffee Table with Ottoman (Set of 4)
This set includes four ottomans with coffee table. It is a fantastic addition to your living room area. This set is perfect for your everyday coffee with your friends and family.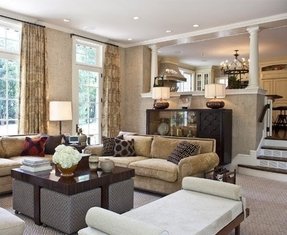 What a cool finish this cocktail table has, it looks like a distressed stone. Not sure about the factual construction material though. The gray table is tall enough to accommodate a low-seat tufted ottoman underneath.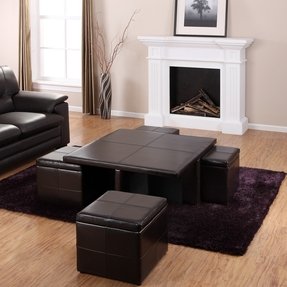 ... Table Ottoman Along With Black Leather Ottoman Chair And Black Furry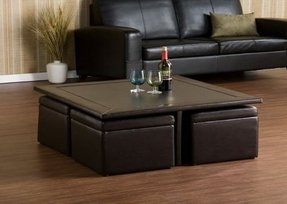 Compact and Complete Coffee Table with Ottomans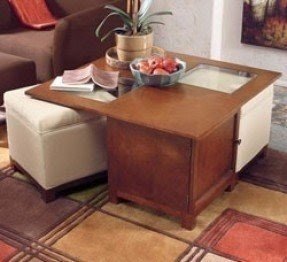 Add a functional space saver into your home. This coffee table features the two ottomans with storage spaces. The square top has got the glass smaller squares and the wooden construction. the seats are upholstered by the white leather.
Hammary Cubics Coffee Table With Nested Ottomans
The perfect solution for small spaces - coffee table with nested ottomans. The parts are perfectly matched and look great together or separately. This is a beautiful, heavy piece of furniture. Ottomans have containers in which you can store eg. pillows or blanket.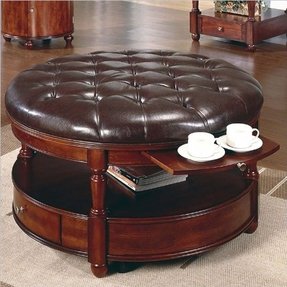 A fabulous, modern living room setup with a traditional twist. The stunning, modern couch with a classy, leather frame perfectly matches the beige carpet and white walls. I especially love the wooden ceiling!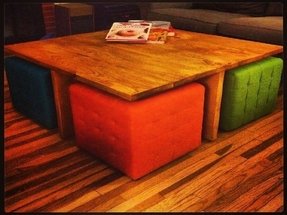 For small spaces, furniture like russian matryoshka, is a great solution.This square, modern wooden table contains four quilted ottomans underneath. You can take them out for your guests, when they are needed.Ottomas have different colors.Simply and original.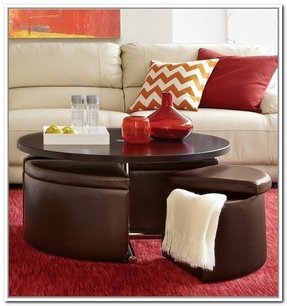 Coffee table with 4 ottomans underneath. Table is mounted on metal base and fitted with round top. Ottomans are upholstered with faux leather. Perfect solution for small spaces.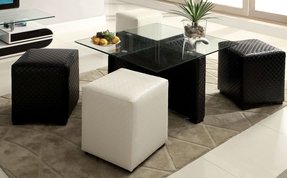 This contemporary styled black and white textured leather-like and vinyl upholstered coffee tables and cube ottomans will create a full seating arrangement in your living room and can become a true space saver, since the ottoman can be neatly tucked under the table.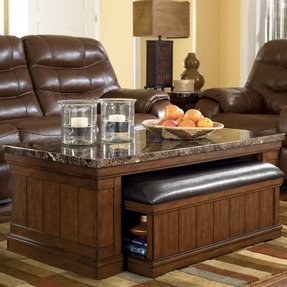 Mapleton Coffee Table with Ottoman
This opulent solid wood coffee table will add an elegant, traditional flair to an ambiance. It comes with a cushioned ottoman that may be hidden under the table to optimize space. Additionally, the ottoman hides some storage area inside.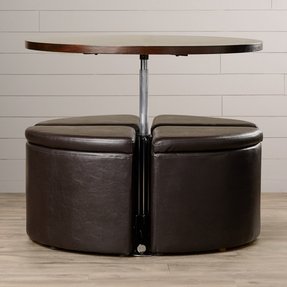 Harriet Coffee Table with Ottomans
Versatile coffee table with round top. It comes with four ottomans (padded with espresso vinyl) that provide a pretty wide choice of arrangement options. The table top height is adjustable thanks to gas hydraulic lift.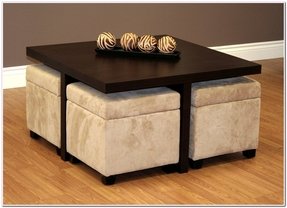 ... Ottoman Coffee Table For Small Living Room: Ottoman Coffee Table Ideas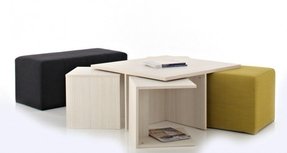 Nesting Ottoman Table - coffee table with ottoman underneath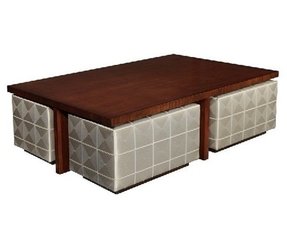 ottoman coffee table storage uk incoming search terms ottoman coffee ...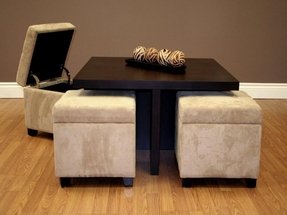 Small coffee table with 4 integrated ottomans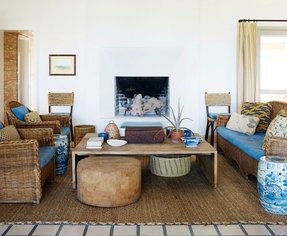 Rustic setup for a bright and spacious living room with a minimalistic, wooden coffee table with a rough, unpainted finish, nicely matching the immersed fireplace and the set of wicker furniture with blue cushions.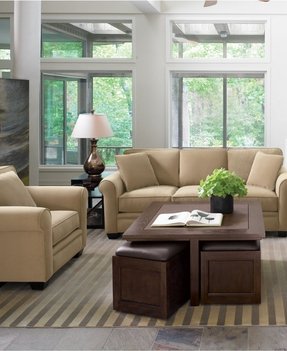 coffee table with ottoman seating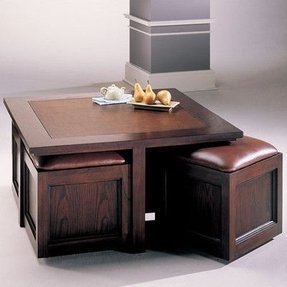 Kanson Coffee Table Set
Highly utilitarian coffee table set in oxblood finish, with four leather cushioned cube seats that may be conveniently stored under the table top. Ash/oak brown inserts in the cubes add chic to the design.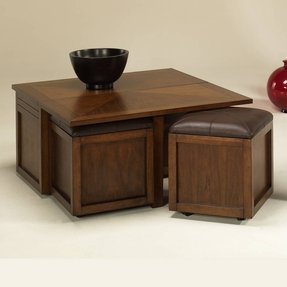 ... Coffee Table Ottoman Along Walnut Wood Ottoman Chair And Dark Brown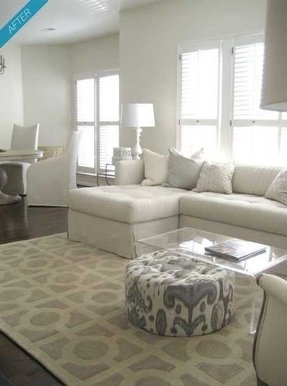 58f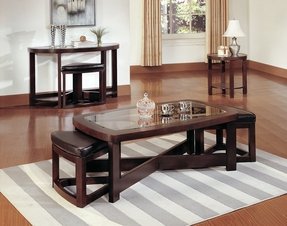 3219 Series Rectangular Cocktail Table Set with Two Ottomans review ...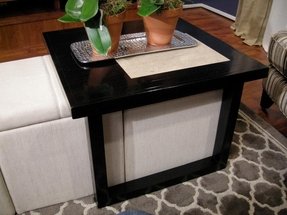 A functional coffee table that allows you to hide your ottoman underneath its top. Designed of espresso-finished wood, the table is stabile, durable, and smooth enough not to damage ottoman's upholstery in the process.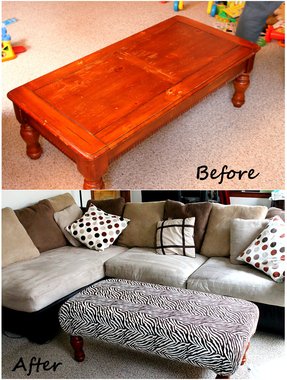 What to do with an old wooden coffee table that doesn't look as good as it used to but still it stays strong and sturdy? You can pad it with fabric. Choose your favourite color and pattern to get a funky piece of furnishing that looks new.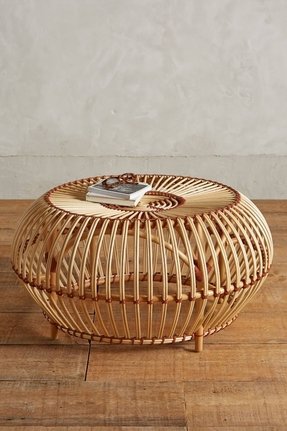 A cute traditional coffee table and ottoman in one entirely crafted of natural rattan. It has a round openwork body with a wider central part and bindings of brown leather, 4 thin round posts, several bowed inner stretchers, a round top.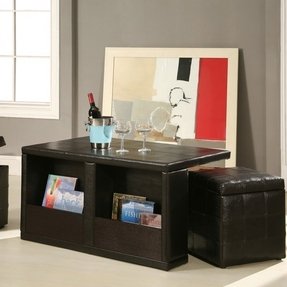 Williams Roston Coffee Table with Two Ottomans
It is a coffee table that has got two ottomans and is perfect for your living room area. It is very elegant and comfortable and great for your everyday coffee with family. You need to have it.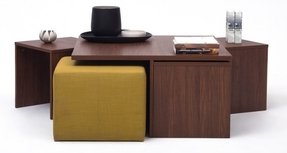 Nesting Ottoman Table - coffee table with ottoman underneath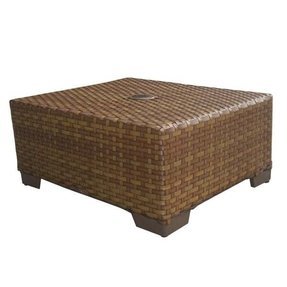 Thanks to its durable aluminum frame and woven wicker fiber upholstery, this fine coffee table can be used indoors as well as outdoors. The table features an umbrella hole in the center of its top, and rests on four tapered legs.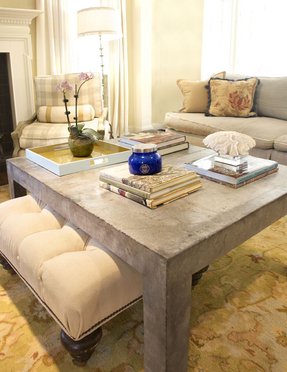 coffee table with ottoman underneath.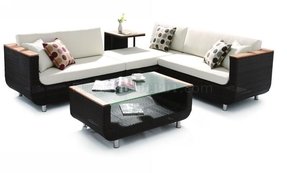 This set includes high quality pieces of furniture made of durable and weather resistant materials. The sectional sofa includes a side table and coffee table. All of these products create a very functional and attractive patio set.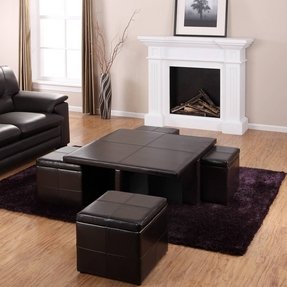 5PC Park Ave Round Glass Coffee Table Set w/ Four Ottomans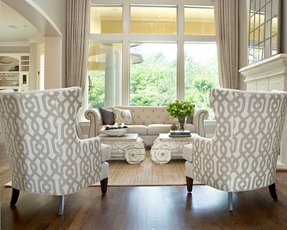 A large ottoman is a great solution as it can serve as an extra seat or as a fancy coffee table. The one in the picture features a nice pattern and a tufted structure, which makes it look elegant and posh.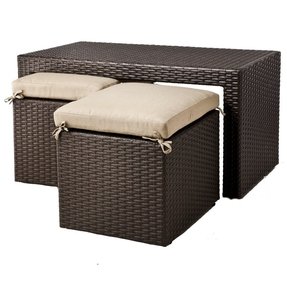 Outdoor comfortable and solid ottomans that serve as sitting spaces or storage compartments. This set also includes a rectangular coffee table based on durable frame with quite large top. This construction is resistant to weather factors.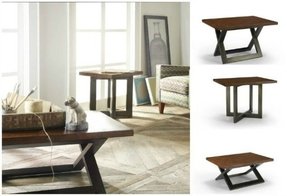 A nice and easy to assemble coffee table with hand rubbed weathered iron finish. It is a cool modern yet warm rustic coffee table that provides high quality and stabilization. Perfectly suits modern interiors.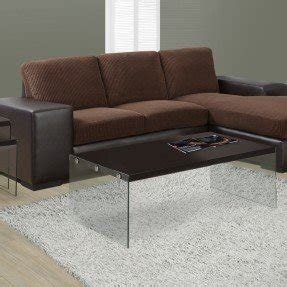 Coffee Table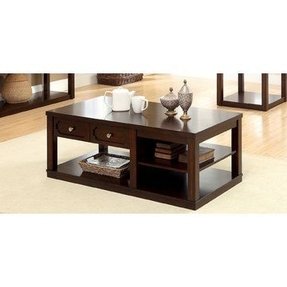 Virotte Coffee Table
A solid wood coffee table, finished in brown cherry. Rectangular, with a combination of shelves and drawers that give you lots of ways to put and arrange your stuff you need at hand and decorations.