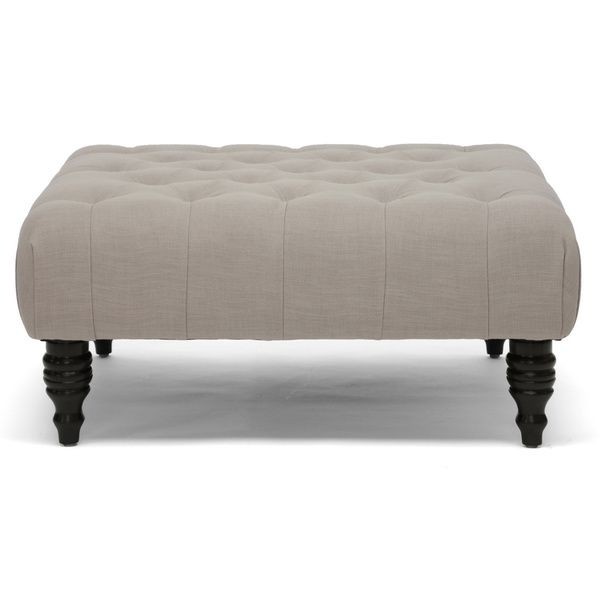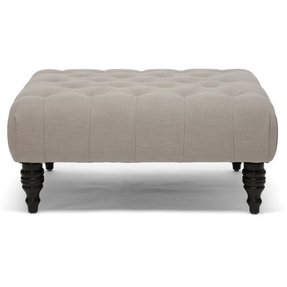 Baxton Studio Keswick Beige Linen Modern Tufted Ottoman
A modern-styled ottoman that is perfect for small rooms. It is an element that has got a solid wooden frame, decorative legs and foam filling. Thanks to these advantages, the product meets high quality demands.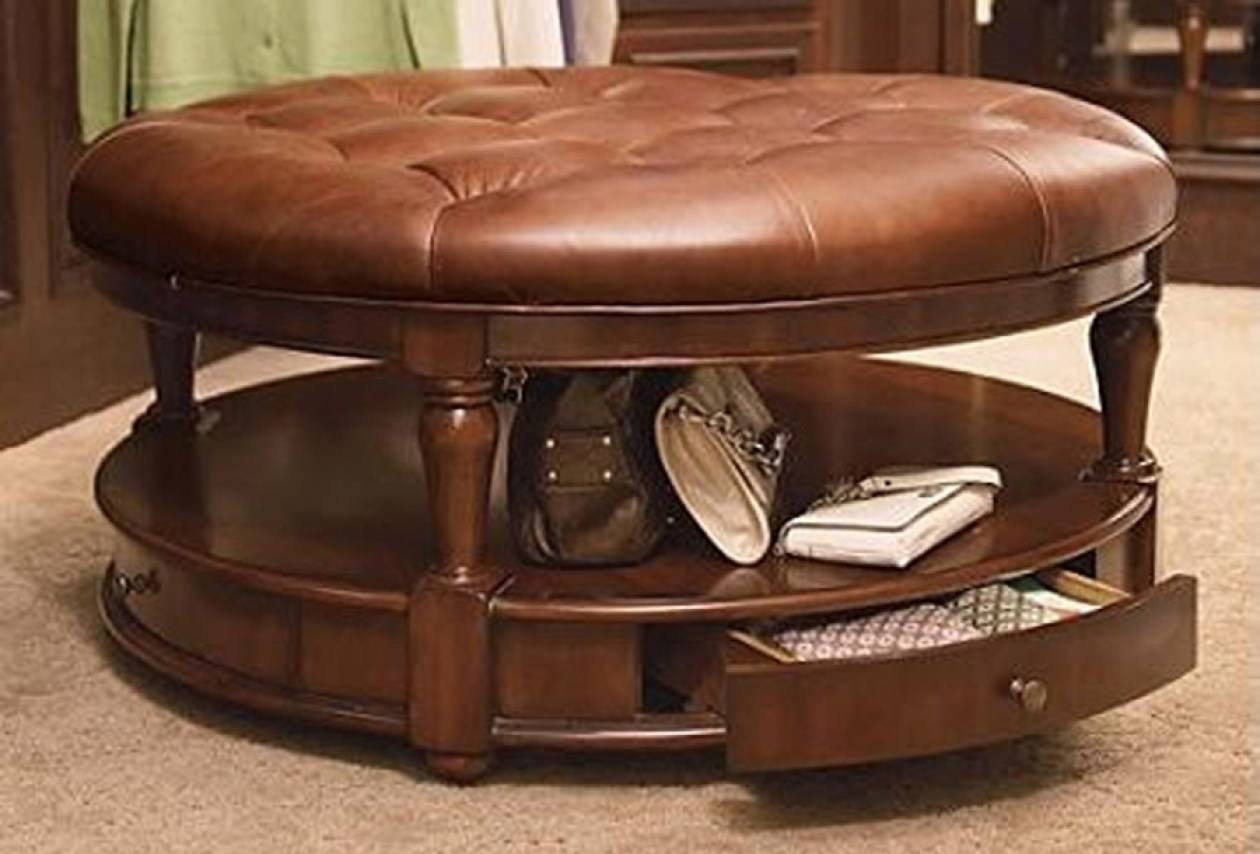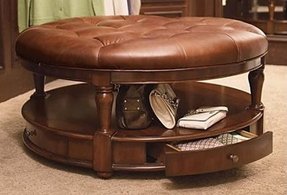 This is where elegance meets practicality. This ottoman offers a sublime design with its button tufted and upholstered top and the extra bottom shelf with drawers and can also easily serve as a coffee table, doubling in its functionality.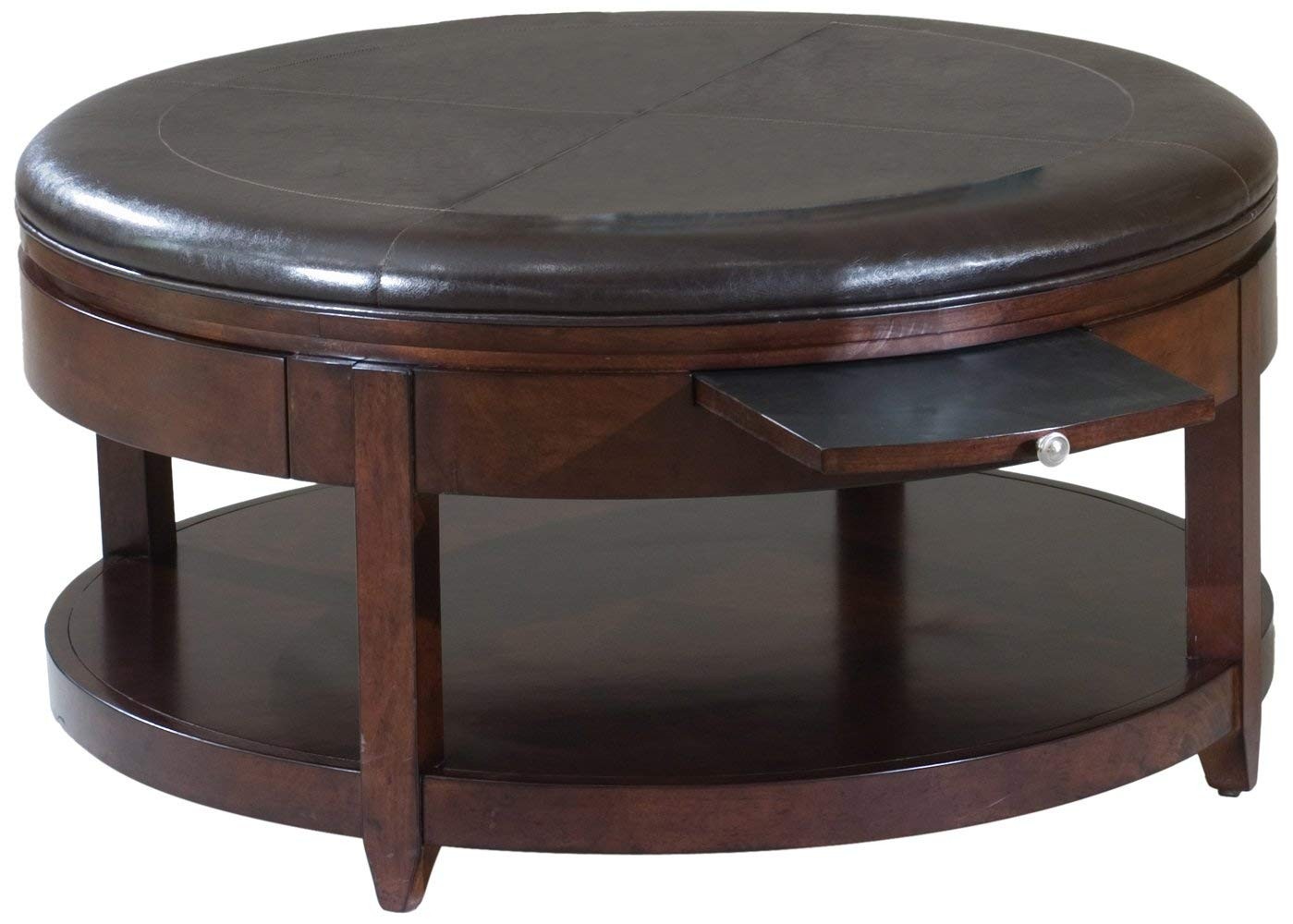 Multi-functional coffee table that can also serve as an ottoman. It features a round leather top with a small rectangular drawer tray. The lower area includes a smooth wooden shelf in round shape. Wooden frame is solid and wear-resistant.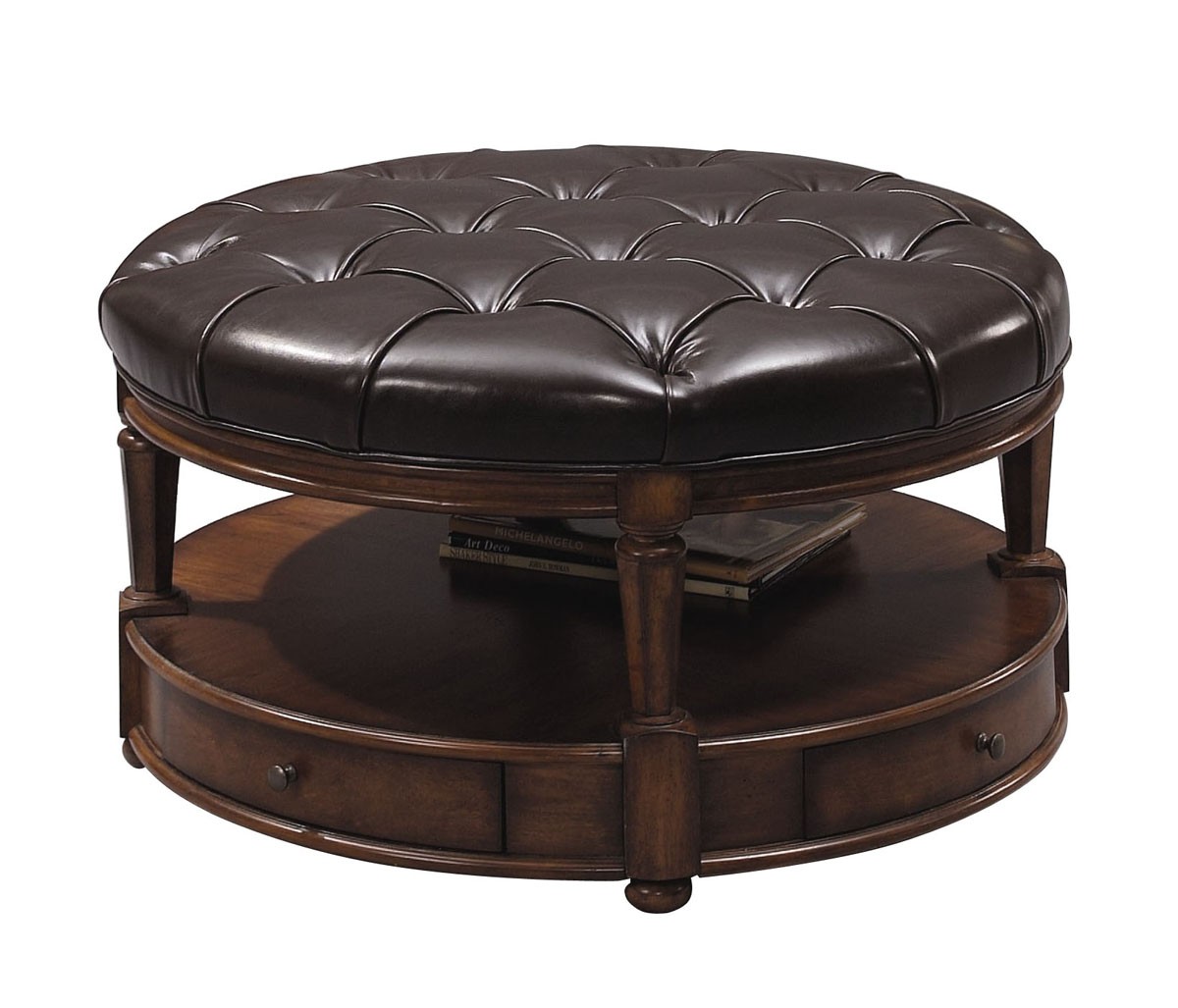 I guess it's the most stylish addition to a traditionally stylized living room that one can ever imagine: a black leather wrapped round ottoman with dark wood frame and bottom shelf. The top is tufted.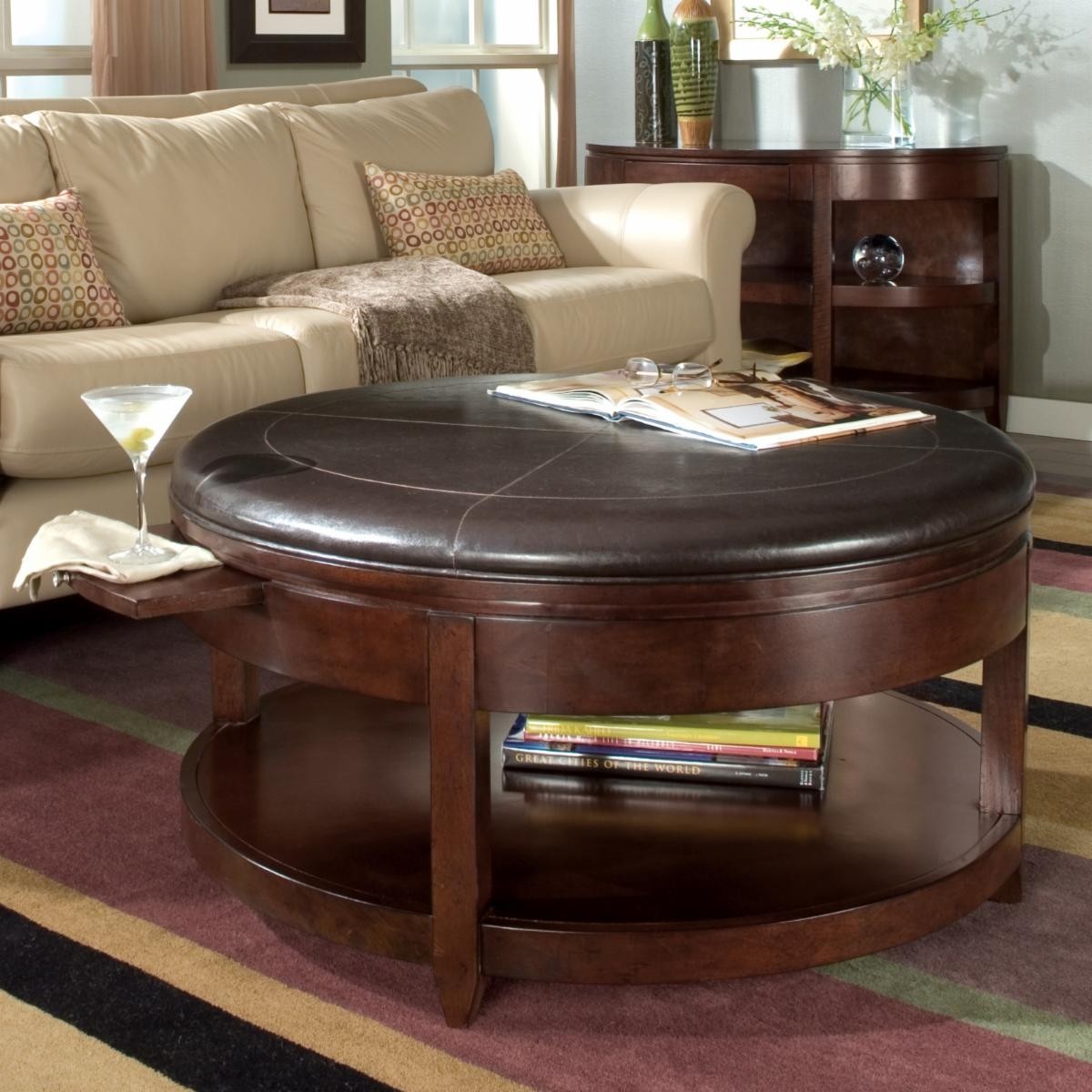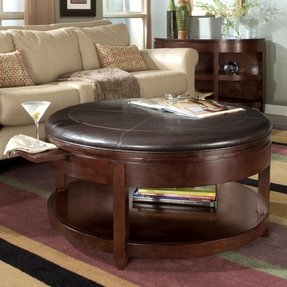 This product is a large, round coffee table designed for use in living rooms. It has got a solid wooden frame and a padded top that can also serve as a seat. This construction includes a lower shelf ideal for magazines, books and other items.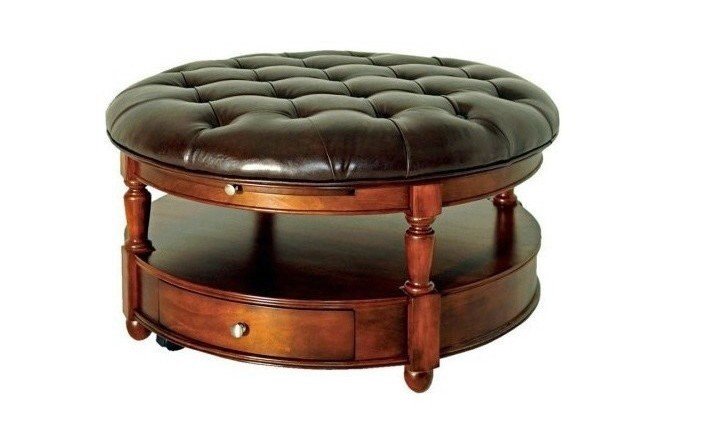 round ottoman coffee table leather #1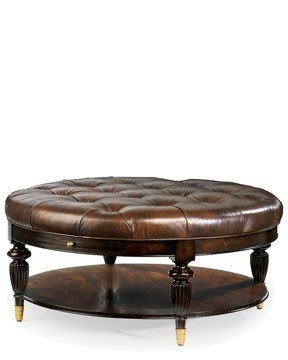 Modern ottoman style coffee table with a beautiful rounded design and a glossed dark brown finish. The table is padded heavily at the top and finished in modern tuft bottom accents for amazing appeal. It sits on four legs as well, each finished with a gold-coated base for that show of class.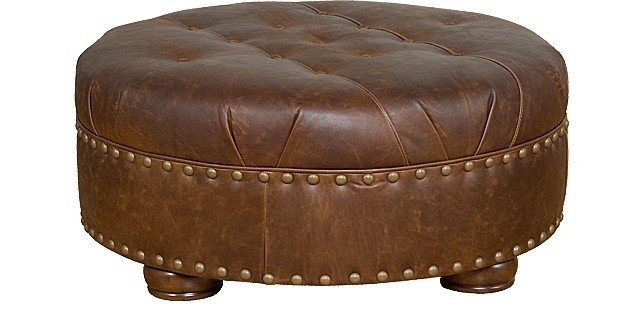 Ottoman coffee table designed from a strong wooden frame and finished in heavy foam padding, neatly upholstered in vintage style dark brown leather. The piece also comes with superb brass accents. It sits on four extra thick legs too for support and is a great option for any modern living room.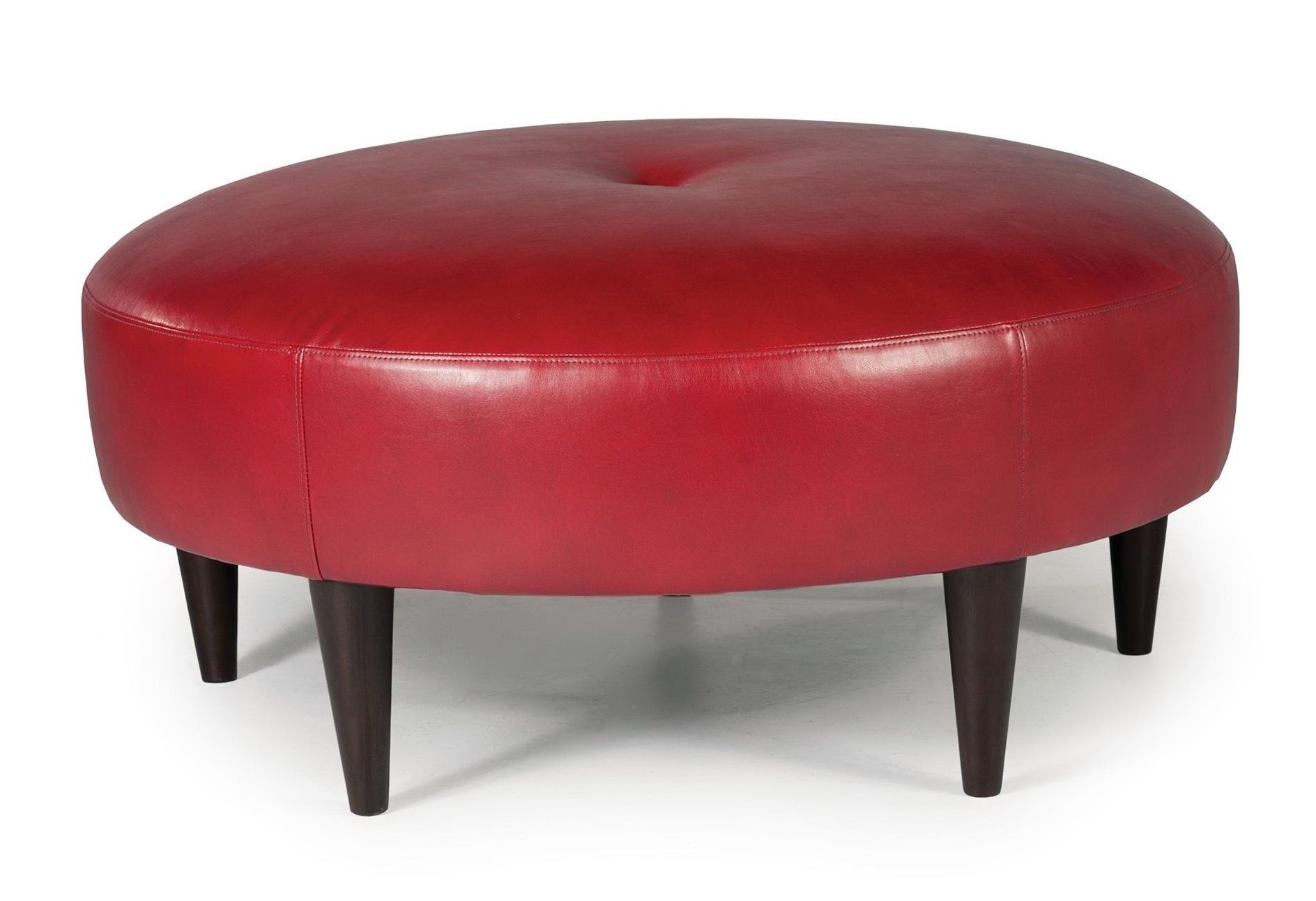 Round ottoman upholstered with high quality leather and finished with decorative quilting. Frame is made of wood. It can be used as footstool or coffee table.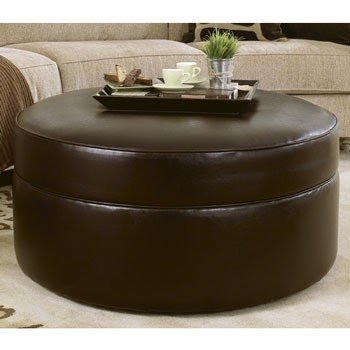 Beautiful ottoman that doubles up as a coffee table for your modern living room. The piece is heavily padded and comes with glossed dark black leather upholstery for superb style. The ottoman also features incredible stitching and stunning rounded design.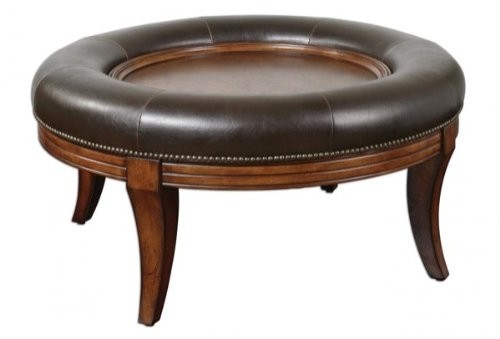 Round Leather Ottoman Coffee Table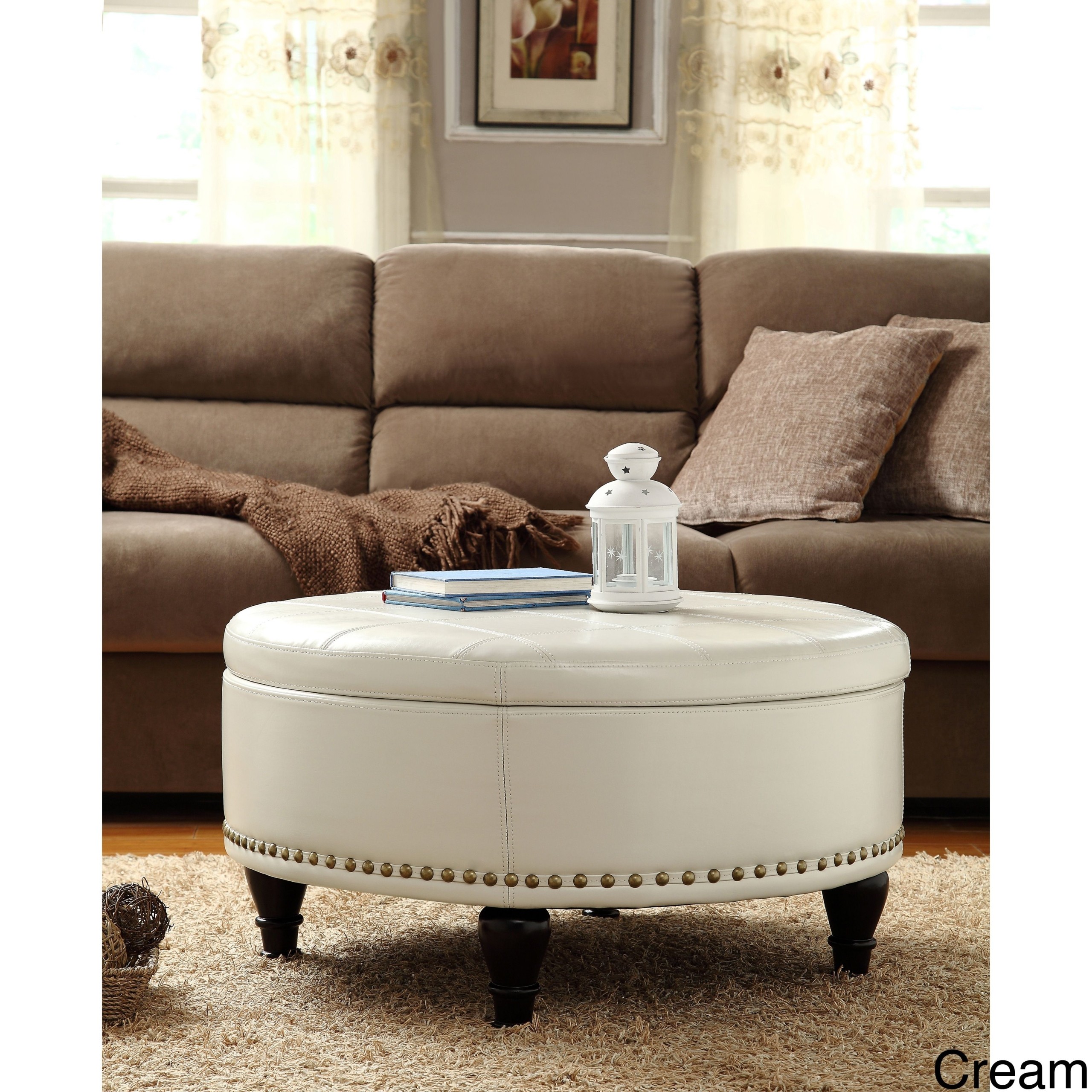 This round leather ottoman can smoothly serve as a coffee table as well. Its snowy white leather finish corresponds smoothly to its elegant wooden legs. Stylish golden nailhead trim emphasizes the refined character.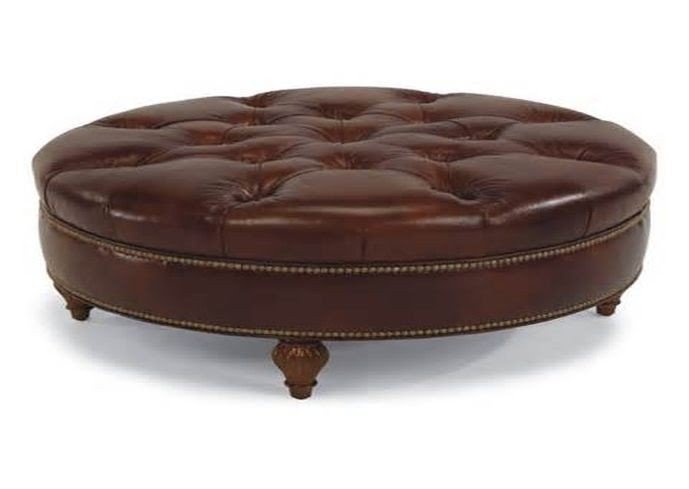 round leather coffee table ottoman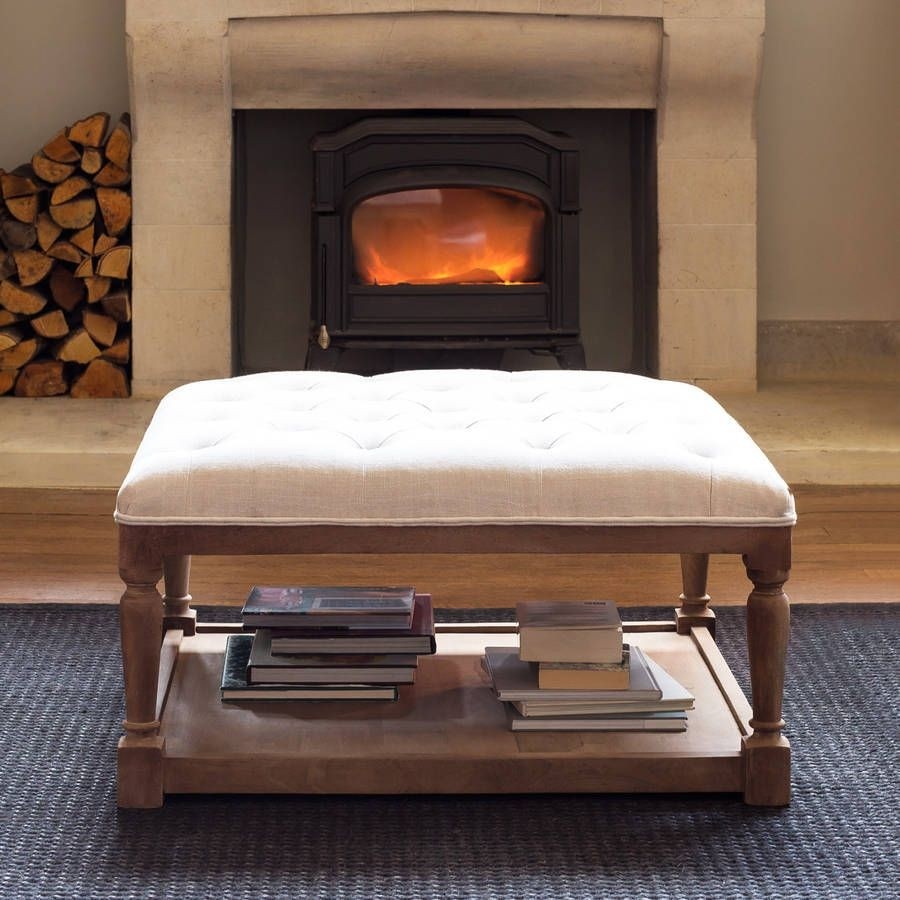 With its enchanting creamy white upholstery, this elegant construction can be an ottoman, as well as a coffee table. The generously sized bottom frame is made from a hand-carved, mango wood. It measures W90 X D90 X H45cm.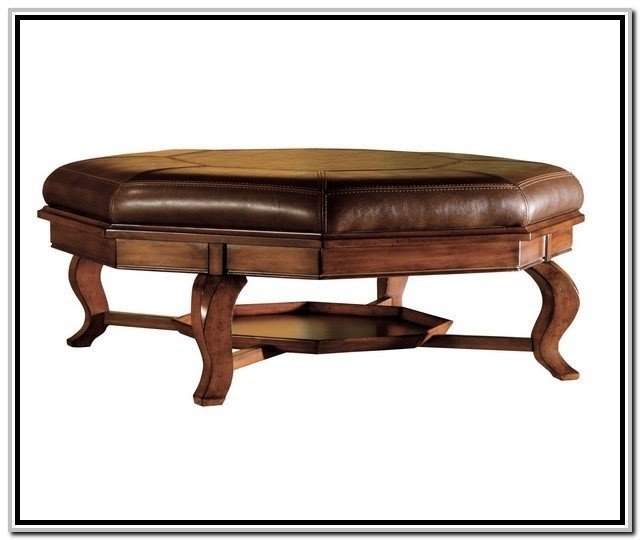 Round Ottoman Coffee Table Leather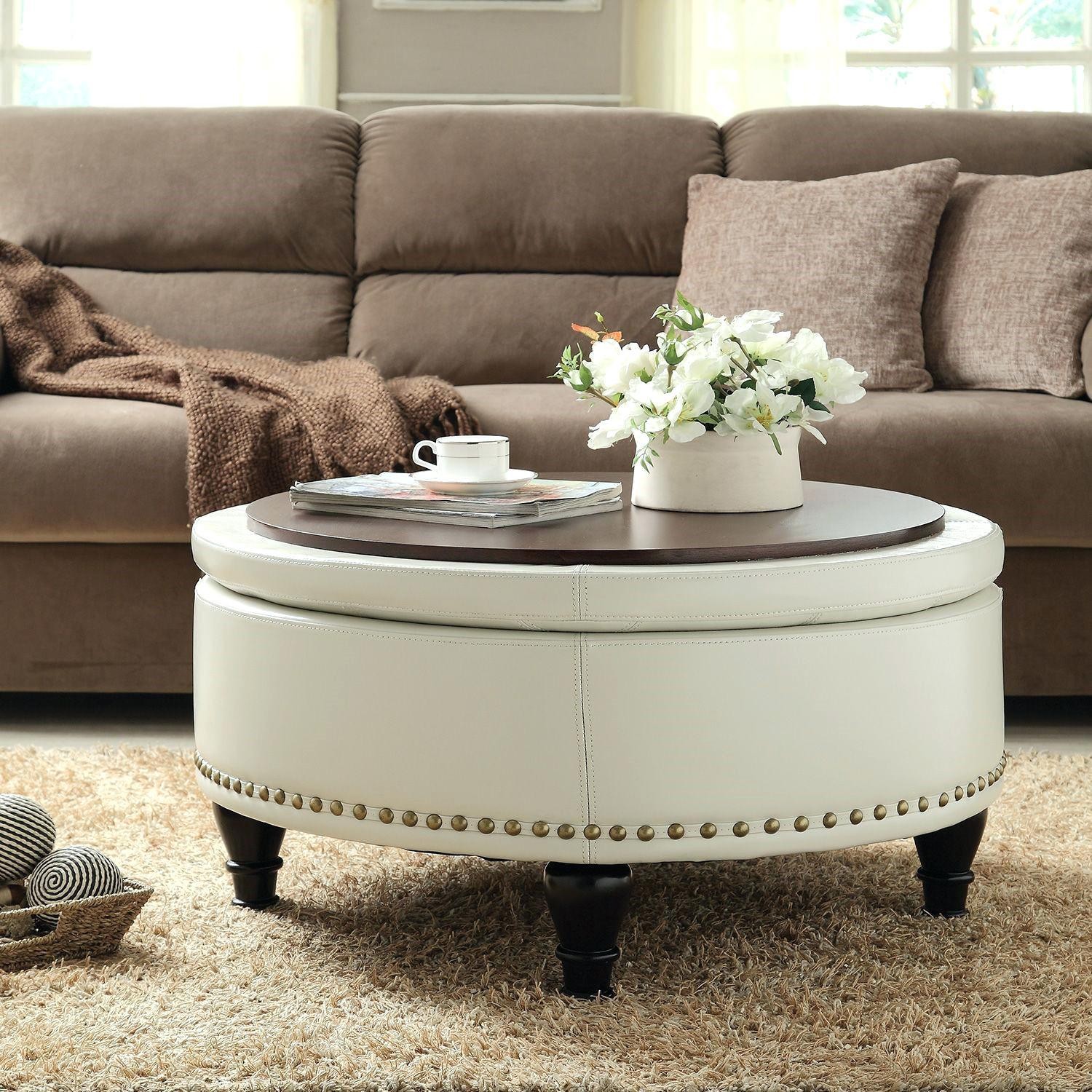 Round ottoman can efficiently pull double duty as an extra seat and side table, but a wooden top insert makes it more dedicated for the latter purpose. This cream ottoman possesses such a top, next to cream leather upholstery and brass nailheads accent.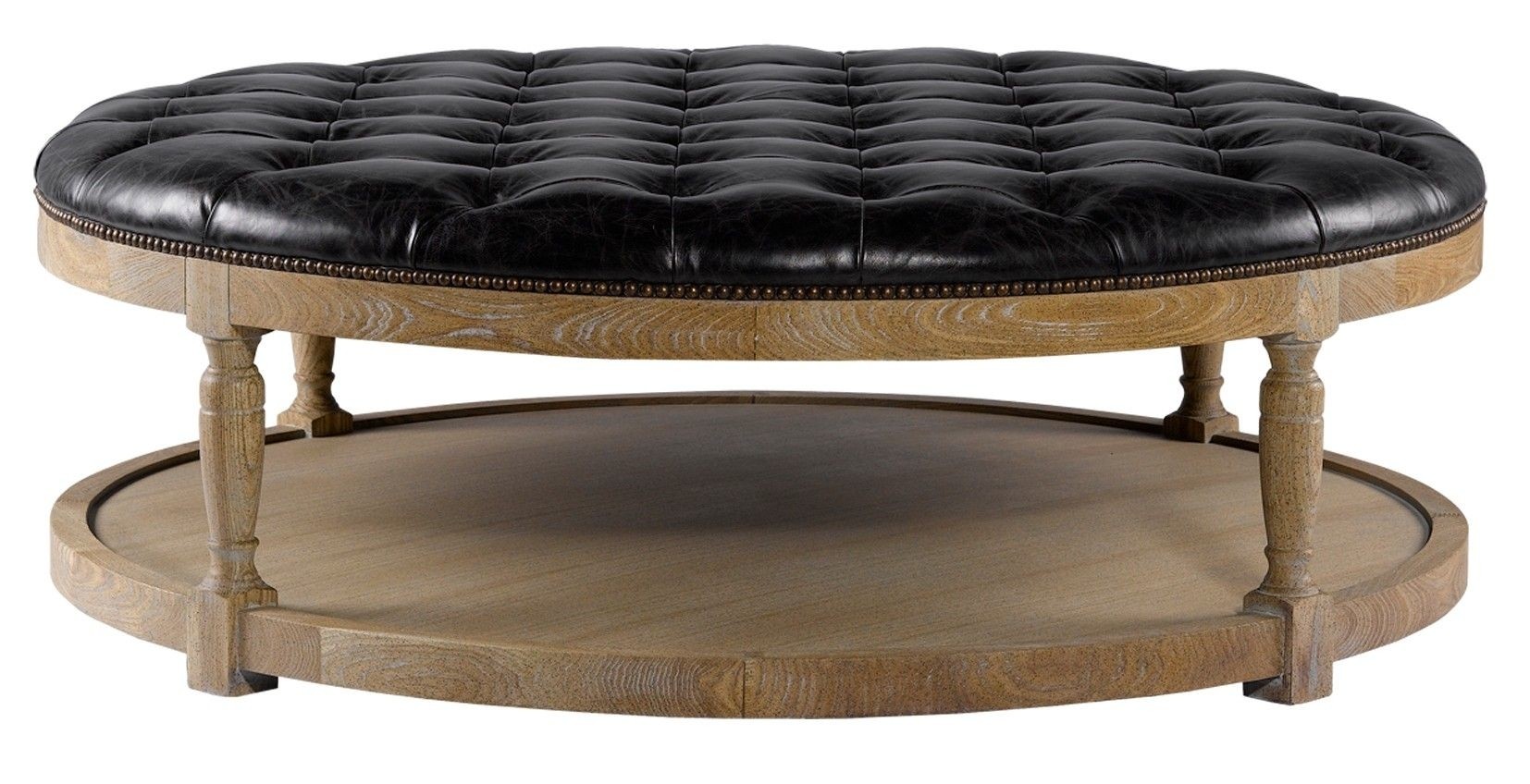 unforgettable-round-ottoman-coffee-table-design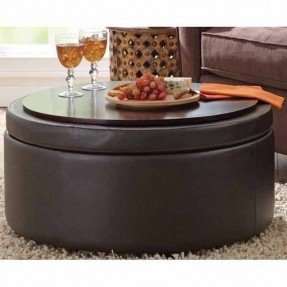 A large storage ottoman with a hidden compartment underneath the top lid, made out of faux leather in a black color padded around the solid wood structure and paired with an additional wooden top to make it stable.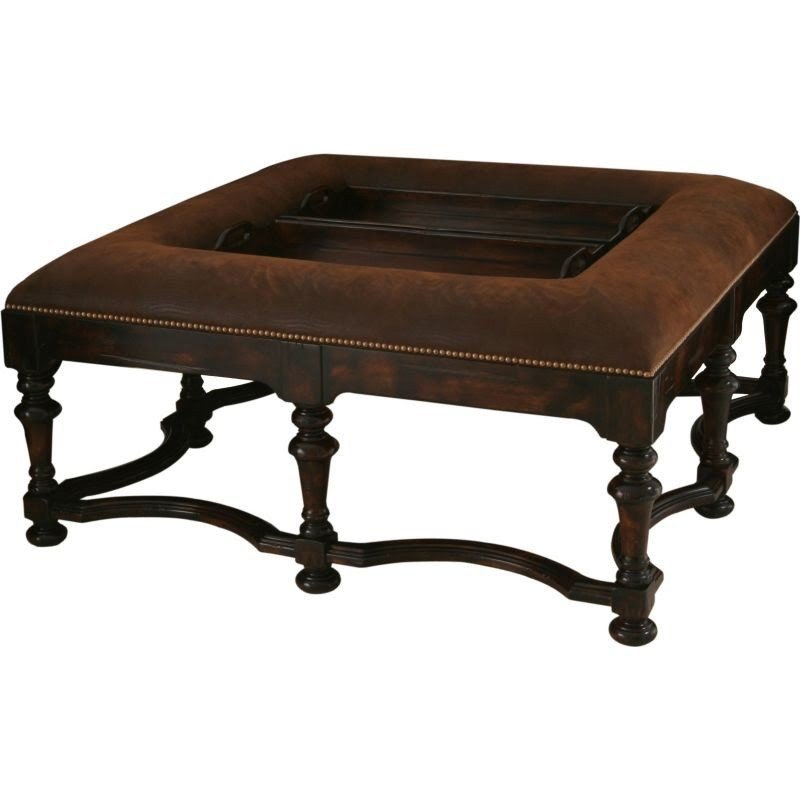 48sq 22h | LORTS - 9755 Ottoman (too big)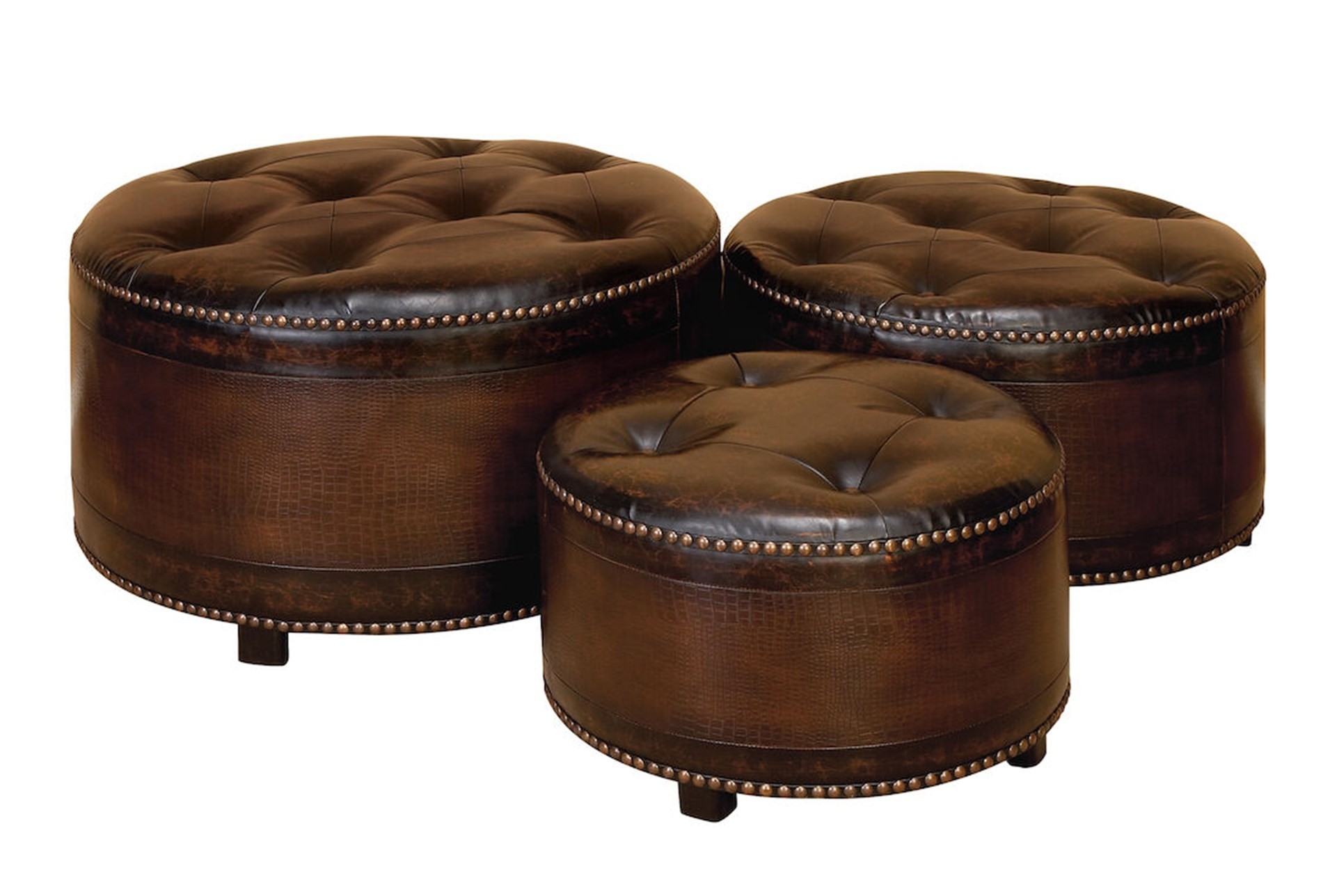 Bring stately appeal to your living room or den with this sophisticated set of ottomans. Showcasing luxe button tufting and shimmering nailhead trim, these handsome accents transition from footrest to coffee table to extra guest seating with stylish ease.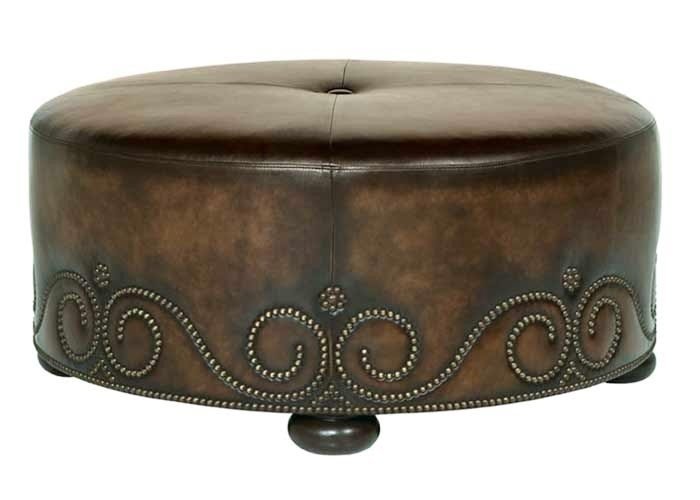 An exquisite, round ottoman that might serve as an elegant coffee table too. It features small, graceful legs and brown leather upholstery with a slightly distressed finish. There is a subtle, metal decoration at the bottom.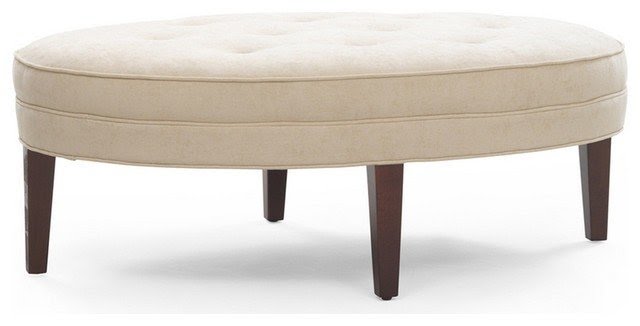 round leather ottoman coffee table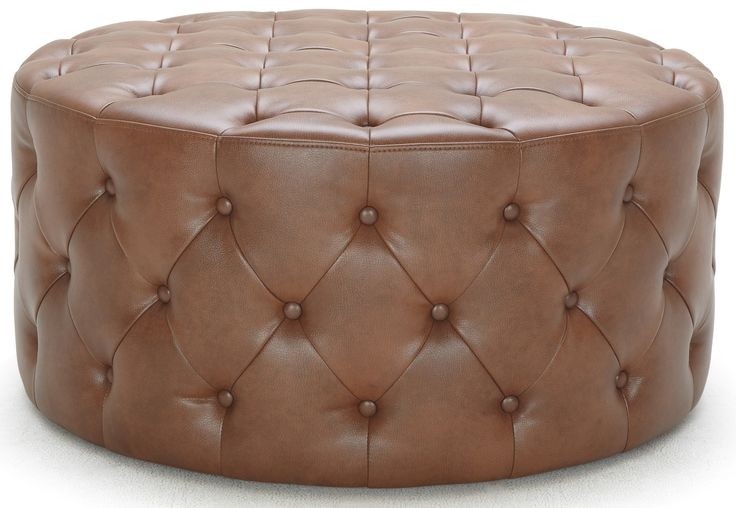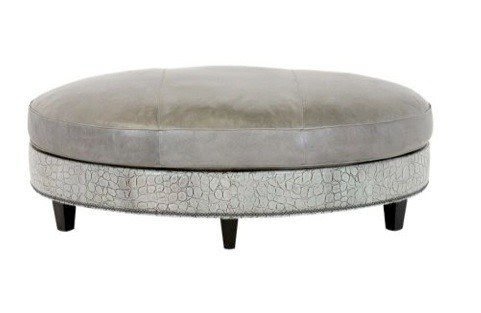 round ottoman coffee tables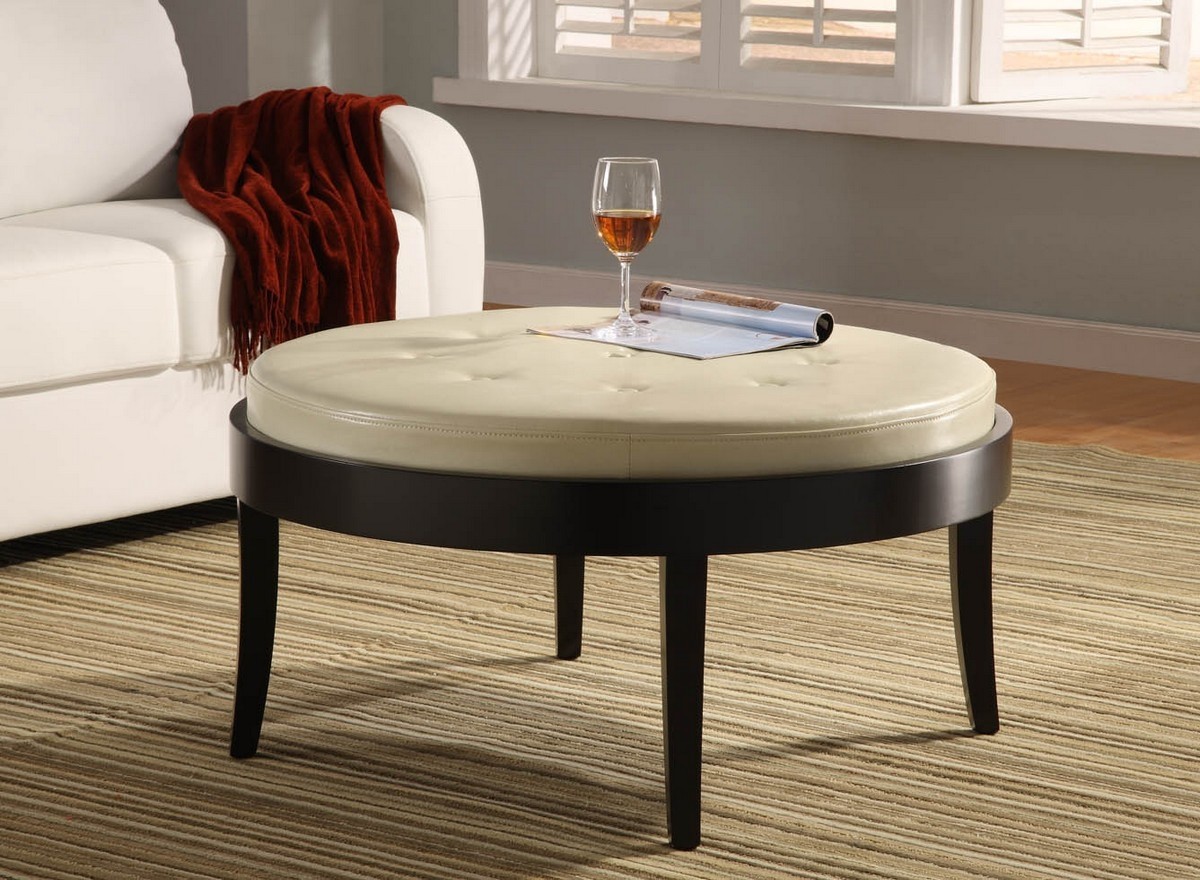 $307 Round Coffee table with cushion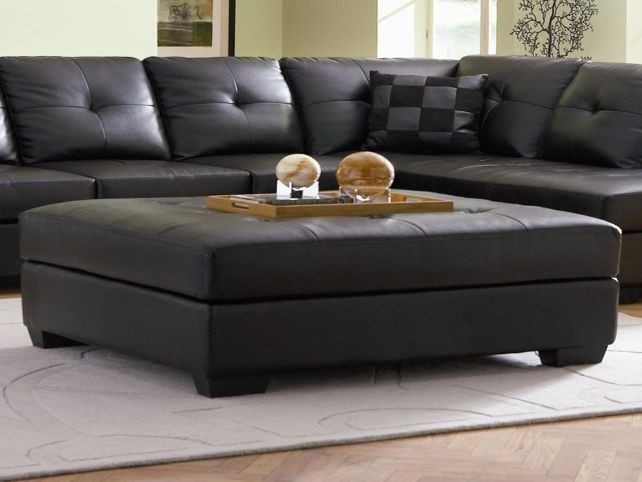 Finished in dark stylish leather, this ottoman or coffee table will be a prestigious accent in any refined interior. It will correspond smoothly to classic wood and leather surroundings.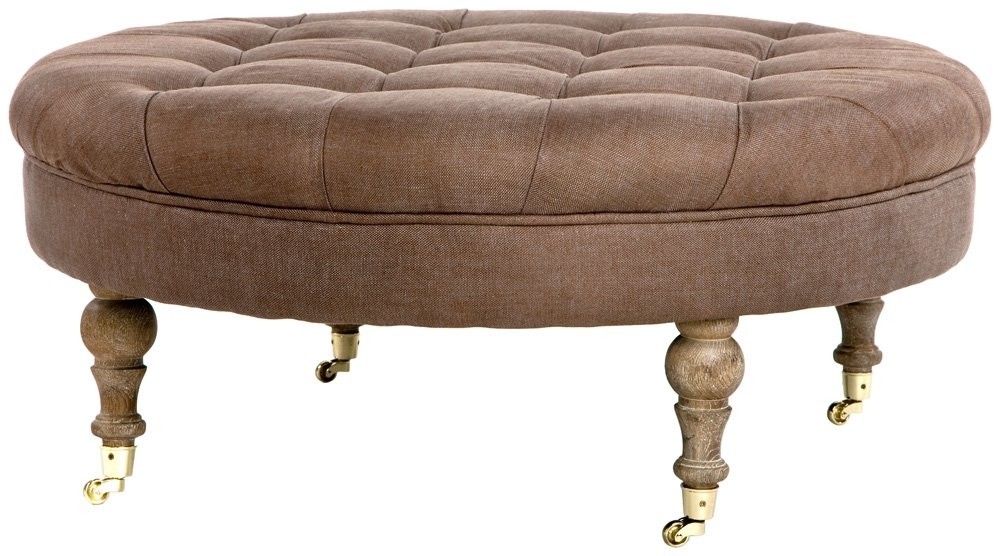 Large Round Ottoman Coffee Table pictured: ZENTIQUE CF056-2E272A008 ...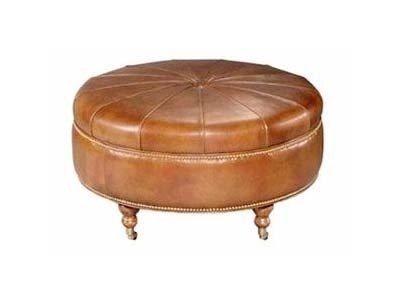 A chic ottoman and coffee table in one with a round wooden frame and low turned castered legs. Upholstery is of light brown leather with nailhead trims along edges. A top has single button tufting and stitching with an orange cut in half design.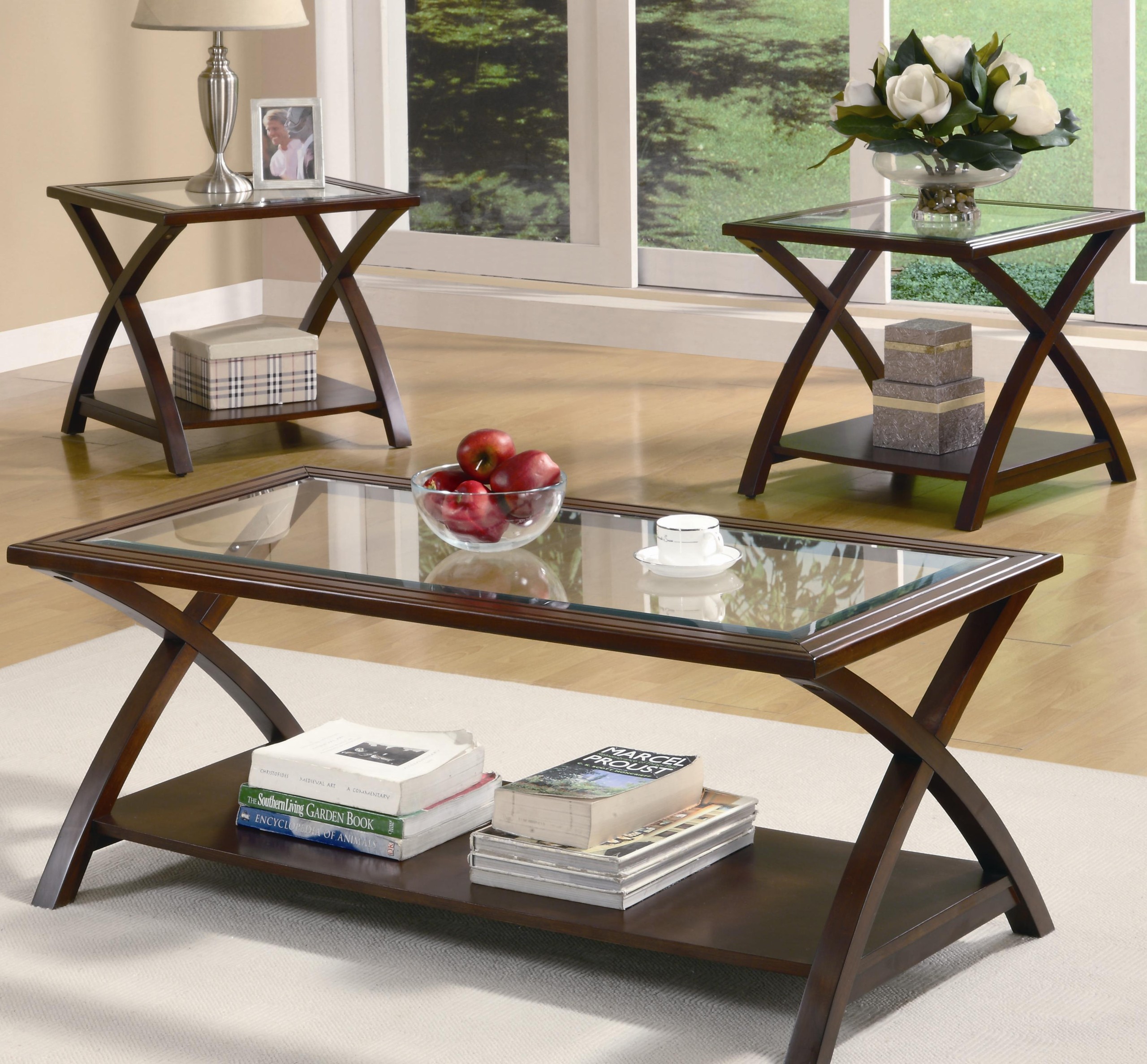 Aesthetic modern end tables and a coffee table with wooden frames in warm browns. Frames are built of 2 X-crossed gently curved legs joined by a rectangular open shelf close to the floor. Rectangular tops of clear safety glass have grooved frames.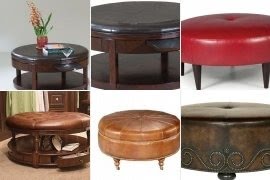 Back to Article / Original Size - 3200*3200 pixels / Image Via - www ...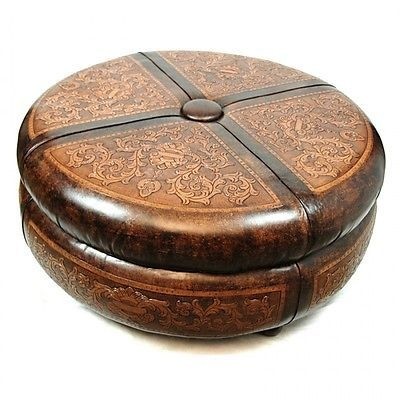 Emilie Leather Coffee Table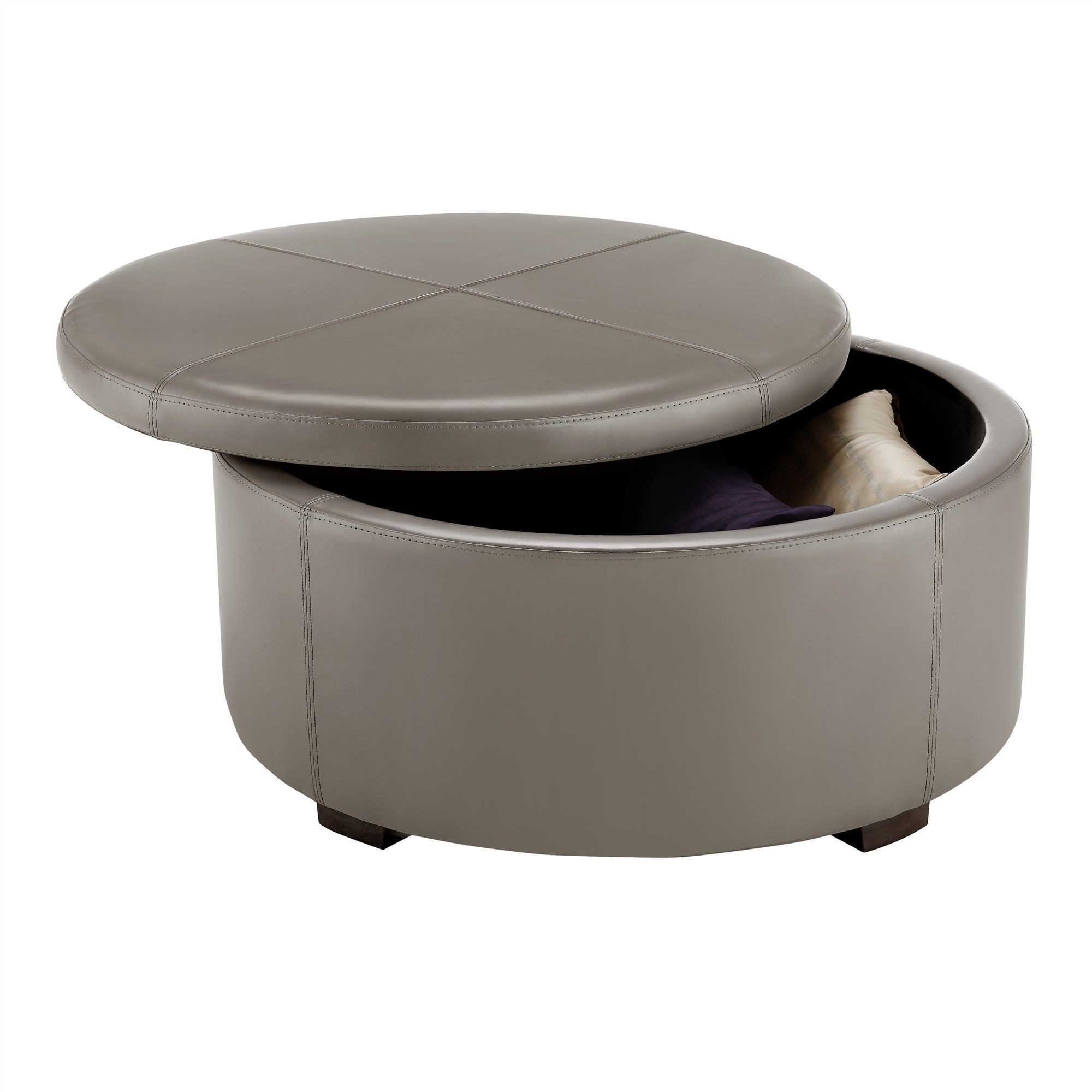 Ottoman Coffee Table Designs For Living Room Funiture : Terrific Round ...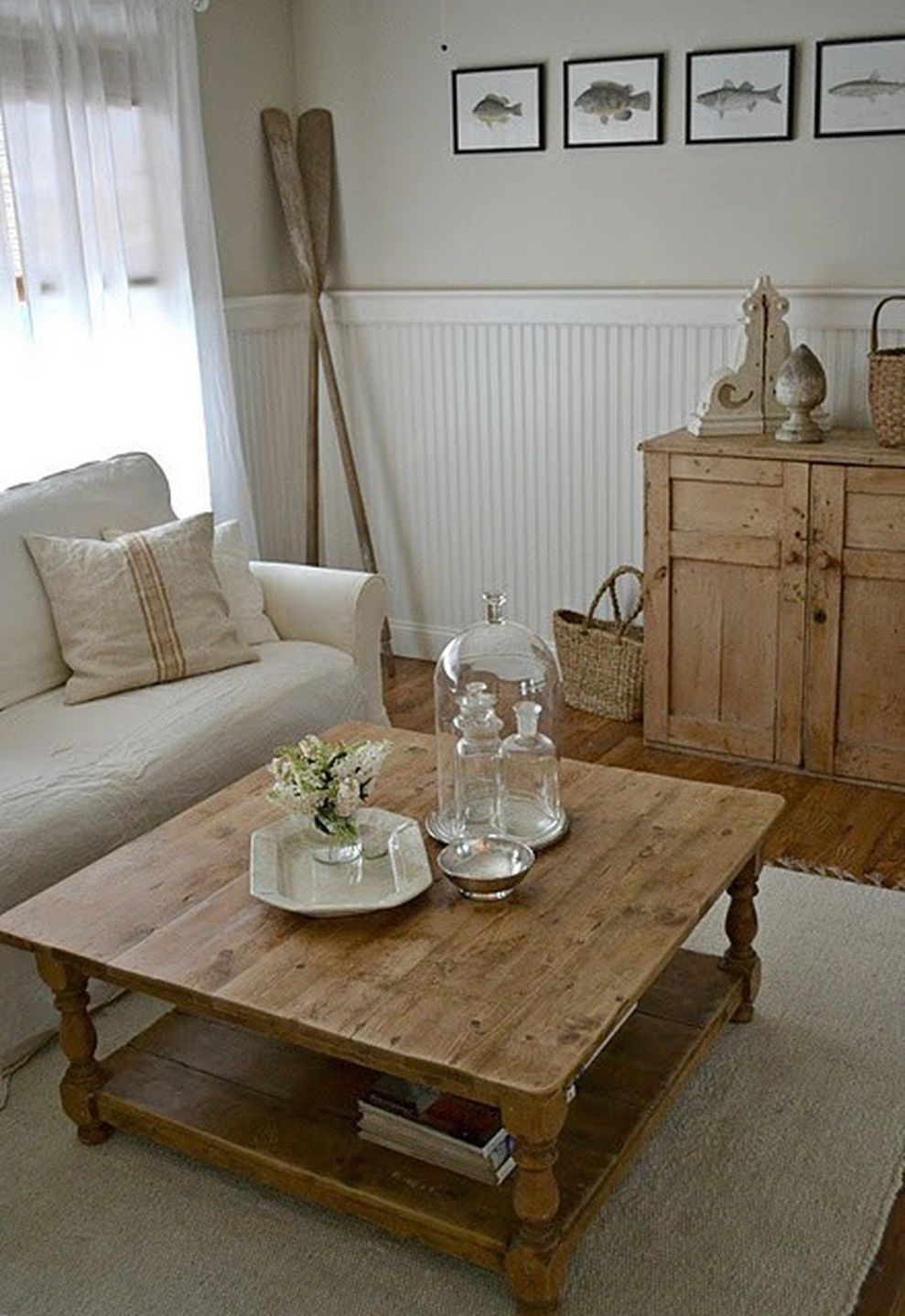 Now you can accentuate your contemporary living room with this fine coffee table. Crafted of sturdy Pine wood in natural finish, the table includes a square top with rounded edges, a square shelf at the bottom and beautifully sculpted legs.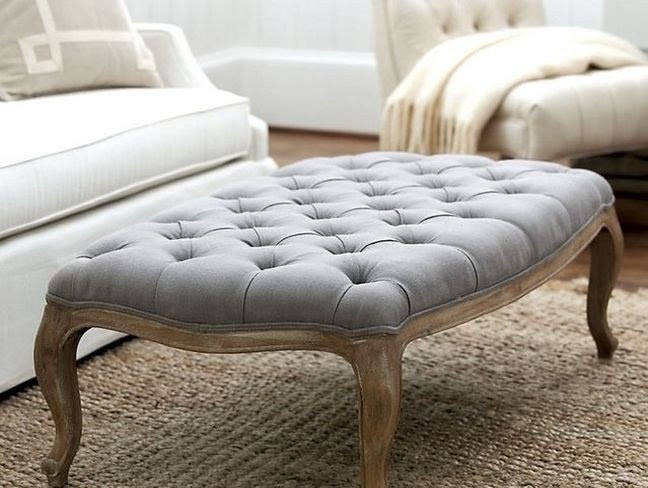 A chic traditional vintage ottoman and coffee table in one. It has a wooden frame with gently curved legs and aprons and a bit worn finish in beiges. Its rectangularish top is padded and covered in grey fabric with quite deep button tufting.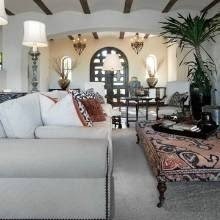 This intricately upholstered ottoman can smoothly serve as a decorative coffee table. It is based on short, yet thick and ornate mahogany legs, complementing ideally the height of the surrounding sofas.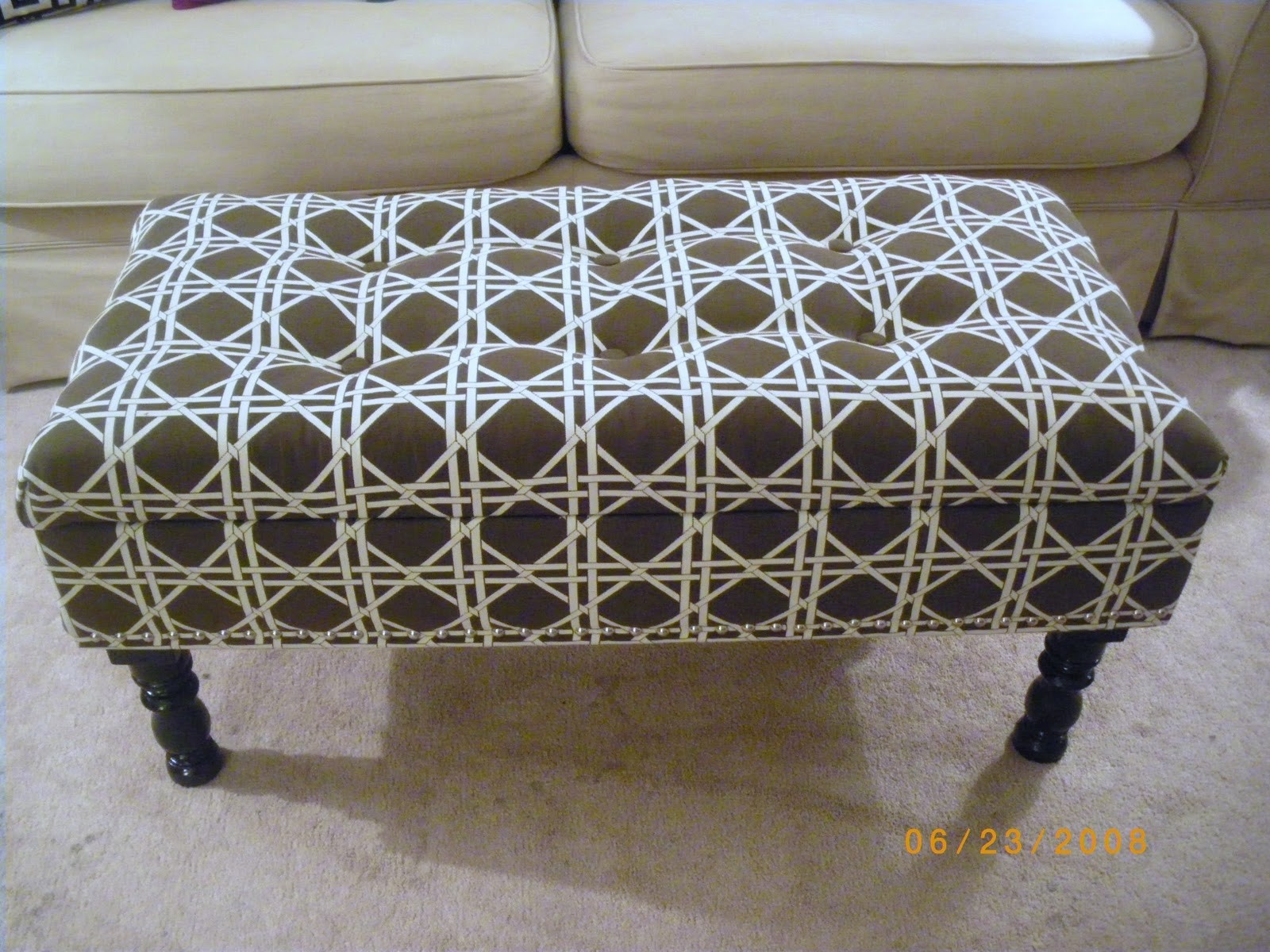 Elegant ottoman upholstered with soft fabric and decorated with geometric pattern. Seat is finished with decorative quilting. It is mounted on metal legs. Great as additional seating or coffee table.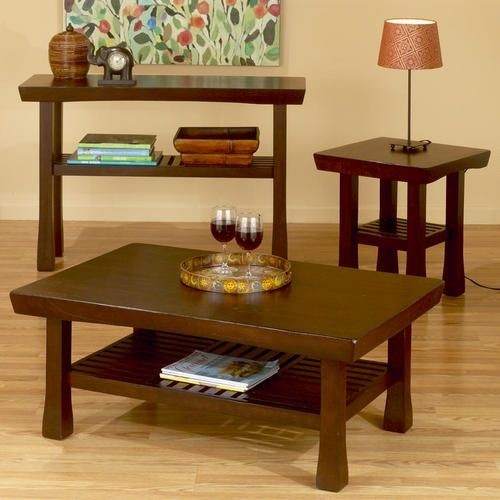 Coffee table with rectangular top and lower shelf based on horizontal slats. It is available with small nightstand and entryway table. All of them offer solid wooden constructions finished in brown colors.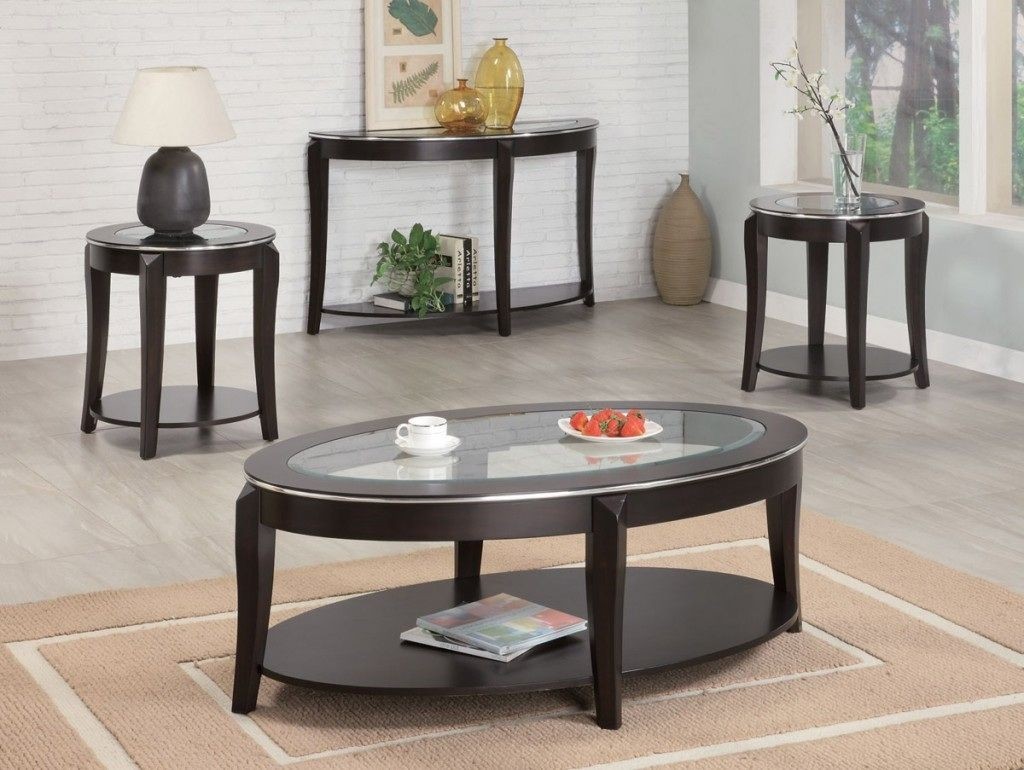 Set of 3 coffee tables in various sizes. It is mounted on wooden frame and fitted with glass top. It has additional shelf for storing books, magazines and others needed items. Perfect solution for any living room.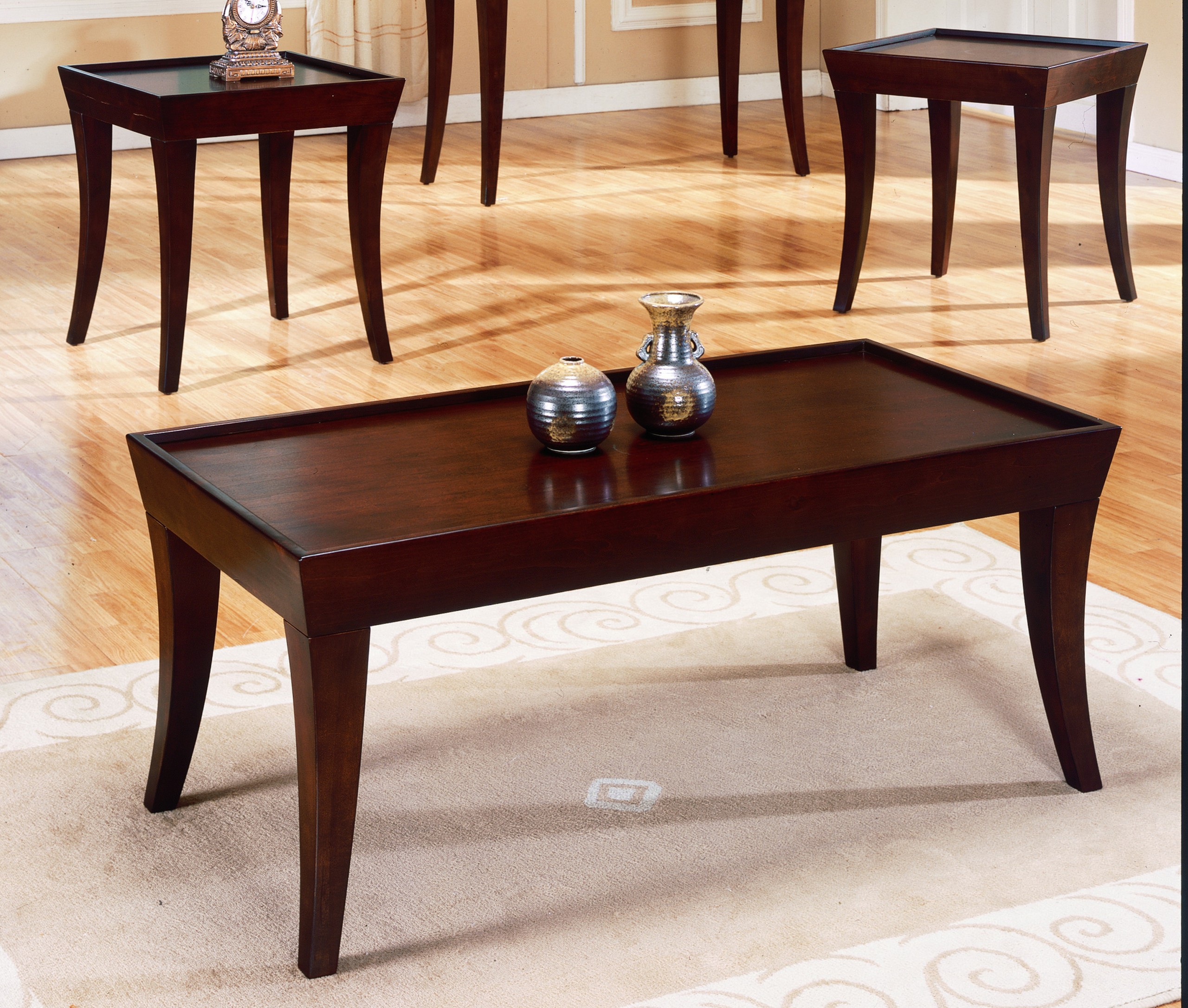 Set of tables that can be used as end or coffee tables. These wooden elements are durable and attractive thanks to their espresso finish. Square and rectangular tops are stylish and very practical in any design.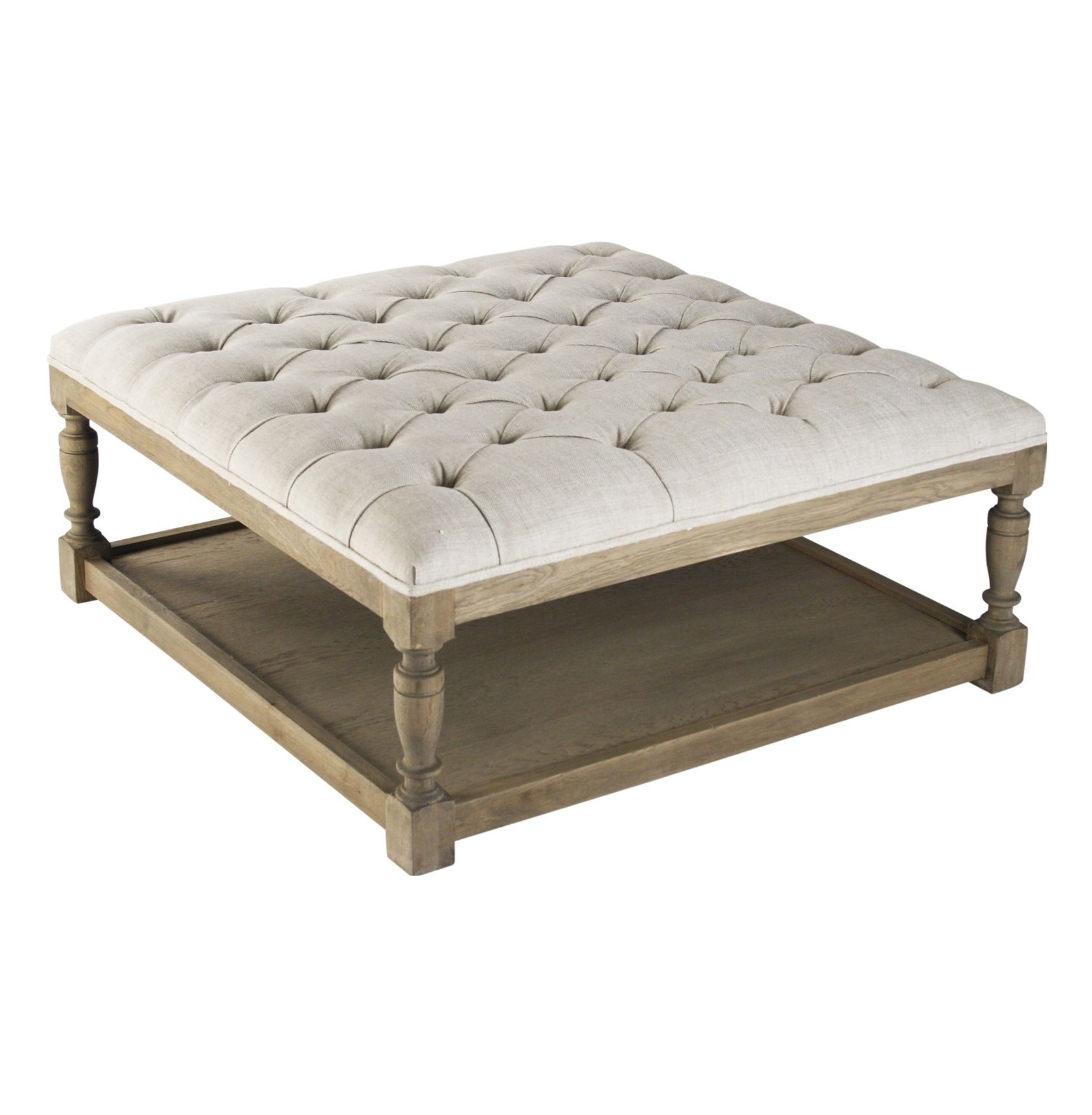 ... Room Decoration Using Tufted Square White Leather Coffee Table Ottoman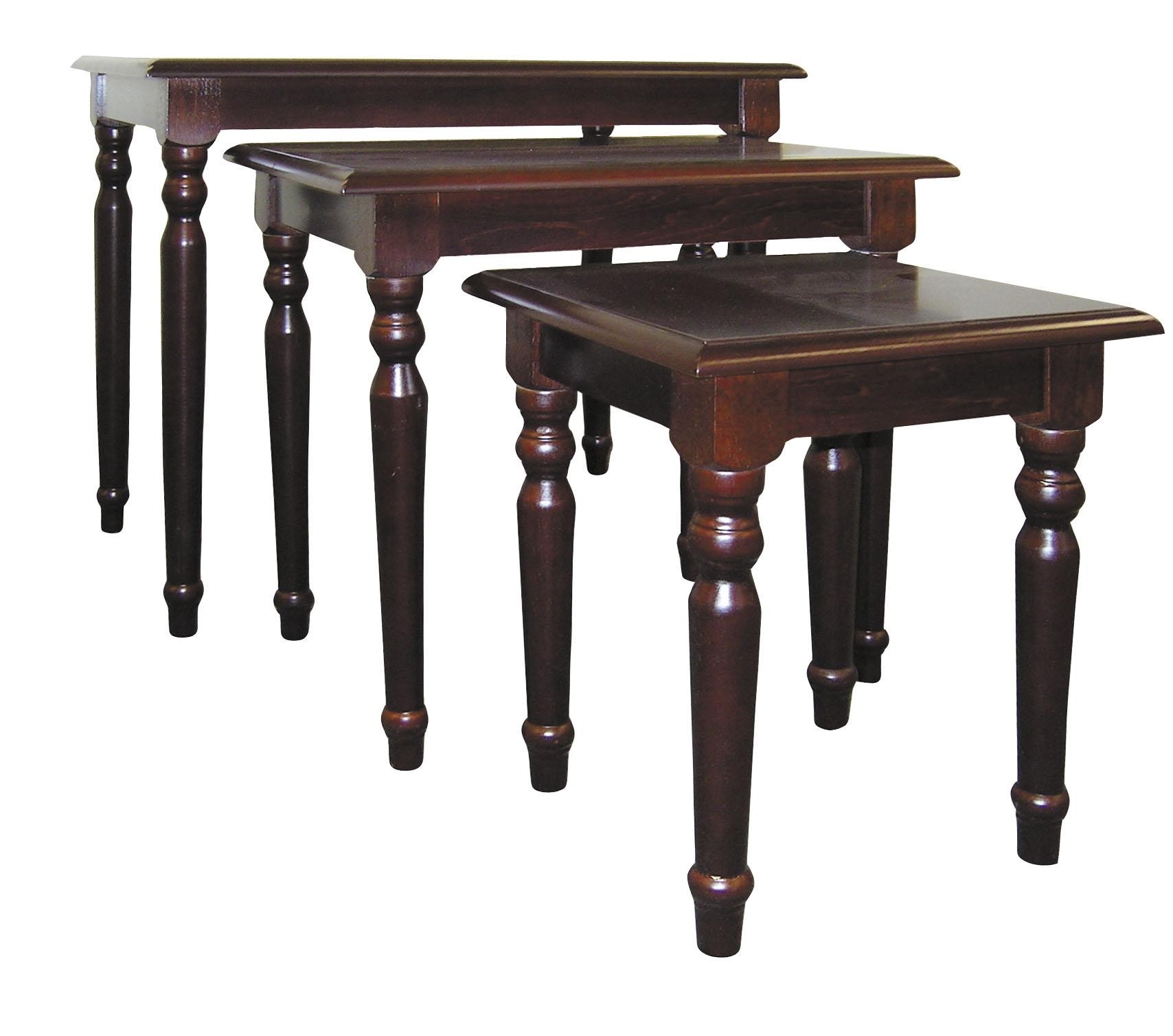 A set of perfectly crafted tables that are available in colors that are well-matched with different room decorations. These elements are made of hardwood that is solid and provides extra stability and durability.