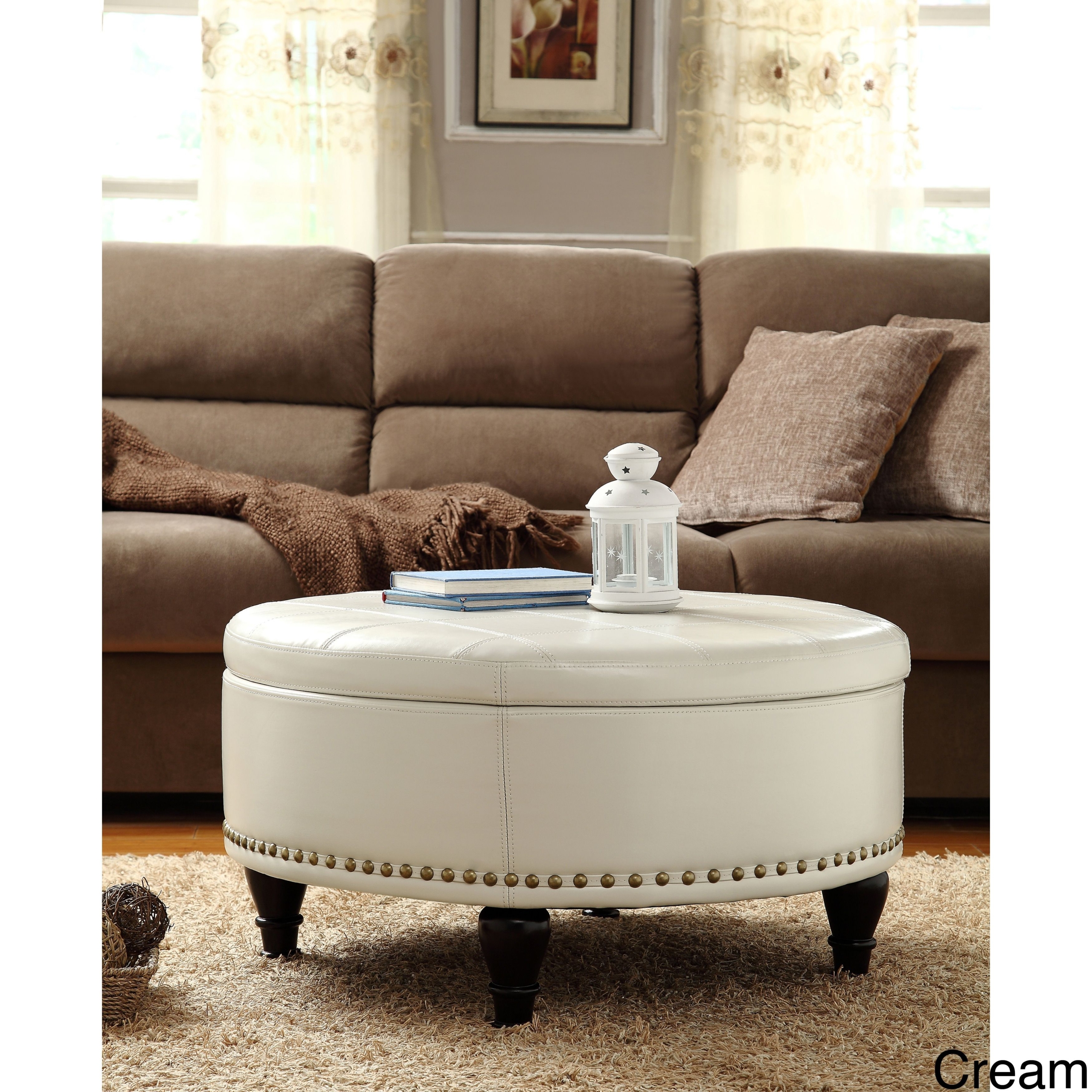 Very classy design – a white leather round ottoman/coffee table, fitting in perfectly with the fluffy, light-brown carpet and the smooth, brown sofa. A perfect way to make your living room elegant and stunning.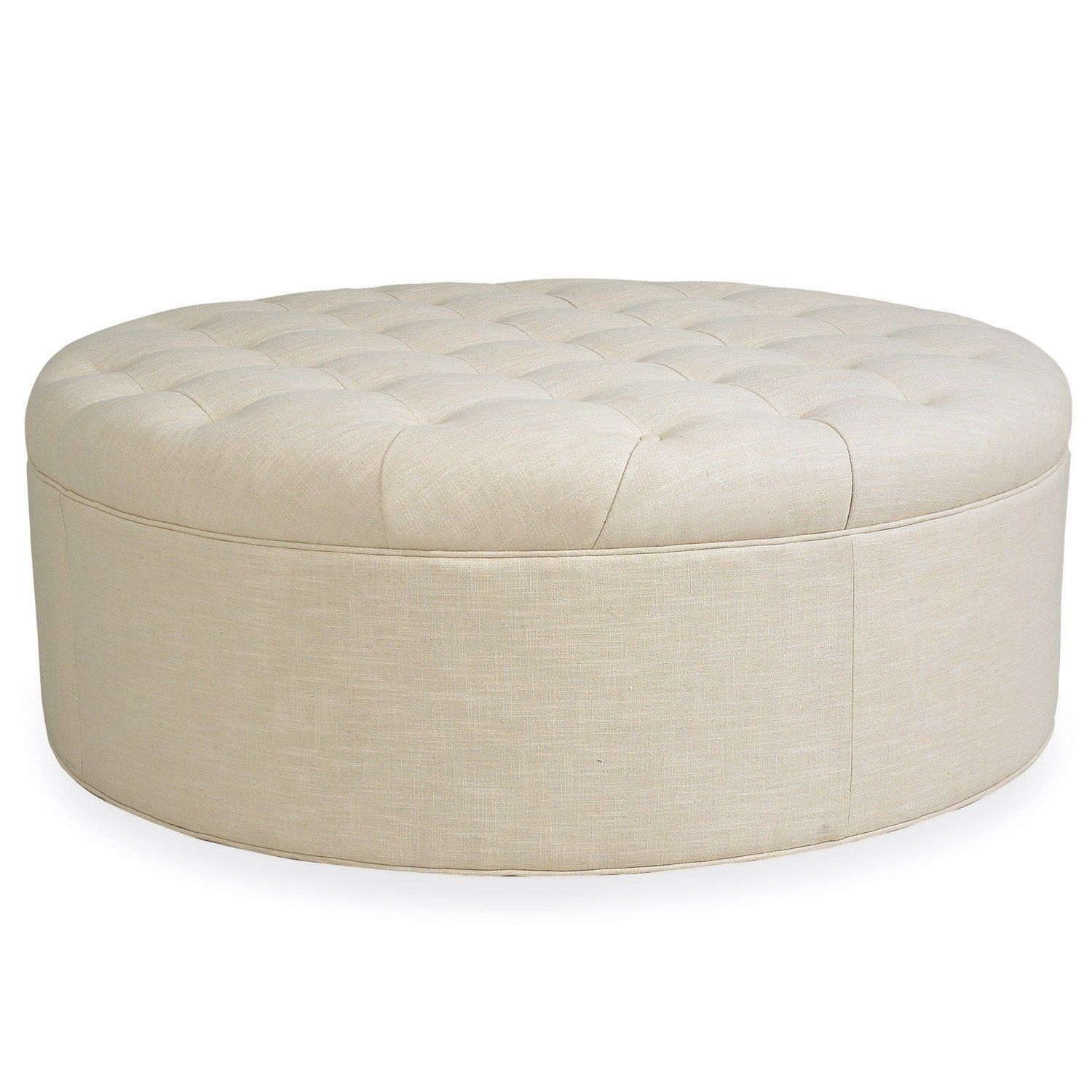 A pretty traditional ottoman which can serve as a coffee table, too. It has a large round wooden frame and a fibre-padded top with moderate button tufting. Upholstery is made of gently textured light grey fabric.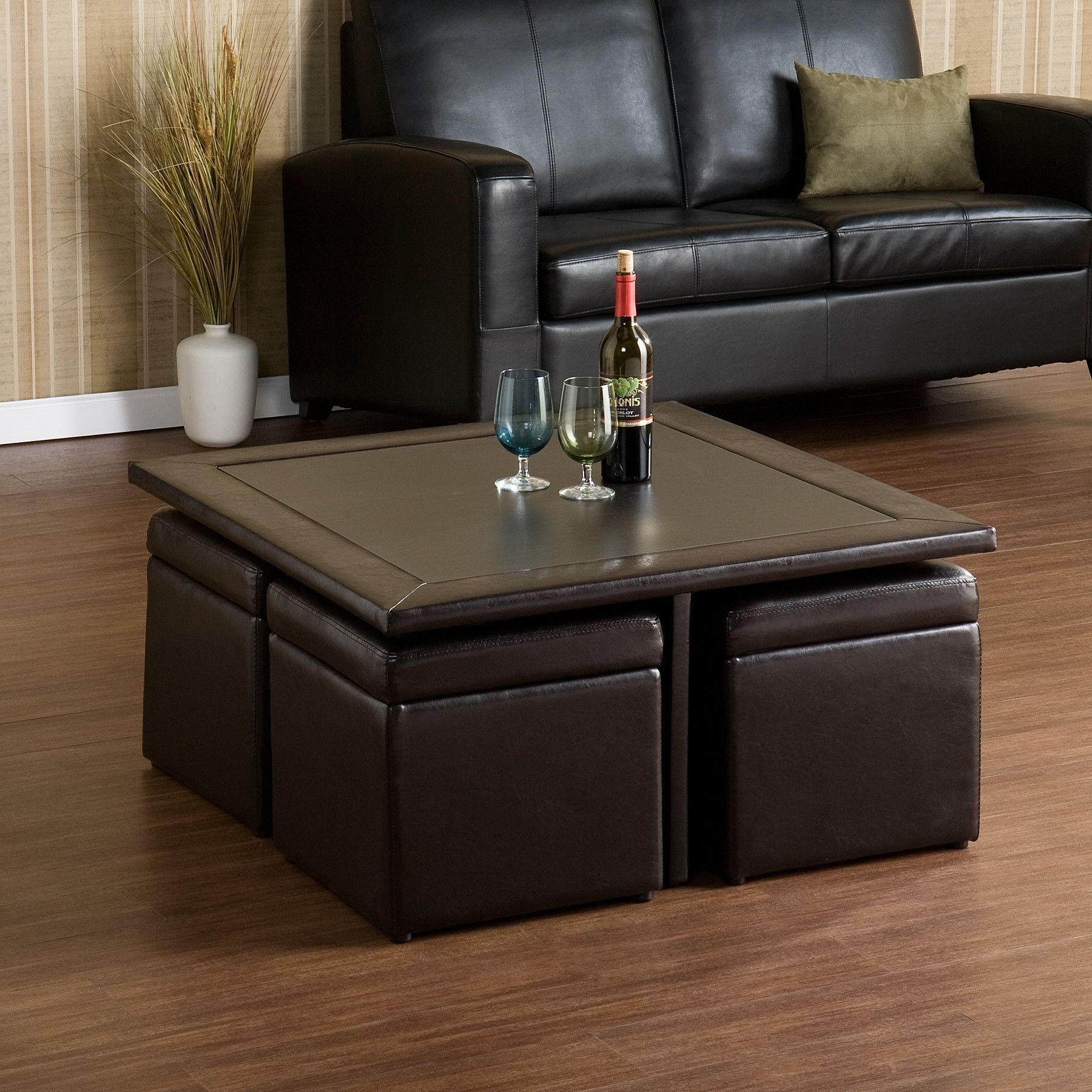 This clever coffee table provides storage for four matching leather-bound footstools that, in their turn, are concealed storage. Perfect for extra throws or pillows, games and game pieces, or similar living room items.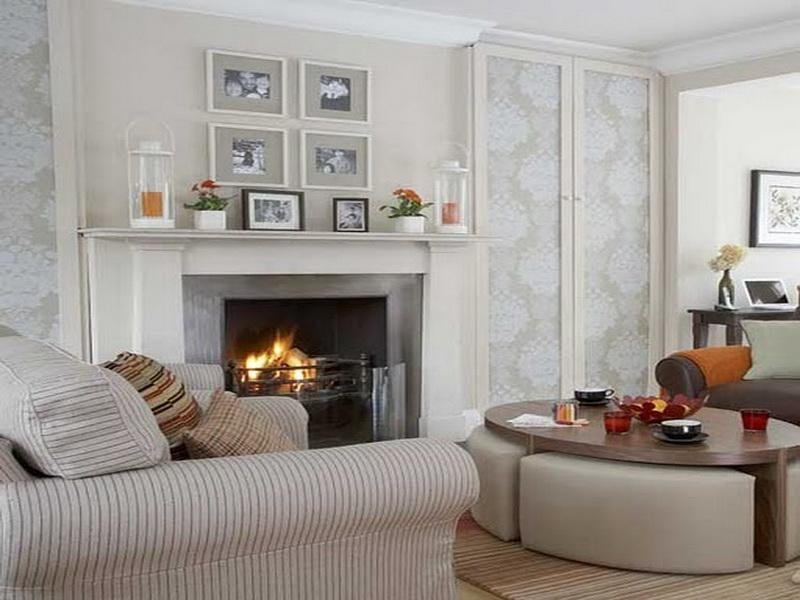 This round coffee table with ottomans, placed near the fireplace creates a really warm, charming meeting space. Apart from its social and decorative functions, it is also a functional storage surface.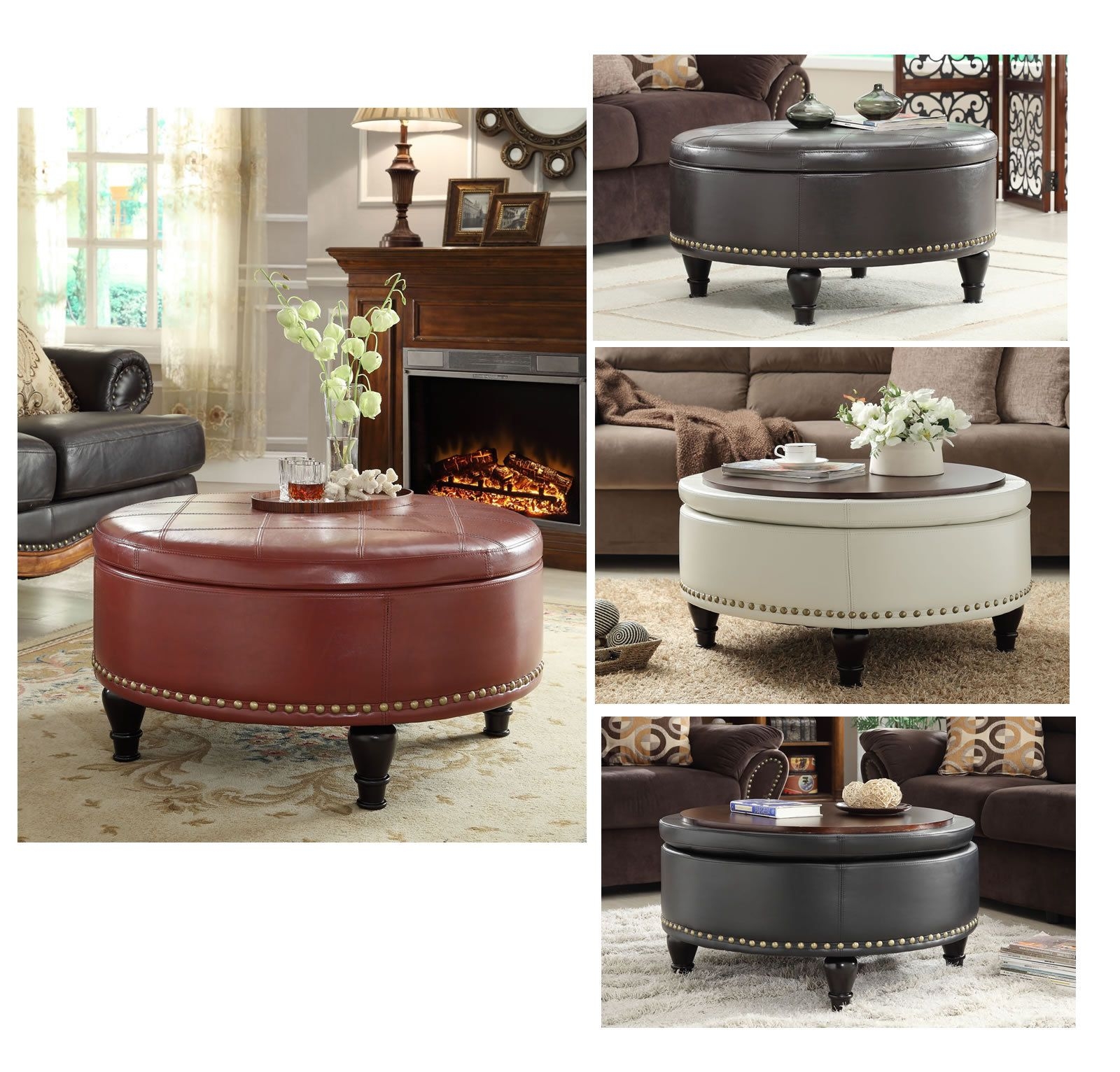 $249 32"w Inspired by Bassett Augusta Wood & Eco Leather Round Storage Ottoman Nail Head #InspiredbyBassett #Contemporary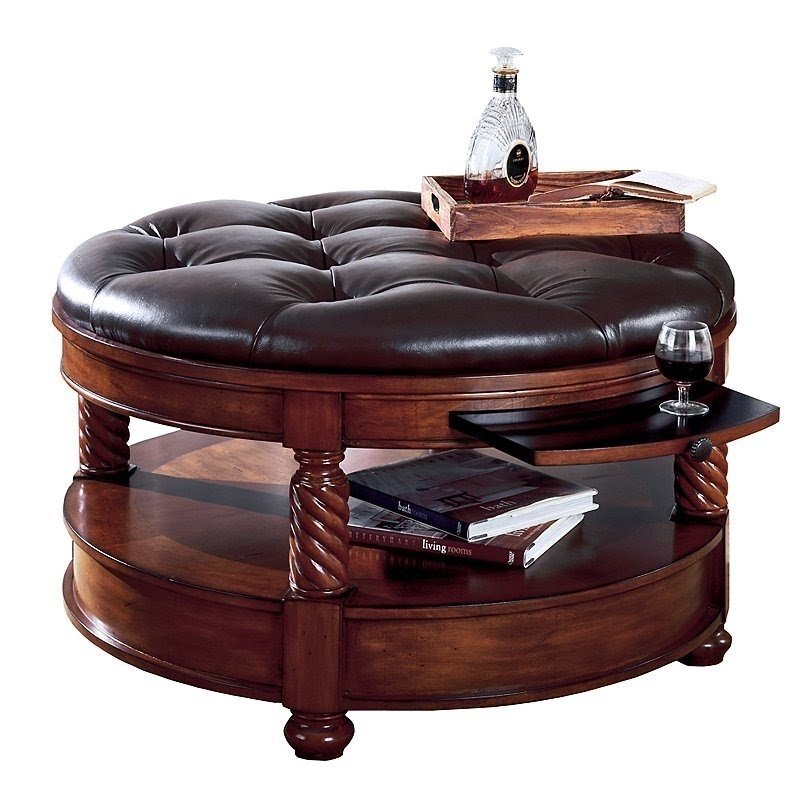 Round coffee table in elegant form. Base is made of wood and fitted with additional shelf for storing books, magazines and more. Top is covered with leather and finished with decorative quilting.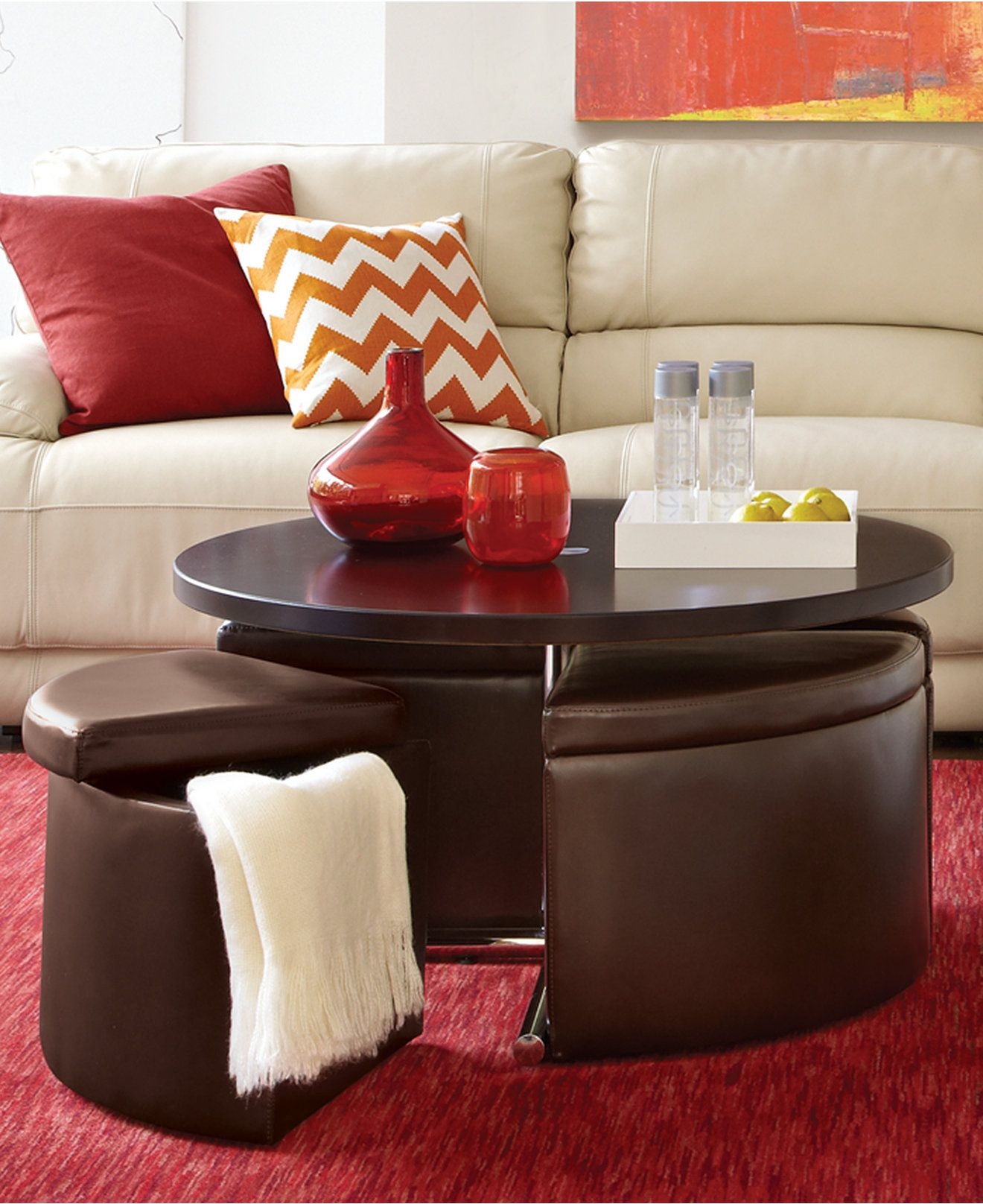 Beautiful, adjustable round coffee table with ottomans. Made from bronze leather, finished with silver, stainless steel accents. Ottomans offer some extra storage space right inside them. Ideal for large living rooms.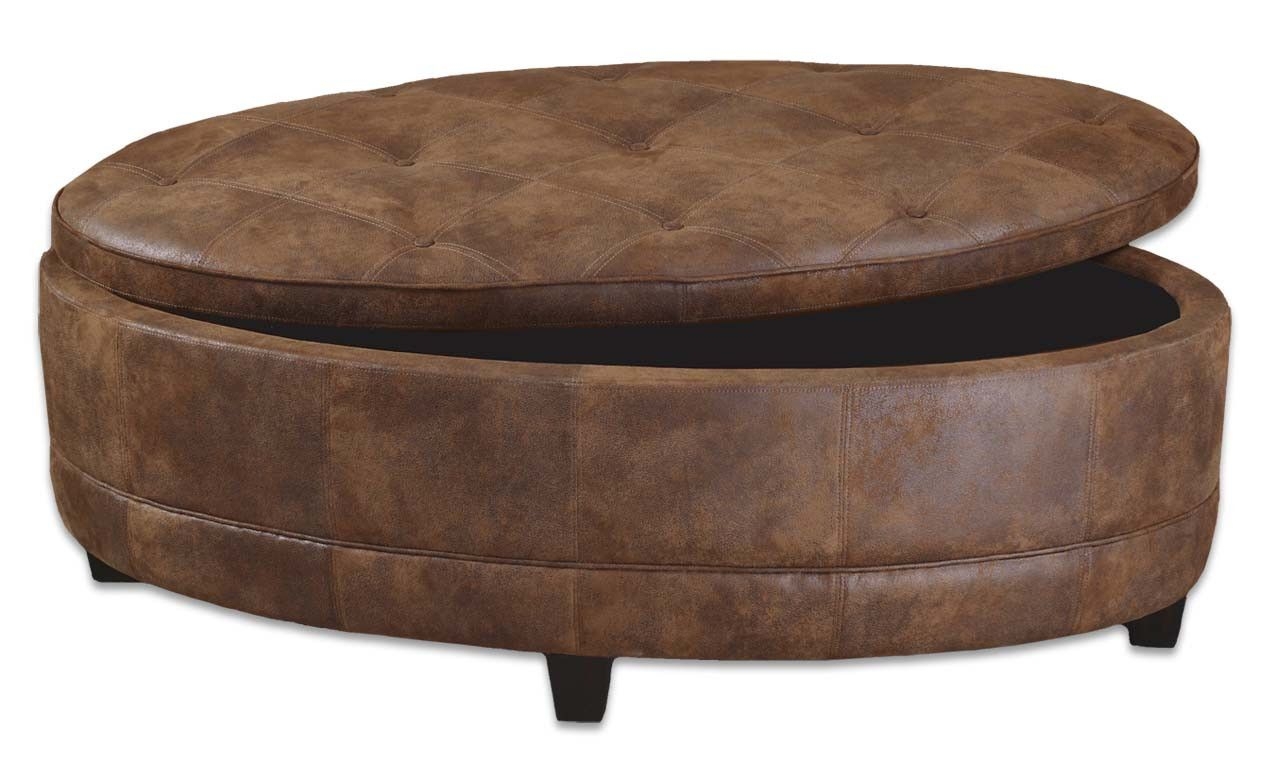 This round multi-functional piece of furniture is must-have in your living room. It can be used as a coffee table or a big pouffe and it has area to storage trumpery. It is covered of a dark leather.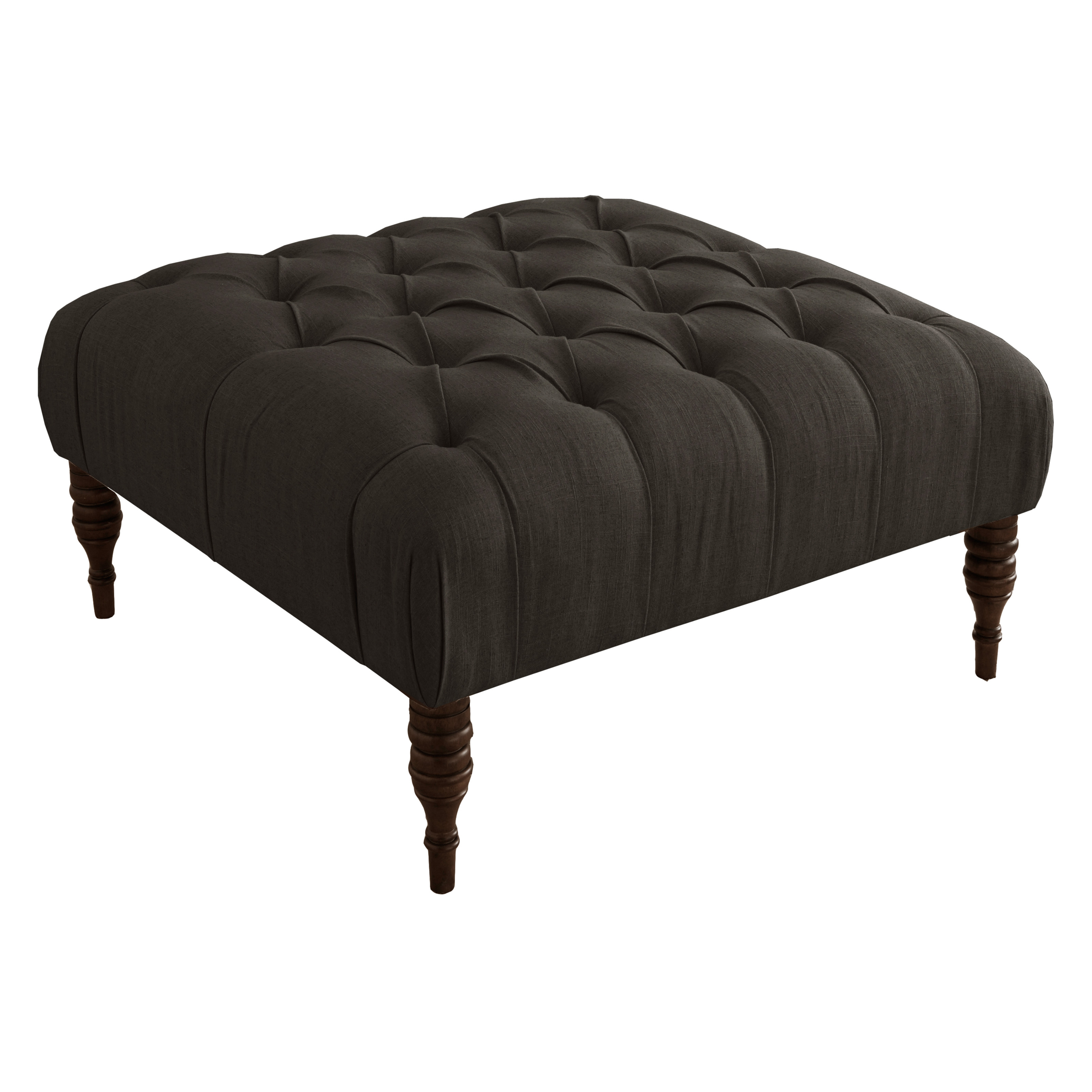 Round ottoman as coffee table or additional seating. It is upholstered with pleasant to the touch fabric and reinforced with solid seams. Perfect solution for small spaces.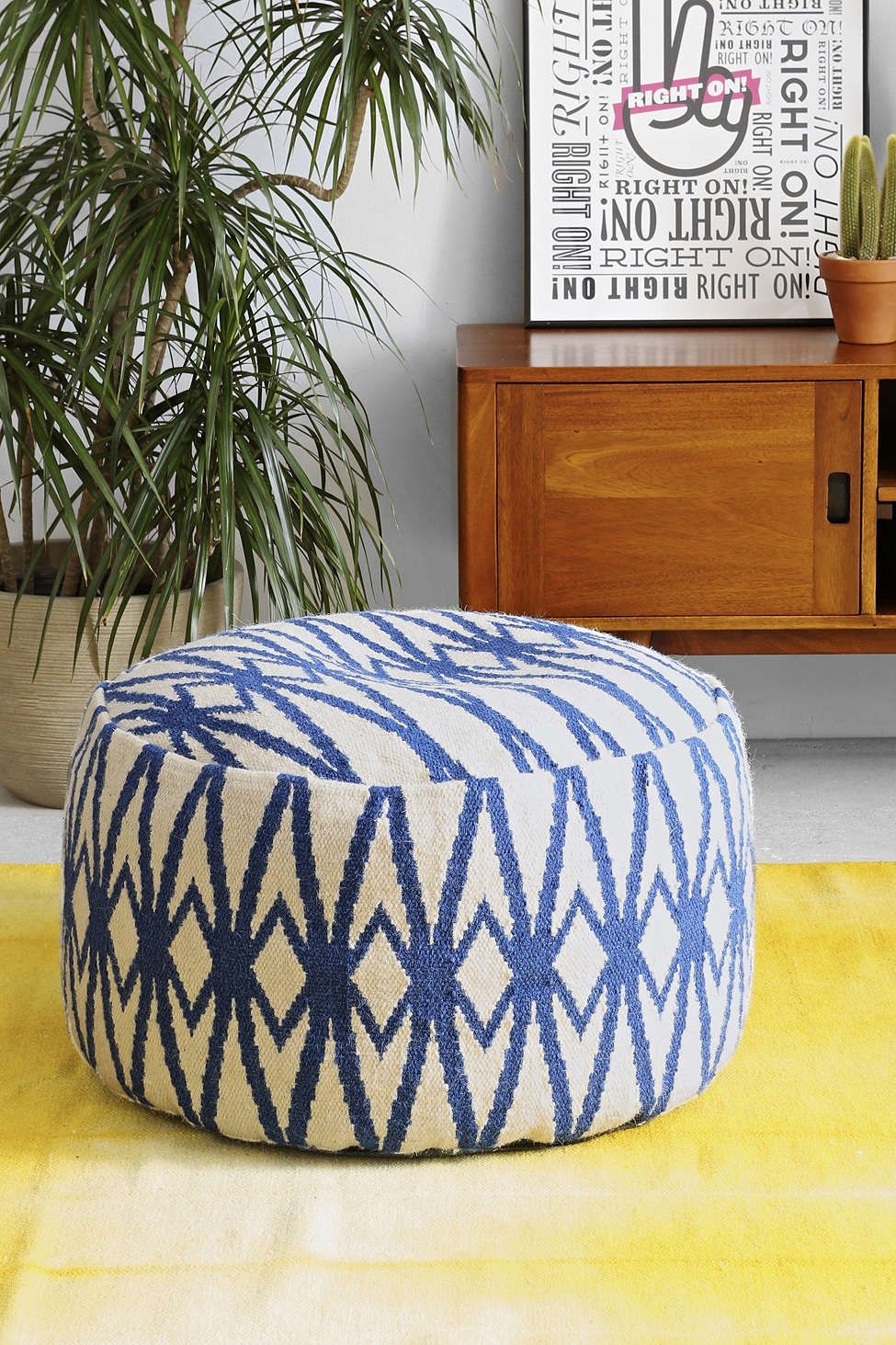 Wool blend fabrics with geometric patterns are readily used in modern Scandi style. Applied on a round ottoman, a woolen upholstery looks chic. Here an ink blue pattern contrasts against white background.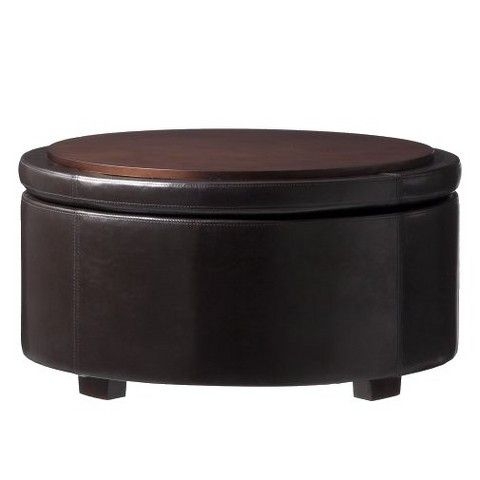 Cocktail table in the form of ottoman. Frame is made of wood and covered with high quality leather. Round top has large usable surface. Received a lot of top ratings from customers for elegant look and careful execution.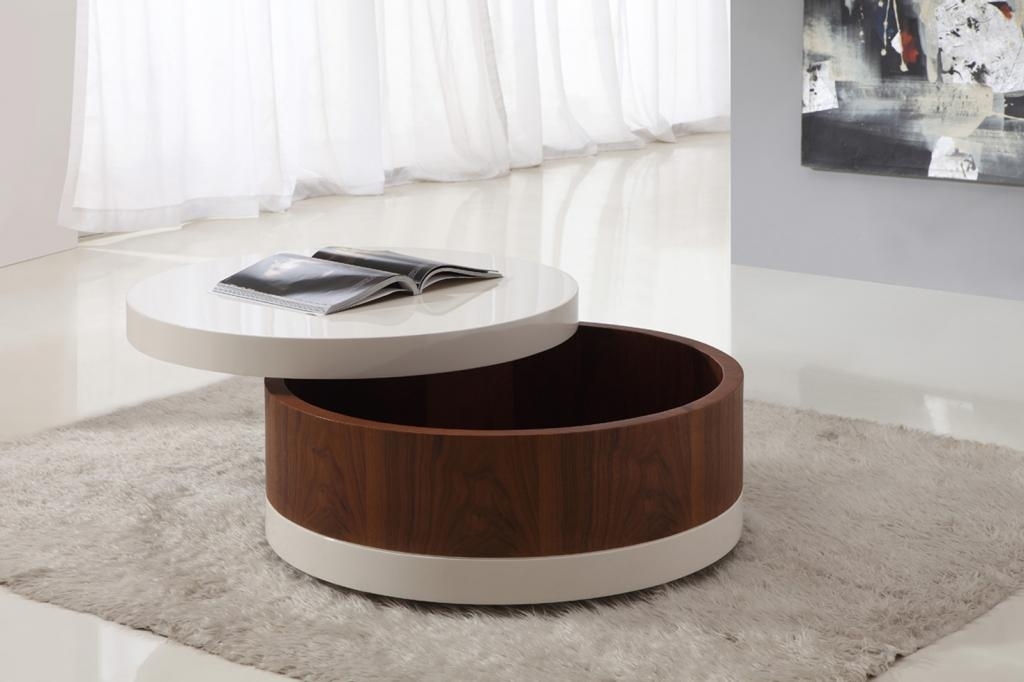 This beautiful round ottoman coffee table constitutes a great example of contemporary design. High gloss & walnut finishing embodies elegance and style. Its cool and clean design and white countertop shall appeal to modernism fans.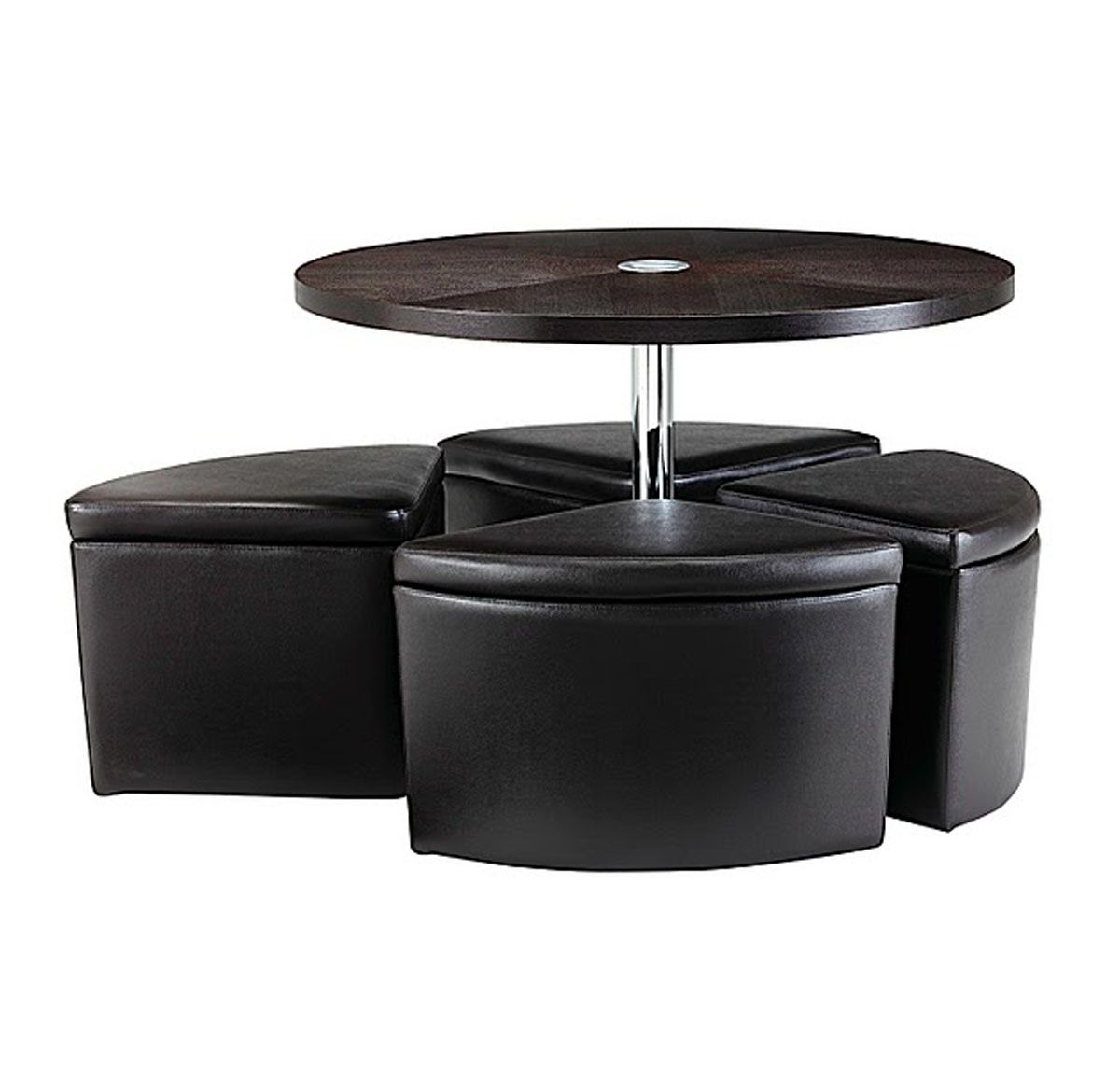 Coaster Tai Leather Coffee Table Storage Ottoman Coffee Table Ottomans at Ottomans - Stylehive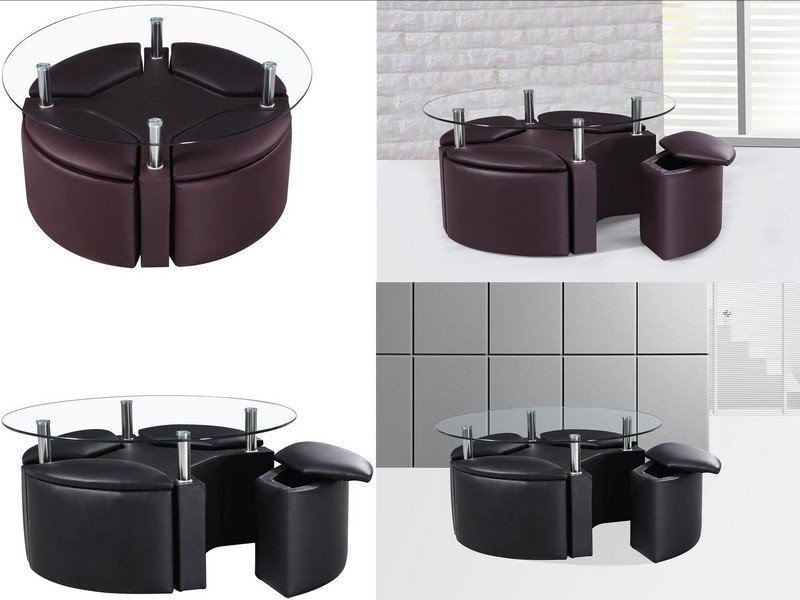 Dakota Round Chrome & Glass Coffee Table with 4 Ottoman Storage Stools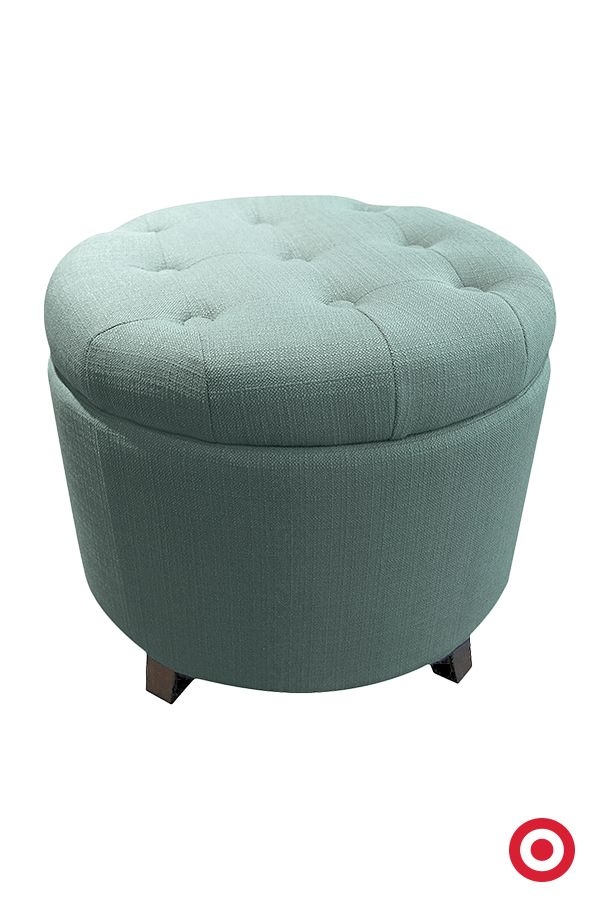 This small piece of equipment has got many functions. It can be used as a sitting solution, a storage element or as a footrest. It has got a removable cover that provides an access to the storage space.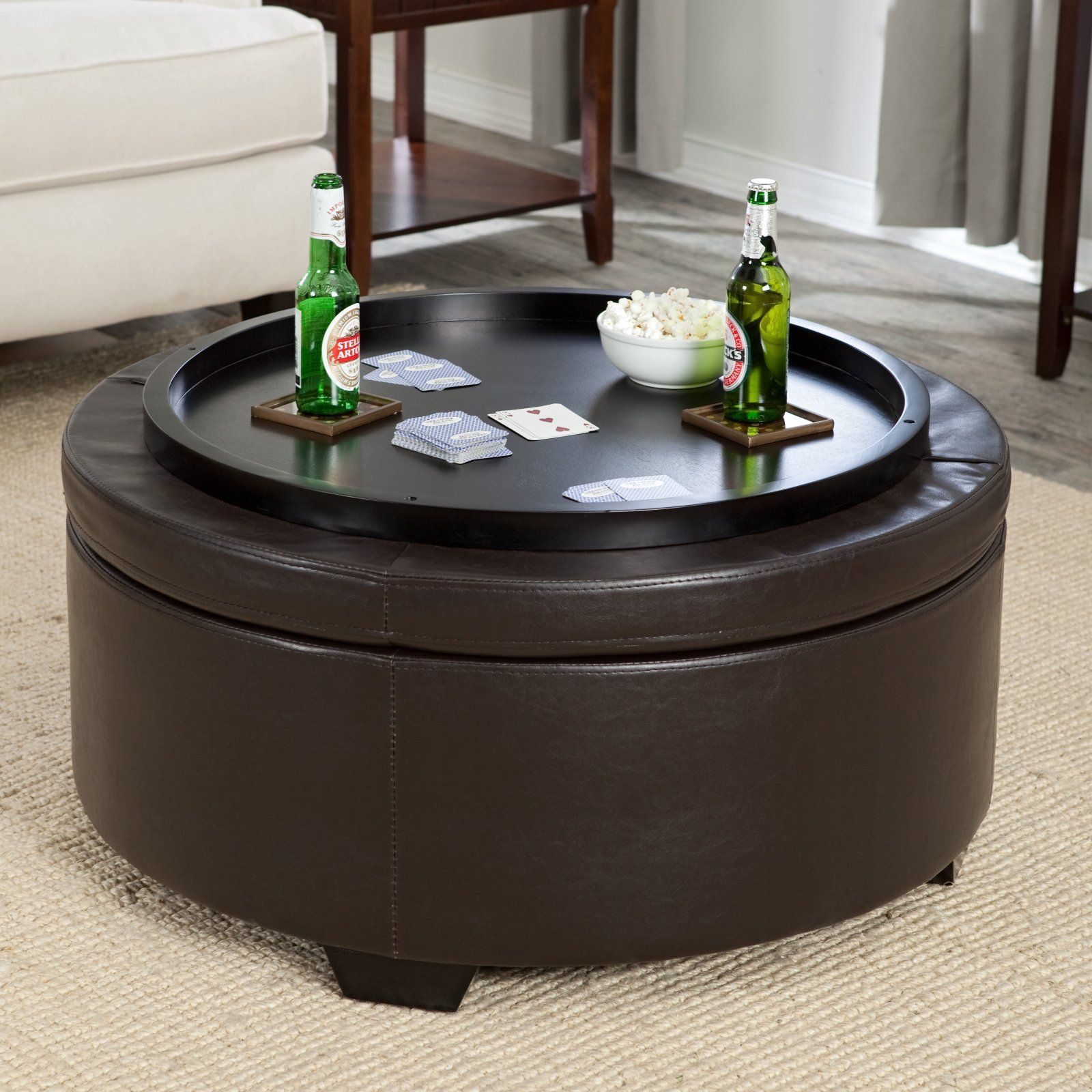 Hide your blankets in this functional piece of furniture. You can use it as a storage space, ottoman and coffee table. The round shape is suitable with the center of interior.

It seems that one can make a chair or ottoman just out of anything. Having an old suitcase or even a metal bucket, you can give them new life by using them as bases for stools. You just have to master some upholstering skills.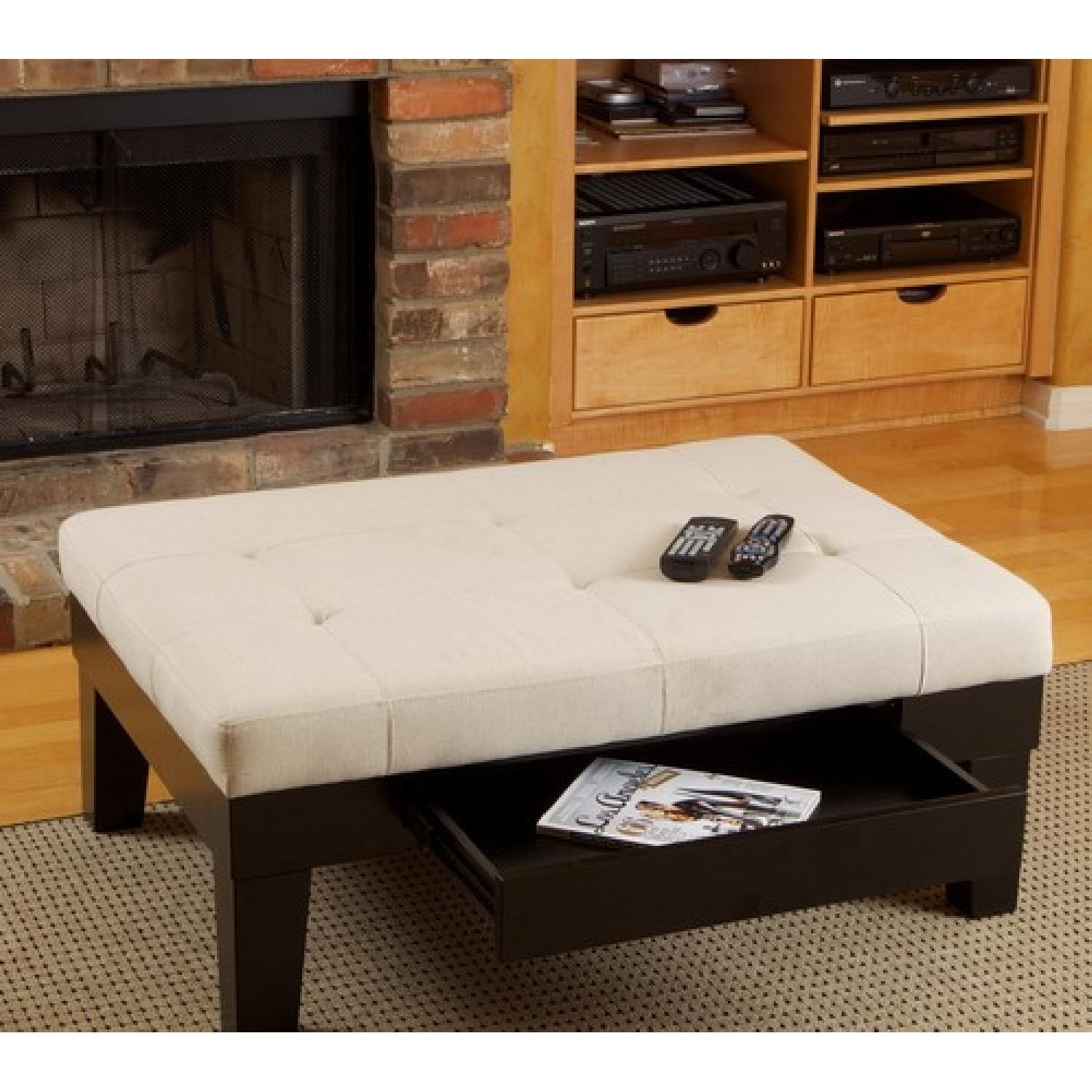 Living Room, Gorgeous Living Room Decoration With Coffee Table Ottoman ...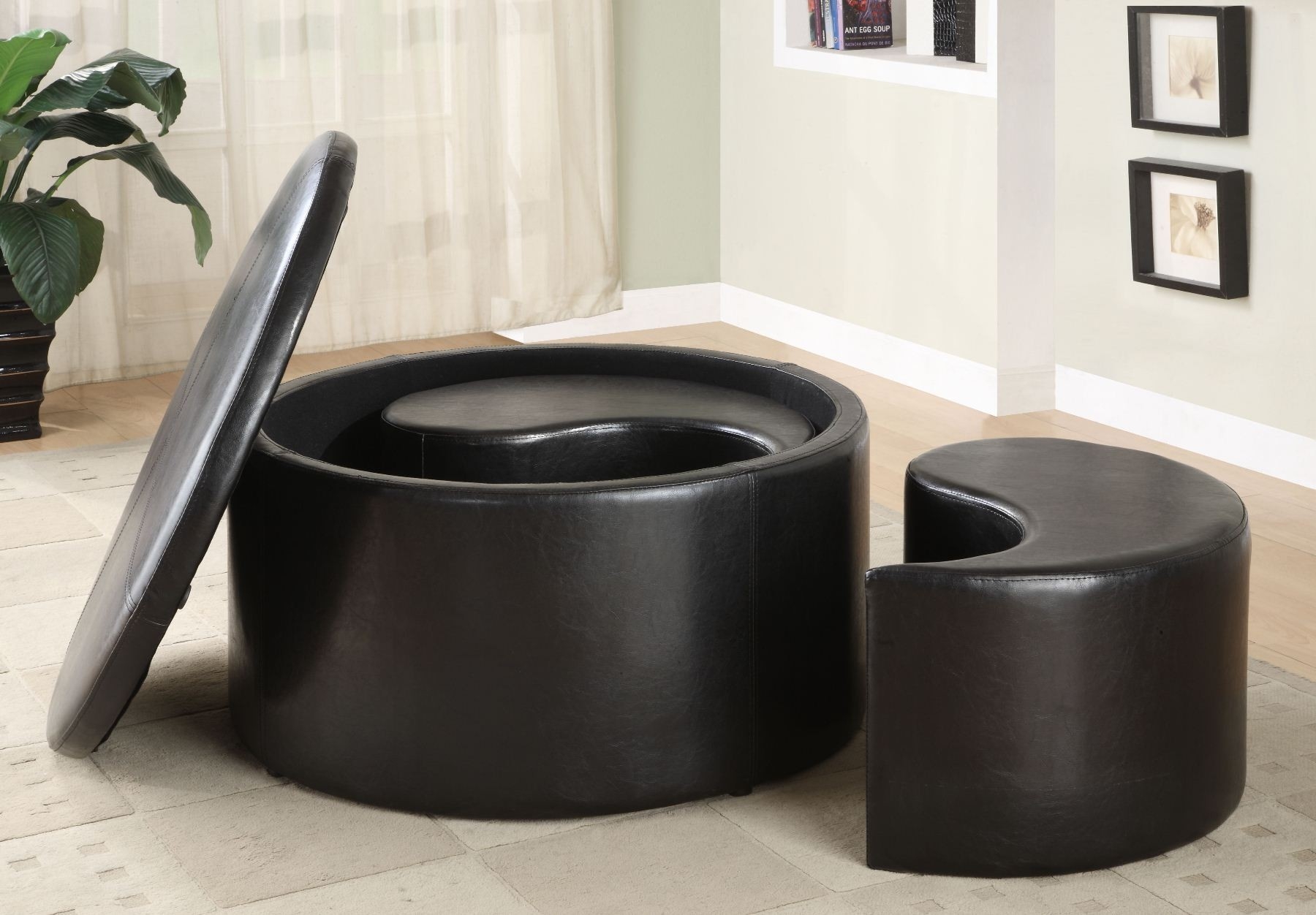 ... Houston 36x36 Round Storage Cocktail Table w/ 2 Kidney Ottomans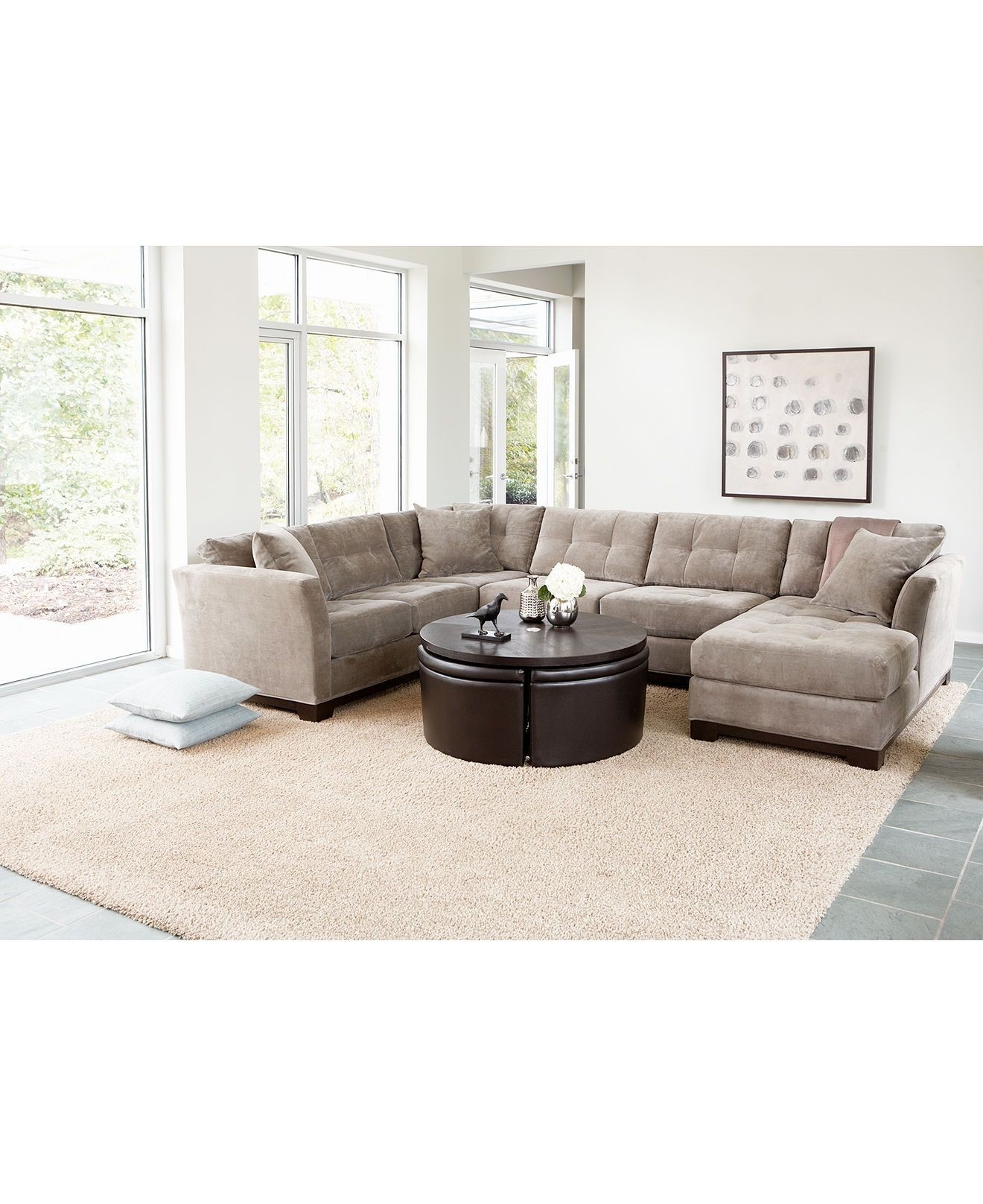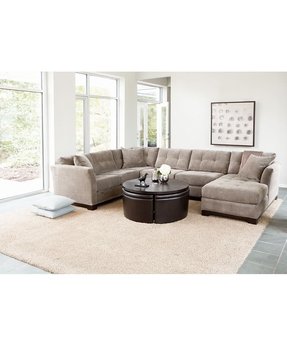 Go for this amazing coffee table that can easily transform into an amazing rolly ottoman and will ensure even more seating space for your interior, making it perfect for all those expecting unexpected guests from time to time.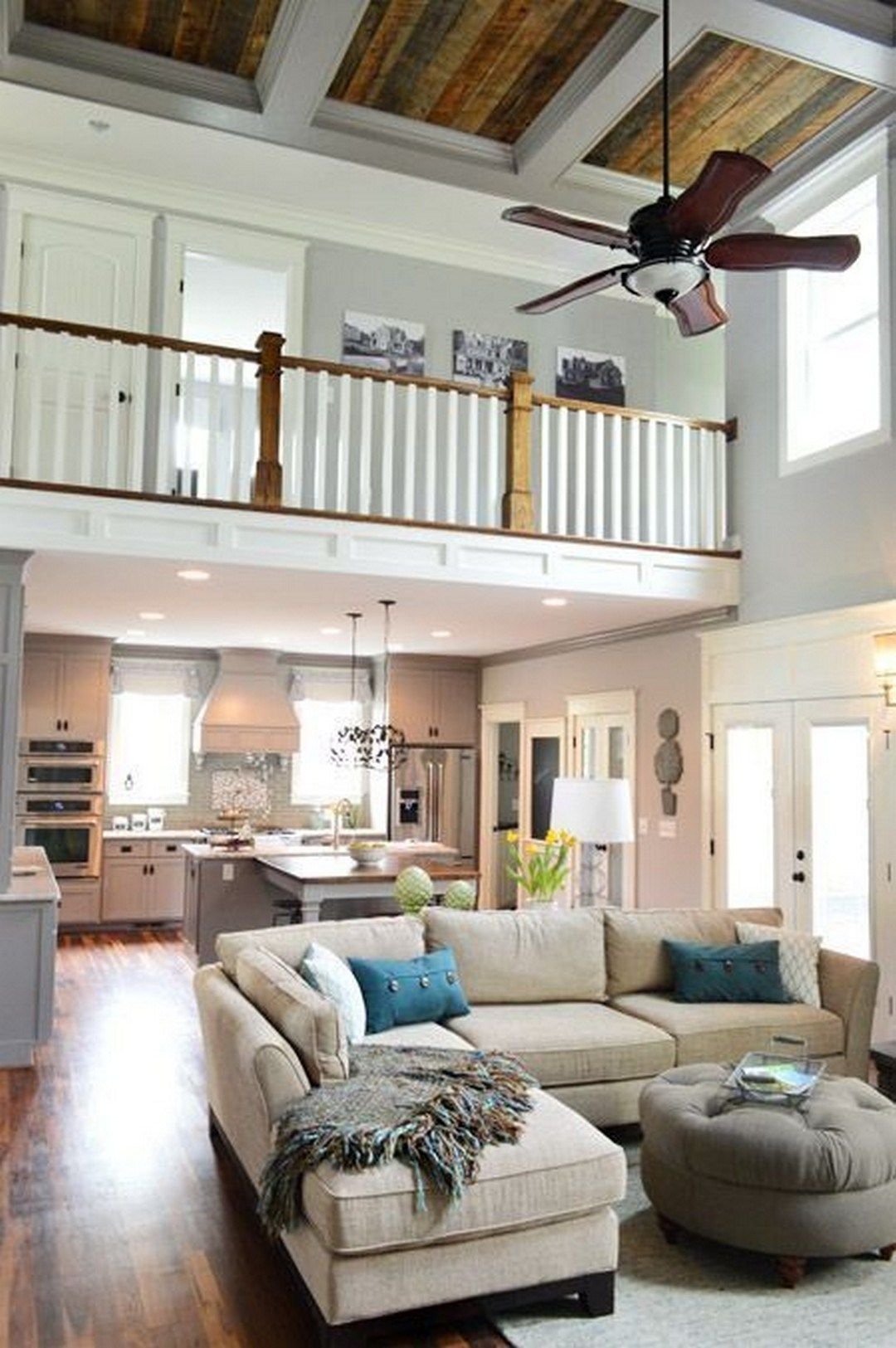 The Beautiful ottoman is often a valuable point of the salon. This stylish tufted piece of furniture blends beautifully with the corner sofa and the spacious living room combined with a kitchenette. Pleasant colors are very cozy in the interior.

A lovely ottoman that can be beautiful and functional at the same time. Upholstered in brown leather, stylishly tufted, and well-padded, the ottoman rests on wooden legs and has a movable lid that conceals a spacious storage compartment.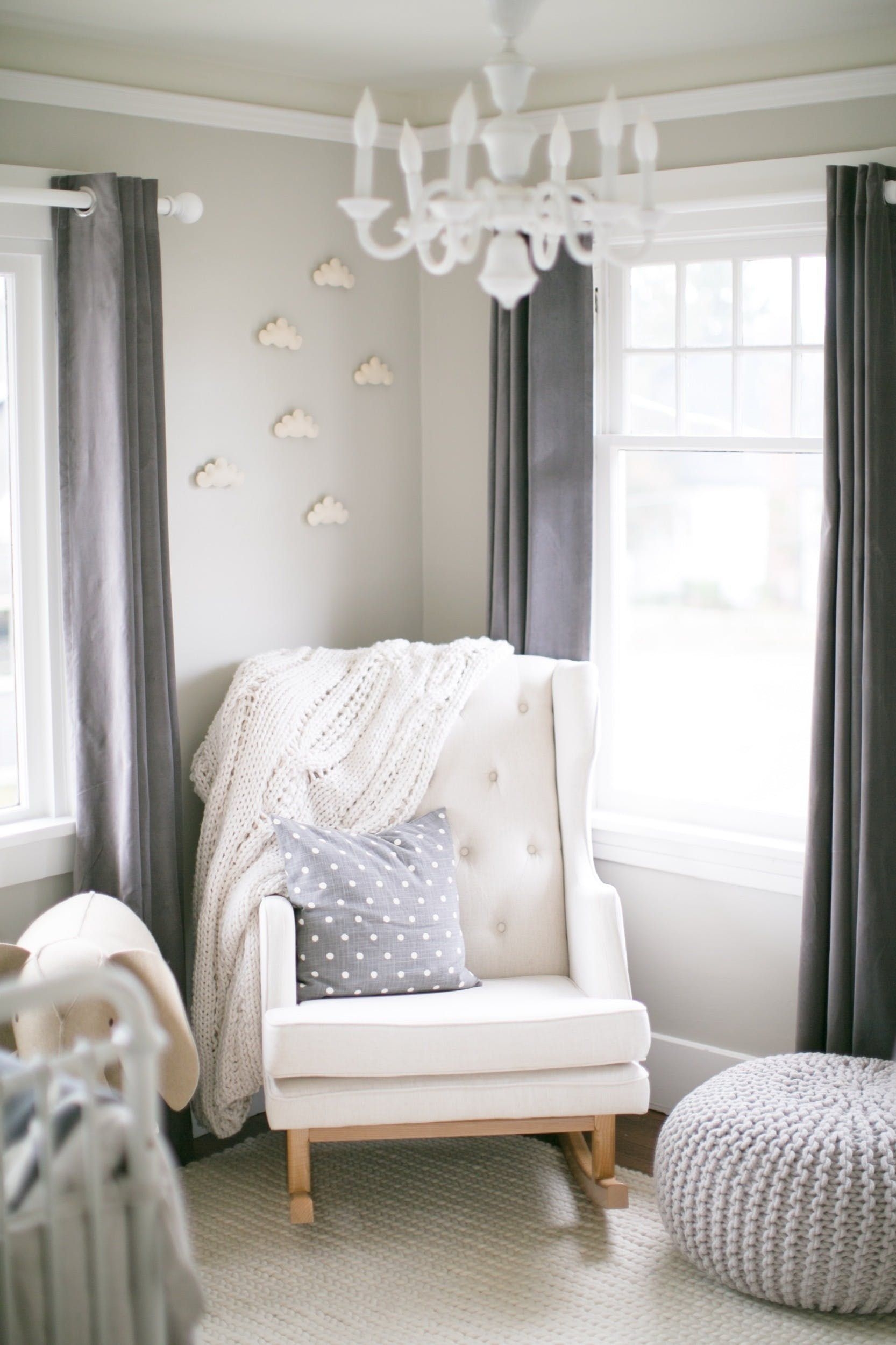 The gorgeous ottoman, woven with knit cover, is the perfect accent to the bedroom décor. The captivating combination creates a rocking chair with beautiful white upholstery. The whole admires the elegance of the décor.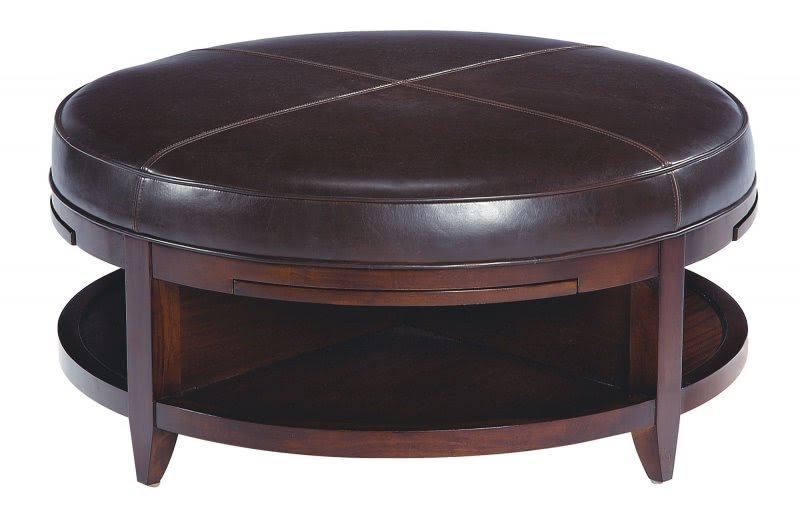 Make sure you can use the coffee table you have chosen for your interior to the maximum with this sublime piece that can be just as easily transformed into an ottoman with its upholstered top and round shape of the structure.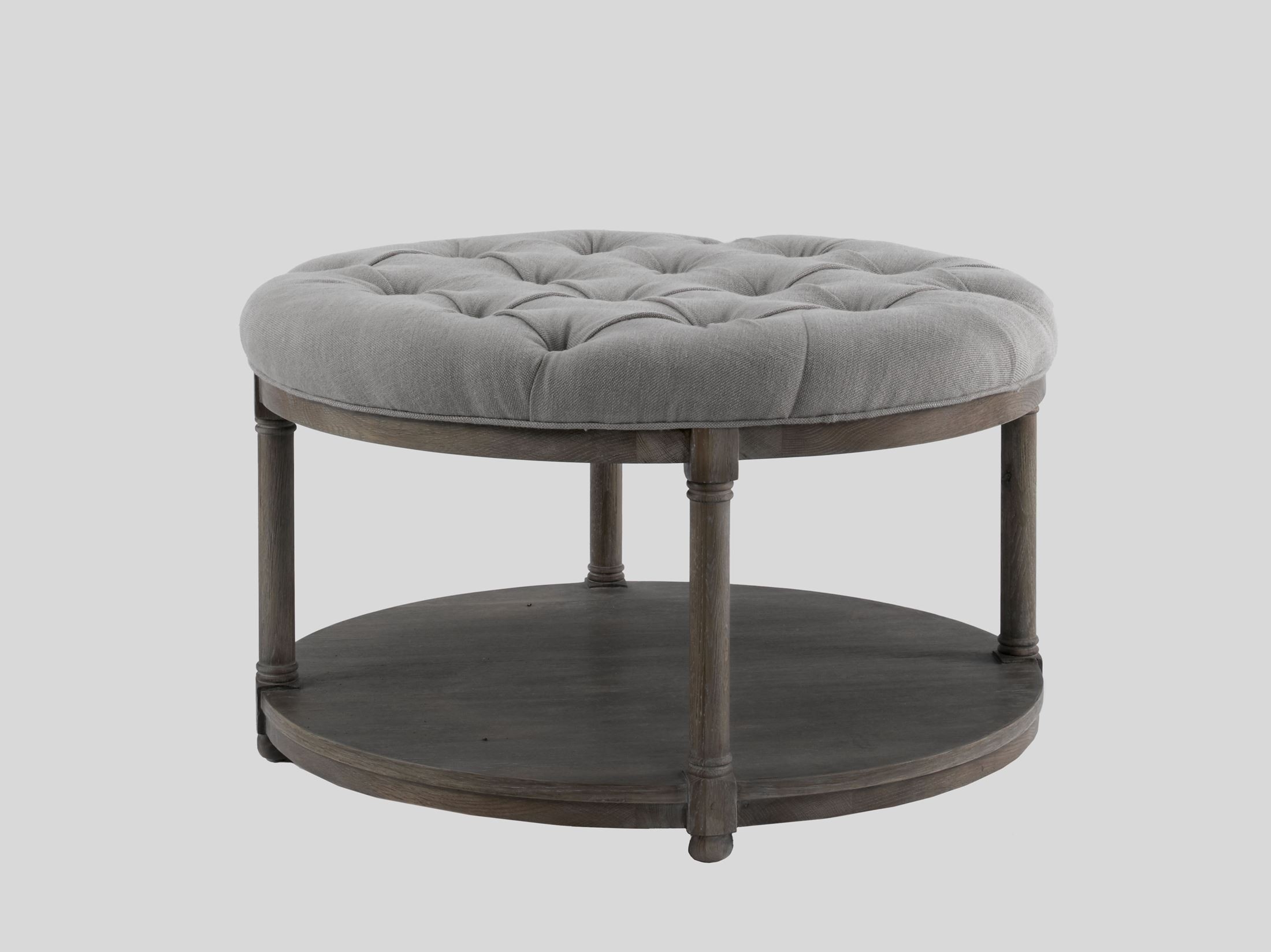 Such an attractive ottoman can be a great way for enhancing contemporary interiors. It's made of hardwood, holding a padded round seat upholstered in a gray linen fabric and stylishly button-tufted. Its bottom can be used as a convenient shelf.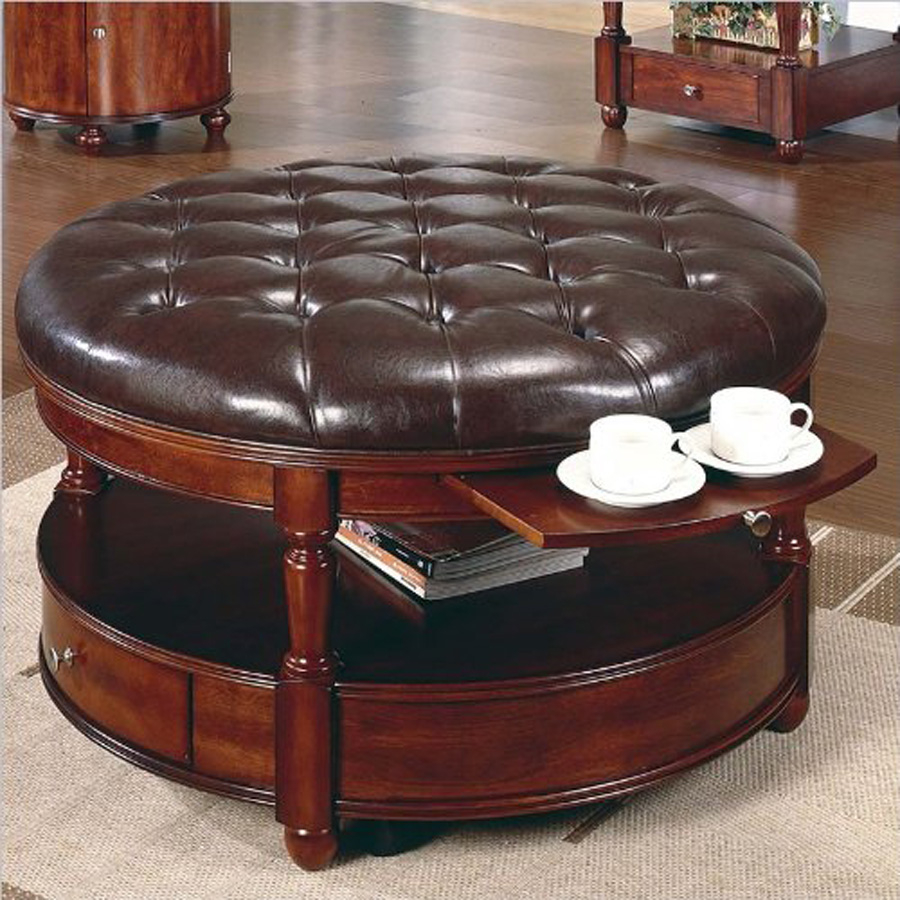 The tufted ottoman made as an inspiration of the old coffee table. Made of the cherry wood and dark painted leather. The interesting detail is a small pull-out shelf, where you can put the cup of coffee.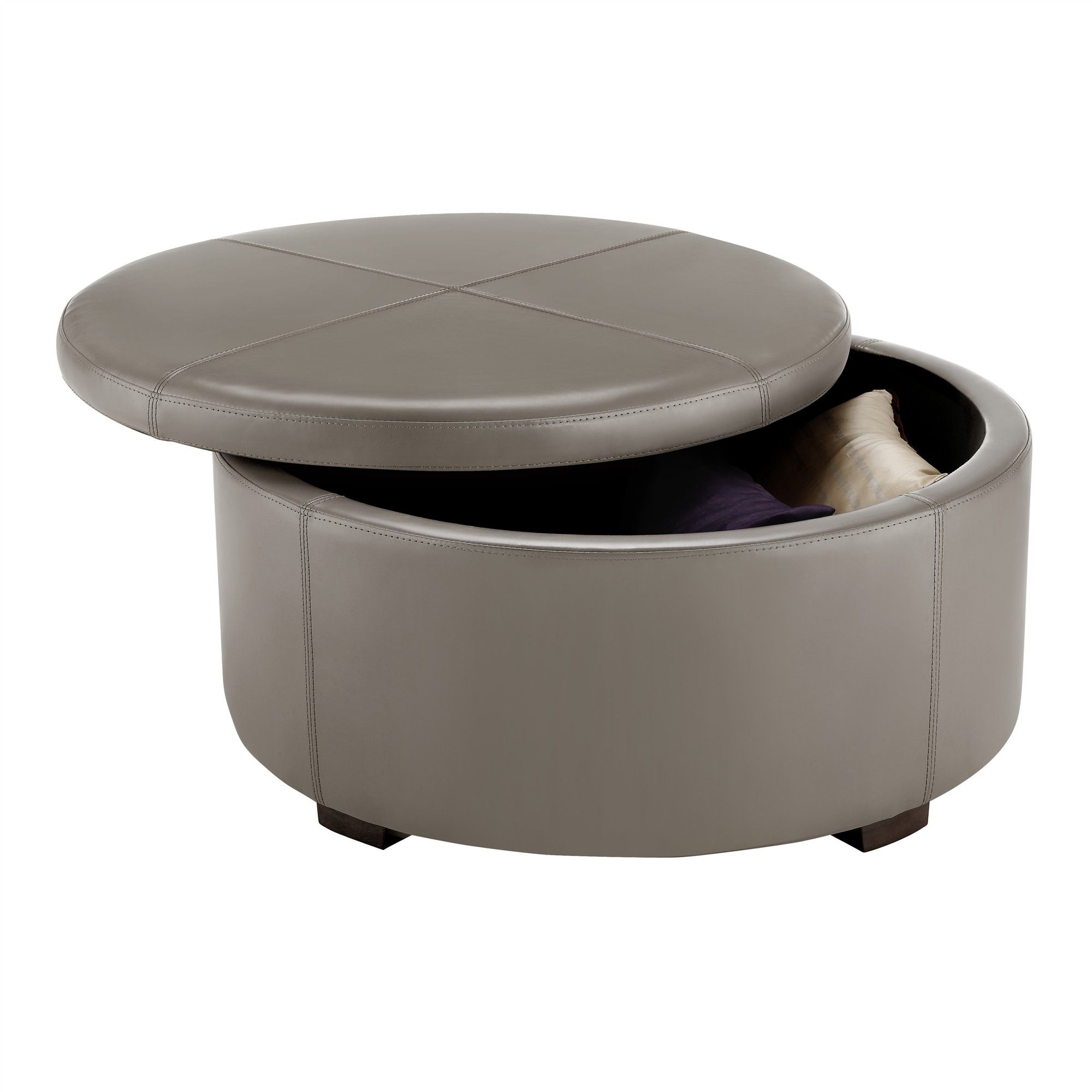 Terrific Round Faux Leather Upholstered Ottoman Coffee Table With Hidden Storage As Decorate Minimalist Living Room Furnishing Ideas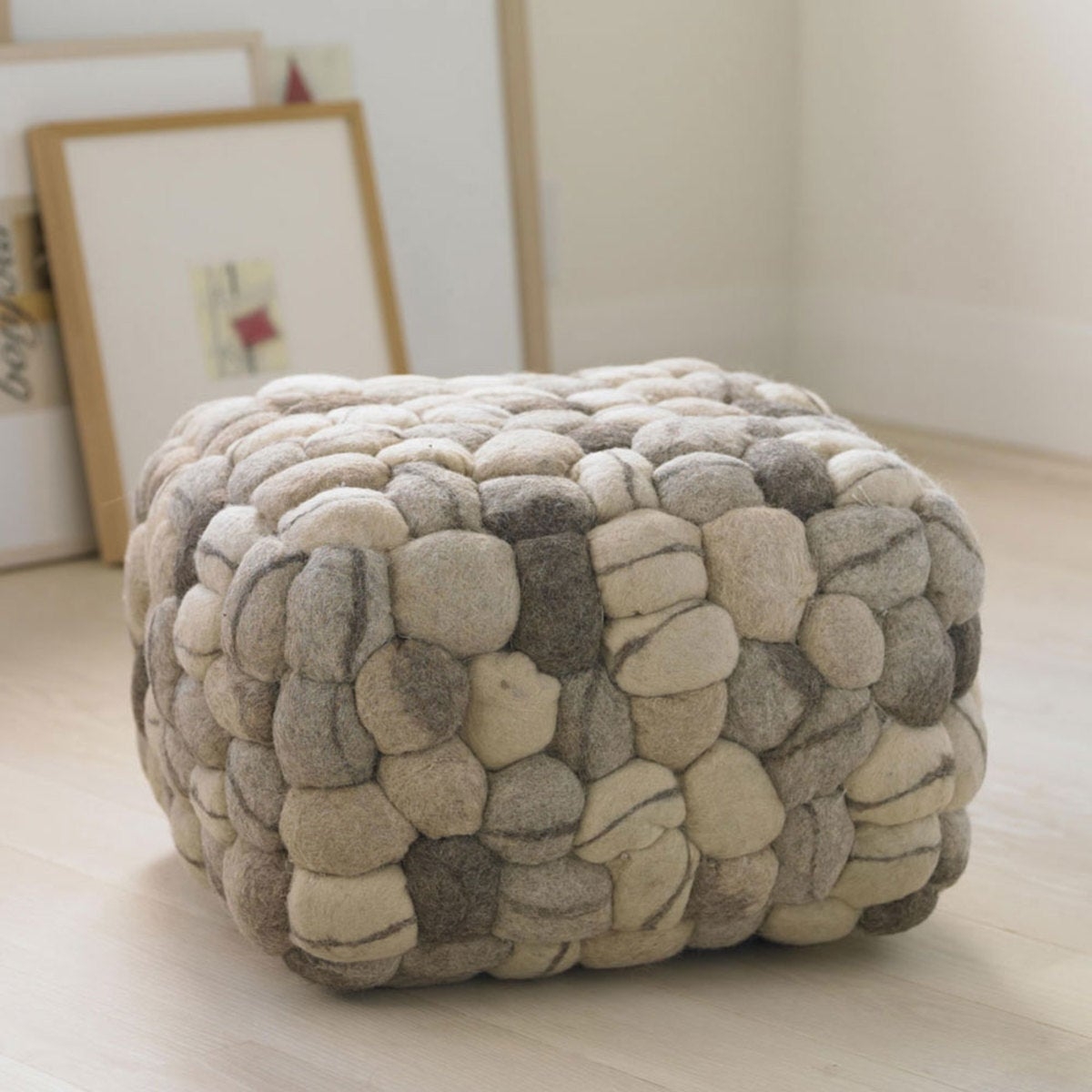 Ottoman covered with high quality wool. It can be used as footstool. Neutral and functional accessory for all kinds of interior according to taste and need. Simple form and modern design.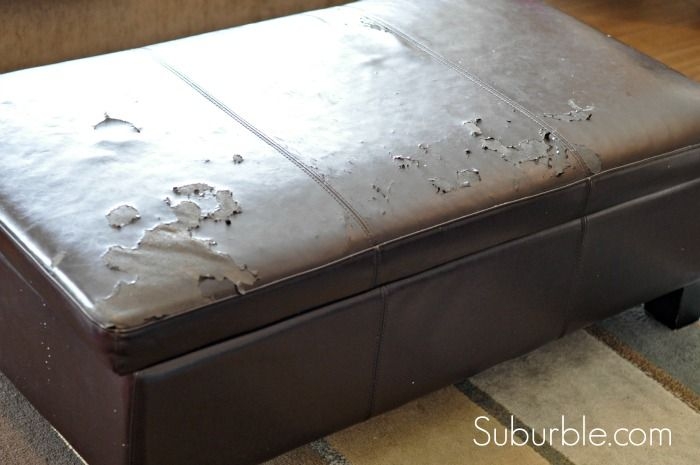 This project shows how to recover a peeling leather ottoman. A version for the lazy ones, who do not want to use their sewing machines, although this one turned out to a bit time-consuming as well.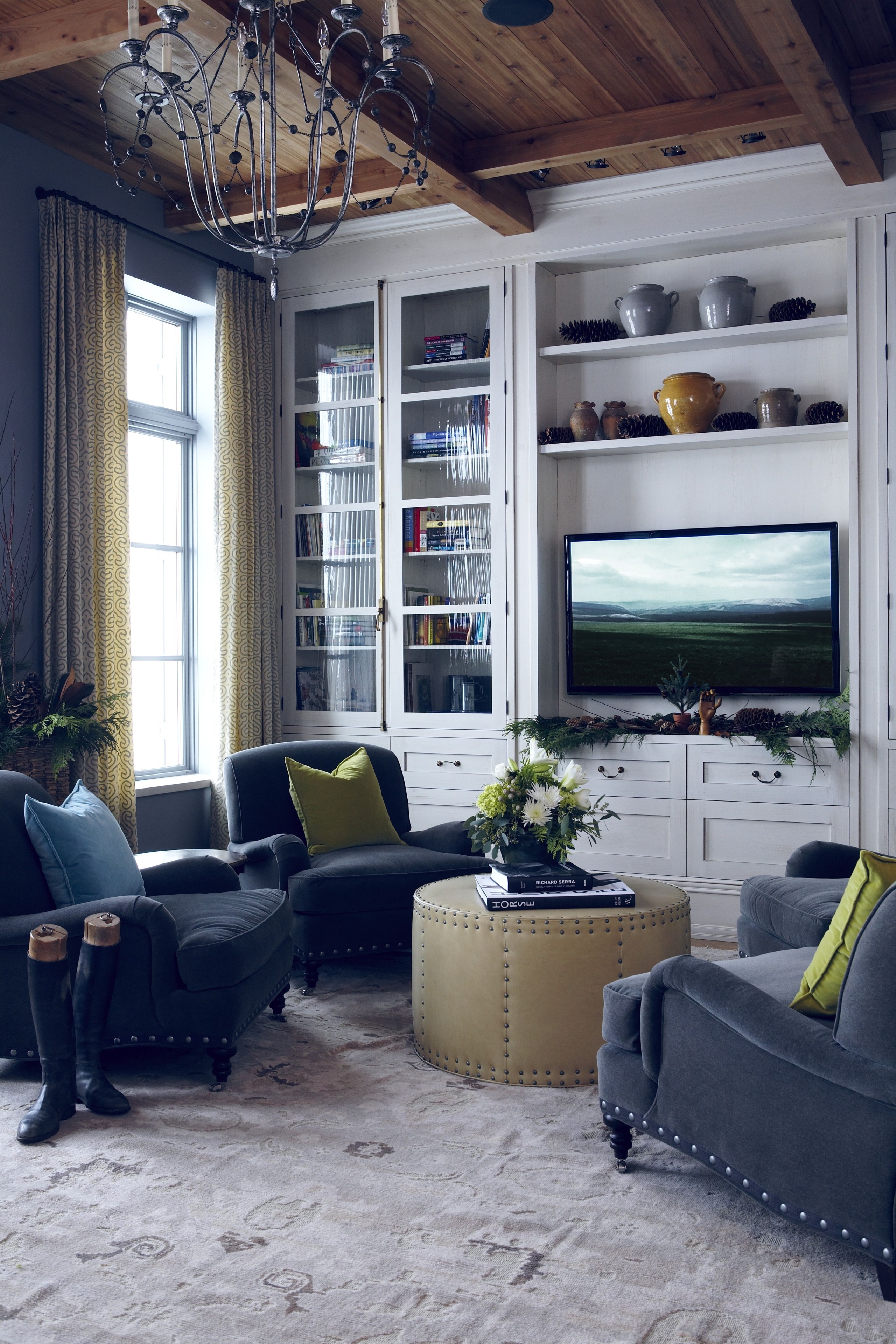 For Upstairs Den - Bookshelves w/ TV - Two chairs with ottoman/coffee table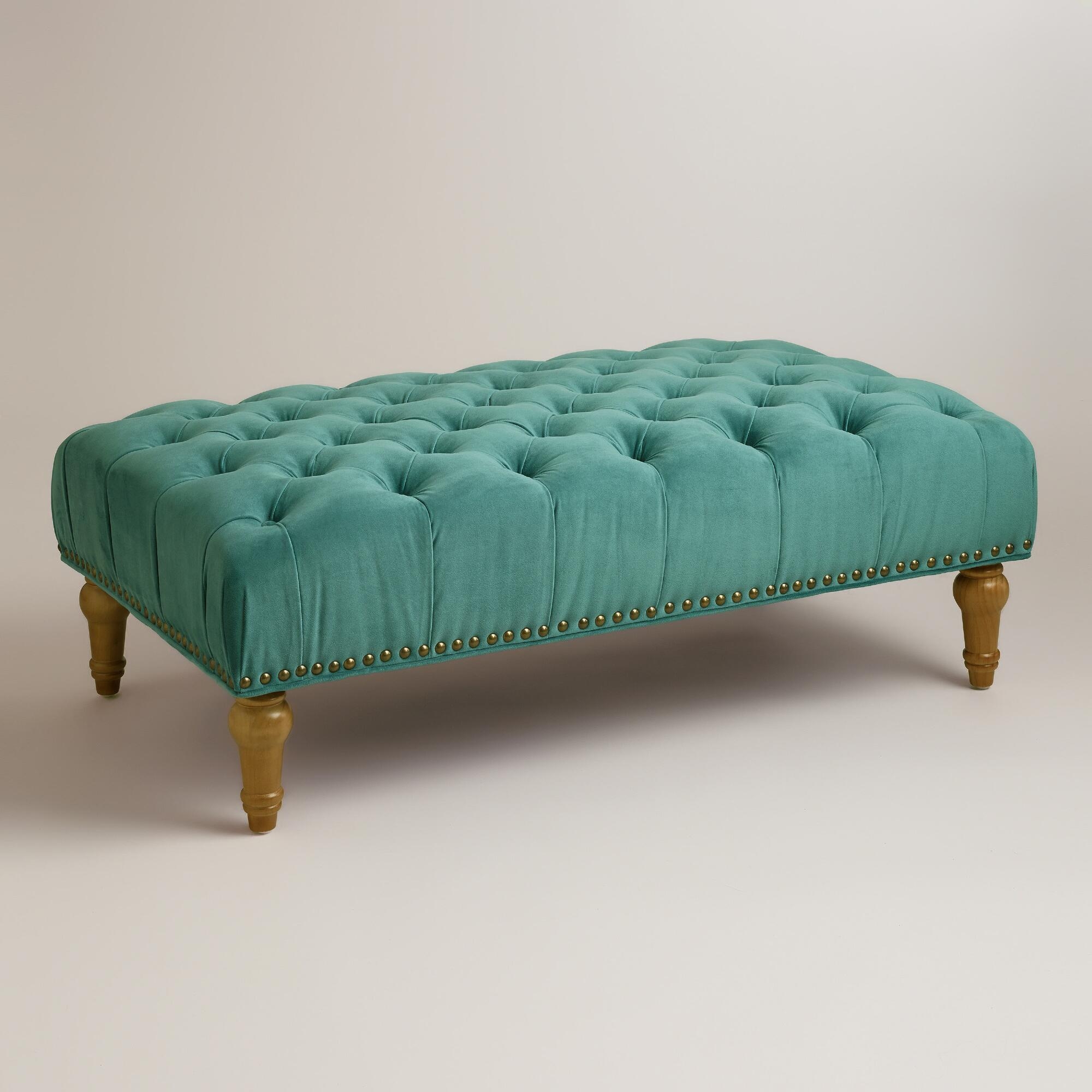 Enchanting with its characteristic, celadon upholstery, this button-tufted ottoman will be a classy and classic accent to any interior. The ornateness of this item is indicated i.e. by the stylish nailhead trimming.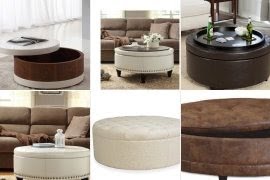 Corbett Coffee Table Storage Ottoman - Round - Ottomans at Ottomans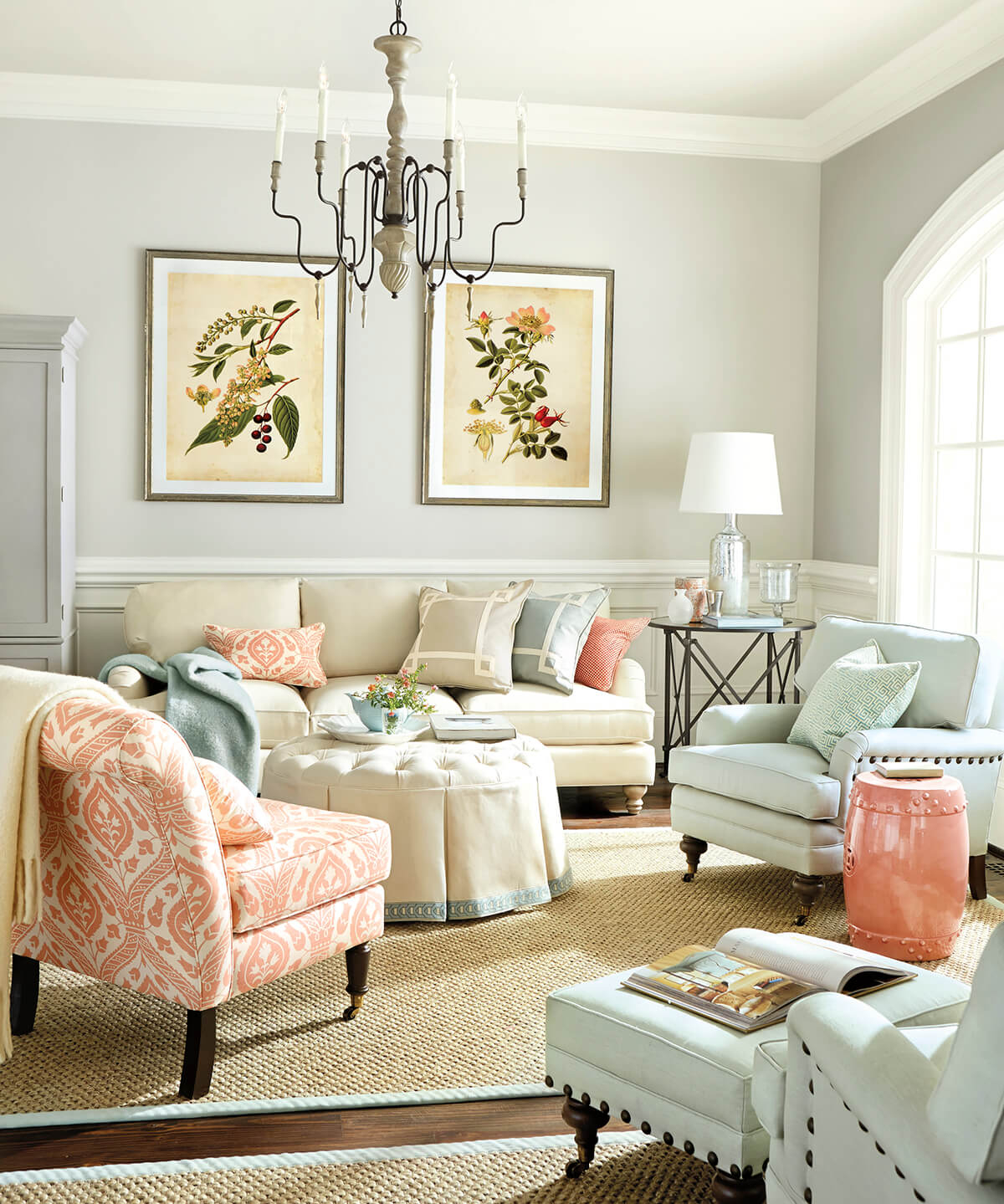 Chic stylish ottomans having shape-varied wooden frames and generally featuring turned tapered legs (in browns) with small casters. Their upholstery is of quality fabric in creamy or coral shades with pleated skirts, tufted tops or studded edges.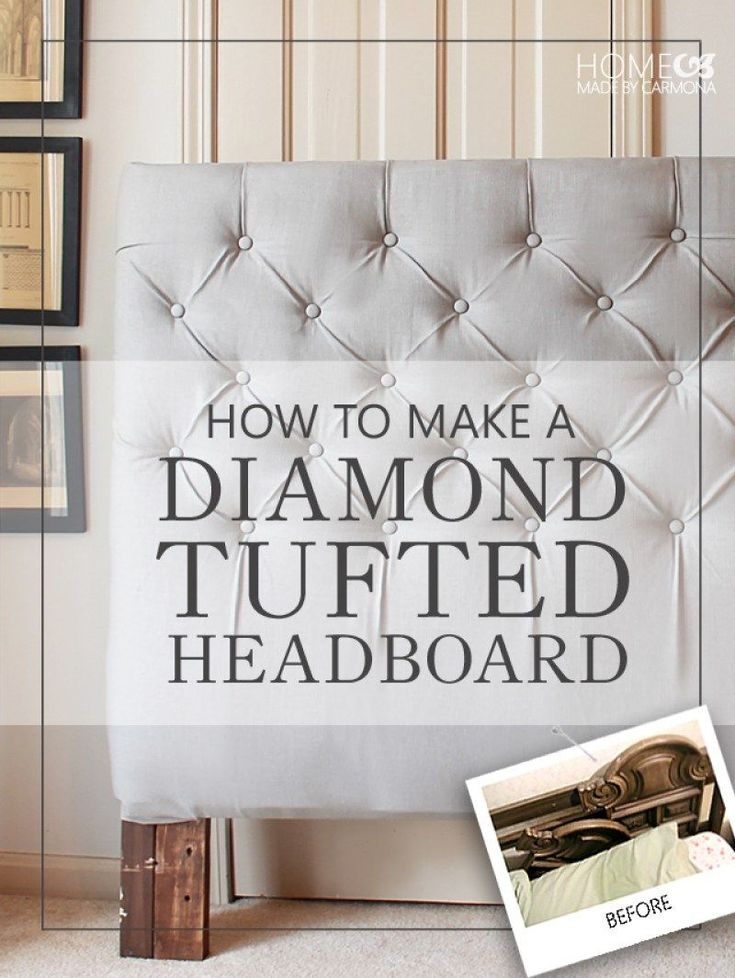 Make your bed more appealing by complement it with this large headboard with fashionable, diamond button-tufting. The headboard is durable thanks to its wooden construction, and all upholstered in off-white fabric.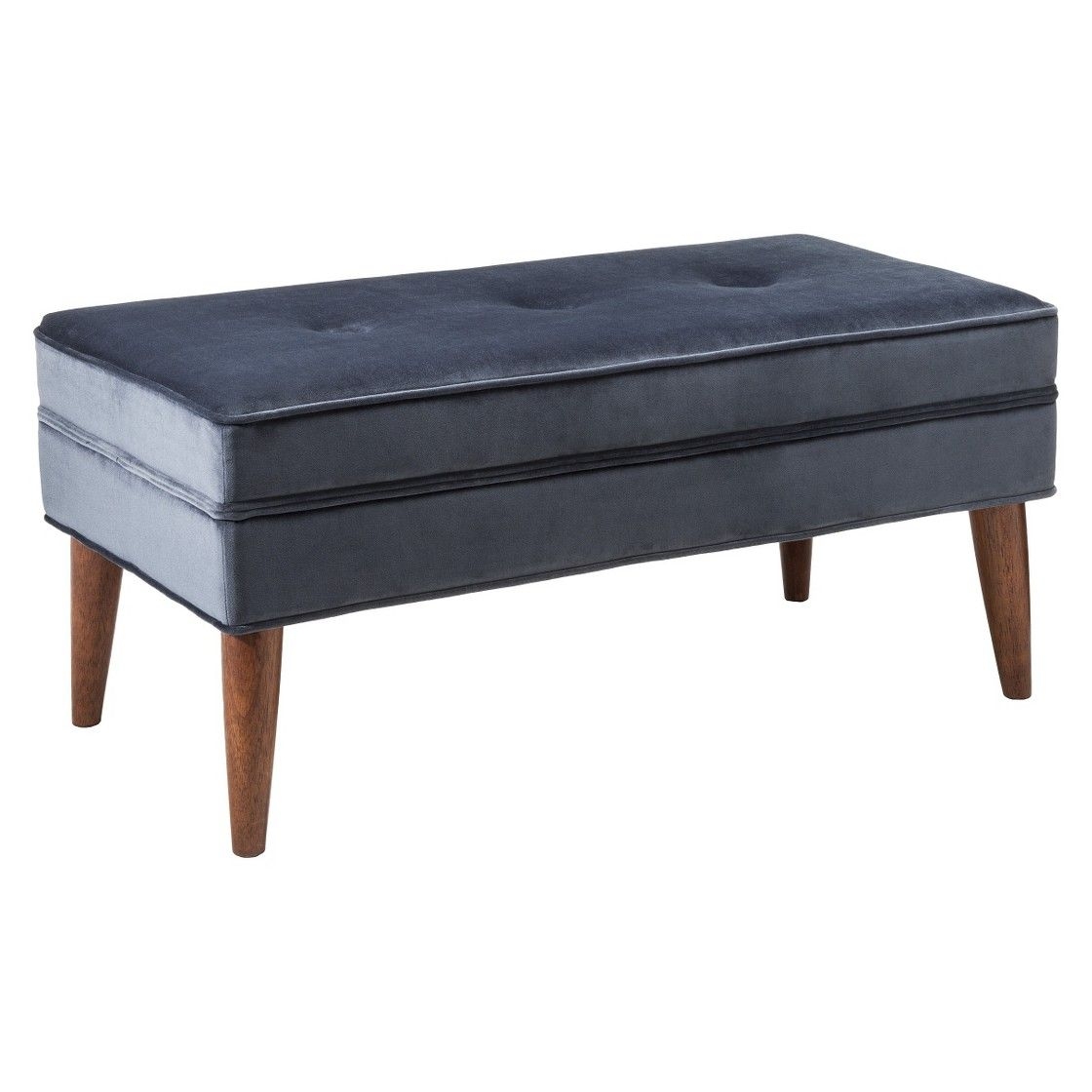 Tufted ottoman, an ideal bed's completion, placed on its end, which can be used also as a storage box for various staff. Now you don't have to worry where to find all extra blankets and pillows.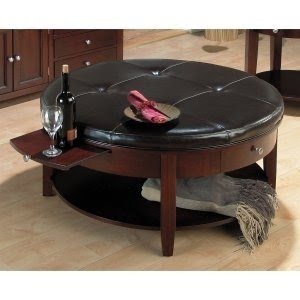 Surrey Round End Table with Leather Top Coffee Table Ottomans at Ottomans from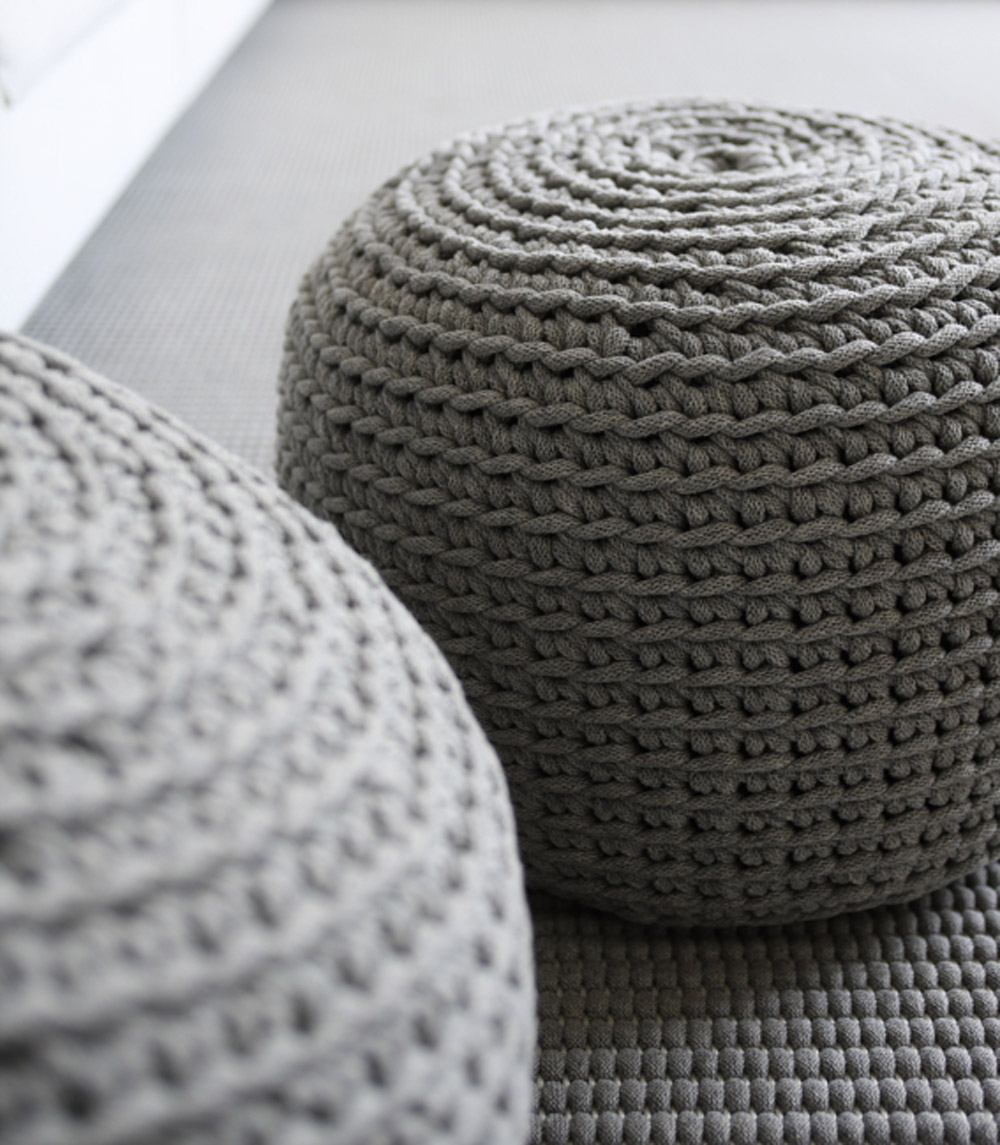 Circular ottoman with a comfortable and durable wool construction. It is finished in neutral gray color, so it matches any design. Soft fill provides good comfort of sitting and relaxation. This ottoman is also resistant to wear.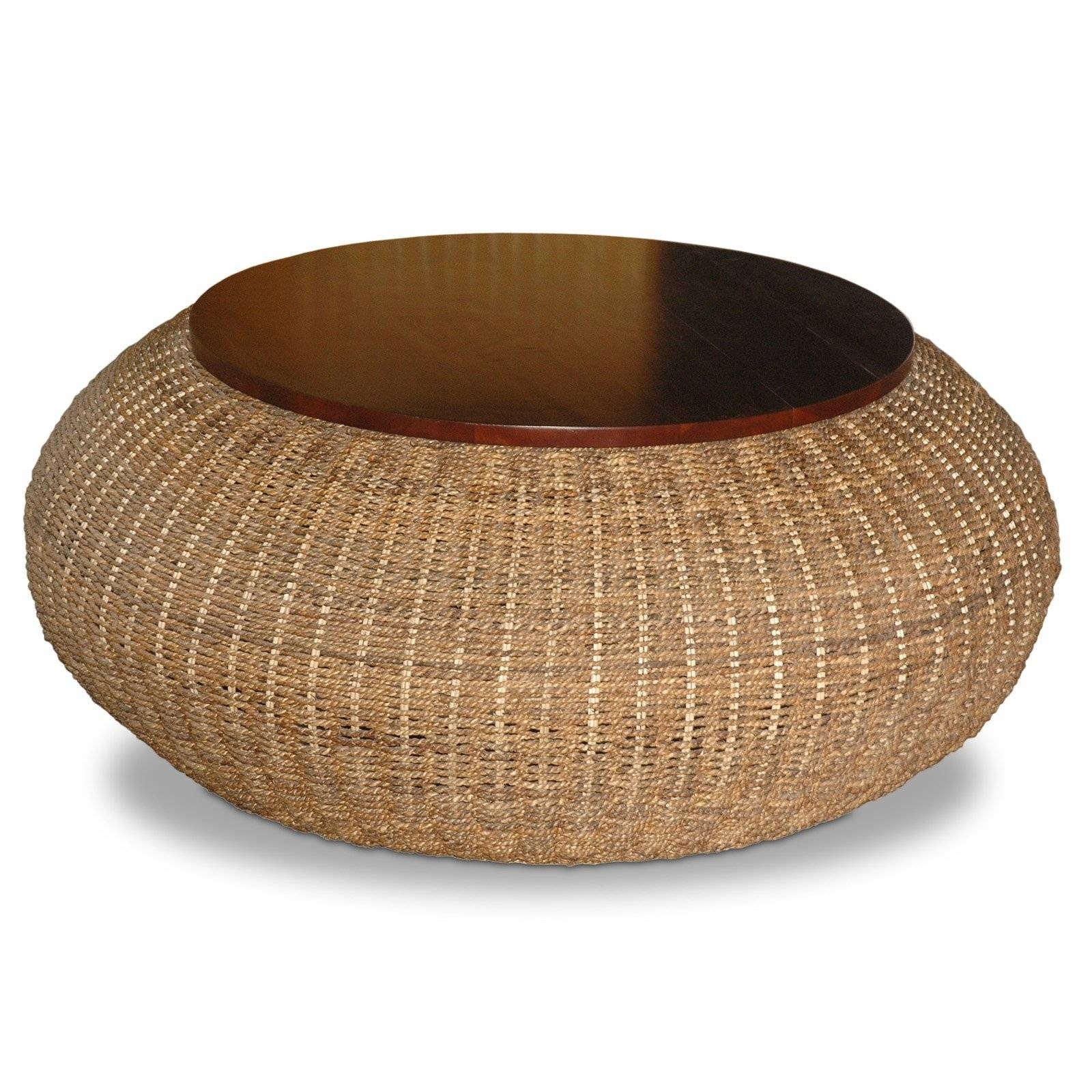 Round Table Tops. Storage Ottoman Coffee Tables, Wood Round Storage ...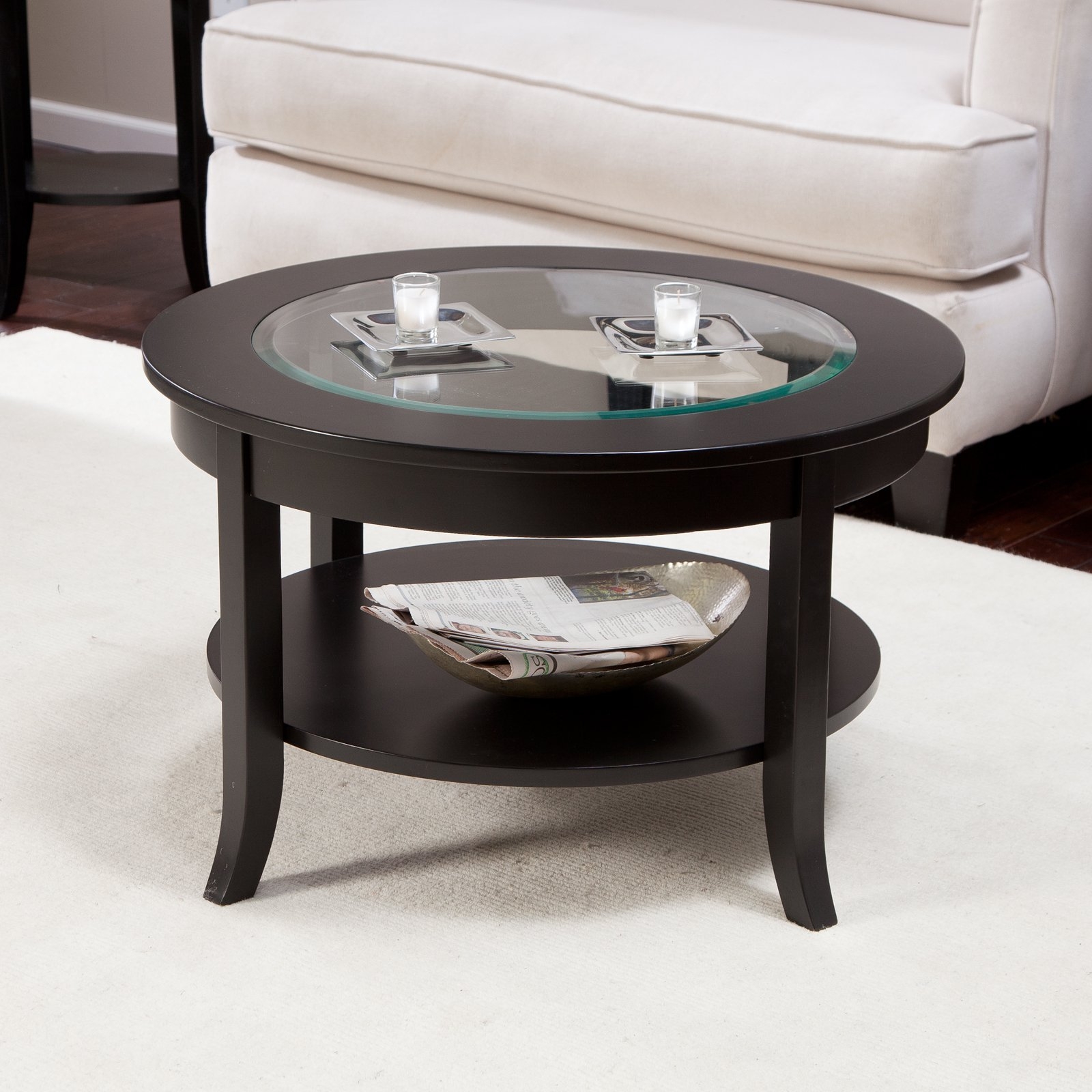 round coffee table with storage ottomans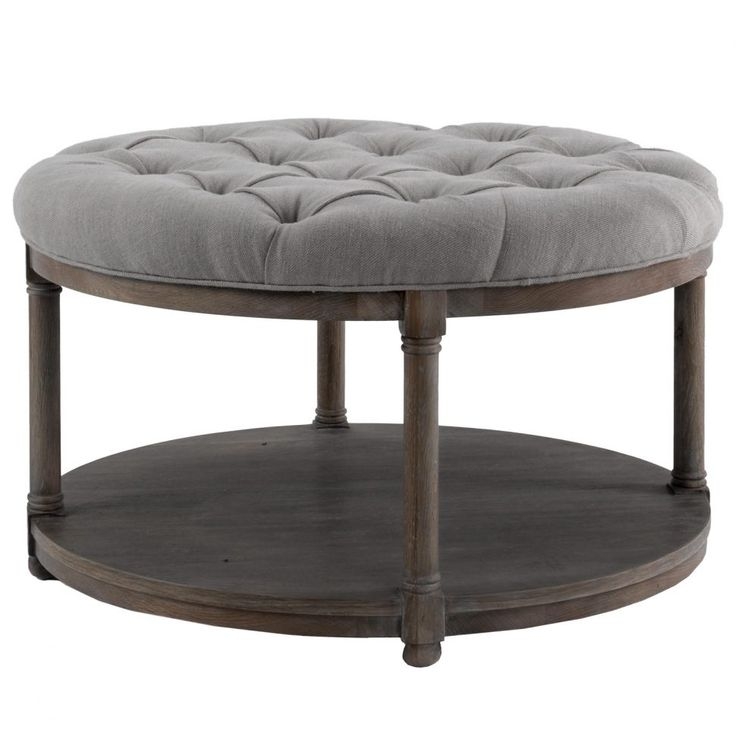 Round ottoman mounted on wooden frame and fitted with additional shelf for storing needed stuff. Seat is covered with fabric and finished with decorative quilting. Classic form and elegant design.