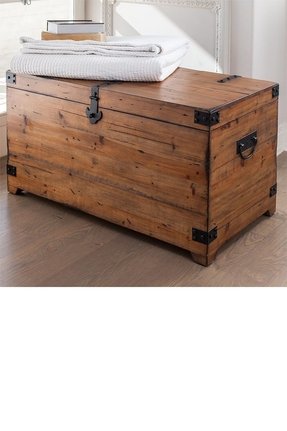 A wonderful treasure box that can be used as a storage unit or as a bench. It can be used both outdoors and indoors. it is made of solid wood, but due to two handles on the sides two people can easily move it.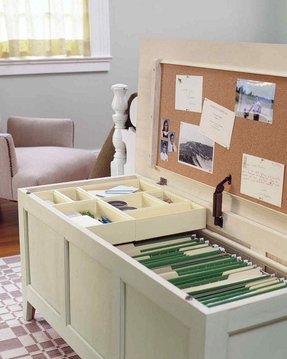 The practical and fascinating storage bench is a perfect place to store as well as a seat or footrest. The whole made of wood is stable and durable. The large interior with baffles adds all functionality.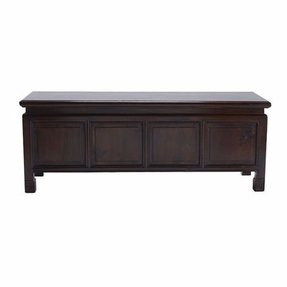 storage bench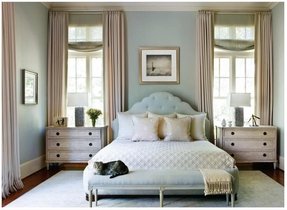 Serene color palette for a master bedroom. Ash wood, muted duck egg blue on walls, pale nude curtains. Beautiful tufted bed headboard with artistically contoured top. Bed foot bench with matching light blue padding.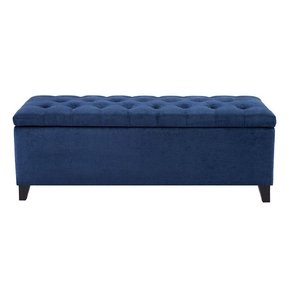 Shandra Storage Ottoman
This elegant ottoman with decorative button tufted top will upgrade your hallway or living room. Rich dark blue upholstery and black wooden legs. Liftable top hides spacious storage space to organize your things.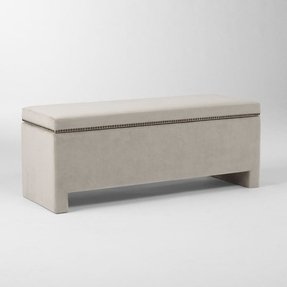 Nailhead Upholstered Storage Bench
A piece of equipment that provides storage space, comfortable seat and attractive appearance in neutral colour. This bench has got a frame made of engineered wood. Its size is quite large (41"w x 16"d x 19"h), so the storage space is also large.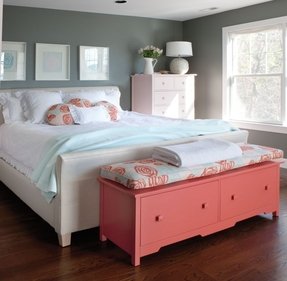 Handful and extremely stylish, this glamorous storage bench for footboard constitutes a good storage spot and an elegant place to sit and dress up. Two-door construction provides plenty of storage space.

This type of product is a bench that features decorative and stable legs. It offers a soft, backless seat and decorative nailheads. It is a functional product that is also equipped with a storage compartment.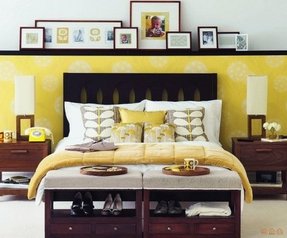 50 Unique Home Organization Ideas | iVillage.ca. I love the place for shoes at the end of the bed. :)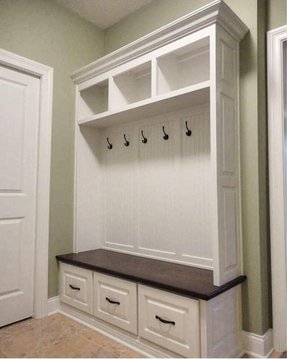 Mudroom Bench
A minimalistic approach to a simple hallway bench with a hutch on the top, which provides additional space for hanging coats and storing clothes. The bench is made of a white-painted wood with an unpainted seat, providing an elegant detail.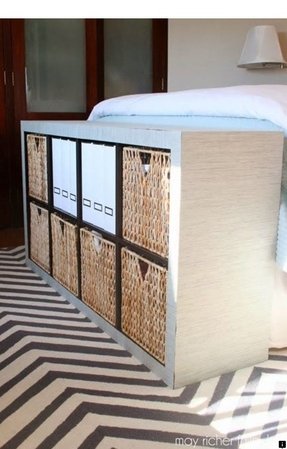 The IKEA Expedit is a classic and versatile piece of furniture, and needs no introduction! My old black-brown 4x2 one was due for a makeover after years of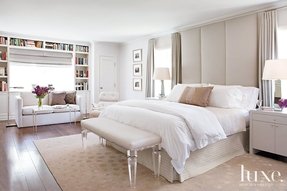 A PERSONAL LIBRARY With plenty of storage for reading material, these designed built-in shelves mark a niche in this master bedroom.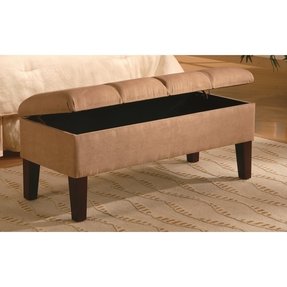 Bridal Veil Microfiber Bedroom Storage Ottoman
This stylish and comfy bedroom storage ottoman will be a perfect choice for every kind of space, no matter if you're a fan of modernism or tradition. You will love the amazing comfort and extraordinary functionality.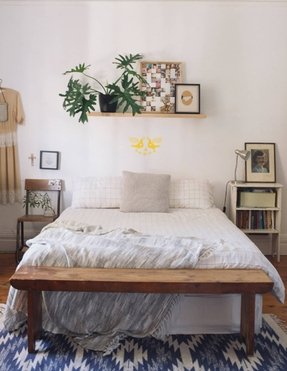 Looking for inspiration to make my box spring/ mattress combo on the floor feel more like a bed. Bench!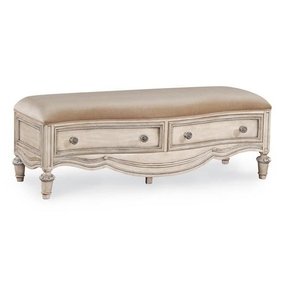 Empire II Bed Bench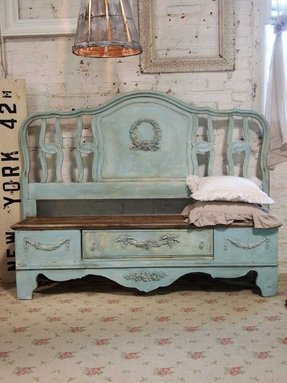 Painted Cottage Chic Shabby Hand Made
Boasting of its vintage charm and beautiful design; this fine bench for indoors comes with wood construction and distressed turquoise finish. It offers a shapely back made of repurposed headboard, and a sturdy seat with storage underneath.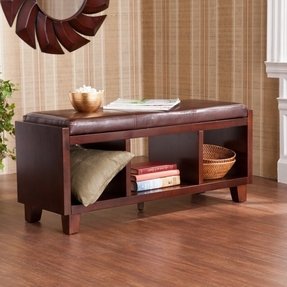 This Murphy two drawer storage bench features a rich espresso finish with a handsome black seat cushion. Two large drawers below the seat offer ample storage for any entry way or at a foot of the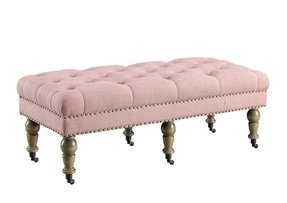 Isabelle Upholstered Bedroom Bench
This beautiful bench to the bedroom is a small marvel on wheels. Beautifully quilted upholstery trimmed with studs and decorative buttons give the whole unconventional character who delights.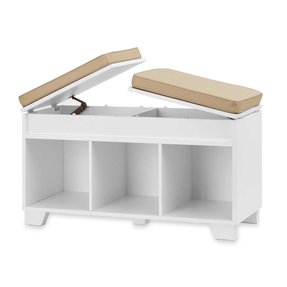 A functional, split-top bench with a lot of storage space. You can keep your things in two units hidden under the seat or in a cubby divided into three compartments. It adapts to every interior due to its basic structure and natural colors.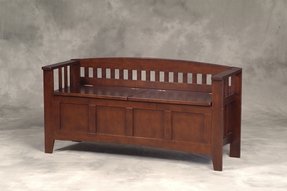 This elegant bench in a walnut finish fits entryways, hallways, and foyers. Crafted from rubber wood and rubber wood veneers, the bench includes a split seat, slatted sides and low back, sturdy saber legs, and hidden storage area.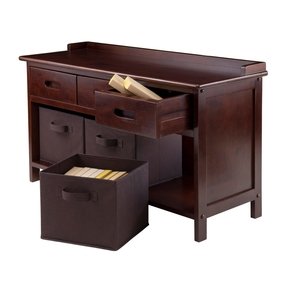 This kind of product is a bench that has got a storage function and it also provides a place to sit. The product includes three storage drawers and three baskets made of fabric in an attractive chocolate finish.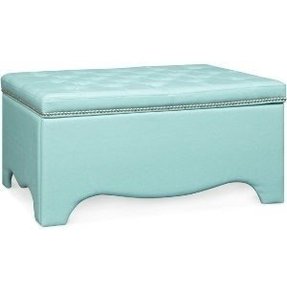 Stylish and practical, this lovely pale blue storage bench will be a functional addition to one's bed. Attached to the end of it, it will offer a convenient space for one's linen, clothes or other bedroom stuff.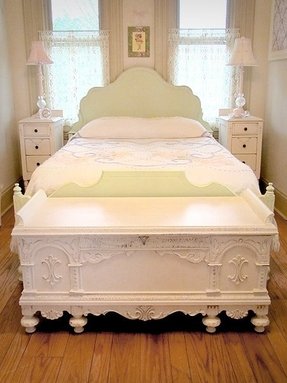 What a lovely bedroom, special for girls! It features the antique cedar nighstands, shabby chic storage trunk, which can be used as a bench, and full size bed. Everything is in the sugar pink color. Wow! So stunning!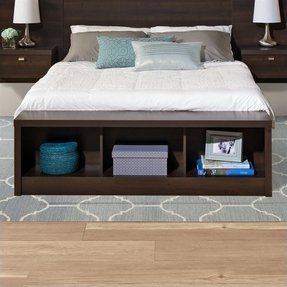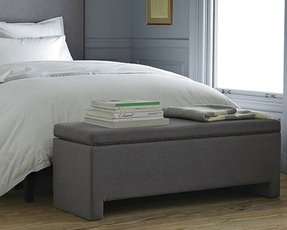 Nailhead Upholstered Storage Bench
This type of product features simplicity and comfort. This bench is an ideal piece of furniture designed for use at the end of a bed. It has got a neutral colour, soft seat and it provides a quite large storage space.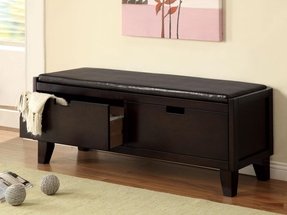 Traditional approach to a classy transitional sitting bench with a frame made out of painted oak wood in a dark brown color with a faux leather seat cushion on the top and two handy drawers providing storage space.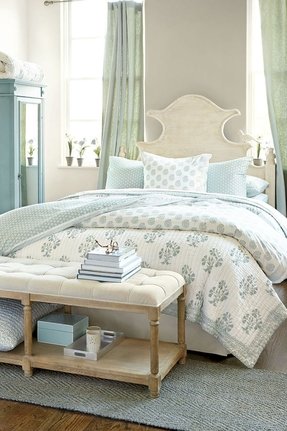 This upholstered coastal bed bench perfectly storage bed linens, books and your small belongings. It makes your bedroom so fresh and cosy that you truly enjoy your time before falling asleep. It suits every decor in your bedroom.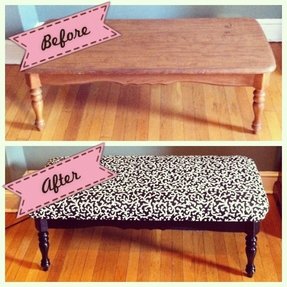 Traditional bench for bedroom, living room and more. It is mounted on wooden base and finished with decorative carvings. Seat is upholstered with fabric. Simple form and elegant design for each home.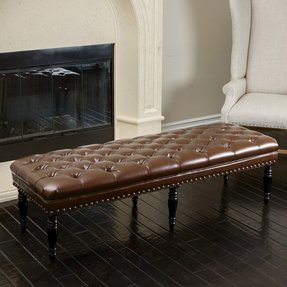 It is a beautiful and sophisticated bench that has got a tufted seat, bonded leather upholstery, brown color and solid wood construction. It adds beauty and comfort to any living room.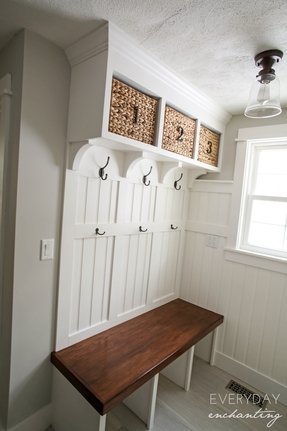 A cool hall bench with a coat rack, a crown top, cubbies under a seat and a ceiling. It's converted from an old woody laundry closet, painted white, but a rectangular bench seat in glossy mid browns. Six double-hooks in 2 tiers are of black metal.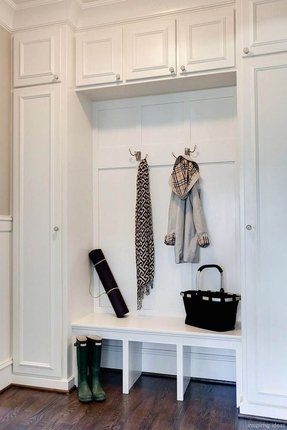 A pretty hall bench with a rectangular top and 2 full panel legs making 3 open cubbies. It's flanked by 2 ceiling height narrow shelved towers with full doors. Coat hooks and cabinets are over the bench. The entirety is of wooden materials in white.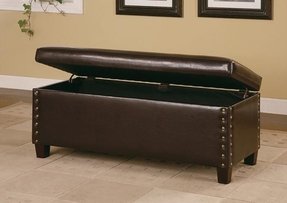 Add extra seat and storage space to any interior with this elegant ottoman with storage chest inside. Its upholstery is made of brown vinyl with gold nail trim and lined with microfiber. Wooden frame makes it durable and sturdy.