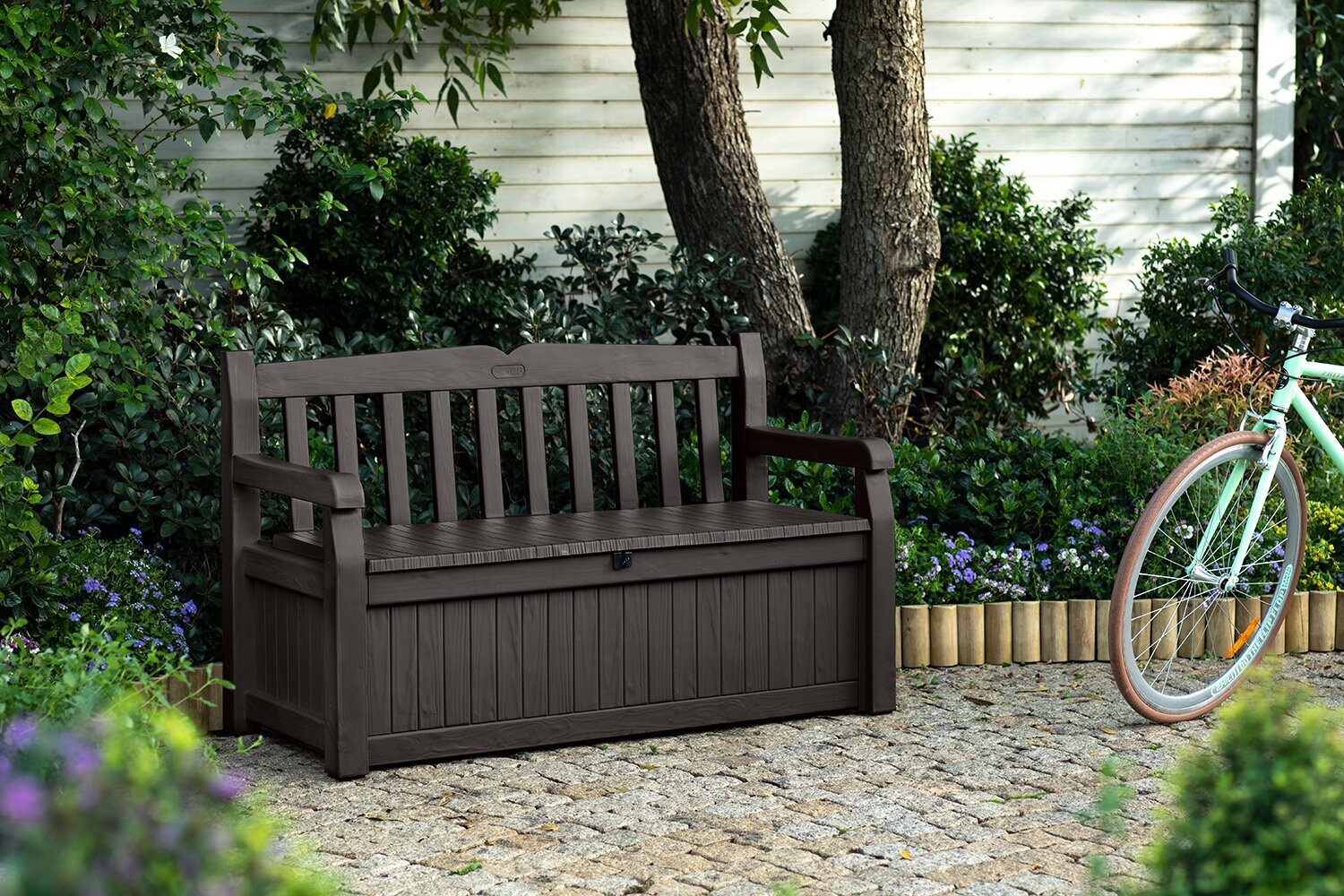 Solana Plastic Storage Bench

What we like: 551 lb. weight capacity — can seat up to three adults
What we don't: Does not include seat cushions
This waterproof bench is made from polypropylene with a wood-like texture, which provides excellent weather resistance compared to natural wood. Despite its synthetic construction, this storage bench has a charming appearance that complements various dècor styles, from modern farmhouse to Scandi. The UV-protected resin finish won't fade in direct sunlight and protects the contents against moisture.
Featuring a weight capacity of 551 lbs., this storage bench is strong and sturdy. For added security, you can use an off-the-shelf padlock to lock the lid in place. It's also easy to clean, so you can keep your patio attractive and inviting throughout the year.
With 70 gallons of storage space concealed under the seat, this storage bench can keep your beach towels, pool toys, and outdoor cushions organized and dry.
$207.99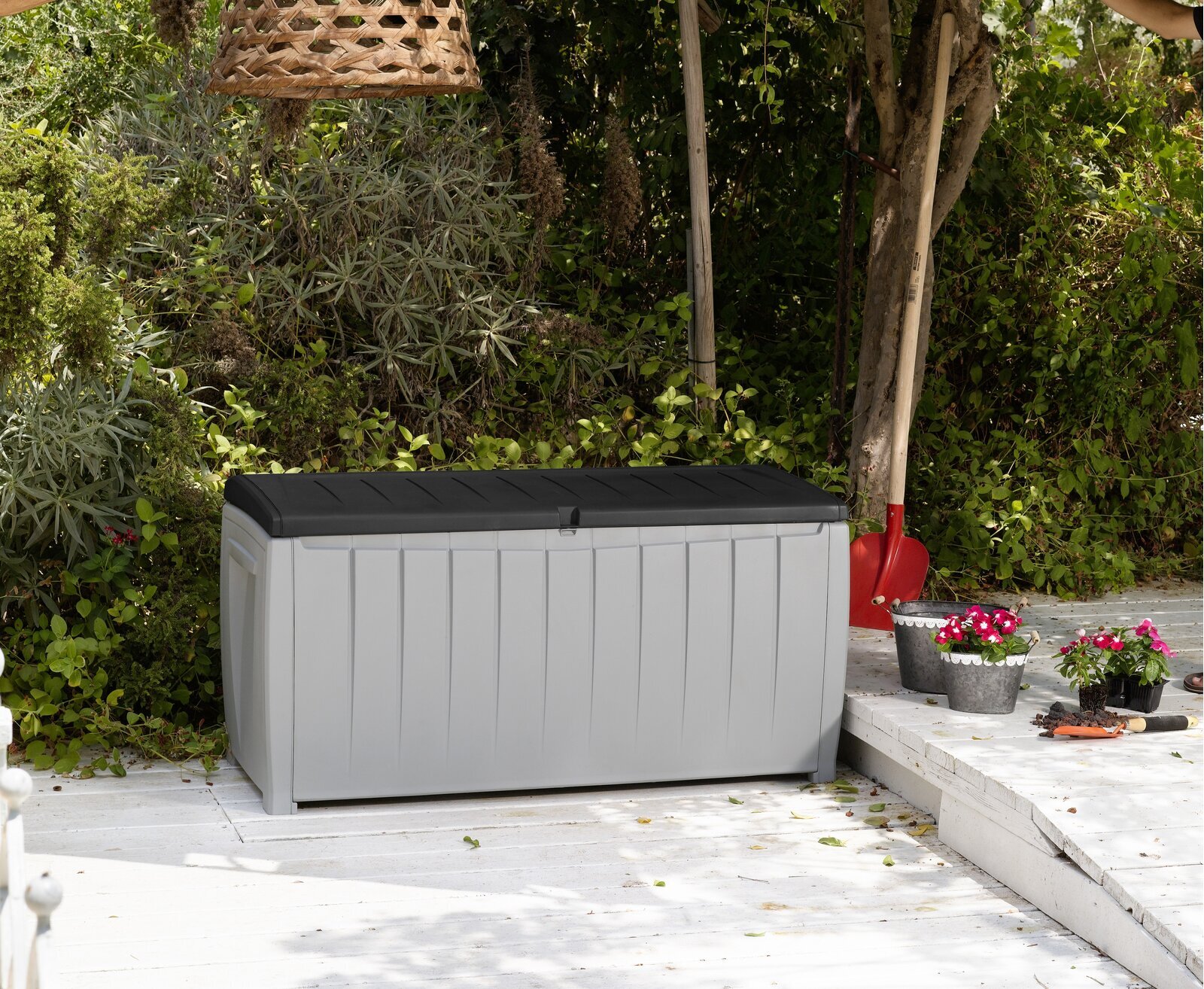 Keter Novel 90 Gallons Gallon Water Resistant Resin Lockable Deck Box

What we like: Generous 90-gallon storage capacity
What we don't like: Not as stylish as some would like
This waterproof deck storage bench is highly versatile and allows you to store your BBQ, sports equipment, and outdoor cushions in a convenient and unobtrusive black and gray box.
This storage bench is made from durable and waterproof polypropylene. It is resistant to impact and won't rust, peel, or fade in the sun. Though primarily a storage box, you can add a colorful bench cushion to the top, transforming it into a piece of patio furniture for additional guest seating when entertaining.
The storage bench also features strong interior supports to control the lid, preventing it from overextending. The lid is compatible with standard padlocks, so you don't have to worry about security.
$103.9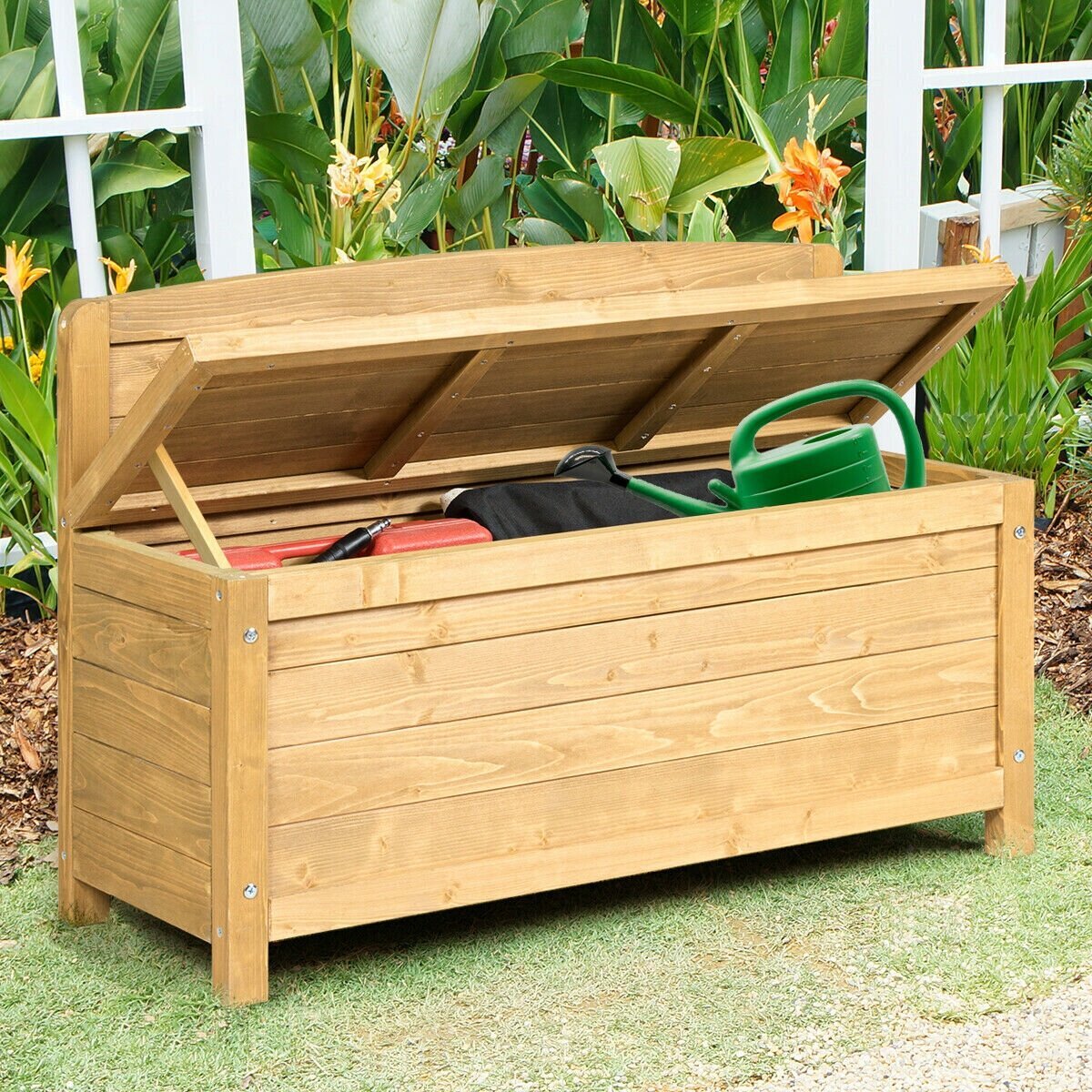 Eliya Wooden Storage Bench

What we like: Fir wooden construction
What we don't like: Comparatively limited storage capacity
If you're looking for a waterproof outdoor storage bench made from wood rather than plastic, this model is an excellent choice. The solid wood frame results in a highly stylish and durable storage bench. With a more classic look, this storage bench is sure to complement wooden decks and patio furniture beautifully.
A brace supports the lid, so it won't close forcefully, and with flexible hinges, you can easily access the contents. Decorative and functional, the storage bench also serves as a charming patio seat. However, you'll need to purchase an additional seat cushion to improve comfort.
Storage capacity is somewhat limited at 16.5 gallons but can still provide enough room for smaller sports equipment, gardening tools, or small pool toys.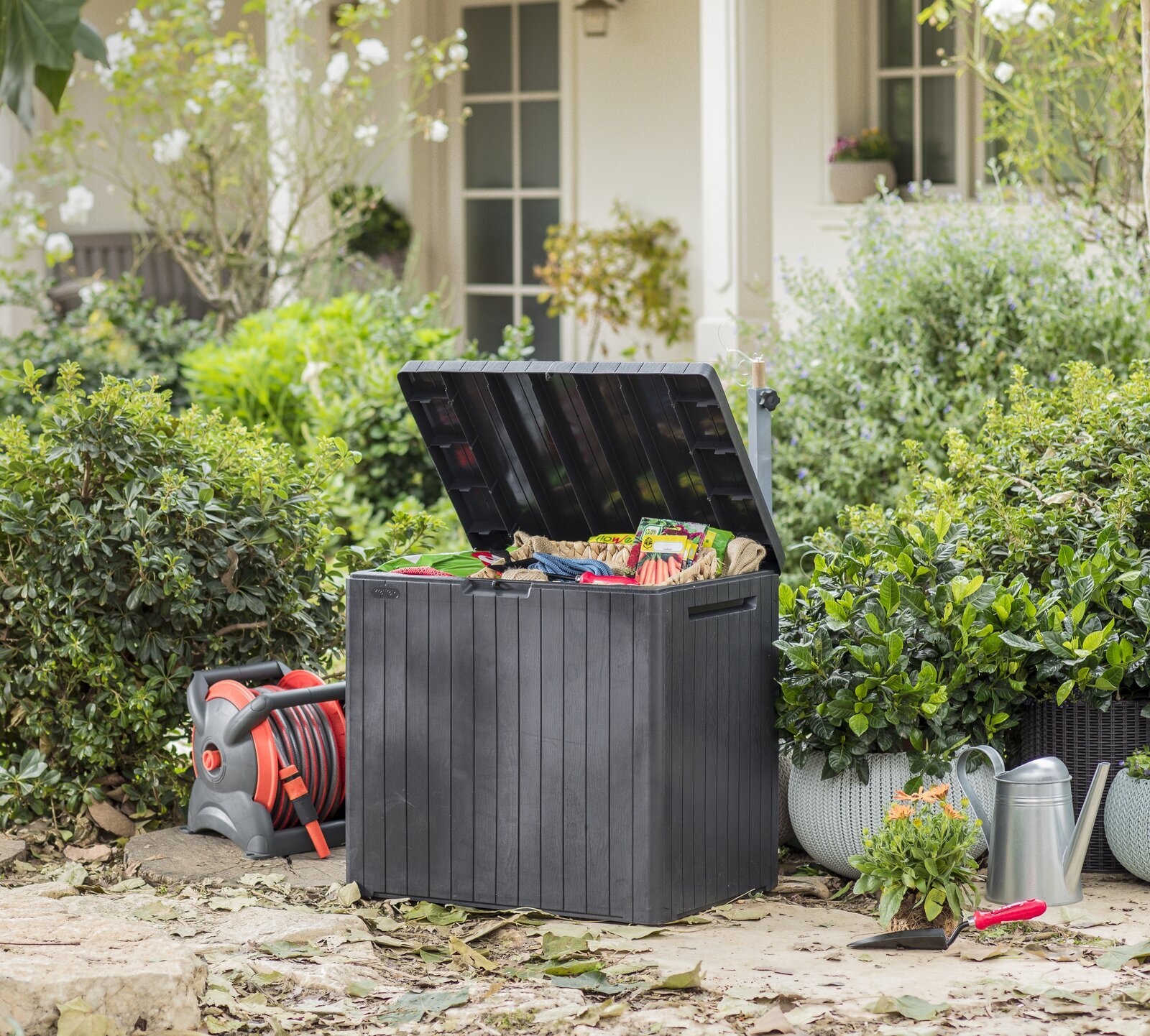 Keter 30 Gallons Gallon in Brown

What we like: Inexpensive and compact design
What we don't like: Only seats one person
This 7.81 lb. box offers 30 gallons of storage capacity for your garden, pool, or patio if you need outdoor waterproof storage in a lightweight, compact package. Moderately spacious, this deck box is made from waterproof and UV-protected resin material.
This deck box can also substitute as a seat, supporting up to 220 lb. on its top surface. However, the narrow 22.75" W dimensions only make it suitable for a single person. The flat-topped design is sufficiently versatile to serve as a coffee table.
Best of all, however, is that this outdoor storage box is affordably priced for the budget-conscious homeowner. This deck box is also simple to assemble, requiring no tools, and easy to maintain.
$47.6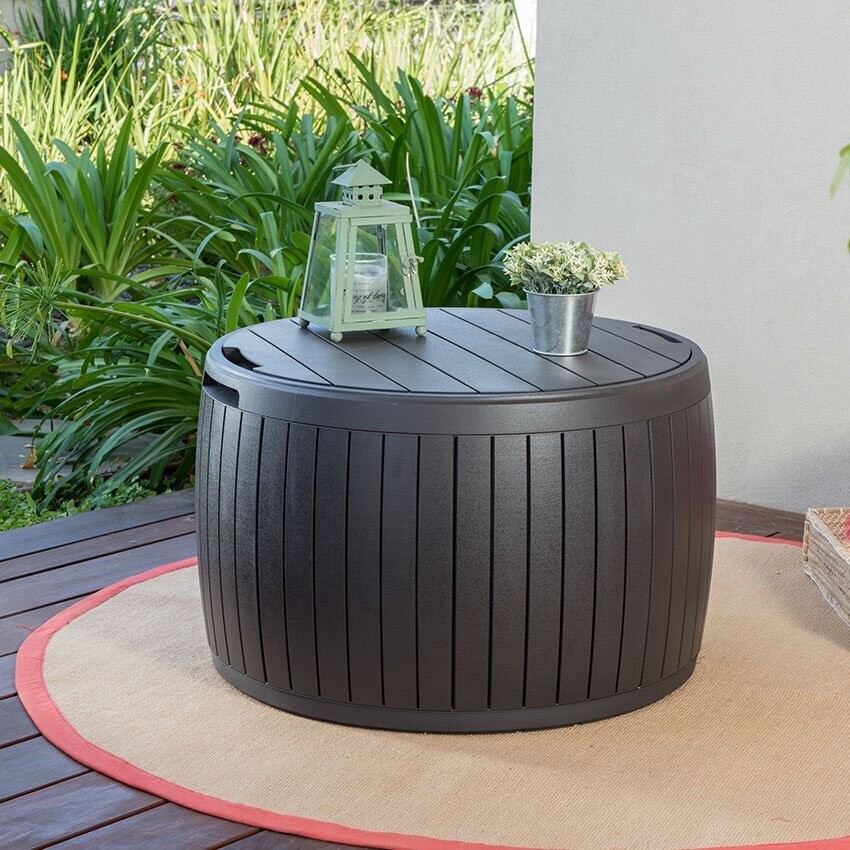 Keter 37 Gallons Gallon Water Resistant Resin Deck Box

What we like: Versatile — can serve as seating, a table, and a storage bench
What we don't like: Round shape is challenging to assemble
This resin deck box has a circular, almost barrel-like design and features a wood-like texture — seamlessly complementing your home's outdoor décor. If you need to store outdoor equipment, provide comfortable seating, or need another table, this deck box can fulfill all three roles. As a seating option, it can support up to 308 lb.
This deck box can hold up to 37 gallons, which is convenient for storing towels, blankets, or pillows for your patio or pool. The durable waterproof polypropylene construction protects the stored contents against rain, snow, and sleet.
At 15.5 lb., this deck box is lightweight and, featuring two side handles, is convenient to move and store as needed.
However, some users found the unusual design challenging to assemble, despite the modular snap-together construction.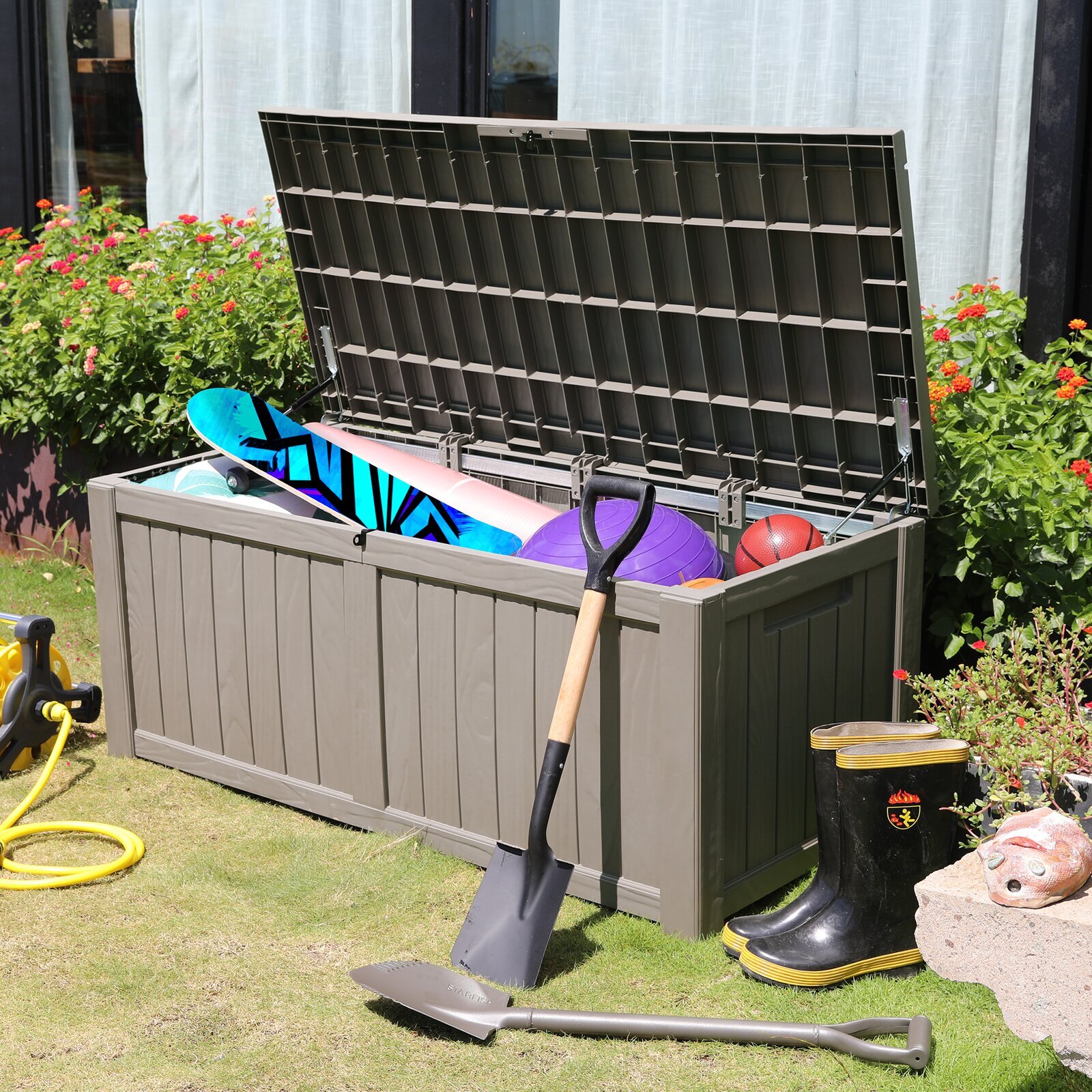 YITAHOME 120 Gallons Gallon Water Resistant Resin Lockable Deck Box

What we like: 120-gallon storage capacity
What we don't like: Assembly may be difficult for some
Perfect for your porch and providing abundant storage space for outdoor seat cushions and kids' sports gear, this waterproof outdoor storage bench features poly-resin construction that won't fade or rust.
The lid opens easily on two supports, so it will stay open while you load it, closing easily afterward without slamming. The lid's interior ridges improve airflow to prevent your stored items from developing mold or mildew. For increased portability, the deck box also includes side handles.
$202.22 $279.99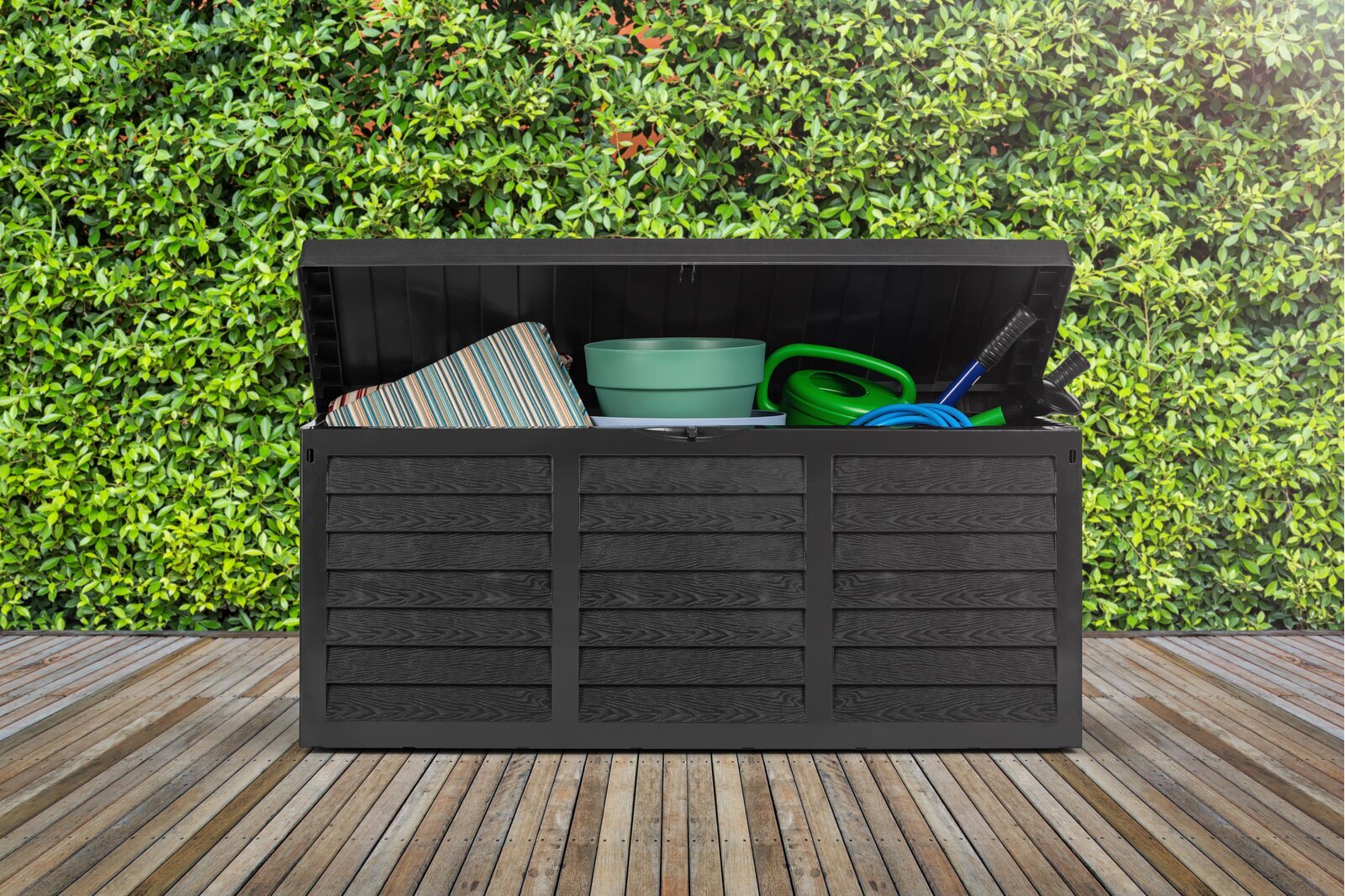 Rustic State 84 Gallons Gallon Water Resistant Resin Lockable Deck Box with Wheels

What we like: Wheels and side handles provide portability
What we don't like: Not suitable for seating
Black and rustic, this deck box can fit a wide variety of aesthetics, from modern minimalist to farmhouse. Including wheels and convenient side handles, this watertight outdoor storage bench is highly portable, allowing you to relocate as needed. Made from durable and waterproof resin material, this deck box will remain functional and weather-resistant for years.
With 84 gallons of storage capacity, you have enough space to store patio furniture cushions and gardening tools. Compact and lightweight, you can also store this deck box in your garage.
Though unsuitable for extra seating, the box features a removable plug at the bottom, allowing you to fill it with ice and use it as an oversized cooler at large backyard cookouts.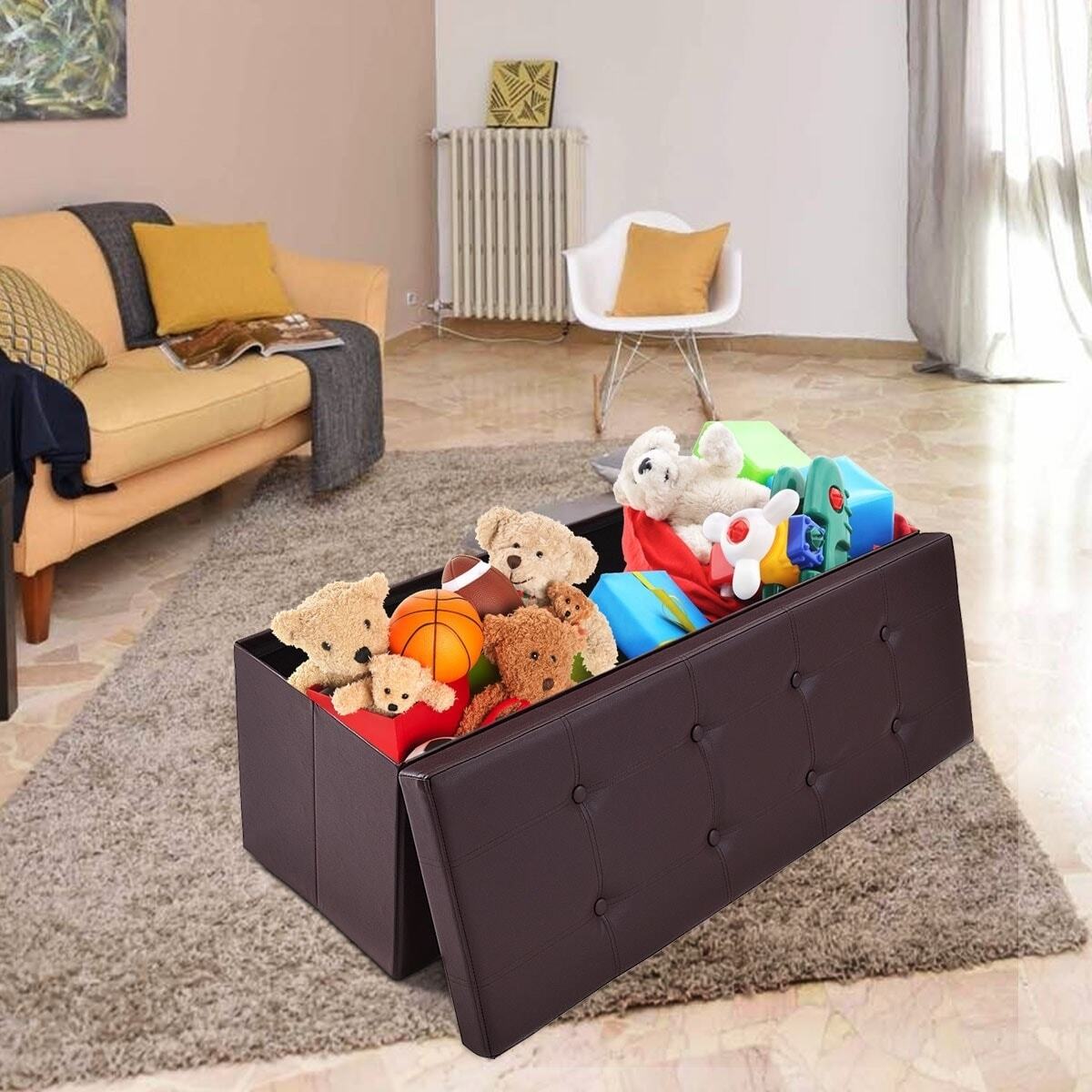 Porch & Den Modoc Faux Leather Padded Foldable Storage Bench

What we like: Waterproof faux-leather padded exterior is both stylish and comfortable
What we don't like: Only suitable for covered outdoor areas
For a more luxurious appearance and feel, this affordably priced storage bench is suitable for both the inside and outside of your home and features a padded faux leather exterior.
The smooth surface, covered in waterproof PVC leather, is easy to clean and comfortable. With a maximum weight capacity of 660 lb., this is one of the strongest storage benches available, making it ideal as a seating option. Its lightweight construction also allows you to move and reconfigure your outdoor entertaining area with ease.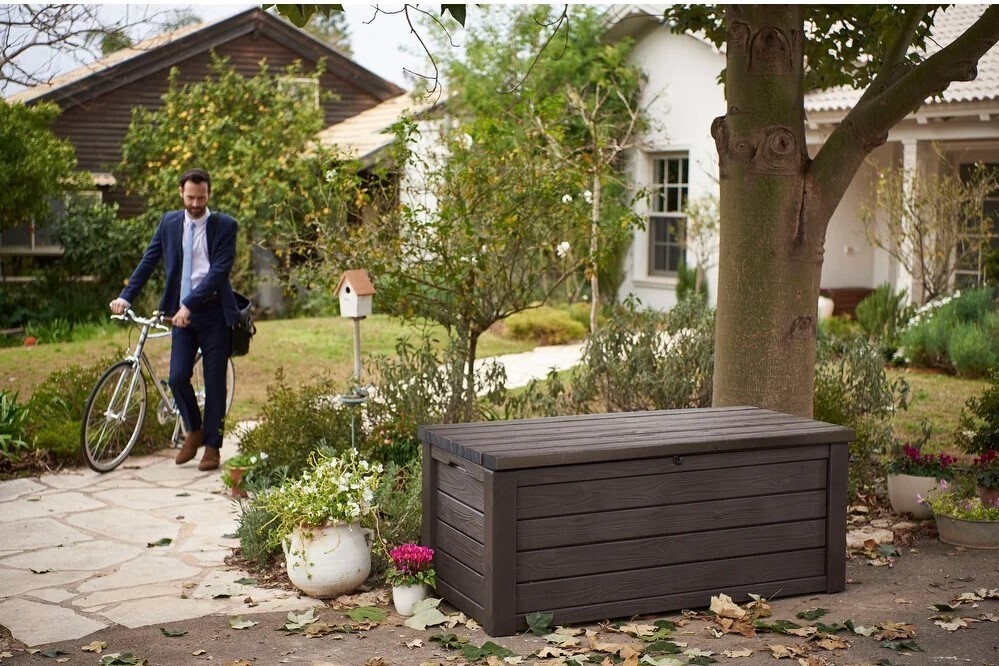 Keter Eastwood Plastic 150 gallon Storage Deck Box

What we like: Hydraulic pistons for convenient opening and closing
What we don't like: May be too big for some outdoor areas
Made from polypropylene resin with a wood-like texture, this storage deck box is completely resistant to the elements. Its waterproof construction ensures that everything you store in it remains dry.
While waterproof, this storage deck box is also vented, preventing mold and mildew from accumulating from wet equipment stored inside the 150-gallon interior. The storage bench has two hydraulic pistons, so it's easy to open and quiet to close.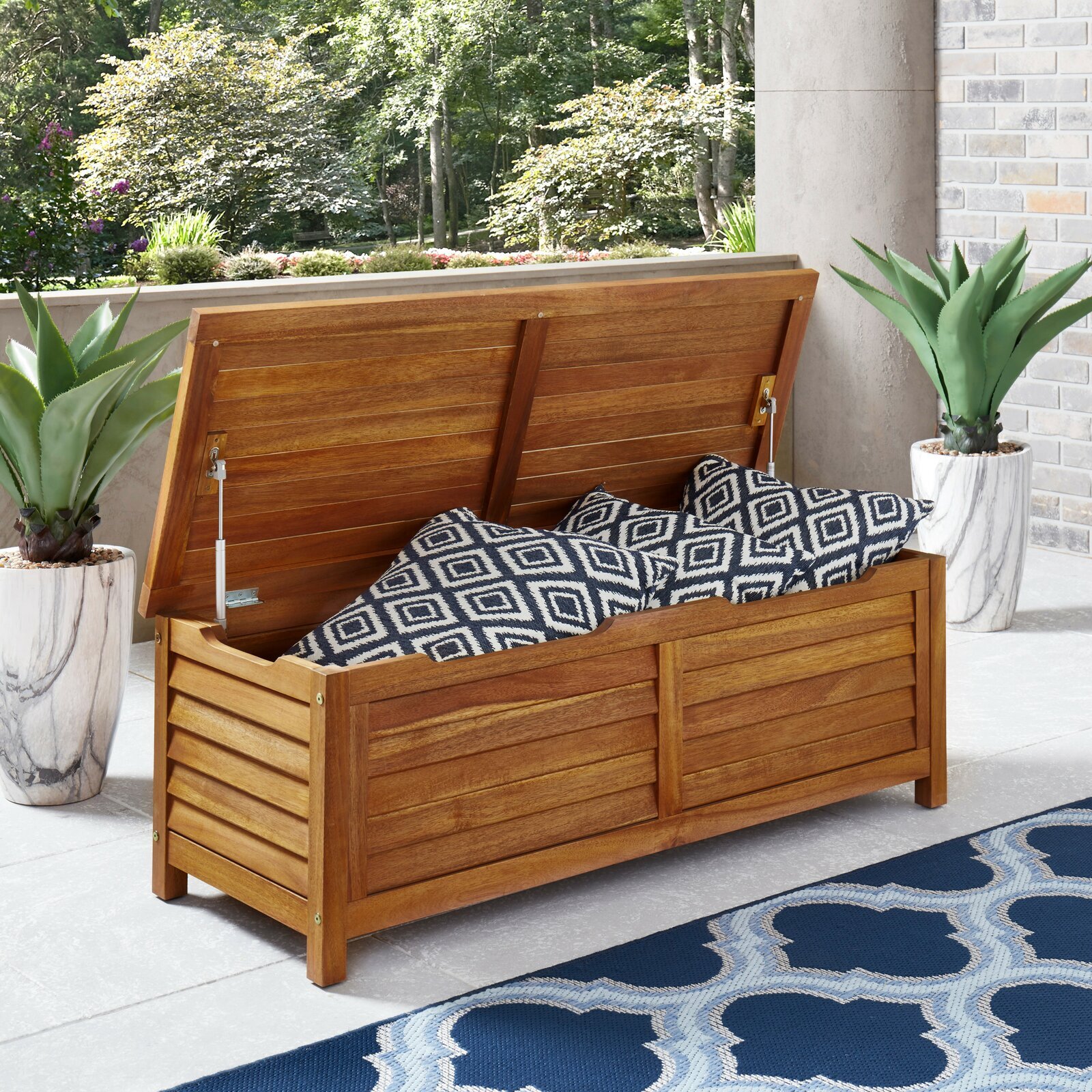 Sand & Stable™ Amagansett 78,87 Gallons Gallon Water Resistant Acacia Solid Wood Deck Box

What we like: Excellent durability, including pest-resistance
What we don't like: Not designed for permanent seating
Stylish and functional, this waterproof patio storage bench is made from solid acacia wood, resisting water and UV radiation. This bench features louvered paneling which is an attractive addition to any outdoor décor, complementing coastal and farmhouse aesthetics.
The acacia wood contains natural oils that make it resistant to pests like termites. However, the wood will need periodic resealing, as the linseed oil finish may fade in direct sunlight. The storage bench includes two pressurized supports for convenience to keep the lid open for loading and unloading.