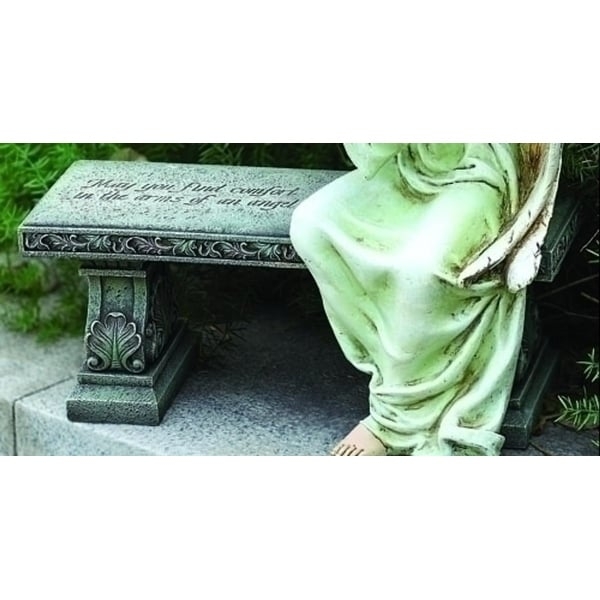 This outdoor bench is, simply, exquisite, and definitely worth checking out. The whole construction is stone resin, with beautiful leafy accents, and a rectangle top with an engraved, heart-warming inscription.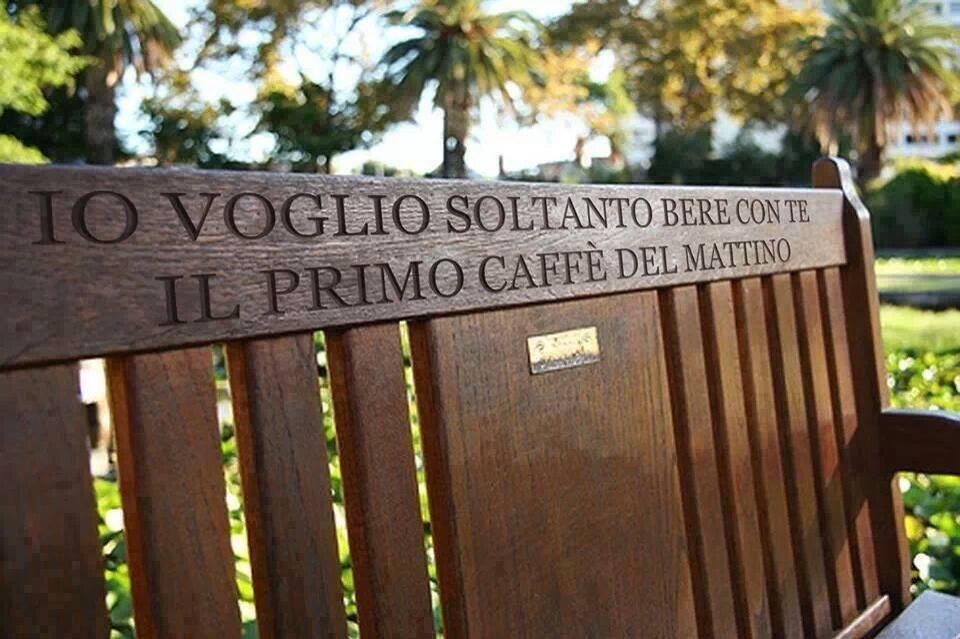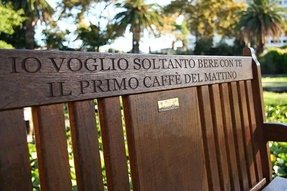 Durable engraved bench for garden applications. Its wooden construction features a very solid backrest with vertical slats. This bench also offers two supportive arms for additional comfort of sitting.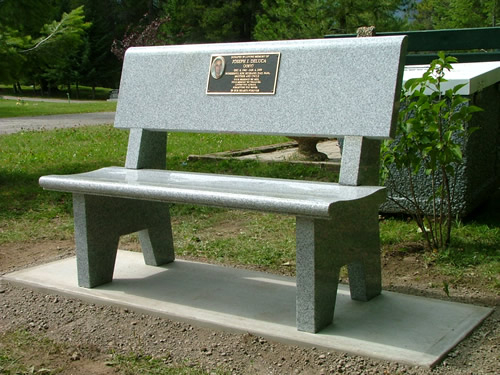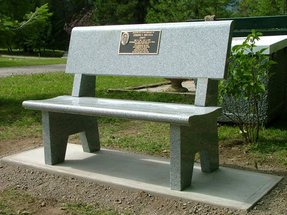 Made from solid, durable granite, this memorial bench can be a great addition to one's garden or patio decor. Especially if you want to commemorate an important person or event.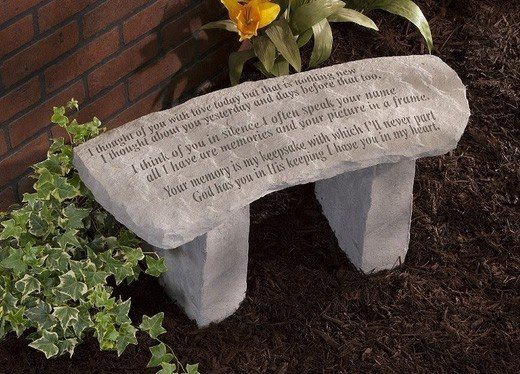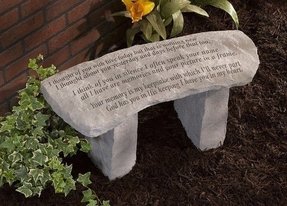 Charming stone cast concrete garden bench with personalized memorial sign engraved on the slightly curved seat. The bench construction has the look, feel and weight of genuine stone while being fully watherproof.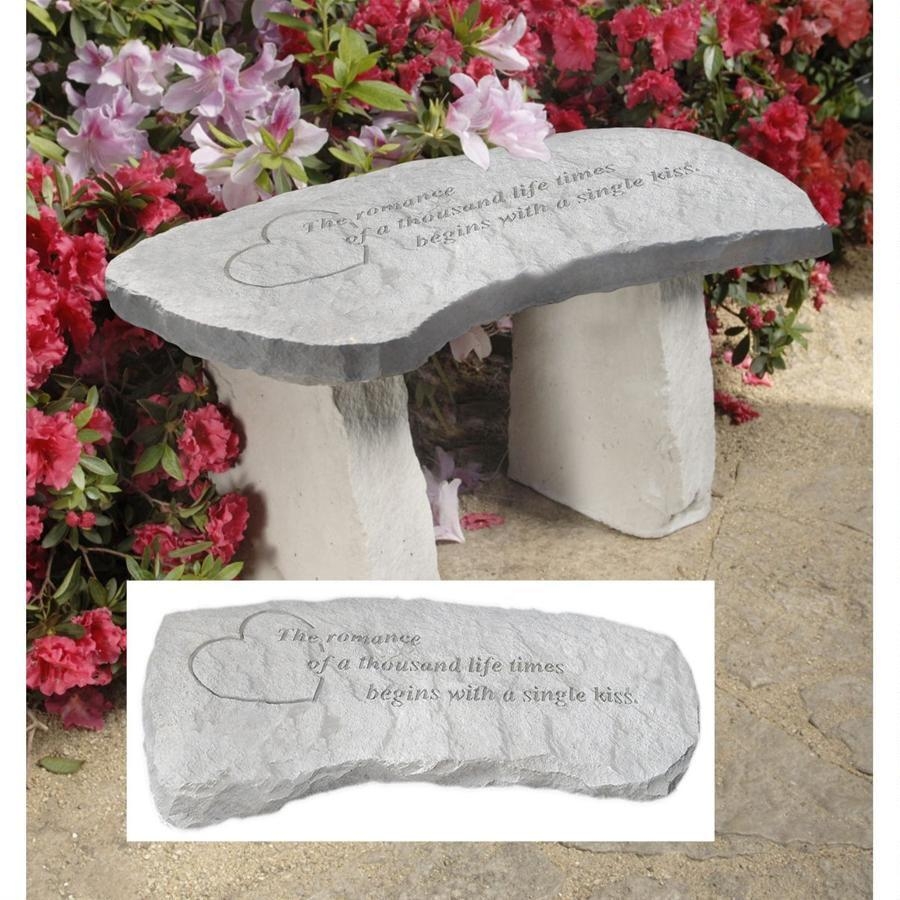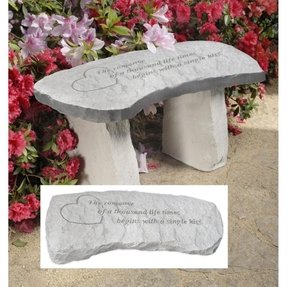 A very interesting decoration that can be used as a memorial garden bench. The product is made of very solid and heavy stone that assures resistance to wear and damage. The size of this bench is 29"Wx12"Dx14½"H.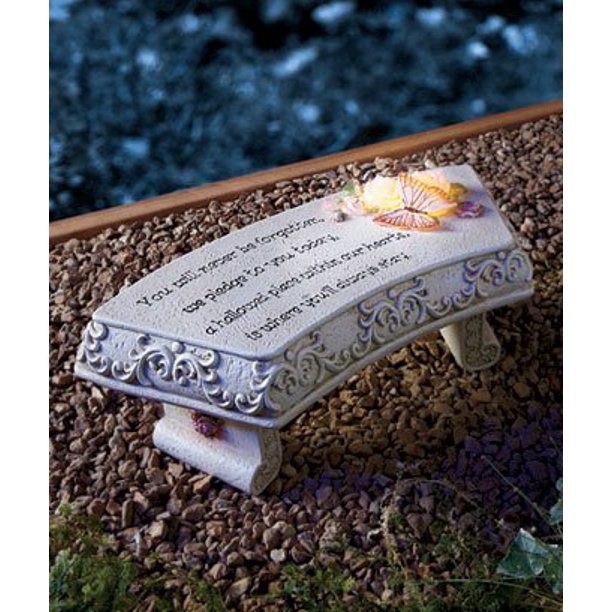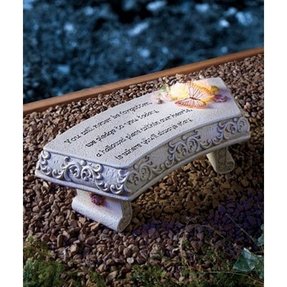 This memorial garden bench can be a great way to commemorate the people we love. The bench is inscribed with a moving verse, placed next to a raised, colourful butterfly and flower decorations. It measures 15-1/2" x 6-7/8" x 6-1/4".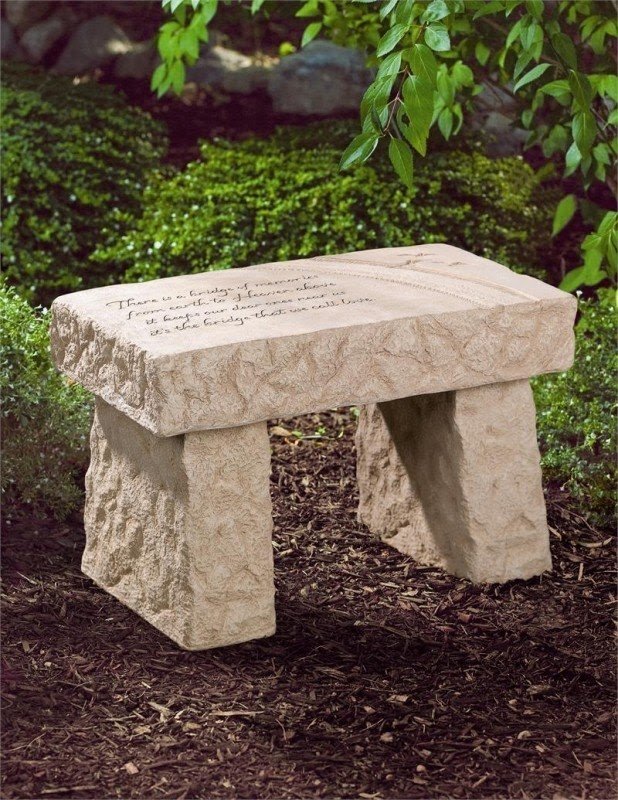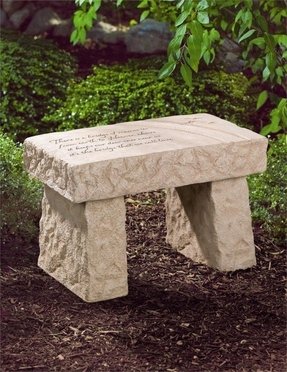 449462) "There is a bridge of memories..." Memorial Garden Bench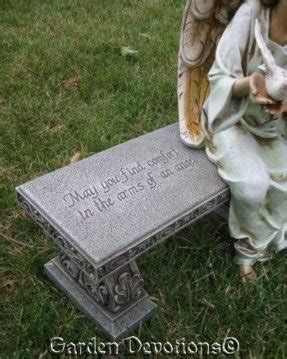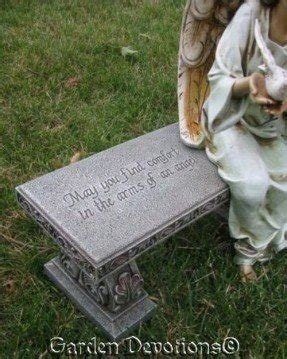 Details about Stunning ANGEL & DOVE on BENCH MEMORIAL Garden Statue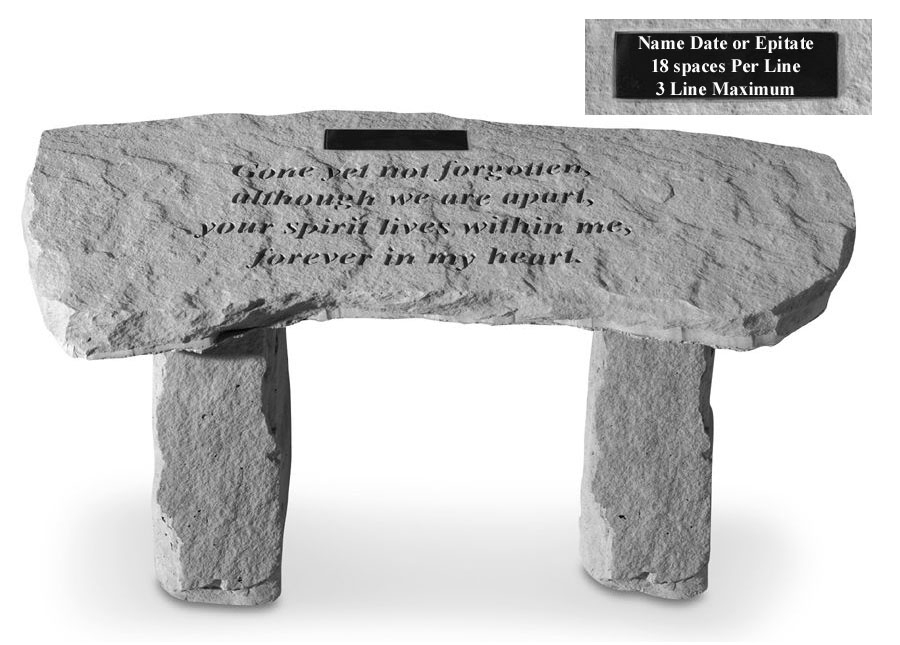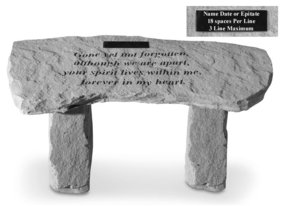 Transform your outdoor area such as garden, backyard, or park alley by using this captivating memorial garden bench that features cast stone concrete construction. The seat emanates with rustic accents combined with a heart-warming inscription.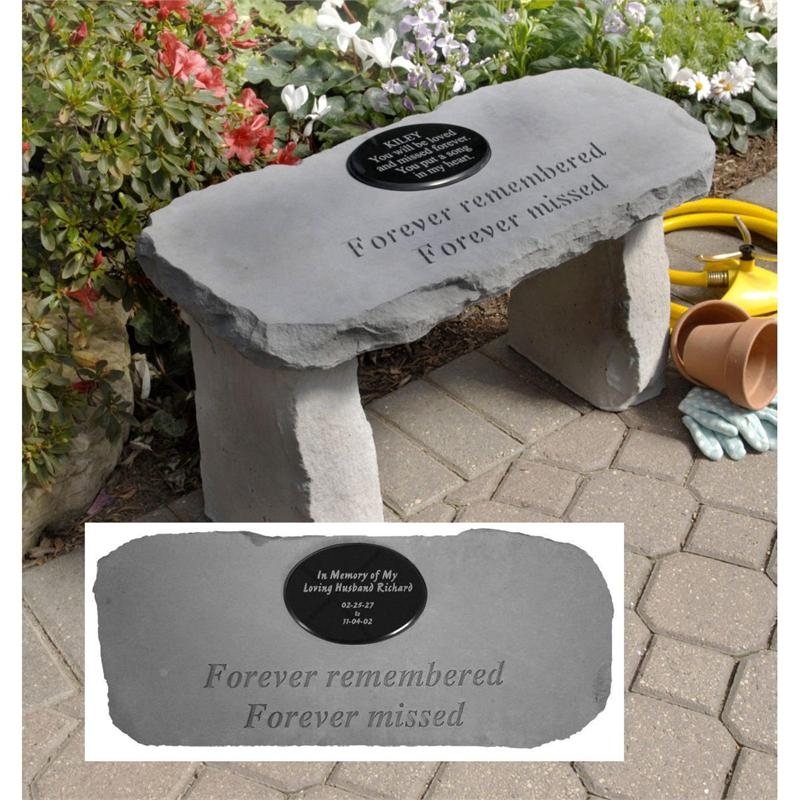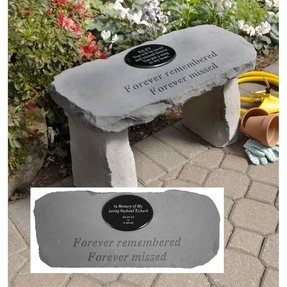 Hand-poured of heavyght cast stone, this cast stone memorial garden bench features a marble plaque to honor your family member, friend, or beloved pet. It's made for outdoor use, suitable for graveyards, park alleys, and gardens.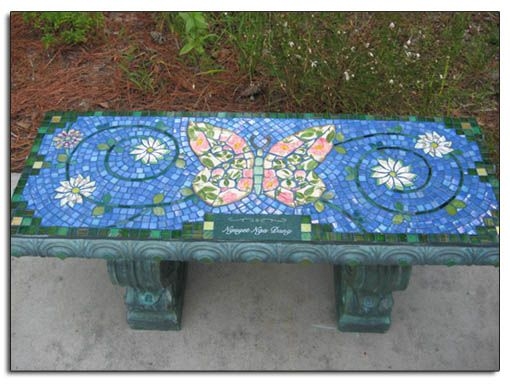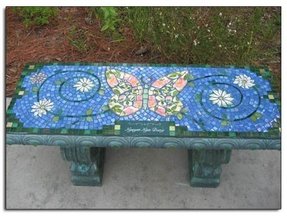 Memorial Garden Benches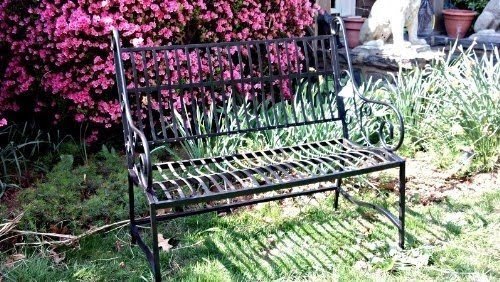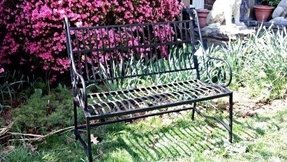 This outdoor bench not only looks charming and elegant with the beautiful powder coat finish of the premium durability and the classy curves of the design that were forged with meticulous care to detailing, it will also add some comfort to your garden instantly.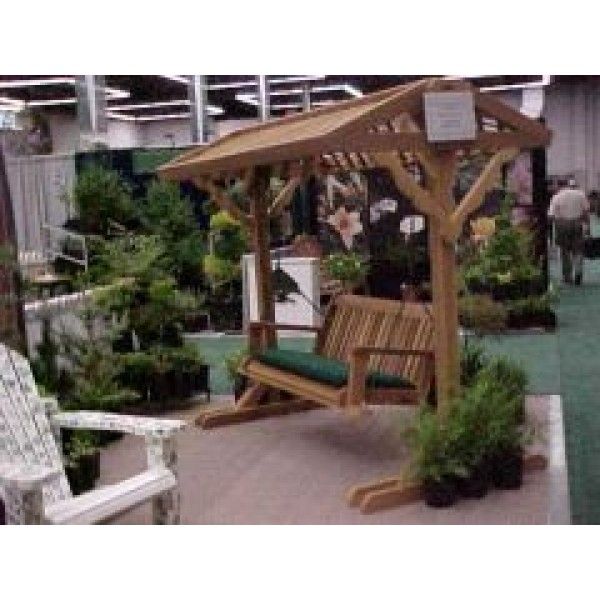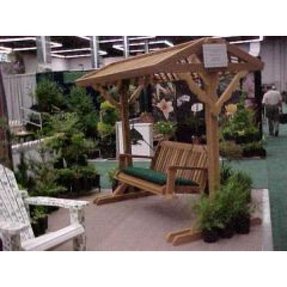 With the slat-style seat and the bold painted finish this is the most suitable piece for your outdoor setting, allowing you to enjoy the nice weather, while you're gently swinging back and forth with your favorite book.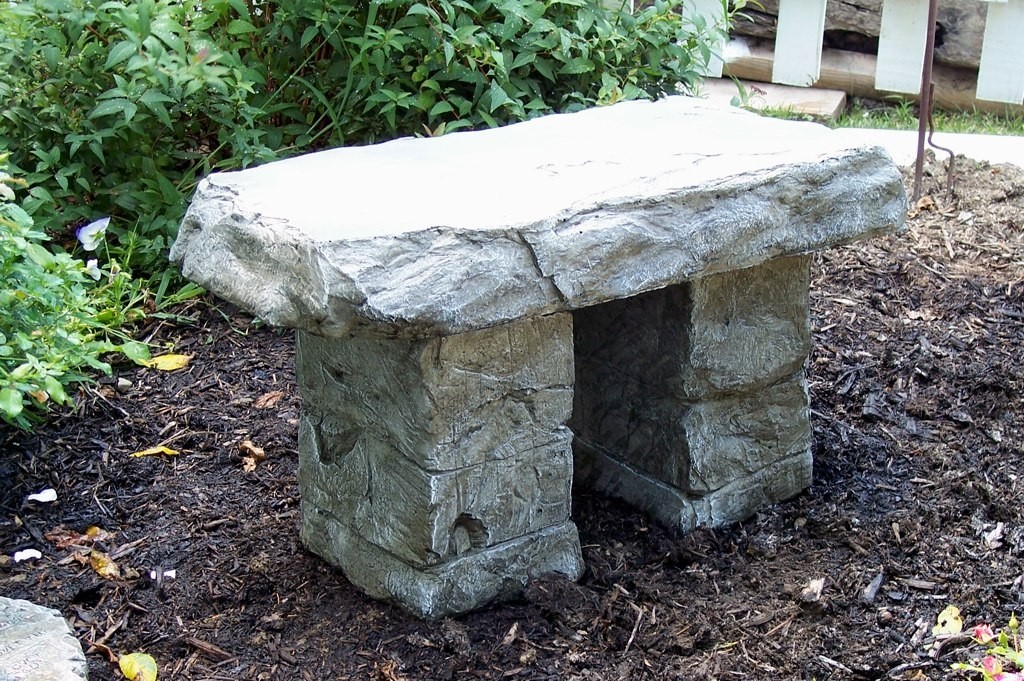 This cast in stone and hand-sculpted from clay, rustic bench is consisted of 3 pieces - 1 top and 2 legs that are built to last and have a granite appearance. The bench is suited for outdoor areas such as patios, gardens, and parks.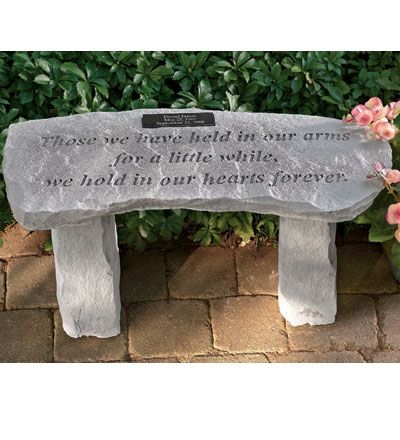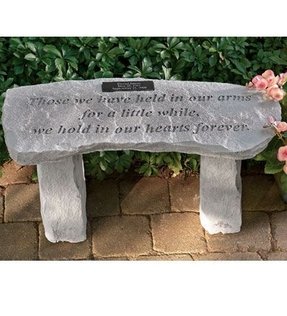 Memorial - Spring Valley - mediterranean - landscape - houston - Designs By Elizabeth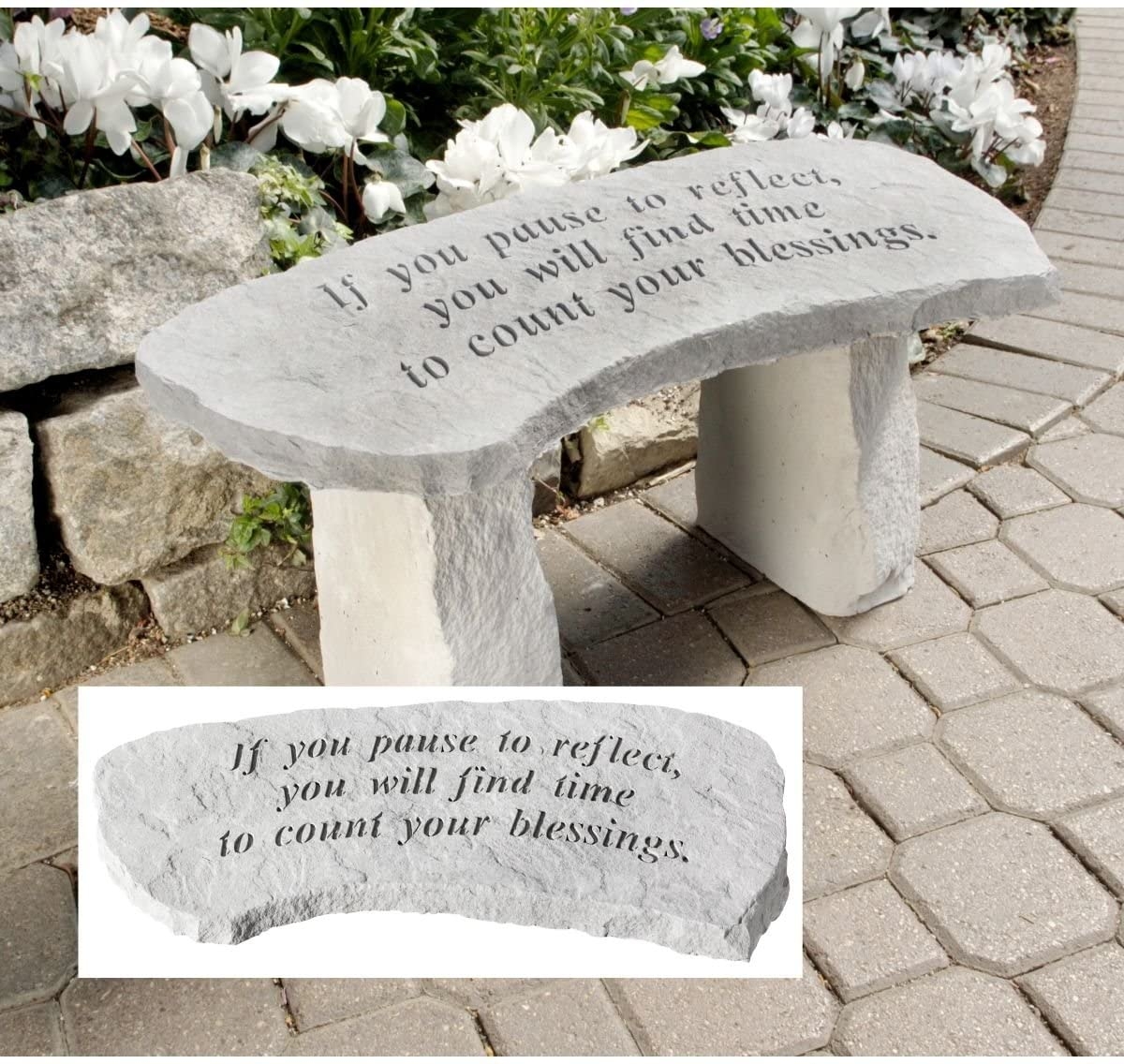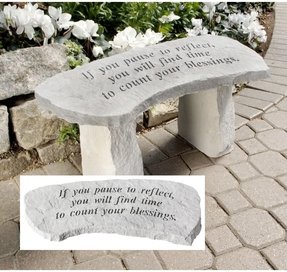 An antique style garden bench and a memorial in one. It has an ovalish gently curved seat with a stylised engraved inscription, 2 thick rectangularish legs and features uneven edges. It's manufactured of weatherproof concrete stone (stone imitation).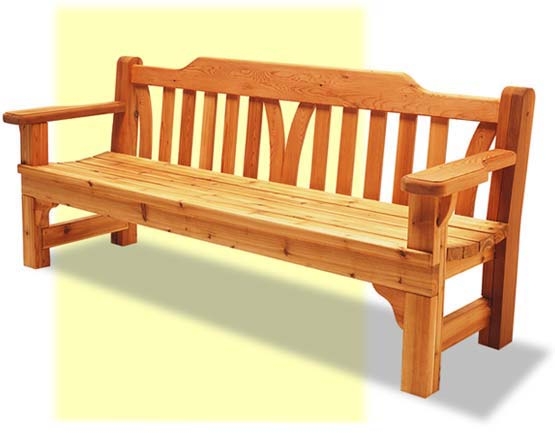 DIY: English Garden Bench. An elegant yet traditional piece, this English garden bench features design modifications that make it a good project for varying levels of woodworking expertise.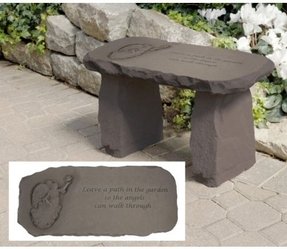 A very solid bench made of heavyweight stone. This kind of product is an element that has got a decorative and memorial character. It is very solid and resistant to wear or damage caused by weather or other factors.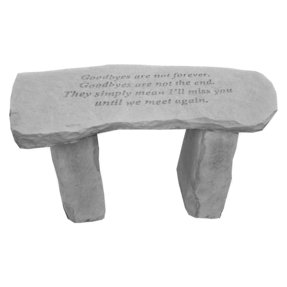 Memorial Garden Bench - Goodbyes are not forever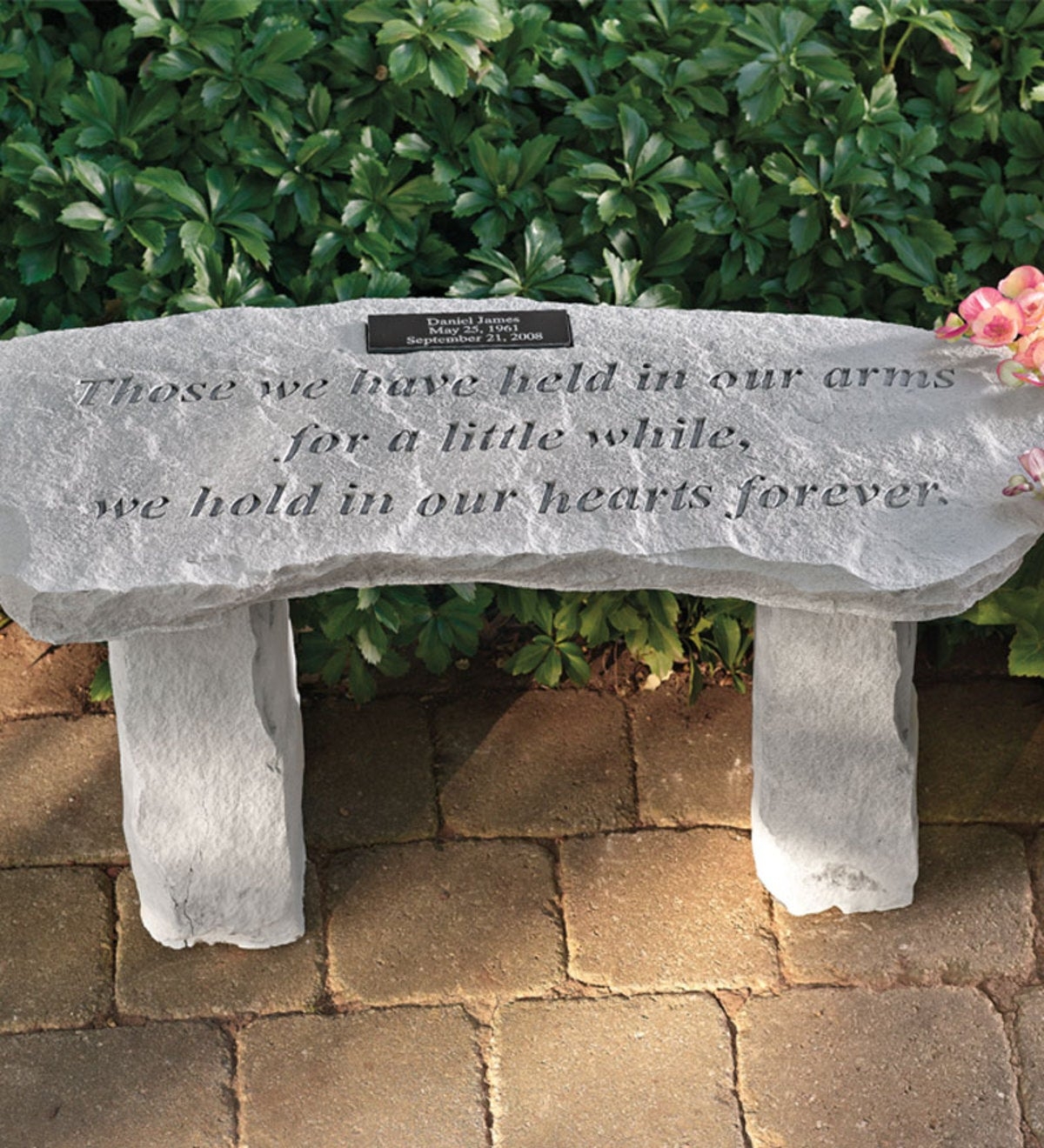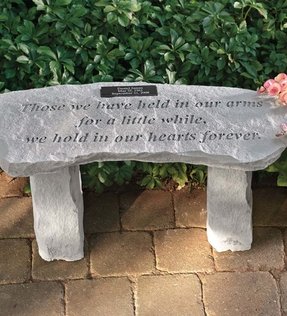 Handcrafted memorial garden bench with custom sign on the seat. The verses are engraved in high-contrast script, with some space provided for a personalized marble plaque (optional). Comes in a few different styles.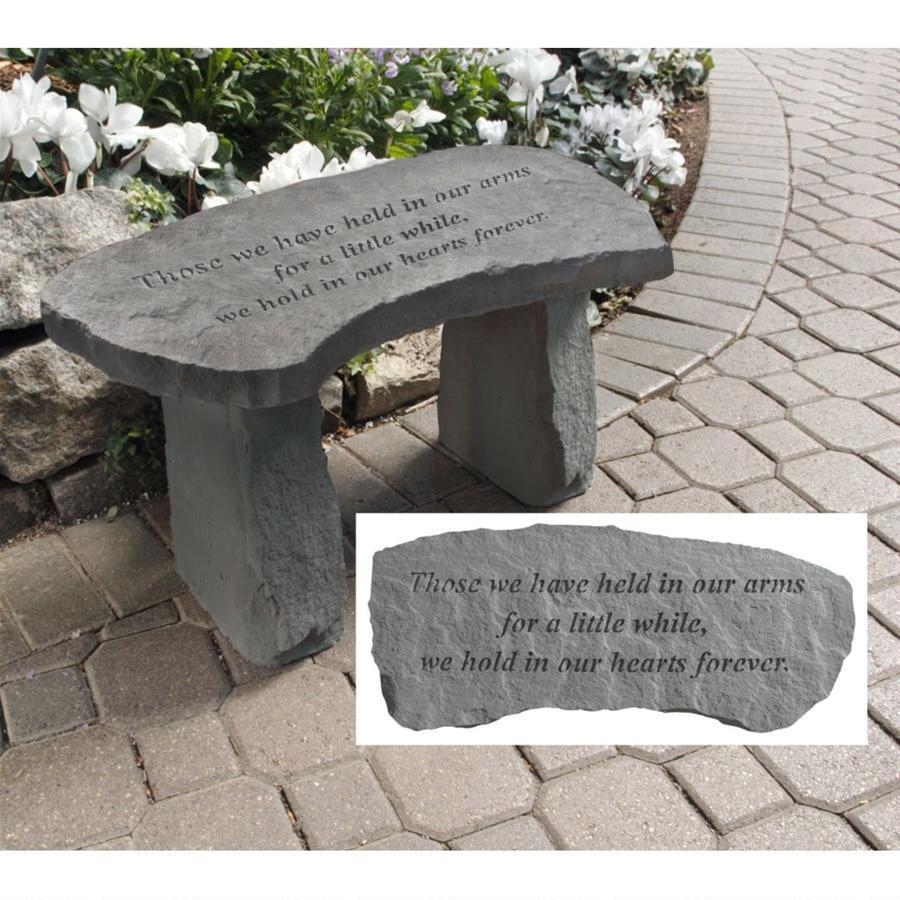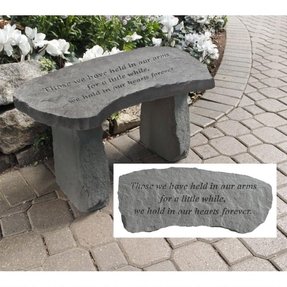 Hand-finished, and hand-poured in heavyweight cast stone; this garden bench can be a lovely memorial for your loved ones. It's designed for outdoors, suitable for gardens, or graveyards. Measurements: 29"W x 12"D x 14.5"H, 73 lbs.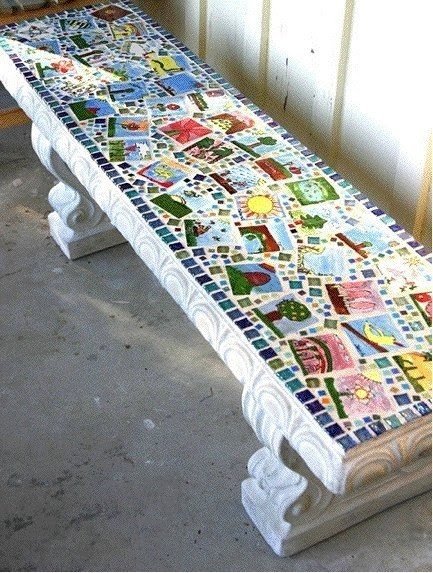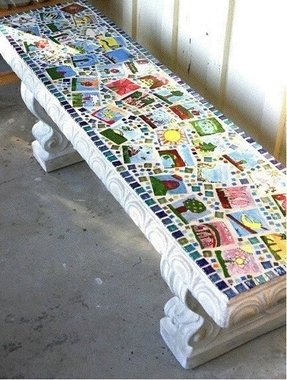 All in the Kiln class project idea for school auction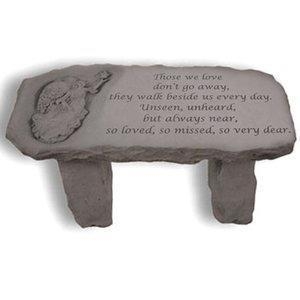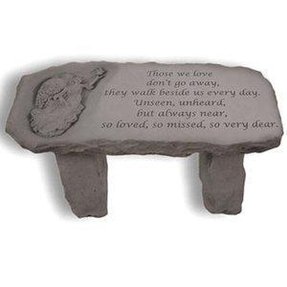 Home > Gift Ideas > Small Memorial Angel Garden Bench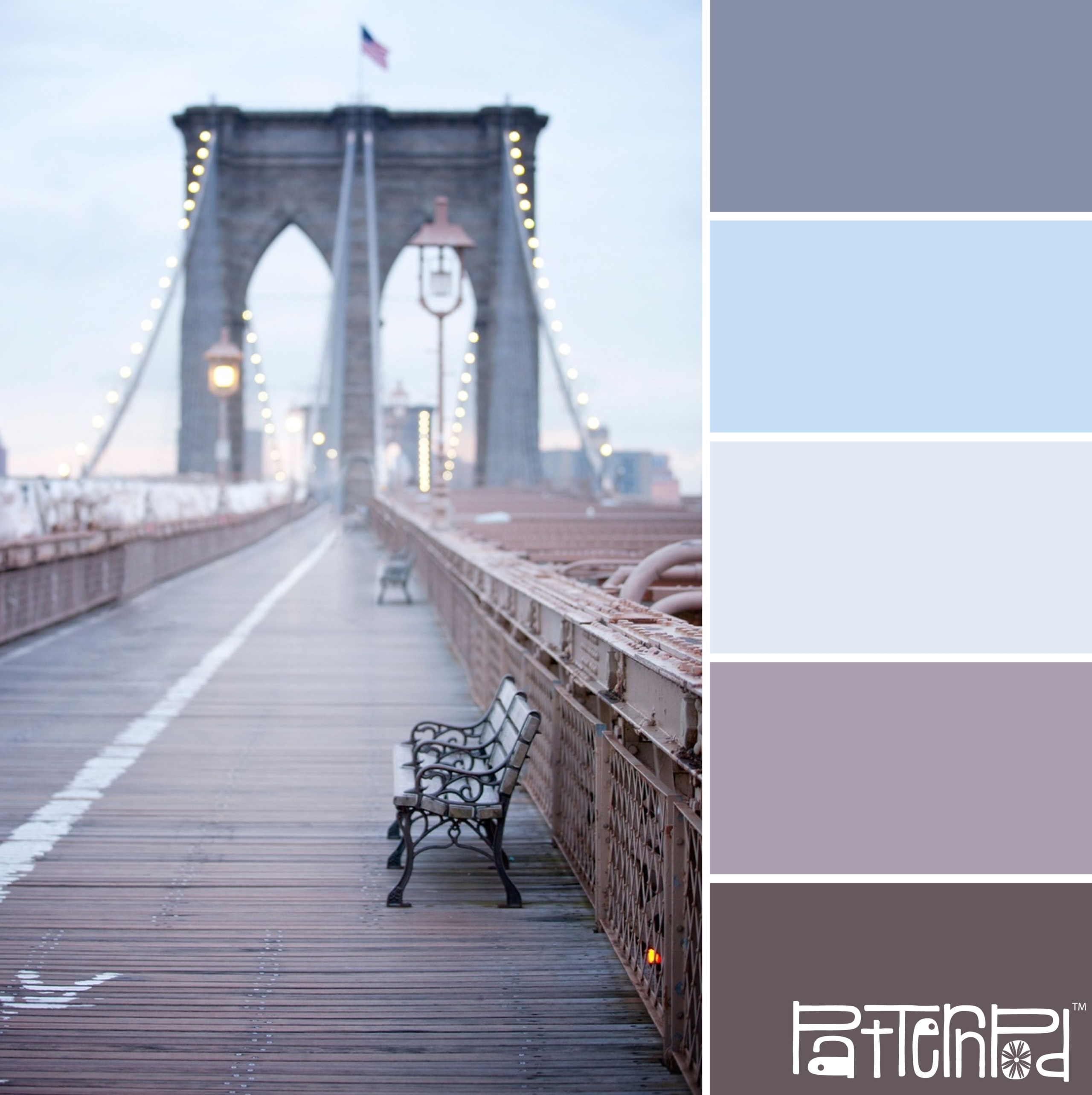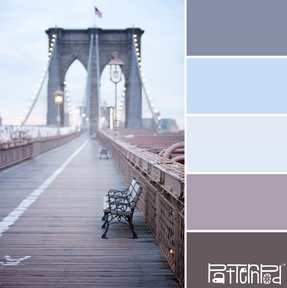 This picture shows an attractive, solid and comfortable bench crafted for outdoor applications. Its horizontal slats create a solid seat area with back support. This bench is based on durable metal frame.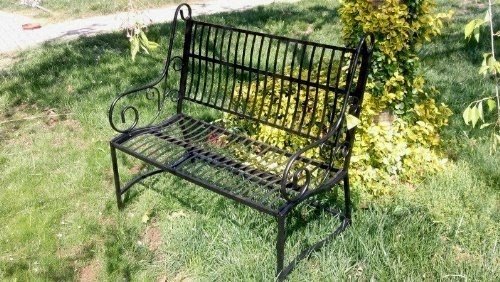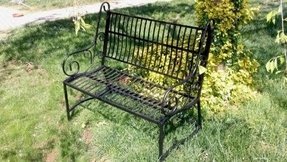 With this outdoor bench made from the highly durable wrought iron you get a beautiful compliment to your garden that will prove extremely comfortable and stylish addition for years to come with the delicate curves of the design.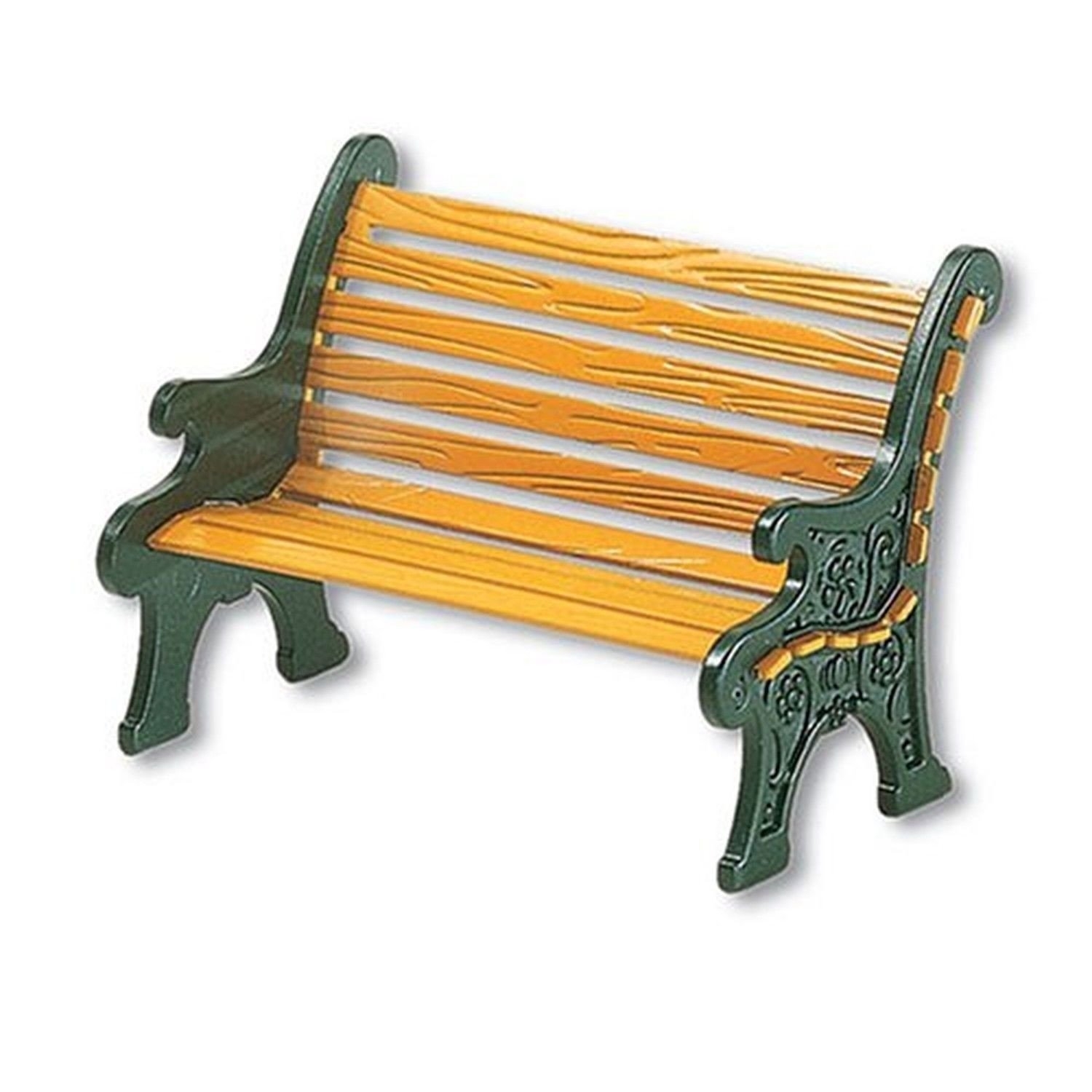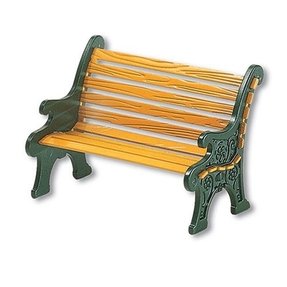 Very decorative and quaint outdoor steel bench with horizontal slats seat and truly eye-catching ornamental sides. The design introduces a magical feel to an exterior area; it is perfect to complete Christmas decor.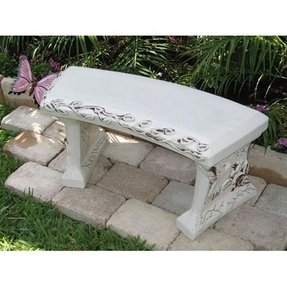 Create a special memorial bench.... This Our stone cast concrete bench ...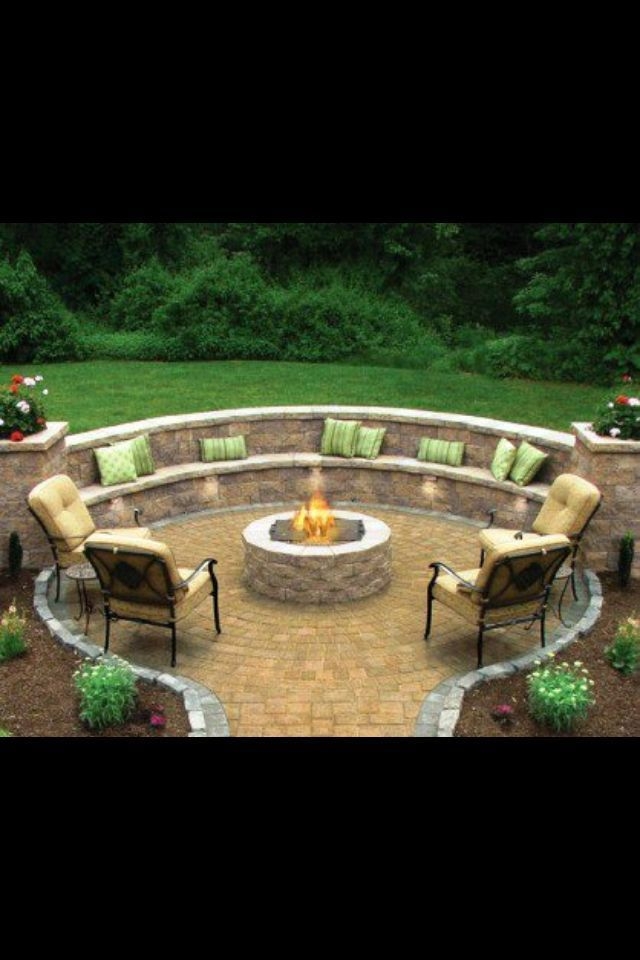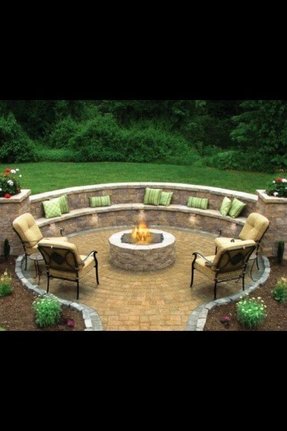 Great firepit area. Potentially sub brick for stamped concrete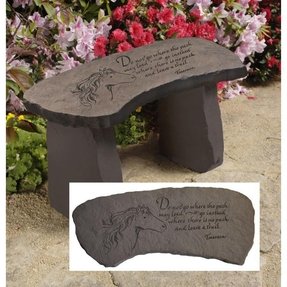 A very interesting type of decoration. It is a bench that plays the role of a memorial element. The product is made of heavyweight cast stone that assures solidity and resistance to negative weather conditions.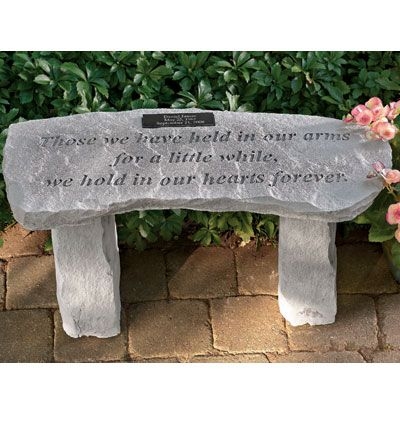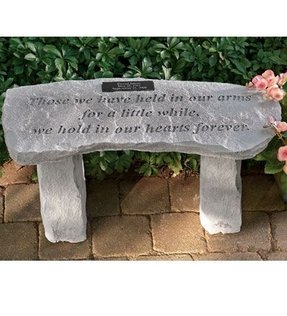 Memorial Garden Bench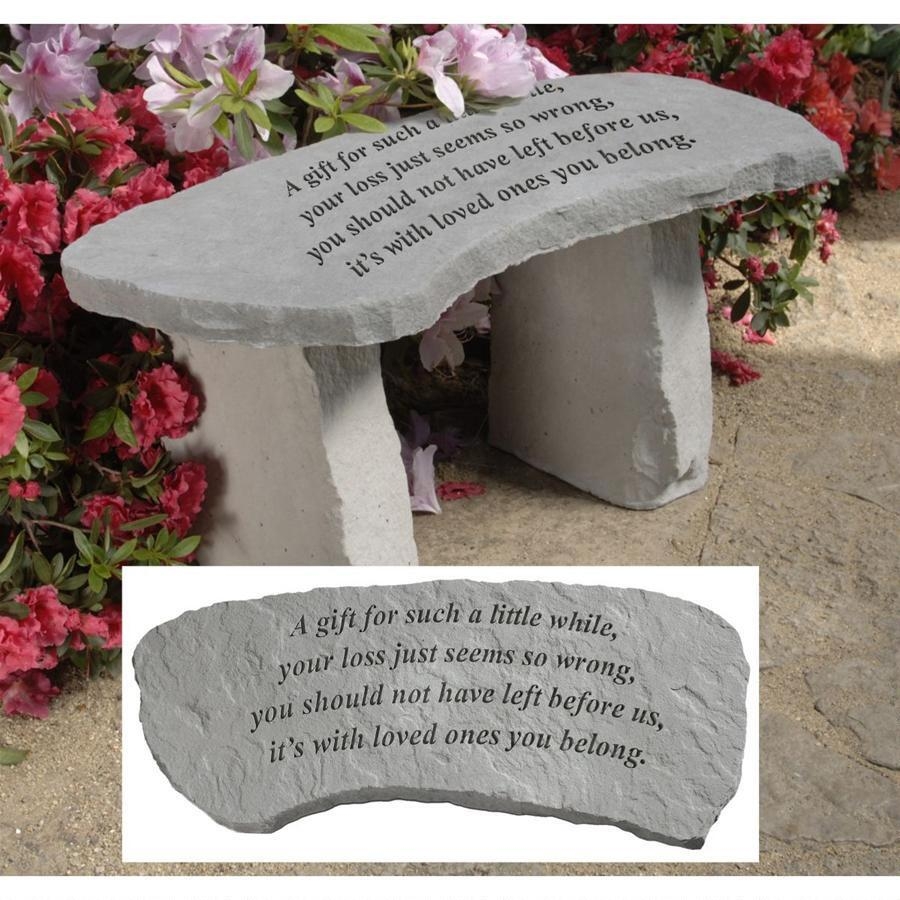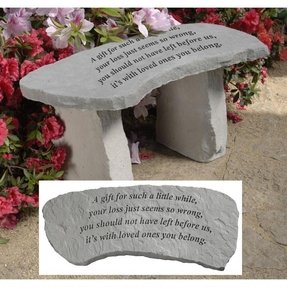 USA-made hand-finished garden bench. Hand-poured from heavyweight cast stone, it's designed and built to last. Its top is adorned with a poetic inscription. It requires some assembly, though simple, as the construction is not complicated.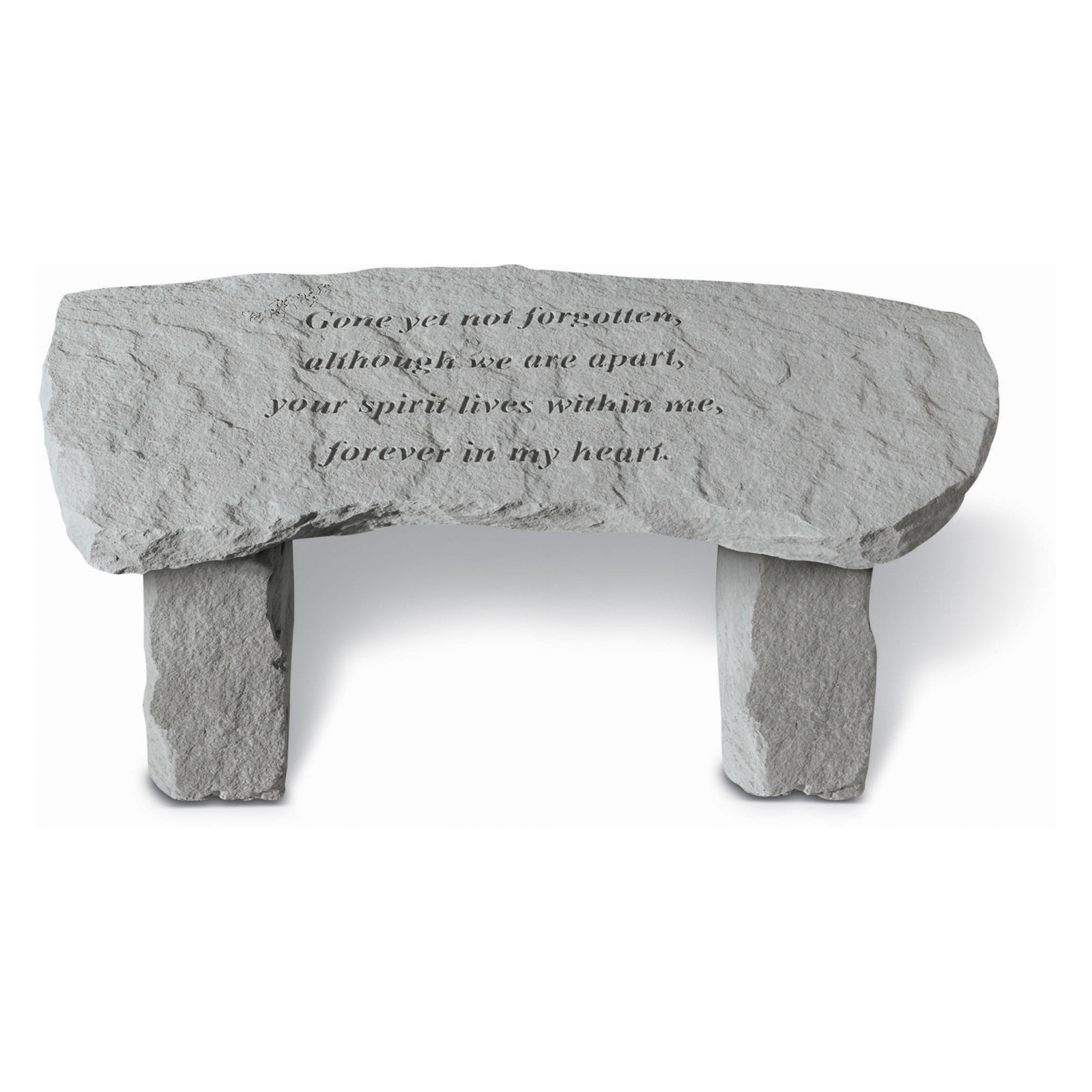 Transform your outdoor area such as garden, backyard, or park alley by using this captivating memorial garden bench that features cast stone concrete construction. The seat emanates with rustic accents combined with a heart-warming inscription.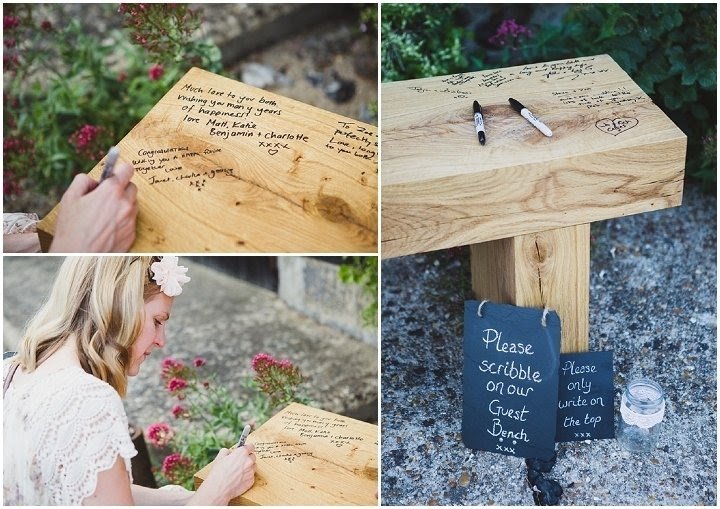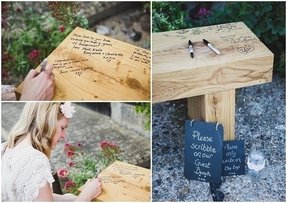 Do you want to have an exquisite wedding? You can read about ideas for the wedding decorations. I like this wedding guest book bench with wooden construction.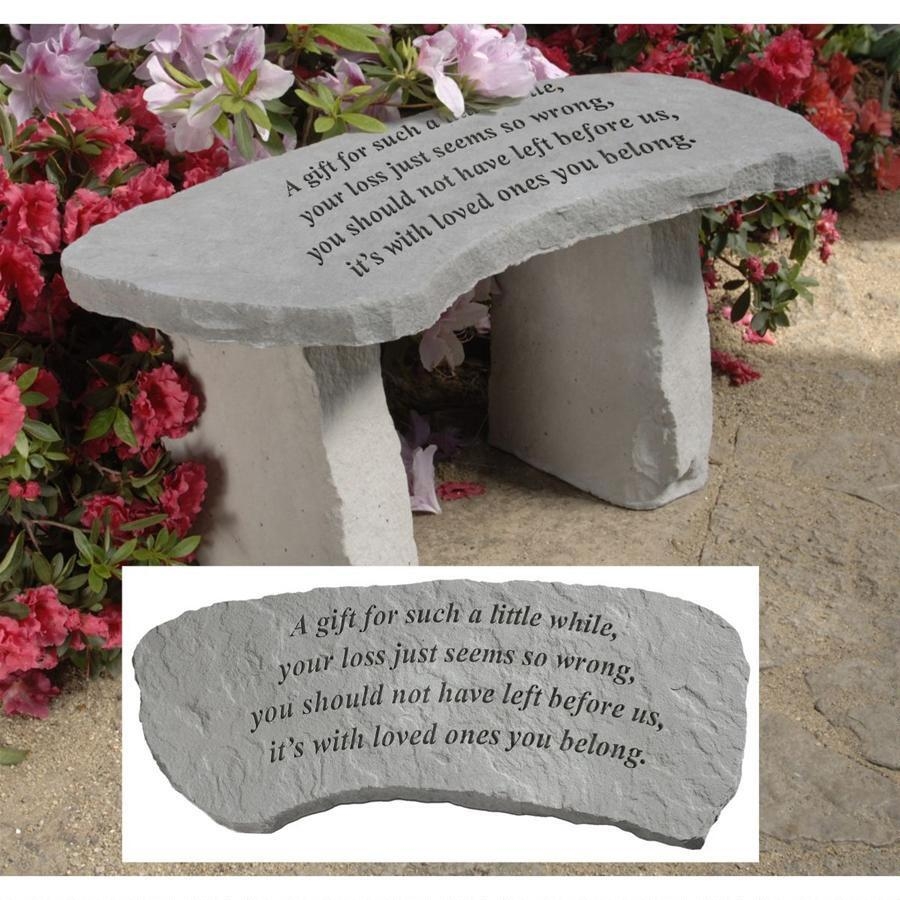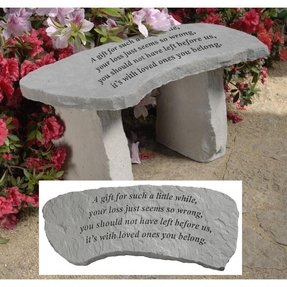 Gift Cast Stone Memorial Garden Bench : Feature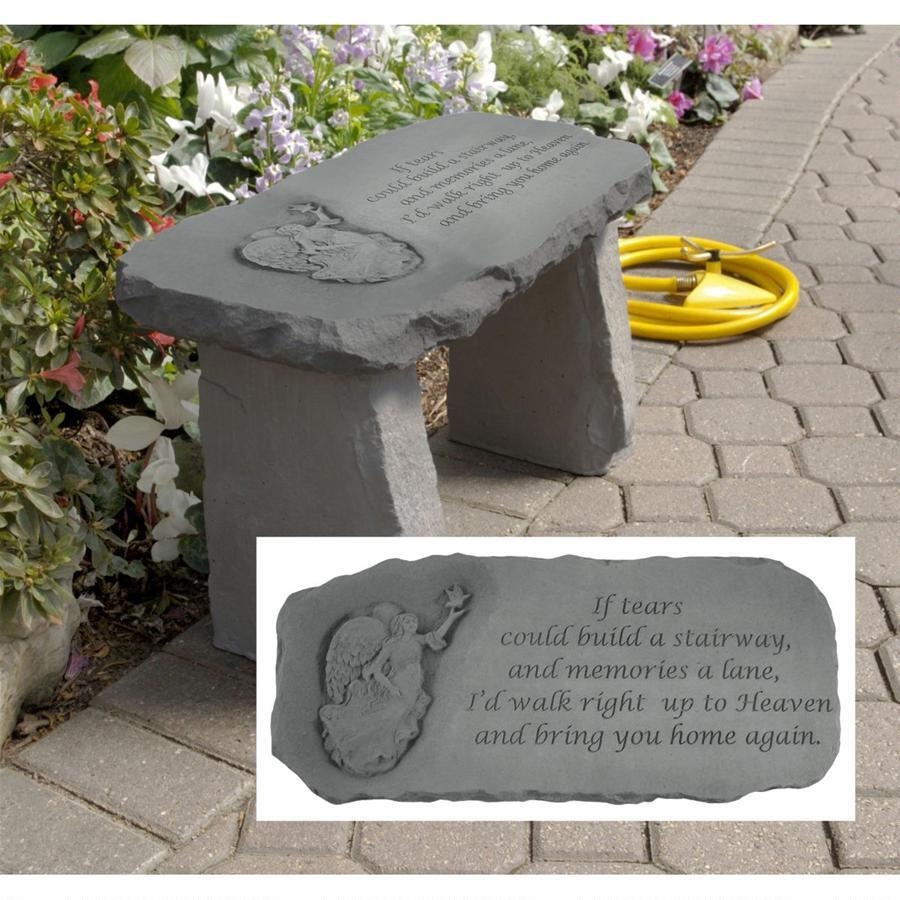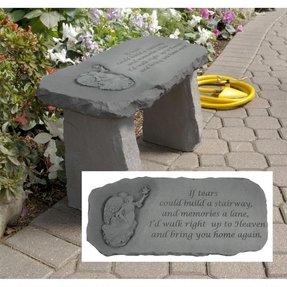 It is a home memorial garden bench that has got a solid stone construction and gray finish. If you looking for memorial bench, you need to choose this product. It is high quality and nicely finished.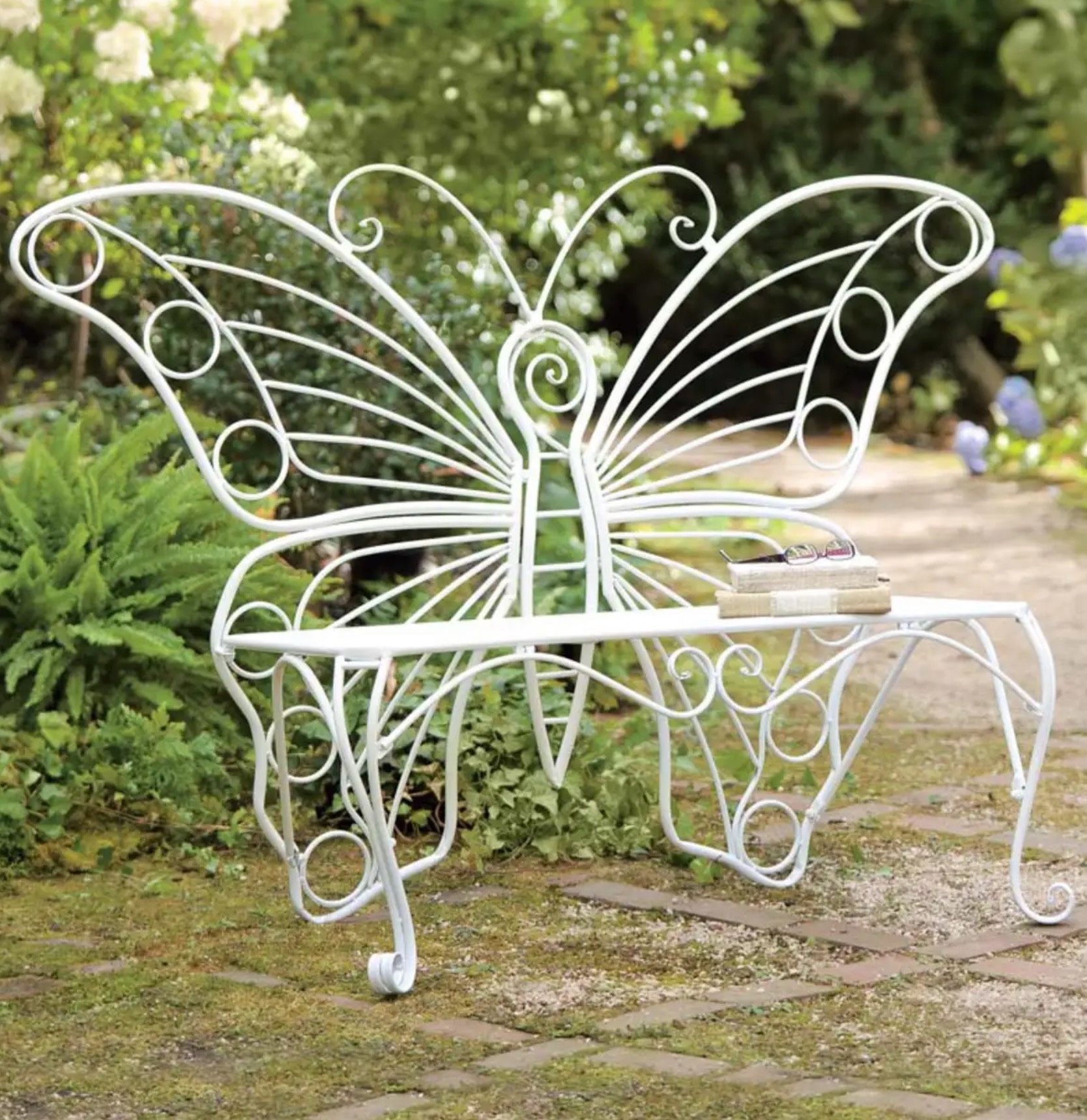 An unusual garden bench entirely crafted of metal rods with a weatherproof white coating. It features the form of a giant beautiful ... openwork butterfly adorned with rings, curved lines and scrolls. It has a rectangularish seat.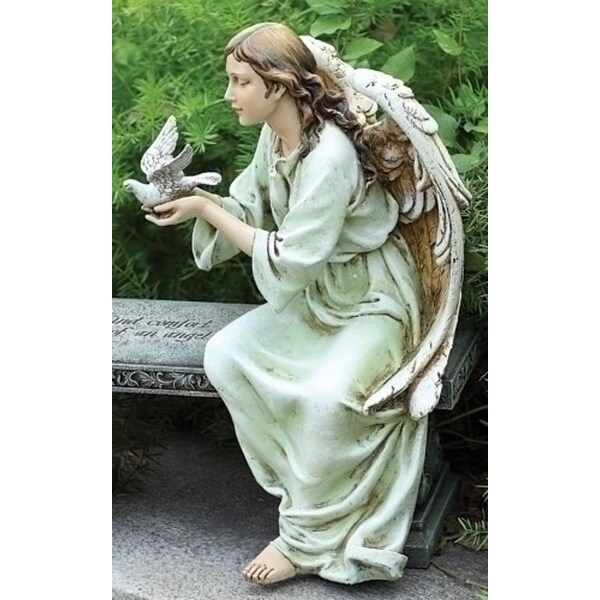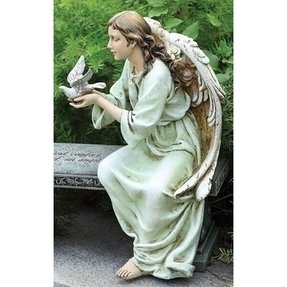 The beautiful memorial bench with angel makes the total delight. The Roman angel statue looks phenomenal due to its excellent workmanship and beautiful details. An attractive element of the garden decor.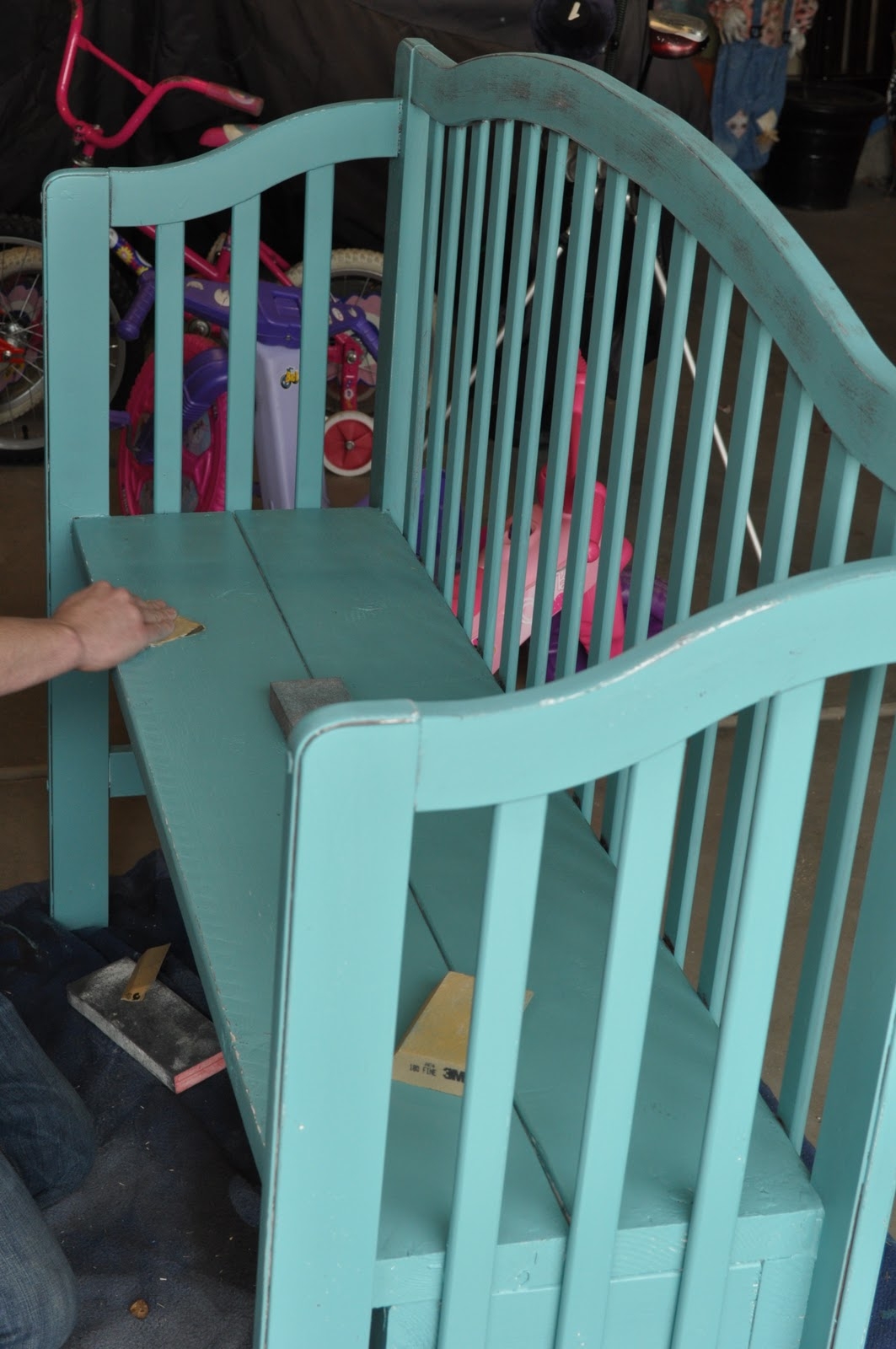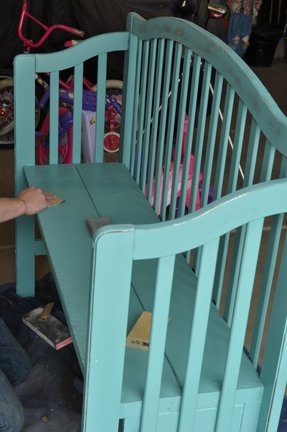 An ingenious bench created from a disused traditional baby cot. It's made od wood repainted in light blue. It has upright angular posts, gently arched and vertically slatted both a backrest and arms. It can accommodate 2 adults or 3 children.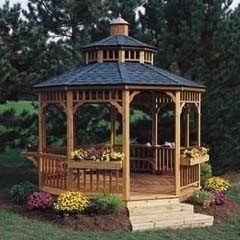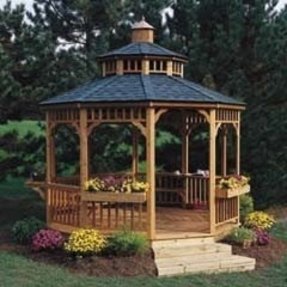 Do you want to build your own and unique cedar gazebo? It's an awesome idea! Trust me, you will get a lot of compliments.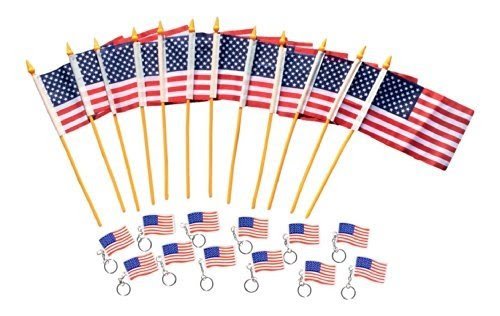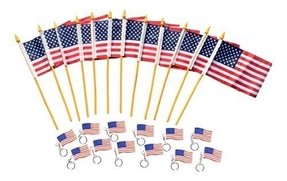 24-elements patriotic bundle consist of twelve american flags and twelve american flag key chains. Perfect for kids on events, memorial days and parades. It can also be use as a party decoration or gift.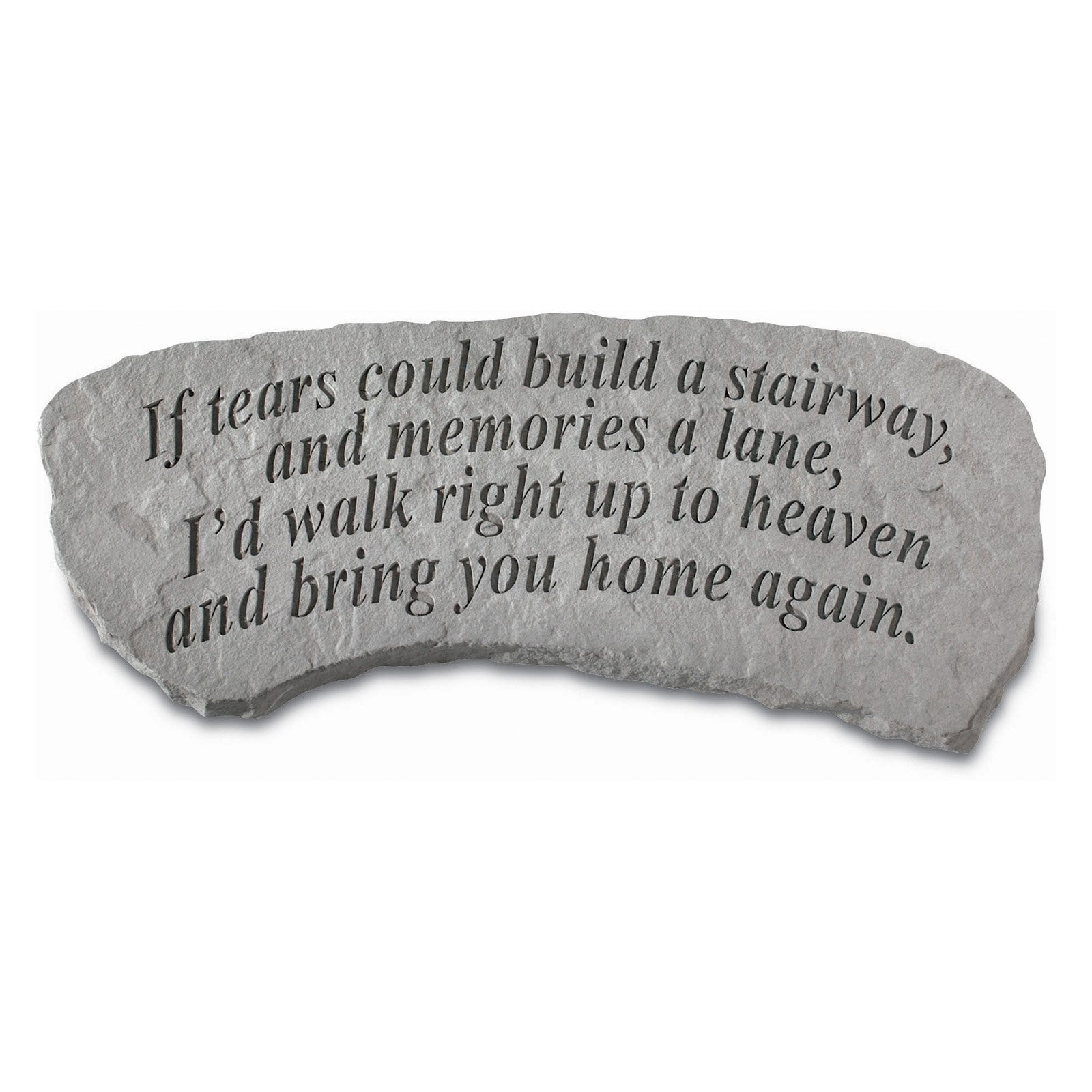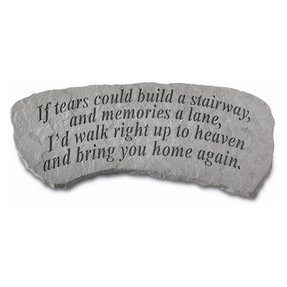 This kind of product is a high quality memorial bench with a sentence on its surface. It is a product that plays especially a decorative character. It also provides some space to sit and it assures stability and support.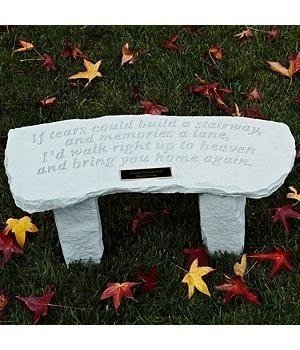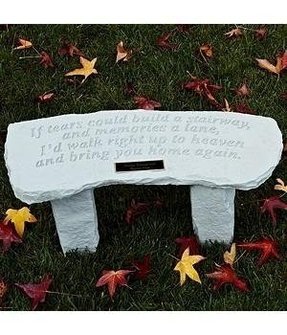 A perfect piece for parks, alleys, gardens. This small garden bench is decorated with an engraved inscription, making the whole much more appealing. And with its long-lasting construction, the bench won't crack or chip.