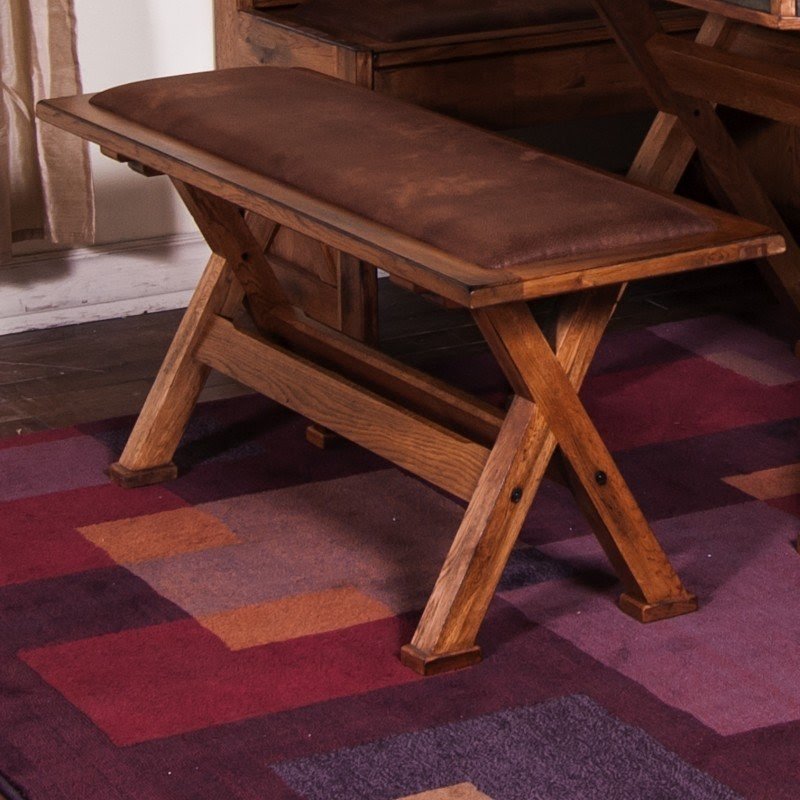 Sedona Wood Kitchen Bench
If you feel strong urge to spruce up your kitchen with rustic accessories, start with an inviting wooden bench. This one has a wooden X-shaped base with visible metal joints. The seat's padded with rubbed leather.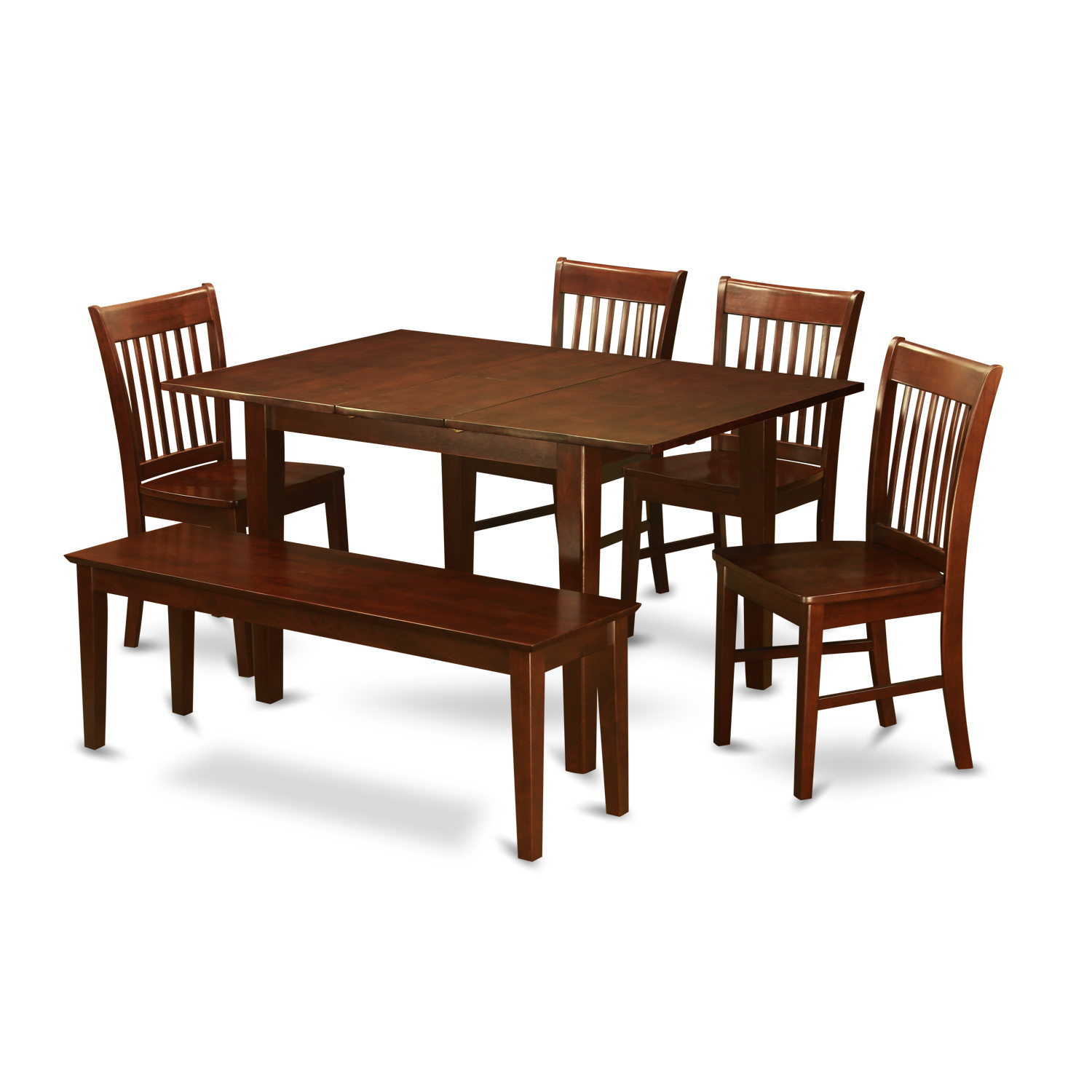 Milan 6 Piece Dining Set
It is a 6-piece dining room set that includes table, bench and four chairs. You can choose one of two upholstery options: non-upholstered wood and upholstered. This set fit to any style and décor.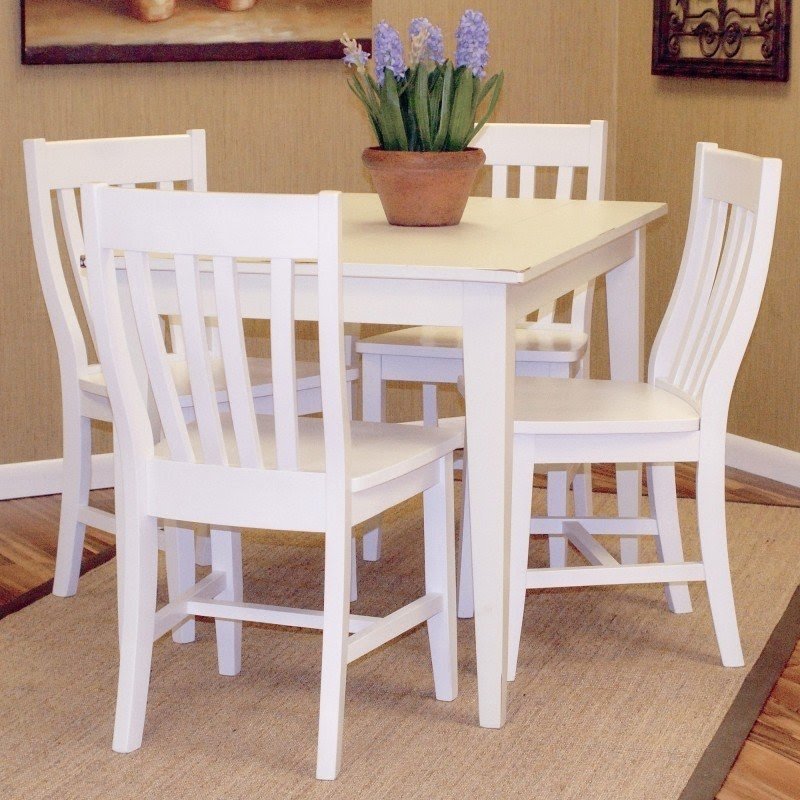 Prairie 5 Piece Dining Set
Cool rustic style set of wood with a bit distressed white finish. A compact table has a square top and angular tapered legs. A chair has straight front legs and gently curved back ones, a classic seat, a curved slatted-up back with a flat top rail.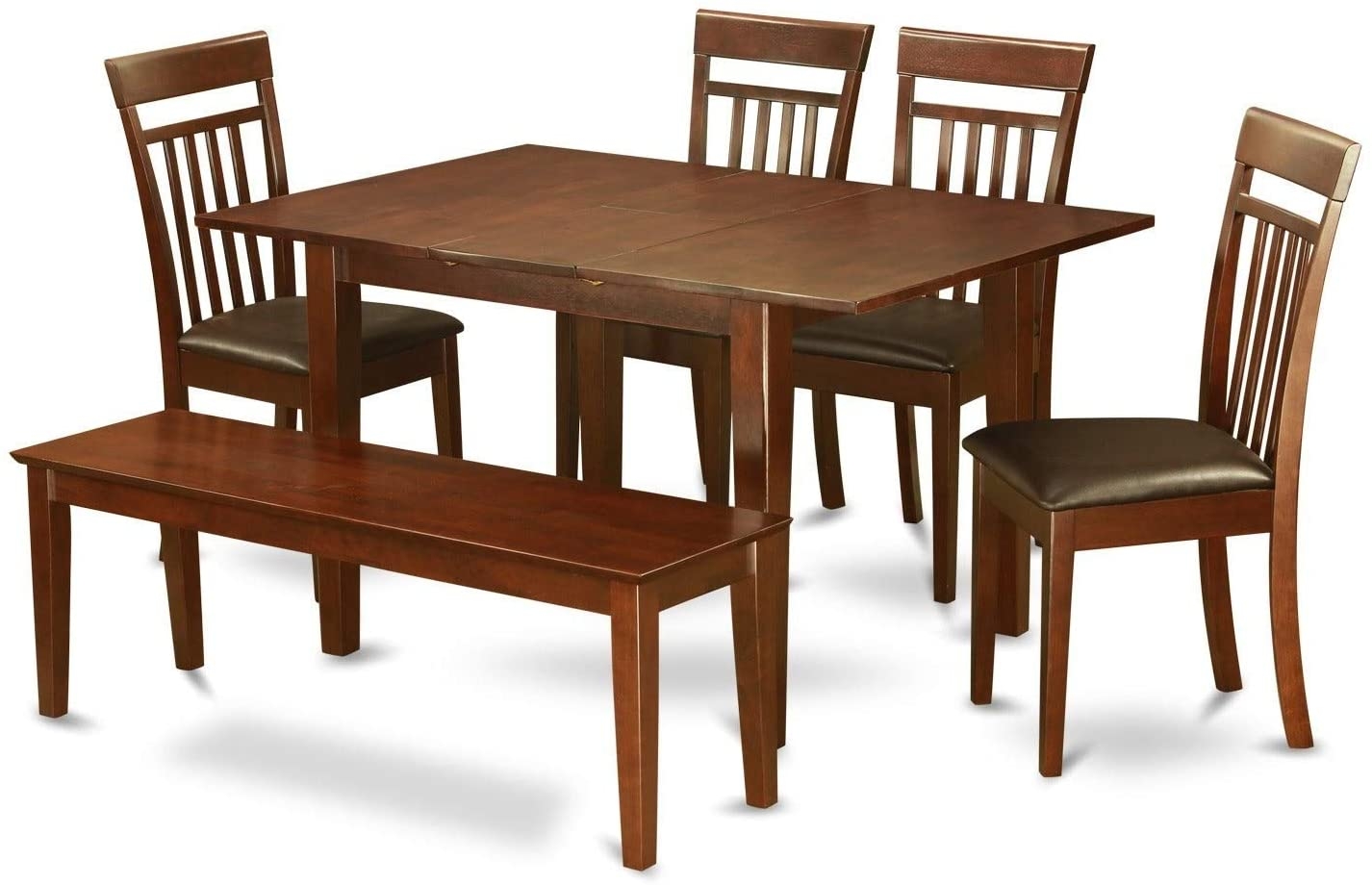 Milan 6 Piece Dining Set
This six piece dining set include large, rectangular shaped table, four chairs and a bench, all fully made of top quality wood with mahogany finish. Seats features thick cushions, padded and upholstered with dark bron leather.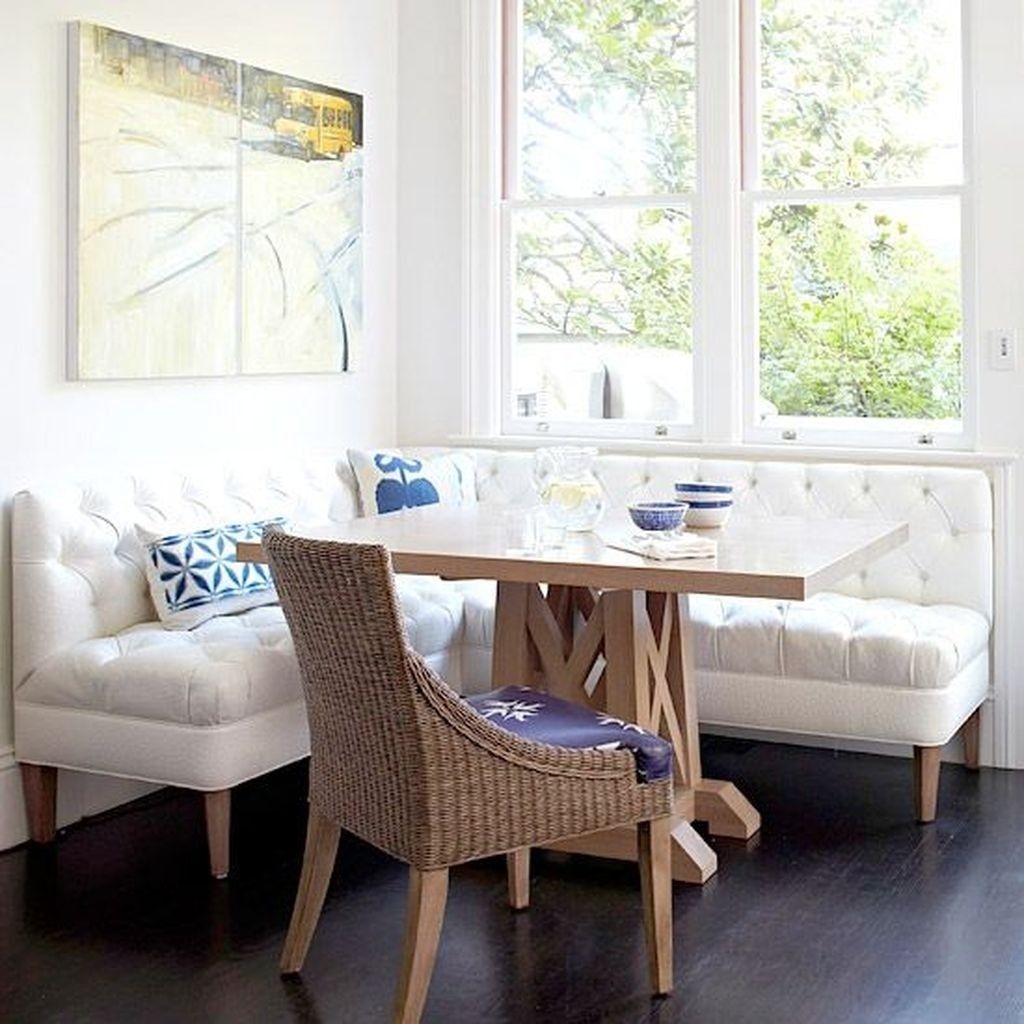 Corner bench designed for indoor use. It is mounted on wooden frame and upholstered with fabric. Seat and back is finished with decorative quilting. Great solution for the kitchen, dining room and more.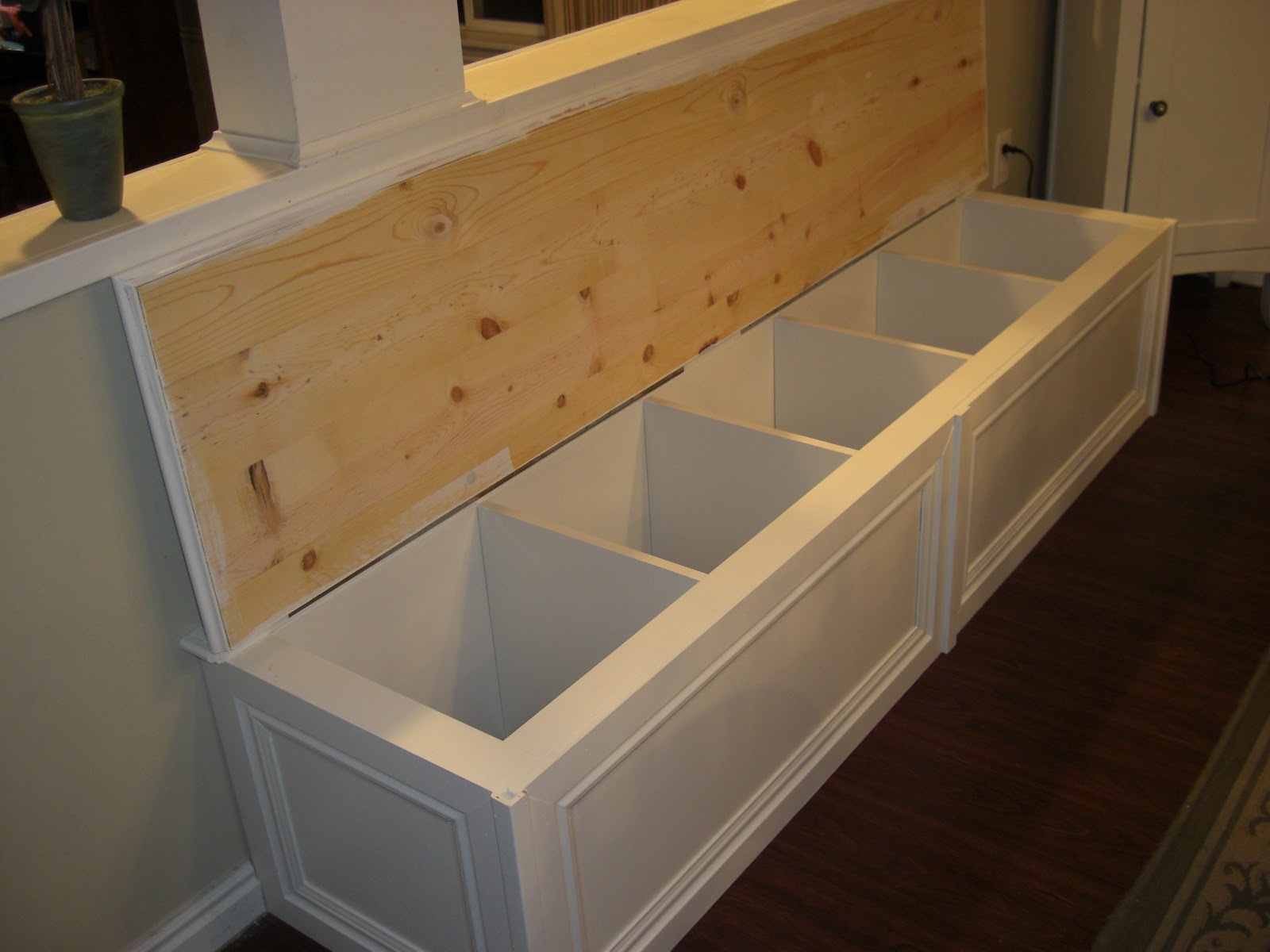 The House of Normandy: Turning an Ikea Bookcase into a Banquette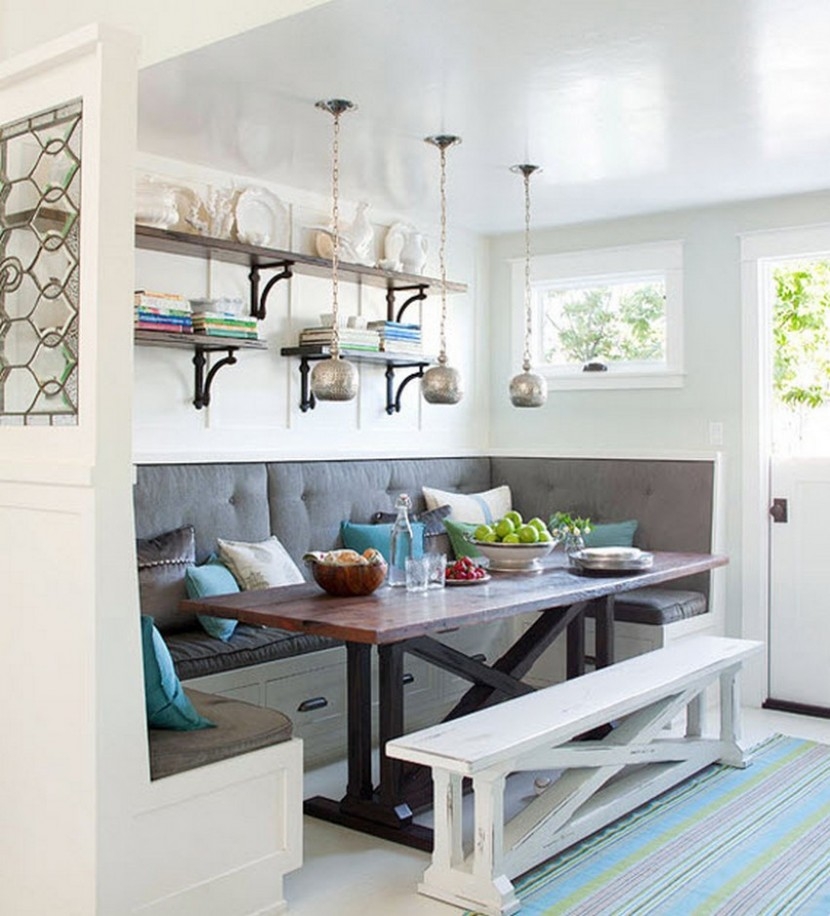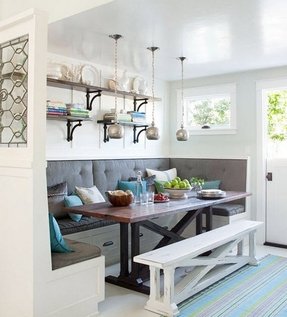 This charmingly designed kitchen corner is a beautiful blend of gray, white and turquoise accents. Practical wall shelves, Moroccan style lamps and functional drawers in the underfloor of the bench make the interior has many functions.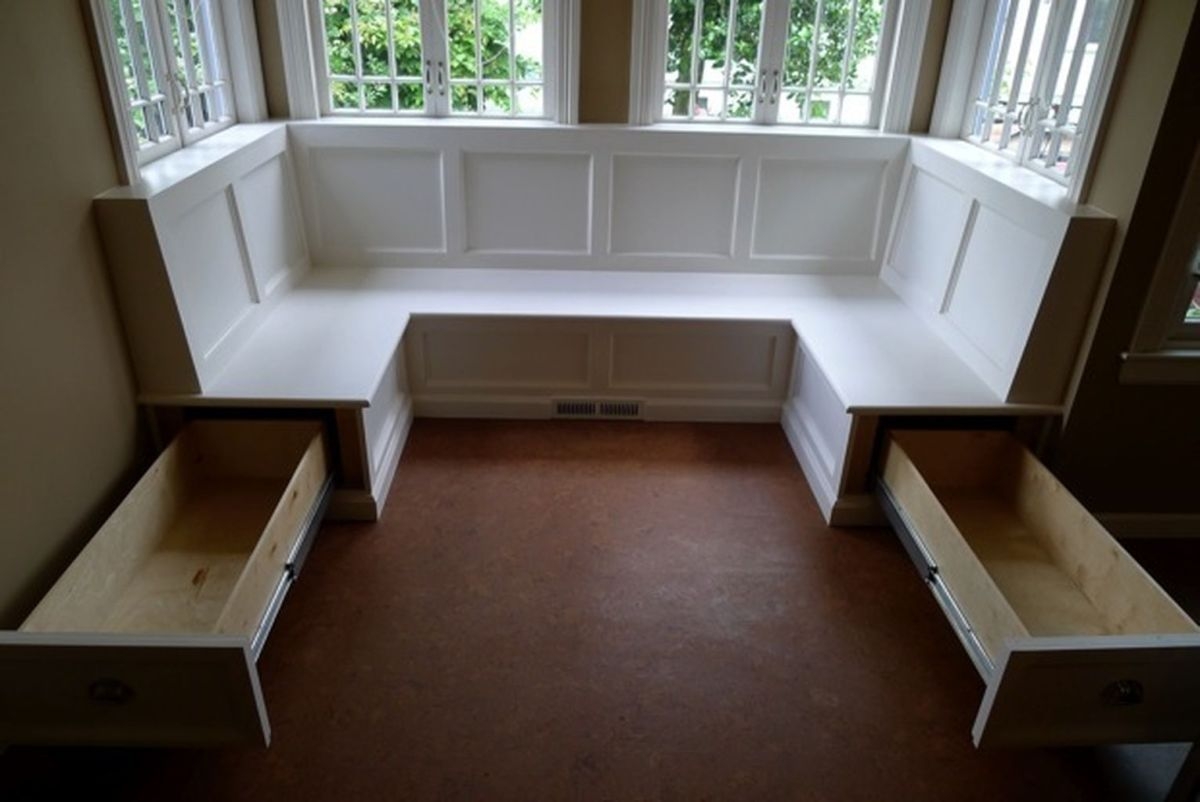 Comfortable and solid wooden bench suitable for breakfast nooks. This piece of furniture is finished in neutral white color, so it perfectly matches many interior stylizations. Lower areas of this bench offer practical storage space.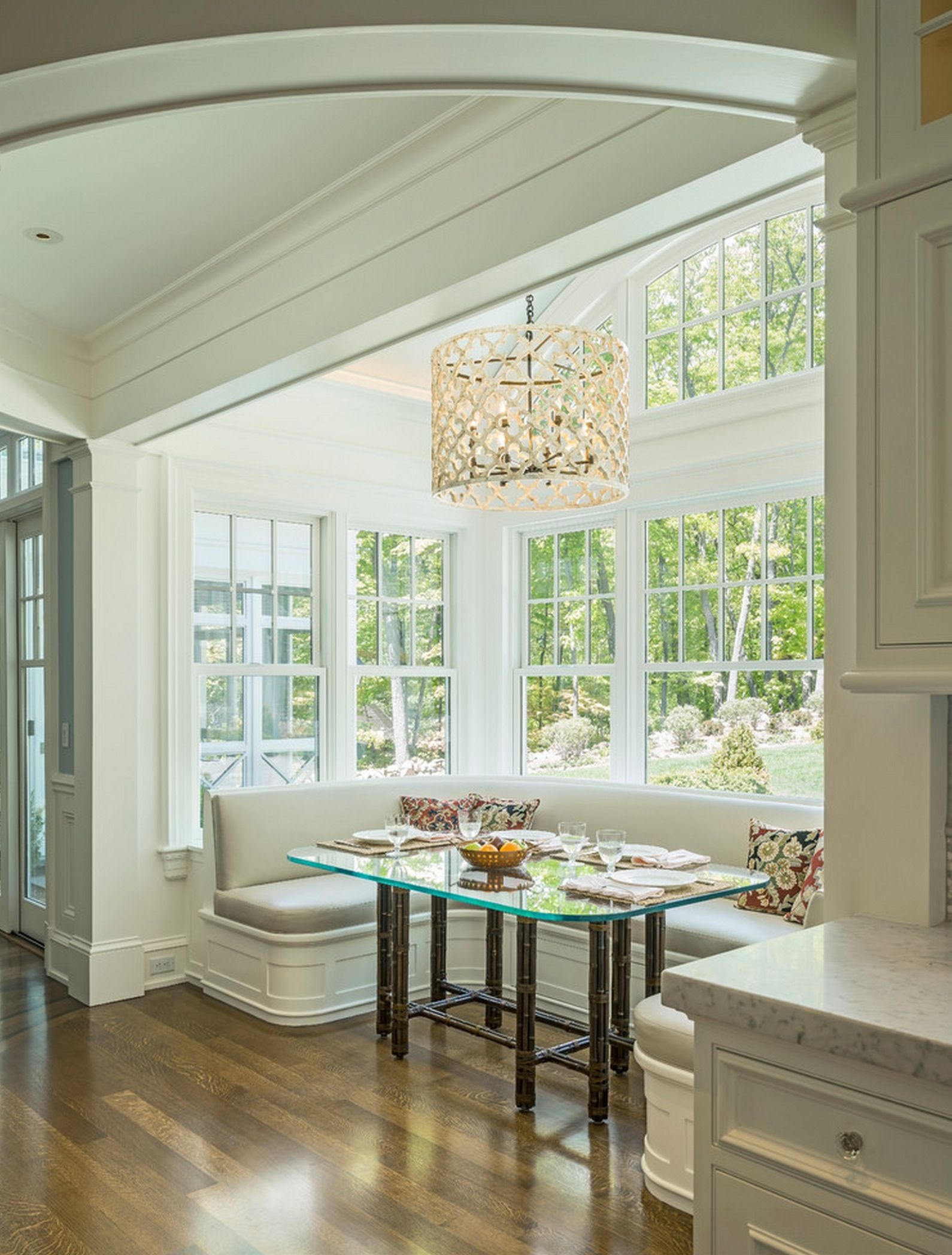 A lovely asset to living rooms and dining areas. The table boasts of elegance and sophistication, offering a clear glass, rectangle top with beveled edges, which is resting on 8 sturdy poles, strengthened by stretchers.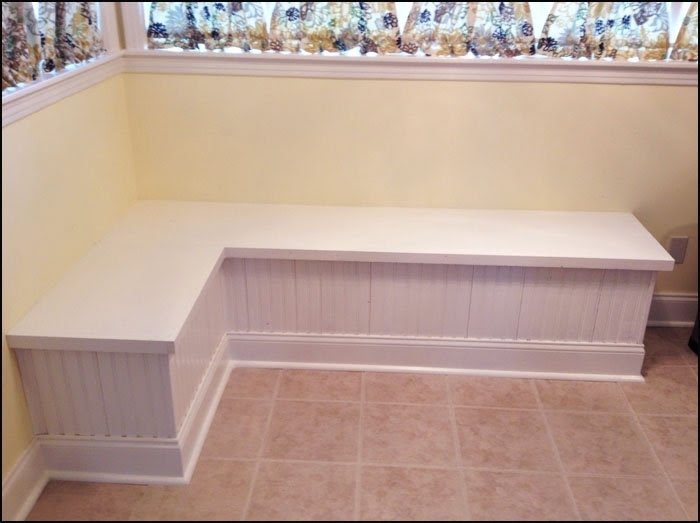 This corner bench will be perfect for kitchens that need space-saving solutions. Crafted of wood and painted in white, the bench presents a slatted design, a widened base, and a long seat with sharp edges.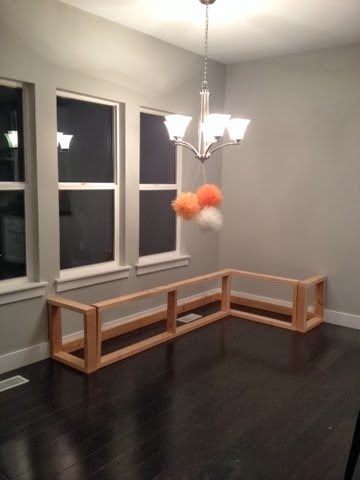 Project: Kitchen Nook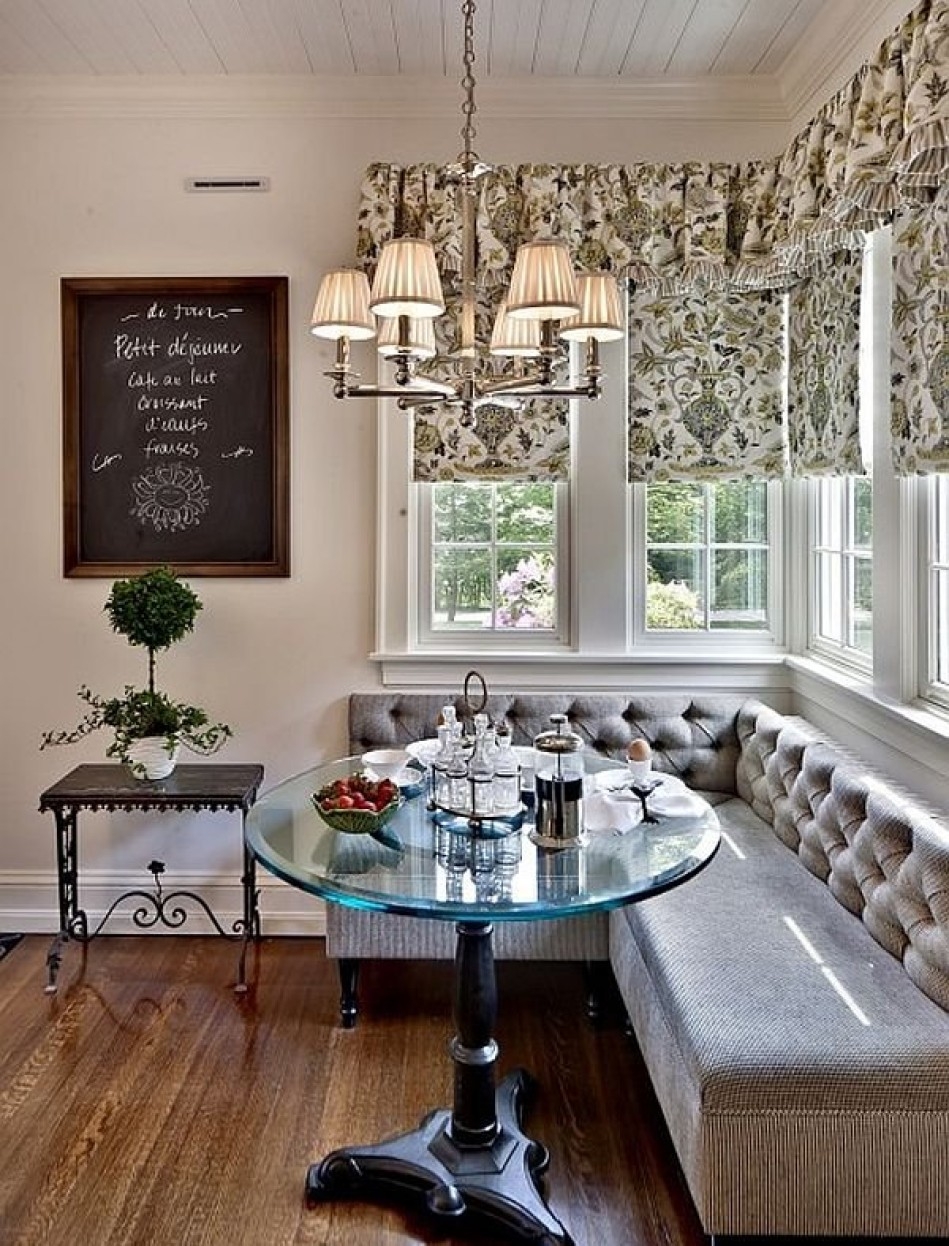 Vintage setup for a traditional dining room with a round, glass-topped dining table with a black, wooden base and a classy l-shaped bench with a tufted back cushion made in a gray color, nicely fitting the decorative drapes.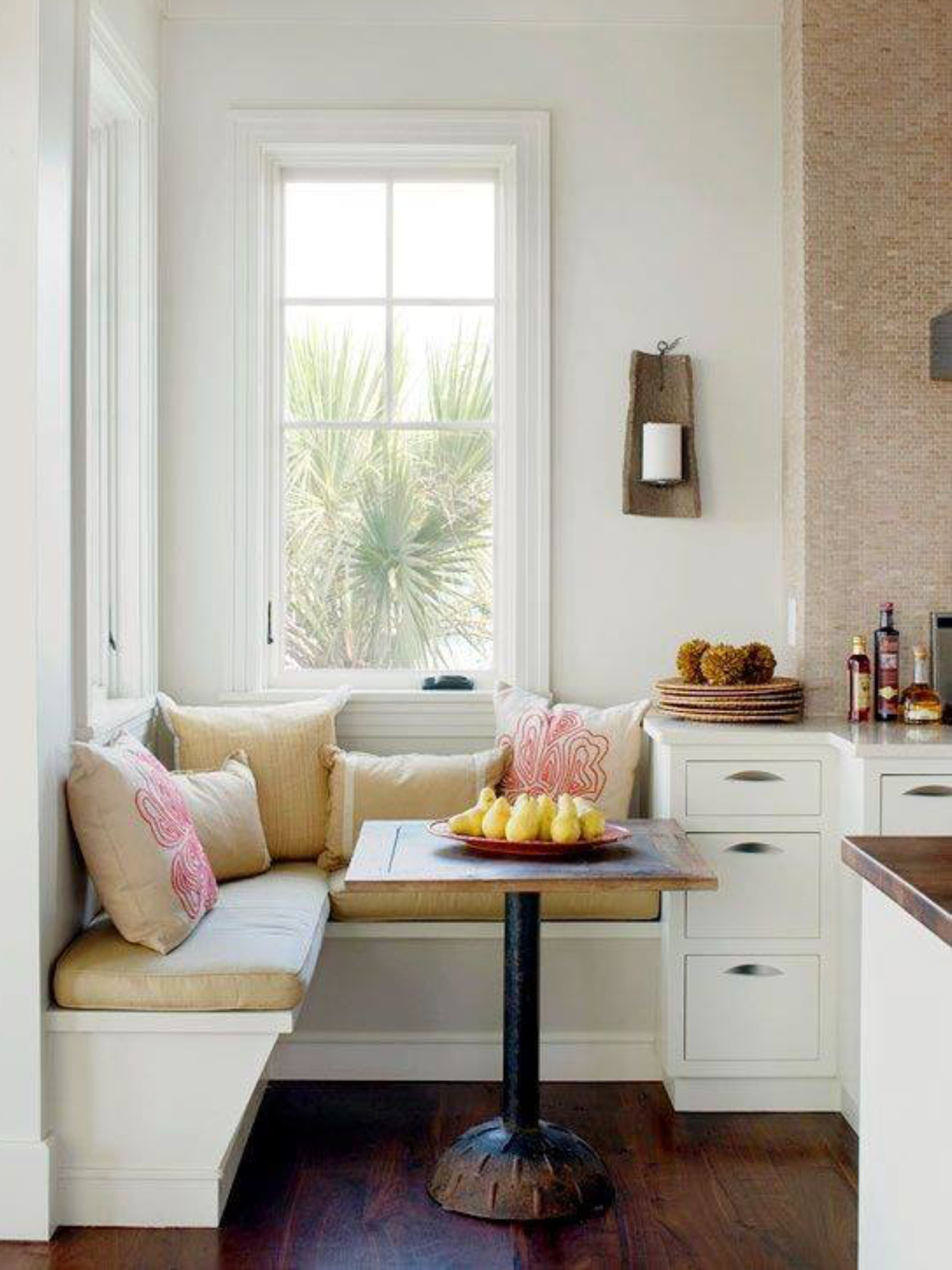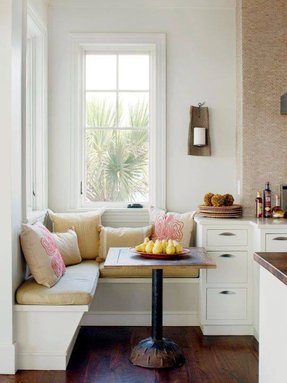 This kitchen breakfast nook will add a warm, cosy ambiance to any dining space. Cushioned with bright olive, it corresponds perfectly well to the white, wooden base.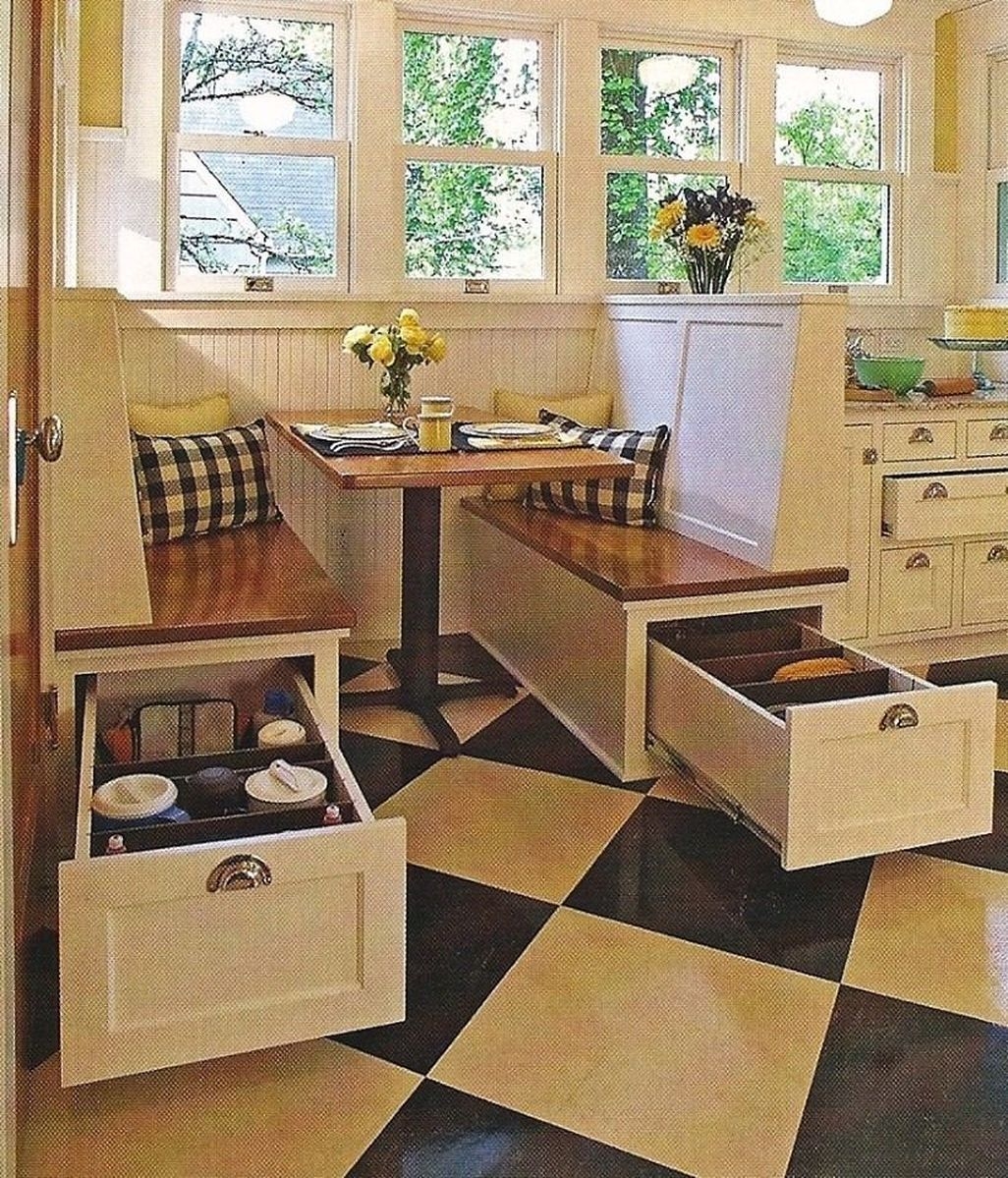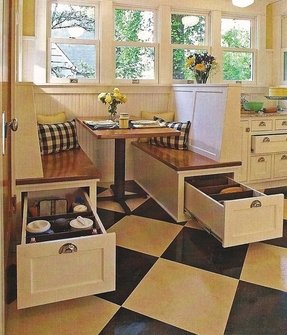 Classic bench fitted with capacious drawer for storing needed items. Construction is made of wood. It offers 2 places to sit. Great solution for the kitchen, dining room and more.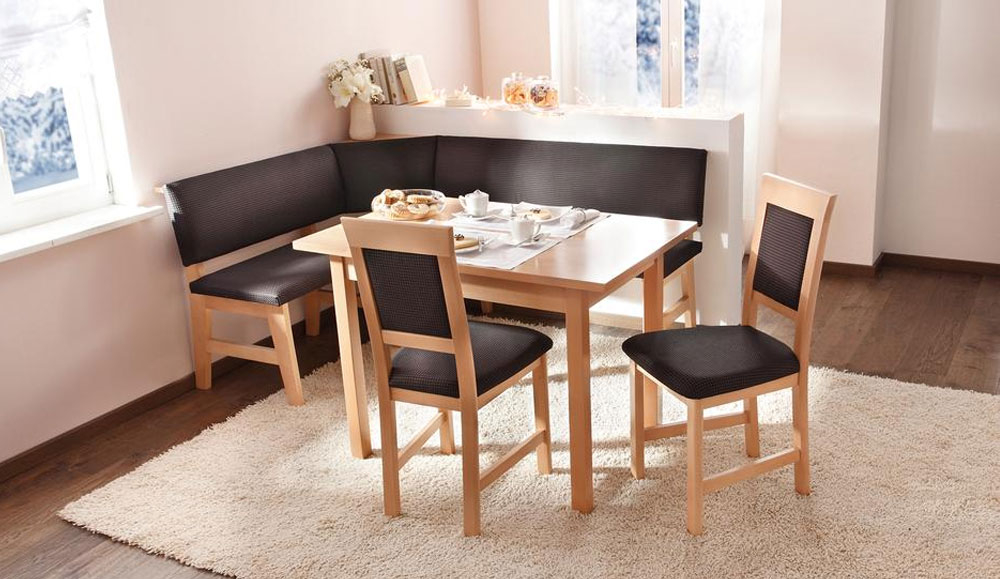 It is a corner bench that has got a contemporary deign, solid wood construction, black upholstery and padded seats, for enhanced comfort of use. It is a perfect addition for your kitchen and dining area.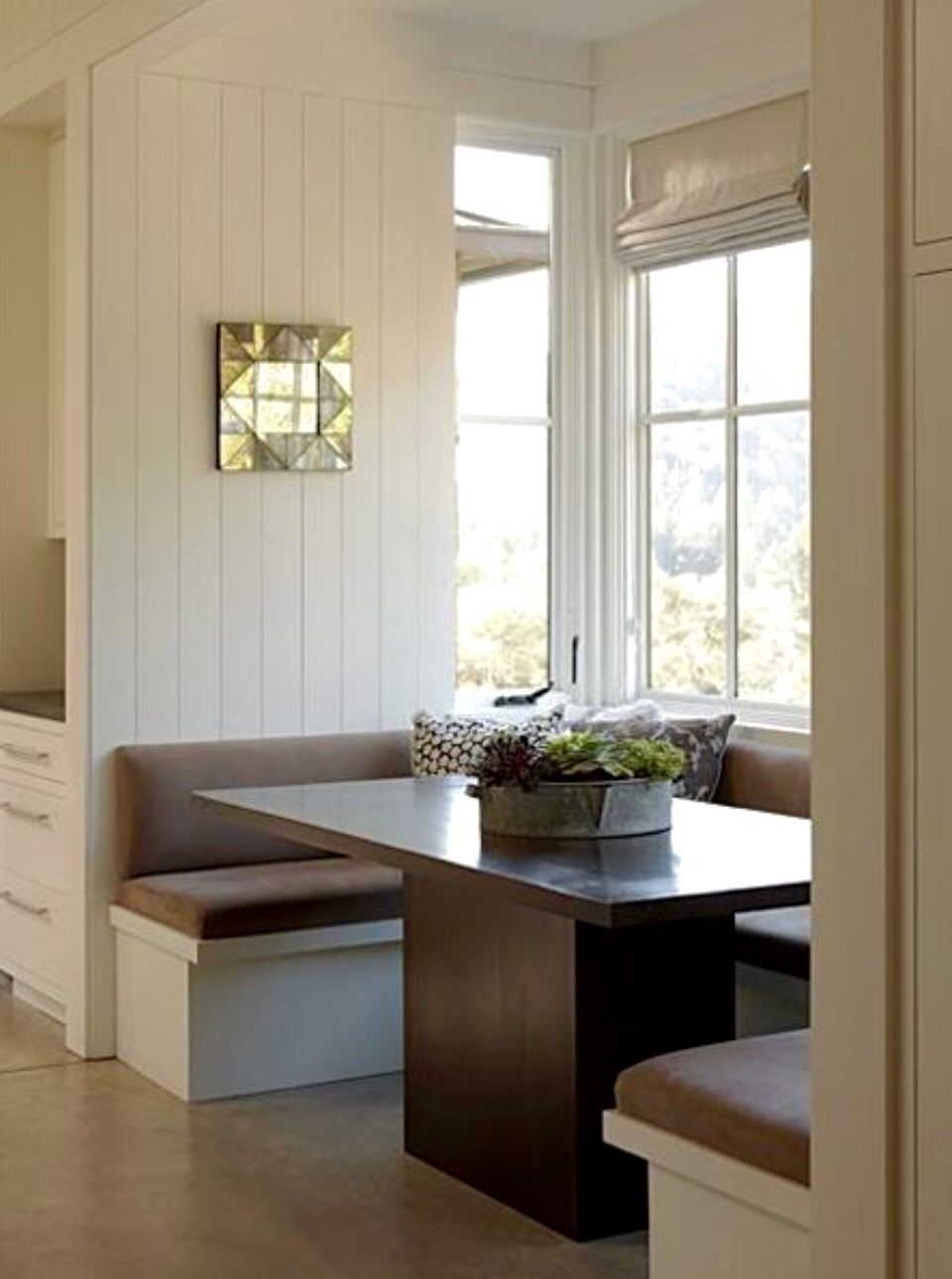 Dining table mounted on pedestal base. Construction is made of wood. Rectangular top has large usable surface. Suitable for residential and commercial premises.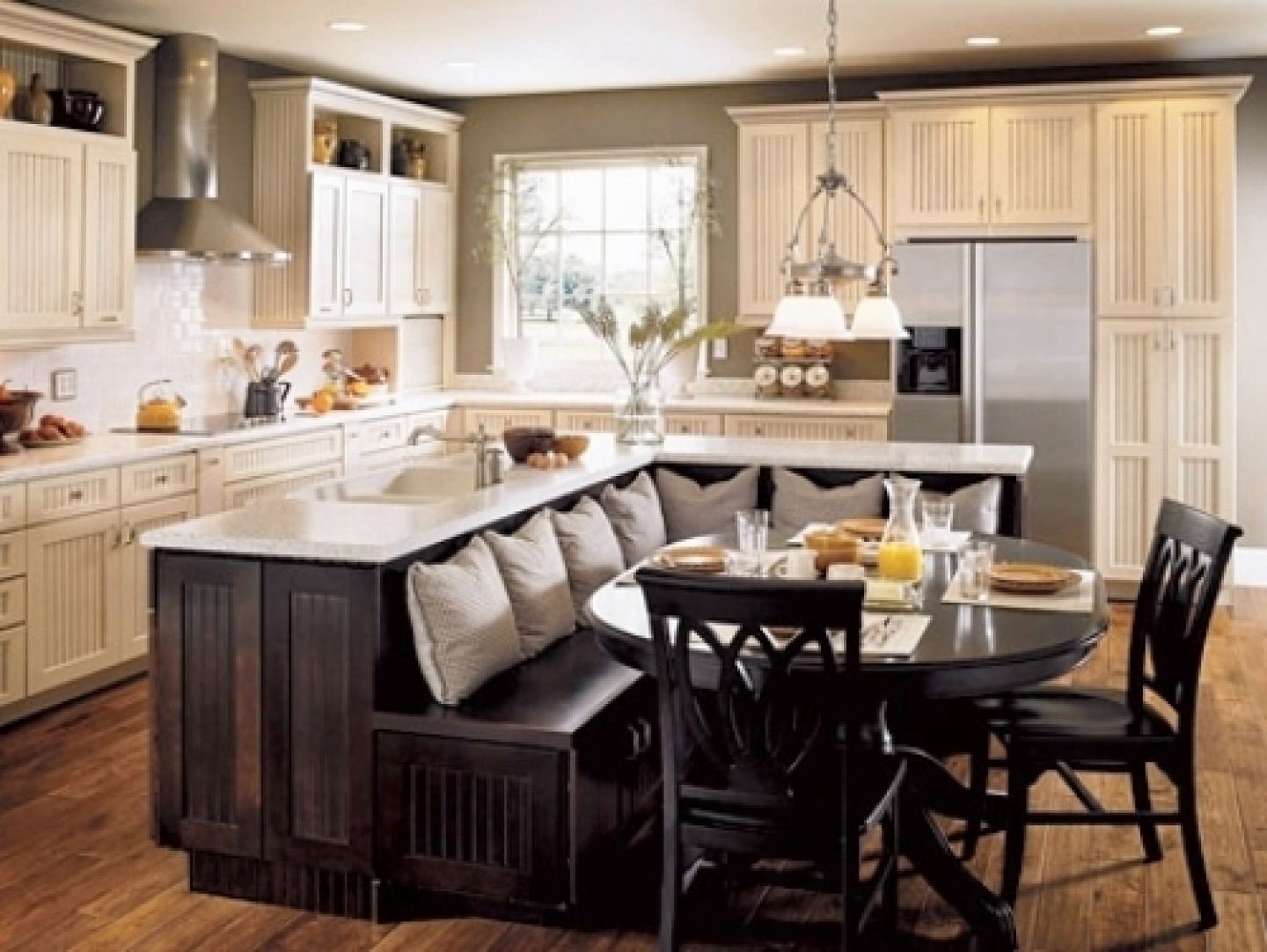 The idea of a couch like area in the kitchen has appealed to me for so many years. A kitchen is such a wonderful collective point in a house so why not make it comfy while your friends are around or whilst your cookies are burning?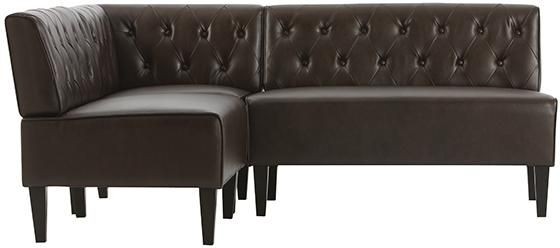 Combining functionality with modern elegance, this breakfast nook set offers pure comfort and bold styling. Set includes a corner unit, a short section and a long section crafted of Eucalyptus wood and bonded leather upholstery with diamond tufting.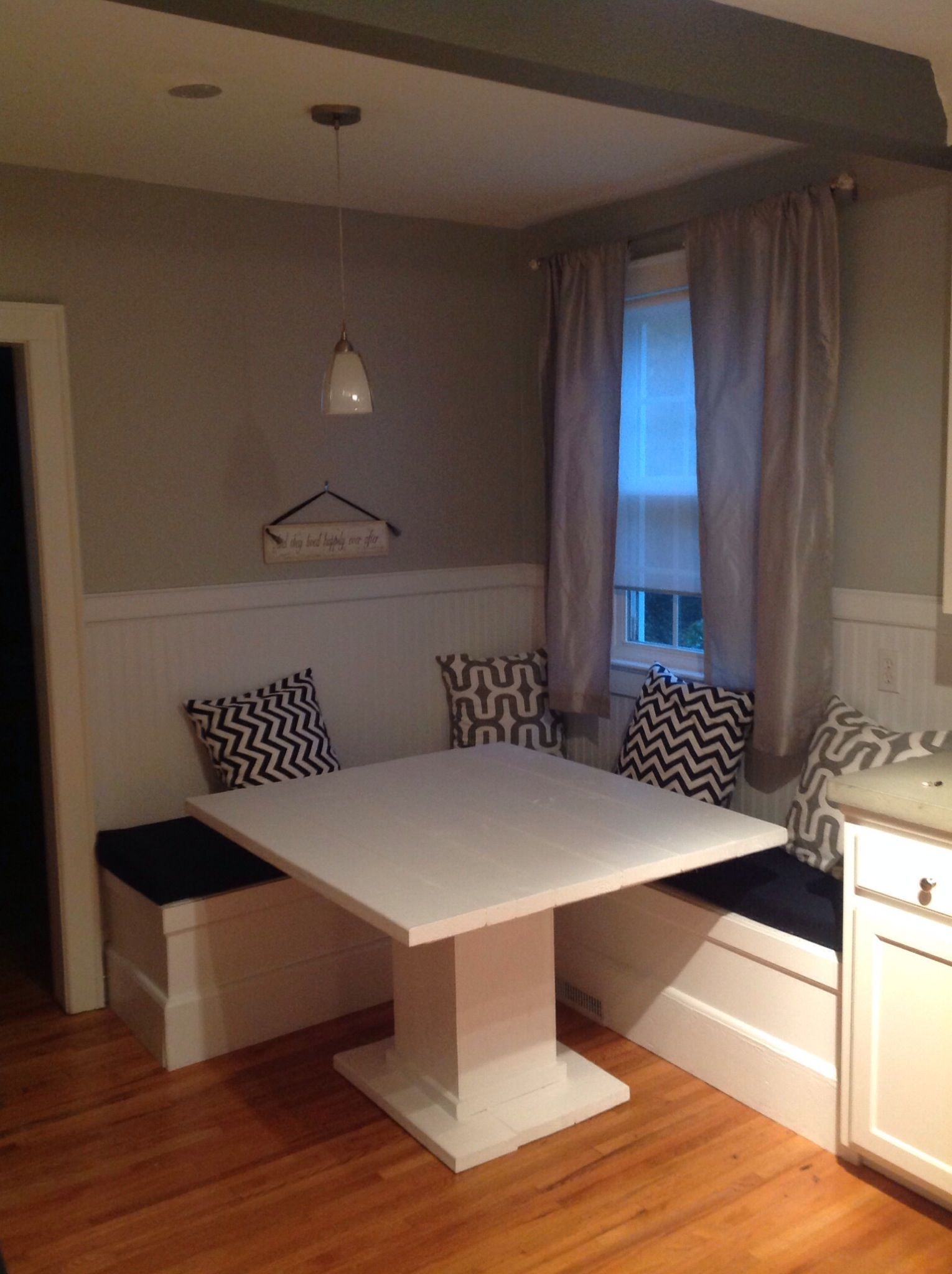 An atmosphere of coziness permeates this lovable custom corner breakfast nook with white square table and black fabric padded benches hiding storage space in their bases. Zig zag print monochrme pillows finish off the decor.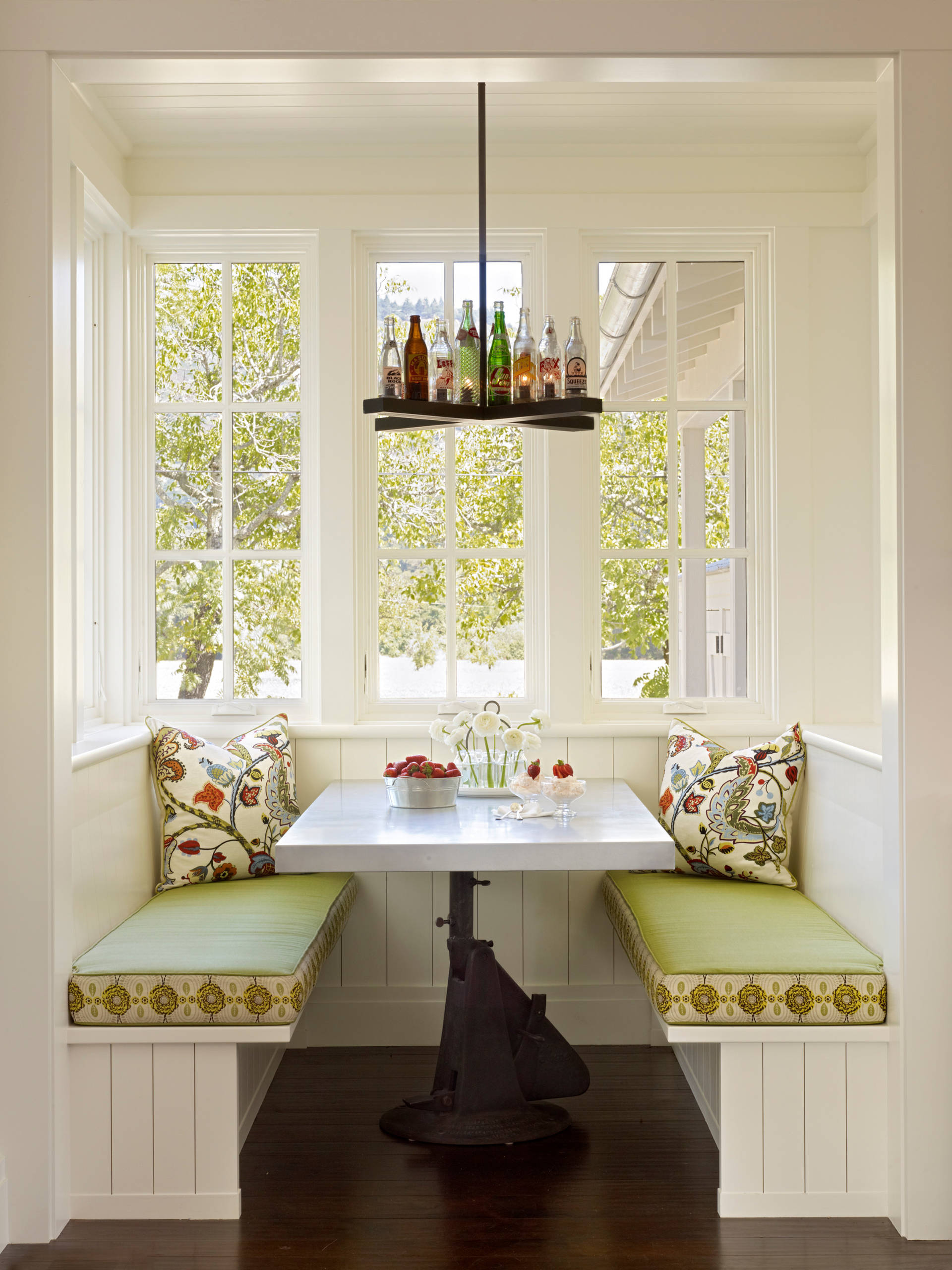 Calistoga Farm House by Total Concepts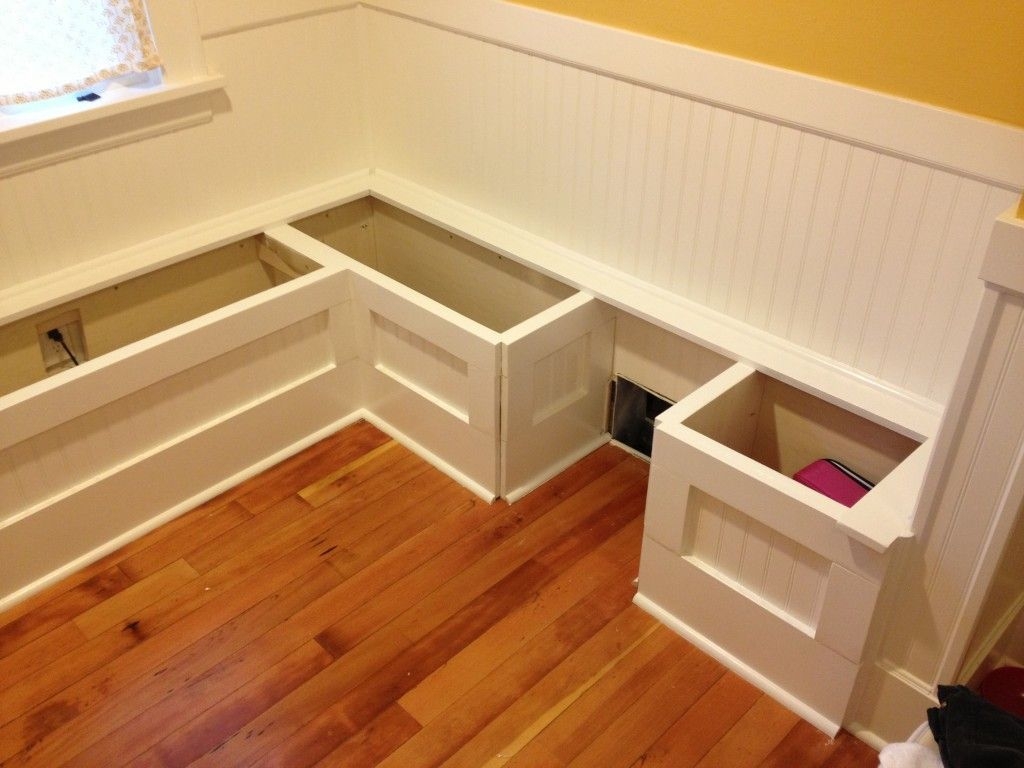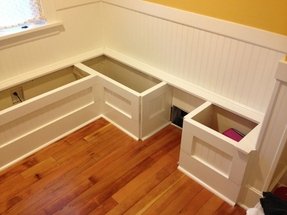 How To Build Breakfast Nook Bench Kitchen nook storage benches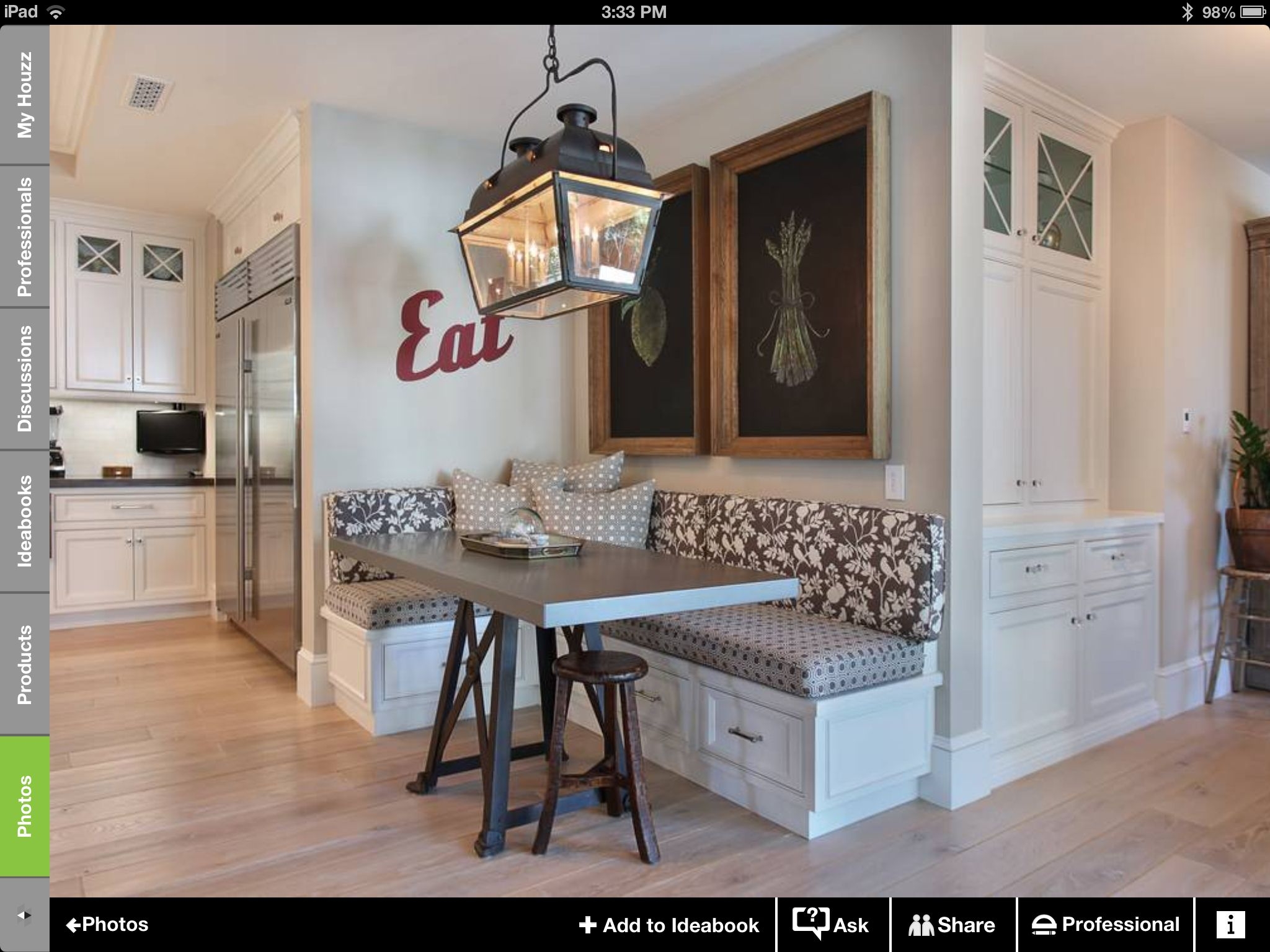 Build a Corner Booth Seating | Interior Photos of Kitchens and Breakfast Nooks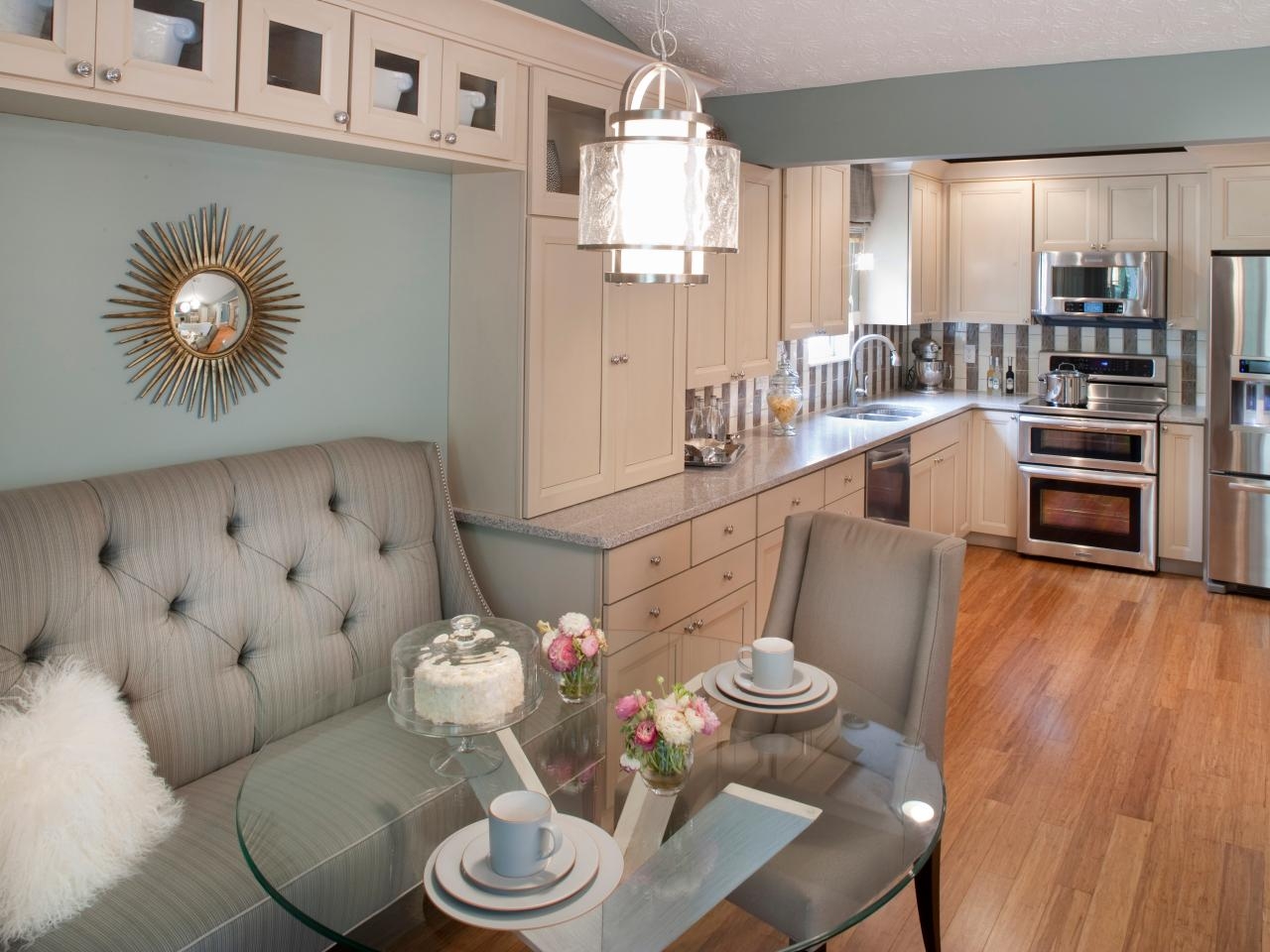 Indoor bench upholstered with soft fabric and finished with decorative quilting on the back. It is mounted on wooden frame. Perfect as additional seating in the kitchen, dining room and others interiors according to taste.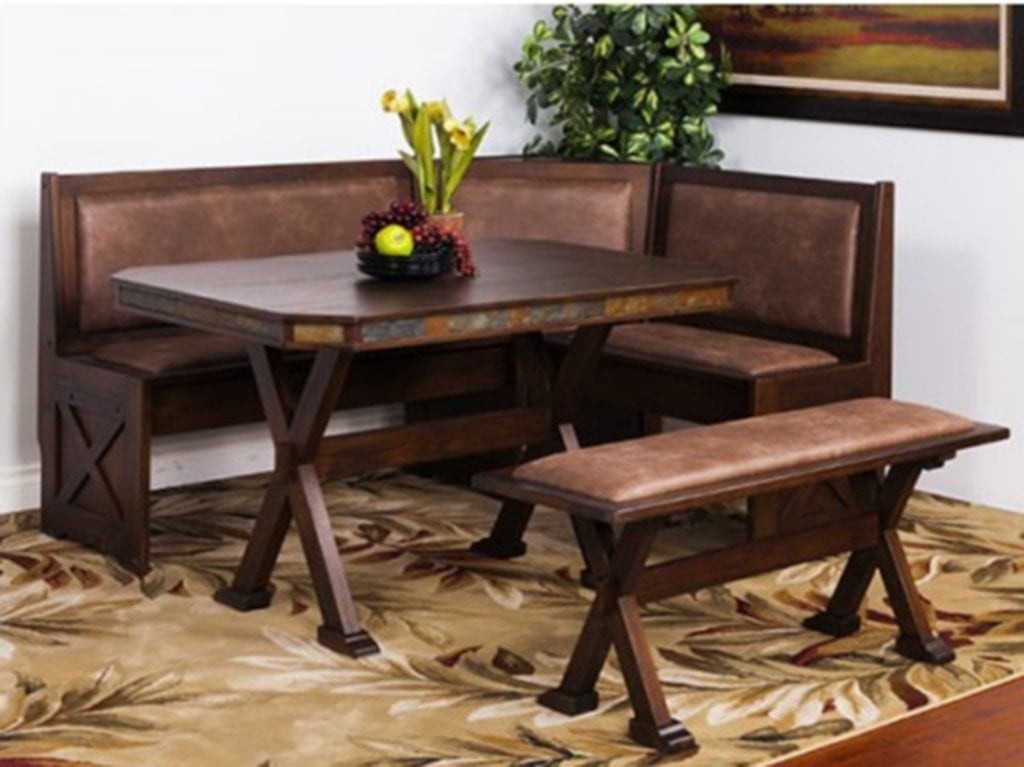 This set includes pieces of furniture used to create breakfast nooks. A table has got a solid top and benches feature soft padded seats. The corner bench is also equipped with padded backrest for enhanced comfort and support.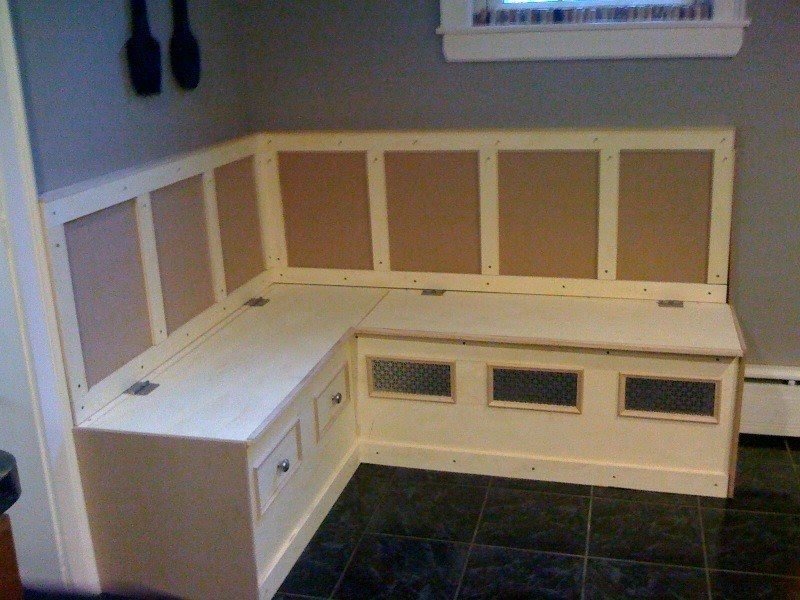 is for Nook! Breakfast Nook!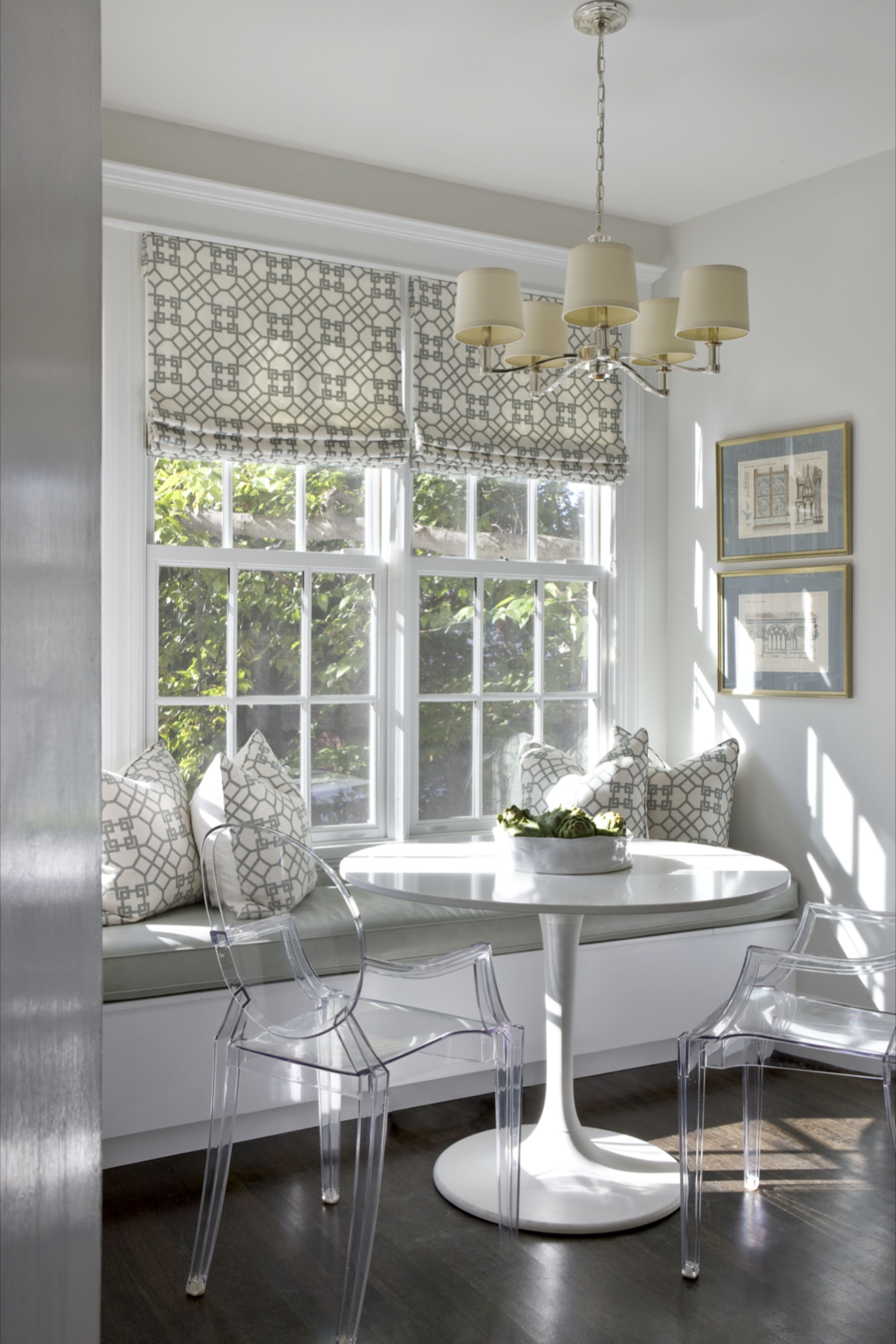 Dining Nooks -- great use of space. Looks airy and uncrowded. The ghost chairs were made for spaces like this.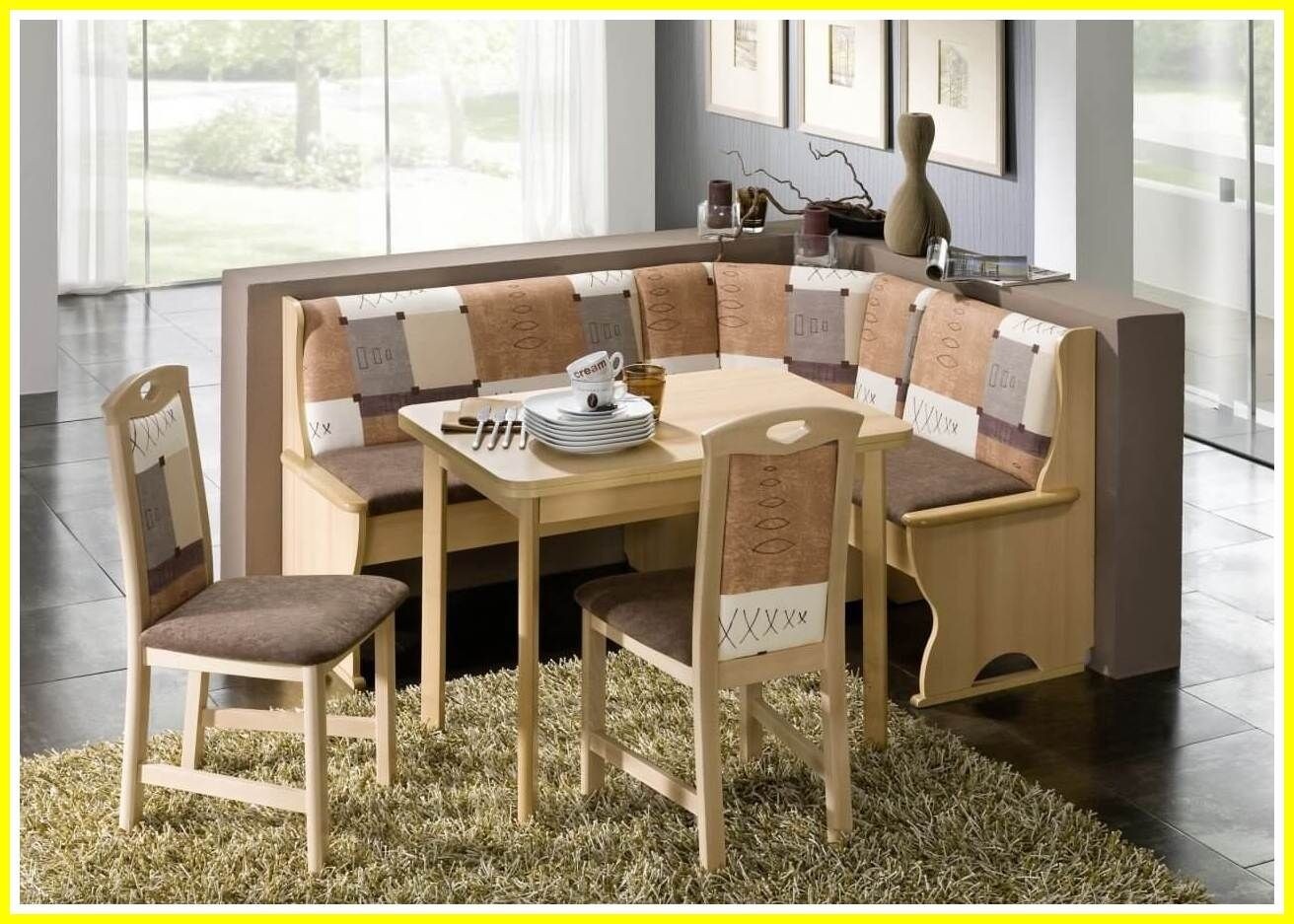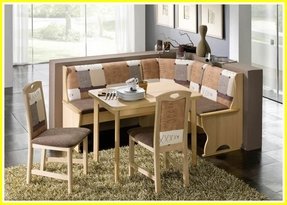 An important place for storage can be obtained by using a built-in bench of beech solid wood in a bright shade, which together with a table and chairs creates a beautiful breakfast nook benches set. In the middle contains open space.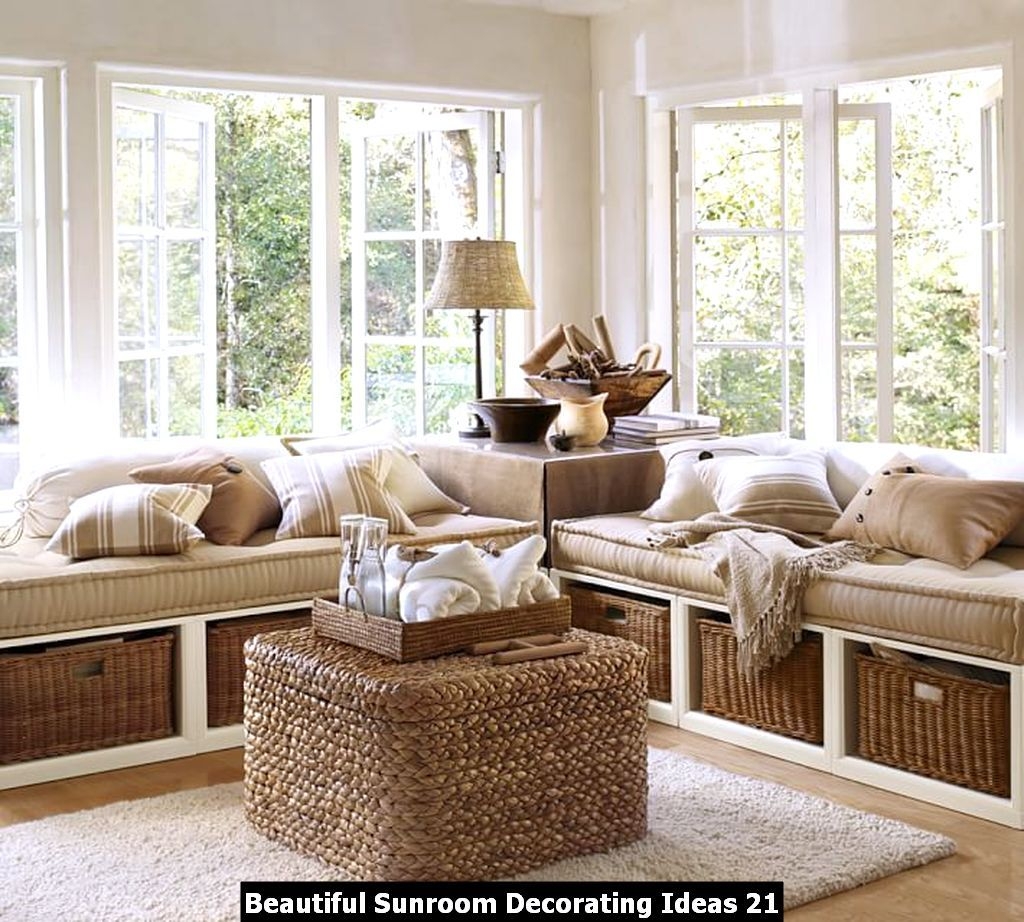 Breakfast Nook Plans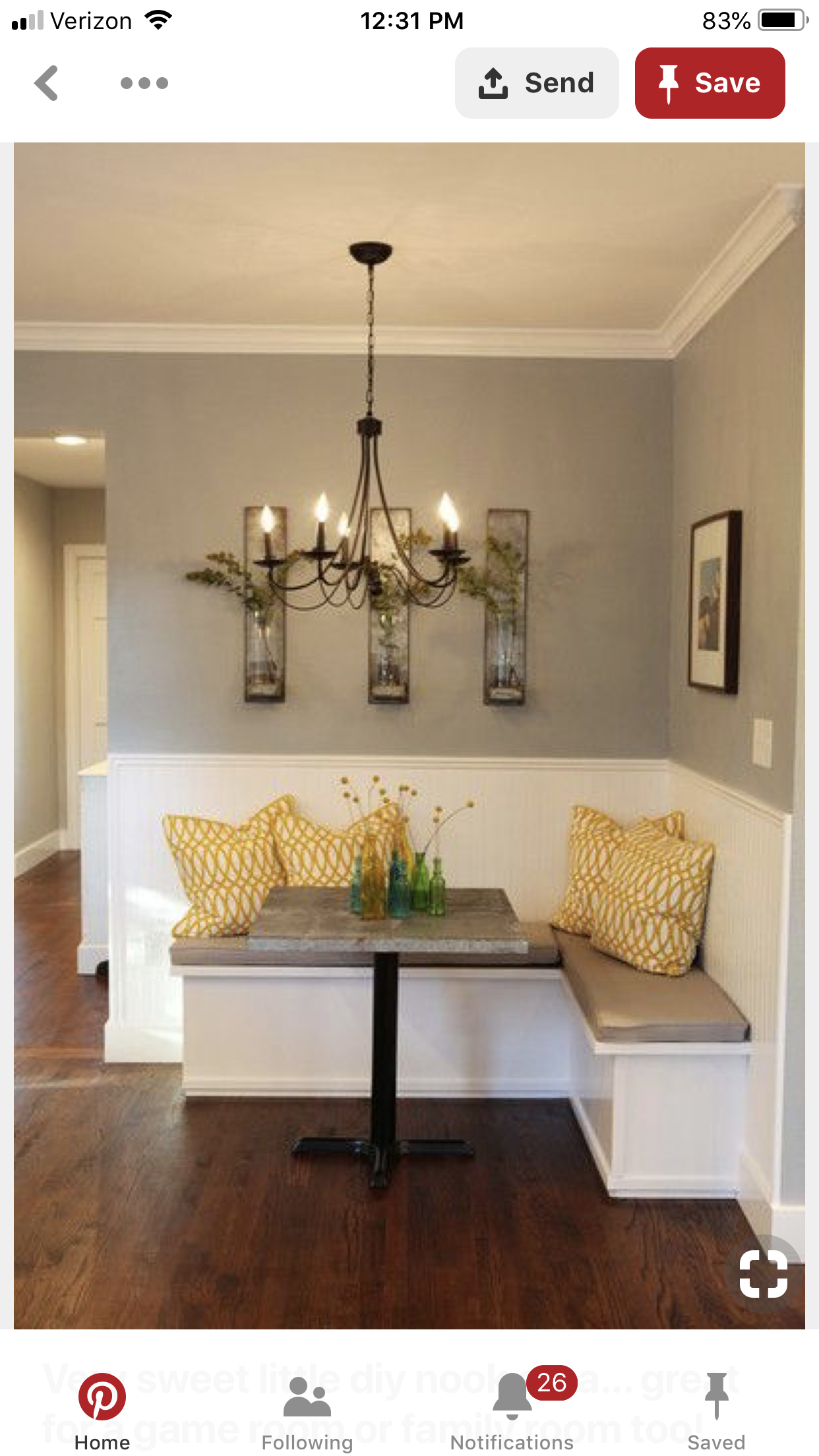 Elegant corner kitchen benches and a table. Benches are white and have top and bottom moulding. Rectangular padded cushions have beige covers. A table has a square marble-like top. Its black base has a central column and a cross-like foot.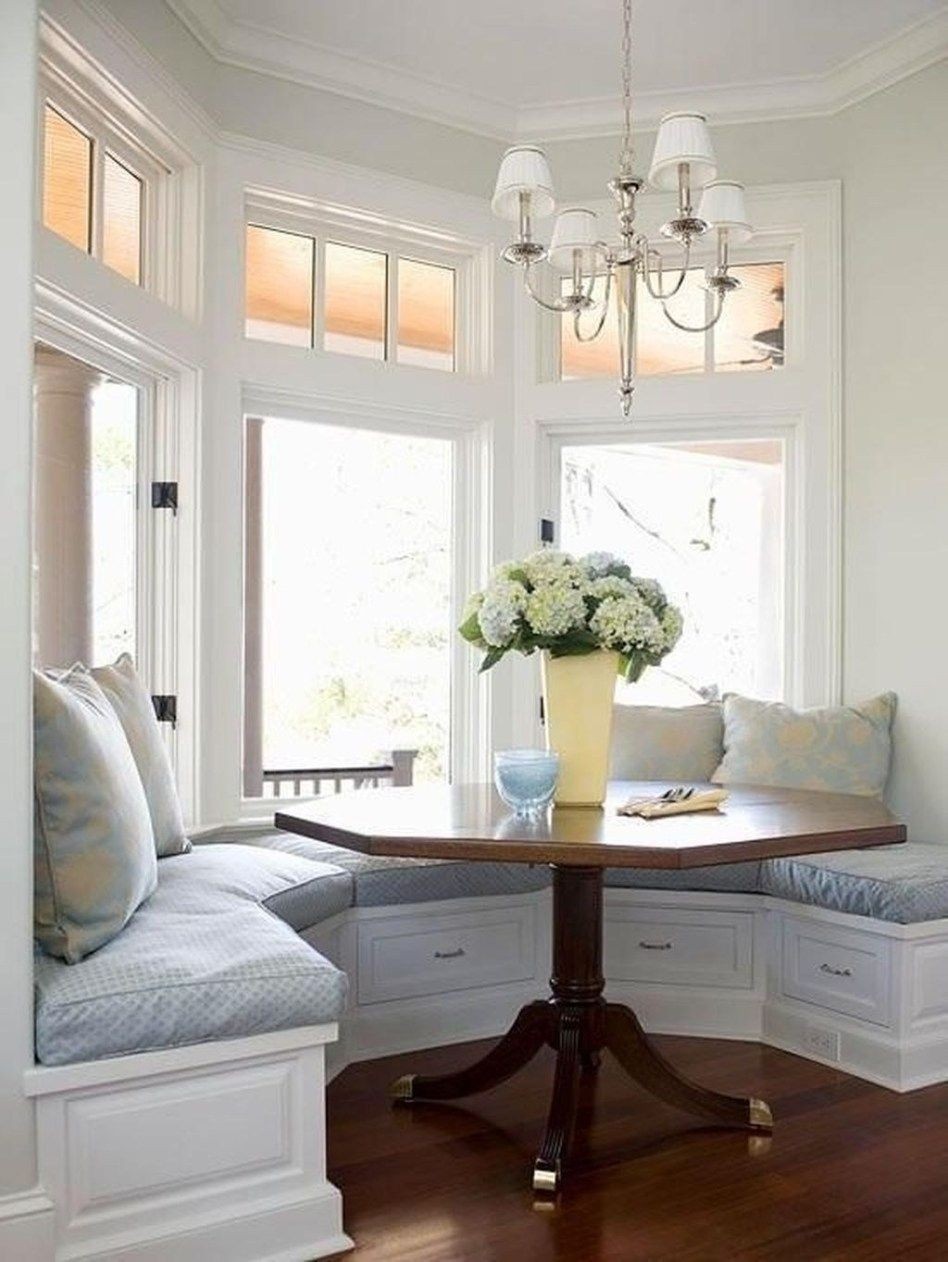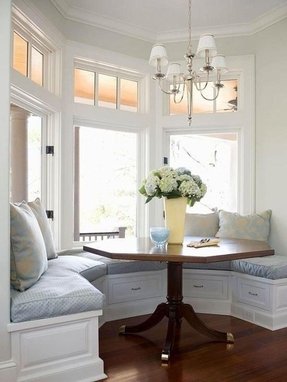 A charming corner that is characterized by an elegant dining table in an octagonal shape and a comfortable built-in bench with cushioned seats and storage drawers underneath. Must be great to sit there with a cup of tea an look outside the window.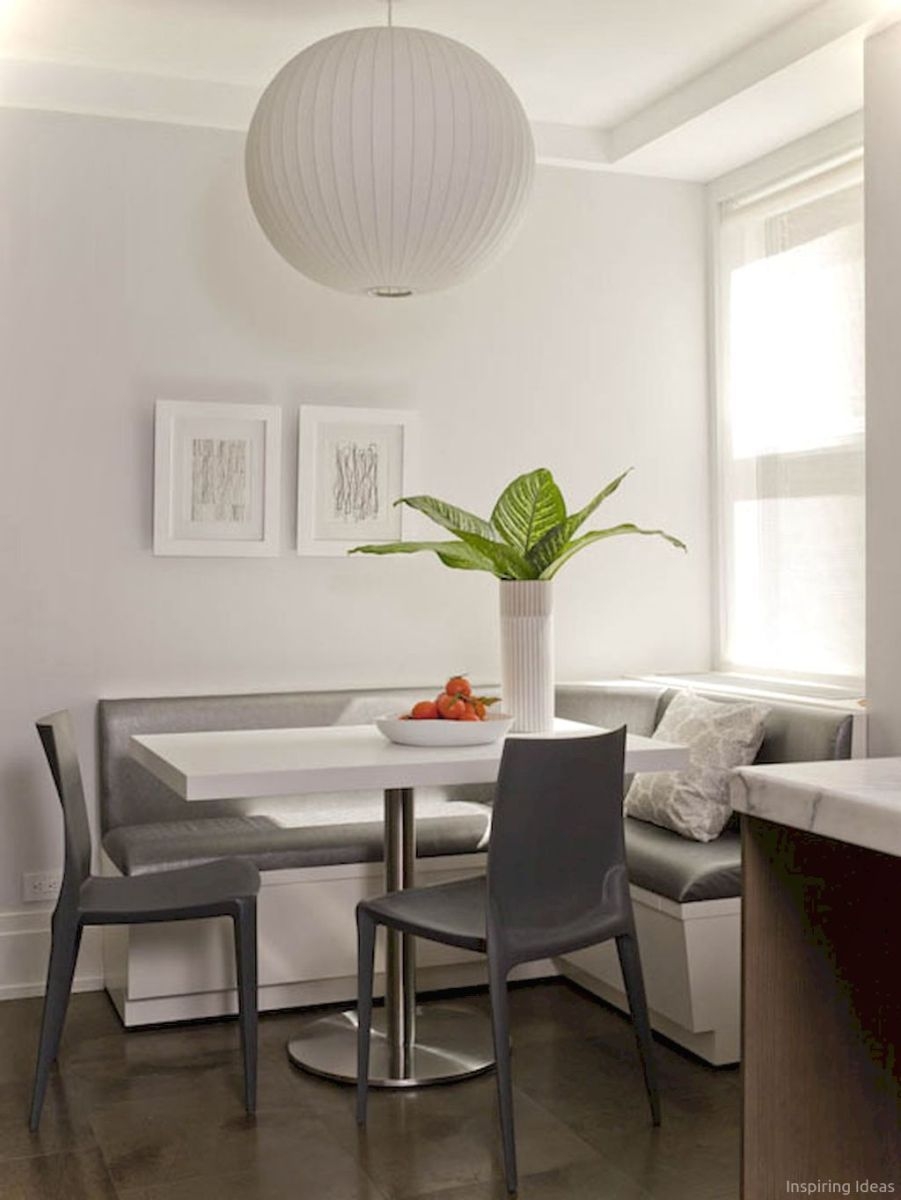 amie weitzman's gray breakfast nook with built in bench banquette ...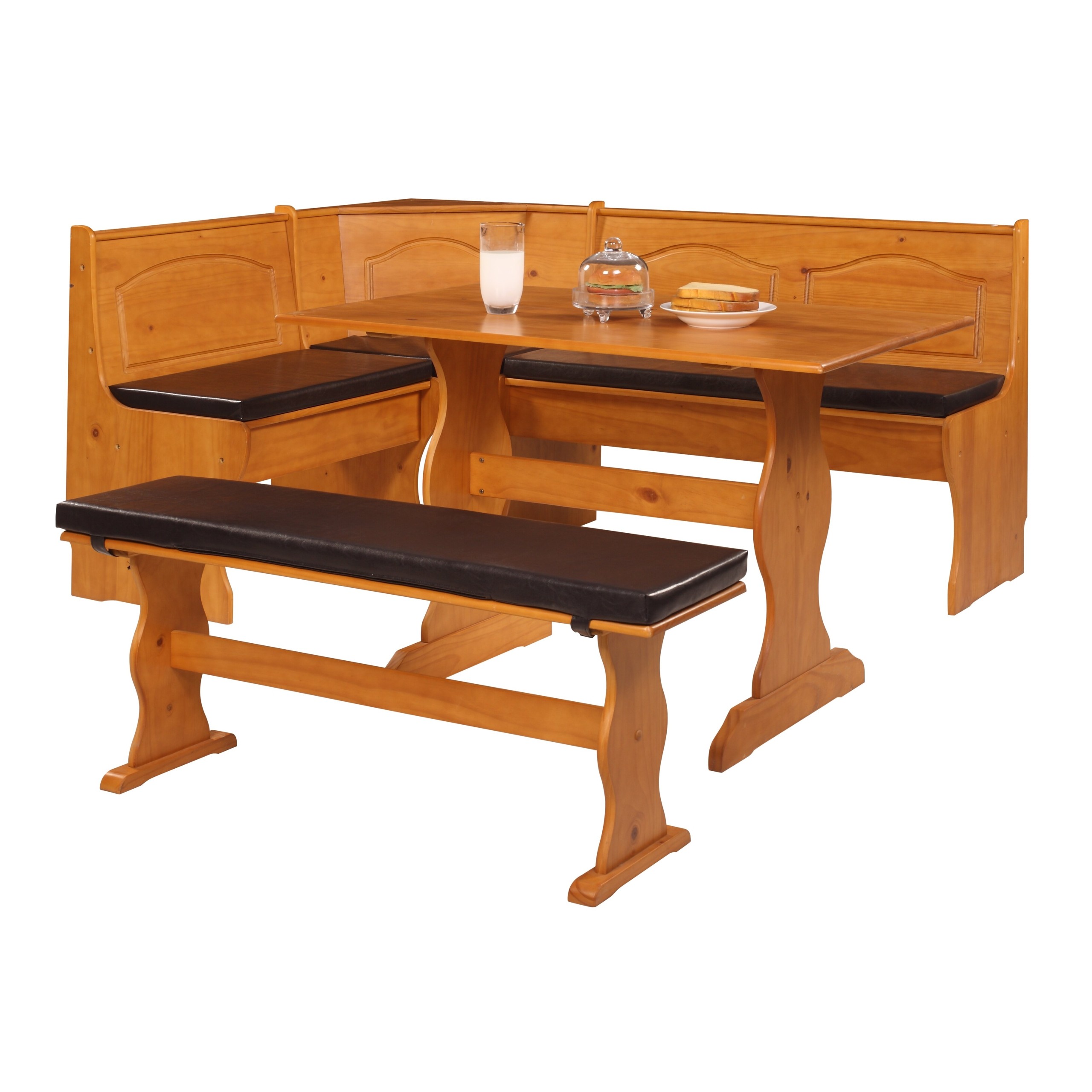 Are you dreaming of an extraordinary comfort and intriguing design in your kitchen? Then, this amazing, stylish and functional cushion set is gonna perfectly fulfill all of your expectations and needs.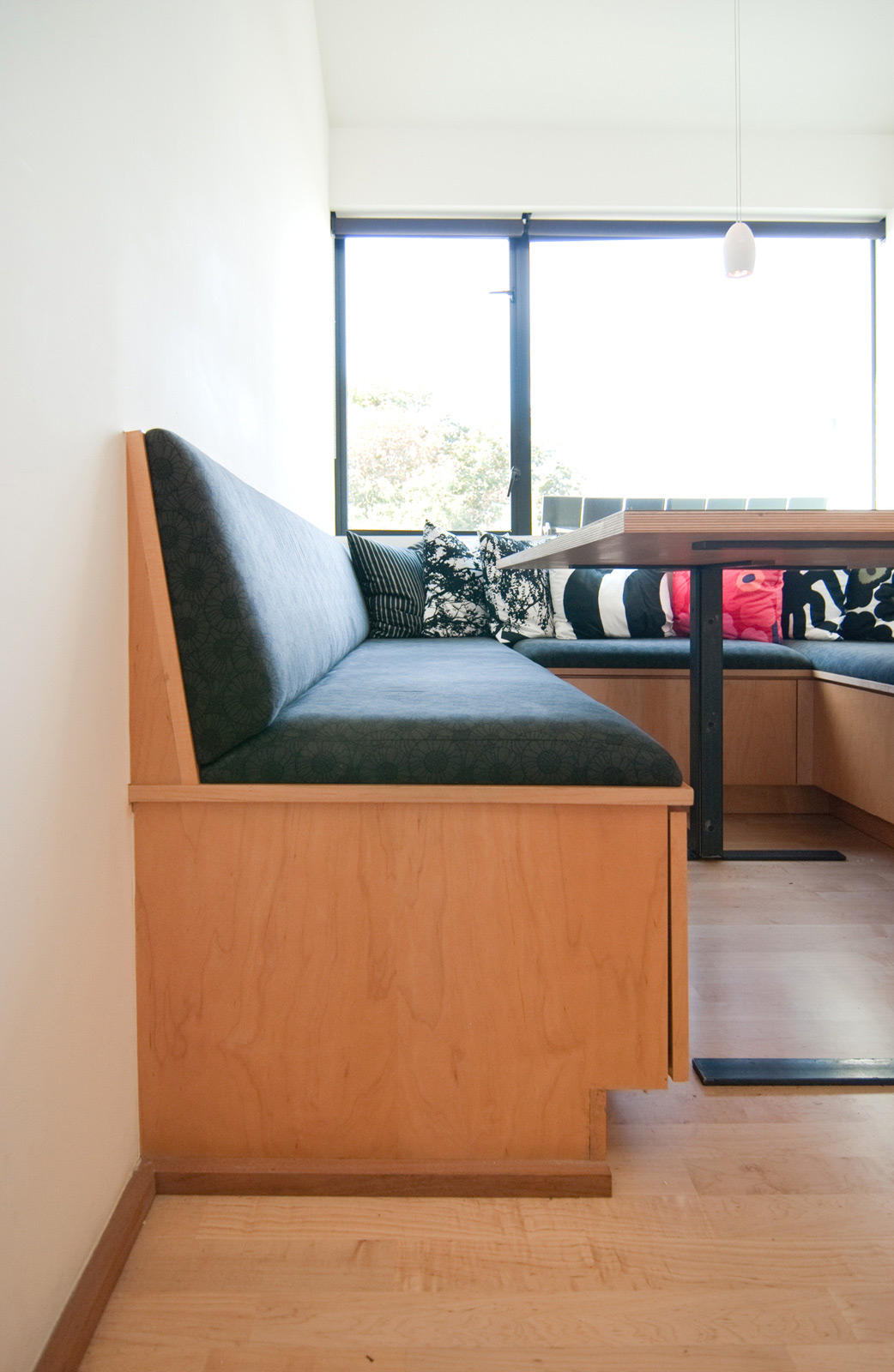 Modern Breakfast Nooks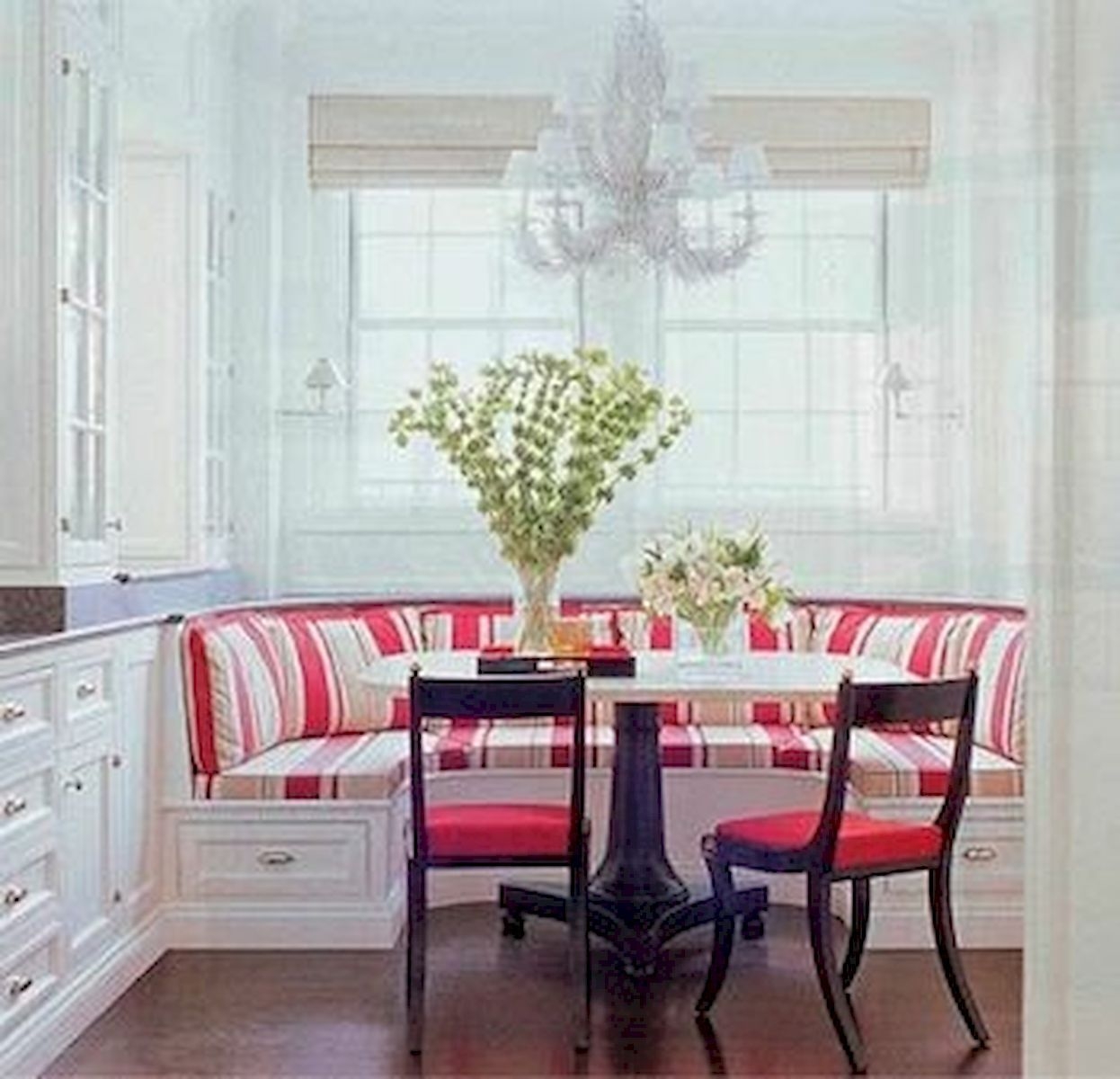 Breakfast Nook Table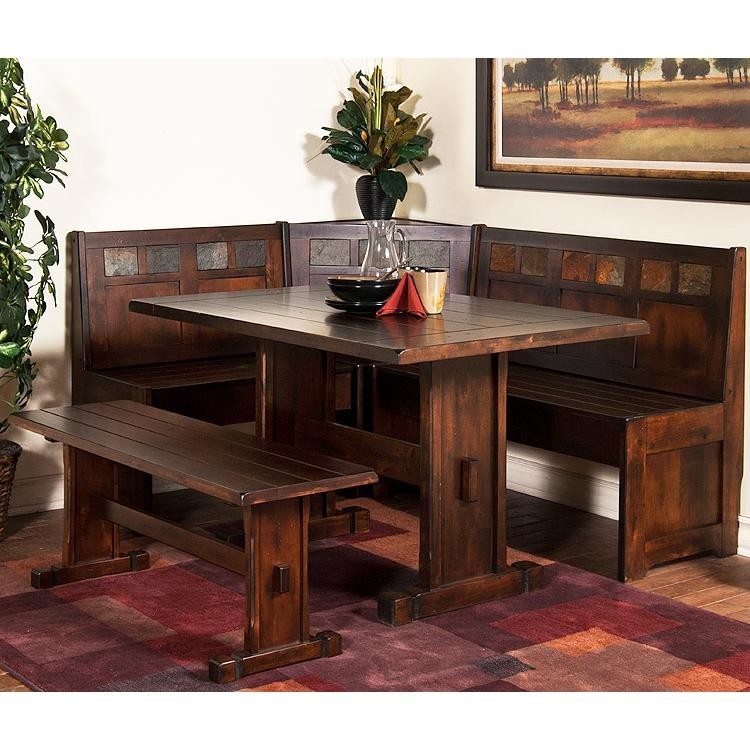 This breakfast nook set includes high quality wooden elements. A table has got a rectangular top and it provides plenty of space for seating many people. The set also includes a corner and side bench.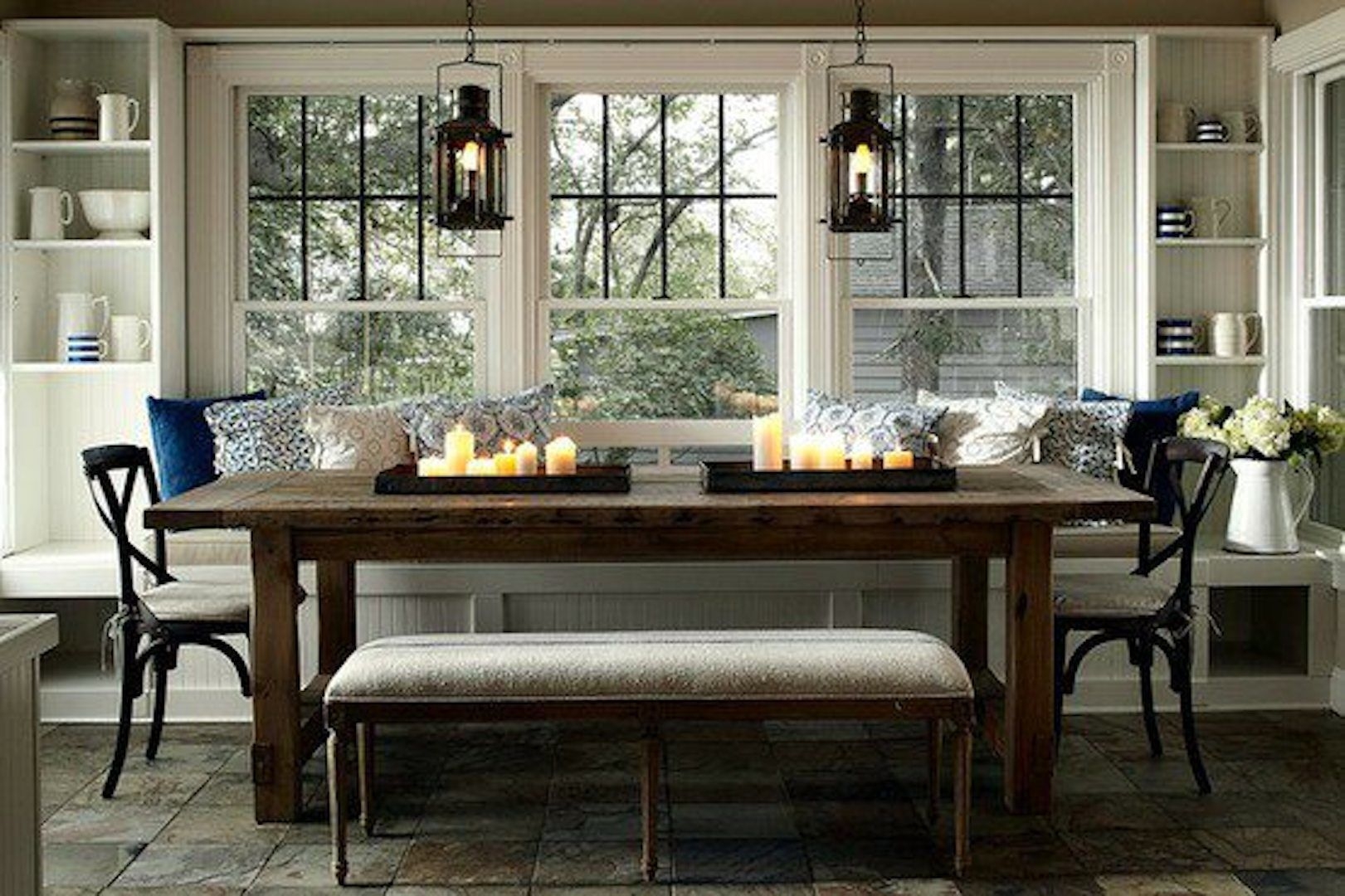 Love the built in shelves and window seat that double as the breakfast nook seat. Great lantern lighting too!!!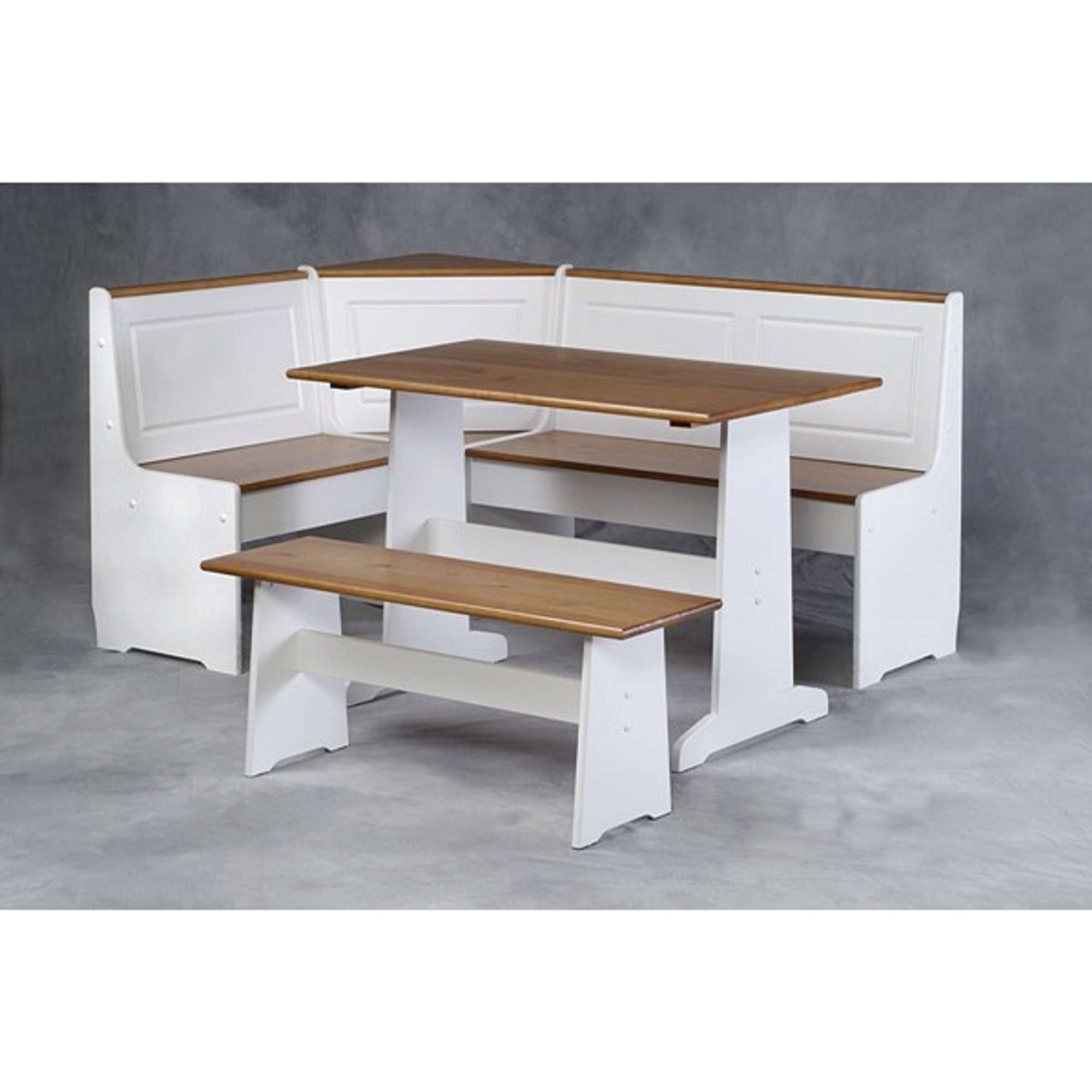 This corner dining set is characterized by MDF construction with white finish and pine accents. Includes 1 rectangle table, 1 backless bench, and 1 corner seating arrangement. Comfortably accommodates up to 5 people.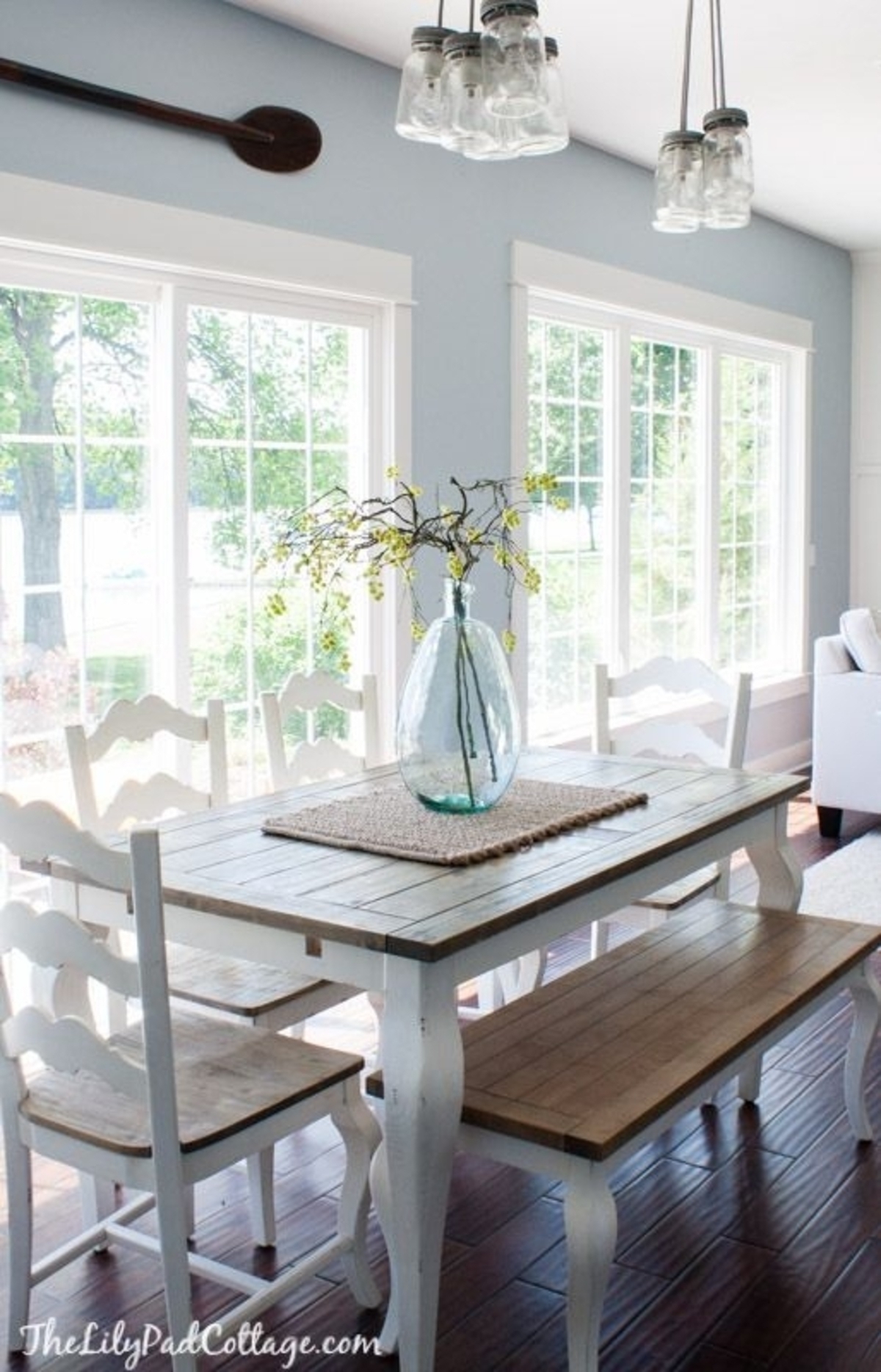 A nice idea for a simple and functional breakfast nook. This durable wooden table offers a rectangular top in a brown color. Sitting space is provided by a backless bench and four ladder back styled chairs.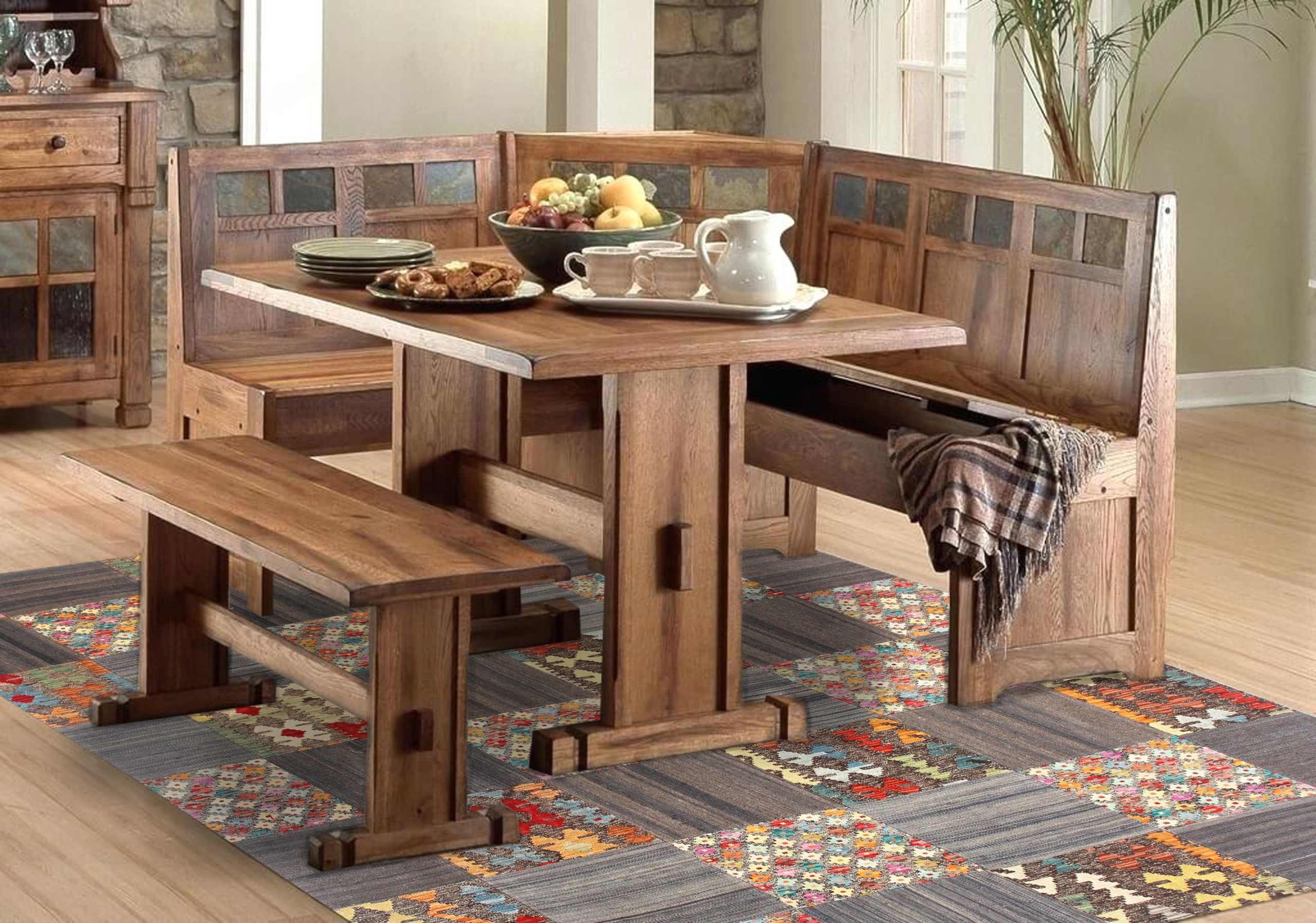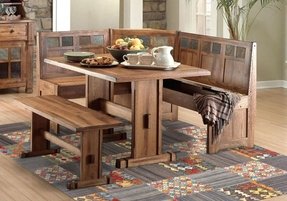 Cozy kitchen or dining room is an excellent way to spend time with your loved ones. This sturdy wooden bench set, a bench, and a table is a great combination of functionality and classic design. The whole introduces the atmosphere of a rural idyll.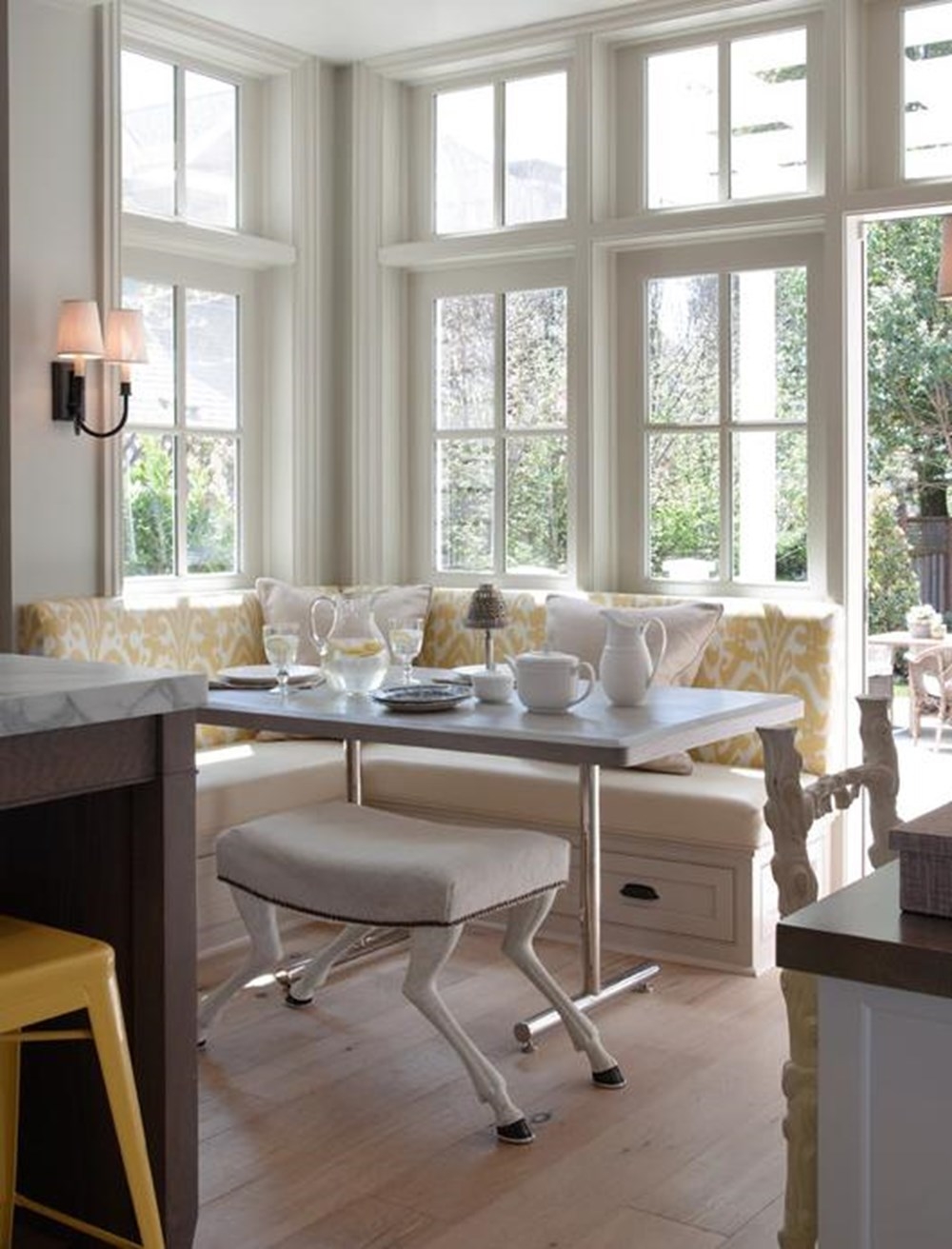 Home Decorating Trends – Homedit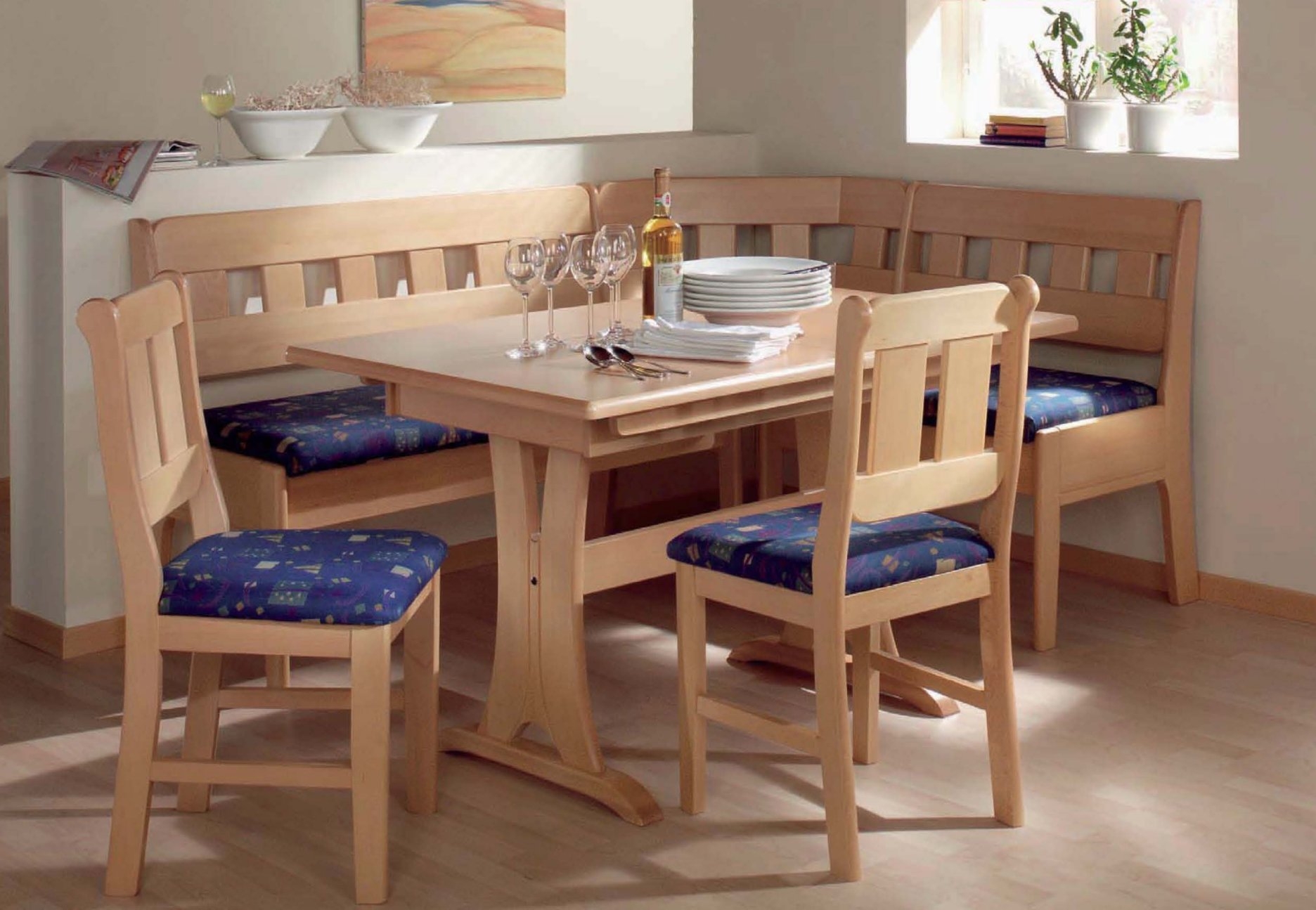 Kitchen Nooks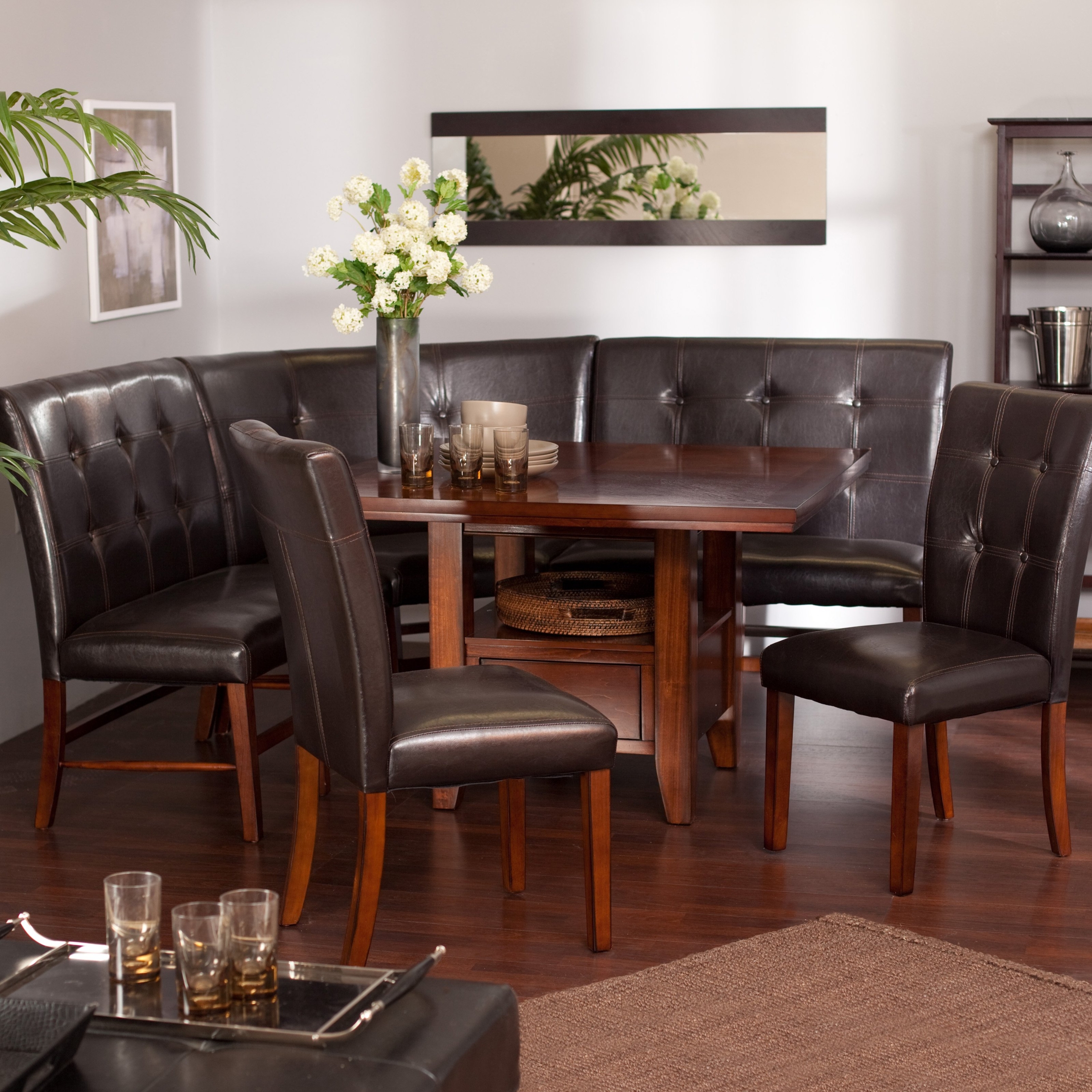 Transform your dining area into a place of elegance and style, deciding on this beautiful 6-piece dining set with 2 armless chairs, 1 square table, and 1 corner bench. The set has button-tufted, brown leather upholstery and sturdy wood construction with an oak finish.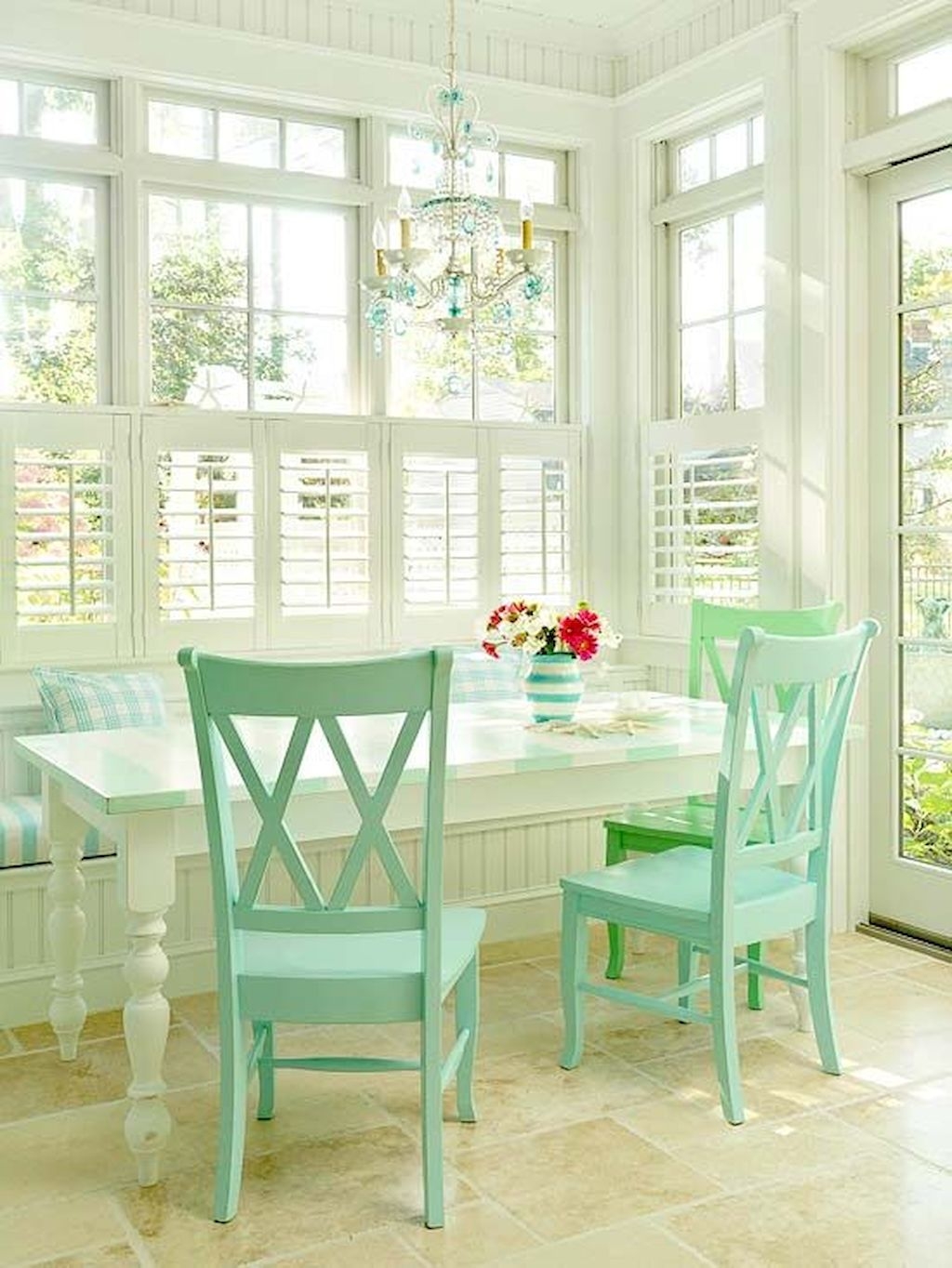 Pretty breakfast nook. I love the colors, all the windows, and the chandelier