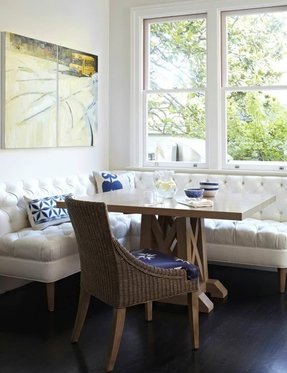 Breakfast Nook
A simple, but attractive stylization of a breakfast nook. It includes a comfortable bench with a corner placement construction. Soft, button cushioned surfaces provide relaxation. Its white color looks nice with a brown wooden table paired with rattan chair.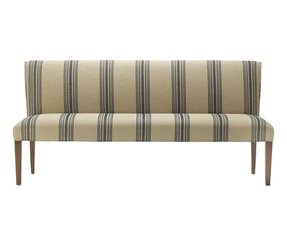 Armless bench with a comfortable, cushioned backrest paired with a seat. Wooden legs assure good strength, support and stability. Neutral upholstery with simple stripes look great in any types of indoors.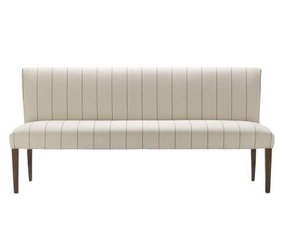 Fitzgerald Upholstered Bench, French Stripe contemporary-benches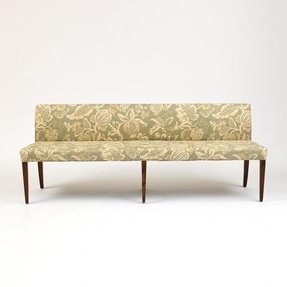 Lou Lou Bench Contemporary Dining Chairs And Benches
This picture shows a bench that provides plenty of space for adult users in dining rooms. Its durable wooden frame supports a soft seat with a comfortable backrest. A stylish floral pattern perfectly decorates dining rooms.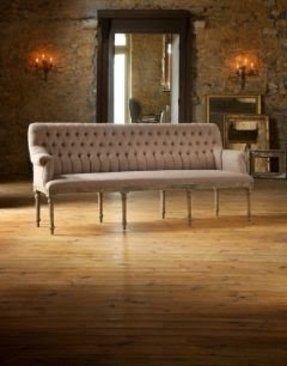 Rustic and really spacious setup for a large living room with stone walls and iron candelabras decorating the space. In the middle of the room lies a long sofa in a vintage style, upholstered in a tufted fabric in a light pink colour.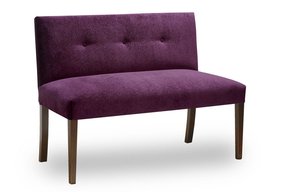 Home > Products > Upholstered Chairs > Hampton Bench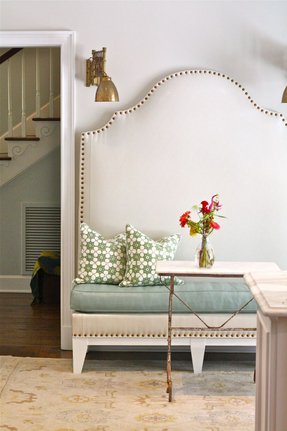 This glamorous silver high back sofa with trimming will be a fantastic way to add some eclecticism into the space. It has the proper measures to become a comfortable dining bench.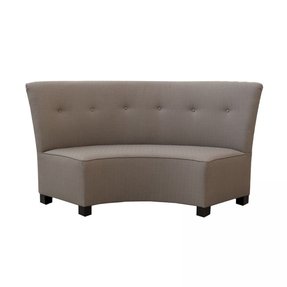 Spacious and extraordinary shape, make your breakfast corner will be extremely cozy. Especially if you combine two such upholstered, neat curved dining benches with back and decorative buttons. The upholstery is kept in the color of cereal coffee.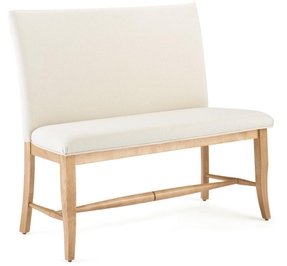 Upholstered Dining Bench with Back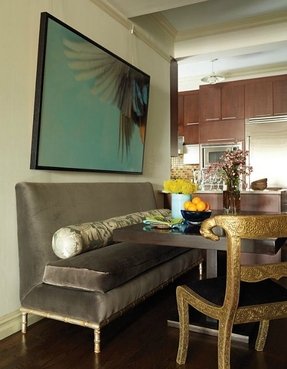 Robert Passal Interior Design Eclectic Dining Room New York
This comfy bench for living room has a sturdy frame made of faux bamboo, and a fashionable seat upholstered in a quality fabric. On the seat, there is another seat cushion, which also is much softer.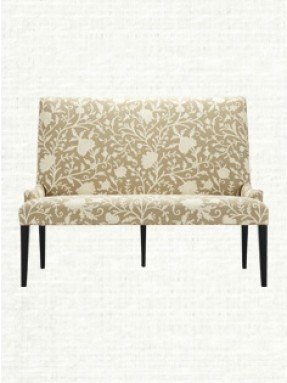 Platinum Dining Bench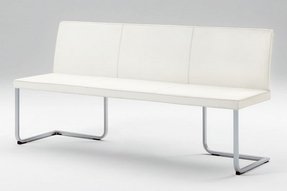 Modern bench for dining rooms. It features a durable steel frame with L-shaped legs that provide the best stability. It features a soft padded seat with a supportive backrest. The whole sitting area is covered with white leather.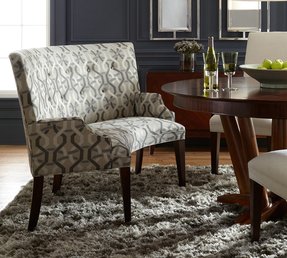 Add comfort to your living zone or bedroom with the upholstered dining bench with back. It features the C-shaped and beautiful pattern with neutral colors. It brings the solidity to any home.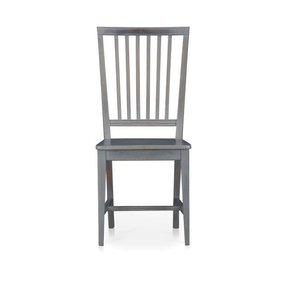 Lin Bench shown in Danish oiled oak and wool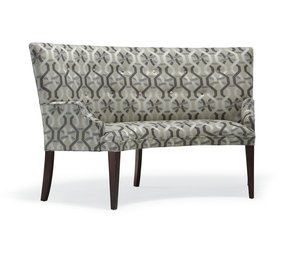 This is a dining table bench with a curved back. It has a beautiful array of ash and light blue patterns that seem to draw one in, and it can easily seat two people. The table has four legs all wooden and colored brown with slight curves.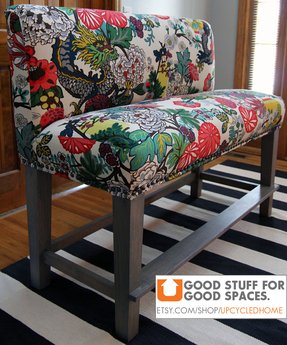 Custom Parsons Style Upholstered Counter
This parsons bench can be a nice choice for enhancing living rooms and bedrooms. The seat and back is upholstered in a flower-patterned fabric finished with a black nail head trim. The frame is wooden, with straight legs, and fixed stretchers for better durability.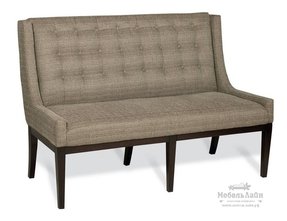 This upholstered, tasteful dining bench with back could stand in the hall, living room or bedroom. Thanks to the upholstery in a neutral gray shade and the dark finish of the hardwood frame - it adapts to your needs captivating with small decorative buttons.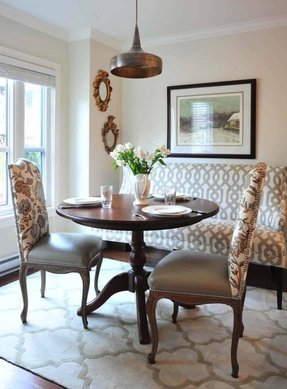 Victoria1979
A beautiful leather dining bench. Interesting, stimulating upholstery ensures that the interior is not boring. Beige colour keeps the interior calm and light. It's not overwhelming, but instead relaxed and laid back.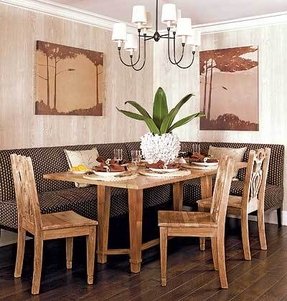 An upholstered bench makes great use of corners and tricky spaces. Pick a printed fabric that contrasts the wall color to add more interest to your dining room. Rustic wood chairs and dining tables are the perfect balance to the glam upholstery.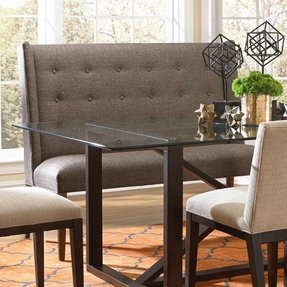 Dining Items Dining Settee by BeModern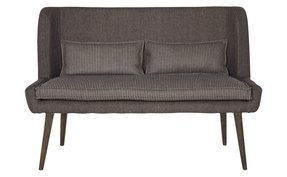 A traditional take on an upholstered dining bench with a back on a slightly smaller scale than most dining benches, providing a place for only two people. The black cotton cover nicely matches with the striped cushions.
Upholstered bench with a latticework back and hand-applied finish. Product: BenchConstruction Material: Wood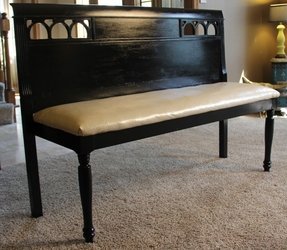 This sleek bench was made from a headboard of a bed frame! We love the pearl color crocodile fabric against the sharp black. Benches are great multifunctional piece of furniture. It can be used in an entry hallway, at a dining room table, living rooms, or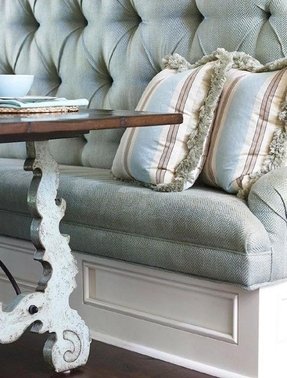 Stylish sofa upholstered with thick fabric and finished with decorative quilting on the back. It is mounted on wooden base. Elegant piece of furniture for the living room and others interiors according to taste and need.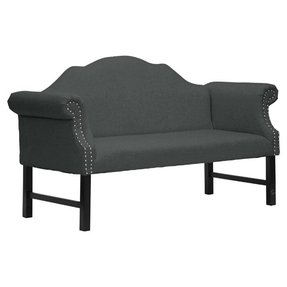 Linen-upholstered bench with an arched back and nailhead trim. Product: BenchConstruction Material: Engineered ...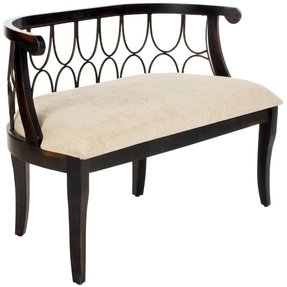 Add a touch of charm to your entryway or living room with this stylish birch wood bench, showcasing an openwork back and upholstered seat. Product: BenchConstruction Material: Birch and fabricColor: Dark brownFeatures: Will enhance any roomDimensions: 2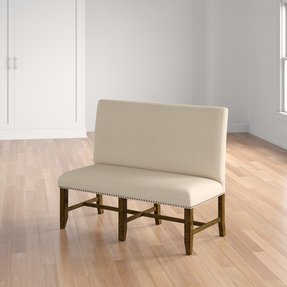 Look on this divine dining bench! It's upholstered with tufted back and interesting shape. The light gray color is suitable with neutral color palette around. I want to have it!
Upholstered Dining Bench with Back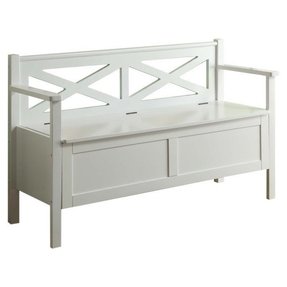 Two Seat Bench with Storage
It is a two seat kitchen bench that has got a storage and two colors to choose: cappuccino and white. It is constructed of solid wood and it looks very romantic and adorable. It is a very good choice.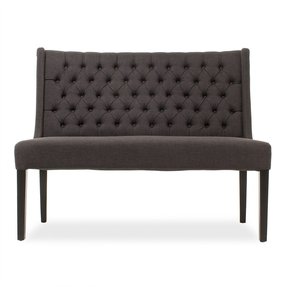 ... Upholstered Black Vinyl Tufted Back Long Dining Bench With Wooden Base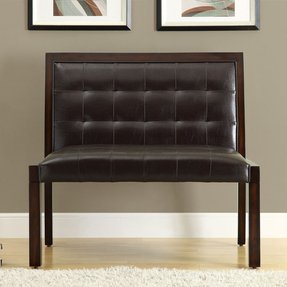 It is an aestheric product that not only decorates indoors, but it also provides comfort. This bench is made of wood and its seat is filled with soft polyurethane. Its dark brown seat and back upholstery looks very nice.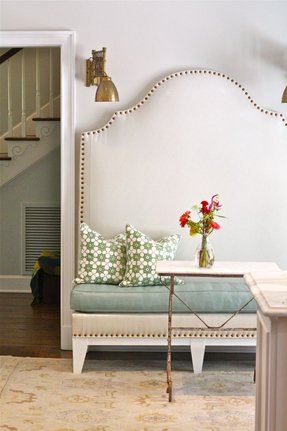 Kitchen Breakfast Nooks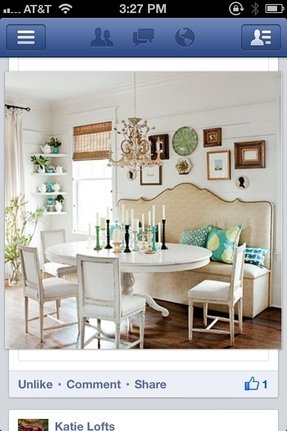 Mix shades of white to createthe illusion of depth in a space, and add hues of different colors to create a neutral-like color scheme - Note the repurposed headboard as bench back, cool!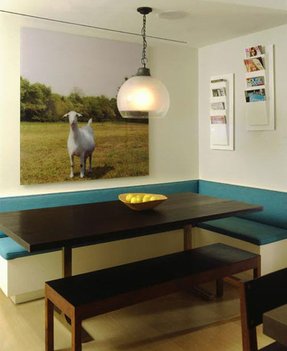 Magazine holders for mail/bills? Just an idea I am throwing around. Diggin the goat.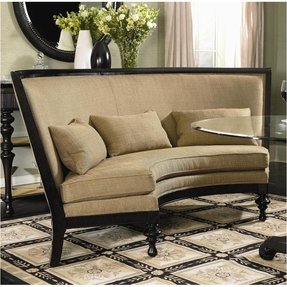 Upholstered Dining Bench – An Excellent Addition for your Home Decor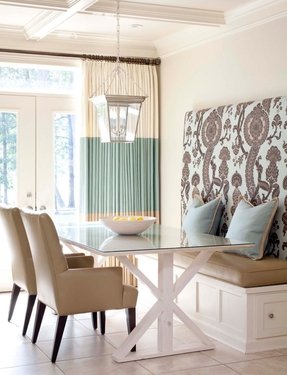 Indoor bench with high back. It is filled with foam and upholstered with pleasant to the touch fabric. It has extra pillows decorated with interesting pattern. Modern accent for the living room, dining room and more.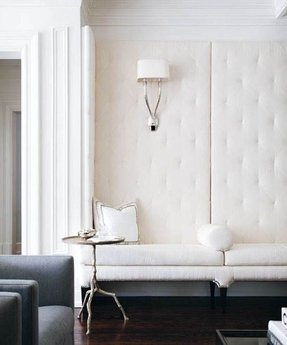 Rosedale, Toronto, Canada home | design by Colleen McGill | photography by Donna Griffith