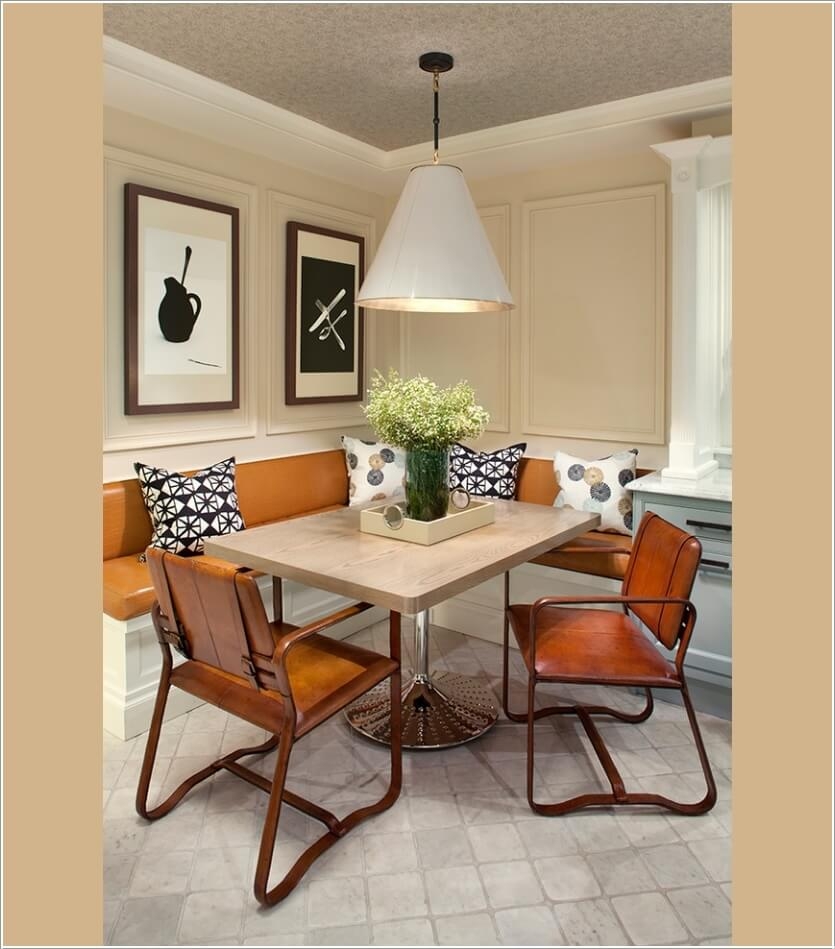 Breakfast nook. This breakfast nook has plenty of style and personality. Pendant lamp looks cool. Chairs are made from wood and stainless steel. I really like how the chairs match this metalic table.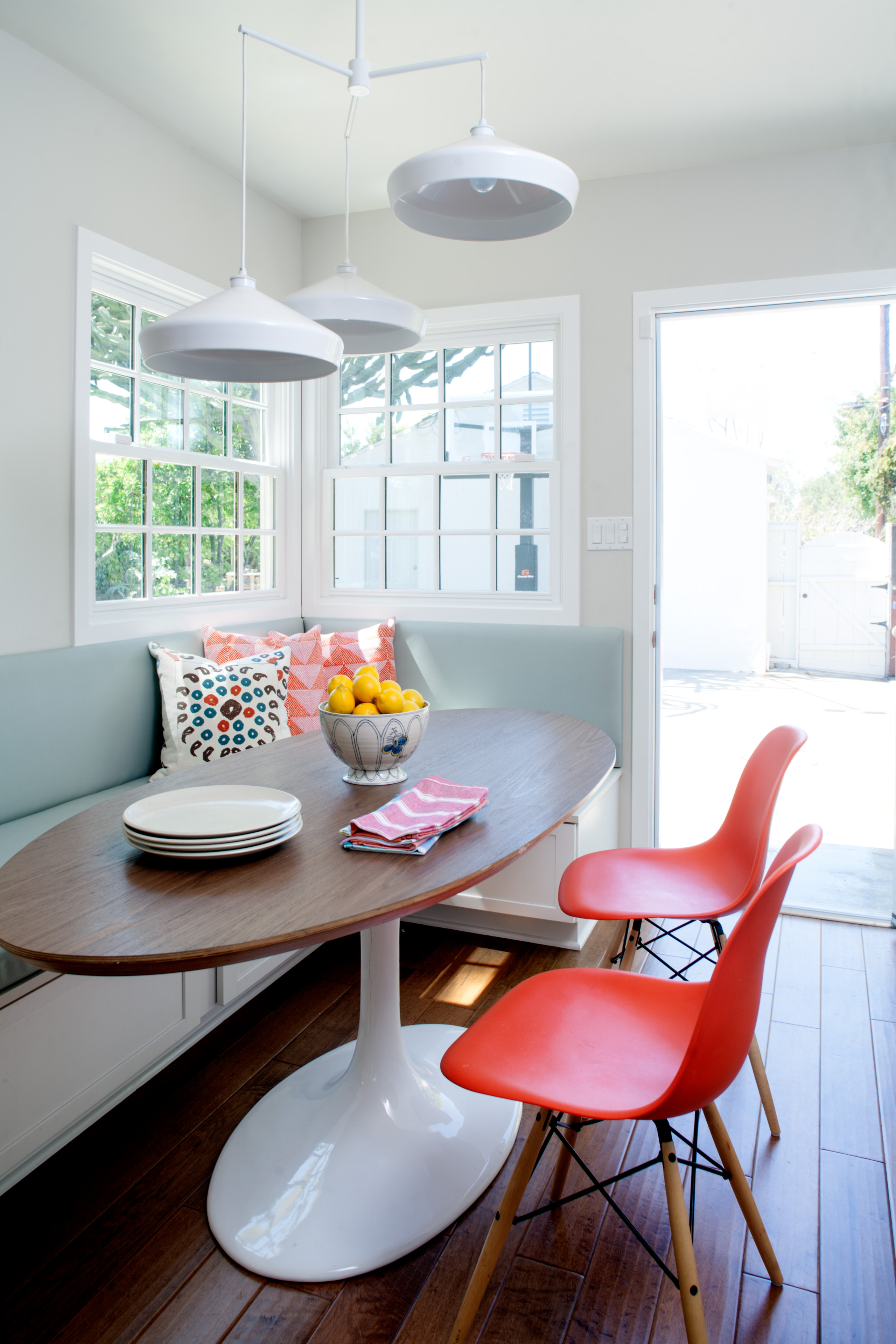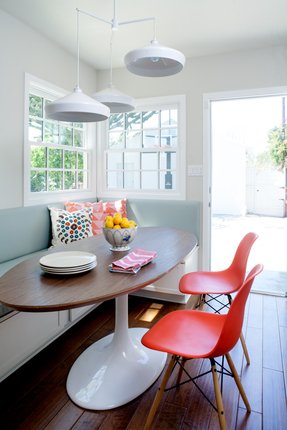 Create a beautiful dining nook with some help from this stunning oval dining table and matching, bright red chairs. They sport the minimalistic design and will offer an atmosphere of warmth and class.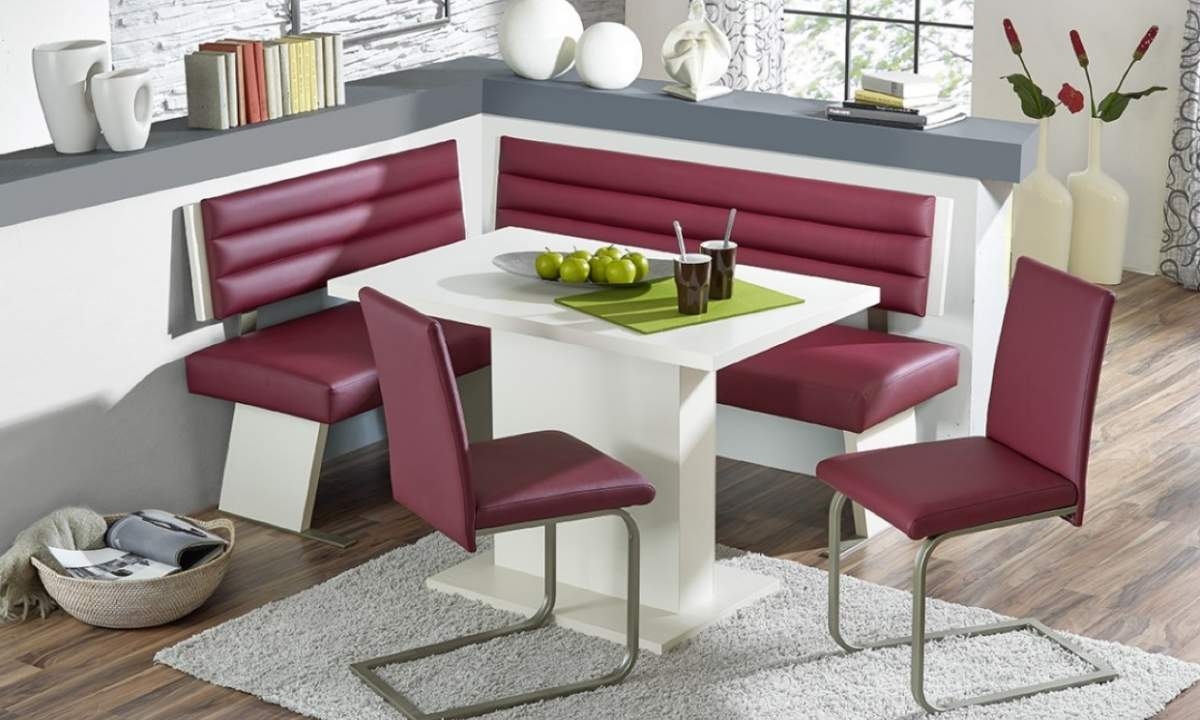 Stay in Touch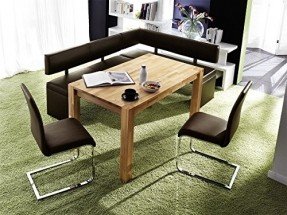 Modern breakfast nook featuring an L-shaded bench and two extra chairs. The set is made from silver-coated metal frames, foam padding, and black faux leather upholstery. It's incredibly durable and weather-resistant as well. You also get extra storage under the bench.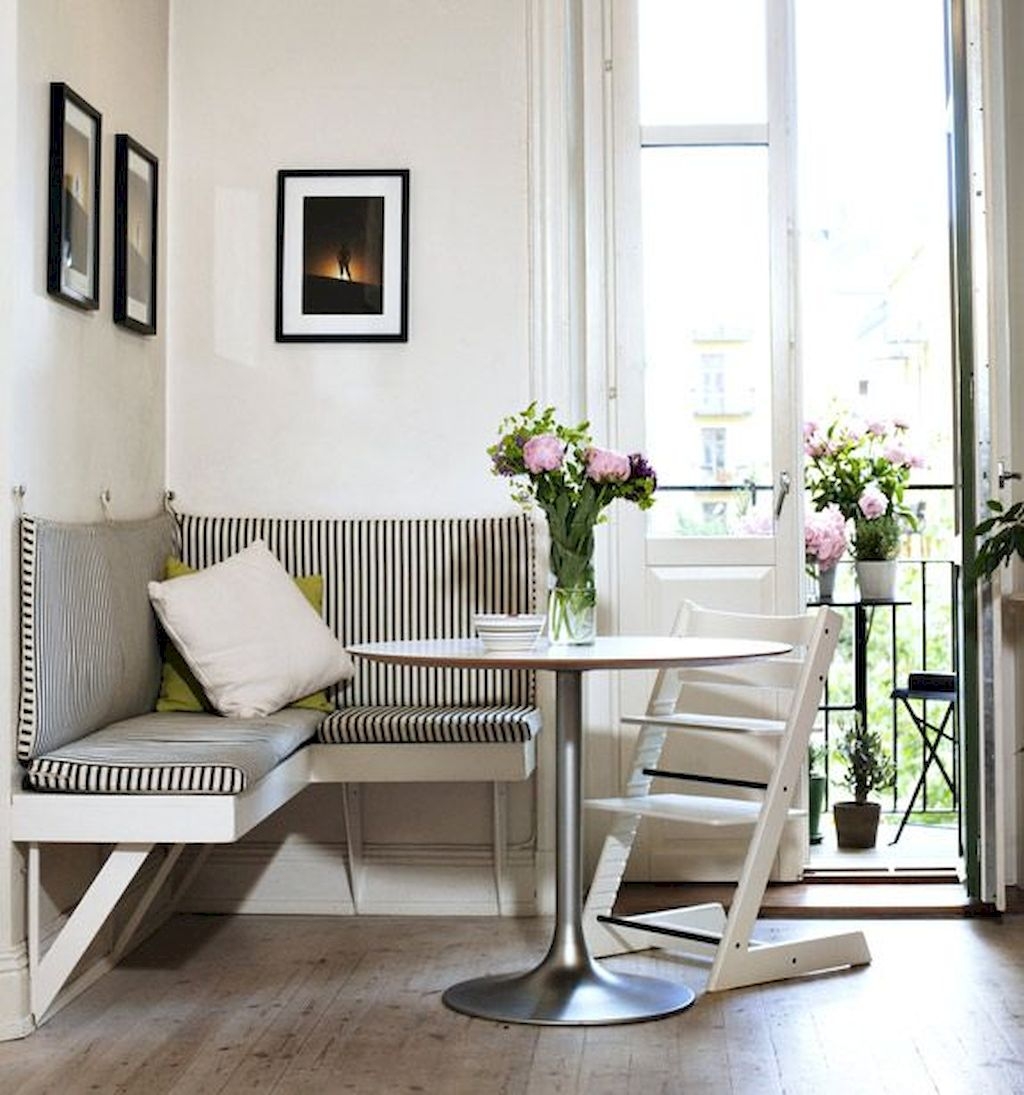 Beautiful and contemporary breakfast nook featuring an L-shaped bench and a stunning rounded table made from metal. The bench offers a white finished wooden frame and foam padding on the seat and the backrest. It's finished in beautiful black and white fabric upholstery for incredible color balance.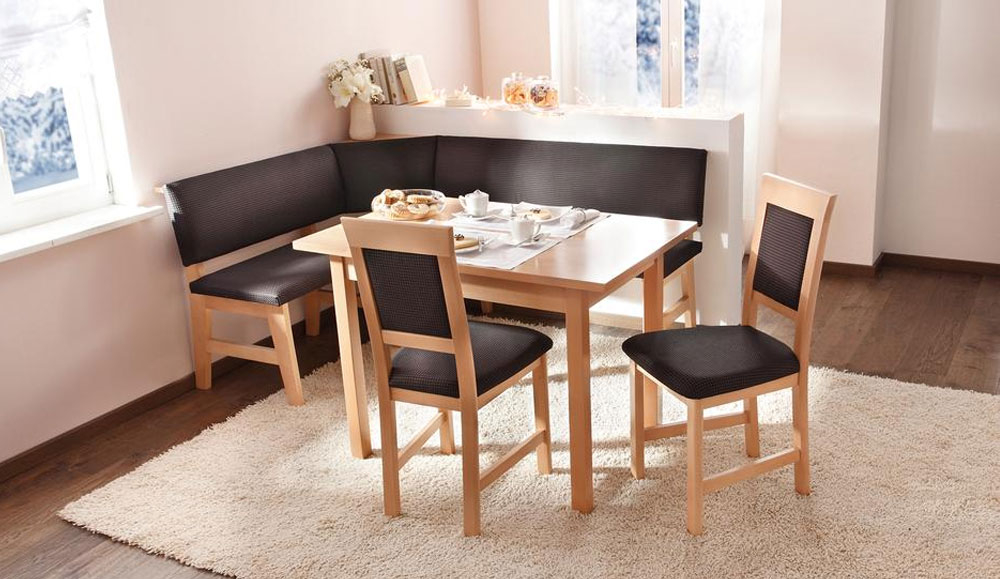 It is a corner bench that has got a contemporary deign, solid wood construction, black upholstery and padded seats, for enhanced comfort of use. It is a perfect addition for your kitchen and dining area.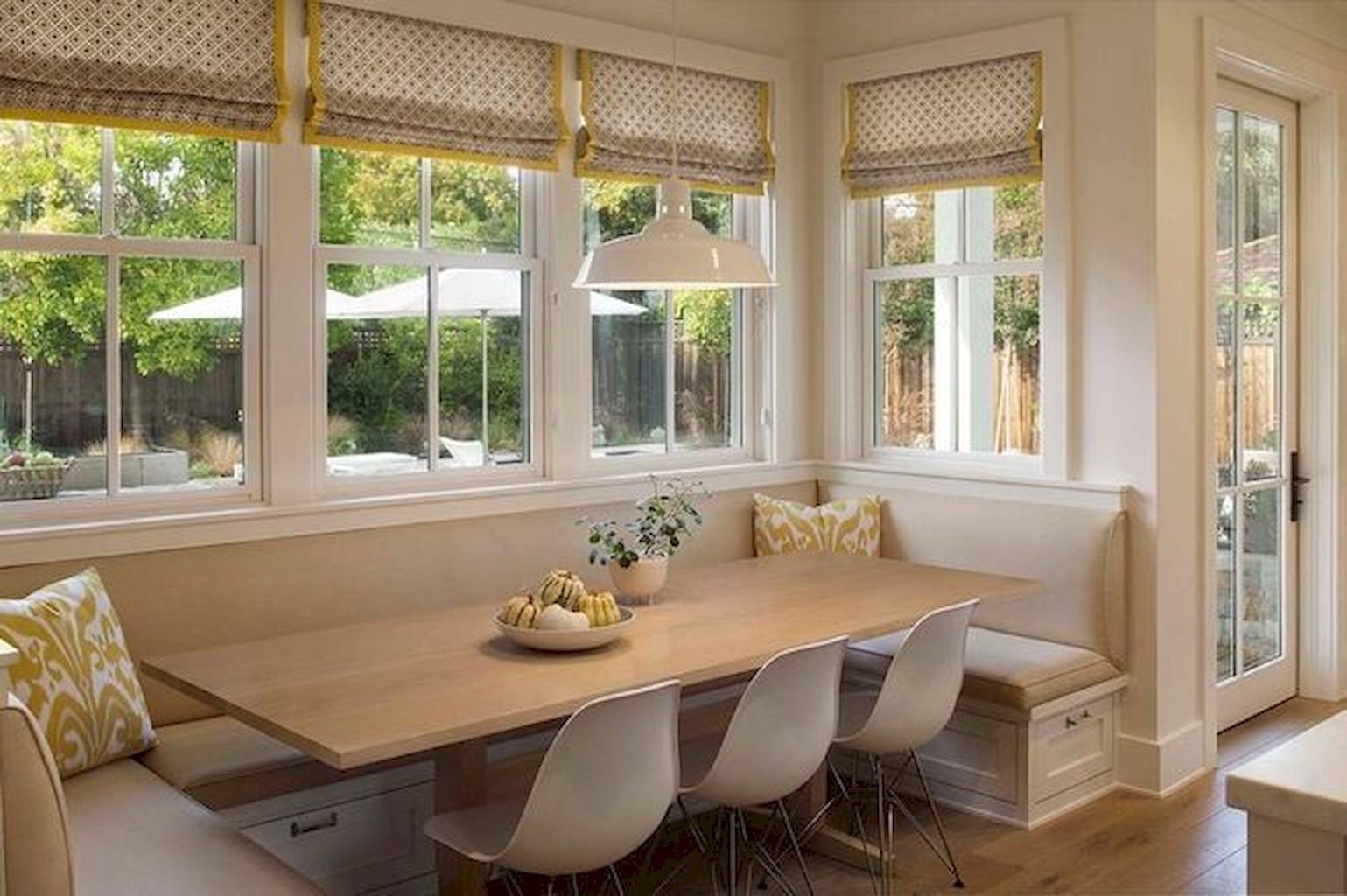 Ultra-modern breakfast nook featuring a padded L-shaded bench with storage compartments below. The nook comes with a beautiful rectangular table and three additional lower back chairs. It should be able to seat more than five people easily.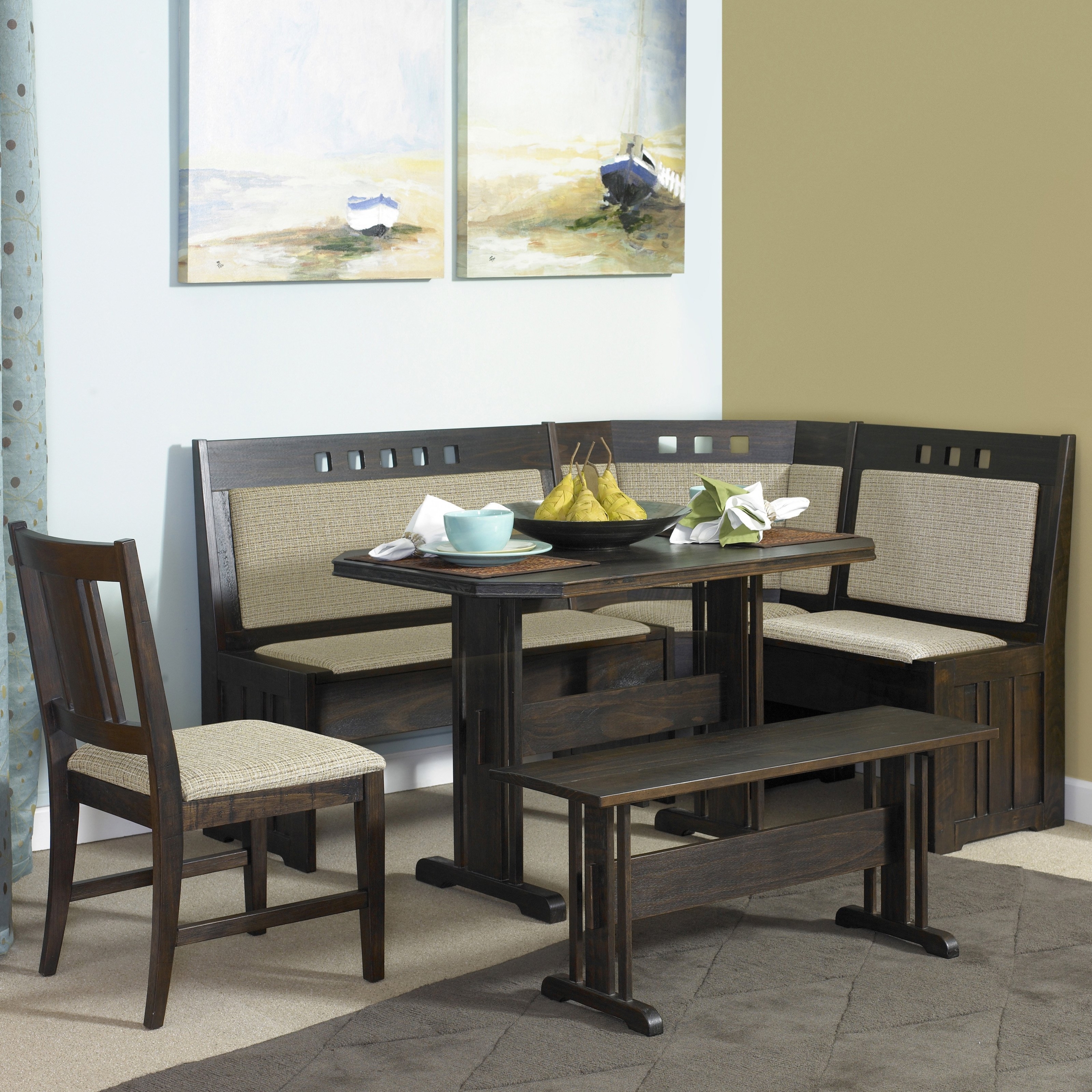 Breakfast Table Breakfast Nook Nook Set Nooks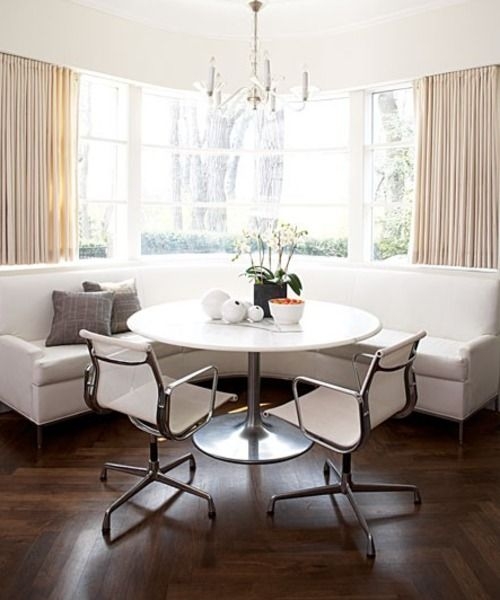 All-white, iconic furniture offers classic style.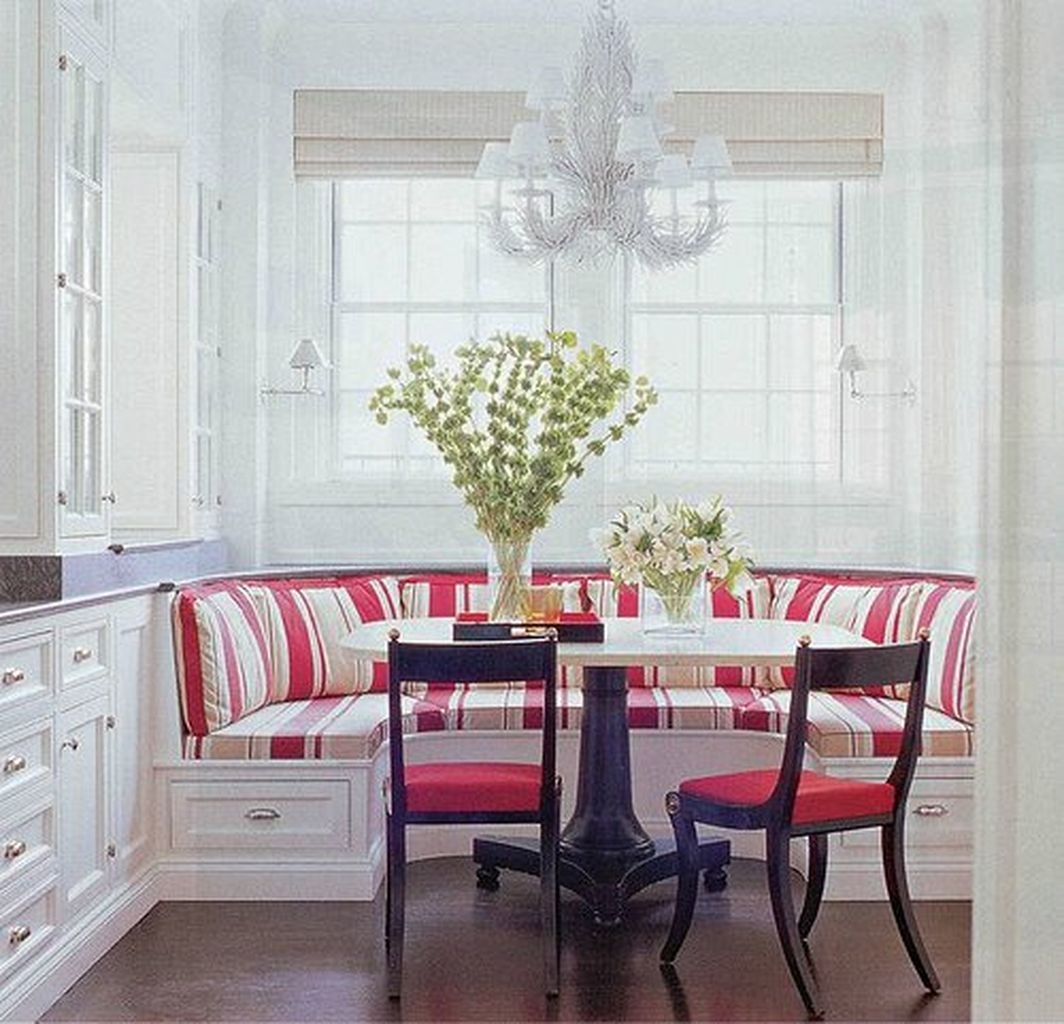 The dining room bench seating ideas are fun to implement in the house. When you hear the word bench, you may realize about a long hard wood with plain accent. If you think that it is not fun to have, you need to know that there are many other interesting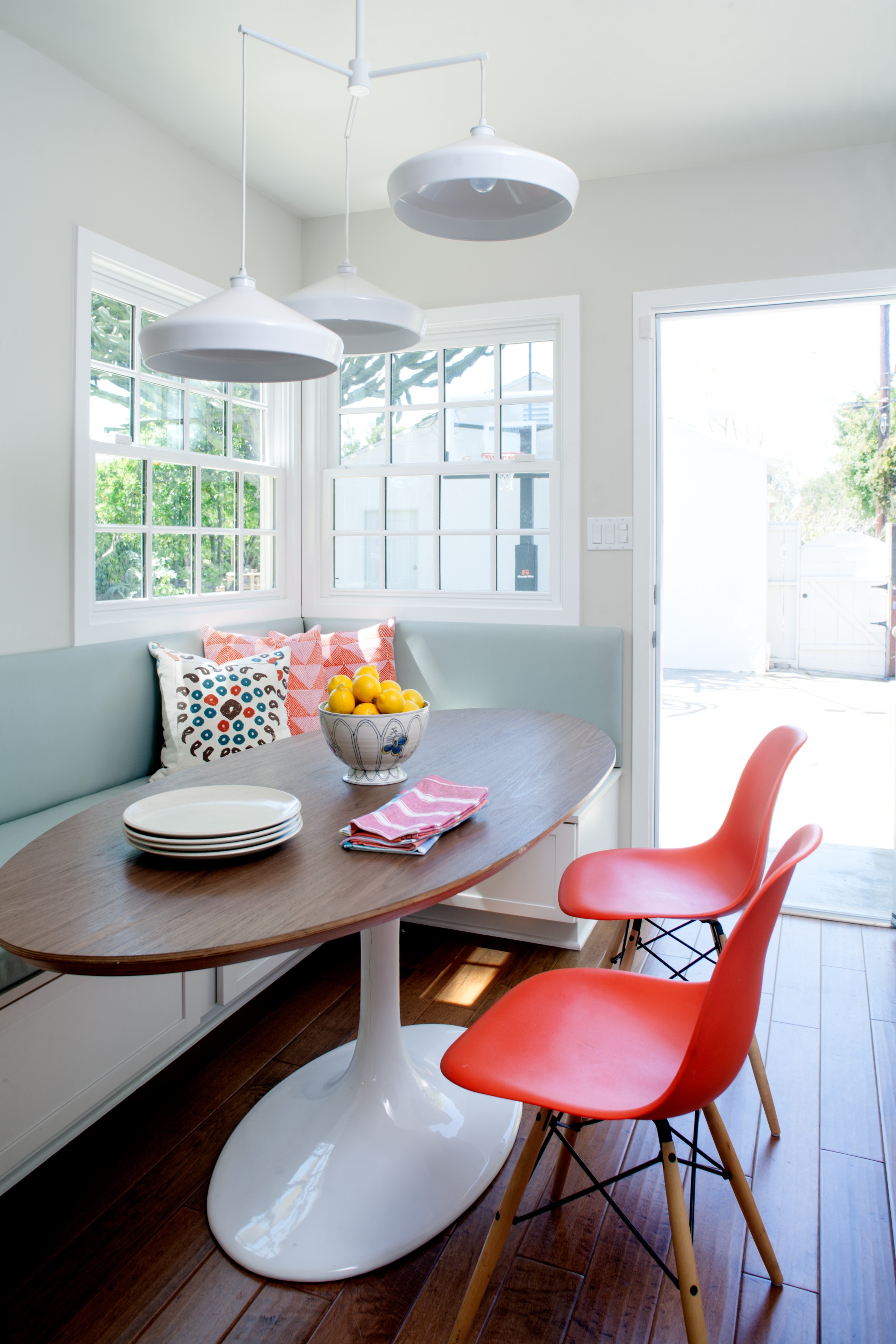 Sink-In Comfort. When my family goes out to eat we always prefer a booth so why not have that same comfort at home. With kids I don't need a dining room with expensive furniture and expensive decor. This dining room looks like it was designed for a family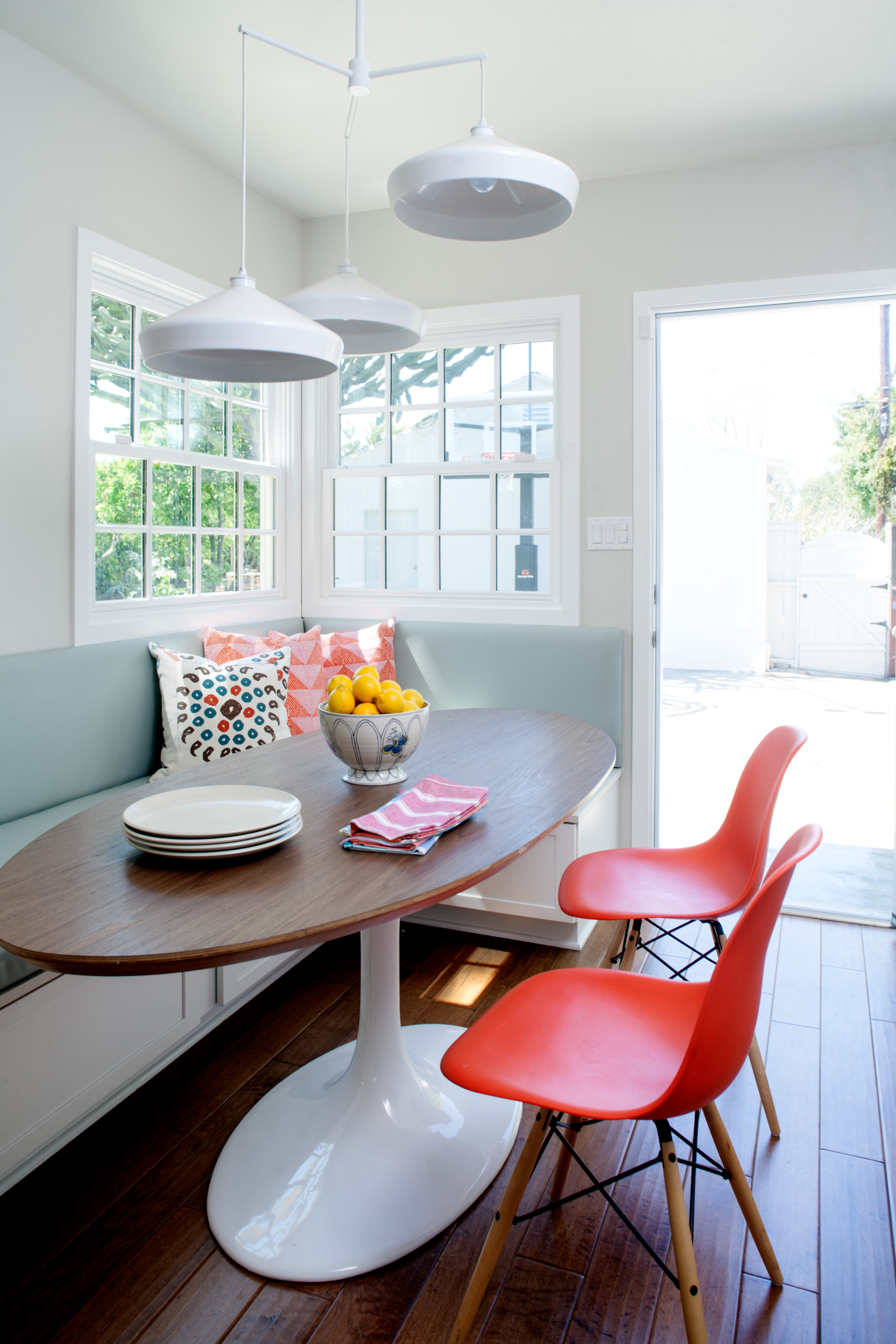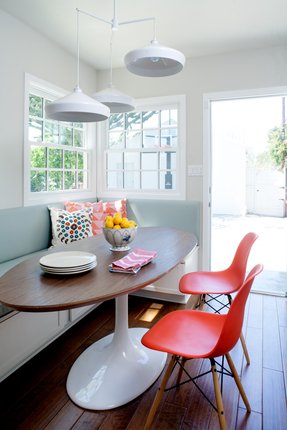 Papario Counter Height Nook Set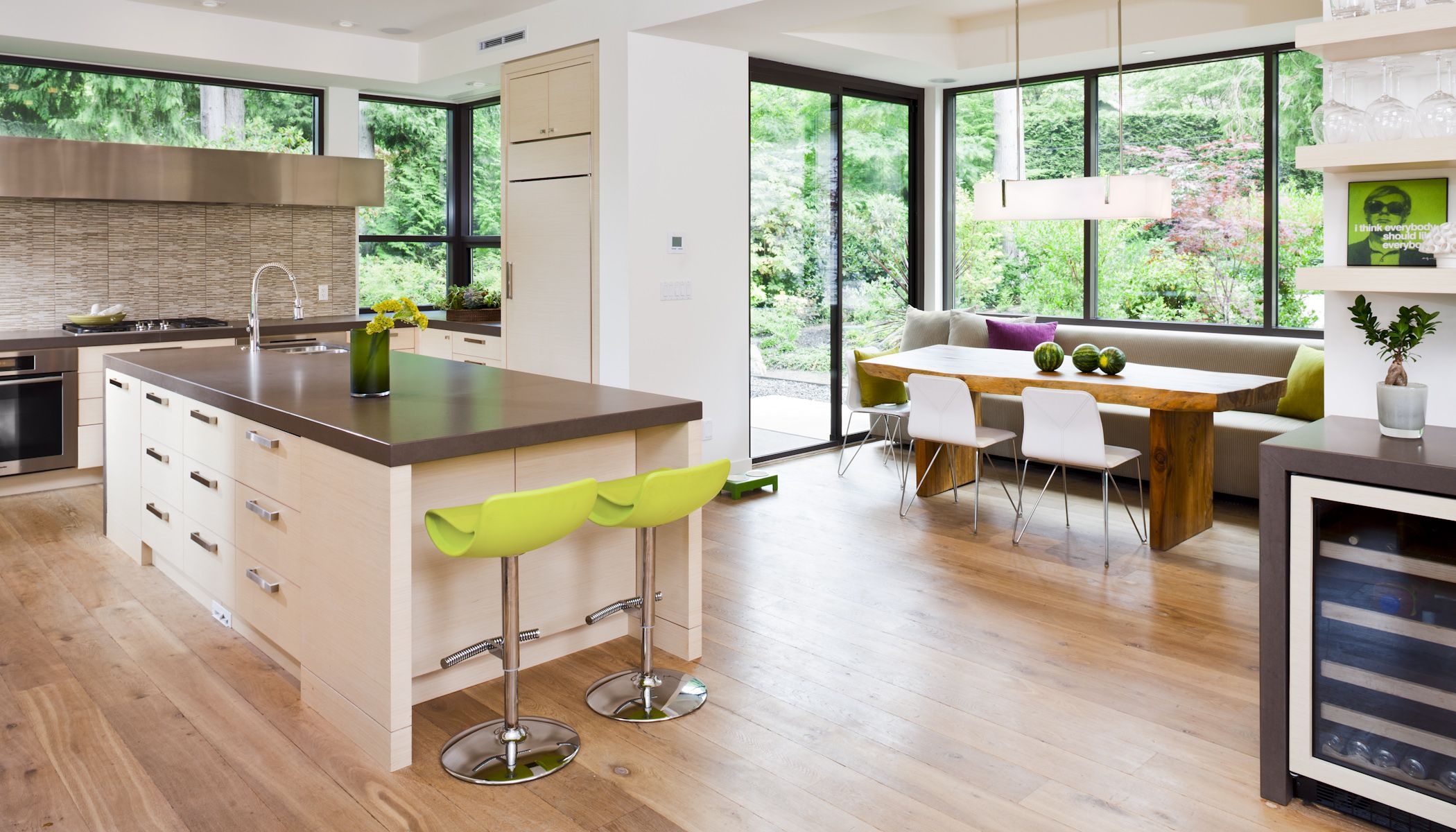 ... flooring and breakfast nook 22 Stunning Breakfast Nook Furniture Ideas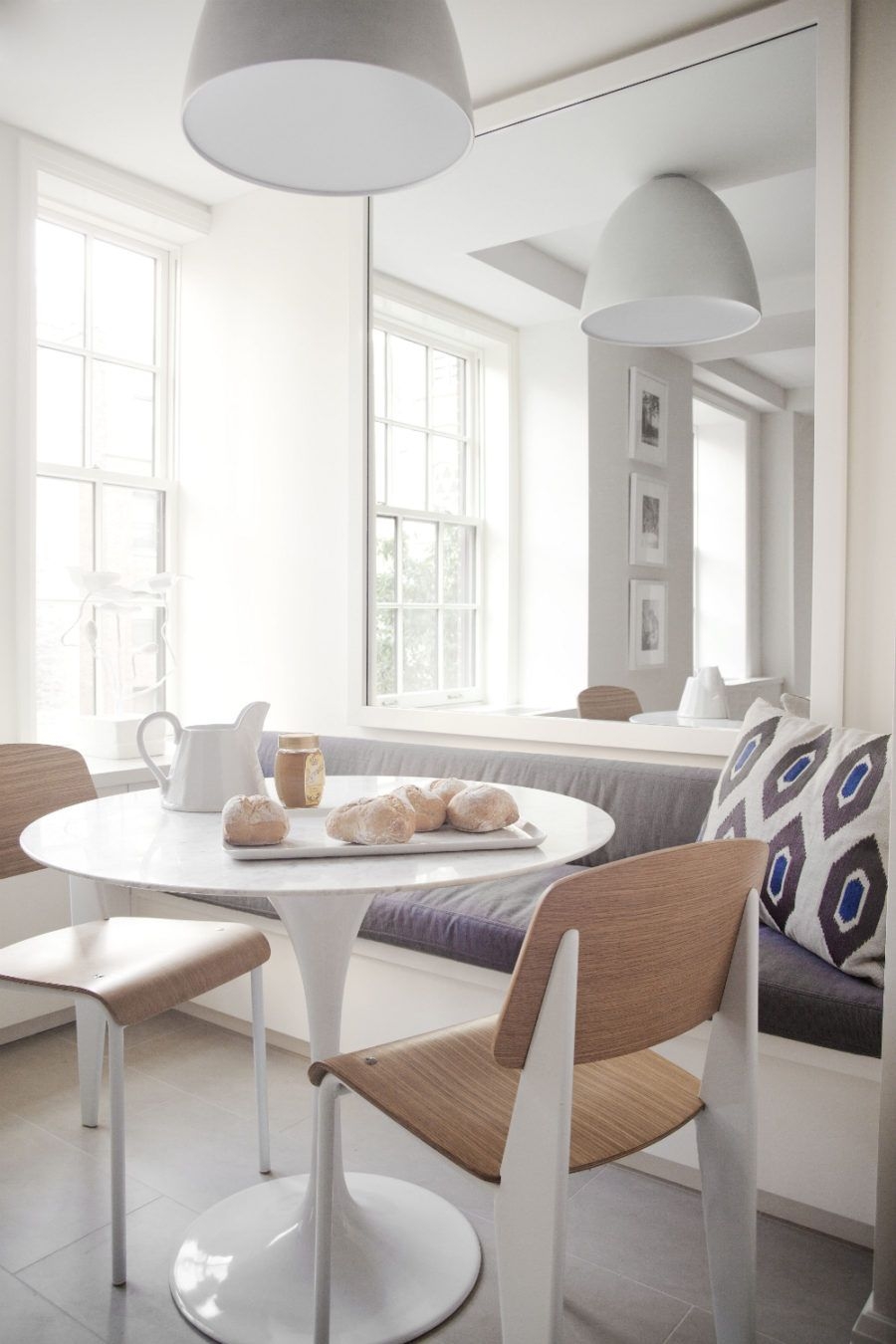 Super modern breakfast nook furniture idea. Clear white narrow bottom table with beautiful curves and artistic desing chairs made from white and natural wood are best choice as your new dining room deco!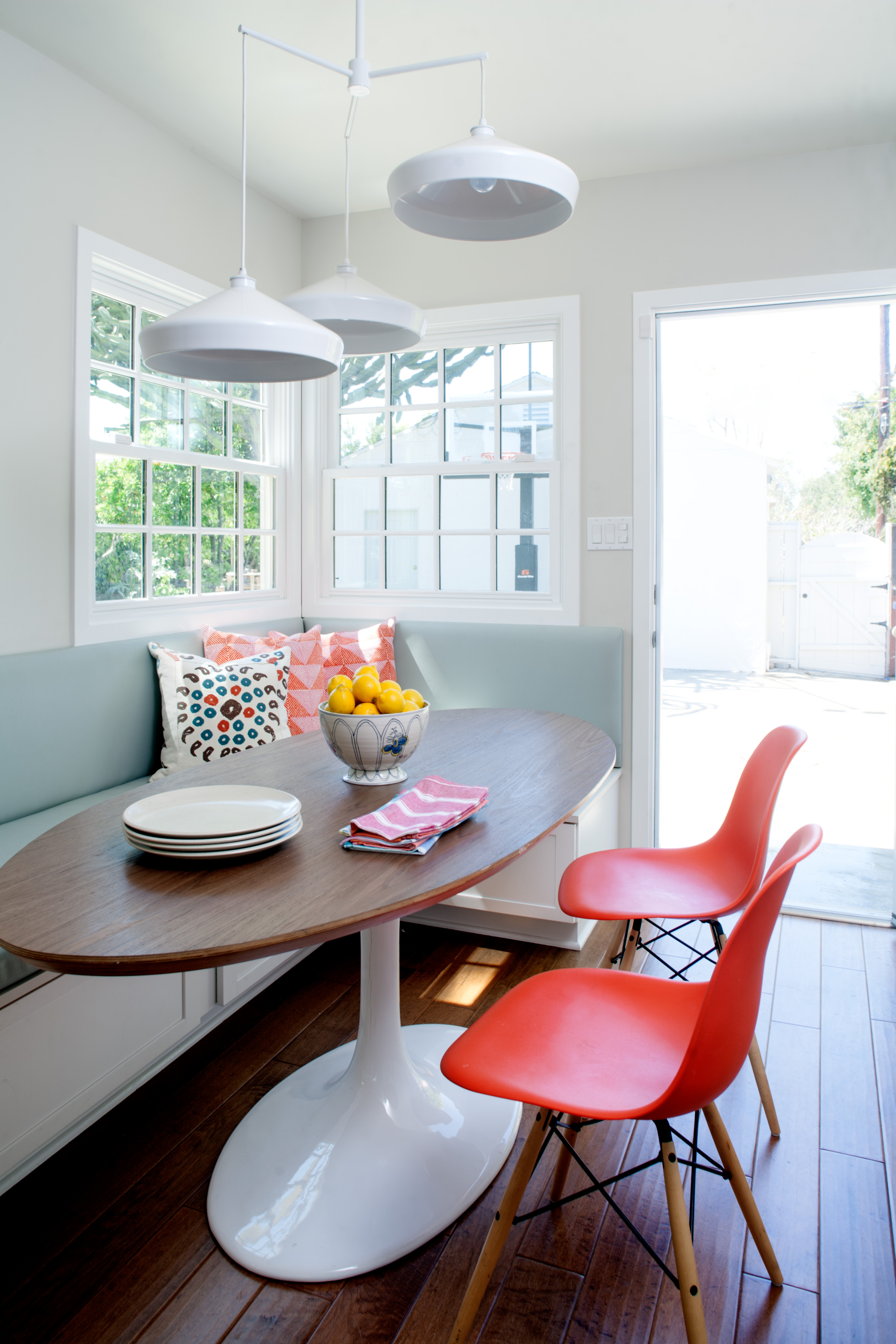 cozy-kitchen-nook-design-1.jpg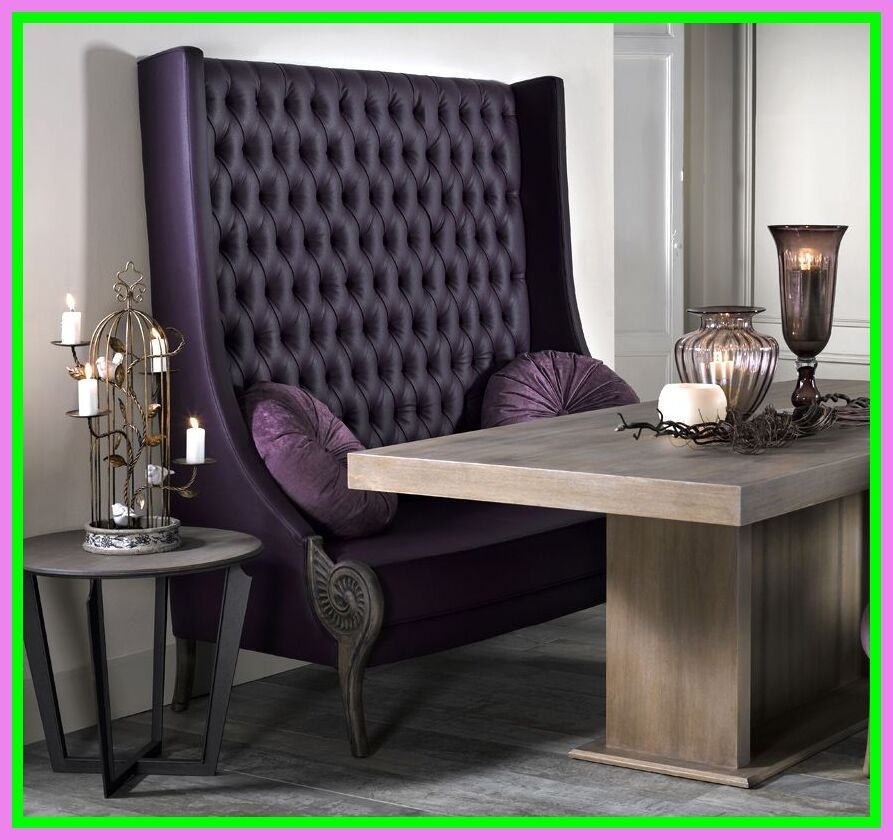 A dining room by Coleccion Alexandra from the 'Valentina' collection. #diningroom #interior #design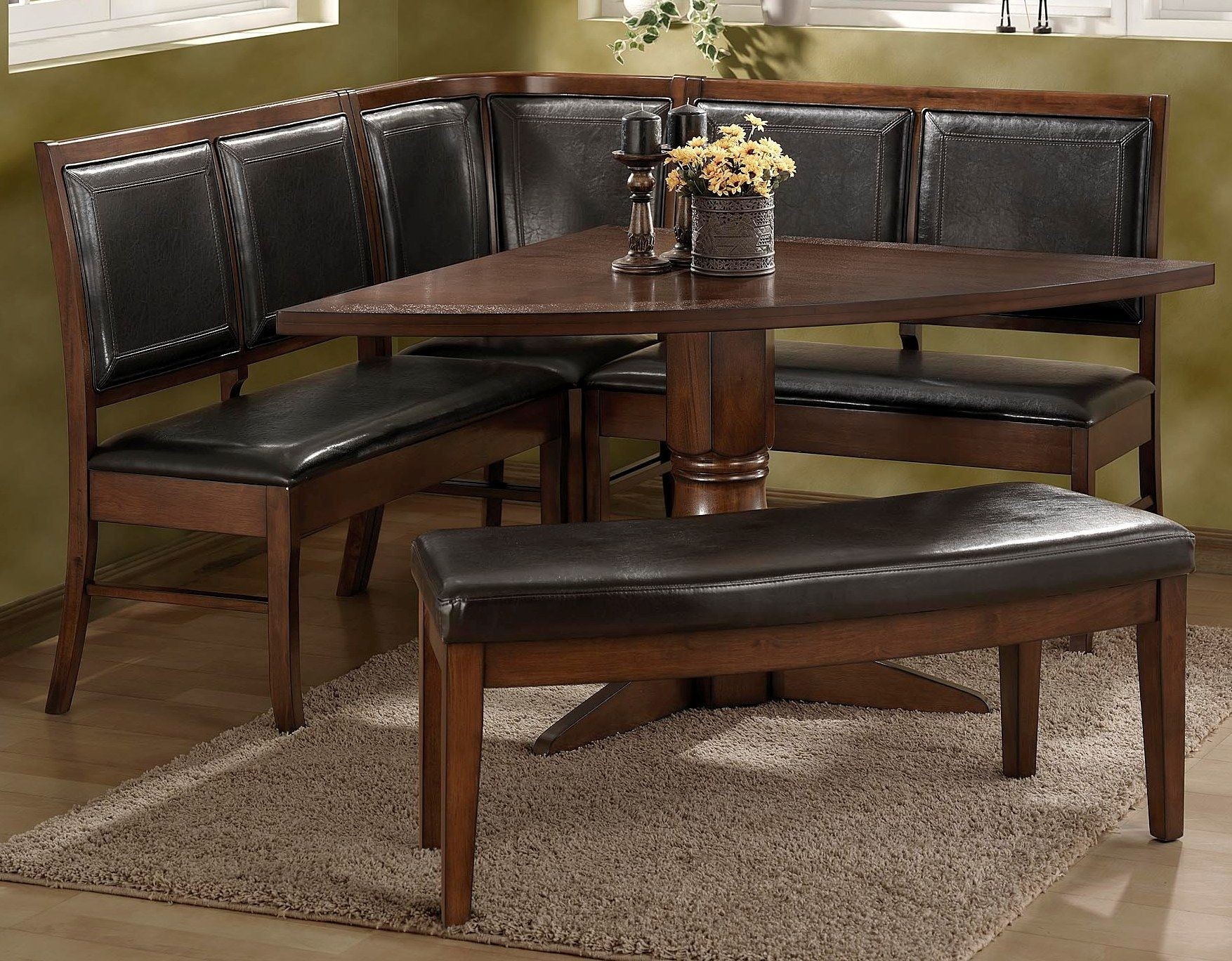 A phenomenal corner dining set in an elegant and modern style. It consists of a pedestal, wooden table and two benches. Both of them feature black, leather upholstery and a corner one has a comfortable backrest too.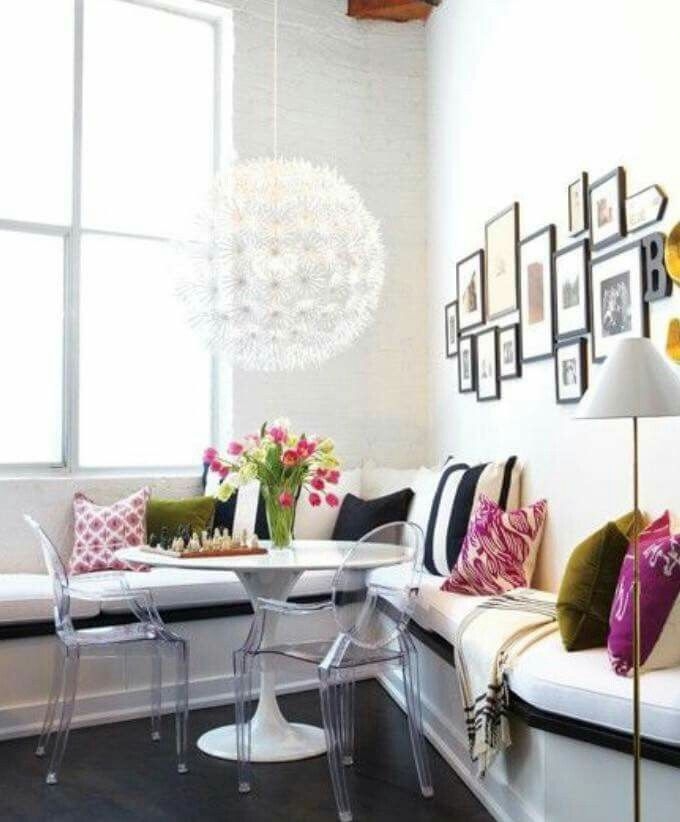 eclectic banquette dining area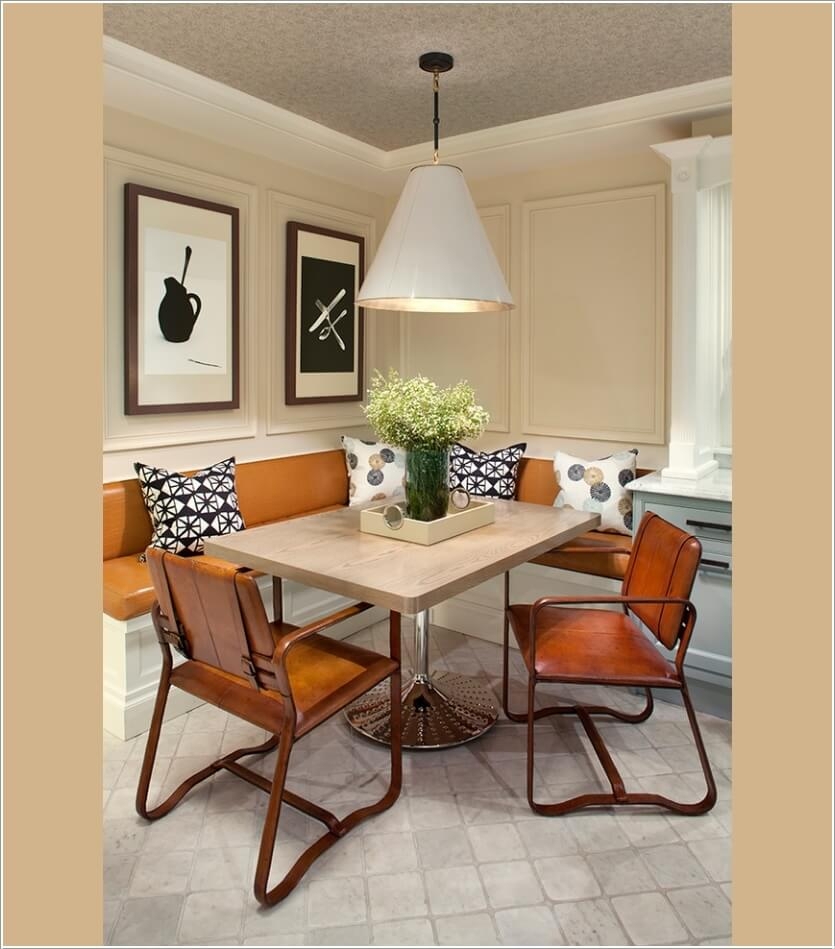 40 Beautiful Modern Dining Room Ideas,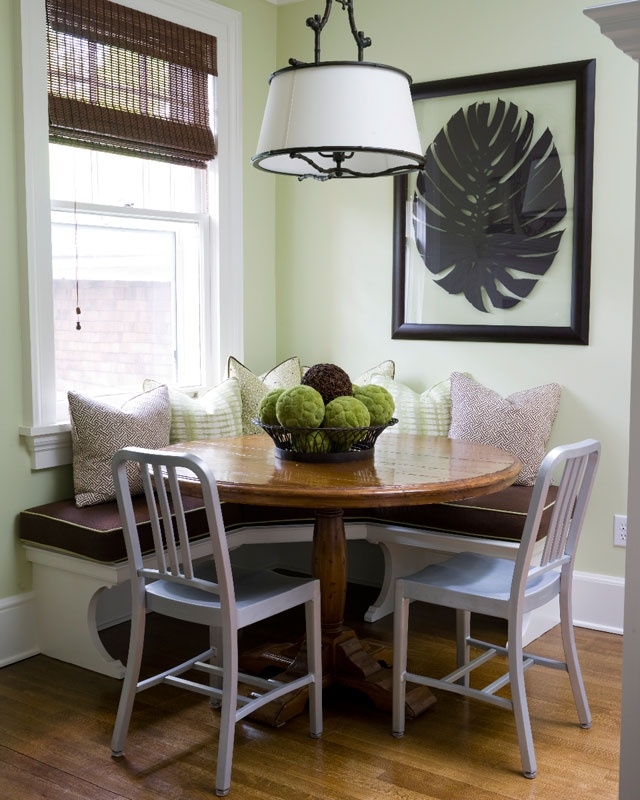 Simple Idea Of Kitchen Breakfast Nook Furniture : How To Select The Best Kitchen Nook Furniture – Kitchen Installation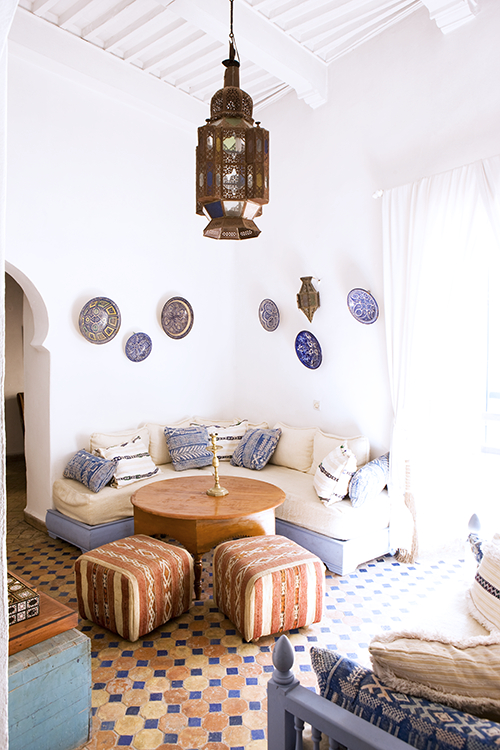 modern global style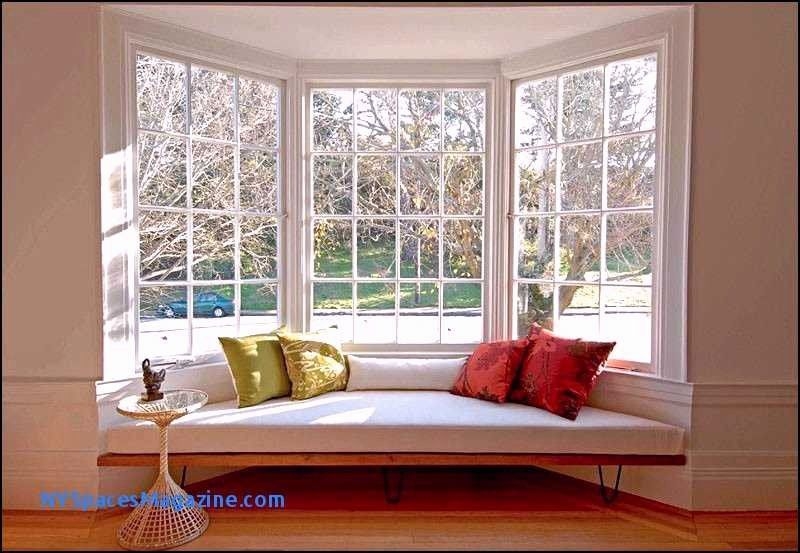 Window Seat Ideas for a Comfy Interior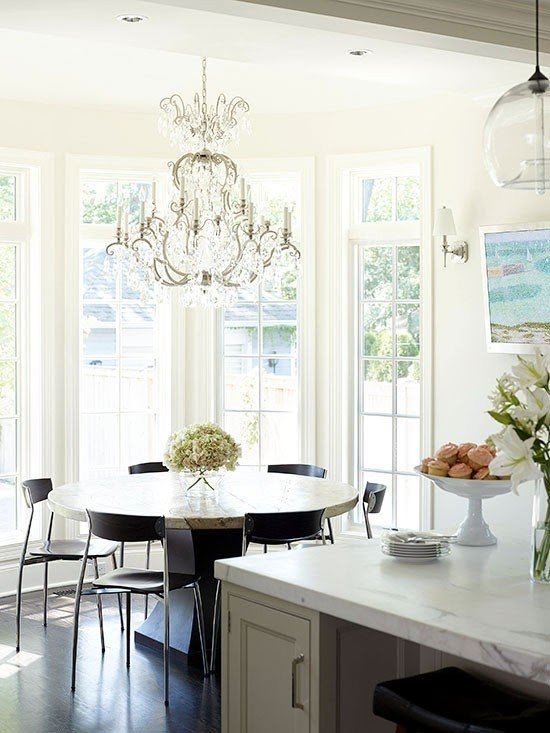 This sunny breakfast area, set in a bay, takes advantage of the home's sweeping backyard views: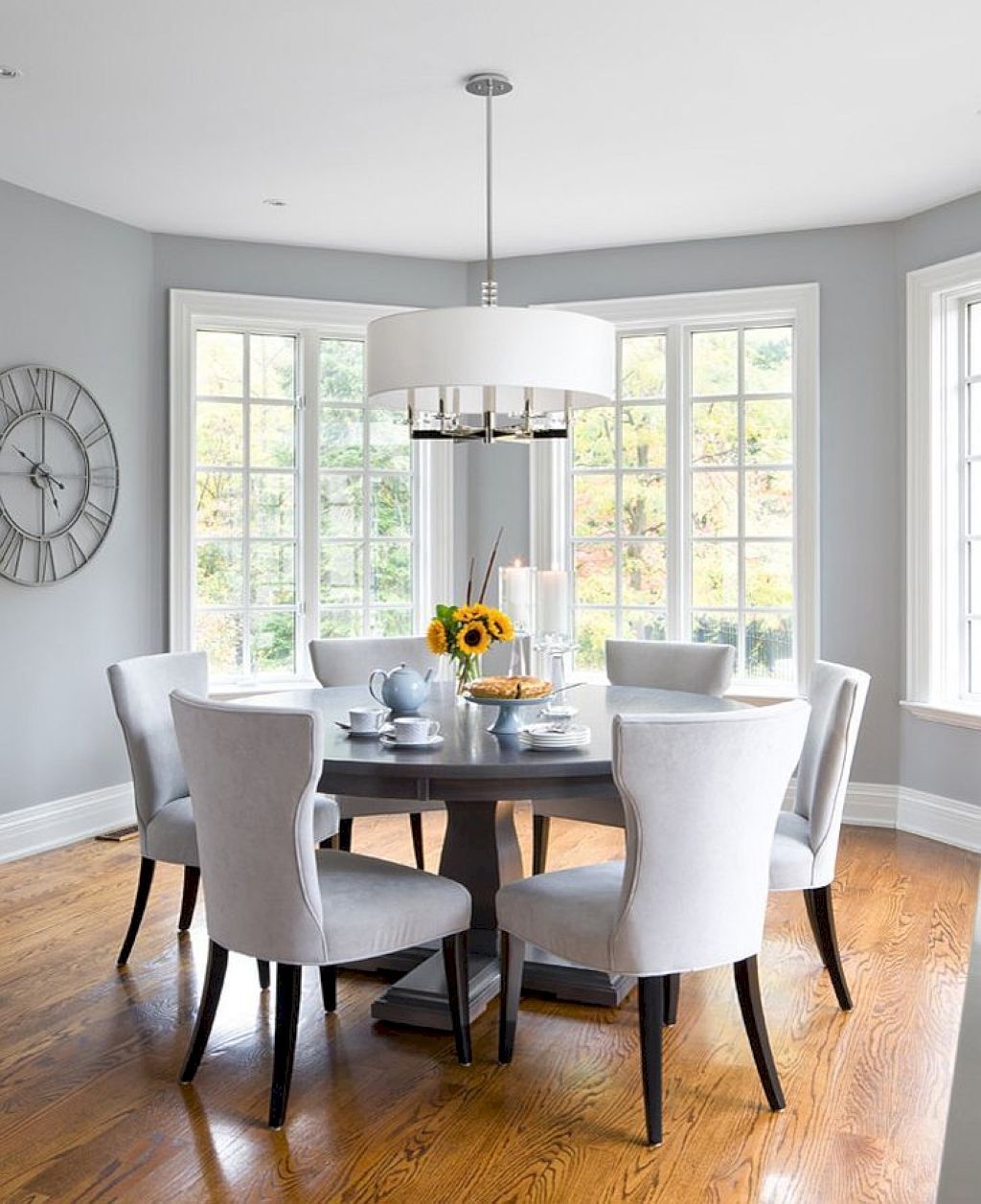 Contemporary setup for a bright and open dining room with an octagonal design of the walls around. The gray, round dining table made out of painted wood with a smooth finish nicely complements the gray walls.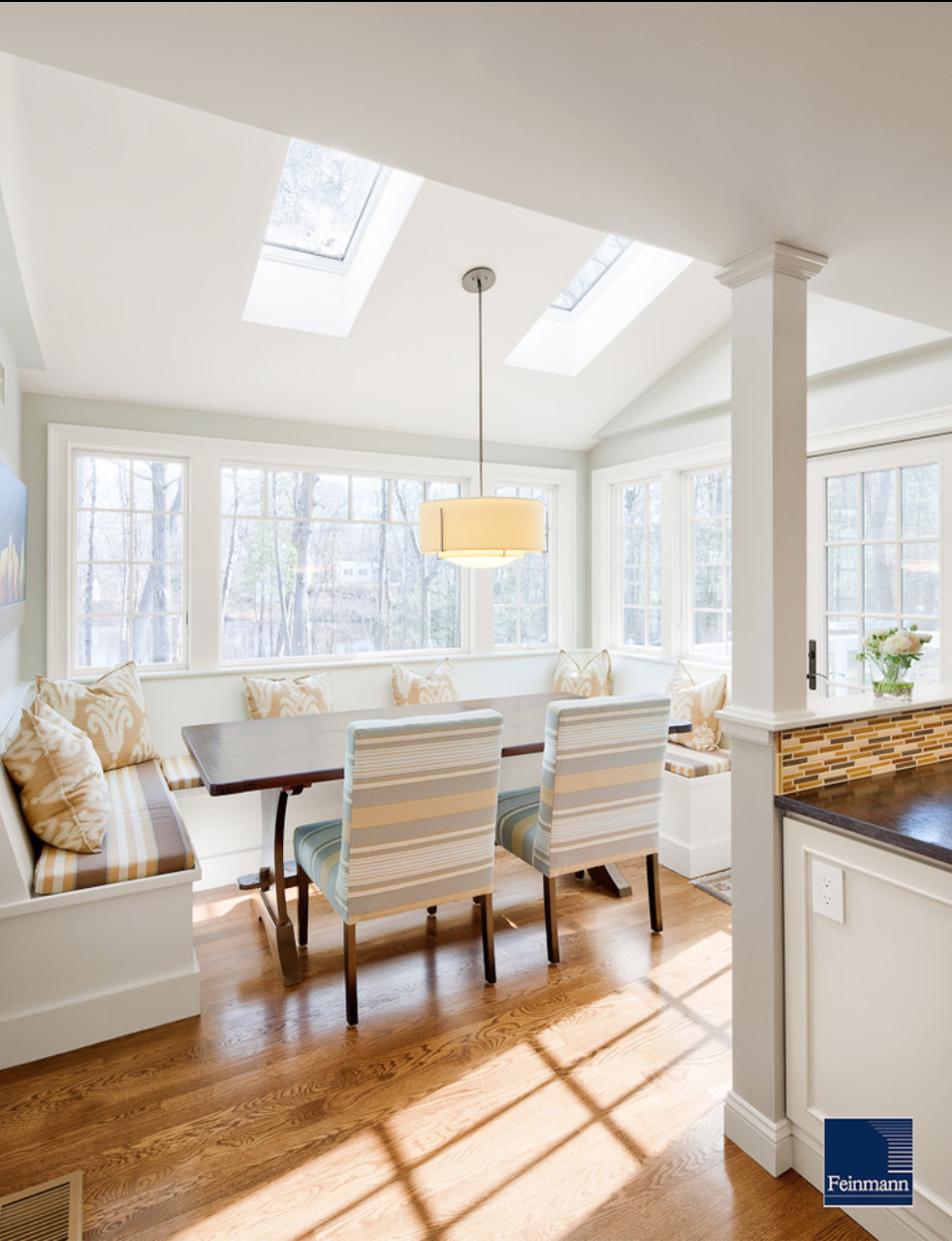 windows and skylights for a bright breakfast nook with a built in bench and chairs (decoist.com)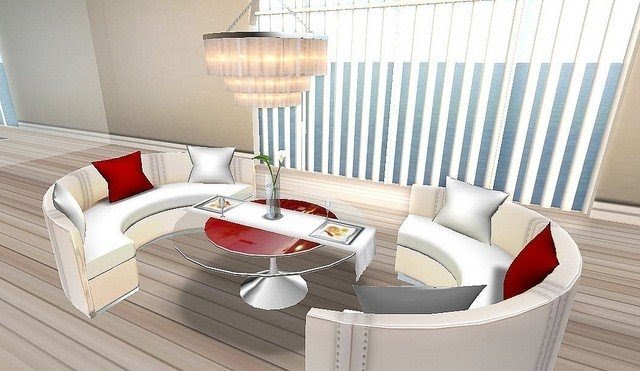 Recent Photos The Commons Getty Collection Galleries World Map App ...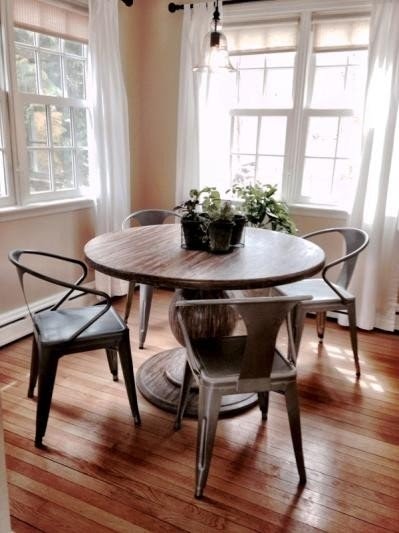 Blanca Dining Table from World Market & Vintage Tabouret Stacking Chairs from Overstock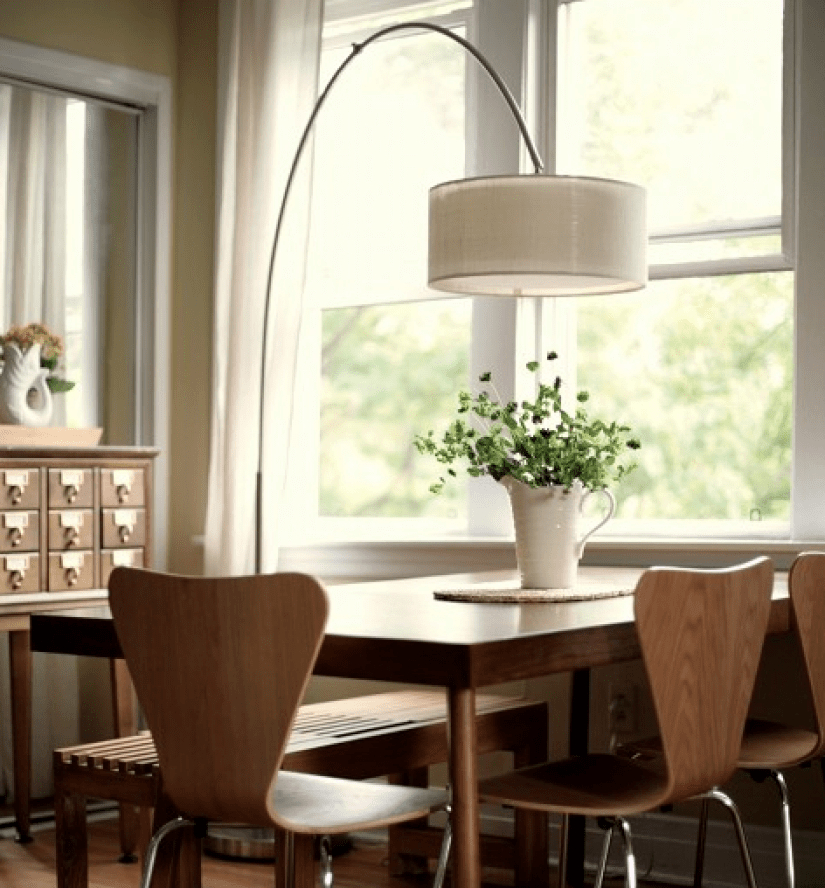 -I could almost do this... if I were sleek and restrained.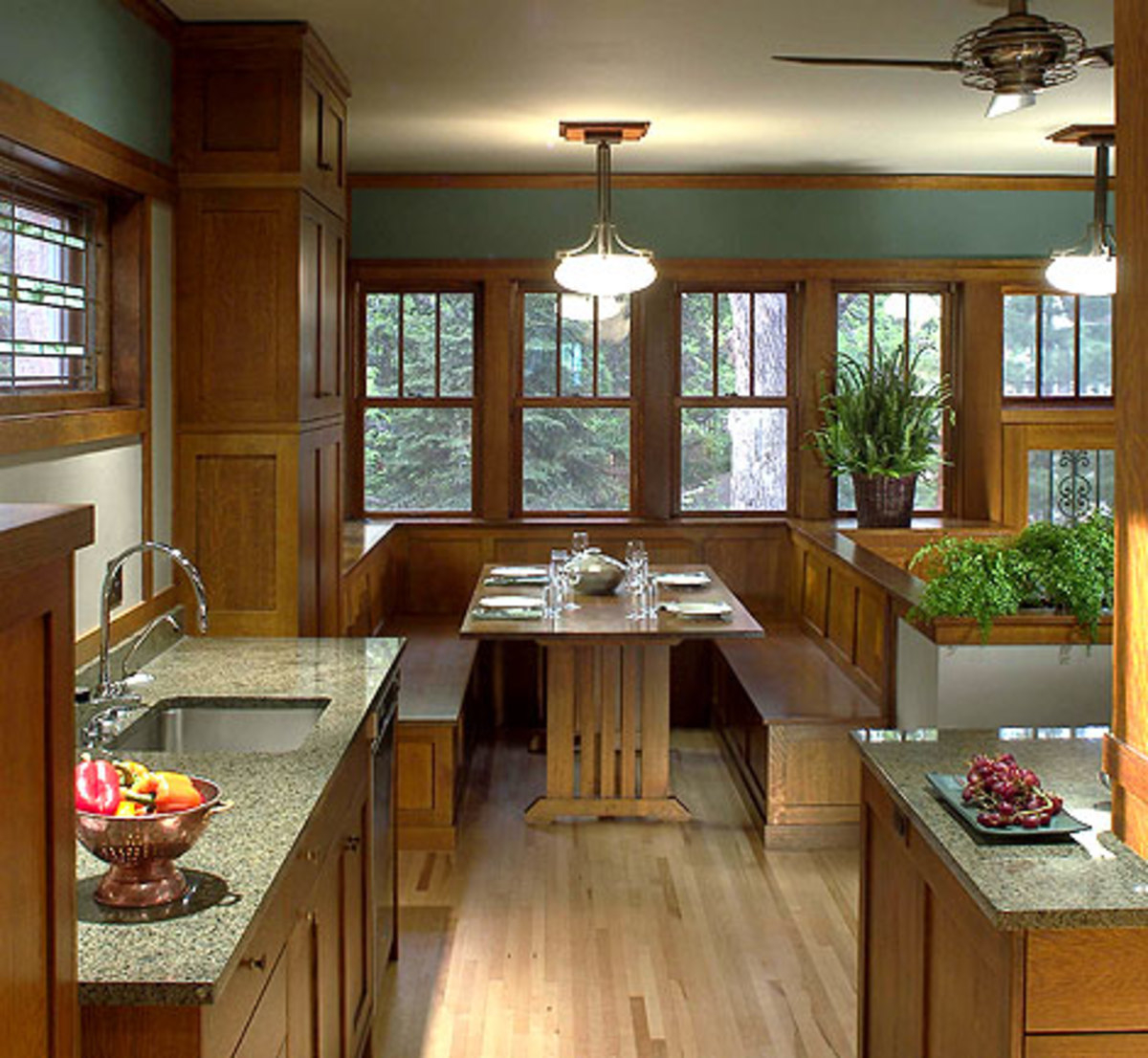 Example of Craftsman millwork design in a modern or updated kitchen/breakfast nook. Wood trim headers and a continuous line of paned windows as well as the small details such as the leaded window over the sink are classic craftsman beauty.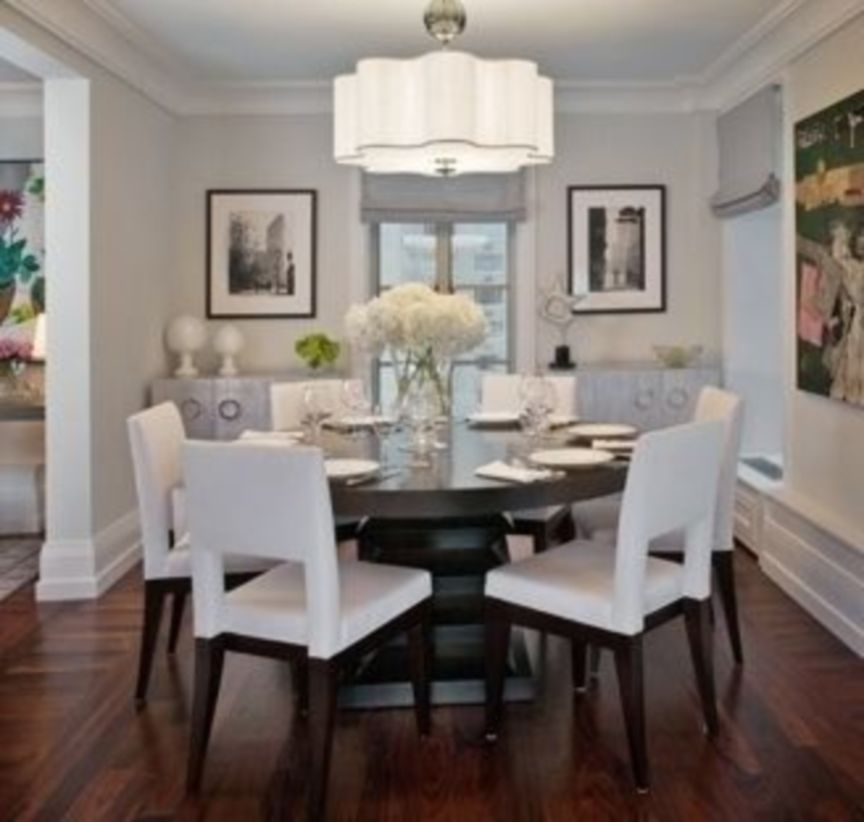 There is something comforting about this chandelier, yet it's fresh and contemporary. Now to figure out who makes it.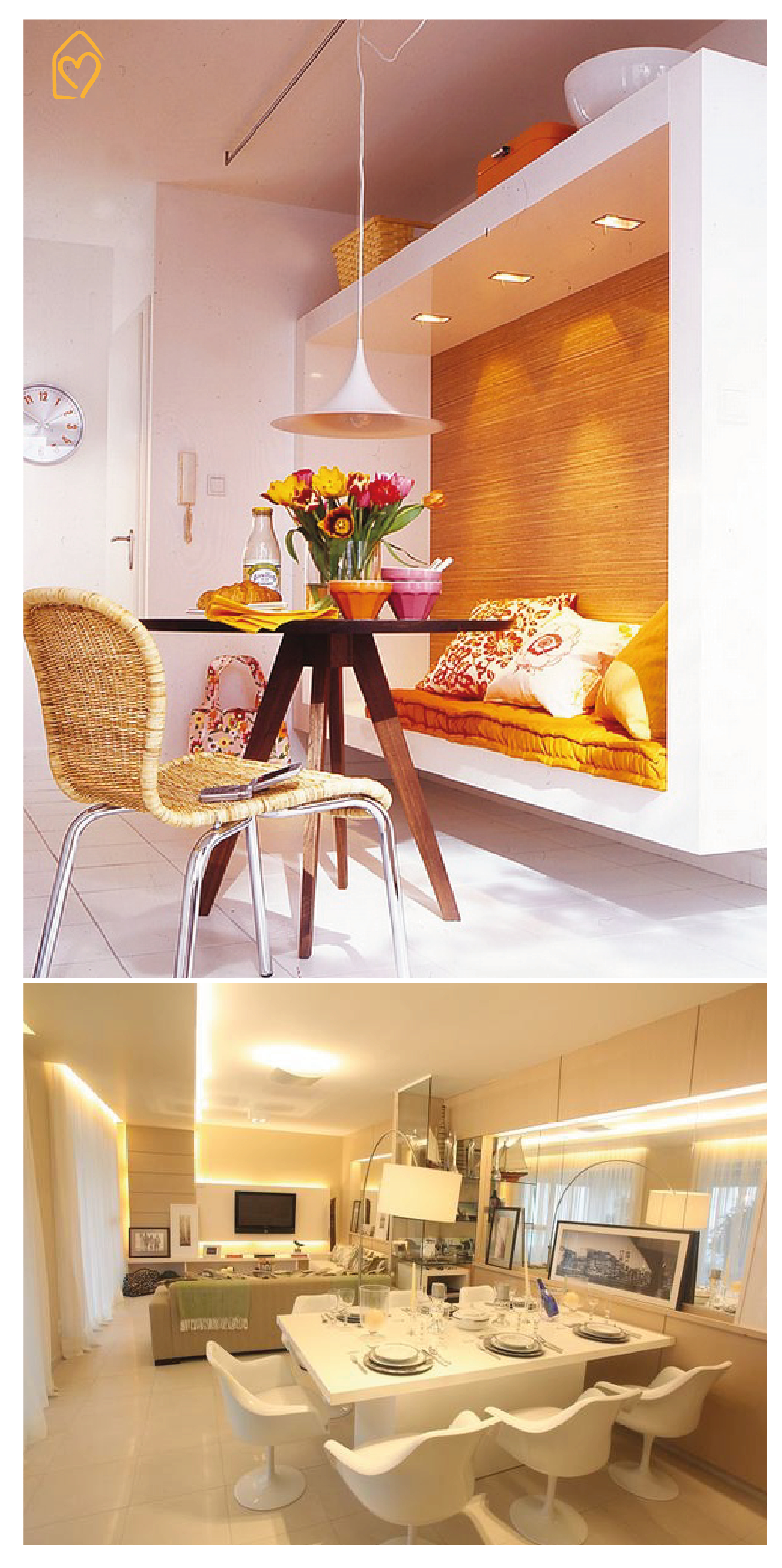 how to make small spaces appear larger? 1. Decorate with easily moveable or built-in furniture. 2. Use ceiling lights that do not obstruct space. 3. Decorate with minimal amounts of accessories. 4. Install sliding doors instead of normal doors.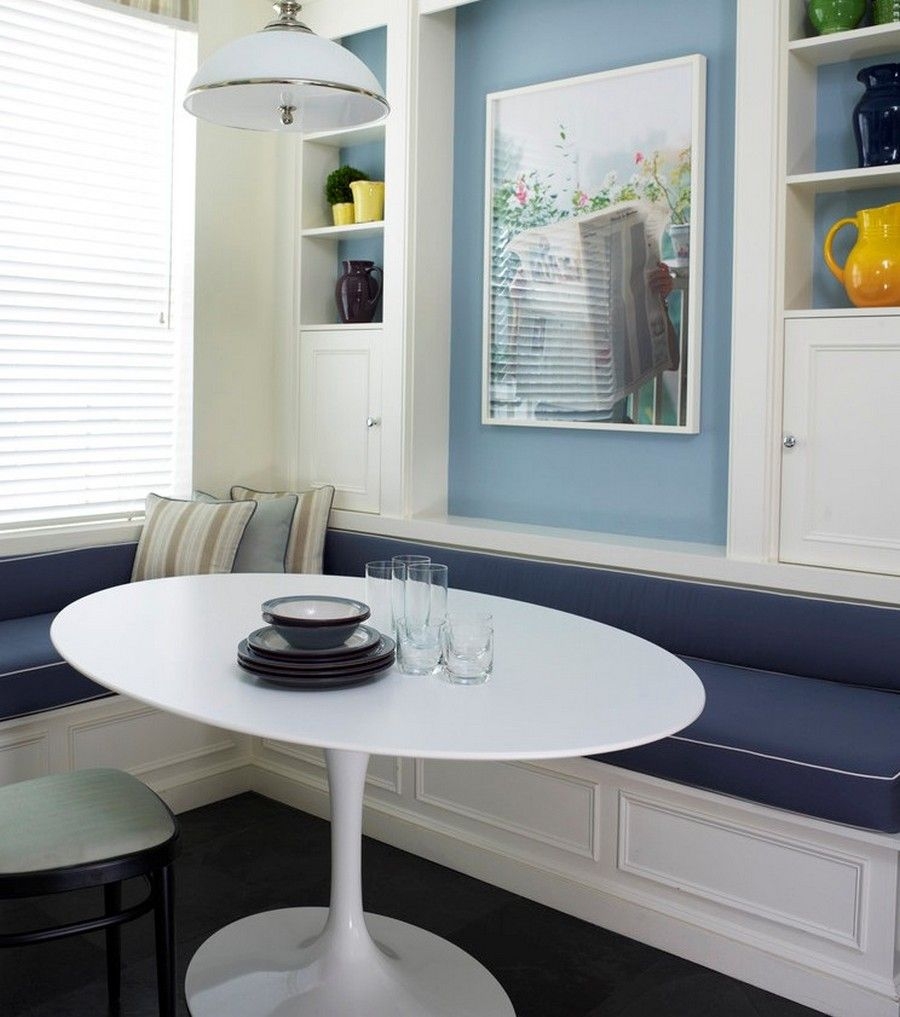 I love the idea of a built in booth in the kitchen! And teh shelves are cute for display. The blue color is really pretty too.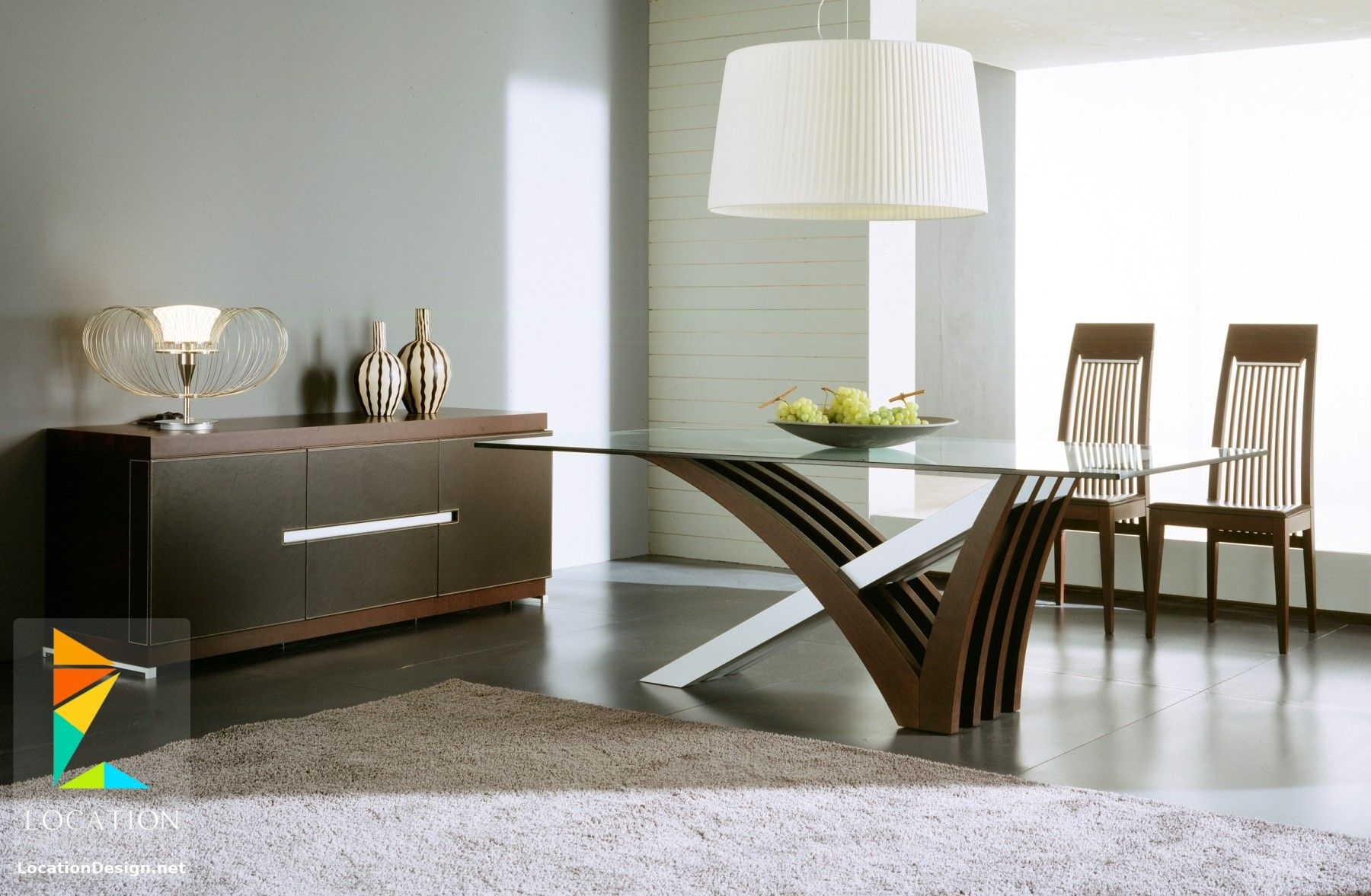 Interni 3 Piece Dining Set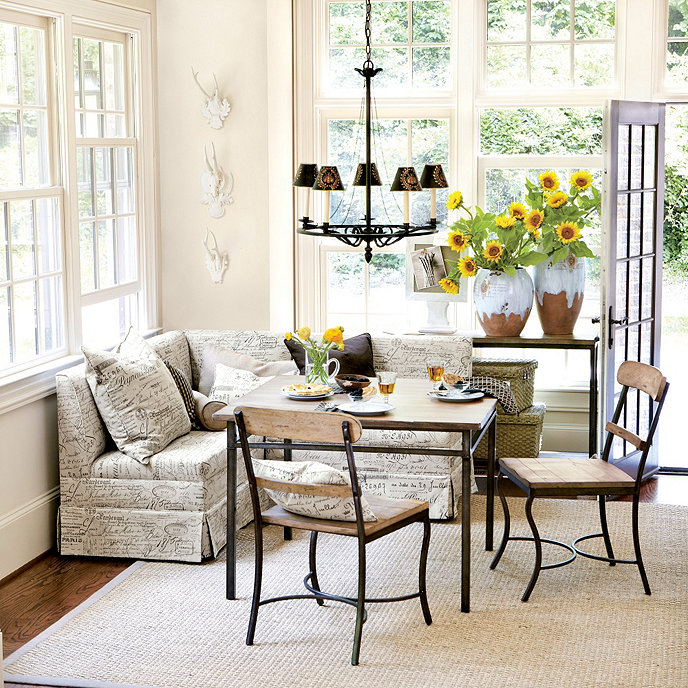 Banquette seating; Coventry Corner Bench and two 36" Benches... when you can't do it yourself!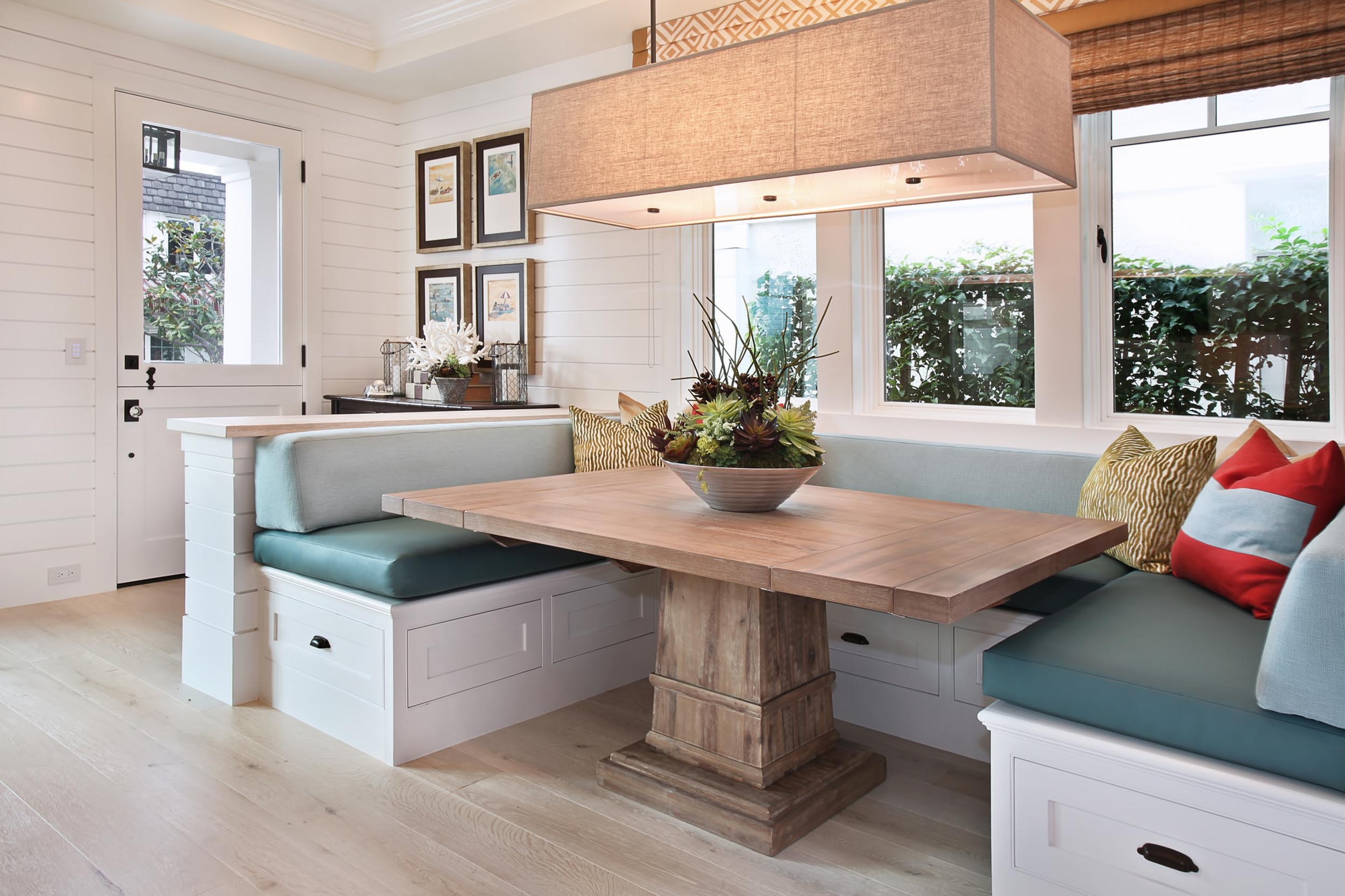 eating nook #eatingnook eating nook eating nook -- I'd do a smaller light fixture, but this looks cool. Might not be super practical though.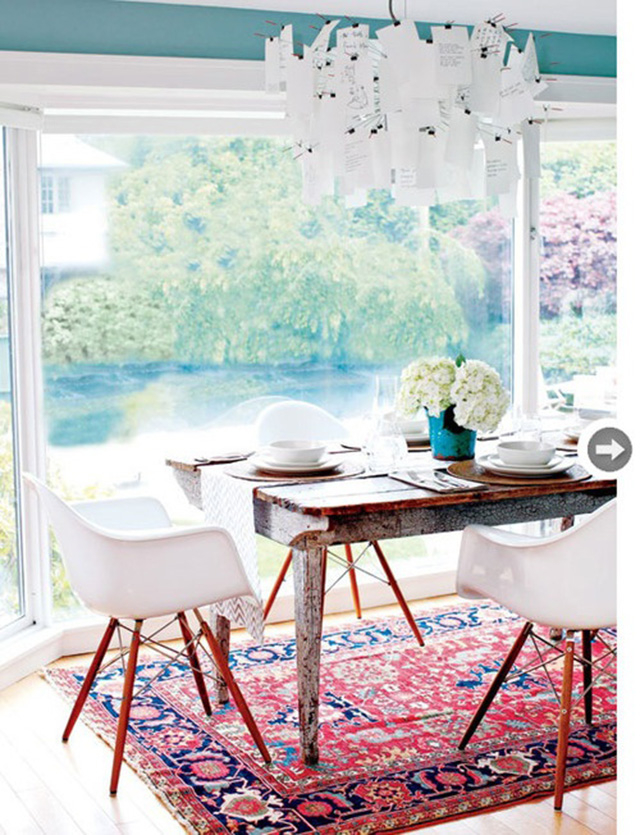 a mix of styles, modern chairs, rustic table, and antique rug with a Zettel'z chandelier.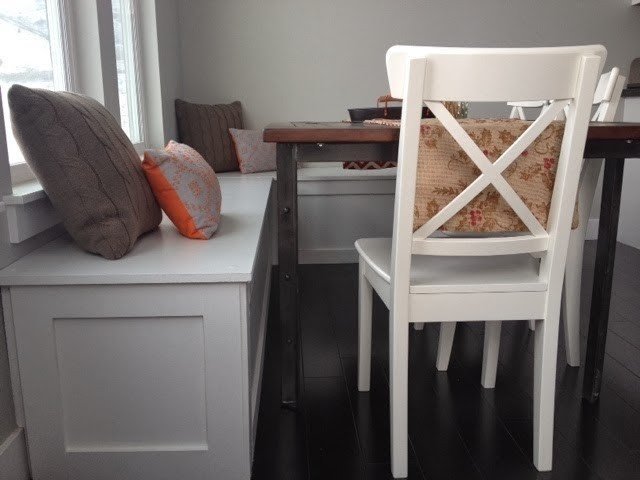 How to build a kitchen bench & nook. DIY. husband project. improve your kitchen. renovate your space. new kitchen seating. weekend project. modern kitchen. bench seating. bench seat. ikea. target. downeast. homemade table runner. Mini, Mama & Co: Projec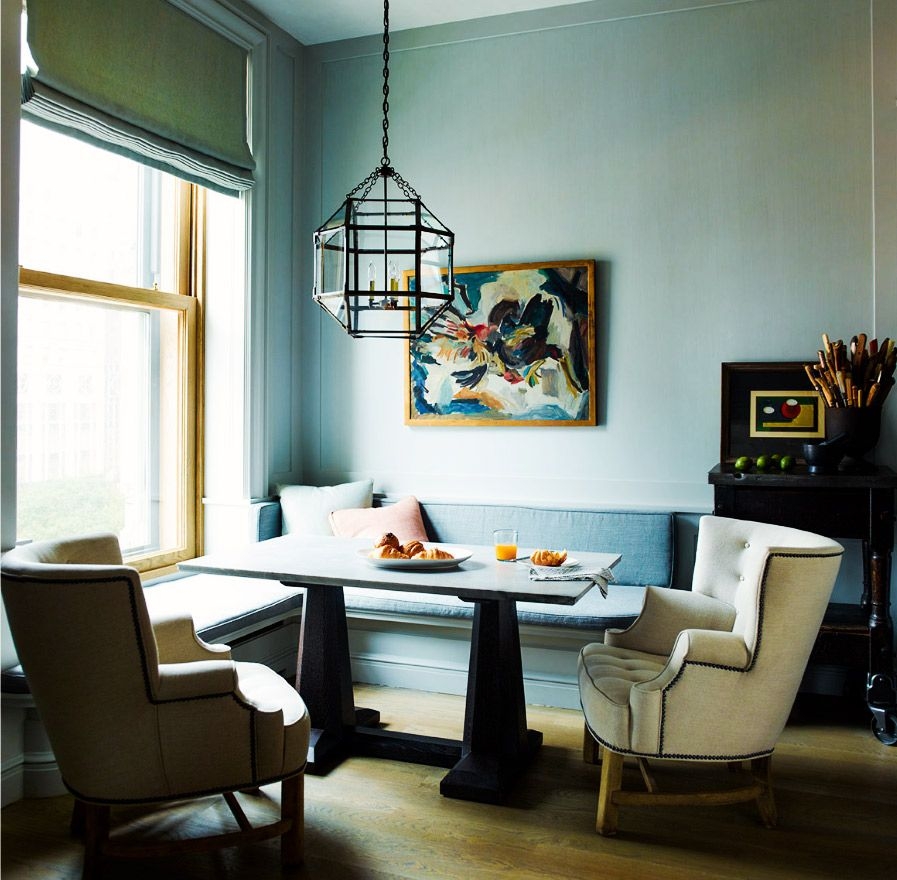 PHOTO: Eric Piasecki ~ Fussy and intricate patterns can quickly take on a granny vibe, so if you want to modernize your space, sticking with solids is a safe way to do so. Use texture, mixed metals and finishes, and shapely furniture to add interest and k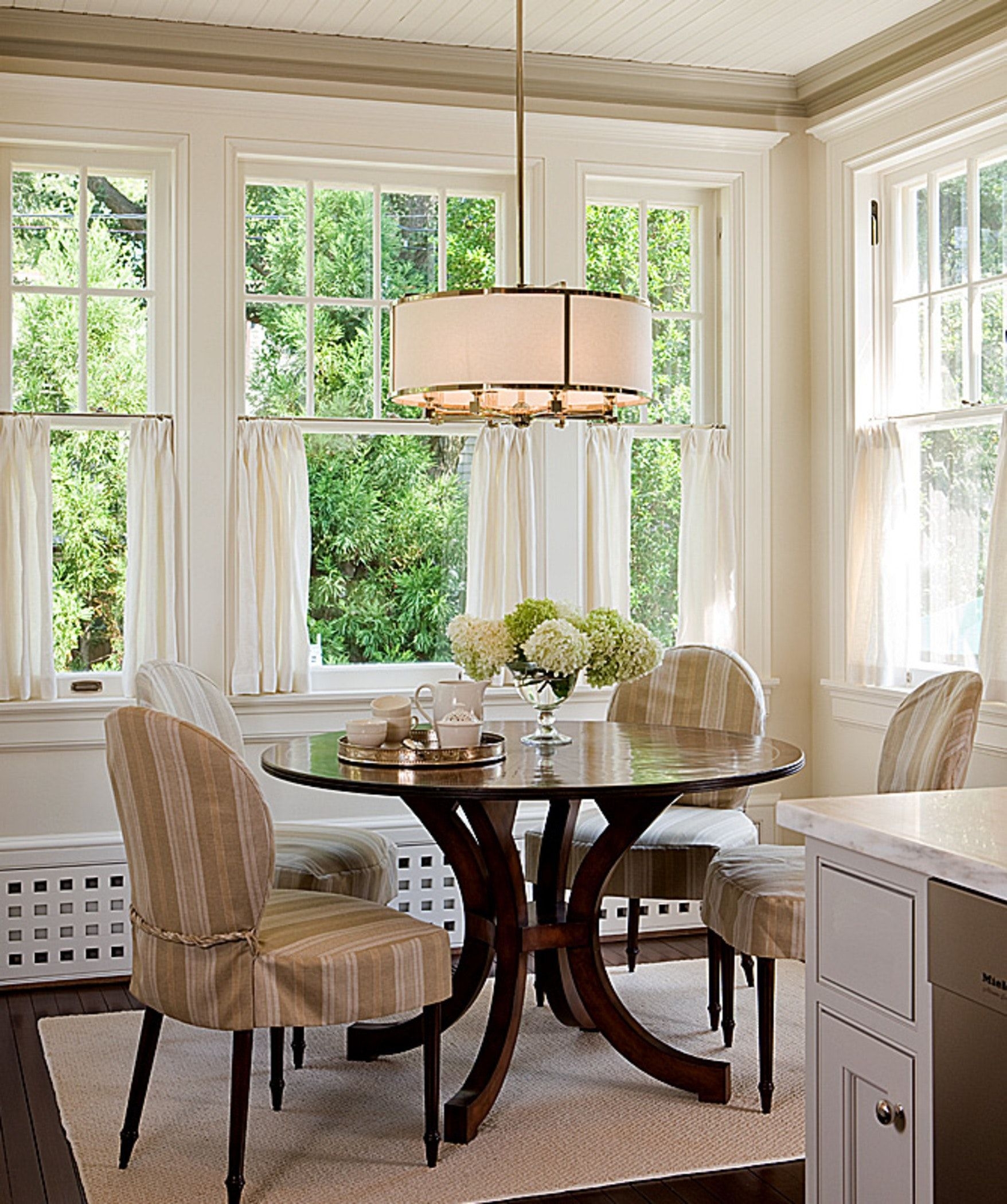 rarely seen: cafe curtains done well...also, mixing the modern chandelier form is refreshing in this traditional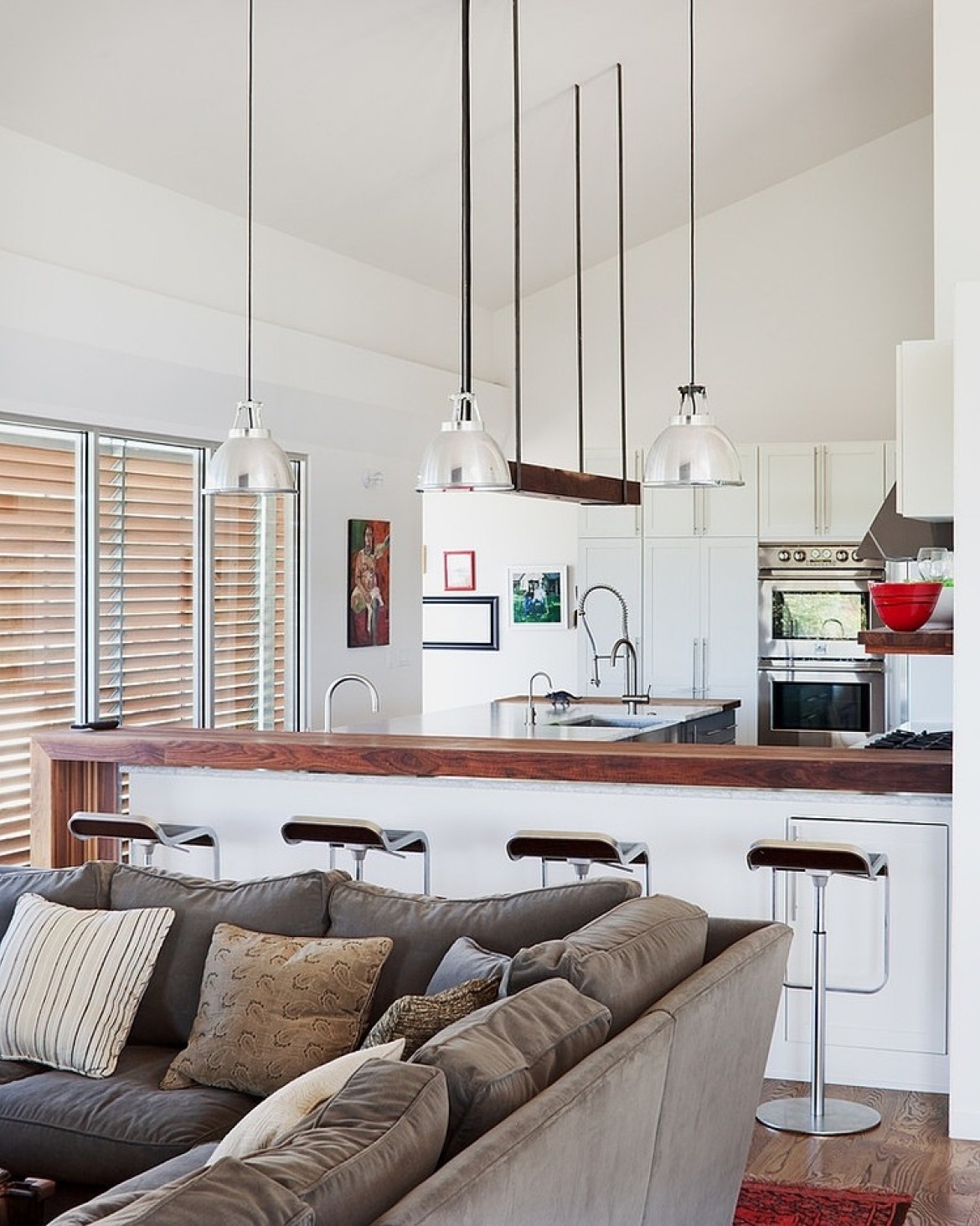 Porch House by Hufft Projects - Modern farmhouse featuring traditional forms designed by Hufft Projects located in Kansas City, Missouri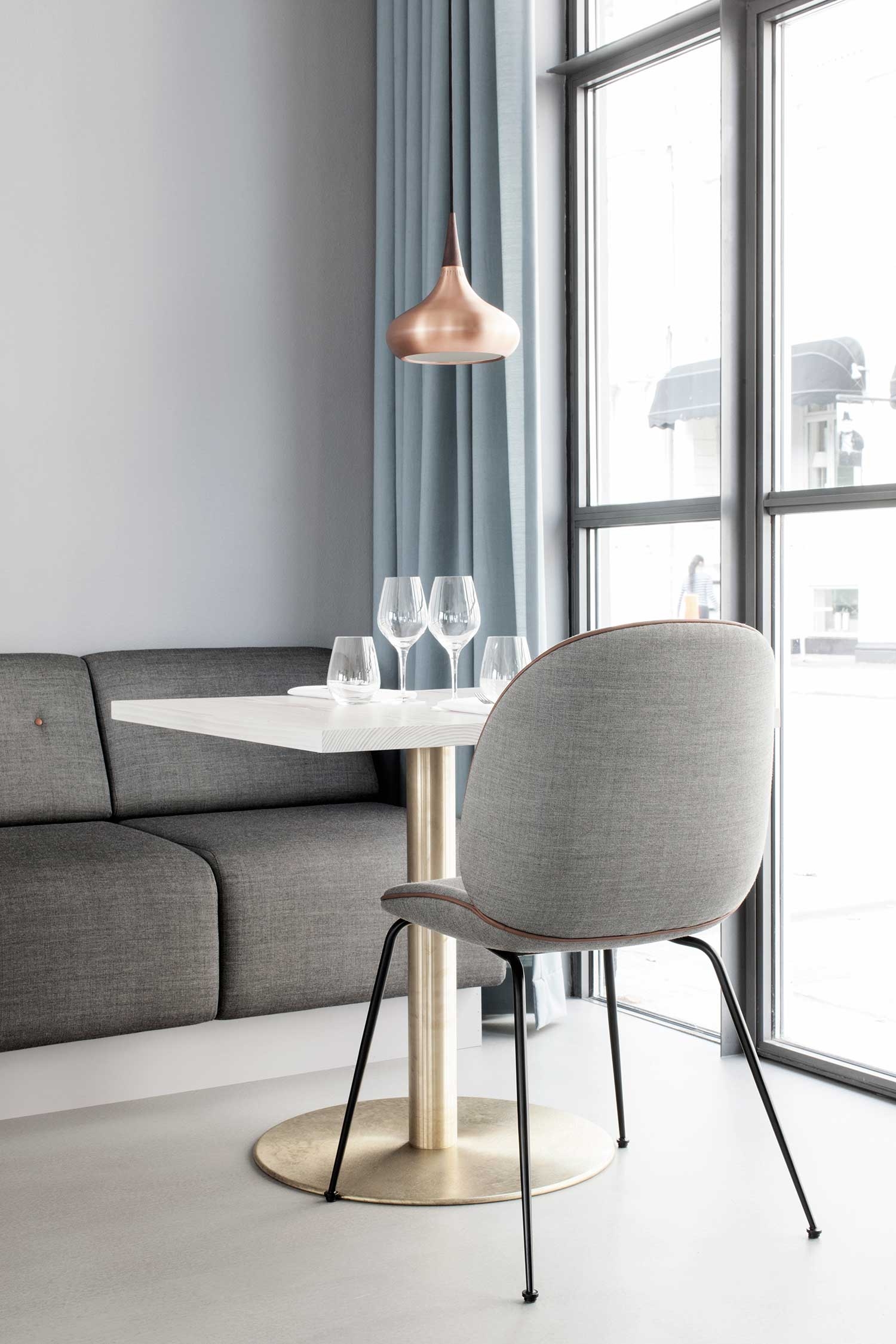 T.D.C | Veranda Restaurant in Copenhagen by GamFratesi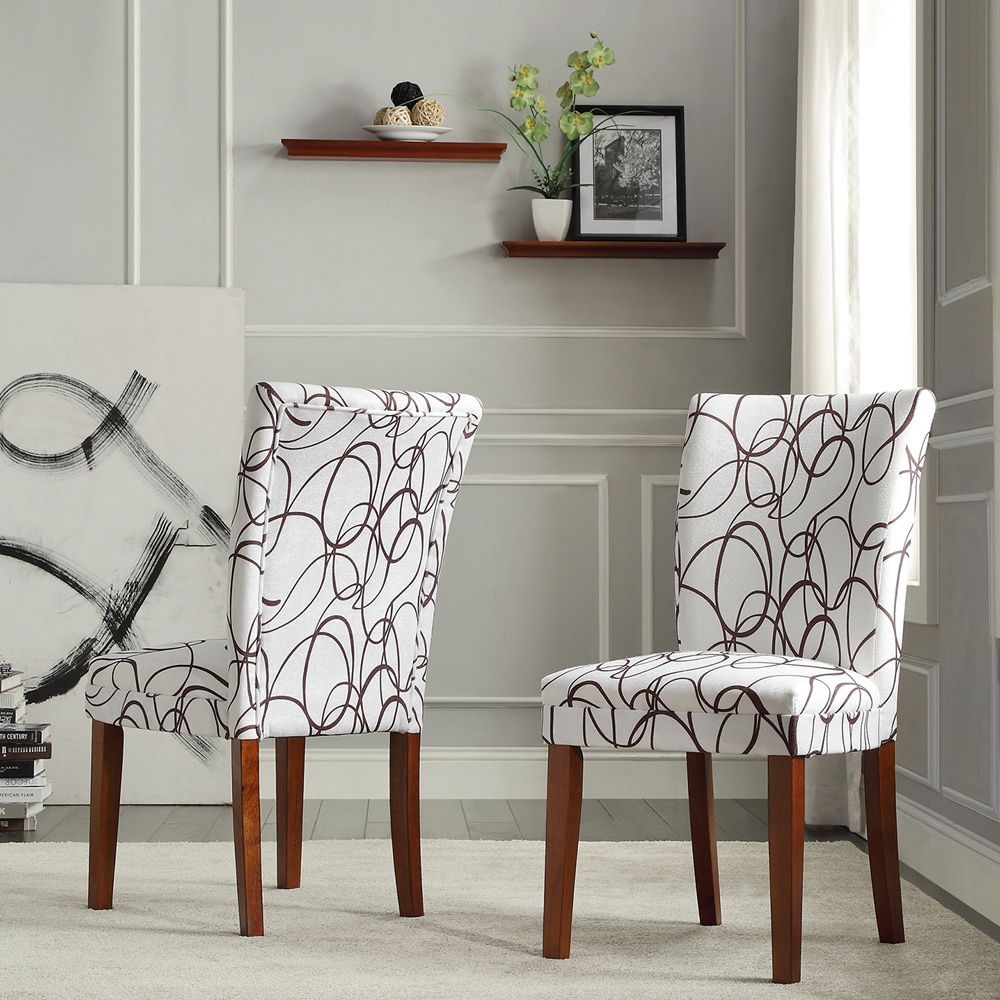 It is a set that includes 2 dining room chairs.They have got a chocolate swirl print accent Asian rubber-wood frames and dark cherry finish. They measure 19 inches long by 19 inches wide by 38 inches high.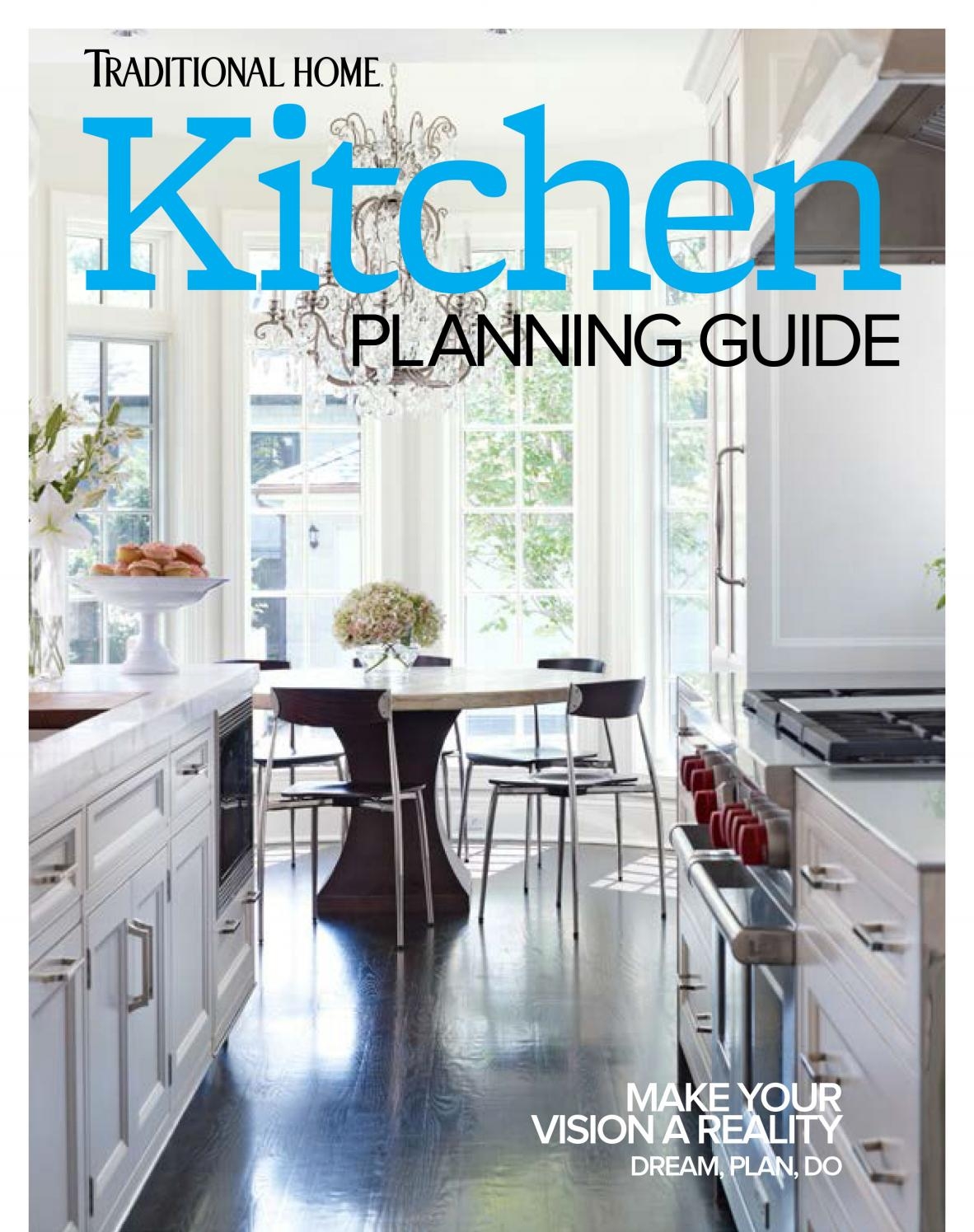 A crystal chandelier above the breakfast table adds dressy details to a modern kitchen.