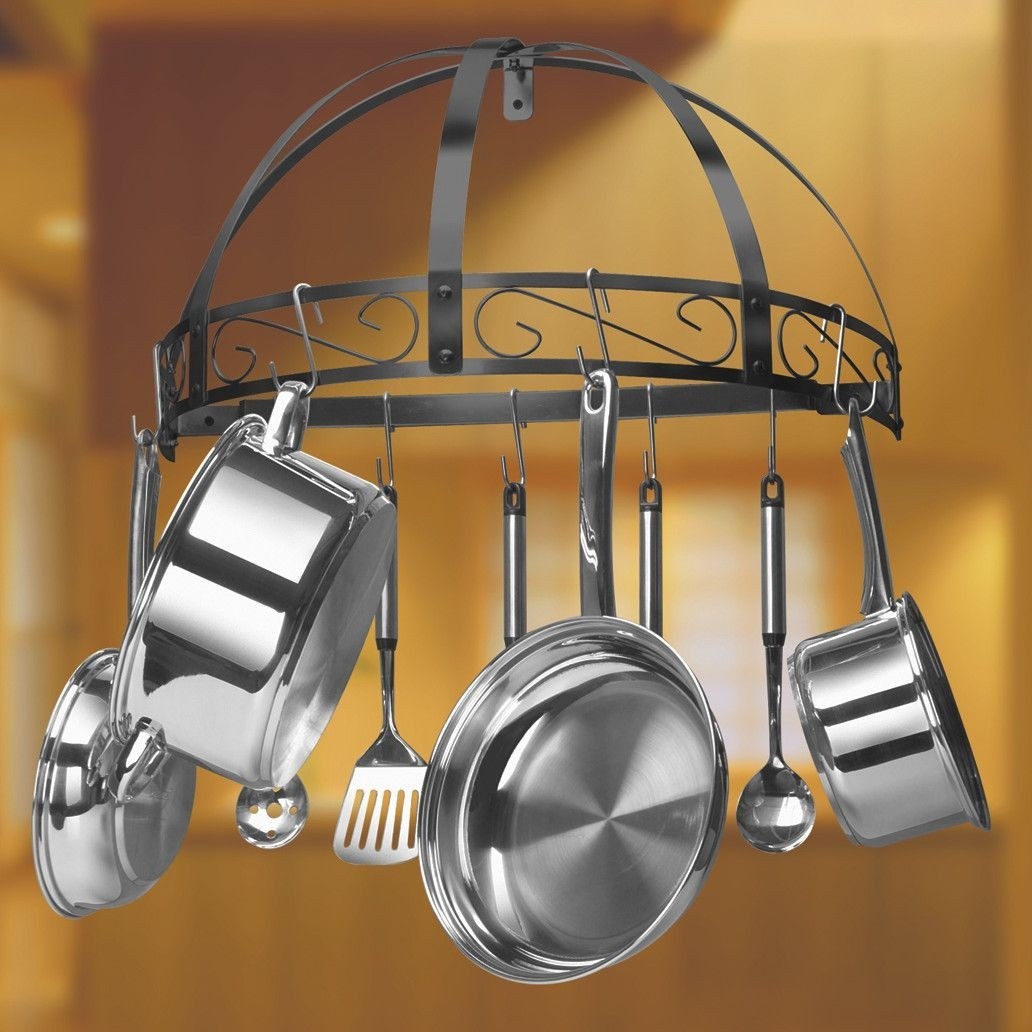 Classicor Series Wrought-Iron Semicircle Pot Rack
Decorative pot rack made of wrought iron with satin nickel finish. Its design is quite rough, yet charming, great for a traditionally styled decor. With this rack you get twelve hooks and necessary mounting accessories.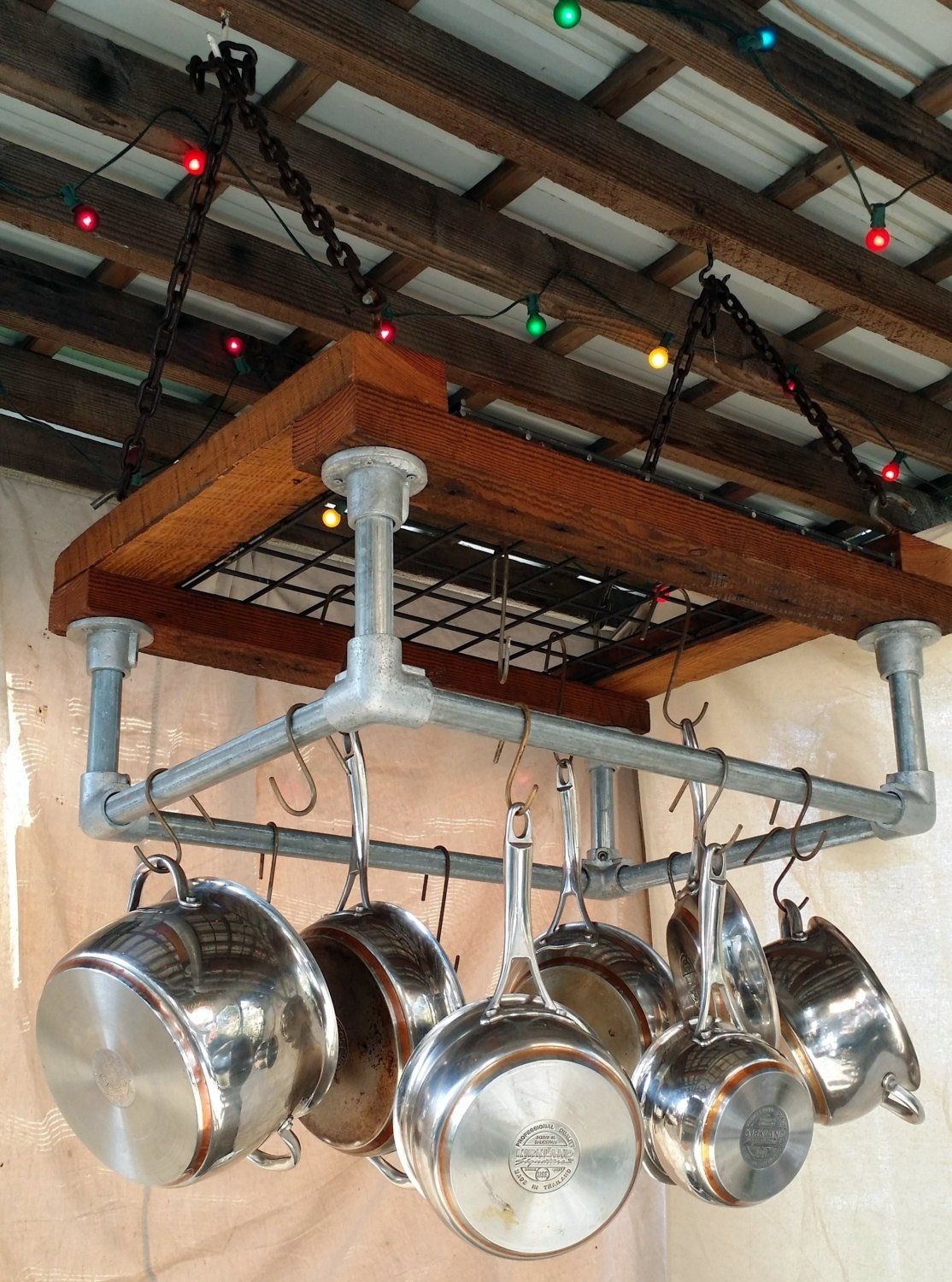 Kitchen pot rack reclaimed wood
A cool industrial style ceiling pot rack. It's built of a sturdy rectangular frame of brown-finished reclaimed barn wood with a black metal grate inside and galvanised metal pipes and tees under. Hooks are of metal wires, chains of wrought iron.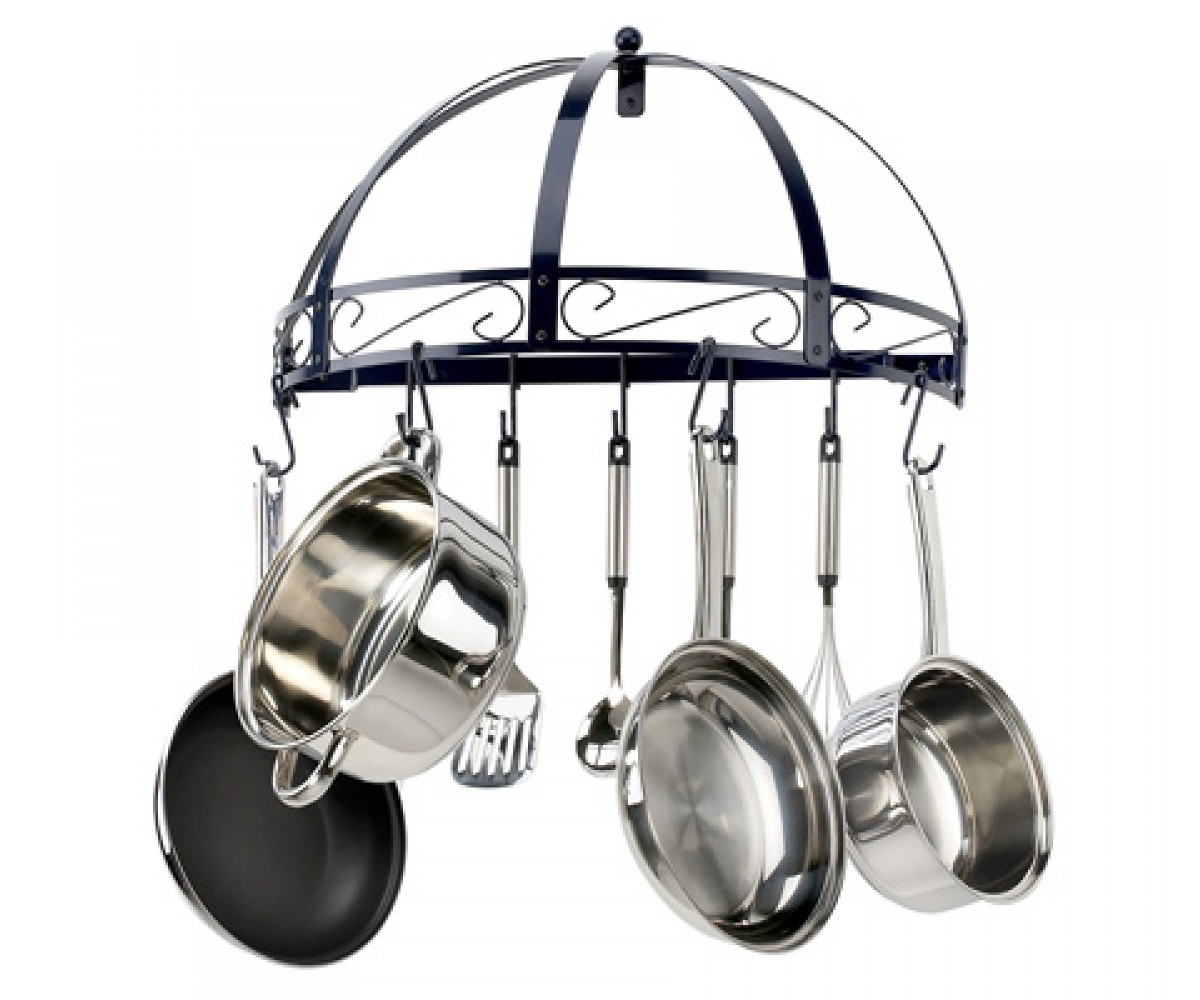 Wrought Iron Wall Mount Half Round Pot Rack Kitchen Pans Hooks Hanger Hanging
A durable pot rack, designed of powder-coated wrought iron with half-a-dome-like shape and beautiful scrollwork. It comes with 9 matching hooks, beautifully displaying your pots, pans and kitchen utensils.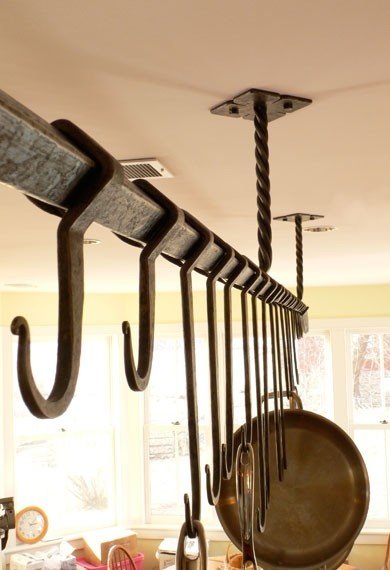 Built-to-last and sparkling with industrial flair, this long pot rack allows you to display all your pots and pans above your kitchen island. Plus, the ceiling-mount rack is equipped with various size robust hooks firmly attached to the matching rod.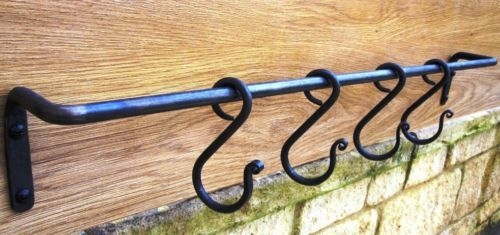 Hand forged wrought iron kitchen rail with four hooks to hang kitchen pots and pans. Traditional beeswax coating adds to attractive look and protects the metal. A pretty accessory in a rustic and/or traditional kitchen.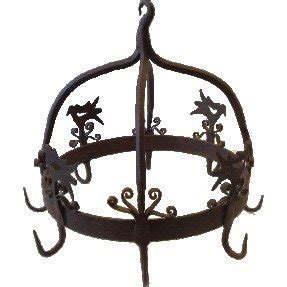 Made of wrought iron pot rack hook is an impressive and very practical solution for any interior. Charming details and an attractive finish bring a unique atmosphere to the decor. The whole is phenomenal.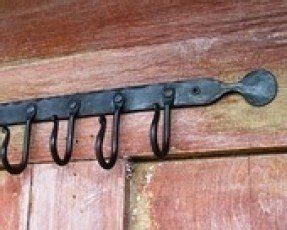 Vermont made wrought iron wall rack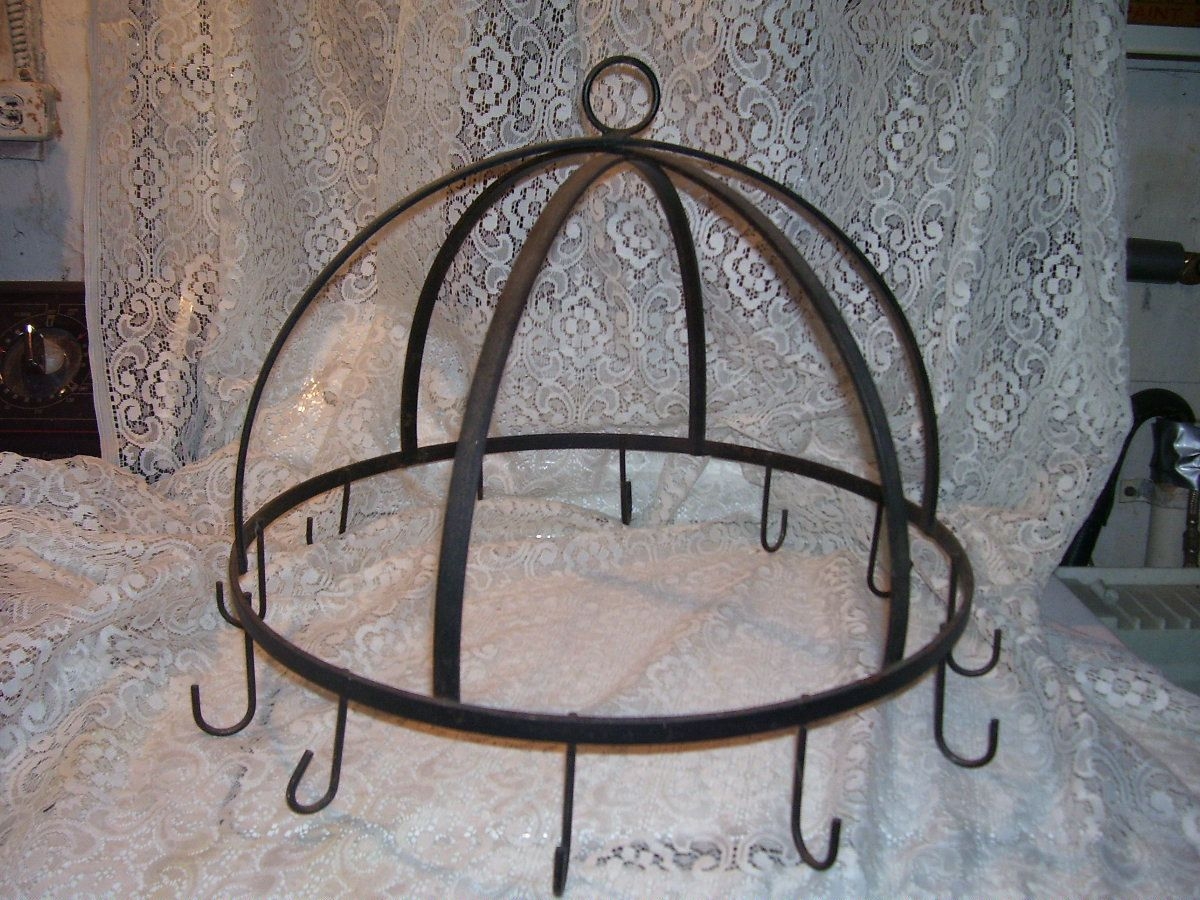 Sale Antique Primitive Country Farmhouse Kitchen Large Wrought Iron Pot Herb Hanger with 12 Hooks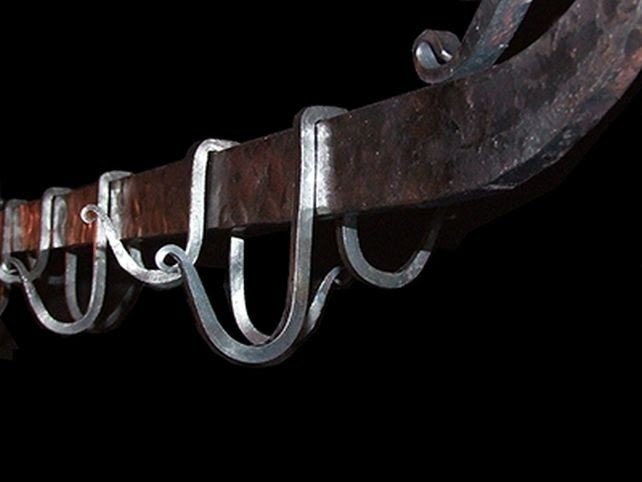 wrought iron pot rack hooks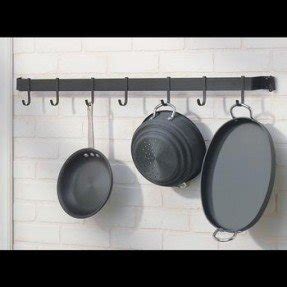 The wrought iron design of this stylish kitchen pot rack is a perfect execution and functionality. It looks great on the kitchen wall and allows for convenient access to the pots. All neutral stylistically will fit any decor.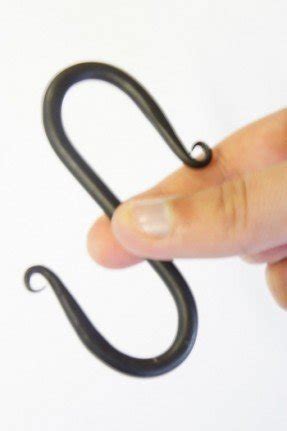 Hook made of wrought iron. Designed for standard pot rack. Simple form and space saving in any kitchen.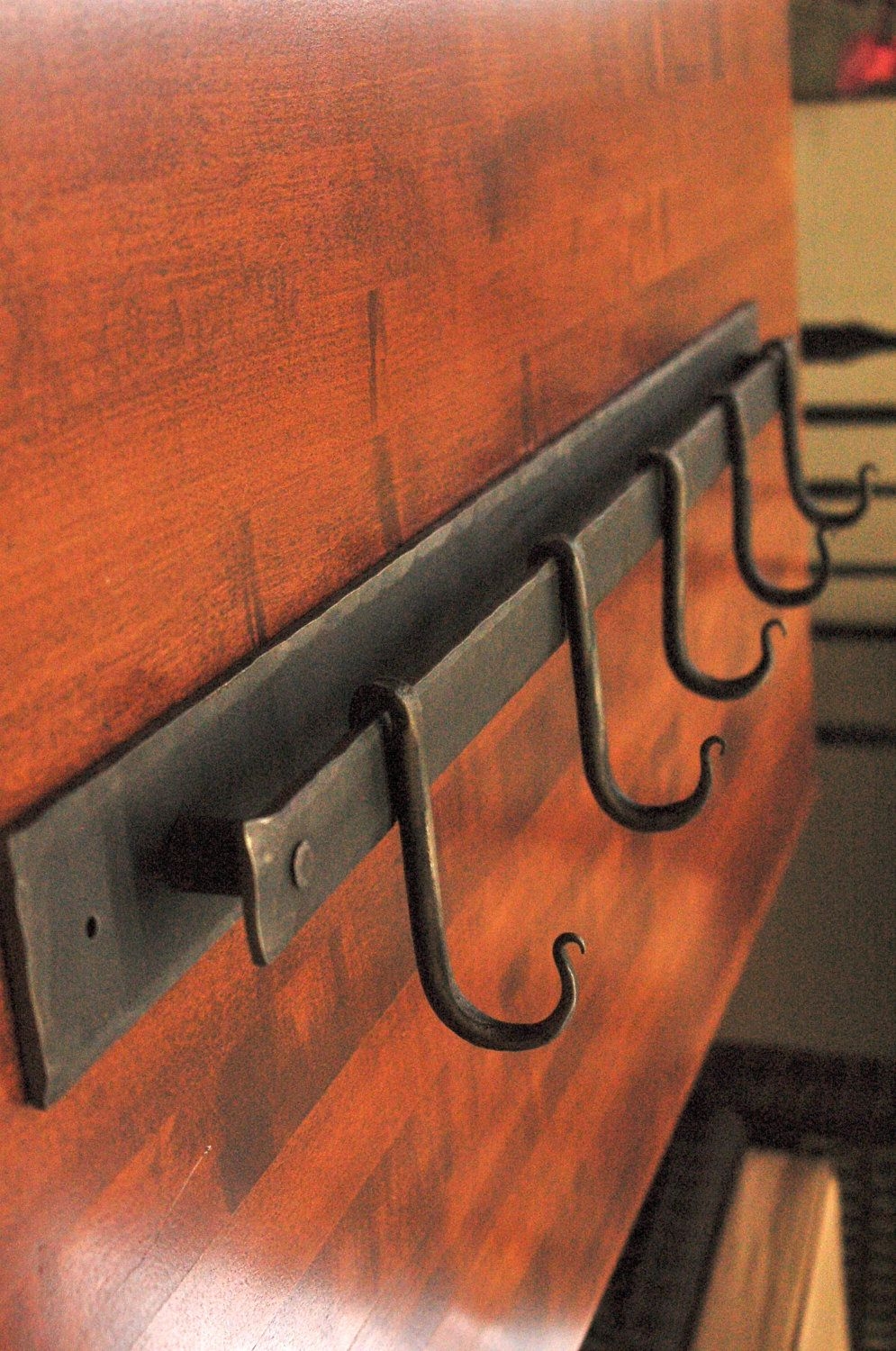 Hand Forged 7 Hook Pot Rack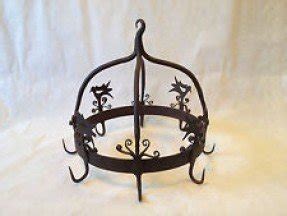 ... Cast Iron Butcher Shop 5 Hook Meat Wild Game Vintage Pot Pan Rack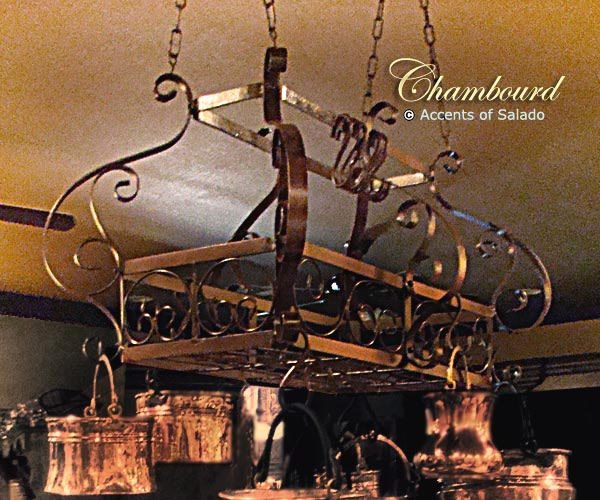 The wrought iron design makes this unusual and very original pot rack hook captivates. All beautifully finished, it has been stylishly decorated and looks great hanging from the ceiling over the island kitchen.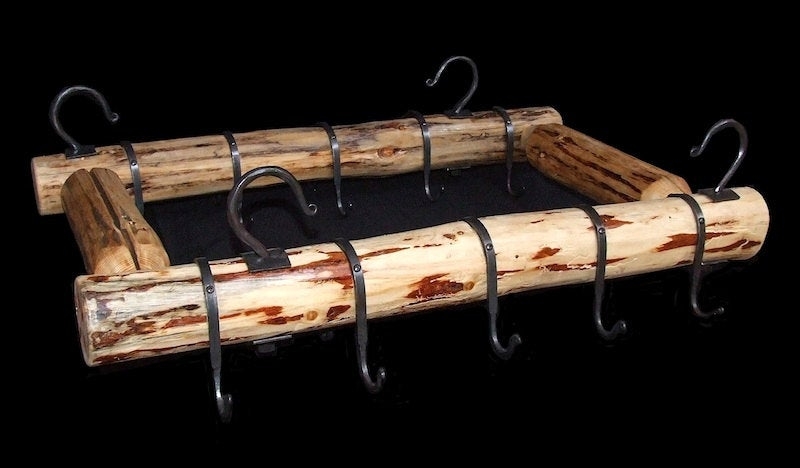 Hanging log pot rack with wrought iron hooks by MistyMtnFurn, $650.00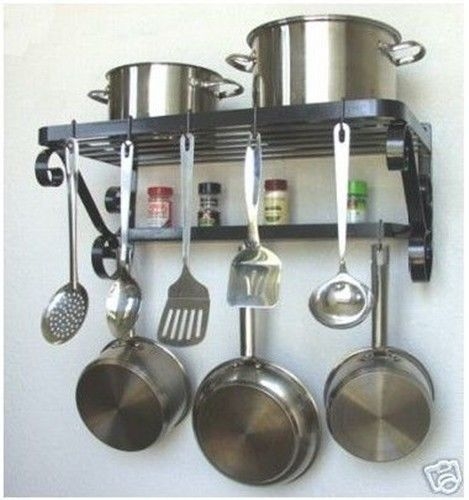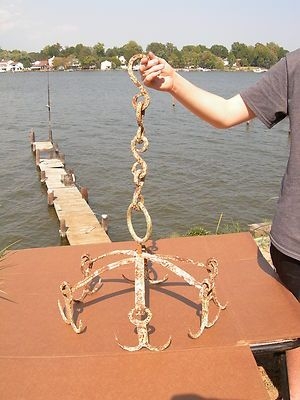 Check this out, you shabby kitchen decorators...this looks awesome! Antique Industrial Age Hnd Forged Wrought Iron Kitchen Rack-Hooks~Pots,Pans,Meat | eBay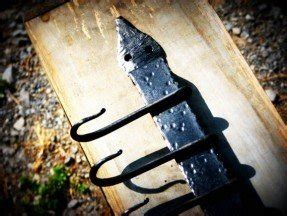 Hand Forged Iron HammeredStyle Utensil Rack and Hooks by by VinTin, $70.00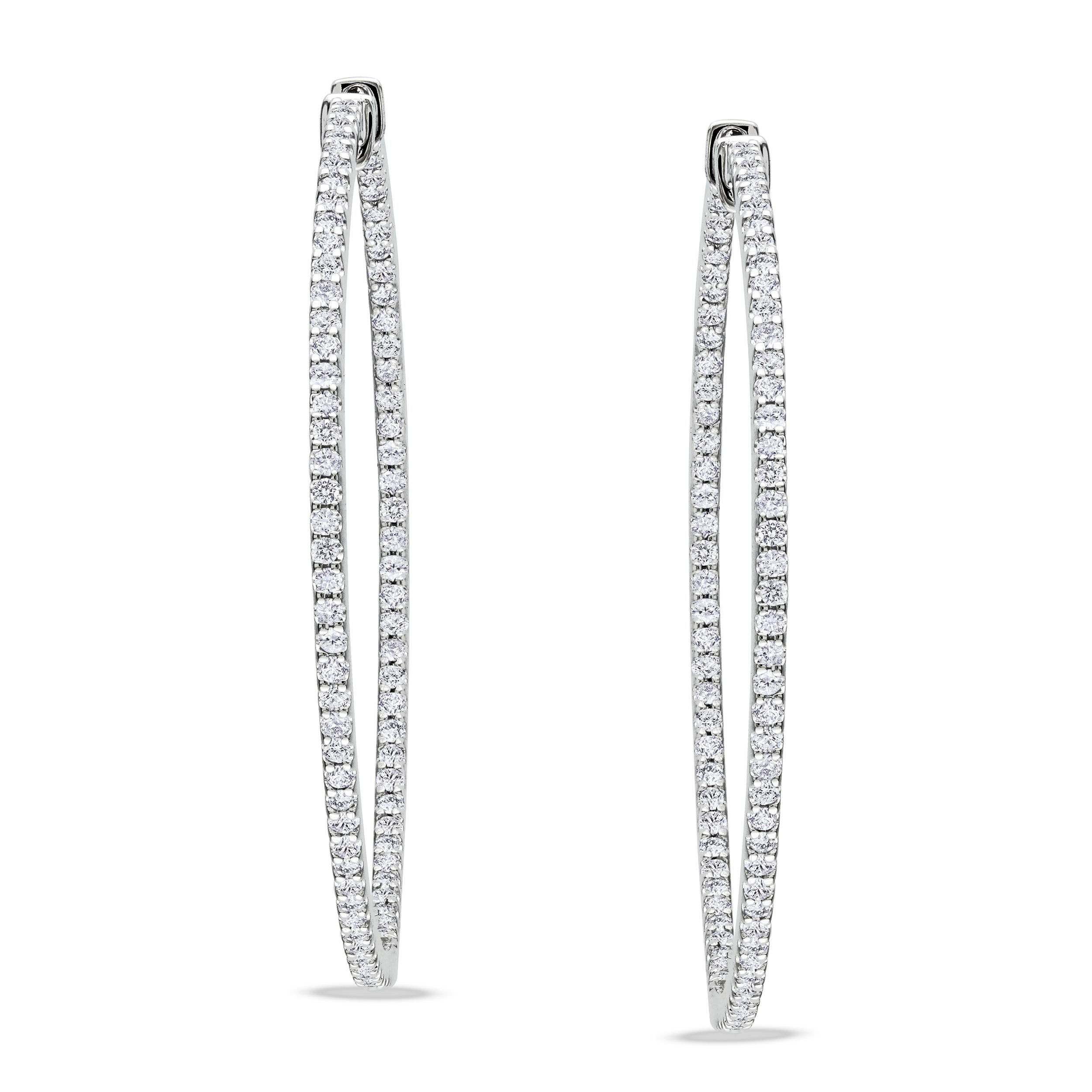 IP-POT-RACK-LARGE-HOOK-901-438-2T.jpg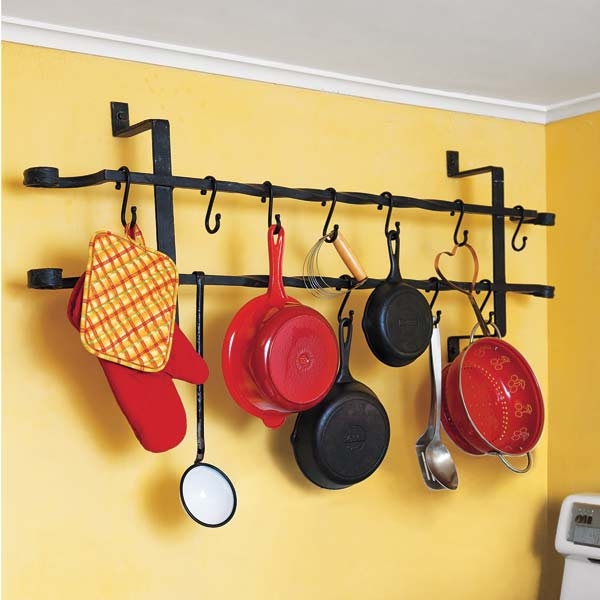 Make a pot rack from a vintage window guard, and other easy ways to upgrade your kitchen. Some really good ideas in here!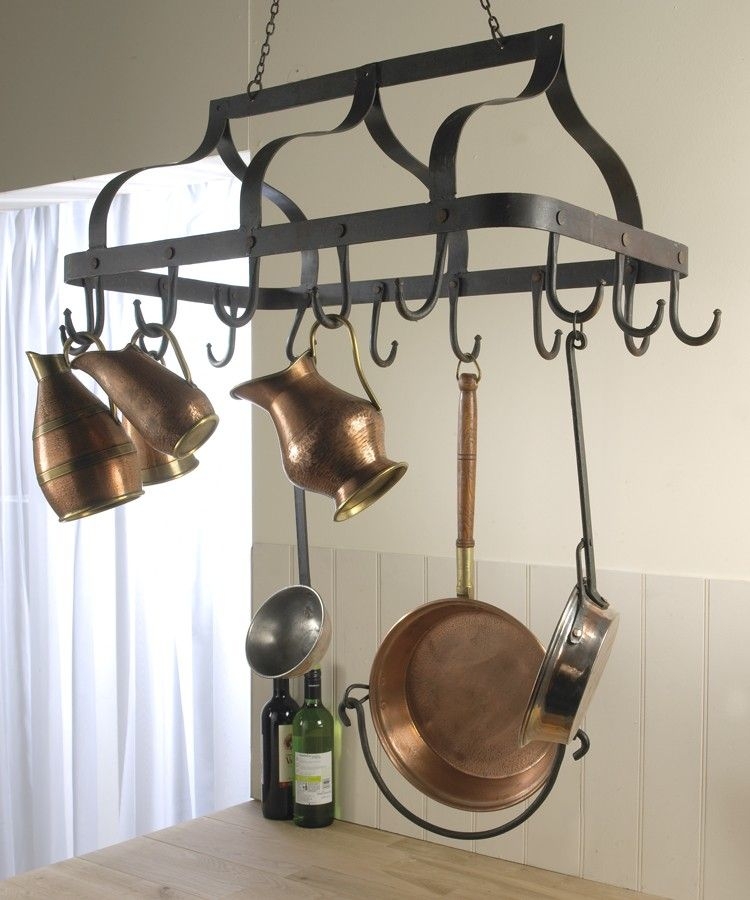 A pretty country style ceiling-mounted kitchen rack hanging on a chain. It's crafted of black-finished iron. A rectangularish bottom frame with a dozen or so sturdy l-shaped hooks is joined with 3 dome-like elements fixed to a top bar.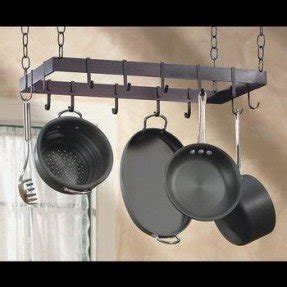 Shop the best selection of #Kitchen Pot #Racks Black Wrought Iron @The Renovator's Supply, Inc.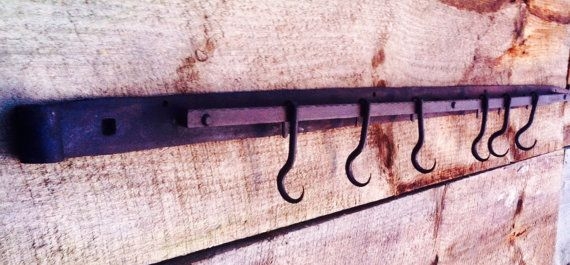 Repurposed Wrought Iron Barn Hinge Pot Rack w/ by GravityLineForge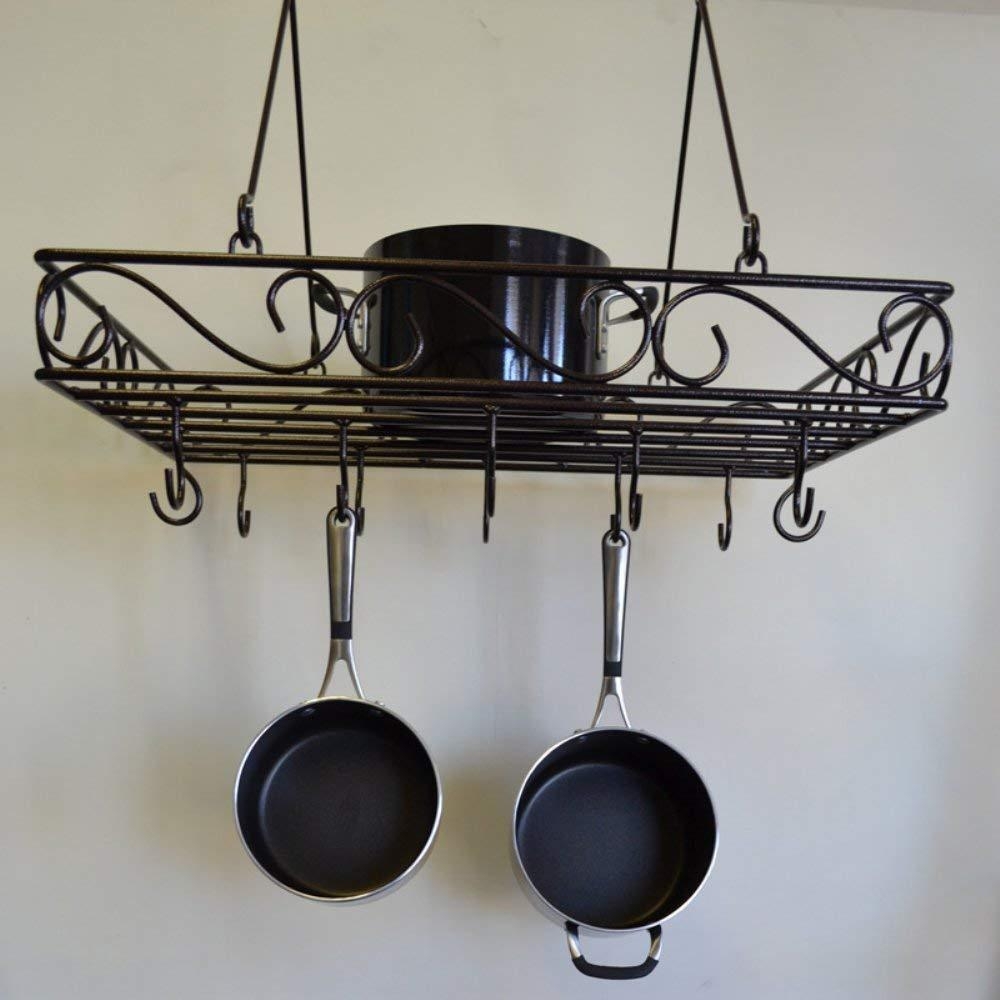 J & J Wire Scrolled Wrought Iron Pot Rack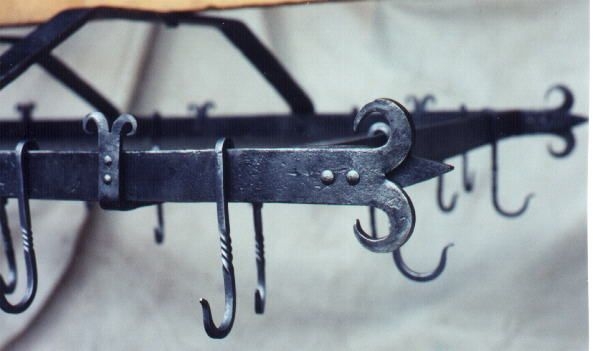 pot rack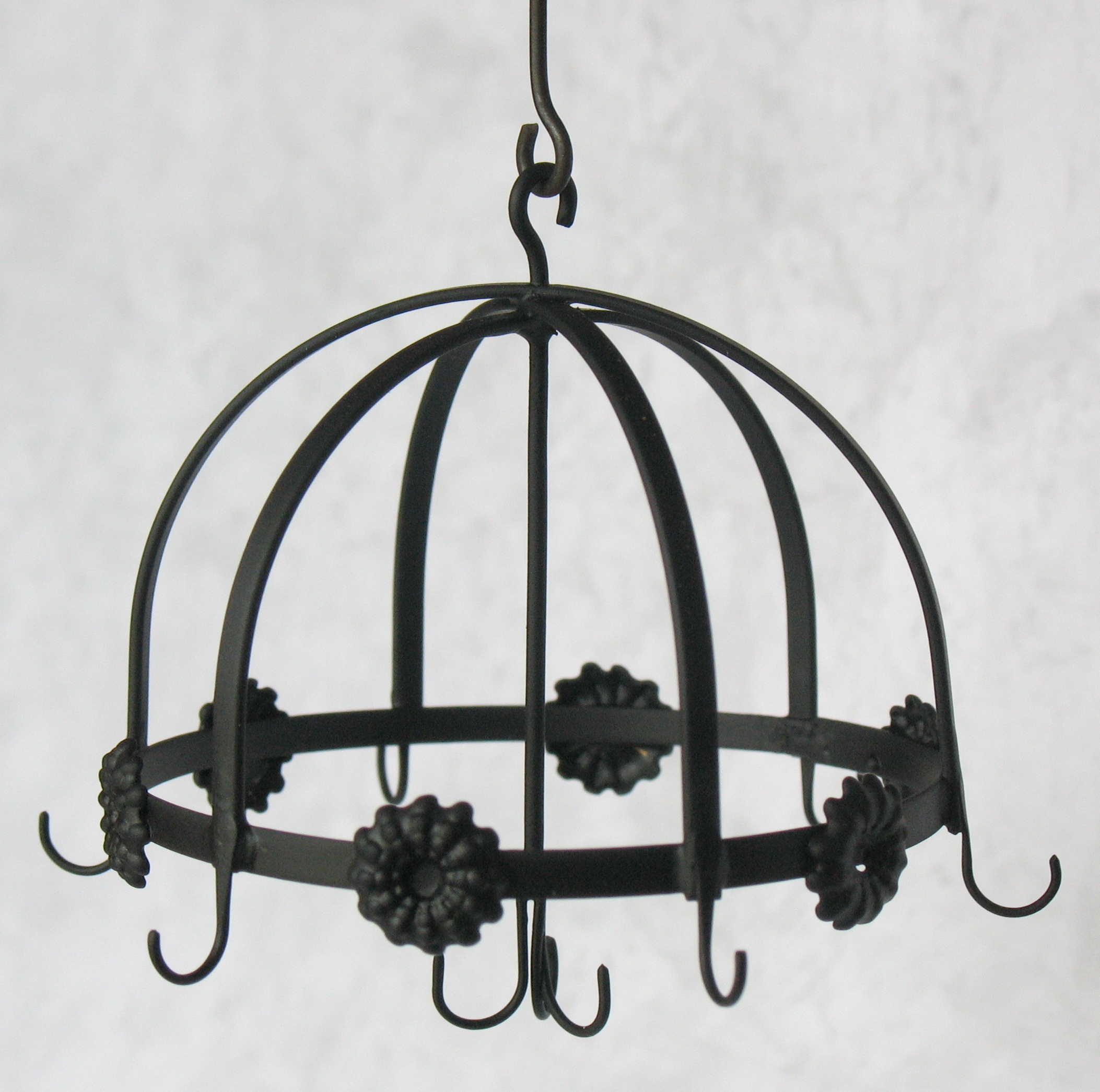 Jason Getzan - wrought iron hanging pot rack with nine hooks, flower design. bought on ebay in 2013.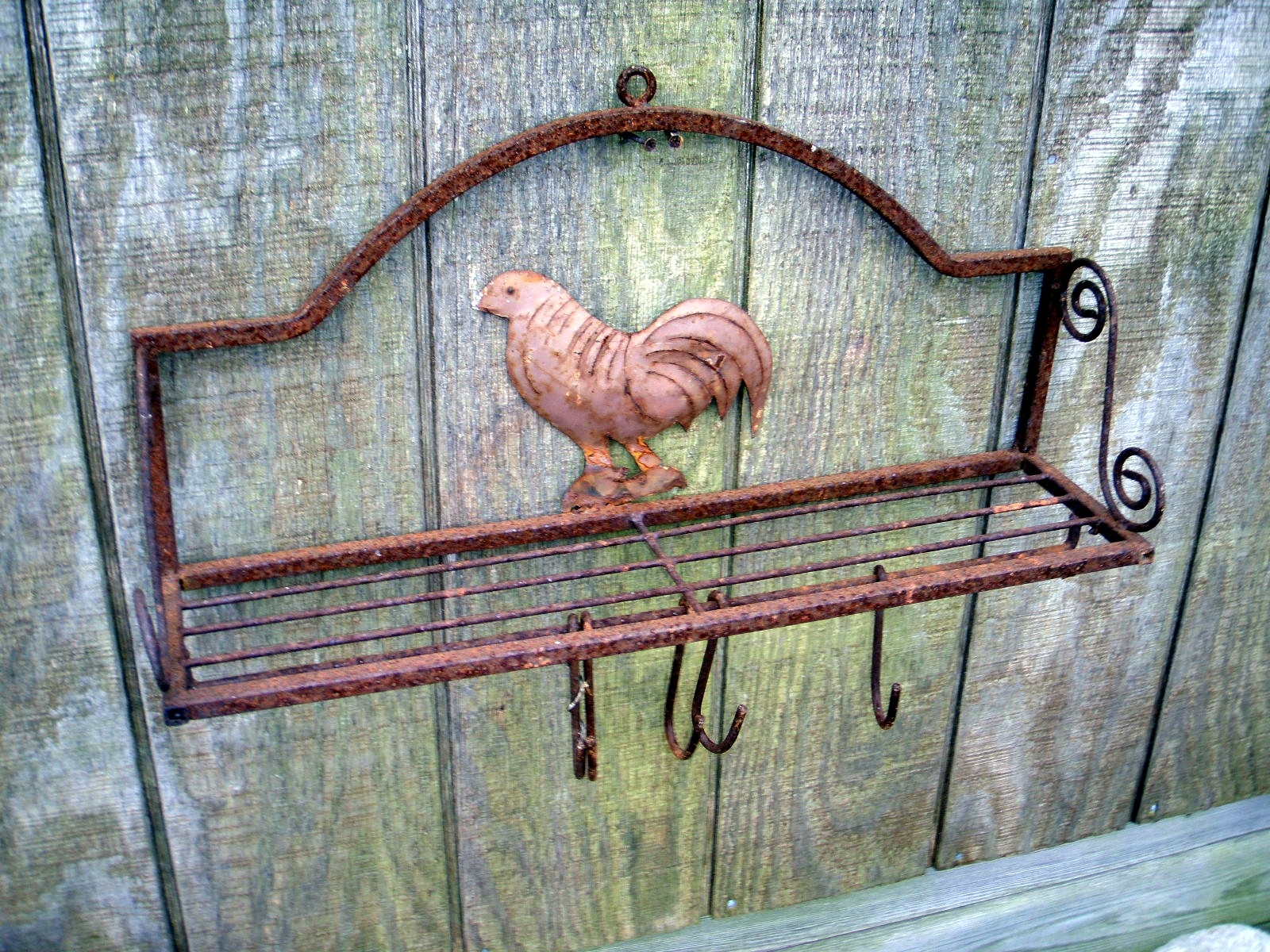 Wrought Iron Rooster Shelf Pot Rack - Herb Drying Rack - Hat and Coat Hook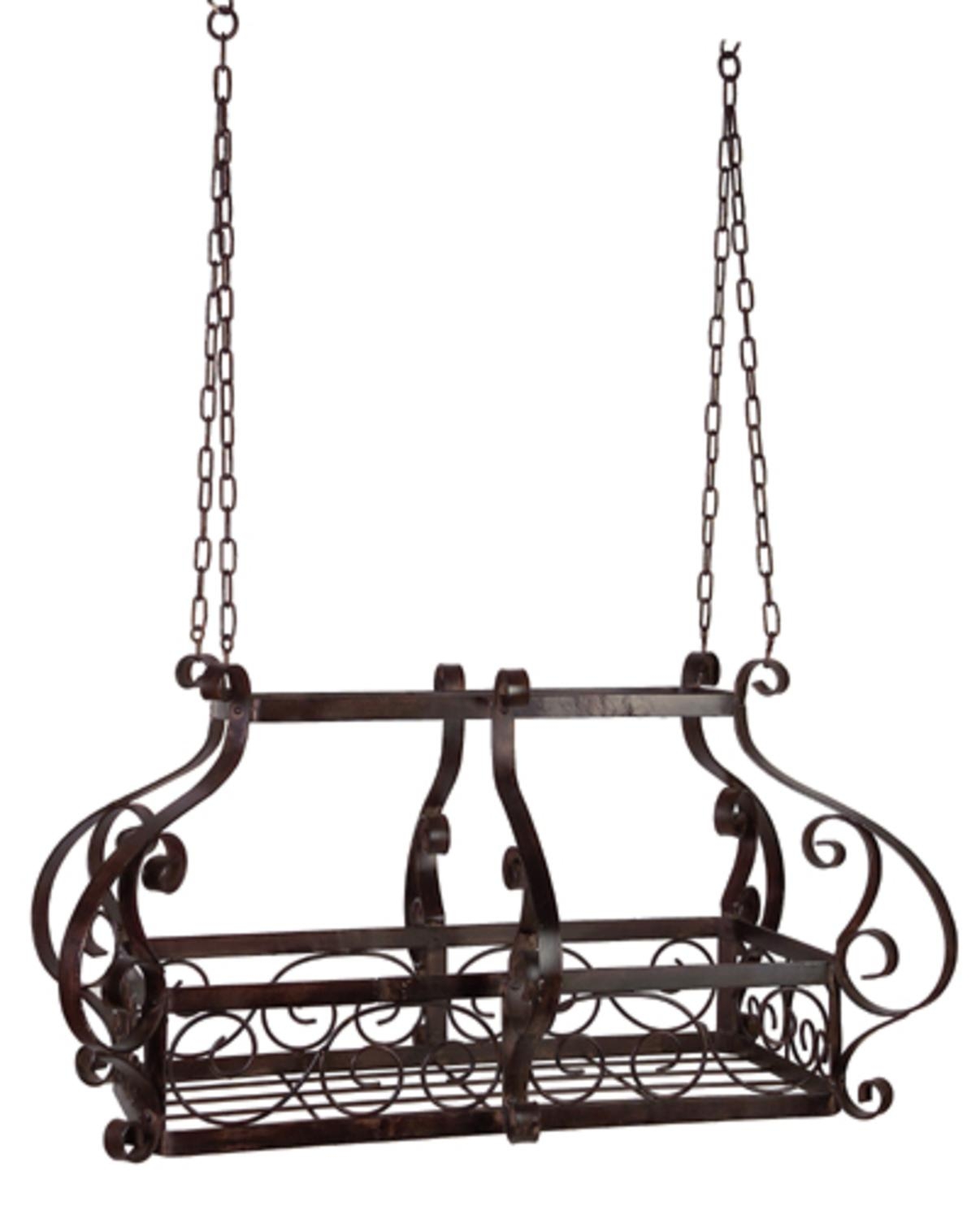 Calatrava Pot Rack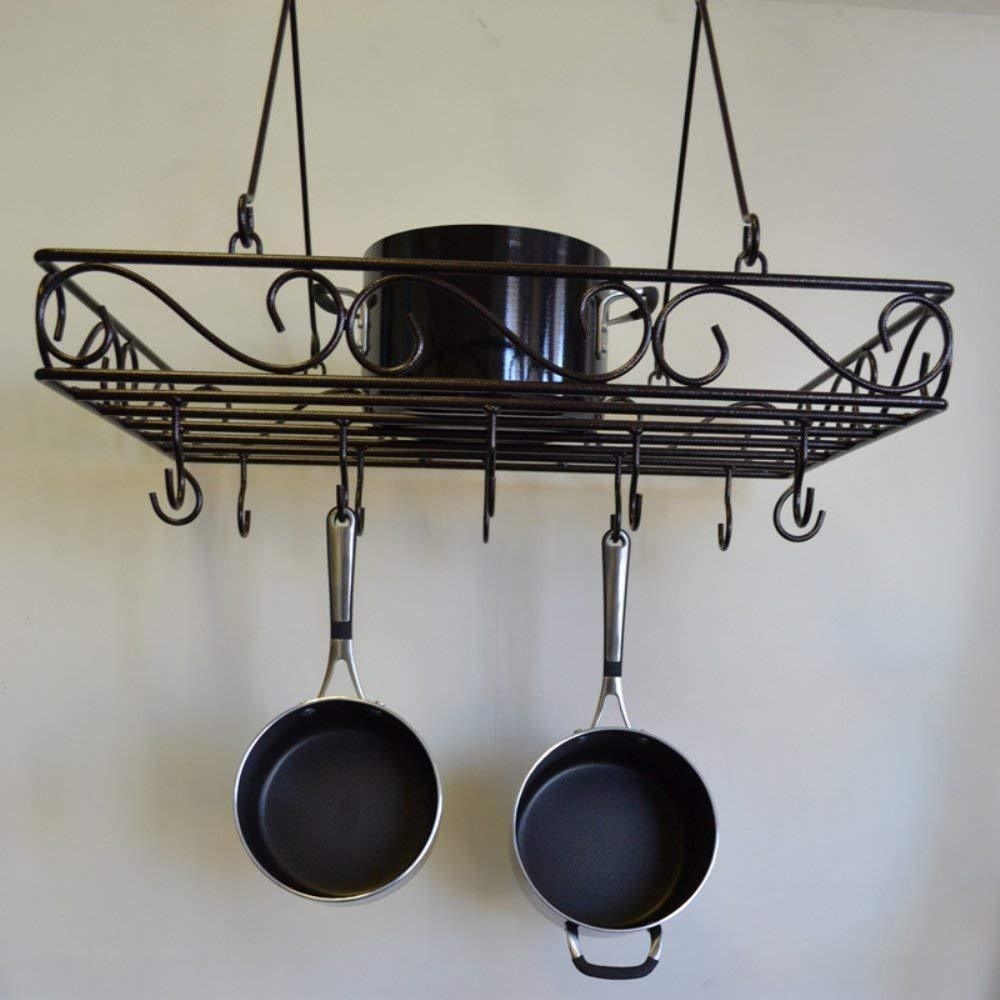 Two-sided 7 inch pot rack hook crafted of hammered steel - for decorative and convenient customizing of the pot rack height. These racks are available in varied sizes and shapes. Recommended for indoor use.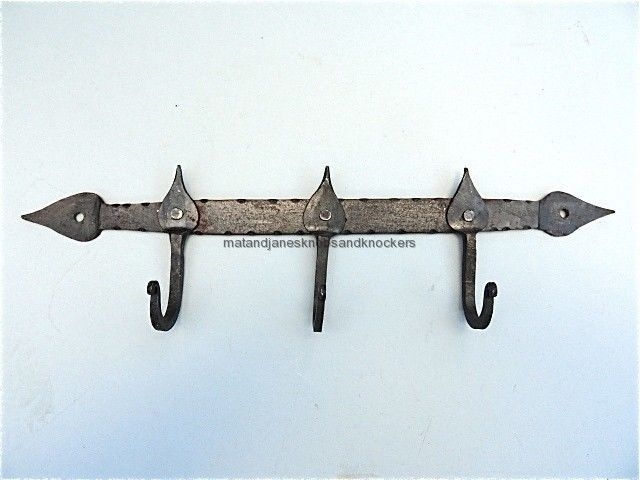 MEDIEVIL STYLE HANDMADE WROUGHT IRON COAT RACK COAT HOOKS POT RACK WALL HANGING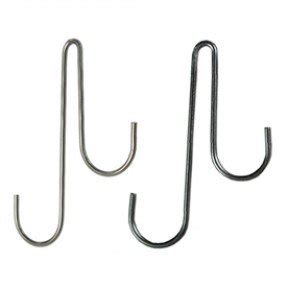 Characterized by durable wrought iron construction, this set of 2 robust hooks will be serving you well for years to come. With their low-maintenance design and easy usage, the hooks will keep your pots and pans in place.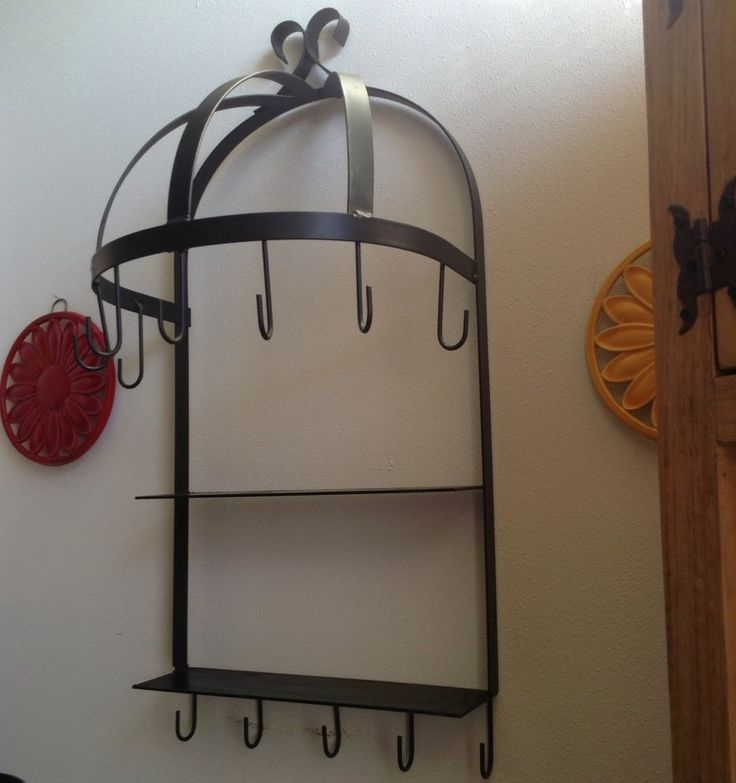 ... Semi-Circle Hanging Kitchen Pot Rack - Wrought Iron Black 12 Hooks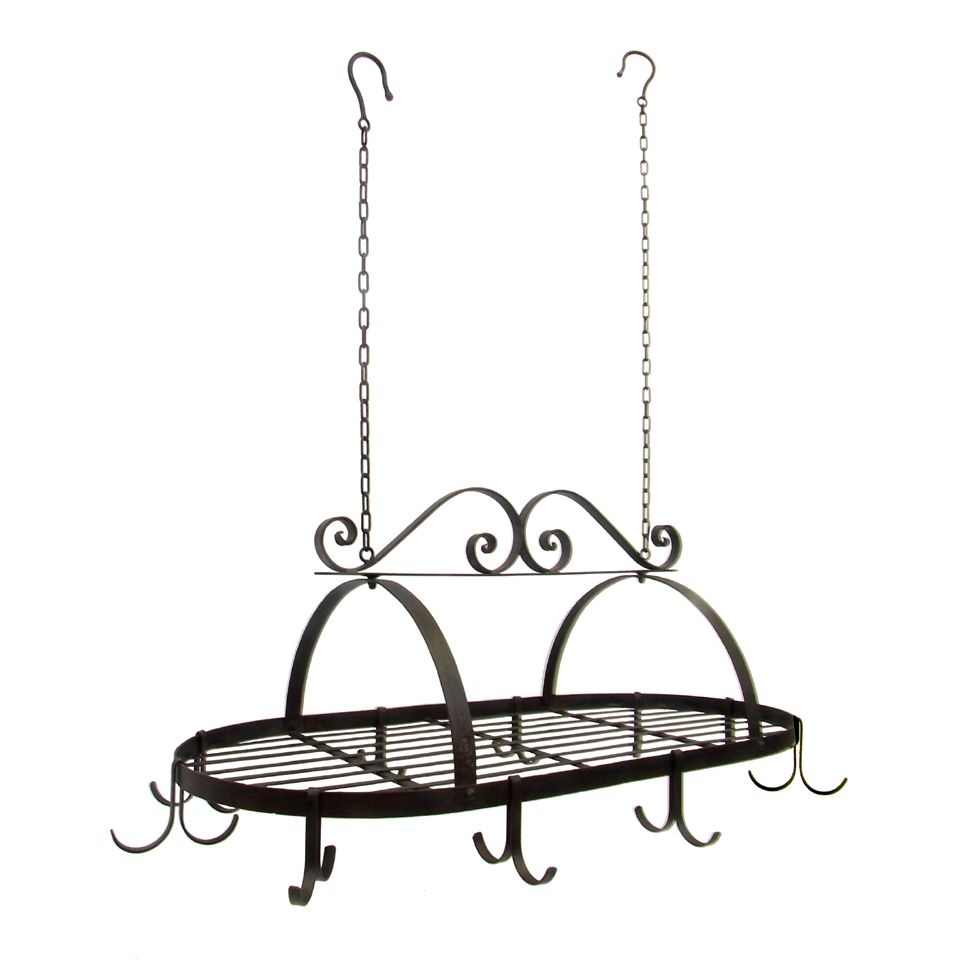 Accessorize your kitchen with this Tuscan hanging pot rack. Simple scrolling lines and wrought iron construction create a great look while displaying your pots safely. It features 10 double hooks to display and store your pots. Warm brown finish.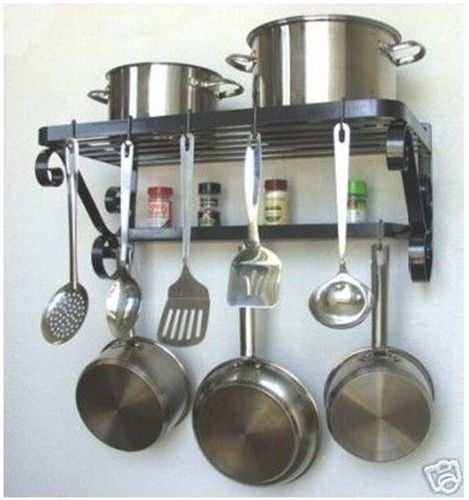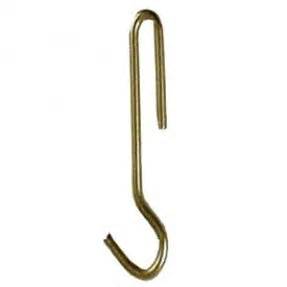 Angled Pot Hook by Enclume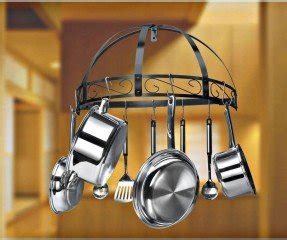 Wall Mounted Hanging Kitchen Cookware Pot Rack - Wrought Iron Black 12 Hooks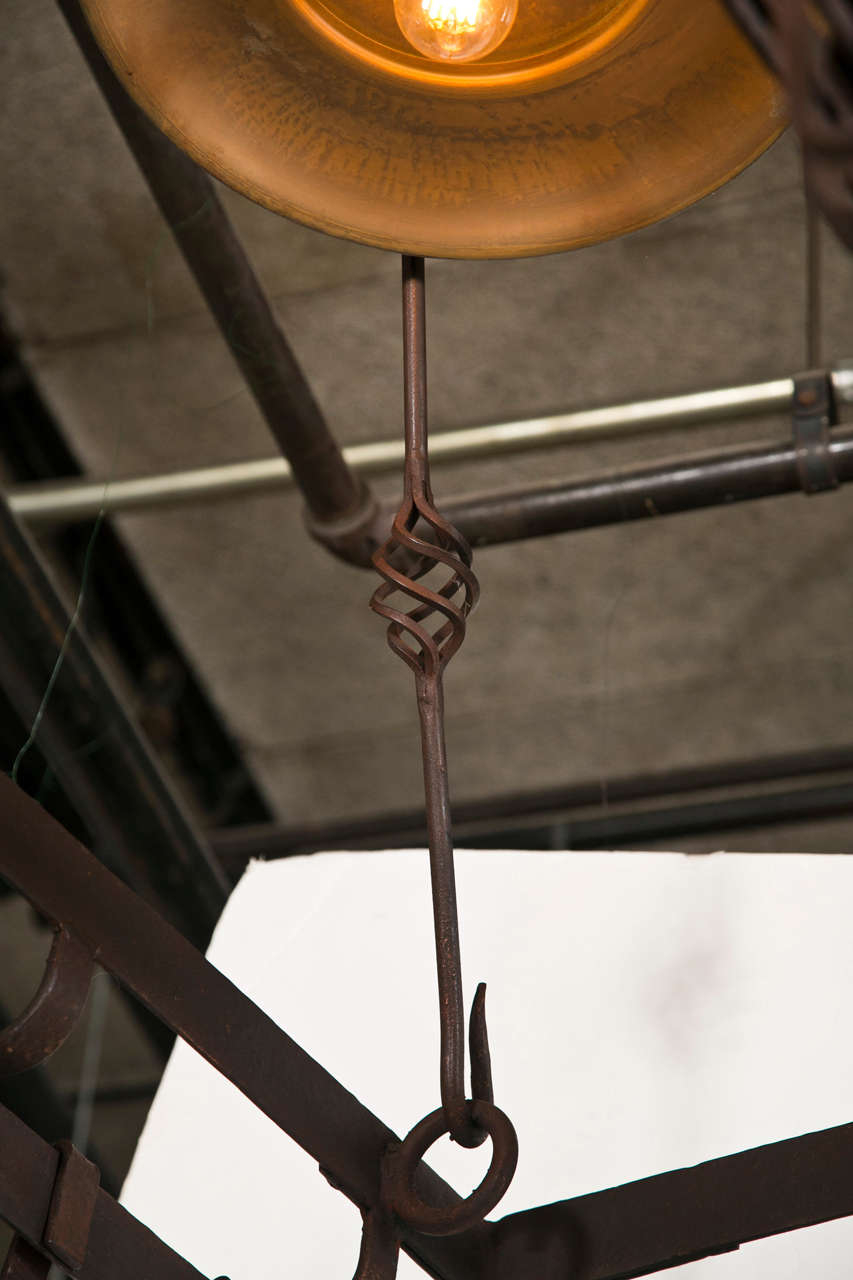 Wrought Iron Pot Hanging Pot Rack with Center Light image 5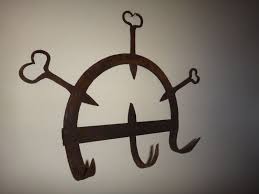 9in tall x 12in wide. Antique Wrought Iron Hanging Utensil Pot Rack Hook Heart Motif Blacksmith Made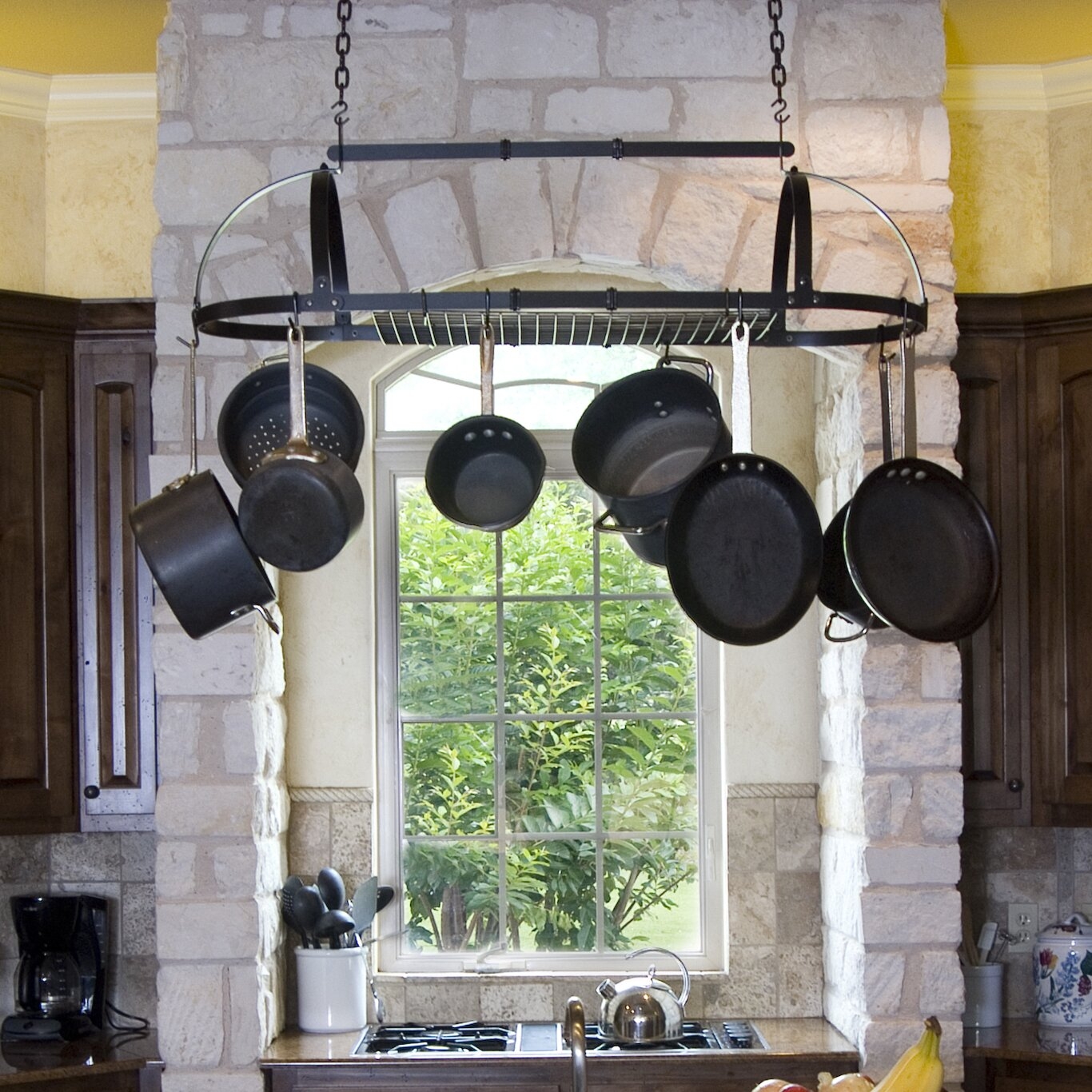 Premier Expandable Hanging Oval Pot Rack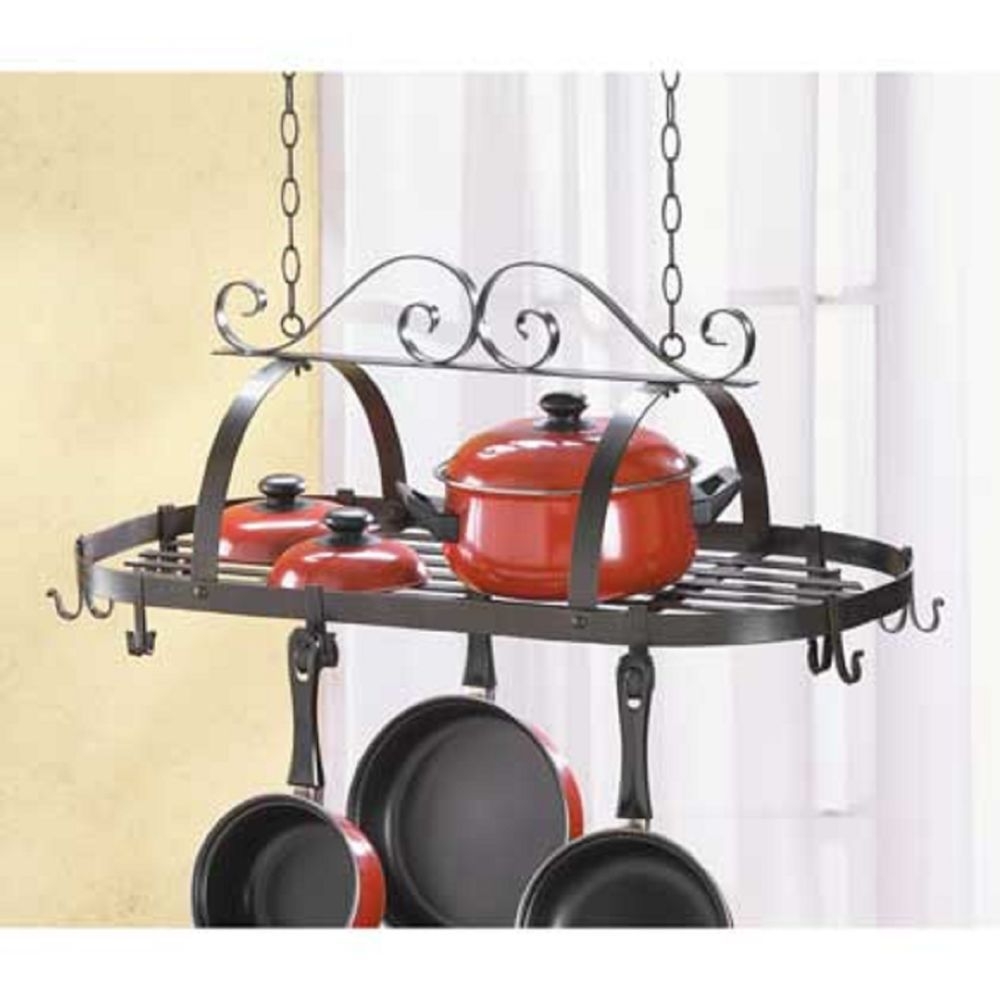 Hanging Iron Pot Rack - from: Gift Warehouse 35603 @ - Measures: 31-5/16"L x 15-7/8"W x 11-7/8"H, includes 12 "v" shaped hooks - $55.18 w/free ship!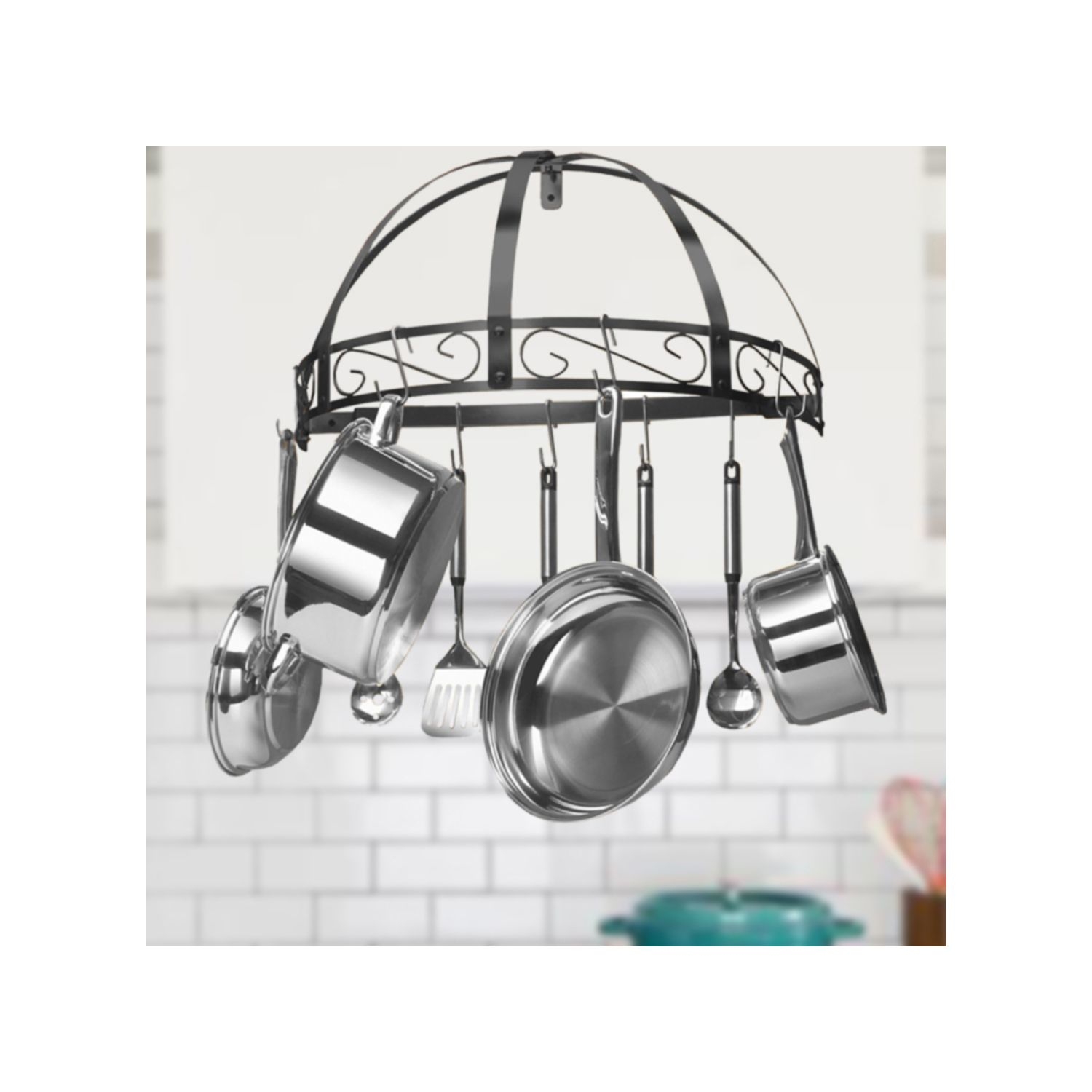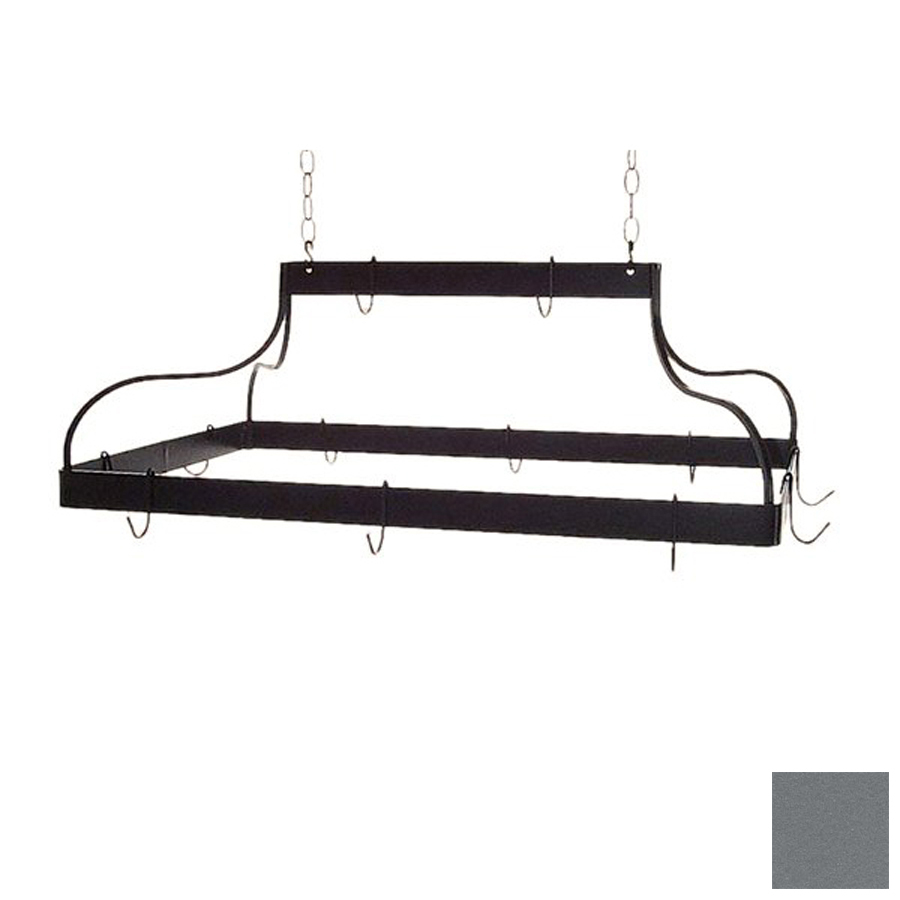 Mediterranean Hanging Pot Rack