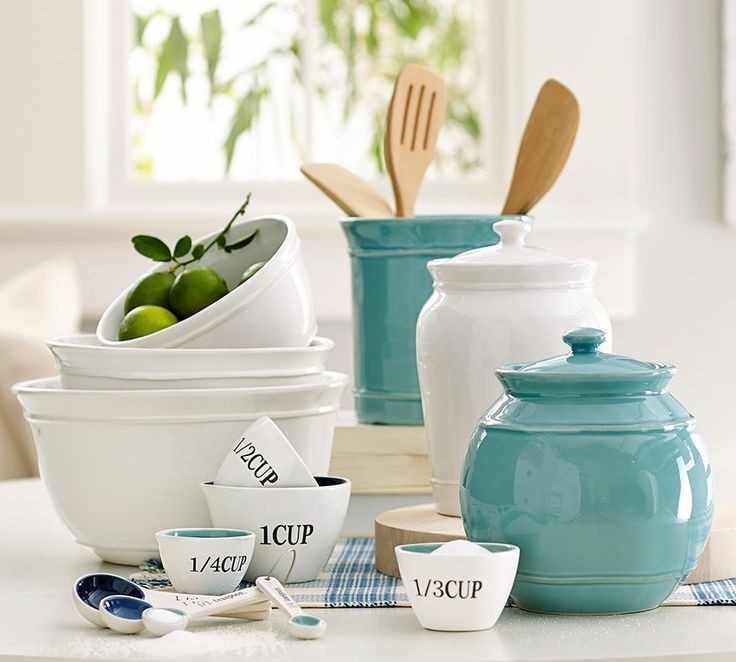 Cambria cansiters
Pretty and aesthetic though quite simple traditional kitchen canisters and bowls. They're crafted of patternless white and greenish glazed ceramic and adorned with bottom and top collars. Round lids have small mushroom-like handles.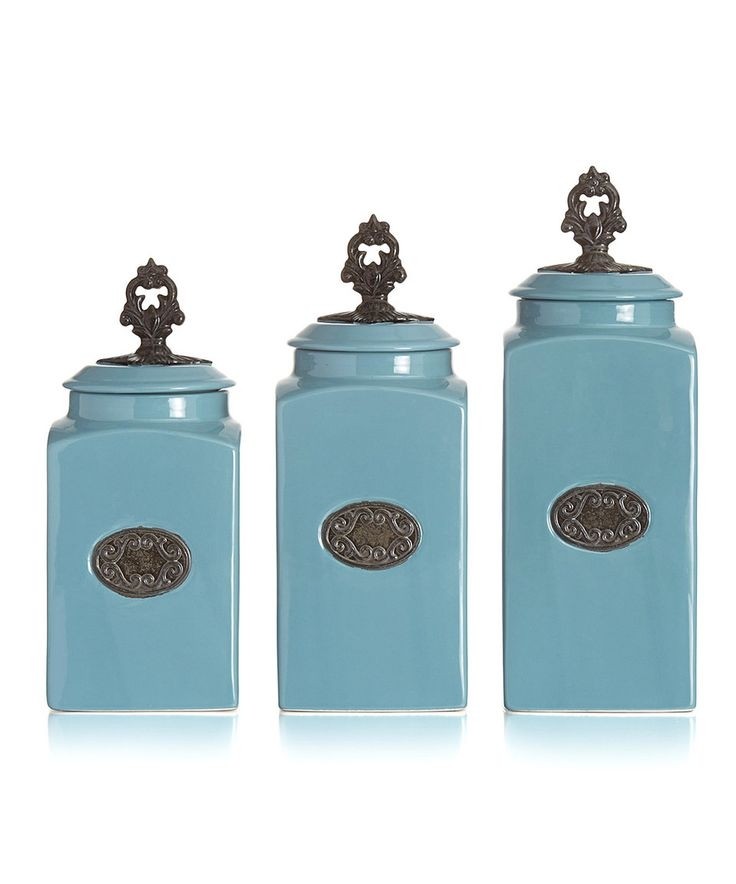 Lina 3 piece canister set
Enhance your kitchen decor with the Lina 3-piece canister set. These stylish, yet functional canisters are ideal for dry storage and provide a great classic look. Beautiful light blue color is a big plus and cool choice!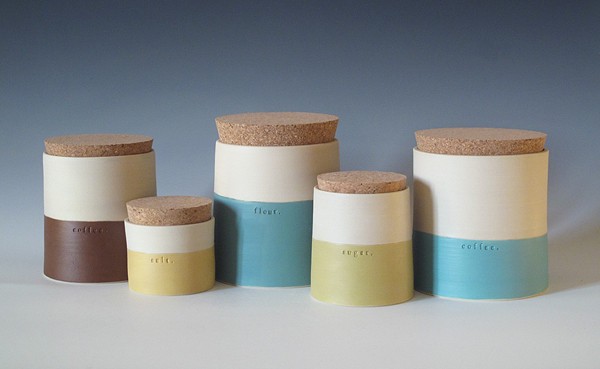 Travis And Tina Wedding Registry
Imagine a coherent, modern-looking but natural-style spice set - kitchen canisters ceramic, that will put your coffee, salt or icing sugar in the best possible way, clogging the cork top. Ceramic white is varied with blue , green and brown shades.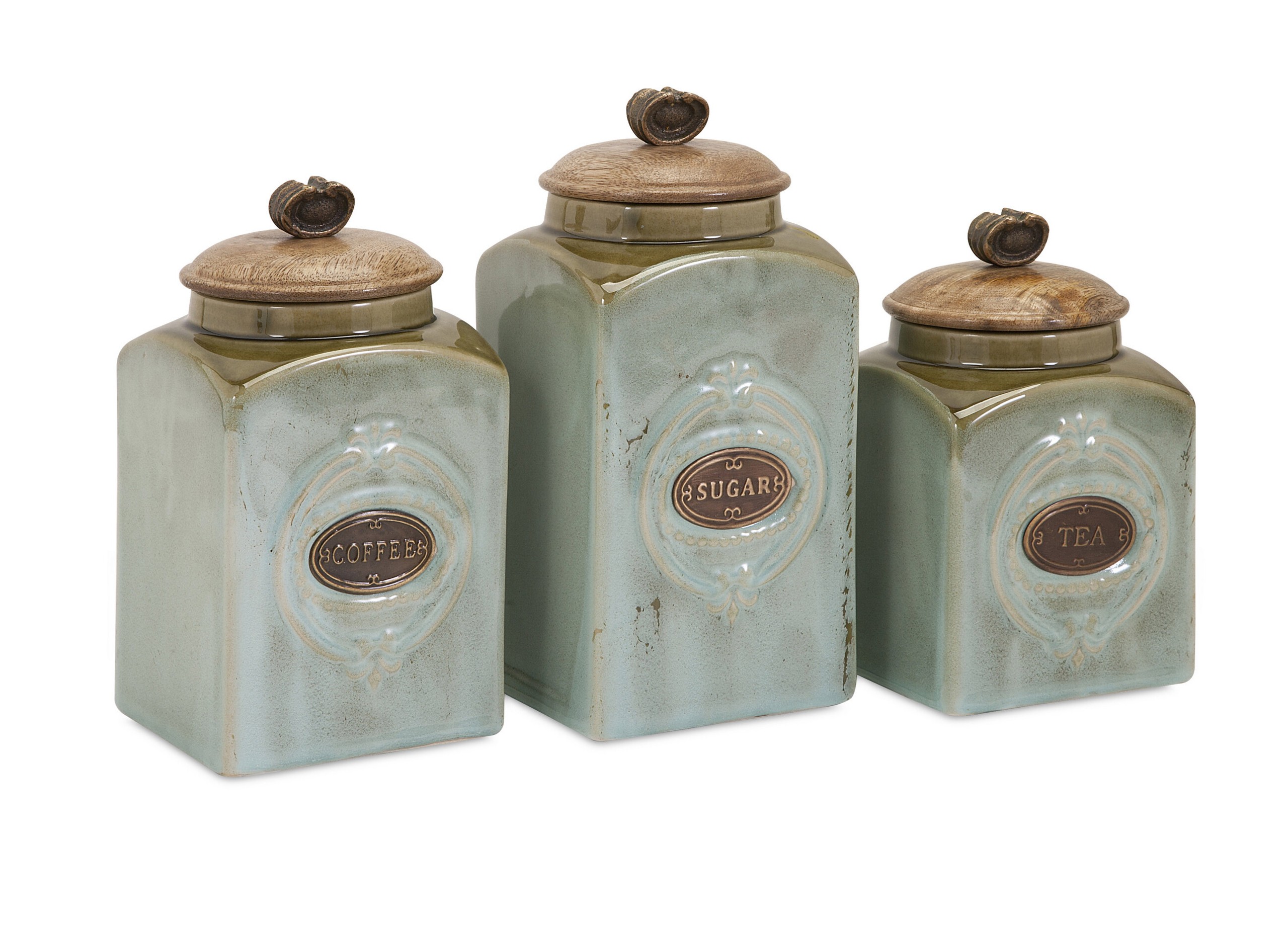 3-Piece Addison Canister Set
This 3-piece Addison canister set constitutes a stylish proposition for a shabby chic kitchen. Properly signed ("coffee", "sugar" and "tea" respectively) will help your organize your products.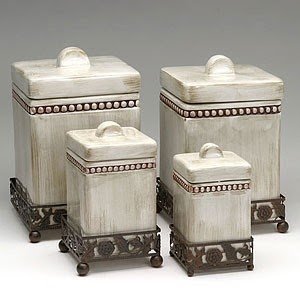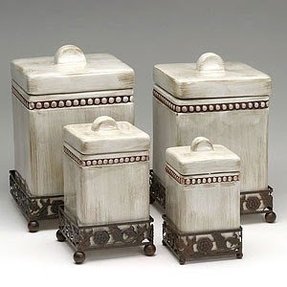 These simple elements play functional roles in any kitchen. These are special canisters for salt, sugar and other spices, etc. These ceramic canisters are durable and they also decorate kitchen indoors.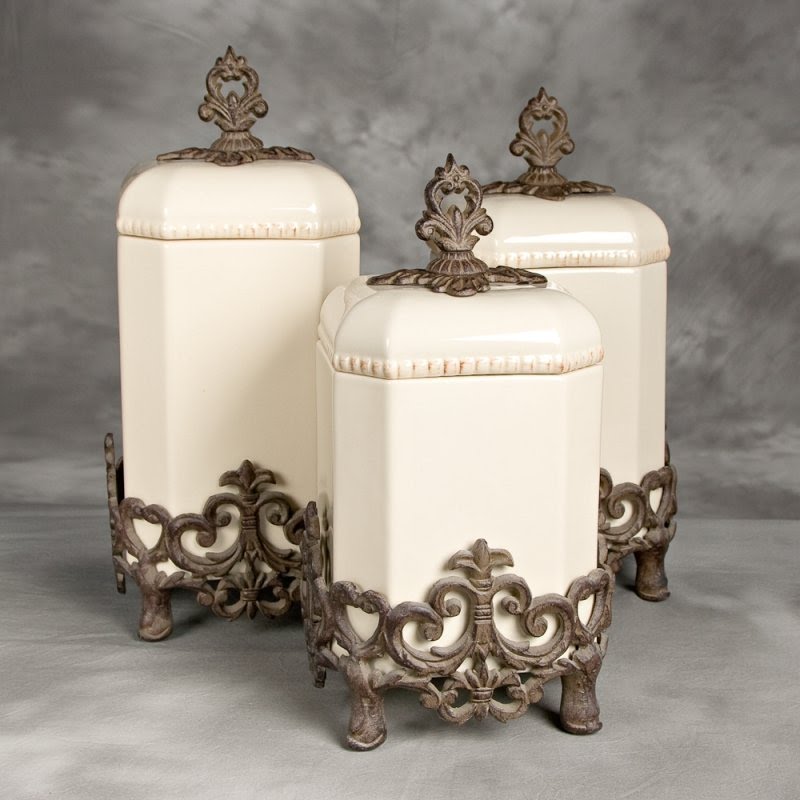 Your kitchen can be stunning too! Details makes the room more interesting, just like this Tuscan kitchen set, which includes three canisters. They are made of cream ceramic with iron accents. They are great for spices and more.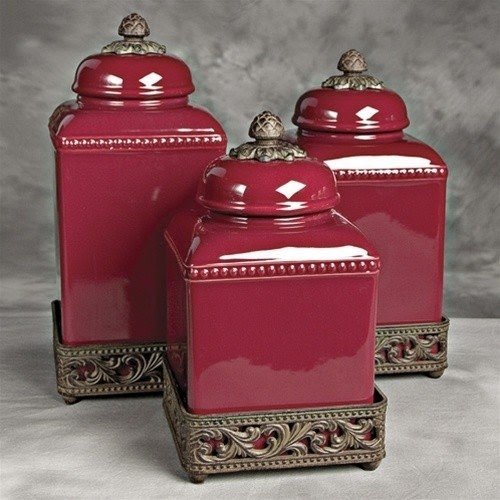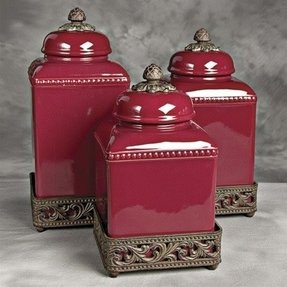 Set of 3 canisters with gloss finish. It is finished with sophisticated ornament and fitted with lids. Suitable for storing food. Elegant addition for each kitchen.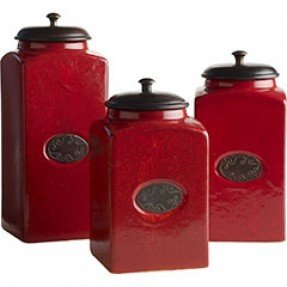 To store sugar, flour, groats or seasonings while maintaining the Tuscan style of a kitchen, this three pieces canisters set is just fit. Colored burgundy red with dark lids, it's both decorative and practical.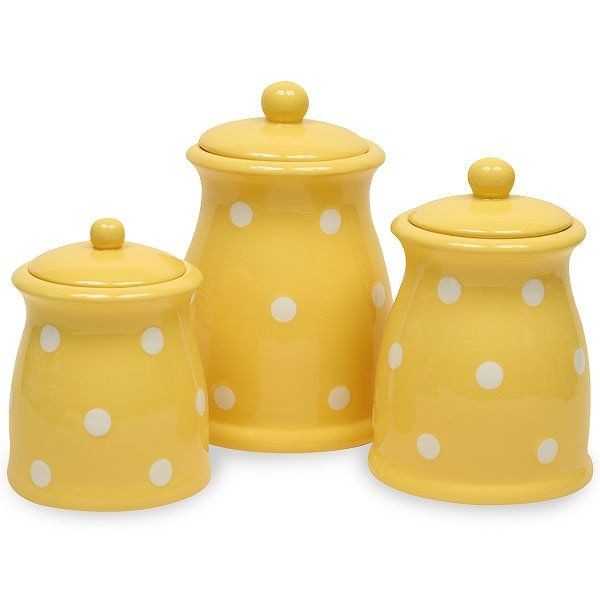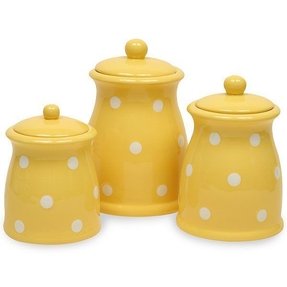 A simply sublime set of three canisters that ooze charm thanks to the polka dot pattern of the structure and the yellow finish. They will provide you with the best solution to keep your sugar or coffee neatly organized in your kitchen.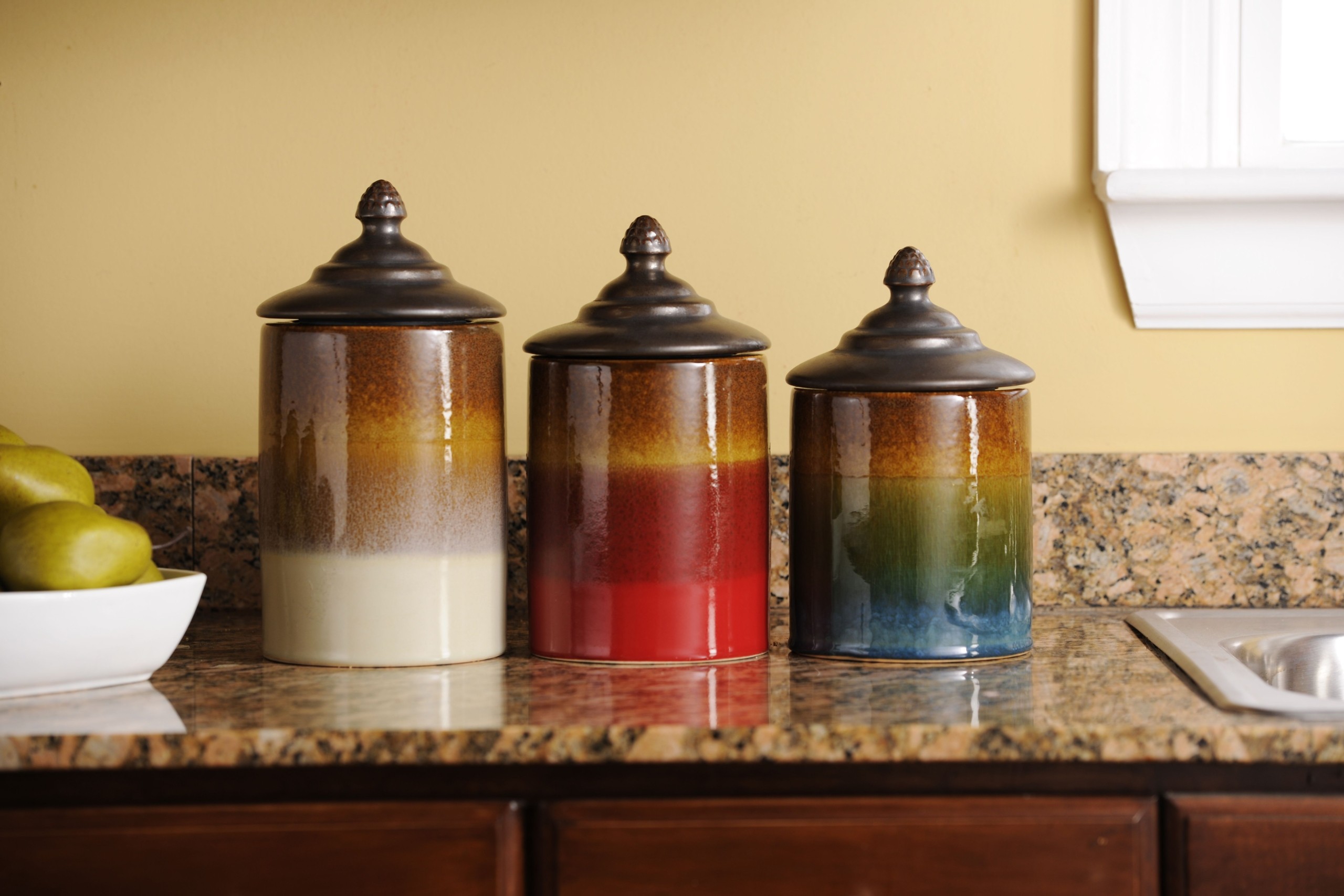 This set of three, ceramic canisters in different sizes is probably must-have in every kitchen. They are decorated of colorful paint. You should use them to storage spices, flour, sugar or other food additives.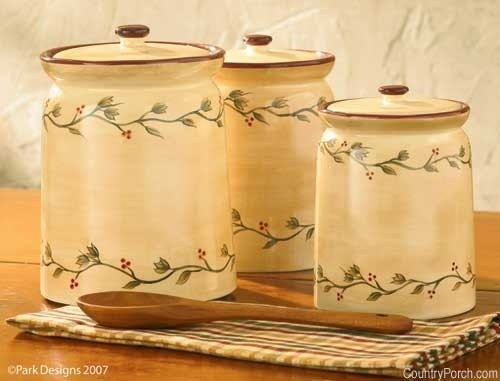 ... set the country porch features the early riser ceramic canisters set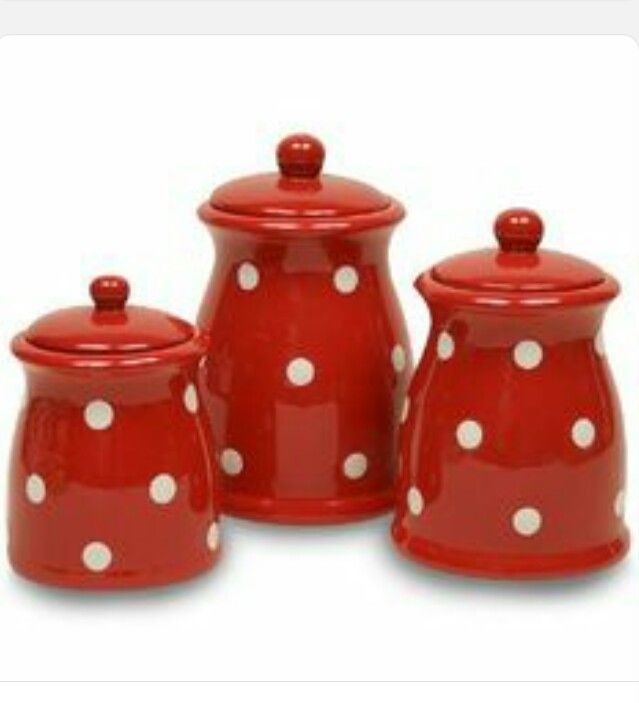 Polka dot pattern is as timeless as they get. This set of ceramic kitchen canisters is all you'll ever need for keeping your sugar or spices. It's important to mention that ceramic canisters are safer to us in the kitchen than plastic ones.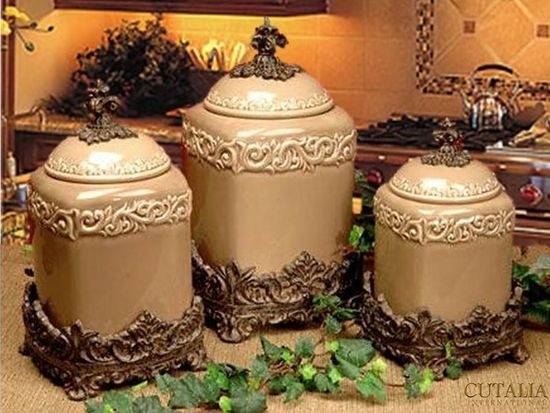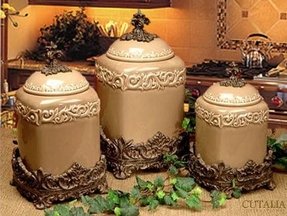 Canisters set for storing food and others needed stuff. It is made of ceramic and finished with sophisticated ornamentation. Handy gadget for any kitchen.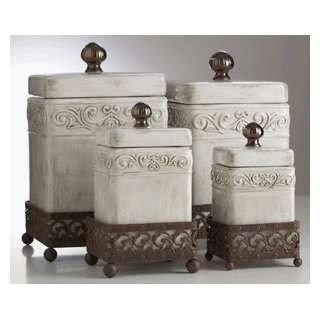 Home Kitch Album Photos Lapausekitchkatt Picture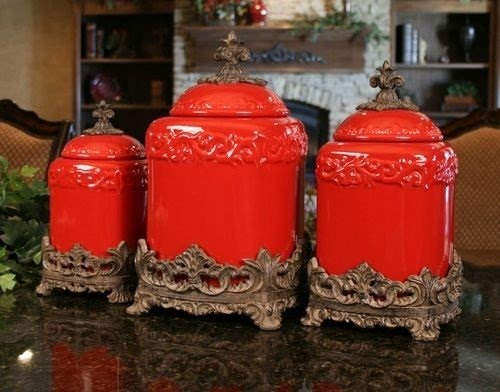 These kitchen canisters are suitable for the storage of different spices. Each canister is finished in a very attractive red color and it includes some decorative carvings. All canisters stand on decorative bases.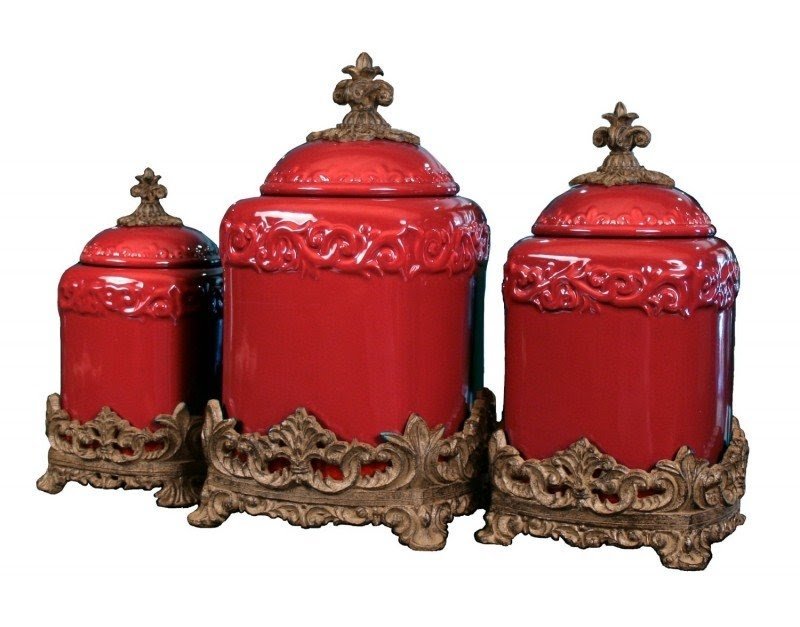 Practical canisters for spices and other food products. These elements are suitable for kitchen use. They feature durable construction finished in red color. Its bases and lids are also decorative thanks to their carvings and gold finish.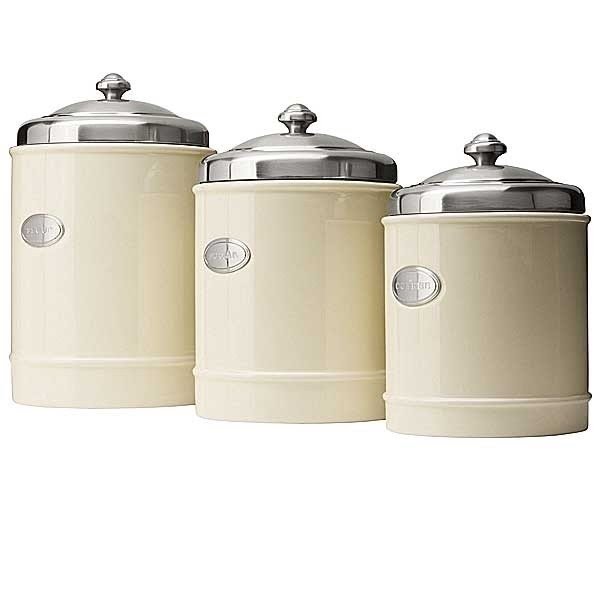 Ceramic canisters for kitchen use. This construction combines glazed ceramic porcelain, stainless steel and clean, simple lines. These canisters are finished in neutral white color, so they keep kitchen ingredients in storage and match any kitchen design.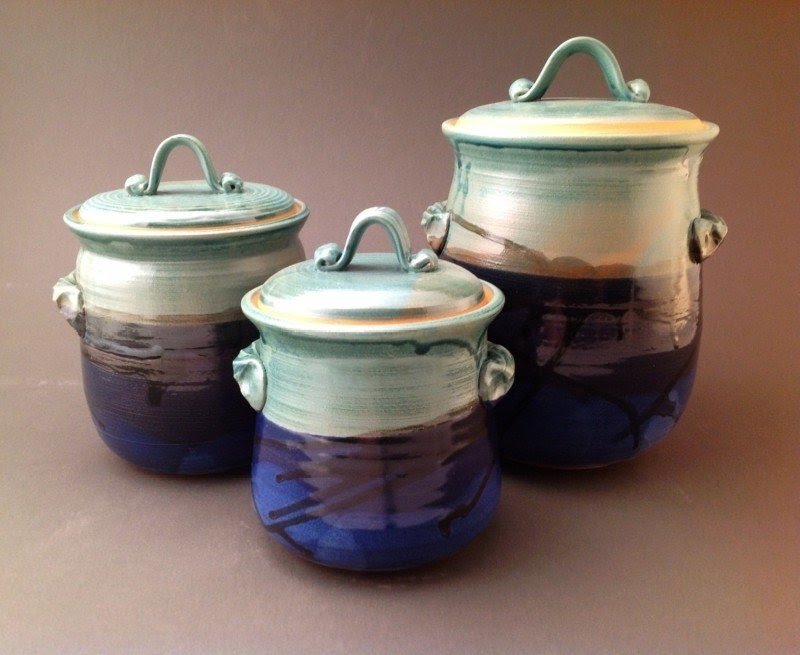 Love the handles Canister set handcrafter pottery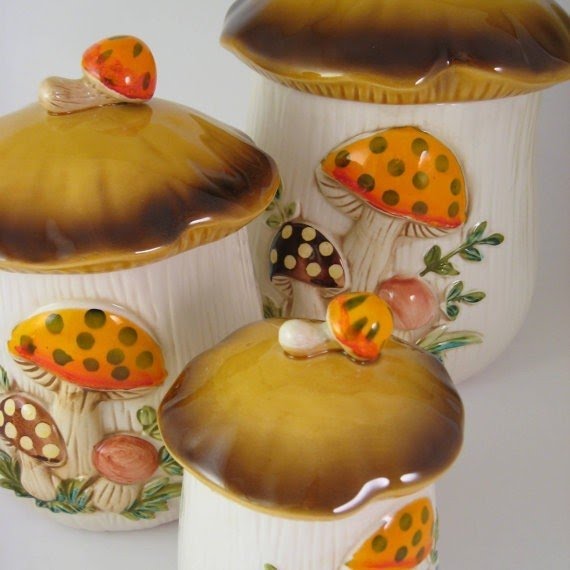 Sears Merry Mushrooms canister set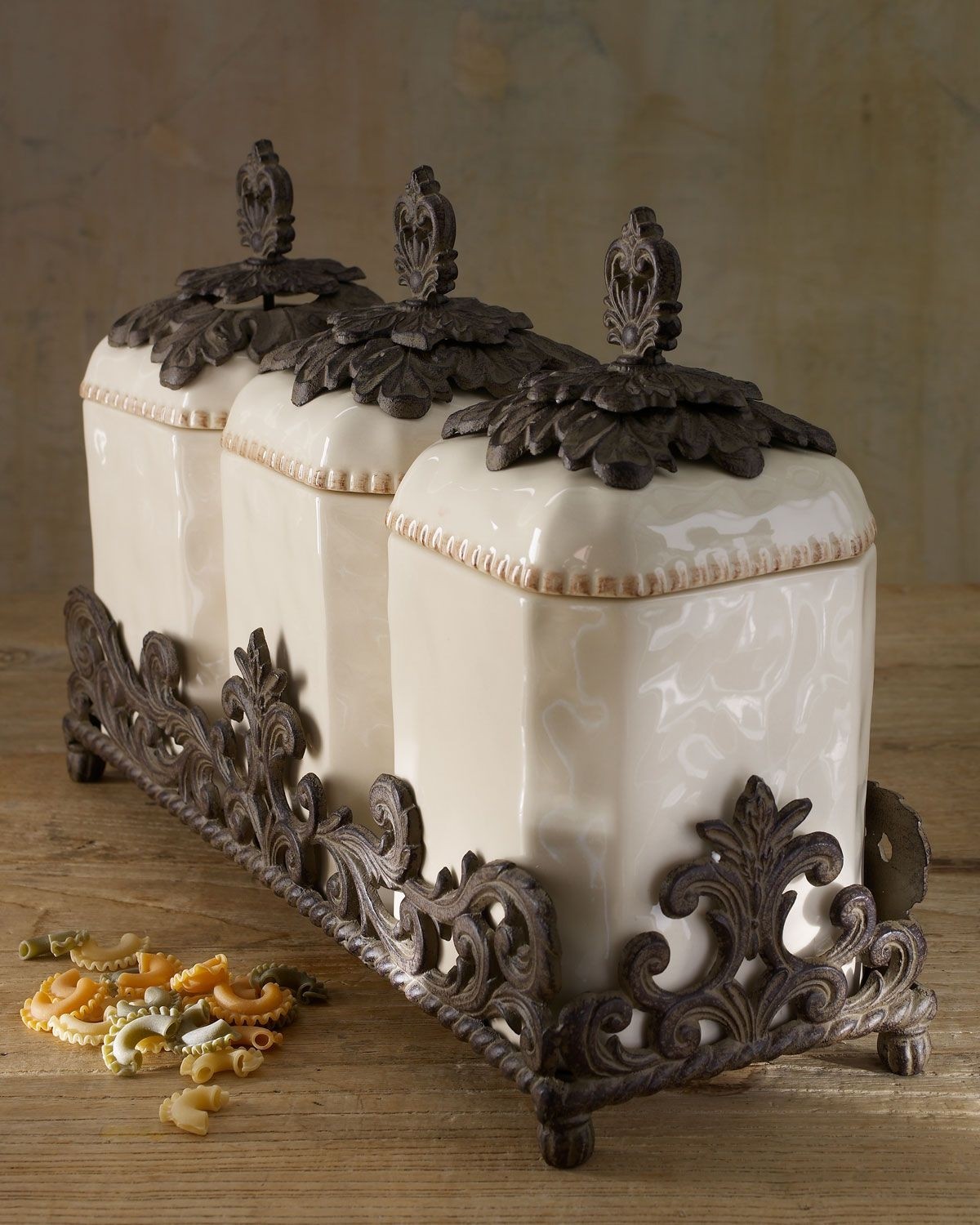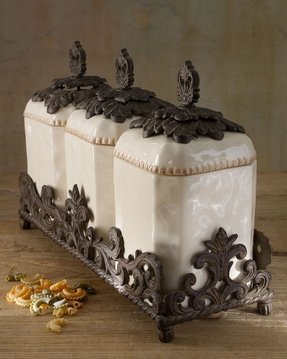 Three canisters set in Italian style. Cast aluminium base (chocolate brown) features Fleur De Lis motif. The canisters themselves are ceramic, finished smoothly and slightly polished, sporting cream hue.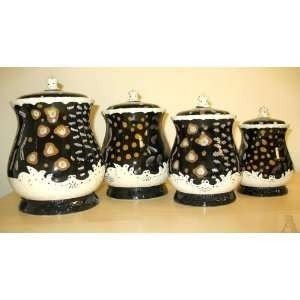 Black Abstract Design Kitchen Canister Set Home & Kitchen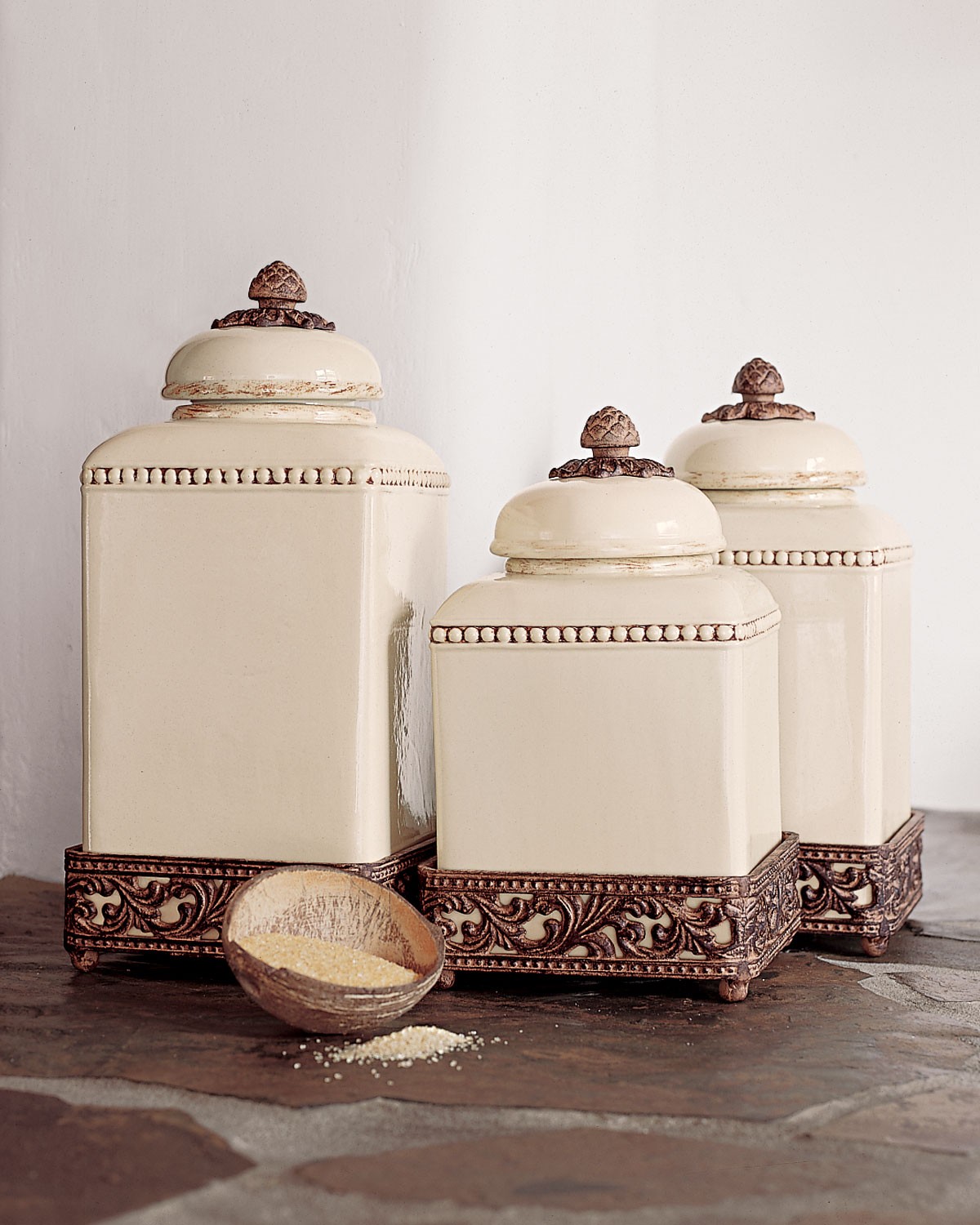 Ceramic Canisters by GG Collection at Horchow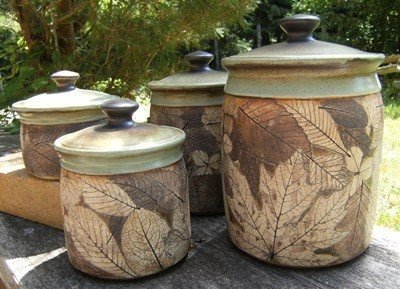 This ceramic set of canisters grabs the attention with its beautiful embellishments, referring to nature. If you fancy boho stylizations, then this set shall definitely appear in your garden or patio.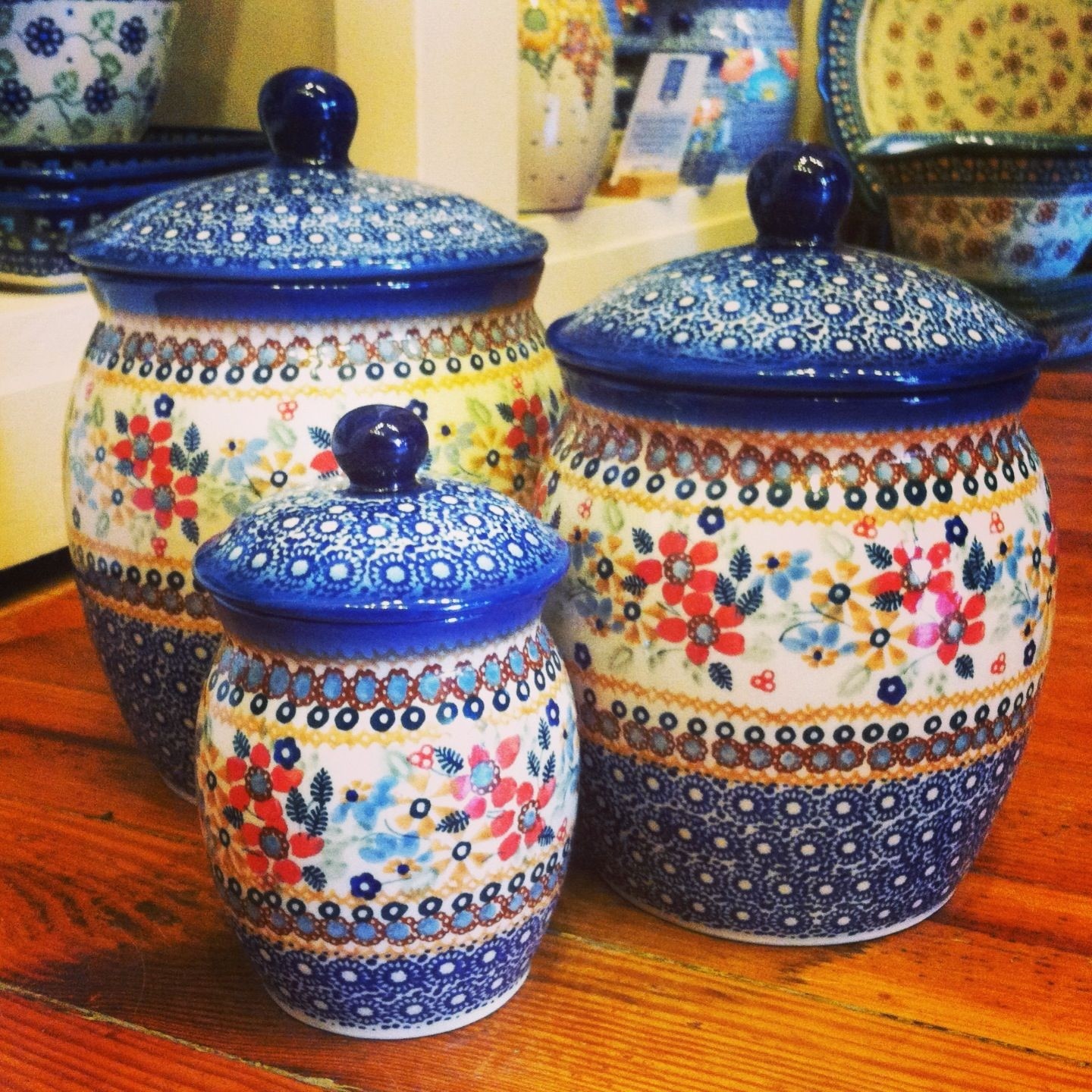 Arranging the kitchen zone in your apartment?Details are very important, so we suggest you this beautiful ceramic canisters set with floral design and blue, white and red colors.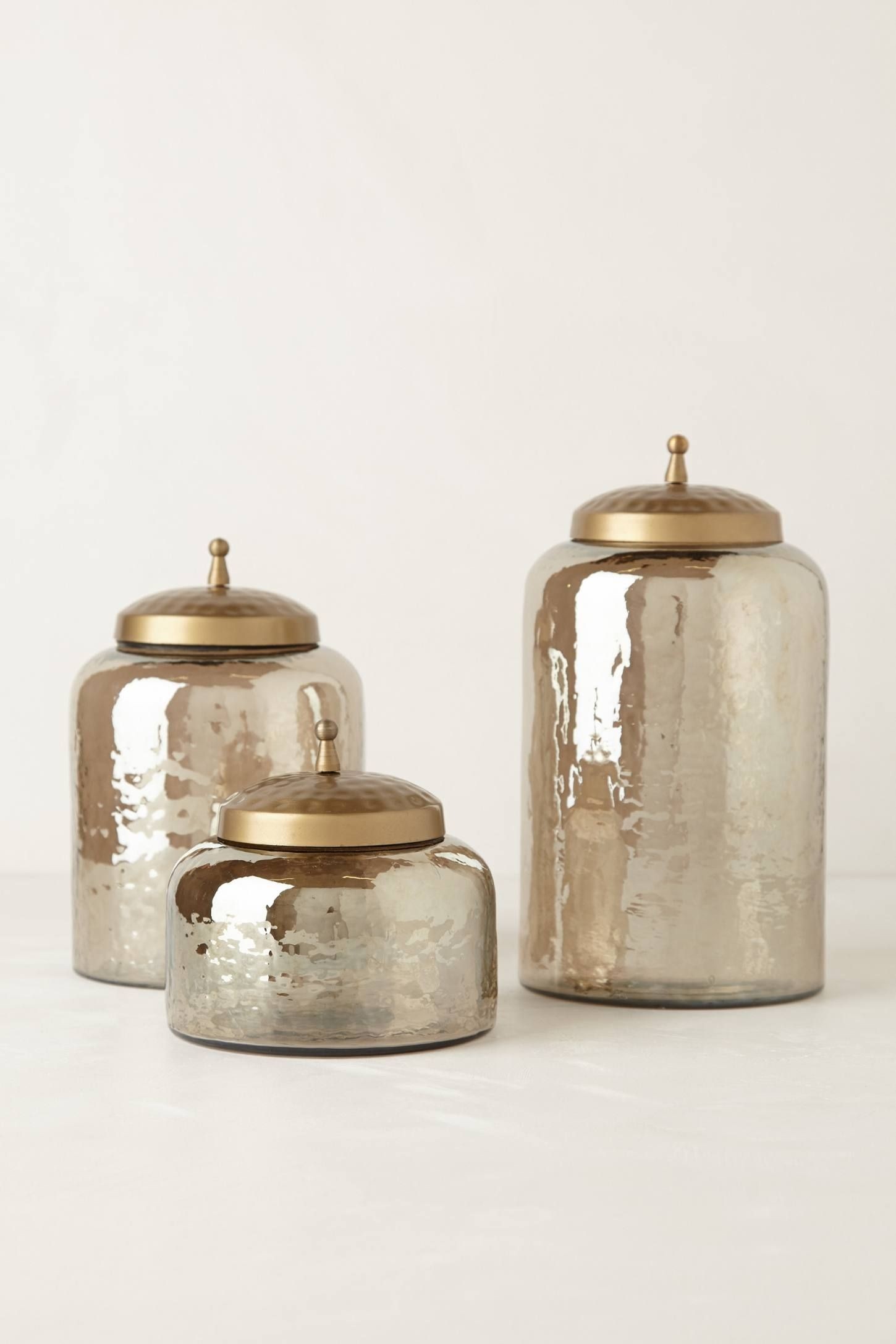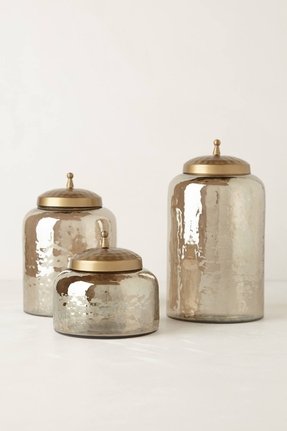 Presented here Mercury Moss ceramic kitchen canisters appear to be mirrored, glass and stylized on antique glamor at the same time. Golden round covers perfectly match the whole set, which also proposes an initial shade of ivory.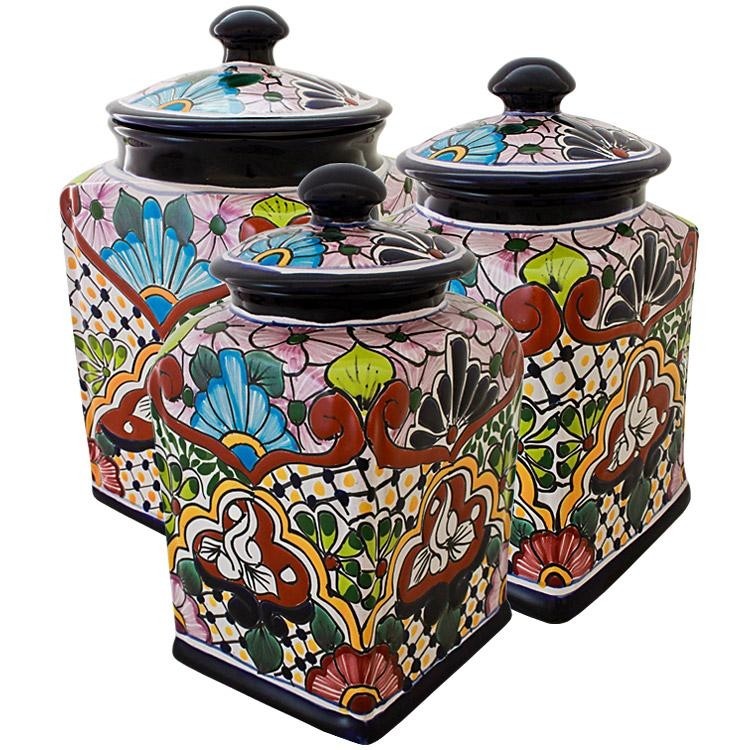 No more dull kitchen canisters! Why one should have a plain colored one when a multicolor set of three captivating receptacles lik these ones exist. Best of all, each canister is hand painted, so it bears uniqueness!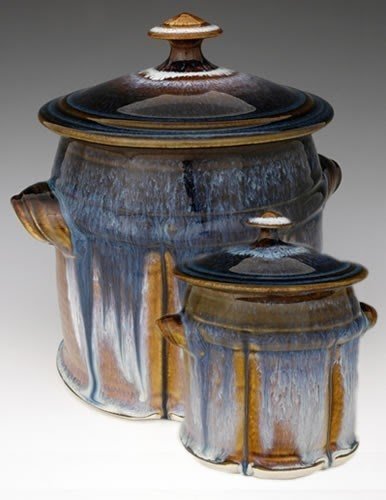 Bill Campbell Pottery for Sale | Bill Campbell Page 7: Matching Accessories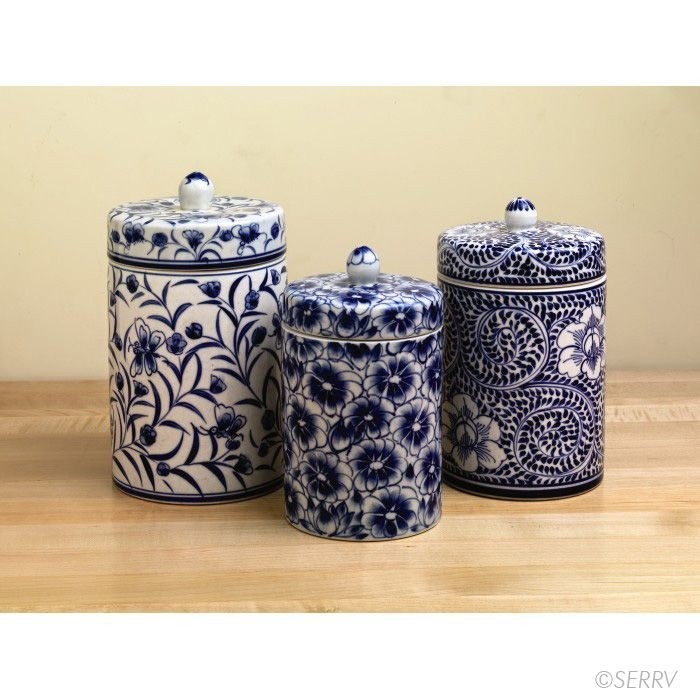 Floral Canister Set Hand painted with intricate detail, this set of 3 functional ceramic canisters features varied floral patterns. #fairtrade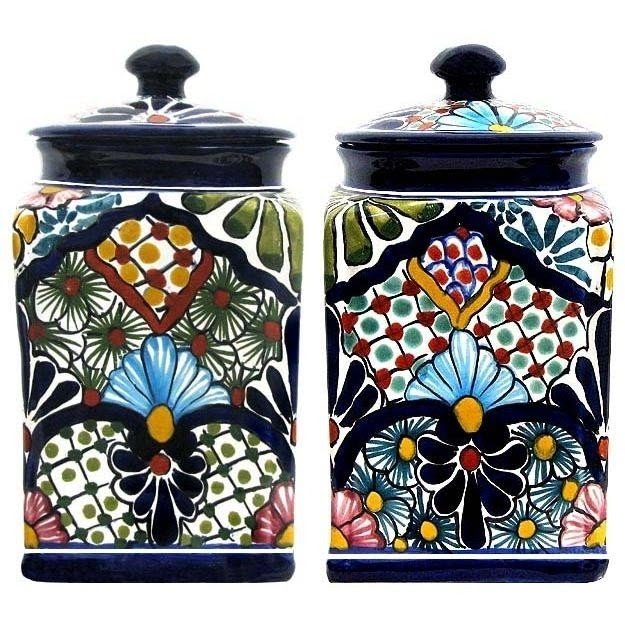 A pair of wonderful kitchen canisters in a traditional Mexican style. The pieces are made of high quality ceramics and features beautiful, flowery patterns with the dominance of black. They will be a beautiful accent of your kitchen countertop.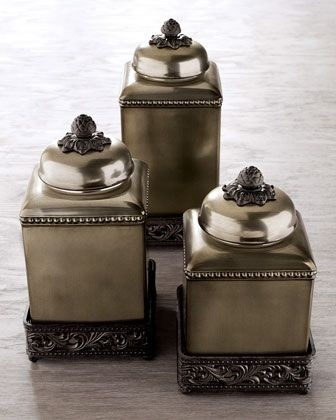 Solid, attractive and practical canisters for kitchen use. They are suitable for storing salt, pepper, sugar and different spices. Their stylish bottom accents perfectly decorate any type of kitchen indoors.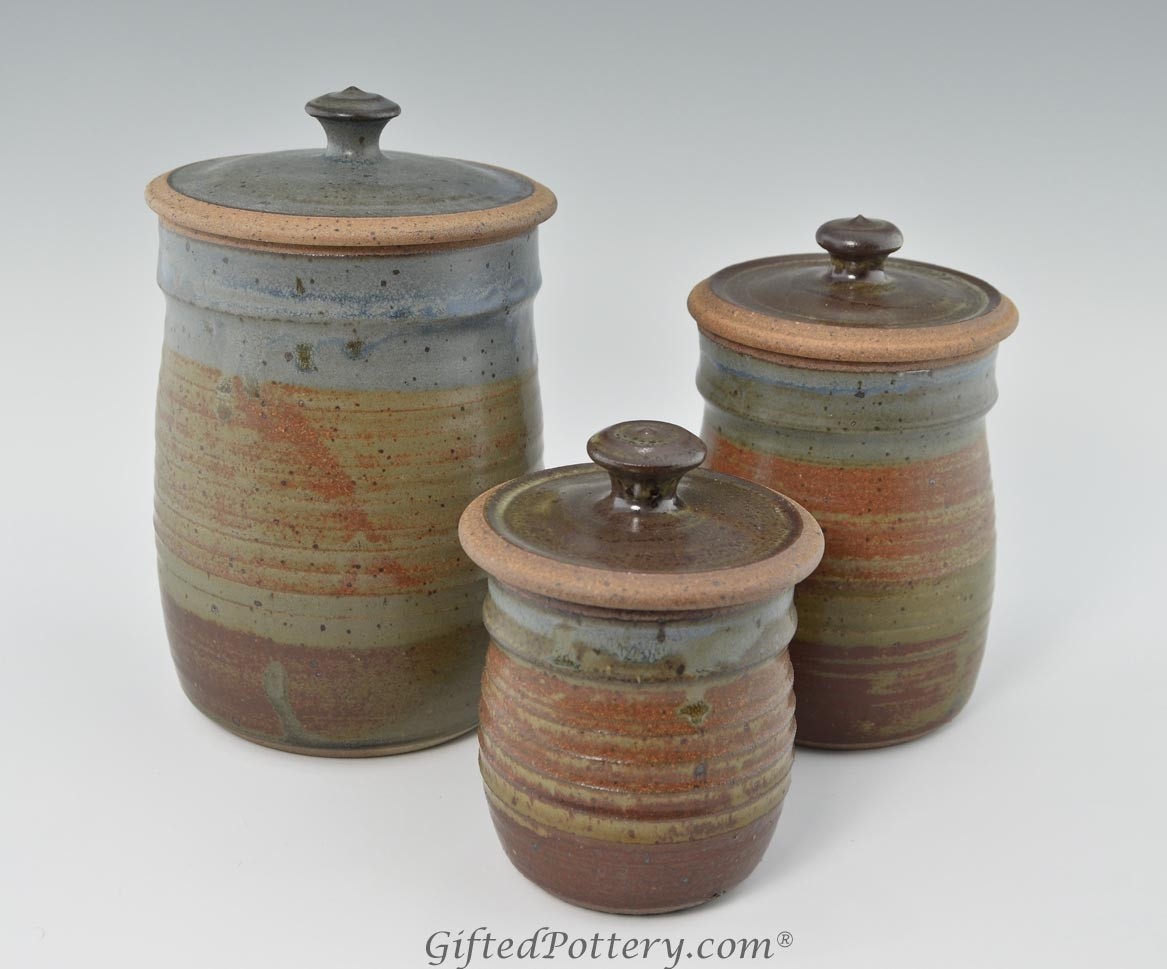 ... pottery by artist clear creek pottery handmade pottery canister set in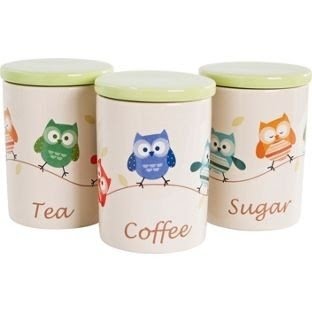 Ceramic Owl Storage Jars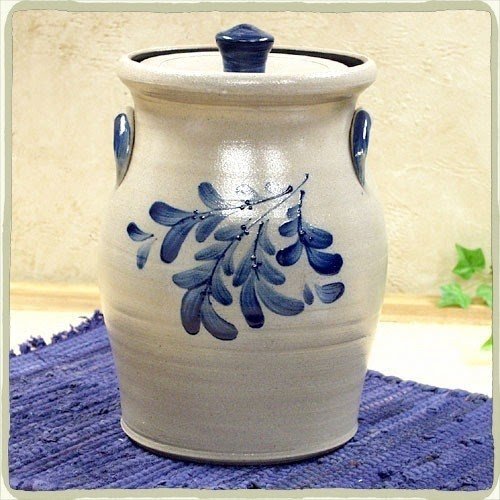 Comfortable kitchen is very important to make cooking a real pleasure, also how we decorate it. Imagine dropping a shelf in the kitchen with ceramic canister set for kitchen, hand-painted with cobalt flowers, and cobalt ceramic jugs.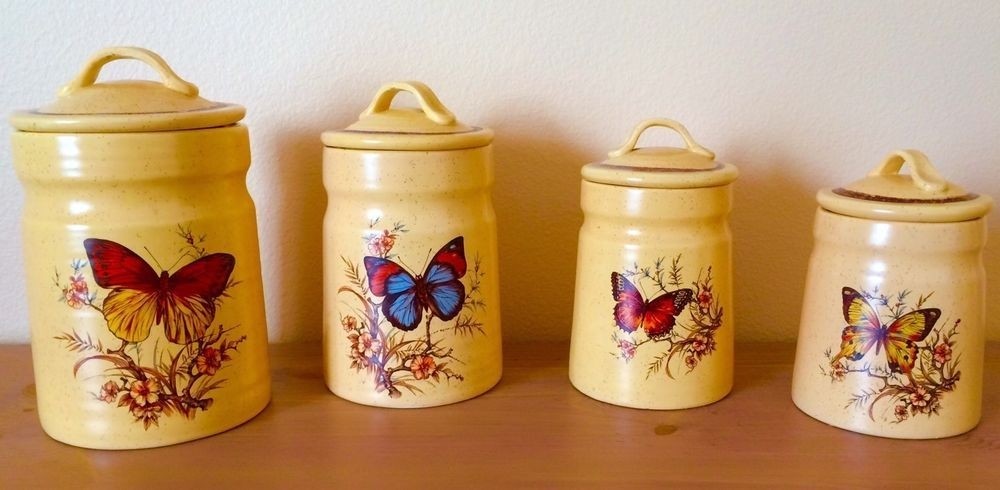 Four charming size-varied vintage canisters of ceramic in creamy shades with lovable rich-detailed colourful butterflies and floral patterns. A cylindrical canister gently tapers up, has a groove around a neck and a round lid with a C-handle.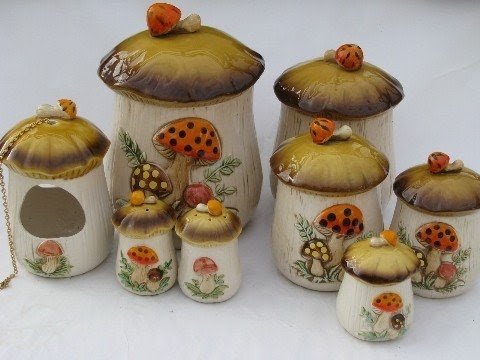 The charming set of these cute ceramic containers for kitchen utensils makes the decor is stylish. The Japanese retro design and functionality of the set impress and makes every kitchen possible for them to become unique.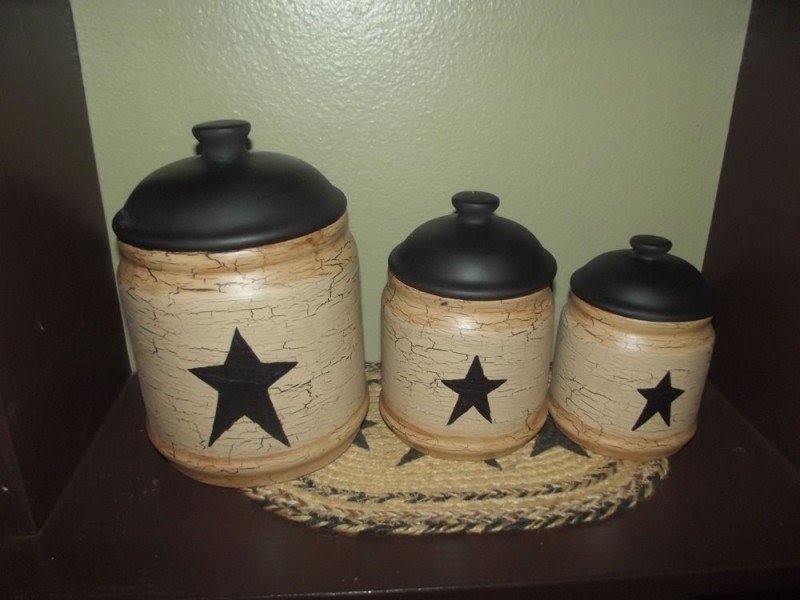 Beautiful ceramic containers with star motifs captivate the execution and details. The whole made of pottery painted with bursting paint looks very impressive and stylish. Lids add all functionality and impressive appearance.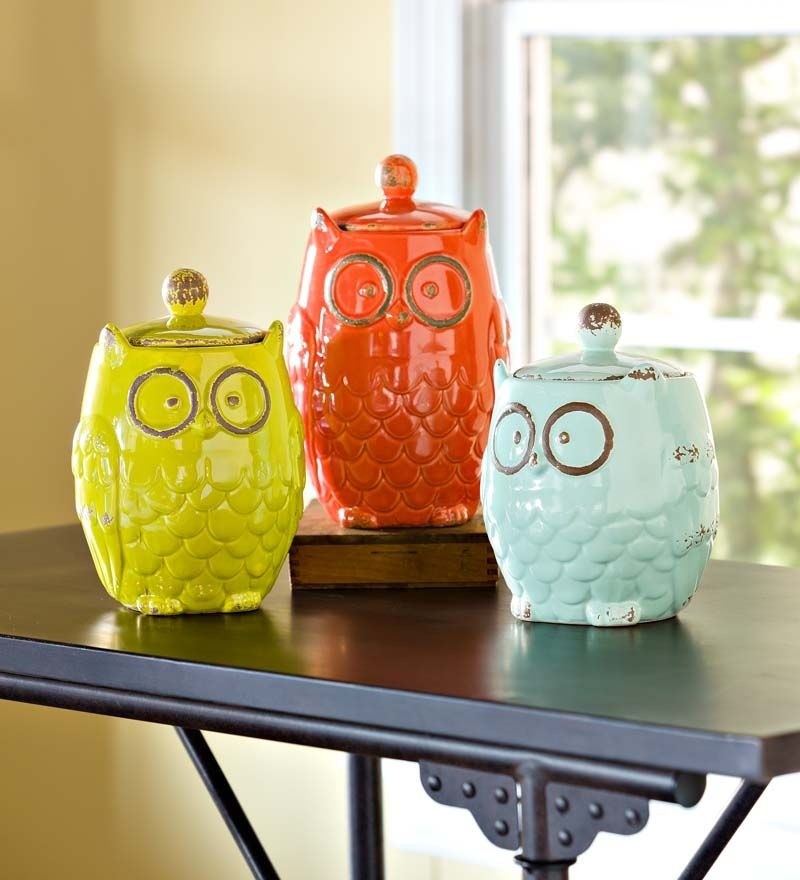 Attractive, solid and functional storage jars in interesting shapes of owls. They are available in white, yellow and orange colors. These jars are suitable for storage of salt, pepper, sugar and other spices.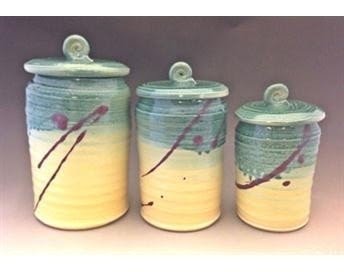 Hand Made Pottery Canister Sets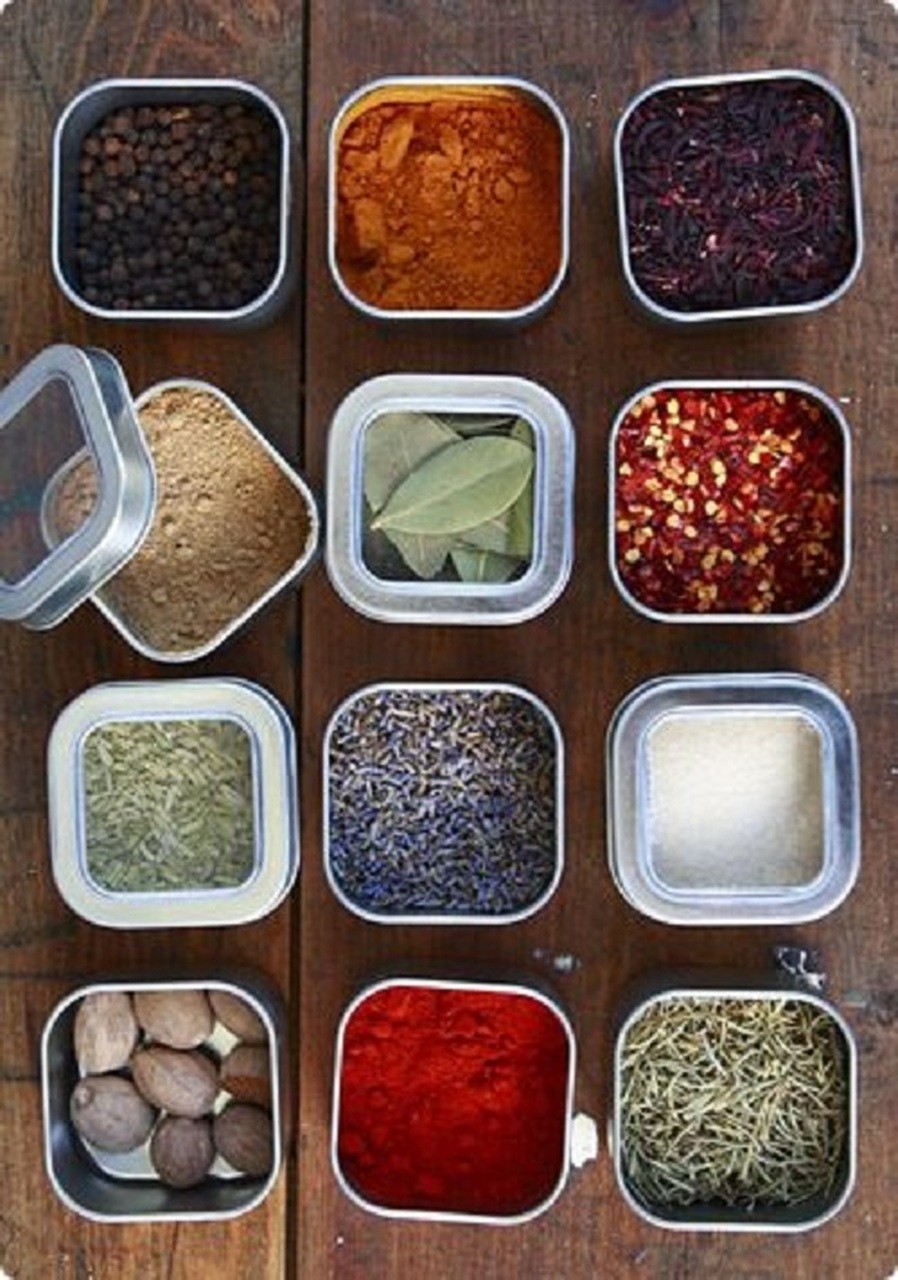 Maybe most of the spice racks look good, but they are not practical. This set of small canisters for spices will be both functional and decorative. They are small, aluminum boxes with transparent lids so you will always see what is inside.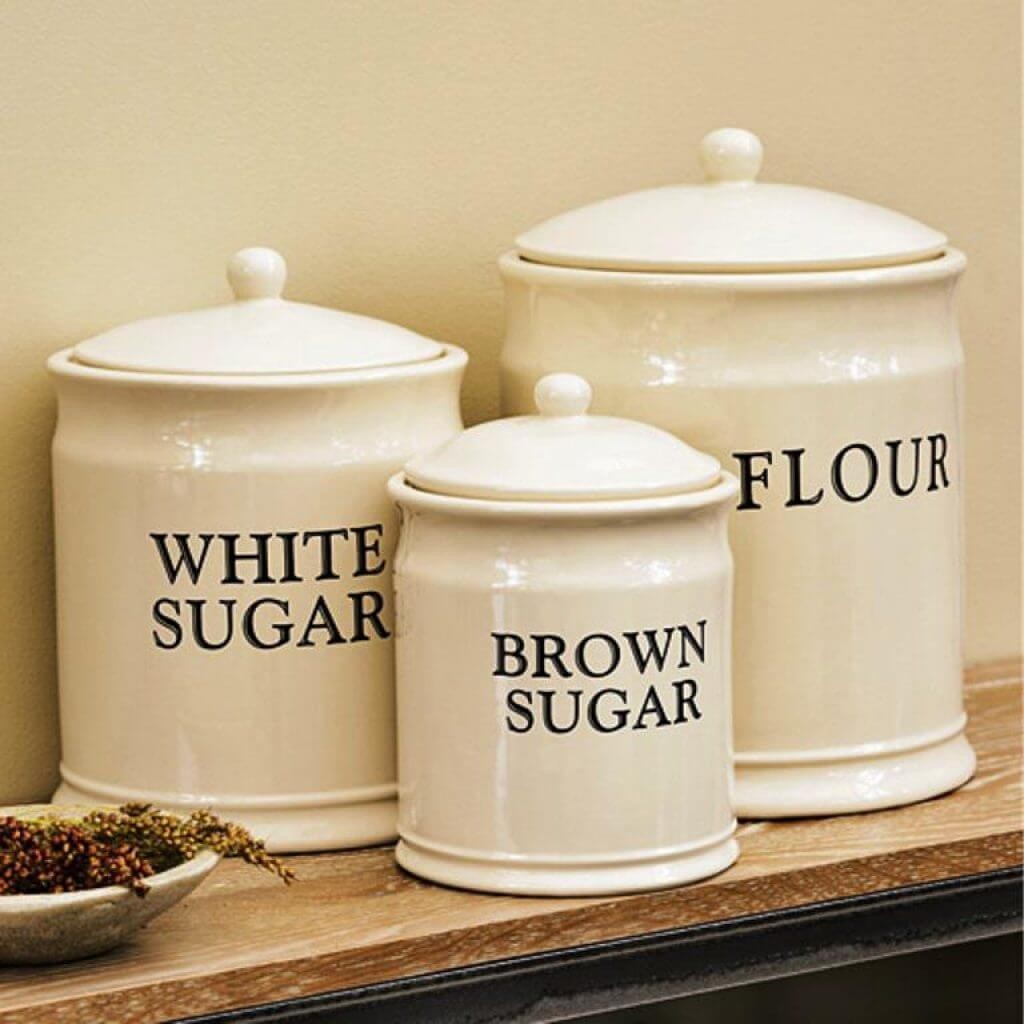 Set of 3 kitchen canisters for storing flour, white sugar and brown sugar. It is made from high quality ceramics and fitted with convenient lids. Neutral and functional accent for any kitchen.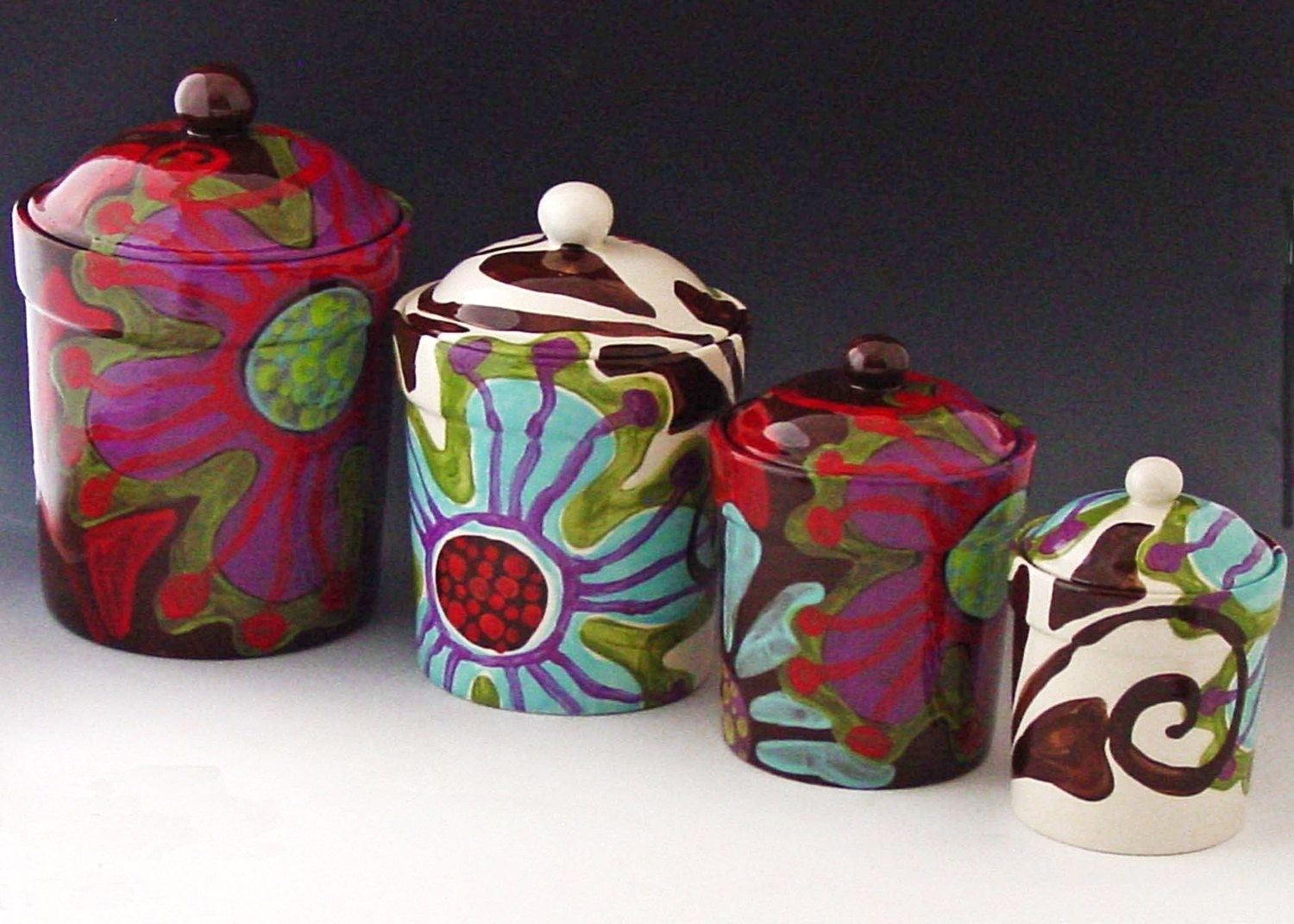 Canister Set of Four Urban Fusion Colorful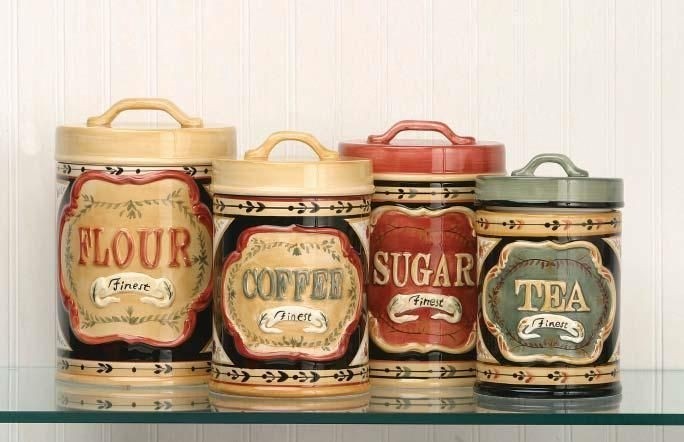 ... Country Store Kitchen Canister Set Flour Sugar Coffee Tea Ceramic New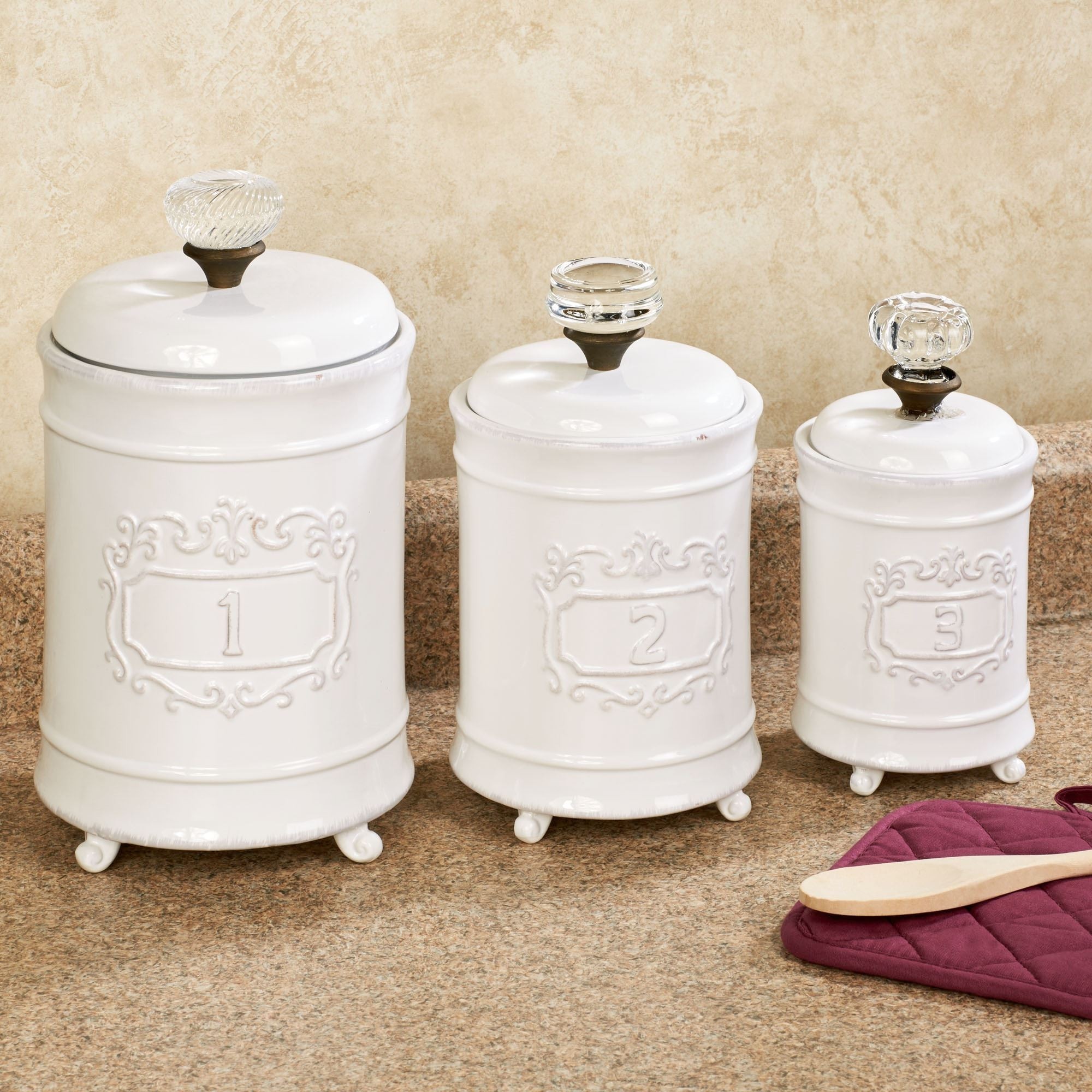 Circa White Ceramic Kitchen Canister Set