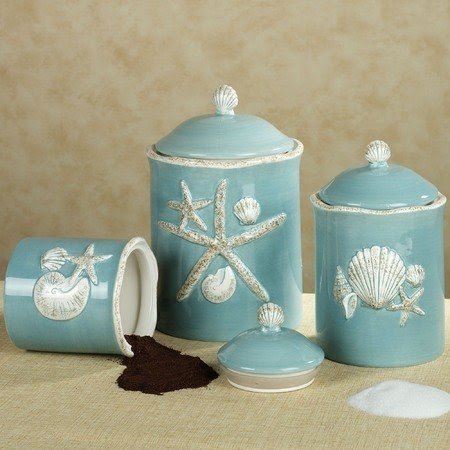 An impressive set of spice containers, coffee or other kitchen items makes the interior take on the character and functionality. Beautiful coastal motifs are captivating, and the blue trim adds interior lightness.
Set of Three Red Iron Canisters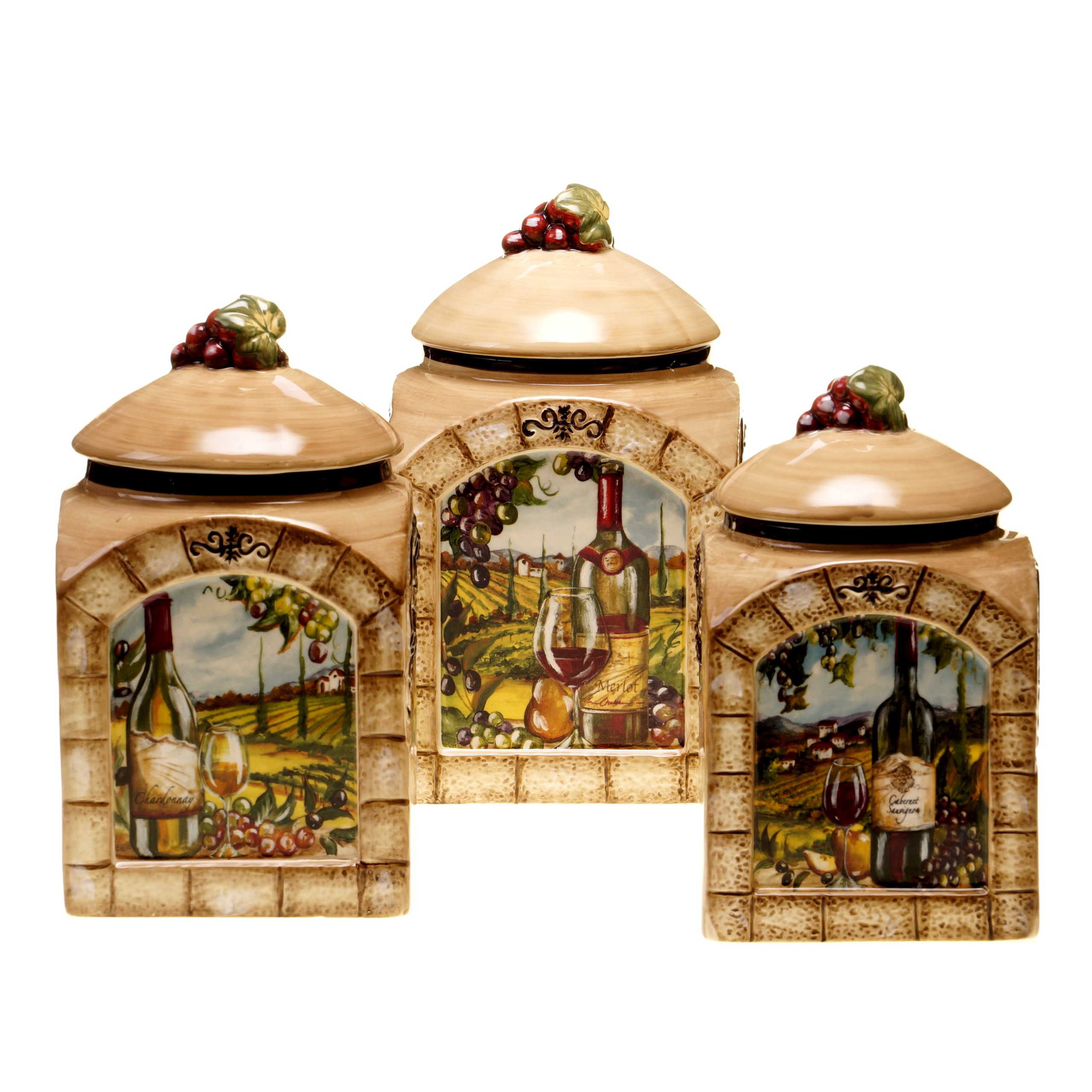 Tuscan View 3-Piece Canister Set
Beautiful traditional canisters to store food and for display. Their size-varied square bodies of creamy-beige stoneware are hand-decorated with charming colourful vineyard and wine motifs. Round removable lids have vine-like grips and tight seals.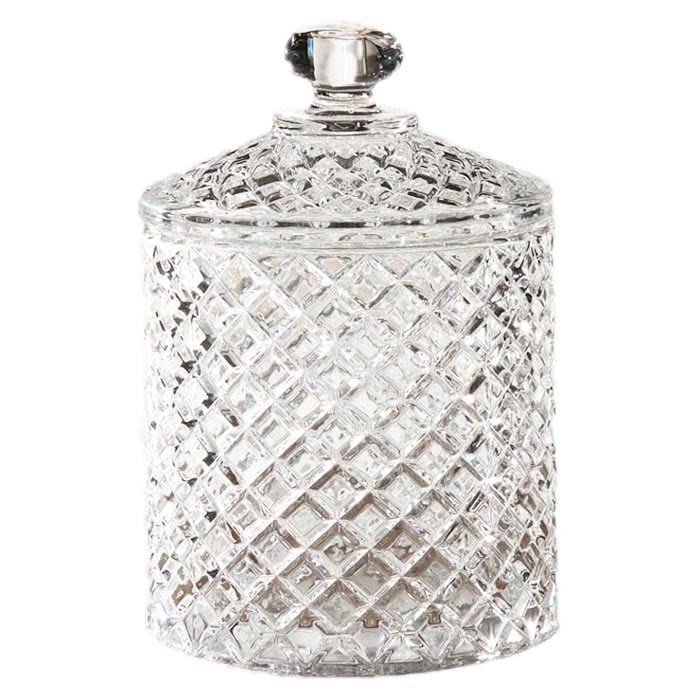 Muirfield Jar
Aesthetic decorative modern jar for kitchen or bathroom use. It's over 8-inch cylindrical body and a lid with a large knob are made of clear crystal glass with a beautiful textured diamond pattern. It's food safe.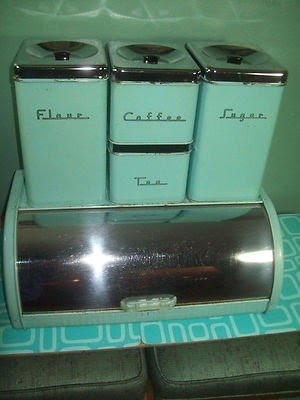 1950s Vintage Turquoise Aqua Chrome Kitchen Bread Box Canister Like Pantry Queen
Straight from the 1950s, this vintage set of canisters will sprinkle your kitchen with old-fashioned flavor. The 3-piece set is designed of durable metal covered in a turquoise finish and have chrome square lids with small black handles.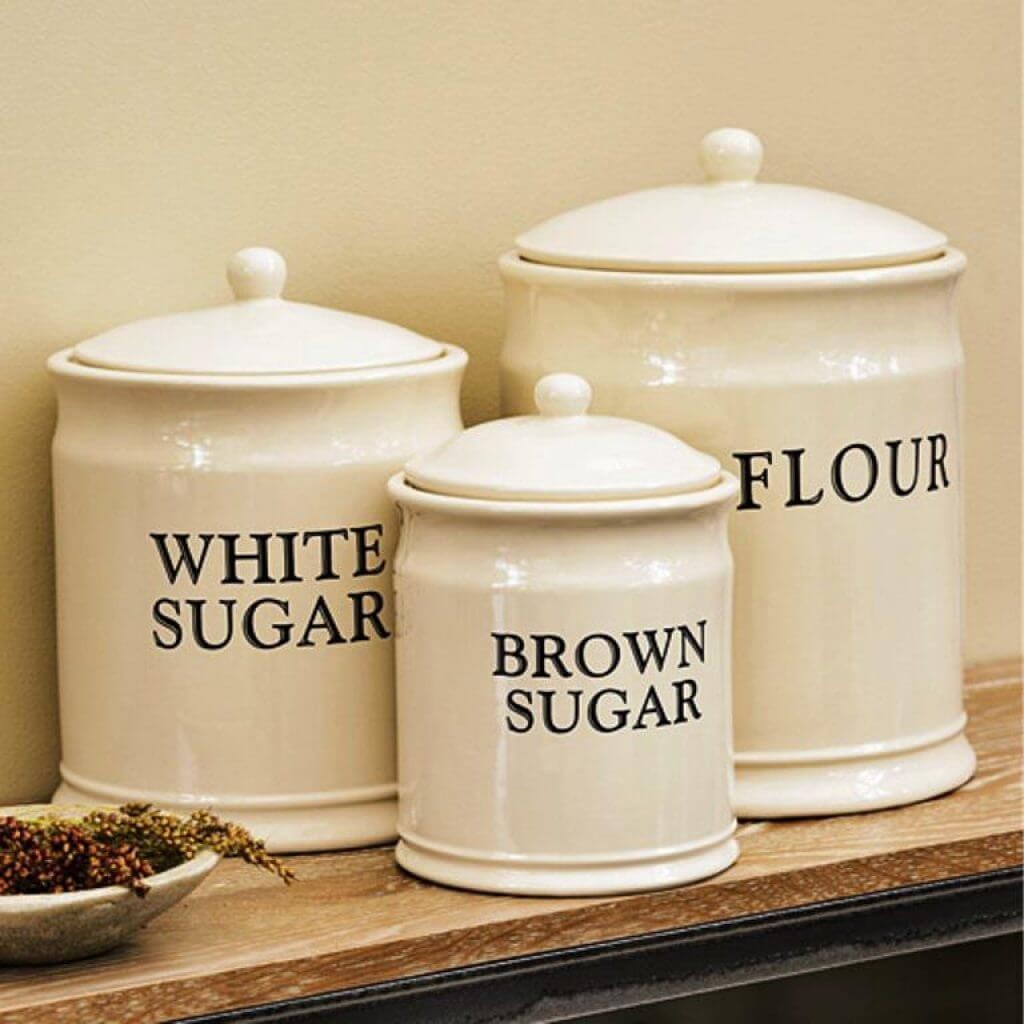 This set of kitchen canisters is a proposition for all, who like to have everything organized in their kitchen. Available in various size and writing variants, made from solid, durable ceramic.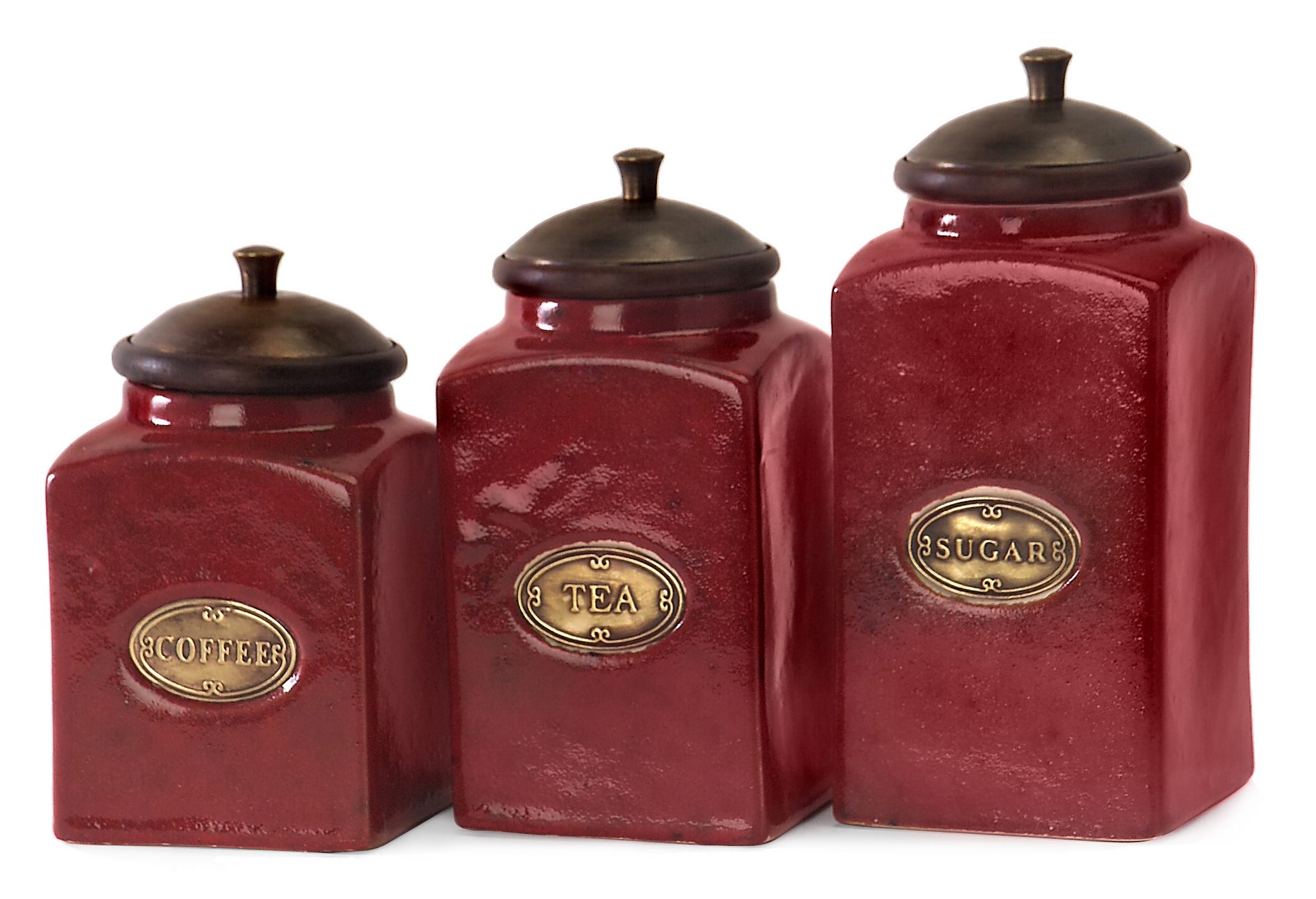 This lovely set of ceramic jars is the perfect solution for your kitchen or dining room. The beautiful colors, descriptions of contents and well-fitting lids emphasize the domestic interior.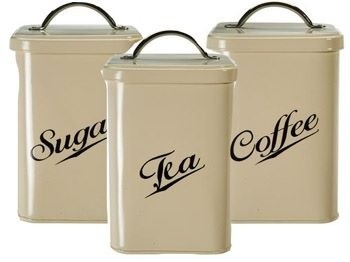 Vintage Inspired Kitchen Decor Cream Canister Set: Coffee, Tea ...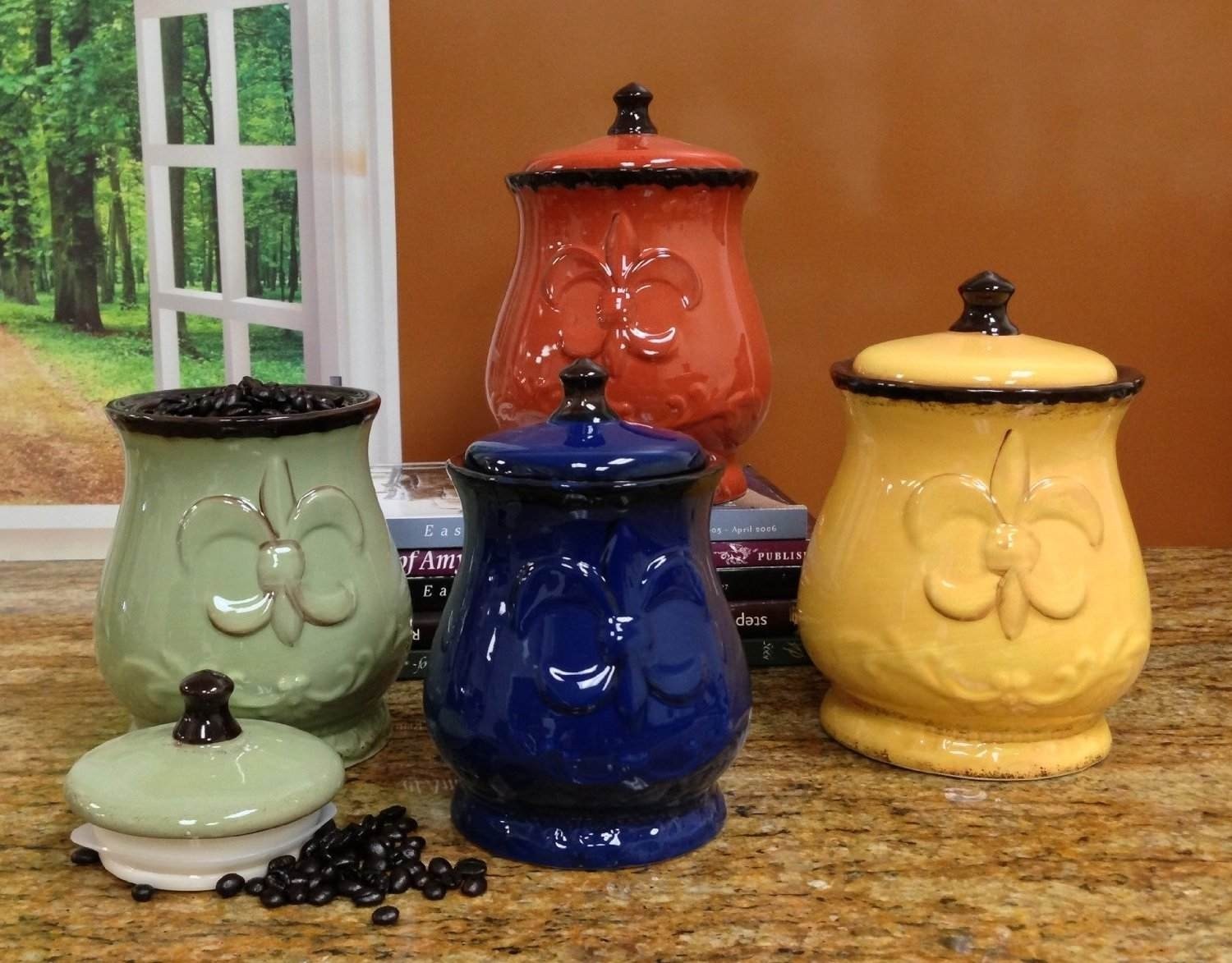 canisters kitchen set glass jars pottery decor food cantainers storage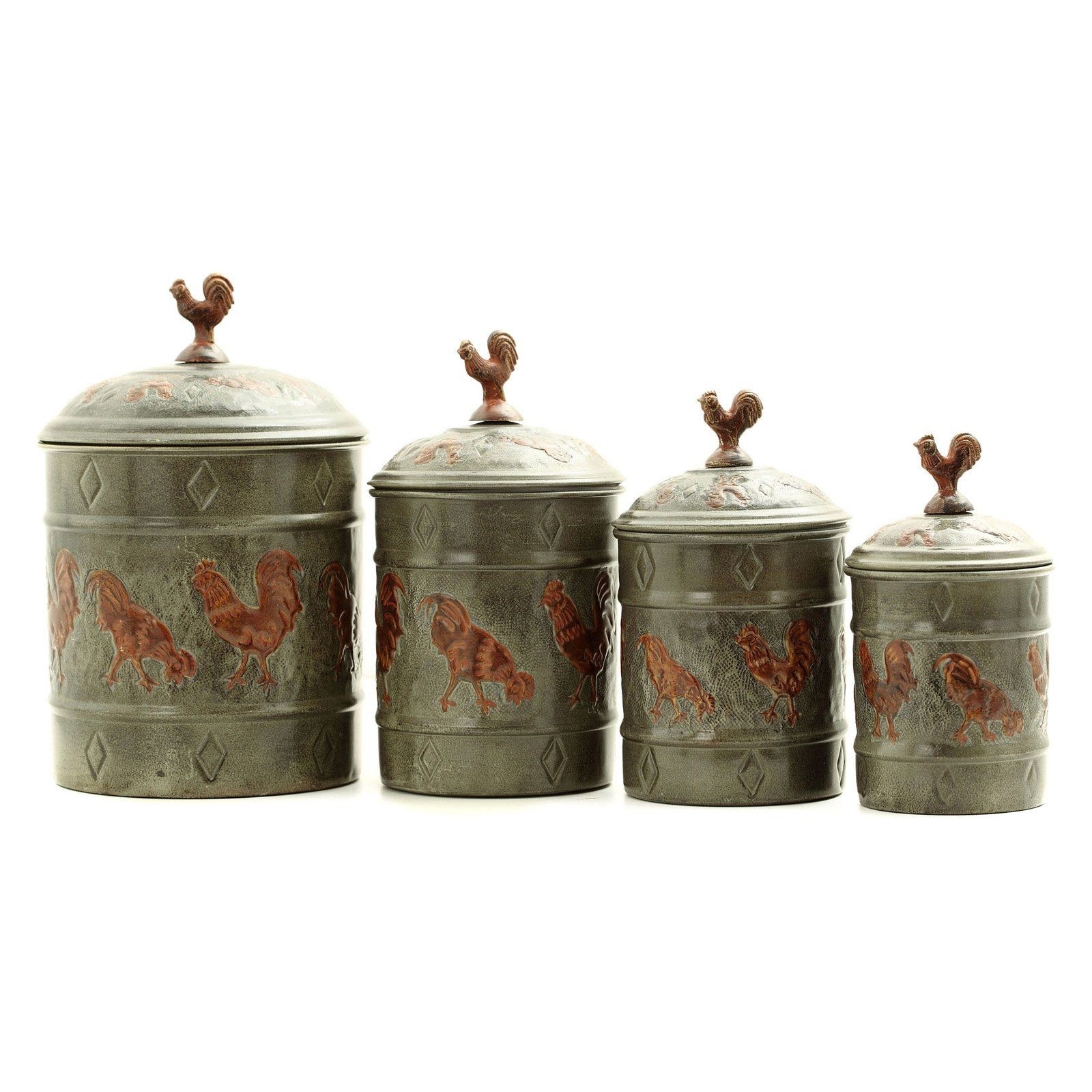 Rooster 4-Piece Fresh Canister Set
Beautiful size-varied cylindrical country style canisters to store food and for decoration. They're handmade of metal with an engraved and painted in reds and oranges rooster design on bodies and lids (with small grips in a form of roosters).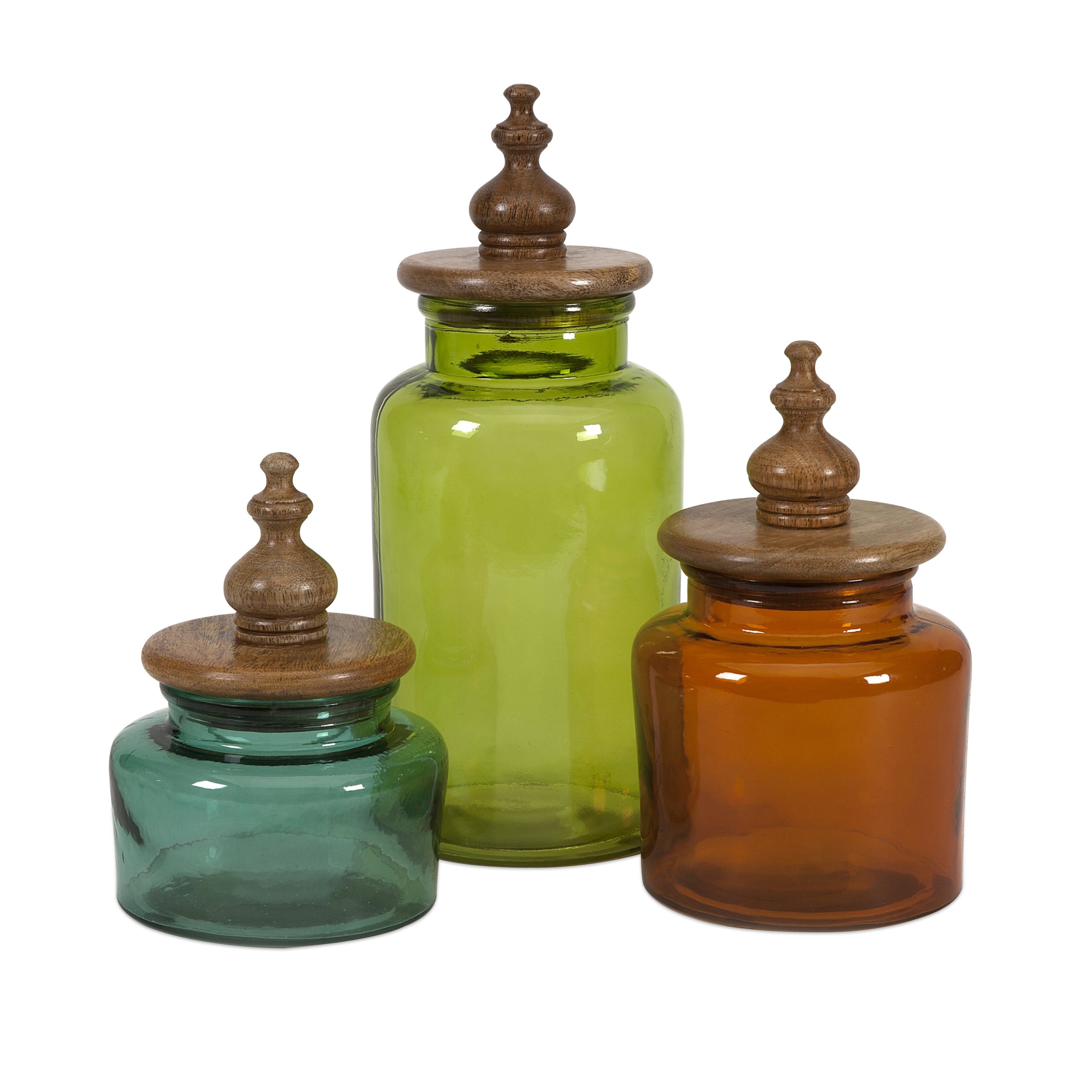 This kit includes functional and decorative kitchen canisters for spices and other products. These glass elements are handcrafted and they include mango wood lids. Different colors perfectly match many kitchen stylizations.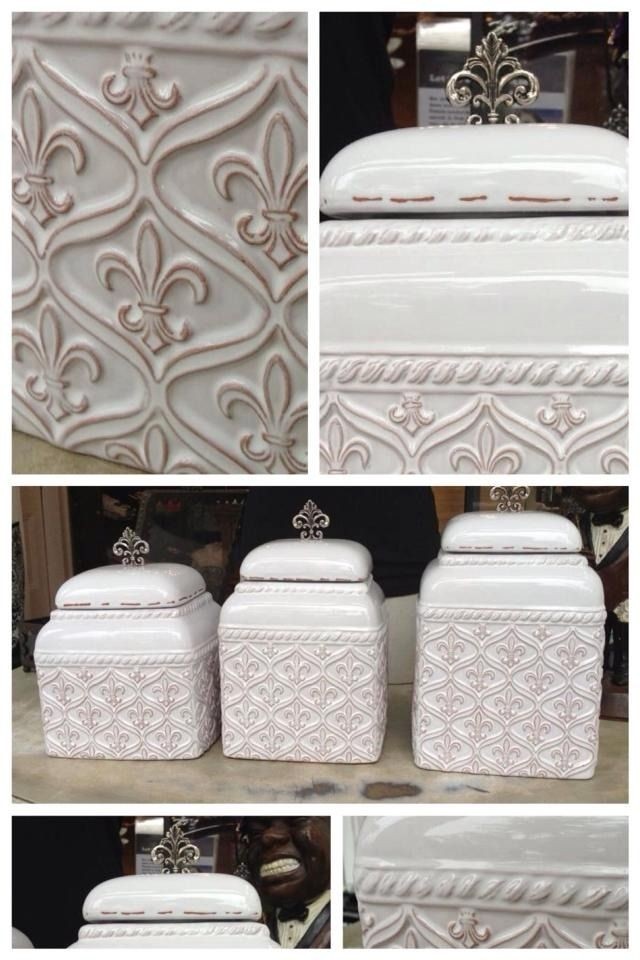 A set of three stunning canisters in an elegant design. They will be an eye-catching accent of your kitchen countertop as they are made of top quality porcelain with subtle, etched decorations. Perfect for storing powdery food products.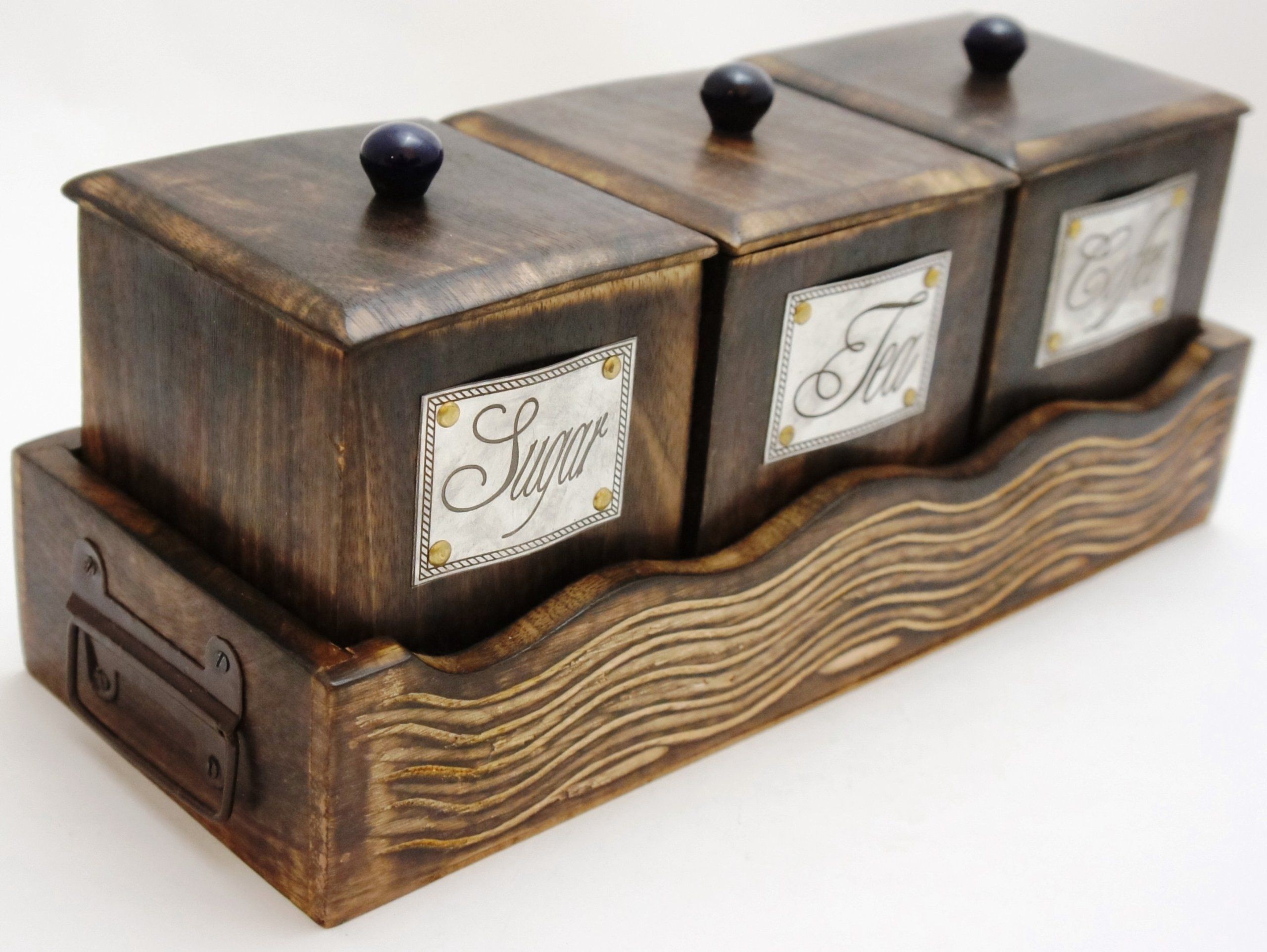 A set of hand-crafted canisters, like this one, can be a great addition for vintage kitchens. Each canister is made of Mango wood, and has a square lid with black handle. Suitable for sugar, tea and coffee, all three canisters are sitting tightly in a matching box.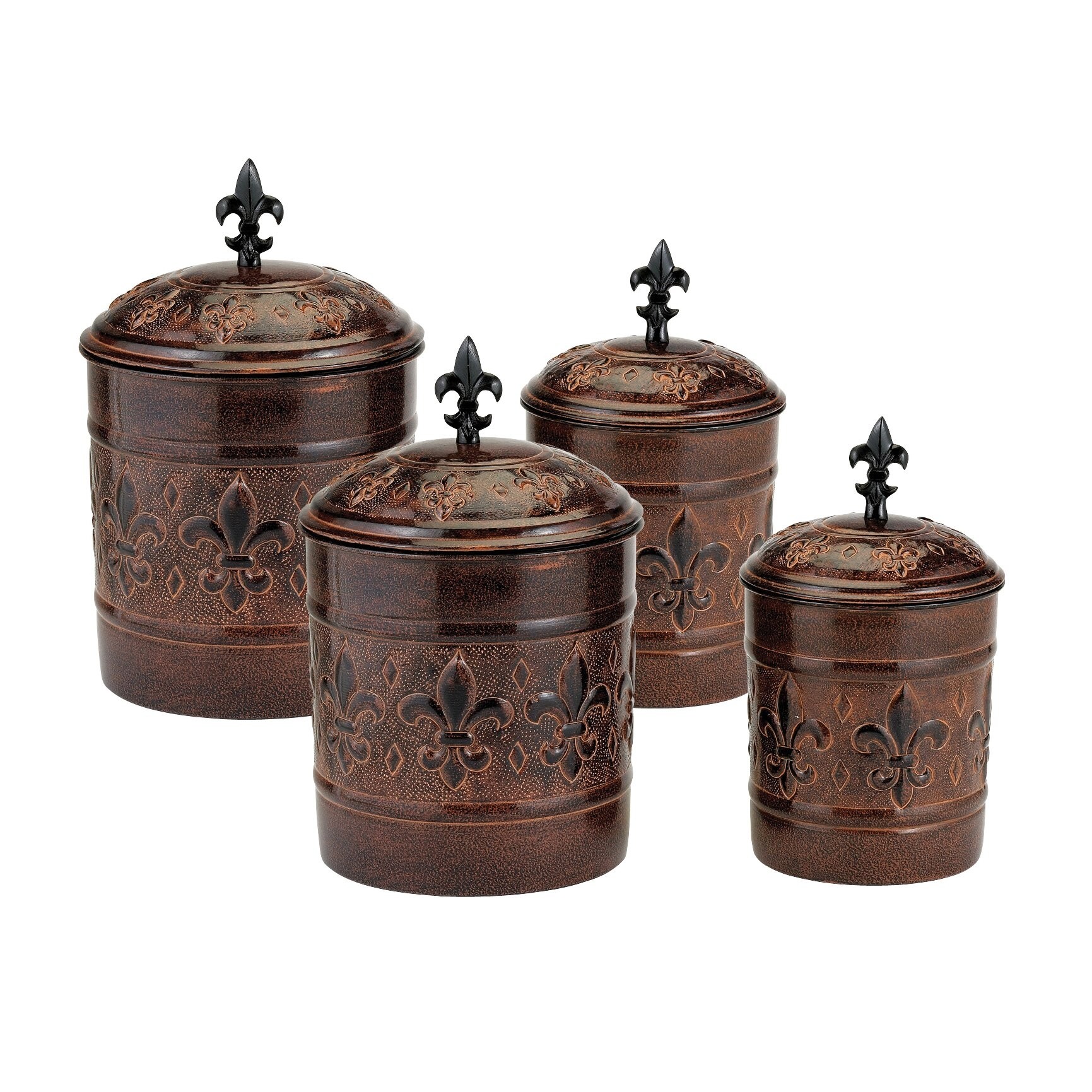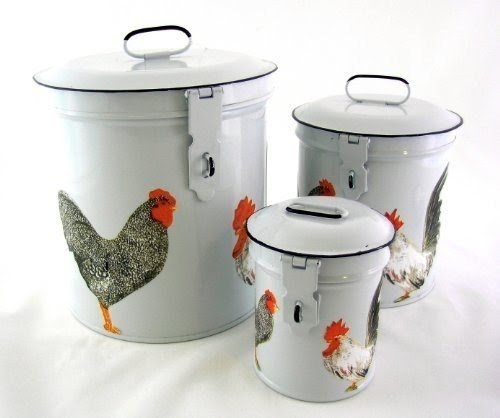 Welcome a homey accent in your cottage style kitchen: these decorative French kitchen canisters with lids (three receptacles: small, medium and large) feature adorable roosters pattern on a sheen white enamel background.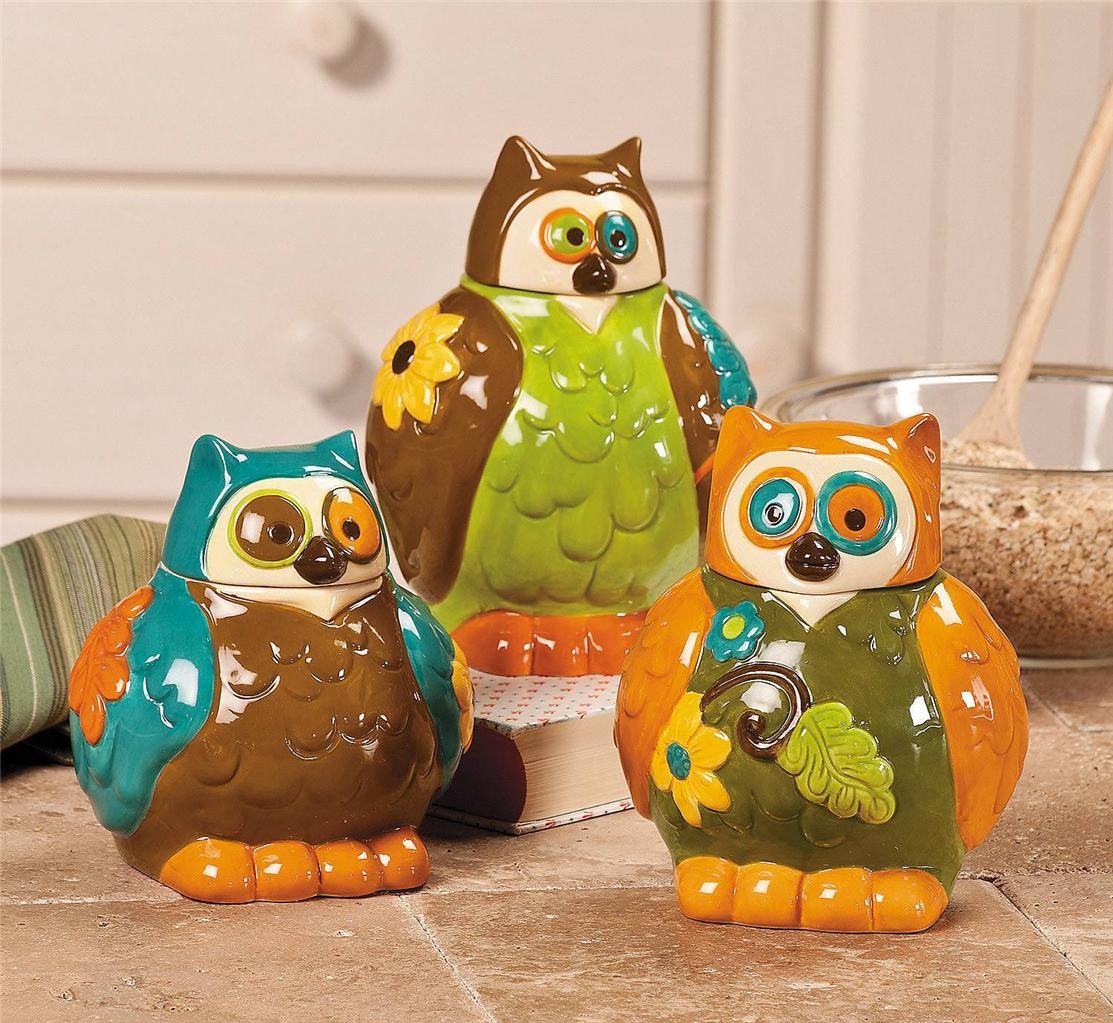 This lovely set of ceramic owl-shaped containers, is simply sensational idea to store kitchen novelties and more. Colorful and very stylish owl will add charm to any kitchen and dining room.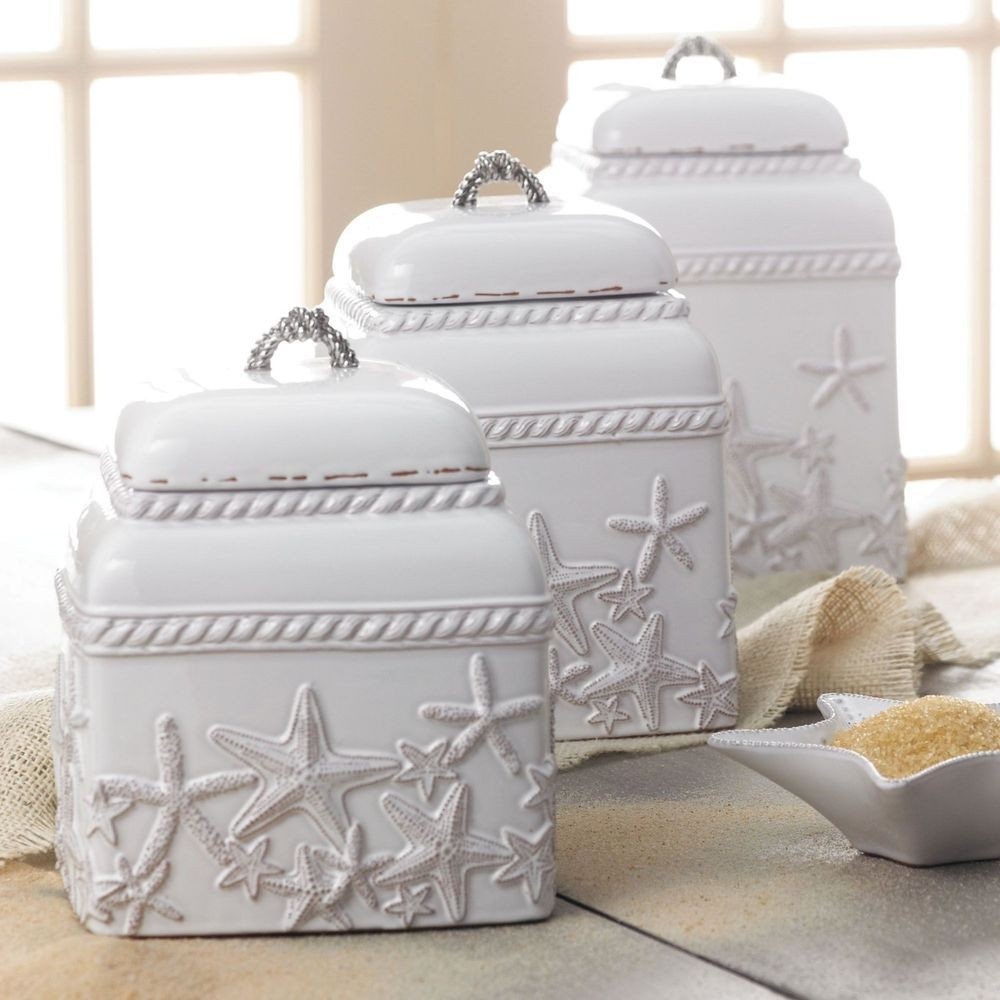 Set of 3 white jars for storing food. Made of high quality ceramics with starfish motive. Metal scoops, like the rope on the lid serving as a handle. Each jar has a seal, which makes things stored in jars are fresh.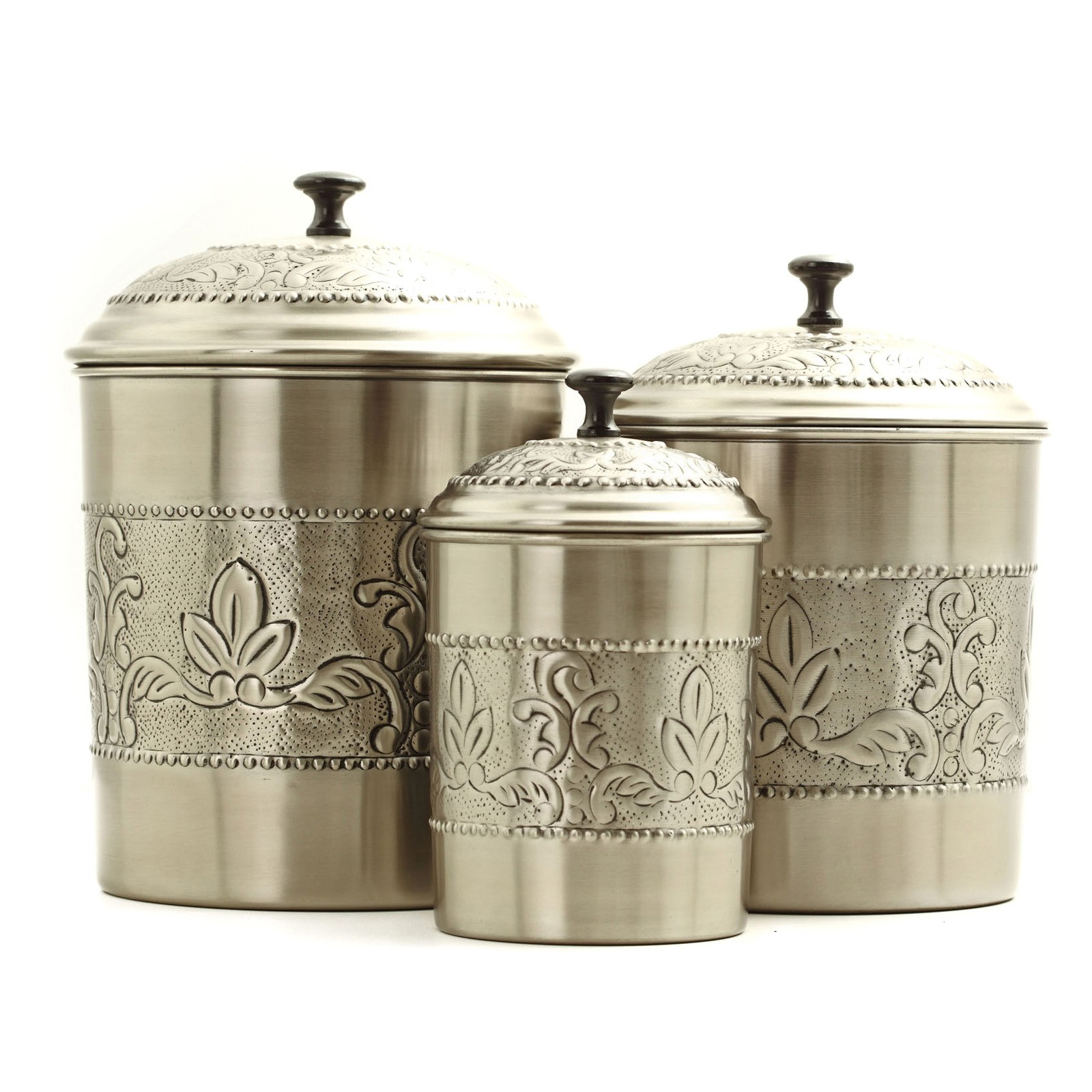 Victoria 3-Piece Canister Set
Beautiful Victorian style set of 3 capacity-varied containers for cooking essentials and spices. Their cylindrical bodies and round convex lids are of food safe silvery steel with embossed fine decorative floral designs. They have to be hand-washed.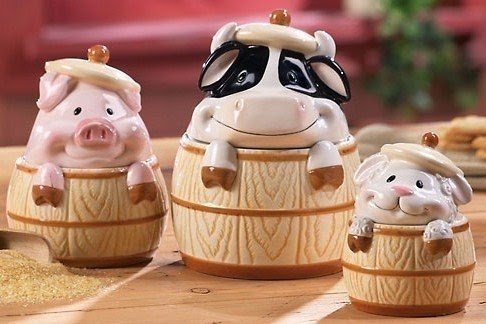 These nice 3 pigs are like from the fairy tale-they are not just porcelain companions, also decorative kitchen canister set. Hoping that only vegetarian food in their company appears on your table,have subtle colors and heads that are lids from the containers.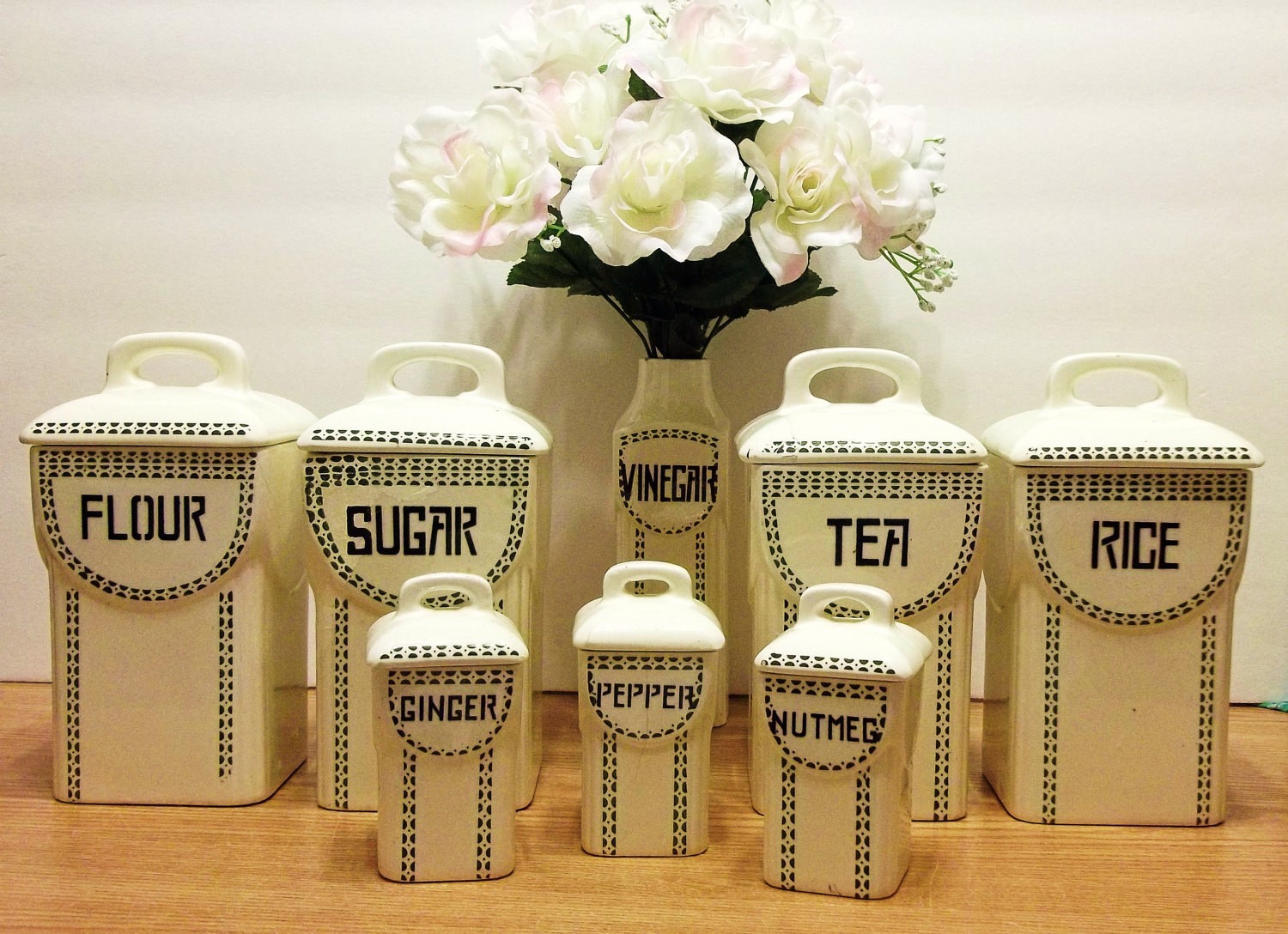 Kitchens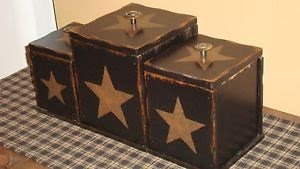 Primitive americana rustic western decor wood canister set with cool black stars pattern. Ideal kitchen decorative equipment. You can store your favourite herbs, salt, pepper, coffee or tea inside. Boxes are different size.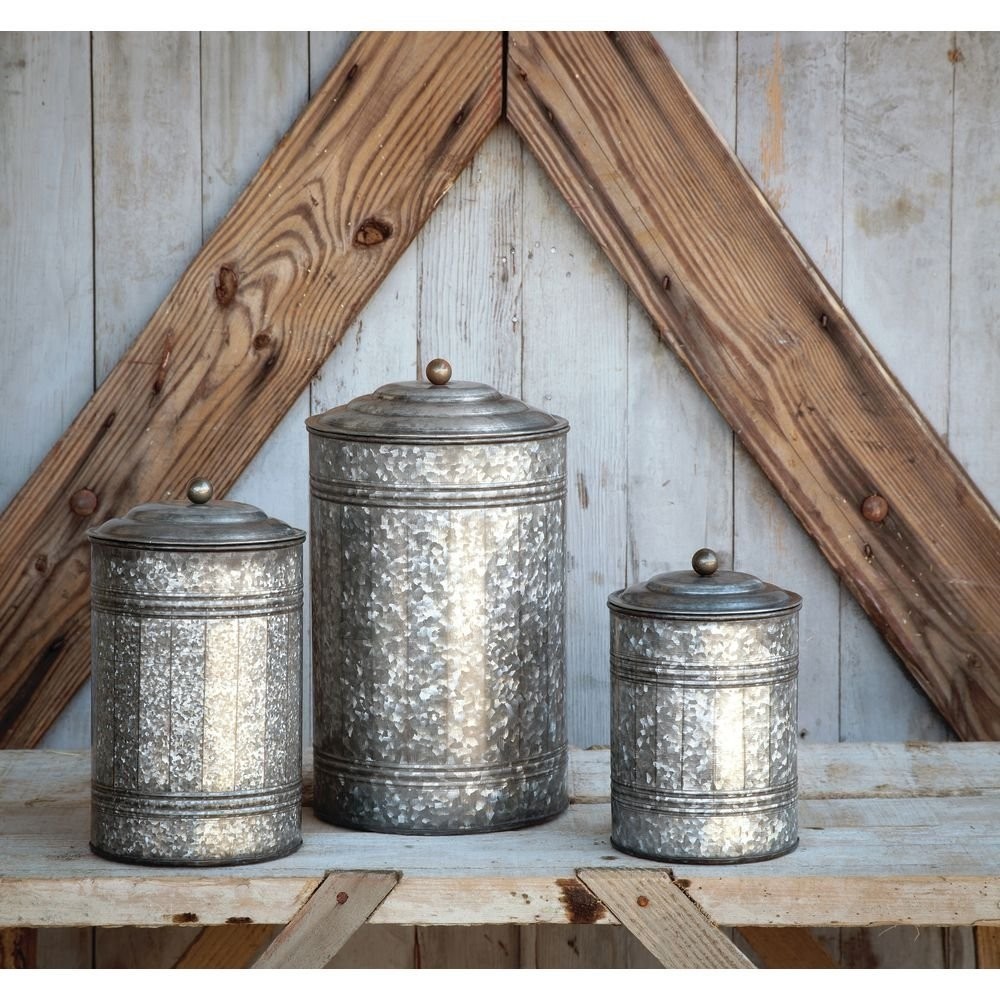 A decorative set of 3 canisters that will be a real hit in your vintage-looking kitchen. Those galvanized beauties have different sizes, tight lids with ball handles, and they emanate with a truly striking appearance.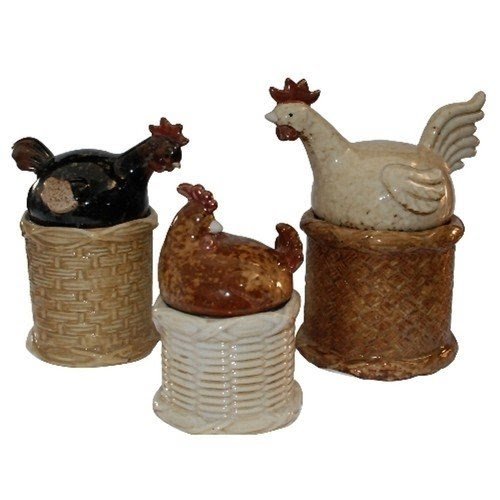 Kaldun Bogle Farm Country Craft Chicken Canister Set
A highly-decorative set of 3 canisters for making your kitchen much more appealing. Crafted of quality ceramic, each canister has a detailed body and lid - shaped as a lovely hen that sits on a pretty basket.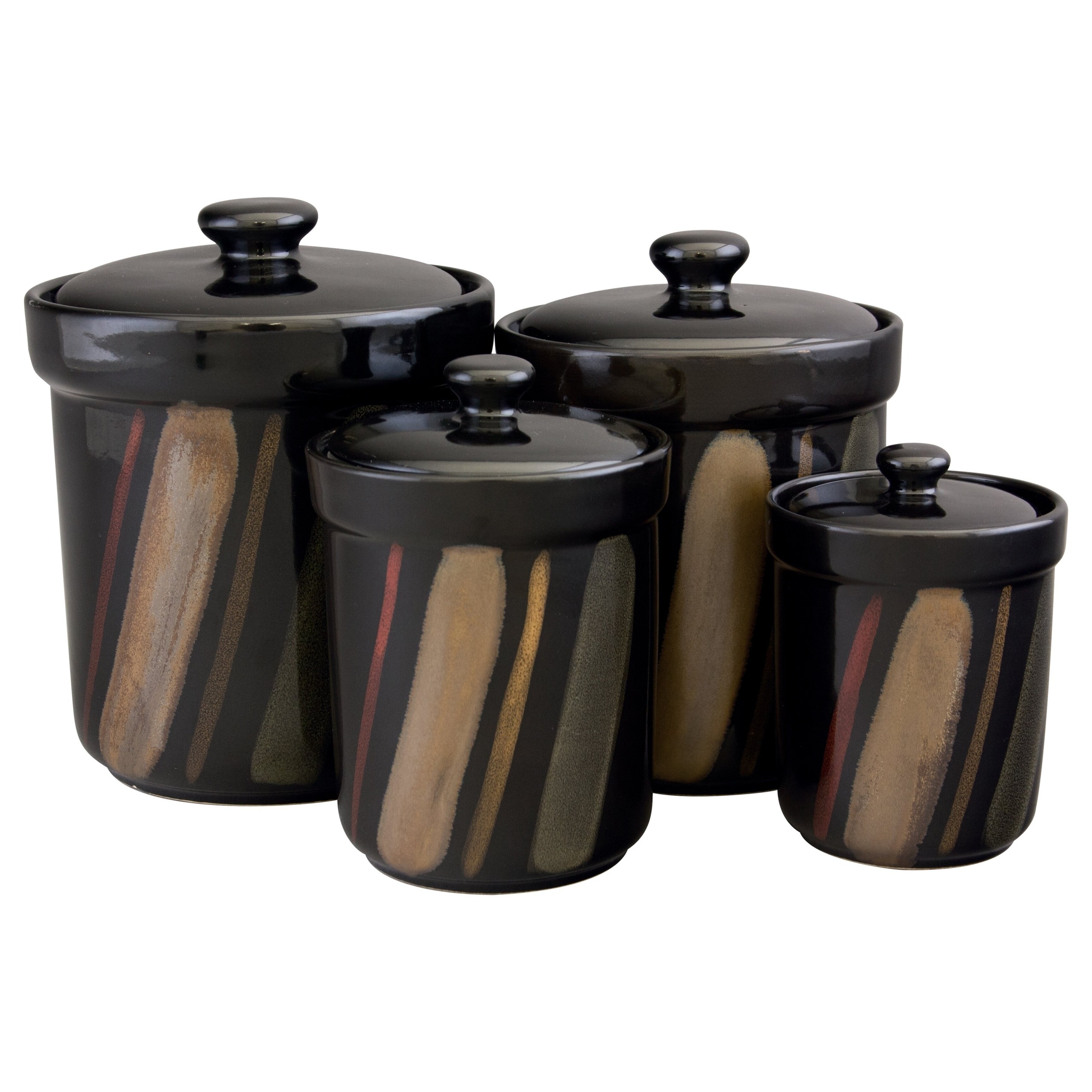 4-Piece Avanti Canister Set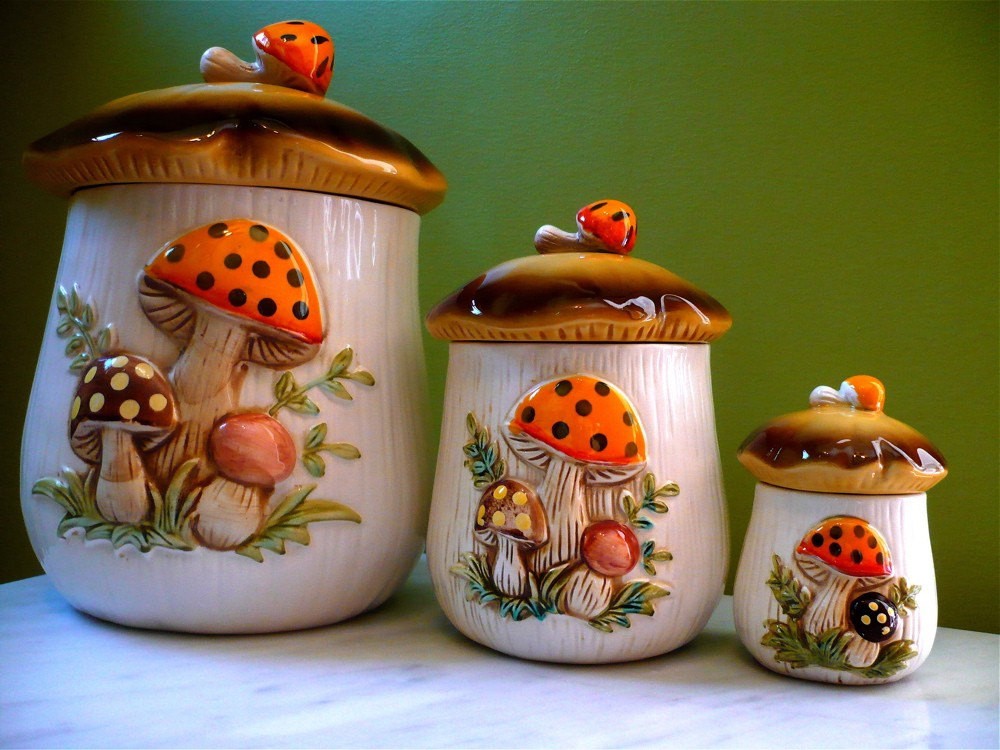 1970s Sears Merry Mushroom Kitchen
This beautiful set of canisters enchants with its vintage design. Deriving from 1970's, these mushroom canisters, will bring a considerable decorative value to your kitchen or dining area. Made in Japan, from high-quality Asian porcelain.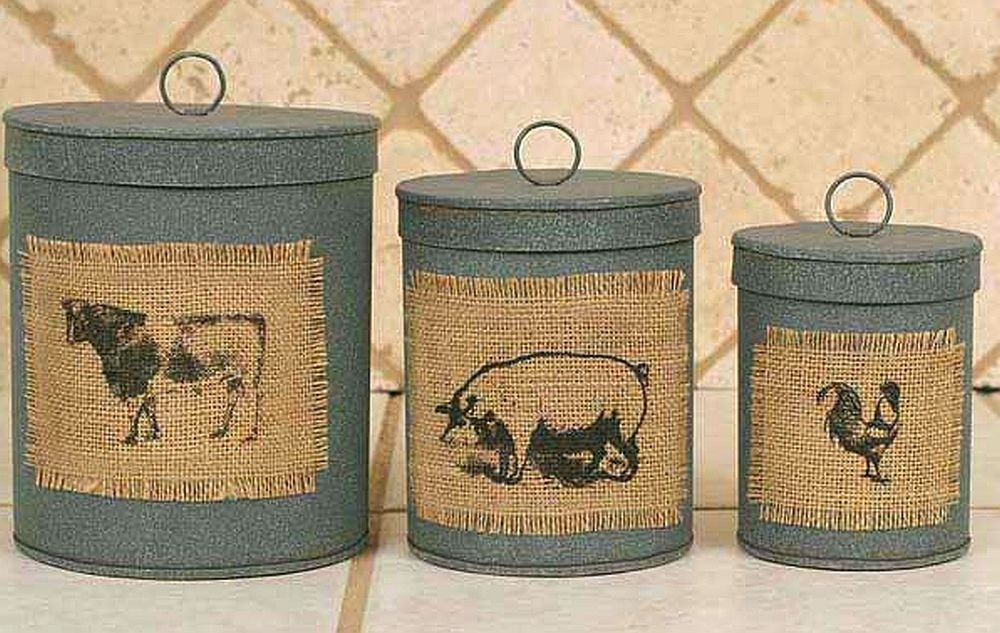 Primitive country farmhouse chic 3 COW PIG ROOSTER - decorative canisters in purlap style, cool sin canister set. Nice idea was to stick this tiny animal imagaes to the canisters, they look super creative and innocent.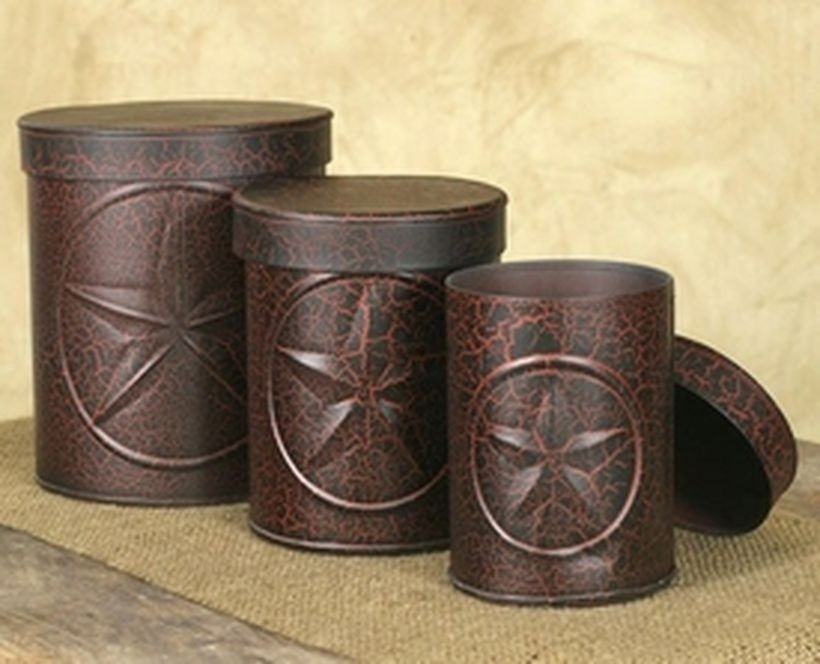 Country Kitchen Decor - Kitchen Accessories - Country Decor, Primitive Decor, Bedding, Braided Rugs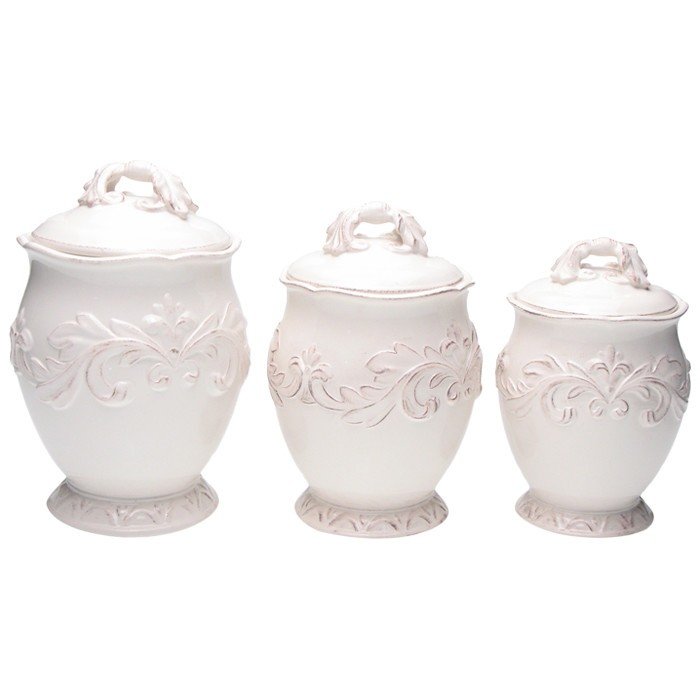 Firenze 3 Piece Canister Set
This lovely set of ceramic jars / containers is a tasteful set for the living room, kitchen or any other room in your home. It can serve as a place for spices or other products or jewelry, etc.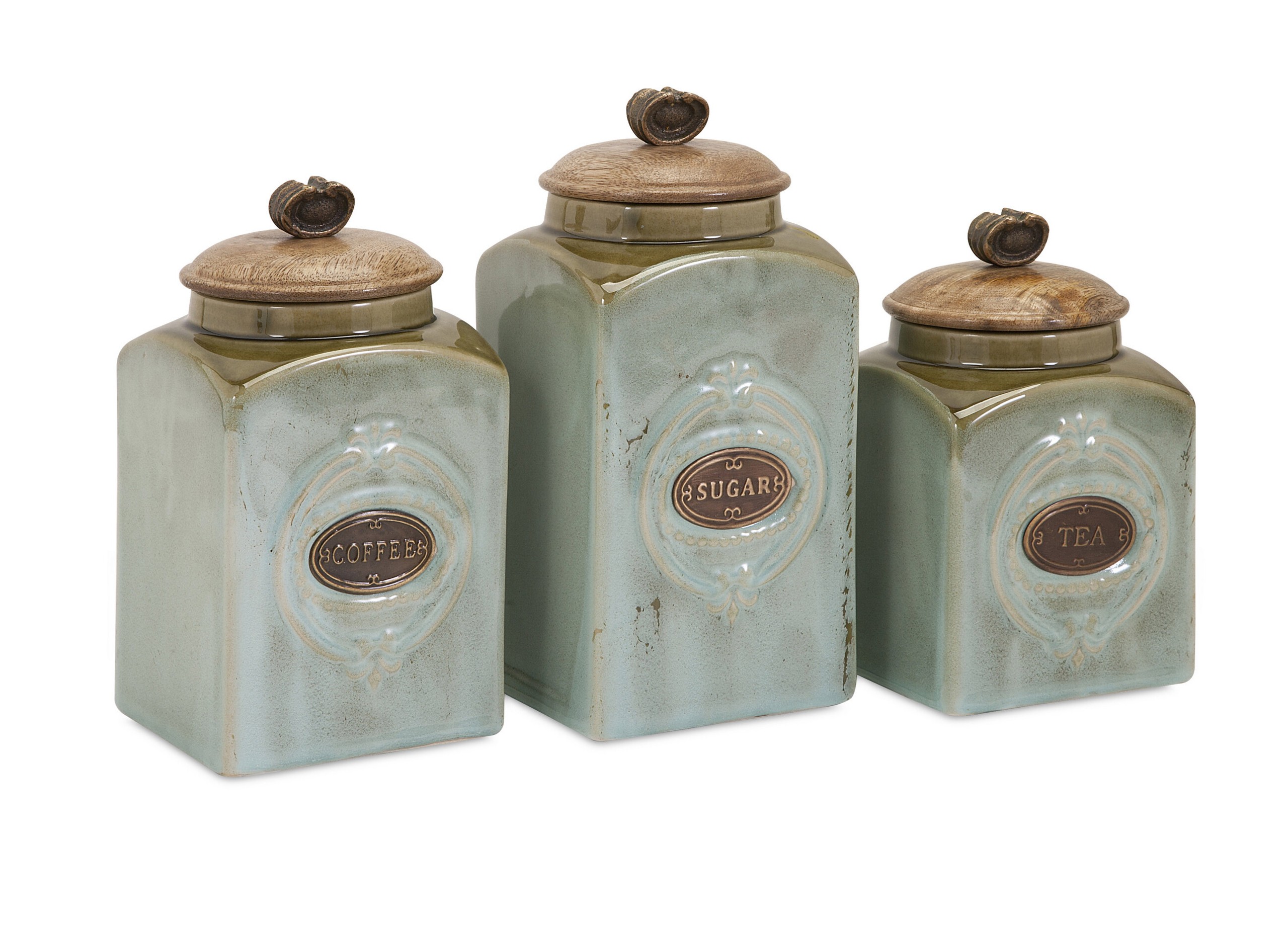 3-Piece Addison Canister Set
This 3-piece Addison canister set constitutes a stylish proposition for a shabby chic kitchen. Properly signed ("coffee", "sugar" and "tea" respectively) will help your organize your products.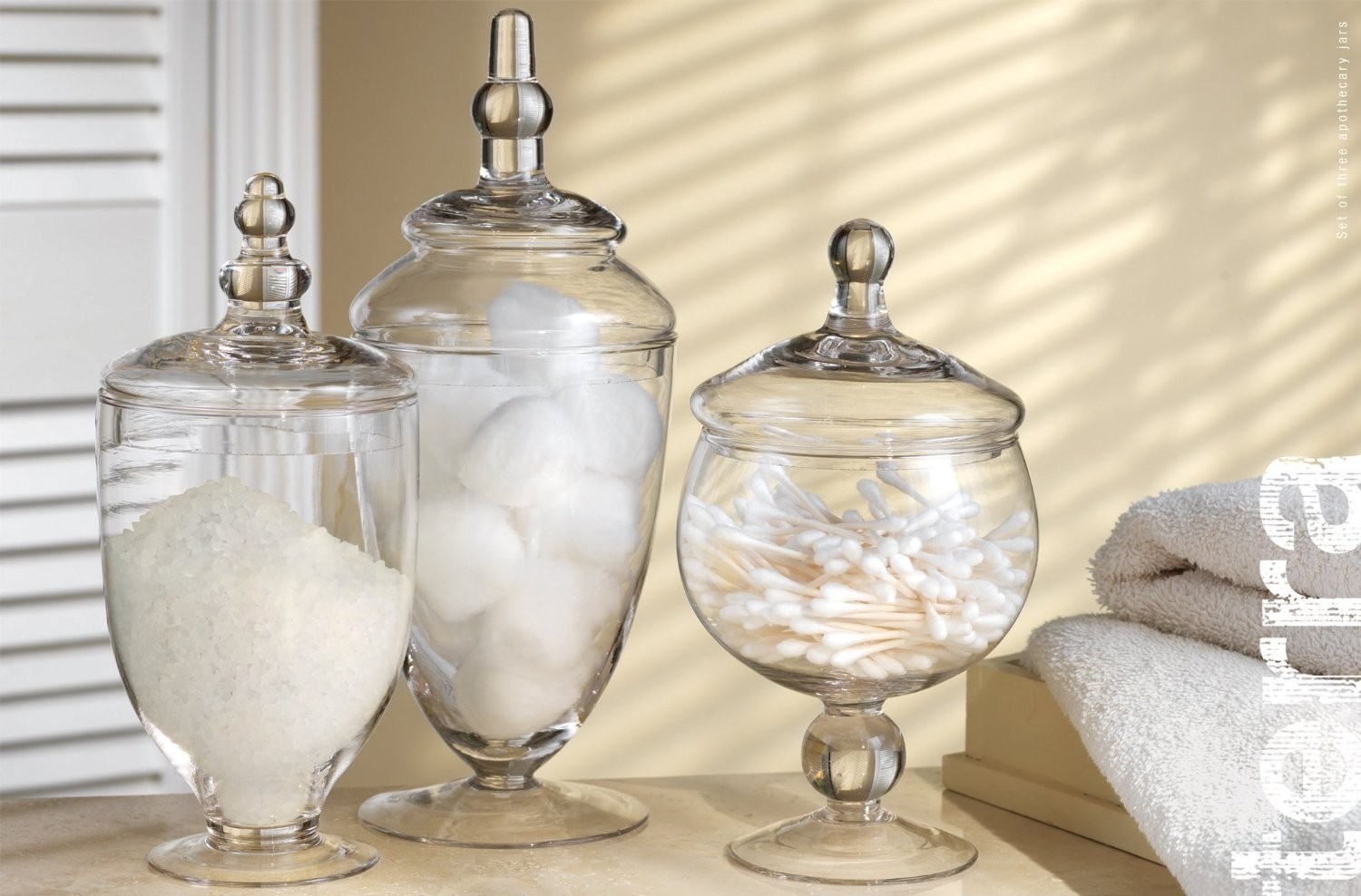 It is a set that includes three assorted mini glass cannisters for storing your items. This set looks very stylish and elegant. Everyone will tell you how gorgeous this set is. You need to have it.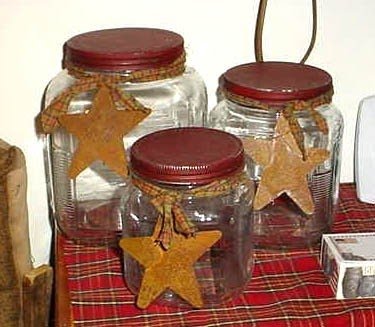 A set of 3 casual canisters for domestic bits and bobs. Size-varied cuboidal jars with rounded edges are of clear glass. They have twist lids of red-finished metal and are decorated with checked ribbons with attached 5-arm stars in golden tones.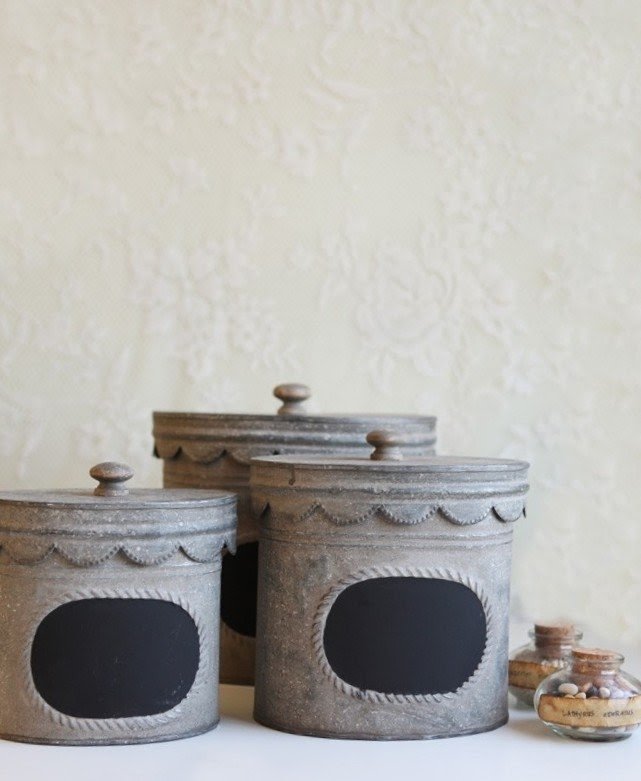 A set of decorative kitchen containers is an excellent way to practice your kitchen interior. Climbers in vintage design with lids delight and beautifully presented on the shelves. Ideal for storing delicacies and ingredients.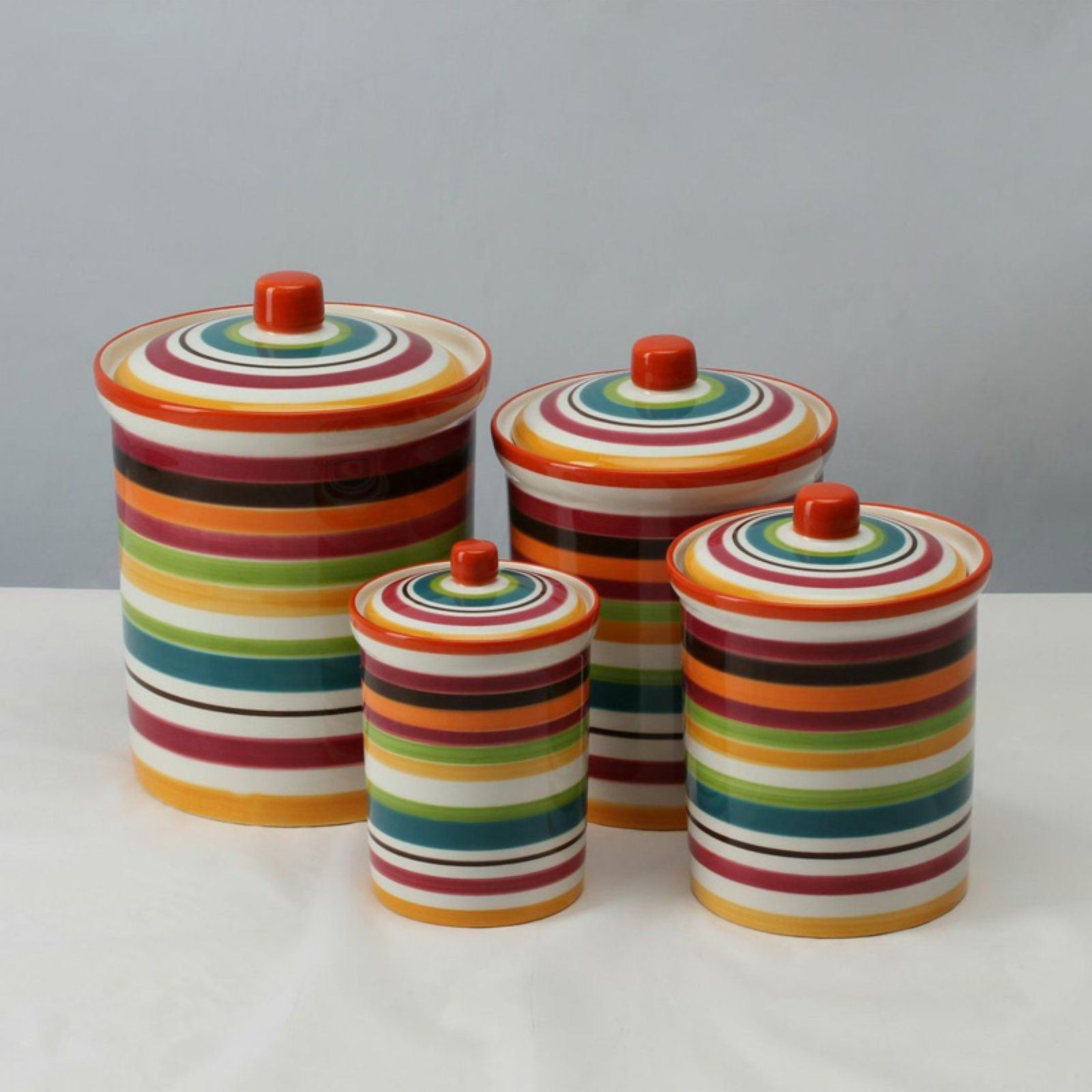 Rio 4-Piece Canister Set (Set of 4)
Beautiful pops of color on these canisters makes them inject a dash of fun to your kitchen. Each of four canisters has different capacity for different storage purpose. It is safe for keeping any food thanks to air tight lids.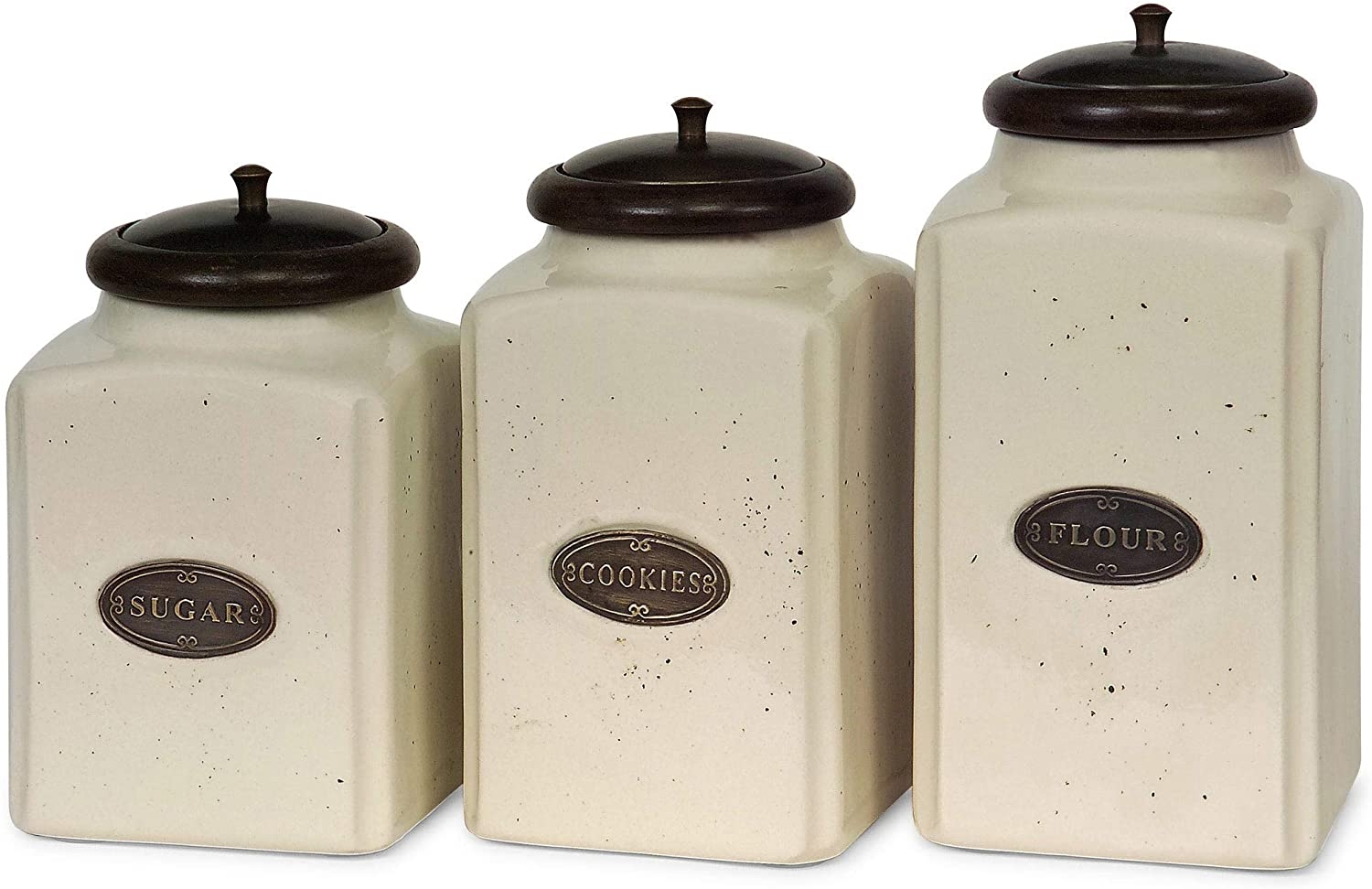 13151981640 set 3 ceramix canisters add a classic set of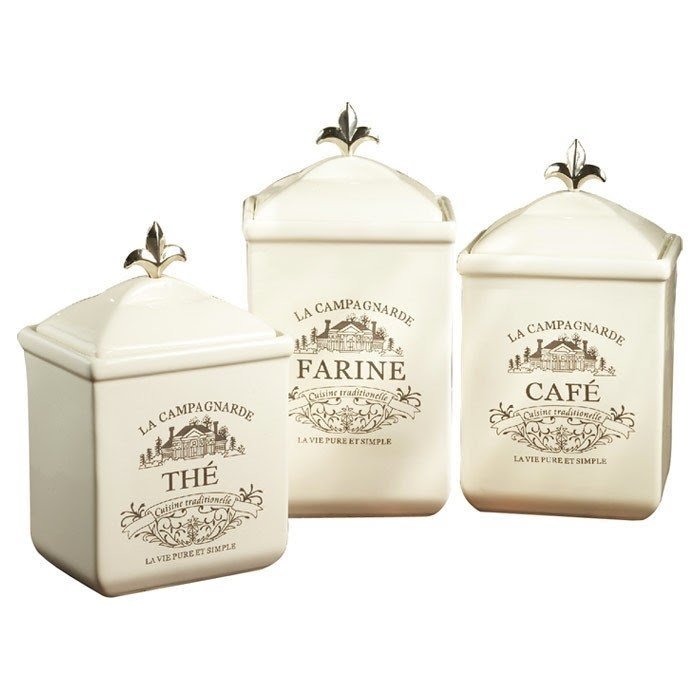 3 Piece Maison Canister Set
A set of three varied size earthenware canisters. Each one is designed for a different purpose. The text printed on it is written in French. This unobtrusive detail is actually adding some fancy look to the design.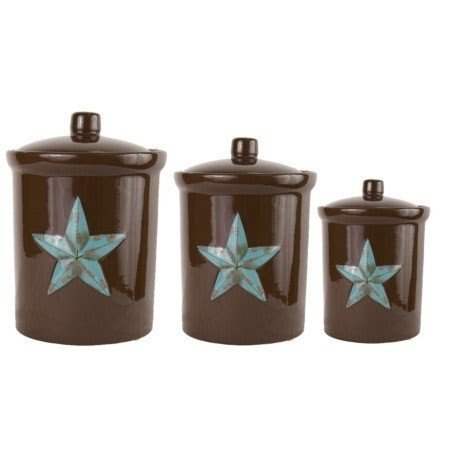 Laredo Star Kitchen Canister Set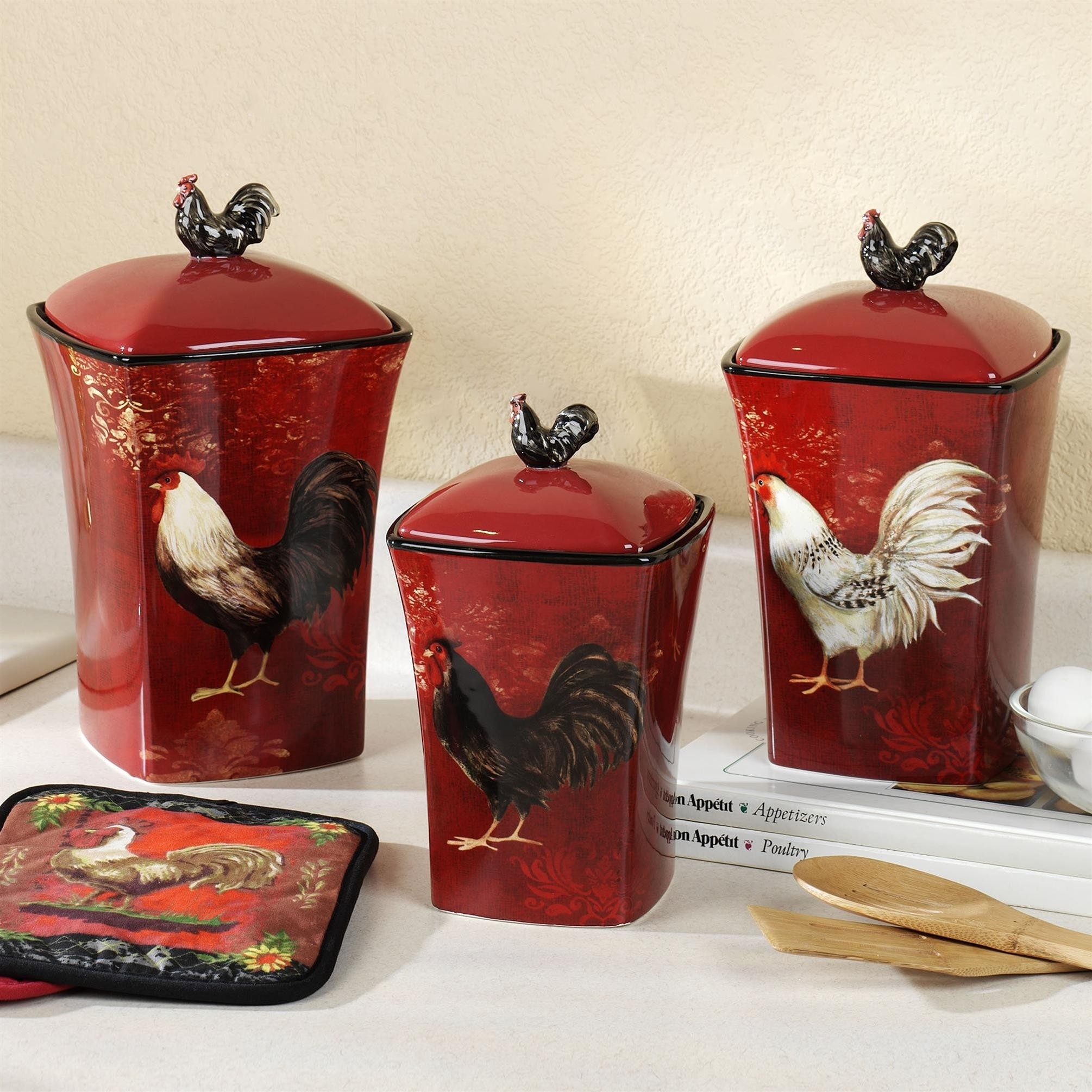 Avignon Rooster Canister Set Burgundy Set of Three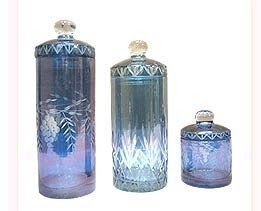 Decorative Kitchen Canisters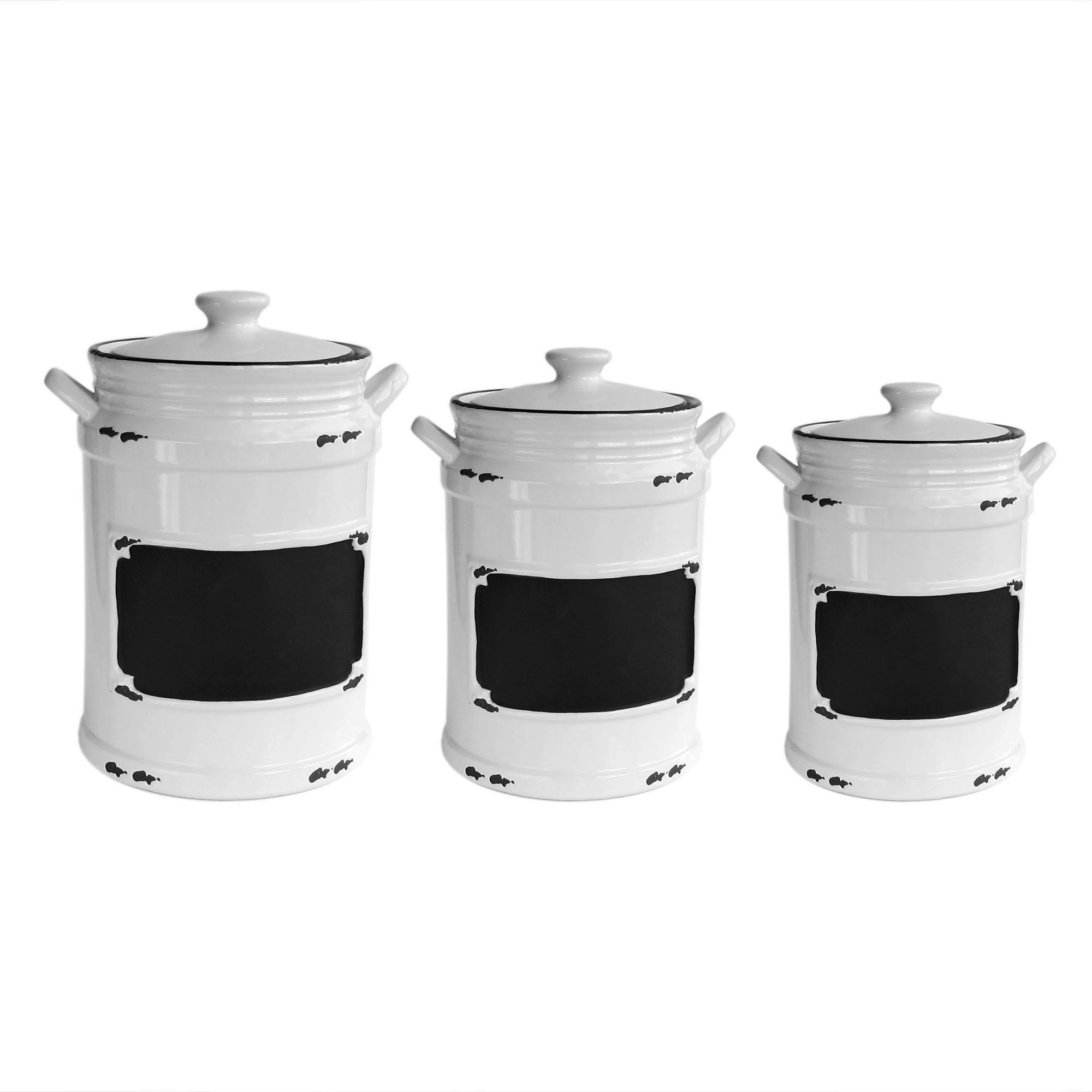 3-Piece Vintage Canister Set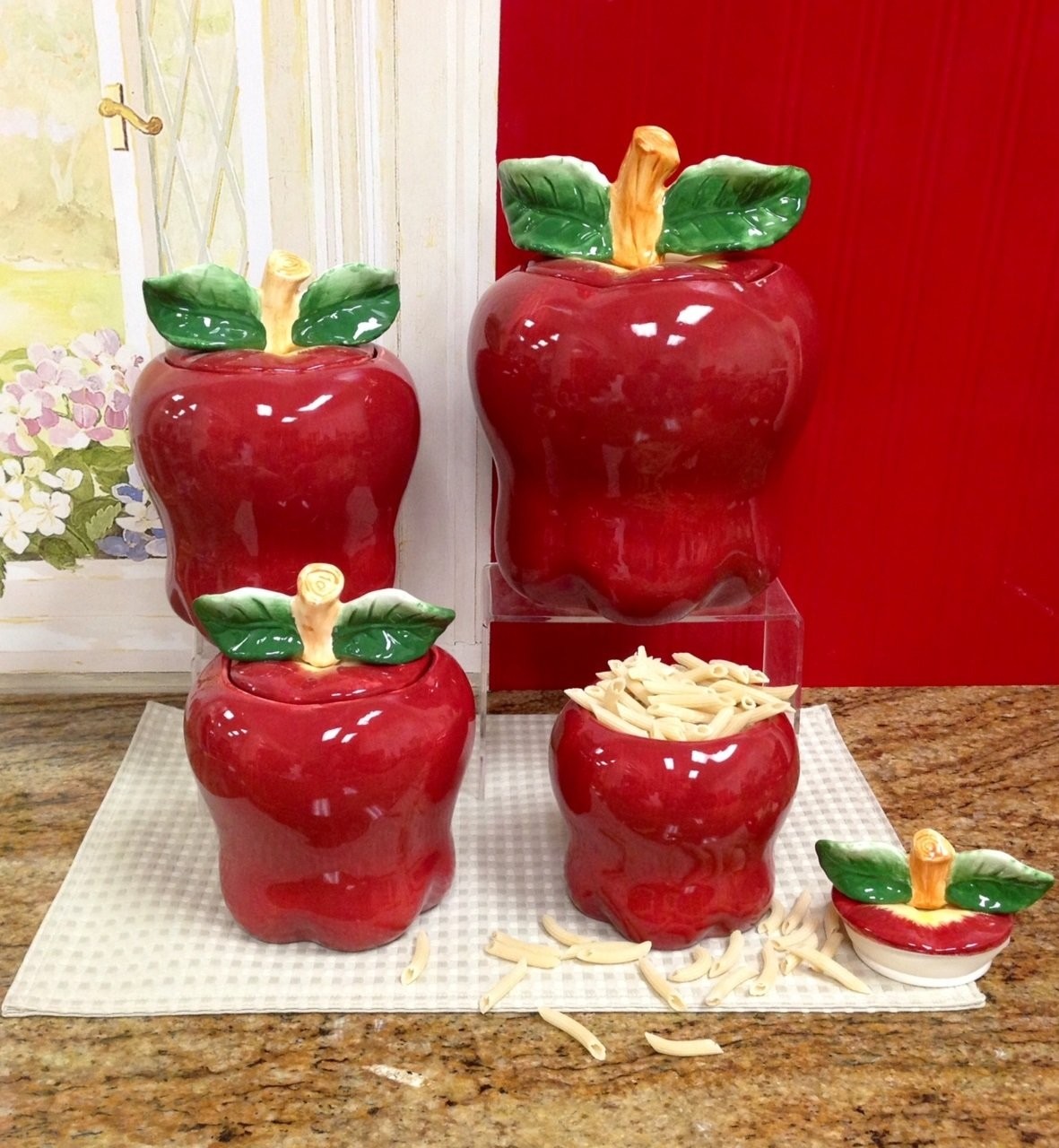 It is very fun but functional set of four containers for food storage. They are made of ceramic and have a shape of apples. The whole set is hand painted and polished in detail, it must be washed by hand.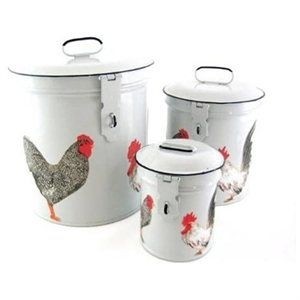 White Canister Set, Kitchen Storage, Decorative Containers (E4) Set ...