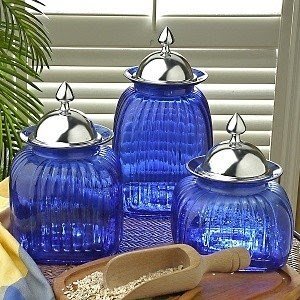 A gorgeous set for improving kitchens with a flair of vintage elegance and detailed craftsmanship. Those lovely canisters are characterized by a plump silhouette - with royal blue glass jars and silver-finished metal lids.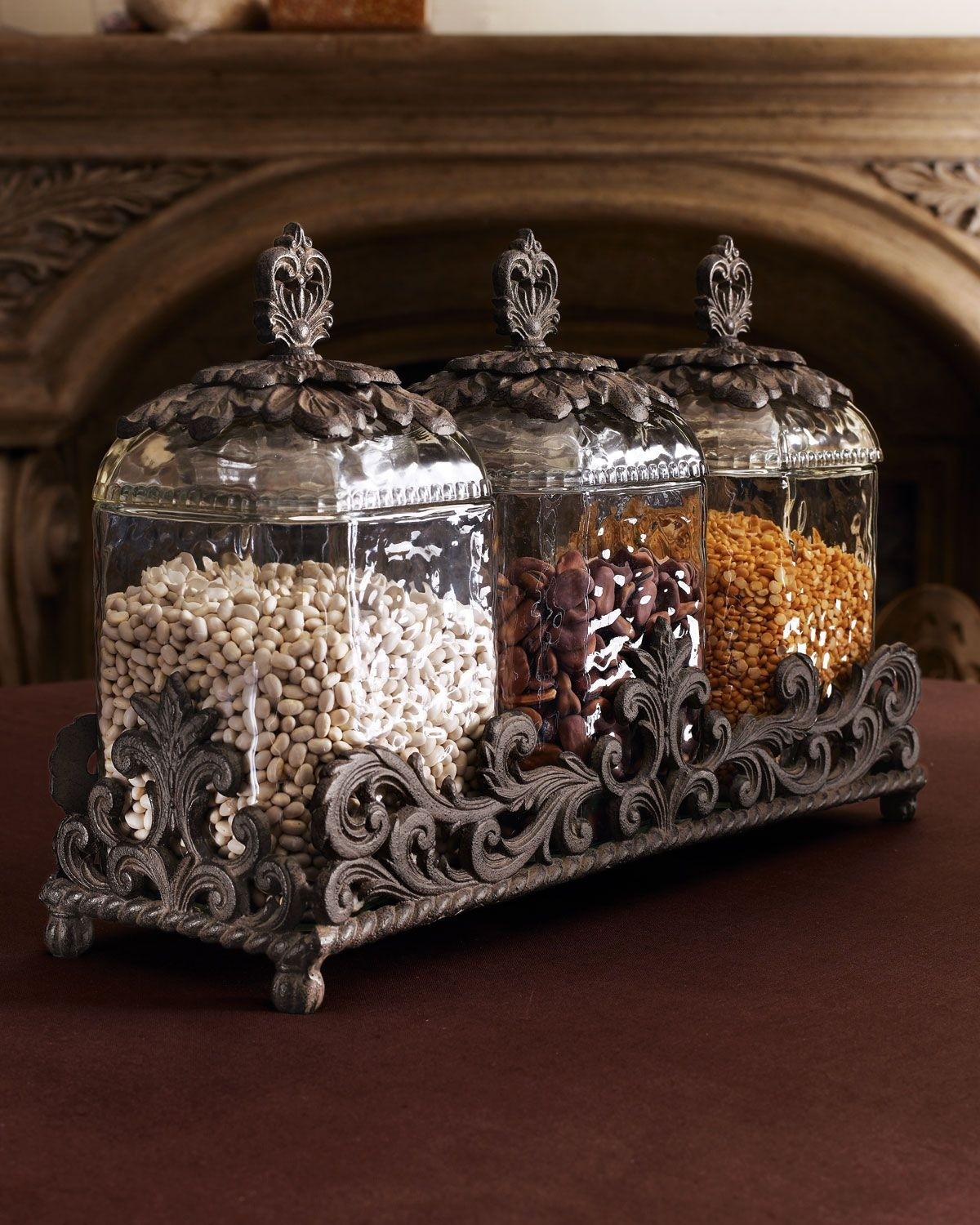 Gorgeous glass containers for kitchen items are a perfect and very stylish design element. The striking details of the antique base and finish of the jar lid captivate and bring to the decor a chic and refined atmosphere.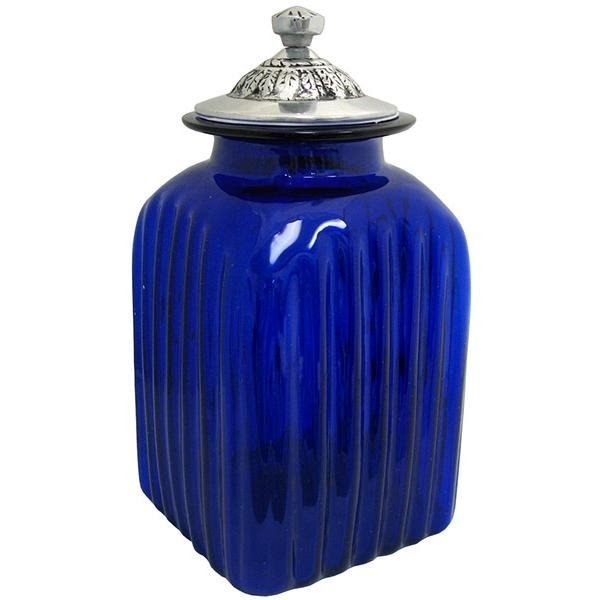 The unique glass kitchen canister set is a great combination of elegance and beautiful cobalt color. The whole is functional when it comes to storage, and at the same time, it is visually present in the kitchen or dining room.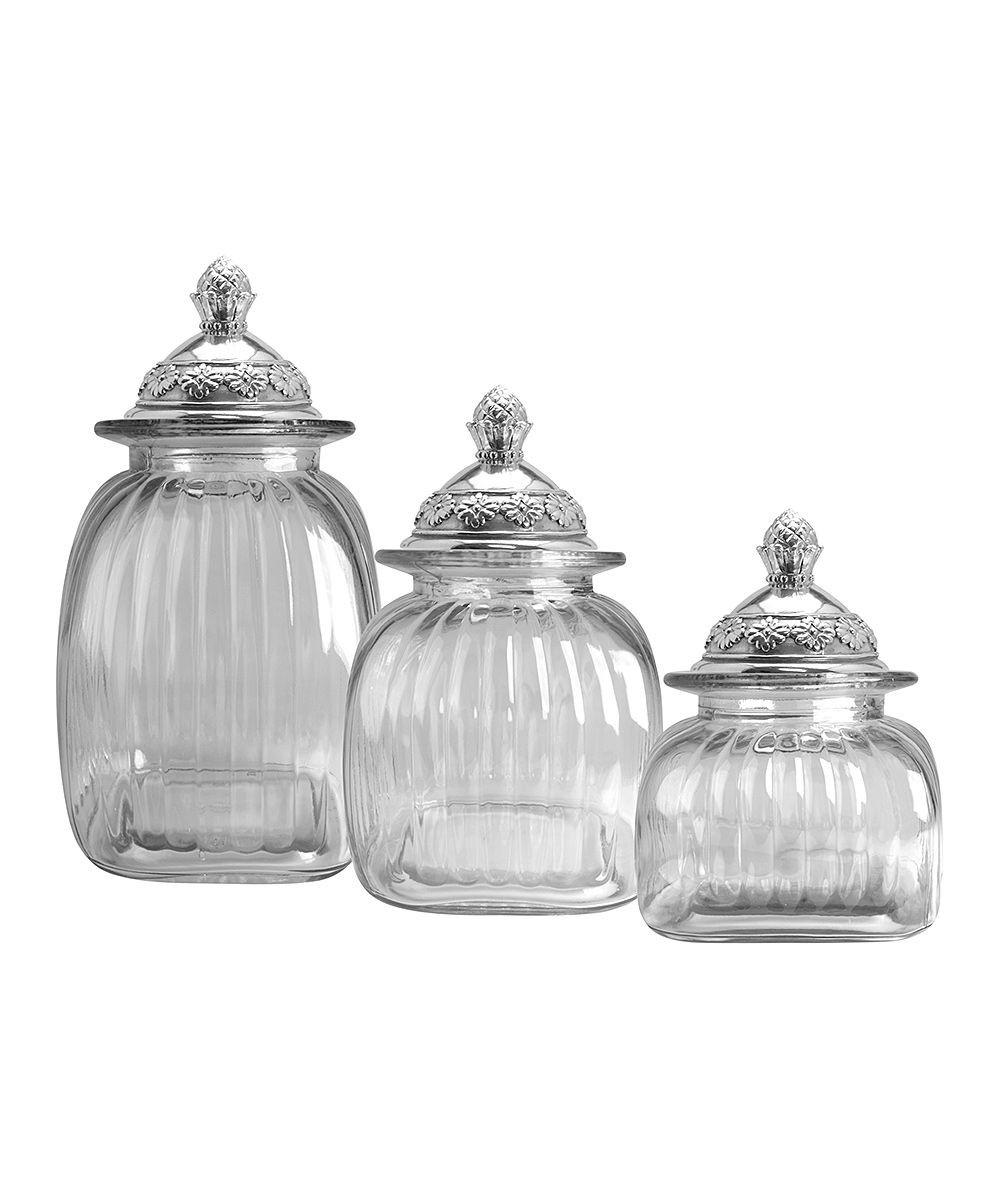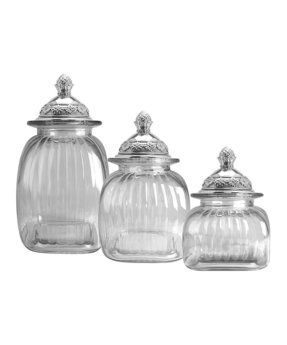 Casual collection of kitchen canisters, all in clear glass. Small, medium and large jar, all canisters with lids, adorned with ornamental details and decorative handles on top. The canisters are transparent.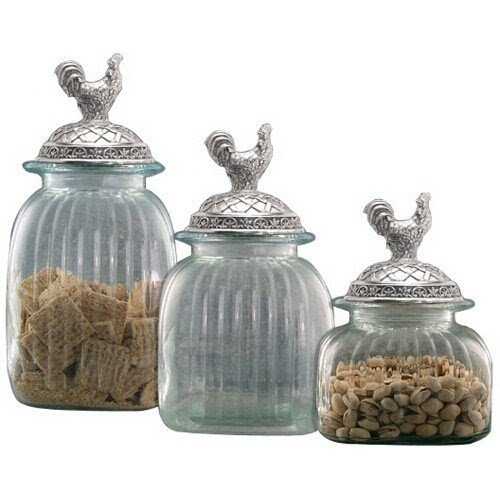 Interesting interpretation of the American rooster theme for #kitchen. So, these clear glass canisters are willingly there to store your cookies and cereals. But don't miss the dome lids! Intricately carved rooster motif enhances the general decorativeness. <3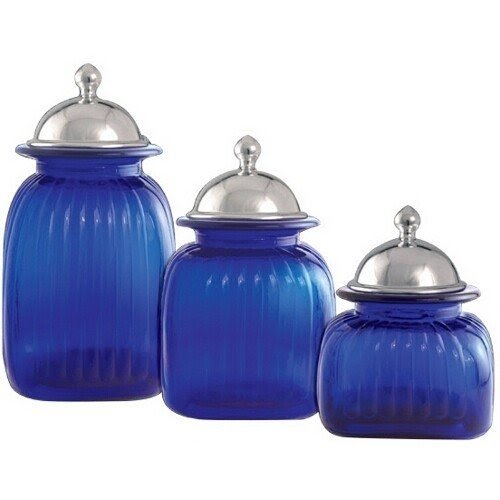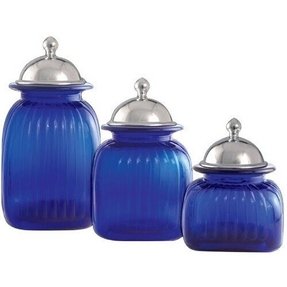 ... Canisters >> Artland Cobalt Blue Glass 3 Piece Canister Set with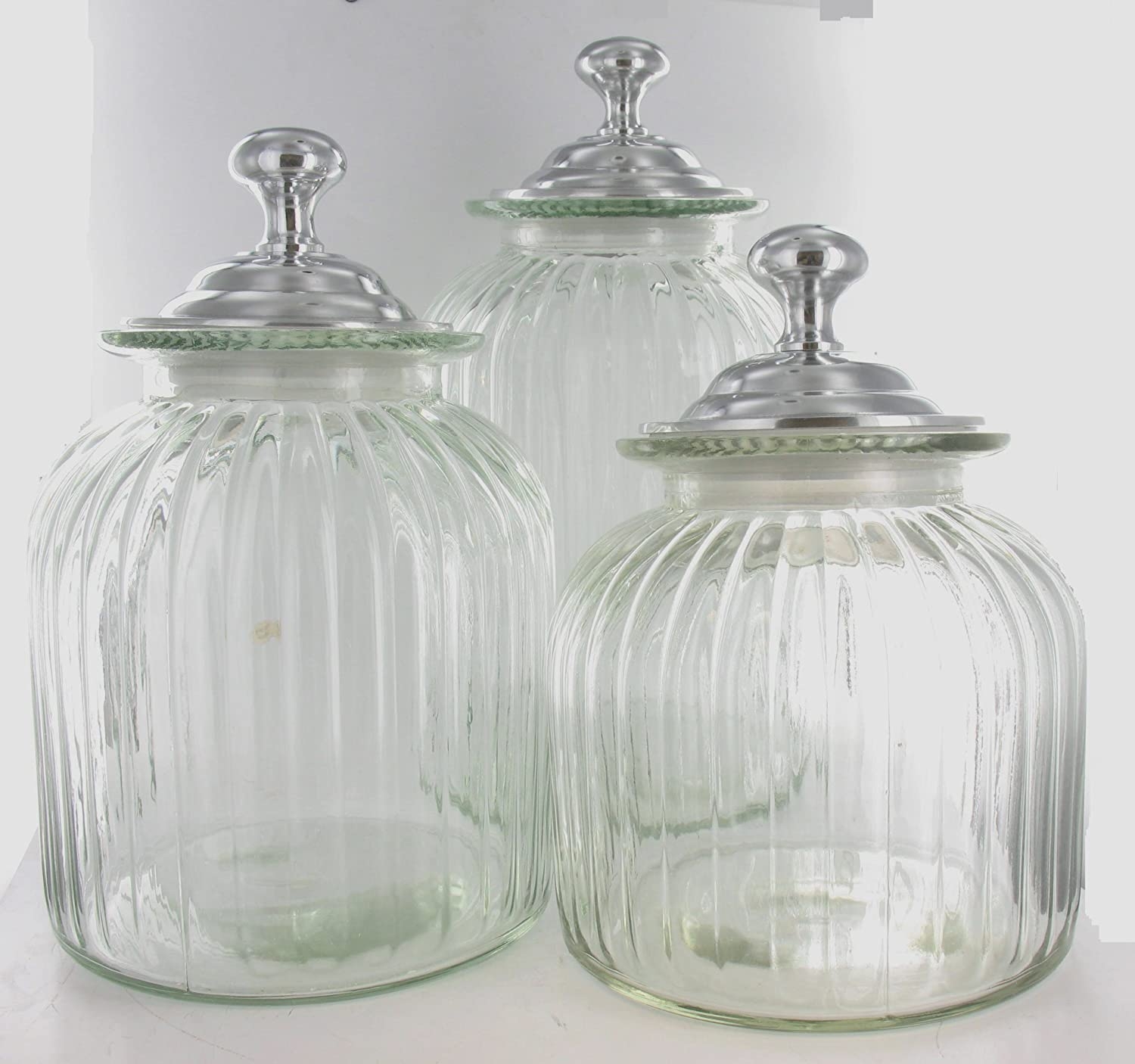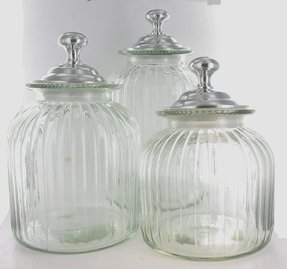 ... kitchen dining storage organization kitchen storage organization sets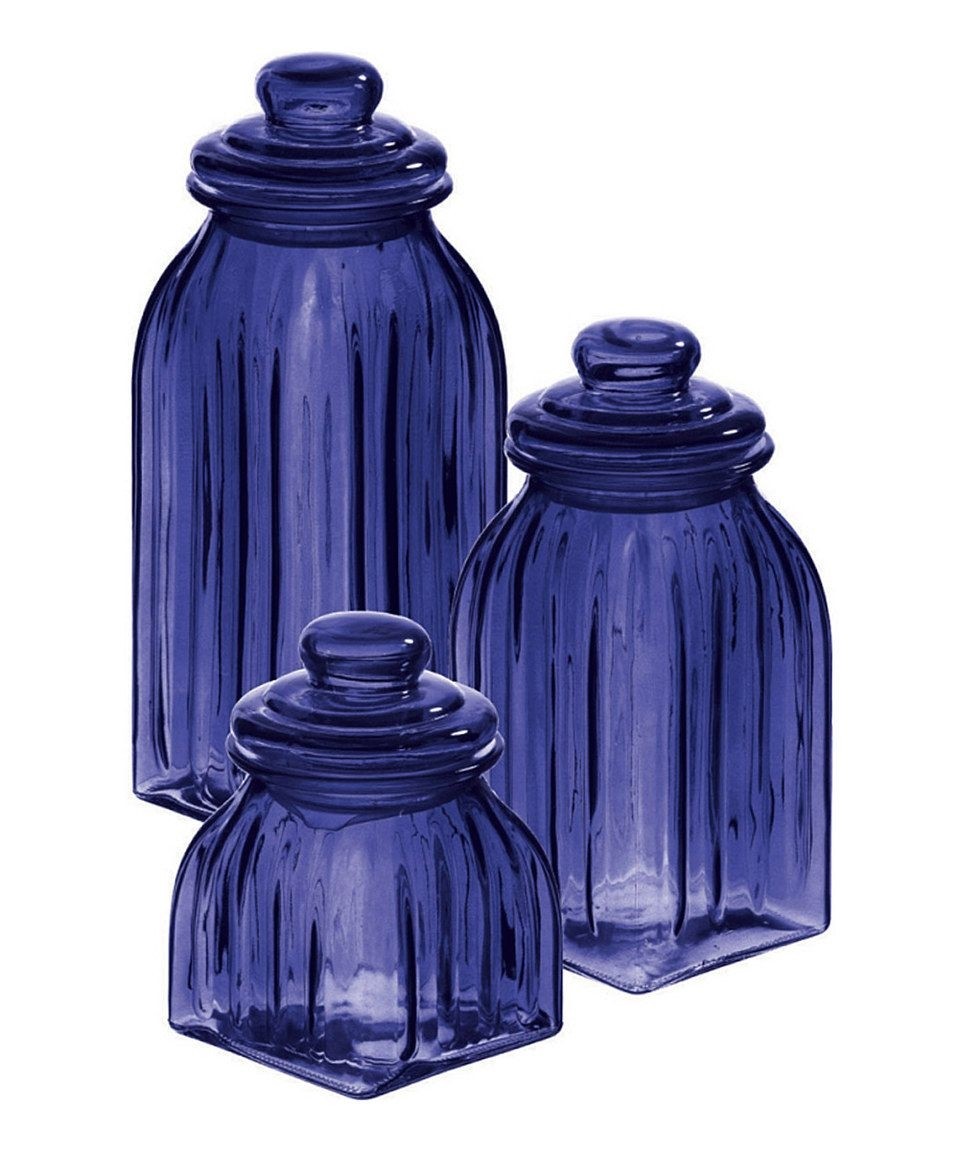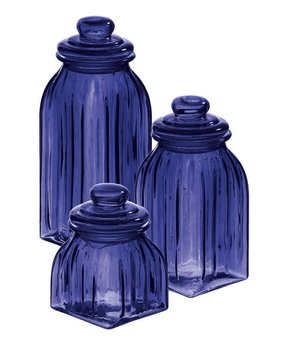 Top quality kitchen canisters constructed from stained glass. The canisters offer the perfect way to organize your stuff and come in multiple sizes to give you extra versatility. You also get well-crafted designs that should add immense décor value to your kitchen.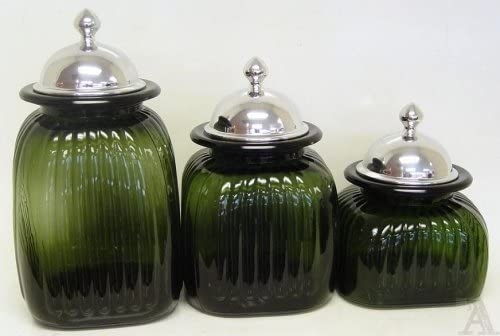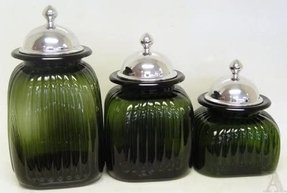 AAAAC0OVP9IAAAAAAXBX2g.jpg?v=1312095141000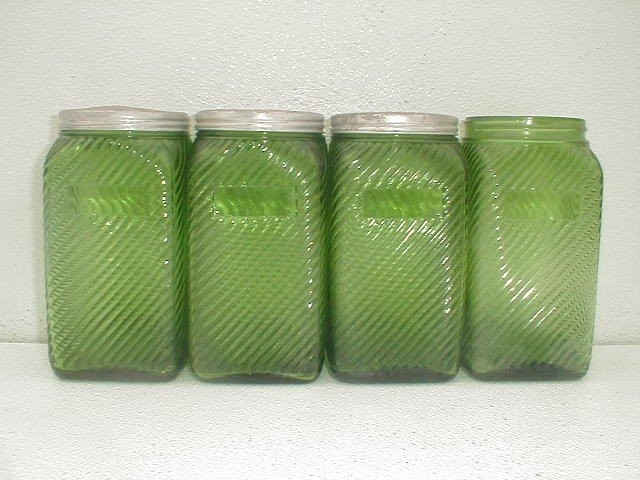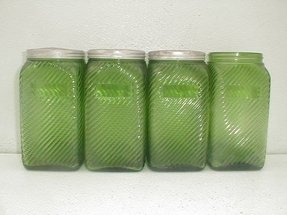 Beautiful, of various sizes - made of strong stylized glass, transparent, surrounded by a metal base. The stands have a rustic look and dark brown color. Great kitchen storage canister set for coffee, sugar or pasta.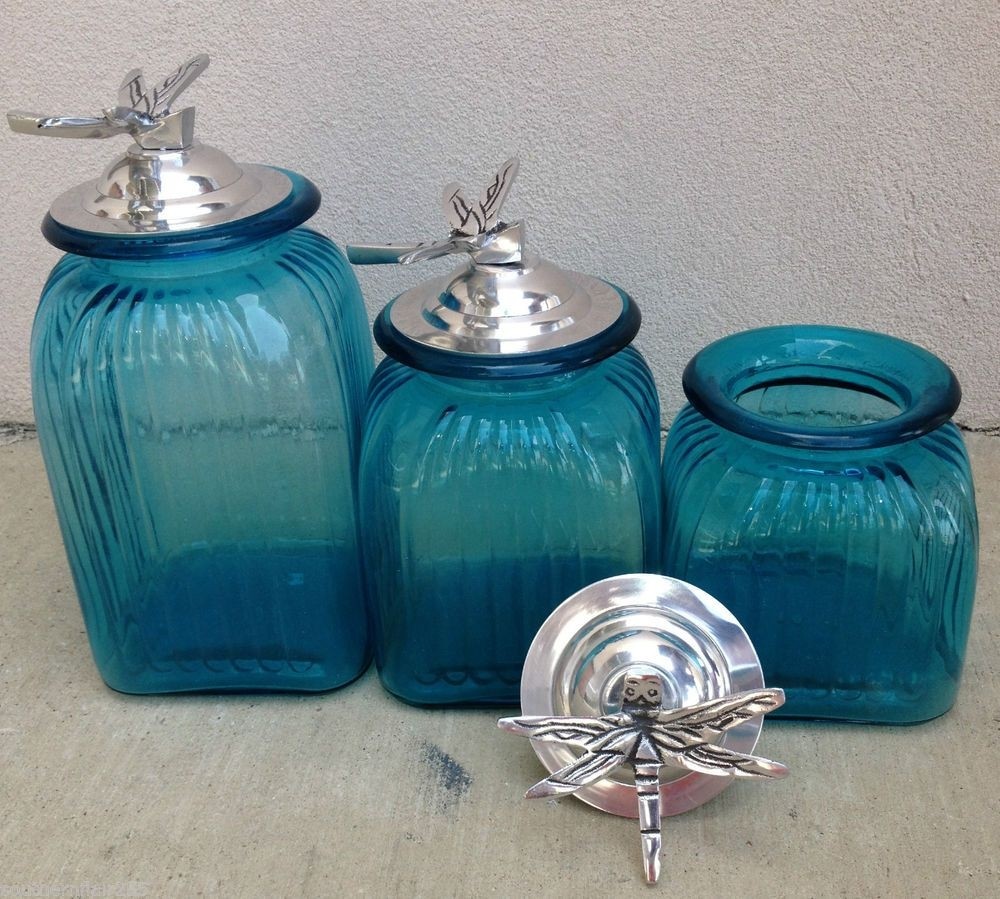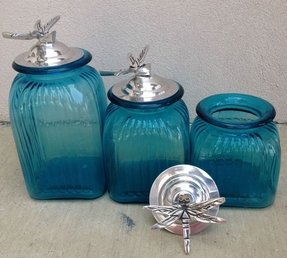 Dragonfly canisters - I actually have these .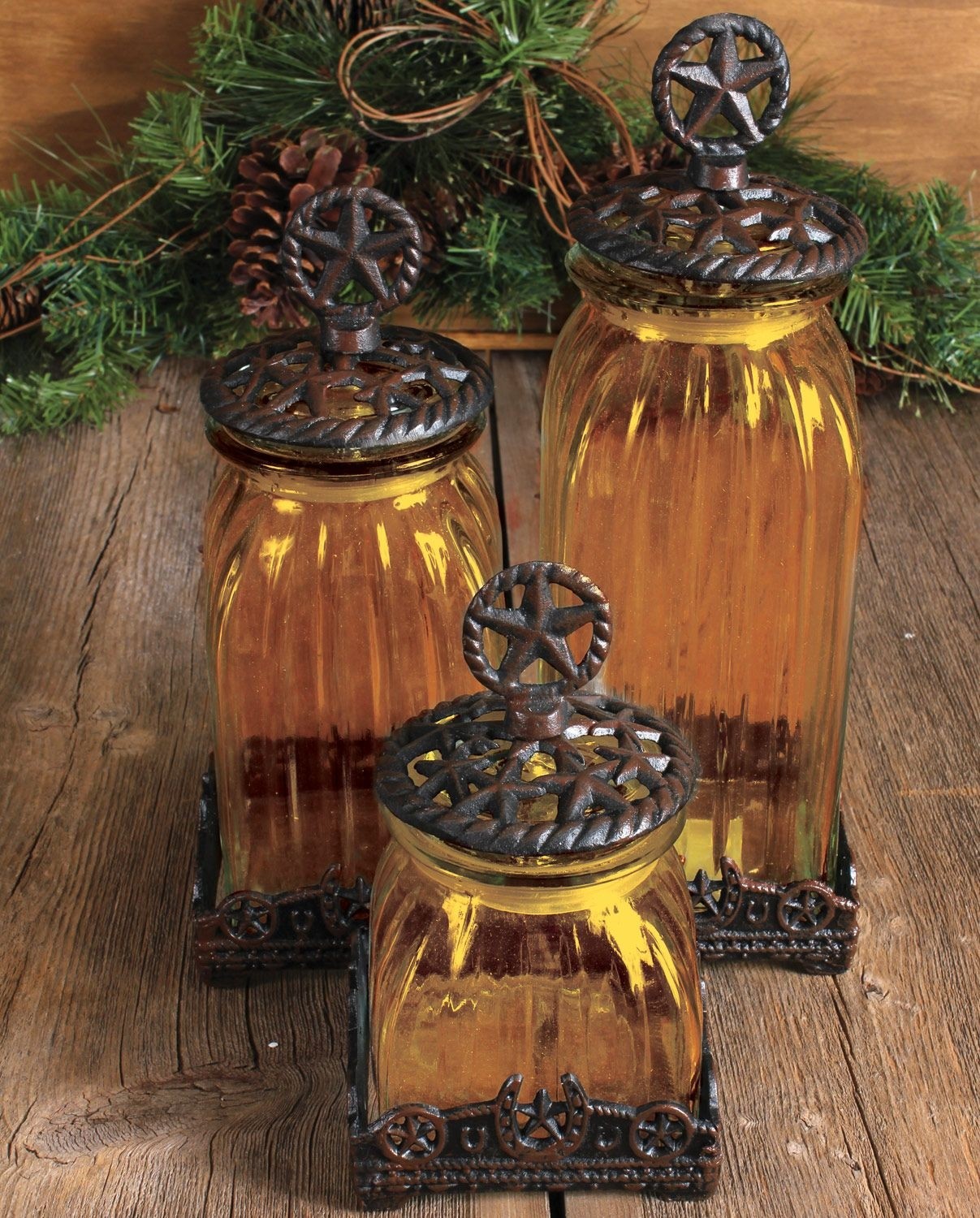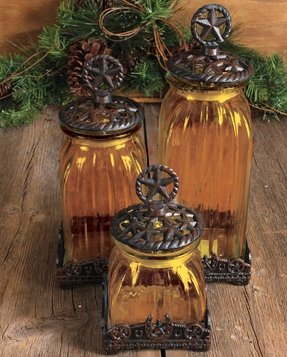 Silverado Glass Star Canister Set - 3 Piece :: Kitchenware :: Home Decor :: Fort Western Online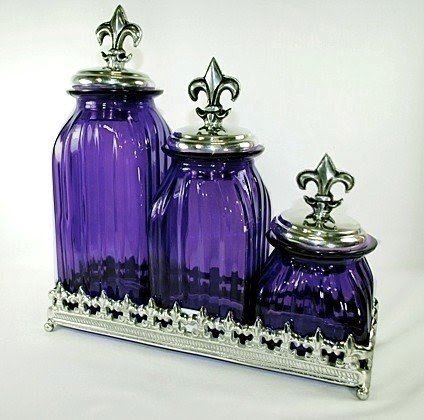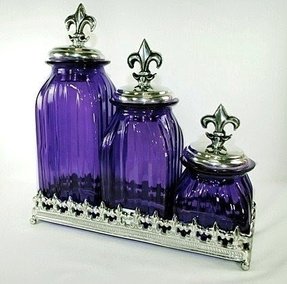 Set of 3 kitchen canisters in various sizes. It is made of glass and metal. Includes metal stand finished with sophisticated ornamentation. Handy gadget for each kitchen. Suitable for storing food and others needed items.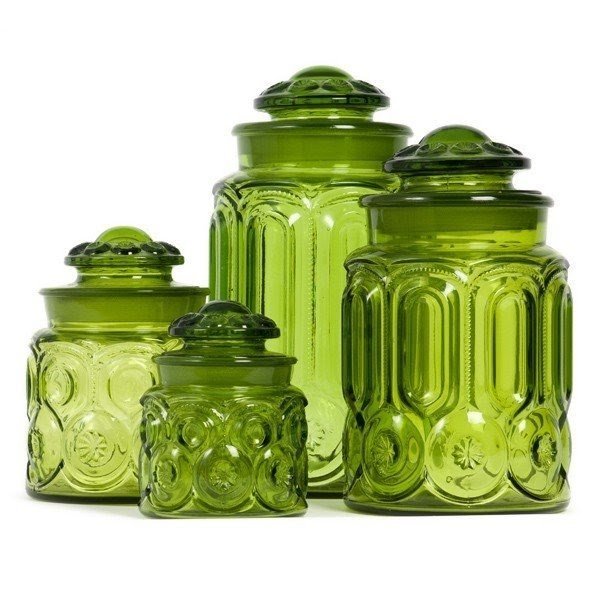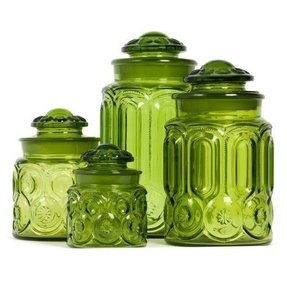 Vintage Green Glassware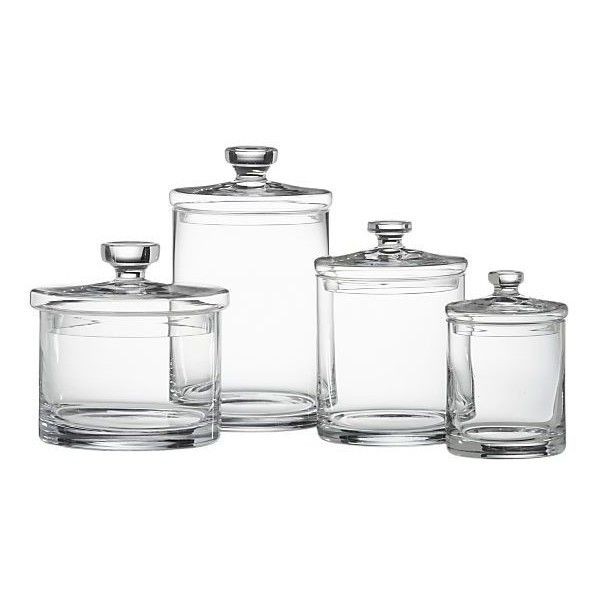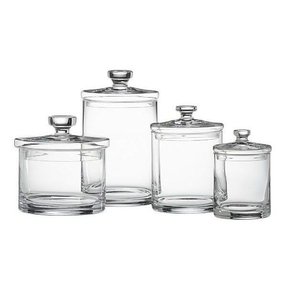 A fashionable decoration for spicing up modern and contemporary kitchens. This lovely set of 4 barrel canisters is designed of clear glass, offering easy to clean pieces - each covered with a matching round lid with stylish handle.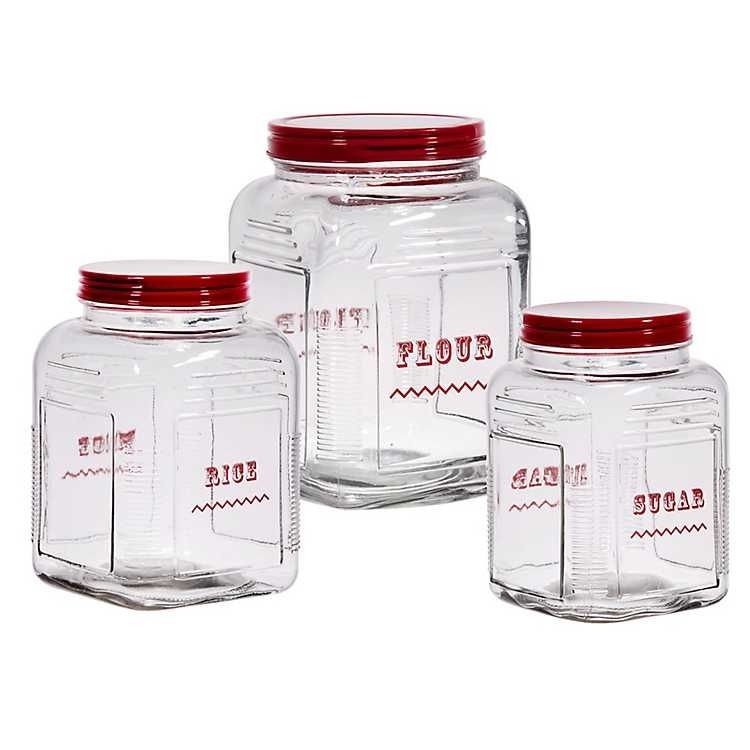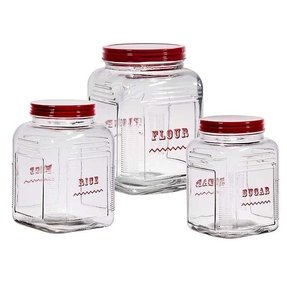 3 Piece Allgood Canister Set $68 sale $31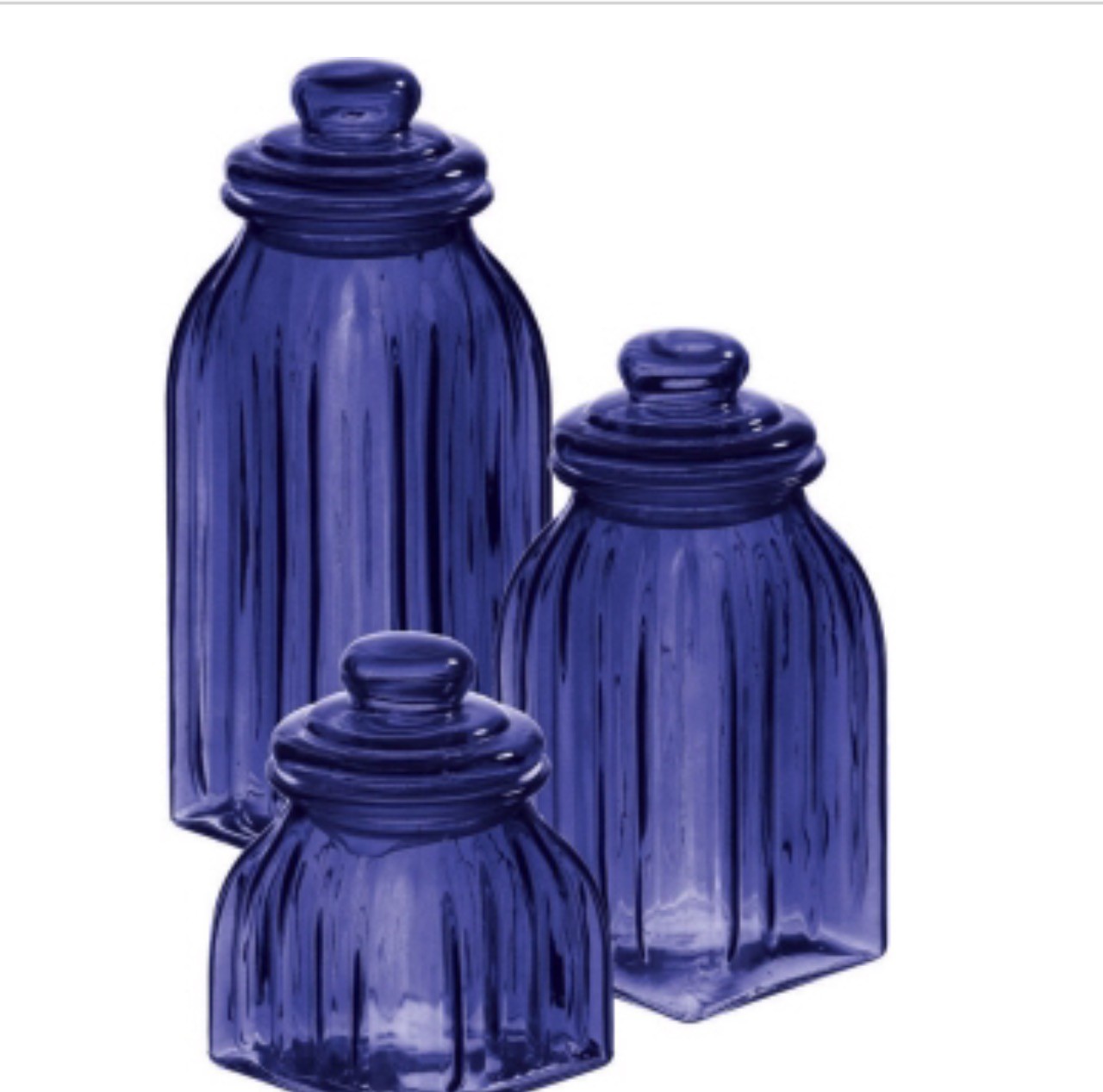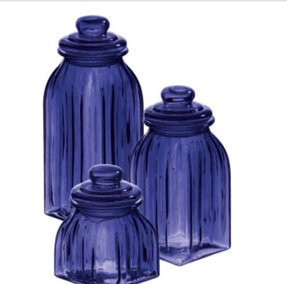 Fat Chef Kitchen Canister Set of 4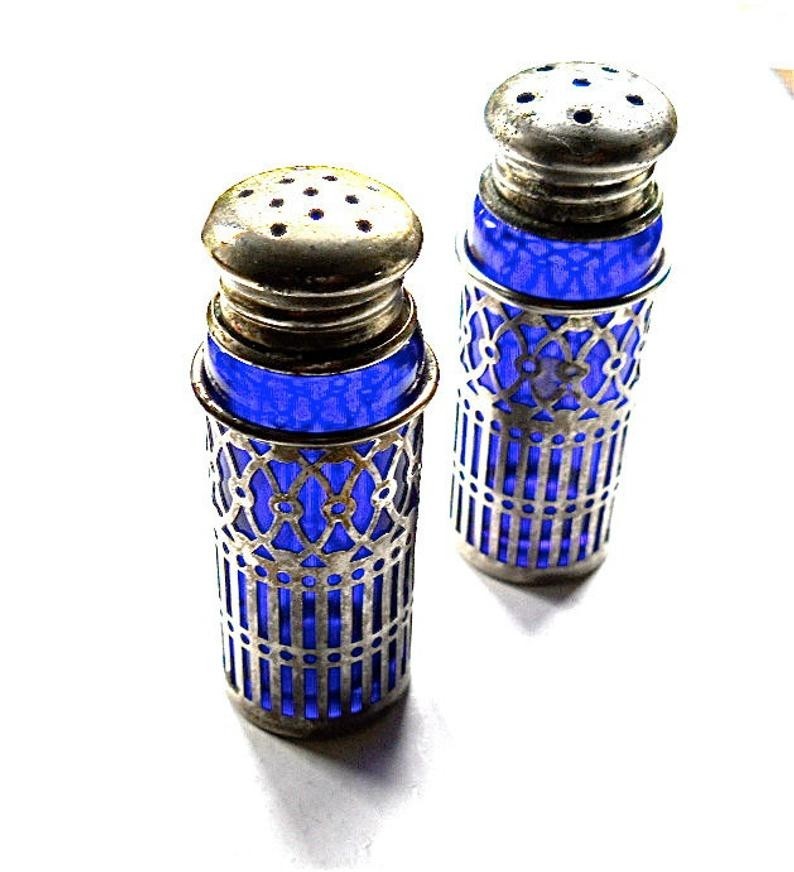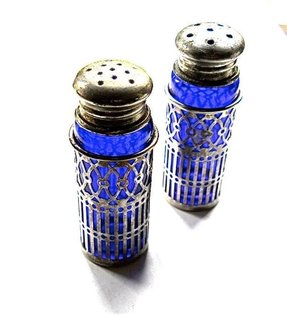 Salt + Pepper shakers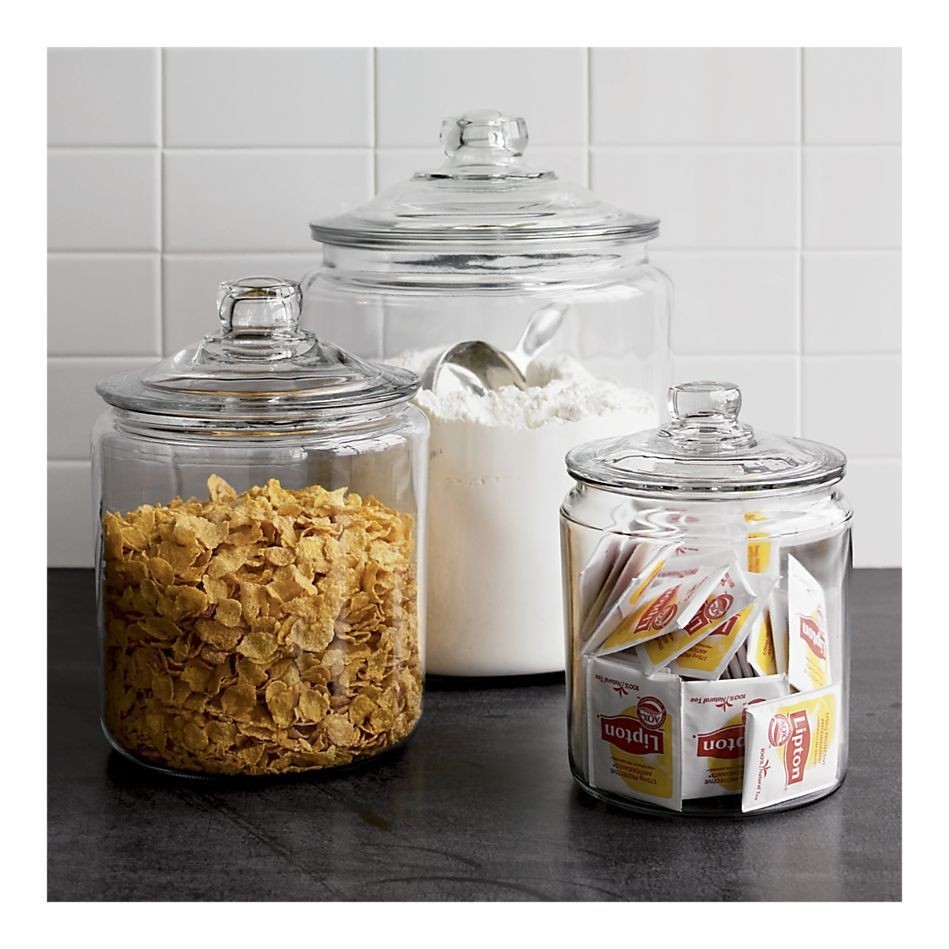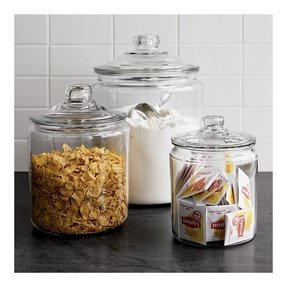 Oh my god, this is a kind of glass canisters I would always like to have. Many sizes allows you to fit it to each kind of product. The content is highly visible what could play the decorational role, but also simplifies finding the proper box.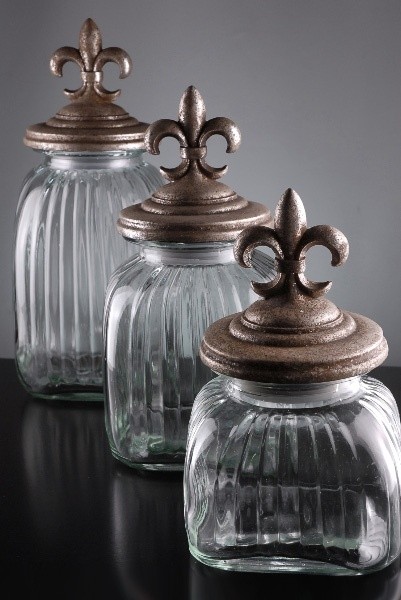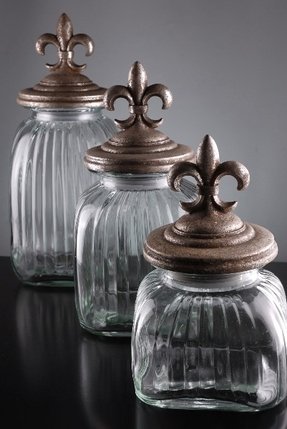 More canisters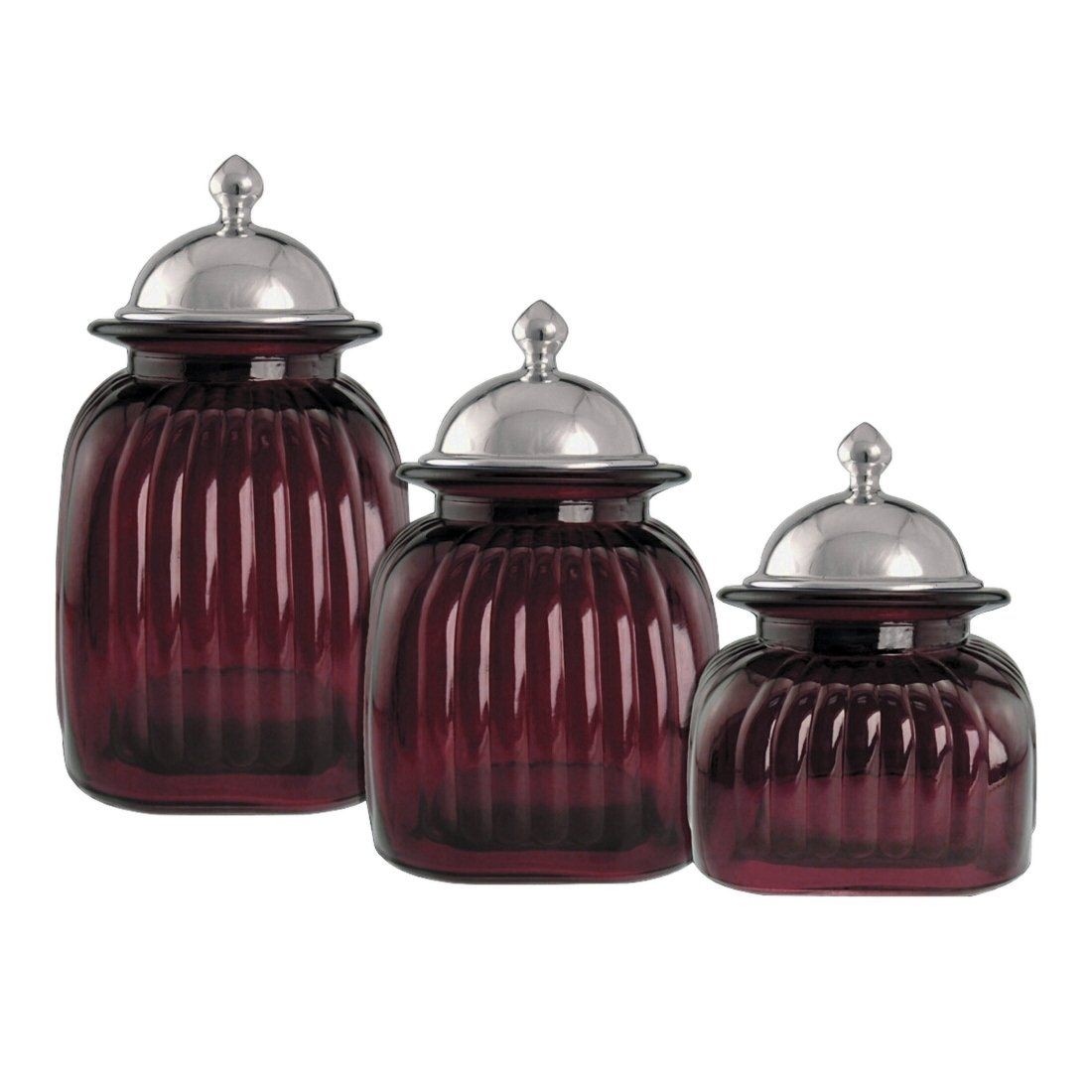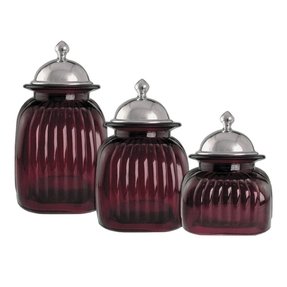 Artland 3 Piece Ruby Glass Canister Set with Rooster Lids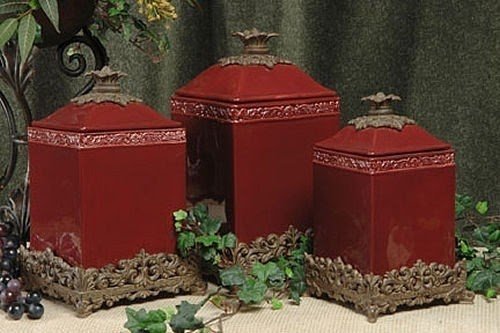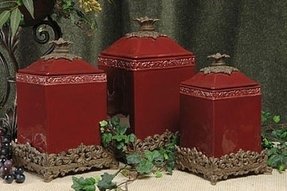 Kitchen Canister Sets Liven Up Your Kitchen Decor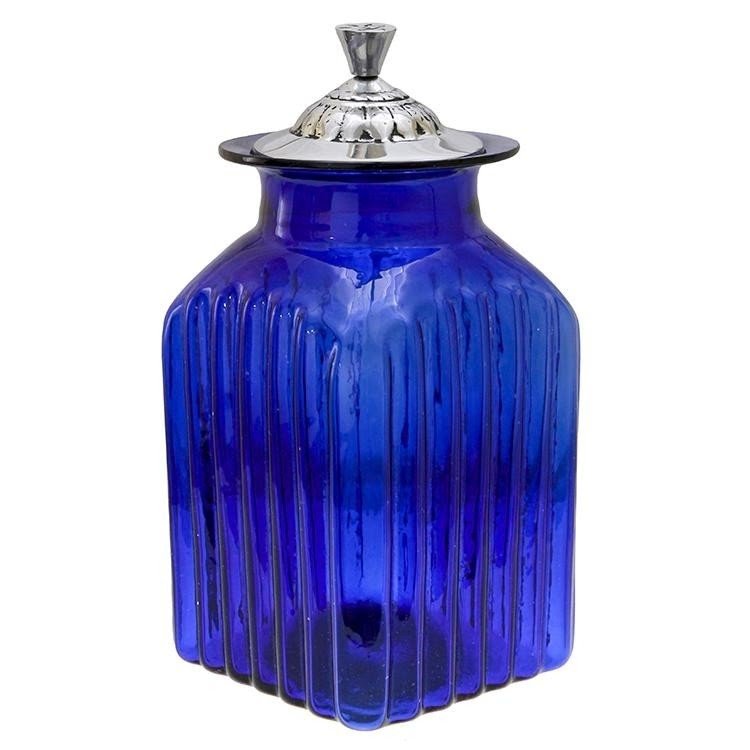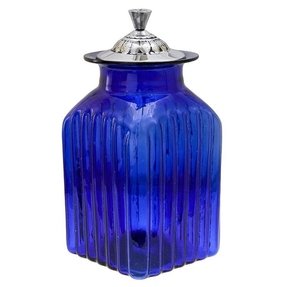 Photo Gallery of the Decoration of Glass Kitchen Canisters and Jars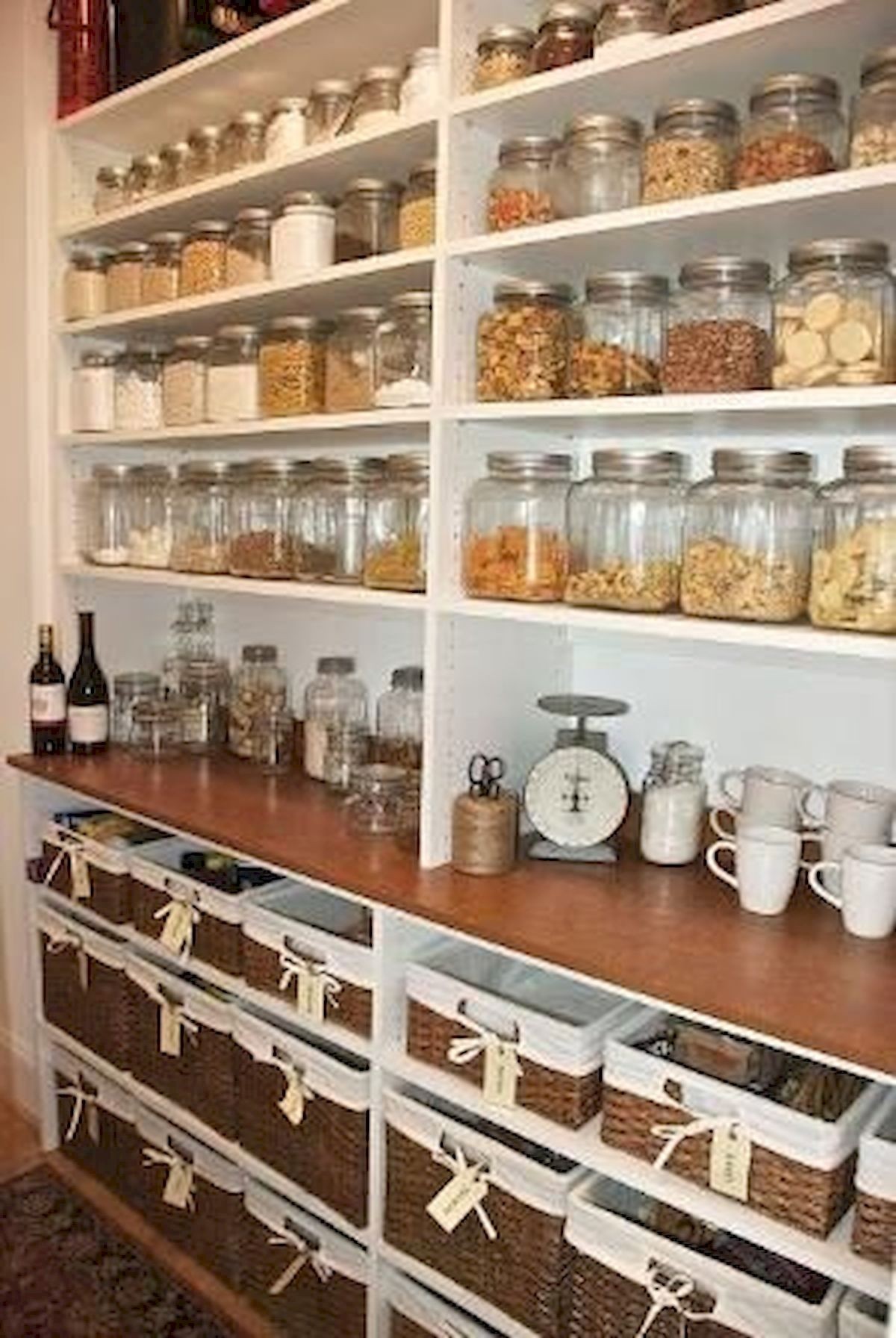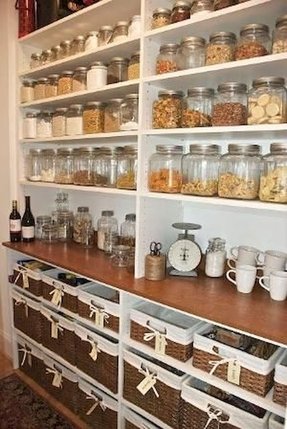 25 Inspiring Organized Pantries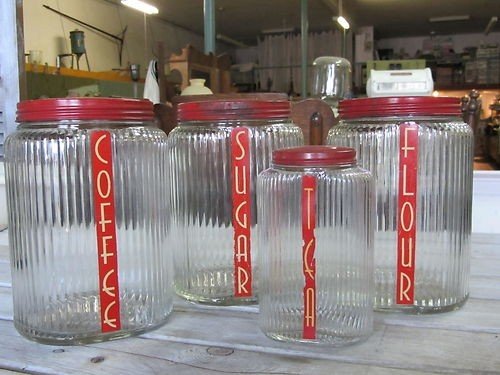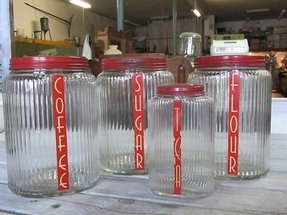 Vintage Owens Illinois Glass Canister Hoosier Set with Red Lids and Labels | eBay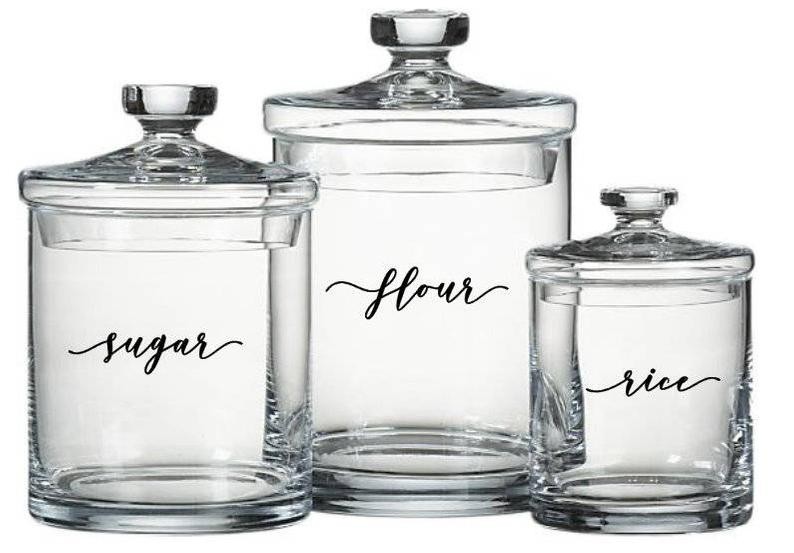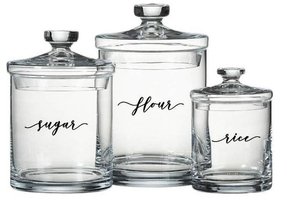 Glass Kitchen Canister Sets Tjtflzw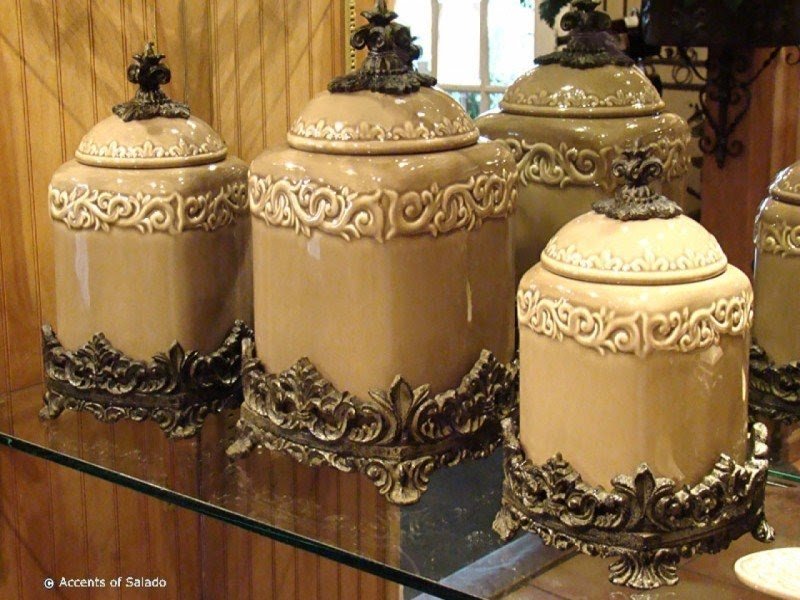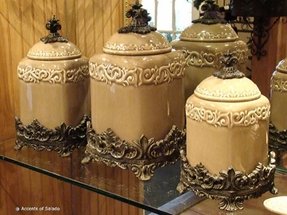 According to you, the devil is in the details? So you will like ceramic,richly decorated large kitchen canister set. Biscuit color, does not mean that you have to put biscuits into them. But they will also accommodate them, thanks to their large dimensions.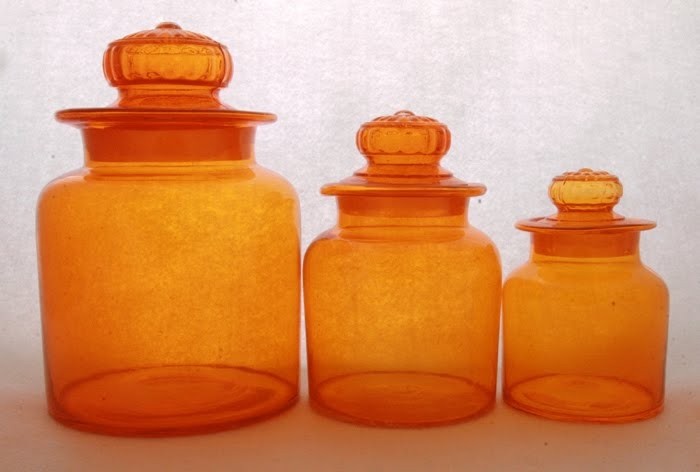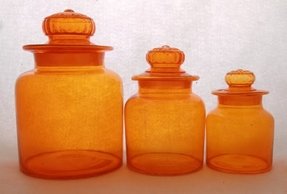 A decorative set for kitchens, dining rooms, and restaurants. Those 3 canisters are characterized by various sizes, a lovely shape, and an orange glass design that comes with stylish matching lids - equipped with round handles.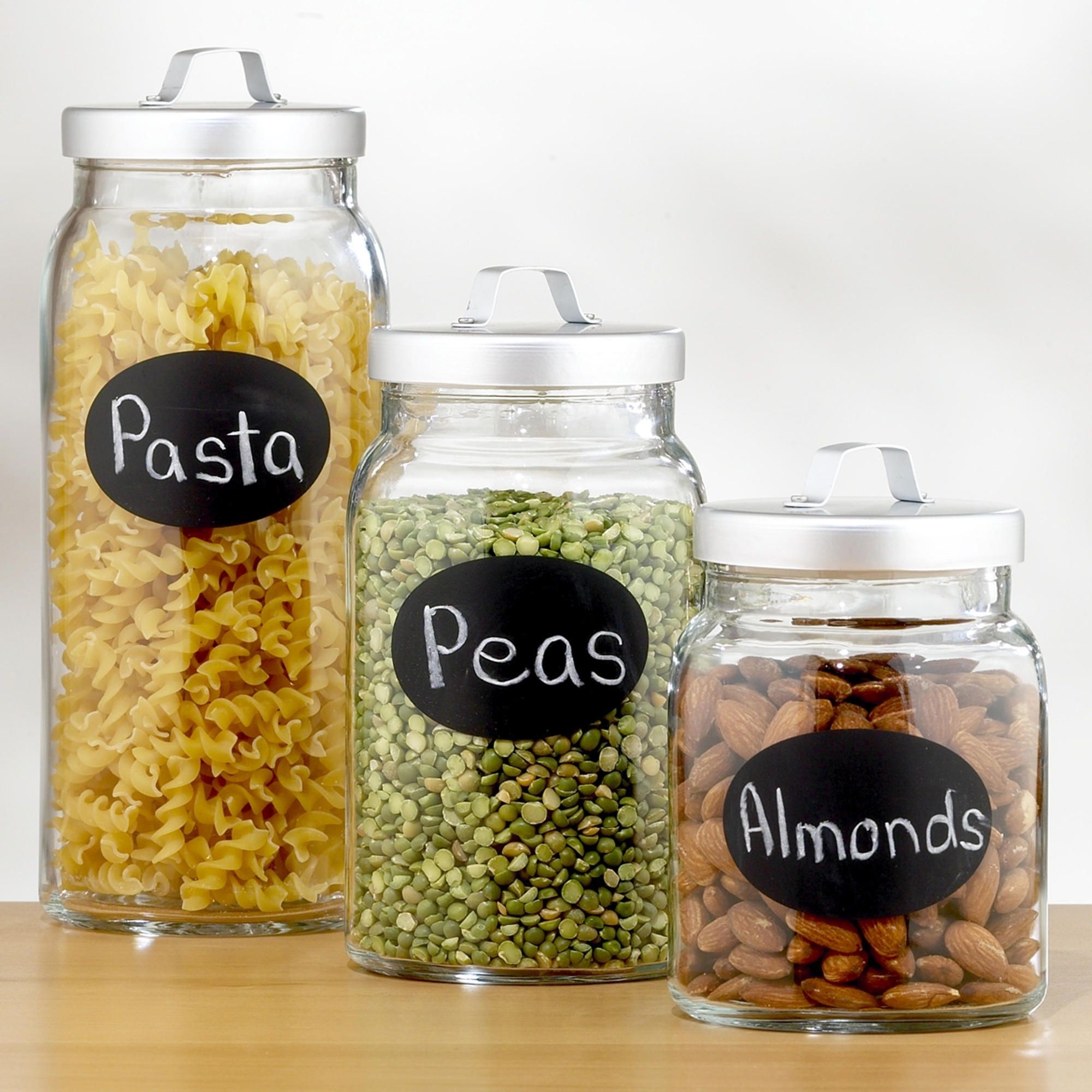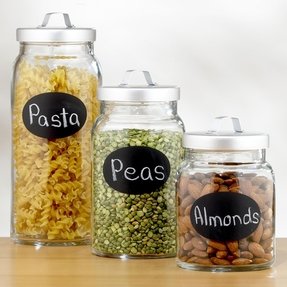 airtight glass containers from World Market. The medium ones are 47oz and a set of 2 is $7.98. The large ones are 54oz. and a set of 2 is only $9.98! Saw these in the local store - cute. Want these for organizing my pantry staples.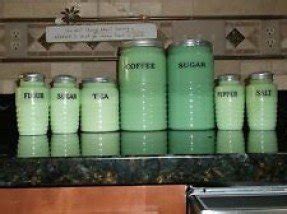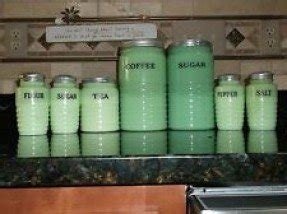 FIRE KING JADITE CANISTER SET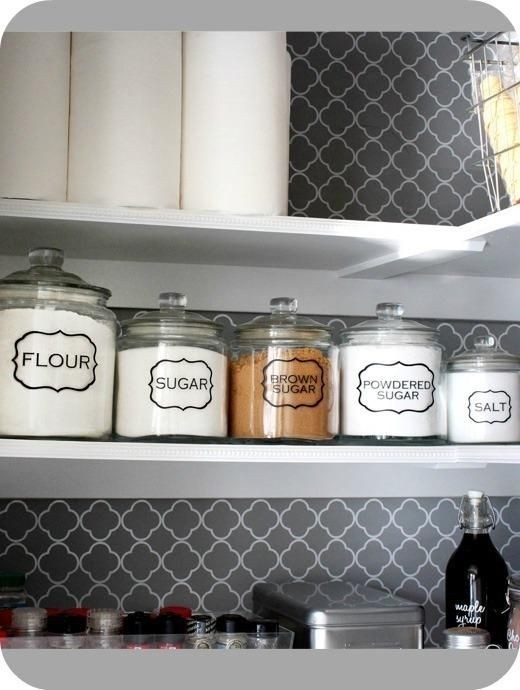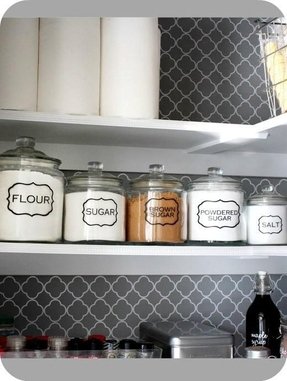 A lovely set of canisters for decorating kitchens, and dining rooms. Consisted of 5 clear glass canisters (flour, sugar, brown sugar, powdered sugar, salt), the set also comes with stylish round lids with matching handles. Easy to clean.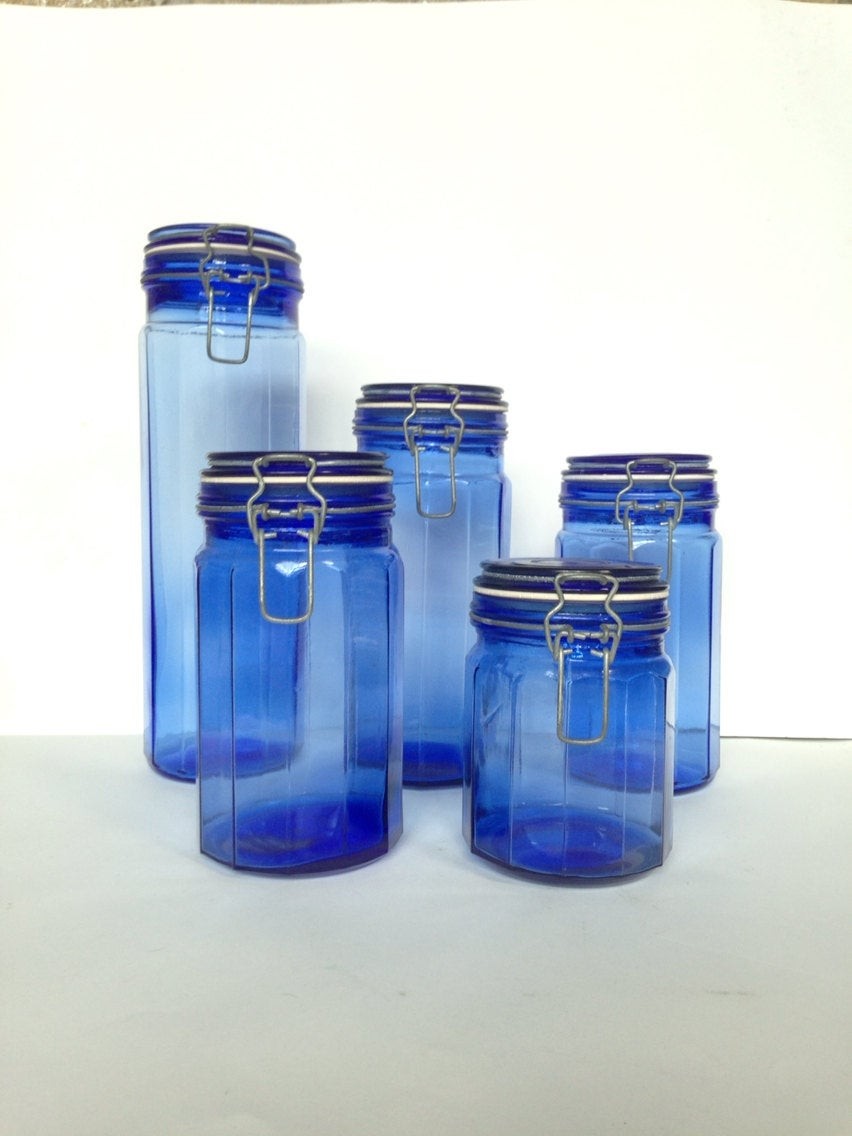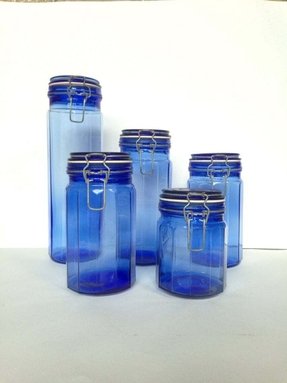 Vintage Cobalt Blue Glass Canisters 5 Piece Set by OneDecember, $55.00 @Michele Morales Iljazi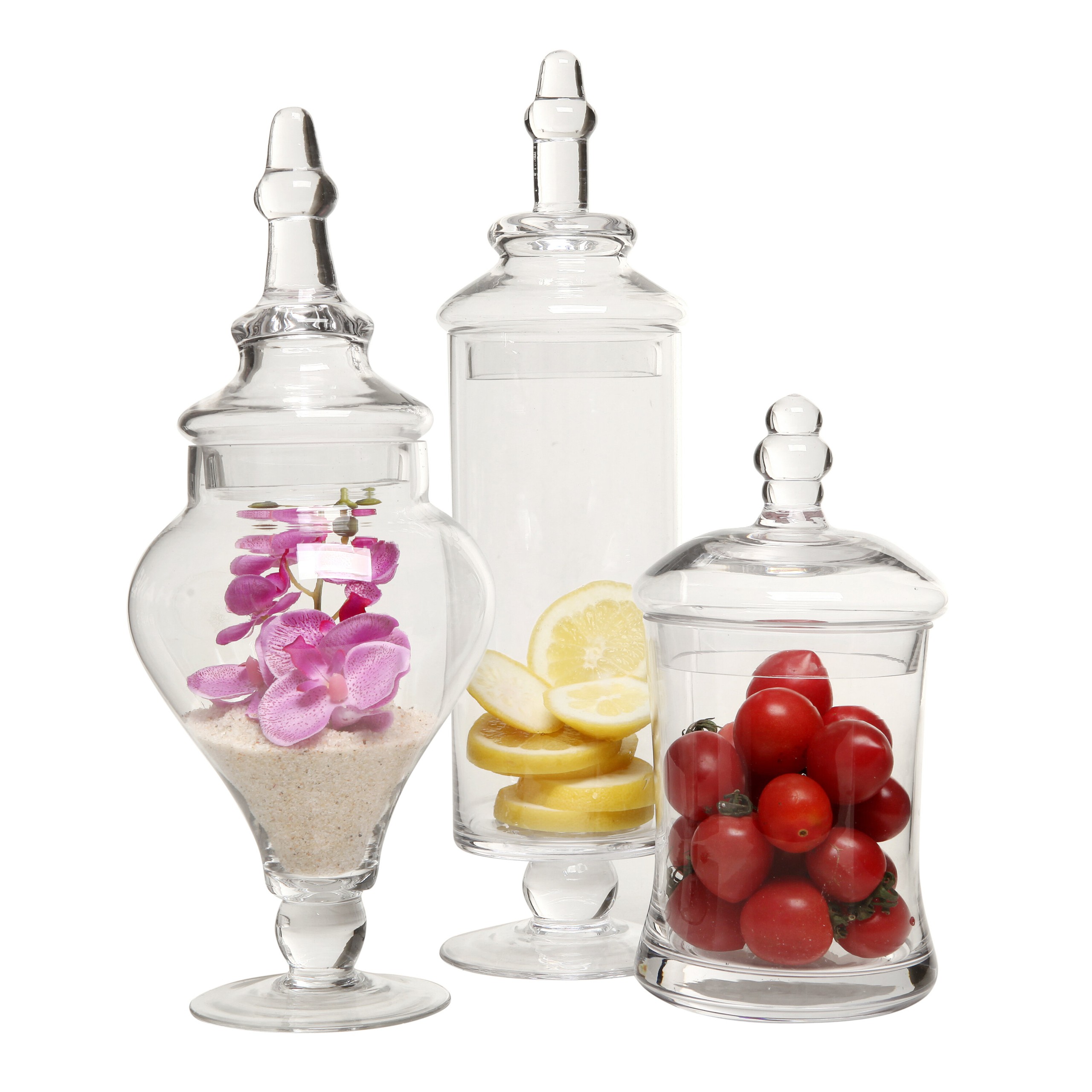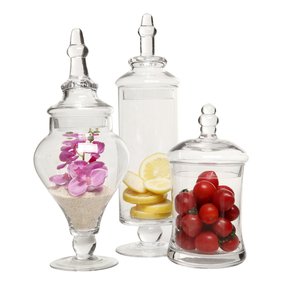 This lovely set of three beautifully made grain is a great solution for your kitchen, living room or dining room.It brings out the beauty of the various products or ornaments. Made very carefully they are a beautiful addition.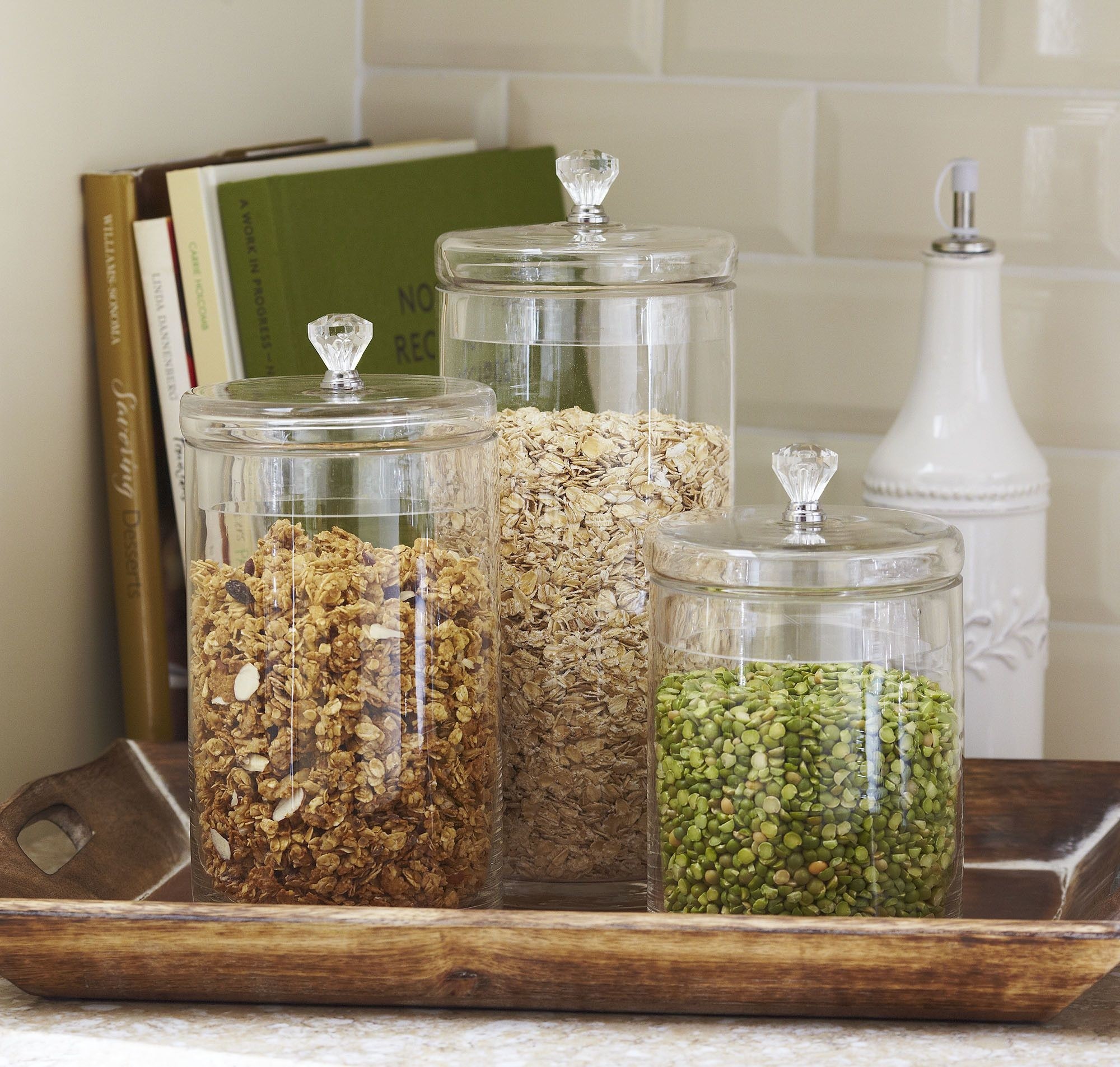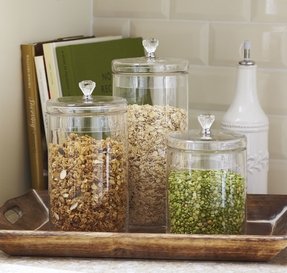 Leighton Canisters (Set of 3)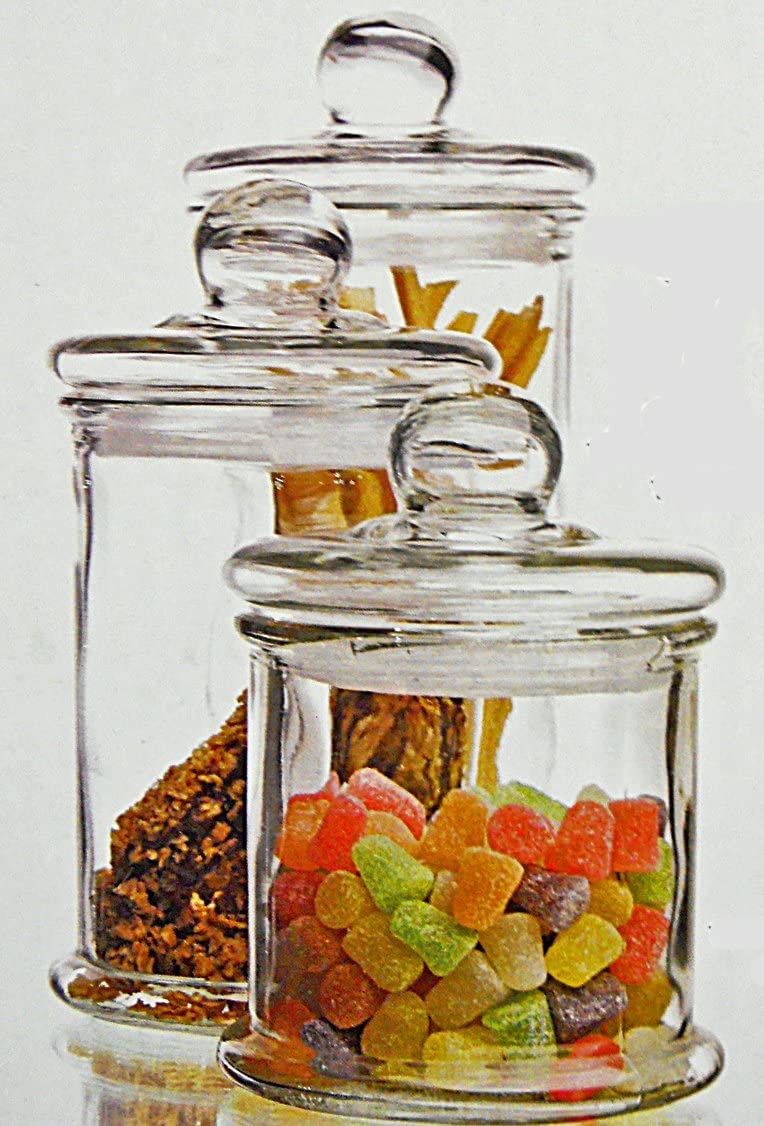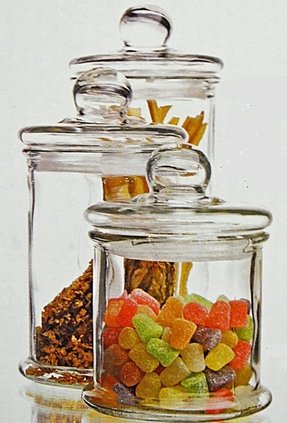 Circleware Kitchen Canister Set - 3pc. Glass Jar Set Reviews!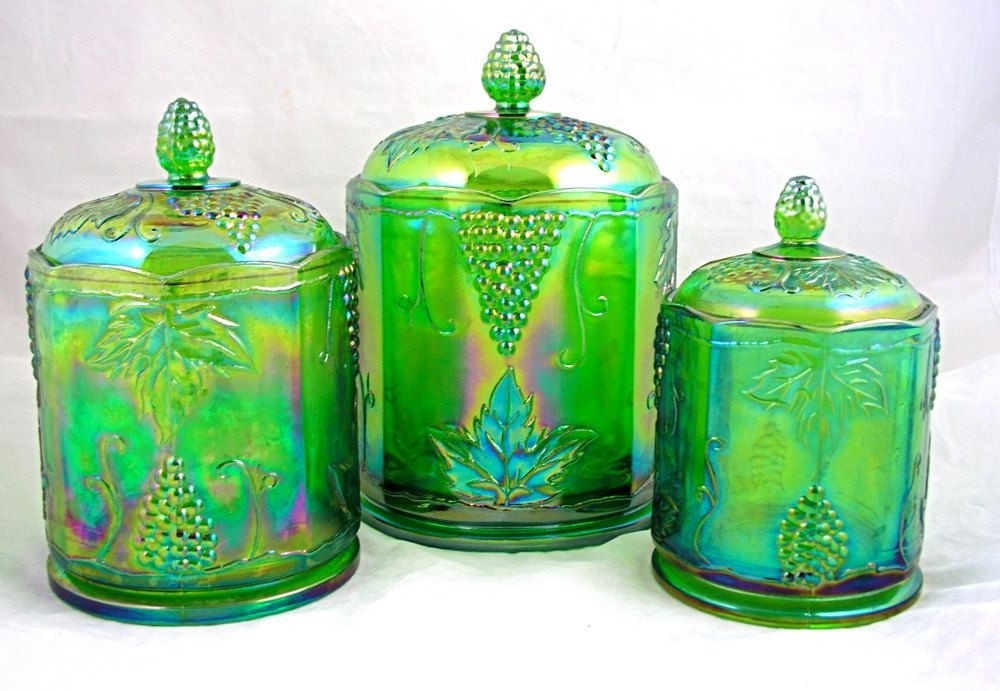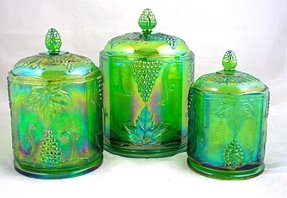 Indiana Glass Harvest Grape Lime Green Carnival Canister Biscuit Jar Set of 3 - Does it come in amber? LOVE!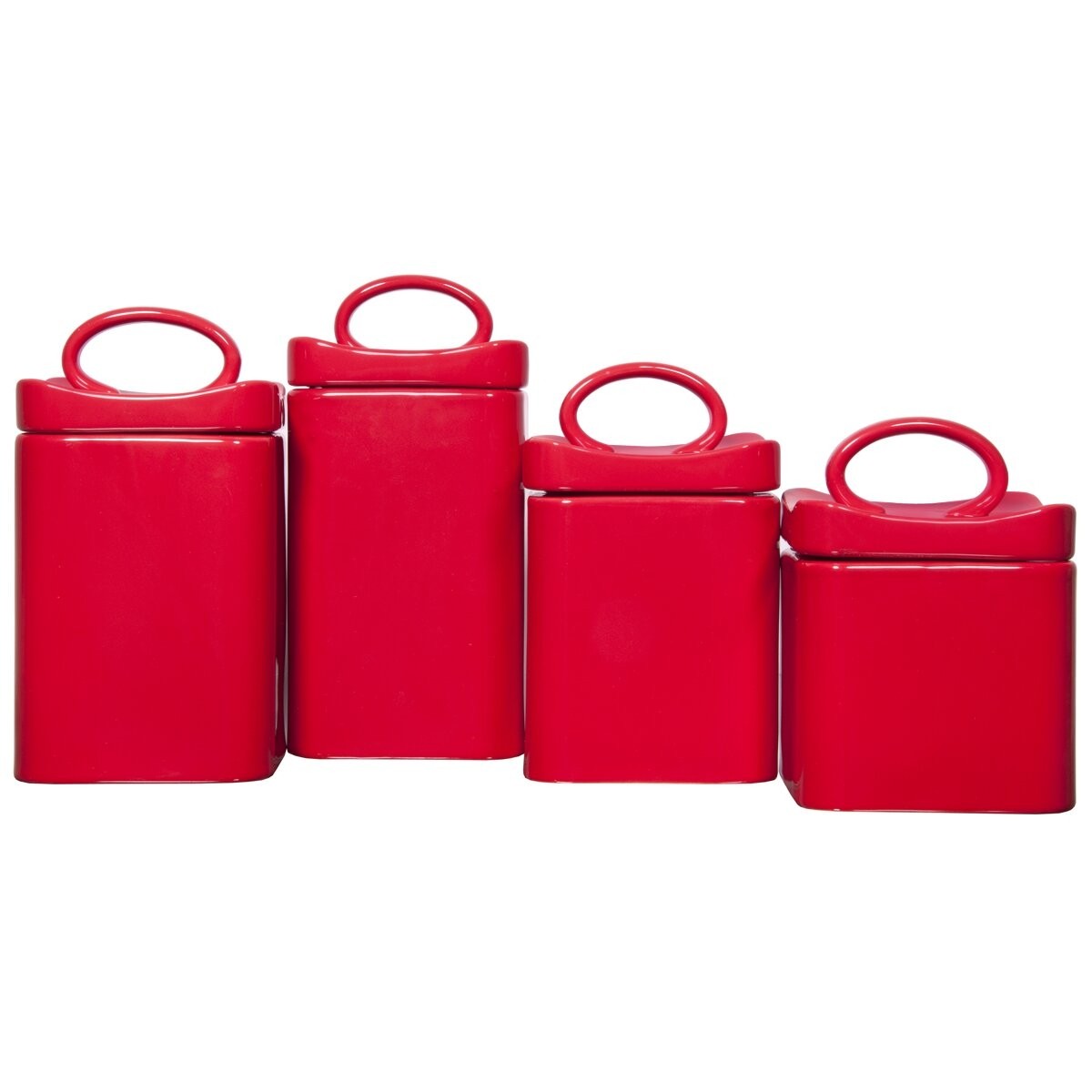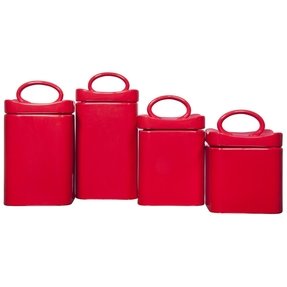 4 Piece Wavy Square Canister Set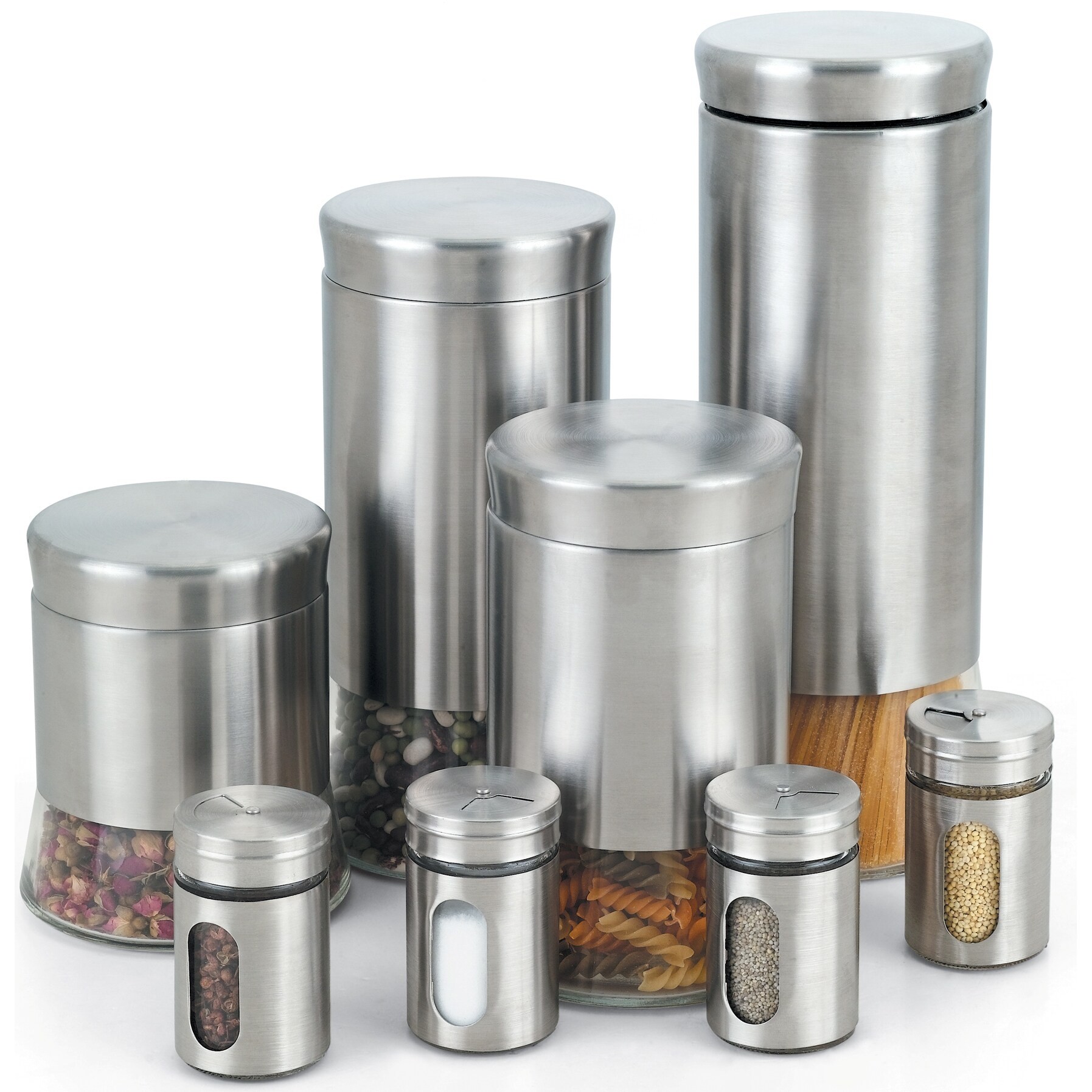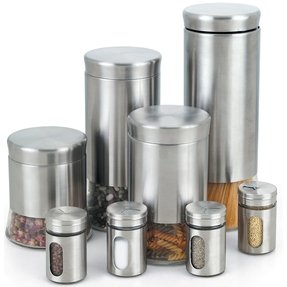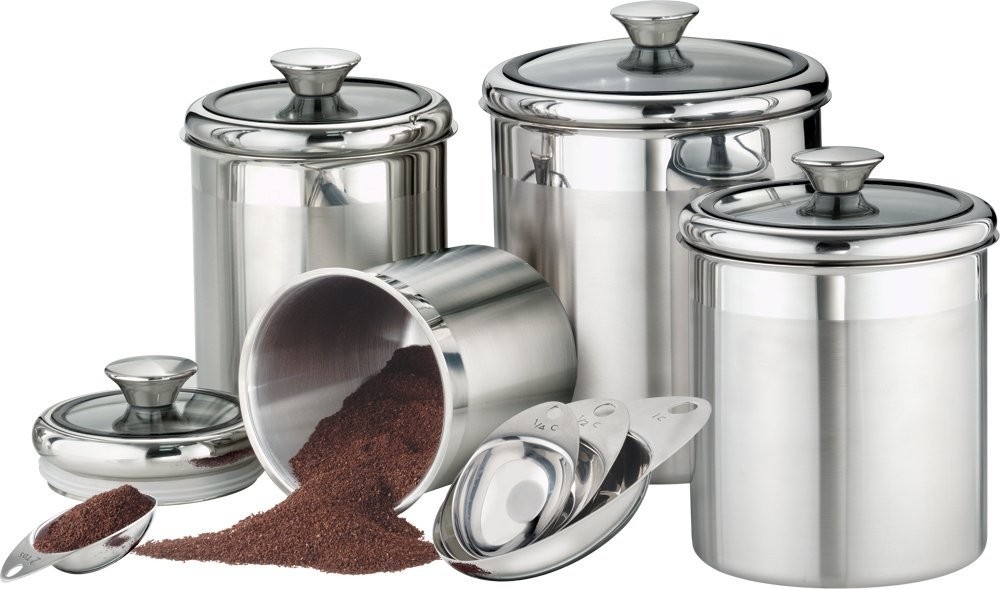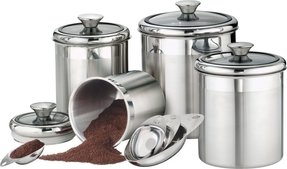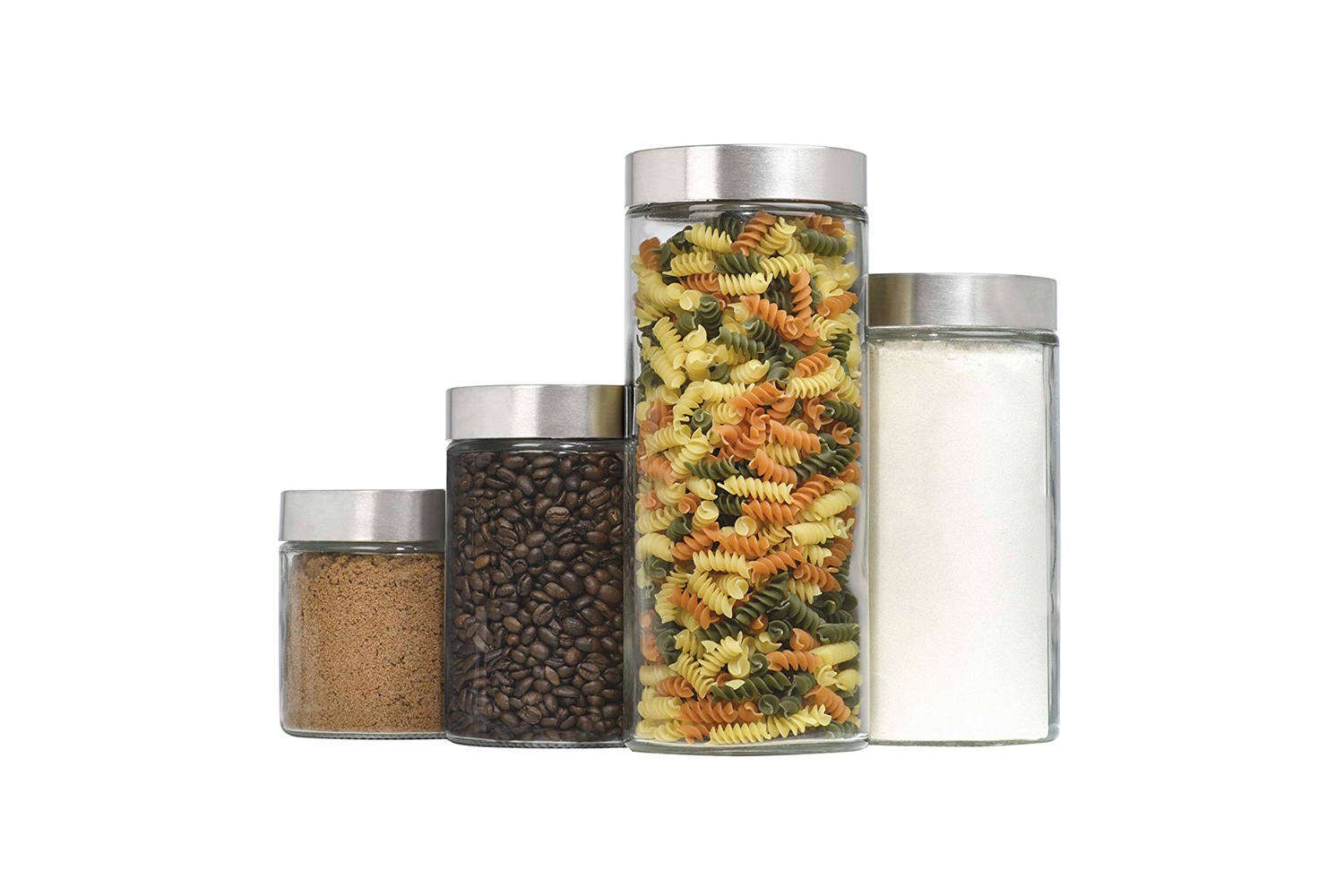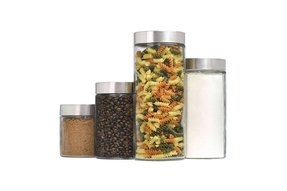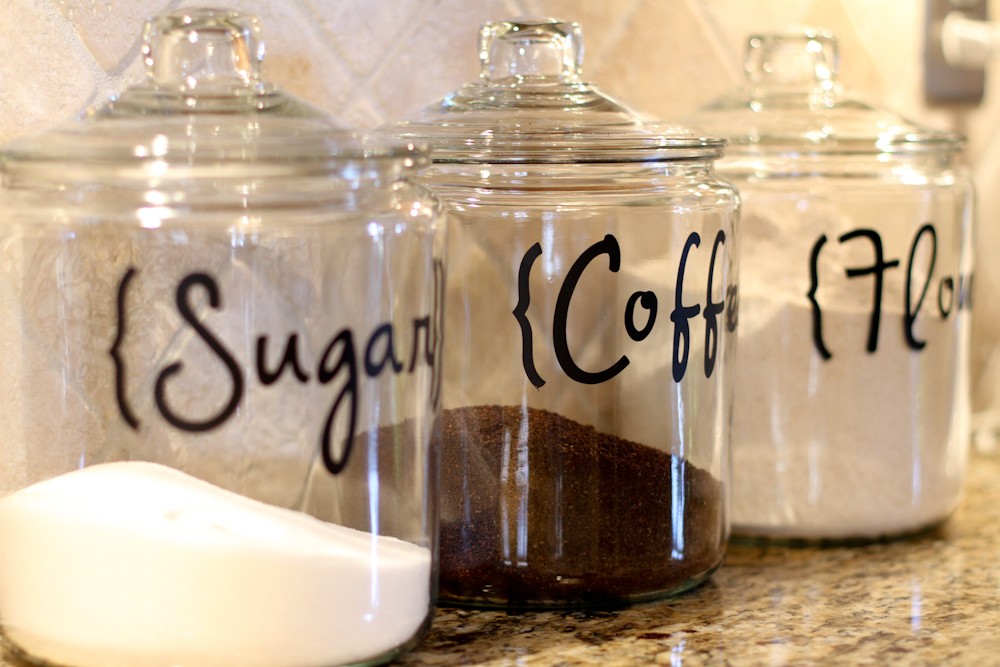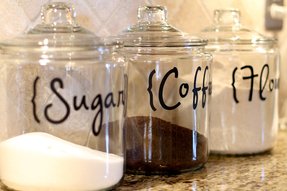 Boasting of a beautiful design and old-fashioned font, this set of 3 canisters will be like a cherry on top for your contemporary kitchen. Each canister is capacious, made of clear glass, and destined for holding flour, coffee, or sugar.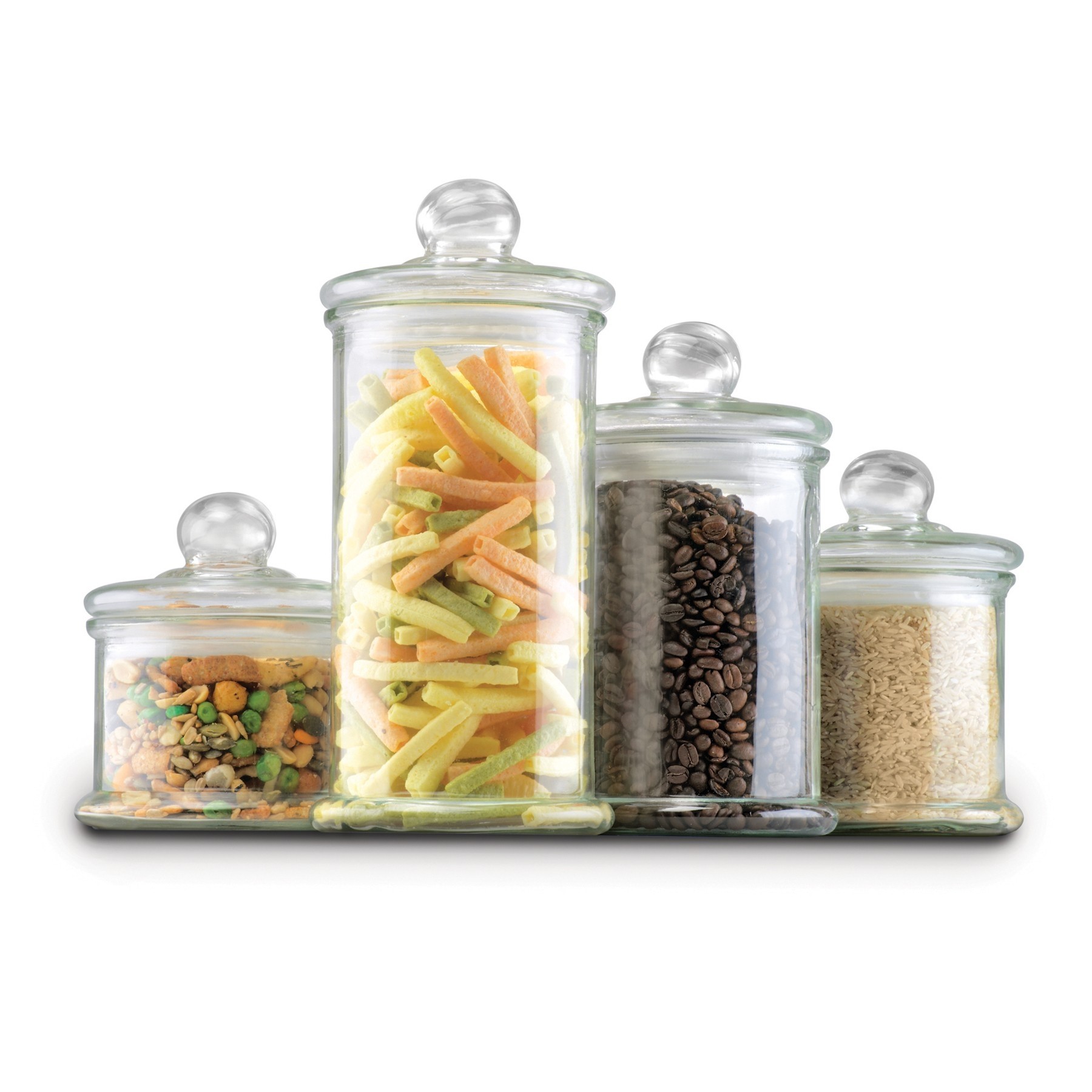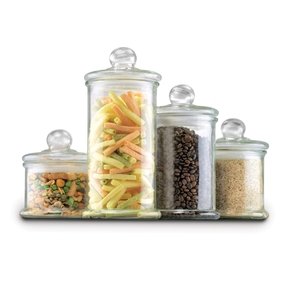 Practical set of four glass storage jars for kitchen applications. Glass is resistant to the change of colors. It also retains smells and allows contents of jars to be seen without removing the lid. They can complement any kitchen decor.