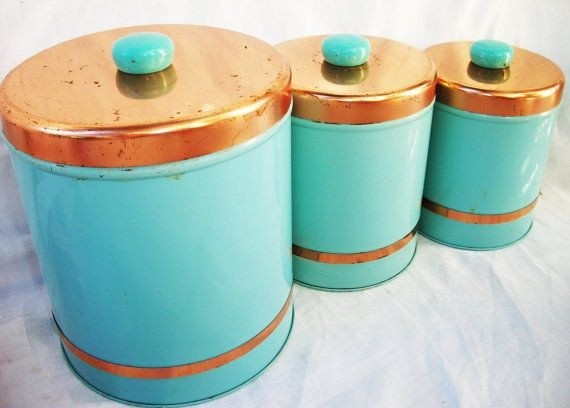 Vintage turquoise blue and copper
A pretty vintage set of size-varied metal kitchen canisters with slight traces of use. Their cylindrical bodies and round flat knobs are finished in a light blue shade. Lids and narrow bands in bottom parts have a contrasting coppery tone.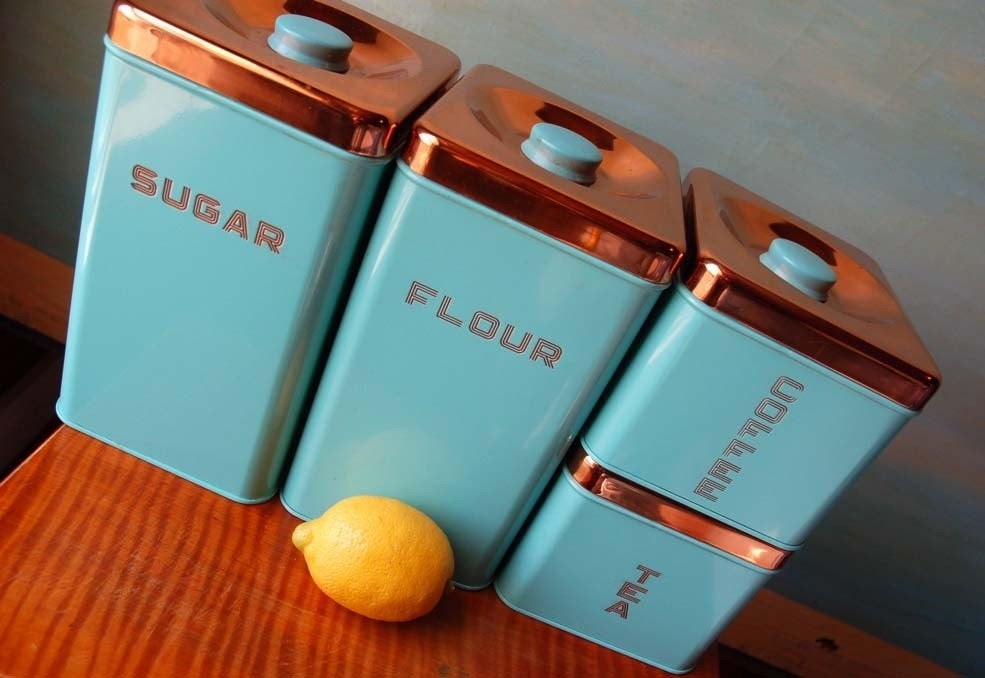 Vintage kitchen canister tins new in
These impressive kitchen containers for sugar, flour, coffee, and tea are perfect for any kitchen. Attractive colors in turquoise and copper are beautifully presented on kitchen shelves. Metal-based construction is durable.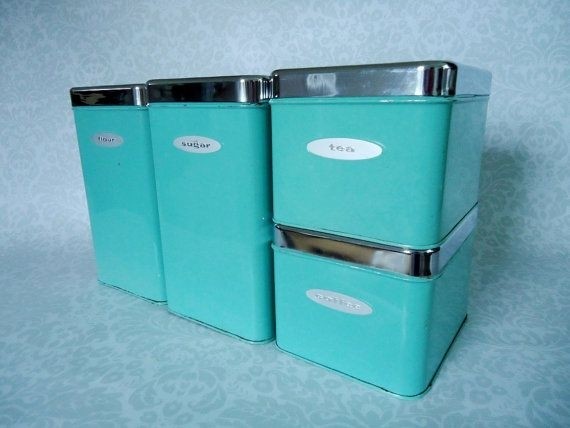 Turquoise kitchen tin canister set 1950s
This kitchen storage set comprises various tins in turquoise blue, each representing the glamorous 1950's style. You will love the mid-century chrome finishing and beautifully shining turquoise.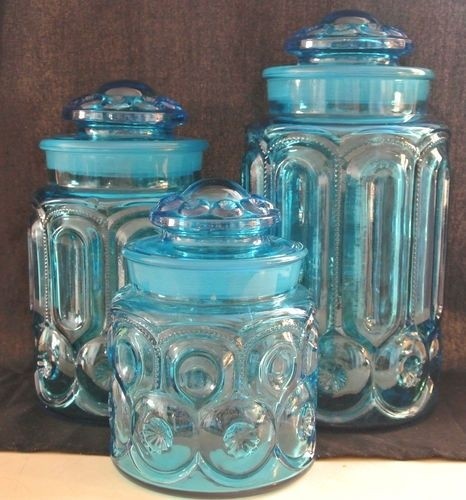 3 vintage l e smith moon and stars blue canisters
This set of 3 teal blue canisters will be a valuable kitchen addition, especially for vintage fans. With its ornate tooling and glamorous silhouette, it will be a fabulous retro accent wherever appearing.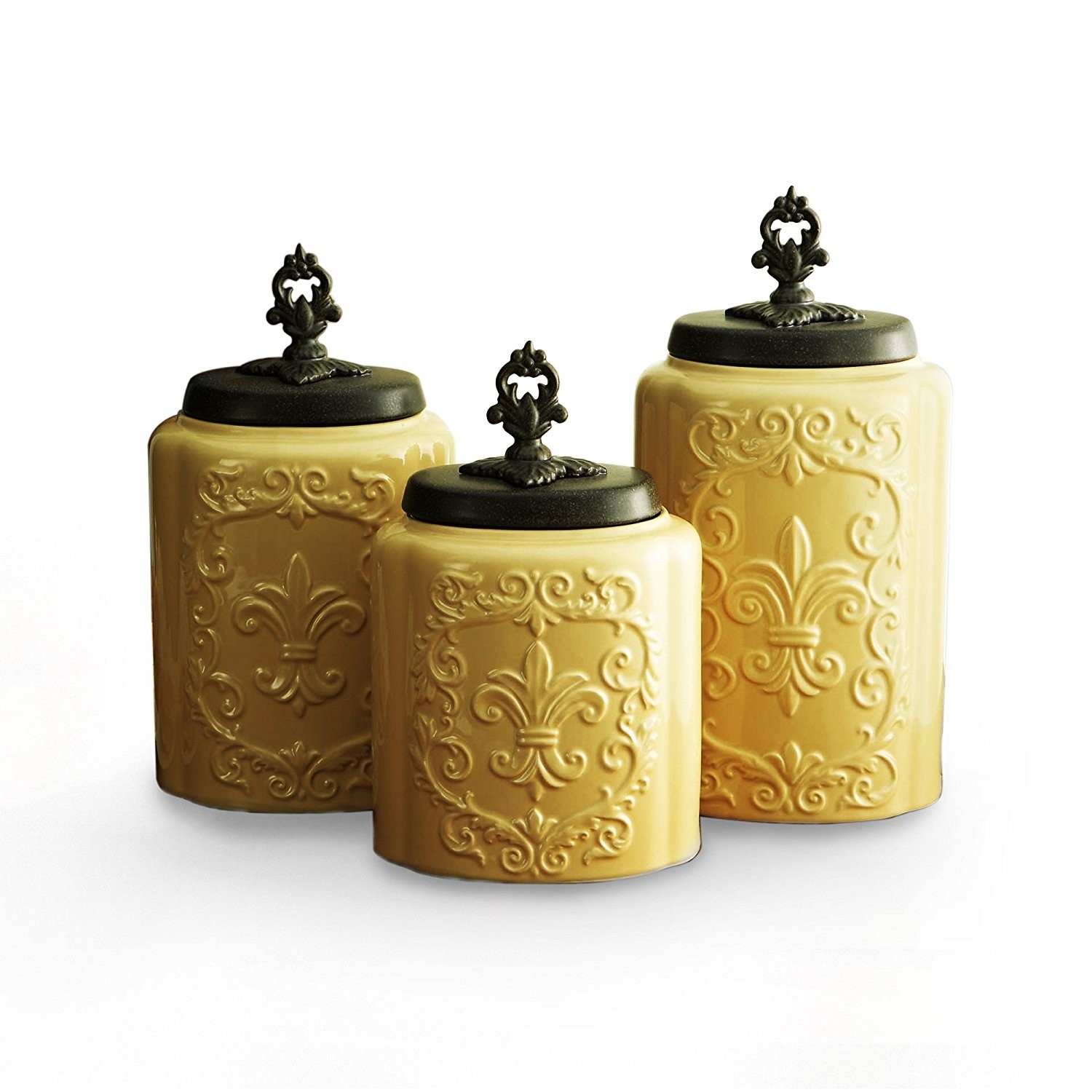 3-Piece Canister Set
A set of 3 aesthetic vintage-stylised containers for dry food. Their size-varied oval bodies are crafted of durable quality creamy earthenware with a beautiful floral design. Removable brown lids have seals and decorative stems.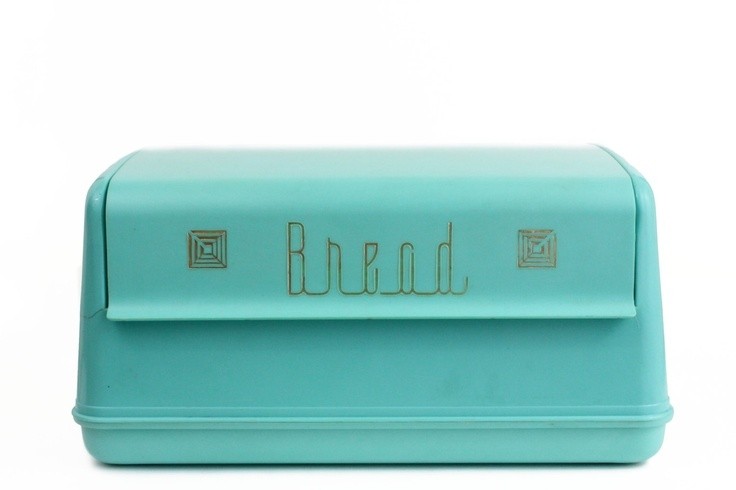 Lustroware bread box turquoise aqua gold
This wonderful turquoise bread box is a magnificent example of vintage approach to household goods. Its retro design shall appeal to all fans of this style. It adds warmth and vibrancy to the kitchen.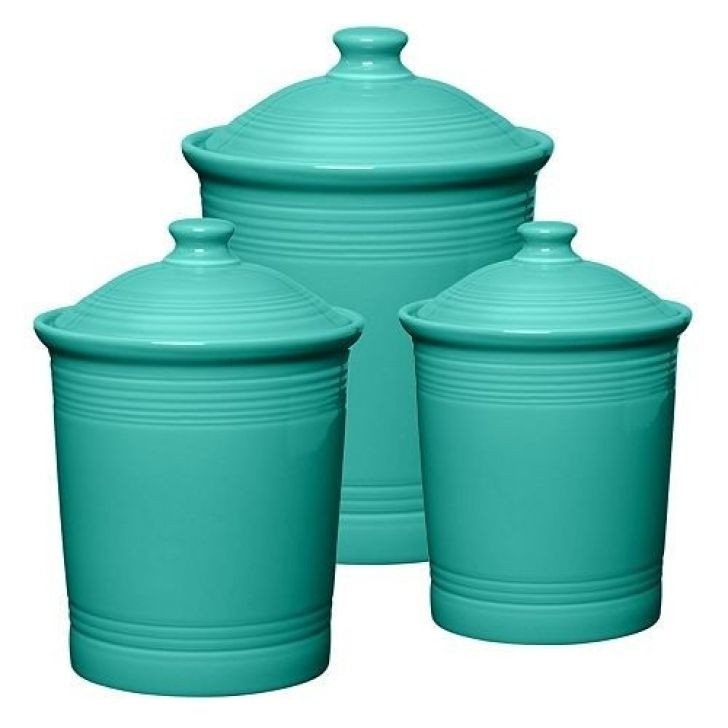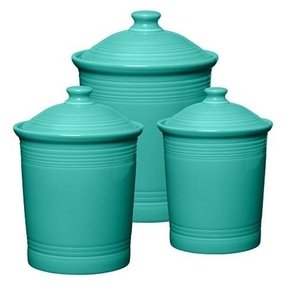 Set of 3 kitchen canisters in simple form. It is made of high quality material and fitted with lids. Handy gadget for each home.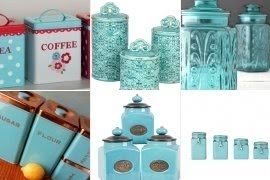 Set of 3 kitchen canisters in various sizes. It is made of ceramic and finished with sophisticated ornament. Designed for storing food. Elegant accessory for each kitchen according to taste.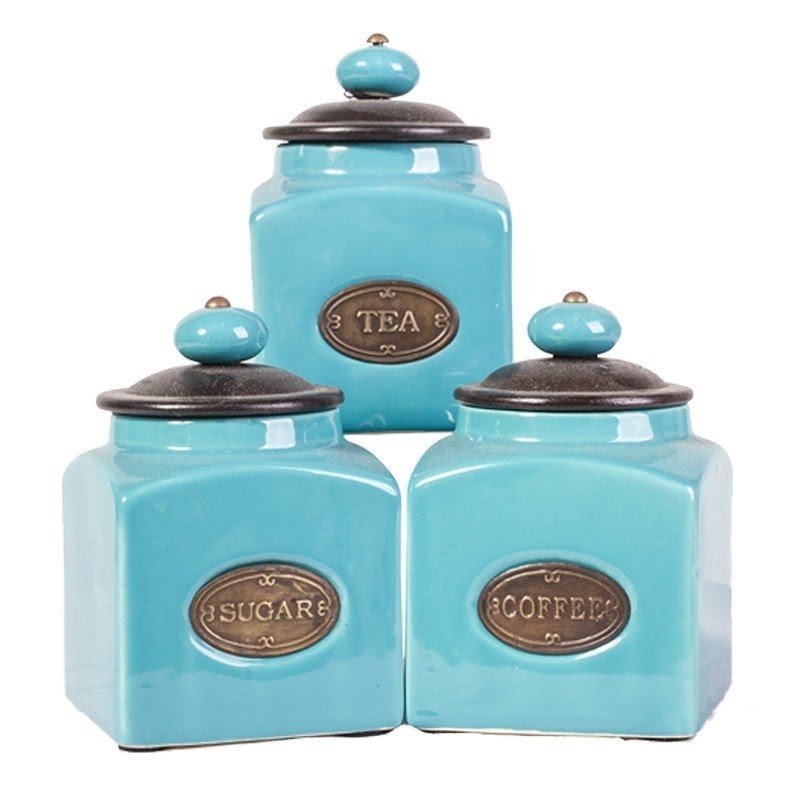 Those three canisters (sugar, tea, and coffee) can be a lovely decoration for your retro dining room or kitchen. Each canister is hand-painted in turquoise, made of quality ceramic, and has a beautiful lid with a nice finial.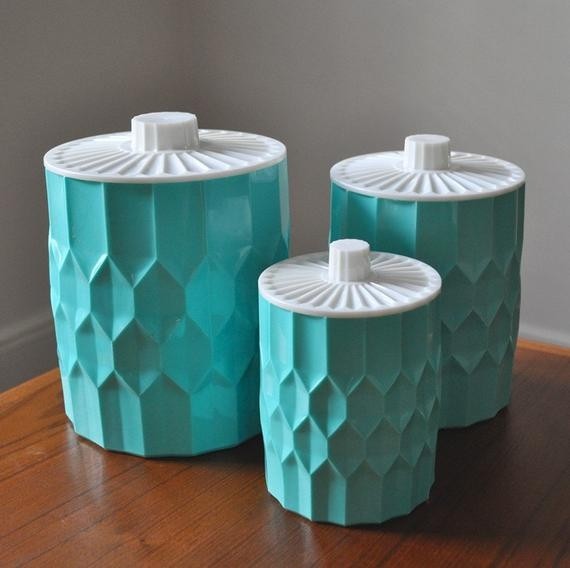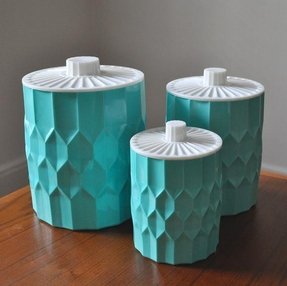 A beautiful set of 3 different size canisters, perfect for enhancing kitchens, and dining rooms. Each tea canister is bathed in turquoise and white, with a fancy design running from the lid to the bottom.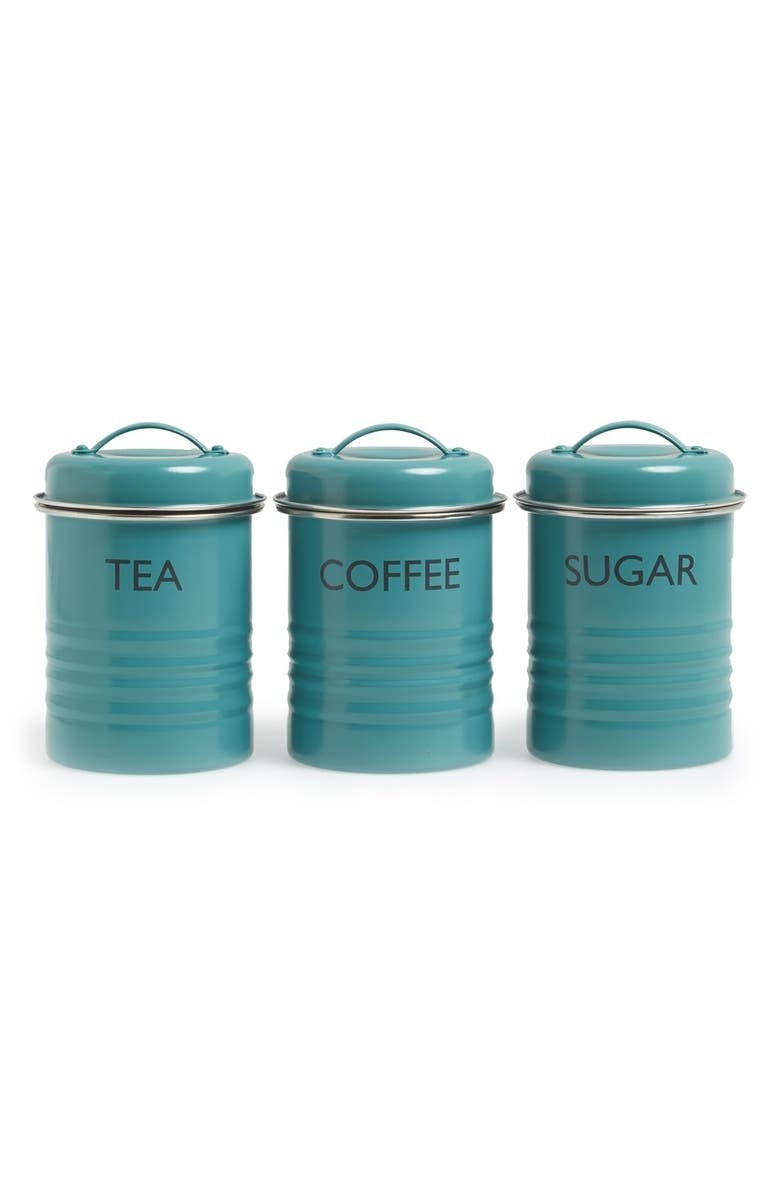 Those lovely decorations will work visual wonders for your retro kitchen. Beautifully designed and crafted of glossy enameled steel, the set offers 3 matching canisters for sugar, tea, and coffee; with tight lids equipped with convenient handles.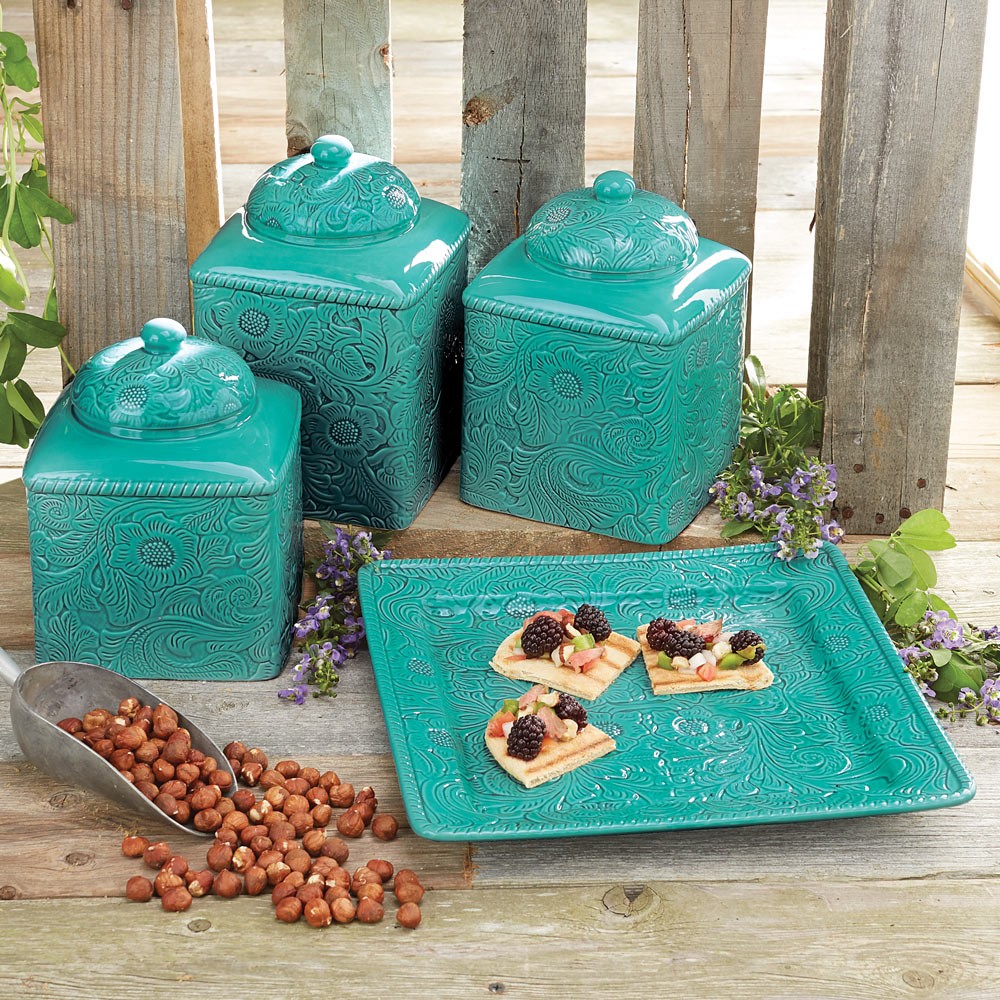 A highly decorative set consisted of 3 canisters and 1 serving tray - all covered in a teal finish. Inspired by a country style, each piece has gorgeous floral patterns bathed in a beautiful glaze. Easy to clean.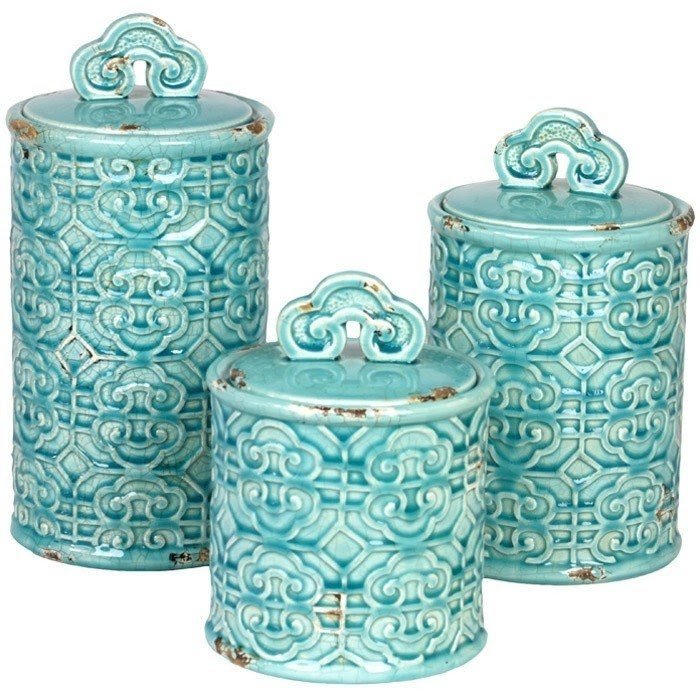 Check out other gallery of Turquoise Kitchen Canisters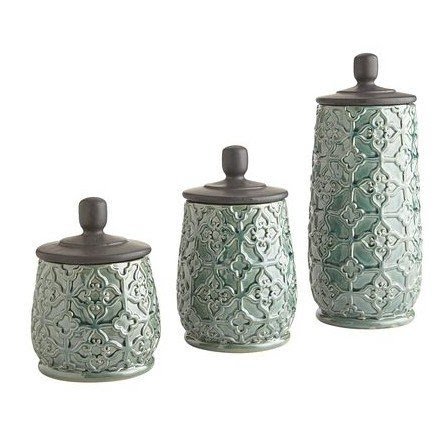 Sundarra Canisters - Pier 1 - described as Jade, but look more like aqua or turquoise. Need to see these in person.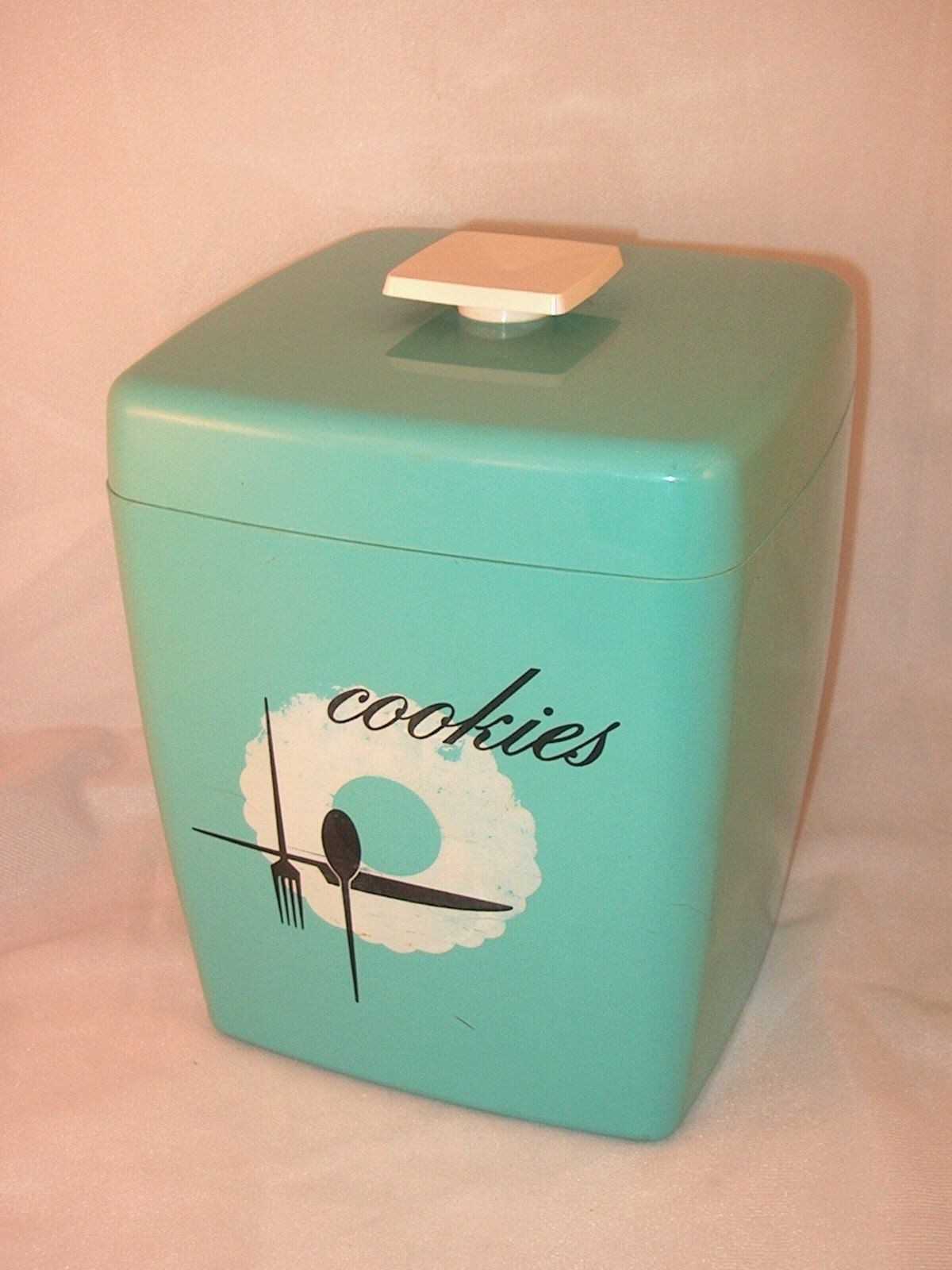 Add a charming and at the same time functional piece to your kitchen to enjoy some of the retro appeal that it can offer. This plastic cookie jar sports the vintage look and comes with the teal finish as well as some nice writing.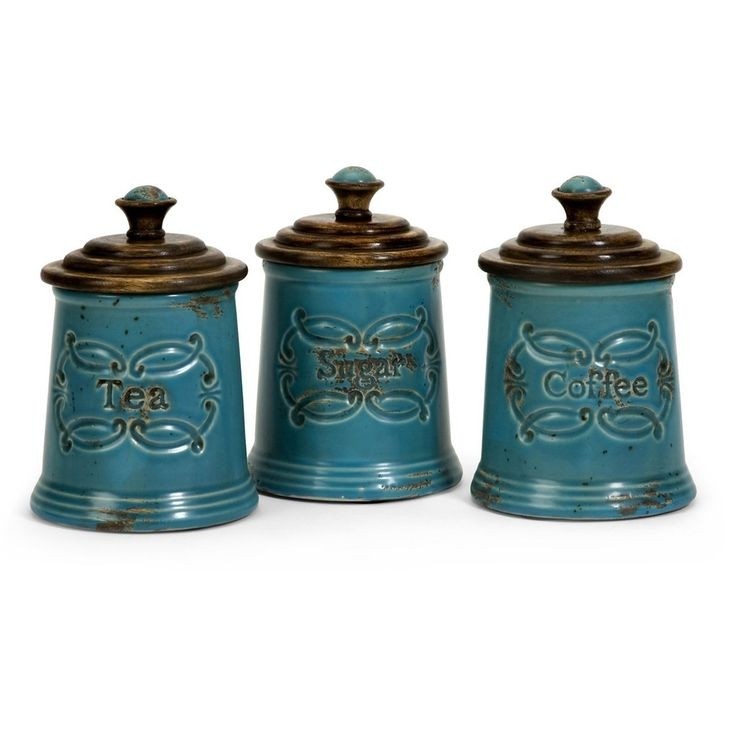 This stylish set of kitchen containers is the perfect kit that allows you to conveniently store coffee, tea or sugar. It works perfectly on a daily basis. Perfectly solution and beautiful design.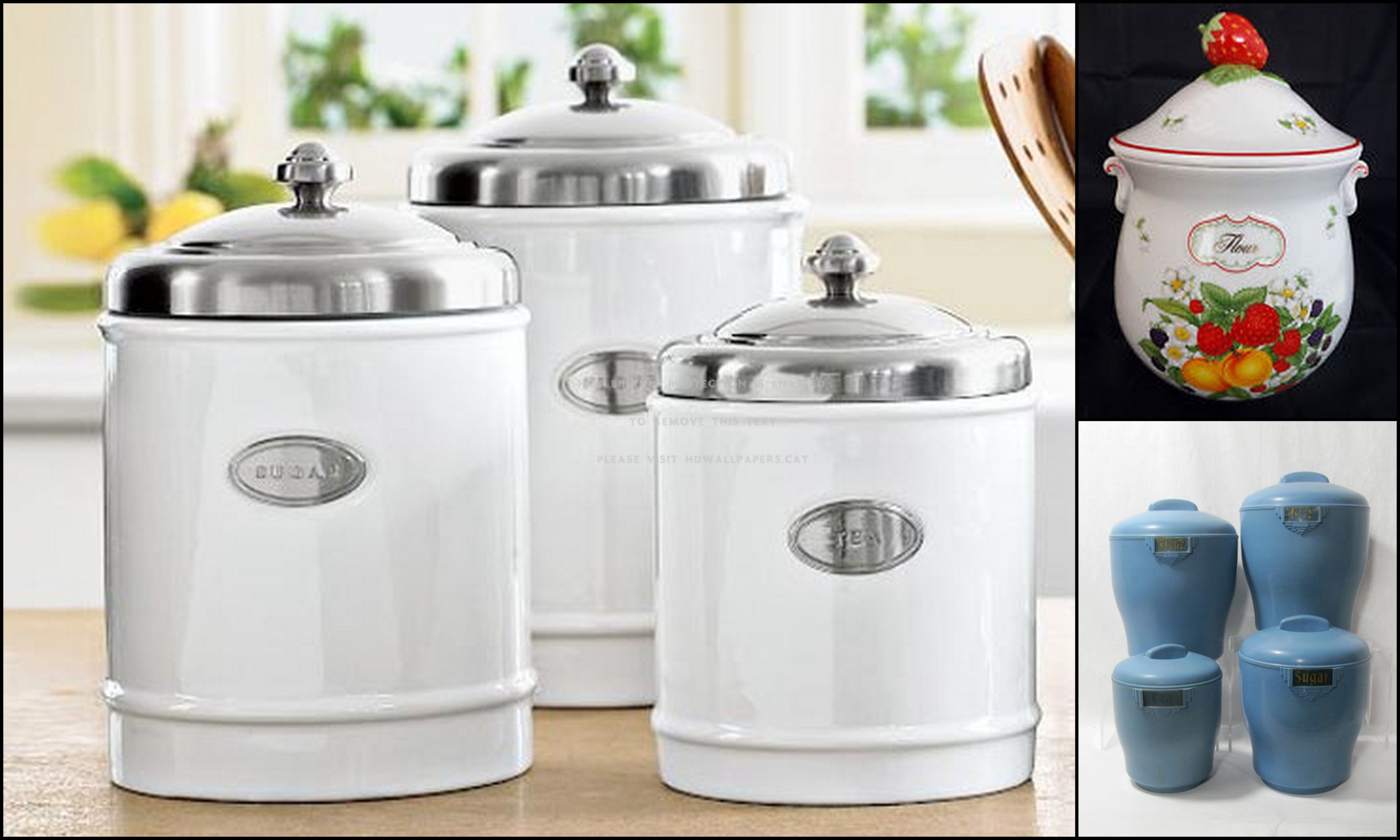 vintage turquoise canisters made by PLAS-TEX ...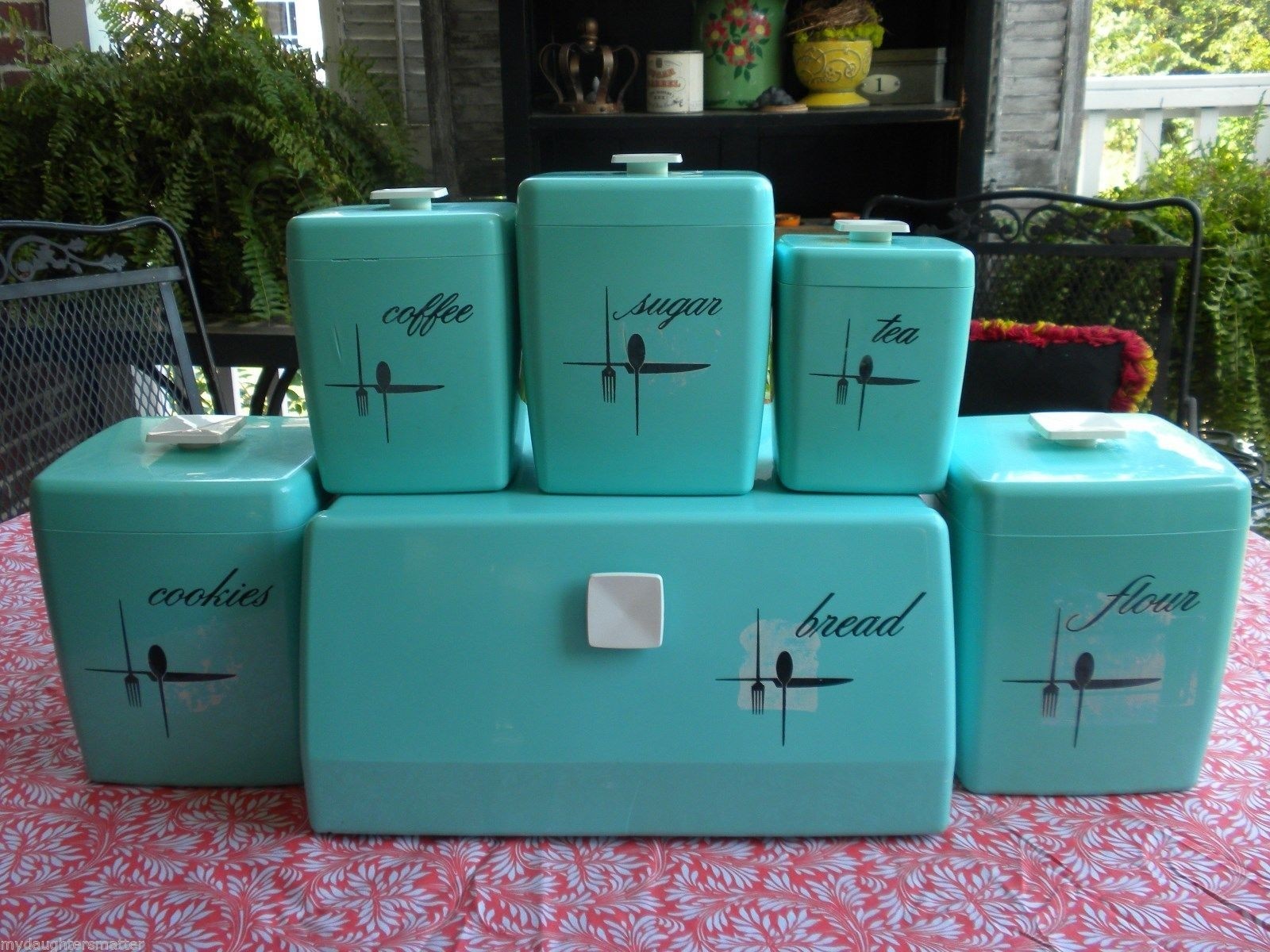 A beautiful addition for dining rooms and kitchens, this set of 3 canisters (for sugar, tea, and coffee) is crafted of quality tin, and embellished with polka dot and floral patterns. Each canister has also a tight lid with a curvy handle.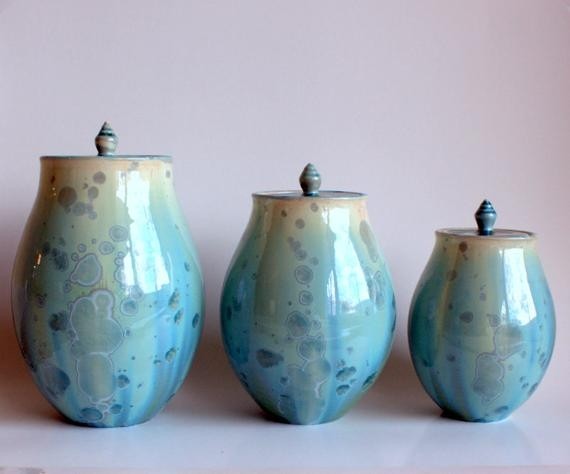 Aqua Canister Set - really? could this be any more beautiful? Too bad my budget is about 1/10th of the $240 price tag. Beautiful!!!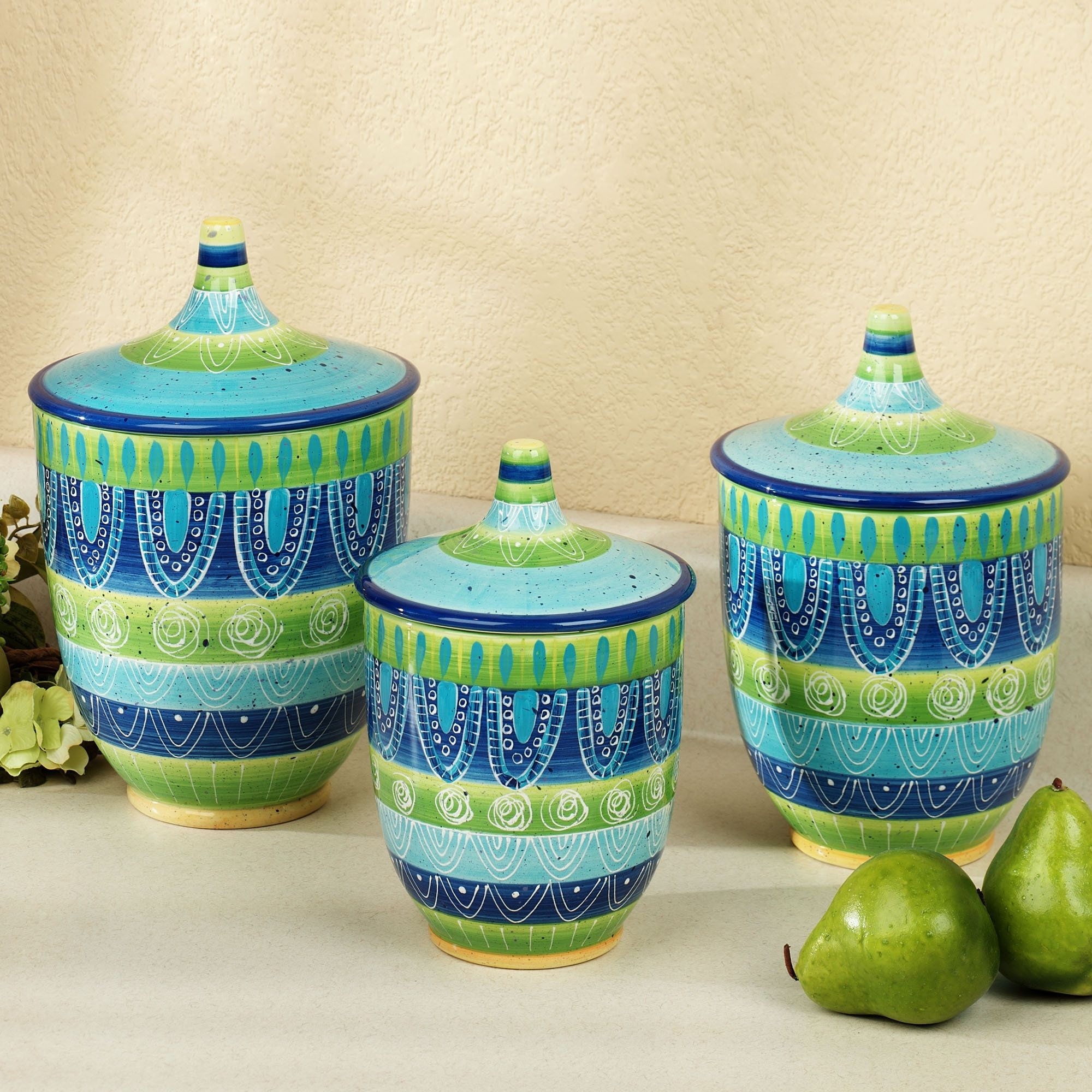 Home > Tapas Handpainted Kitchen Canister Set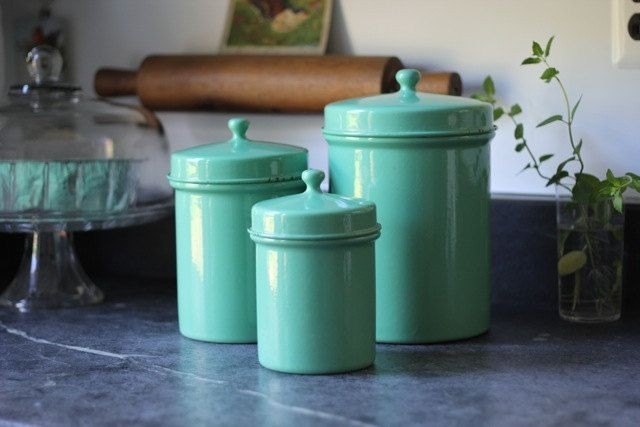 Antiqued Canister Set, kitchen or home decor, storage, can use for teas or maybe straws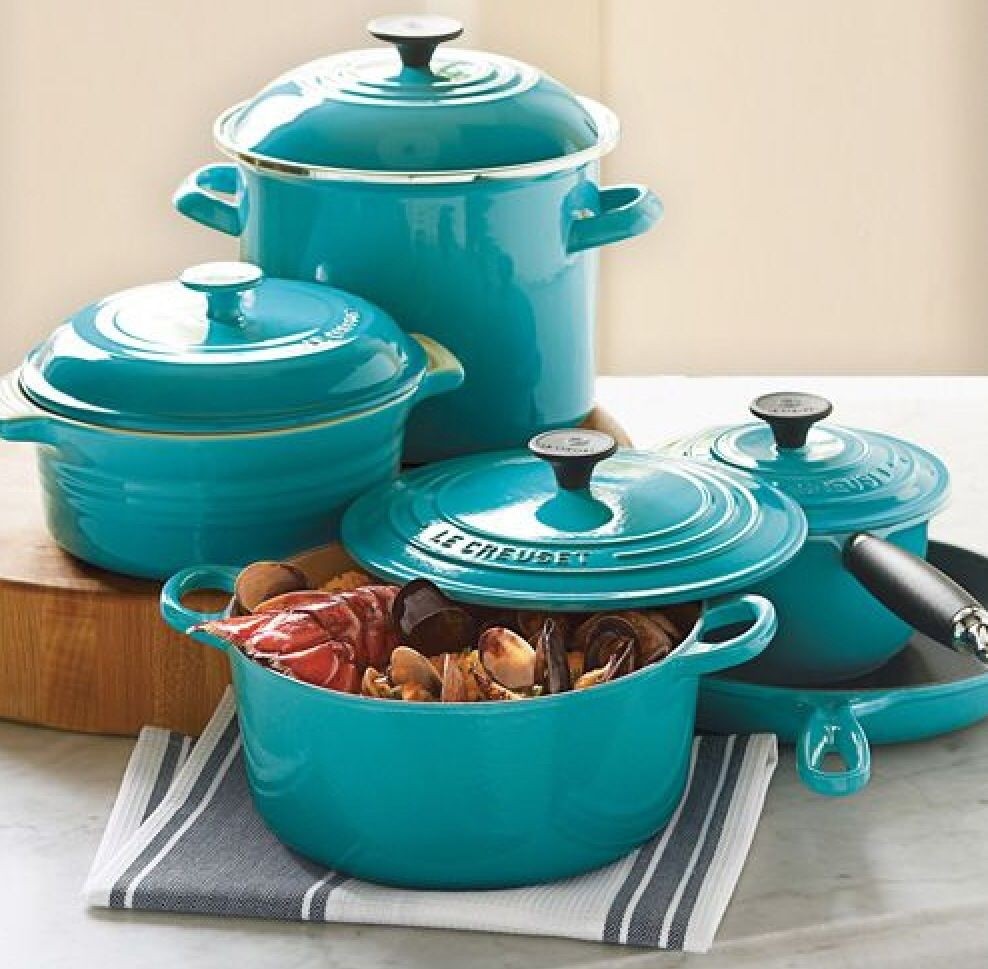 Le Creuset 9-Piece Cookware Set eclectic cookware and bakeware.. for when we settle in one place, have a feeling we will have worn out the orange LC dutch oven by then!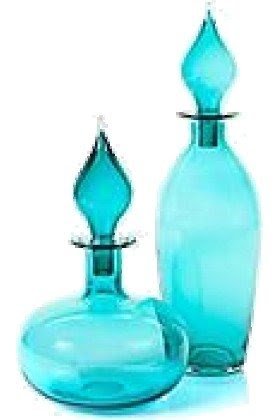 Gorgeous decanters for a bar. One for whiskey, one for vodka...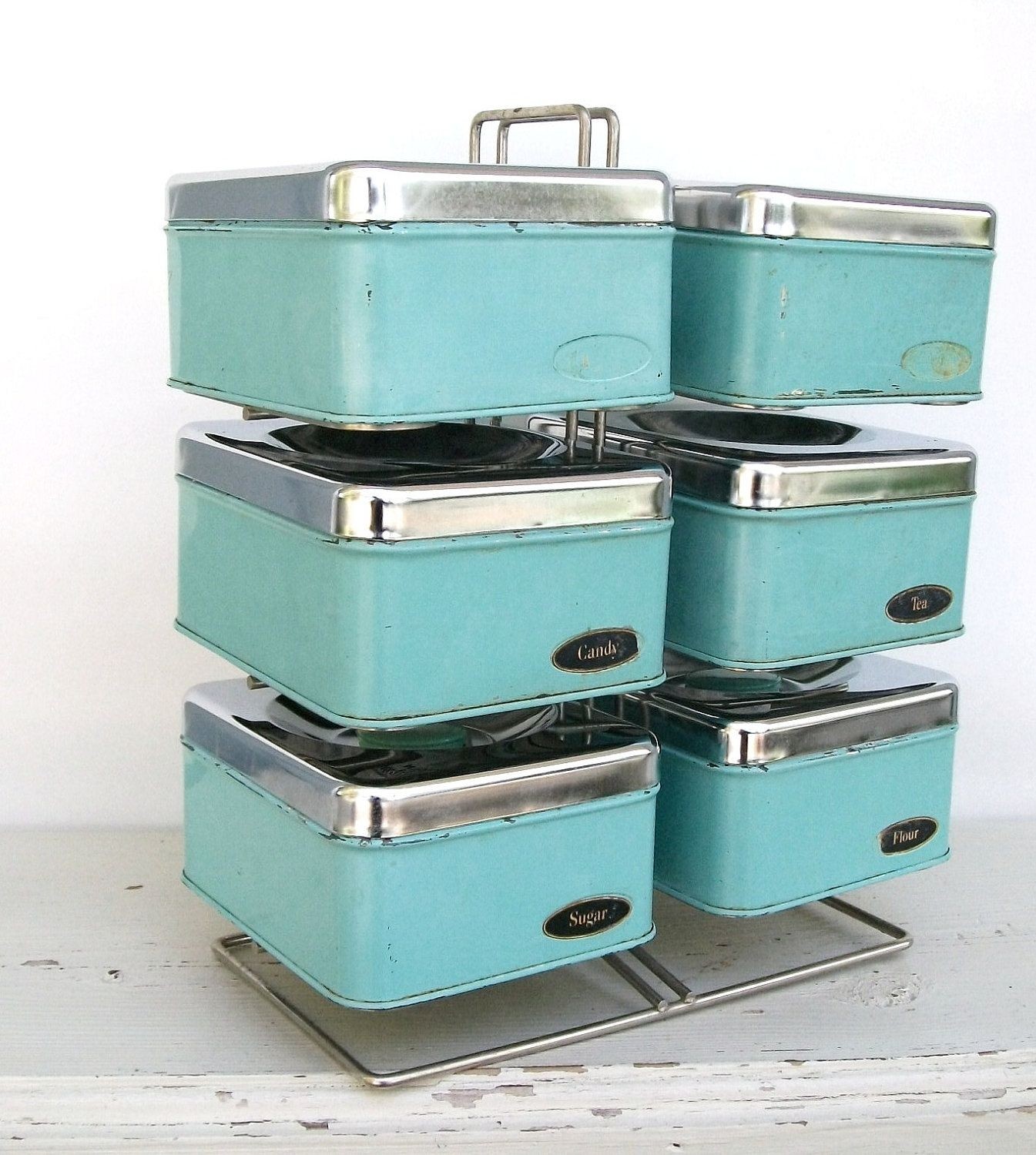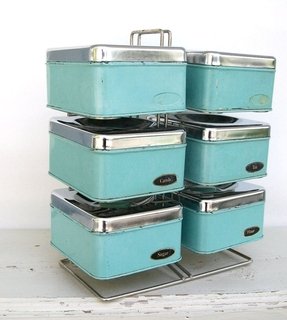 Should have bought this set on Etsy when I had the chance! Love!!! Lincoln Beautyware Set of Six Vintage Aqua Chrome Kitchen Storage -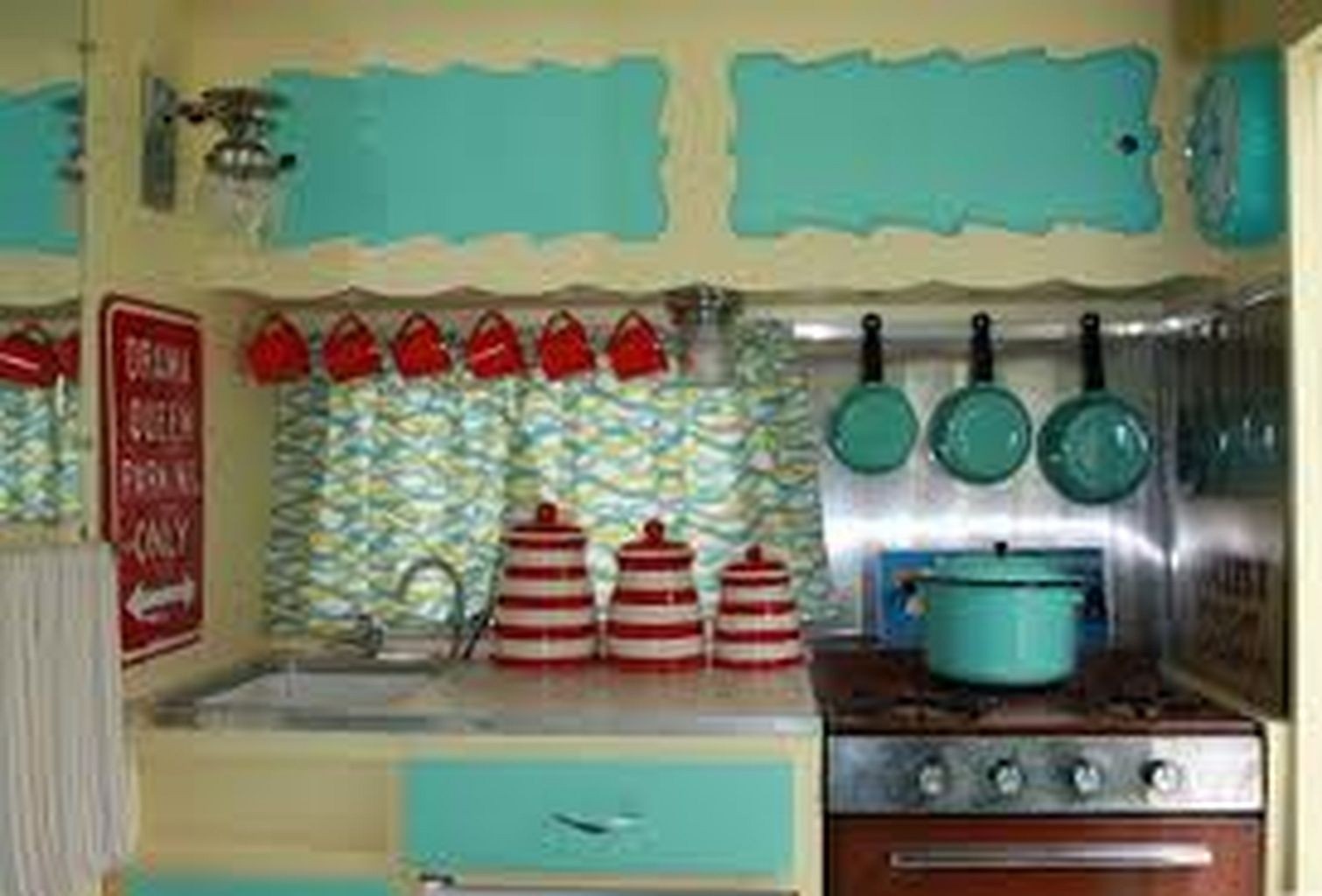 ~ lovely shasta 61 kitchen ~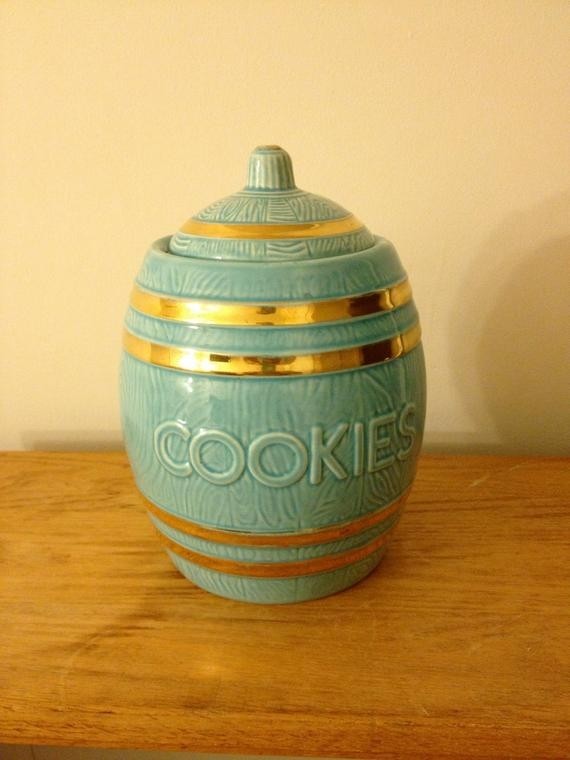 A chic take on the cookie jar -- Vintage Turquoise and Gold Cookie Jar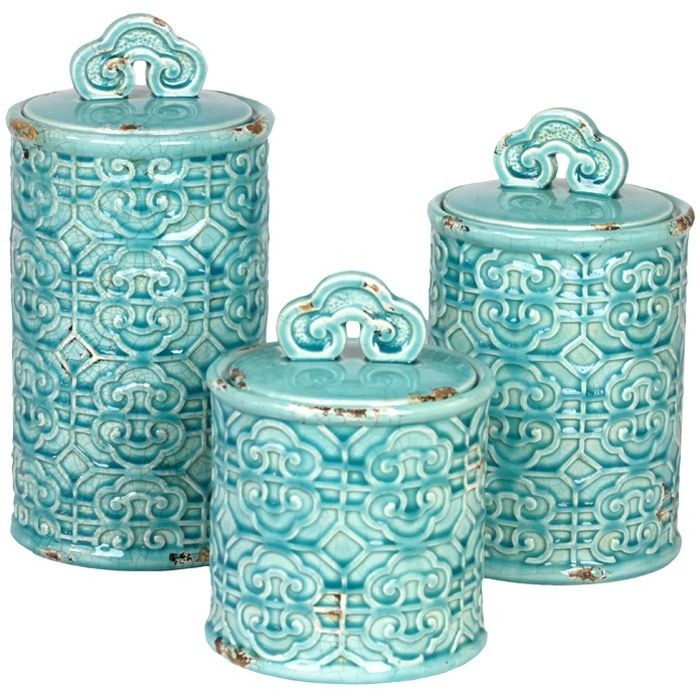 Vintage Aqua Turquoise Blue Lustro Ware Canister Set (I have a couple very similar to these, color and shape are the same but the markings are different)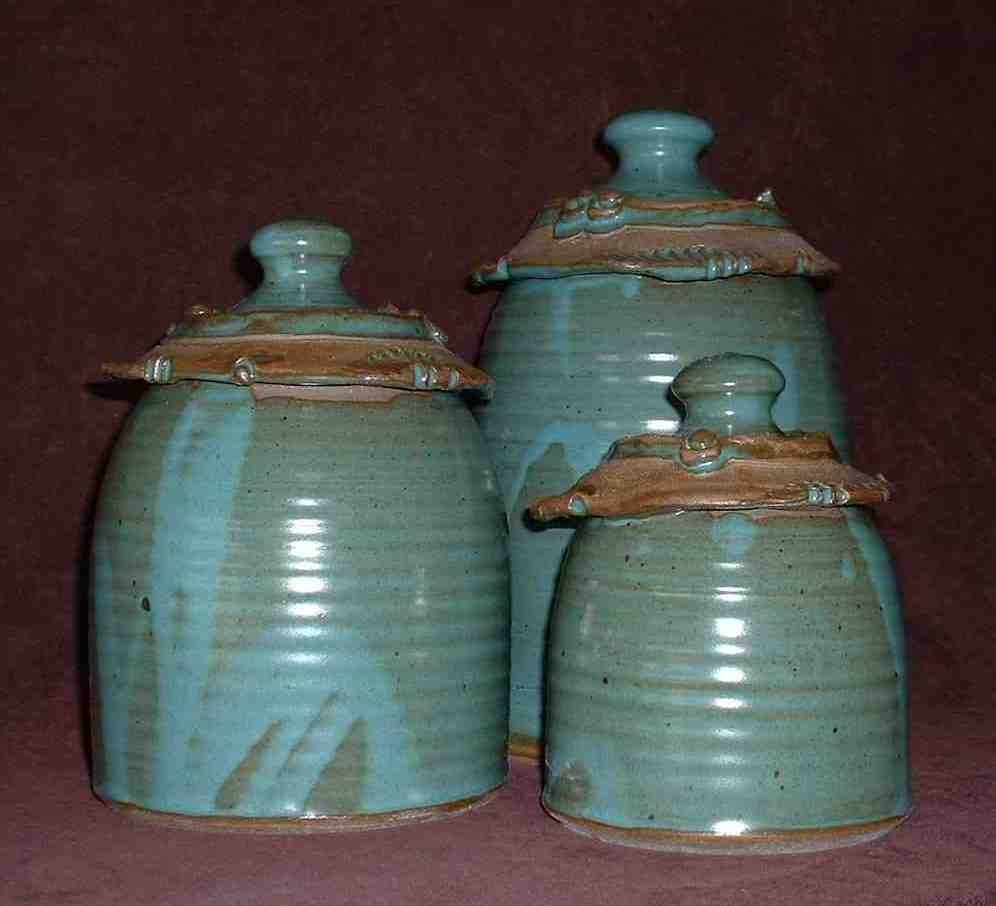 Attractive beehive themed kitchen canisters, available in white, teal, royal blue and French blue make an attractive addition to any countertop or hutch. The fat hive bodies are topped with wide "thatched" lids with small bees. Ready storage for kitchen supplies.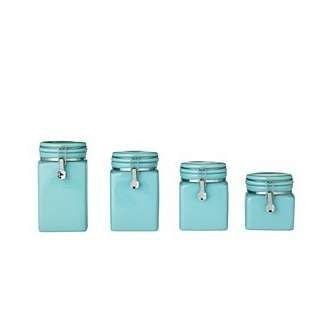 A traditional set of height-varied but equal in diameter sqaurish canisters for dry food. They're made of stoneware with a beautiful blue-greenish finish. They have thick round lids with wire and ball trigger closures.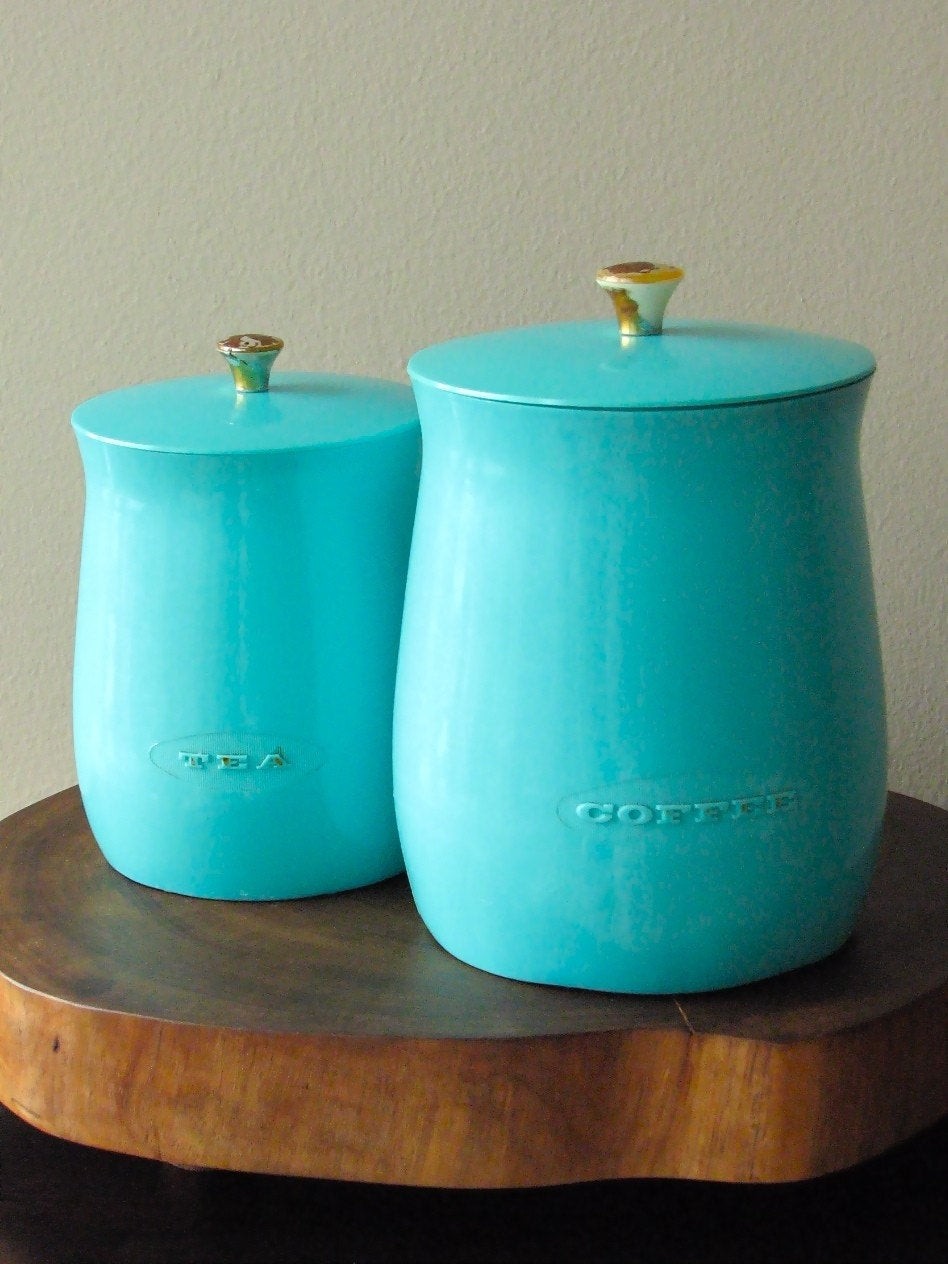 Add it to your favorites to revisit it later.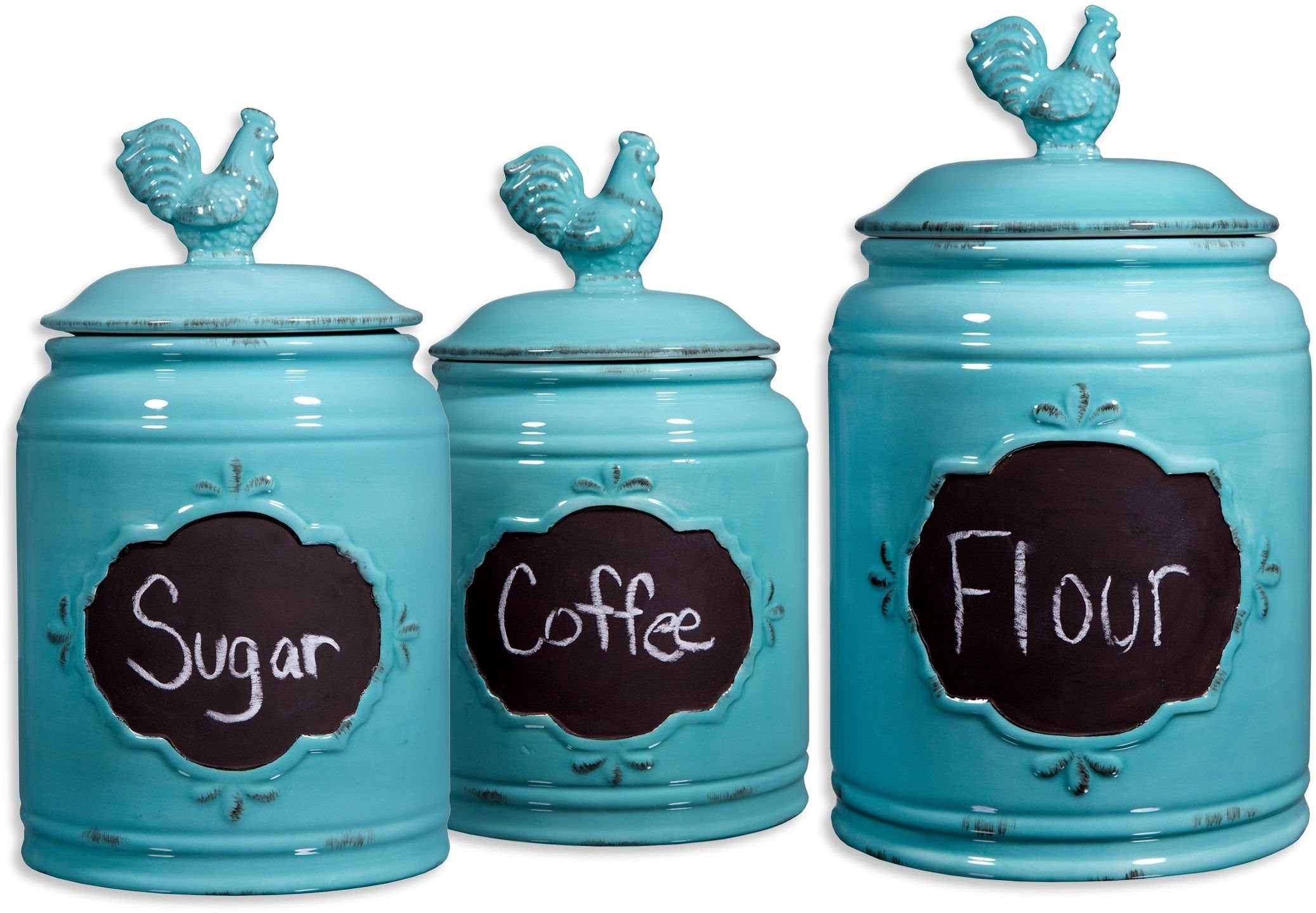 Home Products Kitchen & Pantry Canisters/Storage Ceramic S/3 Aqua ...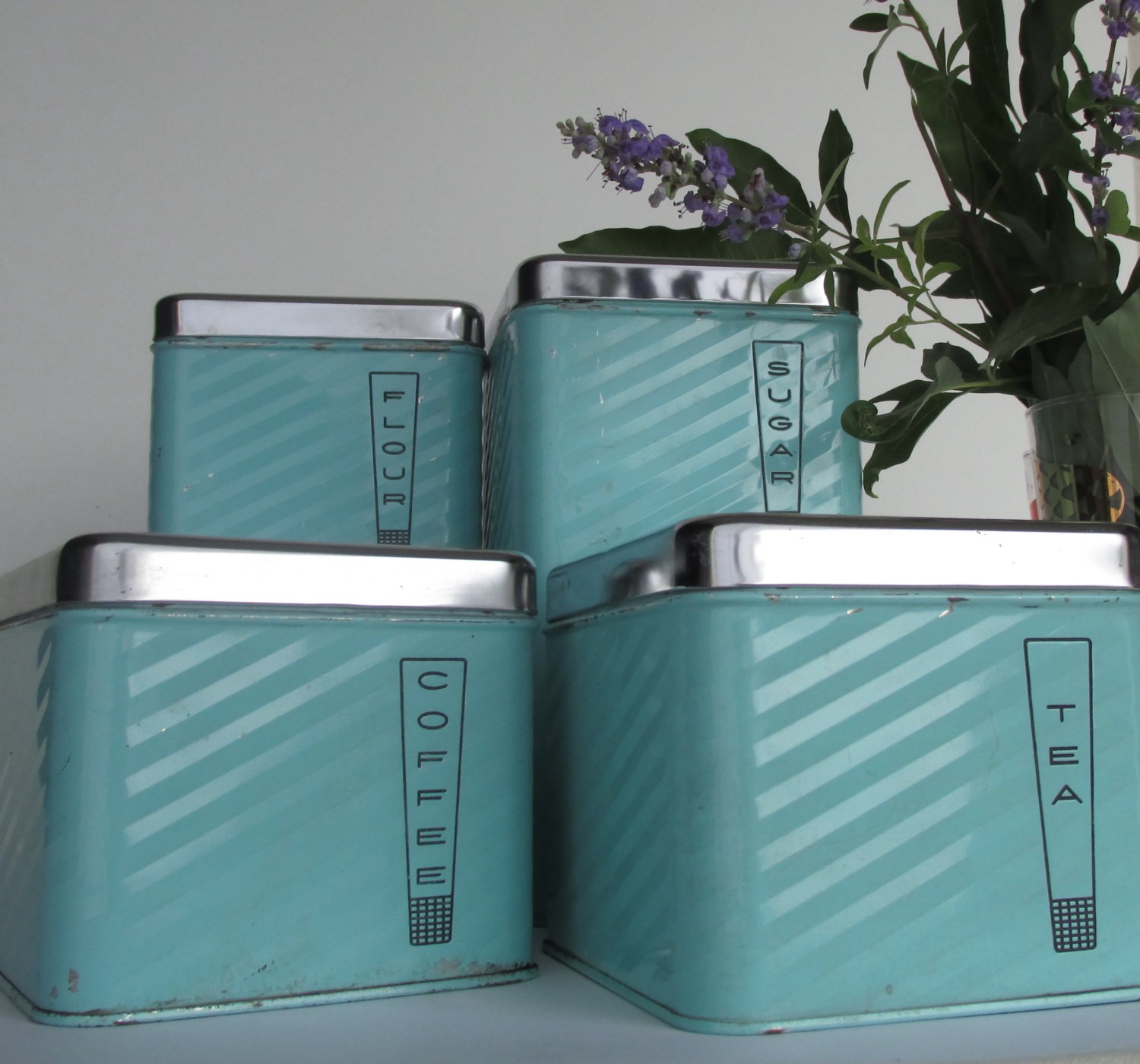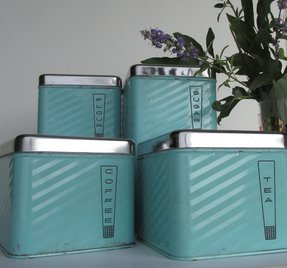 Blue Kitchen Canisters Egg blue canister set by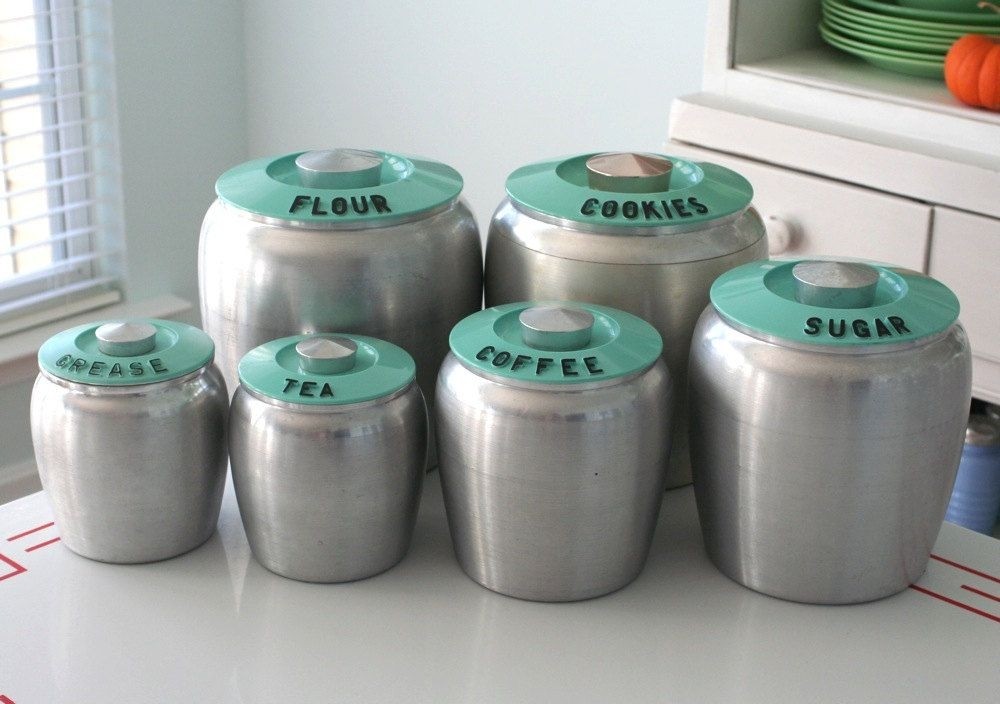 Everything Turquoise | Daily Turquoise Shopping Blog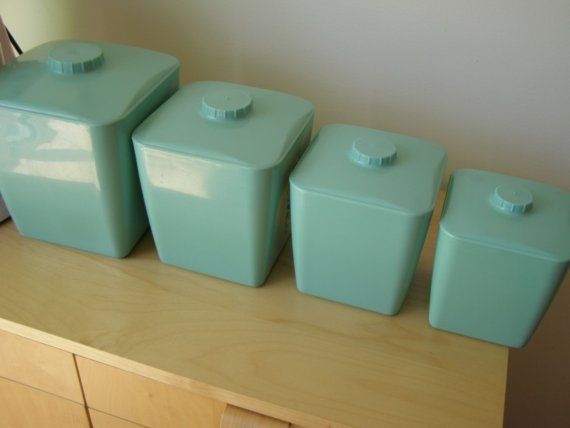 With these vintage aqua kitchen canisters you will now not only have the perfect solution for keeping your space clean and well-organized but will also add plenty to the decor of your household thanks to the retro appeal.
In search of some of these... if you find them at any antique store, let me know!!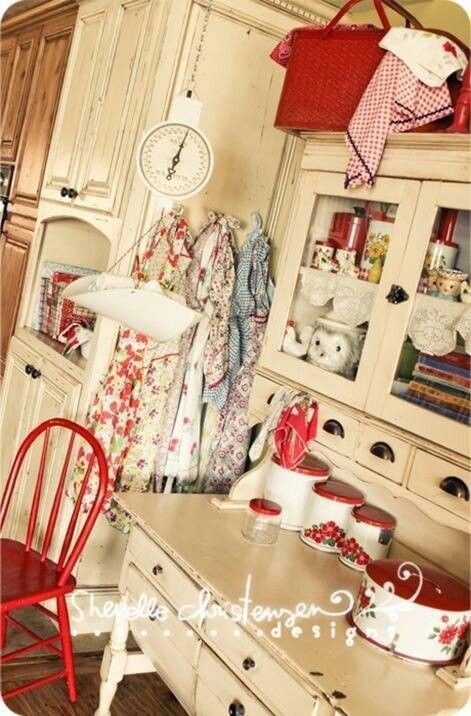 C. Dianne Zweig - Kitsch 'n Stuff: 1950s: The Atomic Era-Pastel Color-Space Age Kitchen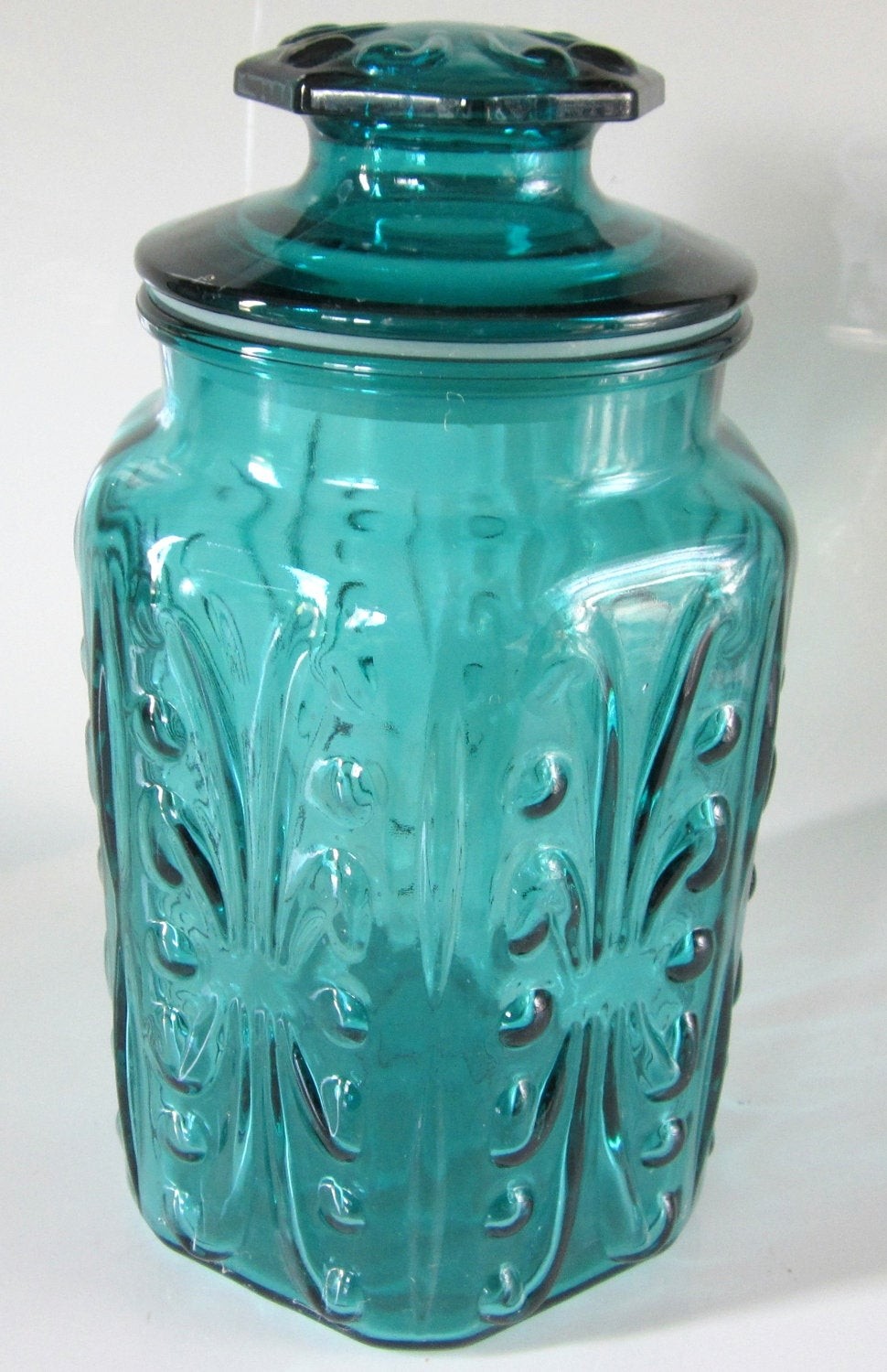 teal fenton candy dishes | Blue Green Teal Glass Jar Embossed Canister Lidded Hexagon Large ...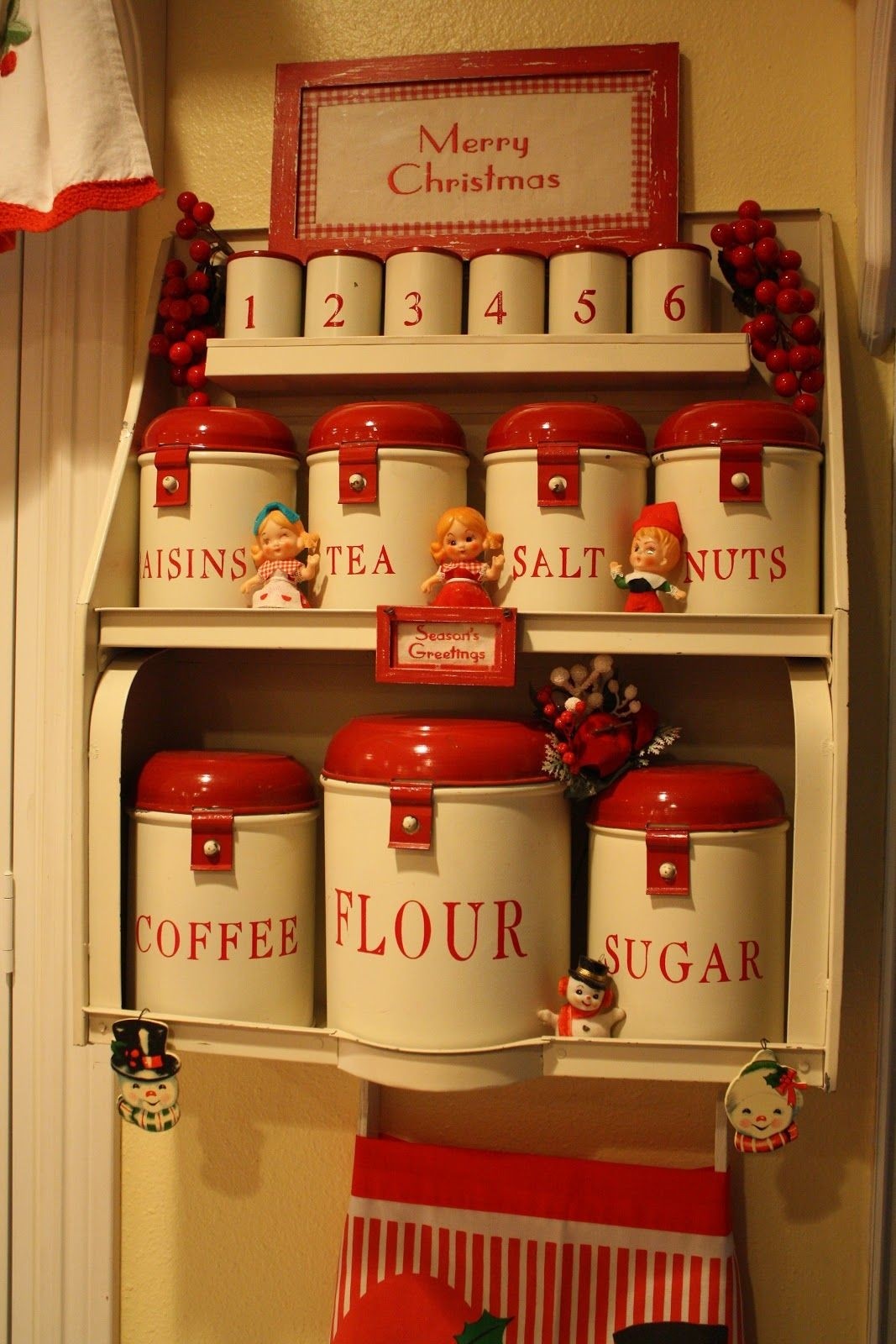 Just make the letters and tops pink and teal awesome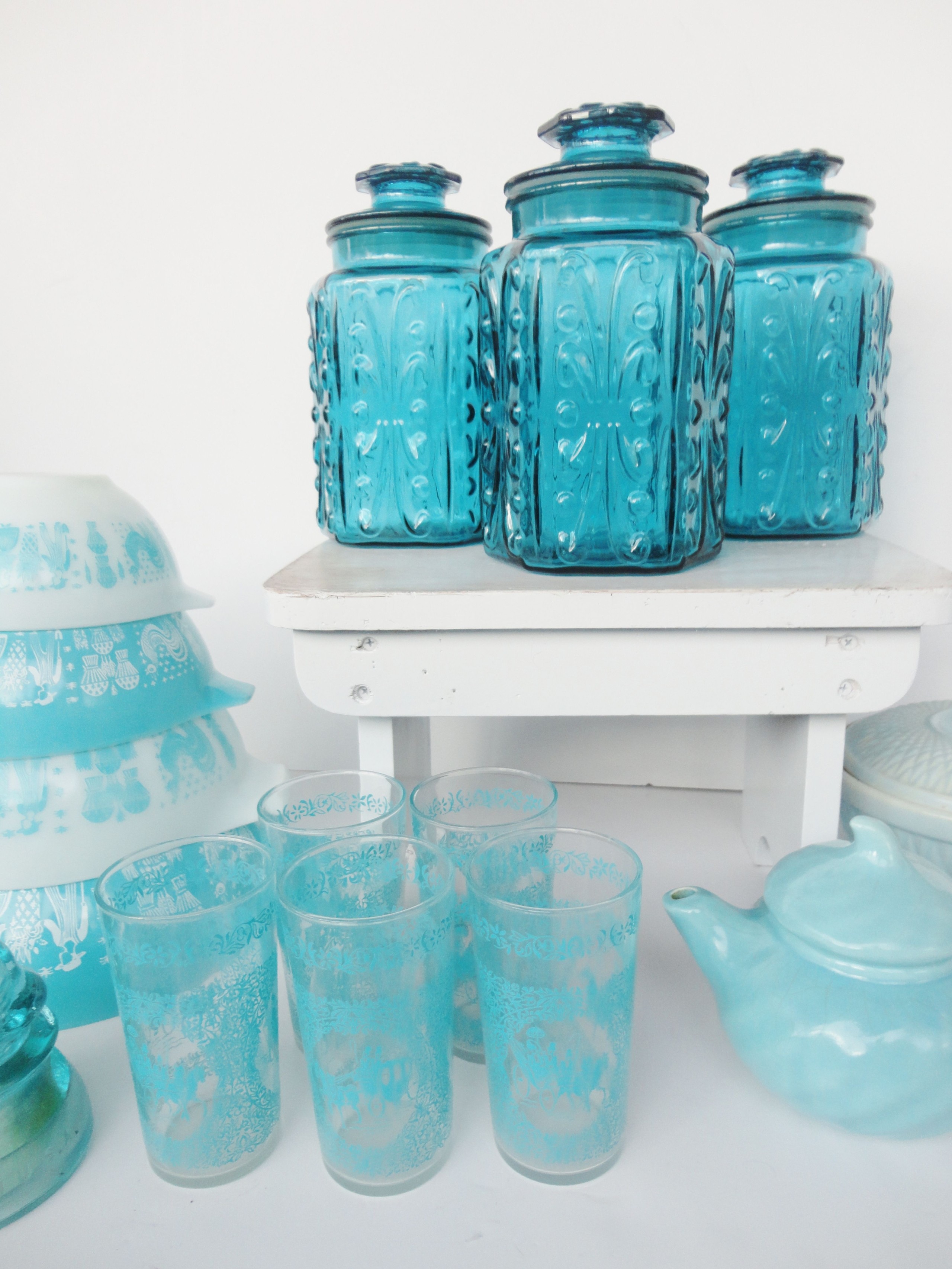 I would love love love to have these pretty things in my future kitchen.

retro kitchen canisters - bakelite