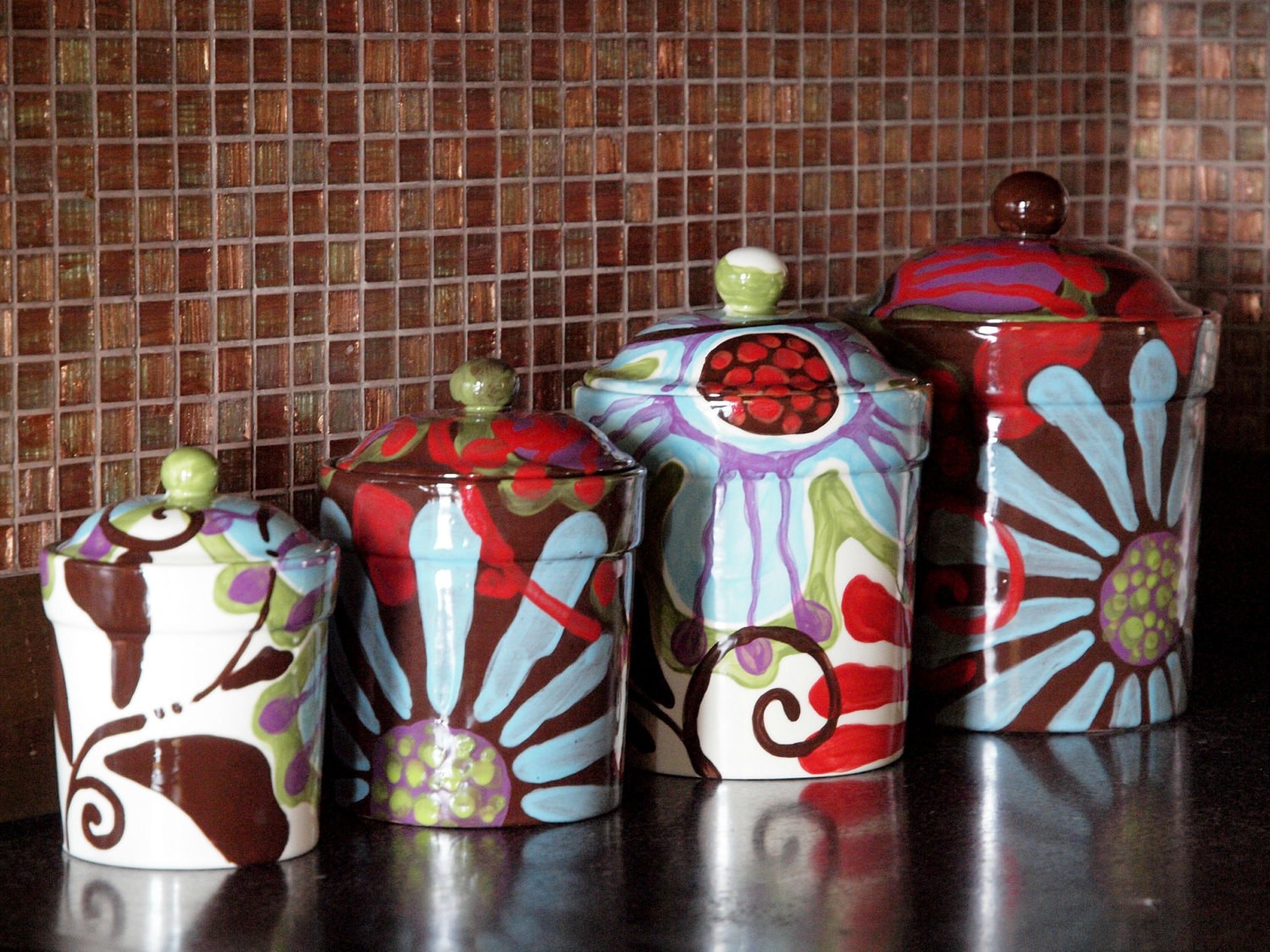 Canister set of four urban fusion
Set of 4 richly decorated kitchens canisters with lids. It is completely made of earthenware. Suitable for storing food. Handy gadget for any kitchen. Received many positive recommendations from clients.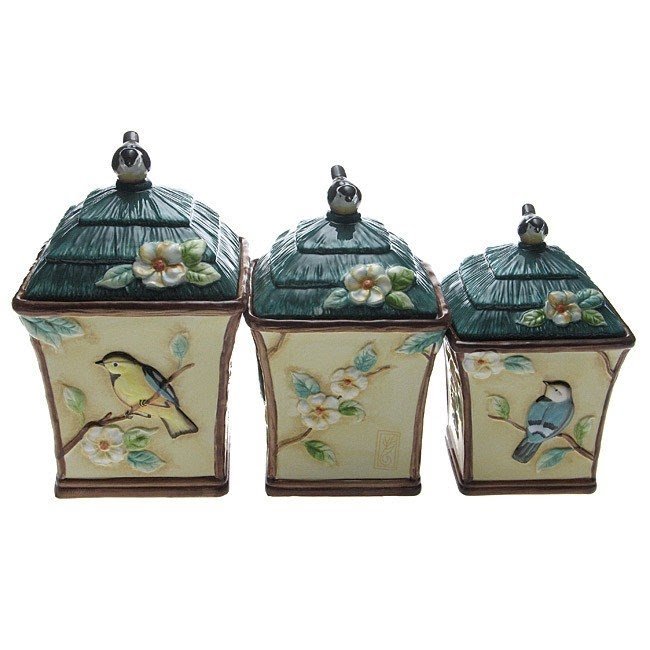 Certified international morning song 3 piece canister set
Beautiful functional size-varied ceramic canisters for e.g. dry food. They're hand-painted in floral and bird motifs in a restful colour scheme. They have cubical flared up bodies and pagoda-like lids with ornate flowers and bird figurines as grips.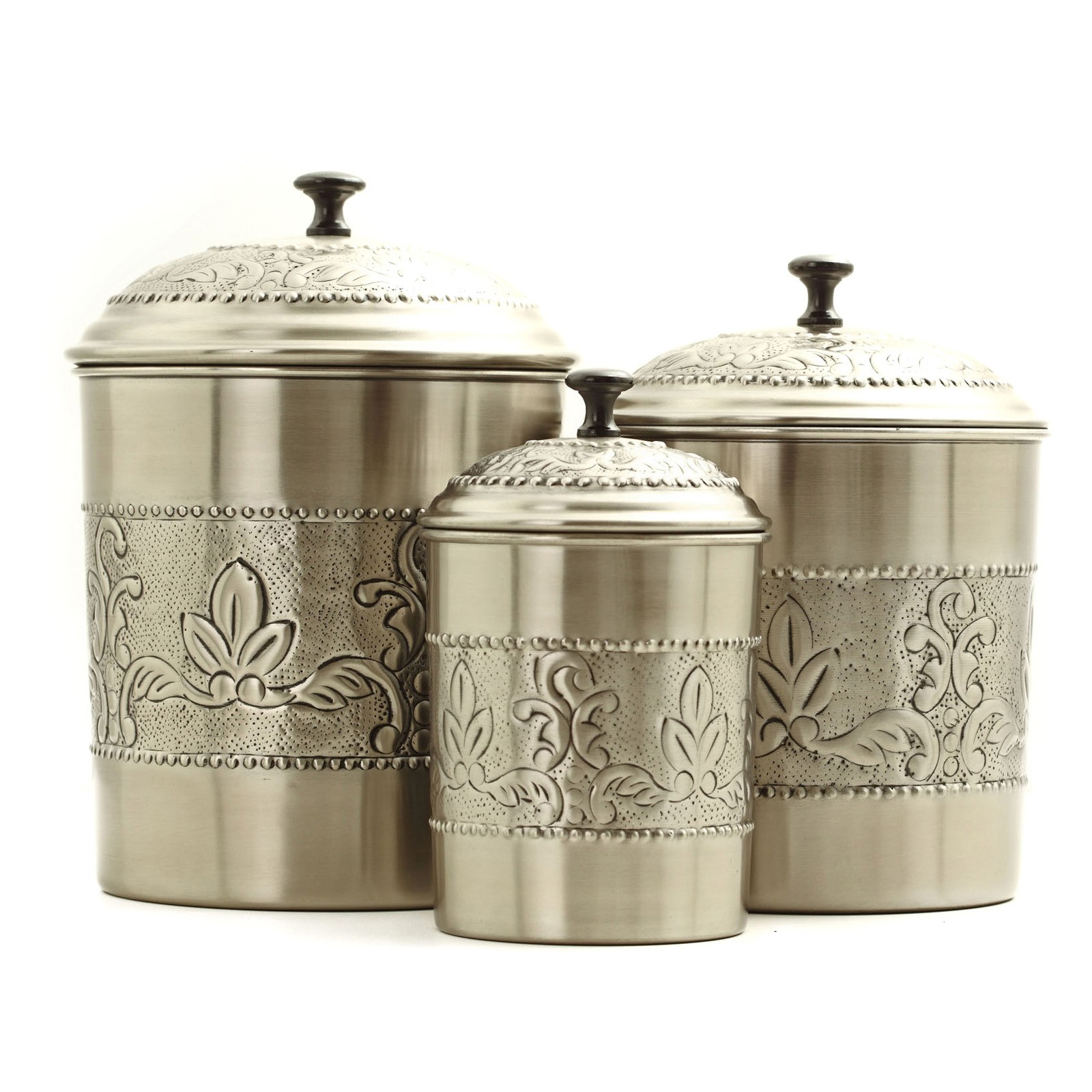 Victoria 3-Piece Canister Set
Beautiful Victorian style set of 3 capacity-varied containers for cooking essentials and spices. Their cylindrical bodies and round convex lids are of food safe silvery steel with embossed fine decorative floral designs. They have to be hand-washed.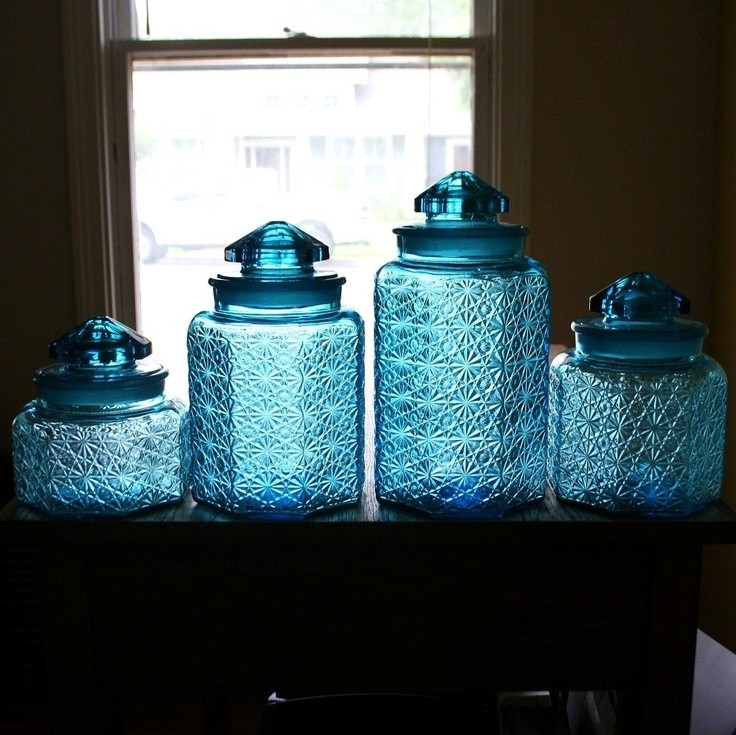 Beautiful vintage blue glass canister
A well-designed canister set always enhances interior decor with attractive accents. This one is a vintage set of 4 blue glass canisters of different shapes and sizes, with amazingly designed body and decorative lids.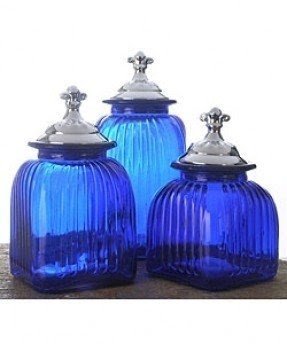 Classic solutions 3 piece blue glass canister set
Classic and useful canister set suitable for kitchen applications. This set features three elements made of blue glass. They also feature metal lids with some decorative accents, so they look great in any kitchen design.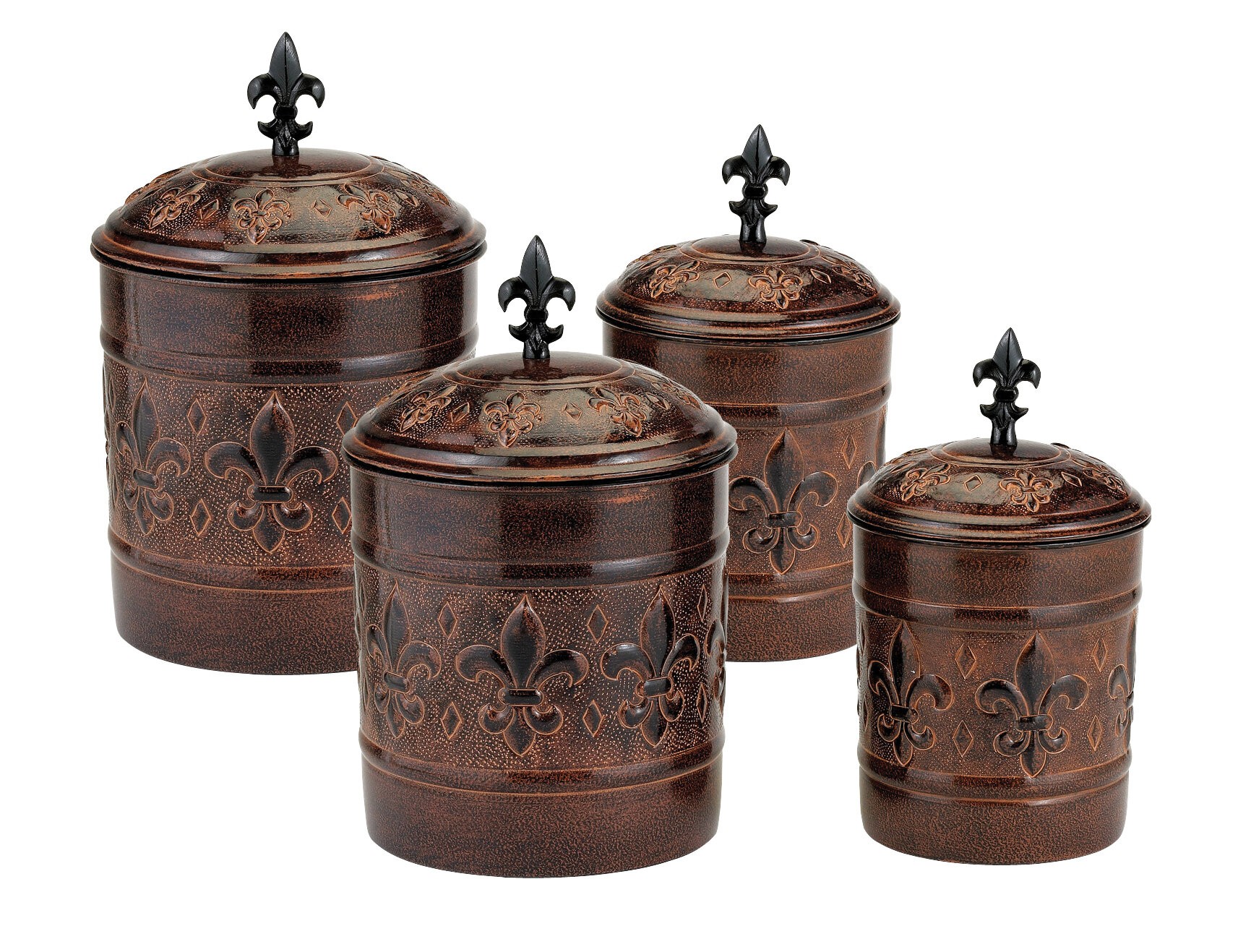 Versailles 4-Piece Decorative Canister Set
Attractive set of 4 capacity-varied canisters for cooking essentials. Cylindrical bodies and round convex lids with decorative pointed knobs are of food safe brown-finished steel with embossed antique fleur-de-lis designs. They must be hand-washed.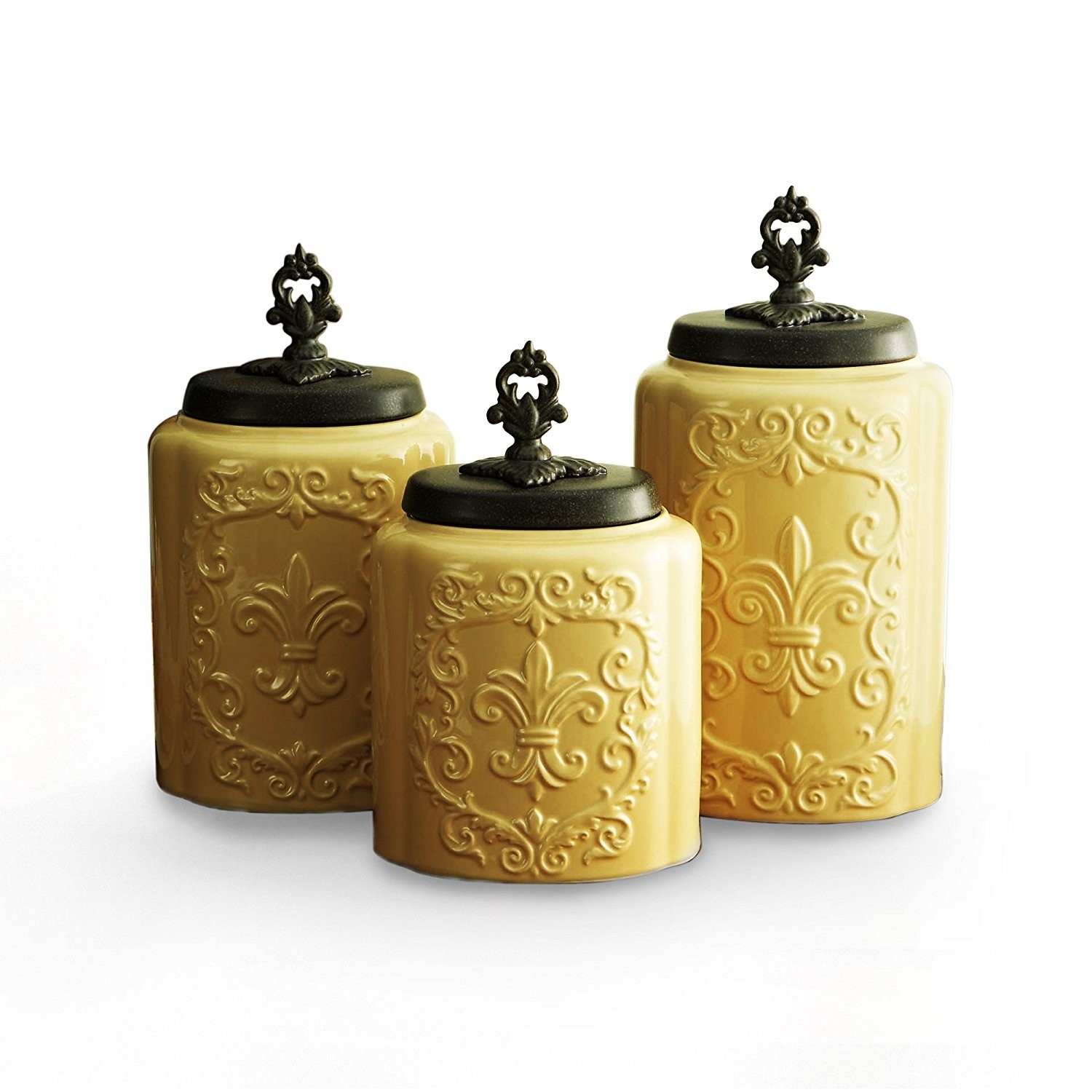 3-Piece Canister Set
A set of 3 aesthetic vintage-stylised containers for dry food. Their size-varied oval bodies are crafted of durable quality creamy earthenware with a beautiful floral design. Removable brown lids have seals and decorative stems.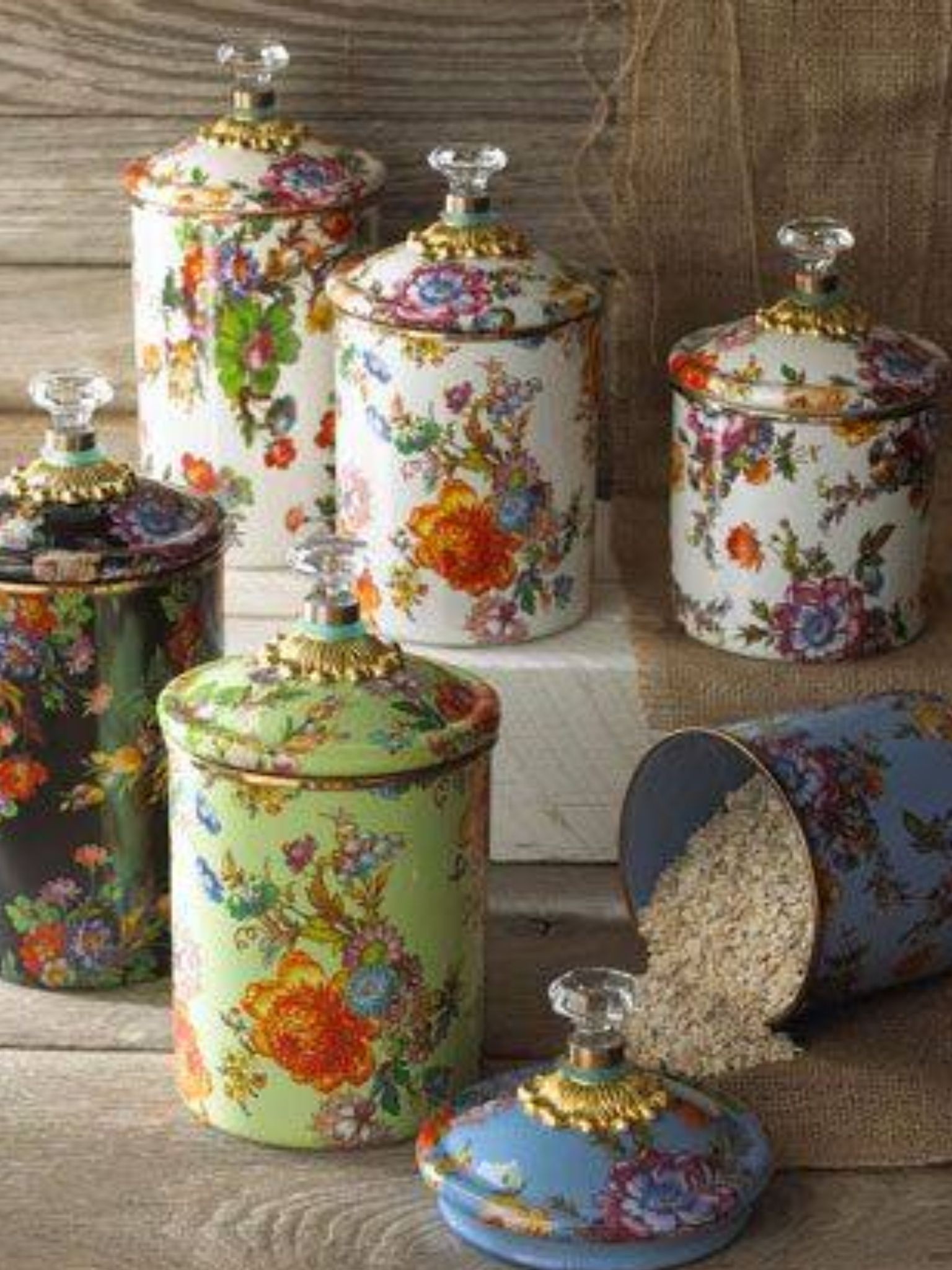 These enchanting metal kitchen containers with lids are a perfect combination of functionality and exceptional design. Beautiful coloring and floral motifs will give you an interior of the spring climate.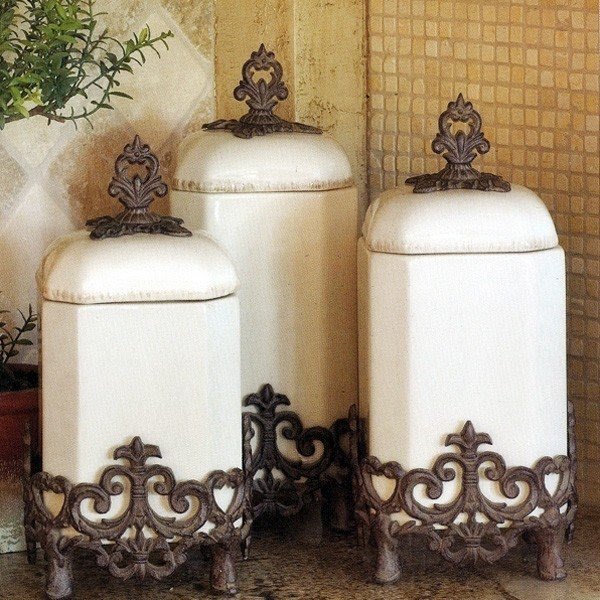 This charming set of containers is a charming way to make functional and beautiful decorations. Interesting decorative details are associated with a rural French idyll. Beautiful materials and colors add to the subtlety.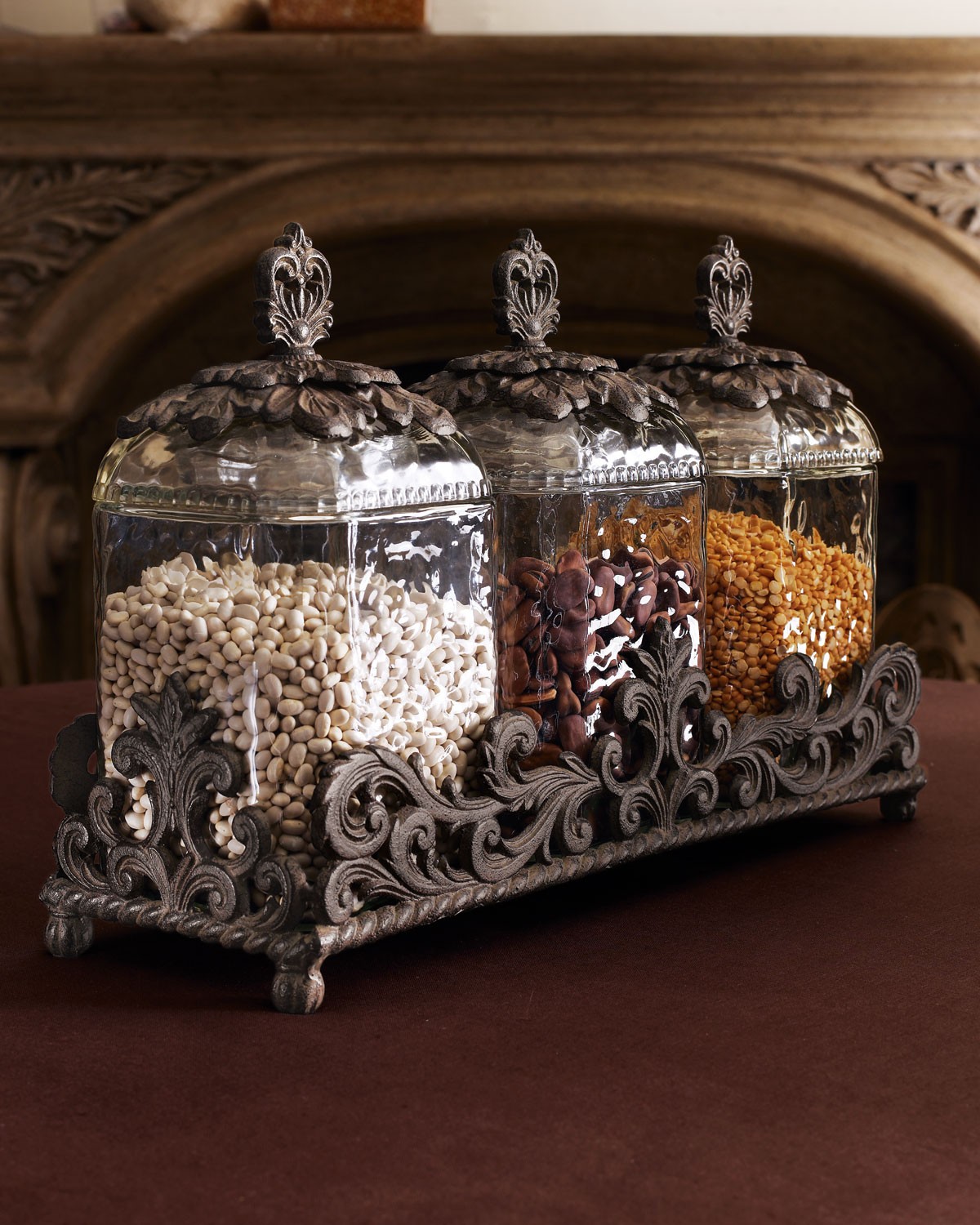 Very elegant set of three unique kitchen canisters. Each of them is made of glass and has beautiful sculptural lid made of metal. They are inserted in carved wooden rack. It can be used to storage spices, flour or snacks.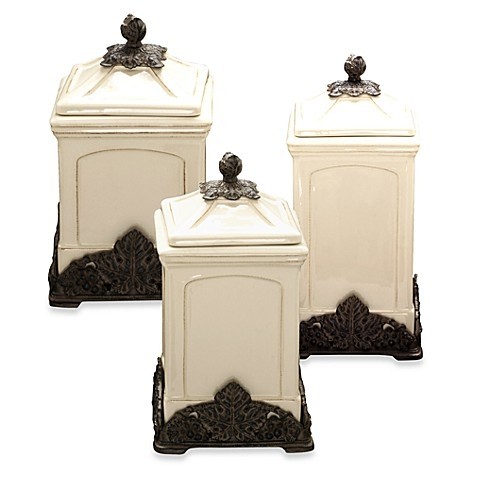 Ooooo, these might be the canisters I've been looking for. Prettttty! Arthur Court Designs Grape Tuscan Canisters - Bed Bath & Beyond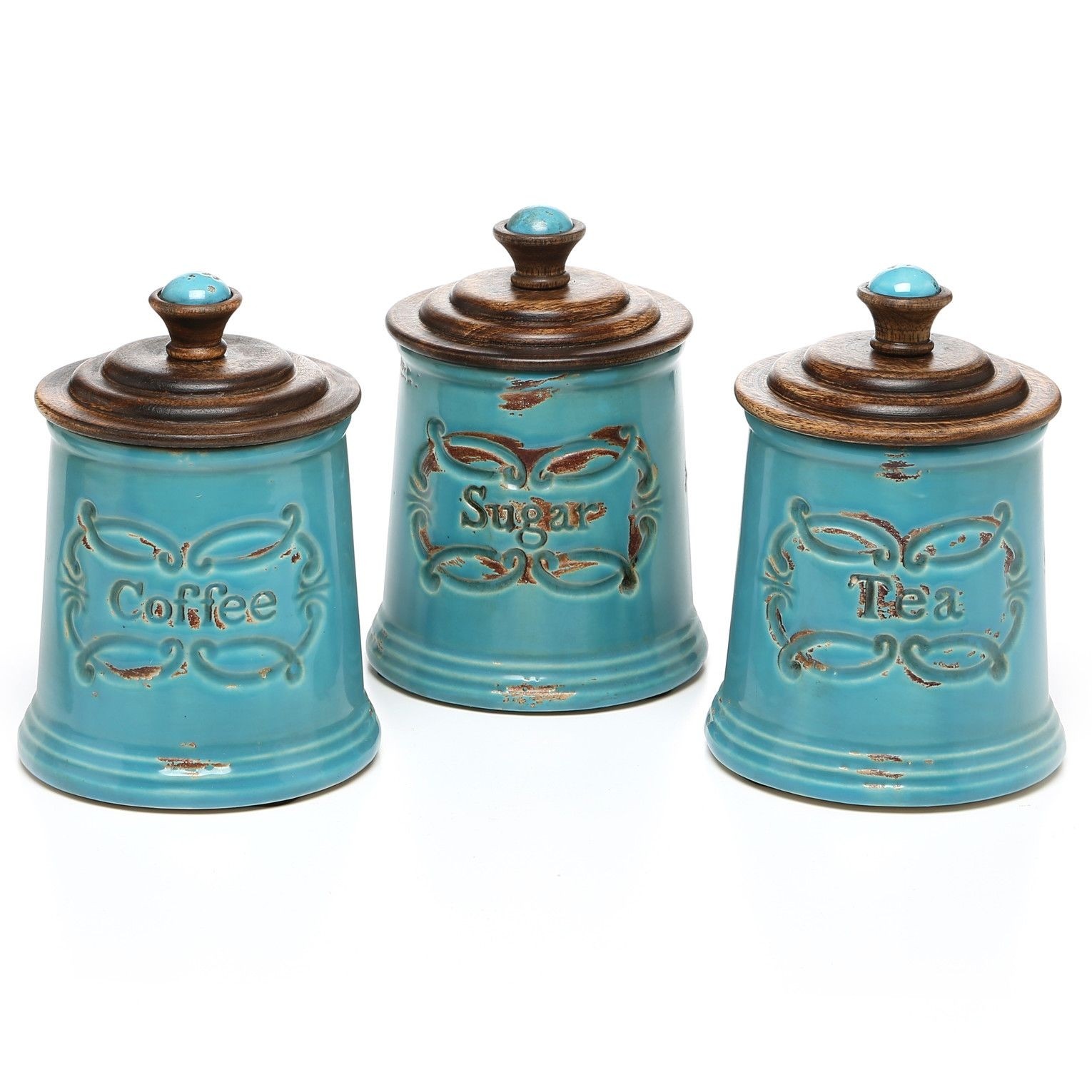 A vintage set of old-fashioned kitchen canisters made out of stained ceramic with wooden covers on top. The canisters are painted with a distressed and weathered coat of pastel blue paint, giving them a nice finish.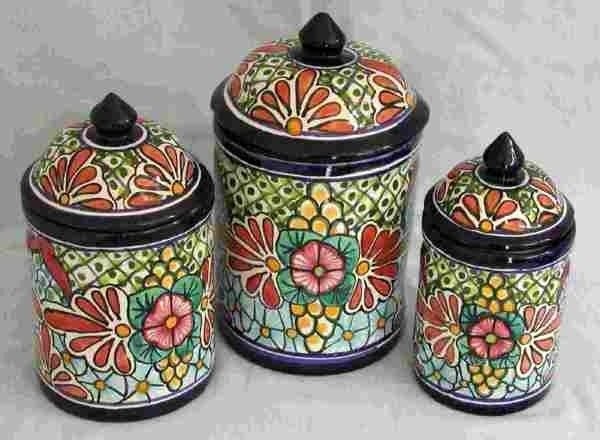 3 piece canisters set for storing spices, food and more. It is made of ceramic and fitted with lids. Front is decorated with floral theme. Handy gadget for any kitchen.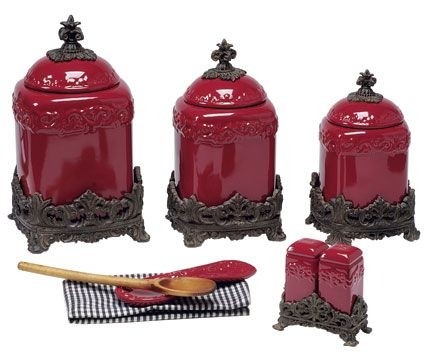 Astounding canister set with three pots of different sizes and a matching saltcellar and pepper pot. Dark red glossy finish of the pots matches the elaborate anodised metal bases boasting ornamental design.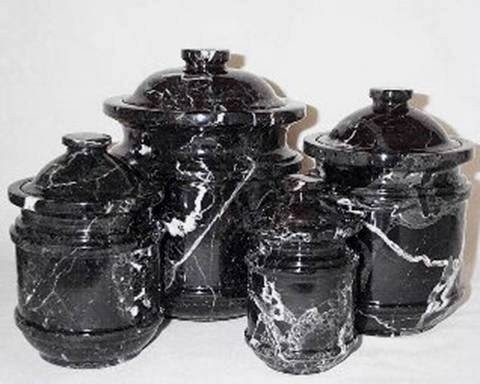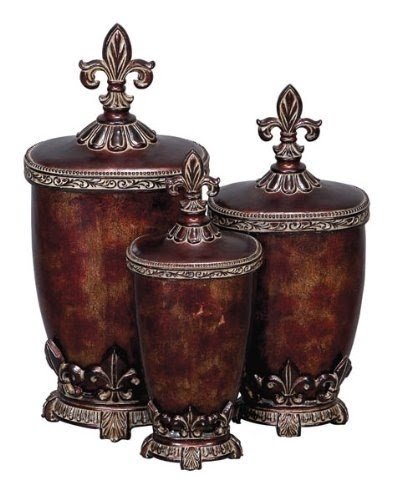 Set of Three Classy Glass Polystone Fleur De Lis Decorative Canisters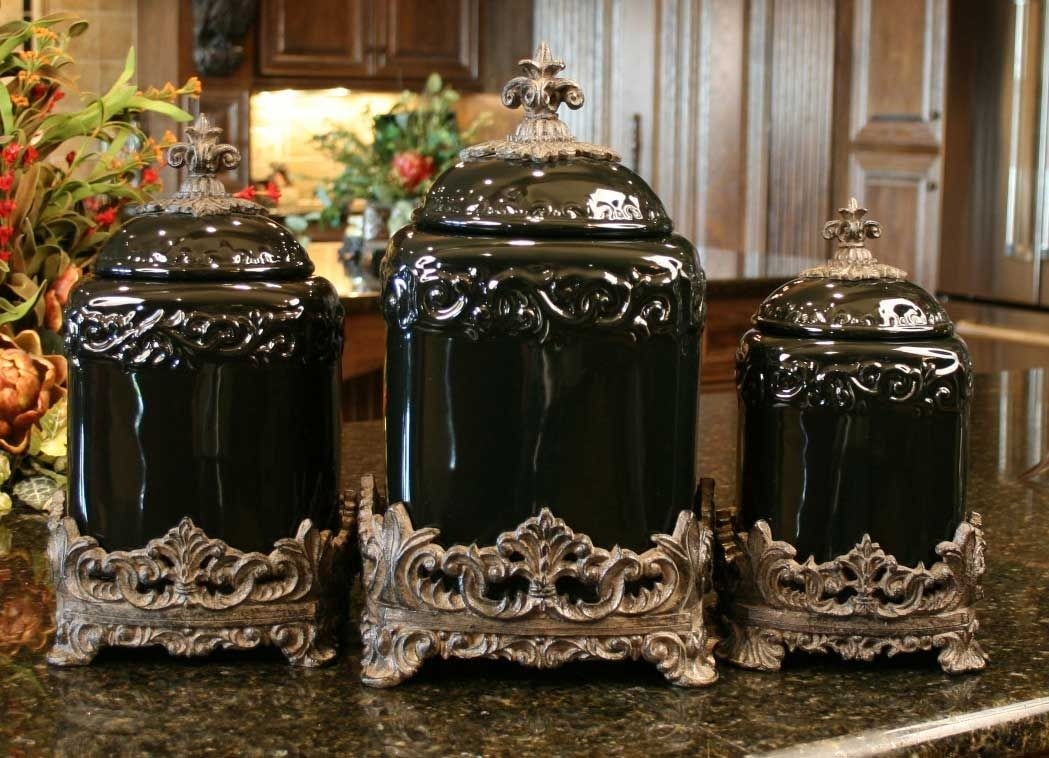 Details about Tuscan Drake Design Black Ceramic Kitchen Canisters S/3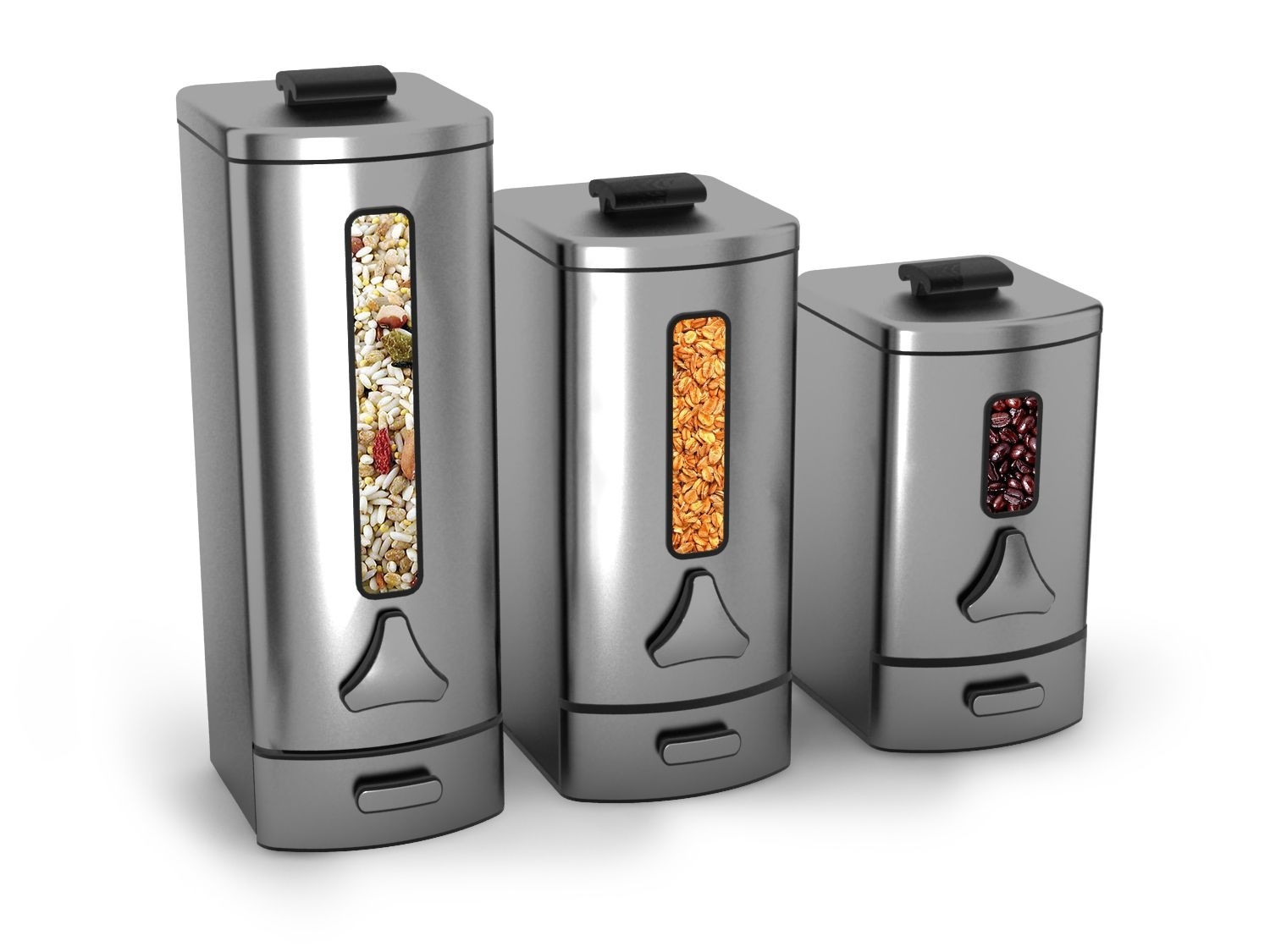 Set of 3 unique kitchen canisters in various sizes. Suitable for storing food. It is made of combination of metal and glass. Modern and functional design for each kitchen.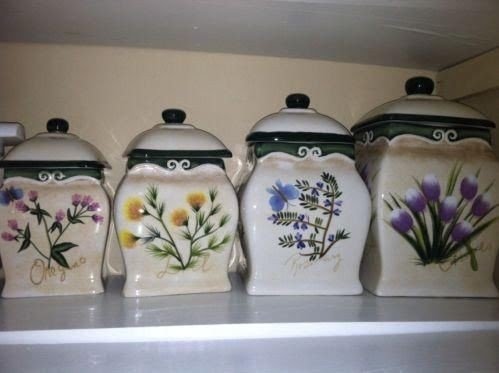 JPG?set_id=2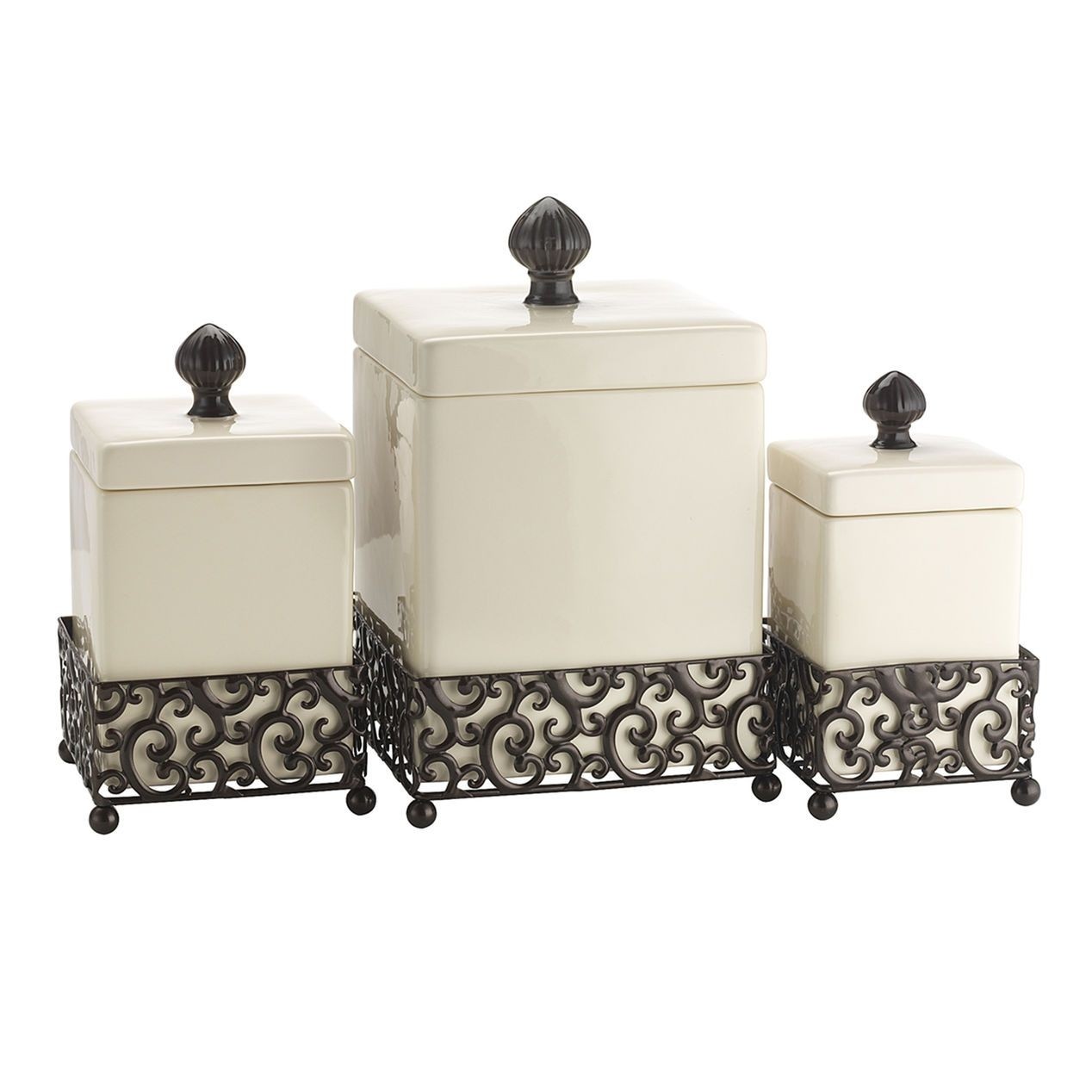 An antique set of unique kitchen canisters with adorable stands made out of wrought iron in a Baroque fashion. The canisters themselves are made out of white ceramic with iron handles, giving them a classic look.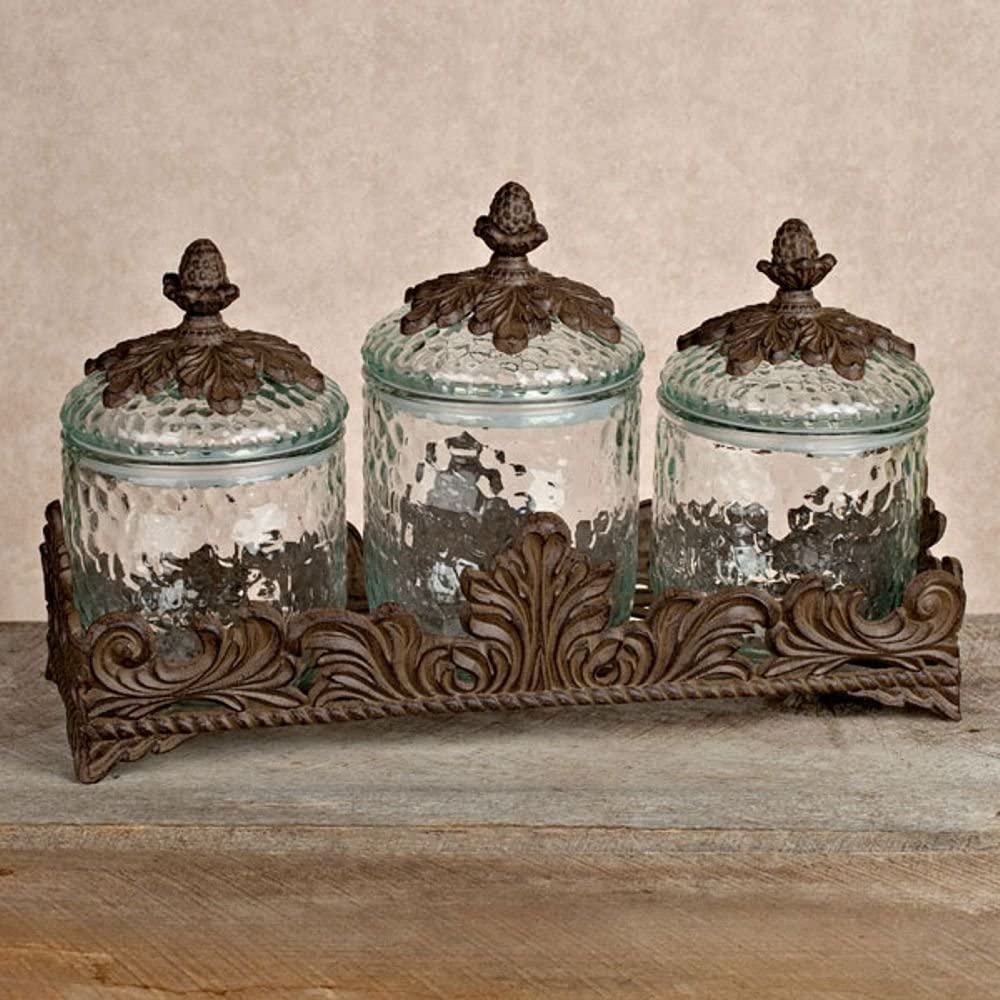 This set of glass canisters will embellish any kitchen space, adding a bit of the classic ornateness. A distinguished way to store your herbs and spices or tea bags. Thick, crystal finish will provide solidness for years.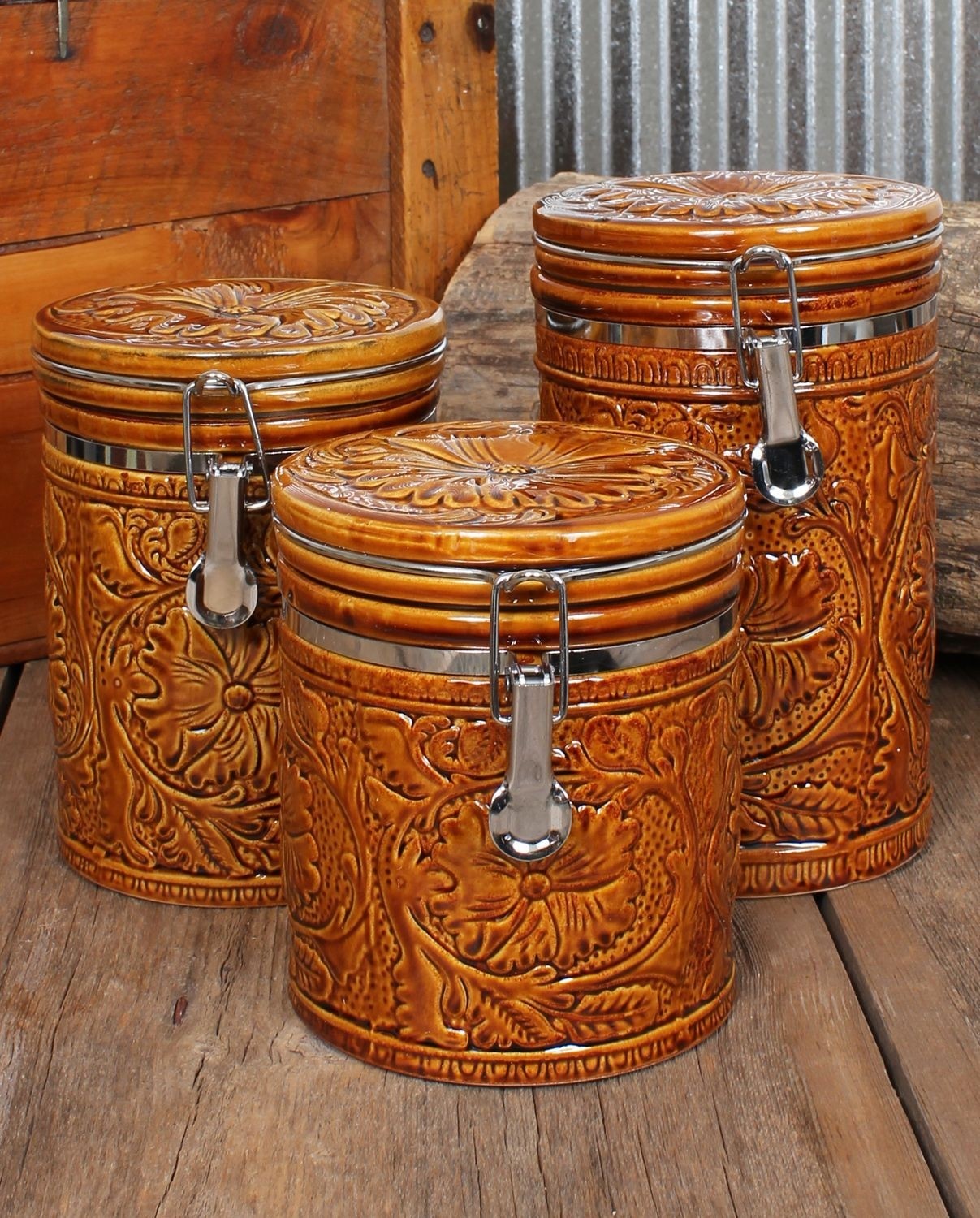 Tooled 3 Piece Canister Set :: Home Decor :: New Arrivals :: FEATURES :: Fort Western Online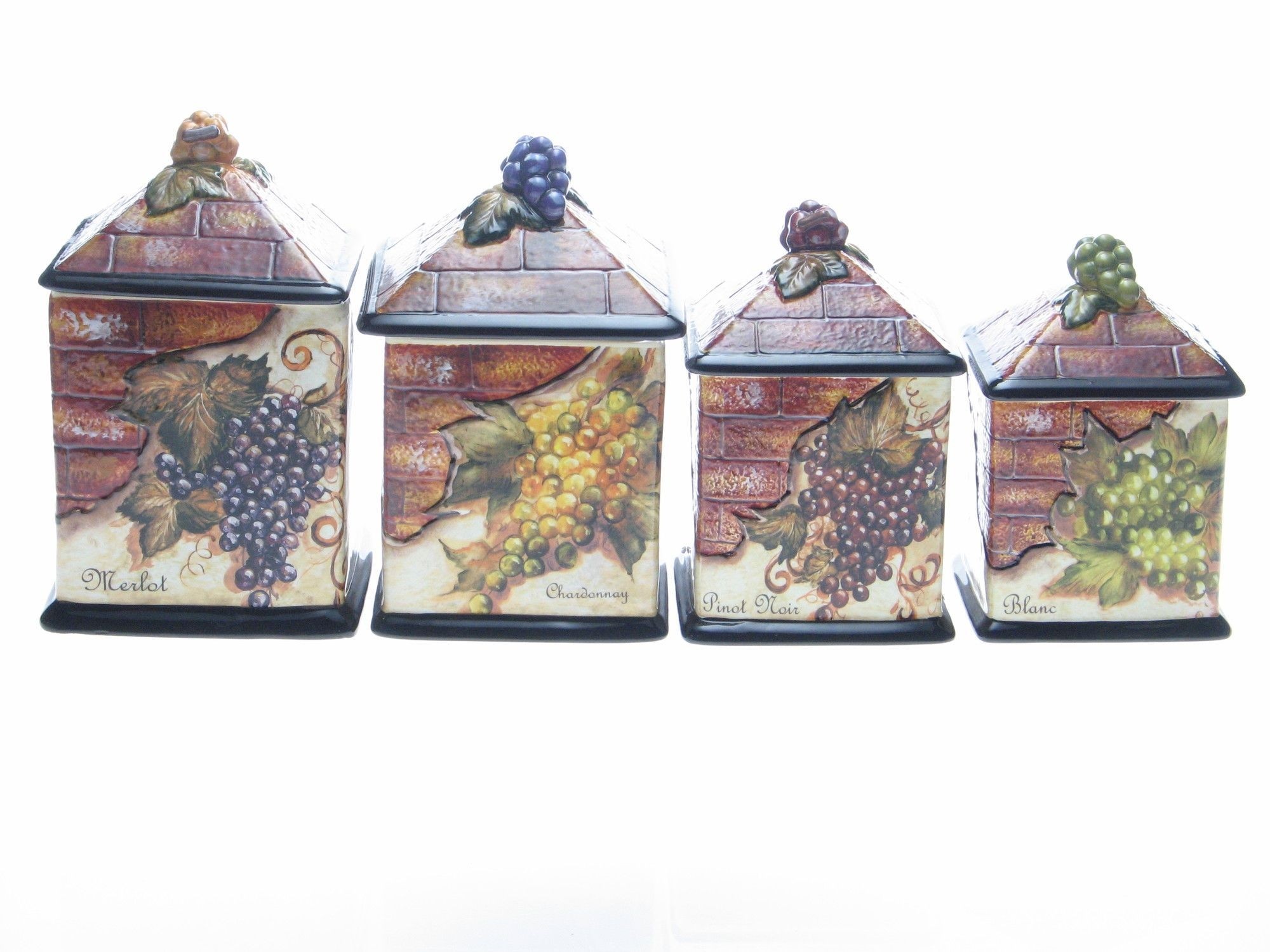 Add this decorative canister set to your kitchen for a colorful and functional style update. The earthenware containers feature bright fruit-themed designs. The set includes four canisters with lids, ranging from small to extra-large sizes. h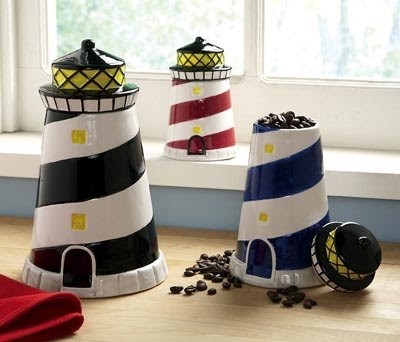 Lighthouse Kitchen Decor | Lighthouse Decor Kitchen Canisters from Collections Etc.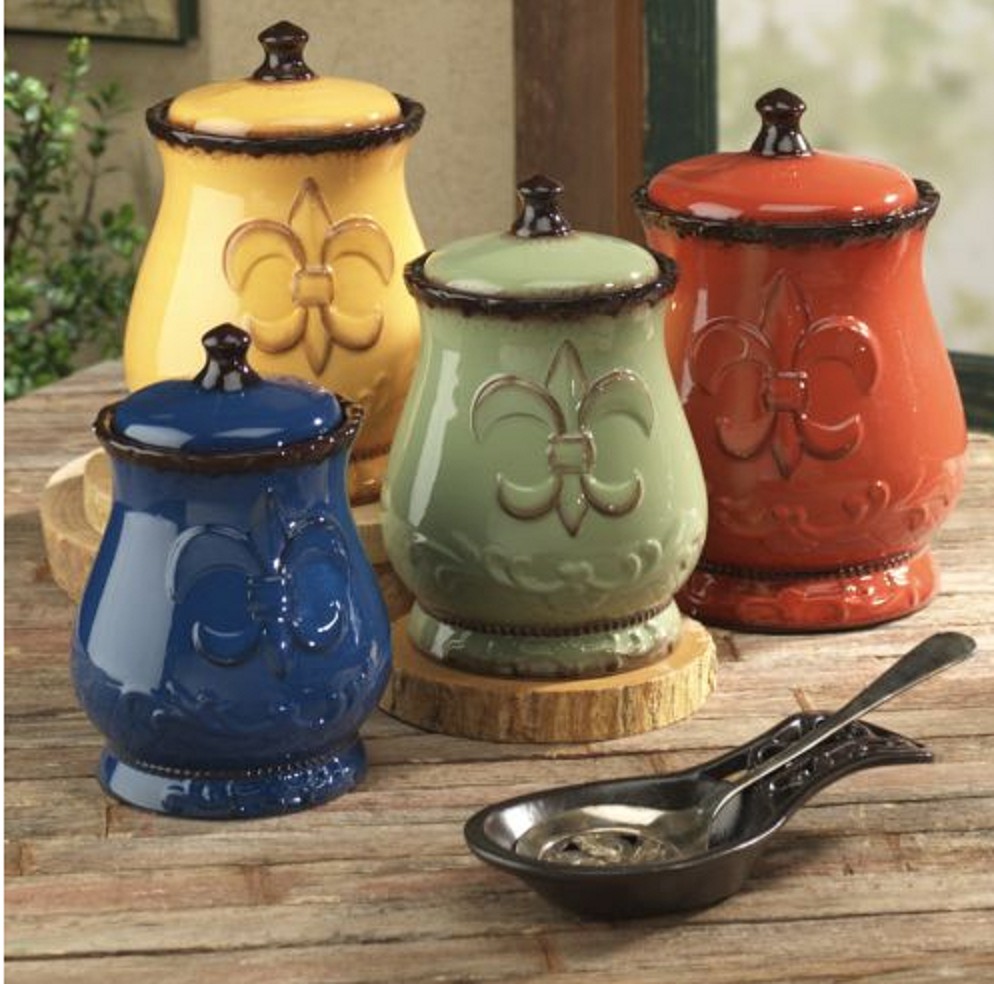 Set of 4 kitchen canisters made of ceramic and finished with interesting ornament. Includes lids fitted with comfortable grip. Stylish accent for each kitchen. Received a lot of great reviews from customers.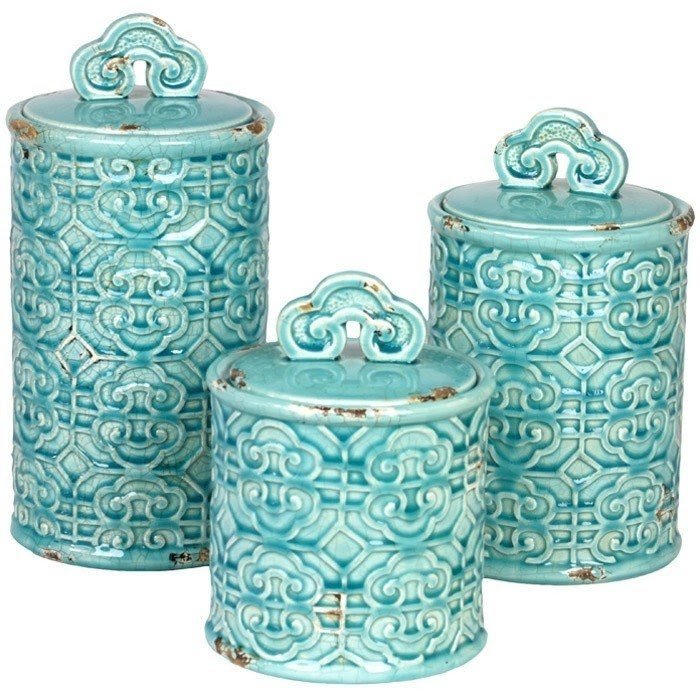 Check out other gallery of Turquoise Kitchen Canisters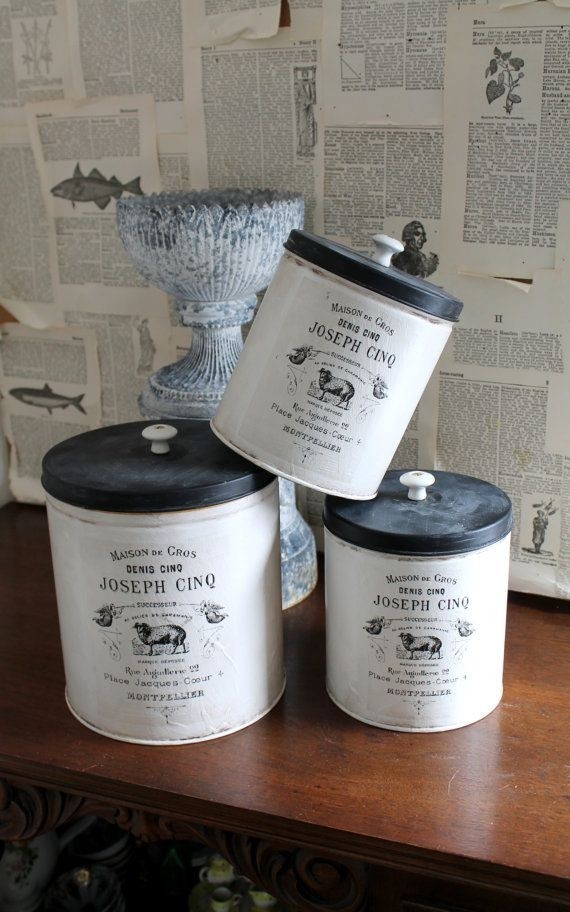 This is a adorable canister set of three created from recycled tins.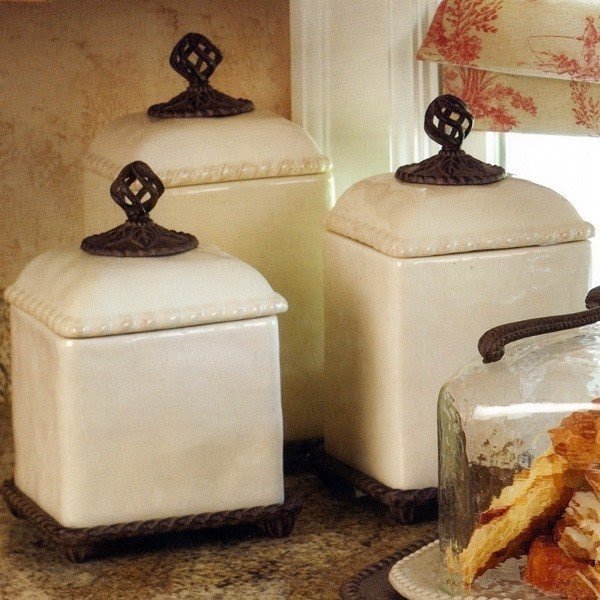 Barcelona Canister Set traditional-kitchen-canisters-and-jars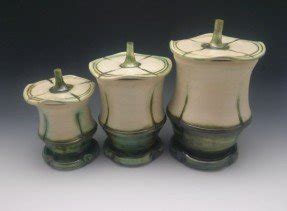 Canister Set Flour and Sugar Canisters Coffee, Candy In the Kitchen ...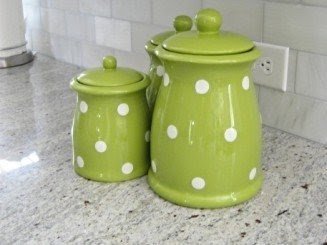 Decorative Kitchen Canisters Sets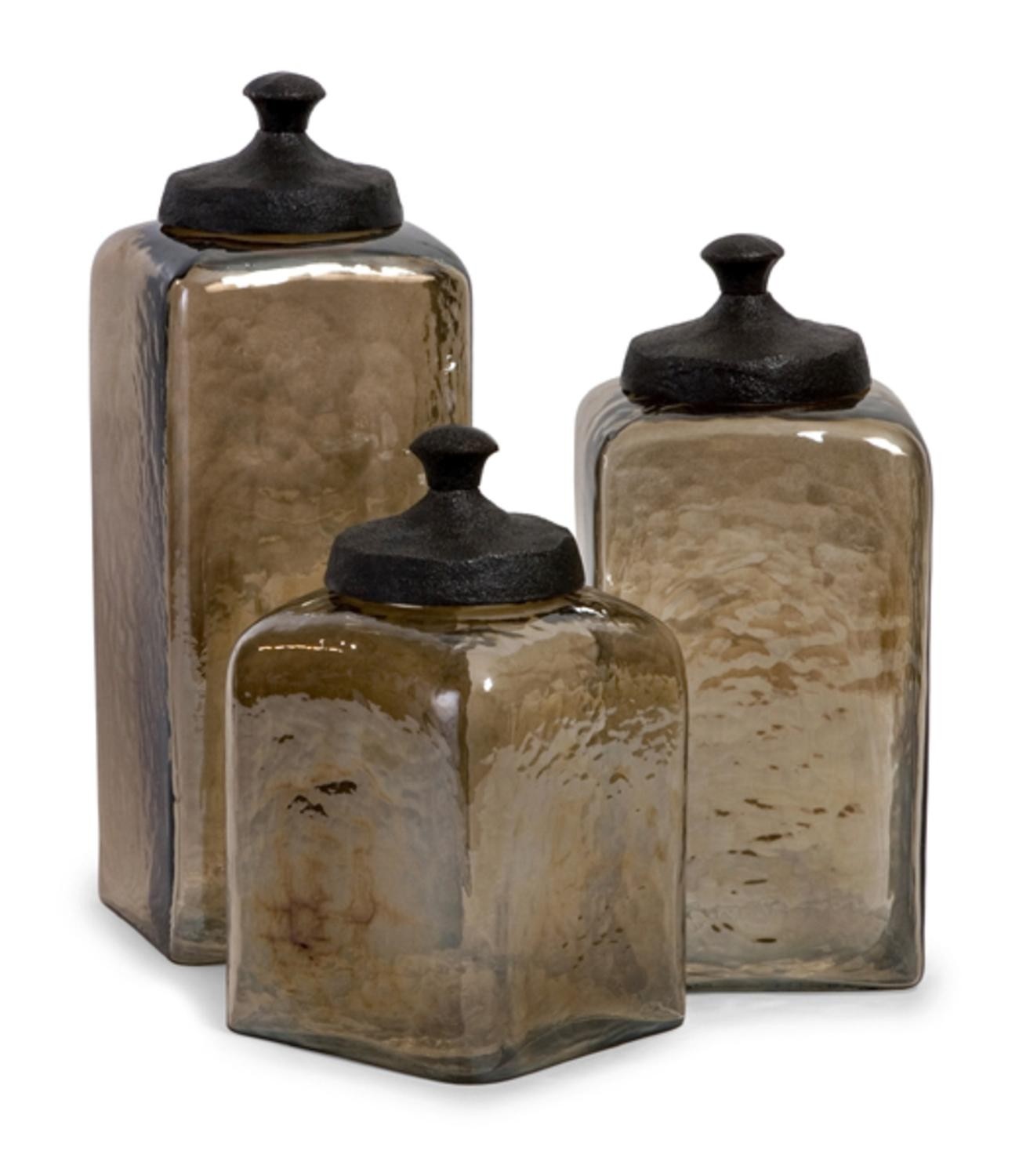 Set Of 3 Decorative Tan-Tinted Square Kitchen Canisters Supplier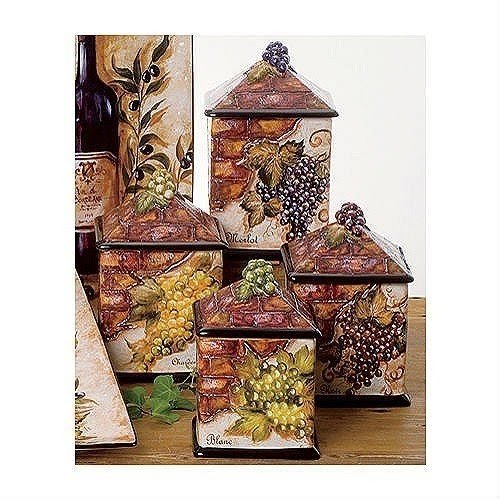 ... Canister Set, 4 Pc Set, Includes Canisters Only, Other Pieces Sold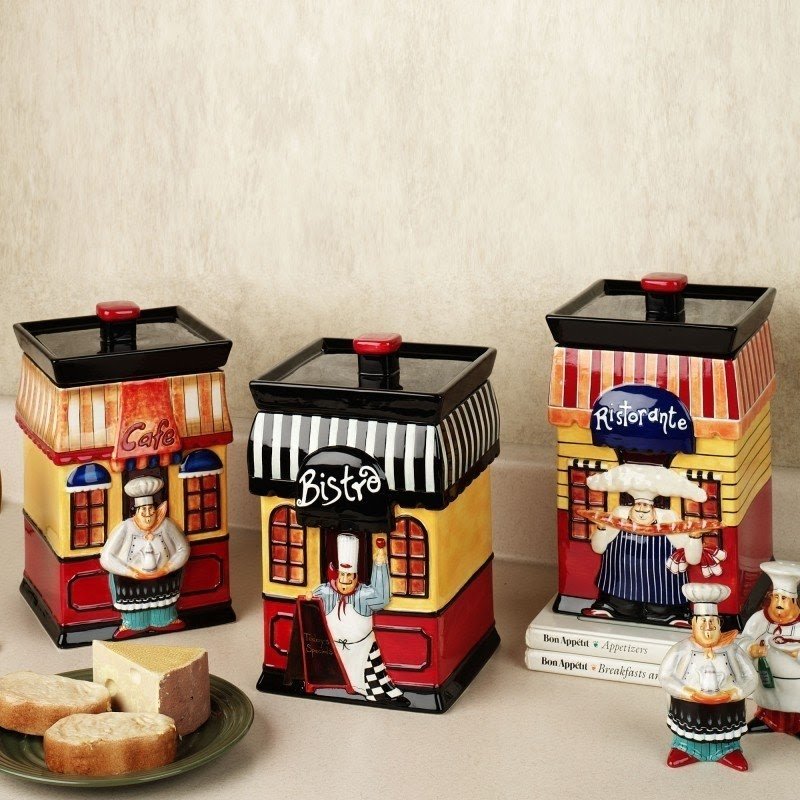 Trattoria Canister Set Multi Warm Set of Three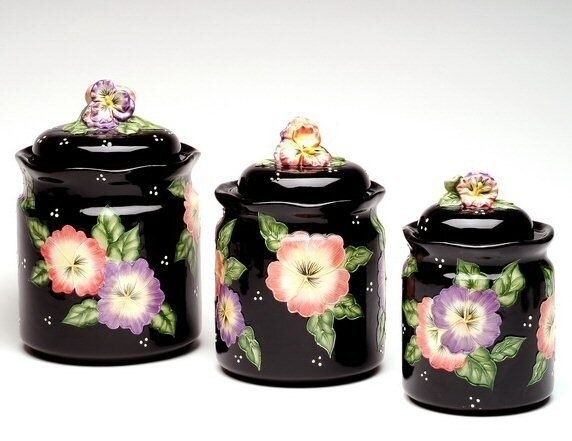 Appletree Pansy Madness Canister by Appletree. $55.16. Set of 3 canisters. Dolomite material. Hand wash to insure longevity. Enjoy this unique pansy canister set, perfect in your kitchen or as a gift for someone special. Comes gift boxed.. Save 12%!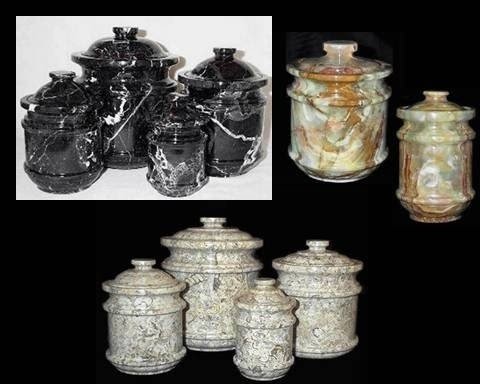 marble-kitchen-canister-sets-onyx-canisters-marble-stone-jars-5.gif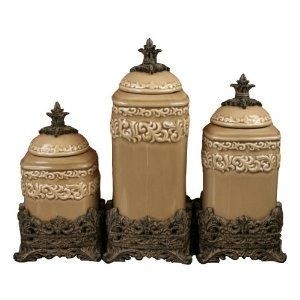 These Drake Design Canister Sets are quite lovely and unique. They would go great in a traditional kitchen, Victorian kitchen, French country...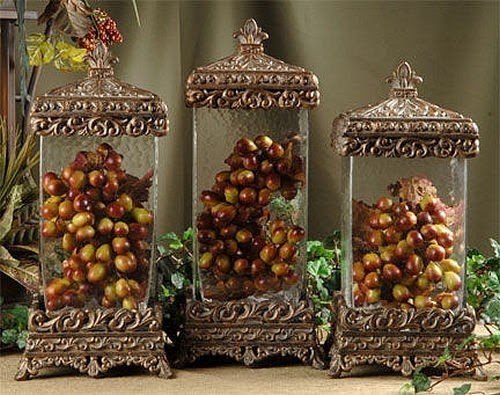 Kitchen Canister Sets Liven Up Your Kitchen Decor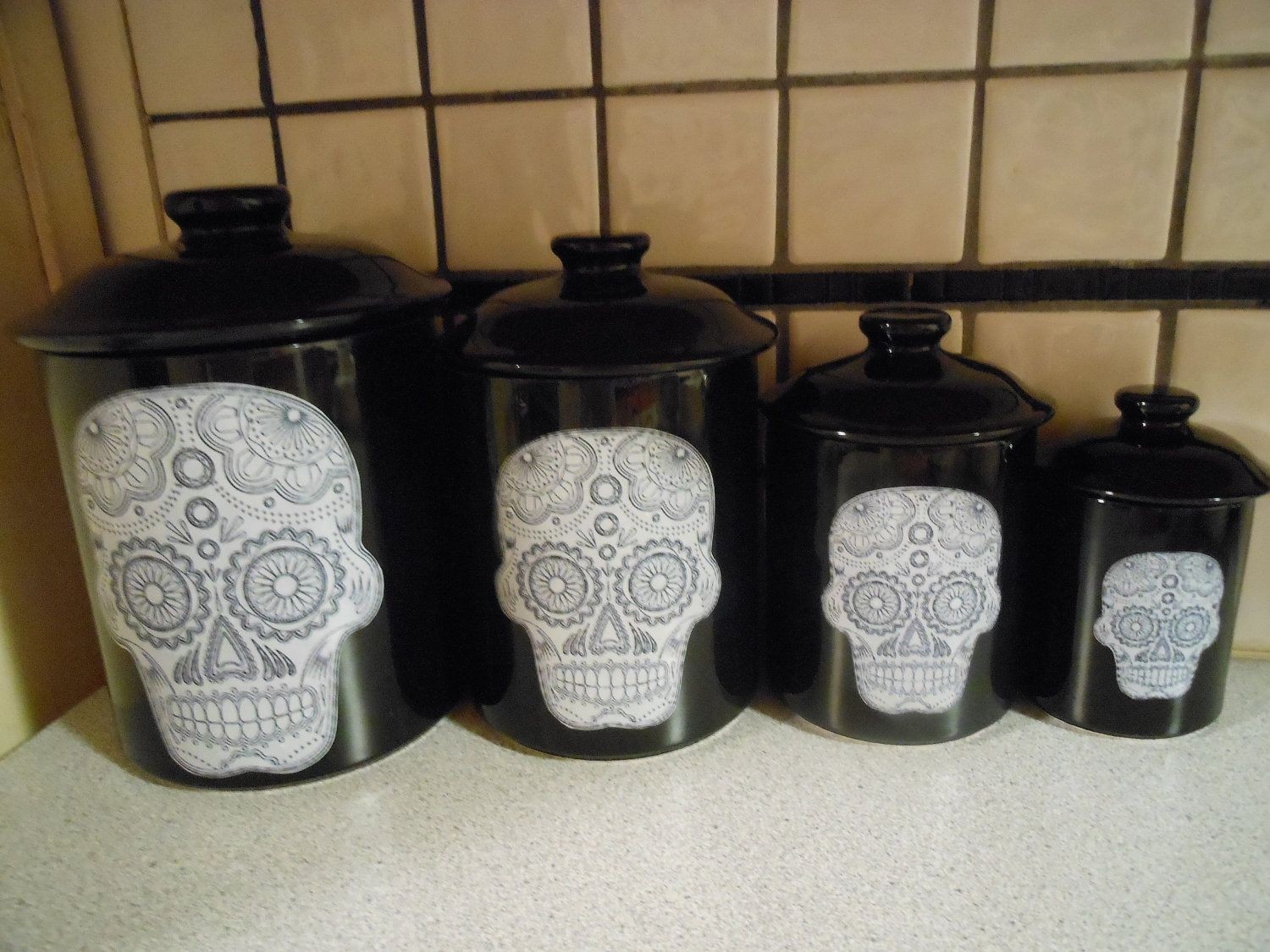 Make your kitchen a bit scarier with those 4 different size sugar canisters. Each of those morbid beauties has a painted black body with a matching lid, and a large, white skull print in the front.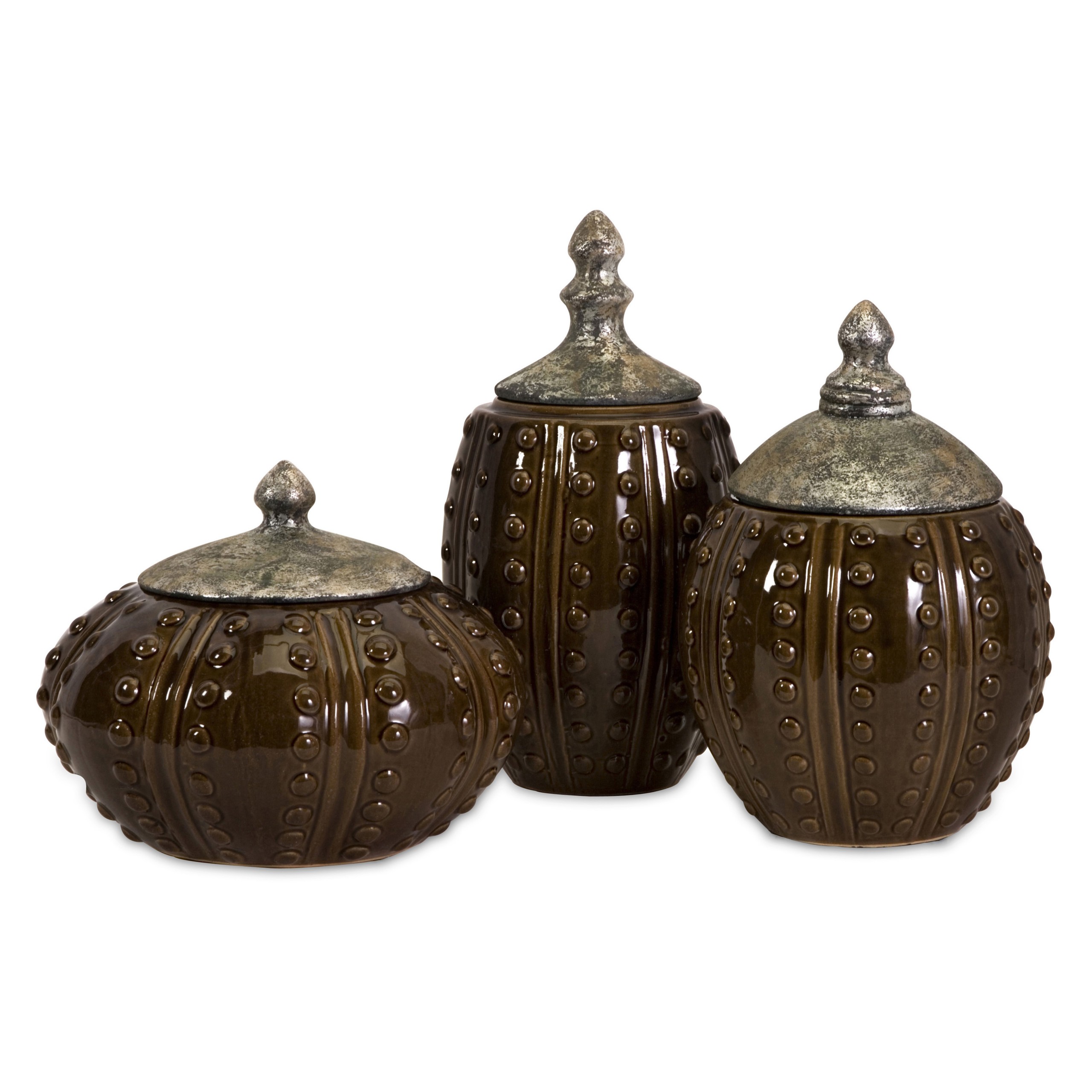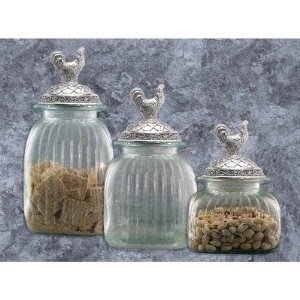 This clear glass kitchen canister set enchants with its ornate, detailed finishing. Each of the items is finished with a wonderful, detailedly crafted rooster. A good proposition for all shabby chic or classic kitchens.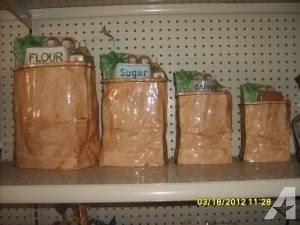 Unique set of canisters for kitchen applications. These decanters add a flavor of the Tuscan Hills to any kitchen. They feature beautiful soft colors and some decorative carvings. They are also durable.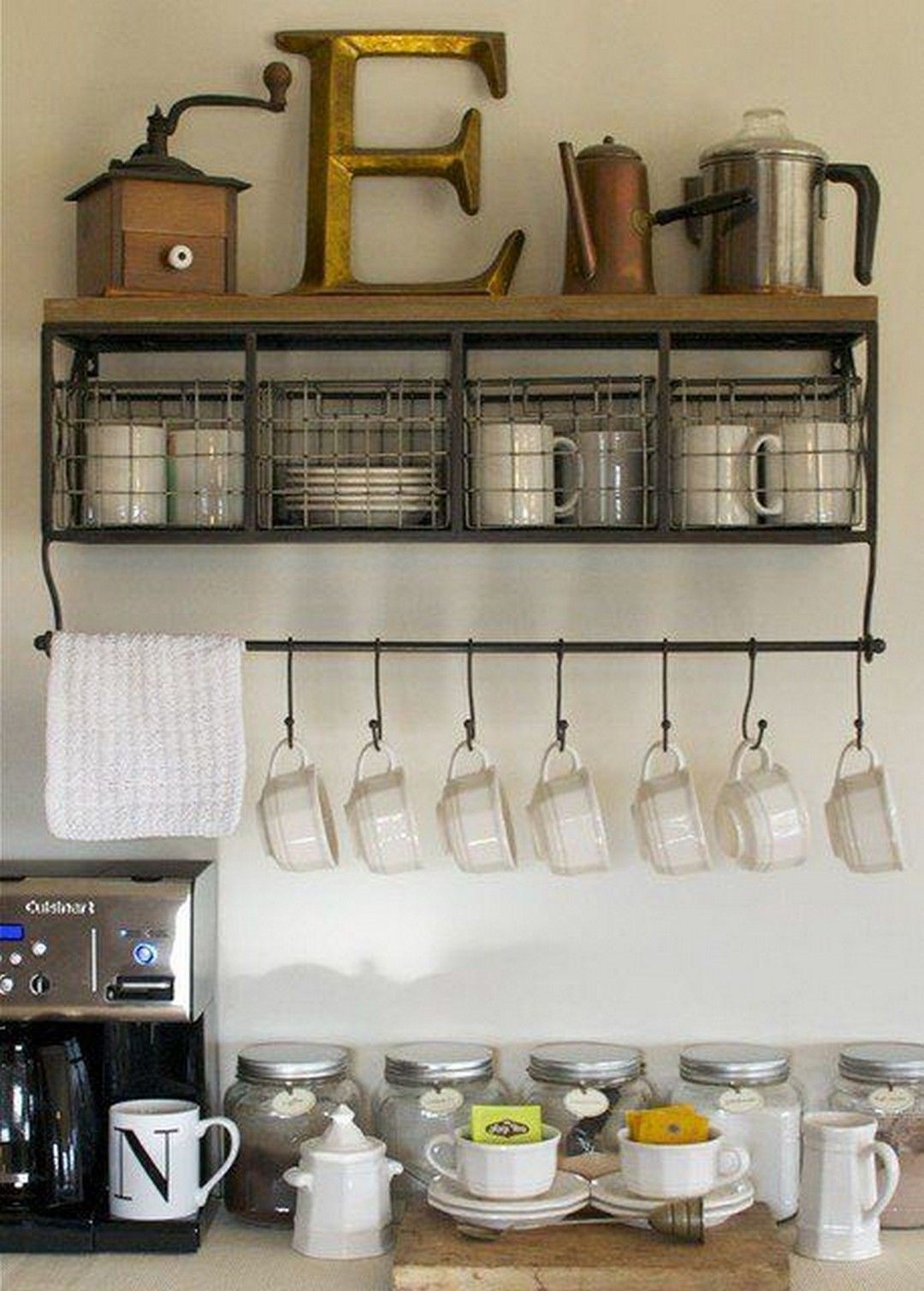 If you have room to spare, make your own elaborate hot-drink haven. Carrie from The Vintage Wren filled this handy shelf with cups and uses labeled glass canisters to store coffee, creamers, cocoa, tea and Splenda. To top a setup like this off, use a dual