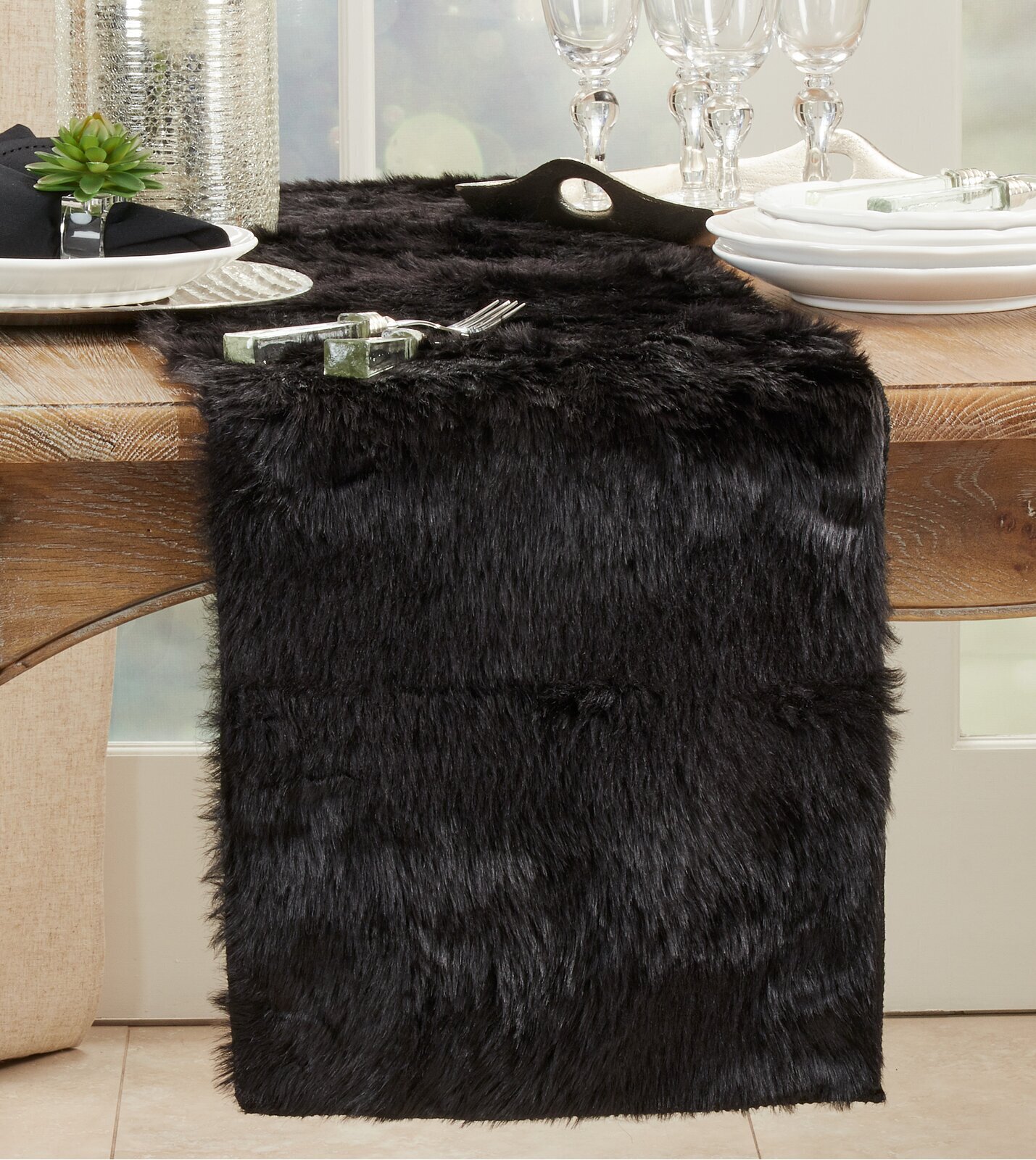 Furry Runner
Greyleigh™
Fluffy and soft, this piece brings glam table runner ideas to life! Made of 100% plush polyester available in three neutral colors. Offered in three sizes, its span can cover rectangular tables or across square and round ones.
Whichever you use; this runner will lend a dreamy touch to your tablescape. This is the perfect piece to turn your winter wonderland Christmas dreams into reality.
$18.99 $39.15
Designer Advice:
Use the black option if you want to recreate that luxurious old Hollywood vibe. We recommend selecting one that contrasts with the color of your table for a dramatic look.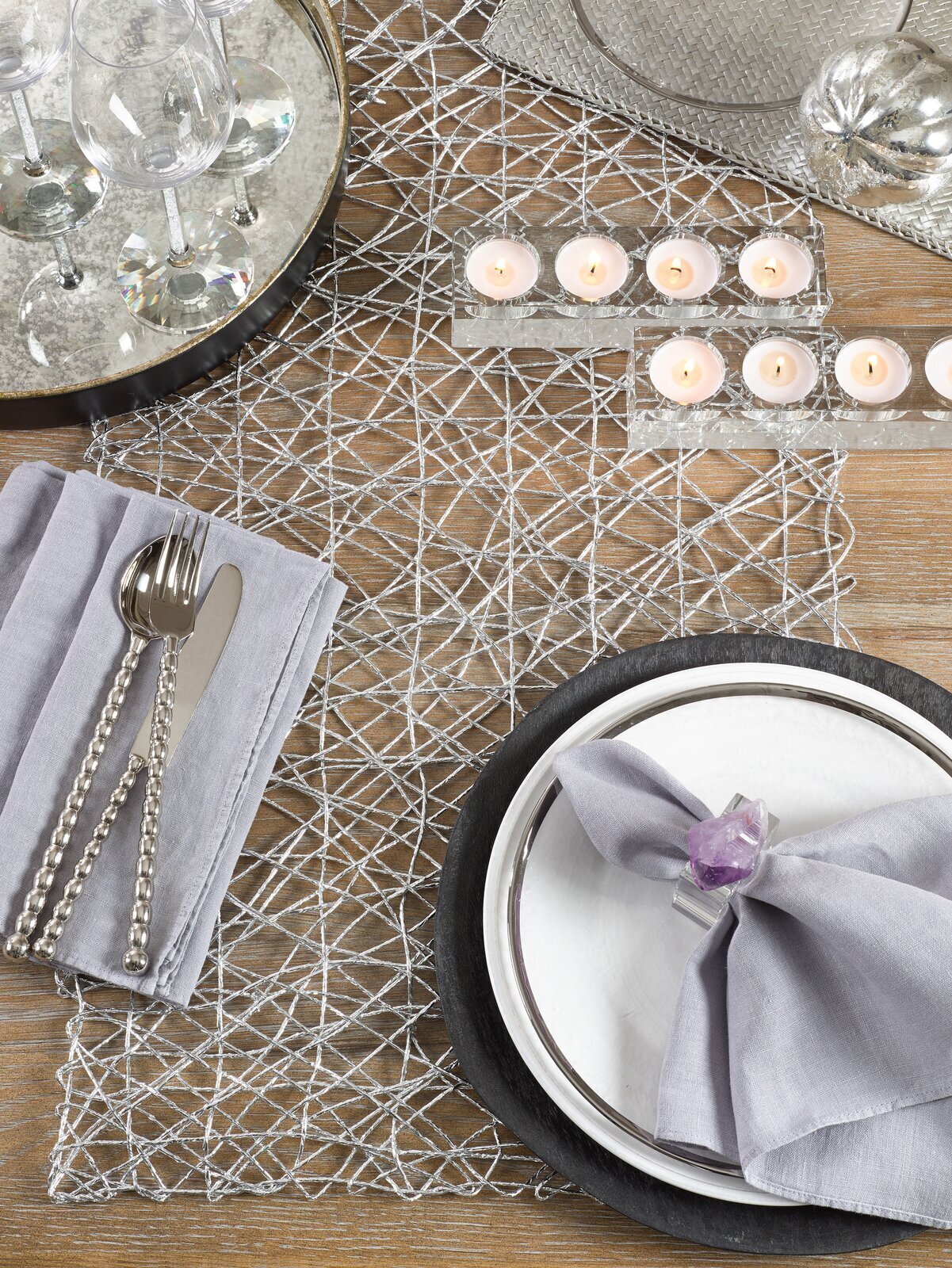 Webs of Fun
Latitude Run®
Reversible and handmade, these unique table runners are available in three colors. It has an open web-inspired design that can be shaped for table decor. Crafted in paper and plastic, it's a shimmery sheen and reversible functions.
Wow your guests and loved ones with its distinct appeal.
$38.99 $46.99
Designer Advice:
You may opt to connect two pieces together to cover a long table. Its mesh-like aesthetic will also lend the right amount of texture when placed on top of a fabric runner. We recommend placing a décor on top of the ends to keep it from rolling inwards.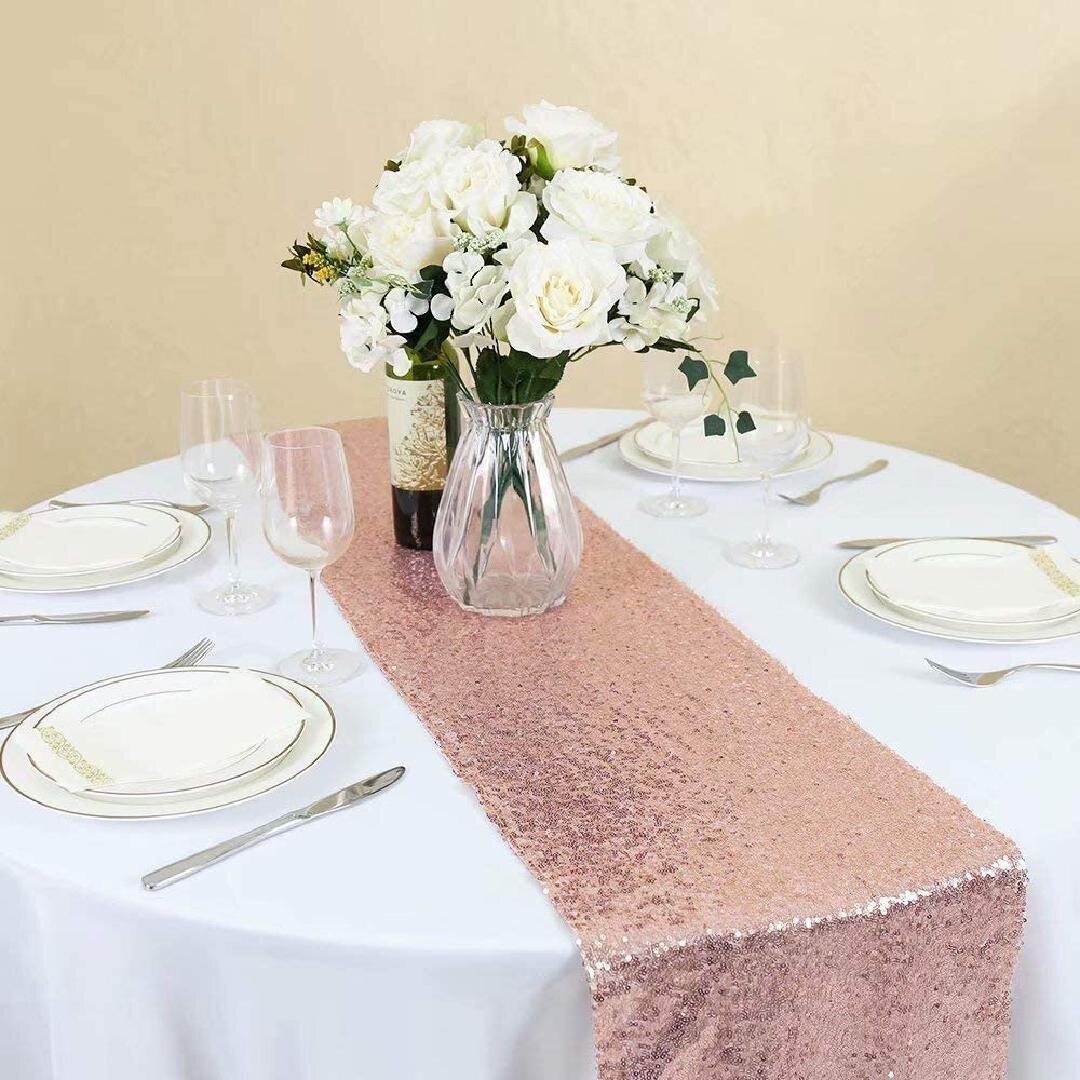 Shimmering Splendidness
The Party Aisle™
Bring out the sparkle with this glitter table runner made of polyester mesh and covered in shiny sequins. Offered in three colors, and available in two sizes, it's also possible to customize the dimensions.
The glamourous appeal of this item will surely satisfy your dream table runner design ideas for special romantic occasions.
$69.99
Designer Advice:
Pair it with a light-colored table cover and combine it with metallic décor to elevate the luxurious look of your tablescape. It's stain and water-resistant and you can easily machine wash after using it.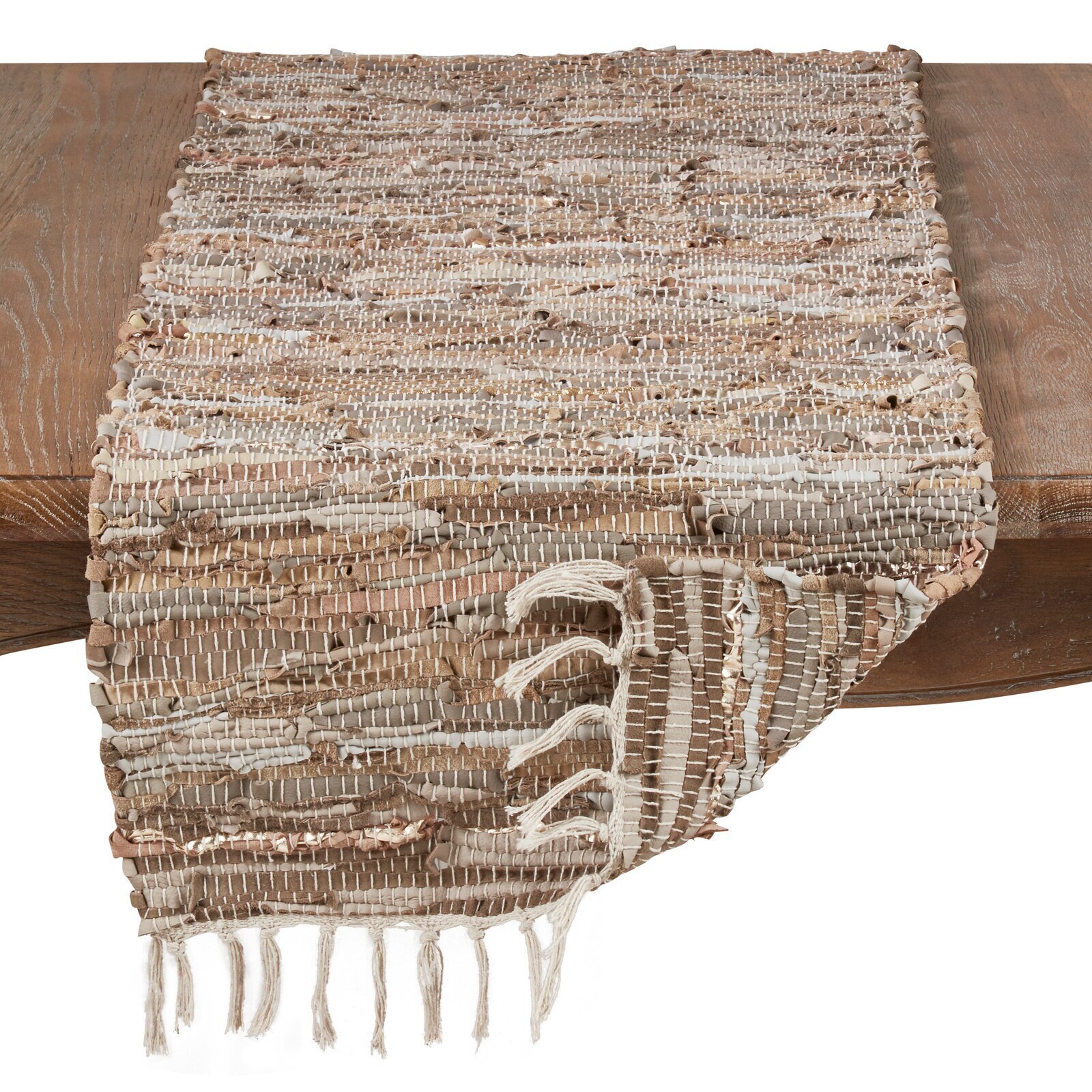 Textured Runner
Beachcrest Home™
Featuring rich textures and subtle colors, this unique table runner is made of Chindi leather and cotton with threading details and tasseled edges. The oblong-shaped item is reversible and is offered in five sizes.
With its distinct appeal and rustic qualities, this piece will immediately lend an impact as a table centerpiece.
$39.99 $44.99
Designer Advice:
It exudes an artisan vibe that is perfect for bohemian and eclectic interiors, as well as in farmhouse and contemporary spaces. It's recommended to only dry clean it instead of washing, to maintain its exquisite beauty for a long time.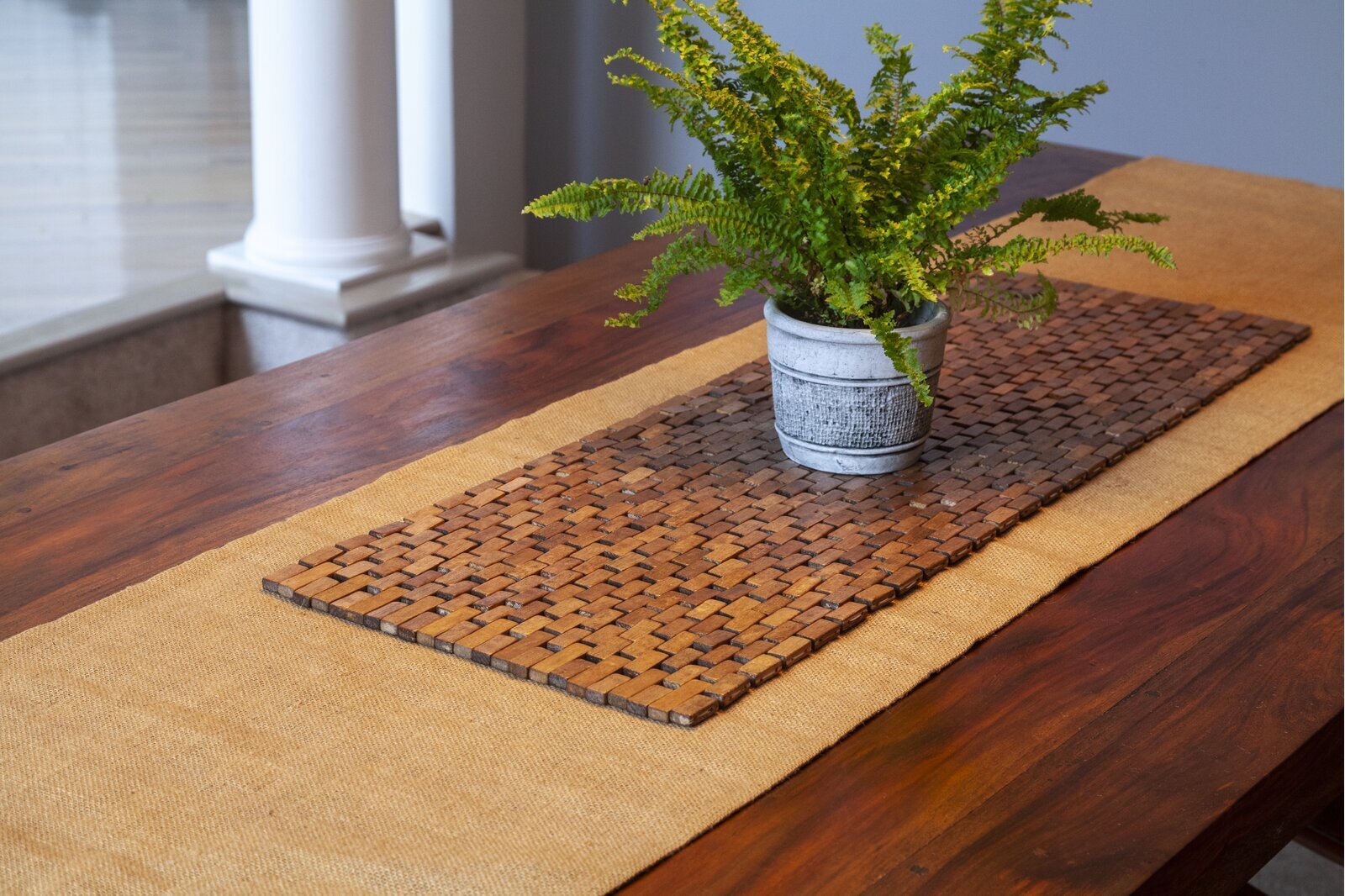 Wood Runner
Bay Isle Home™
A perfect example of unique table runner ideas, this handcrafted item is made of woven pieces of Acacia wood. Wrinkle and water-resistant, it has an organic touch and a natural finish available in two colors.
This is an exceptional item that celebrates the beauty of wood. Its versatile appeal will work in different interior styles and applications.
$59.99
Designer Advice:
Due to its compact dimensions, you might consider using it as an accent piece to another runner or use it in multiples to create a longer composition. It can be wiped with a cloth or cleaned through handwashing.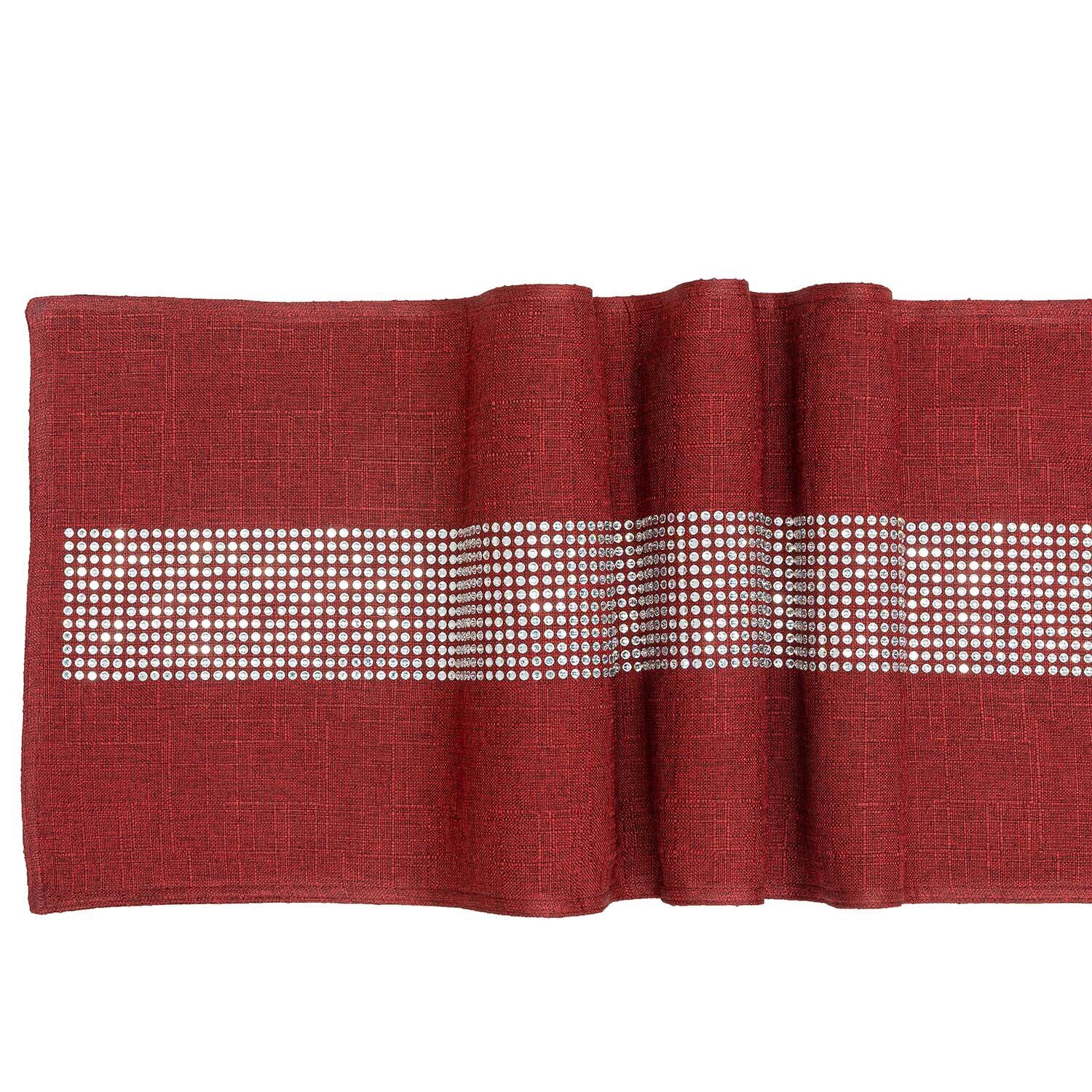 Crystals on Fabric Runner
Everly Quinn
Offered in six colors and three sizes, these gorgeous table runners feature a solid-colored fabric with rhinestone detailing. The polyester material has a nice crisscross texture that contrasts with the sparkly appeal of the crystals.
With its refined elegance, this runner is a versatile item that will lend sophistication to any interior style.
$72.99
Designer Advice:
Get the light-toned neutral options when pairing with farmhouse, transitional, contemporary, or traditional décor. Meanwhile, the red and black runners will definitely bring drama to modern and eclectic spaces. Keep the rhinestones intact by washing the runner in a delicate setting.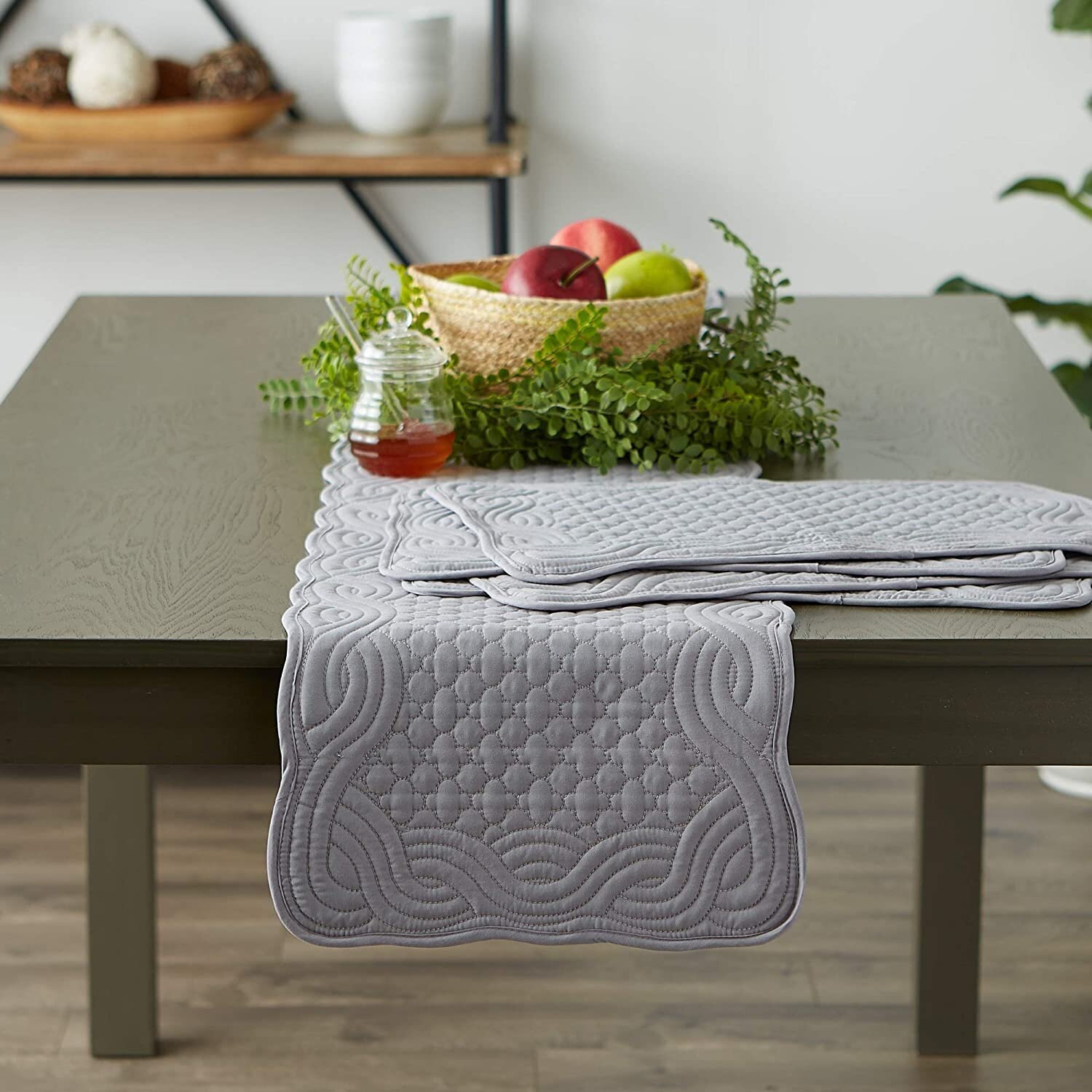 Runner with Dreamy Patterns
Red Barrel Studio®
Never run out of quilted table runner ideas with this reversible piece that shows a swirly paisley print on one side and a Moroccan design on the other. It is made of cotton with a scalloped edge.
Designer Advice:
Give a boost of freshness to shabby chic, cottage style, bohemian, and eclectic interiors. Get a whimsical tablescape by coordinating this piece with gold, bronze, and pastel décor. With its small dimensions, you can connect two pieces together if you plan on using them on a long table.
Merchant links are sponsored