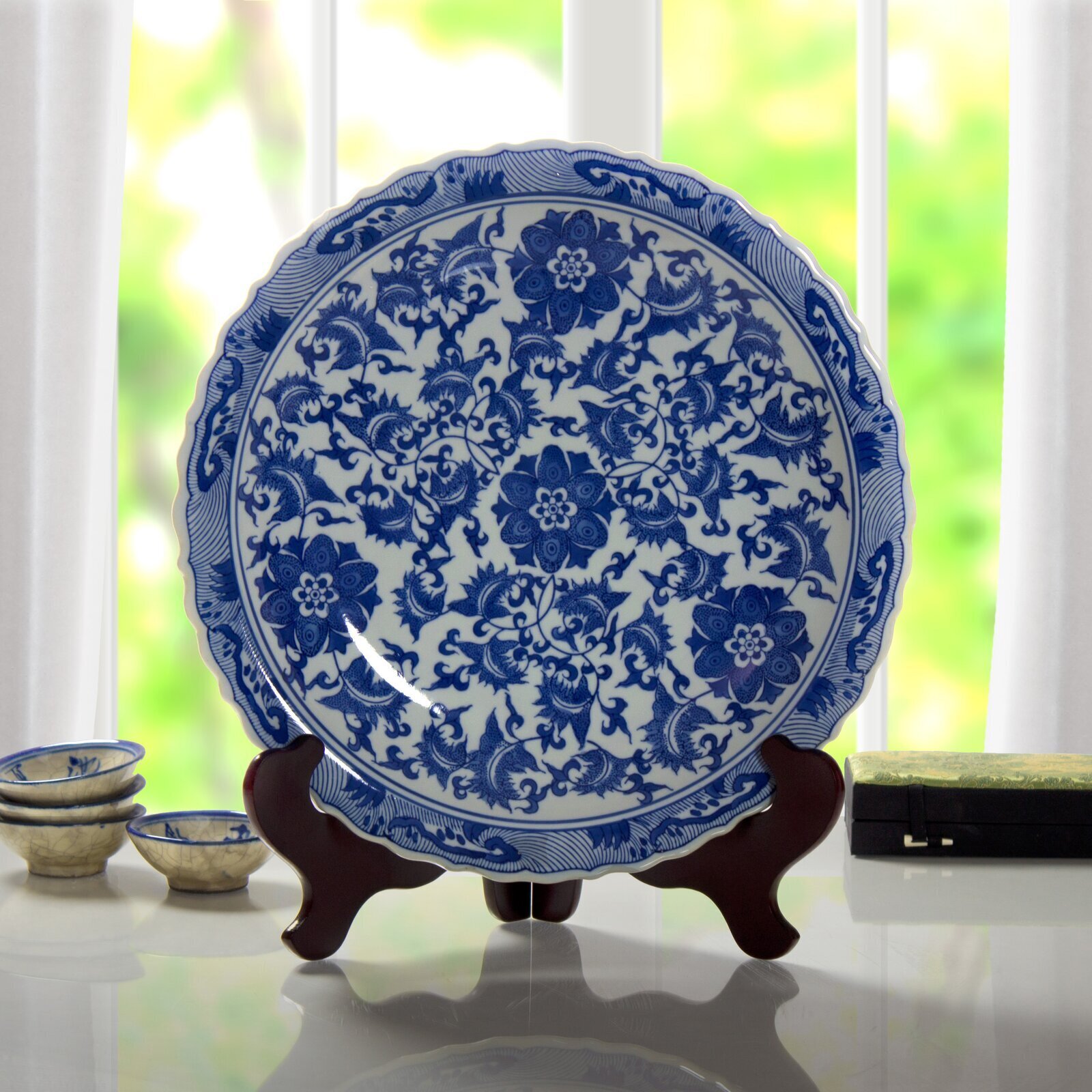 Classic Blue and White Floral Motif Ceramic Wall Plates
This 14" in diameter Chinese-inspired ceramic plate wall decor fits all fashions. The traditional flower and vine motif is a vintage blue ink on antiquated white ice crackle glazed porcelain.
Designer Advice:
Vintage Chinese decorative wall plates are popular for modern, art deco, and mid-century themes. The traditional blue dye contrasts starkly against the bright white glazed porcelain that stands out as wall art. And the floral motif is a timeless look that never goes out of style.
Merchant links are sponsored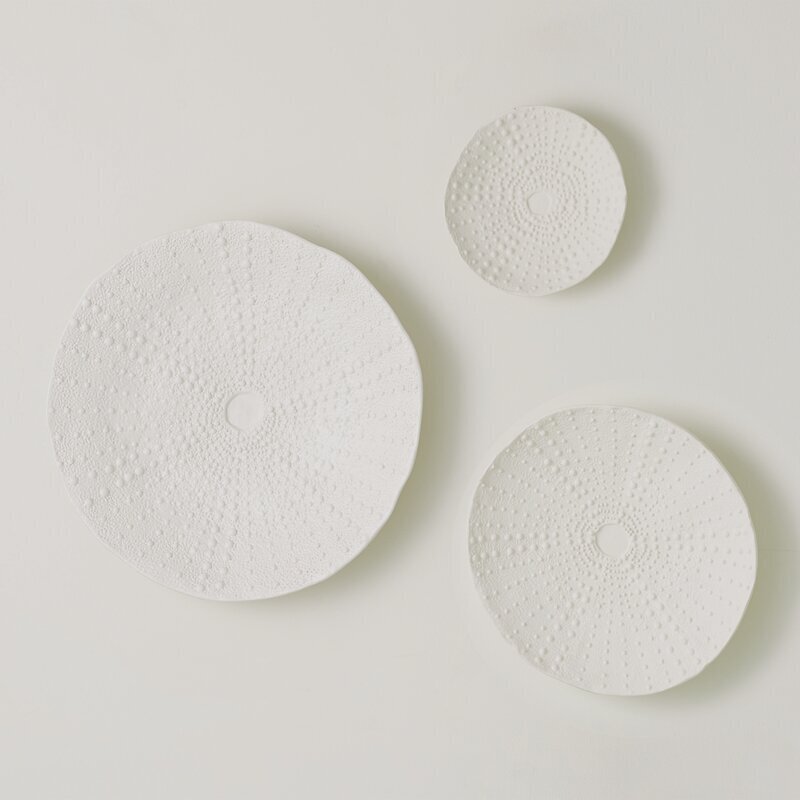 Sea Urchin Inspired Textured Ceramic Plate
Global Views
Use these textured matte white ceramic decorative wall plates as subtle yet interesting decor with pre-drilled holes for an easy installation. The width and depth come in three sizes, making them easily visible as wall art. Use different sizes for extra appeal.
$347.5
Designer Advice:
When decorating with neutral shades like white, it's easy to lose the ability to stand out and get noticed. Picking plates with texture, such as the dozens of patterned bumps, is an excellent and simple way to make a plain piece more interesting. But the upside of neutrals is that you can pair them with any color palette without ruining the aesthetic.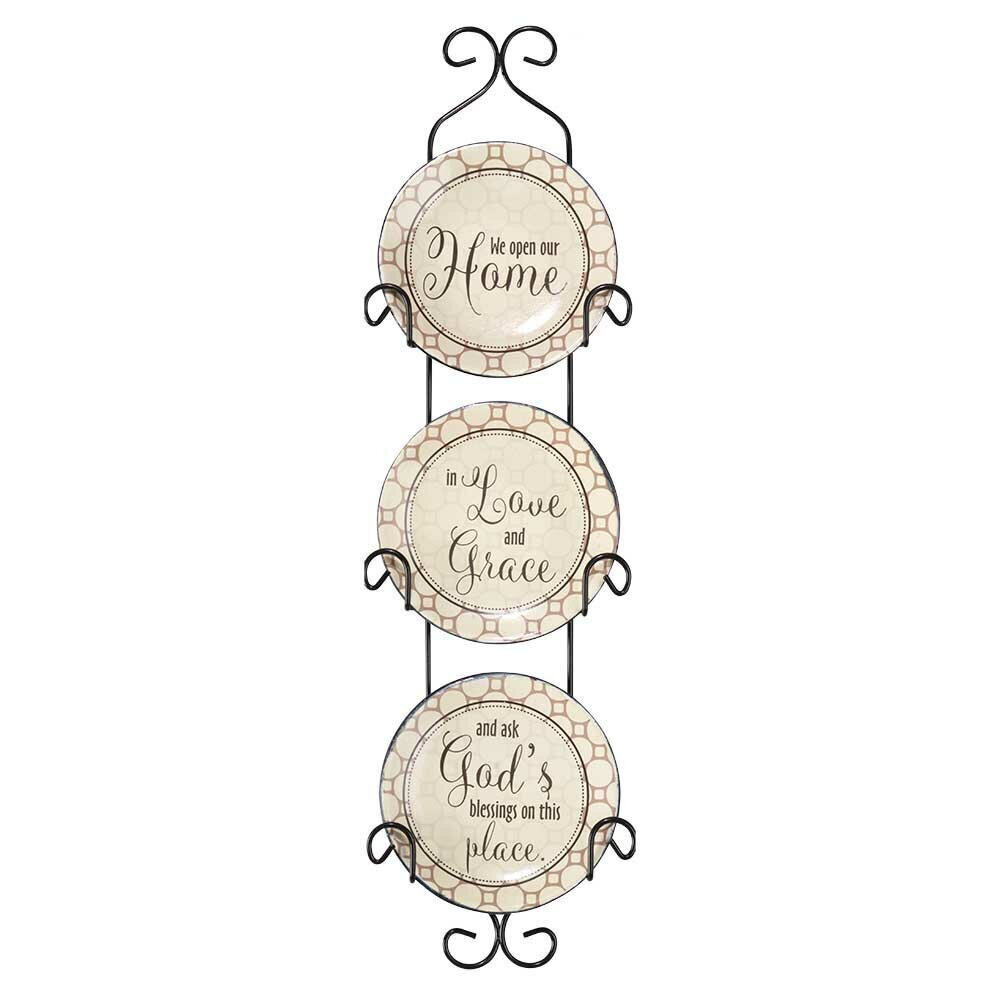 Antique Three Plate with Vertical Wall Rack
This set of three 5" wide ceramic plates have cursive religious inscriptions with vintage circular borders in a neutral beige palette. They hang on an 18" tall x 5" wide black metal rack with swoop curves.
Designer Advice:
Decorative plates with inscriptions are fantastic for chic barnyards, farmhouses, country cottages, and old-world European interior decor themes. The included metal rack makes it easy to display your neutral patterned worded plates on the wall and protects them from damage. And it offers an understated elegance for an old-world feel. The decorative swirls and curves complete the design and make it more versatile.
Merchant links are sponsored