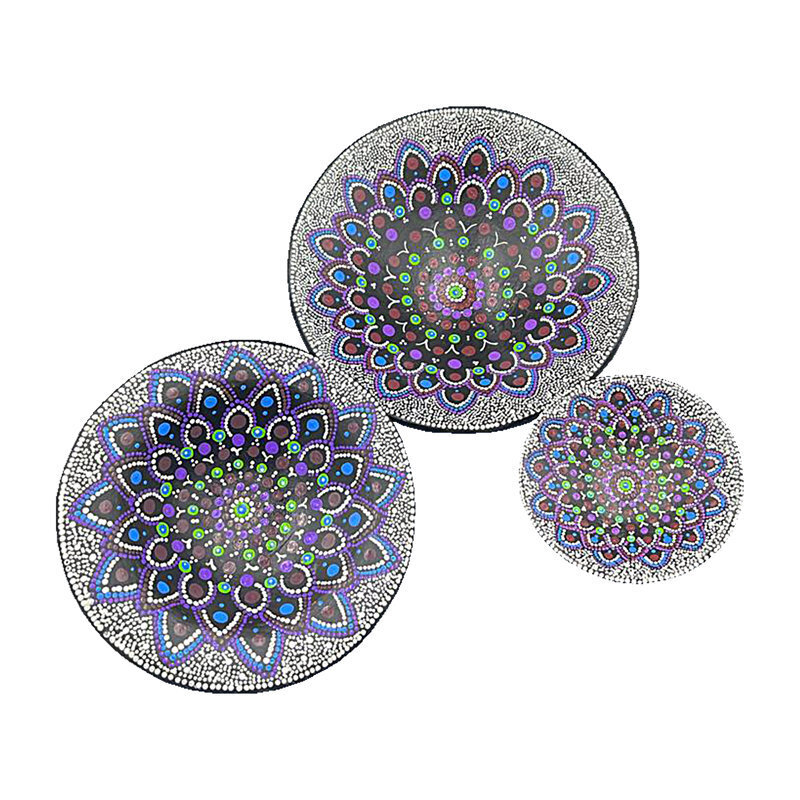 3 Piece Patterned Decorative Wall Plates
Crafted out of a combination of terracotta and rattan, these round decorative wall plates come in a three-piece set of small, medium, and large sizes. They feature an intricate patterned design with blues, purples, and greens and can be hung indoors or outside on a patio wall.
Designer Advice:
Make a statement on one of your empty wall spaces at home with these vibrant decorative plates to hang on wall. With the varying sizes, you can play with what kind of shape and overall effect you want to bring to your space. You can cluster them together or line them up vertically for a more classic look.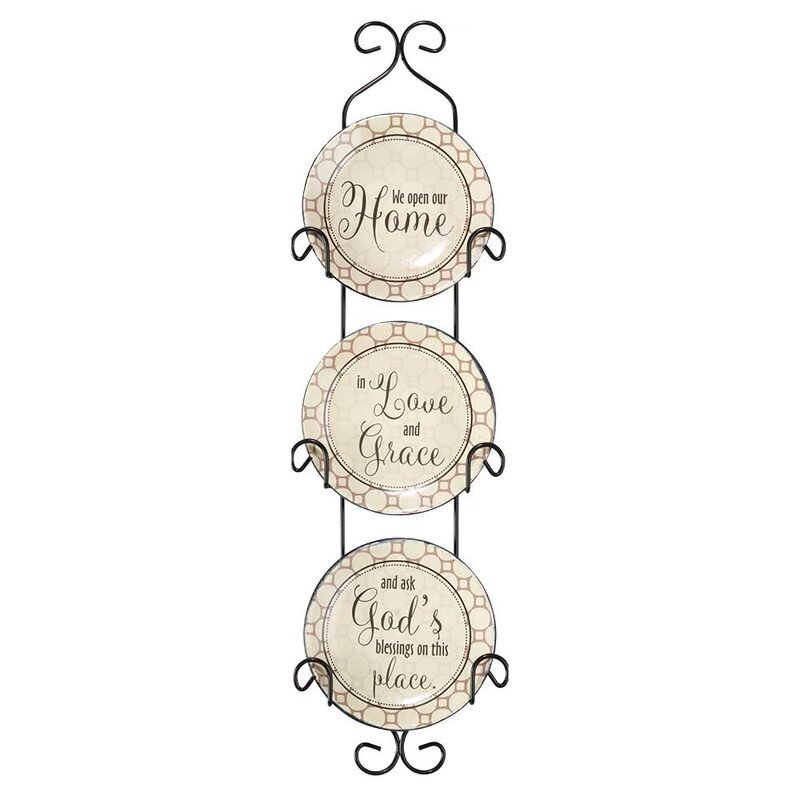 Sentimental 3 Piece Decorative Plates To Hang On Wall
Tell the world what your home is really all about with this three-piece worded message ceramic decorative plates for wall set. This set comes with hanging hardware and a wall stand and the ceramic plates are all beige with a simple design, so they'll blend seamlessly with any design scheme.
Designer Advice:
Give this three-piece set of decorative plates for hanging to yourself or any family member or friend who is looking for some spiritual inspiration to have in their home. On the hanging wall stand, these plates take up around 18 inches, so they can be used alongside a plethora of family photos or go nicely beside a small wall mirror.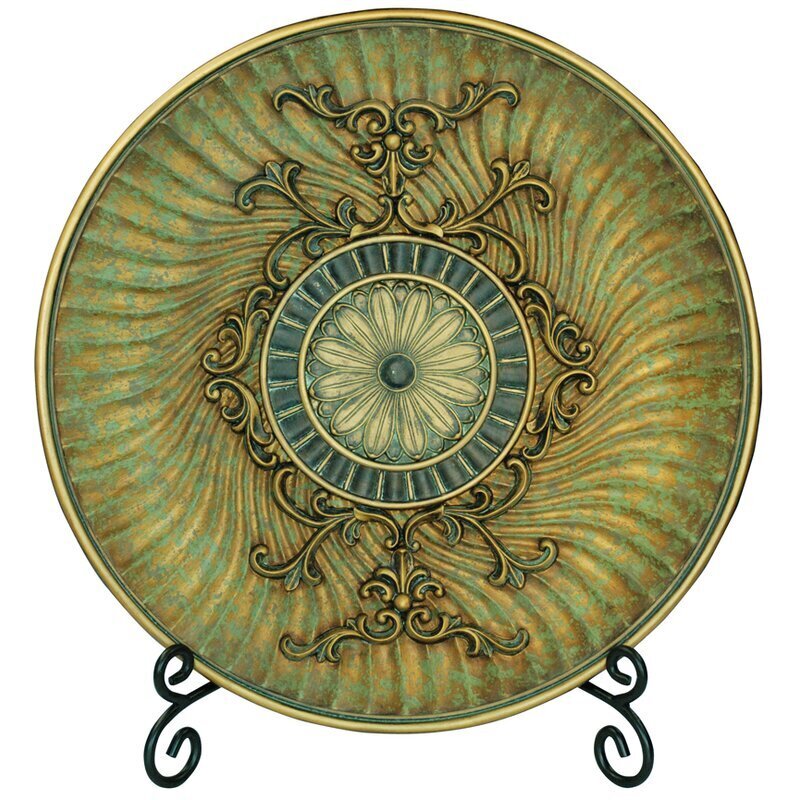 Handpainted Decorative Plate Wall Decor
Astoria Grand
Rich in color and design, this unique abstract style plate wall decor is just over 20 inches wide and features a hypnotizing green, gold, and teal handpainted finish with scroll-like details and a flower in the center.
$74.99 $128.01
Designer Advice:
Add a sense of spice and sophistication to your wall with this handpainted decorative wall plate. Even if you have more muted paint colors on your walls, like off-white or grey, you can use the hanging hardware that comes with this plate to showcase it on the wall of your choice to give it some nice texture.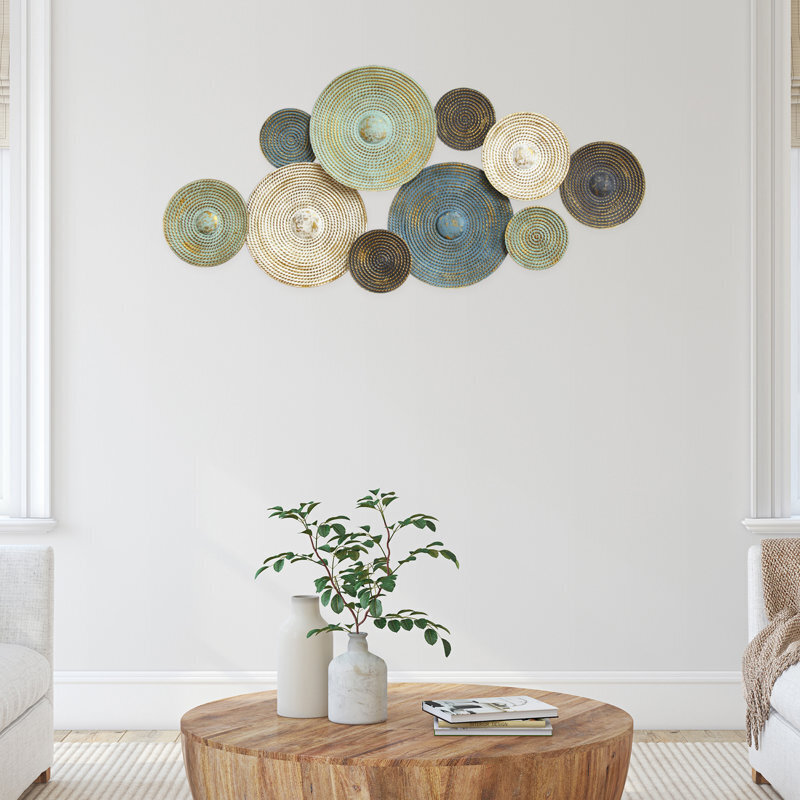 Textured Multiple Decorative Plates To Hang On Wall
Handmade and distressed for effect, these textured metal decorative wall plates give a 3D effect as they're slightly overlapping in an aesthetically pleasing manner. The colors featured are aged soft tones so they'll certainly make a sophisticated impact in any modern home space.
Designer Advice:
In a contemporary home, you can hang these textured muted tone decorative plates for wall art in your kitchen as a nice backdrop behind your dining table or behind a cream or grey sofa to bring a sense of purpose to a bare wall.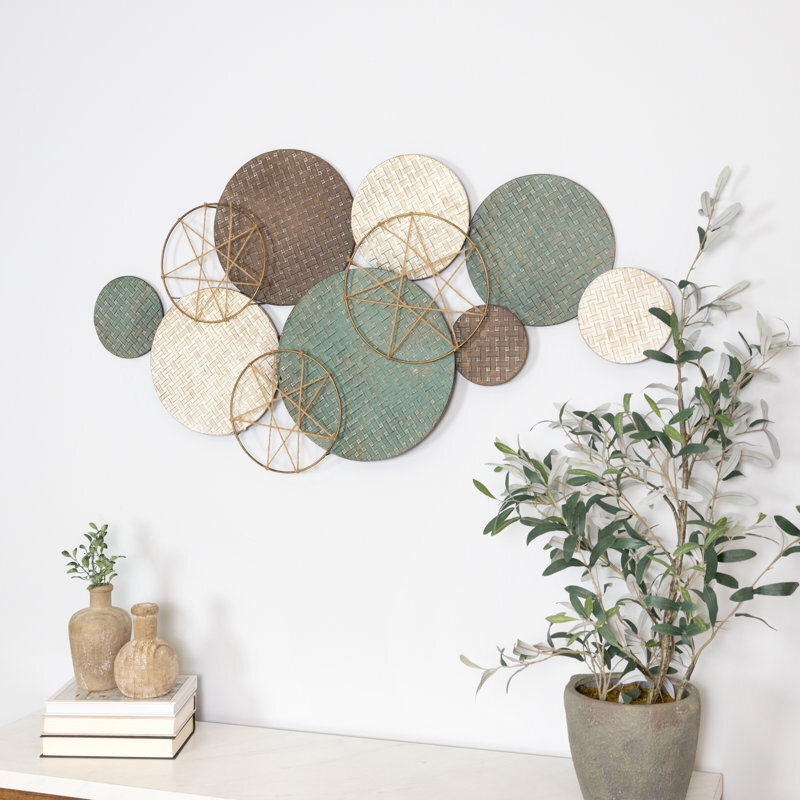 Woven Textured Decorative Plates For Wall
Add some personality to a lifeless wall with this horizontal muted tones decorative wall plates art piece. Made up of several round metal textured plates in brown, green, and beige and arranged in an abstract way, they're all nicely offset by three varying metal rings with jute fillers.
Designer Advice:
For those looking to invoke a chic farmhouse vibe in their kitchen, living room, or dining room, this decorative plates art piece brings those exact vibes. It has an attached D-ring for easy installation and looks great on any neutral-colored wall.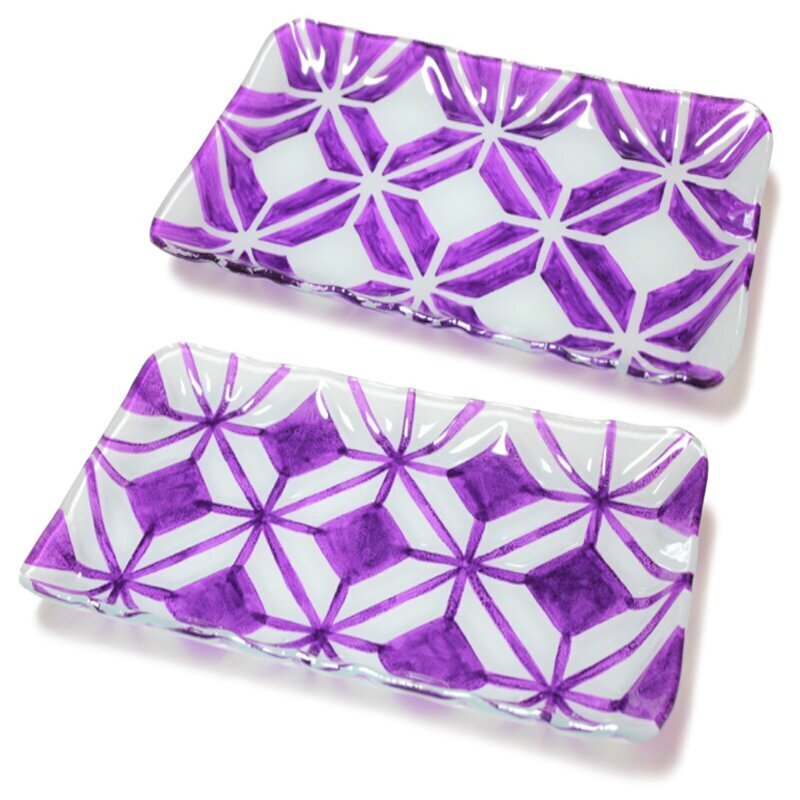 Rectangular Geometric Pattern Decorative Plates For Wall
Completely eye-catching, this set of rectangular purple and white decorative plates for wall hanging is made of a combination of crystal and glass and detailed in a geometric pattern. They're both 17 inches wide and can be hung side by side or in a vertical arrangement.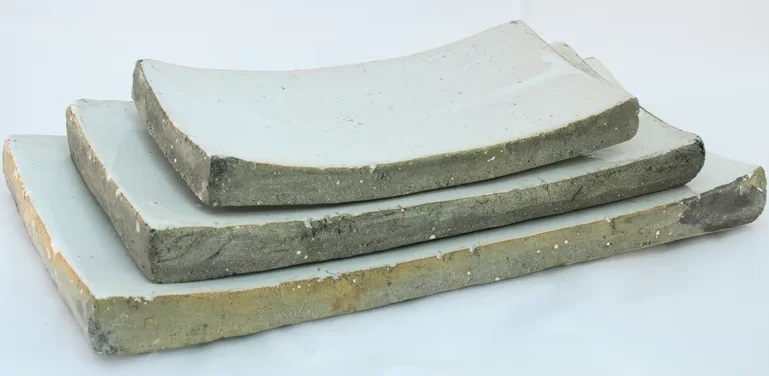 Industrial Style Decorative Wall Plates For Hanging
Available in three different sizes, these rectangular grey concrete-like decorative wall plates can be used to create an industrial chic moment on empty wall space. You can purchase all three sizes and stack them vertically on the wall to make a visual impact.