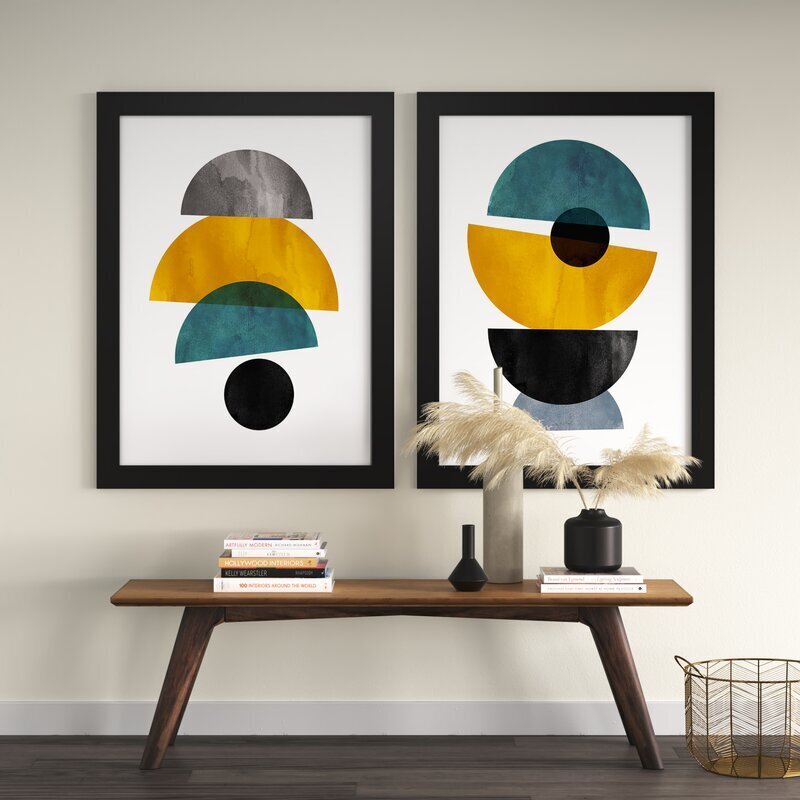 Mid Century Modern Wall Art
Mercury Row®
Perfect For: Above an entryway console table
What We Like: Muted and versatile colors
What We Don't Like: Wire string makes art difficult to hang
This set of two prints comes with either a black or white frame or a wrapped canvas background. Featuring an abstract design of stacked semicircles, the main color palette is made up of teal, mustard yellow, black, and gray. The print has been reproduced using fade-resistant ink, so you don't have to worry about it being near a window.
$68.99 $54.99
Designer Advice:
A beautiful choice for an entryway, these prints will elevate a space without being too bold. We recommend pairing them with light wood or white furniture. You could also use these prints to frame a bed by placing them above your bedside tables.
What Users Say:
Great for the price. Not glass, plexi but it doesn't look inexpensive. Happy with the overall quality.
Merchant links are sponsored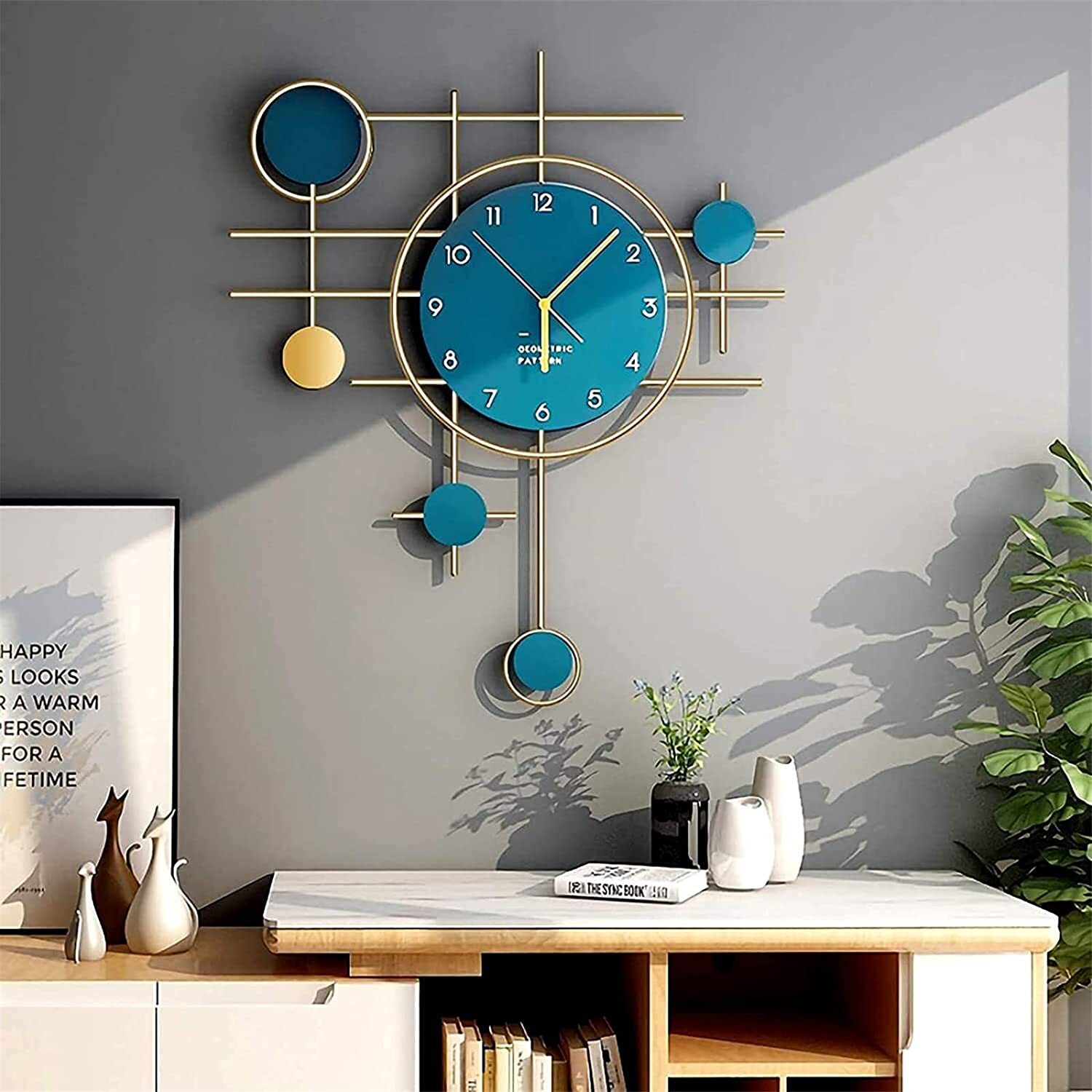 Mid century modern wall clocks
HEWYHAT
Every house needs a wall clock. Obviously, they're useful for telling the time, but their function can go way beyond that when you select a chic and interesting timepiece, like those of mid-century modern wall clocks.
Satellite-style clocks, star wall clocks, clocks in organic forms, bright geometric prints on clock faces—these distinctive mid-century modern wall decor ideas serve as more than just a home necessity and can rather become the center of attraction in the room.
Whether you choose to display your clock alone or add it to a gallery wall, you can rest assured that it will give your interior space a refreshing update!
Merchant links are sponsored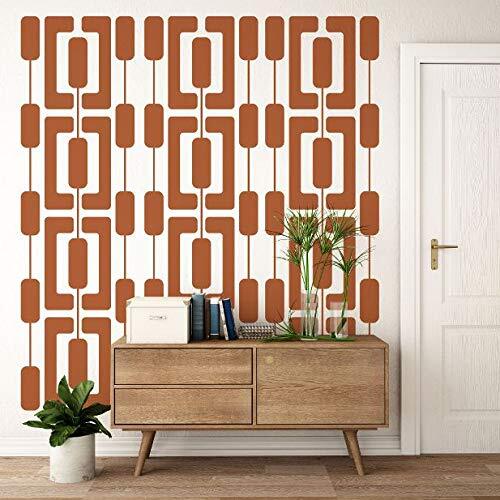 Mid century modern wall decals
Don't feel like drilling your walls to hang some decor? In this case, wall decals are the way to go!
They won't ruin your walls, are a much more affordable alternative, and come in a myriad of fun patterns. Besides, they're one of the easiest ways to make drab walls look interesting!
You can opt for a small or medium-sized removable sticker if you've got limited wall space or don't want to commit to wallpaper. Alternatively, a large-scale mural decal that covers the wall from top to bottom is the best pick for a statement wall that you want to draw attention to.
Merchant links are sponsored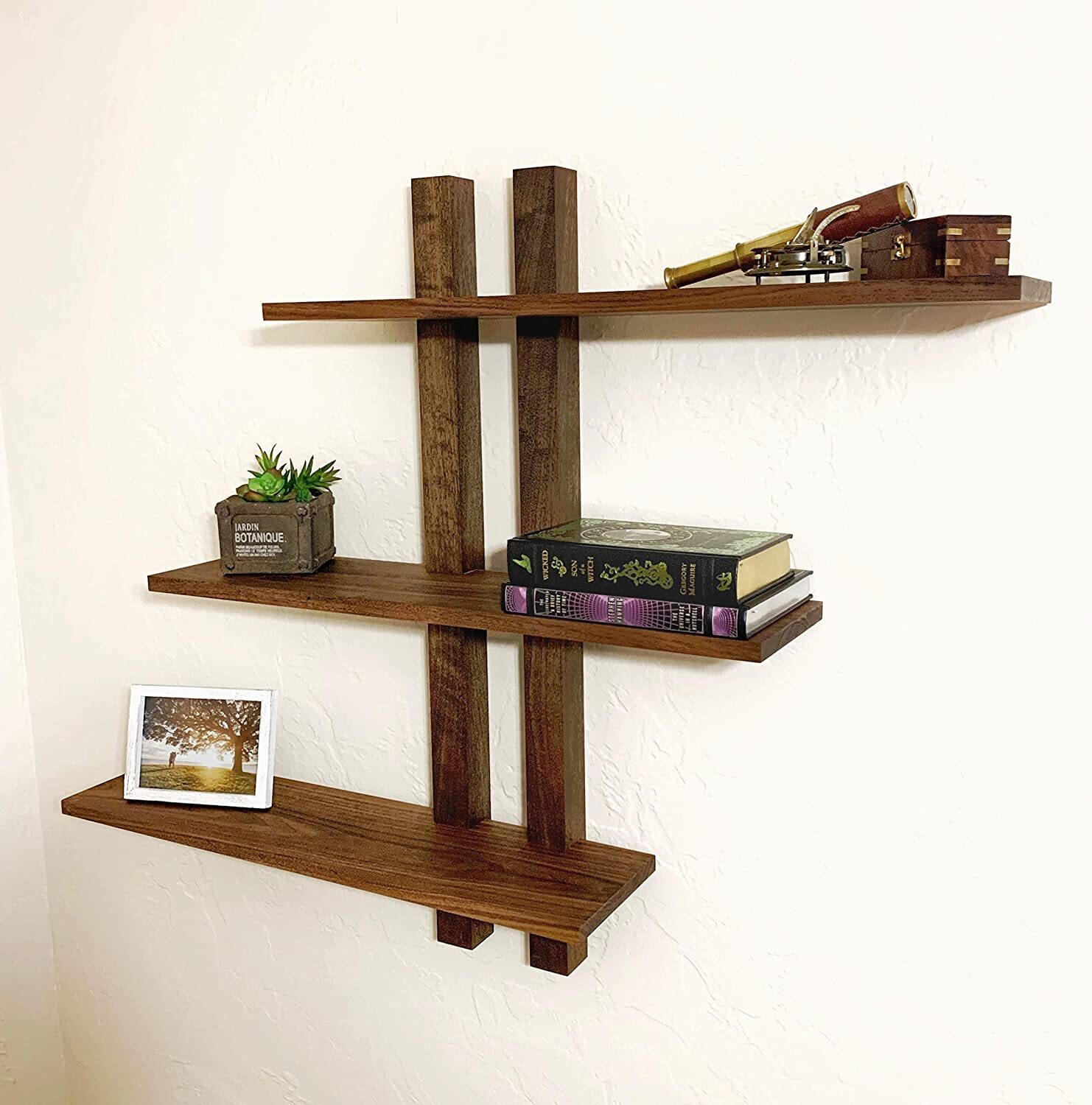 A mid century modern wooden shelf
It's no doubt that shelves are a lifesaver when it comes to finding storage for books, decorative items, and other knick-knacks. But, what if you pick a mid-century modern shelf with an attractive appearance and kill two birds with one stone?
After all, who wouldn't want their walls to be graced with a natural element that is not only elegant but also fulfills their storage needs?
Some common examples are floating trapezoid shelves, metal geometric frames with warm, wooden shelving, and multi-tiered units attached to long, vertical brackets. What they all have in common, though, is their walnut or oak finish that goes with just about anything!
Merchant links are sponsored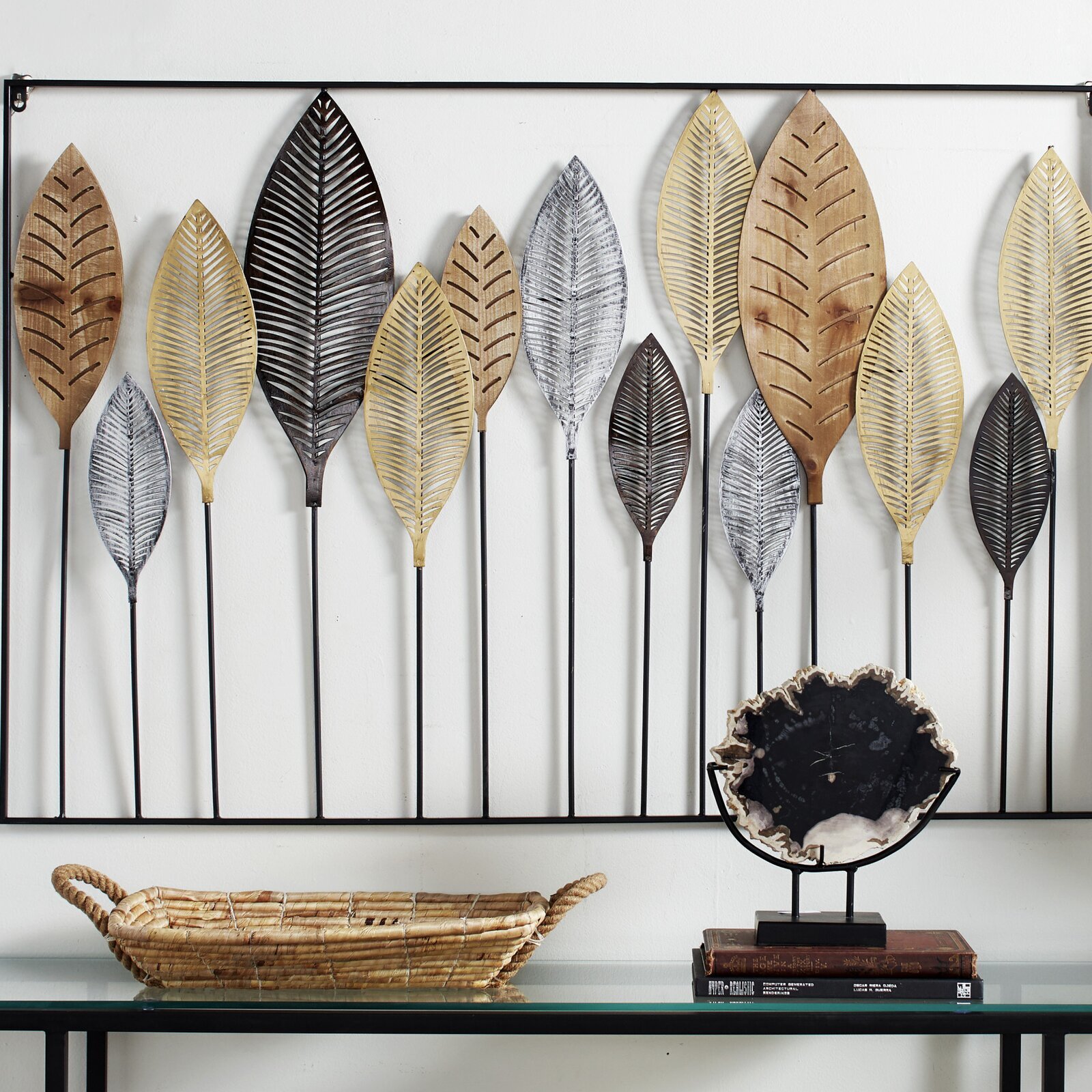 Mid century modern 3D wall accents
Andover Mills™
What better way to add a sense of depth to your walls than with 3-dimensional mid-century modern sculptures! Remember, not all art pieces are smooth and 2-dimensional, especially in terms of mid-century wall art.
It can be as simple as hanging wall decor with arcing triangles, a design with vivid leaves, or a remarkable piece with twisting iron twigs—basically anything with rough and uneven textures!
Are you a creative crafter? Try making your own DIY mid-century modern wall art! Gather some skewers and intersect them vertically and horizontally. Glue the sticks together and spray paint in any color of your choice. There you have it, a crosshatched wall decor in true mid-century style!
$148.99 $196
Merchant links are sponsored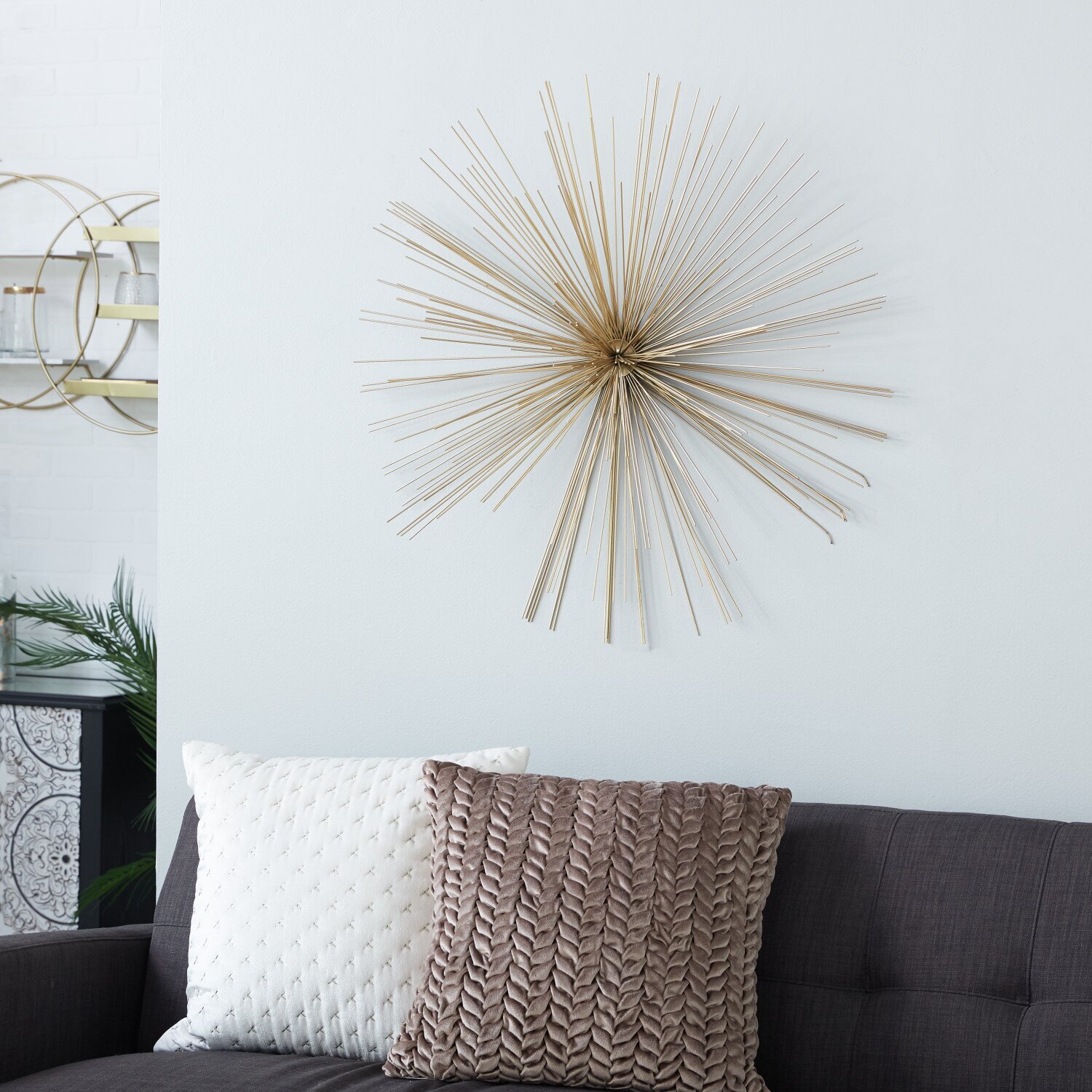 Starburst wall sculptures
Corrigan Studio®
Who says starburst wall decors are only for the holiday season? In fact, they are a staple of mid-century modern decor, so there's no reason not to dress up your walls with a starburst sculpture all year round!
Featuring metal rods that jut out from the center, these sparkling ornaments provide a glamorous accent piece for fireplaces, sofas, beds, tables, and many more! Some models even comprise clear acrylic beads at the end of the bars for a truly dazzling display.
Hoping to fill awkward, empty wall space in your home? Consider buying a couple of sets and either hang them in a straight line or stagger them to take up more space.
$109.99 $154
Merchant links are sponsored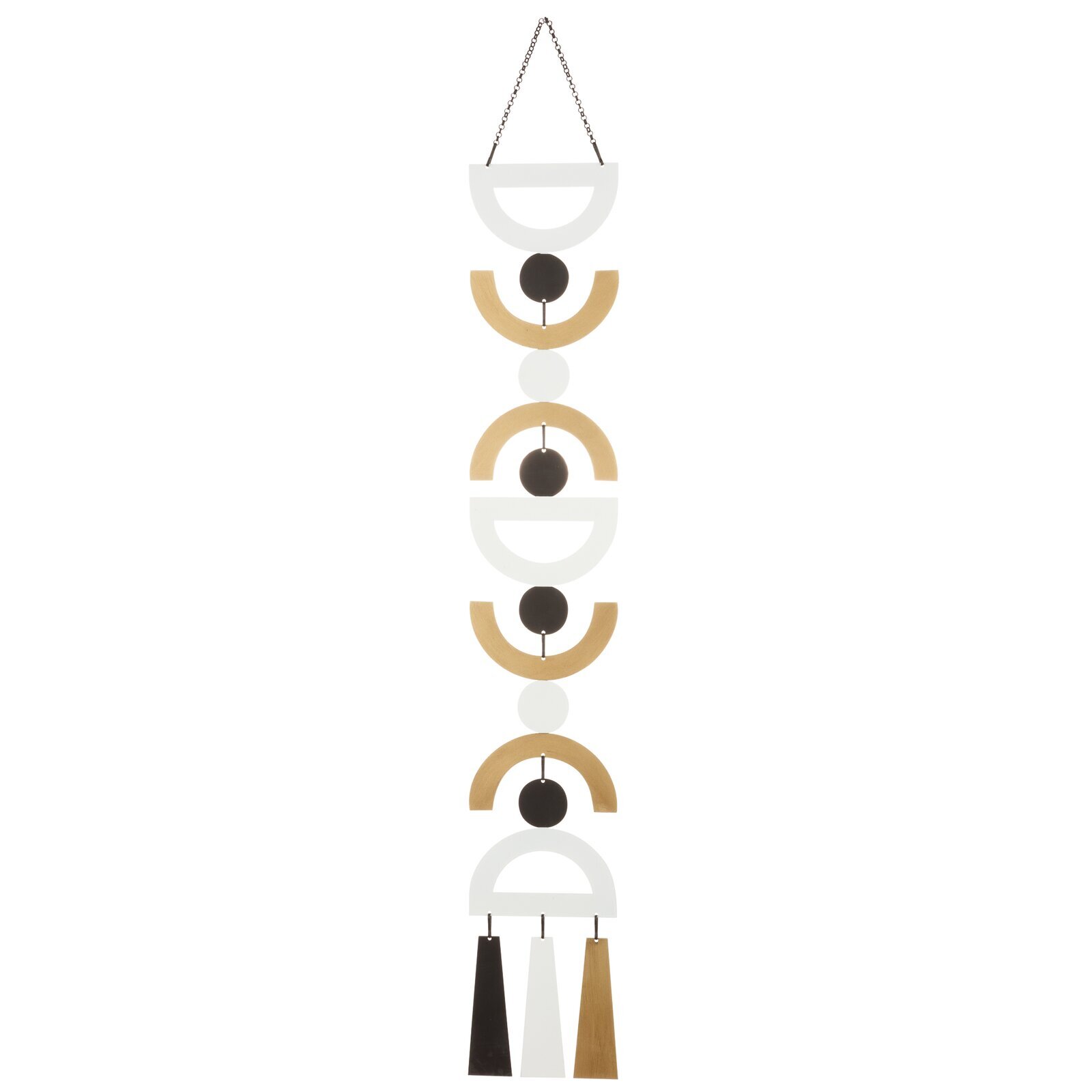 Wall hanging in mid century style
Mistana™ Teen
If you're looking for a mcm wall decor that's pleasantly simple yet cozy at the same time, you can't go wrong with wall hangings!
From colorful tapestries to hanging mobiles with sculptural shapes, these decor pieces are sure to lend your home a warm touch.
The best part is, wall hangings are extremely versatile and leave a lot of room for flexibility. They can be hung in most, if not all, areas of the home, be it the living room, bedroom, bathroom, kitchen, and maybe even in the garage if you want to!
$37.99 $49.99
Merchant links are sponsored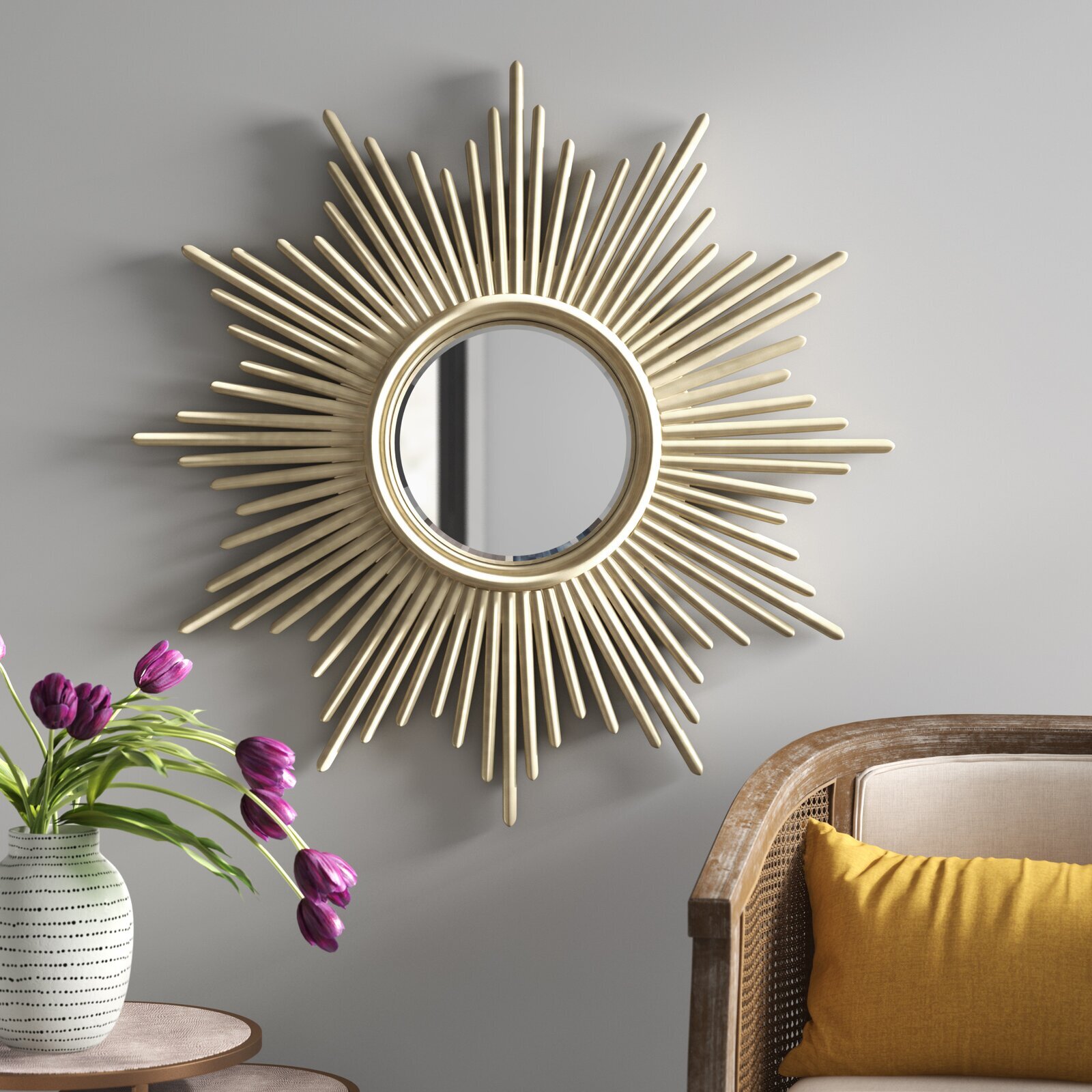 Decorative mirror with mid century modern flair
Willa Arlo™ Interiors
Did you know that mirrors can also serve as a decorating tool for your walls? Forget about generic mirrors with boring frames in ordinary shapes. We're talking about accent wall mirrors that will make heads turn!
These include sunburst silhouettes, asymmetrical carvings, flower frames, and abstract patterns.
Whether perched above your dresser in the bedroom, hung above your console in the entryway, or mounted over your sink in the bathroom, a mid-century modern mirror will instantly brighten up the setting while also adding a stylish focal point.
Merchant links are sponsored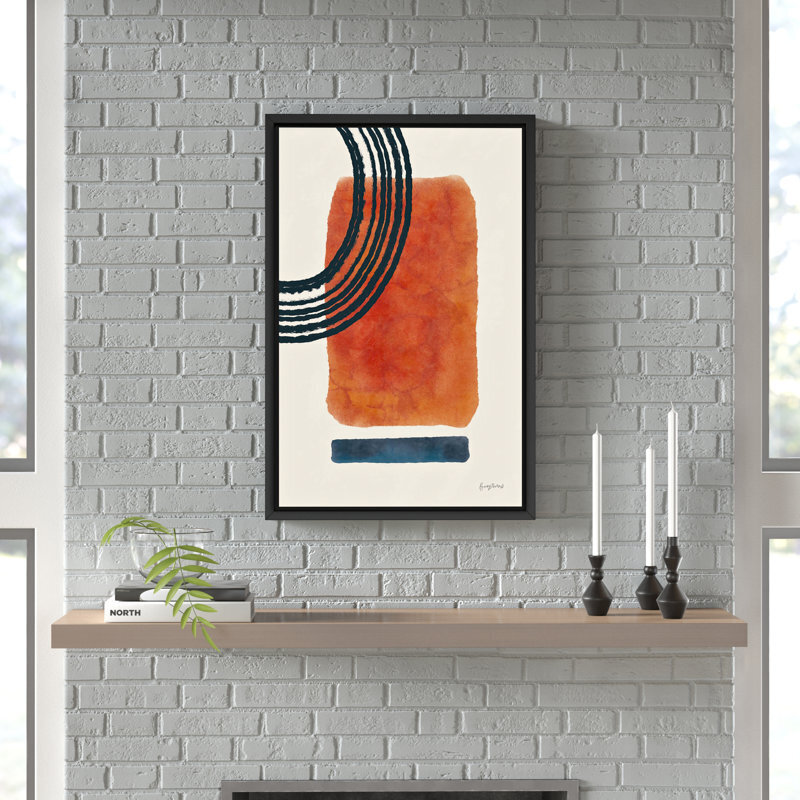 Orange Mid Century Wall Art
Mercury Row®
Perfect For: Office space
What We Like: Fresh color scheme
Not So Good For: Above a bed/desk because of proportions
Affordably priced considering the number of frame options, this wall art will bring a pop of color to any space. It is presented with either a frame or on a framed canvas, both of which come in several different colors. It has a black, orange, and blue color scheme.
$49.99 $55.99
Designer Advice:
The orange and deep blue palette used in this wall art print will go extremely well with natural teak wood furniture. Teak is a material commonly used in mid-century modern décor schemes, particularly for coffee tables. Look for furniture that has tapered legs or geometric accents for a cohesive look.
What Users Say:
This looks even better in person than pictured. The framing is much nicer than expected and the art itself looks great. Would definitely buy again and highly recommend!
Merchant links are sponsored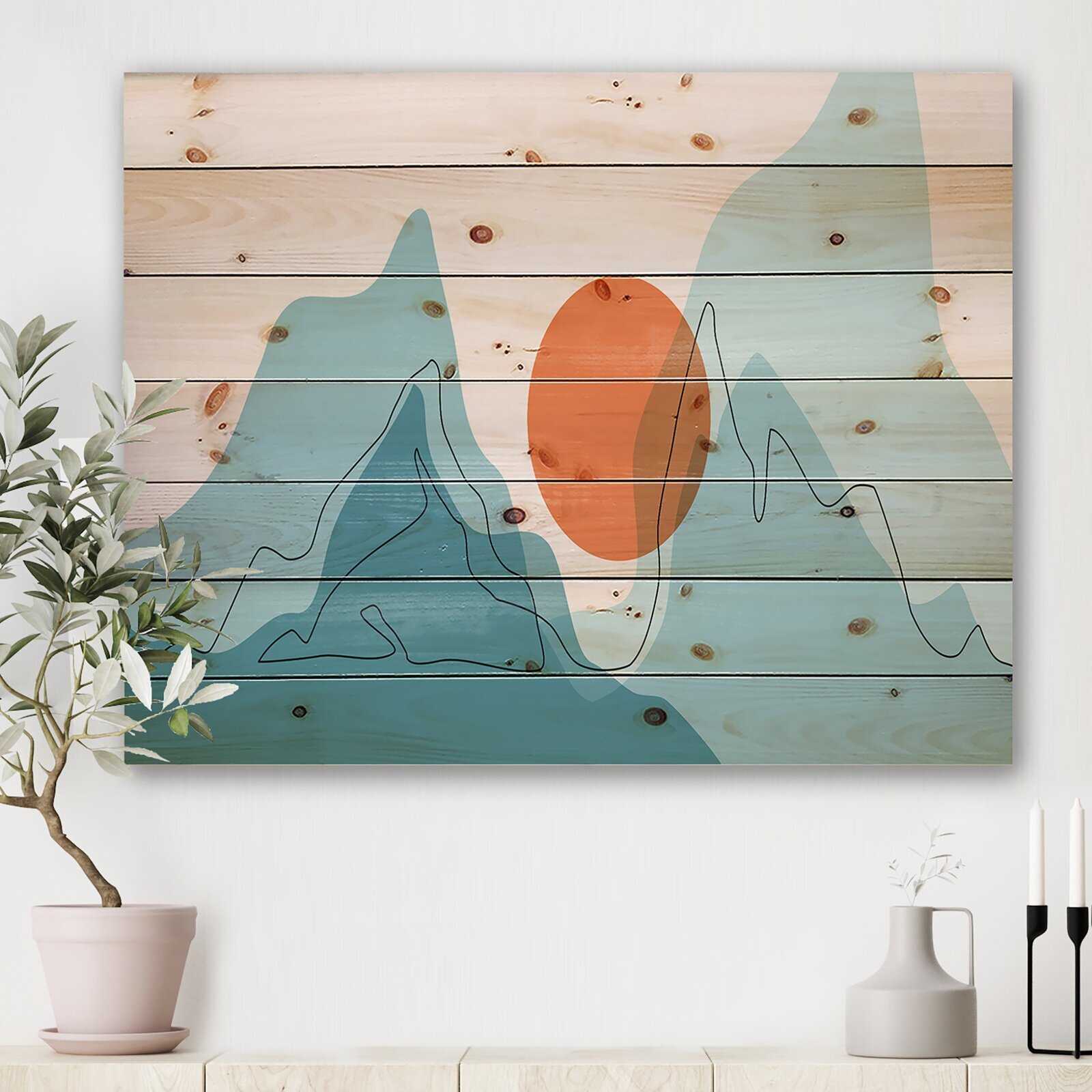 Mid century modern wood accent wall
George Oliver
Combining just the right amount of cozy flair and colorful character, mid-century wood wall art makes a beautiful addition anywhere it's placed.
As its name suggests, this type of art piece showcases illustrations on wood instead of canvases and fabrics, making them a favorite of environmentally conscious art lovers!
Plus, wood decor seldom goes out of style so there's no need to follow current trends that come and go in a flash.
Simply hang your aesthetically pleasing wood artwork and watch it develop a lovely patina as time goes on!
Merchant links are sponsored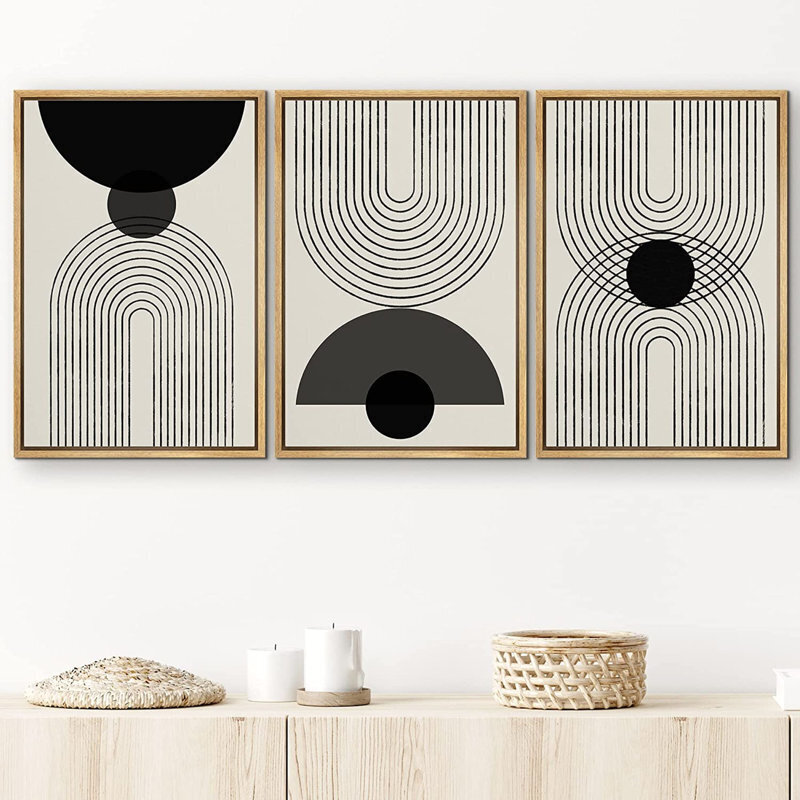 Black and White MCM Wall Decor
SIGNLEADER
Perfect For: Glam décor schemes
What We Like: Look more expensive than they are
Not So Good For: Colorful mid-century modern décor schemes
You can pick either a brown, black, or white frame to complement this set of three prints. Each print has a sleek black, gray, and cream color palette that nods to 1920s and 1930s Art Deco style as well as mid-century modern décor.
$117.99 $129.99
Designer Advice:
Because these prints come in a set of three, they would be a good addition to any wall space, but especially above a sofa. A calm neutral color palette would look best – add some cushions in red or blue on your sofa to prevent the overall look from being too muted.
What Users Say:
Amazing. Eye catching and a great centerpiece - note that it is not white but more of a neutral or beige color in the background.
Merchant links are sponsored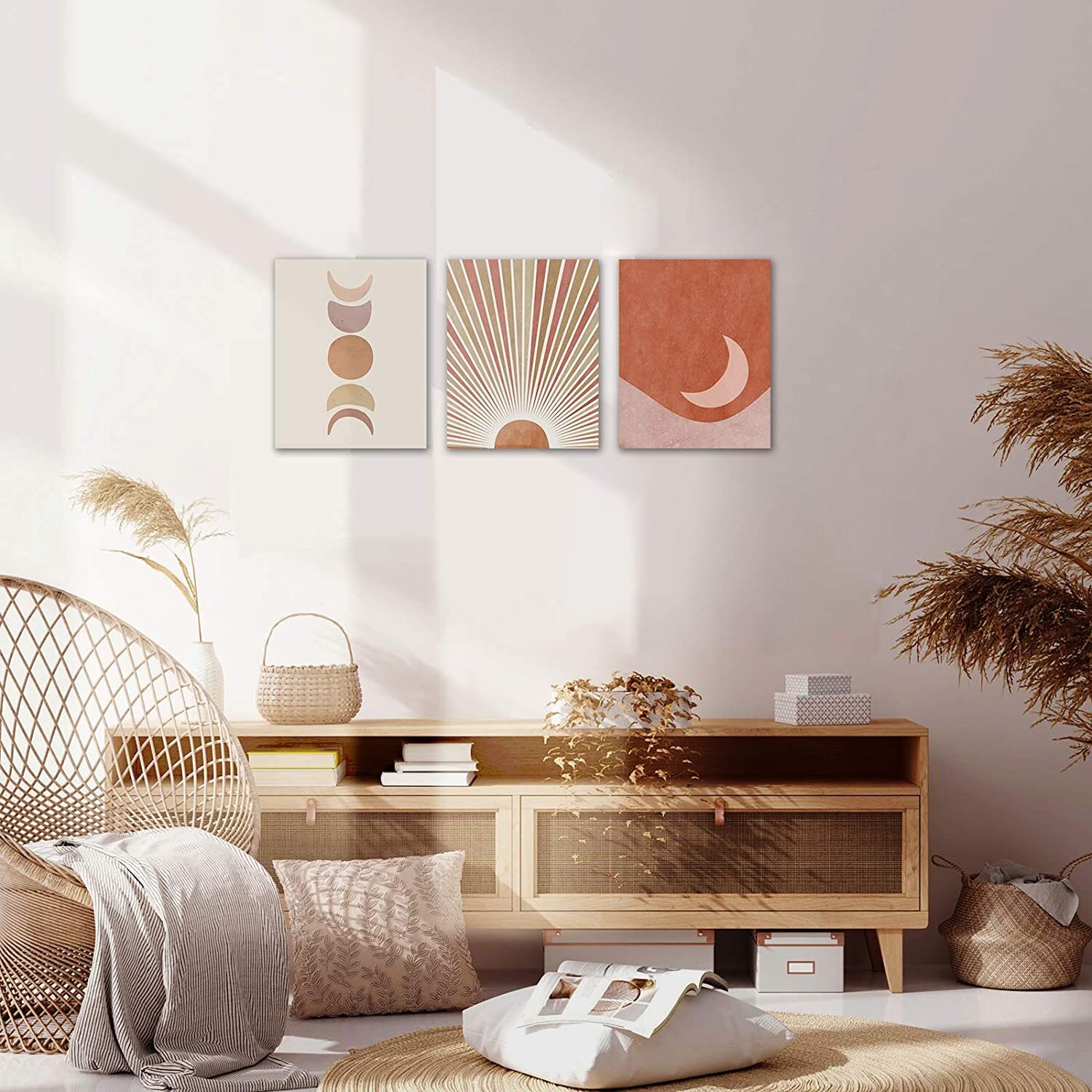 Mid century wall art & posters
HZSYF
Nothing screams mid-century more than abstract paintings, single-line drawings, and geometric artwork!
These pieces of art are nothing short of visually stunning despite their minimalist aesthetic, mainly because they combine playful use of colors and organic shapes to create arresting designs.
Plus, there's a mcm wall art out there for any interior color scheme imaginable. From bold hues to warm earthy tones to cool shades, the color combination options are endless!
Mid-century modern artworks are all about multi-colored, overlapping drawings, so don't be afraid to cover your walls with canvases that feature contrasting tones to bring a unique visual effect to the space!
Merchant links are sponsored