Our Choice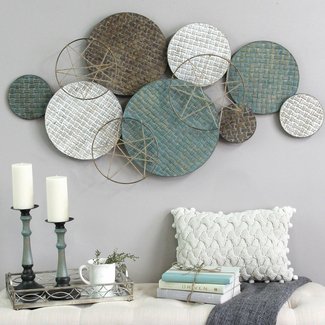 Woven Texture Metal Plate Wall Decor
This all-metal wall accent feels like a textured and layered collage. It features solid metal circles in brown, green and whitewash with an overlay of open metal circles . It has a D-ring built in to make it very easy to hang on the wall. Each wall accent is handmade and handpainted. This is the perfect striking wall accent for any modern home.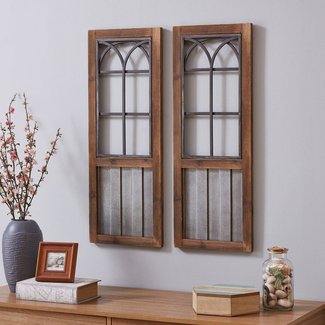 Farms Window Wall Décor (Set of 2)
This two-piece wall accent set was inspired by a pair of rustic windowpanes. The frames are wood from fir trees and the inset metal accents  are shaped like windows in an old English cottage or the stained glass windows of a village church. This homespun art would be right at home in a house filled with farmhouse style.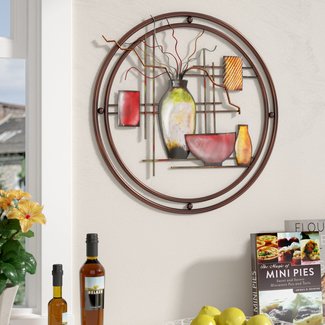 Vase Wall Décor
Is this a vase or a piece of wall art? It is actually both. This accent features a round metal alloy frame with an inlay of geometric shapes. Additional accents inside the circle include two vases, a bowl and additional geometric shapes. The piece pops off the wall thanks to the red, green, brown, orange and yellow touches. This piece is at home in a contemporary setting rich with earth toned decor.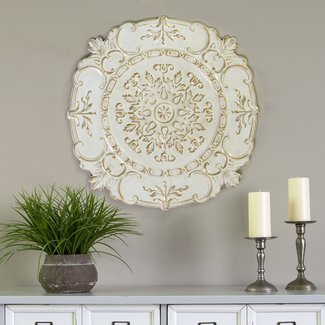 European Medallion Wall Décor
This piece of wall art brings a touch of Old World European charm wherever it hangs. This is a metal medallion in a matte distressed finish of white and bronze with a pattern throughout that gives it an antique look. The medallion has a keyhole in the back to make it easy to hang. Consider placing this anywhere on a wall you might have been inclined to place an accent mirror - from above the entry console to over the dning room sideboard.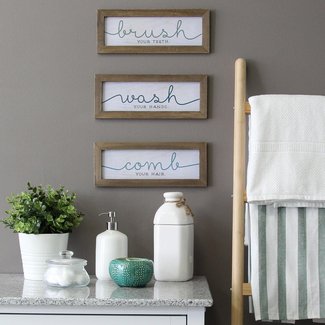 3 Piece Wash, Brush, Comb Wall Décor Set
This word wall trio brings a sense of style to any bathroom. One piece says "brush your teeth", another says "wash your hands" and the third implores you to "comb your hair". Each saying is presented in a playful and happy cursive font and is covered by glass.  Because of the orientation of the words, each wall accent has to be hung horizontally. But it is up to you to place them scattered about or all in a row. These wall accents are perfect personal care reminders in any child's bathroom.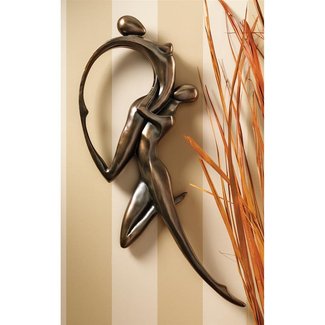 Dance of Desire Wall Décor
This stunning piece can be described more accurately as wall sculpture, not just wall art. It's an eye-catching design from artist Carlo Bronti that depicts the intertwining of the heart, body and soul. It is made of resin so that it is light enough to hang on the wall, but it is topped with a realistic faux bronze finish. This wall accent was designed specifically for those who like to make bold design choices on their walls.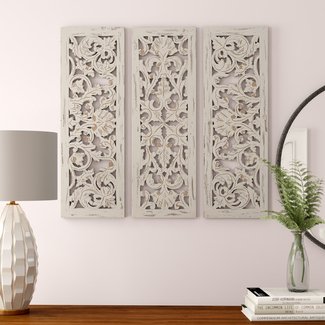 3 Piece Carved Ornate Wall Décor Set
If you have a lot of wall space to fill and you're looking for a classic and elegant design, this three-piece panel set is what you are looking for. Reminiscient of room divider screens, the three separate panels have intricate carvings within them. The pieces are all finished in antique white with distressed spots. These wall accents are perfect for a monochramatic look against a white wall in a traditional space.