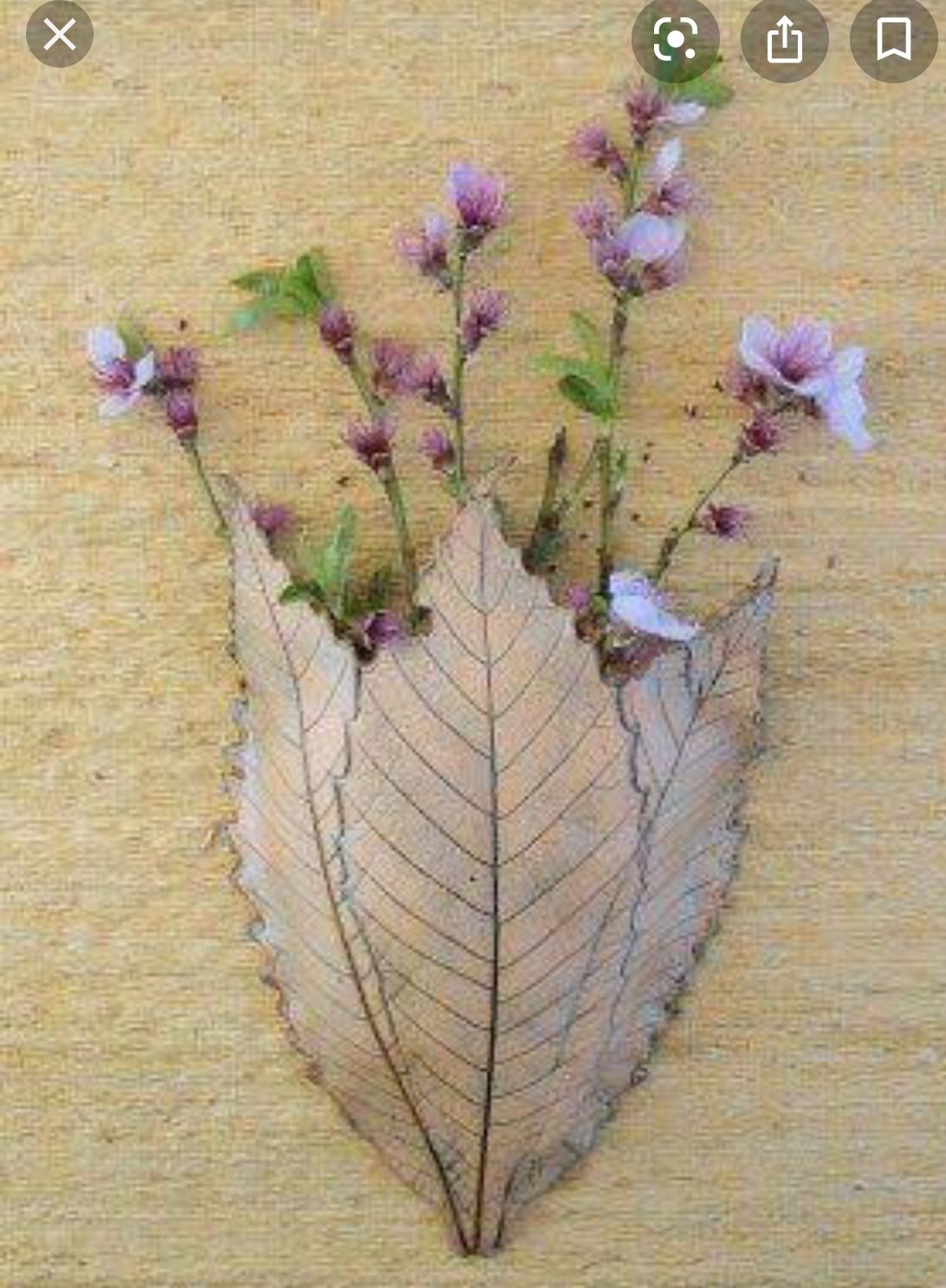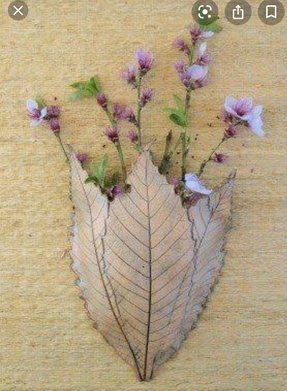 Clay leaves wall pocket made with 3 real
Beautiful wall pocket intended for dried floral arrangements. It's handmade of pale brown glazed clay with a real leaves pattern pressed into clay so it is unique. It hangs on the wall thanks to a copper wire.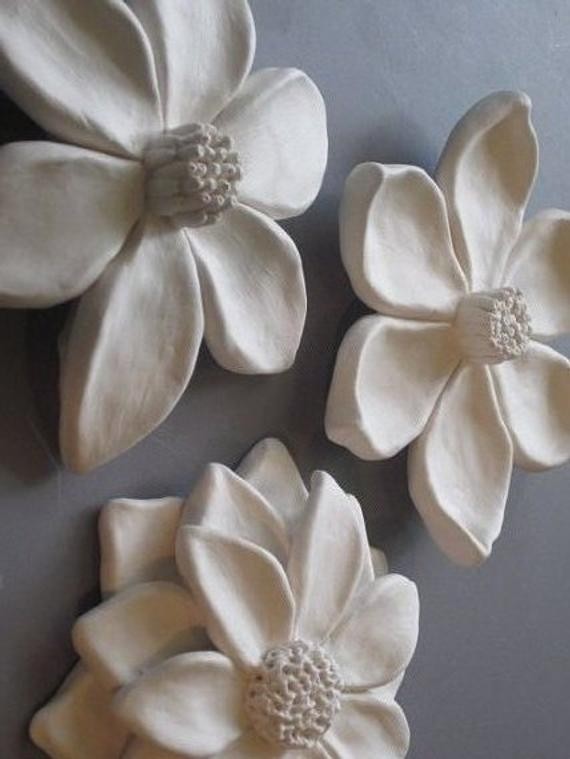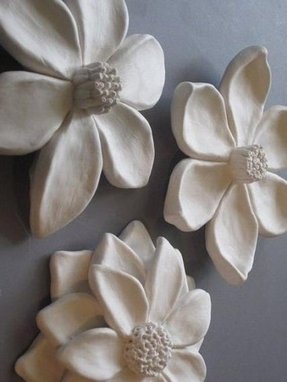 Flower garden wall hanging ceramic
This wall are includes three attractive ceramic flowers finished in white color. Their neutral finish is suitable for different interior styles. These flowers include some decorative carvings and they are resistant to damage.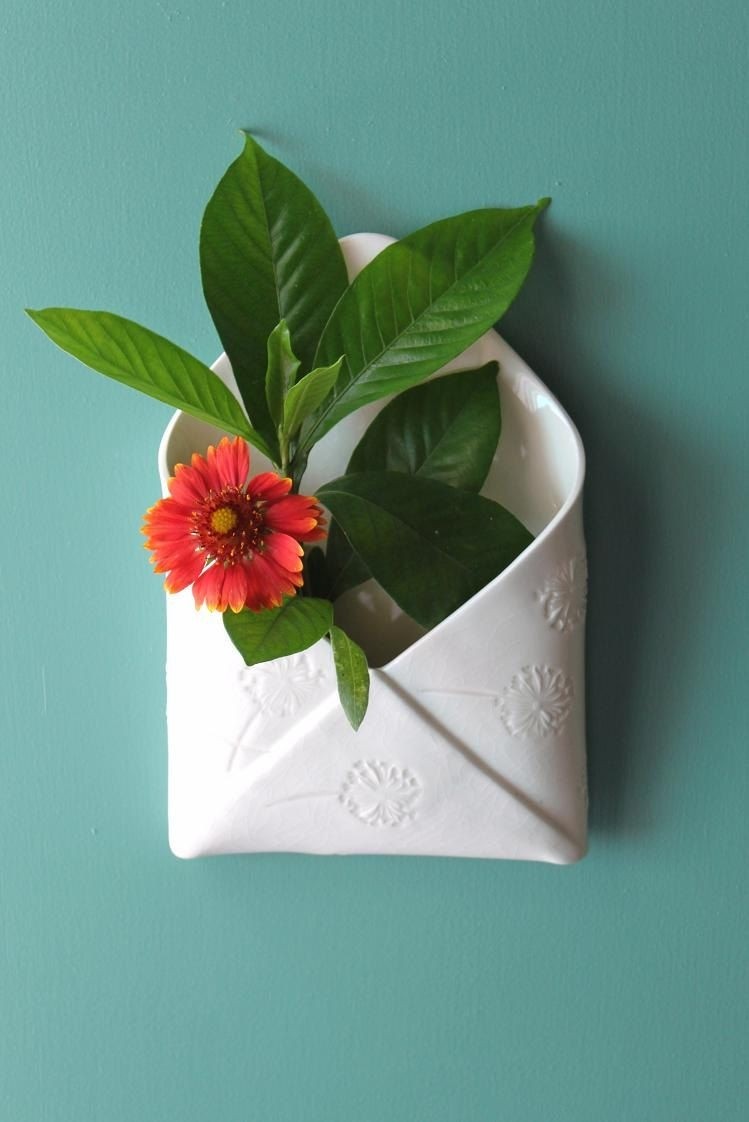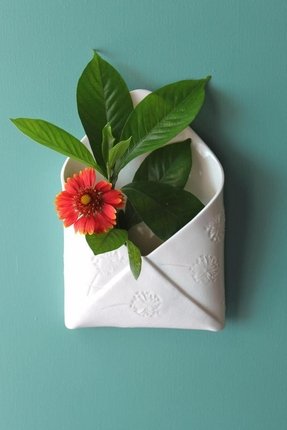 Hanging envelope vase
Wall vase in the shape of envelope. It is made of high quality porcelain. Designed for small and medium sized floral arrangements. Adds freshness and modernity to each place. It is very well appreciated by customers.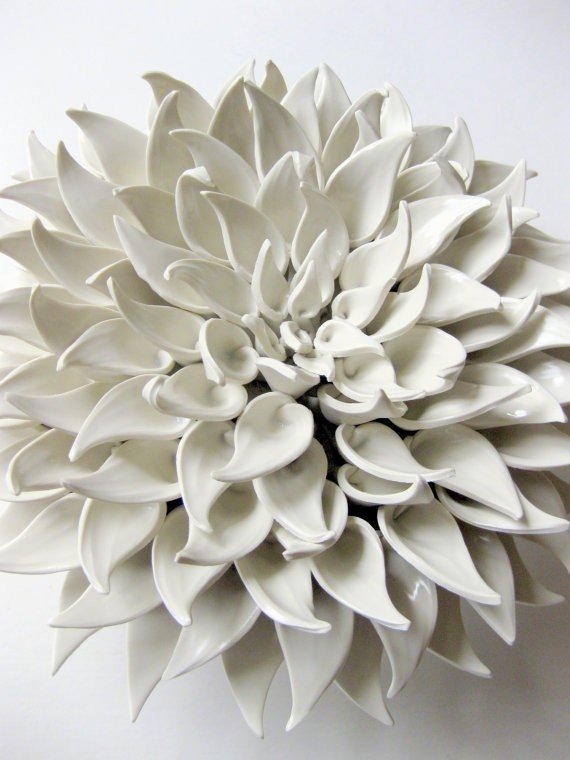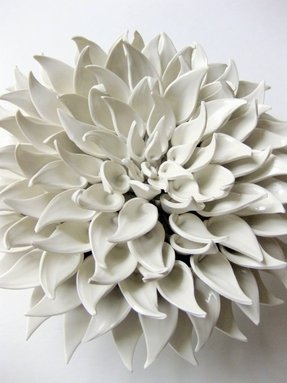 No 8 dahlia wall sculpture
Ceramic figurines are items that can be collected. A spread ceramic white lotus flower reveals its ceramic layers - leading us to its perfect symmetrical center. It can be used as a decoration wall art, or in the middle of a coffee table - or anywhere else.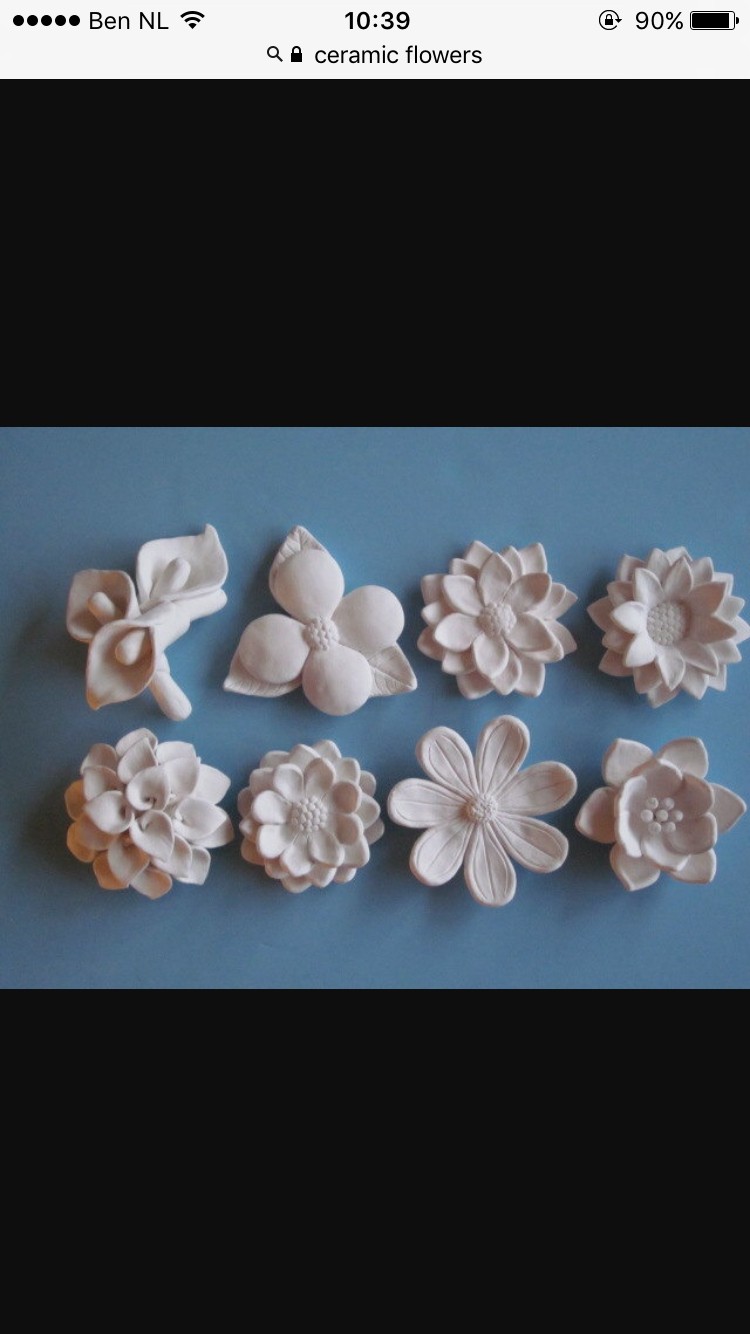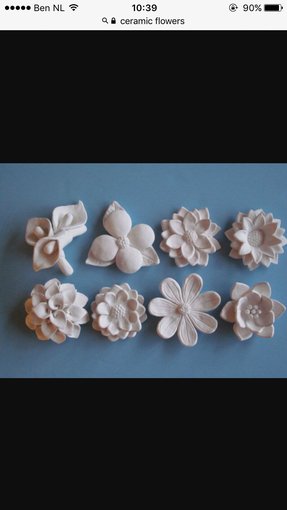 White flower bloom wall hanging your
White flower wall decorations made of ceramic, which can be used as a cabinet handles too. You can choose your favorite flower, there is wildflower, blackberry, camellia, dogwood, lily and dalia to choose.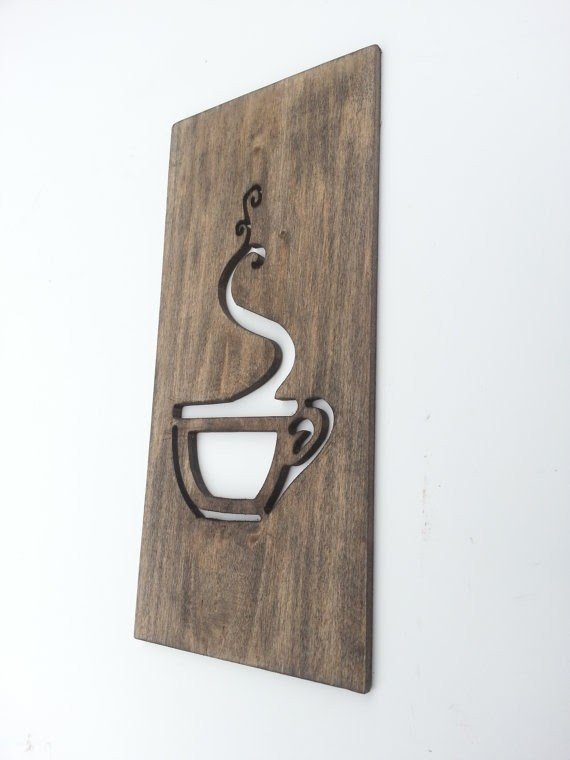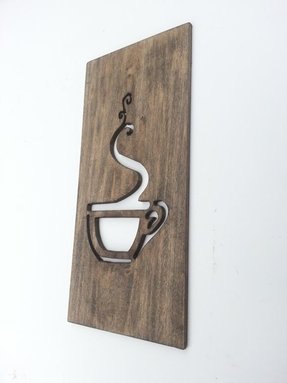 Kitchen art coffee sign plaque wood home
Wooden wall art depicting a cut-out coffee cup with steam rising above it. Unique and unusual way to decorate your kitchen, sure to give it a rustic, cozy feeling with its dark-oak finish and rough polish.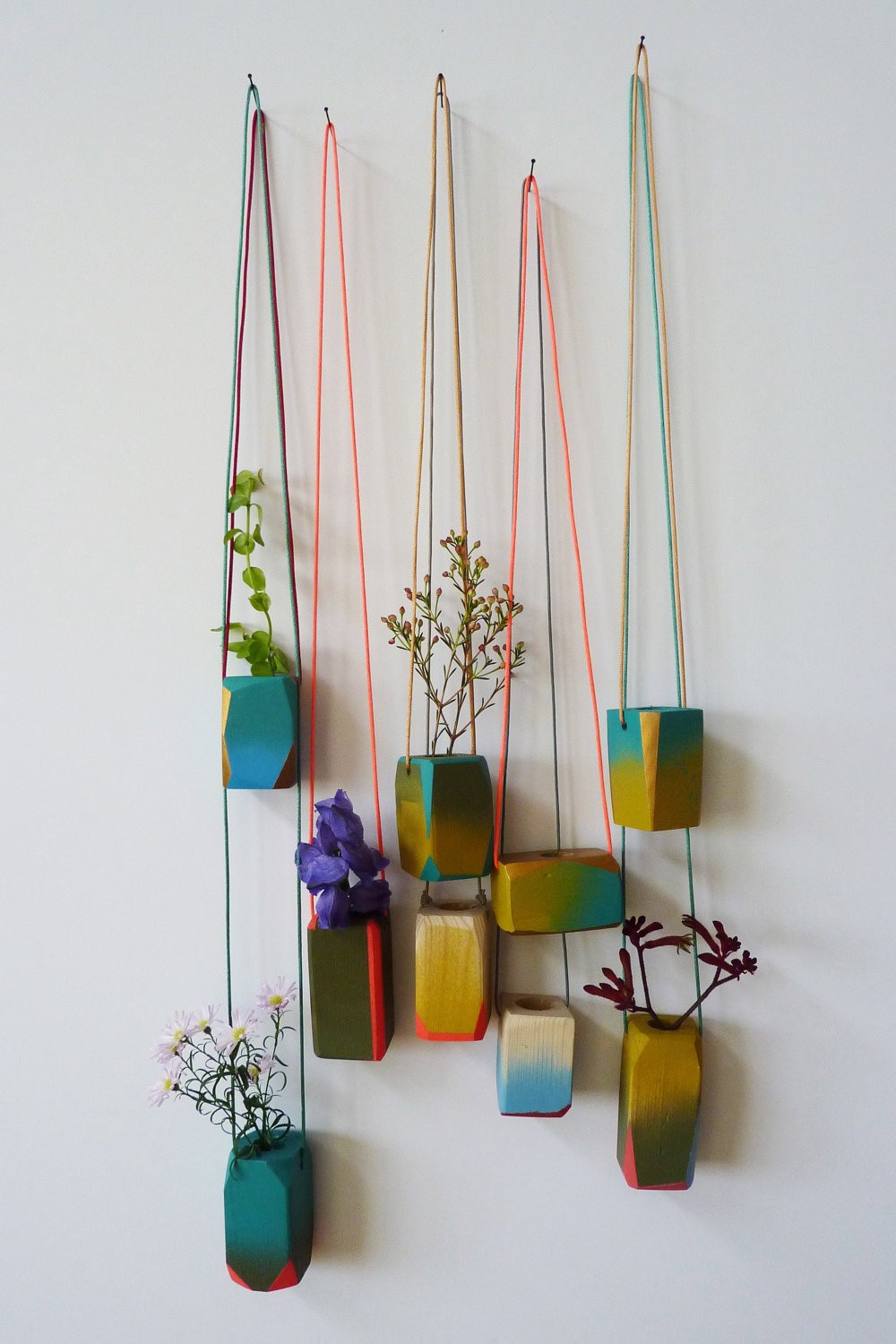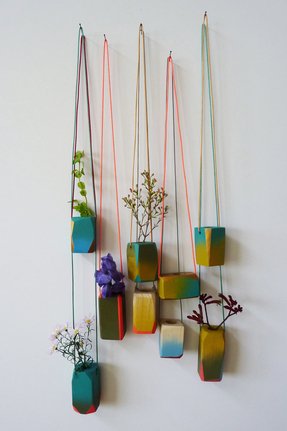 Hang vaasje
Hanging plants on variously coloured strings to make a living wall of tiny plants not only brings nature but also vibrancy and liveliness to your indoors. An inexpensive way to bring in a bit of joyfulness.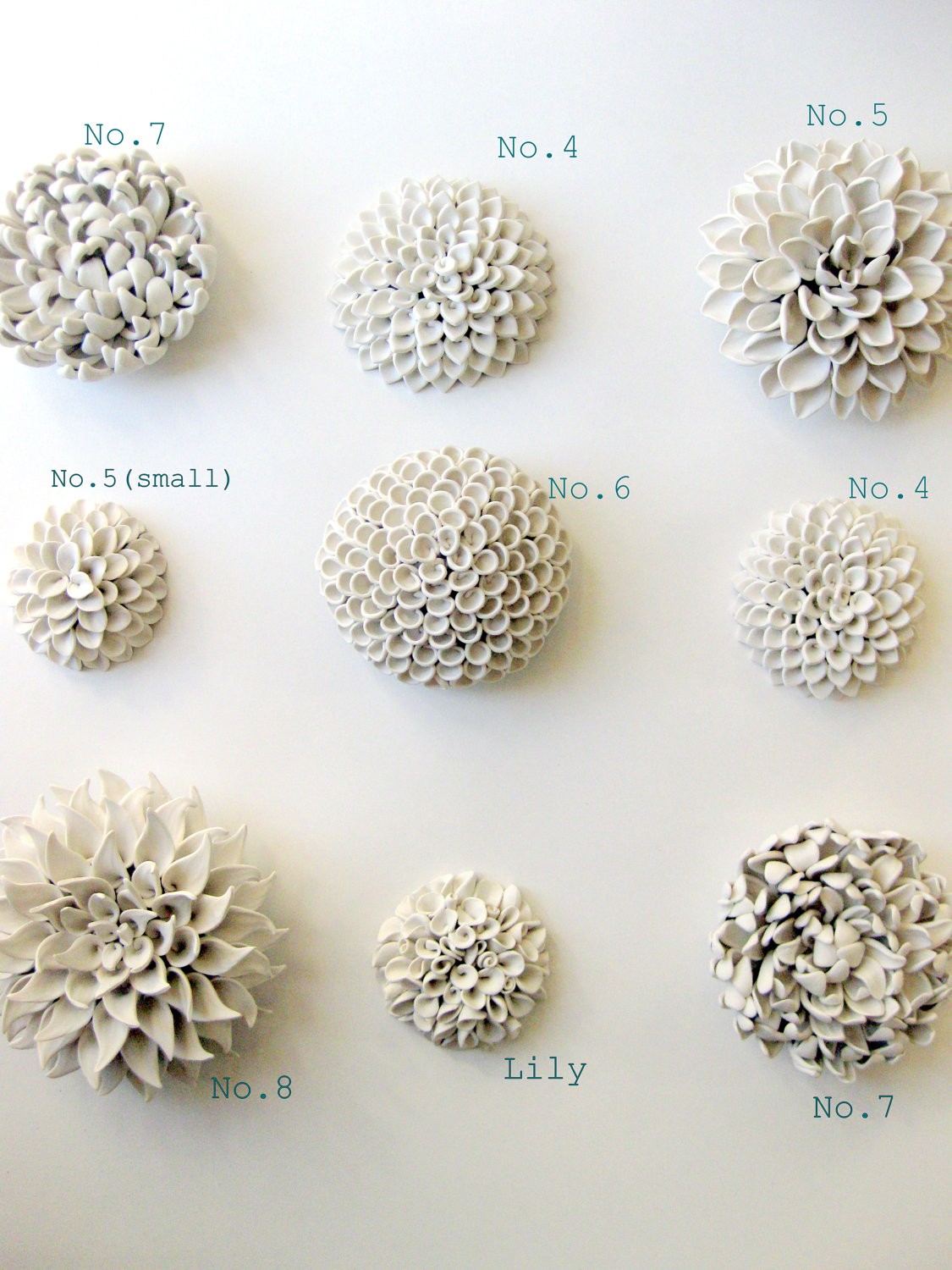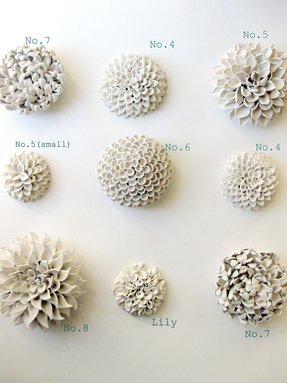 Set of 9 flowers
If you're looking for a unique and unusual way to decorate your walls with, take a look at this gorgeous set of nine ceramic wallflowers made in a white color, which are sure to provide a sophisticated detail to any room.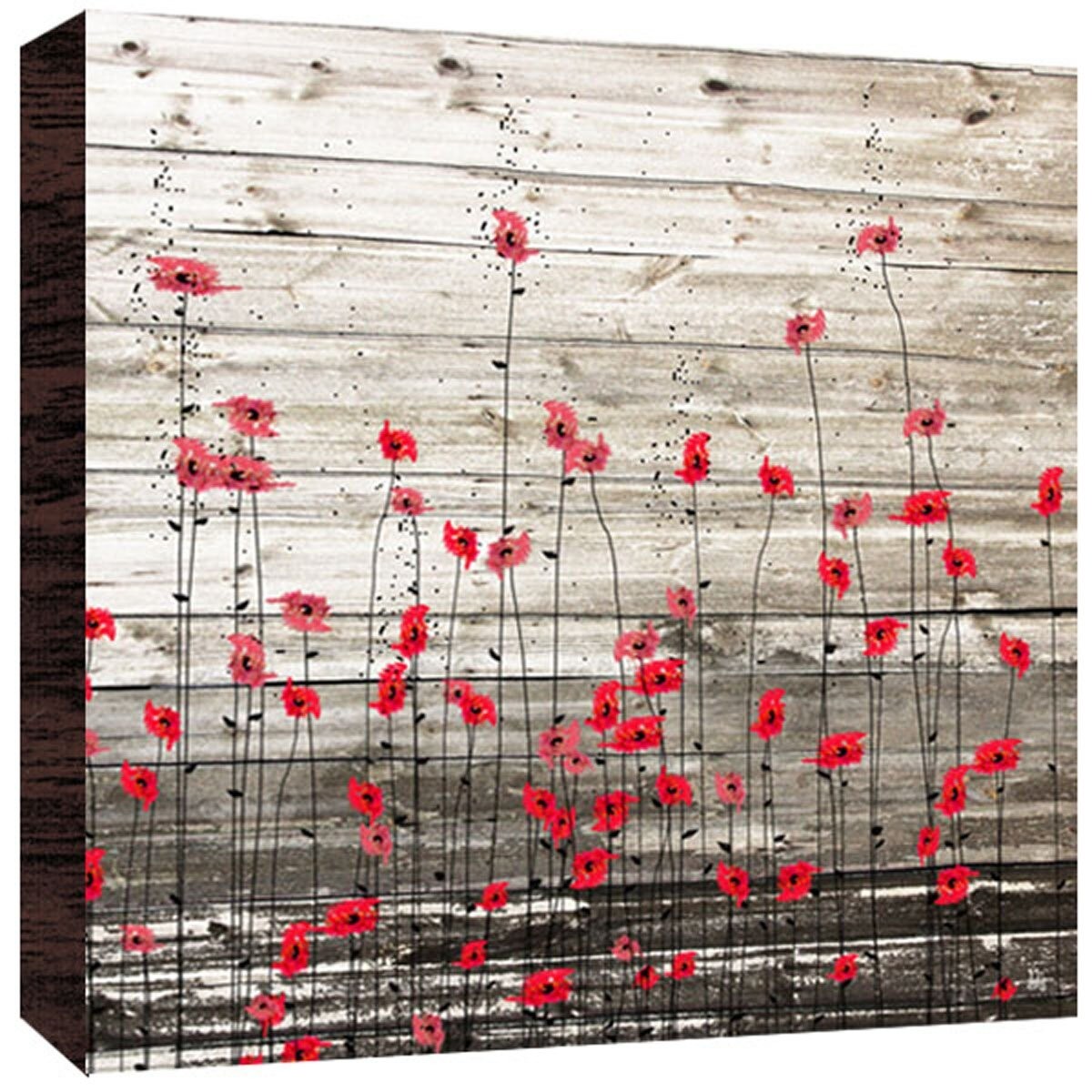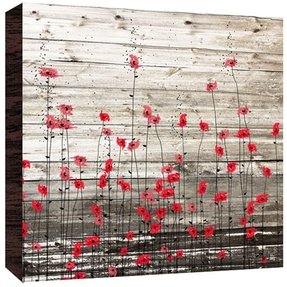 Little Flowers Painting Print on Wood
Attractive contemporary wall-mounted painting inkjet print showing delicate slender red flowers. This rectangular painting print is fixed to a fibreboard bed with a decorative wood-imitating finish.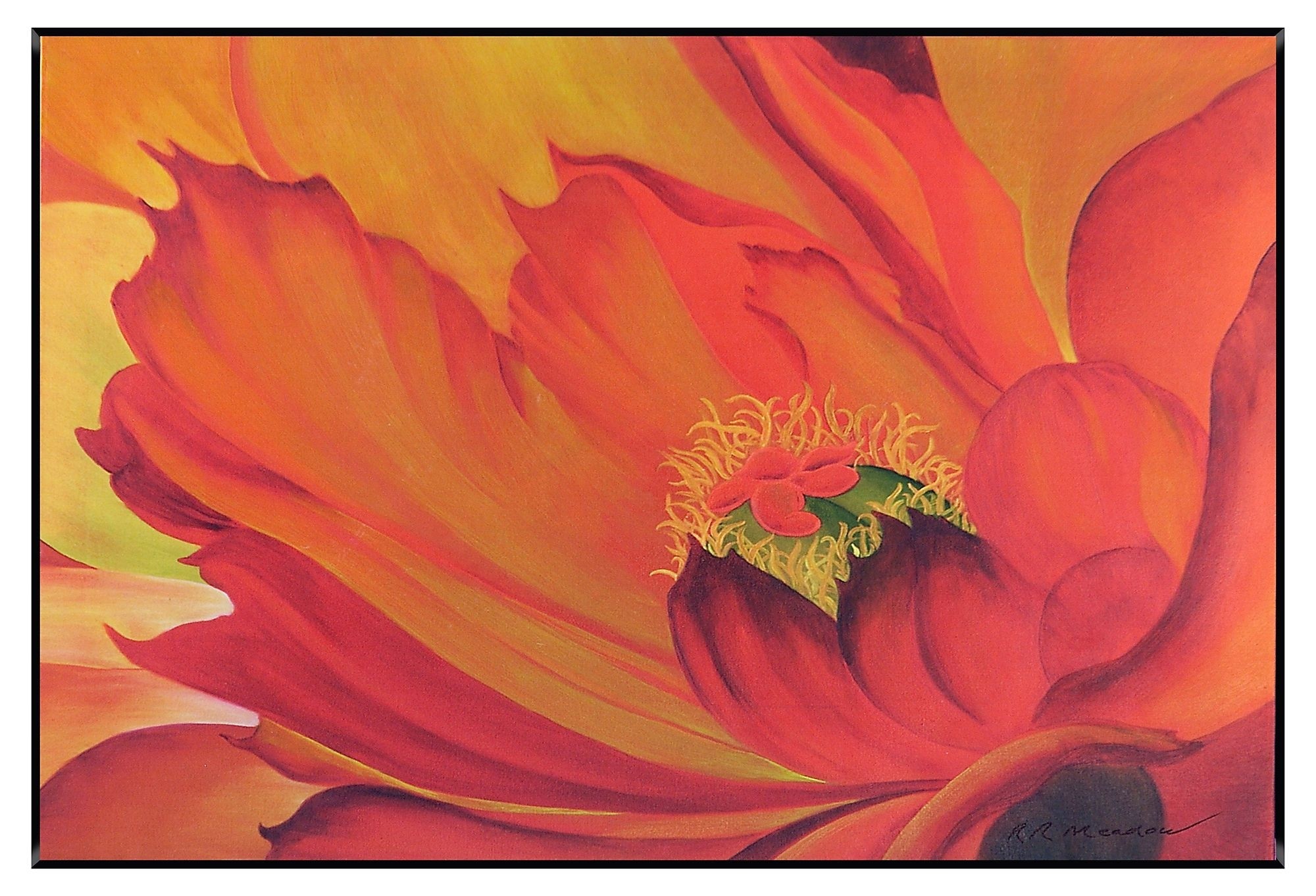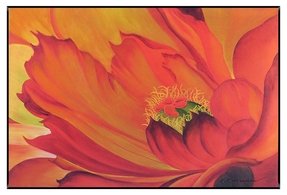 Orange Flower Painting Print
Charming small wall art intended for women and girls' rooms. It shows a vivid orange-reddish flowers print on quality paper fixed to fibreboard. A paper surface is anti-UV protected and easy to clean with a damp cloth.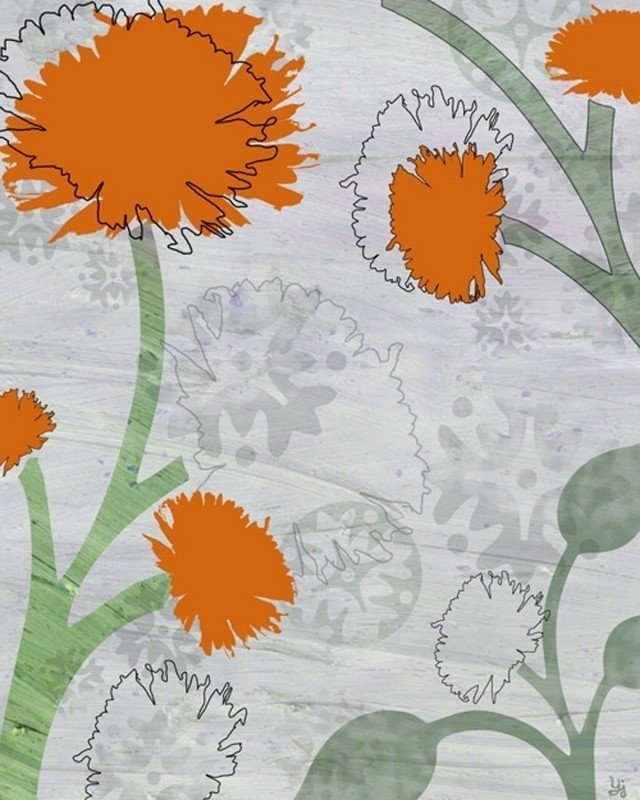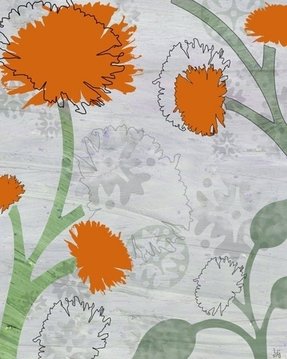 Orange Flowers Painting Print on Wrapped Canvas
This is a print of painting, shows an orange flowers. It is resistant to rust or fade, made of non - toxic materials, and has a durable frame made of wood and stainless steel, so can be hang in any room as a decoration.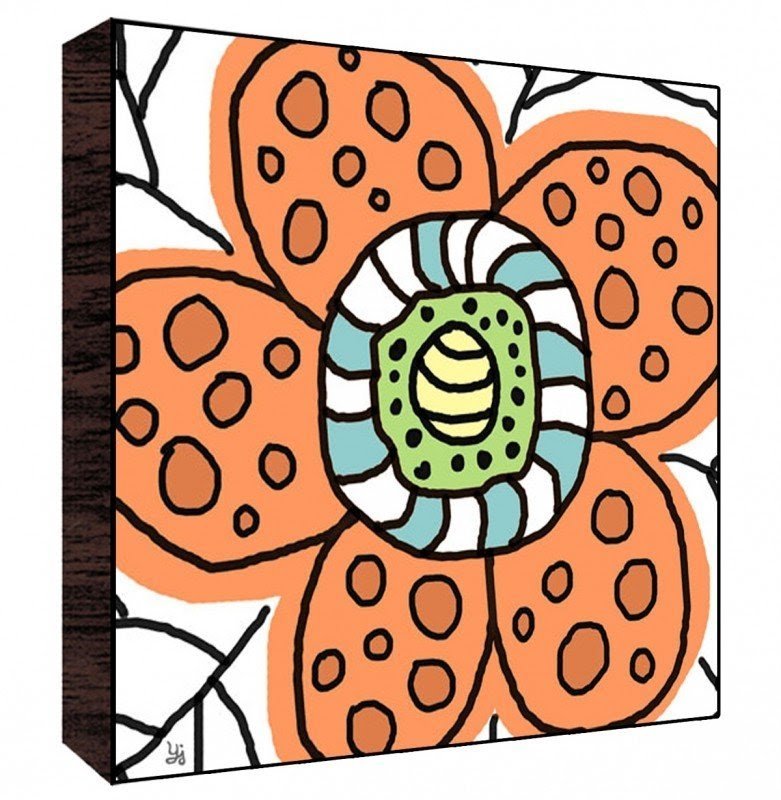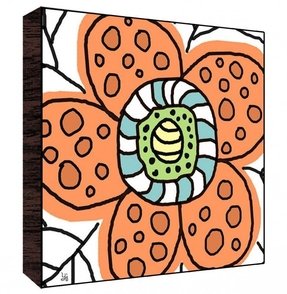 Big Flower Wall Art on Wood in Orange
Modern image designed for mounting on the wall. It is fitted in wooden frame and decorated with floral theme. Suitable for residential and commercial premises. It is highly rated by customers.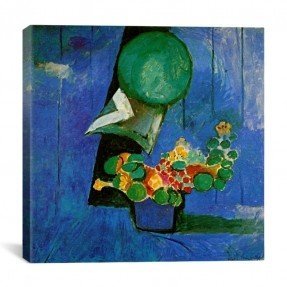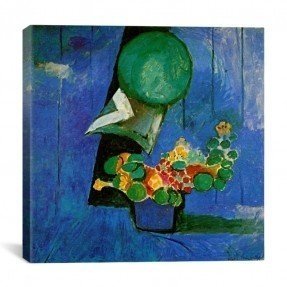 "Flowers and Ceramic Plate (1911)" Canvas Wall Art by Henri Matisse
This Canvas Wall Art is characterized by 100% anti-shrink pine wood bars construction and Epson anti-fade ultra chrome inks. The whole is entirely handmade, with a square canvas designed of 100% cotton.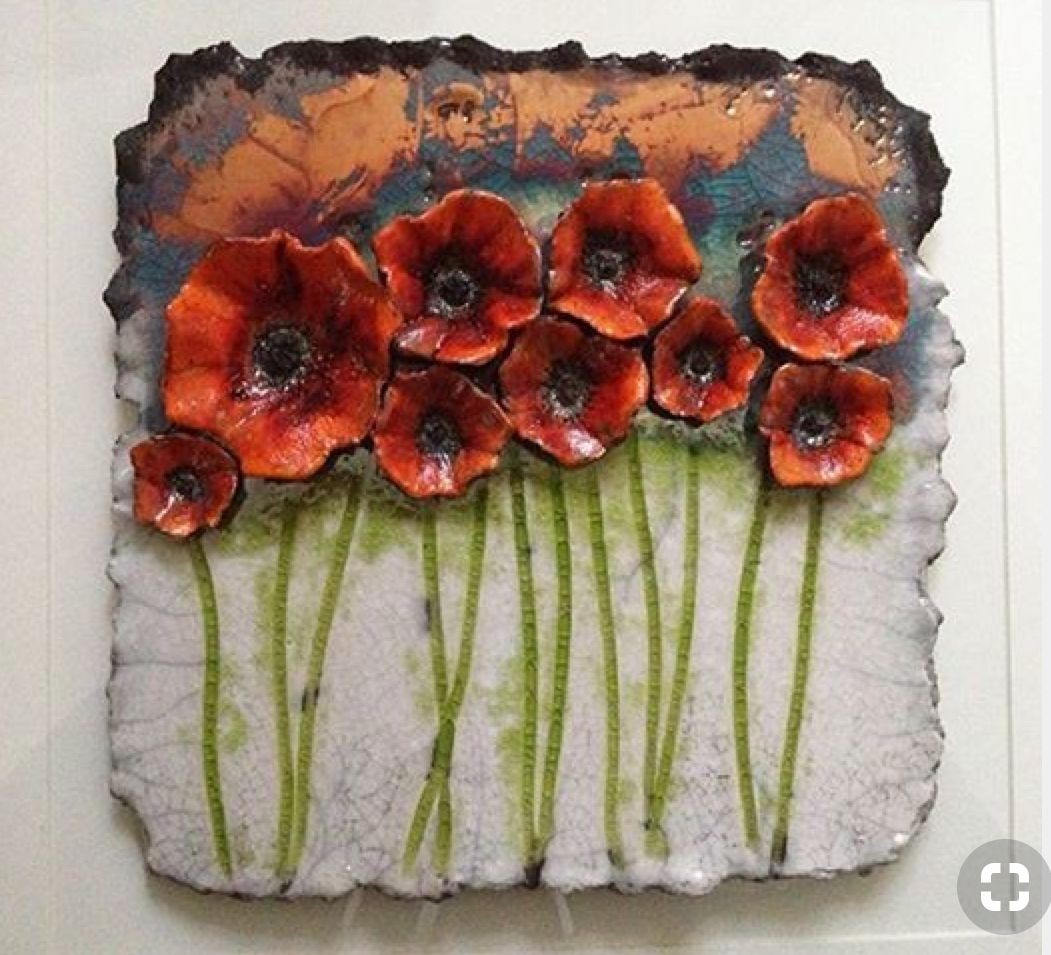 Original wall art that decorates different indoors. This ceramic element of design is not only attractive, but also resistant to many different forms of wear and damage. It includes a red and green floral theme.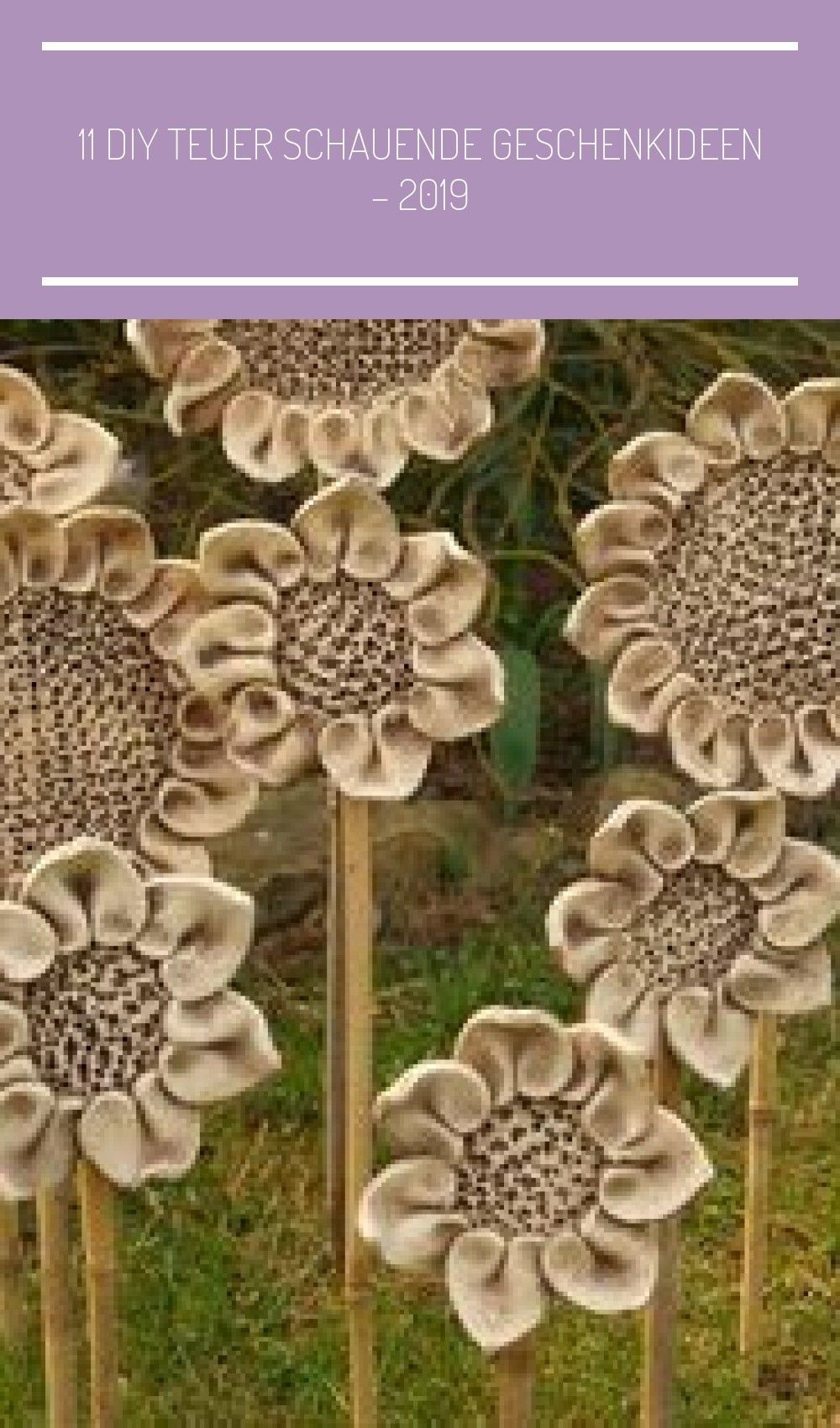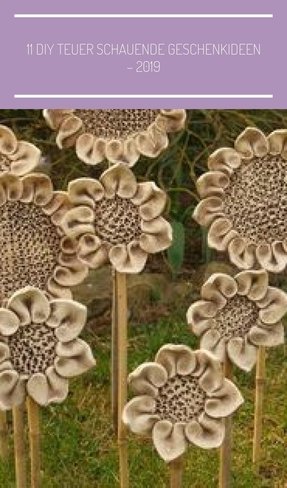 Invite some life into your garden with these beautiful, sunflower ceramic sculptures. Weather resistant and durable, these sculptures are a lasting investment in the design of your garden – it's best to get a set.


This ceramic element is designed for providing aesthetics indoors. This wall art features the shape of leaves. Its brown neutral color is suitable for many colors of indoors. It is also resistant to damage.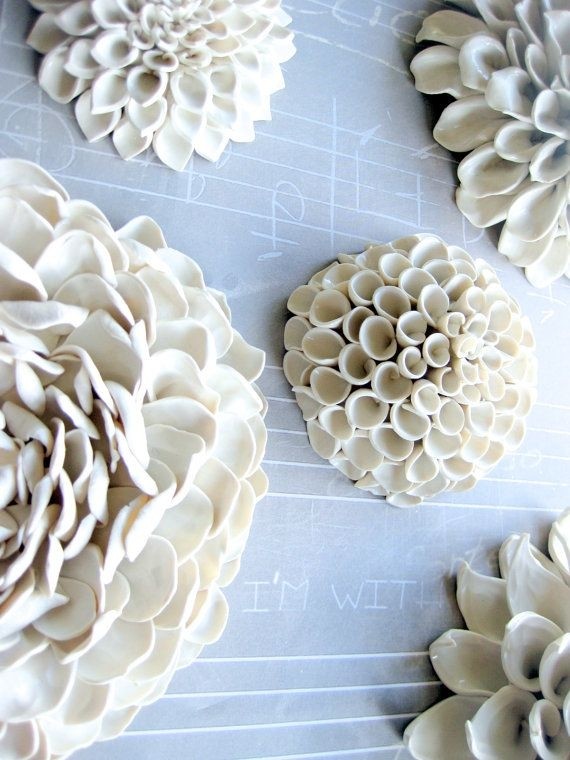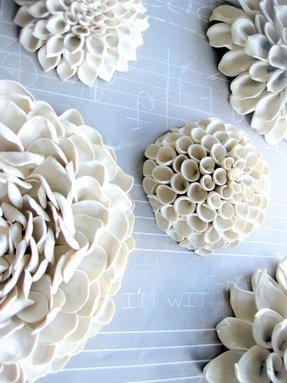 These made from polymer clay wall arts are a beautiful way to decorate the original interior. The beautiful form of flowers delights and makes the design will gain a note of romance and subtlety.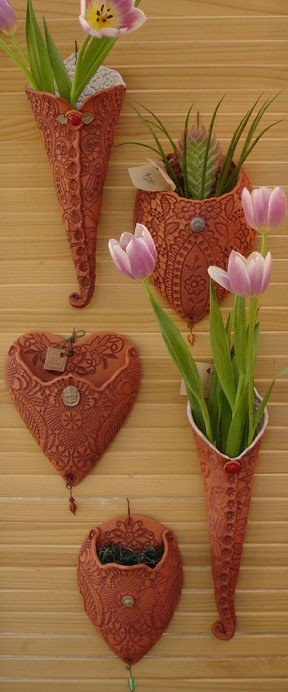 I want to create this wall in my bedroom, drawing room or kitchen maybe! And it will be cool on the outside wall. These flowerpots have different shapes, like the heart or oval and interesting pattern. They are hand made, which is the most important value for me.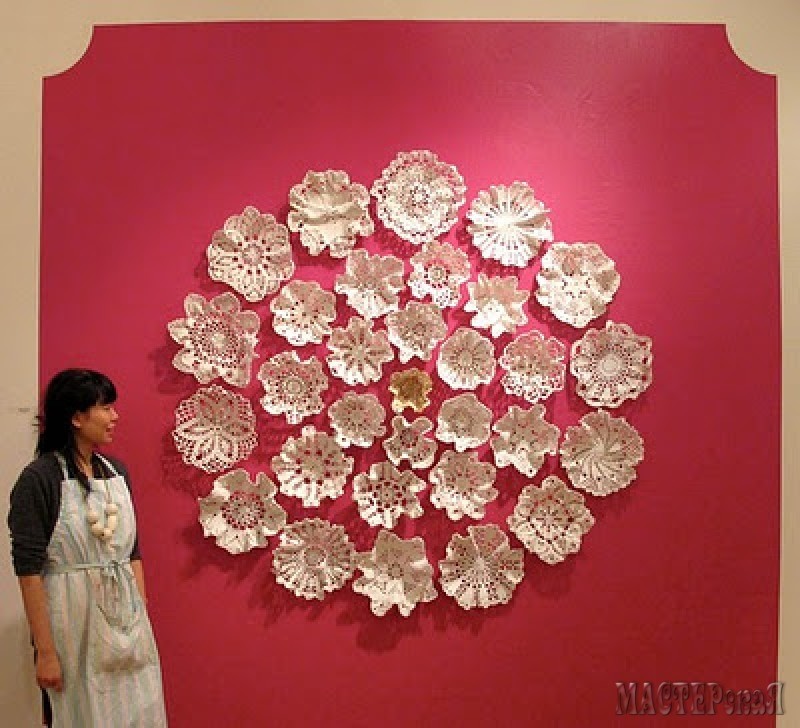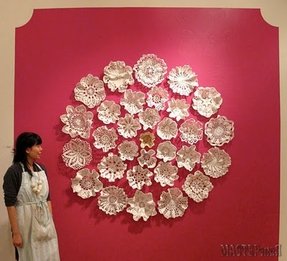 The artist dips doilies into liquid porcelain, dries over a bowl and fires in a kiln; the fibers burn away leaving the lacy porcelain behind...gorgeous! Maybe try with a slip like material?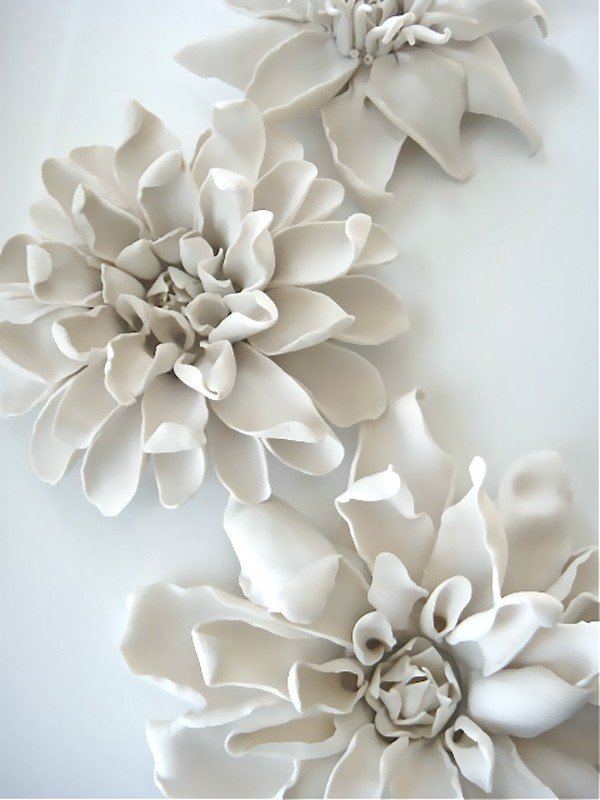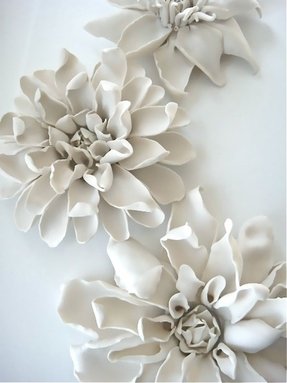 Artful ceramic wall decoration: flowers with intricately detailed petals, each of them being handmade. Porcelain flowers take their inspiration from nature. Finished white, they neutrally complement all coloring schemes.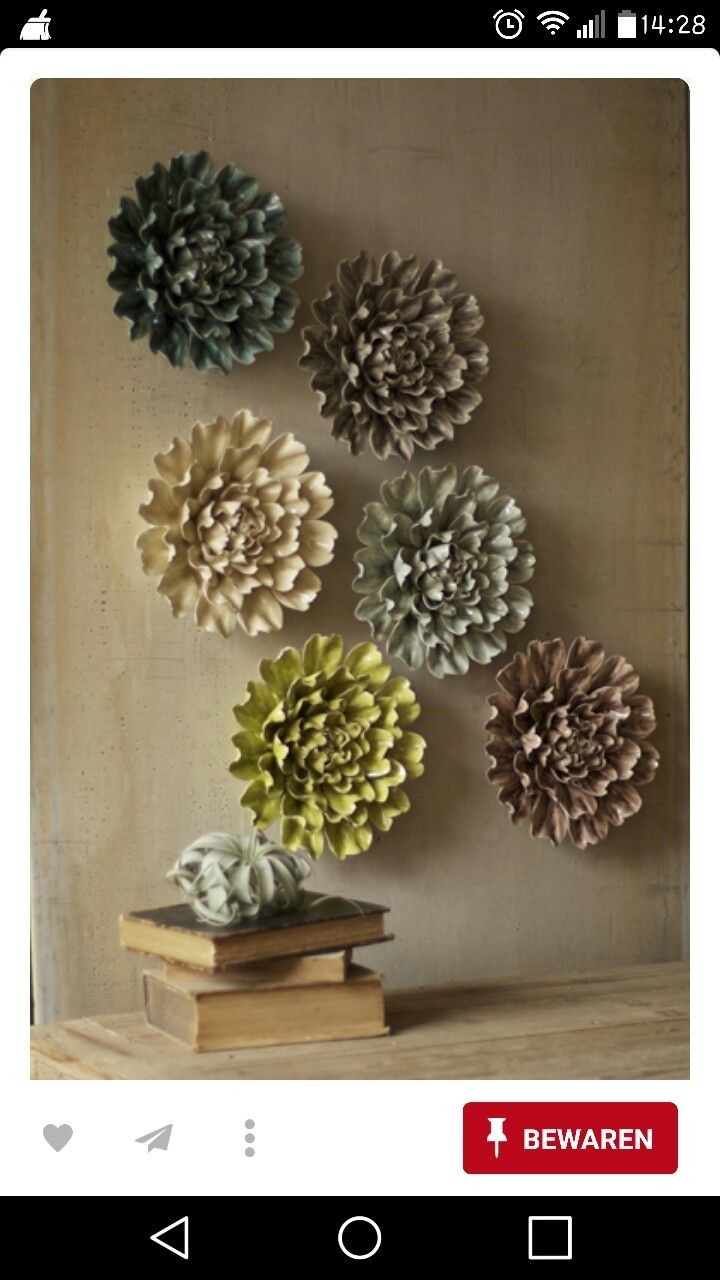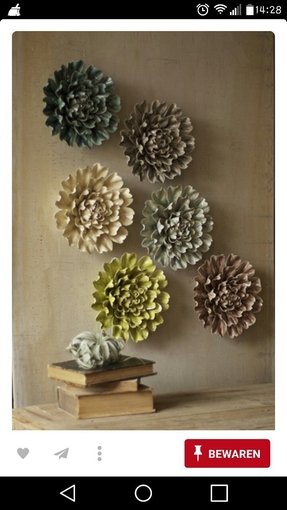 e6930fbd1345fc22bbefbbc8ed25151e.jpg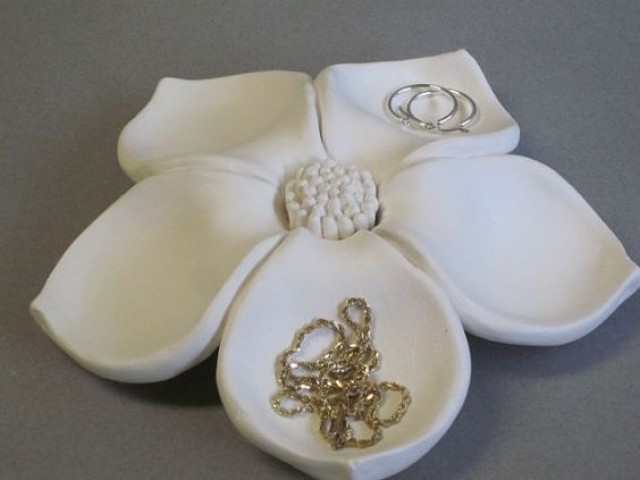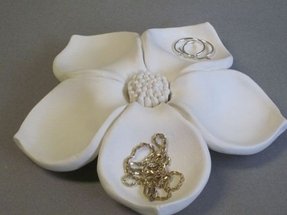 Ceramic Flower Bloom jewelry holder, floral sculpture , ceramic flower art, decorative jewelry tray, OOAK dressing table tray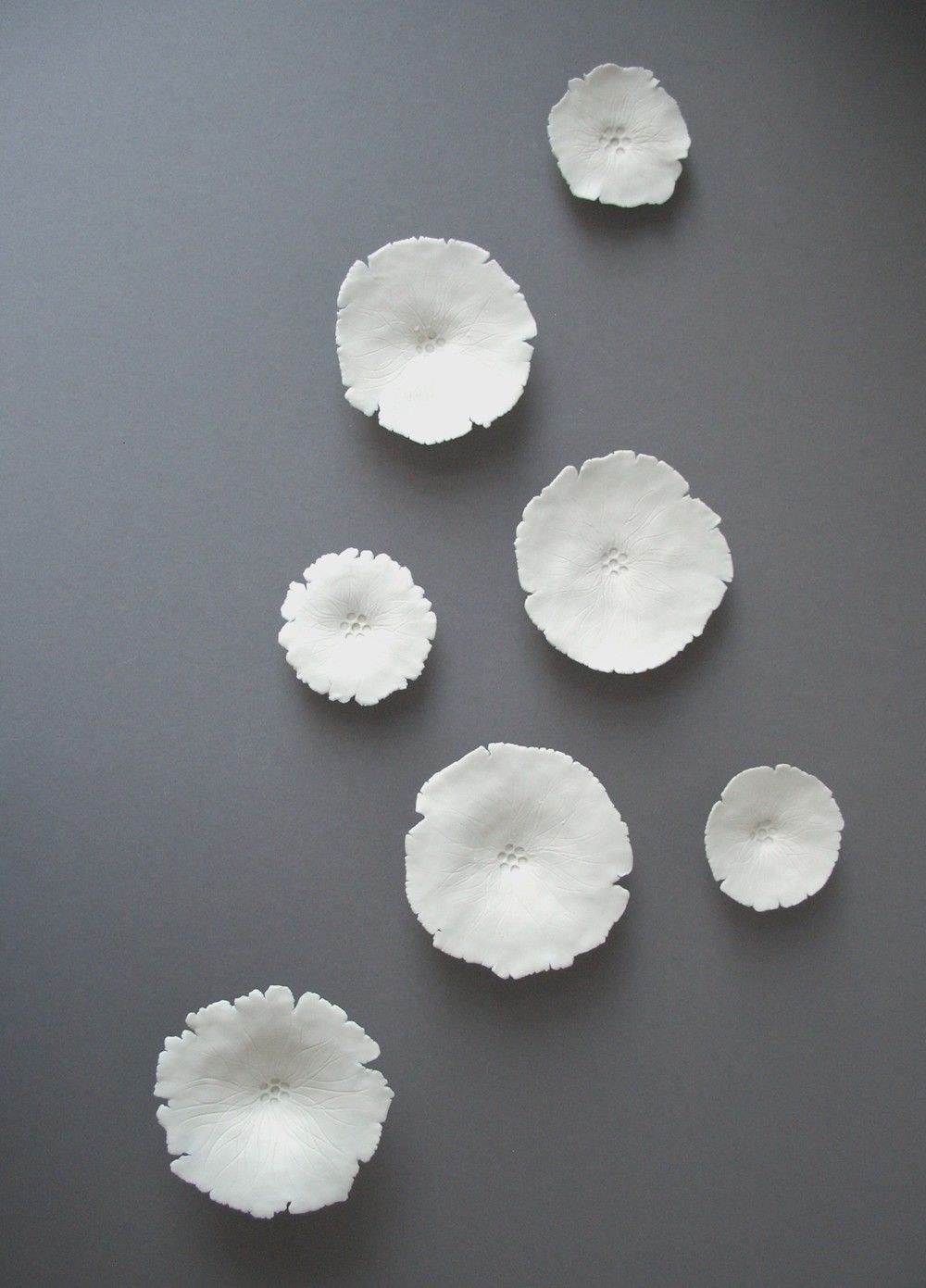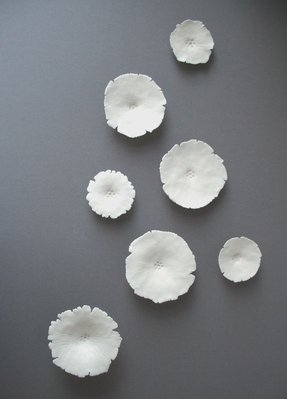 Grace: porcelain wall sculpture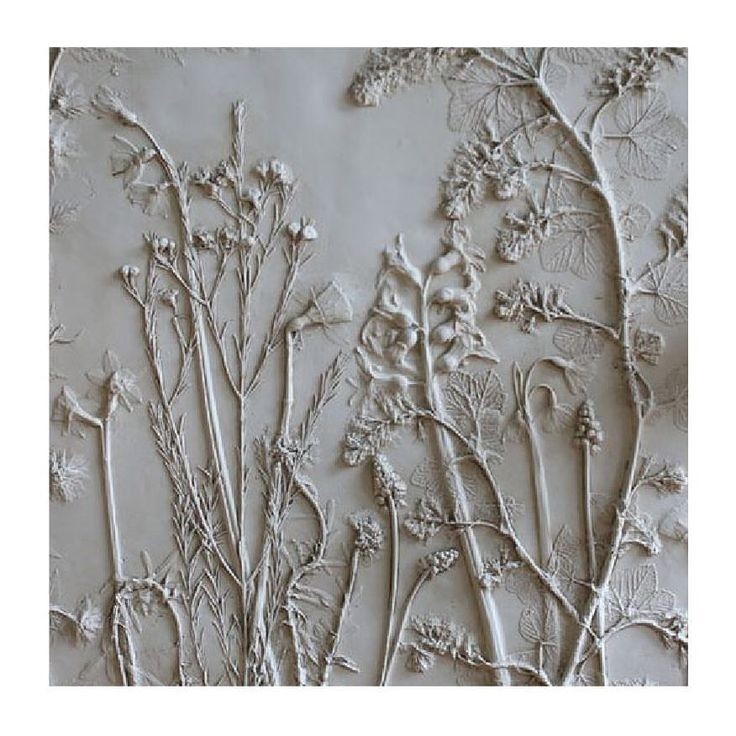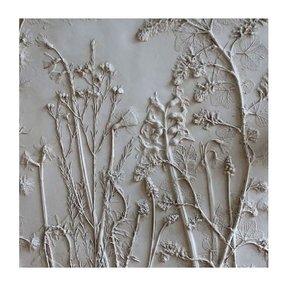 ... I think this is a monochrome painted collage but would make a beautiful embroidery design.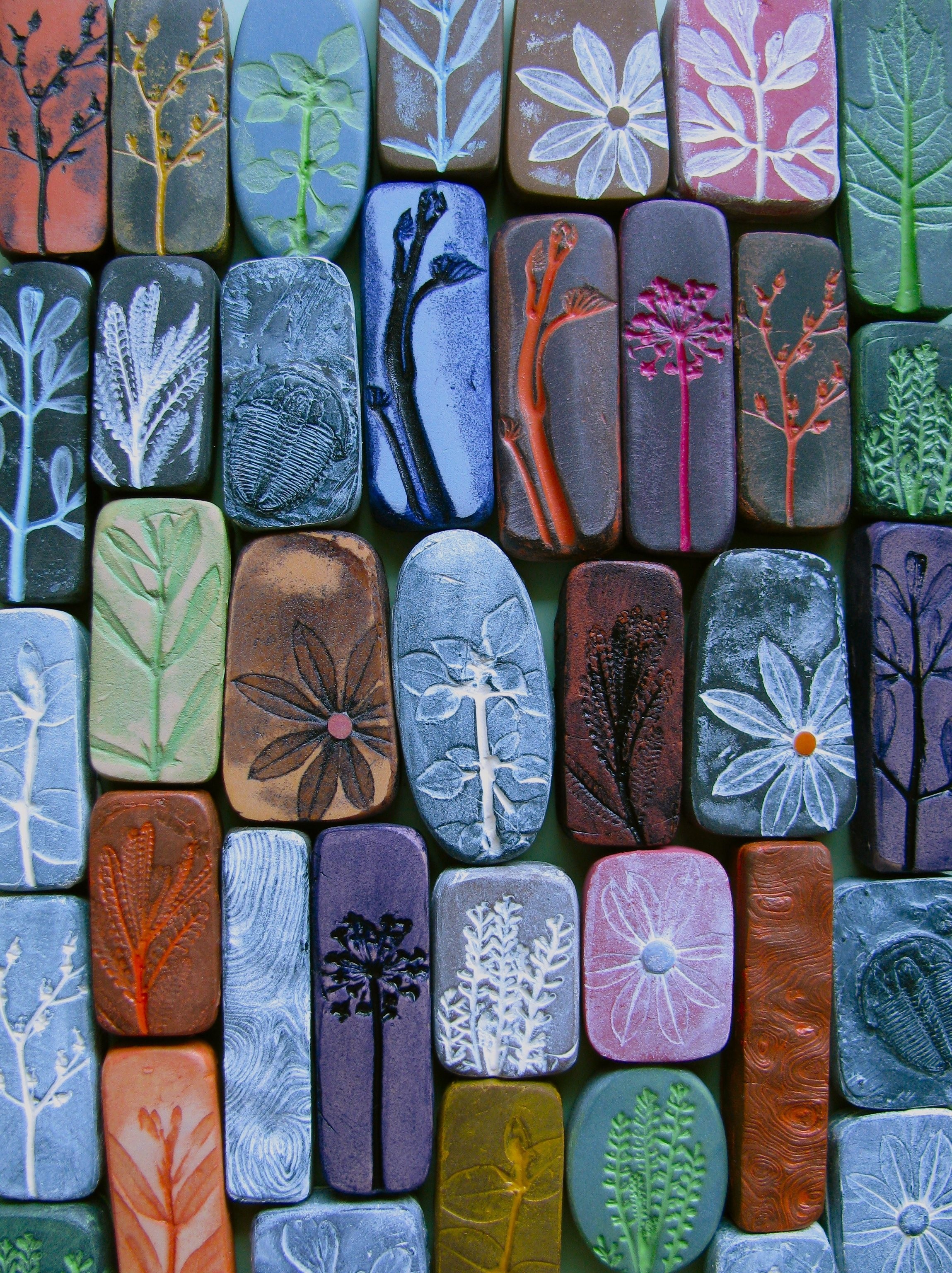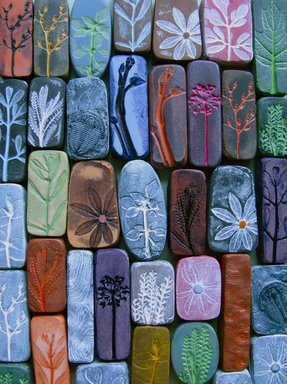 Those beautiful pieces of art can be a great addition for decorating your garden, backyard, or front of the house. Each of these beauties is made of clay, with a gorgeous, floral imprint in it. They might be used as dazzling, small stepping stones.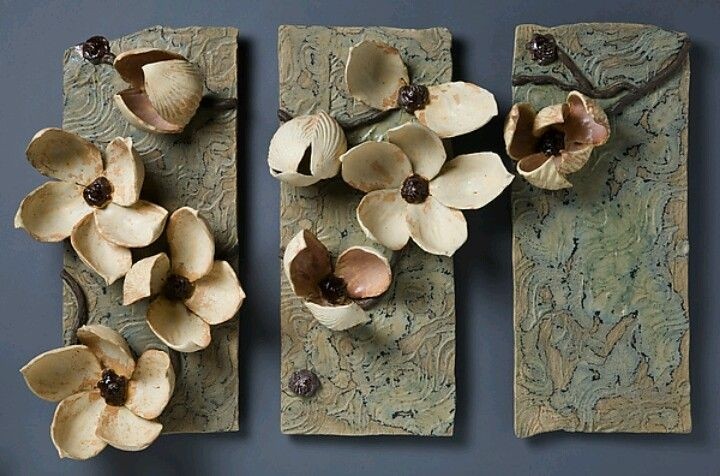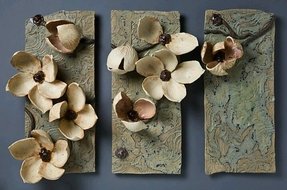 No interior decor could be whole without these beautiful magnolias, which you can use as unique decorations for any room in your house. Designed of ceramic, with attention to every detail, the set is very beneficial visually, but not too good, when it comes to cleaning it.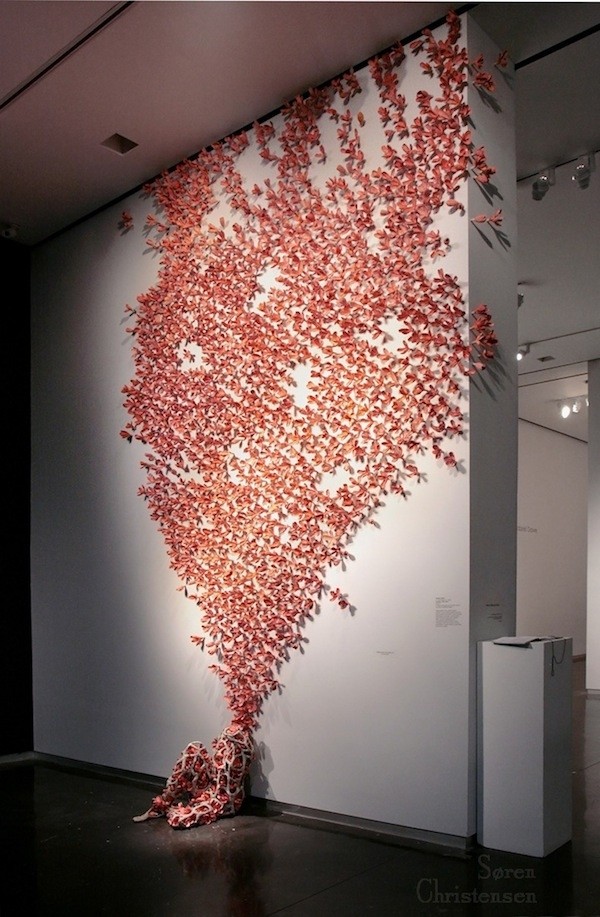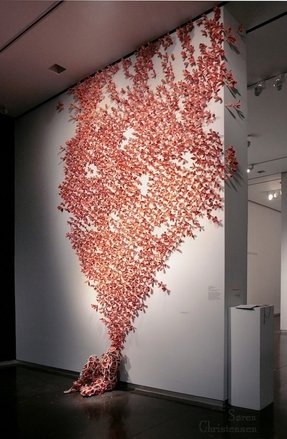 With such an extravagant decoration your living room is going to shine like never before. Those small beauties are designed in the shape of 1500 ceramic flowers, you can easily attach to the wall, creating a ceramic meadow on your own wall.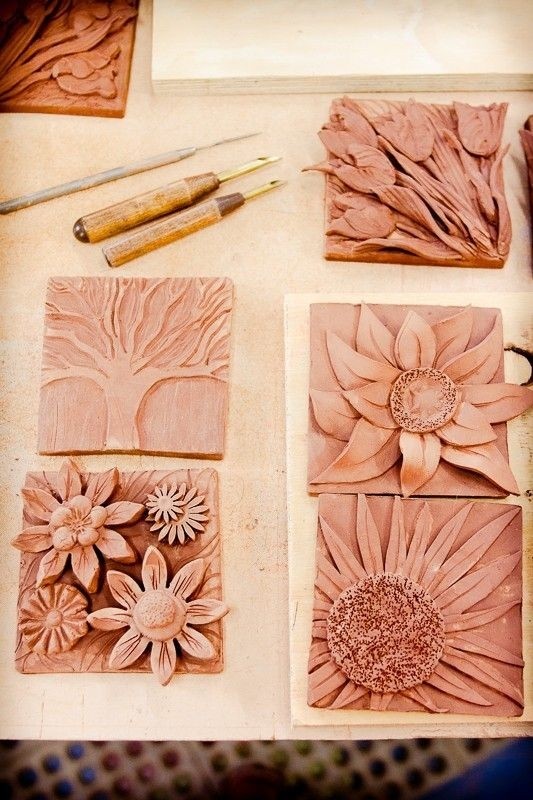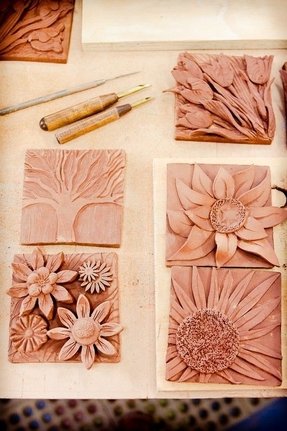 Add these stunning wall plaques to your interior to make it stand out a little more with visual appeal and charm. They sport the flowery pattern and are simply great for your kitchen or hallway, making for a beautiful accent.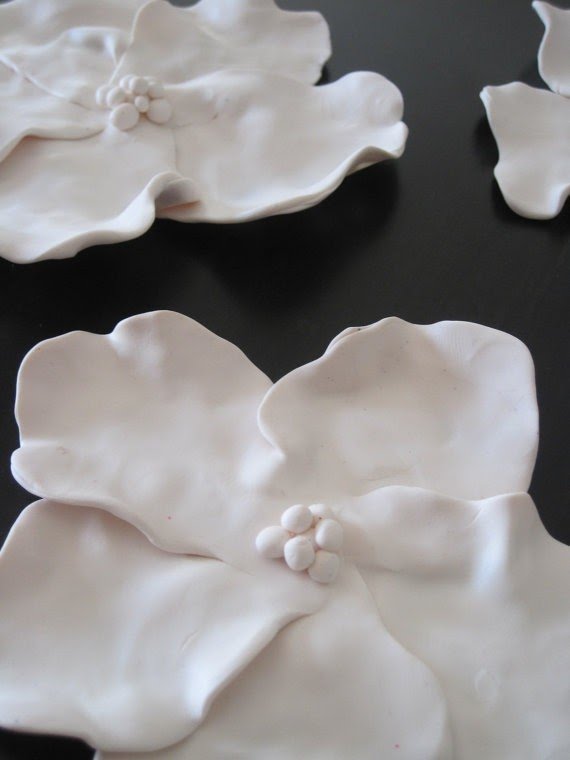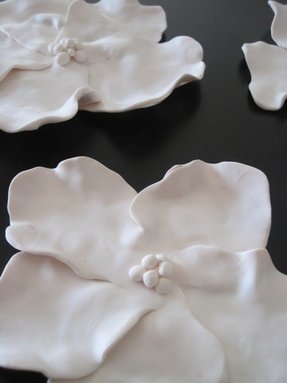 If you are looking for a quality wall decoration for your home or office, you should take a peek at this lovely flower. Created of clay and covered in a white finish, the decoration is easy to install, and it presents itself on a wall, simply, beautiful.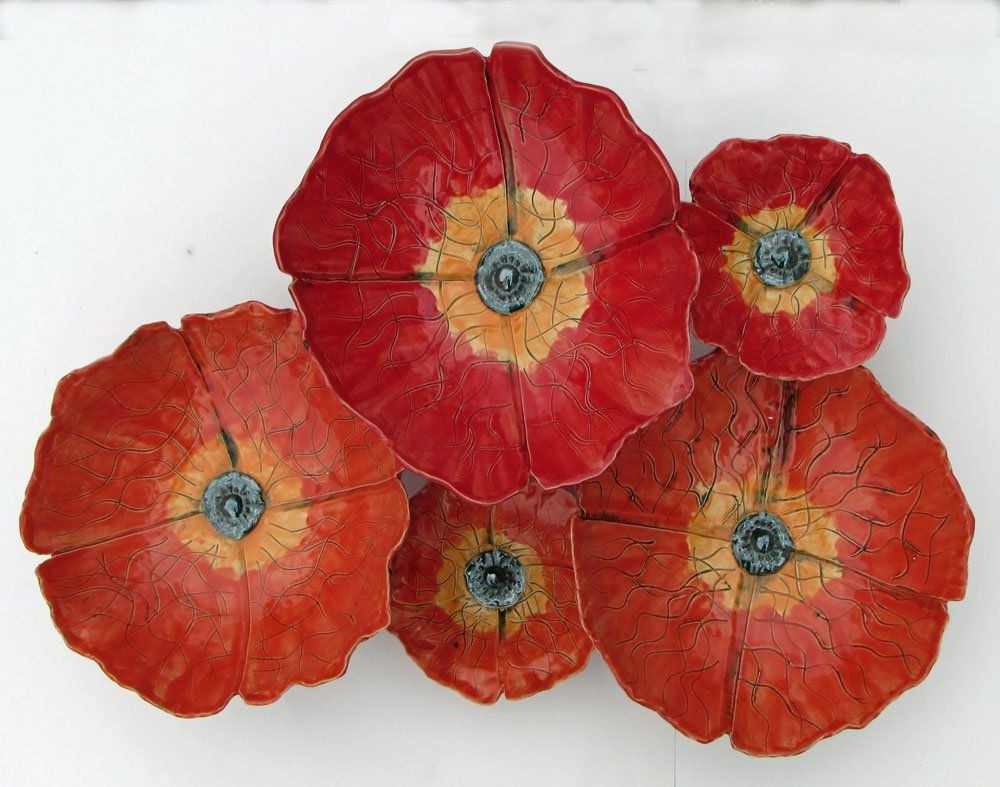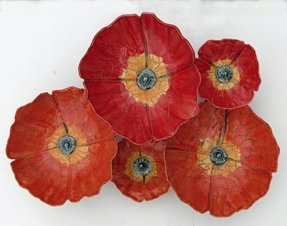 Poppies: Amy Meya: Ceramic Wall Art | Artful Home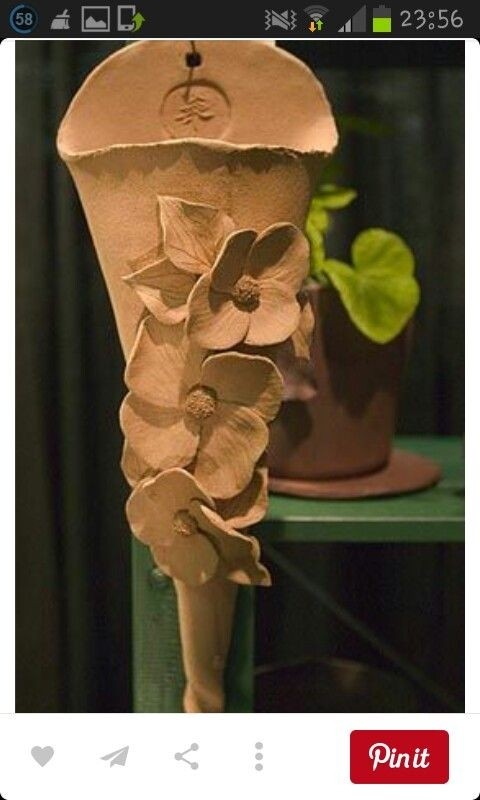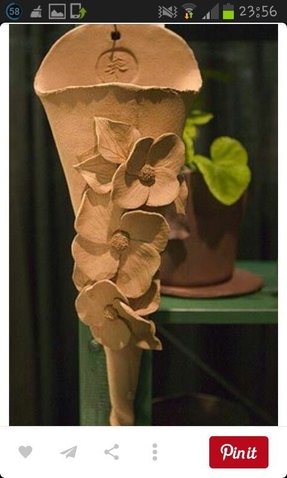 An outdoor decoration - just to enrich a wall or a porch post with a visual accent, or flank the home entrance. This tall cone shaped ceramic wall-mounted vase features beautiful 3D flowers accent and solid tan finish.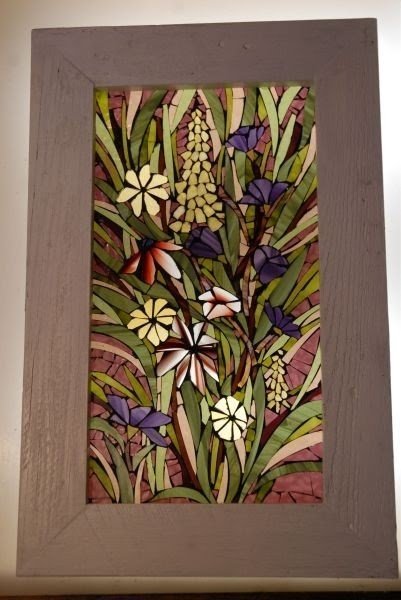 A very attractive piece of art for use on walls. Its brown wooden frame perfectly matches different kinds of interior design. Its pattern includes multi-color flowers, so this mosaic features an aesthetic role.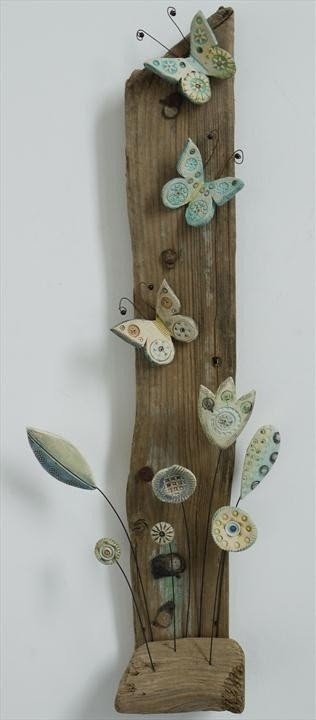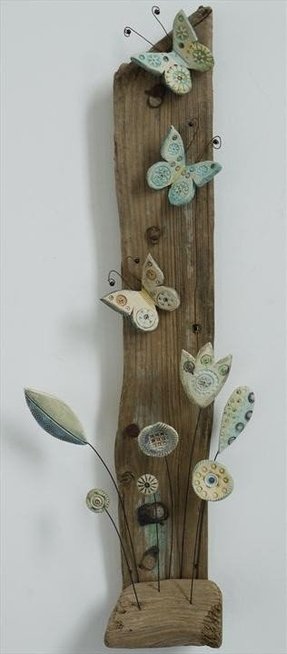 Butterfly and flowers - Shirley Vauvelle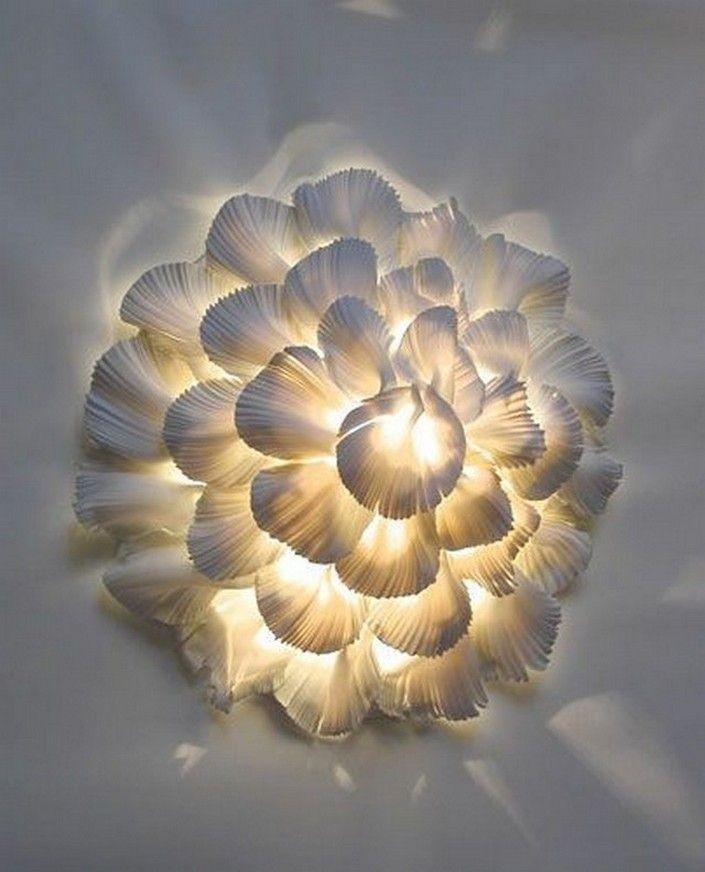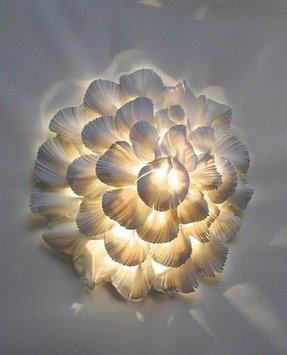 Unique and unusual take on a contemporary wall art, made out of white ceramic. The wall art is made to resemble a floral arrangement and is fitted with multiple lights inside of it, creating a unique and bright display.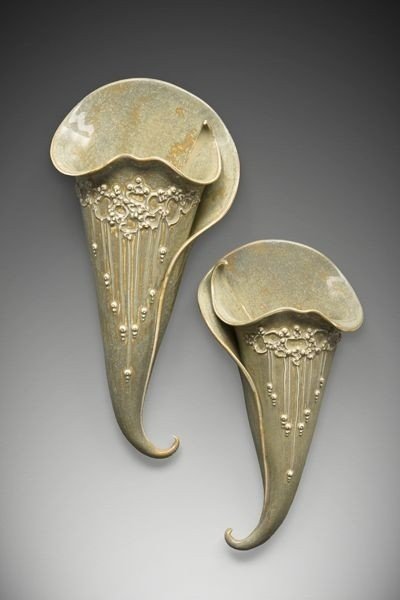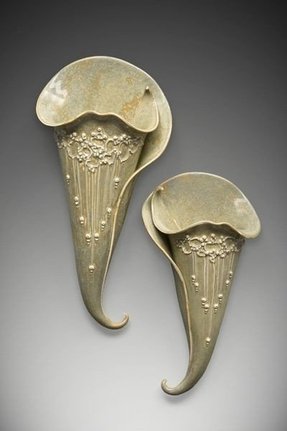 Wall vase in the Art Deco style. It is made of high quality ceramic and finished with sophisticated ornamentation. Designed for small and medium sized floral arrangements.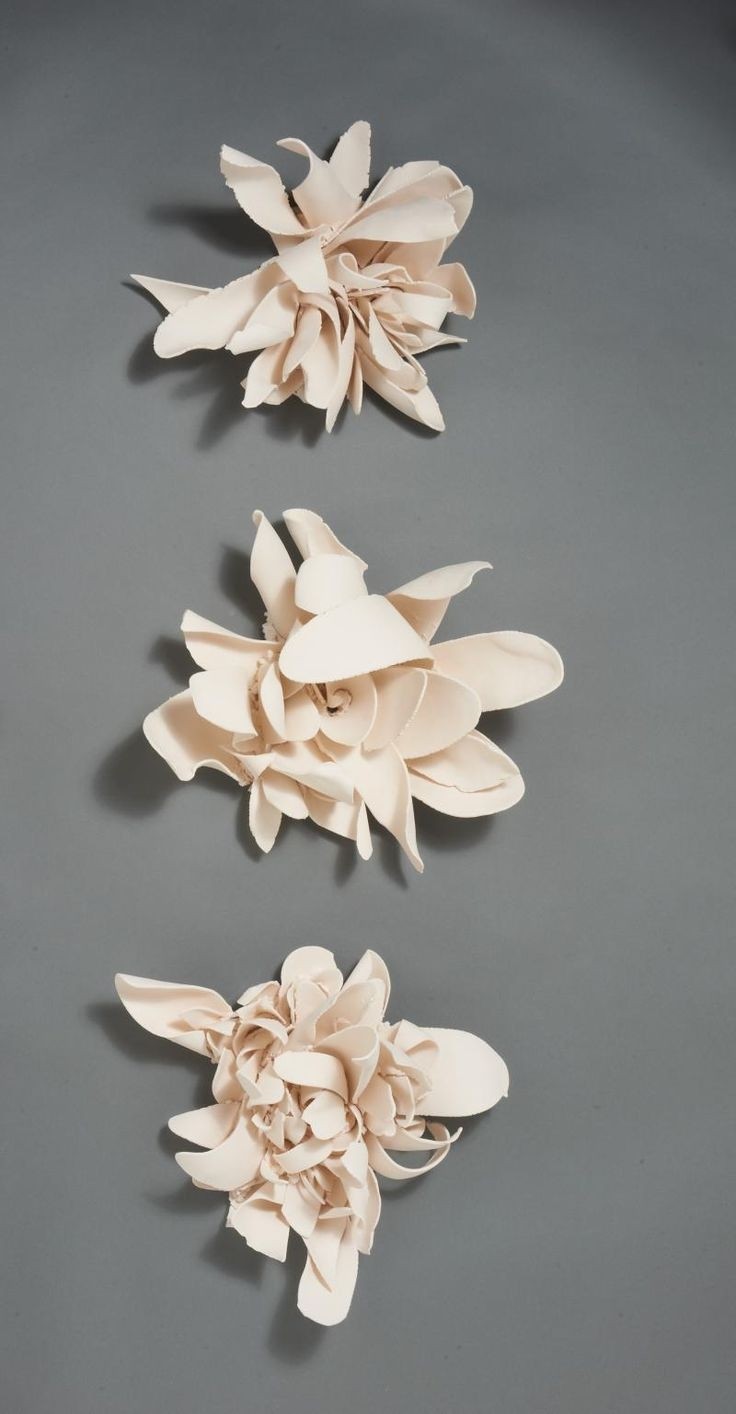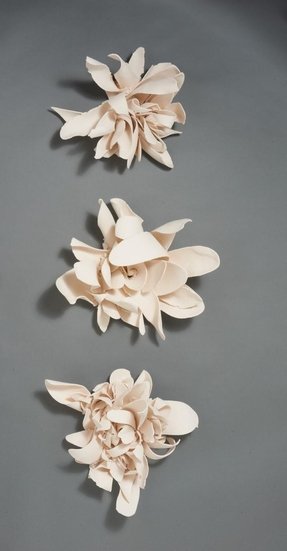 Dawson Morgan has unique pieces for your home!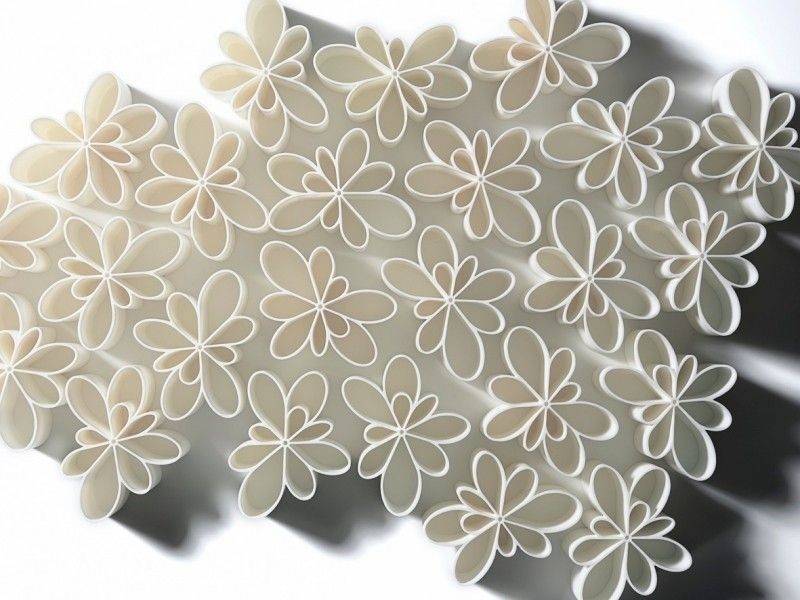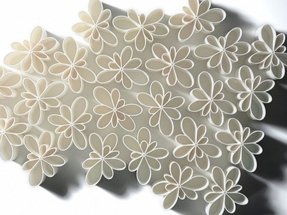 Kontur Vase White by Normann Copenhagen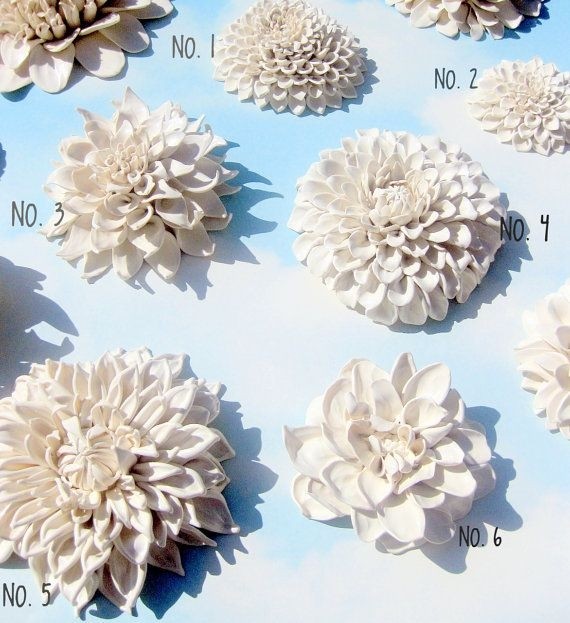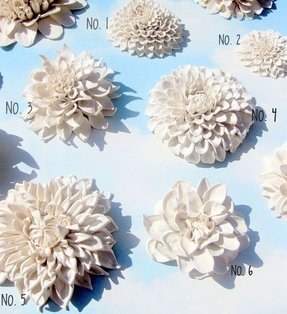 how freakin original are these?!?! handmade ceramic flowers from etsy! want them hanging on the wall in my room!!!!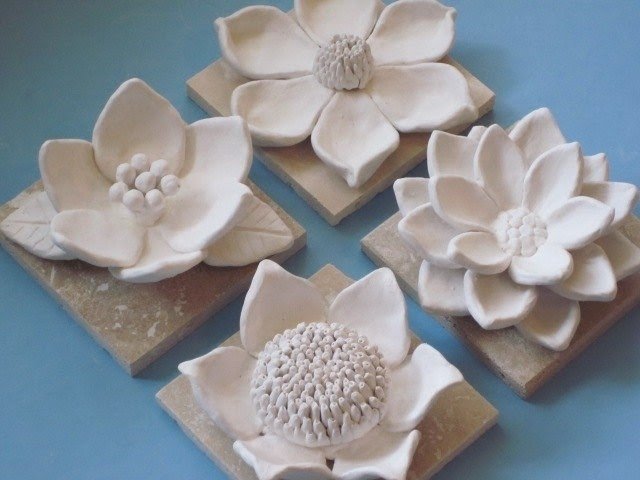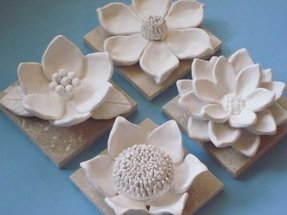 Flower Garden Wall Hanging, ceramic wildflower, blackberry, camelia, and daisy wall sculptures, flower art, floral art, spring, summer